Randa Kherba was inspired by a three day ​

"

sledneck" rendez-vous in the Arctic

Ice-cold waters run deep for the London menswear designer tapped by Kanye, and making clothes for the dystopia.
Twenty-four-year-old Randa Kherba has maintained a relative mystery since the release of her CSM graduate collection, Arctic Man, in 2018. Impressive, considering Highsnobiety dubbed her one of the most exciting designers to have come out of the ether in some time.
"Slow is fast," Kherba says coyly, when asked about the pressure to churn work out for the sake of it. ​"It's tricky because if you've never done that before, you kind of get sucked into this whole, ​'Shit I haven't done anything, I need to do something now.' But your last opportunity is never your last.
"Thanks for coming to my TED Talk," she adds, dryly.
Born and raised in Camden, London, Kherba fell into menswear via graphic and product design, elements of which have translated to her garments. They're fit for the Arctic as much as they are for a rave: they look wet but they're waterproof, matte yet metallic, they cool you down and keep you warm. Kherba's heart lies in exploring fabric and texture – Arctic Man is a kaleidoscopic range of sportswear so technical in design it gives Arc'teryx and The North Face a run for their money.
This did not escape Kanye West, who at the time of Kherba's graduation was scouting for fresh talent to join him in Calabasas. In mid-2018, she received a text message from an acquaintance: ​"Yo, Kanye's in London for a day. He wants to meet you."

Forty minutes later, Kherba was in a room with Yeezy himself, waxing lyrical about the details of her garments, the pattern cutting, the seams. ​"He clocked all of it, and he's one of the nicest people I've ever met," she recalls. ​"He was like, ​'this is fucking fire!'" Two days after that, Kherba was in Calabasas, working with Kanye's menswear and outerwear team.
After a month across the pond and some long distance work from London, it was time for Kherba to move on. Her tip for battling post-Kanye and postgraduate blues? Travelling to Alaska and experiencing the festival that lent its name to her collection: Arctic Man, a three day ​"sledneck" rendez-vous known for both ​"extreme sports and extreme alcohol consumption" (as quoted from the United States Supreme Court). For over 30 years, the event has allowed snowmobile riders to go head to head in adrenaline fuelled races soundtracked by both country music and heavy metal.
Arctic Man turned out to be a research goldmine. Finally, Kherba was experiencing in real time the event that inspired her collection. ​"It's Trump's America – everyone's got a gun in their pocket," she says, ​"but the people are such characters." What appealed to her most about the trip was the harsh environment, the craziness of it, the modularity of incorporating fantasy into functional clothing.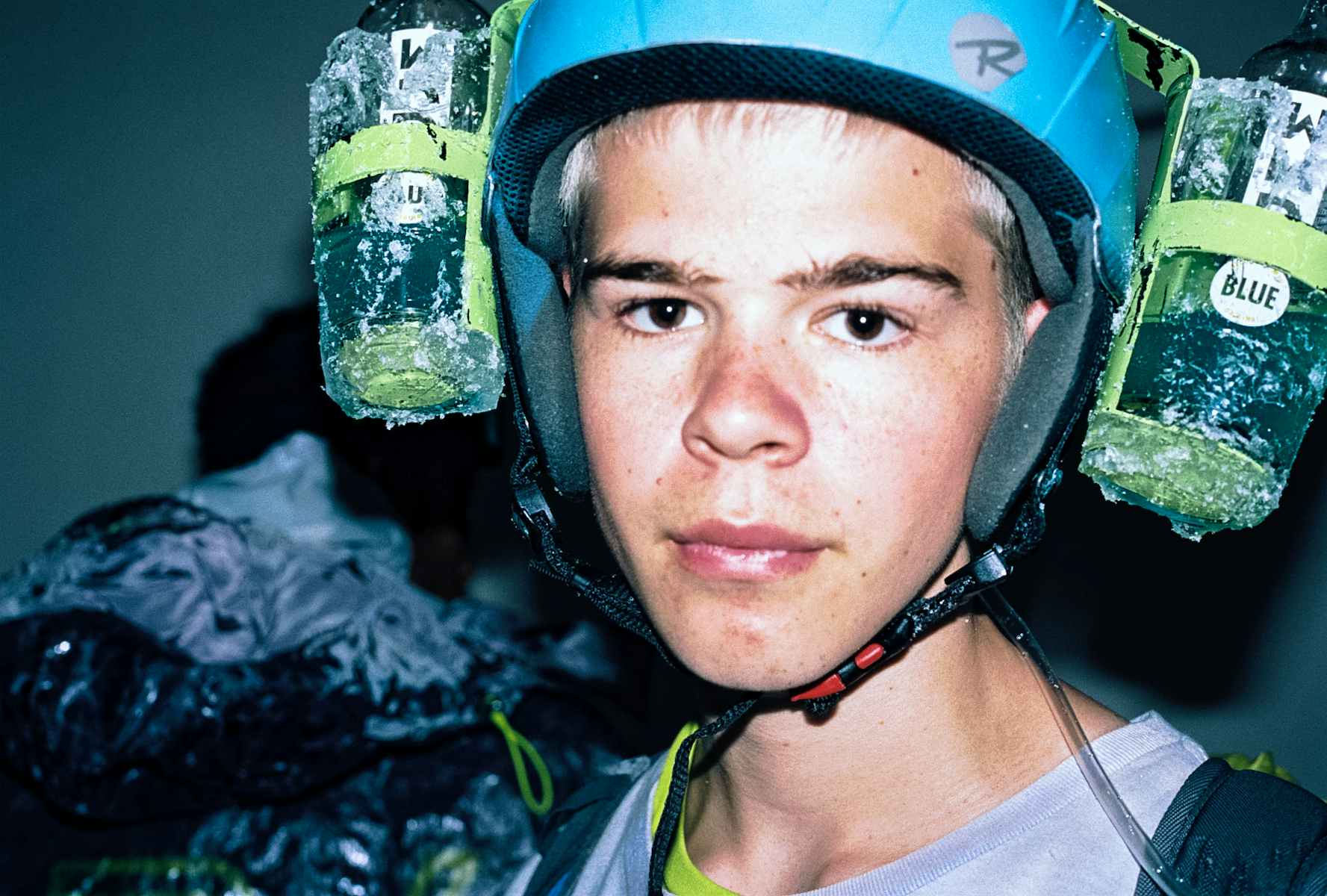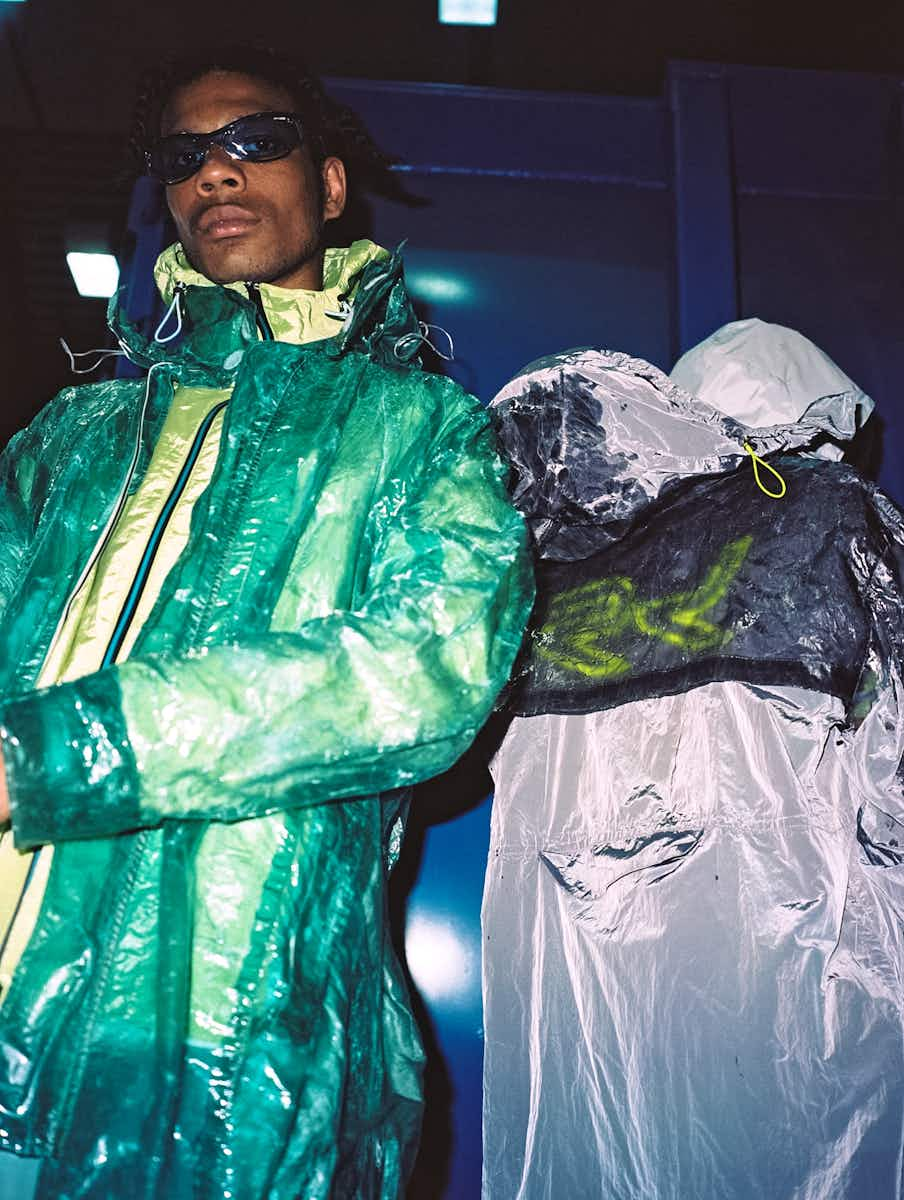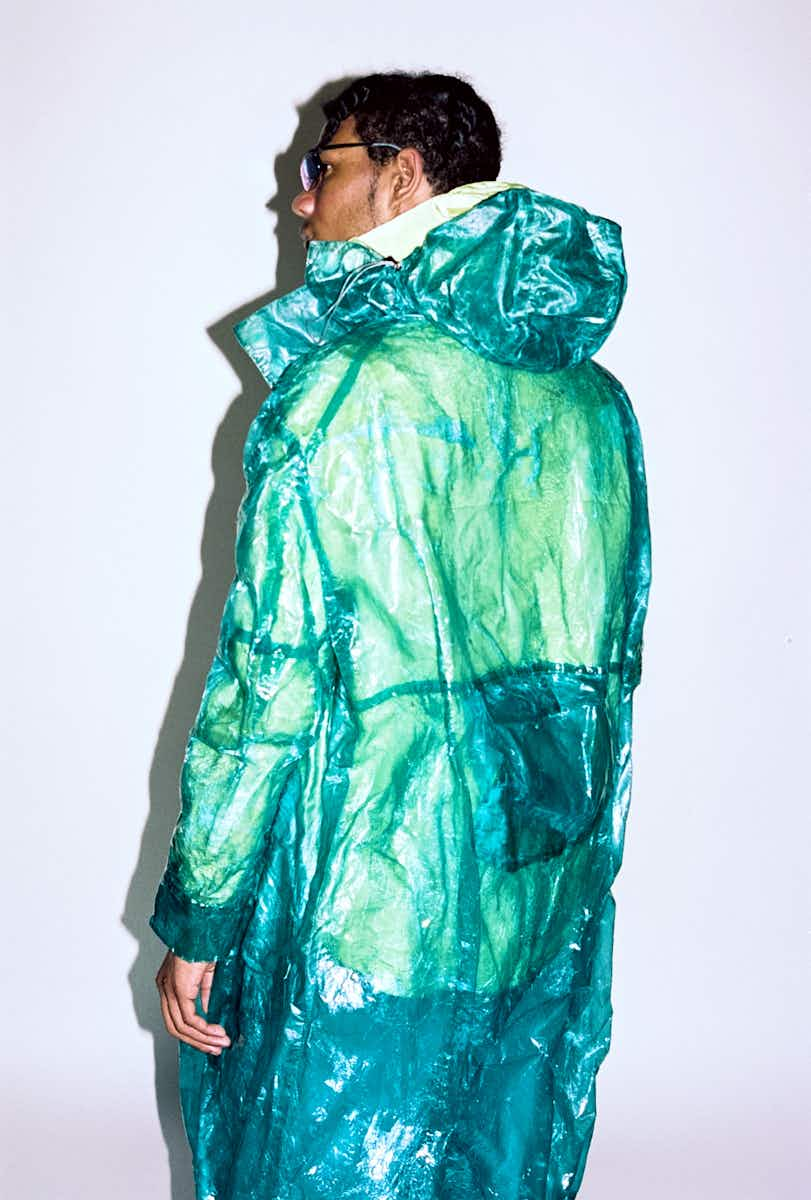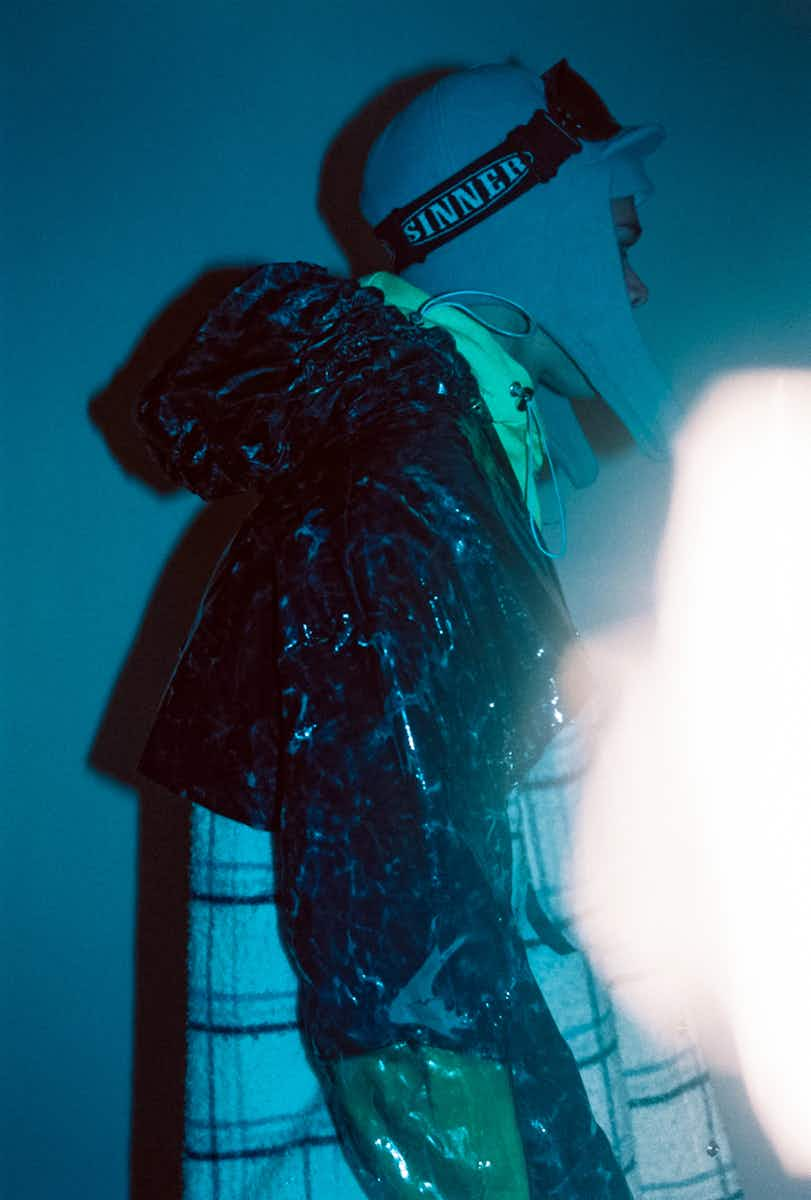 "When people design without a function for a garment, it's a waste," Kherba says. ​"Given the climate crisis, people are more conscious of that, and it's more interesting to invest in a shirt you can wear three ways." Last summer, Hypebeast wrote about the rise of ​"outdoorsy" fashion running parallel to the growing demand for sustainable fashion – something Kherba is conscious of and has tapped into.
"What's relatively new is seeing people who are used to shopping on the high street wearing Patagonia and The North Face," she says. ​"Dystopia is near. Everyone's like, ​'Shit, gotta get ready, gotta protect myself.'"
In spite of her chilled demeanour, Kherba is juggling enough projects to make your head spin. She's studying an MA in Material Futures (a transdisciplinary course exploring the intersection between design, science and technology, wouldn't you know), collaborating with friends (notably AGR) on a new collection, and making a film from the footage she gathered in Alaska (dropping in April). When she's not busy staying two steps ahead of the fashion industry, Kherba runs MXD Signals, a quarterly UK garage and jungle get down that's ​"just the best, most wholesome time".
And in the midst of all the madness, Kherba is all about having faith in yourself as a building block for success. ​"In terms of longevity, you're not going to go far unless you have that foundation of self-love and confidence." That, and a killer jacket.

More like this