Grandeur meets restraint for Saint Laurent men's SS24

Anthony Vaccarello reimagines gentlemanly classics at Berlin's Neue Nationalgalerie. We say: "ja".

At this point, no one expects anything less than a production of impeccable taste from Saint Laurent. Shown on Monday, SS24 menswear was no exception, delivered inside Berlin's distinctive Neue Nationalgalerie, a national treasure renowned for its major art shows and iconic construction by modernist maven Ludwig Mies van der Rohe.
Of course, it's easy to wax lyrical about such opulent framing, but there's method in Anthony Vaccarello's showmanship. This is no artistic crutch; rather a tool used to house the creative director's exceptional vision and taste, which, much like the latest show's location, combines grandeur with clinical restraint.
Defining Vaccarello's seven year tenure at the maison so far, his genteel or chic approach – no doubt a reflection of his close training with the late Karl Lagerfeld – roots itself in finery, treating tradition with respect but tinkering with it all the same. Where the womenswear has followed Yves Saint Laurent's legacy of making feminine classics masculine, his menswear has leaned into high-femme takes on gentlemanly classics.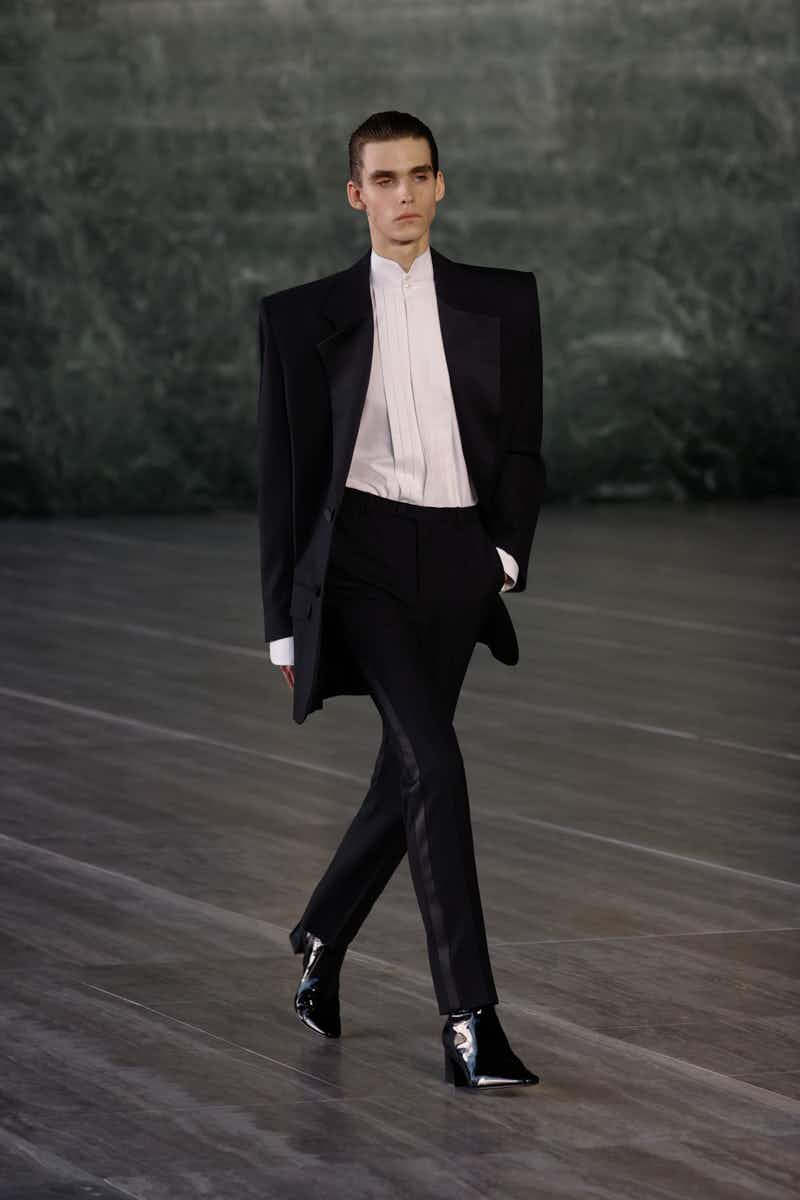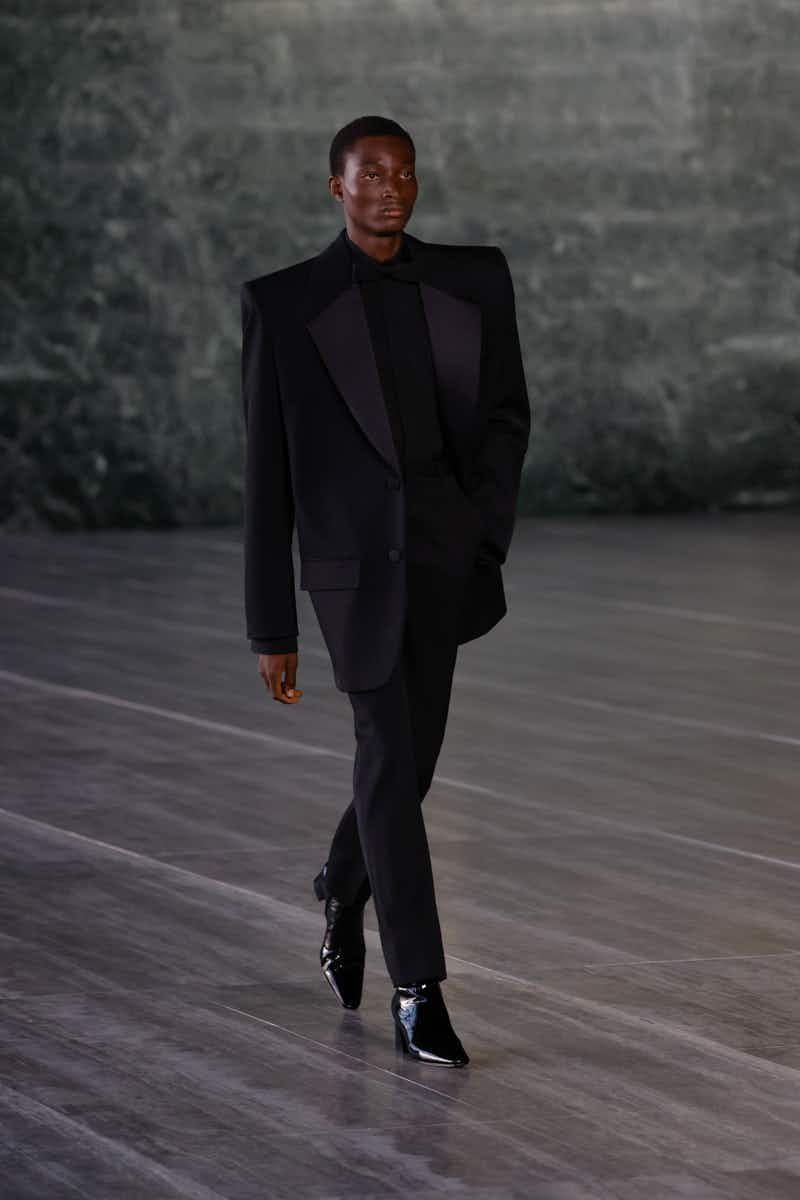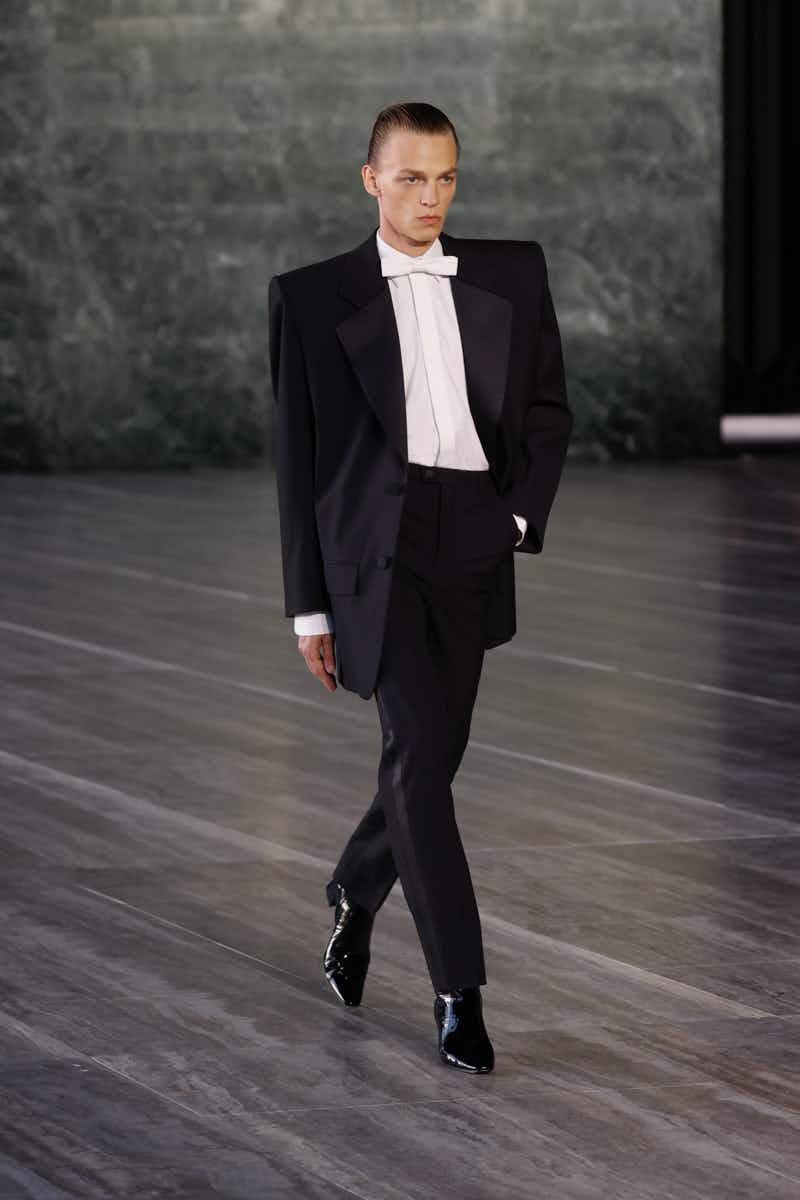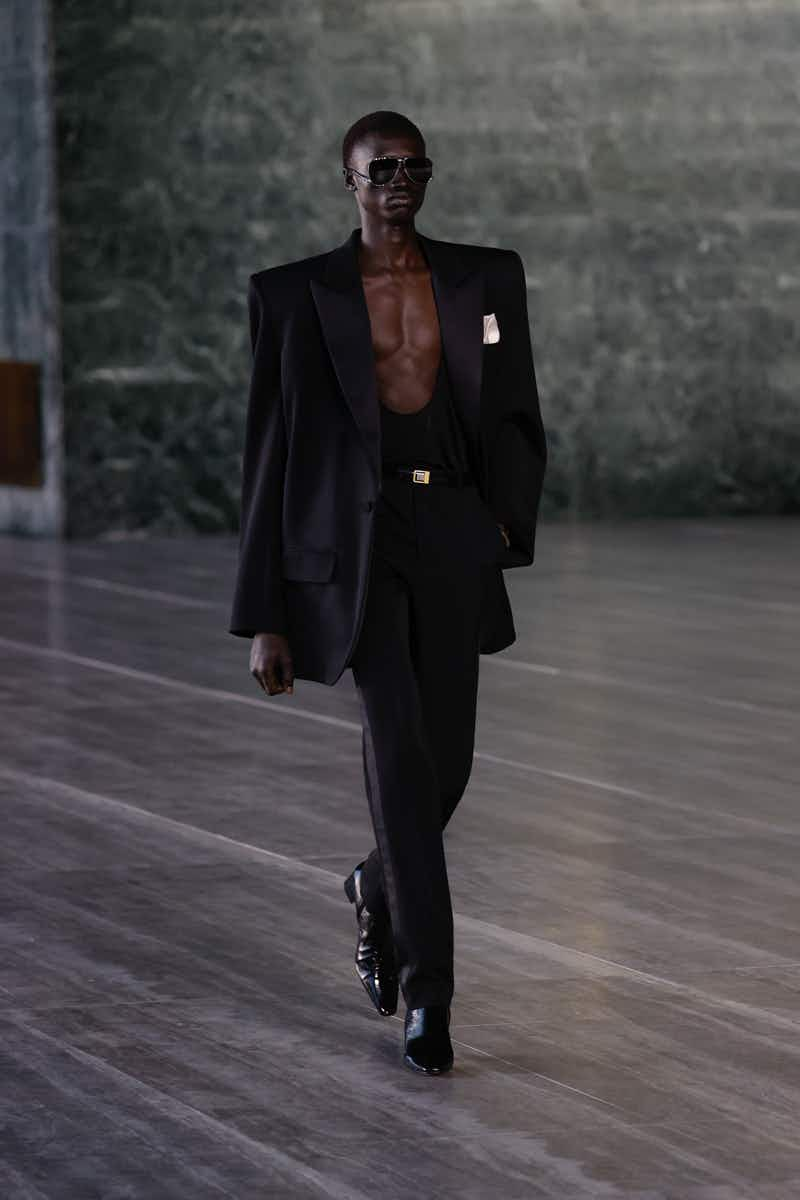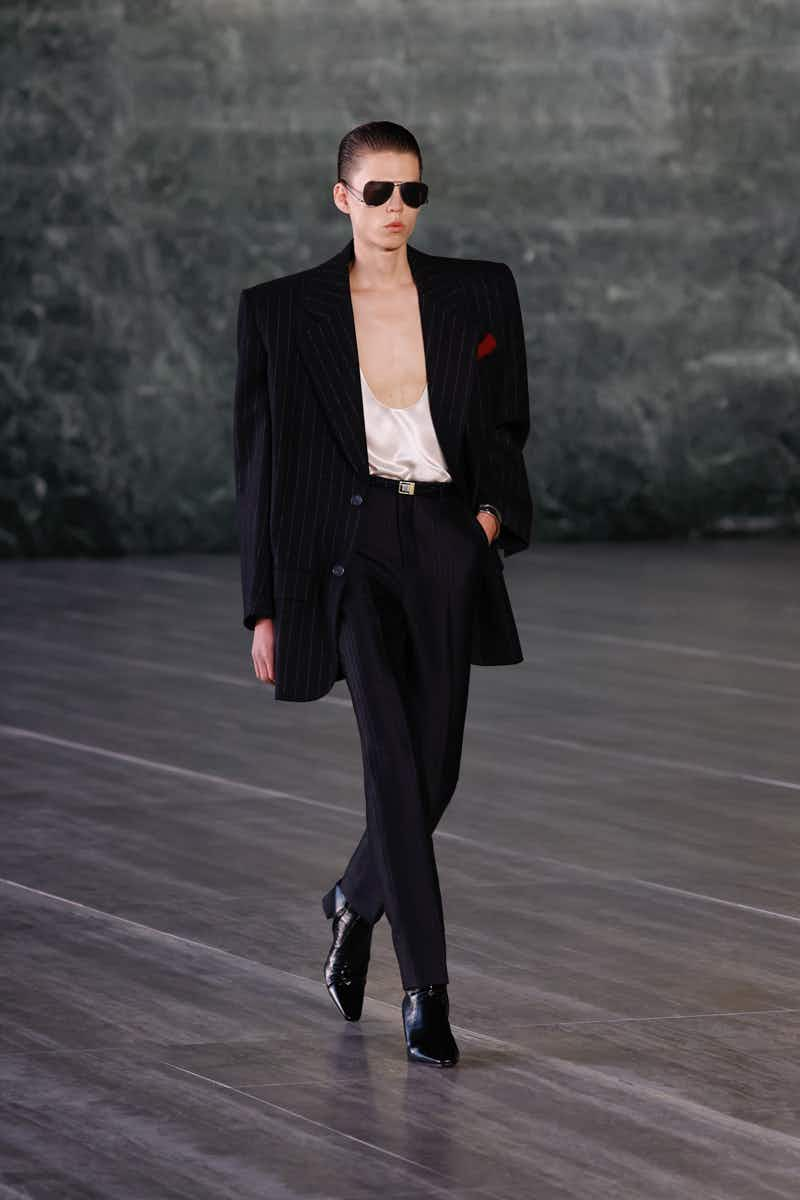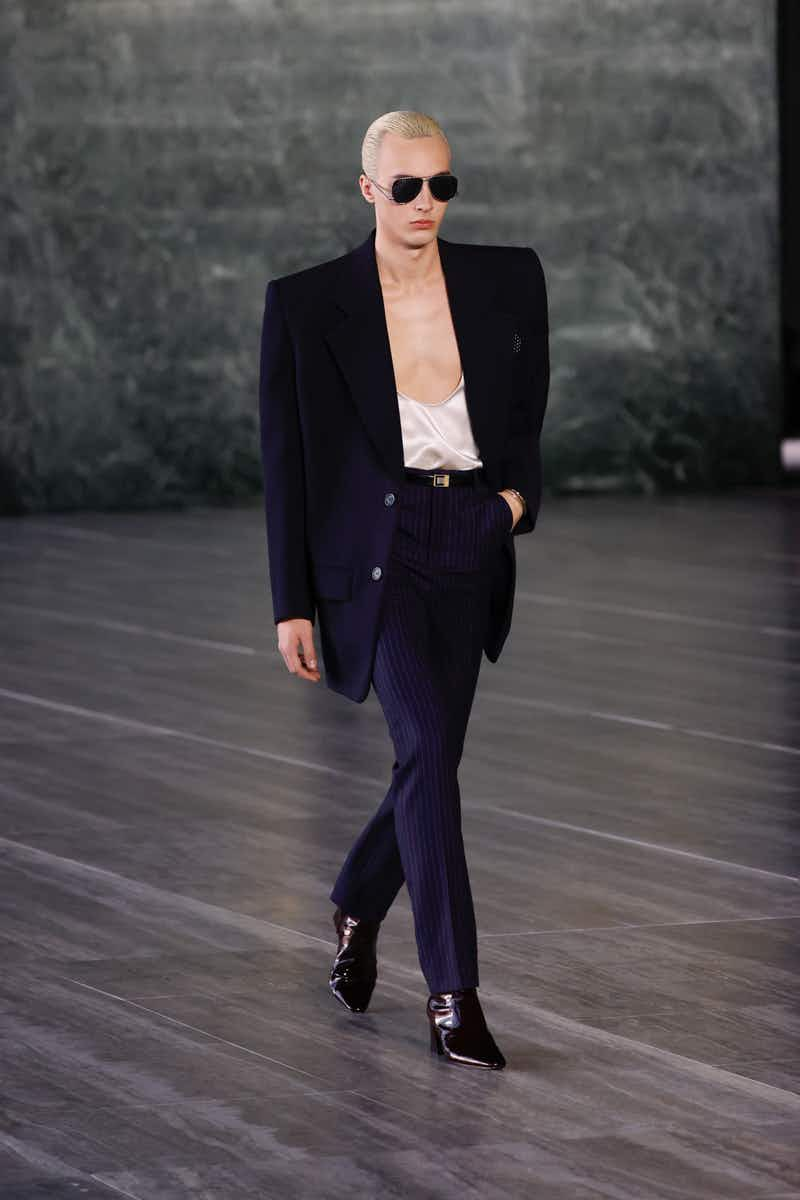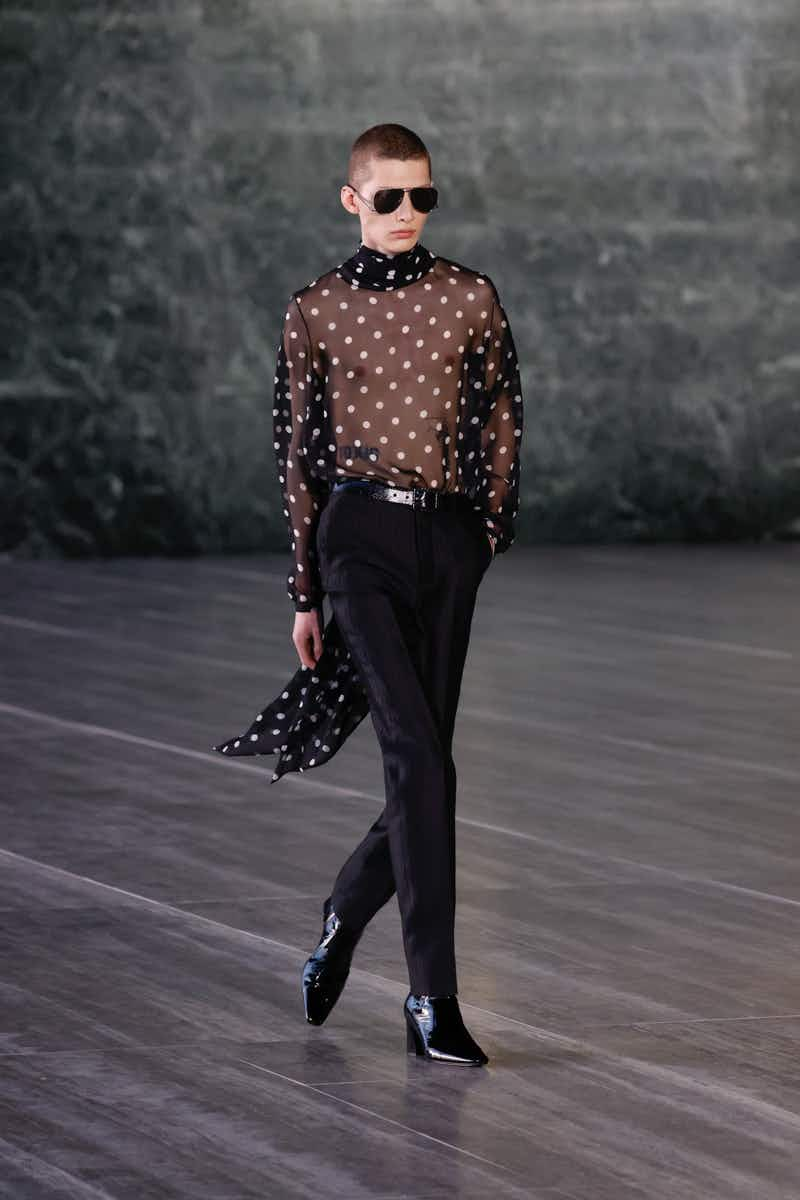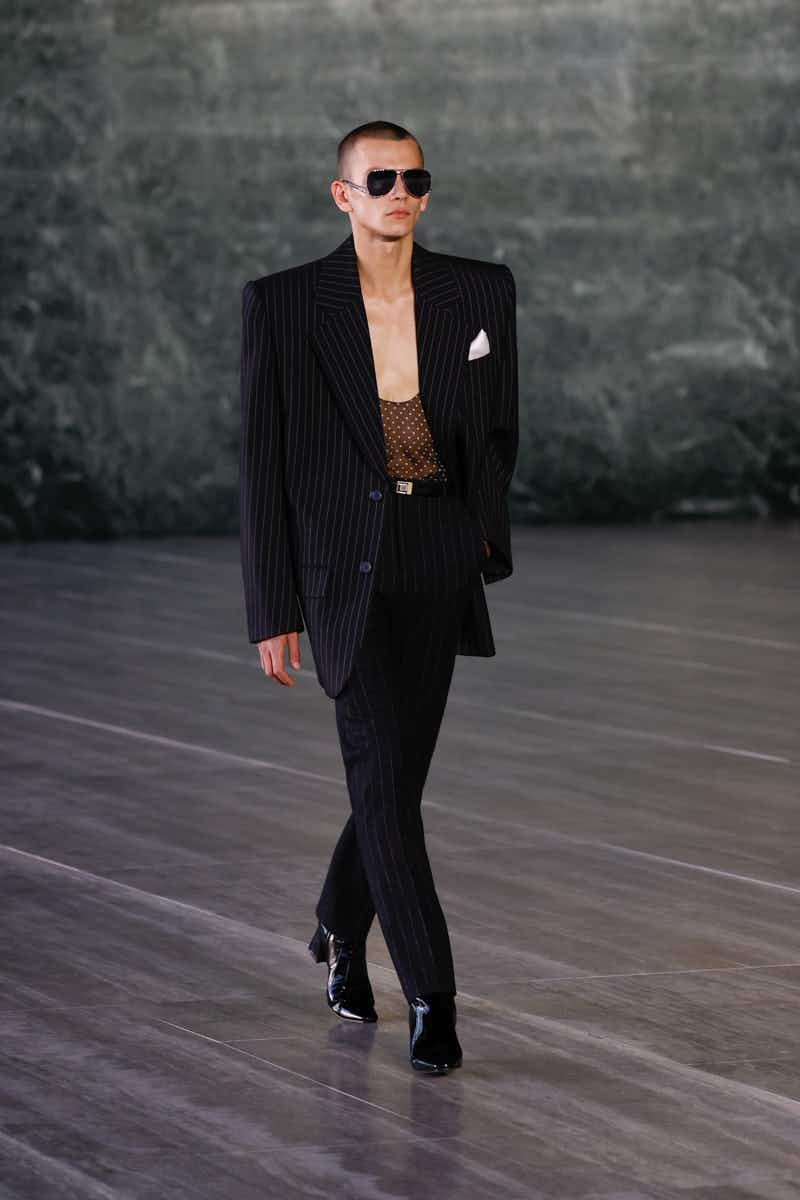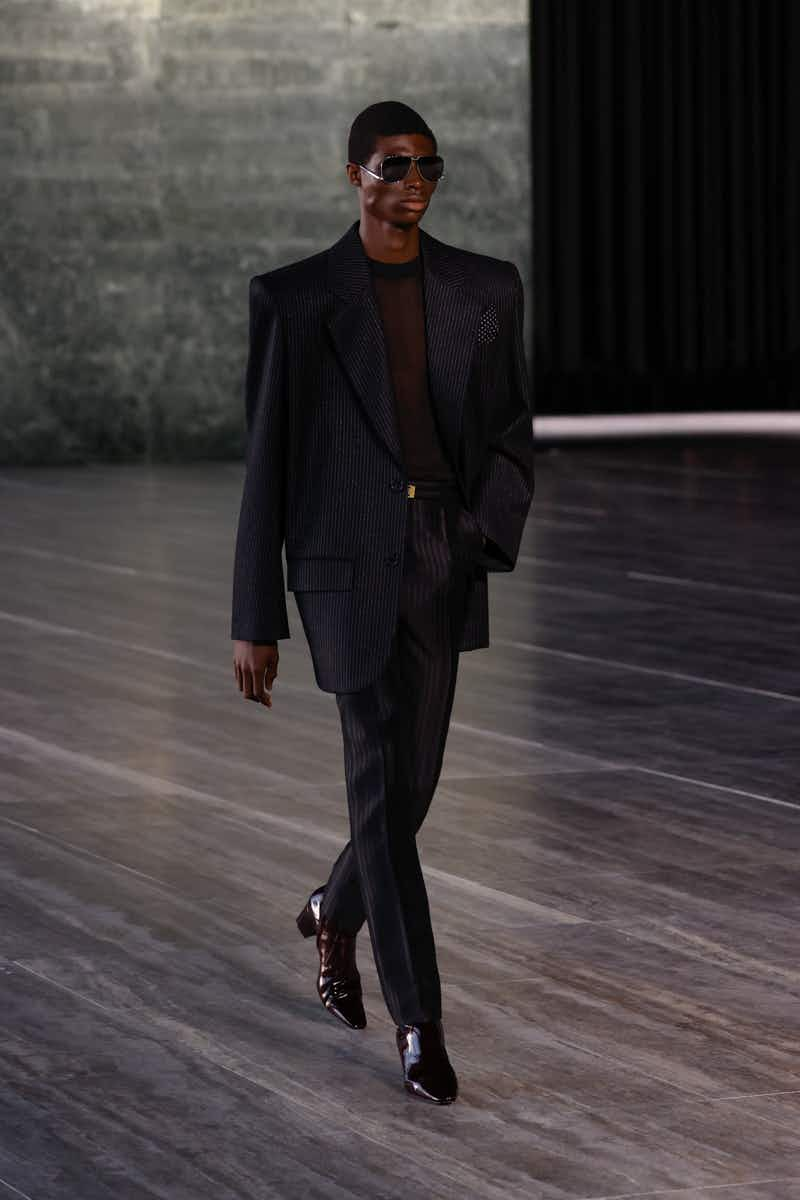 This season, tuxedos and sport jackets were sized up, exaggerated shoulders squared off (an ongoing theme), and folds elongated beyond the realms of capital‑M menswear. Indeed, a blazer's first button didn't appear until our eyes reached the trousers' waistband.
As for the shirting, this season was Vaccarello's louchest yet, combining mercurial silk with concise knotting, draping and gathering. Think: halter neck blouses, champagne-hued turtlenecks that wrap the throat like shawls and the now-familiar but ever-welcome motif of satin trains that seem to begin at the ribs, before swaddling hips and trailing in the models' wake. Teamed with swish, high-waisted flute pants – some pleated, some pinstriped and some finished with a black-tie satin stripe or lustrous glaze – the looks oozed elegance, calculating every detail.
While it didn't flip the bird at gendered archetypes, it did dandify them. In doing so, the collection showcases an atelier of pattern-cutters who make tailoring less an act of practicality, alteration and conformity, and more one of self-expression. That said, this man's story is told not in embellishment, but solely through the sculpture of cloth. In fact, no look amounted to more than five individual garments or accessories, eschewing bells, whistles and branding.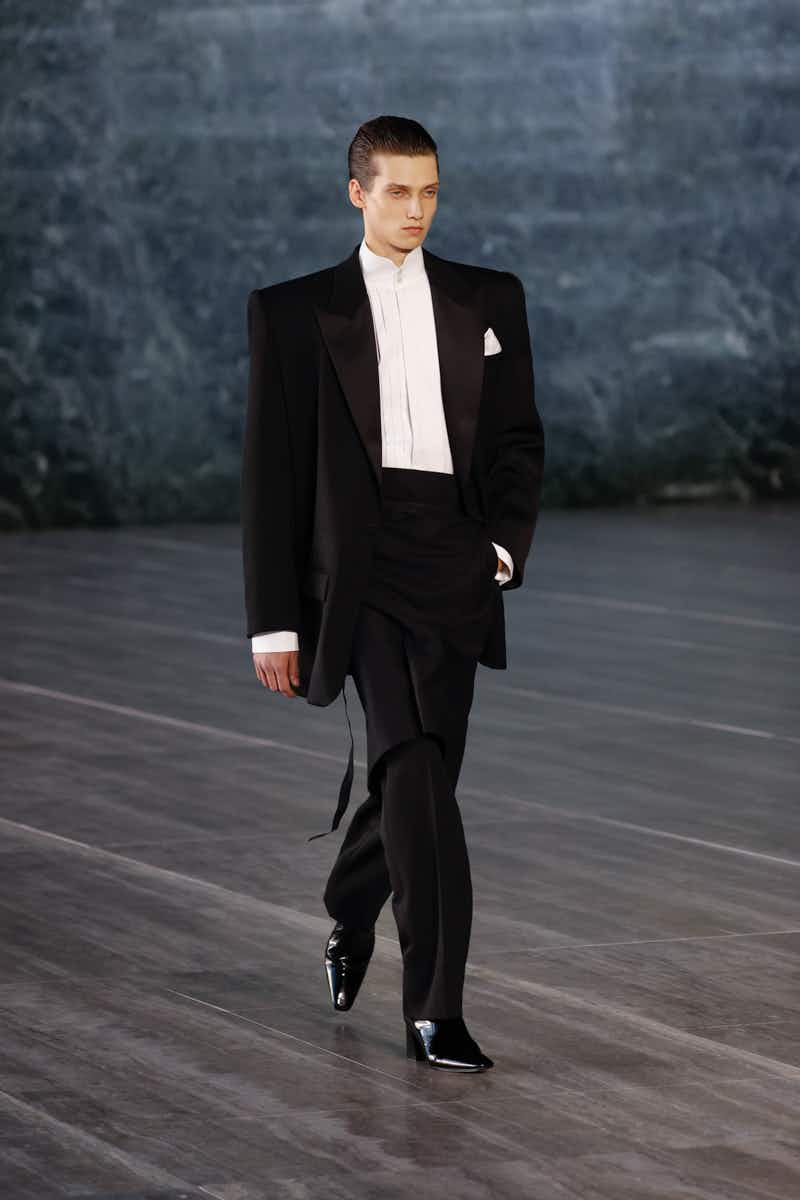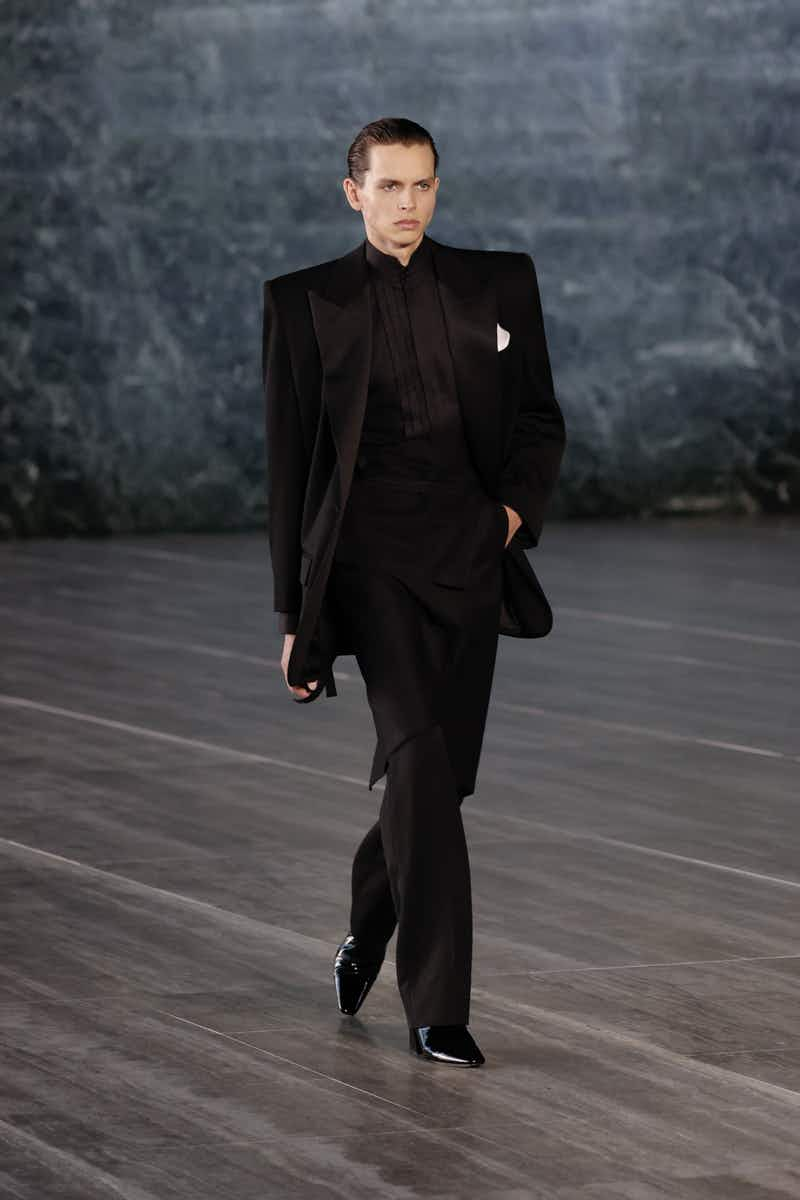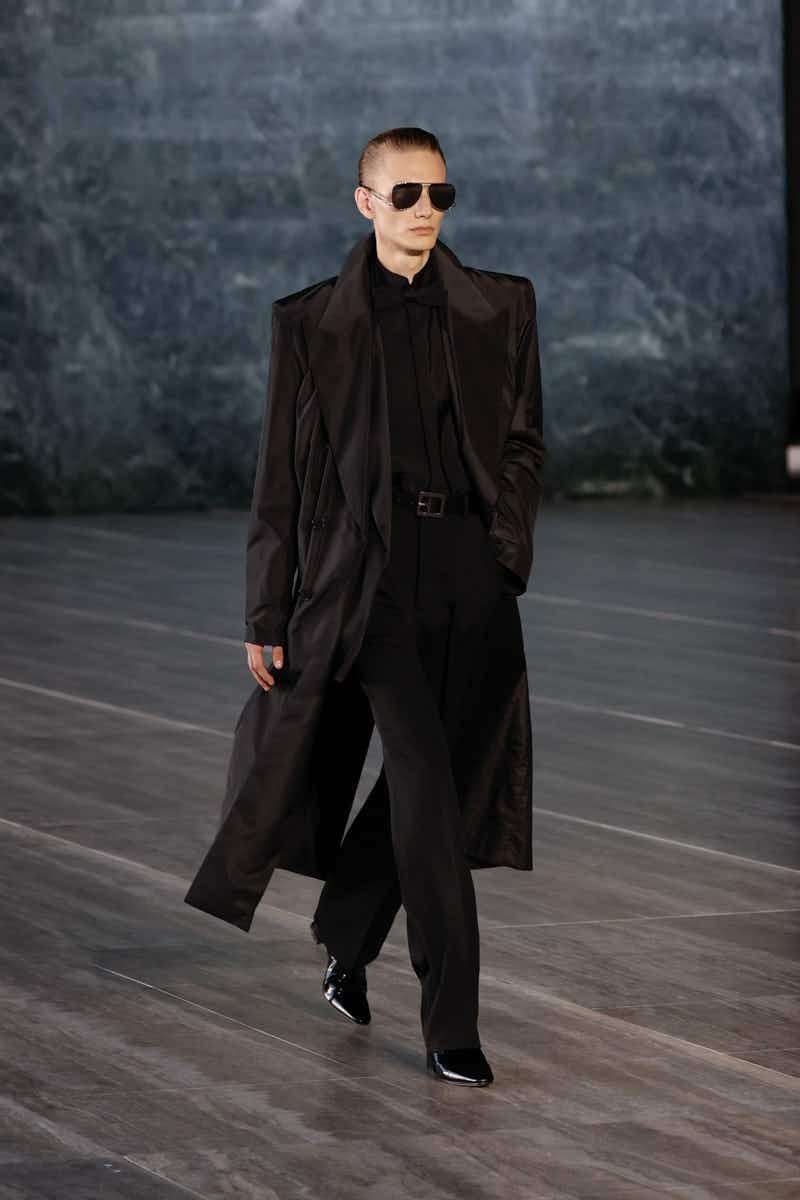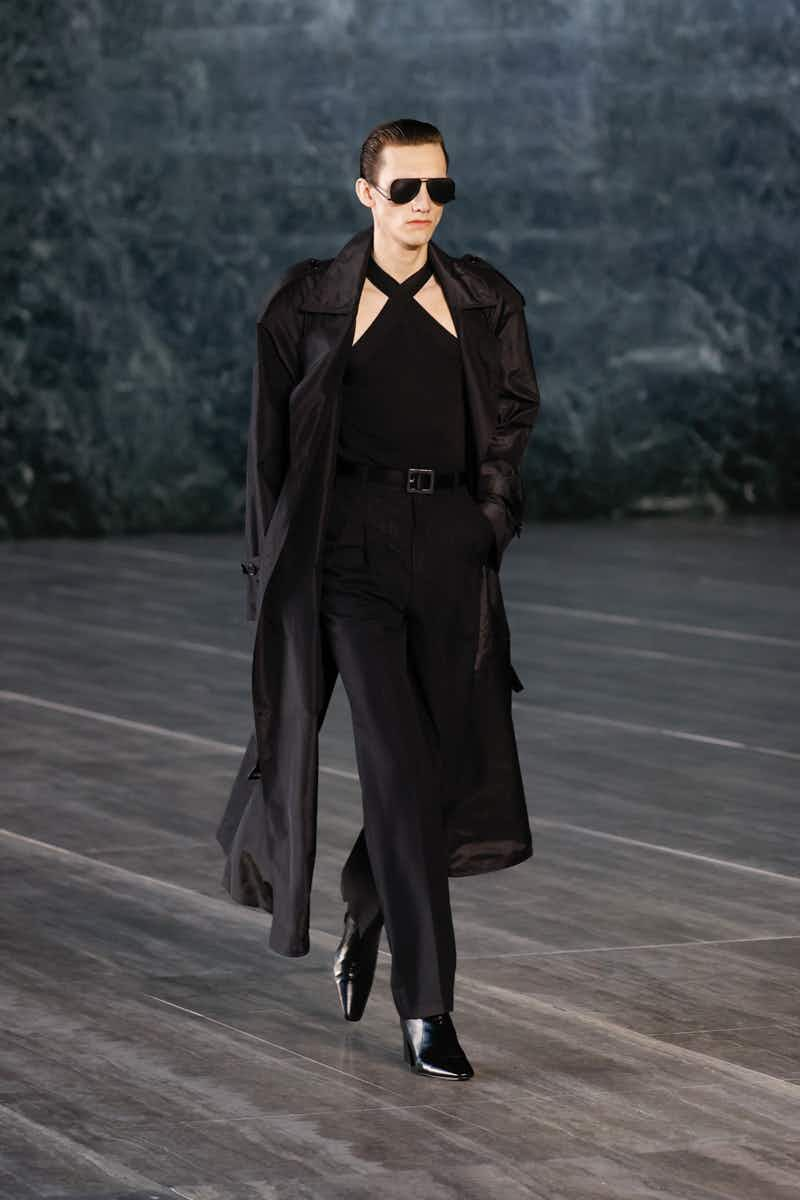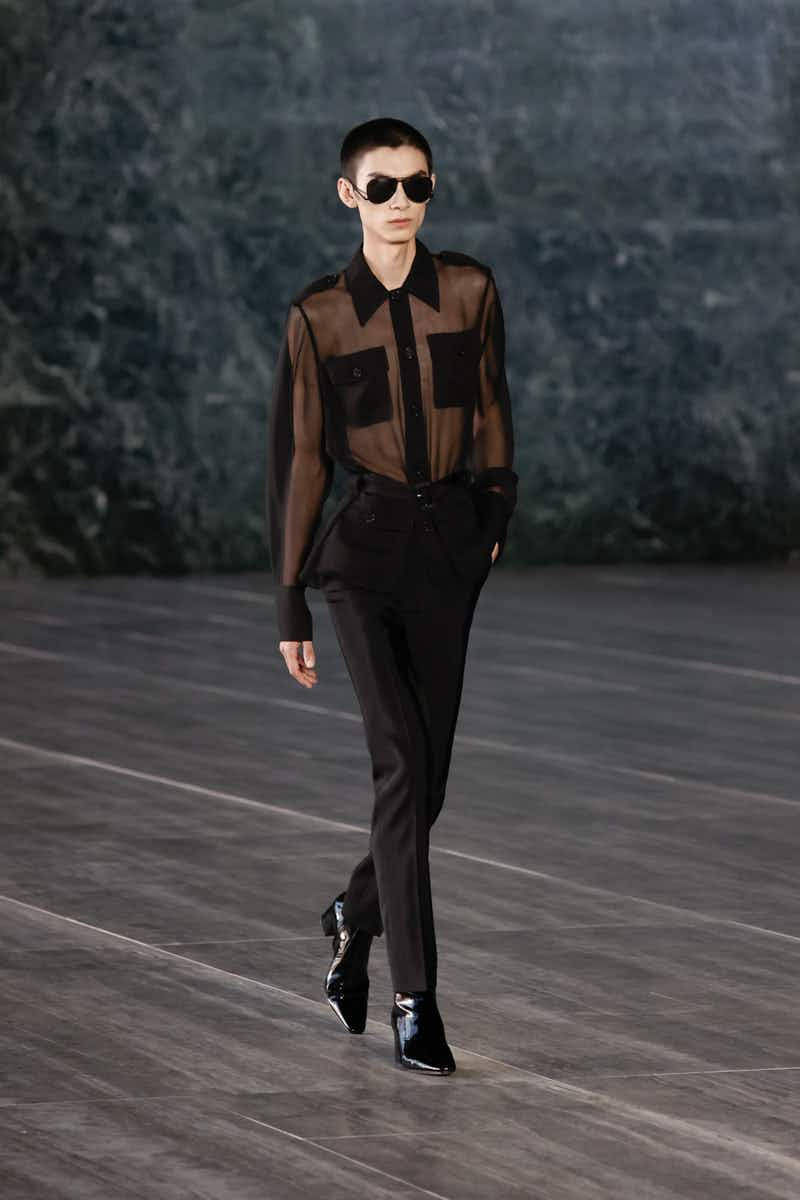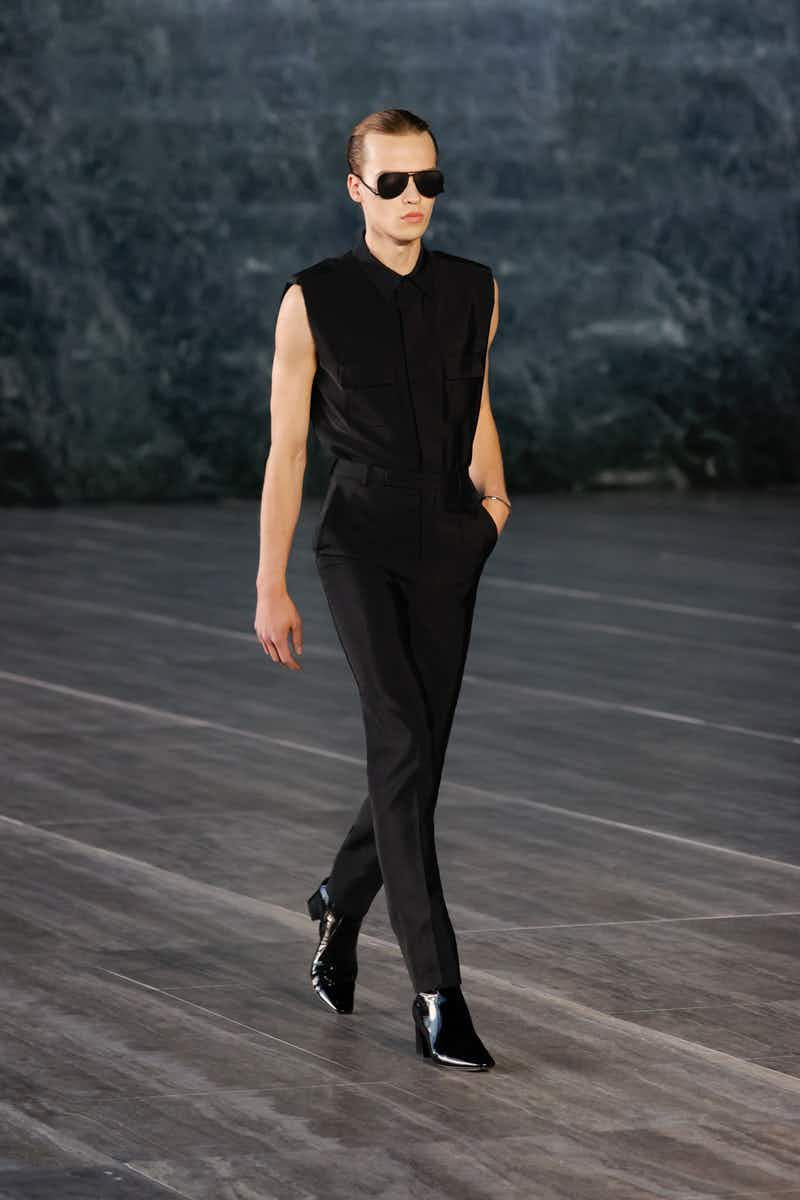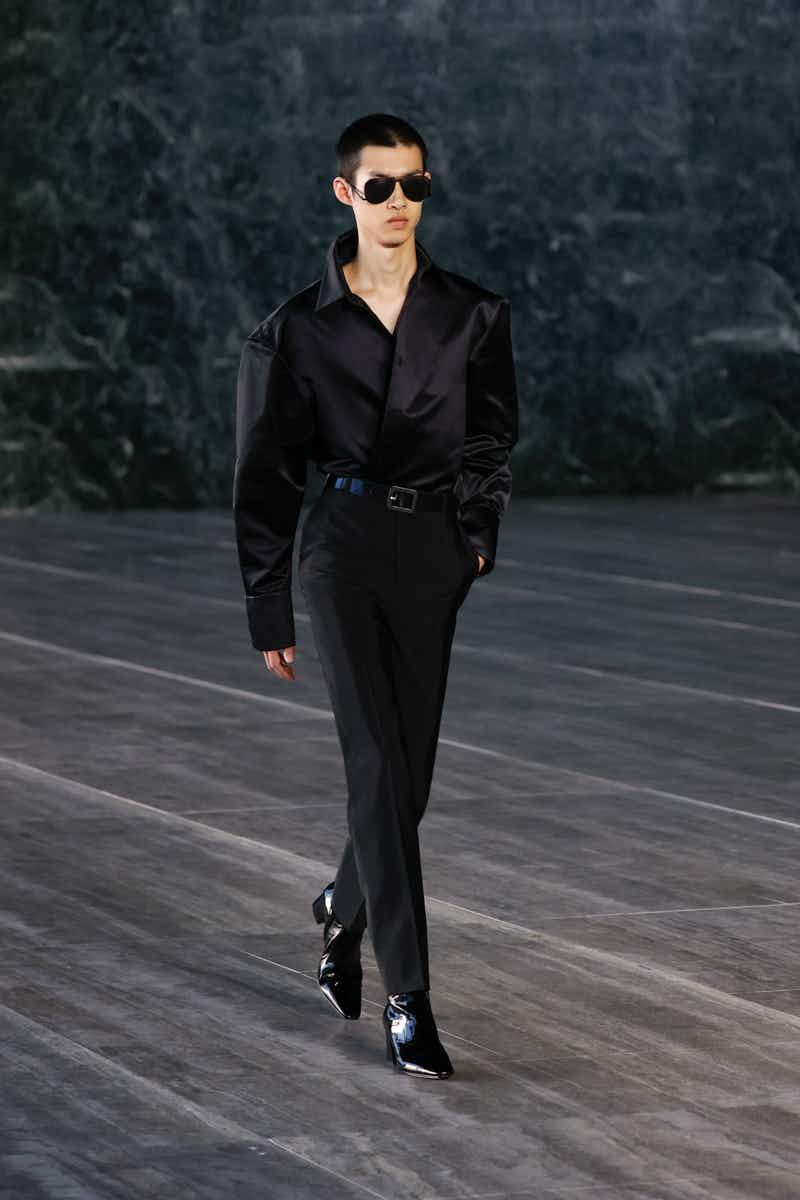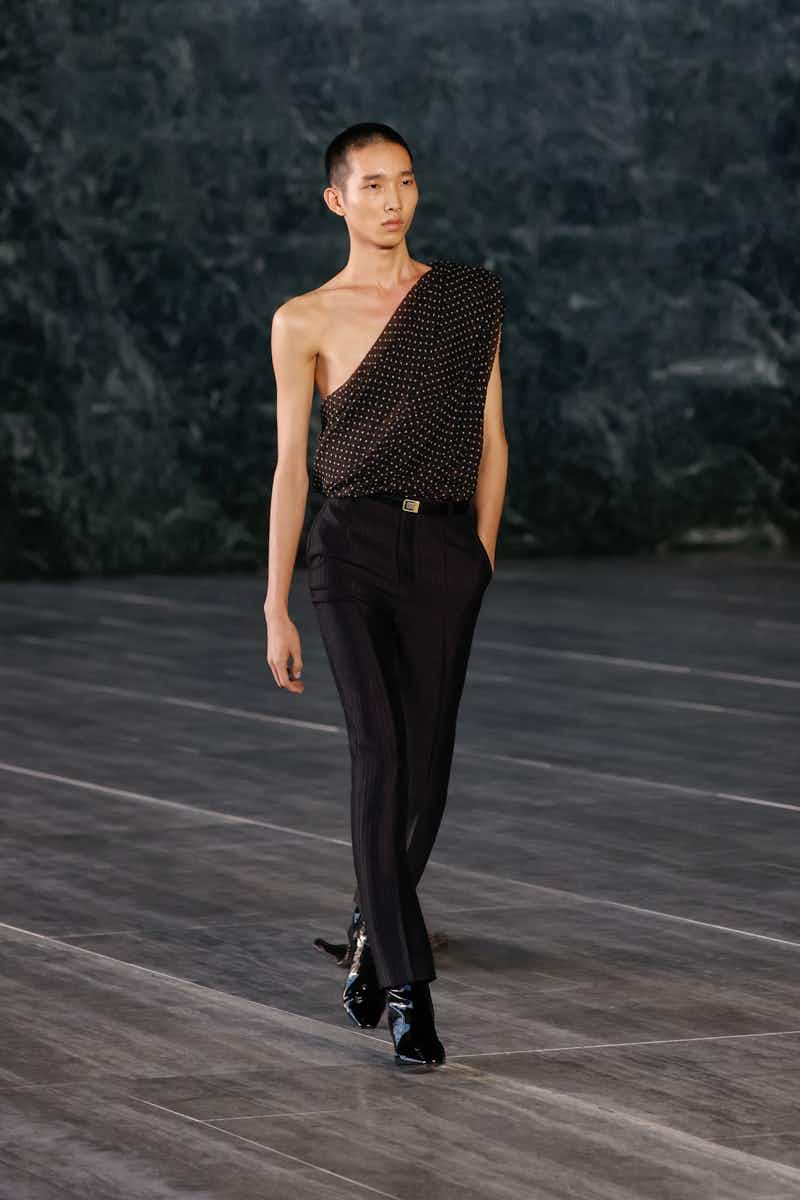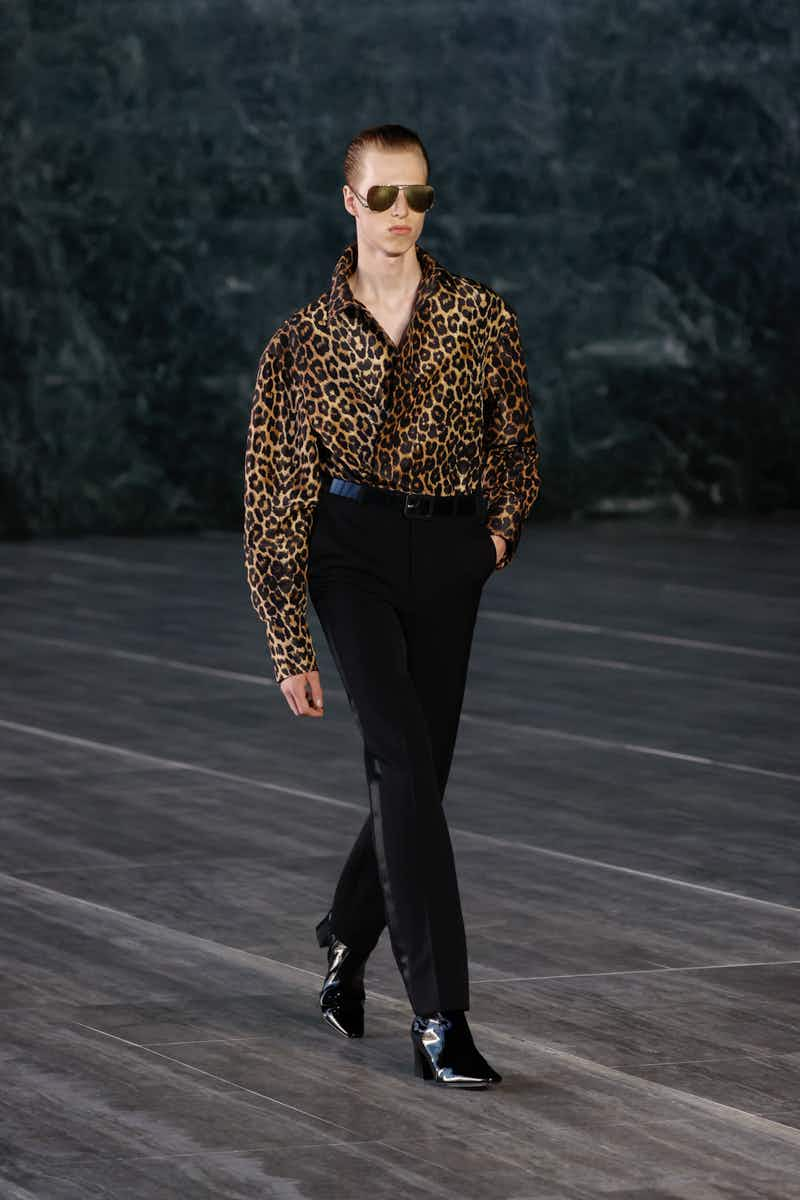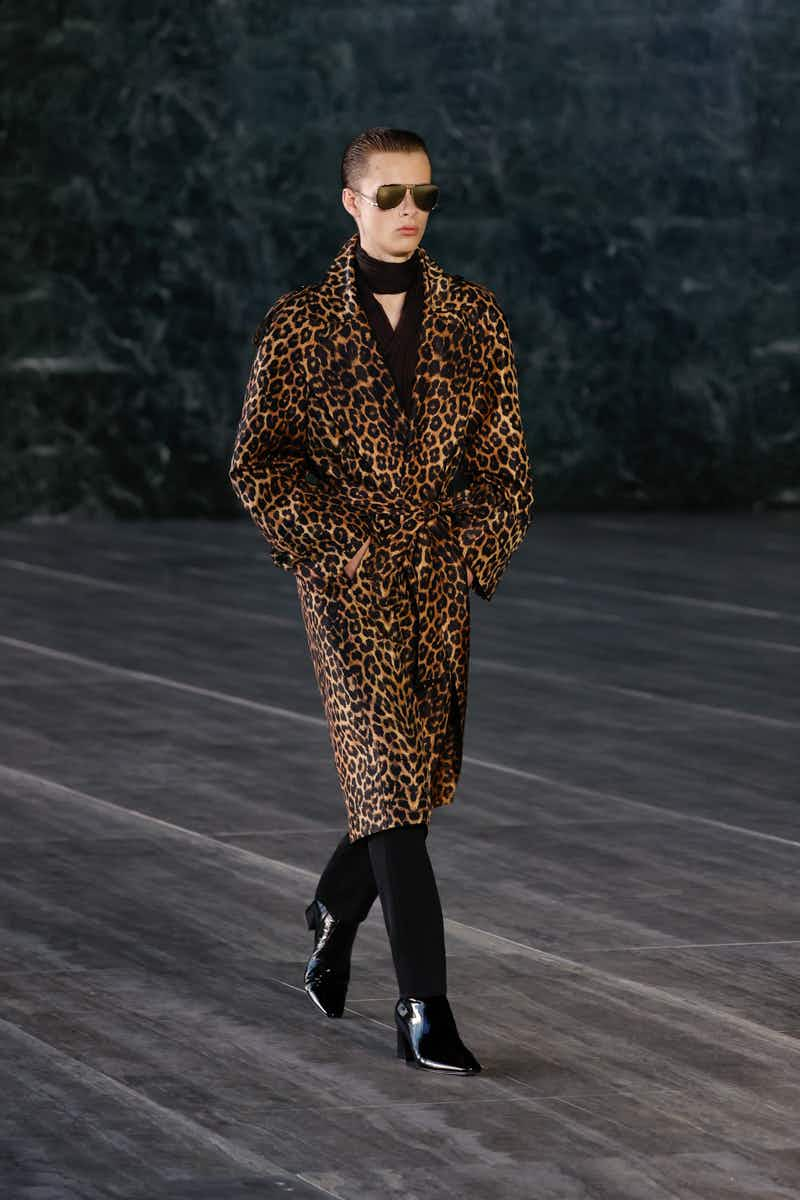 It's a hard balance to strike, but the results were flattering. Rather than feeling shouty, the transgressions at play landed with subtlety. Excessive styling? Out. Main-character energy? Dead and buried. Say hello to the effortless aesthete, a naturally naughty, if not effete, but never camp character who knows his way around a cummerbund and makeup brush alike.
Nailing steamy demure, Vaccarrello's offering prides itself on the past, working flourish into what's already there. Batwing bow ties are that bit longer, while draped (not folded) pocket squares drip from jacket slits like molten metal, a neat carry-over from the womenswear AW23 collection.
Passé, this ain't. Shirts do without buttons, crossing plackets over one another like a robe. Beneath, the bottom placket's indent makes for light relief, while glossy, plaque-buckle belts seal the airy satins or sheer with ​'80s finesse.
Lengthened shirt cuffs, slicked-back hair complete with comb lines and patent Cuban heels add just the right level of sleaze. Throughout, flipped aviators we've come to expect at Saint Laurent punctuated looks, and despite their strange form – the temples literally join the bottom of the frames – they blended in seamlessly, breaking rules with enough grace to go unquestioned.
Perhaps that's why this outing took its name, For each man kills the thing he loves, from the famous lines of an Oscar Wilde poem. After all, Wilde was, until it all came on top, a rule breaker hidden by his intoxicating charm and politesse.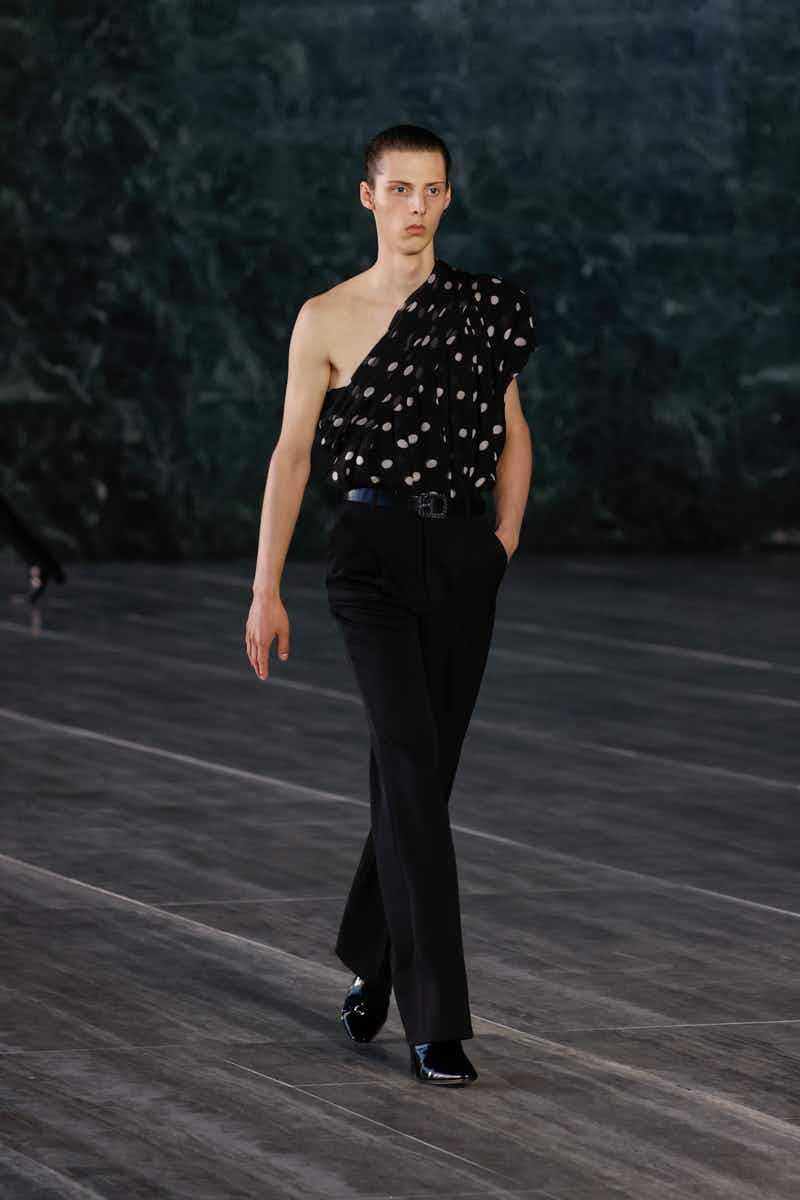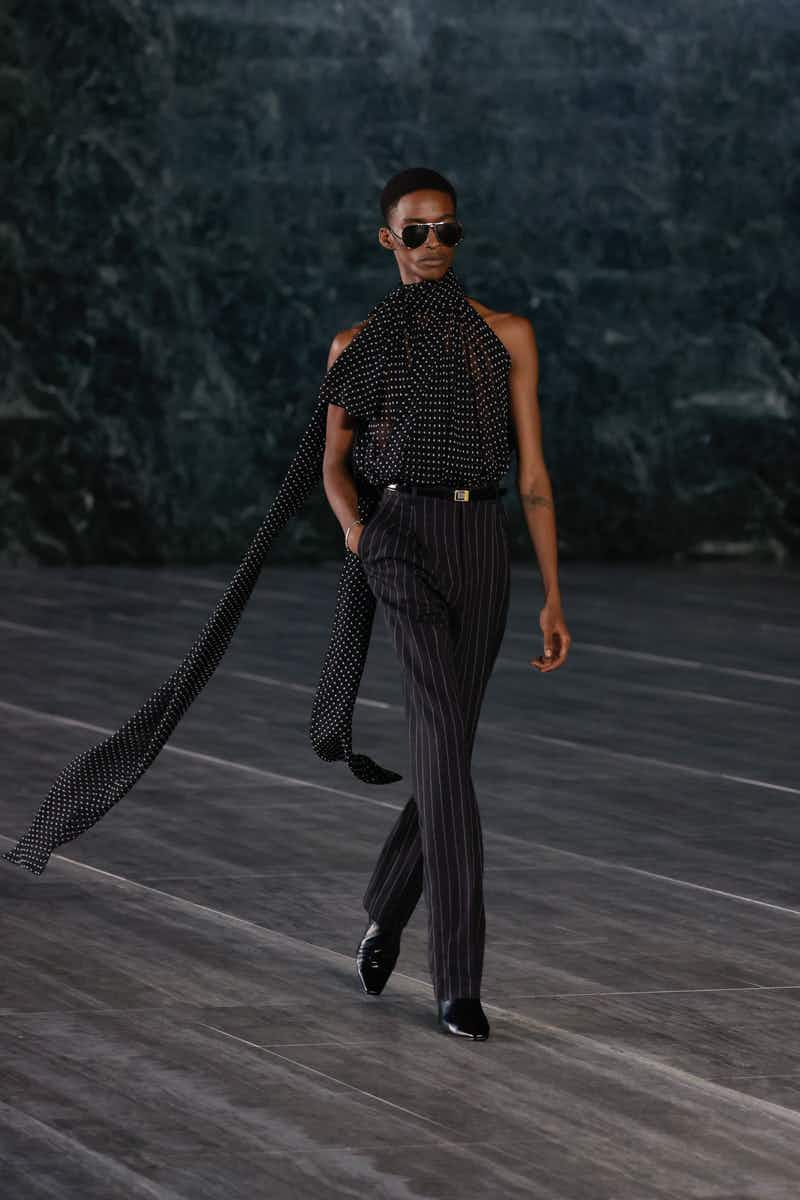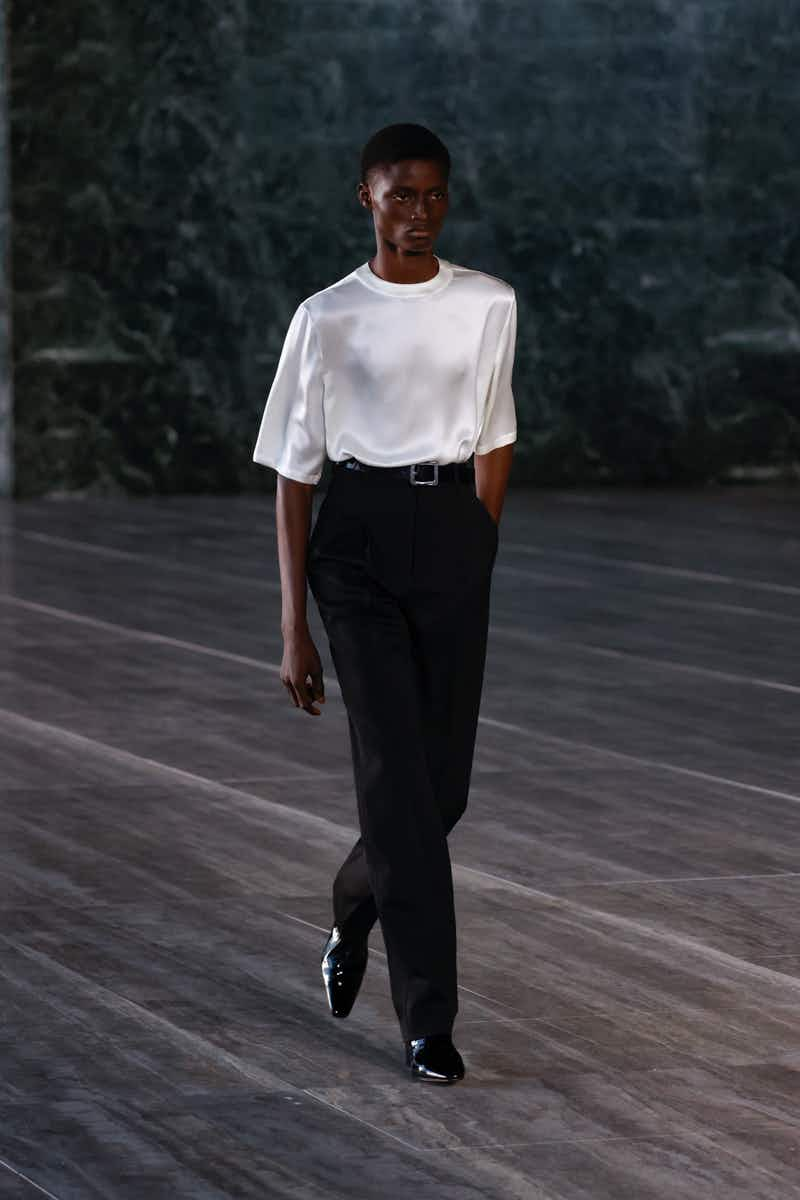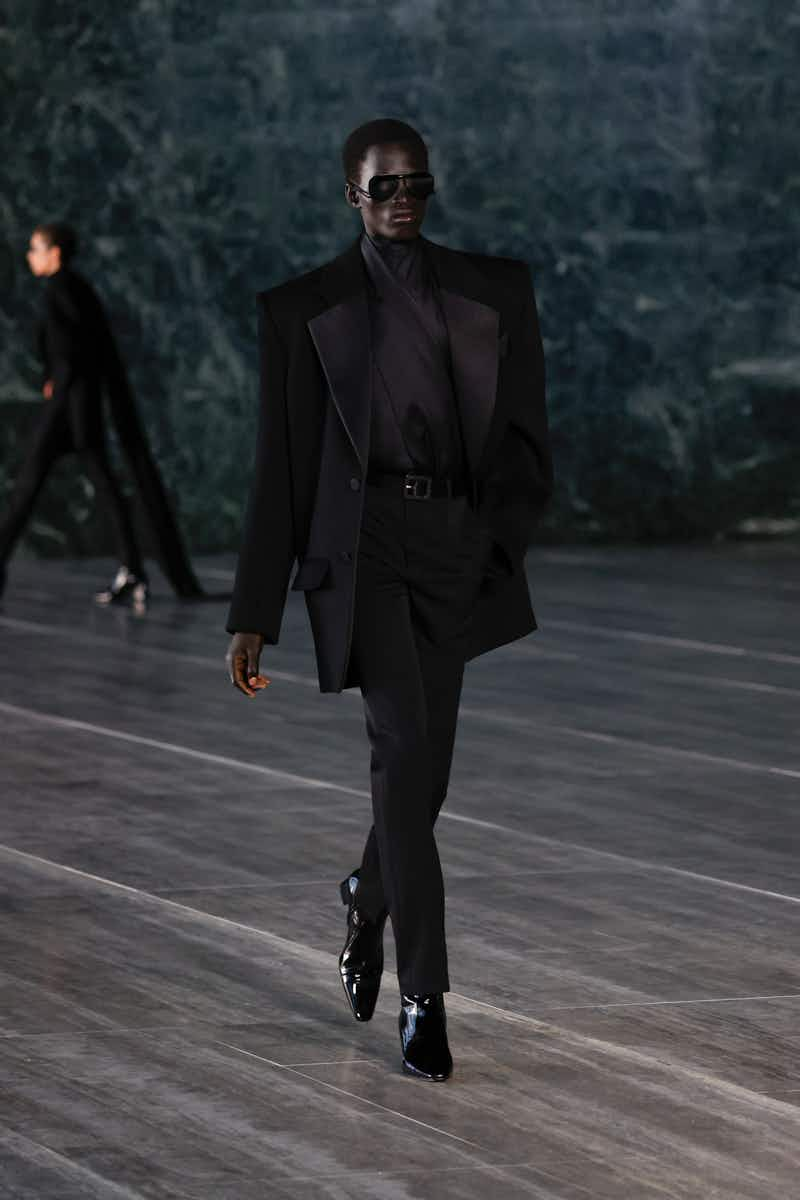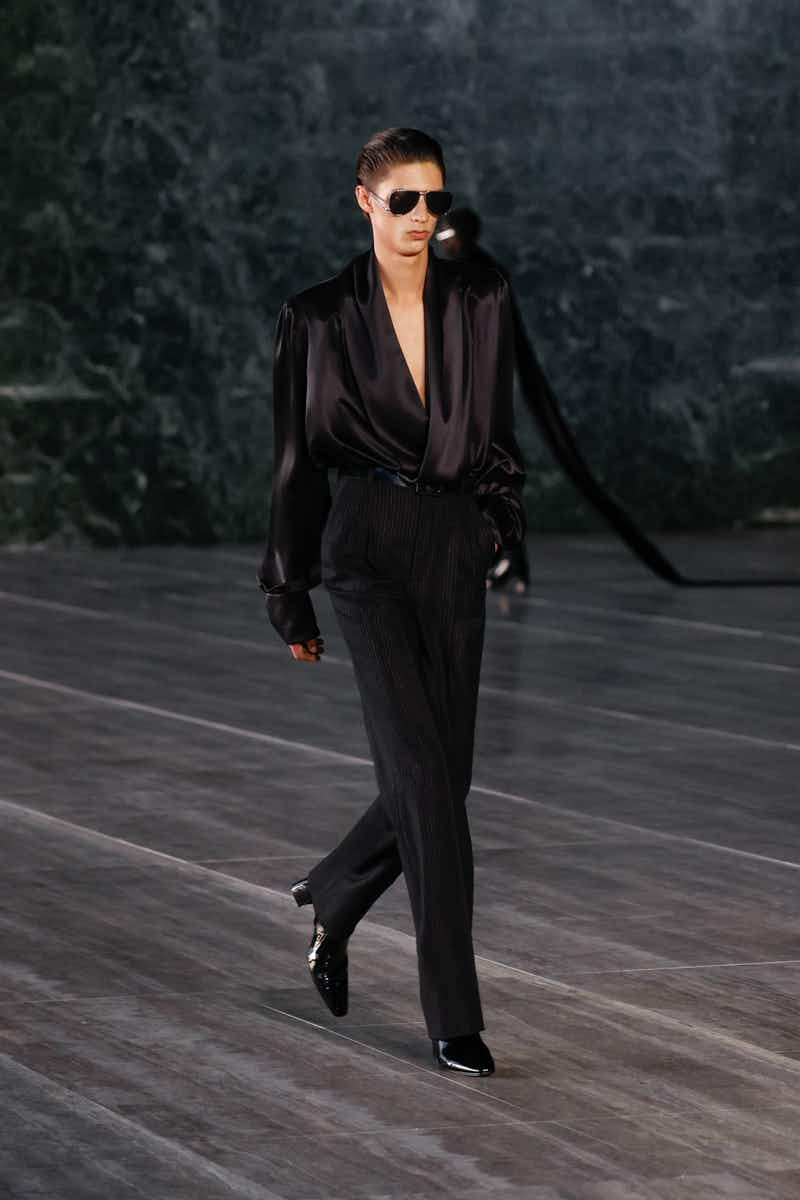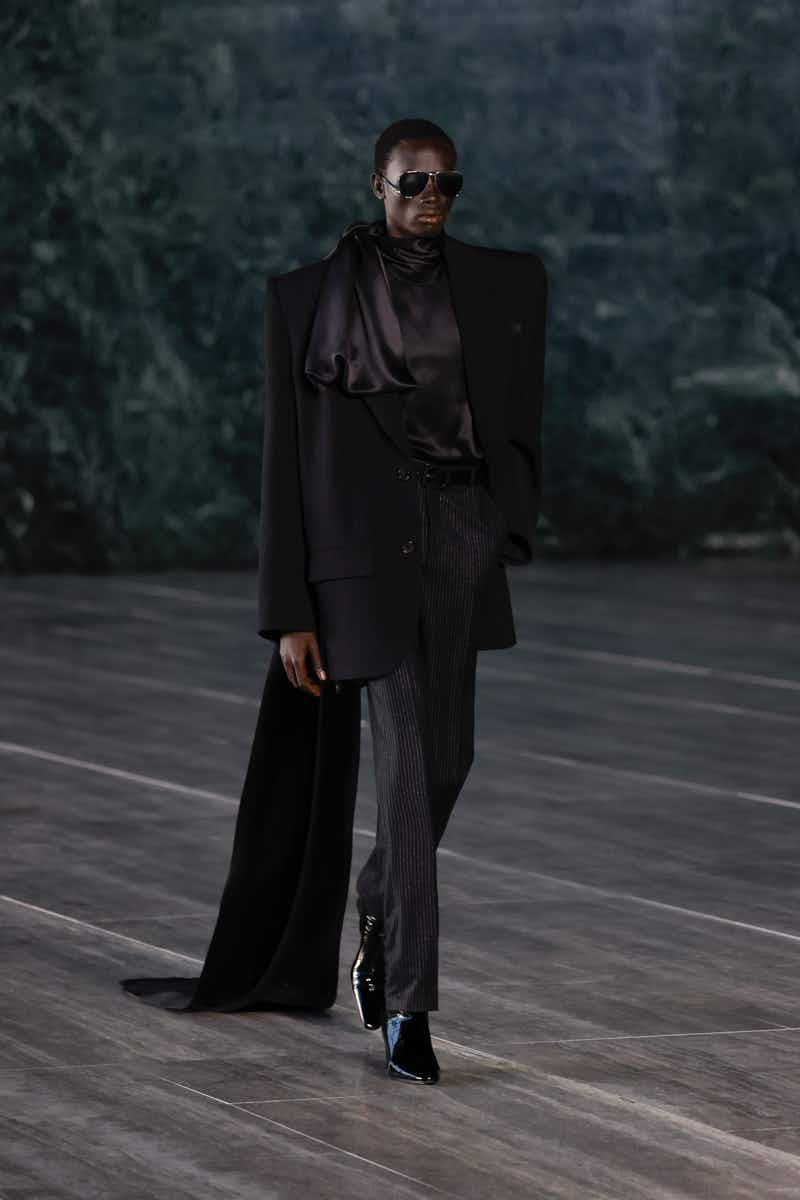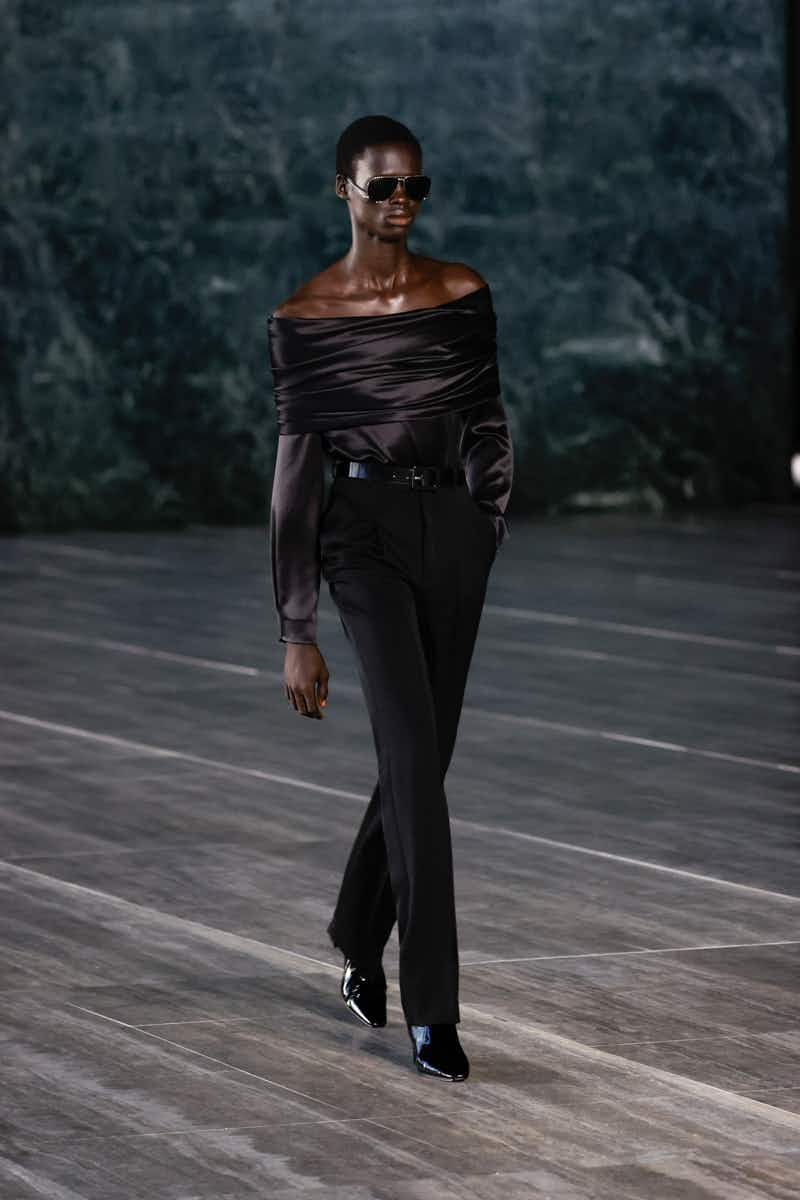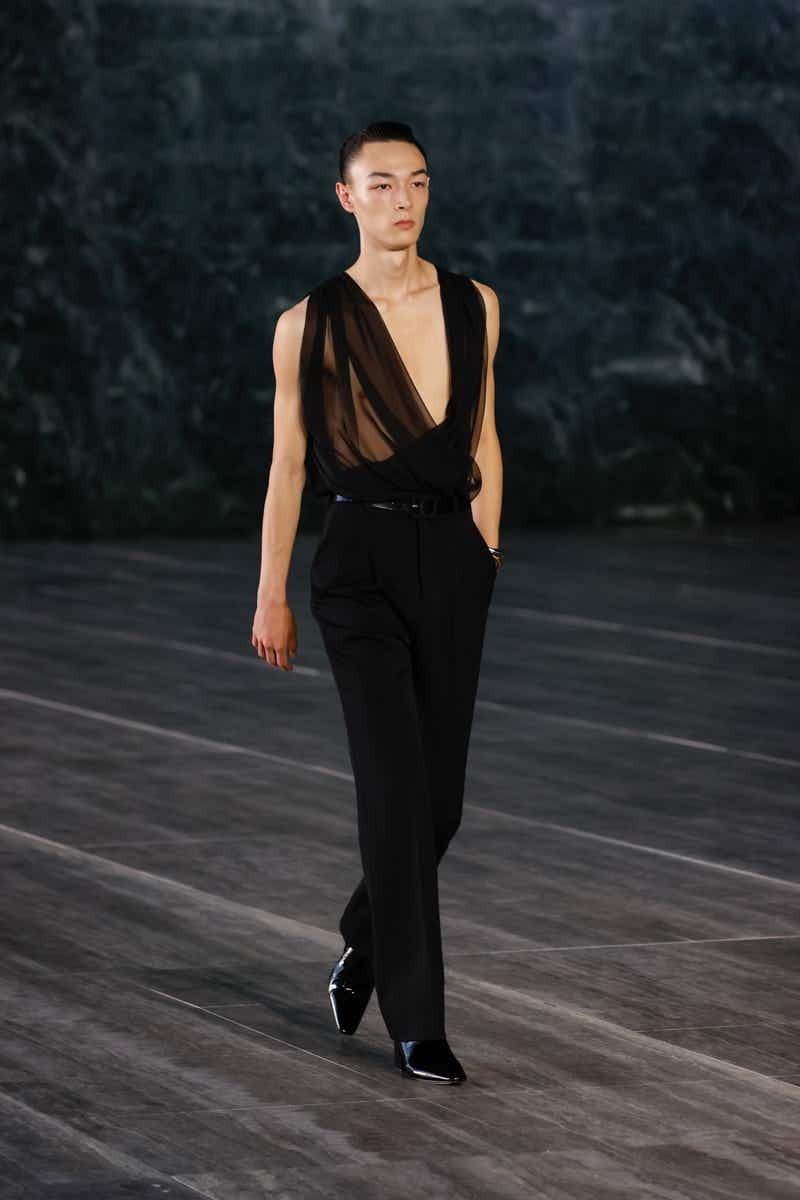 Which is not to say that there weren't looks that felt risqué. Take, for example, the scooping satin camisoles, another borrowed gesture from the womenswear SS24 show. Plunging to the sternum, they recalled leotards, sexed-up on the male form, demonstrating that even the subtlest transgressives will still stick out a little.
Maybe this explains the teaser clip released days before, a snippet from Un Chant D'Amour, the incendiary, formerly banned film by homosexual vagabond par excellence, Jean Genet, who grew up gender bending, gnawing at the seams of acceptability, not without friction. That, or this was just another example of Vaccarello's impeccable taste.


More like this