The ultimate Milan Fashion Week Men's SS24 round up
The last word on: Valentino, Gucci, Alyx, Dsquared2, MSGM, Dolce & Gabbana, Jordanluca, Etro, Charles Jeffrey, JW Anderson, Ten C and Zegna.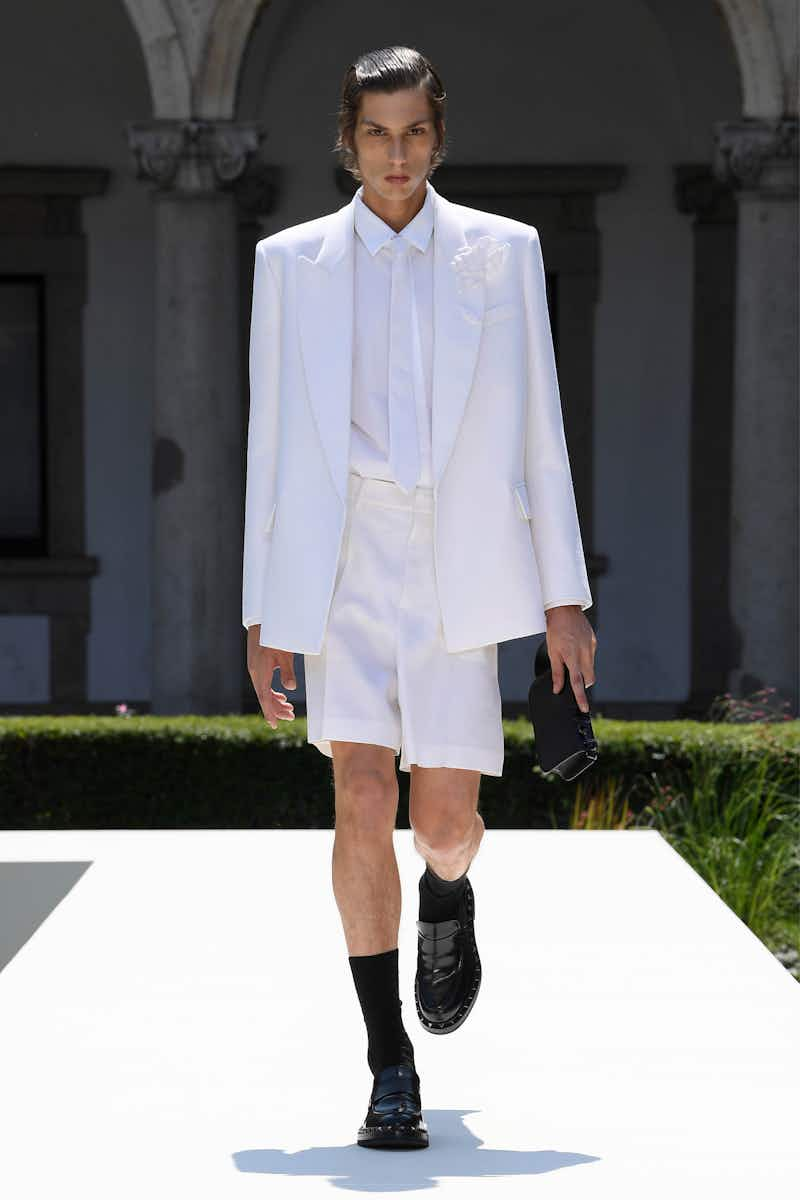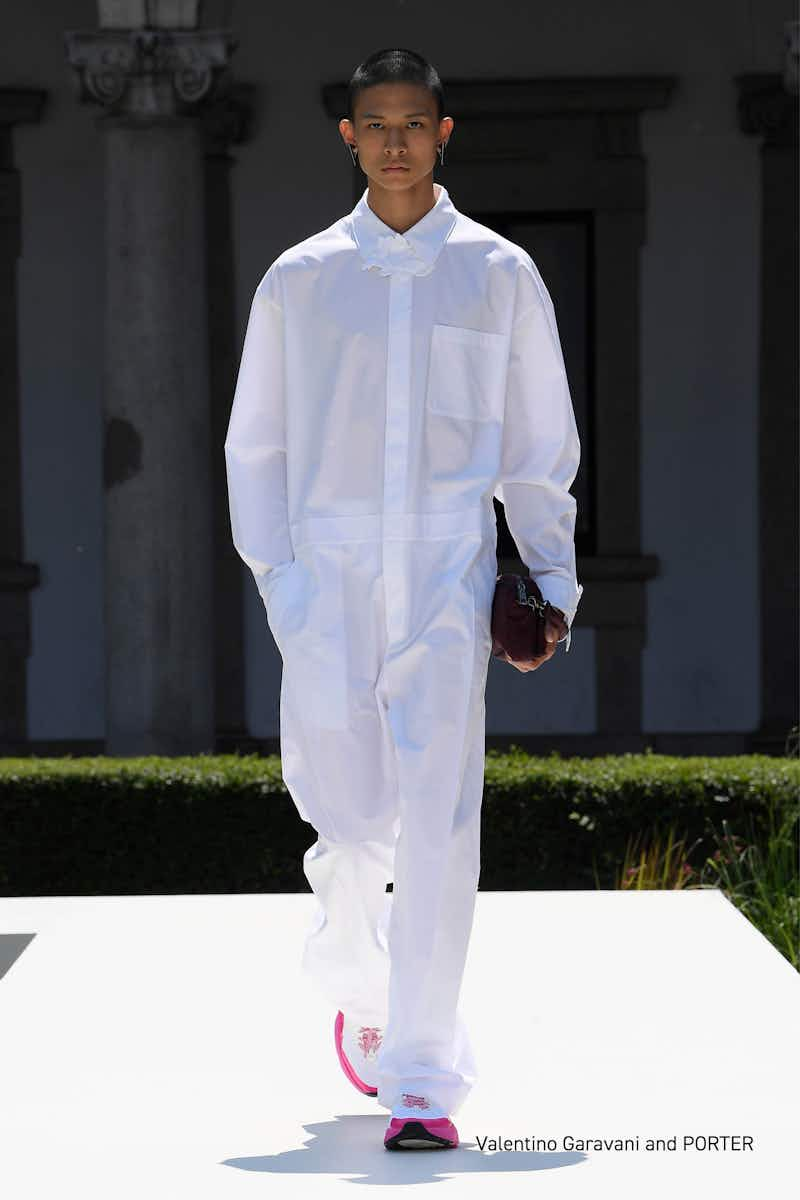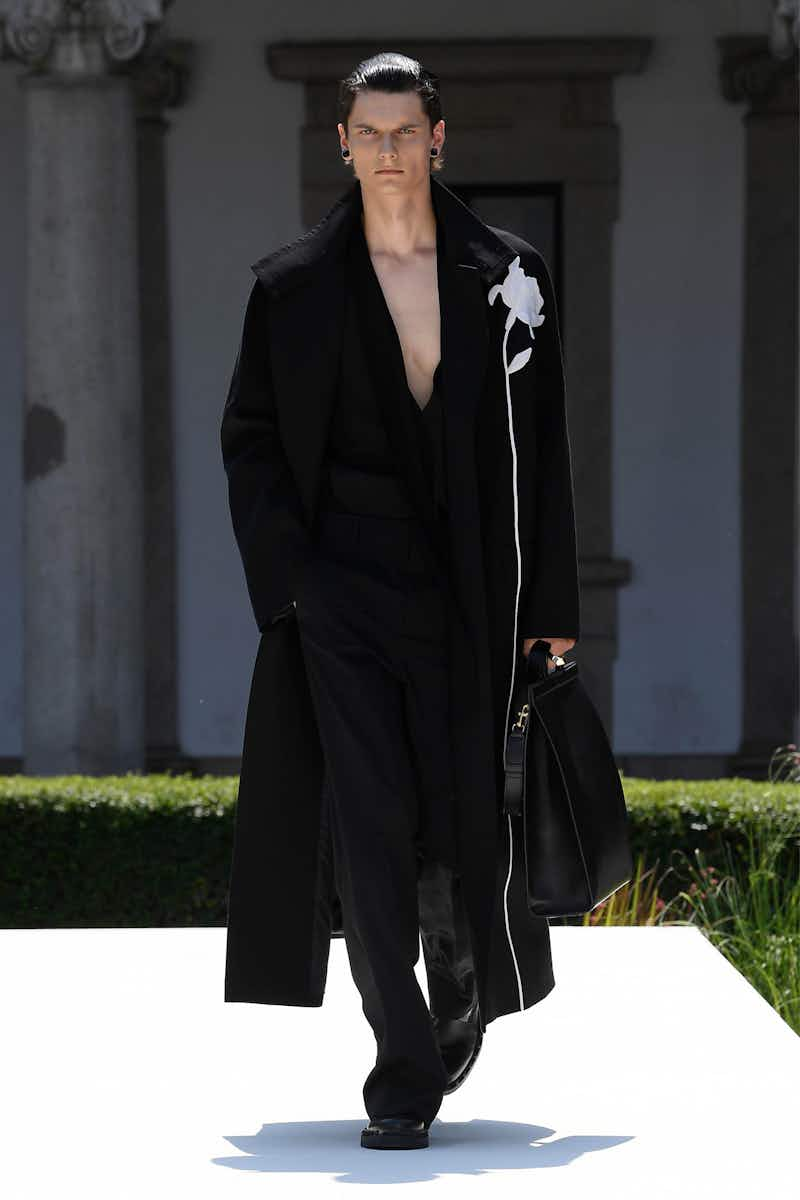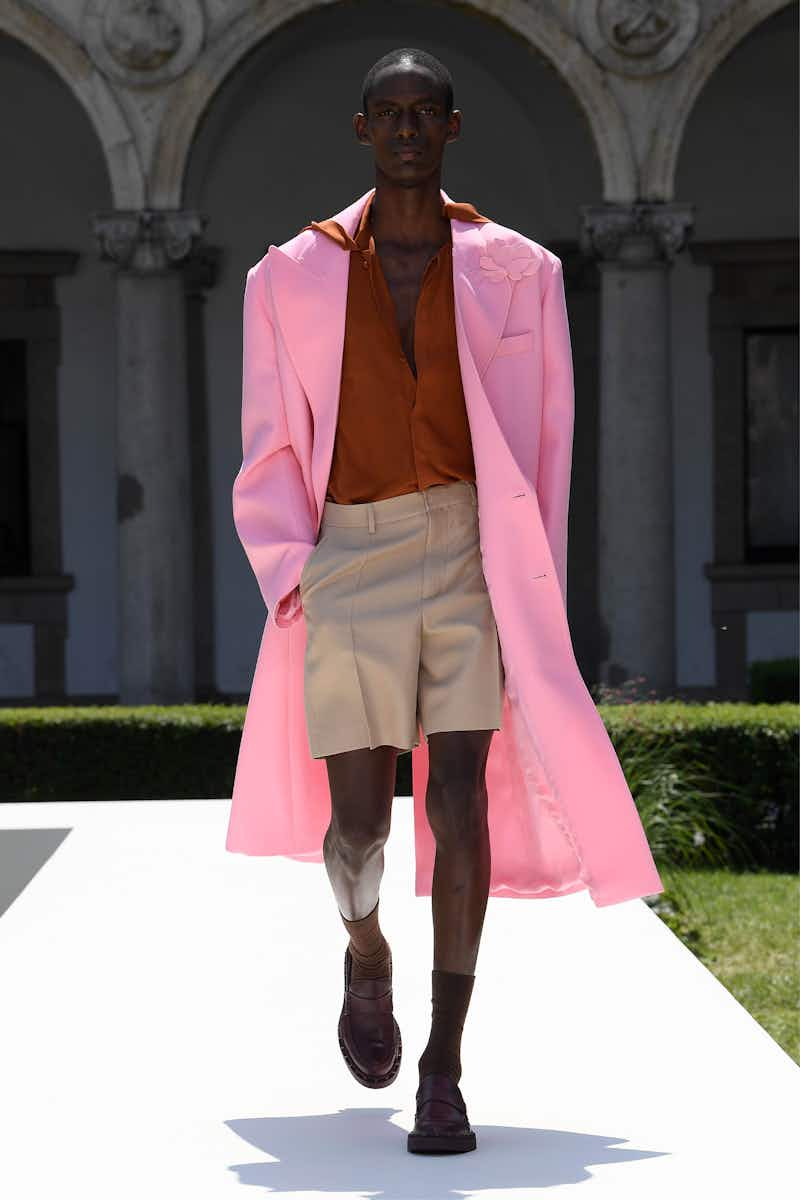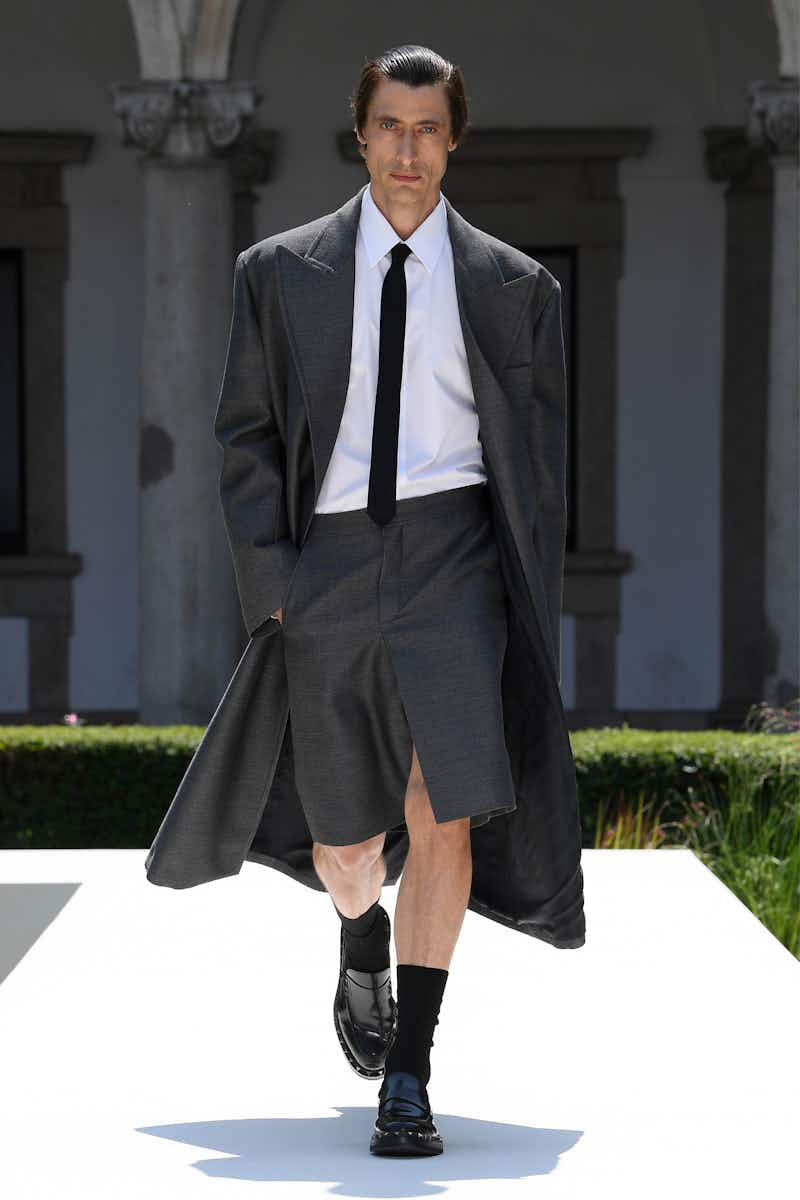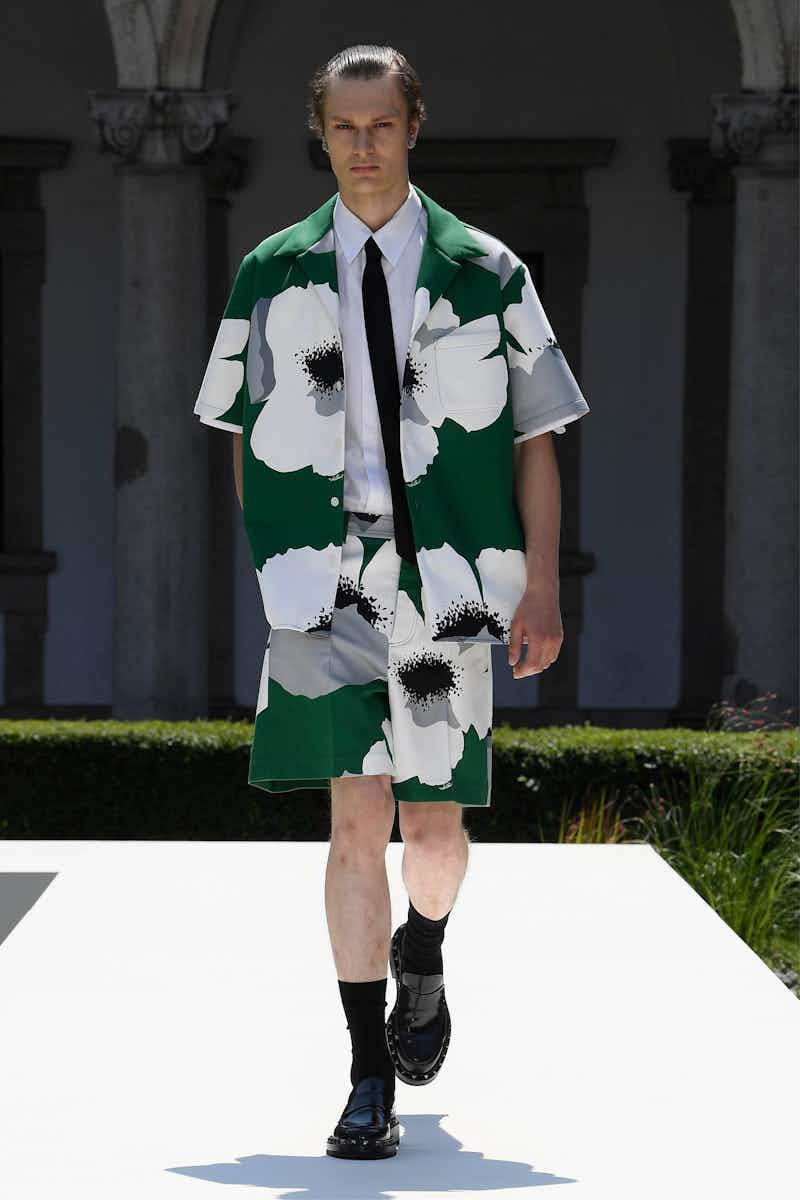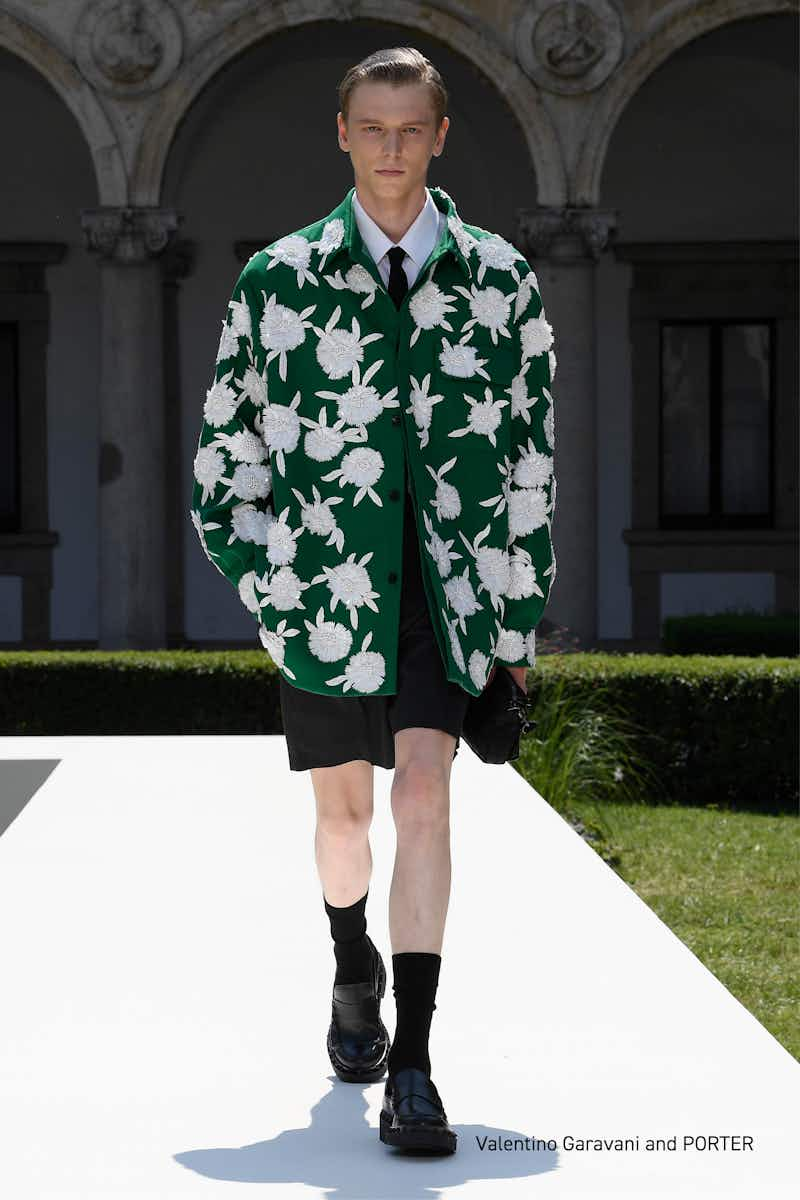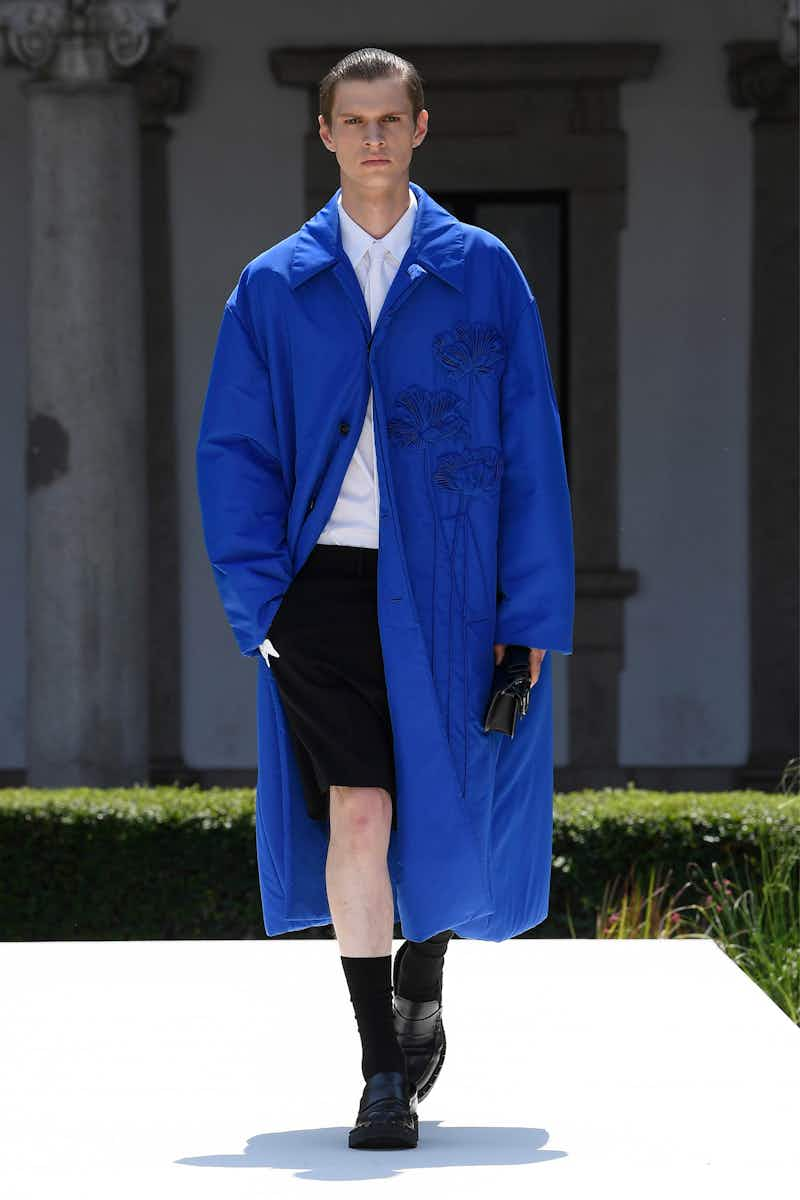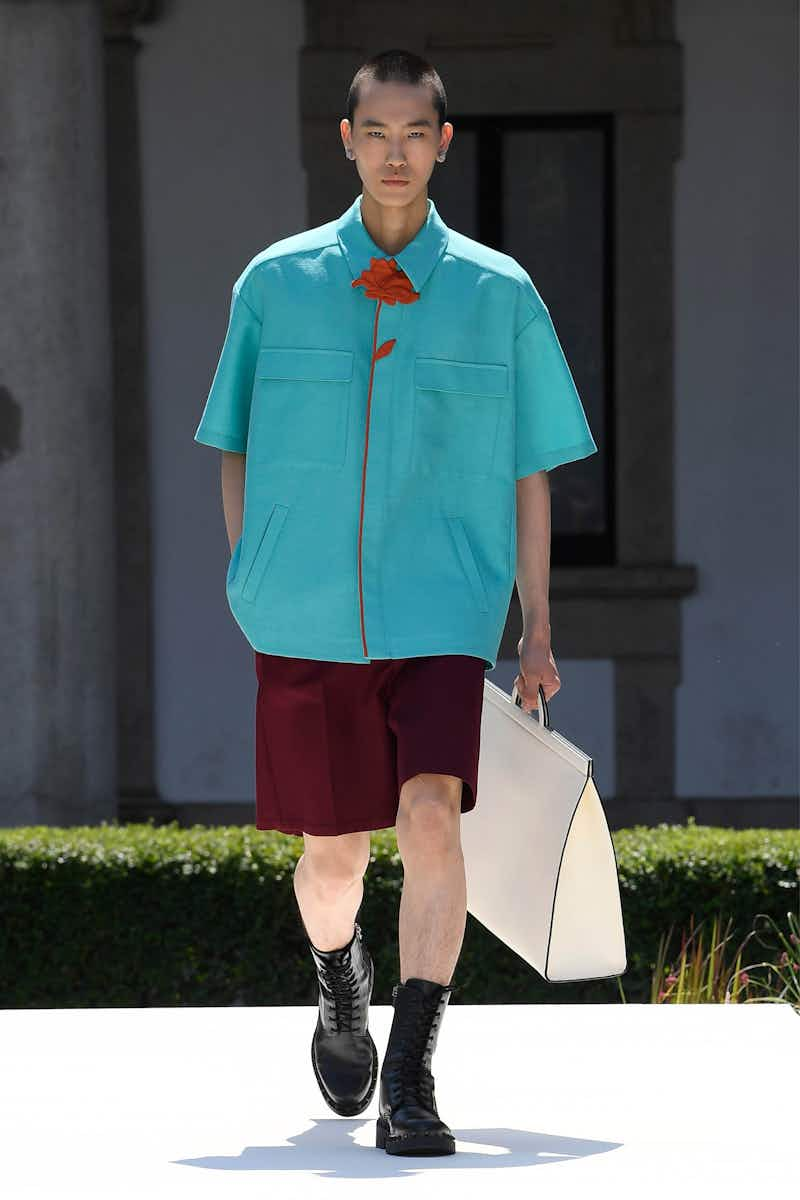 What?
Creative director Pierpaolo Piccioli's ode to the spectrum of masculinity.

Where?
Inside the stately grounds of Milan University, a Renaissance-era building primed with cloistered tunnels and decorative pillars that did little to shade the guests sat in its central piazza. *Fans face with press release.*

Who was there?
A gamut of Eastern cinema, from Chinese actor Yang Yang to Thai actor and singer-songwriter and actor Jeff Satur. Plus, TikTok native-cum-sportsman Noah Beck, glamour-puss journo Anna Dello Russo and Euphoria star Jacob Elordi.

What were the clothes like?
Romance is often at the heart of a Valentino collection, but SS24 menswear – the first strictly menswear collection in three years – looked to a more troubling theme. Inspired by Hanya Yanagihara's harrowing book, A Little Life, which explores the darkest and most loyal aspects of masculine kinship, Piccioli presented a collection at peace with being strong, pathetic, miserable and somewhere in between. That's masculinity, right?

White-hot tailoring opened the show, serving dinner or work jackets alongside pleated shorts. Across lapels, or climbing from shirt hemlines up to the collar, appliqued roses softened these macho archetypes. Elsewhere, moments of confidence came in Valentino fuchsia and crimson two-pieces, while slightly gawkier ensembles teamed mismatched hues. Think: a rust-orange silk blouse, pussybow unravelled, with a baby-pink overcoat, dust-brown socks, rock-studded loafers and a bag you couldn't fit a ciggie inside. A wobbly young male, finding himself, but equally undermined by self-doubt and acute anxiety.

Carry-overs from last season's co-ed show featured, too: skinny black ties were married with pristine dress shirts printed with excerpts from Yanagihara's novel and dad jeans. It was chaotic (no doubt, intentional), but so are the characters in A little Life. That said, despite the darkest adversity, they stuck together, bound by enduring, selfless friendship. As such, the closing suit, dotted with couturier flowers, was resilience embodied, a neat coda complemented by the closing track, performed by a besunglassed D4vd: The Smiths' There is Light That Never Goes Out.
A highlight?
The ringbinder-shaped handbags in canary yellow and pink, and that mint satin vest with a neckline deeper than the Mariana trench.

Of note?
The denim overcoat, lined with leather and finished with yet more sloppy jeans. A little bit Zaddy, a little bit dadcore.

In a word?
Soft(bois).

What?
One seriously kooky exhibition celebrating 70 years of the horsebit via 10 artists and creatives.
Where?
Inside Spazio Maiocchi, a vessel for the curious ideas of Alessio Ascari, the curator polymath behind fashion-art-academia magazine Kaleidoscope.

What was the show like?
Reinterpreting a symbol as iconic as the horsebit is a tricky brief, but the artists delivered. Harry Nuriev, the starchitect and interior doyen known for his cubic sofa installations, played to his strengths, envisioning a seating area, replete with chrome cushioned chairs – each fitted with horsebit chains below the arms and a single horsebit on the seat's edge. Did we mention horsebits? Nuriev also installed a post-internet render of connected horsebits on the wall and a steel pool below that visitors could walk on. Immersive? Check.

As for artist Levi Pitters, this was another excuse to play with their signature mannequin leg table designs. Pitters' (literally) bootleg design was as tongue-in-cheek as it gets, using pleated double‑G trews and fresh horsebit loafers to hold up a meandering bench. No one dared test it.
Other notable mentions include Charlie Engman's unspeakably handsome AI horse, an uncanny piece that chimed with performance artist Candela Capitán's looping film in which she somersaults towards passersby, trapped in her screen.
Anything else we should know?
There was a hot pick of selectors booked by Parisian music label Ed Banger across the weekend. Think: thumping bangers from Gaspard Augé and spaced-out techno by Miss Capitán herself.
In a few words?
Weird but wonderful.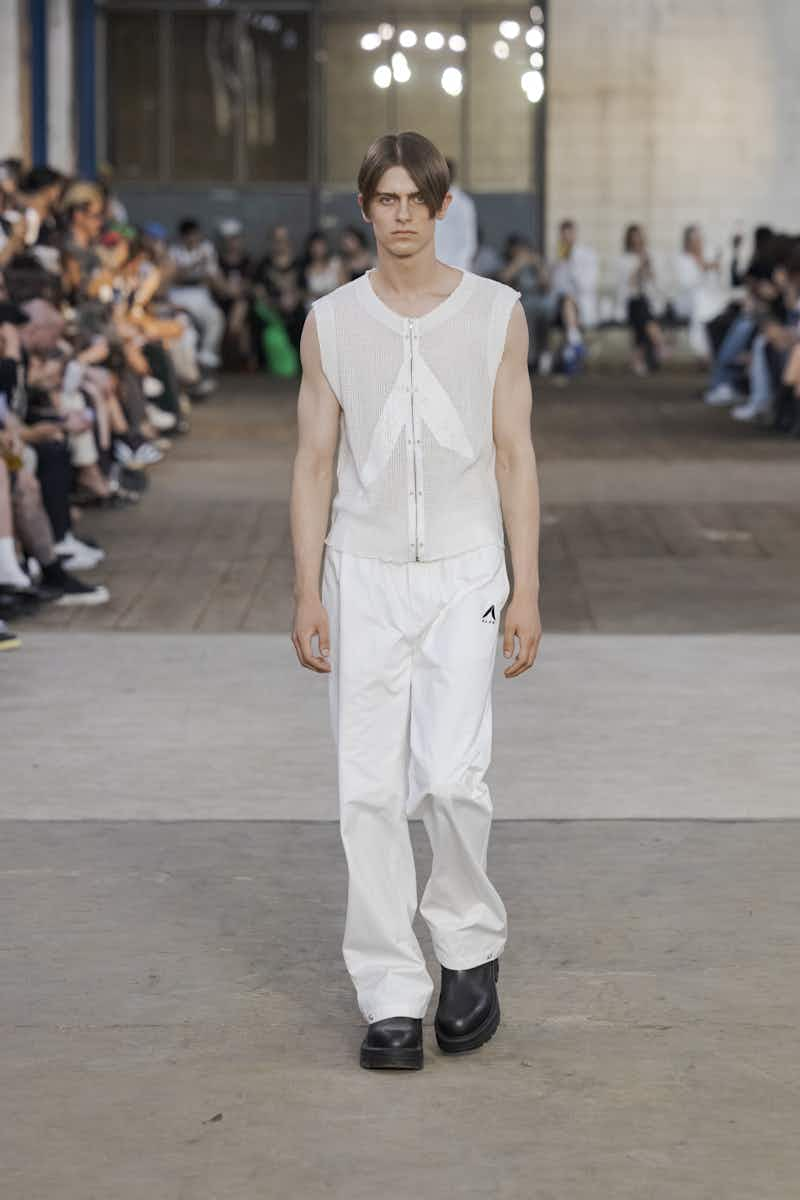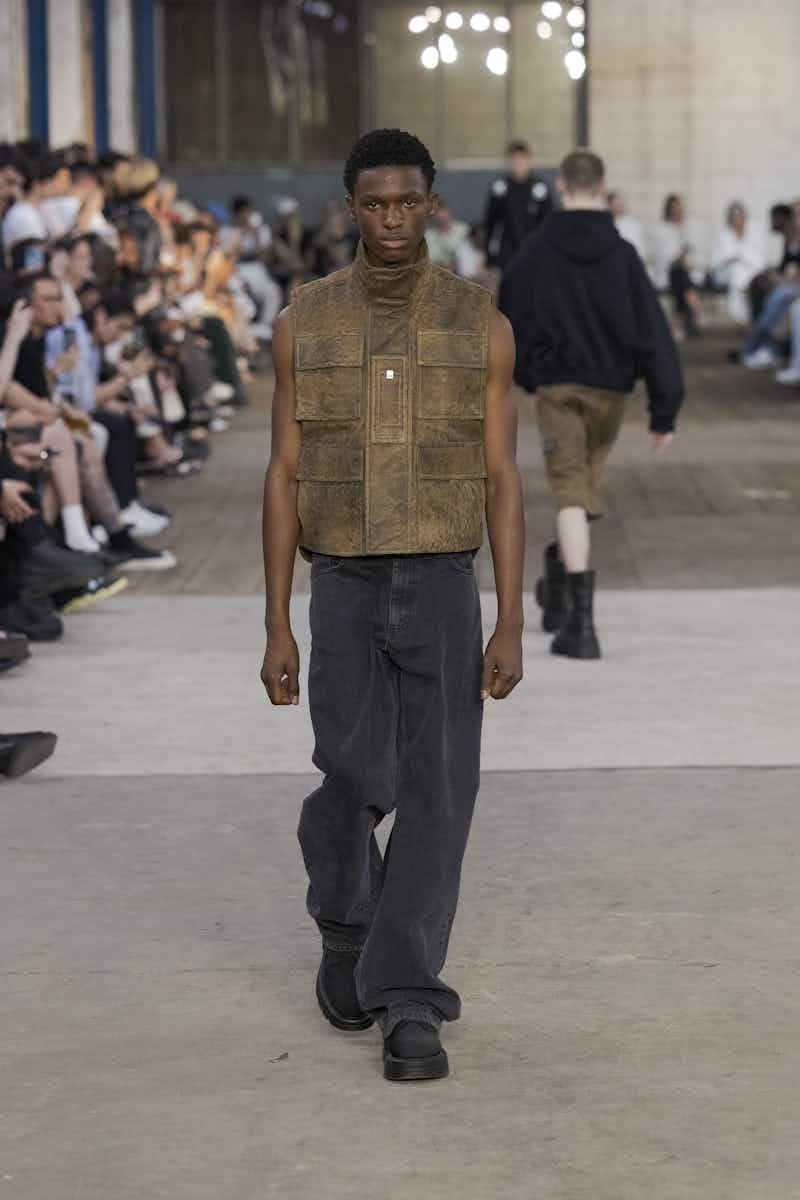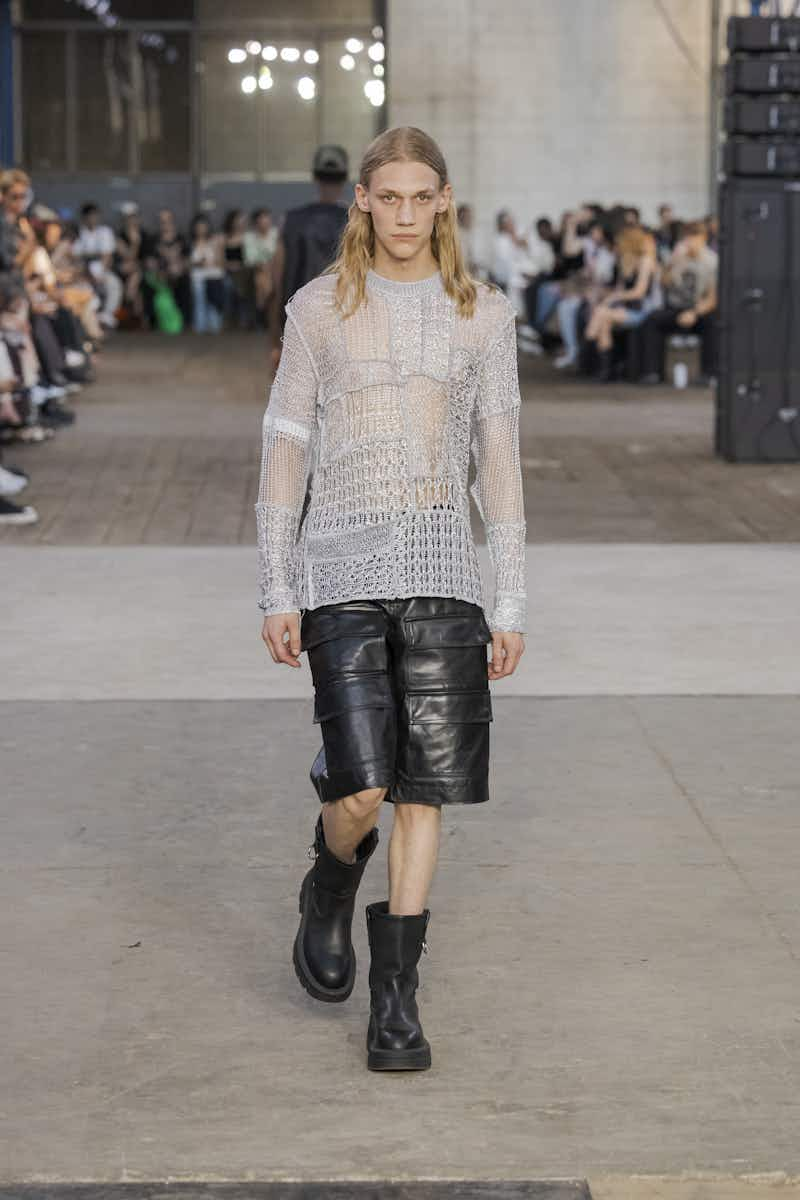 What?
A cool but calculated collection from the California-raised designer Matthew Williams.
Where?
Deep in the outskirts of Milan, inside the same industrial hangar JW Anderson showcased his bike and skateboard tops a year prior.
What was it like?
A warehouse stacked with a formation of speakers sounds like the start of a good night out. Instead it was the setting for a confident stream of Alyx archetypes, moving through techno-goth staples and washed-out denims to treated cotton workwear. A choice playlist of skittering breakbeats carried the models across a floor of beaten wooden sleepers, evoking a nostalgia – perhaps Williams', who is fast approaching a decade of Alyx.
That said, new ideas were rife, just edited under his cogent vision. Elongated tuxedo overcoats, bedazzled with gems along the lapels, left plenty of male cleavage on show, with peaking satin shorts underneath. Sexy! Elsewhere, undersized hoodies were shredded with moth holes, serving tender decolletage below the drawstring. Add to this early-aughts bootcut jeans, embellished with silver hardware on the carpenter loop, and the signature rollercoaster belt, and you have the holy trinity of Matthew Williams: distressed or specially dyed fabrics, Californian ease and a function-first restraint.
Of course, one of the major codes this season was studding, eyelets and rivets, which dotted across shirting and sportier staples alike, a reminder that hardier workwear and stealthy athleisure can live in harmony. Unsurprisingly, camo made a healthy appearance as well, cropping up on taped-seam bombers and matching shorts. What we didn't see coming was the three-quarter length trouser, dredged from the depths of Y2K purgatory. But a gimmick, they were not. Williams elevated the cursed design without an ounce of irony, a move that's indicative of his integrity to serious, anti-fad design. That's why Alyx is here for the long run.

Stand-out piece?
The lightly burnished leather shorts, a must for anyone willing to perspire in the name of fashion or indeed entry to Berghain.

In a word?
Assured.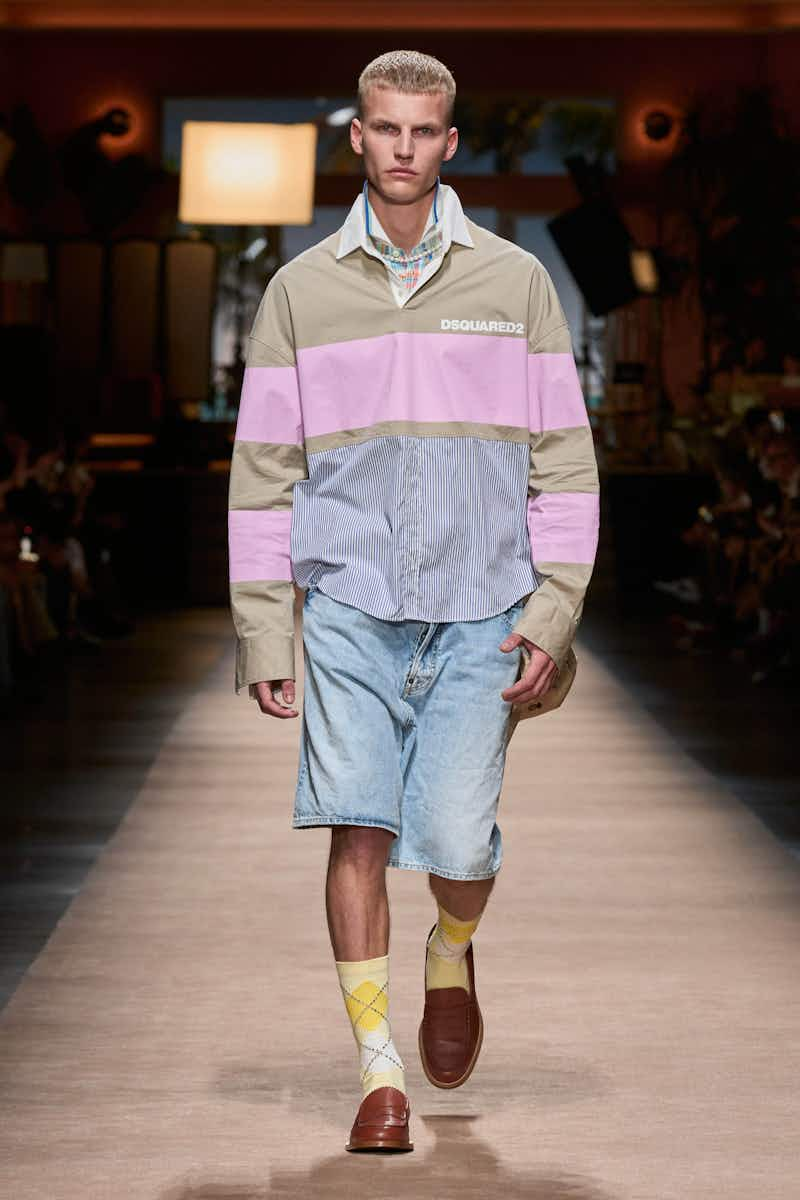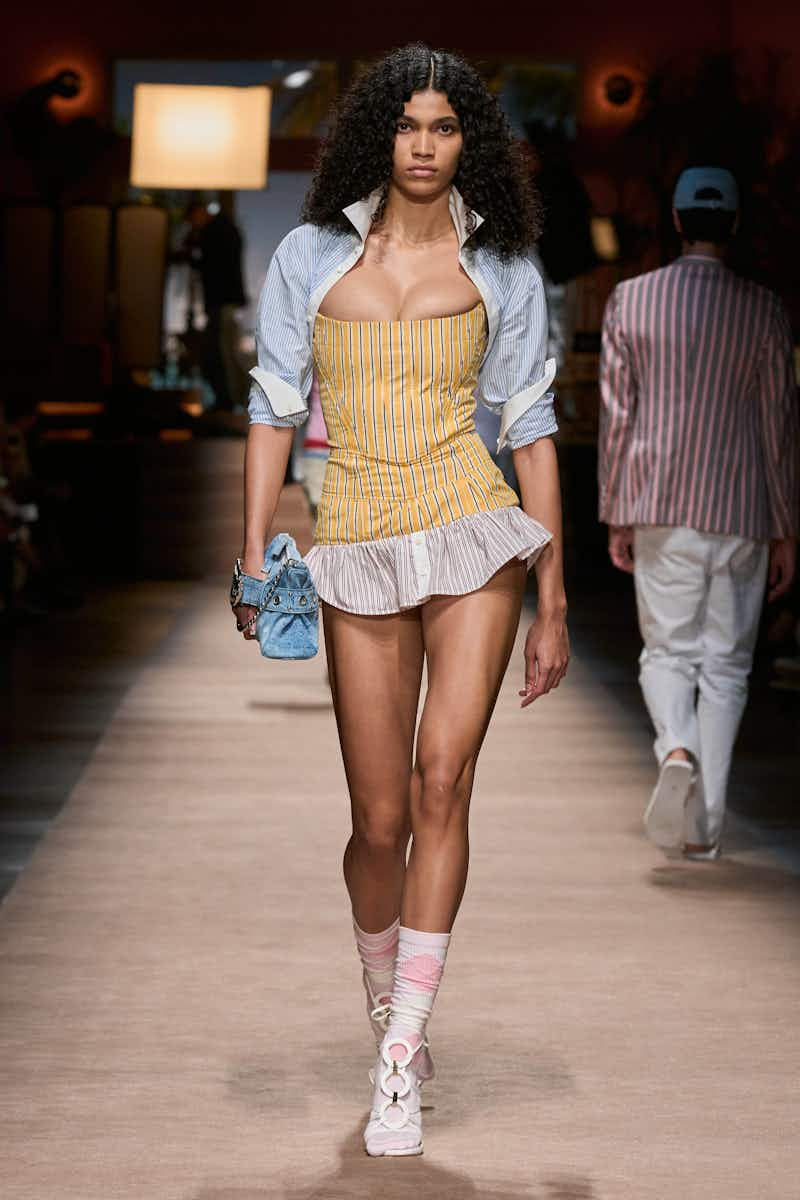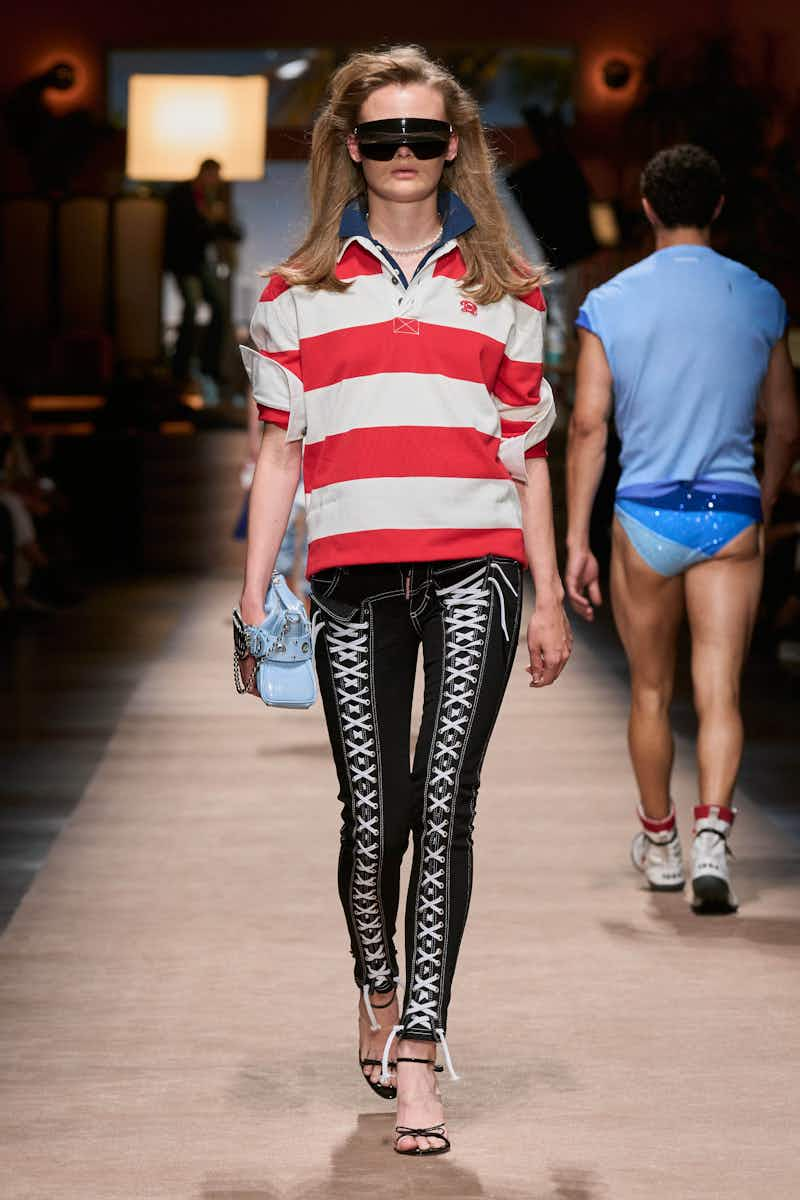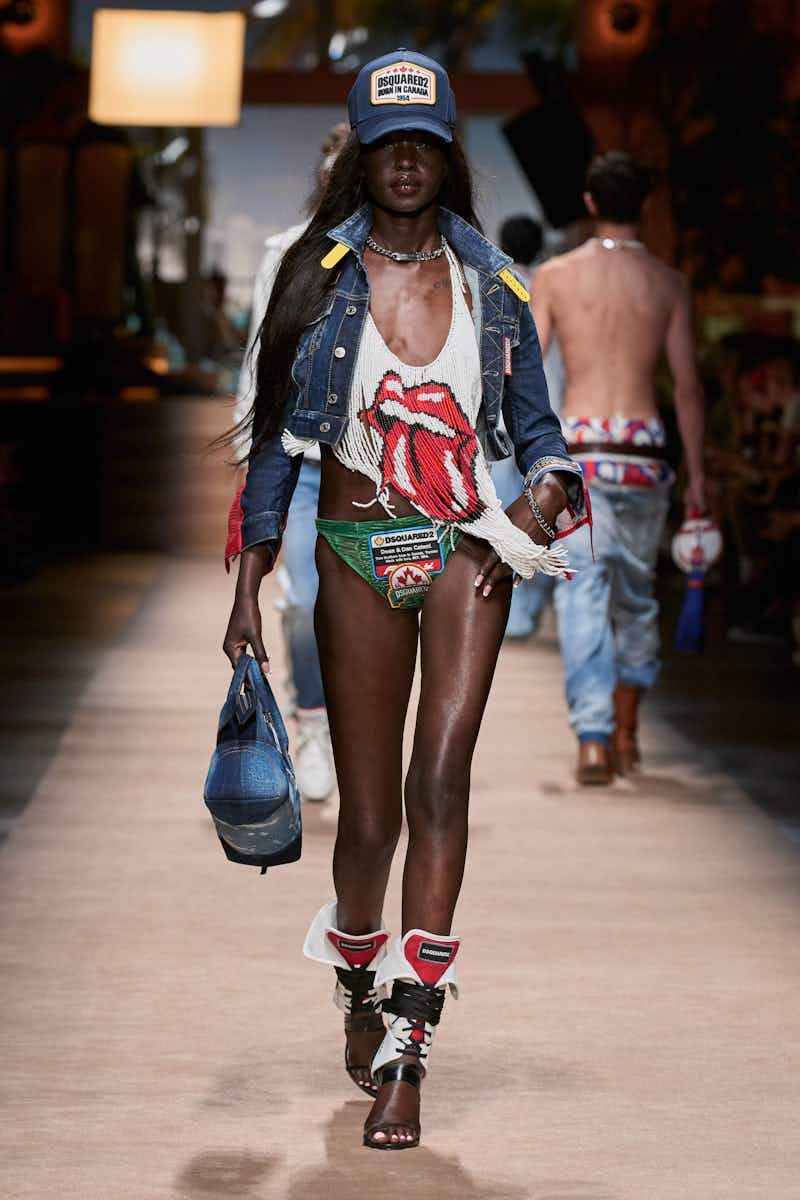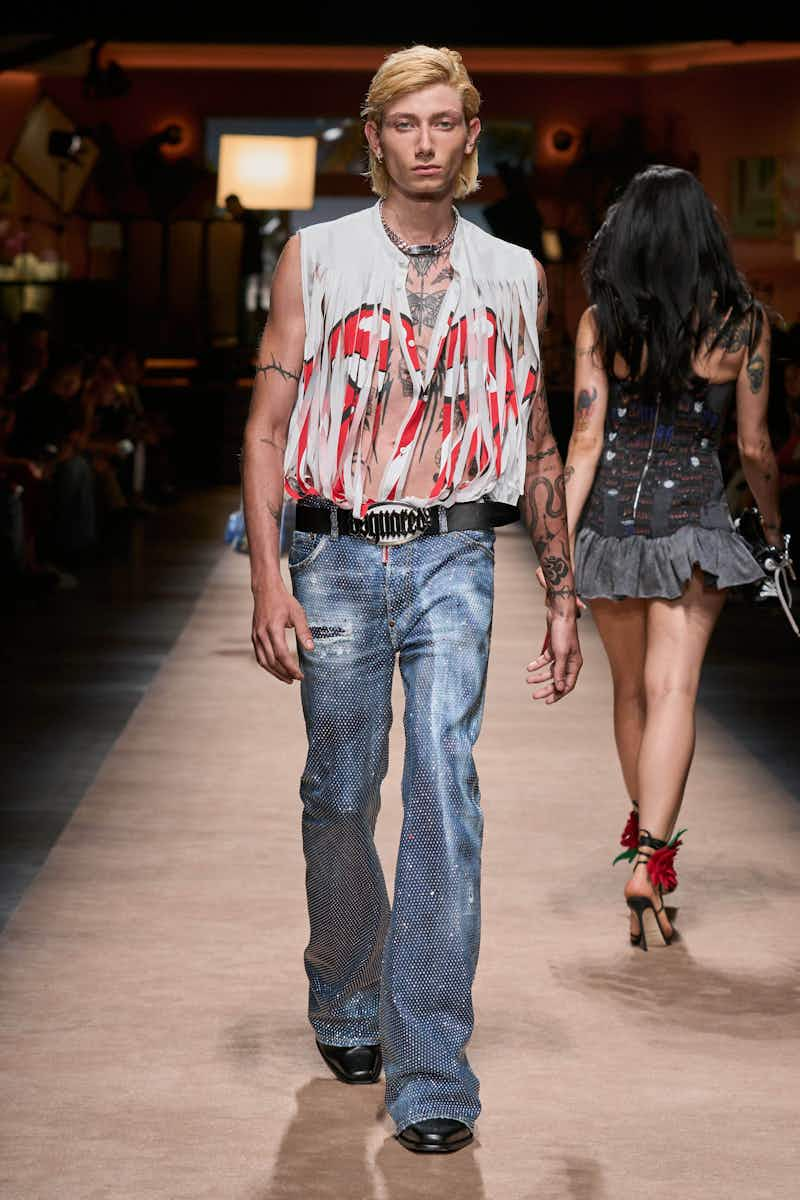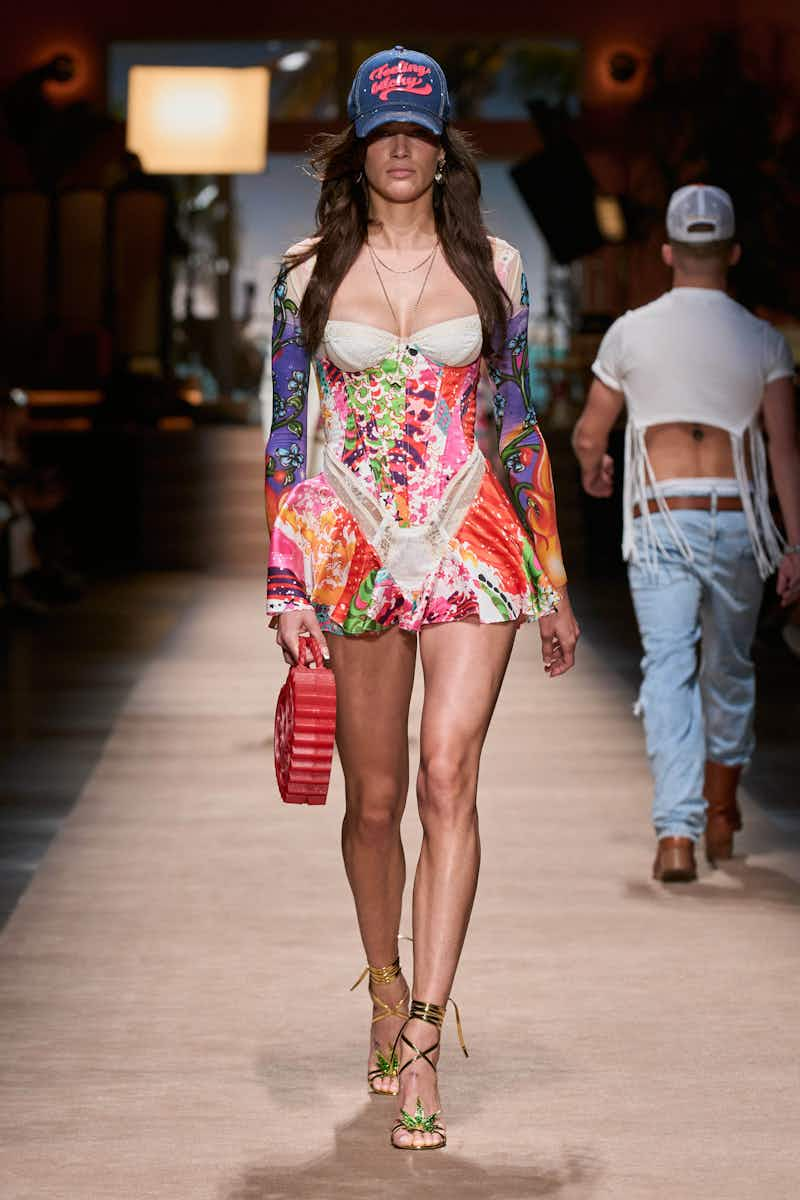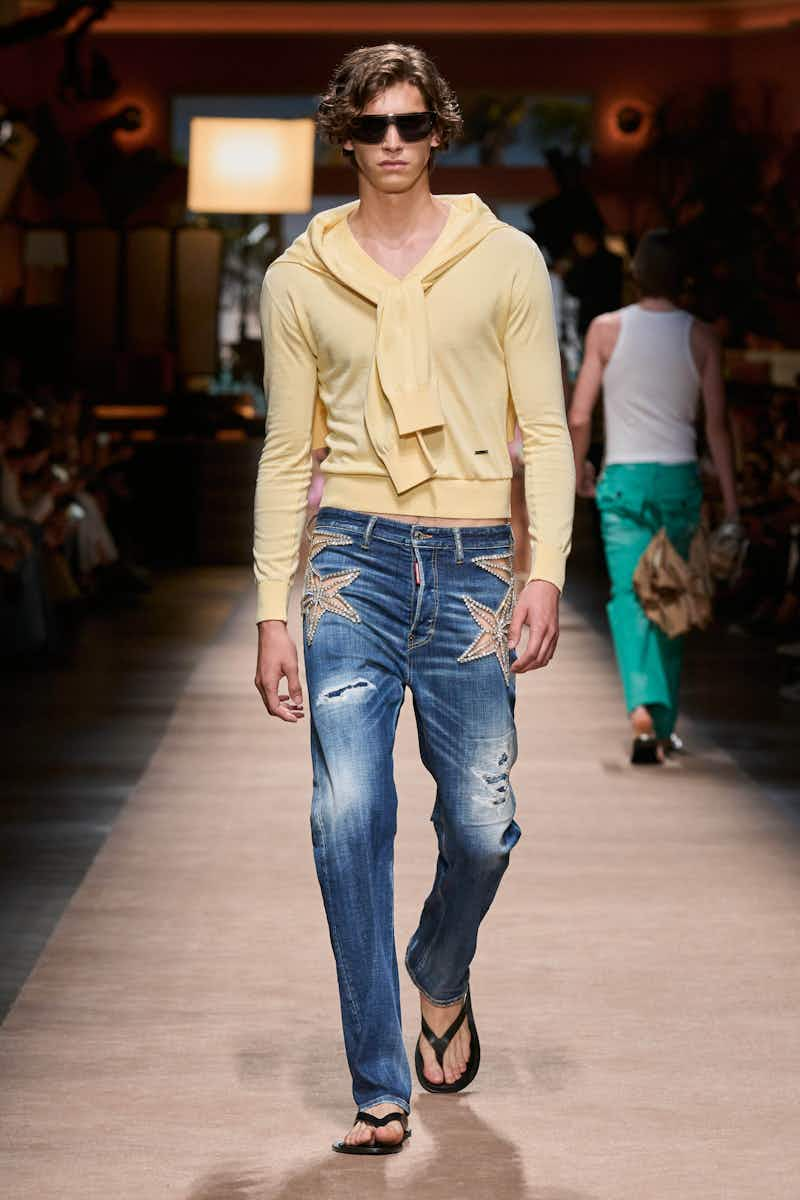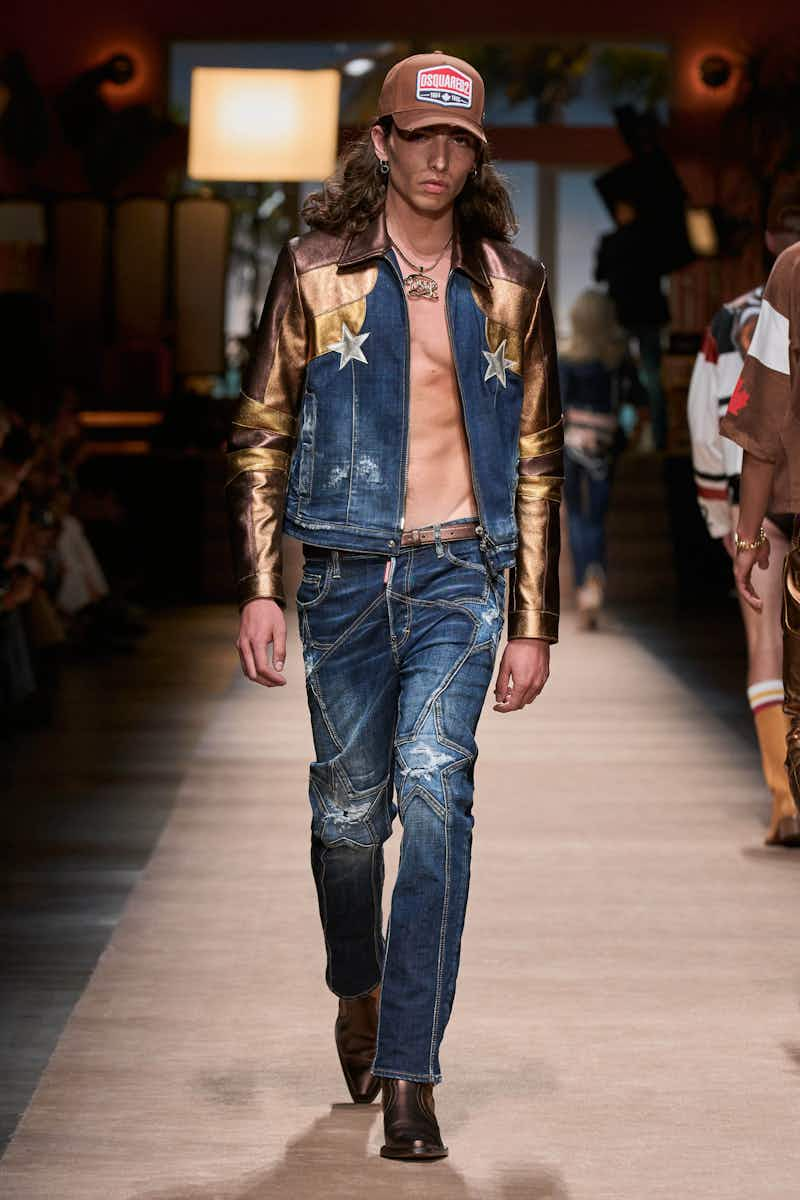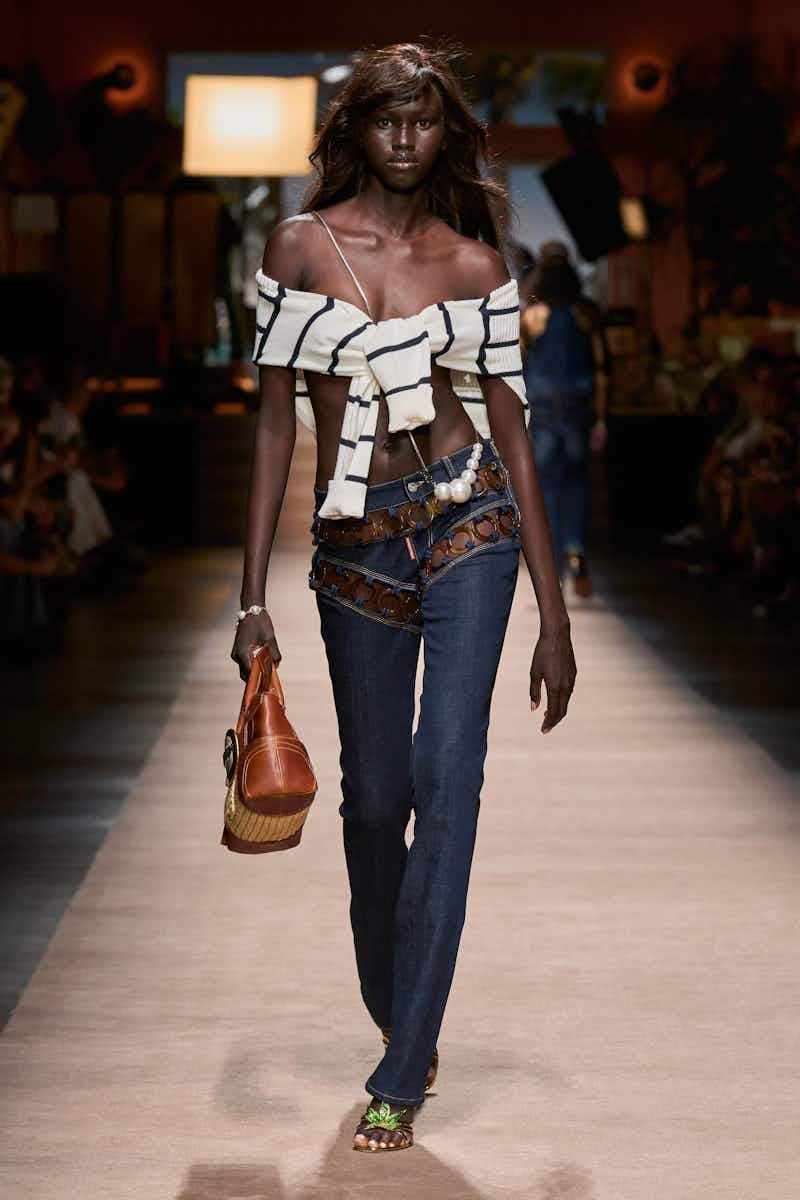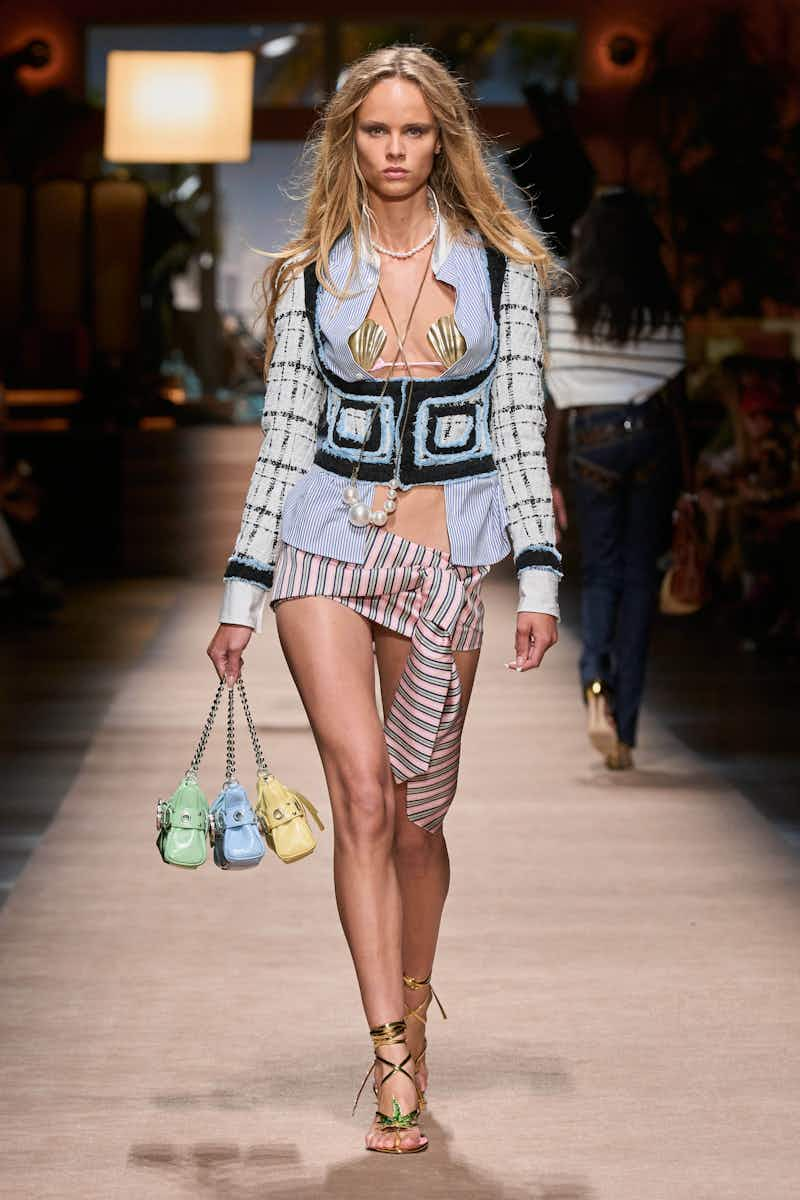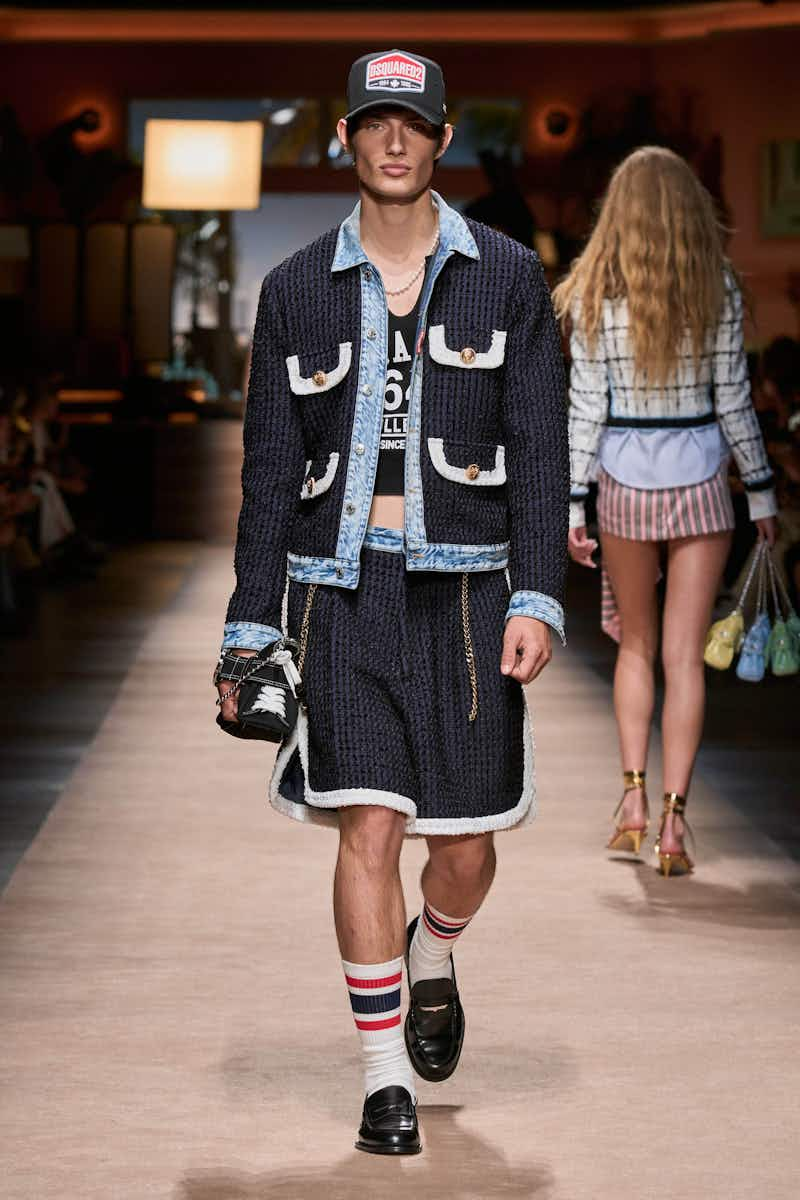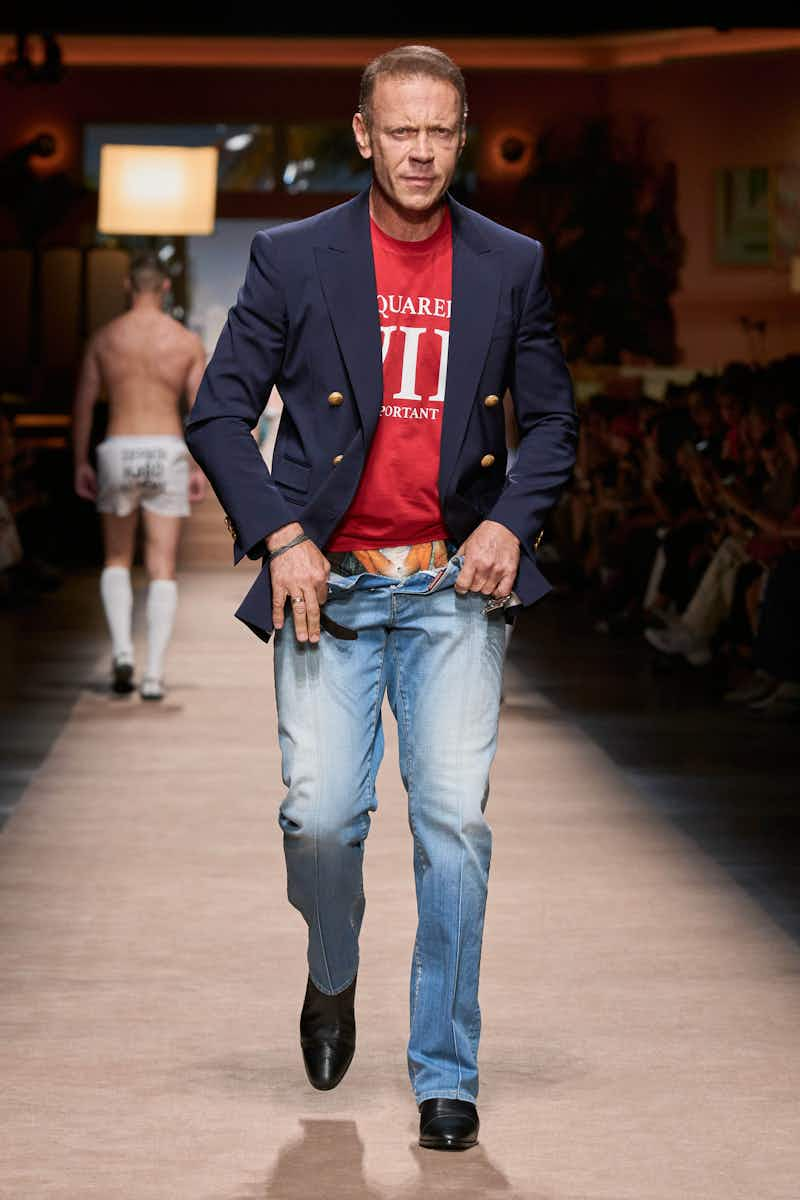 What?
A live porn shoot cum trashion bonanza, orchestrated by fashion's campest duo.
Where?
Technically, a 15th-century Milanese building, but for us, a make-believe Miami Beach apartment, replete with wooden dividers, a director's chair and a sofa ready for NSFW use.

What were the clothes like?
Deliciously kitsch, Dean and Dan Caten's collection imagined a hypothetical scenario of America's waspiest prepsters landing slap-bang in an adult film studio. The result was a steamy juxtaposition, remixing the staidest pieces – striped rowing blazers, rugby shirts and V‑necks overlayed with cardigans – with sultry tweaks and a baby shower palette of pastel pinks, cream yellow and light blue. Argyle socks were lined with diamantes, while standard bras were swapped out for clamshell bikinis. Here, popped collars doubled up, bowling bags came drenched in glitter and marijuana leaf pendants complemented baggy-jean-and-slider combos – a blast from the past we didn't need, but we'll inevitably embrace.
Throughout, disco diva hits filled the space, crescendoing through Suzi Lane's Harmony to Donna Summer's Love to Love You Baby. Filming the action throughout, venerated porn star and producer Rocco Siffredi – recognised for rimming and anal, before you open a private tab – played MC for the occasion, later stripping to his louchely printed undies.
It was a lot. Bouclé suits were skimped up or merged with denim, while budgie smugglers came in every material under the sun. At one point, a model lifted her skirt Marilyn Monroe style, revealing the bastardised Rolling Stones tongue on her panties – subverted once again. Equally racy were the woven argyle knitwear set that sat just below a model's nipples and the jockstrap peaking under low-waisted jeans. As for the rhinestone denim belt buckles that read ​"pussy" or ​"porn", these built a neat lineage to previous collections, adapted for an older audience. Sure, it was playful, but the sex positivity felt prescient in a time of divided opinion. Dsquared2 is dirty and proud.
Best bit?
Julia Fox cavorting on the bed, working a lace body dress and stockings while Siffredi captured the action.
In a song?
Miss Summer's I Feel Love, which the soundtrack, quite aptly, sampled.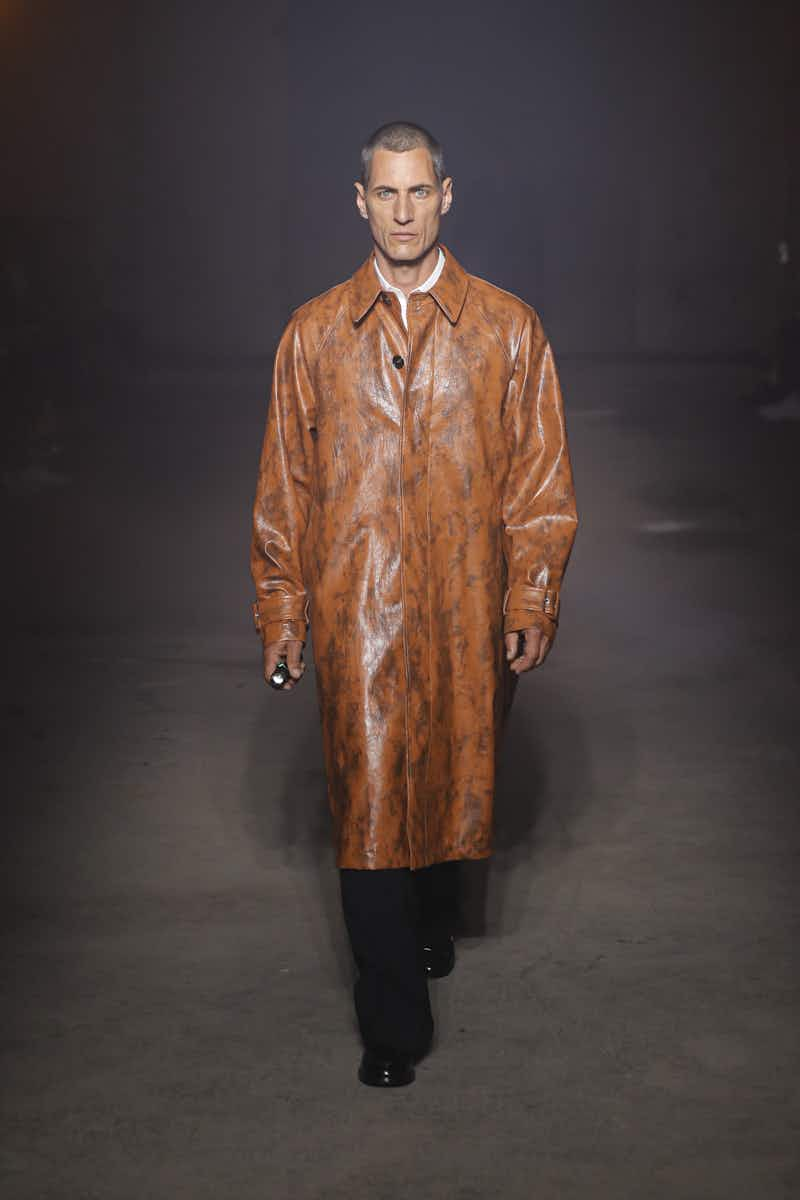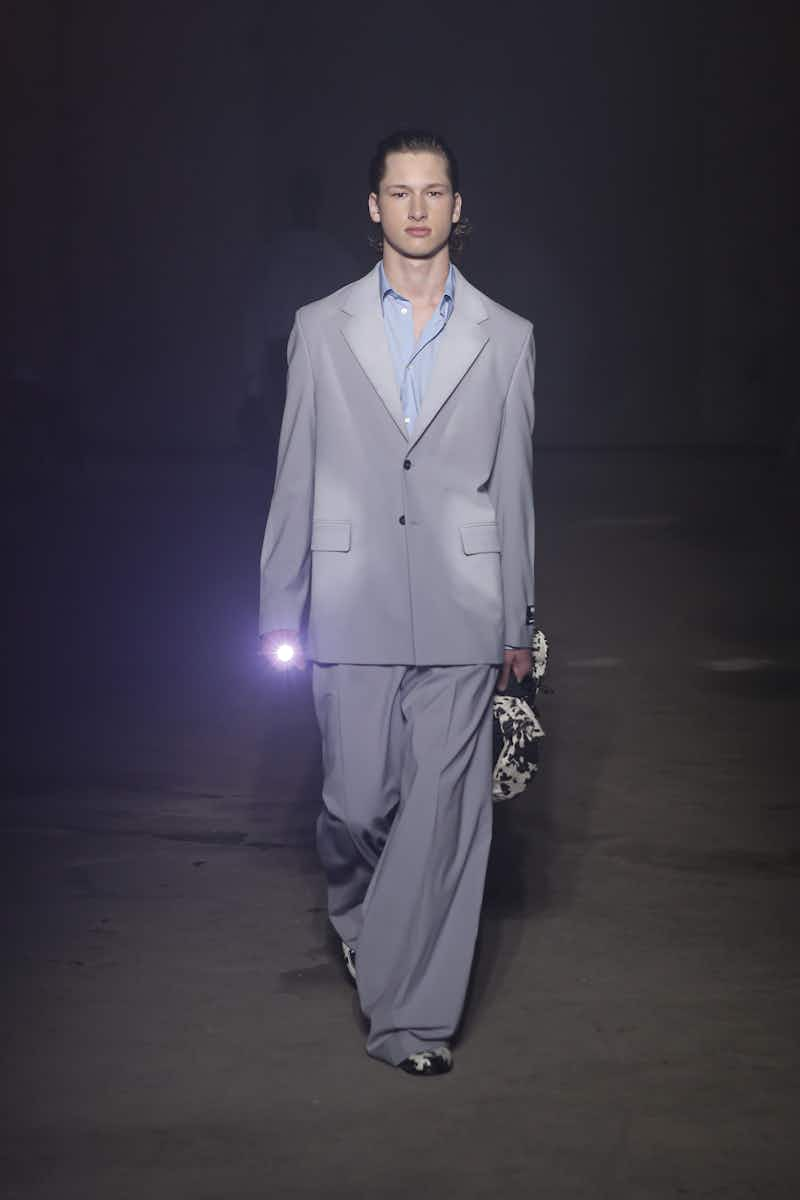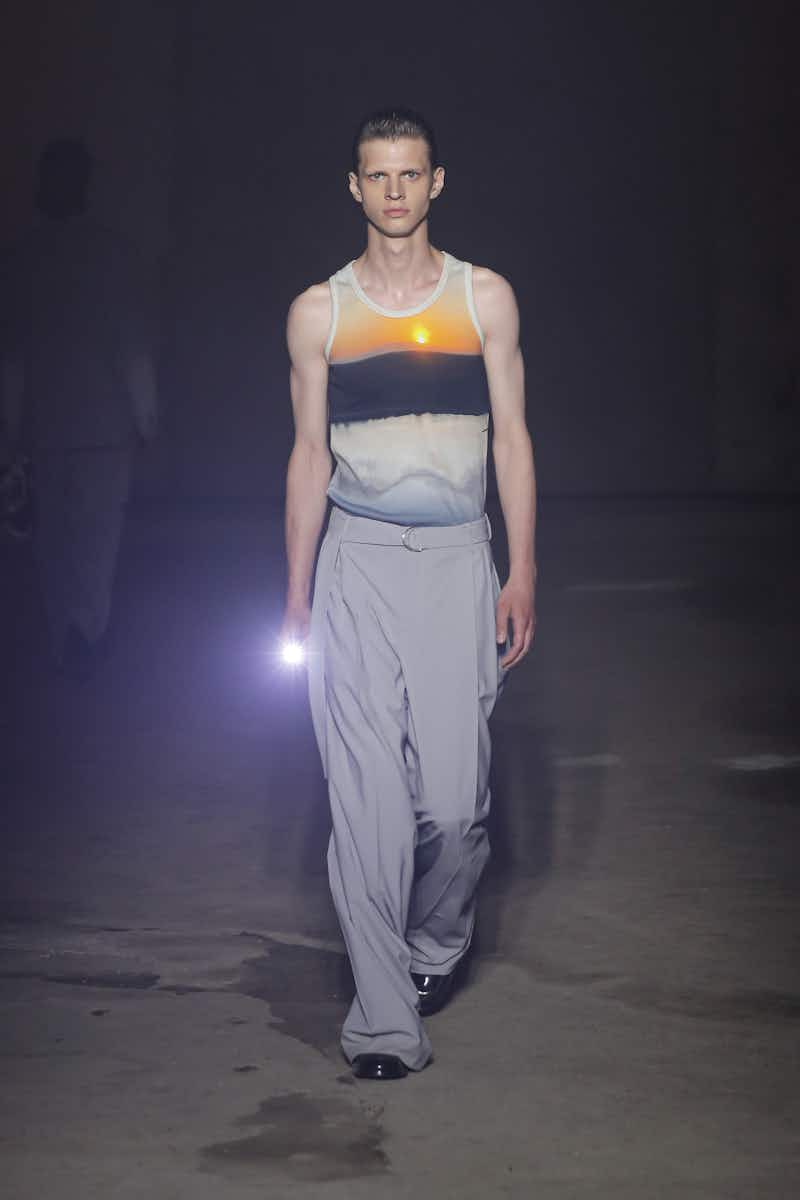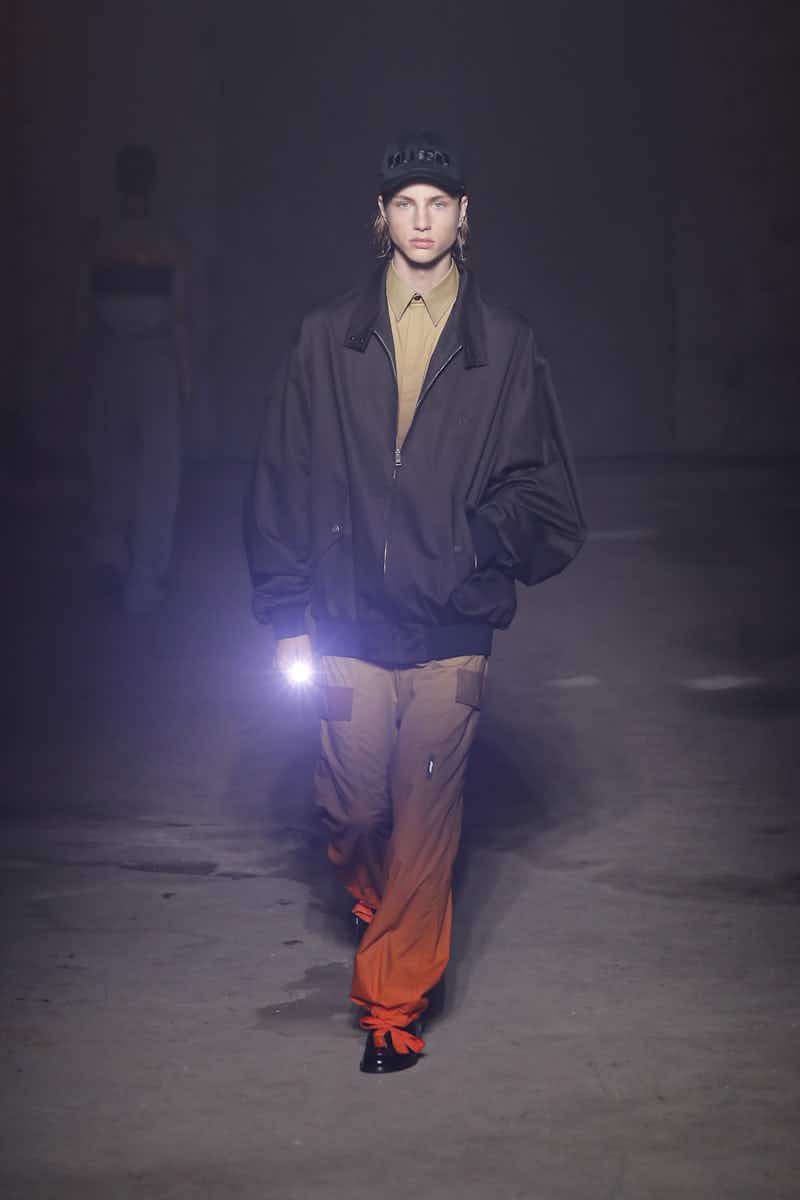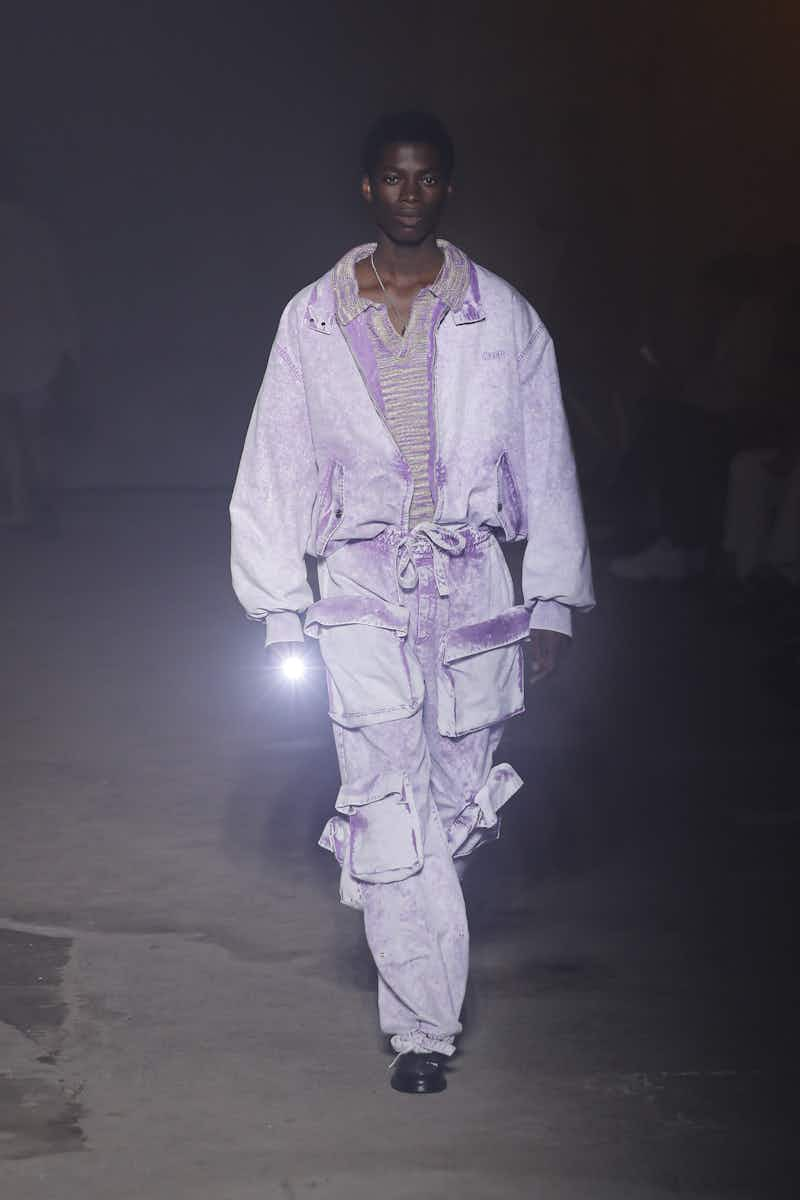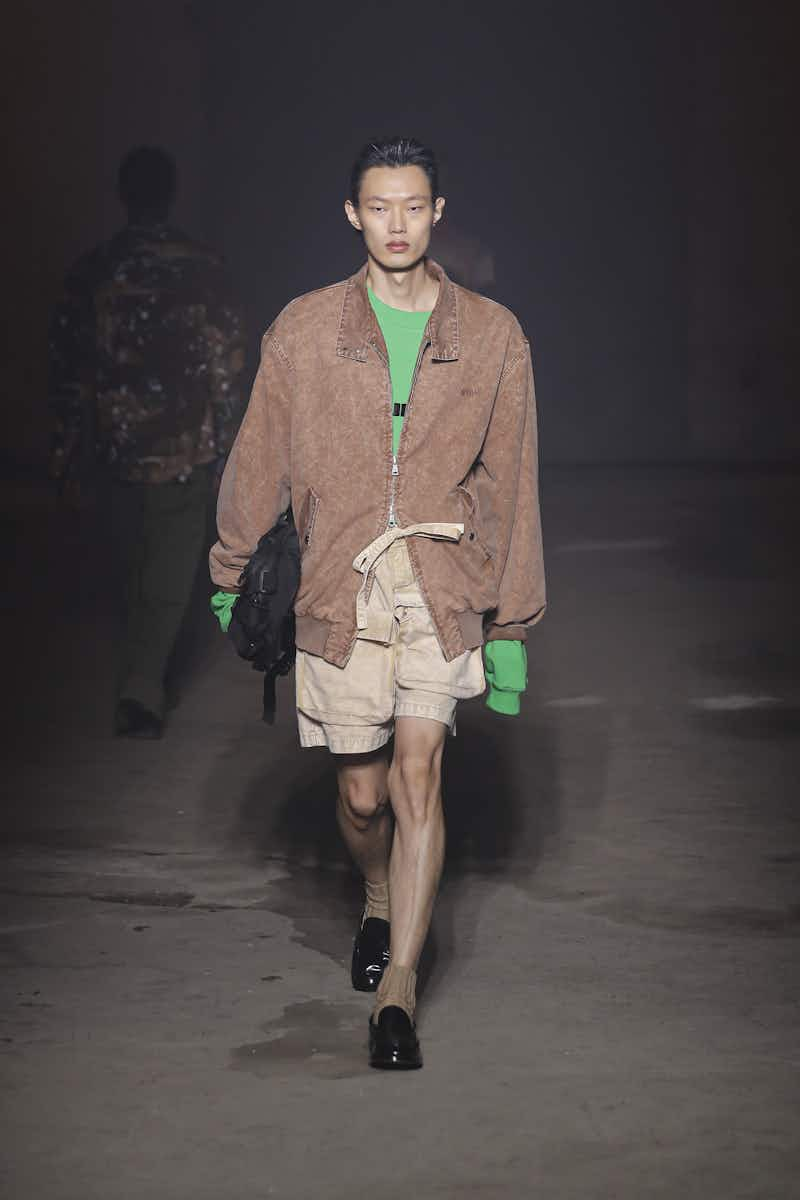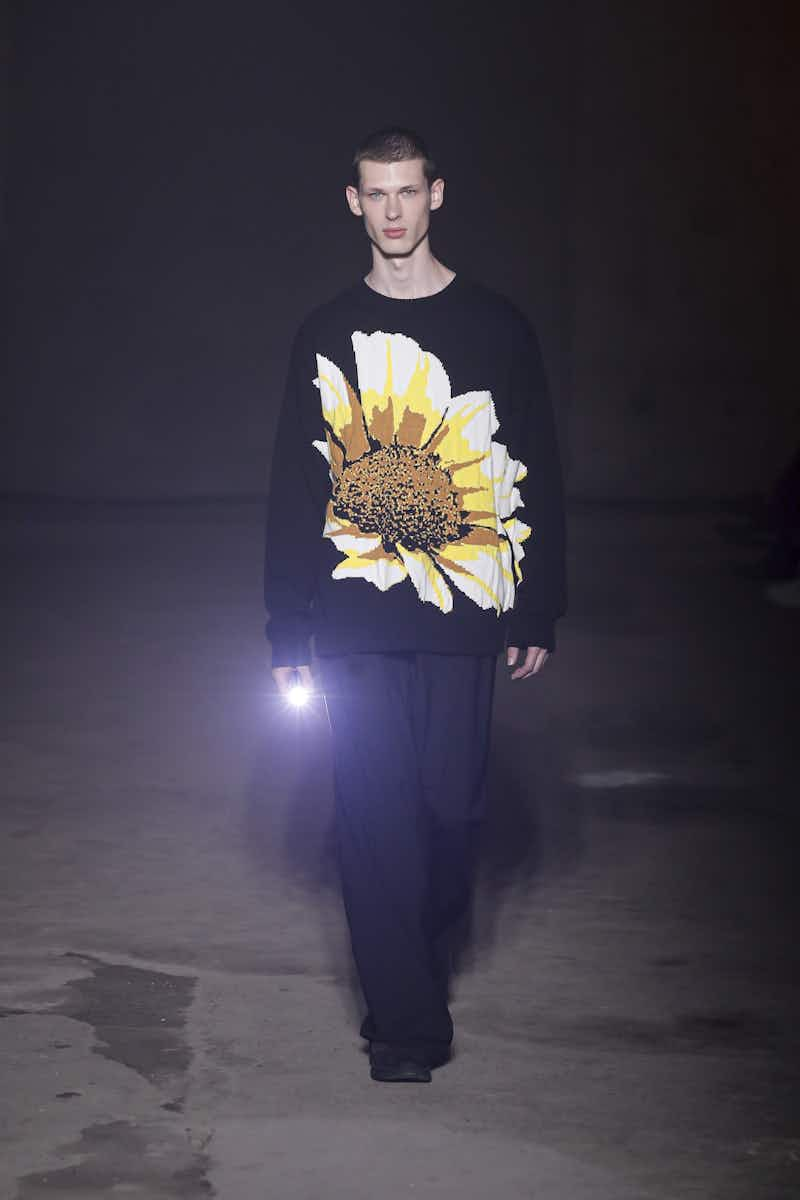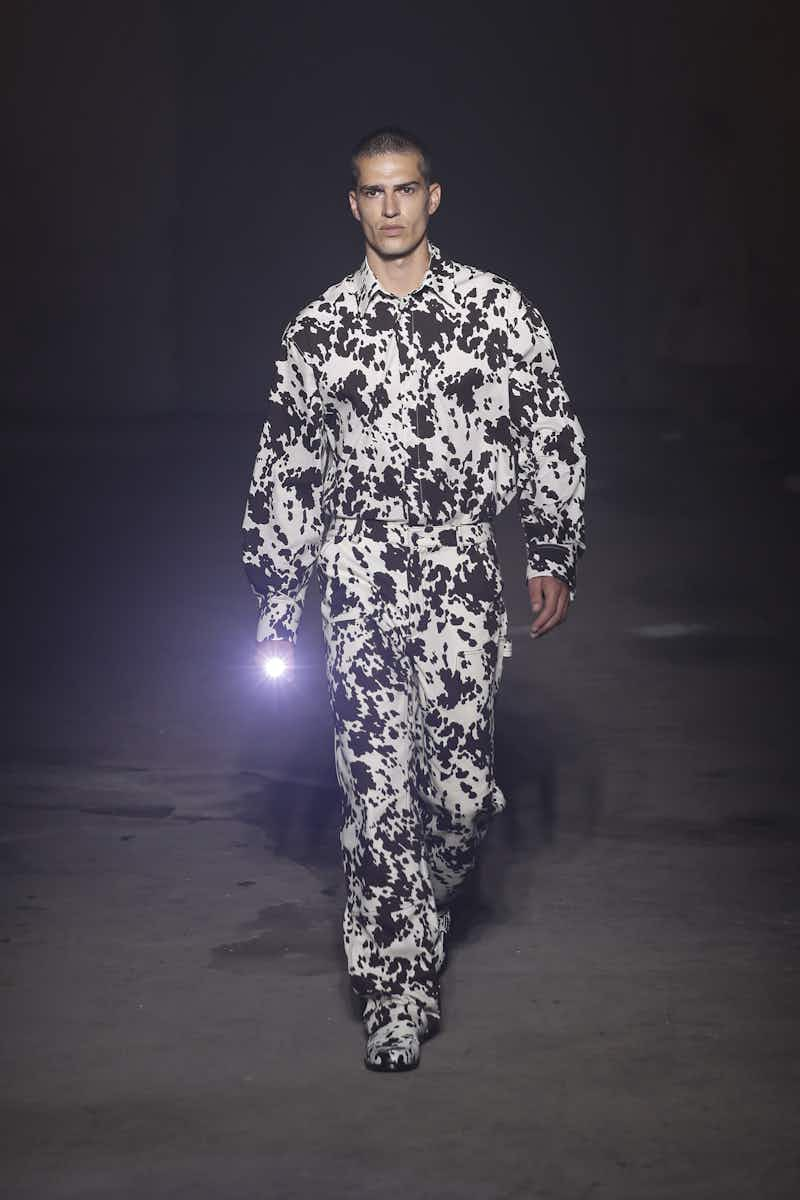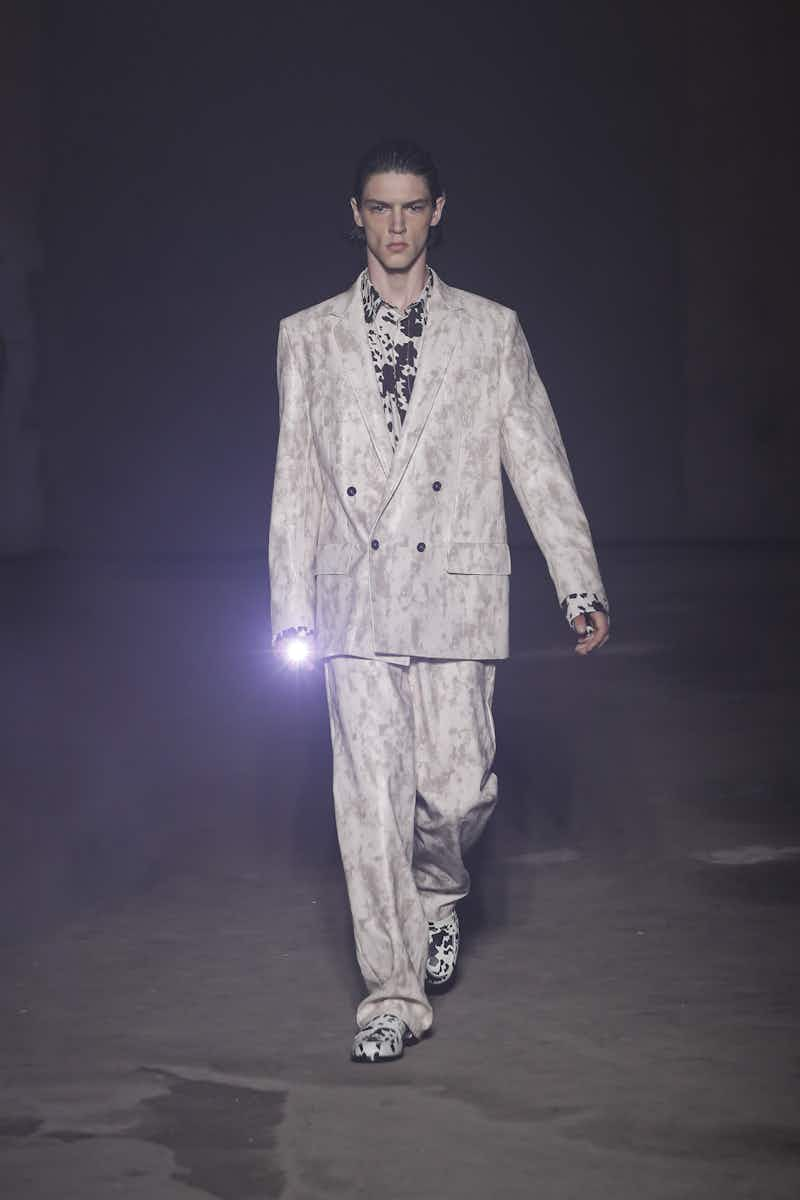 What?
A personal collection by Milan's in-house romantic, Massimo Giorgetti.
Where?
Deep in the bowels of an old Milanese railway arch, complete with cavernous walls and distressed concrete – perfect for your average claustrophobic.
What did it look like?
Mature but playful, the collection took Massimo Giorgetti's holiday to Tanzania as its departure point, printing personal iPhone photos of the Serengeti and sunrises he witnessed in the early hours across tanktops and jacket labels alike. Aha! So, that's why each model carried a torch. Something of a prophecy for him, the experience encouraged a process of growing with age, being comfortable with oneself. As such, easy tailoring was a core theme, loosened for the modern sartorialist and sprayed with sand across lapels and flap pockets for a lit-up effect.
Western shirts and single-button blazers came in snowy-blue abstract treatments, while lilac washed denim on elasticated cargos and Harrington jackets served for heavier use. The knapsack clutches and suede hiking boots were a foil to softer, effete pieces, such as the lavender and peach striped dress shirt, buttonless and closed with an invisible zip – a recurrent trick in menswear at the moment.
As an offering, everything shown could go straight to the department stores' shop floors. Of course, this is a running thread in Giorgetti's work, which eschews wild shows for an honest insight into what buyers actually want. It's edited, with enough nods to current trends – blazer-short combos, cow-print loafers and sandblasted dad jeans – to make commercial sense. Where it differs to brands who don't show, however, is in its Made-in-Italy quality. If you're buying an MSGM box-cut blazer next summer, you can trust it to flatter and remain airy, offering enough attenuation on the breast but plenty of room around the hips. Real clothes, for real people
Of note?
The black and opal or gummy pink beaded necklaces, an adorable nod to Giorgetti's best holibobs yet.
In a word?
Honest.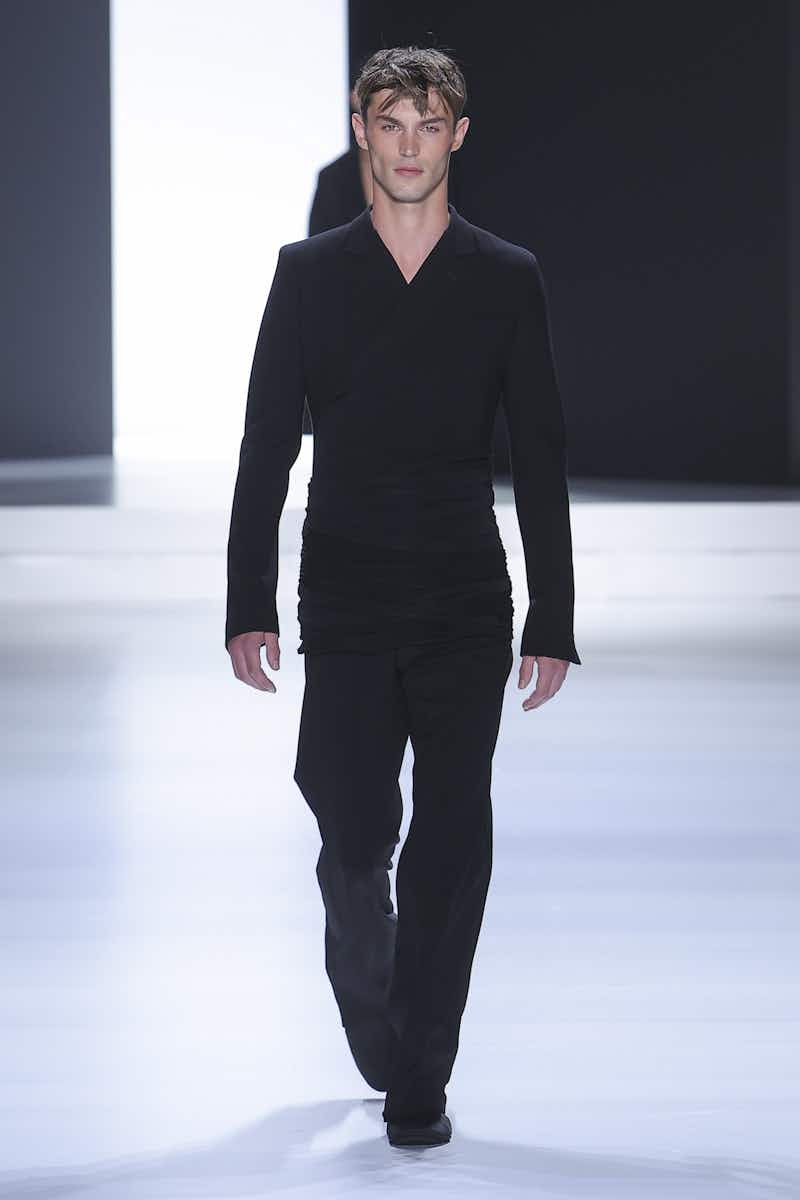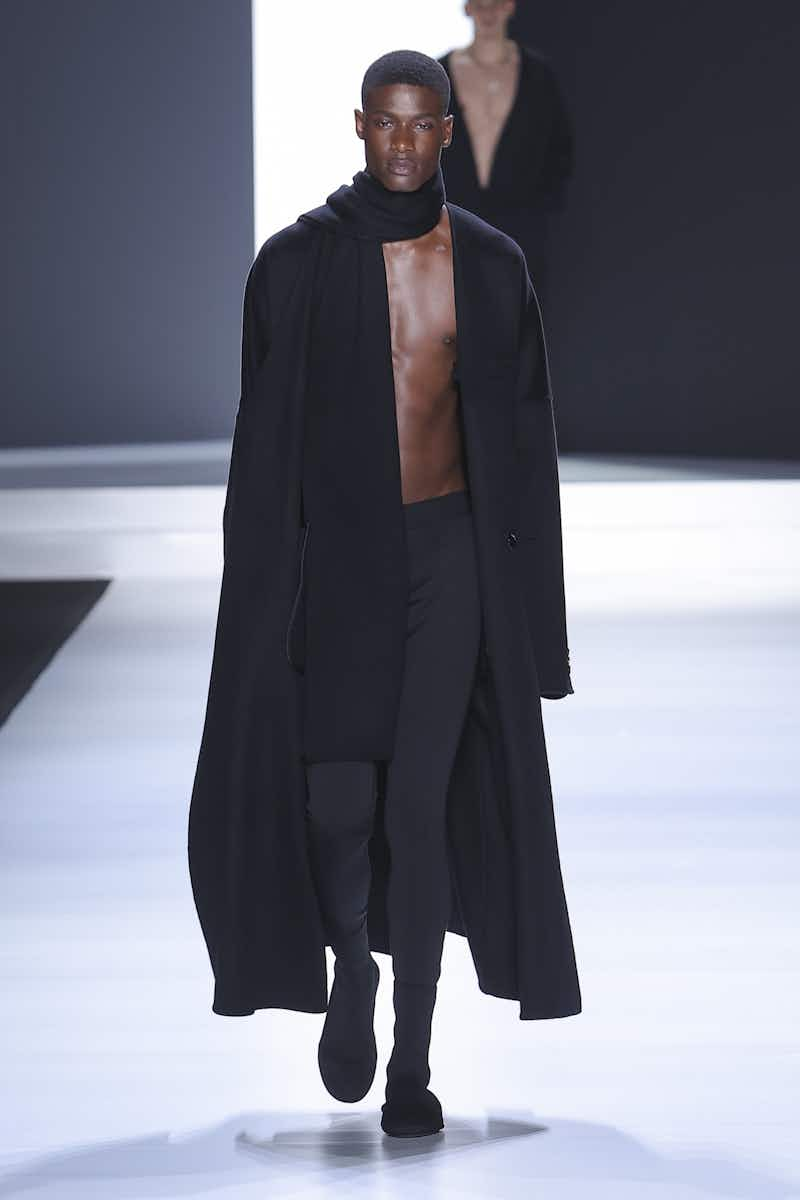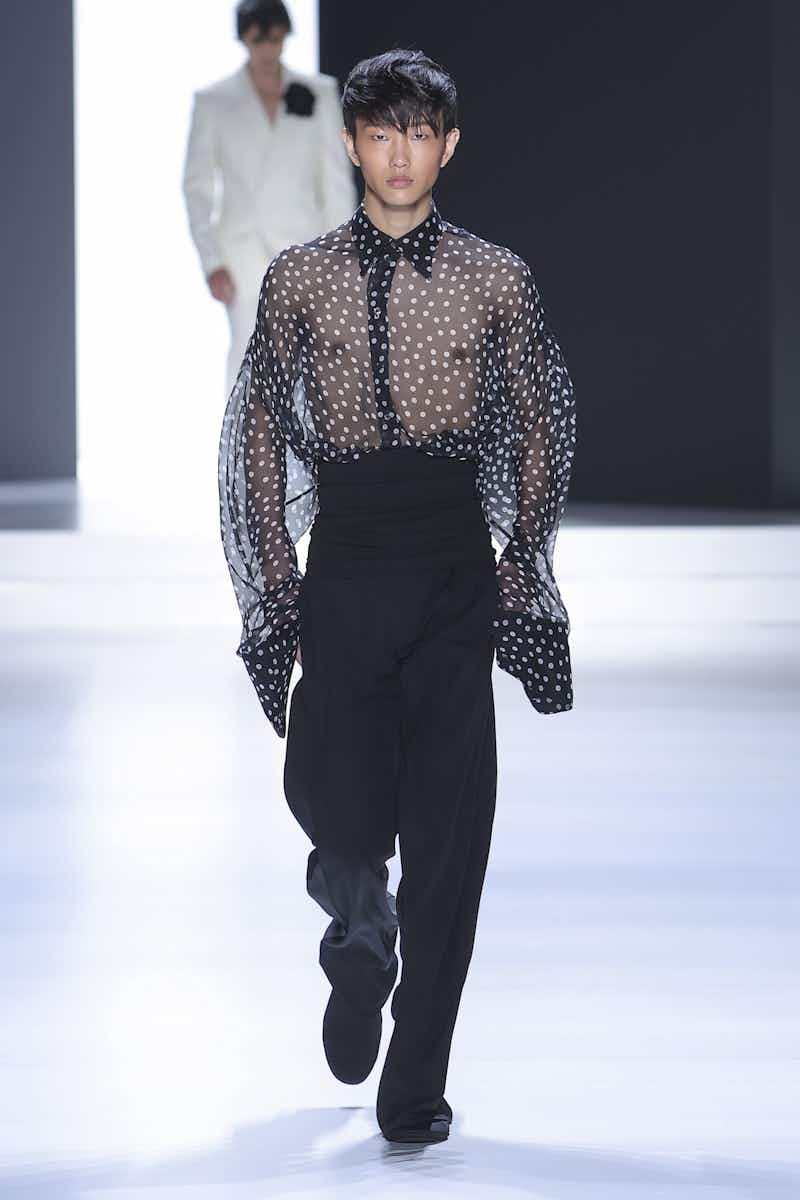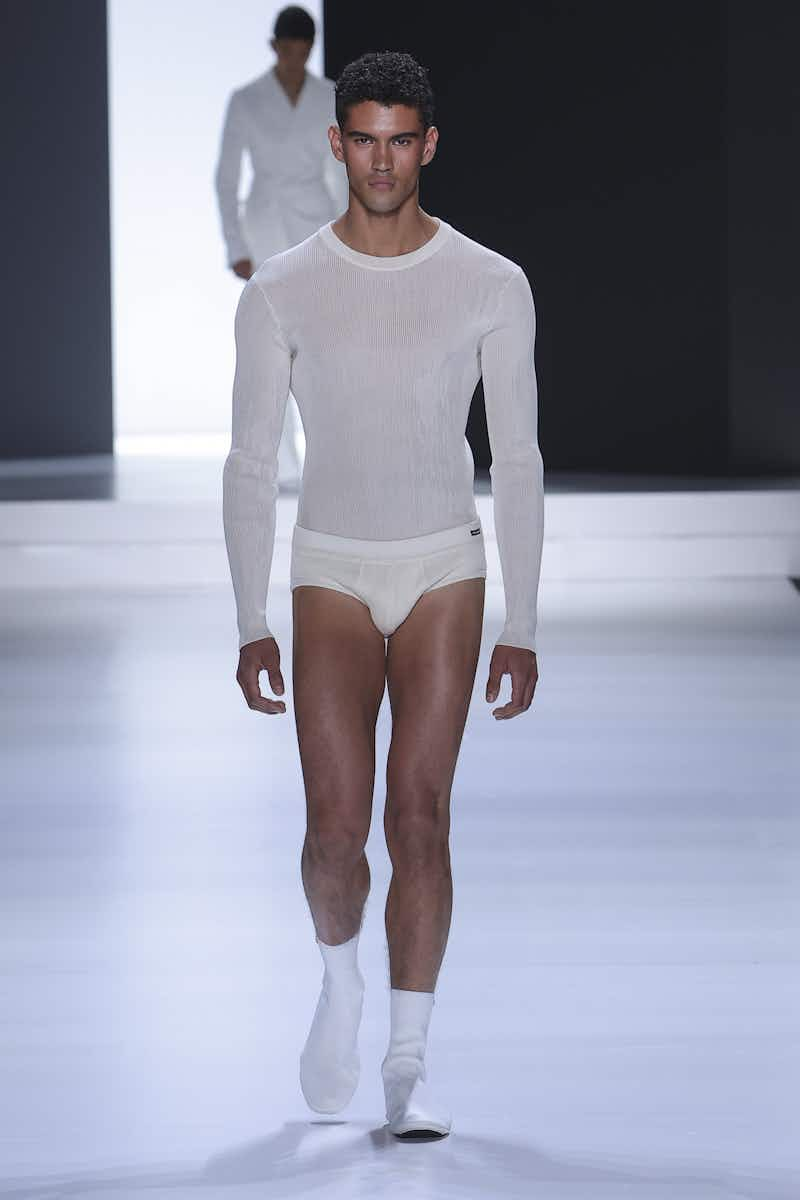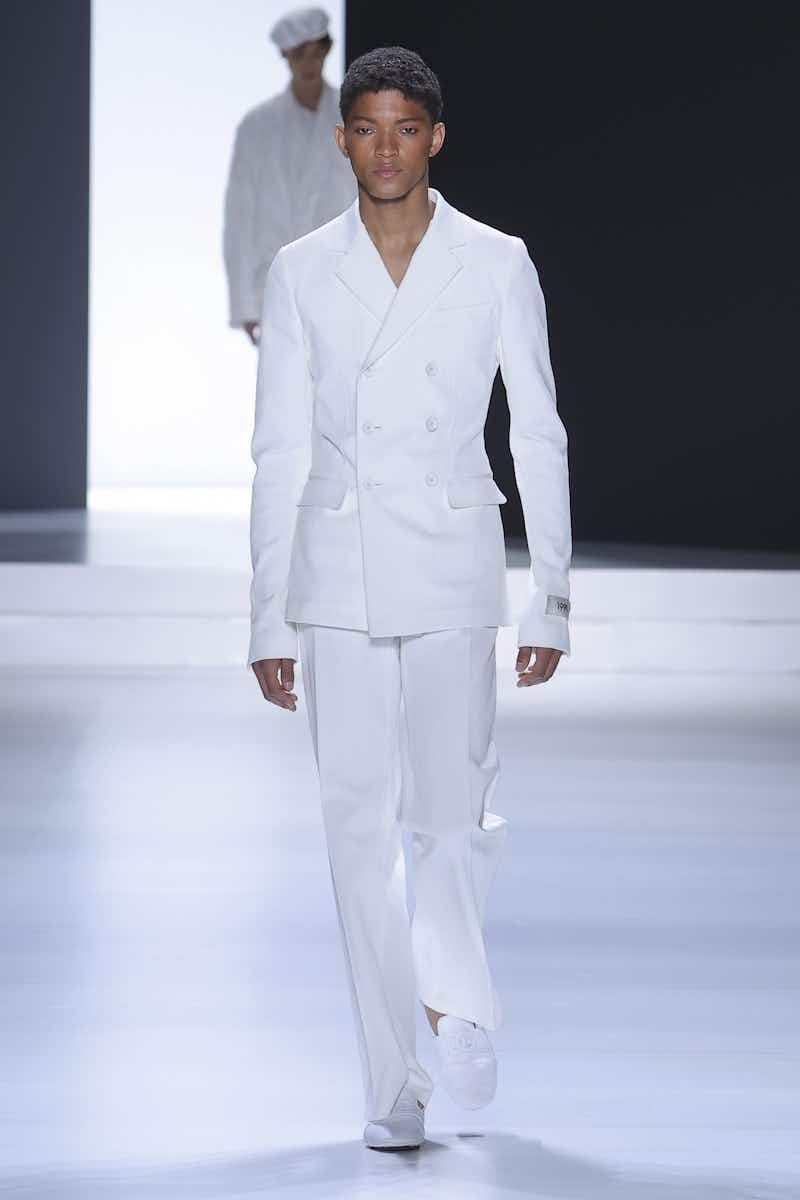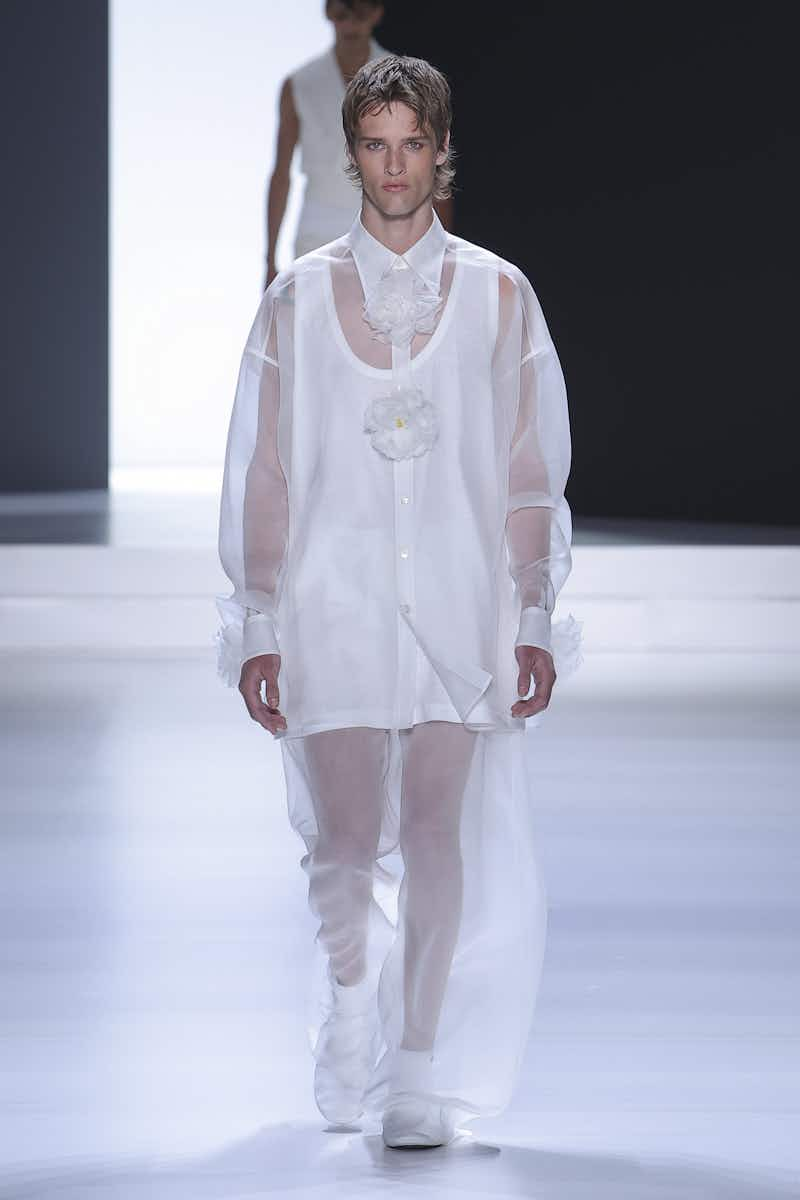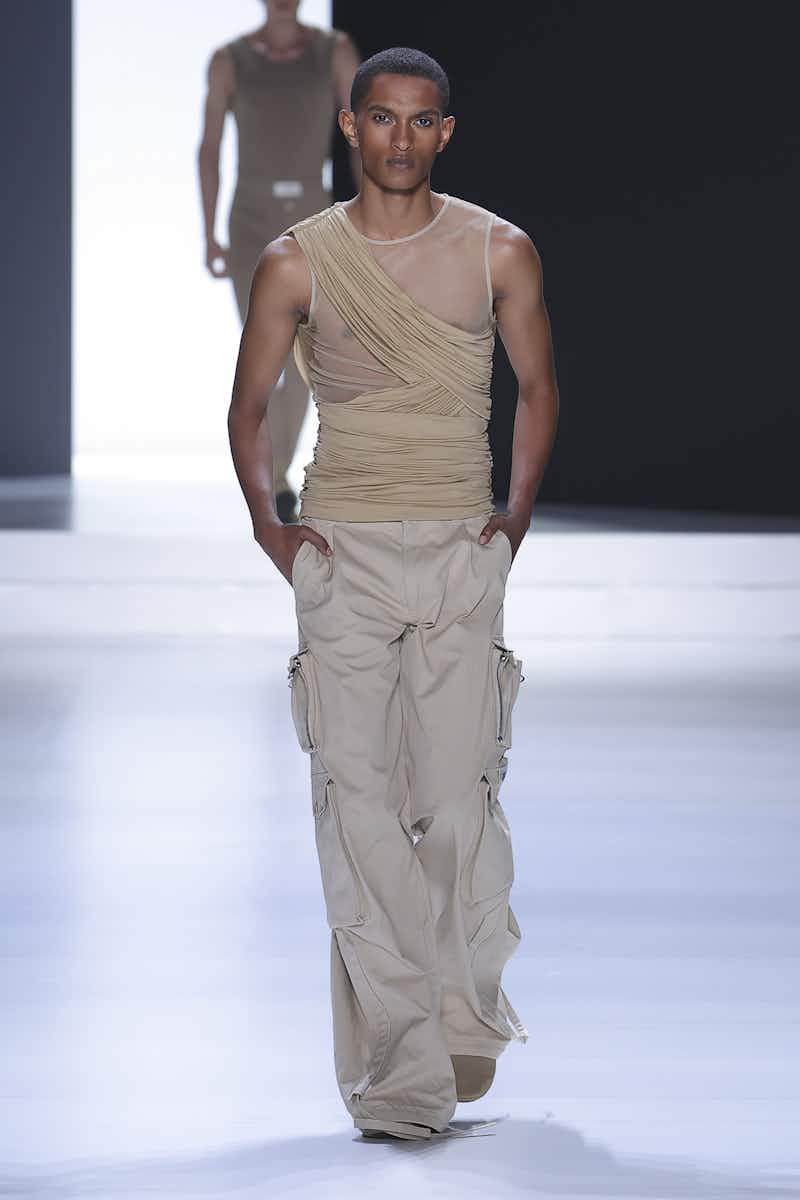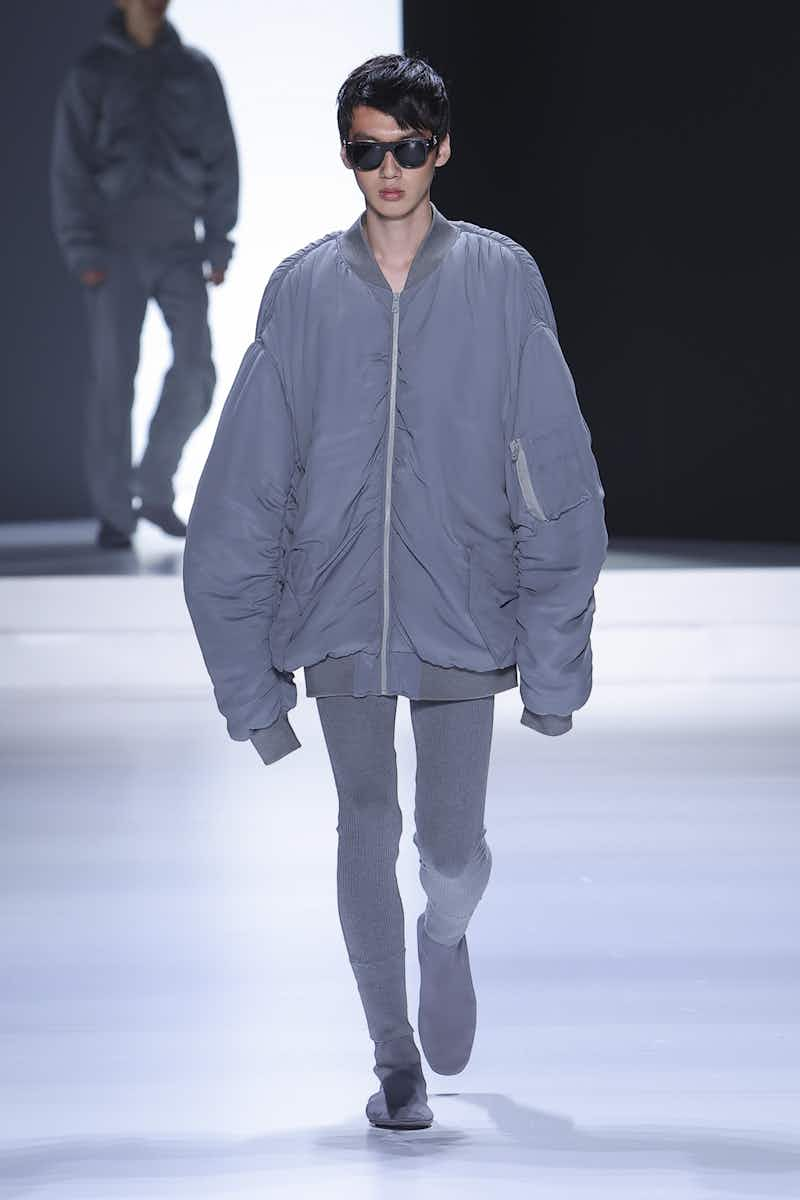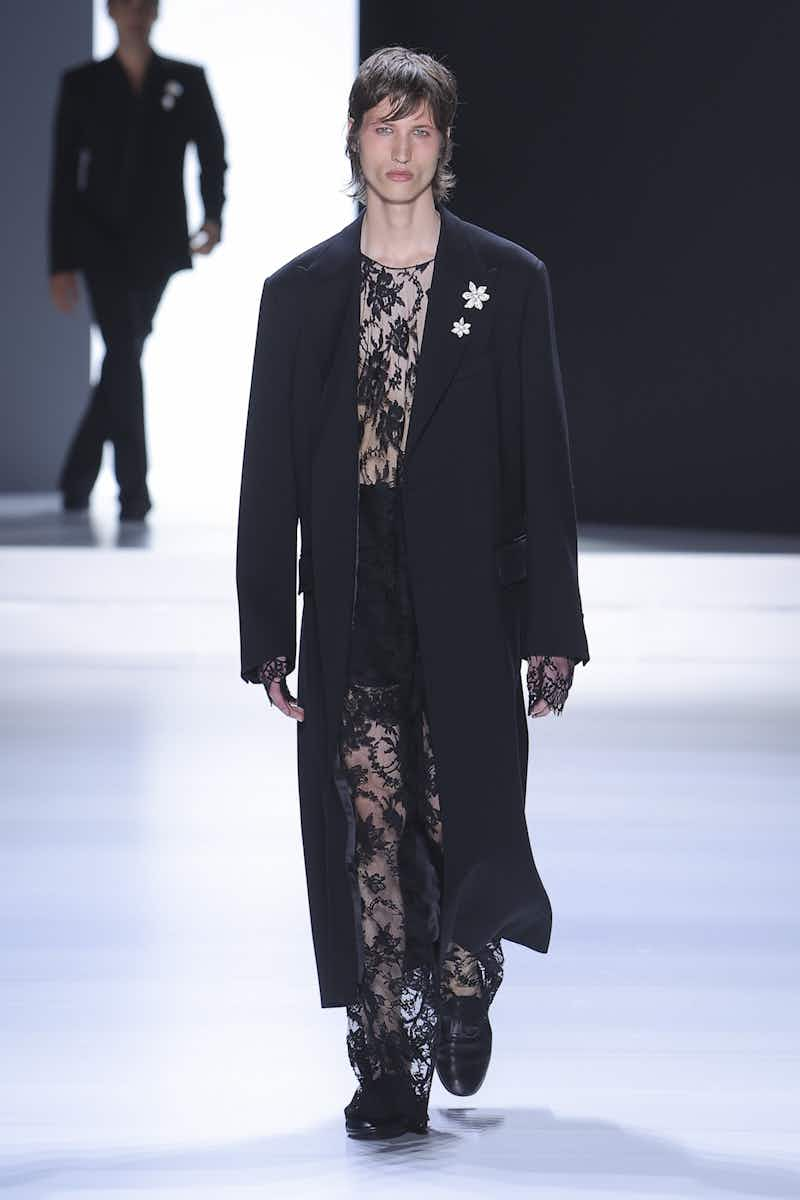 What?
A more-ish take (77 looks!) on ​"less is more" from Domenico Dolce and Stefano Gabbana.
Where?
The former 1940s cinema-turned‑D&G‑space right in the heart of Milan.
What were the clothes like?
Like many of the fashion heavyweights, Dolce & Gabbana has turned towards reduction, opting for simpler clothing, perfected with couture-level craftsmanship. Hot on the heels of AW23 menswear, when this project began, the new collection, Stile, focuses on the variation and potential that tighter design rules can offer.
Kicking off the proceedings with a sea of black, they chopped and skewed English tailoring with Dolce Gabbanerisms, cutting jackets close to the torso, with lightly flared cuffs and a cocooning cummerbund-cum-corest (try saying that after a few Aperol Spritzes). Double-breasted blazers with cut-throat lapels came with a sheer edge and without sleeves, nipped at the waist with a single panel of fabric that caused the bottom of the garment to flurry like a mini dress.
Eventually, a polka dot blouse eased the darkness, with silk overcoats joining swishing white trousers and scoop-neck shirts, elongated like a shift dress or pope robe. Of course, holy nods to their Roman Catholic upbringing are D&G 101.
Later, dove grey hues appeared across satin organza trousers and vests, resplendent with gossamer florets apt for an archangel. A silk double breasted overcoat, tie and shirt swam past like liquid mercury, meanwhile a bomber jacket sliced at the sleeves gathered excess silk on its front, pulling upwards diagonally from the zipline. Together, the show felt edited – look count aside – opting for a fuss-free concept that relied less on niche references and wacky moodboards, and more on a return to what Dolce does best: cut shapes.
Who was there?
The maison's favourite rap maverick Machine Gun Kelly showed face, as did K‑pop king Doyoung and Italy's 20-something hip-hopper Blanco.
The It-look?
Mark my words, the hourglass blazer, pleated trousers and pumps in Dolce cream will grace many tappeti rossi come next summer.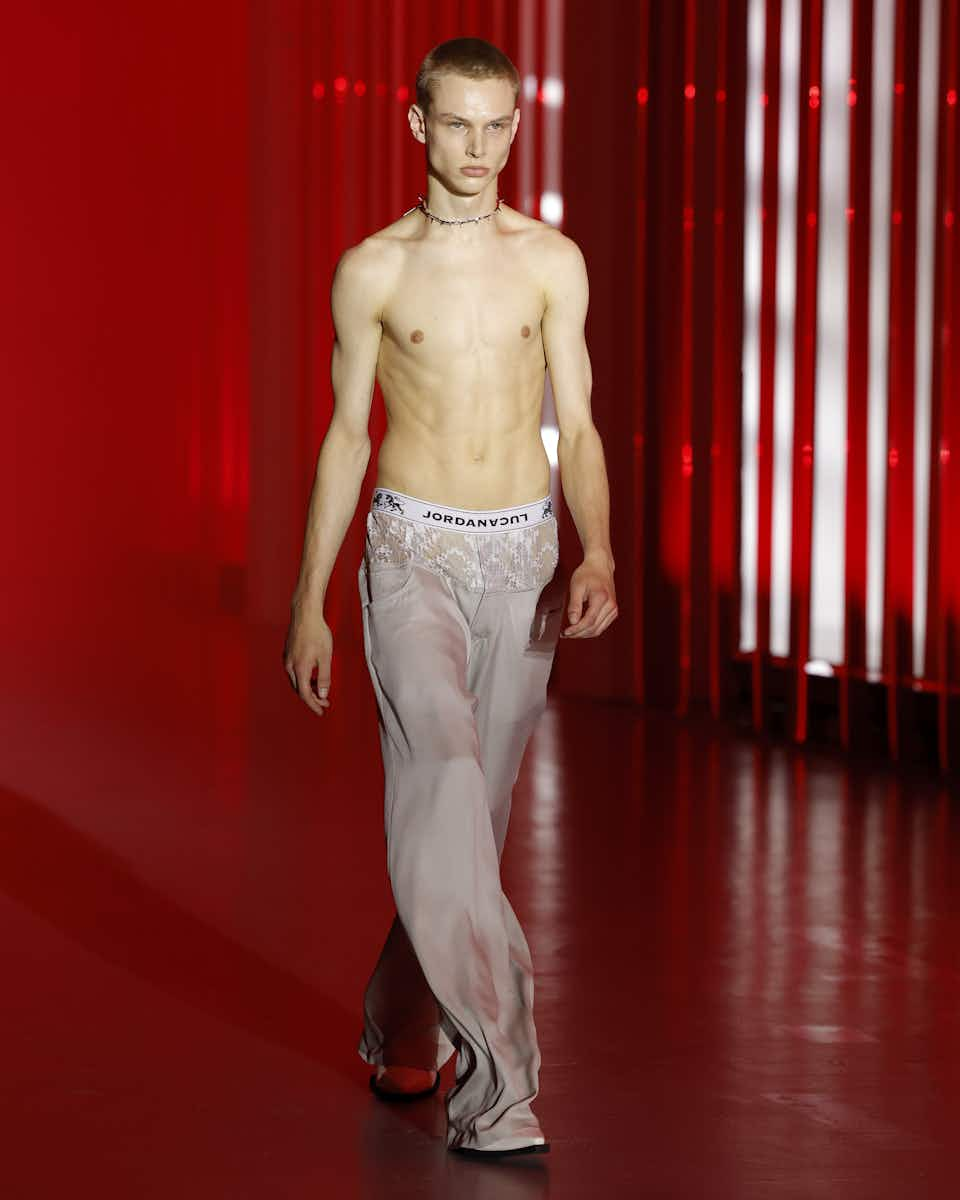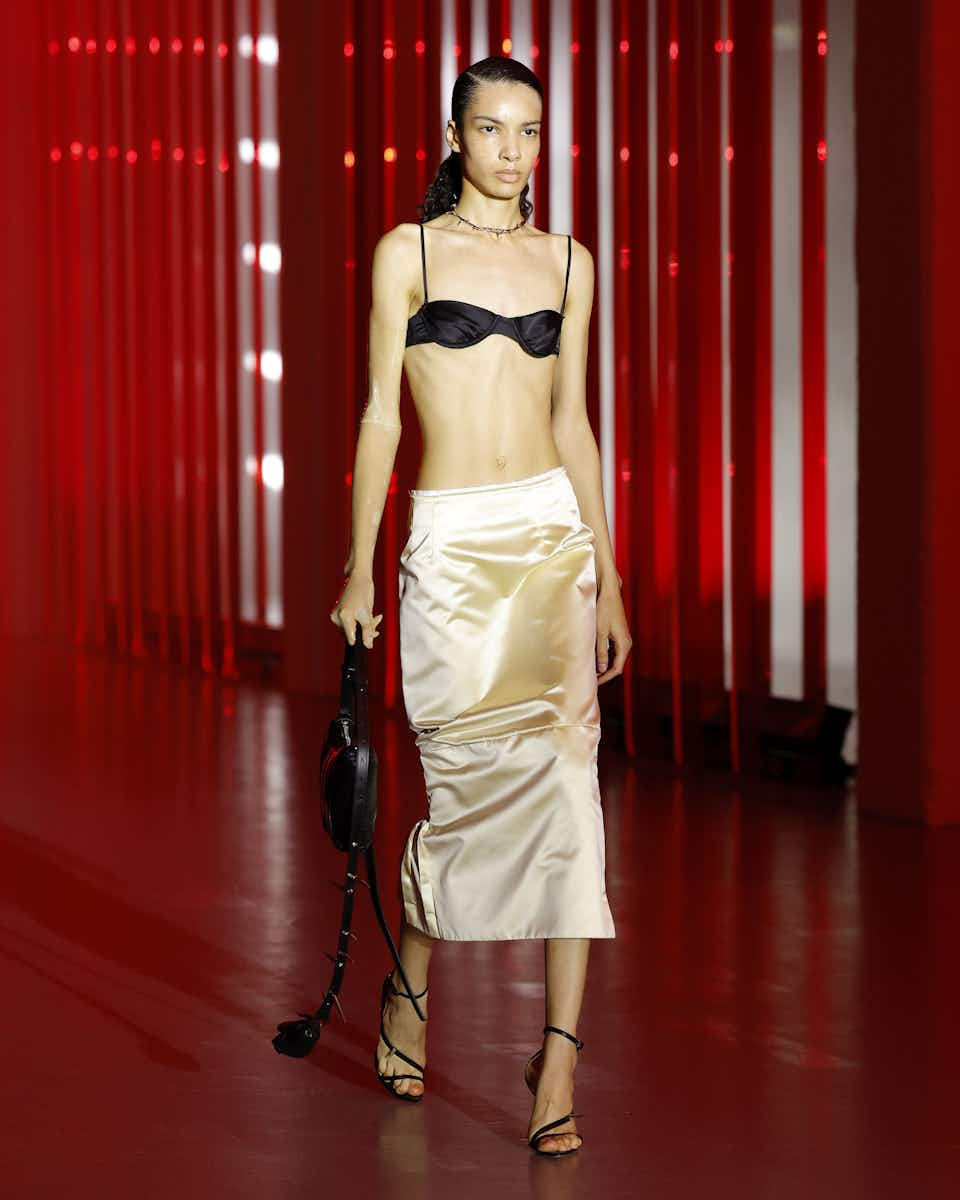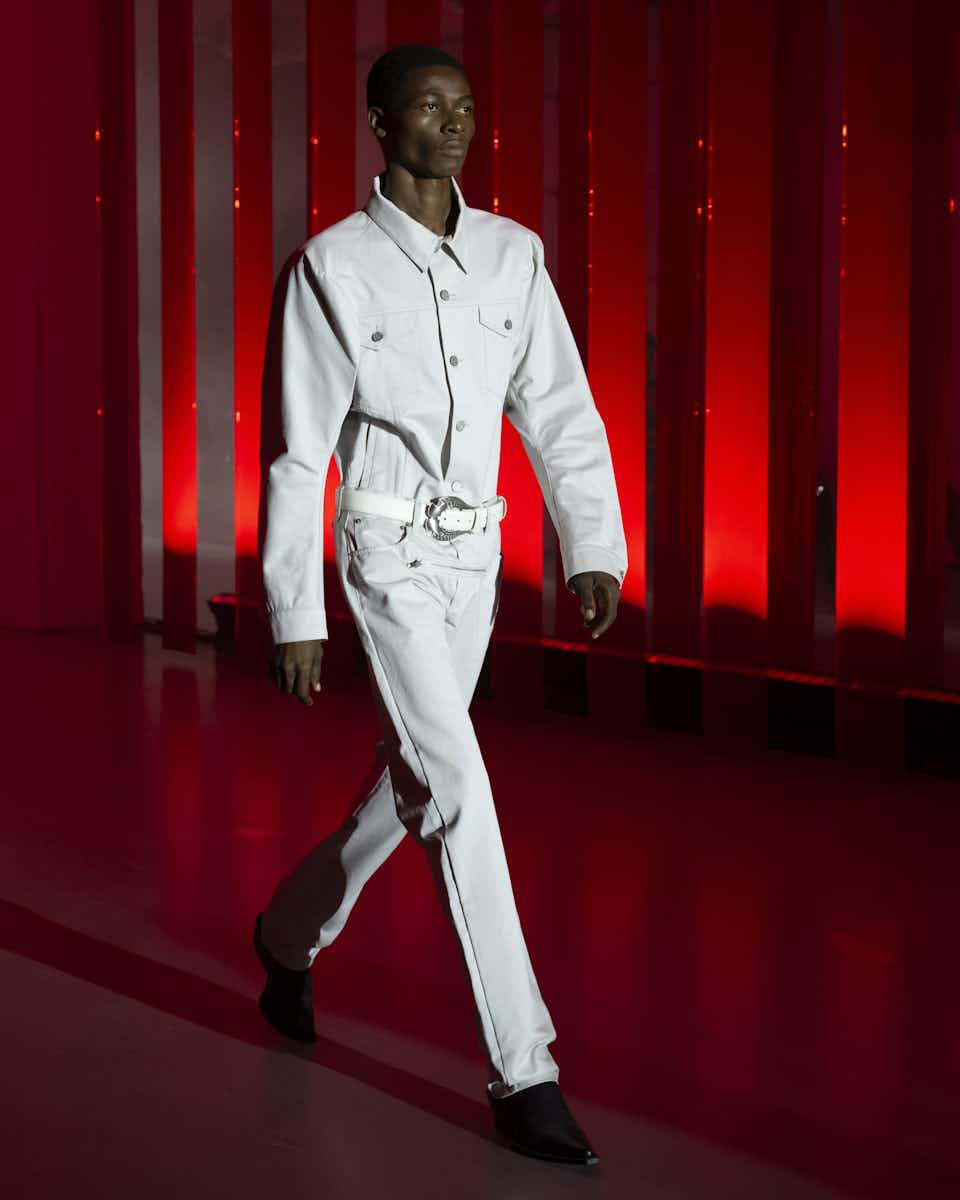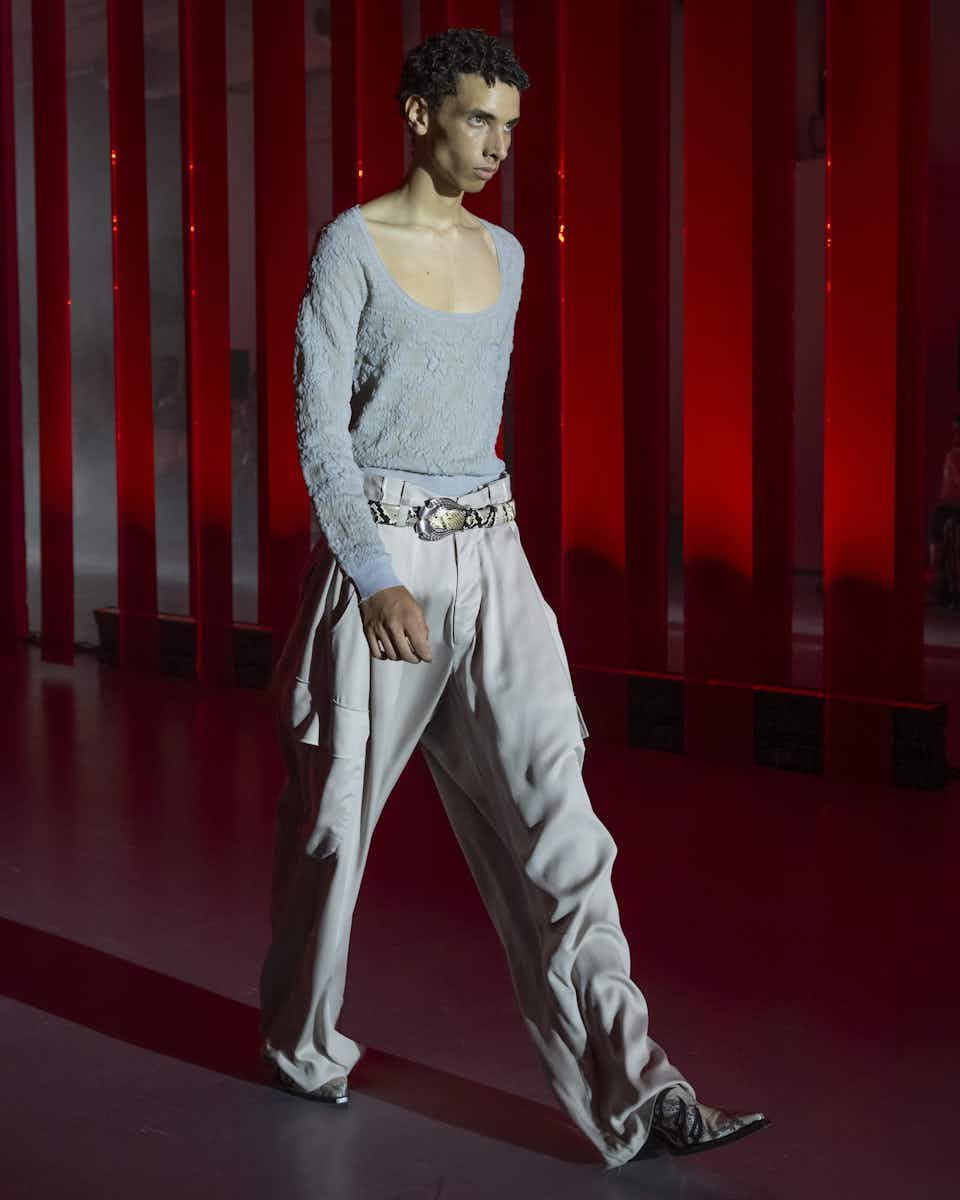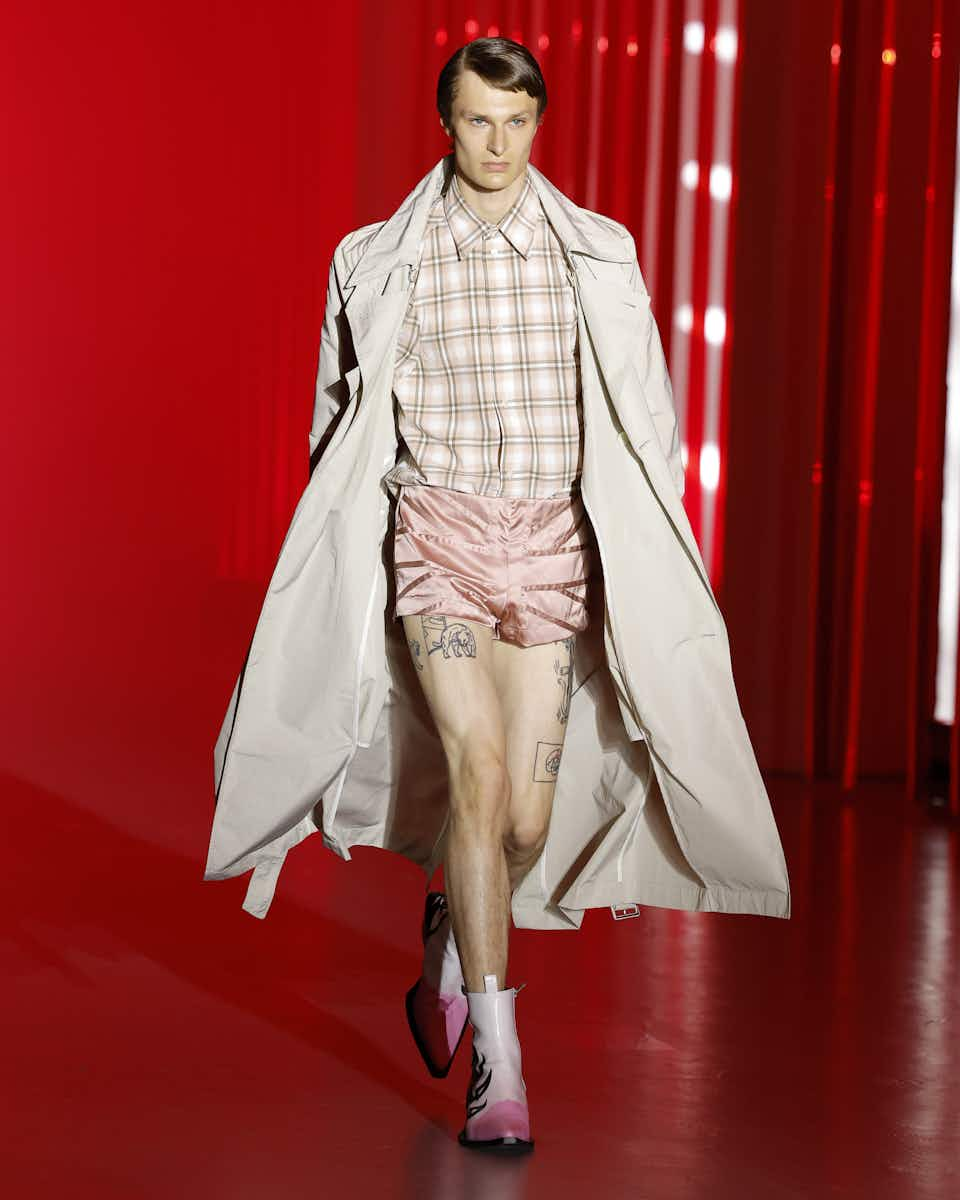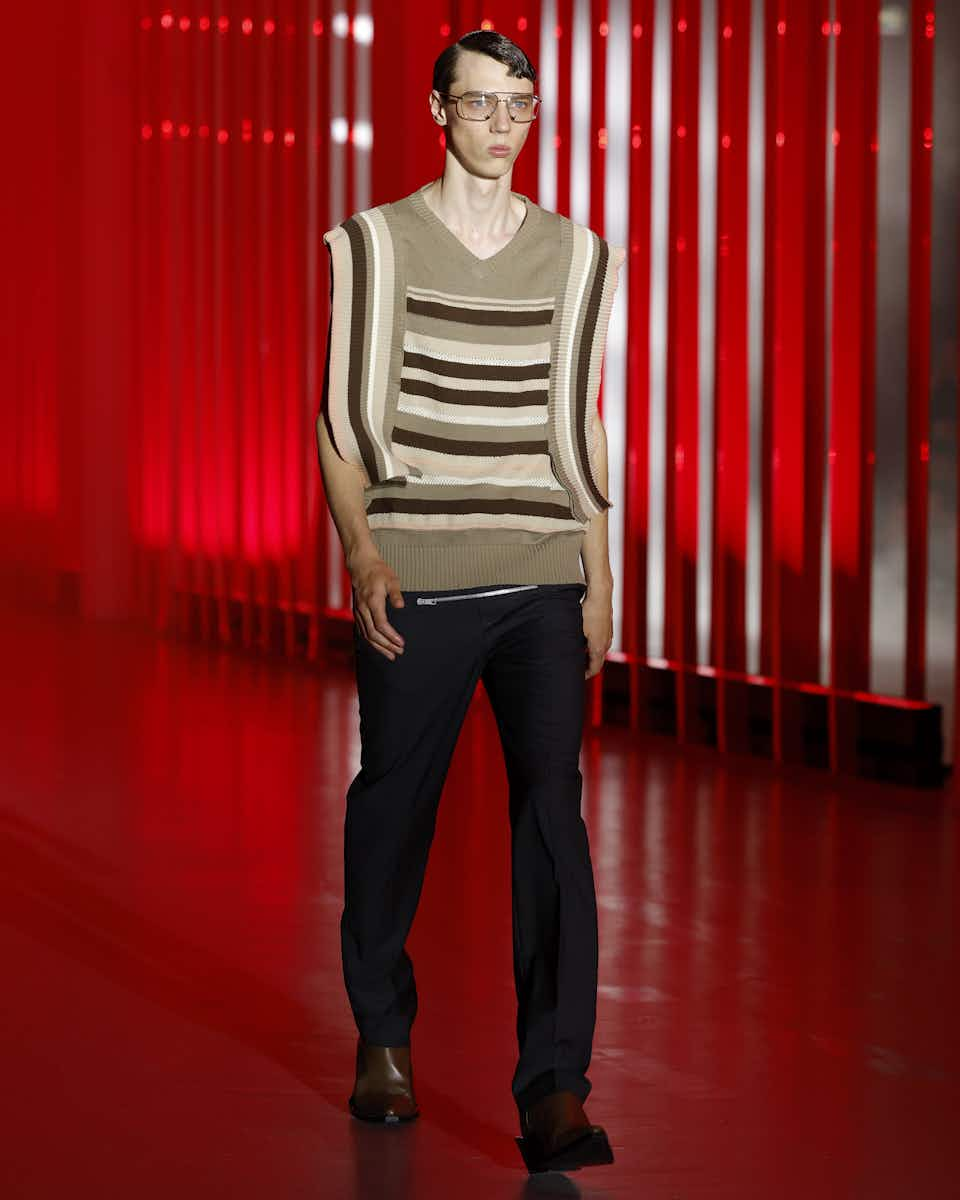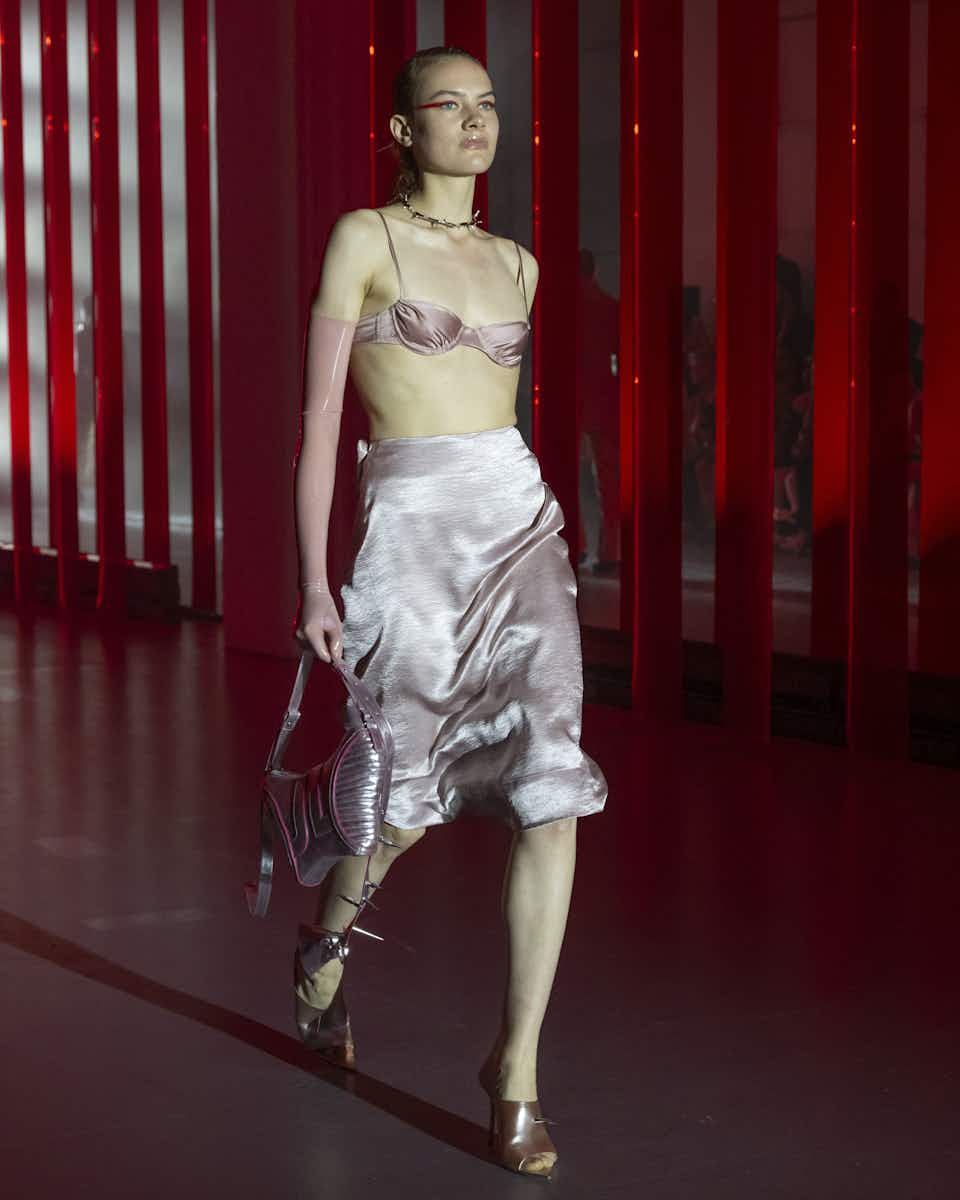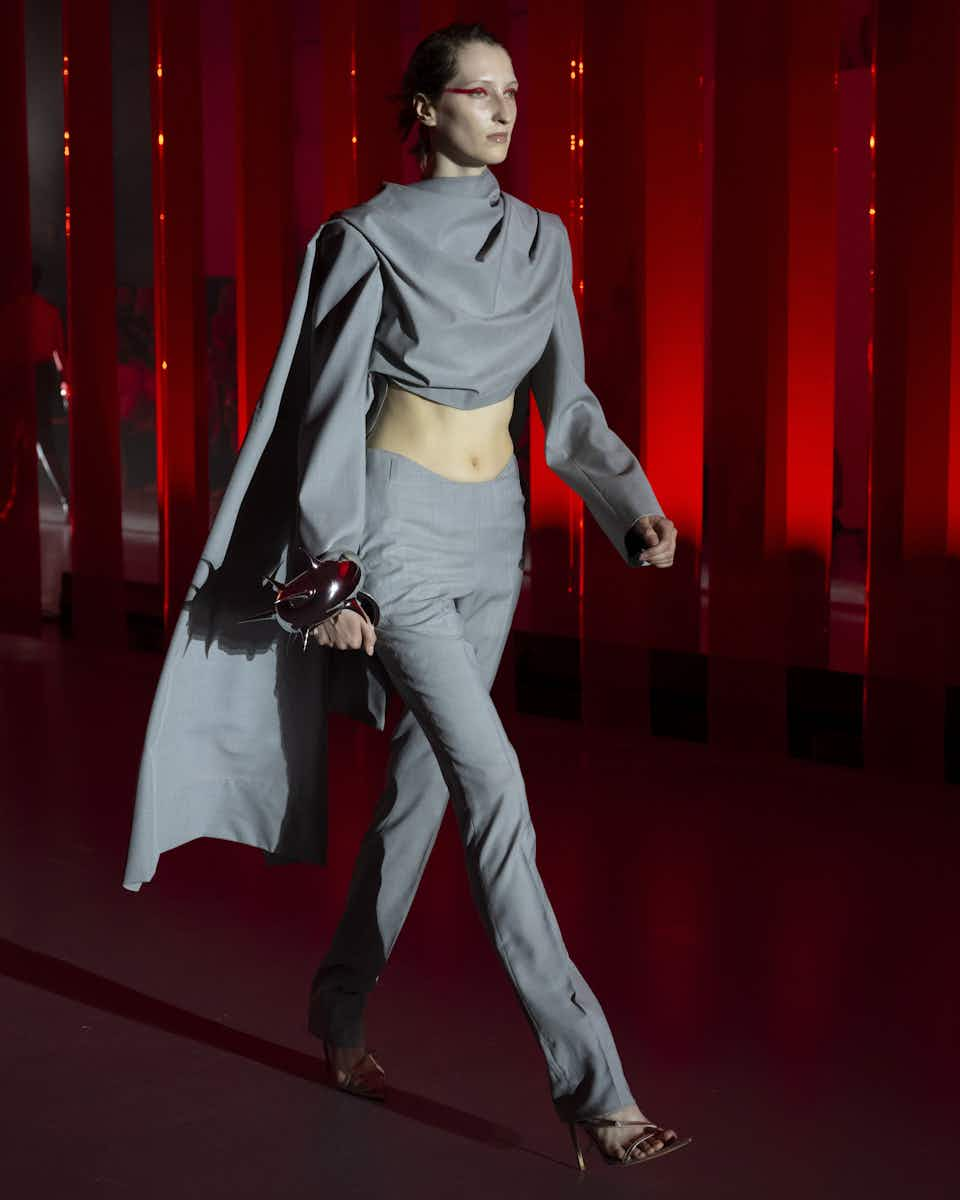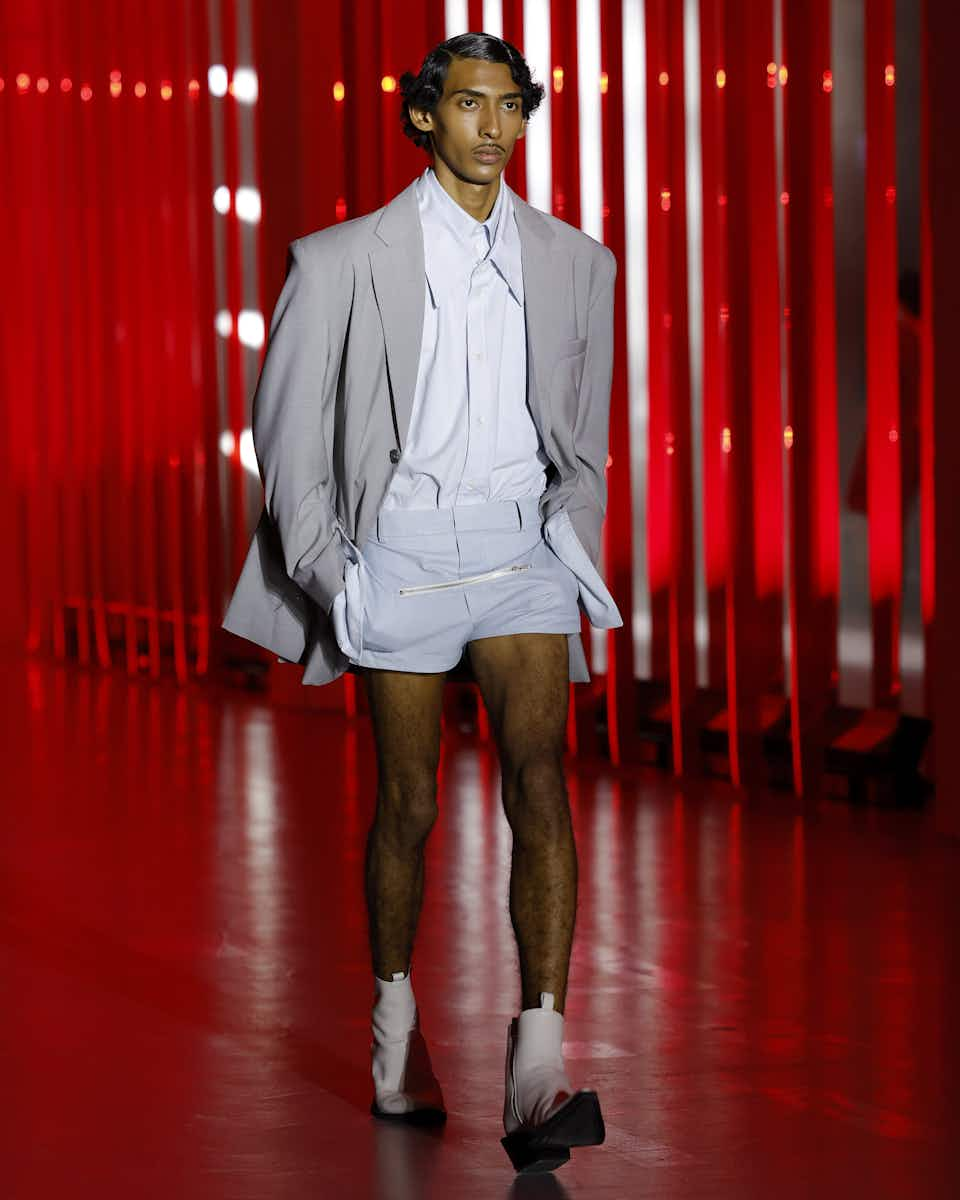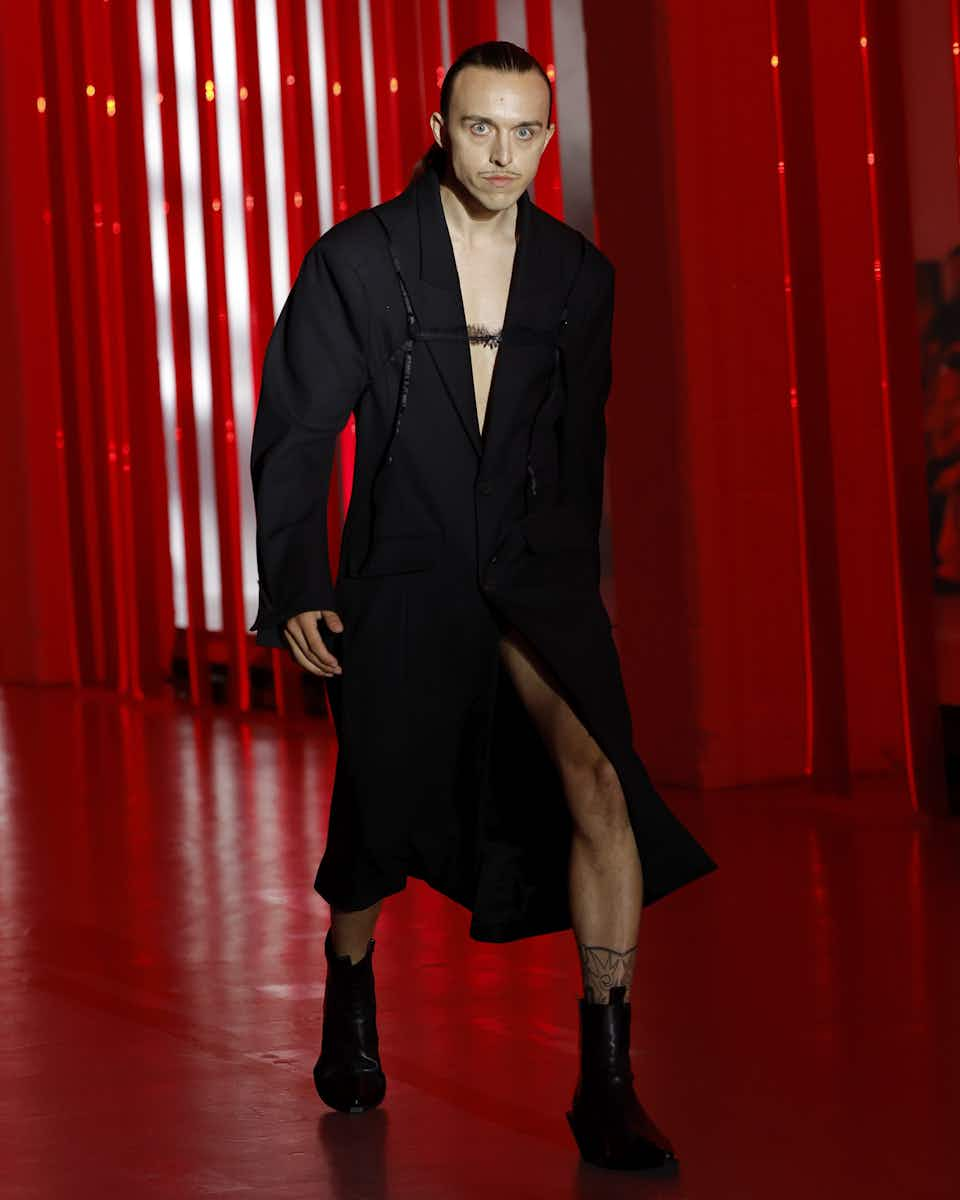 What?
Jordan Bowen and Luca Marchetto's offbeat take on provincial clobber.
Where?
A studio space in the arty-farty district of Milan, bathed in red light and divided with transparent butcher flaps, recalling a low-budget BDSM film.
Why should we care?
Because Jordanluca hard-launched its womenswear offering, perfect for the corporate girl boss that rolls straight from a Sunday afters to their Monday standup. That, and Estonian rap extraordinaire Tommy Cash graced the catwalk.
So, what were the clothes like?
A bizarro take on evergreen designs, the collection felt like a maturation for the brand, ushering in sleeker tailoring while paring back on sportswear. Of course, the established codes of queer culture and kink were apparent in carryovers from previous seasons, such as the zip-front crotches – ideal for cruising – and a new harness designed from lingerie ribbons and lace. The latter overlayed a long black overcoat, cinched slightly at the waist and rounded over the hips. Staid made hot.
Elsewhere, the goofy twists on office-core that distinguished AW23 were goofed-up further. One shirt, printed with an ombré snake print, had its collar turned a full 90 degrees, leaving an inside-out tie to hang from the shoulder across bicep. Some sportswear remained, such as the swamp-green hoodie whose hemlines were warped and stretched, forming an uncanny set of arms and mismatched shoulders. There were also some nods to high-street sex stores. The red-hot tank top or biker jacket decked with rose embroidery typical of ​"sexy women's underwear" was a case in point, subverting a kitsch cliché into fine menswear.
As for the womenswear, this was equally offbeat, serving up golden satin dresses and skirts that crumpled and folded like shiny wrapping paper. Latex bodycons and skirts were cut with plenty of slack, causing a bubbled effect across the body, while tank tops protruded seamlessly from dresses like bizarre mutations. Meanwhile, the boys' recent obsession with kilts gave way to eccentric twists, from the pencil skirt double-buckled on its side to the hoodie-dress adjoined with a kilt hem. Girls, gays and theys, get involved.
In a song?
Lana Del Rey's Hope Is a Dangerous Thing for a Woman Like Me to Have – but I Have It, which played acapella for the show's finale.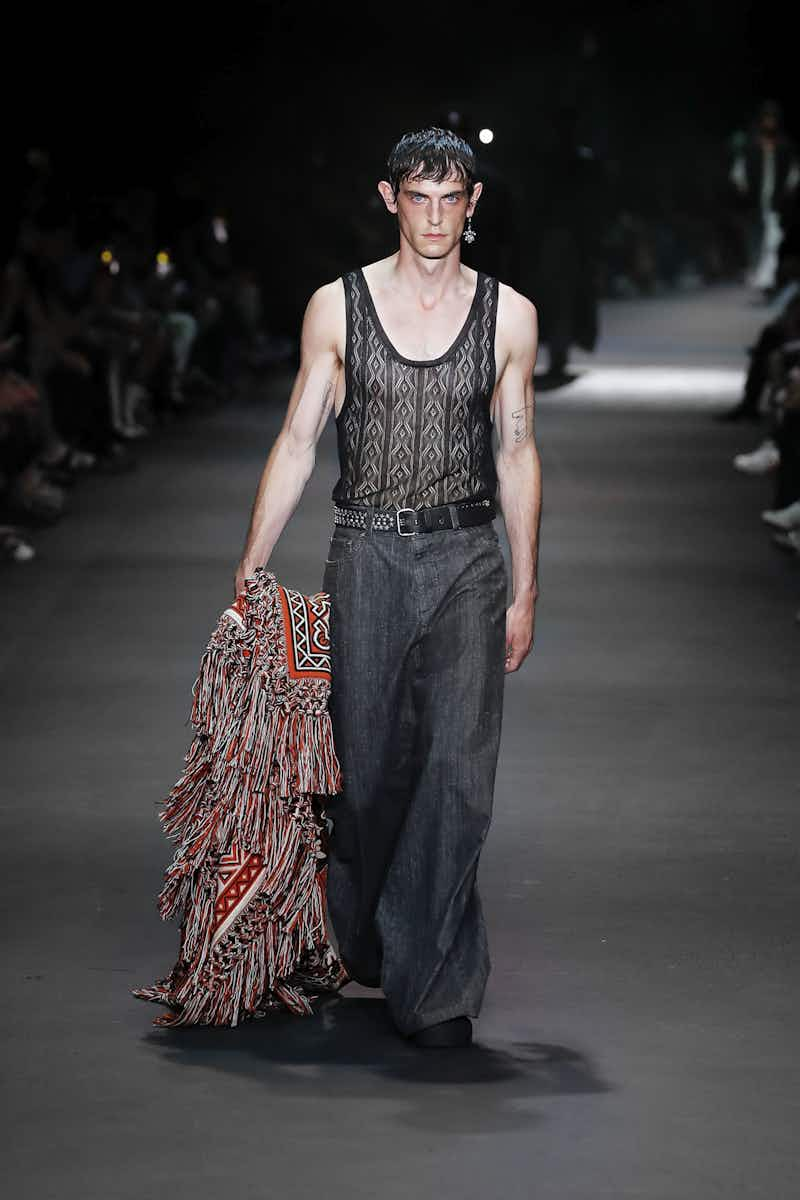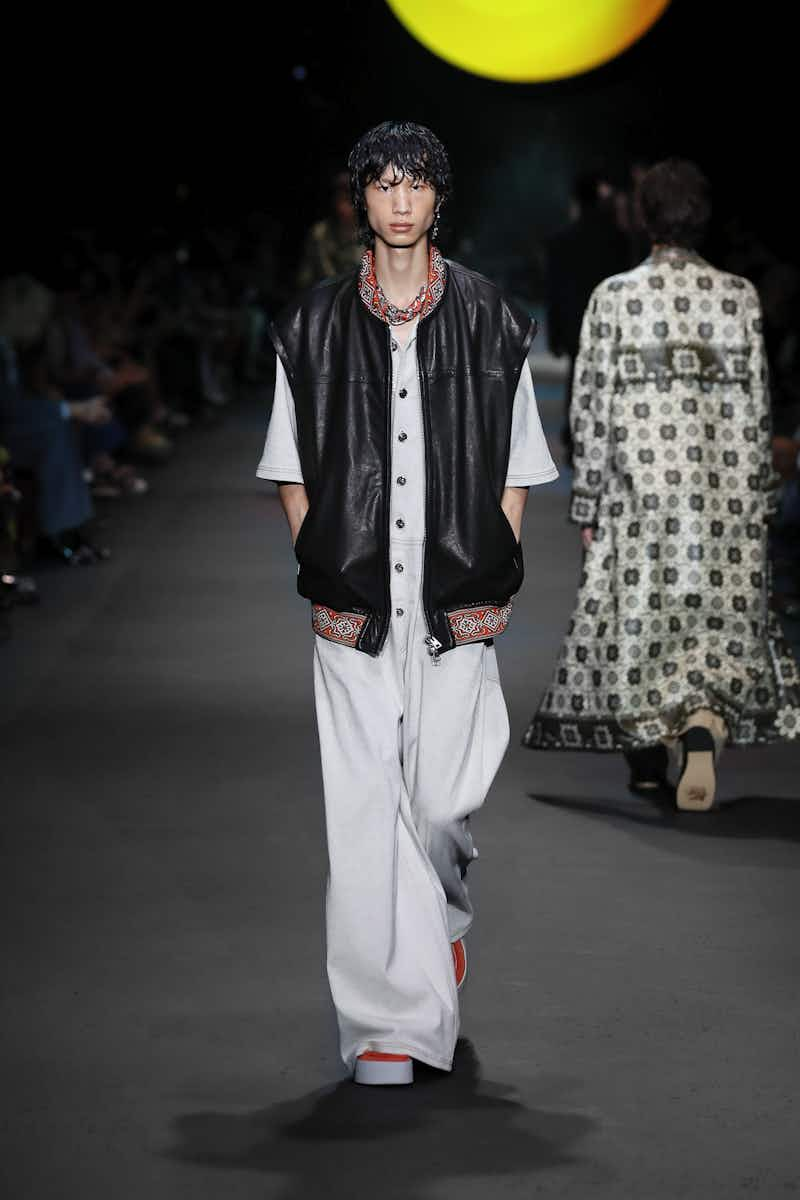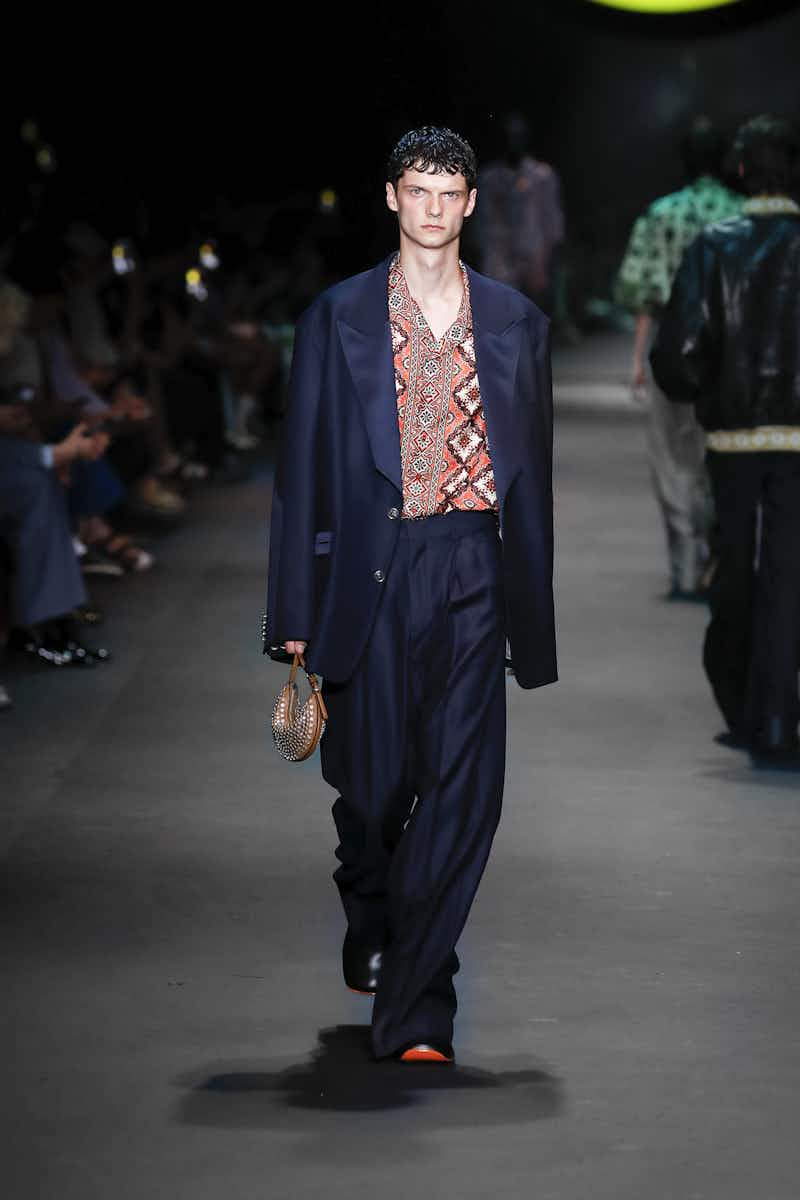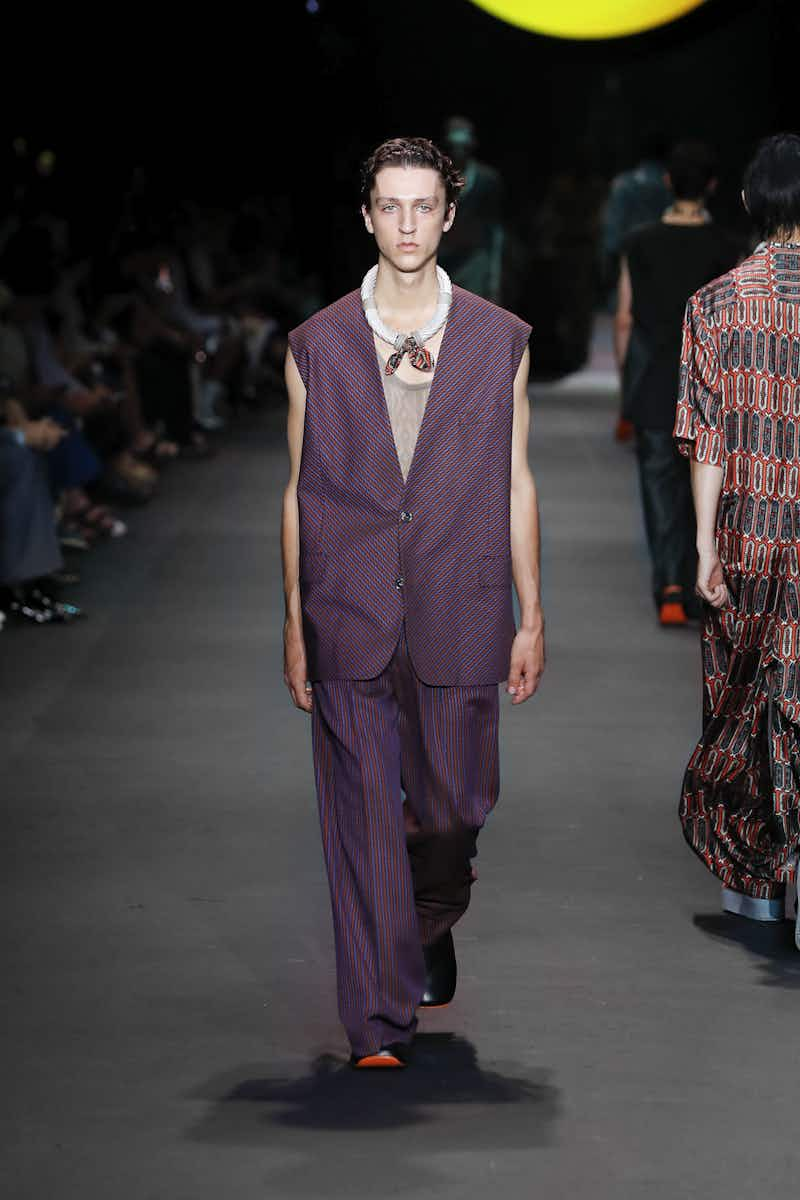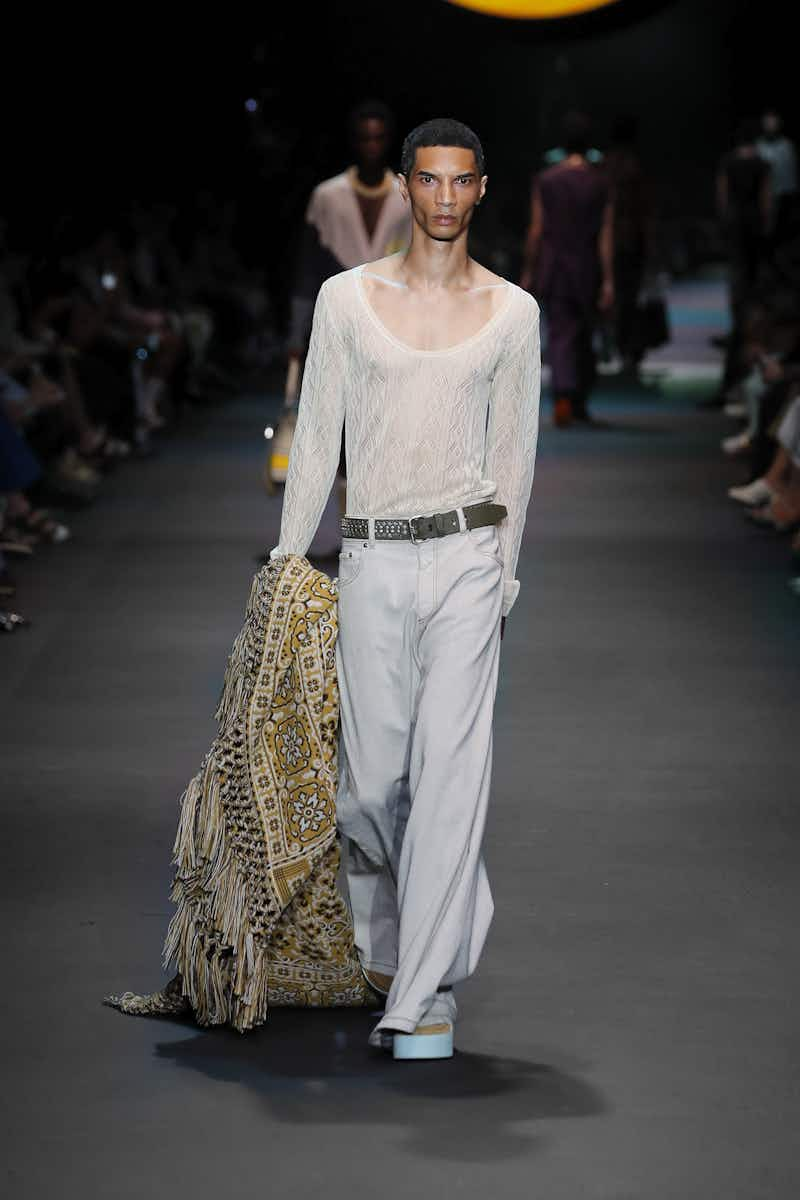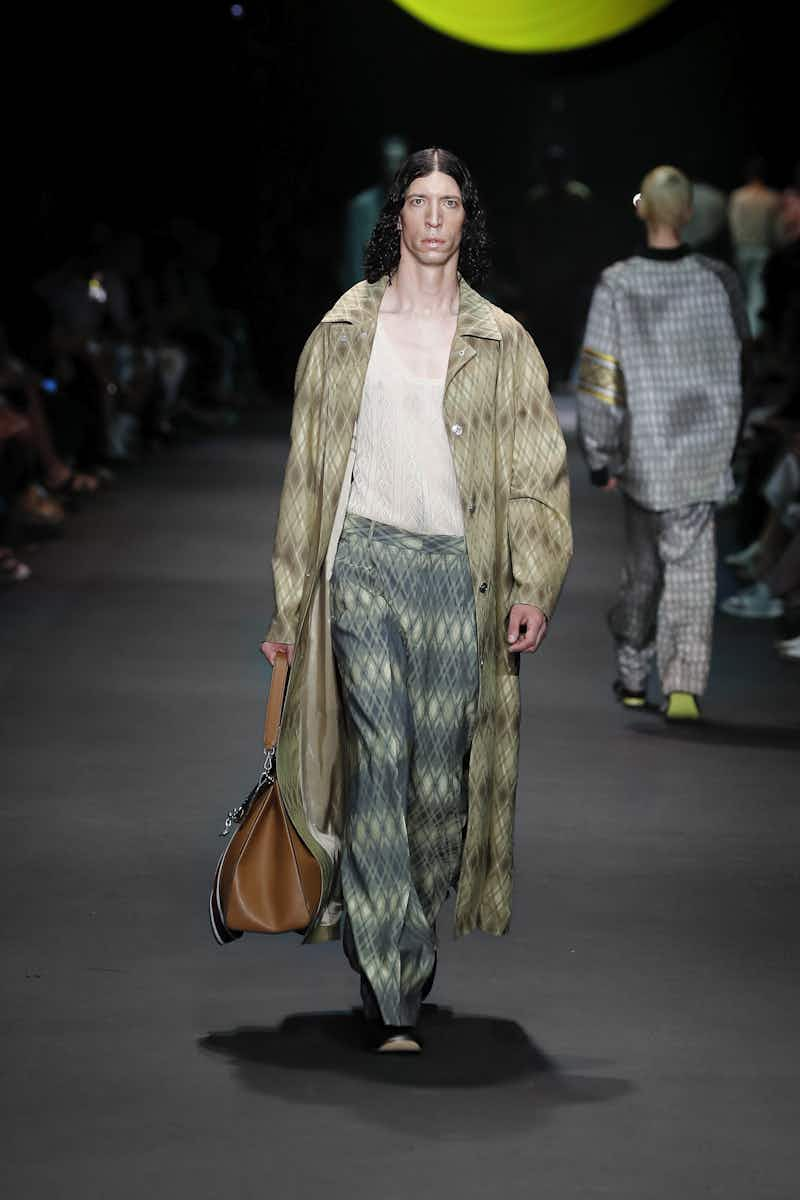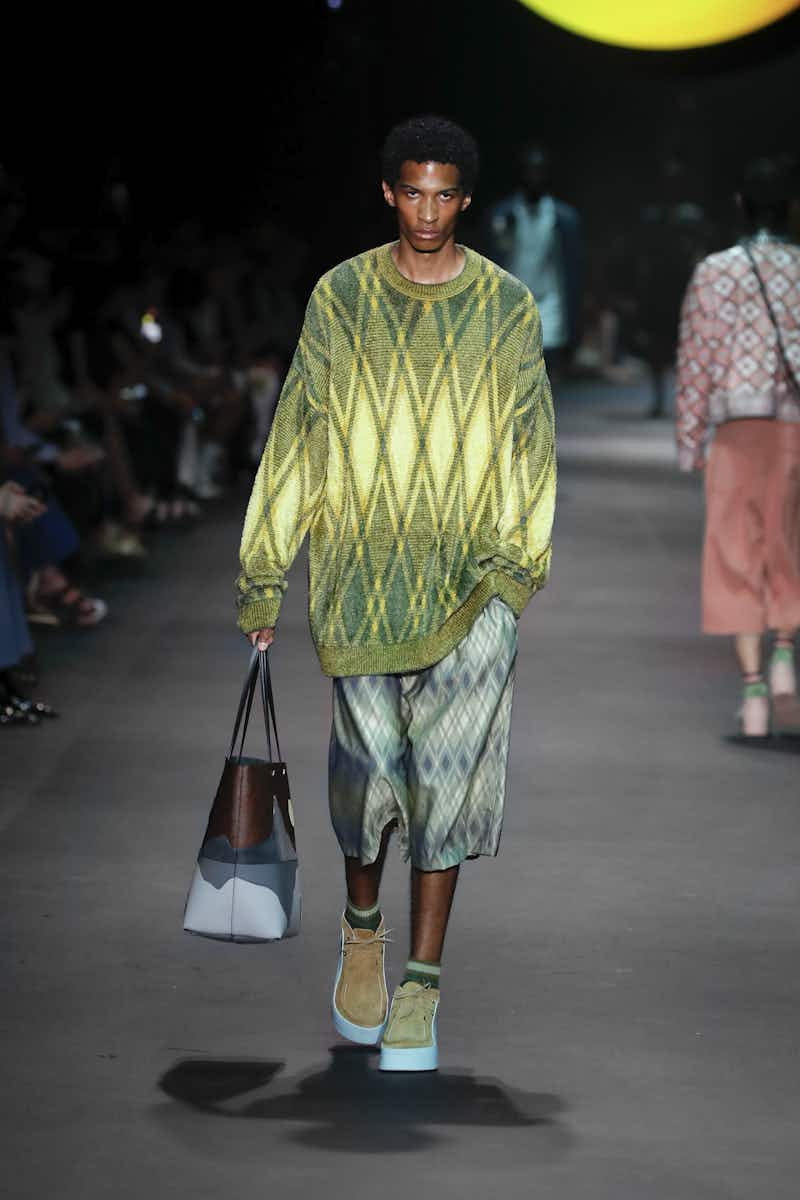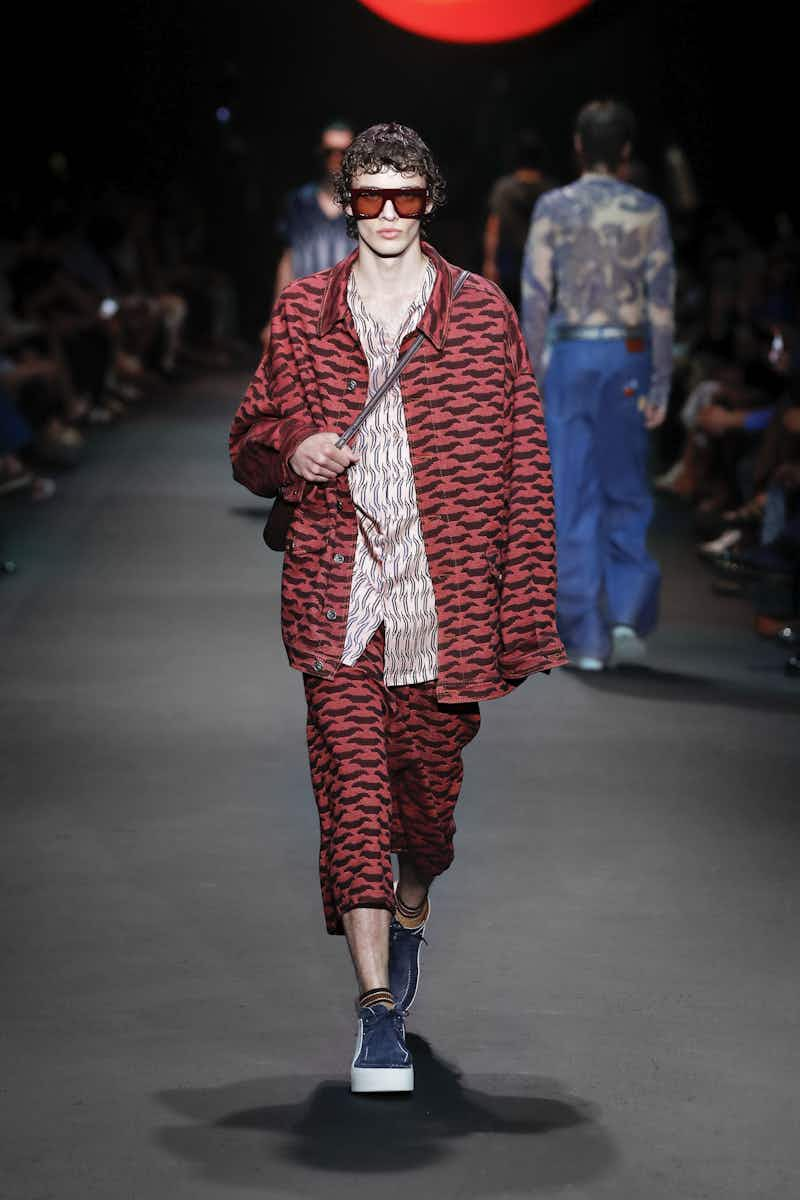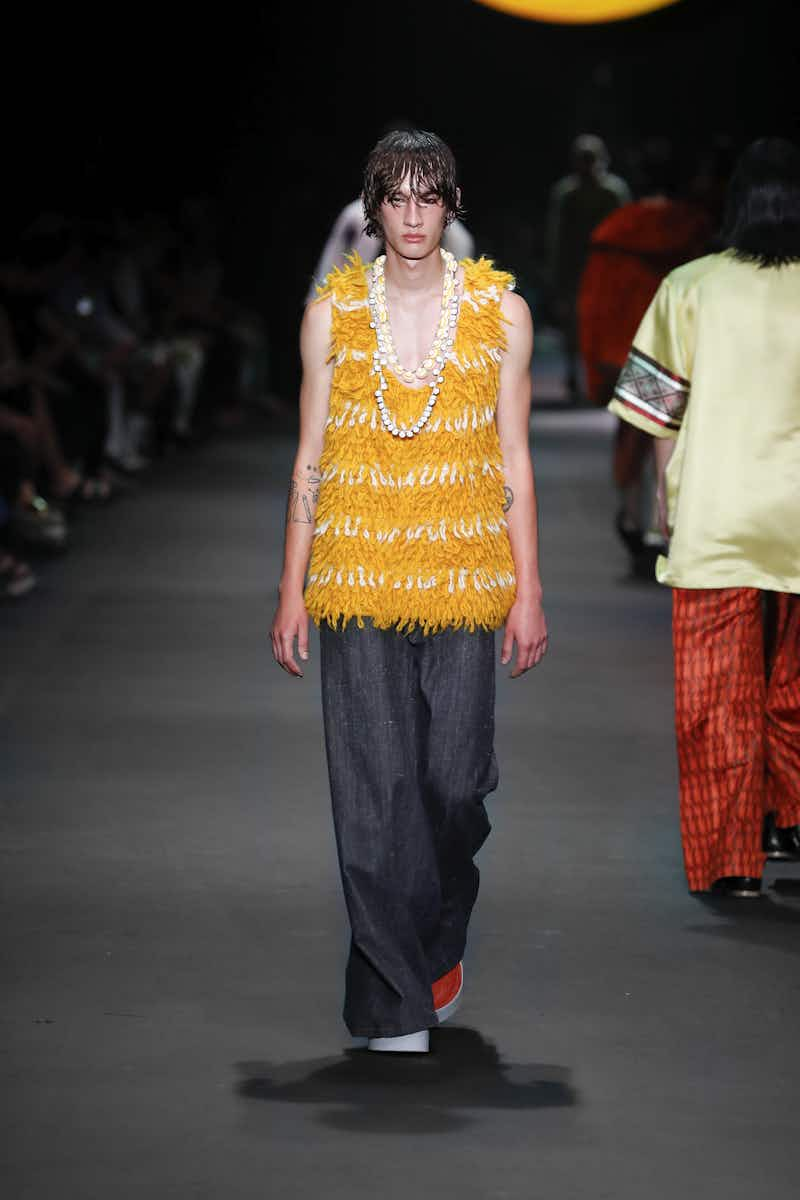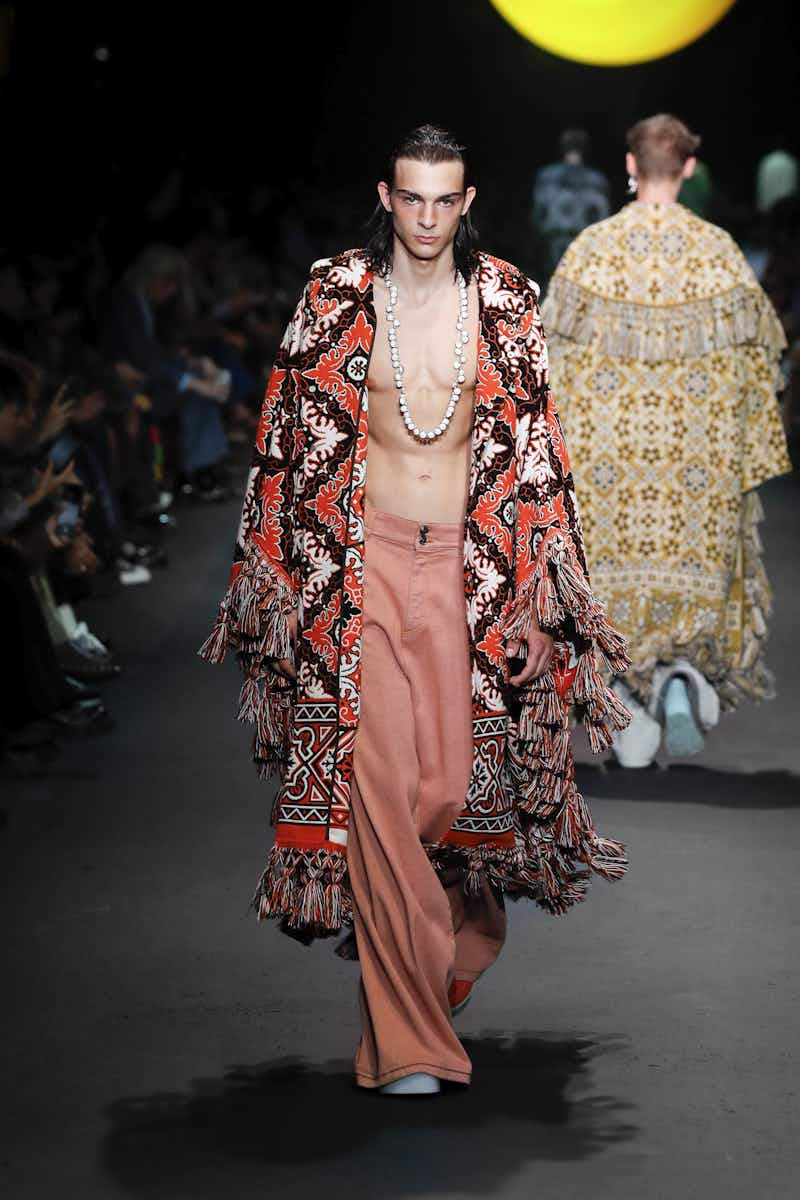 What?
Marco De Vincenzo's third collection at what was, until his arrival, a family-run business.
Where?
A dark, tunnelling room, fitted with a Balearic sun hung from its centre.
Who was there?
TikTok lip-sync legend Jacob Rott and modelling maverick Alton Mason both graced the event. Oh, and journo-turned-girl-about-town Anna Dello Russo was seen in the Frow.
Why should I care?
Since taking the reins at Italy's finest purveyor of paisley, Marco De Vincenzo has taken the house from strength to strength, upping its relevance among a more fashion-forward audience. Sure, he's no doubt expected to maintain the original bourgeois-boho audience that bankrolls its shows, but De Vincenzo has been given carte blanche from the Etro family to leave his mark without fear of reprisals. Little wonder, then, that his second spring/​summer collection for the house feels like a resolutely new era for the maison, now becoming a heavyweight in craft as well as textile.
What were the clothes like?
Easy as ever, Etro's SS24 offering presented the modern traveller's wardrobe, replete with botanical embroidery and jacquards no one could miss. However, among the earthy Cuban-collar shirts and harem-crotch three-quarter lengths came a refreshing proposition of buttery leathers, spanning screen-printed overcoats that were studded on the collar to ​'70s-style bomber jackets, trimmed with Spanish tiling, with sleeves sliced off.
As for the accessories – or ​"fine leather goods", in stakeholder terms – these were equally elevated, cut into horizon designs and printed with the house paisley or shaped like half moons, ready to sling across the torso. Don't act surprised, though. Remember, this is also Fendi's head designer of leather goods we're talking about.
Besides, such cash cows in waiting, the collection brought brand curveballs aplenty, including the American football and soccer jerseys embroidered with mythological mermaids or matriarchal deities. And a special mention goes to his off-kilter twist on crepe sole shoes. Think: a Clarks Wallabees silhouette with fern-green suede, set in a three-inch pink platform.
In a few words?
A bold rewrite.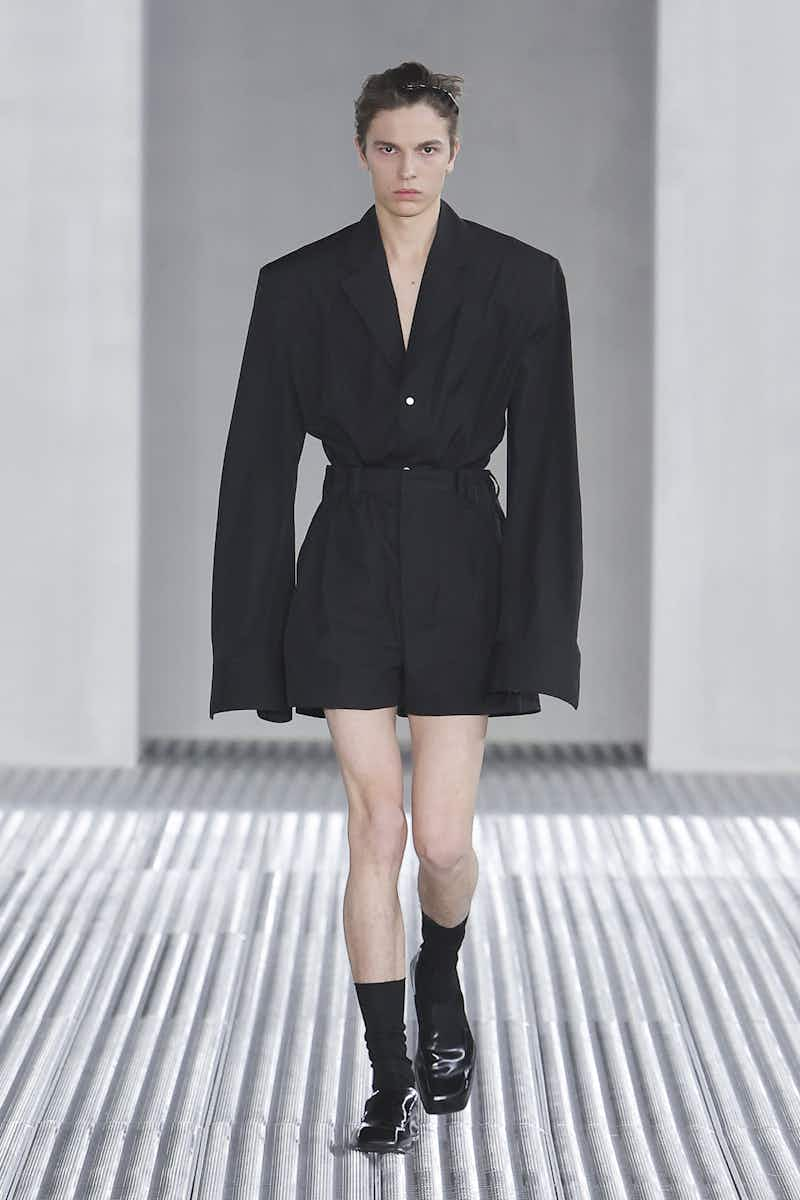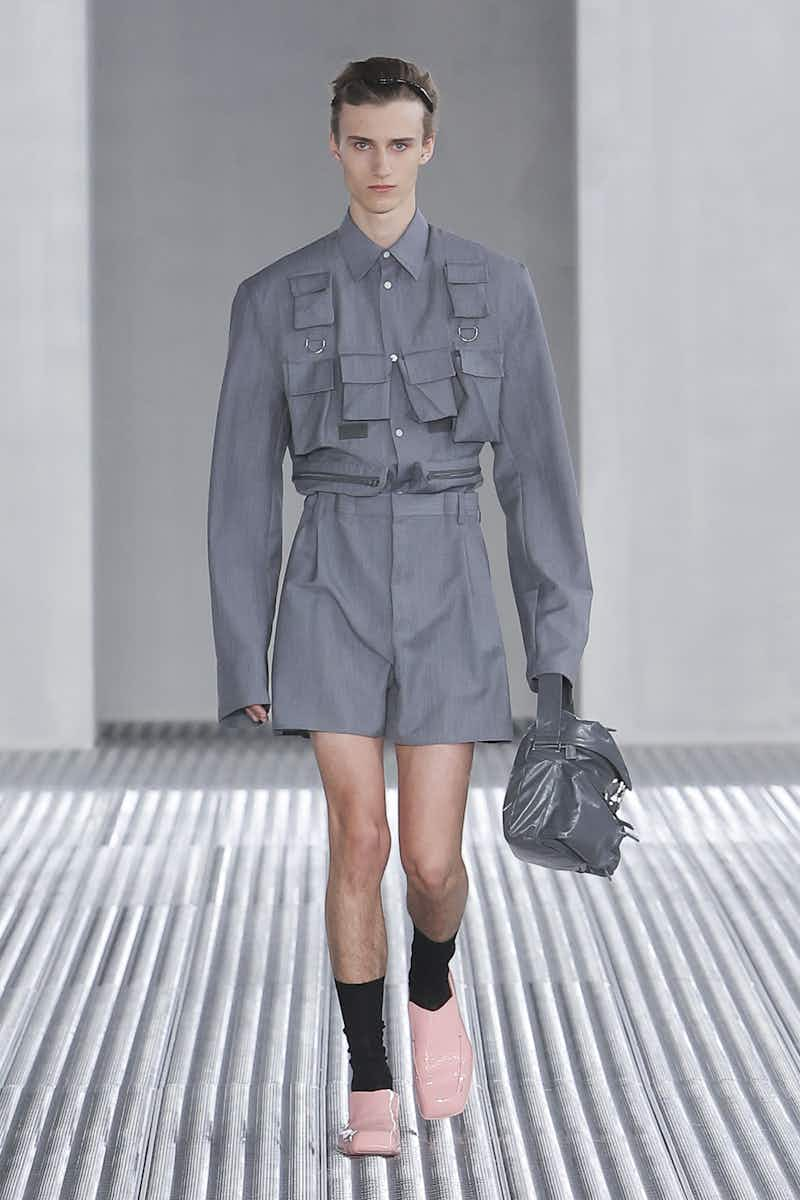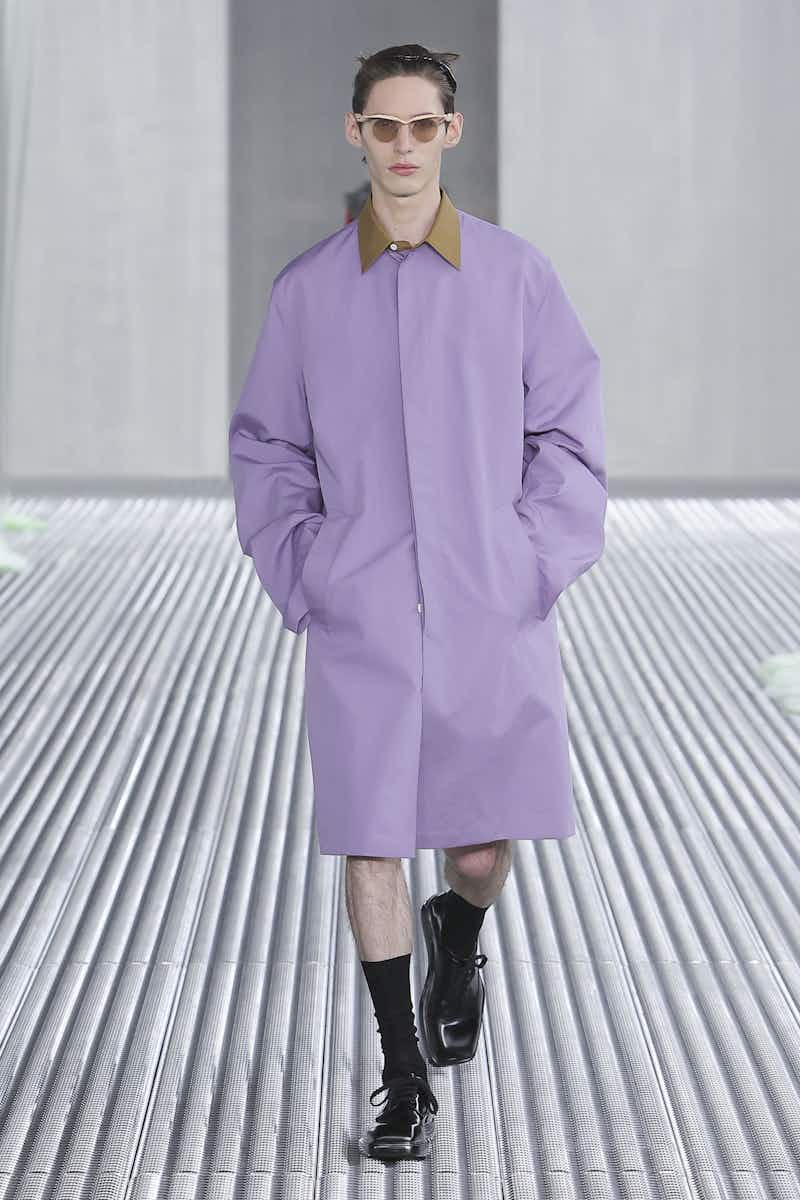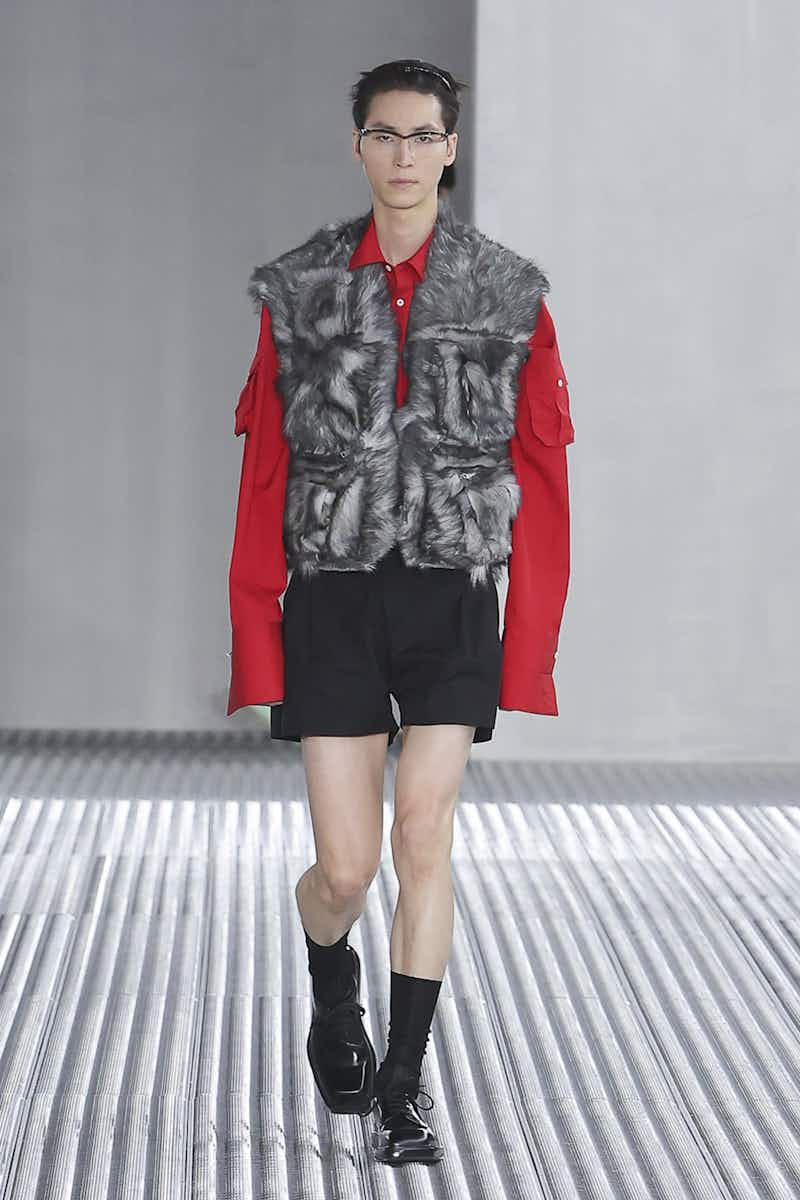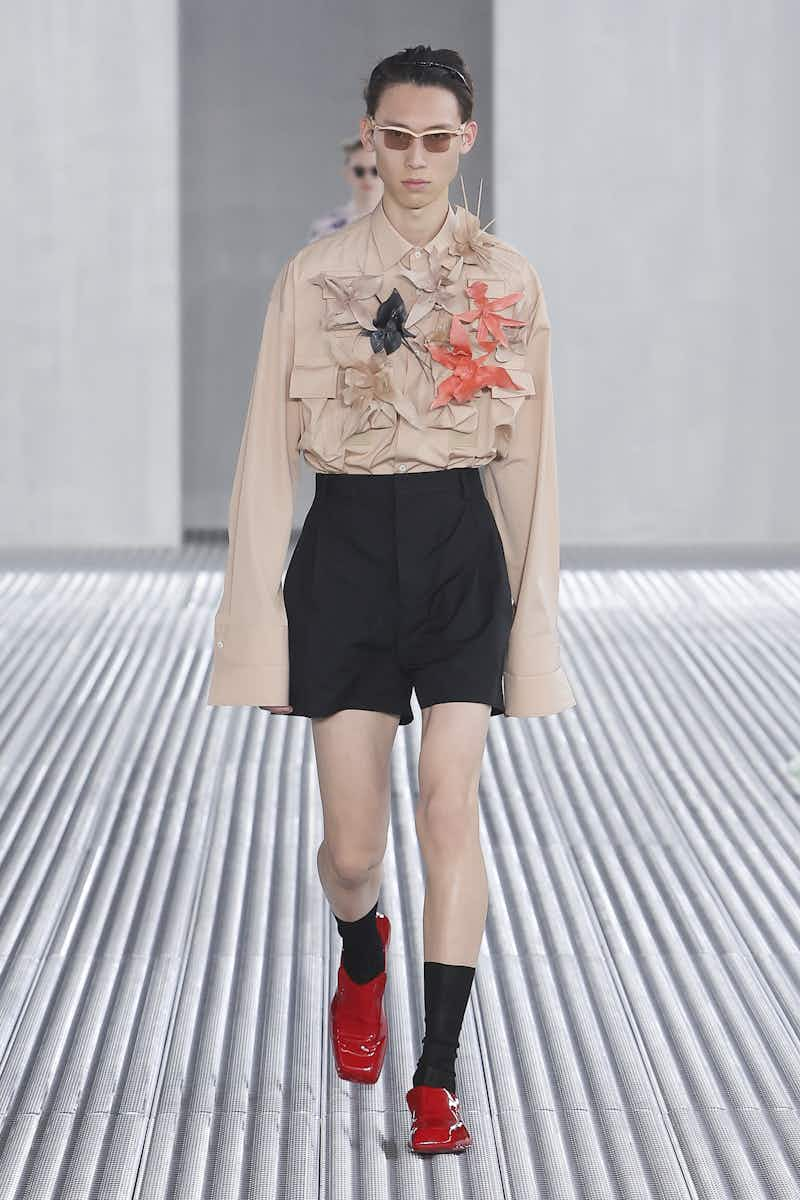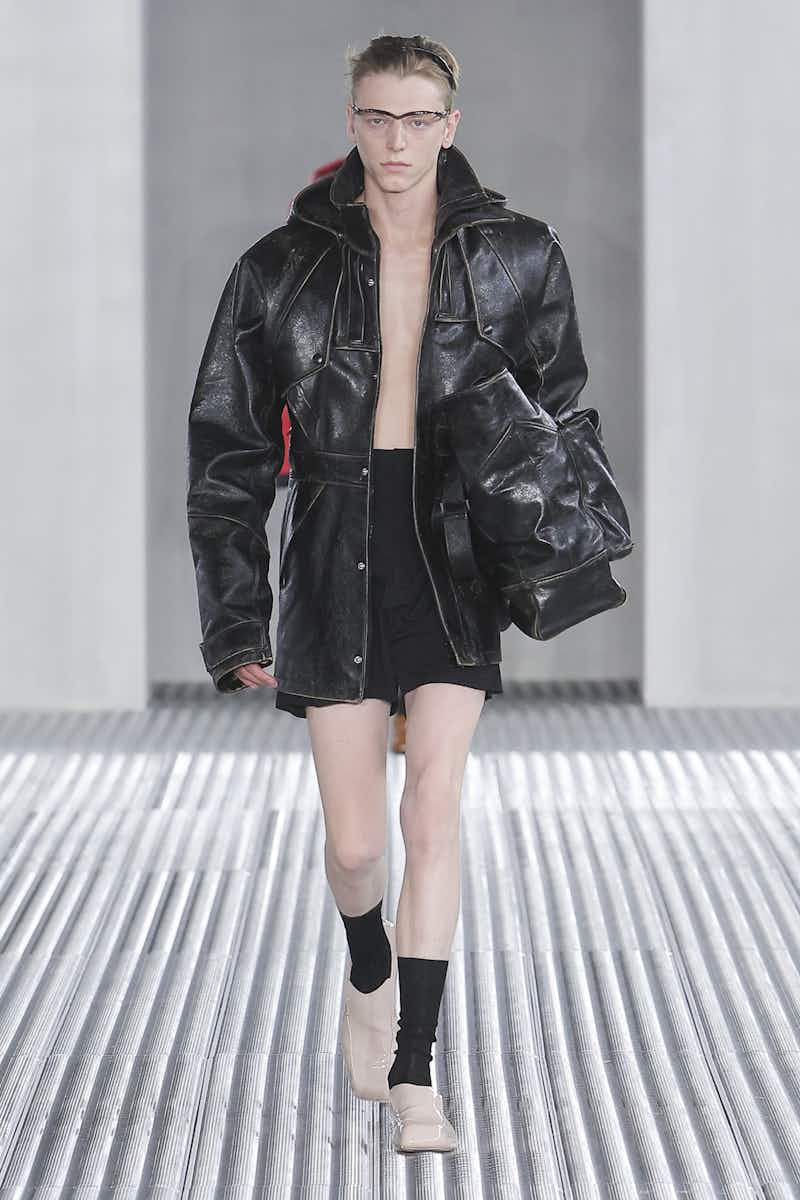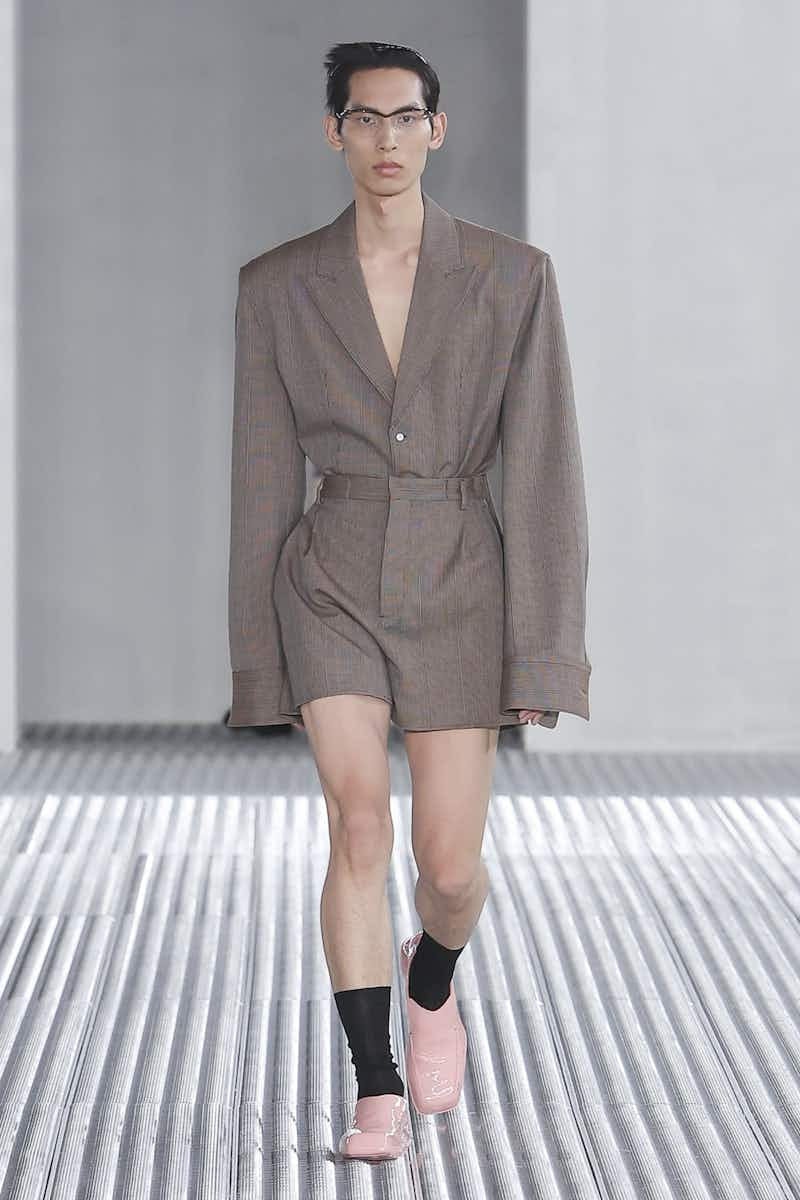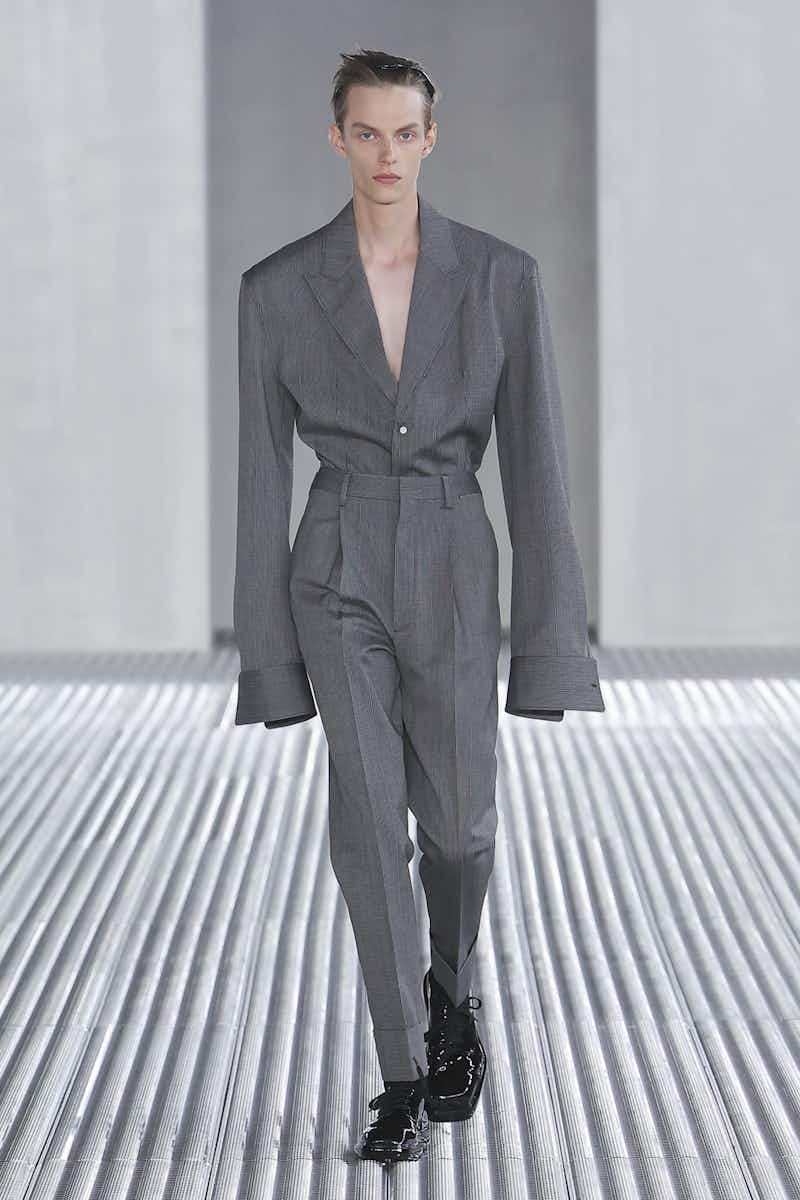 What?
A love letter to the humble shirt, signed by Miuccia Prada and Raf Simons.
Where?
None other than Prada's very own Fondazione Prada, the art world's chicest kunsthalle and Planet Mode's beating heart.
Who was there?
Harris Dickinson (the toy boy from Triangle of Sadness) and pop's favourite twink Troye Sivan.
What went down?
Held inside an Alien-like industrial atrium, the show was girded with flowing curtains of transparent slime that folded into green puddles before seeping through a webbed steel floor. Instagram and TikTok was soon rife with clips of the gloop in action. But this was more than a smart activation tool summoned by Prada's co-creative directors. In fact, it directly referenced the fluidity of clothing on display, which took restrictive or simplistic garments, and reimagined them in imposing shapes.
"We were aiming to have a quite defined silhouette: sartorial, a ​'40s construction that idealises the male body with a very wide shoulder, narrow waist and narrow hip," said Raf Simons, backstage. ​"But we were interested to see how we could liberate that."
Shirting, the show's kernel reference, was transposed onto tunic dresses, blazers, surgeon coats and denim, forming silhouettes that felt neither macho nor femme. Sleeves on suit-shirts were cut without an ounce of tapering, while the torso cinched from shoulder to waist like a carrot. At other points, shirts incorporated the pocket detailing and D‑rings of a tactical vest (a nod to artist Joseph Beuys' getups) or appliquéd lily flowers, encompassing two sides of masculinity.
Following on from last season's masterclass in reduction, the offering put paid to suspicions the trend would run dry. It's a cliché – and often wrong – to say that the best ideas are simple ideas, but in this instance, the shoe (a plastic resin loafer in powder pink, as it goes) really fits. If masculinity's crisis has been and gone, then perhaps the embers left in its wake are fuelling a renaissance of classics, delivered with bizarro twists.
Of note?
The single-frame specs – ideal for fashion-savvy chemists – and those woollen polos, tufted along the shoulders. So strange they were good.
A trend?
We're dubbing it ​"creepcore", the perturbing blend of sartorial familiarity and an unexplainable feeling that something's off.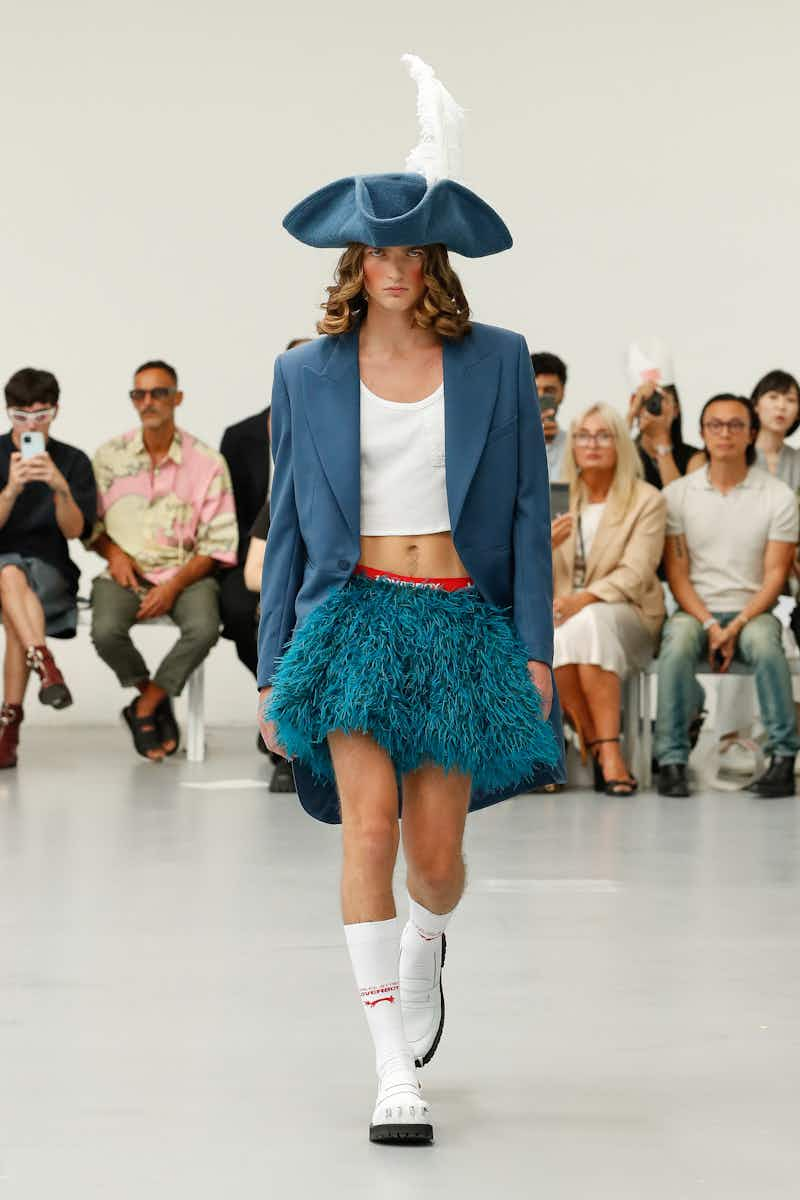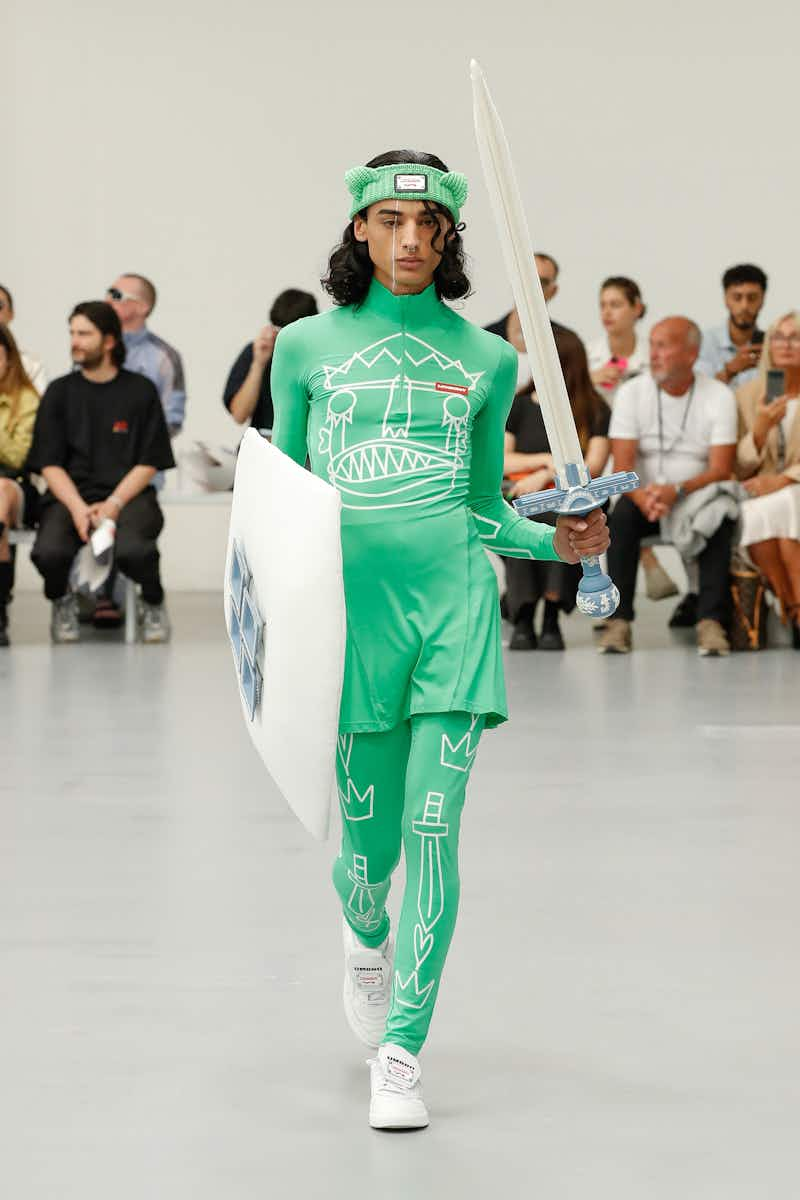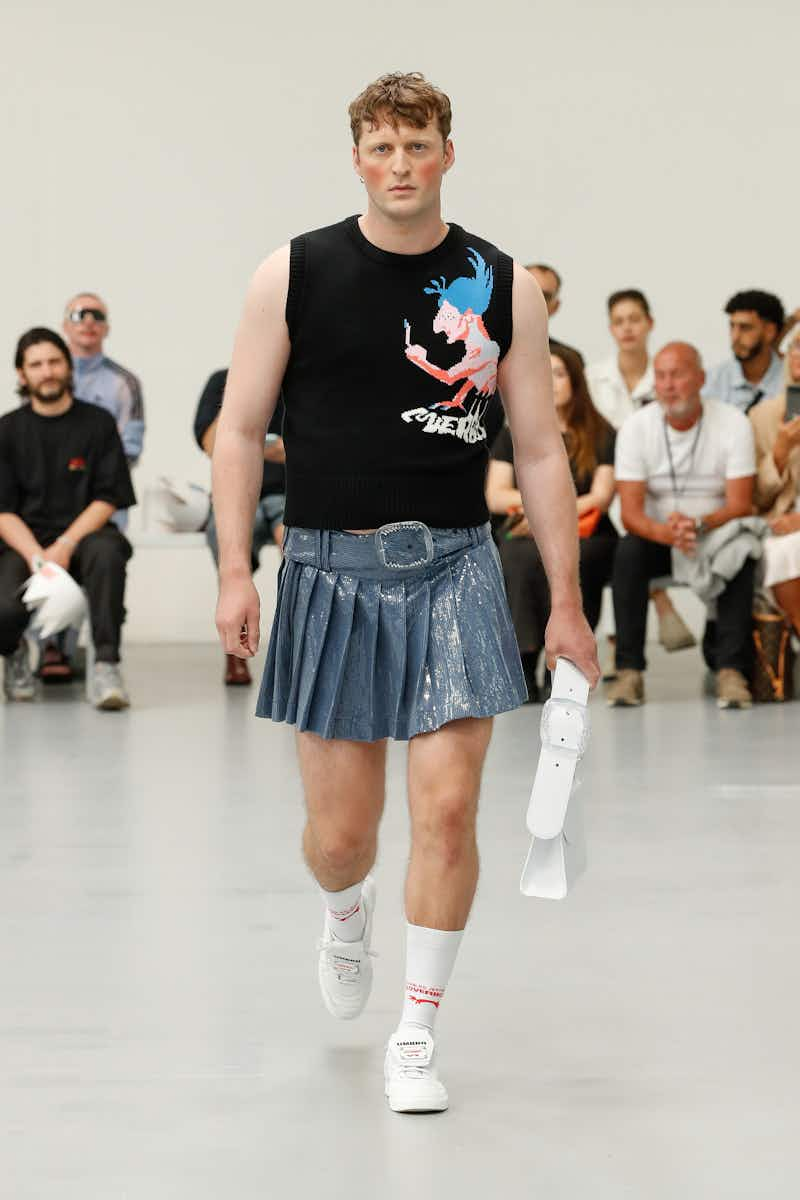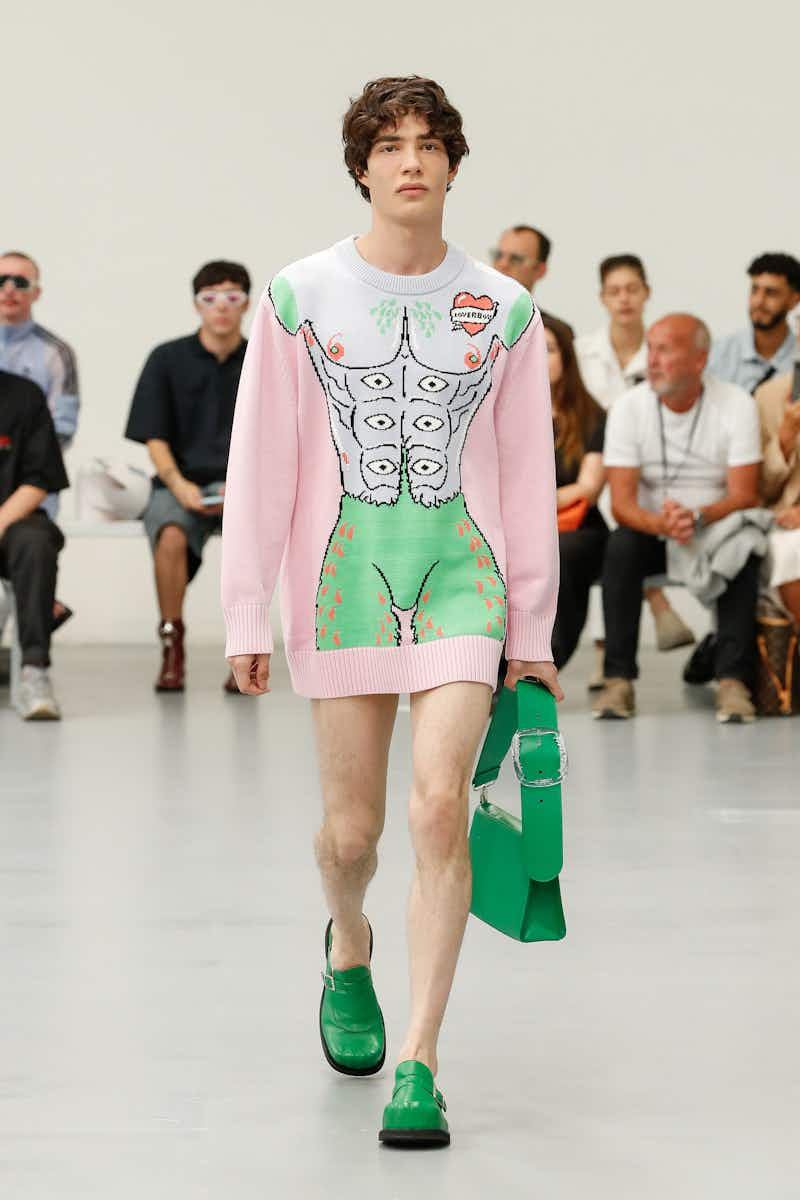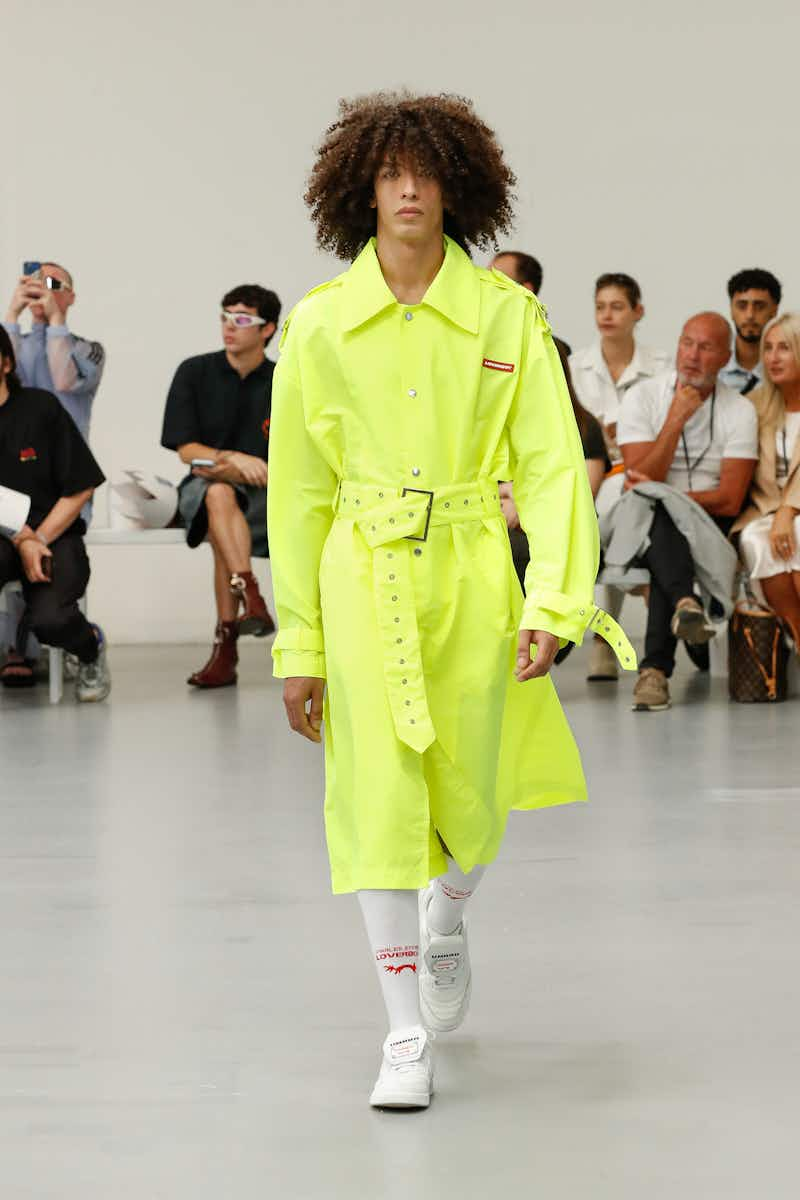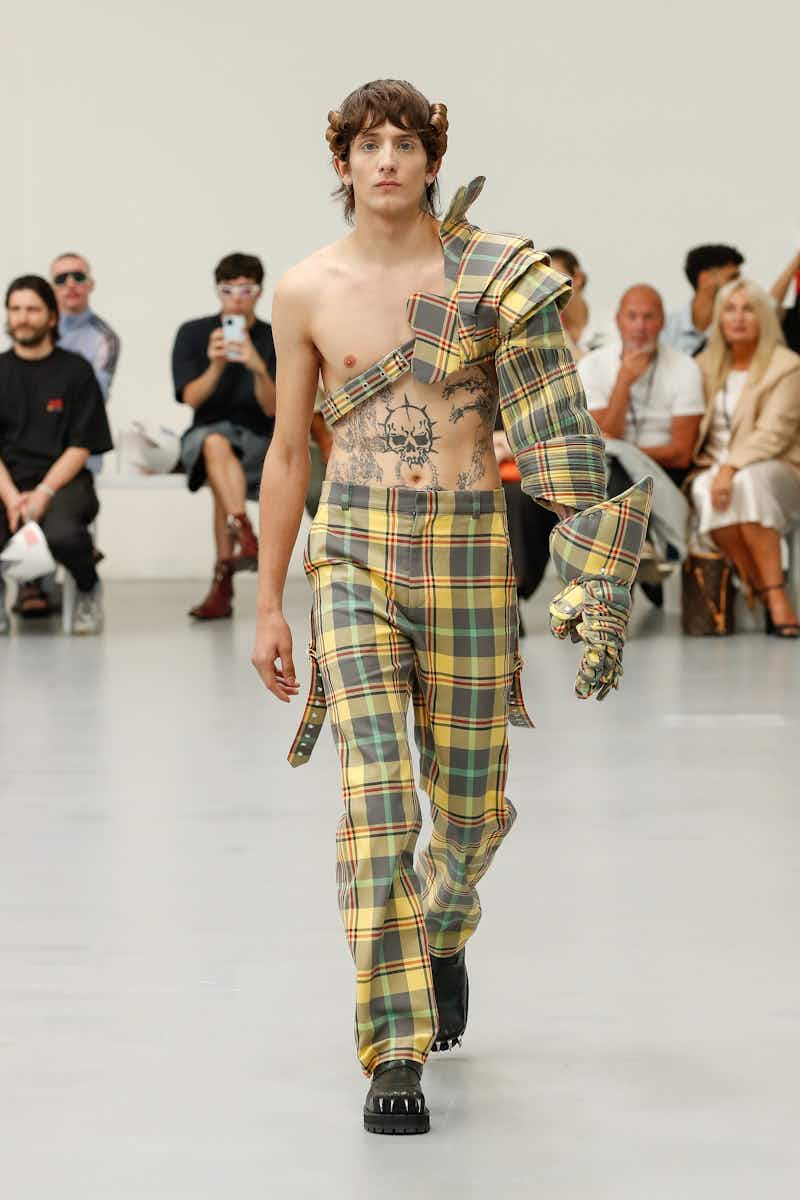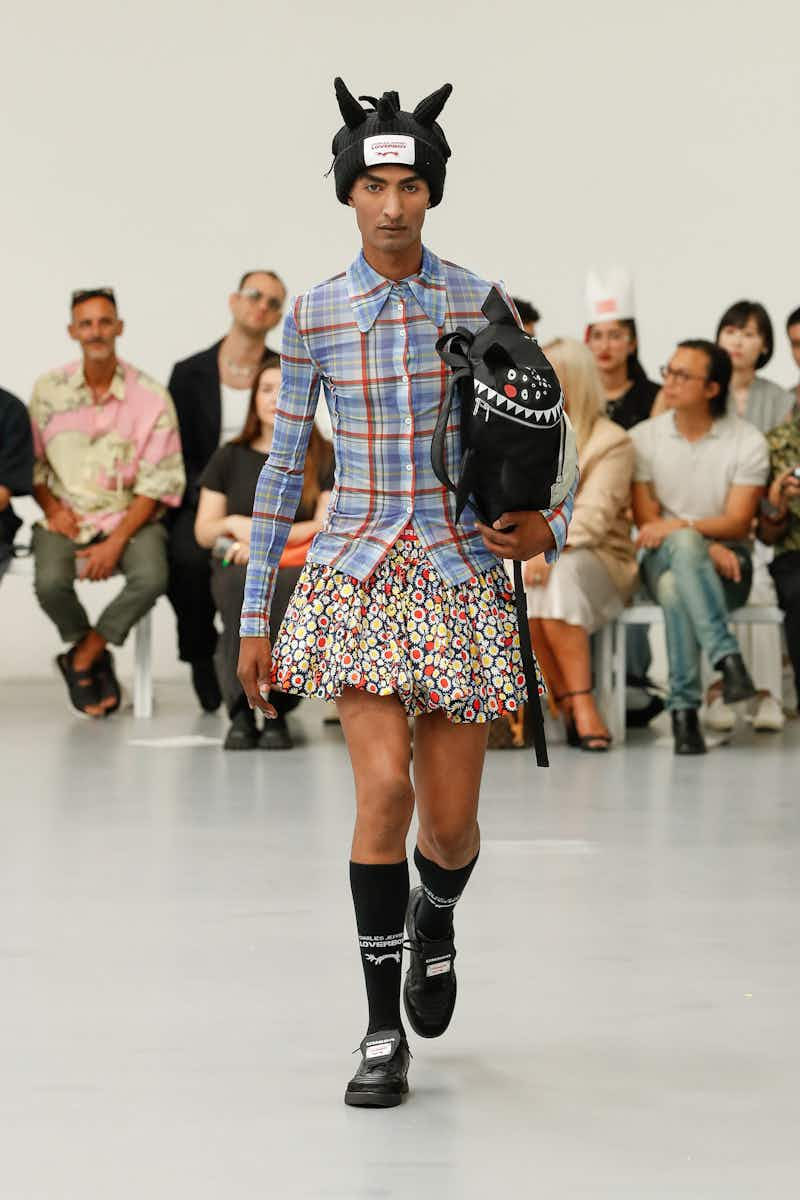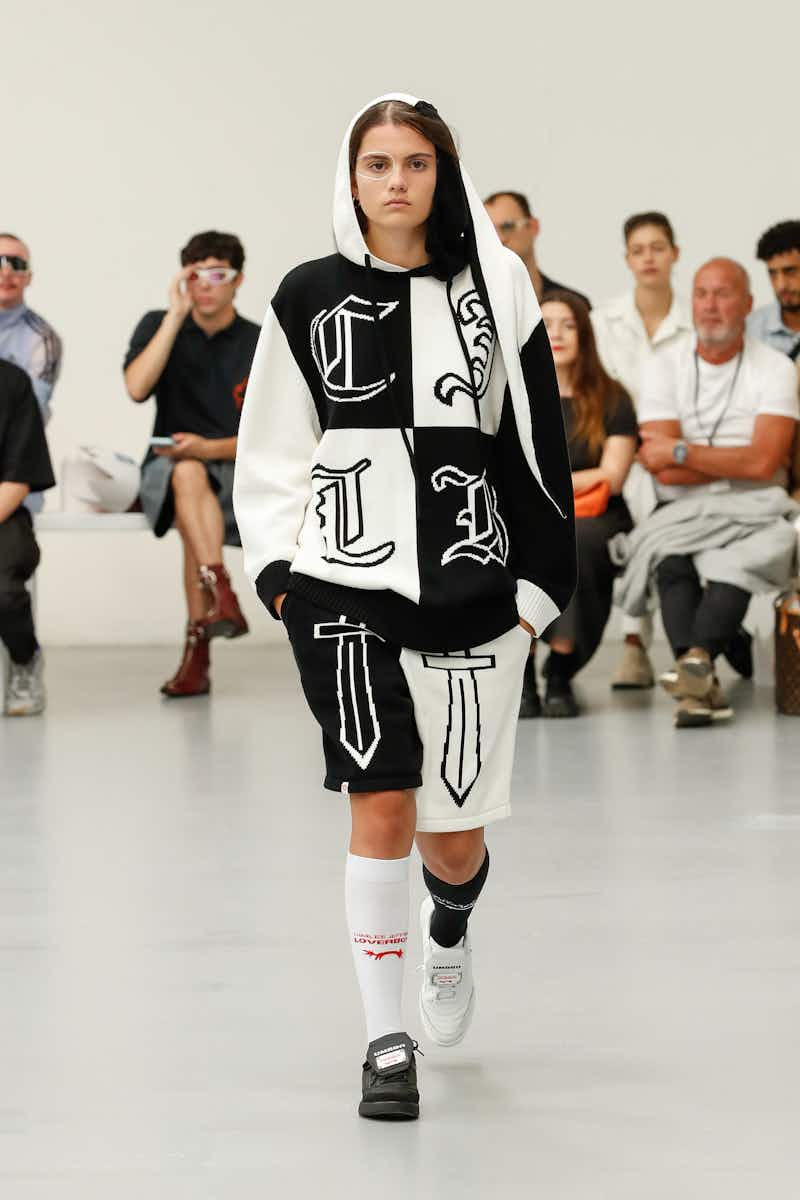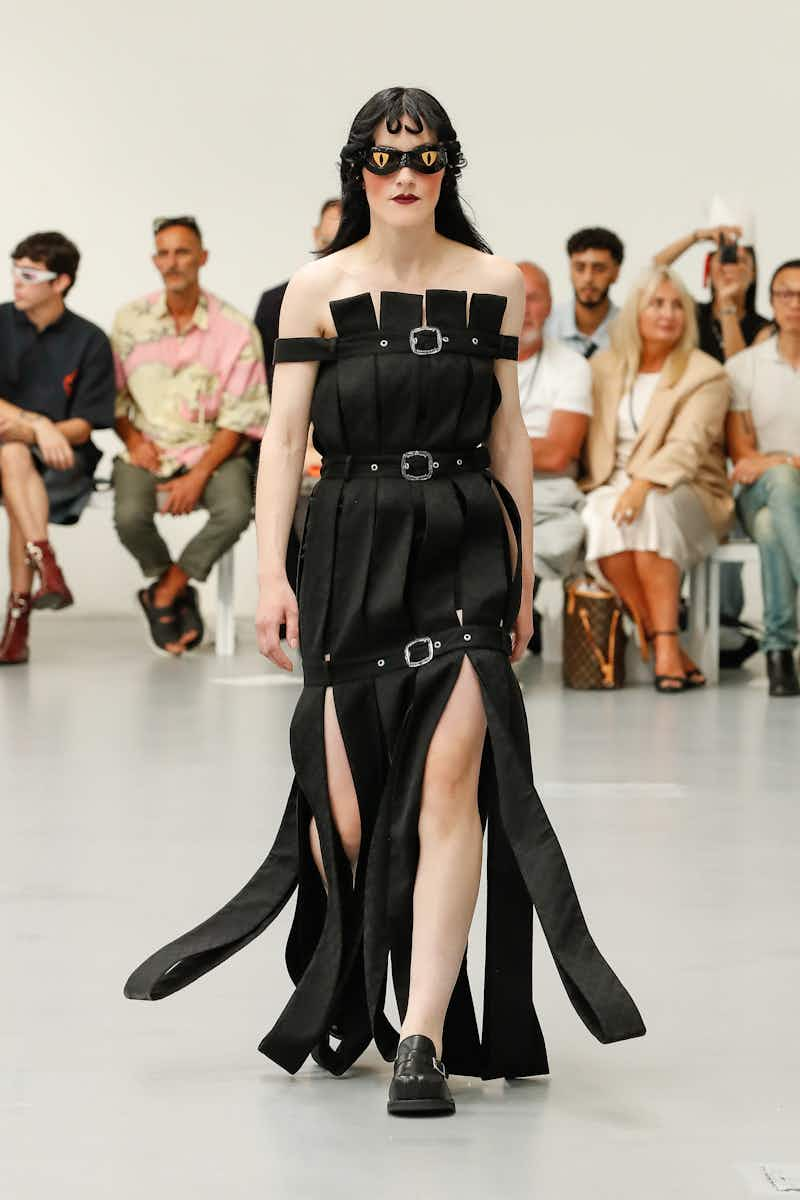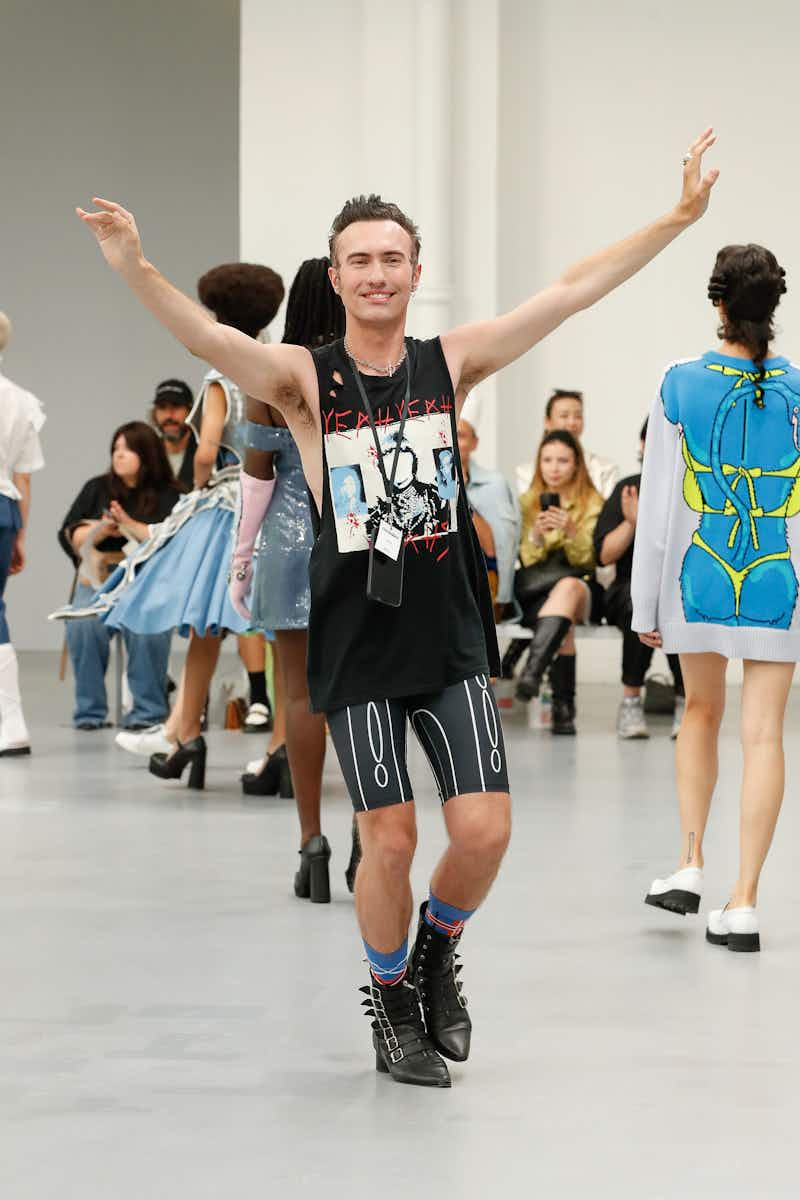 What?
Charles Jeffrey Loverboy's 17th-century extravaganza.
Where?
An airy studio space in the same facility that Jordanluca showed in.
Why should I care?
Charles Jeffrey's sophomore show in Milan, this was a pivotal moment for the CSM-taught Scotsman, who made his name in the Old Smoke's queer club scene.
What was the show like?
Harking back to England's Carolean era of King Charles II (1660 – 1685), Jeffrey's collection served as a playful retort to the monarchism our wretched archipelago tends to enforce. Rather than opting for takes on the current monarch's preppy sprezzatura looks, Jeffrey instead toyed with old costume, white powdered faces and ruffled collars, modernising them with Loverboy codes.
Indeed, the usual Tartan came in droves, splashing armoured armlets, gauntlet gloves, kilted jester suits and transparent PVC-coated skorts. Despite the make-believe theme, it felt politically charged, providing a fantastic reclamation of Britishness on Jeffrey's own terms.
That said, for all the looking back, Jeffrey also leaned into the 21st century's biggest staples, serving pea-green lycra leggings and cycling leotards (Jeffrey's a fitness freak) scribbled with punk illustrations. Alongside these, shield and sword props held court, complemented by stiffened felt admiral hats and quills. The latter's feathered texture also elevated Cuban shirts, soft-pleated miniskirts and camisole dresses, queering aristocracy and monarchy with theatrical flair.
Hints of John Galliano and the late Dame Viv – two of Jeffrey's inspirations – were felt throughout, and not just because of the tartan and buccaneering references. Rather, Jeffrey's innate ability to plunder history books places him in good company. All hail King Charles!
Any must-buys?
The clawed moccasins and platform heels are freaky footwear mastered – add to basket stat. As for the Umbro Loverboy trainers, complete with fold-over tongue tabs, they're an easy pick for guys and girlies bucking the blokecore trend.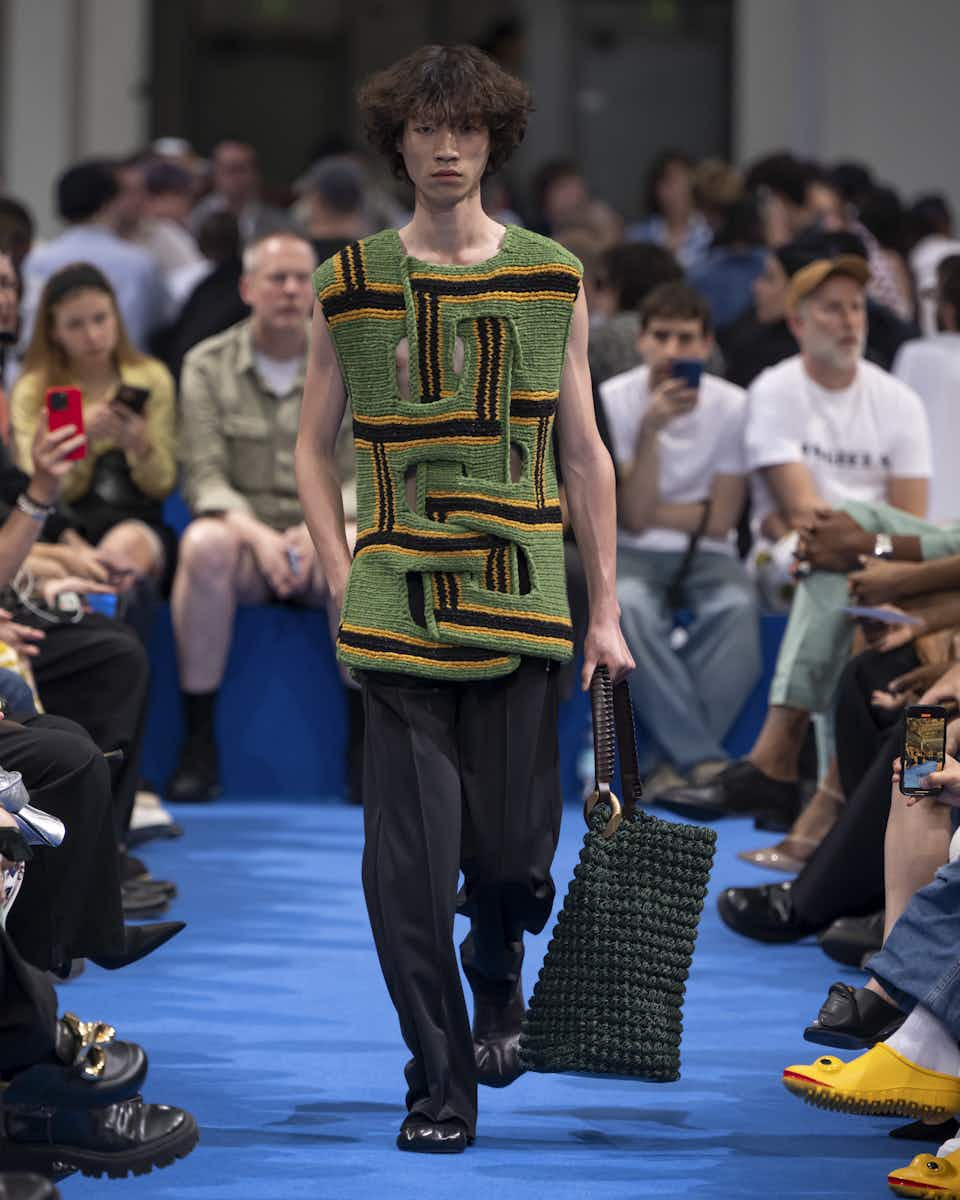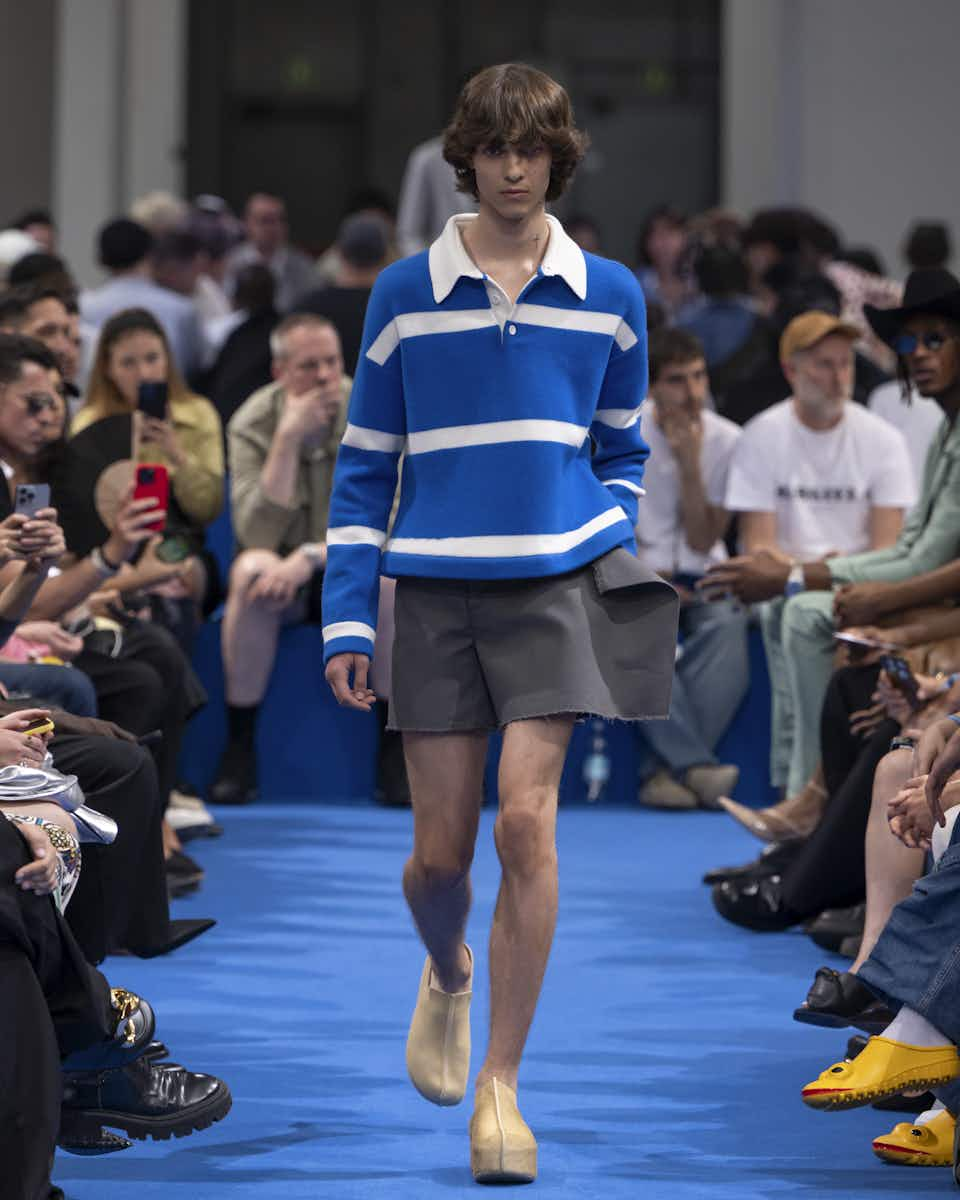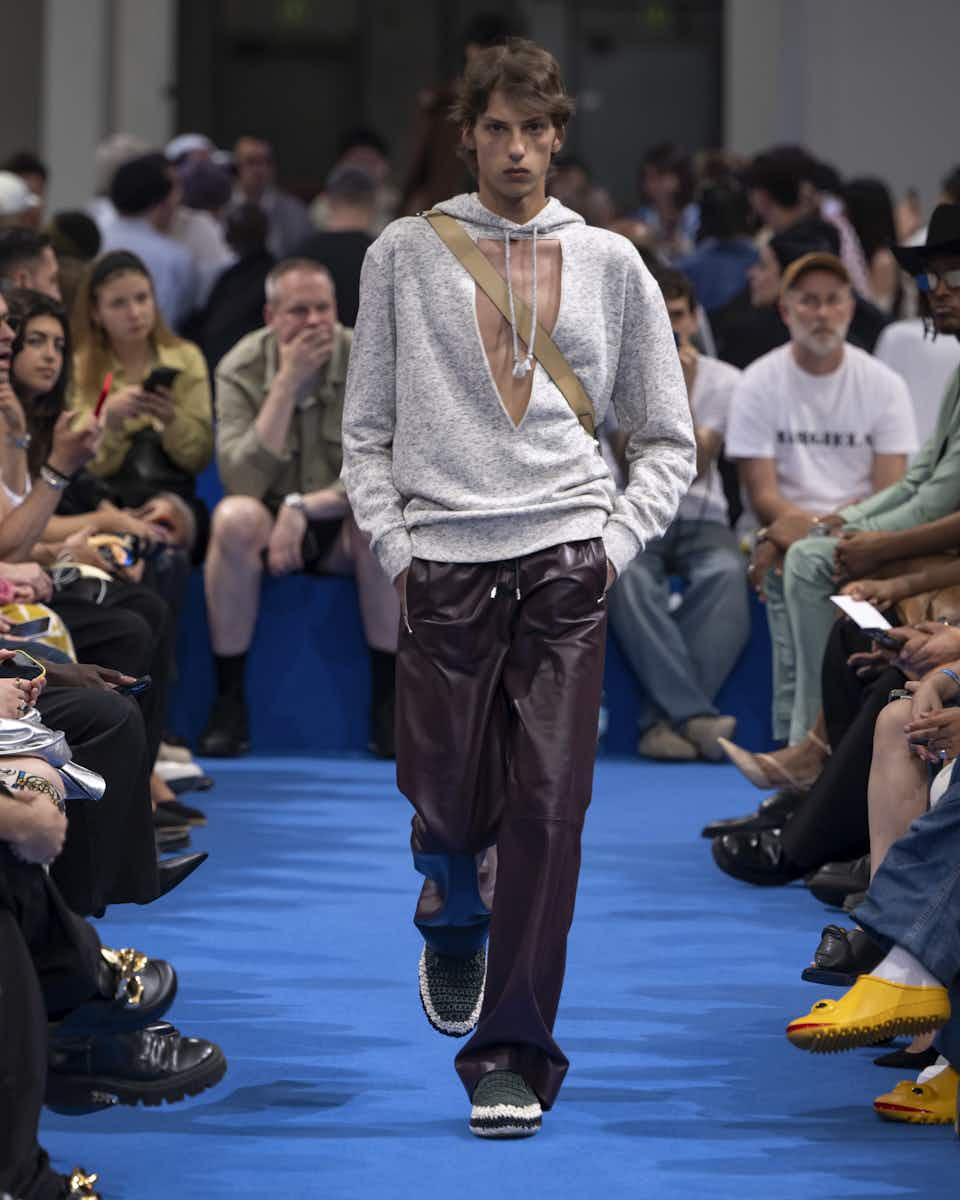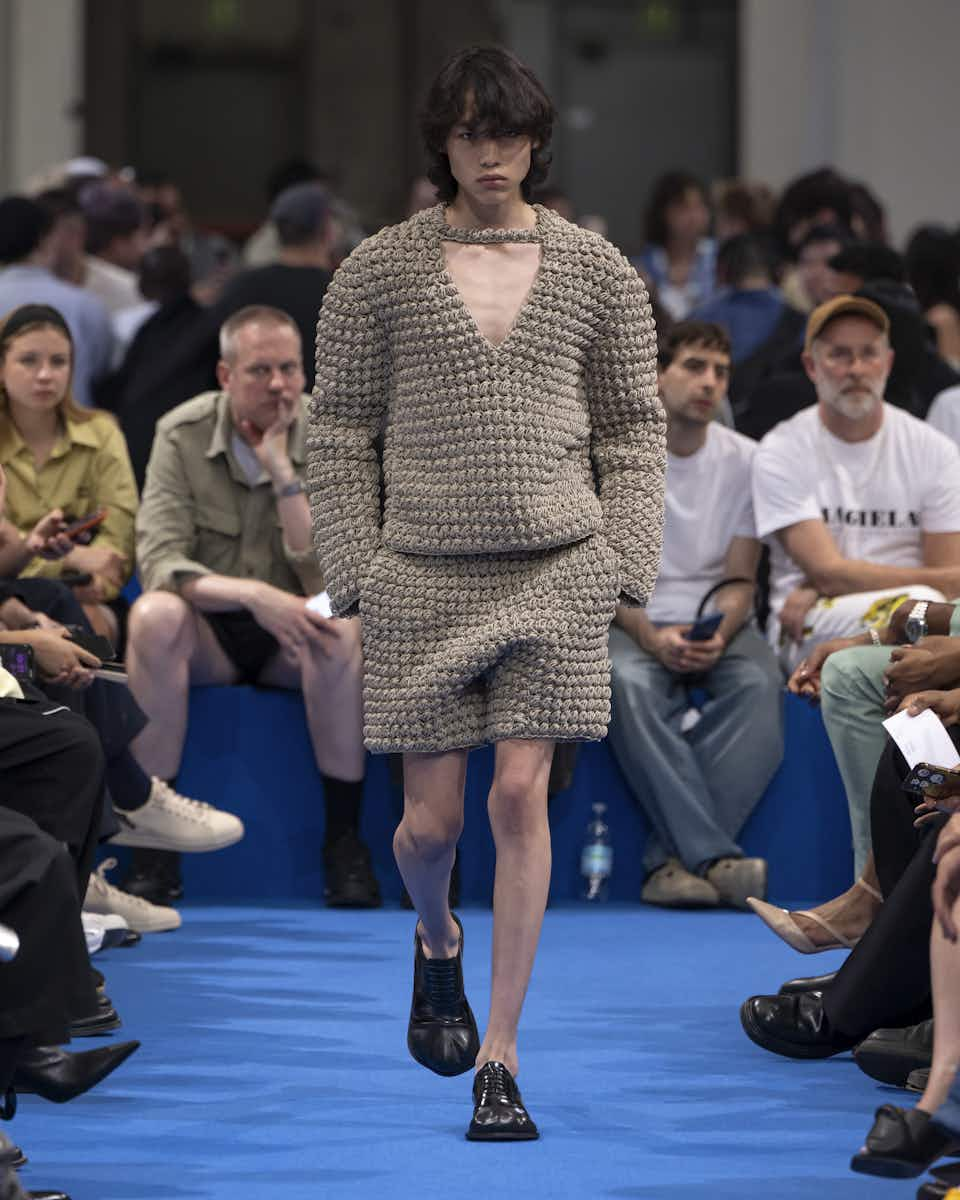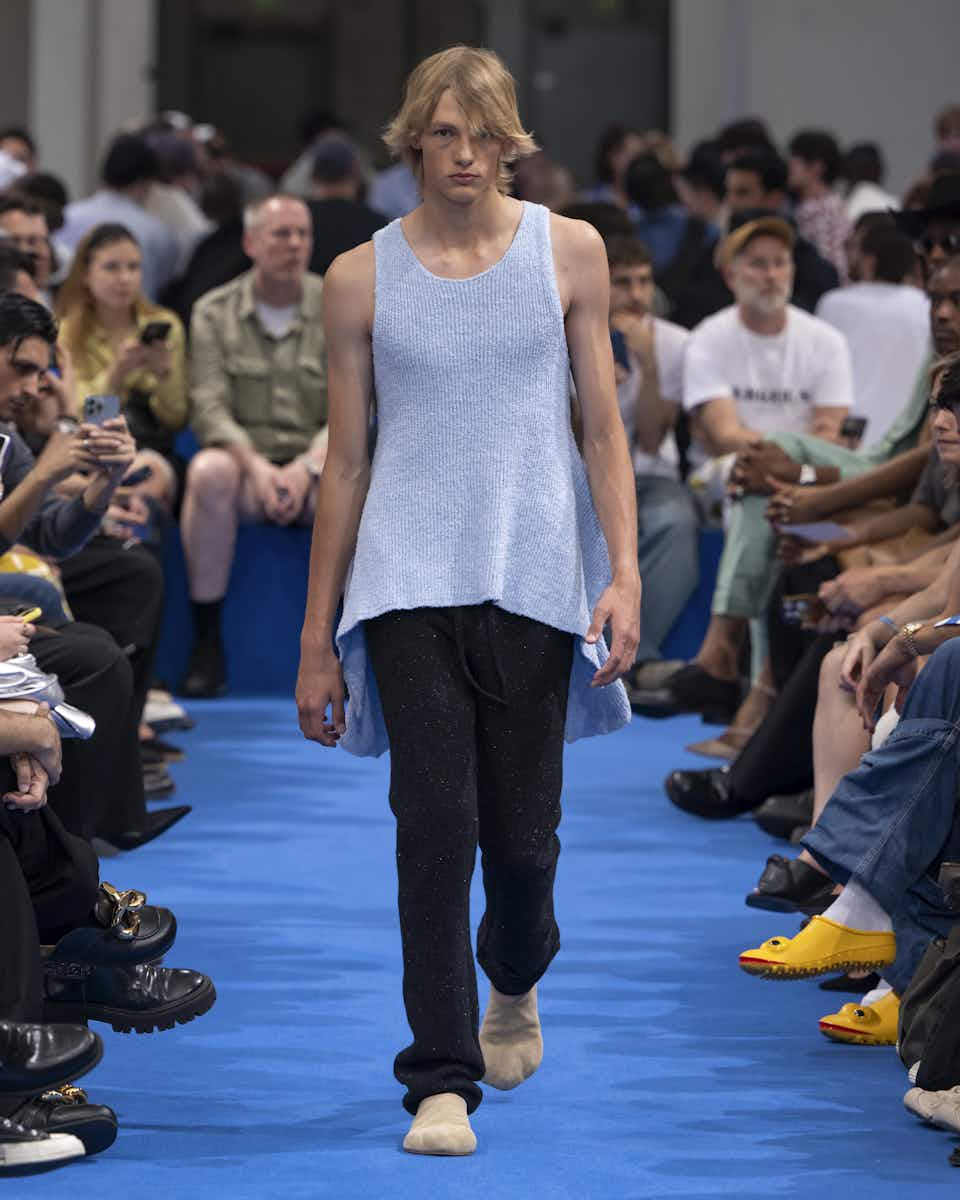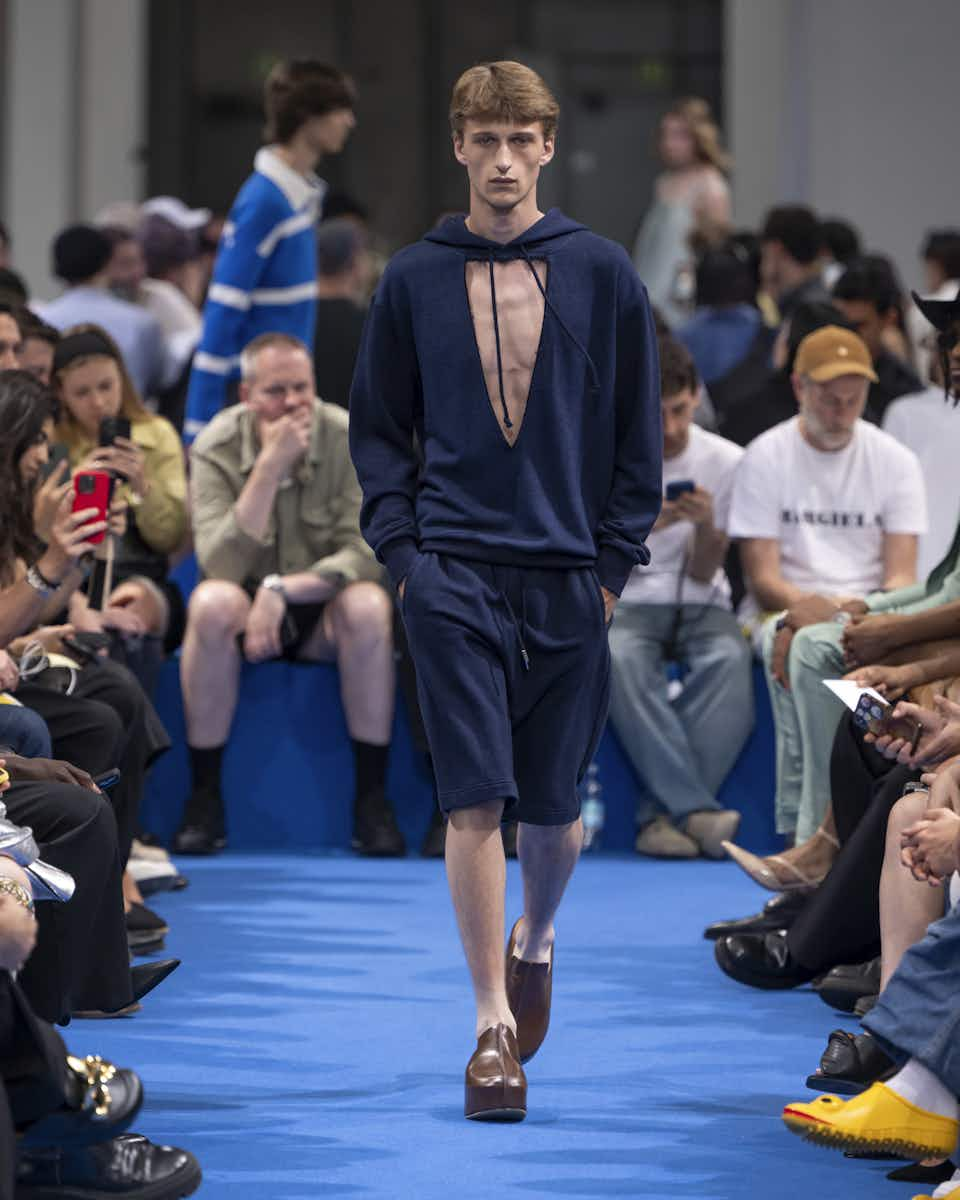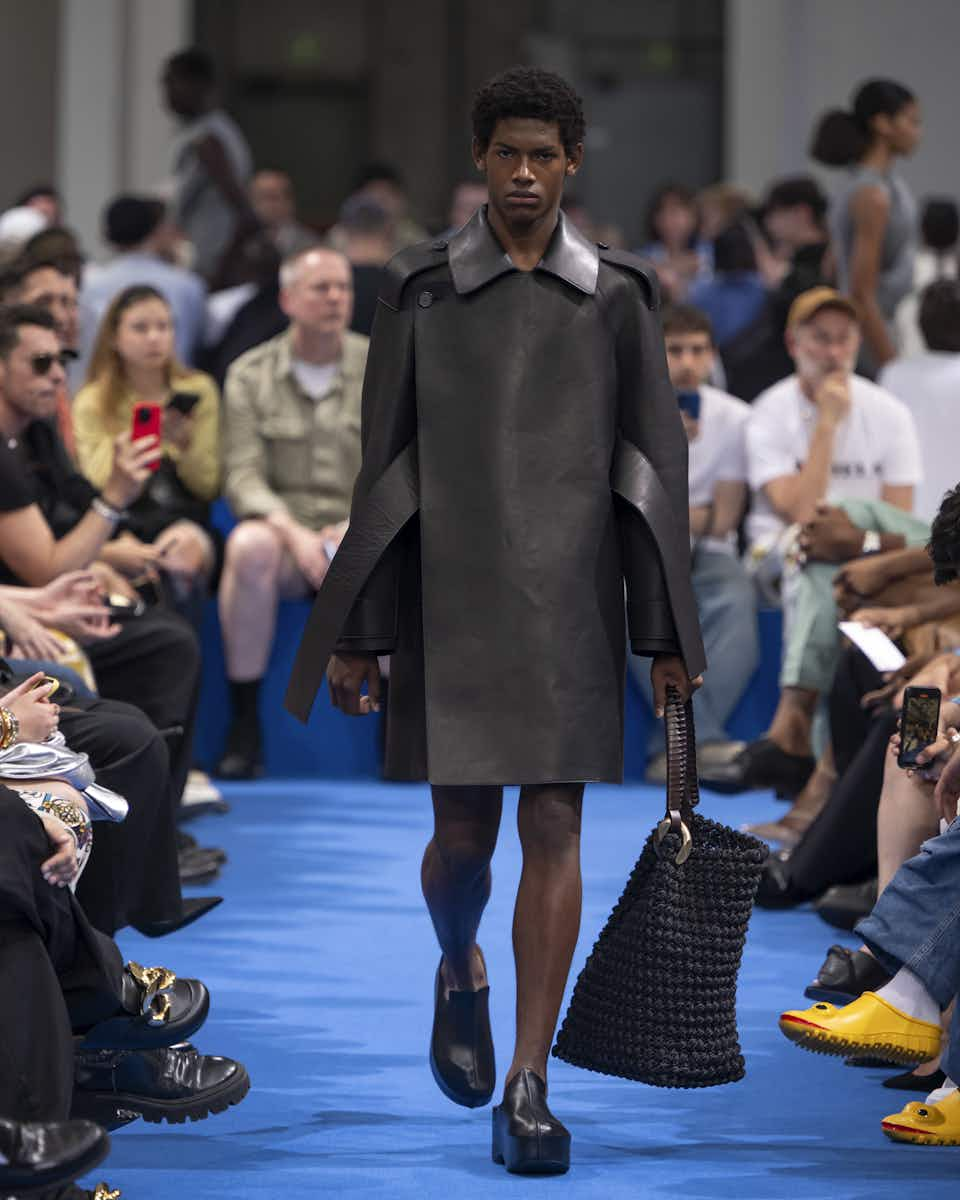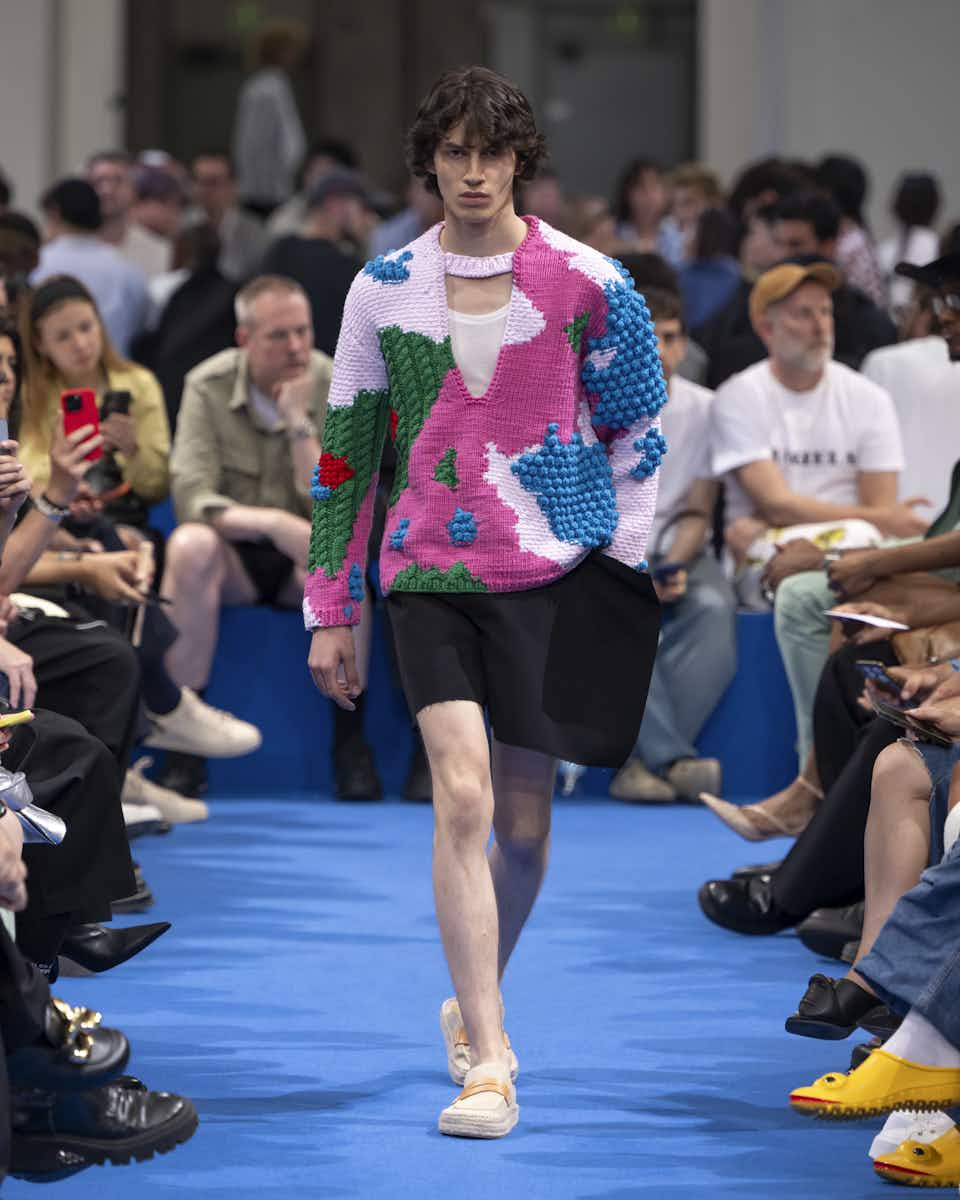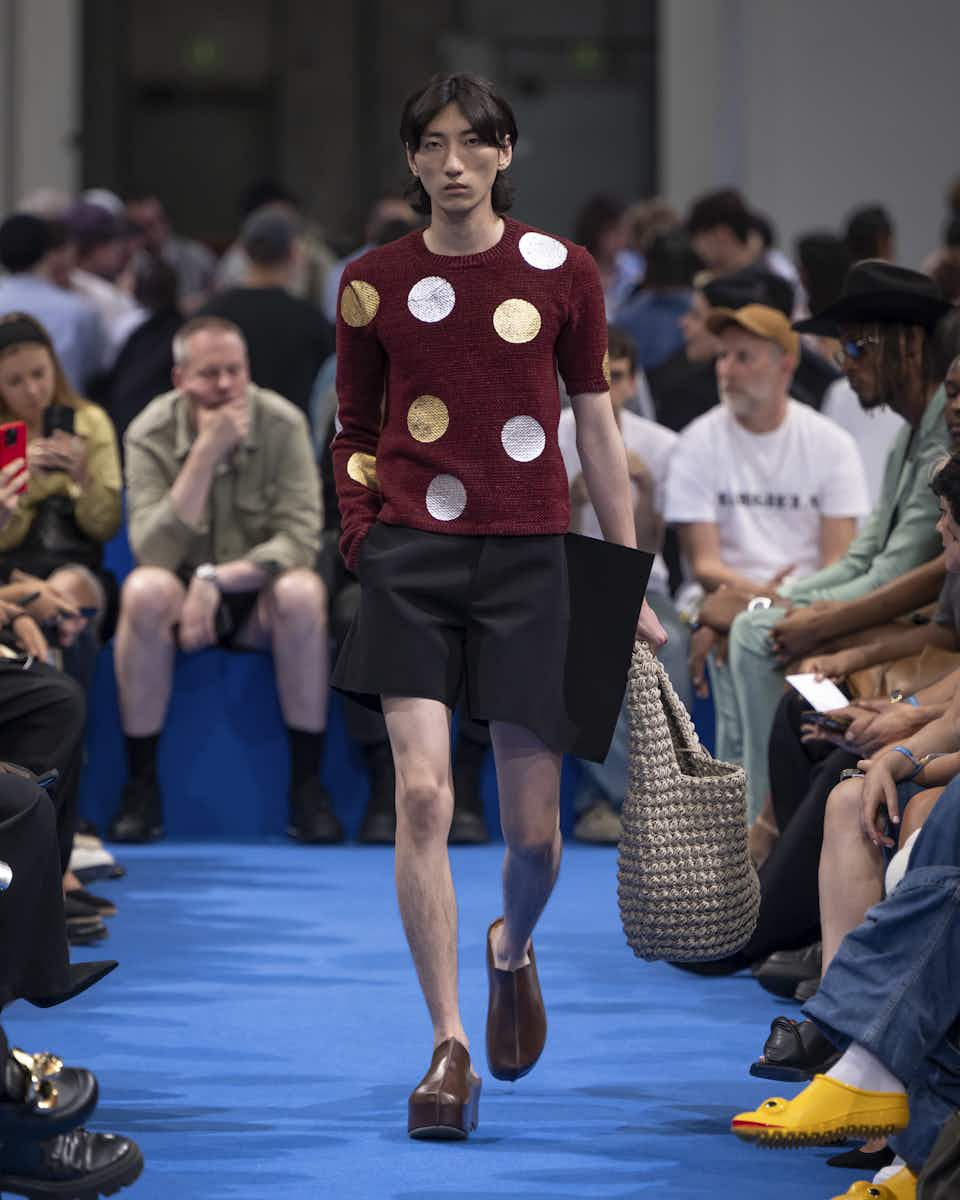 What?
Jonathan Anderson's ingenious exercise in garment (de)construction.
Where?
A behemoth hangar space lined with blue and white striped carpet, a nod to one of his most enduring codes.
What were the clothes like?
Surreal. Just when you thought Anderson couldn't get any better, the mastermind finds yet another way to make the mundane extraordinary. This time, his technique was to leave garments unfinished or incorporate intentional design faults, an approach that sounds simpler than it looked.
Here, rugby polos were constructed so densely they could barely hang. Instead, the arms folded like a tight wad of card while the bottom hem floated above the trouser line. As for the shorts, these came unhemmed, one leg extending outwards with excess fabric. The result was both awkward and sculpturally intriguing, a fil rouge throughout the show.
Instead of focusing on cultural semiotics, the collection was more concerned with form and leftfield construction. Technicolor balls of cotton cable were woven into wacky t‑shirts, and mini dresses – rather than tracing the hips and widening at the legs – hung from the body like folded tablecloths, revealing odd cut-outs at the bottom. It was as if JW had started to develop a collection, only to get distracted halfway through.
On foot, something akin to Rick Owens' svelte platform boots – except they were open-backed shoes – arrived in pastel pinks, joined by an already-viral hit that was the animal paw derby shoes. Elsewhere, woollen and melange knit hoodies featured diving V‑necks that left pecs and sternums unclothed. It was weird AF, but very, very youthful. Like the kids had taken over the parent's house, as he put it to us backstage.
Other notable moments?
Jonathan Anderson giving his post-show bow in a shamrock-green Ireland rugby jersey – a heartwarming gesture to his father, the ex-Ireland rugby captain Willie Anderson.
Any notable names in attendance?
Hearstopper​'s Kit Connor came with JW bumper bag in tow and Sex Education​'s Asa Butterfield served a front row look. We also caught Drag Race​'s pansexual princess of darkness Gottmik doing the rounds.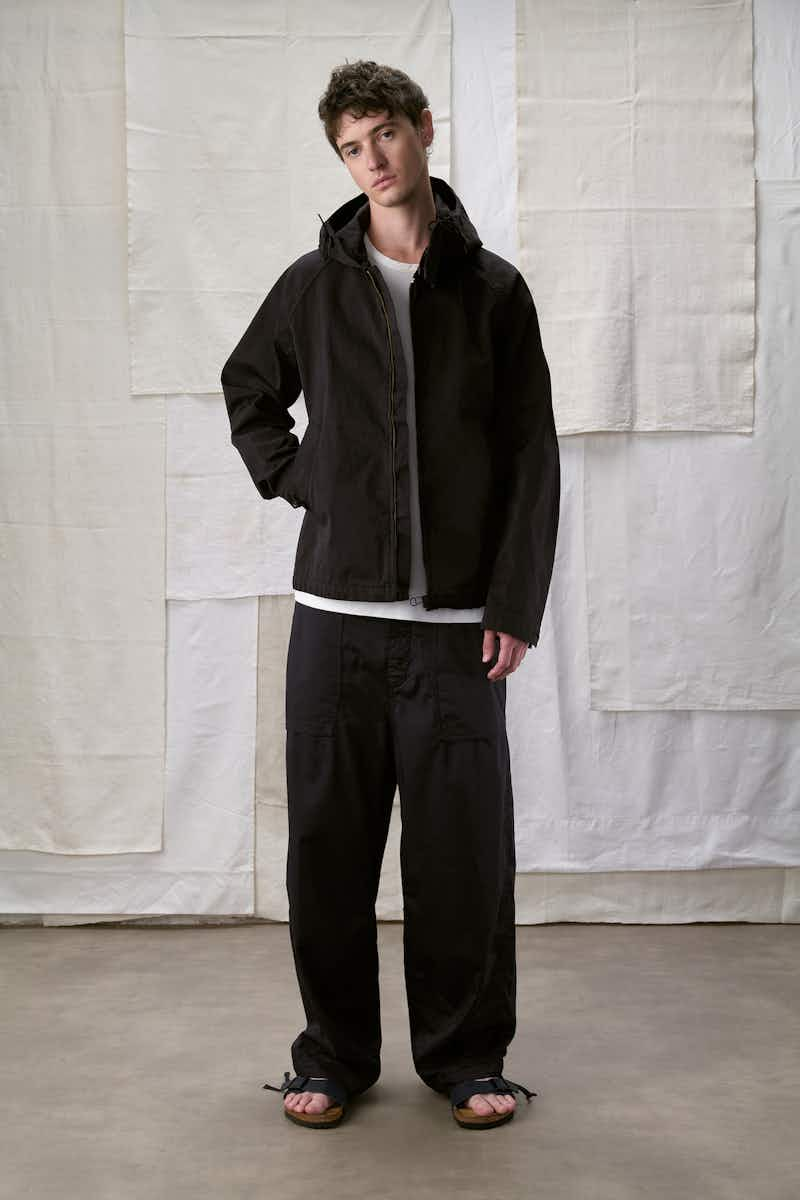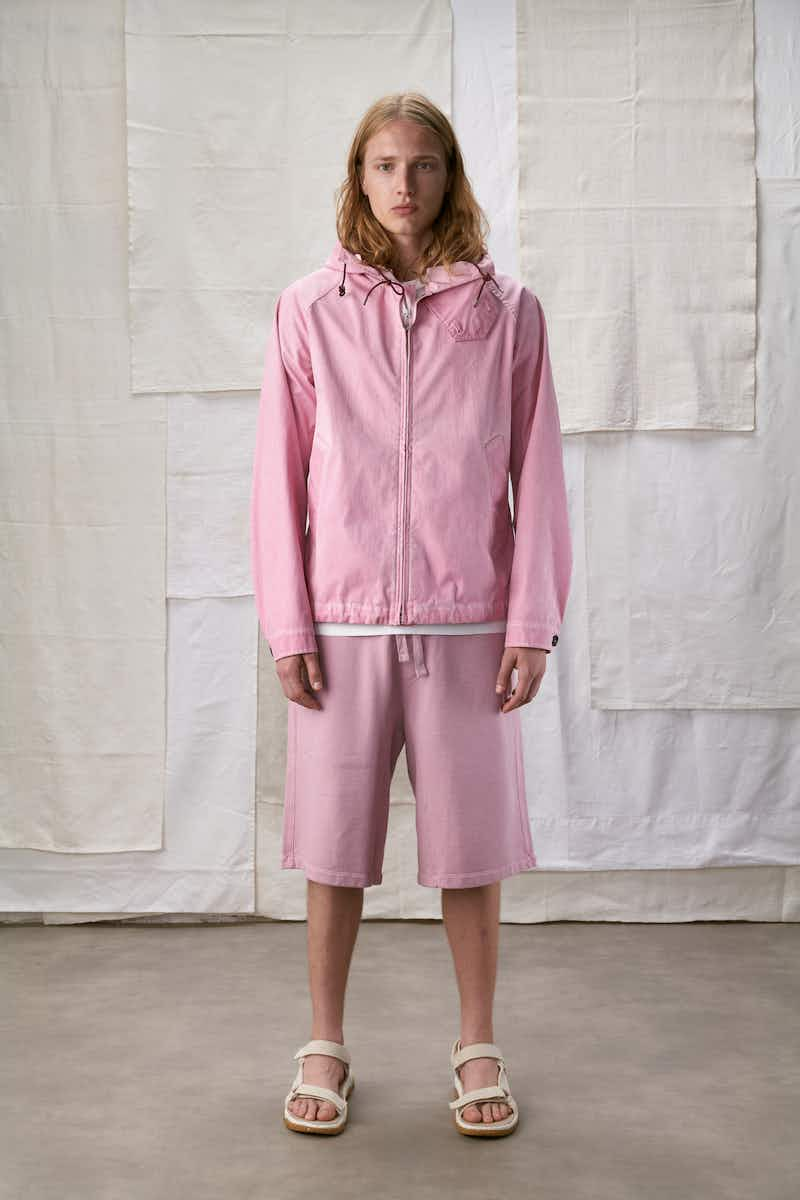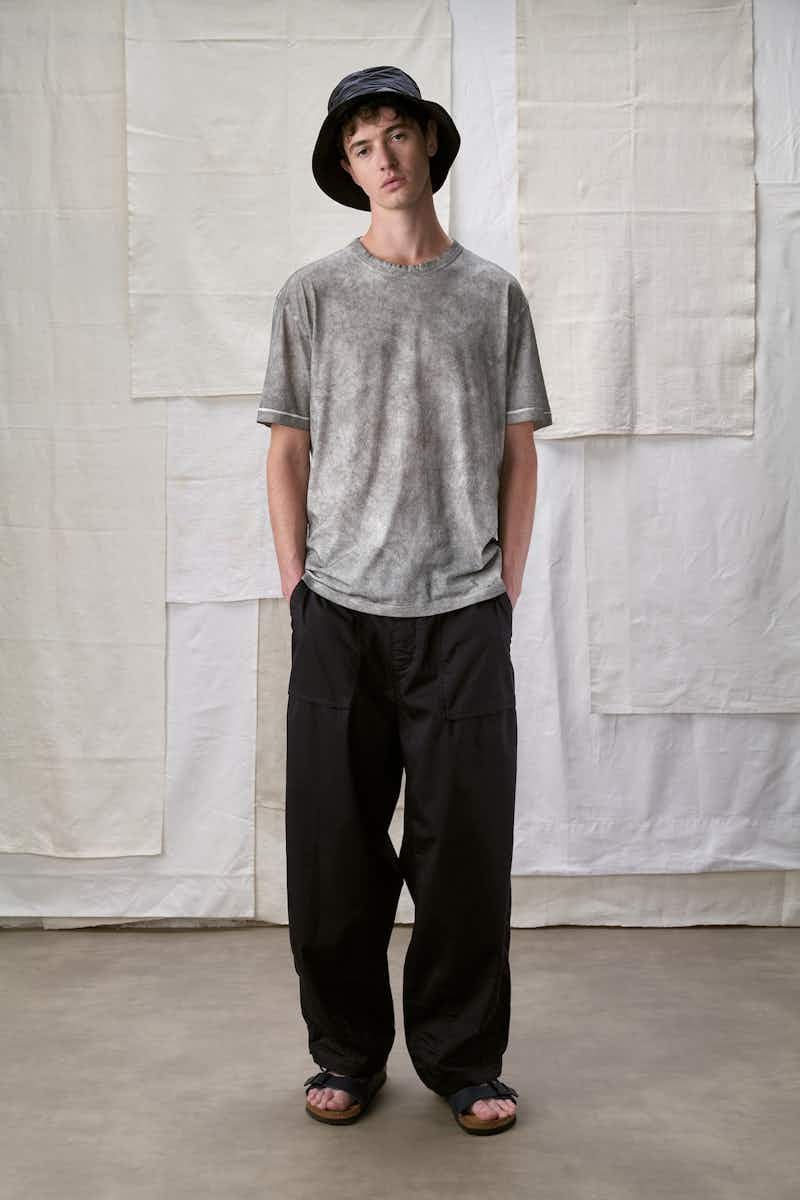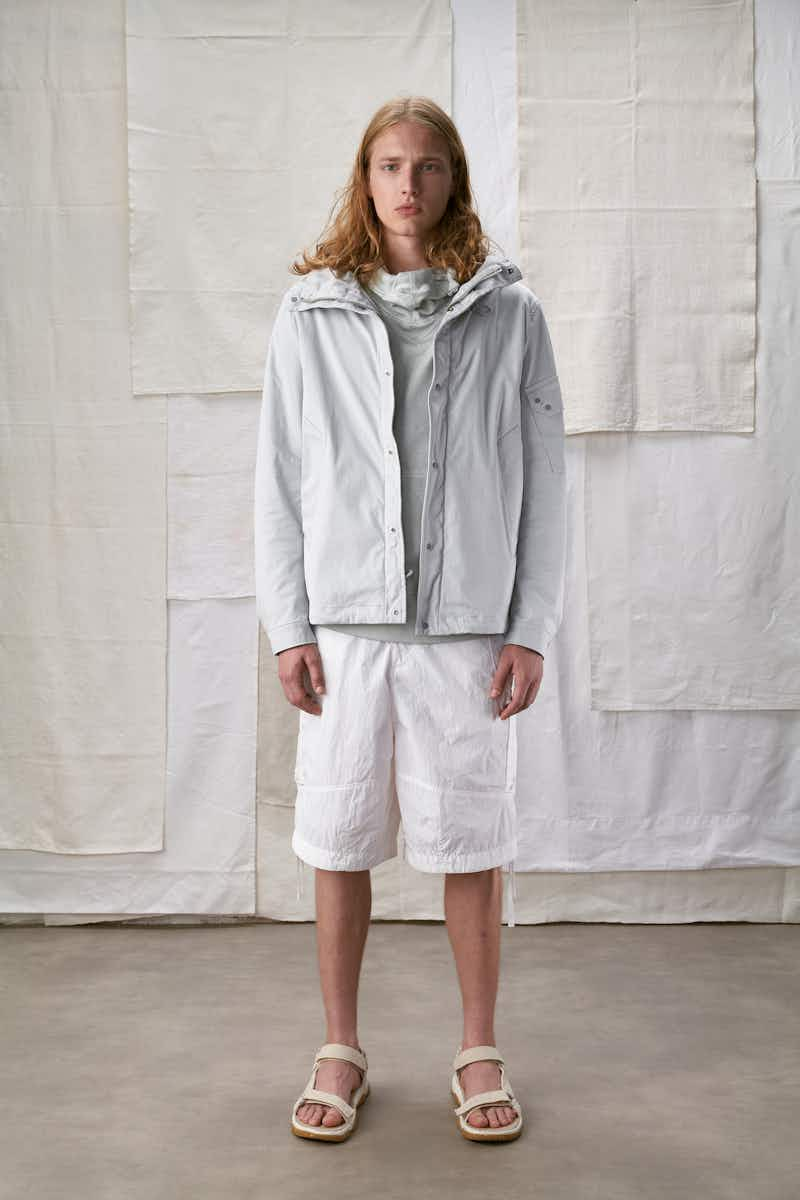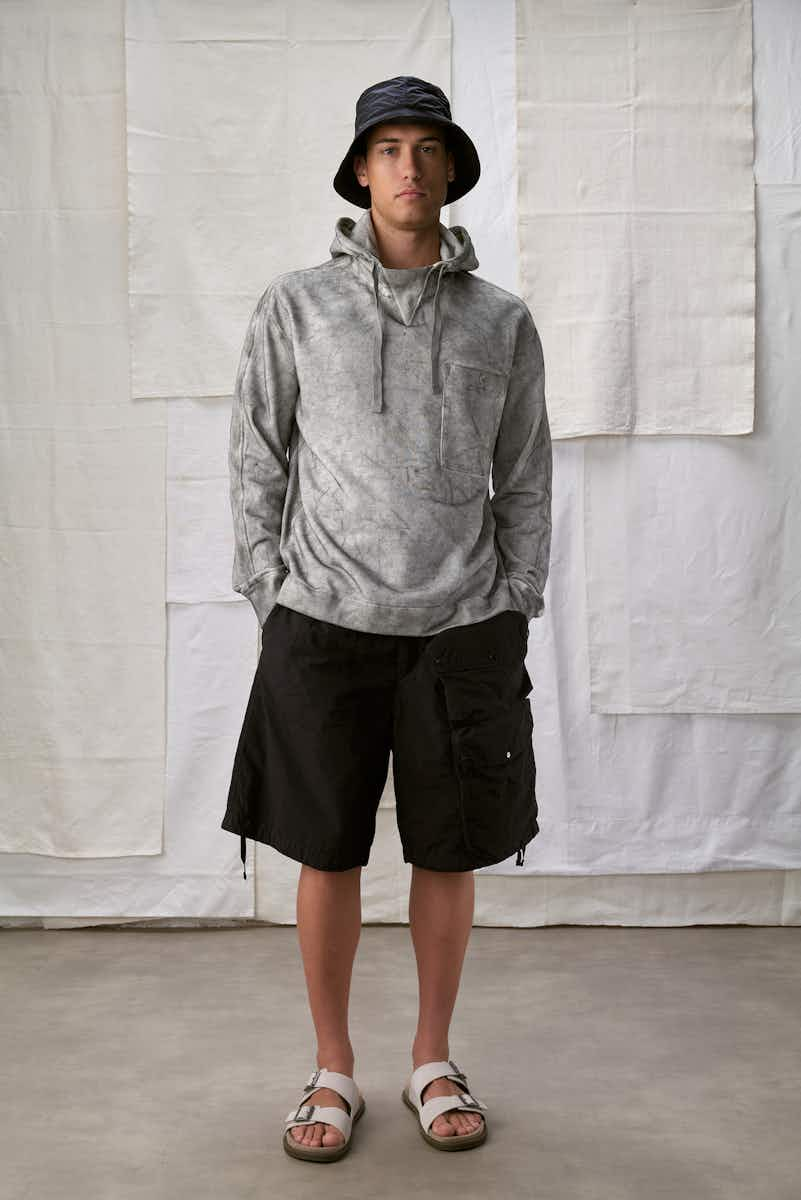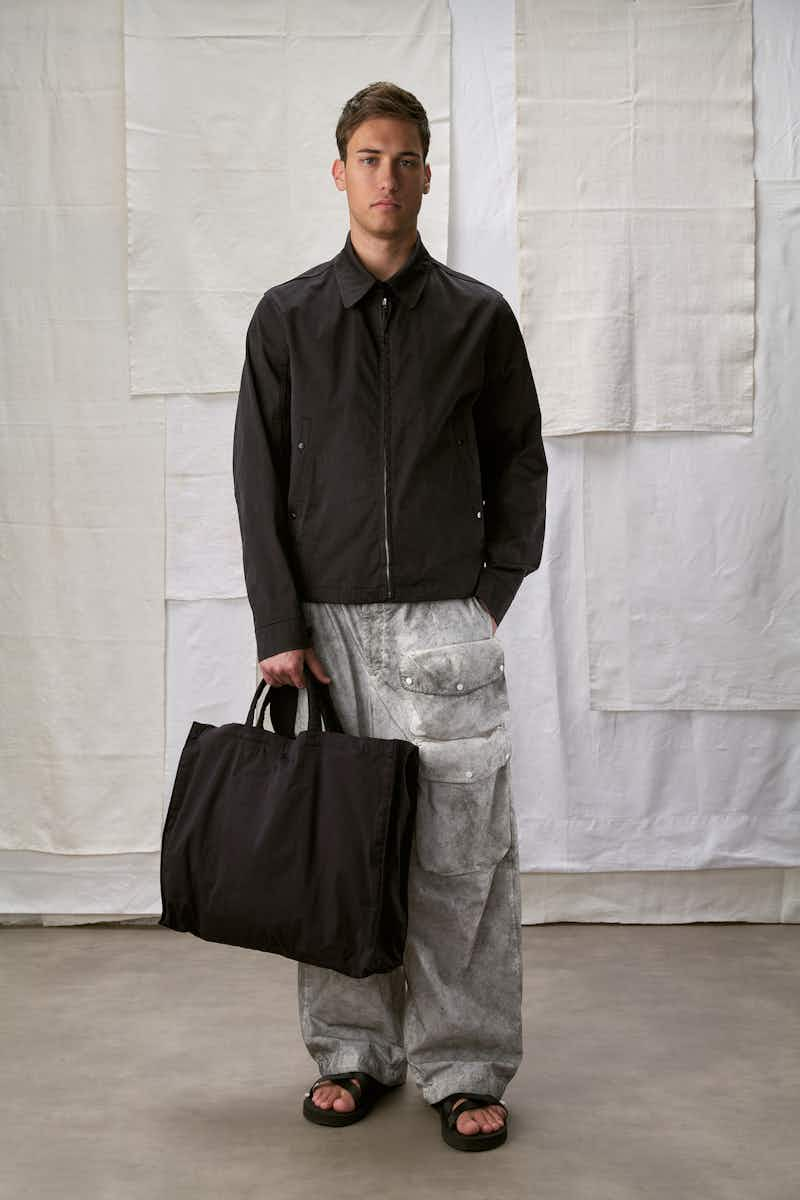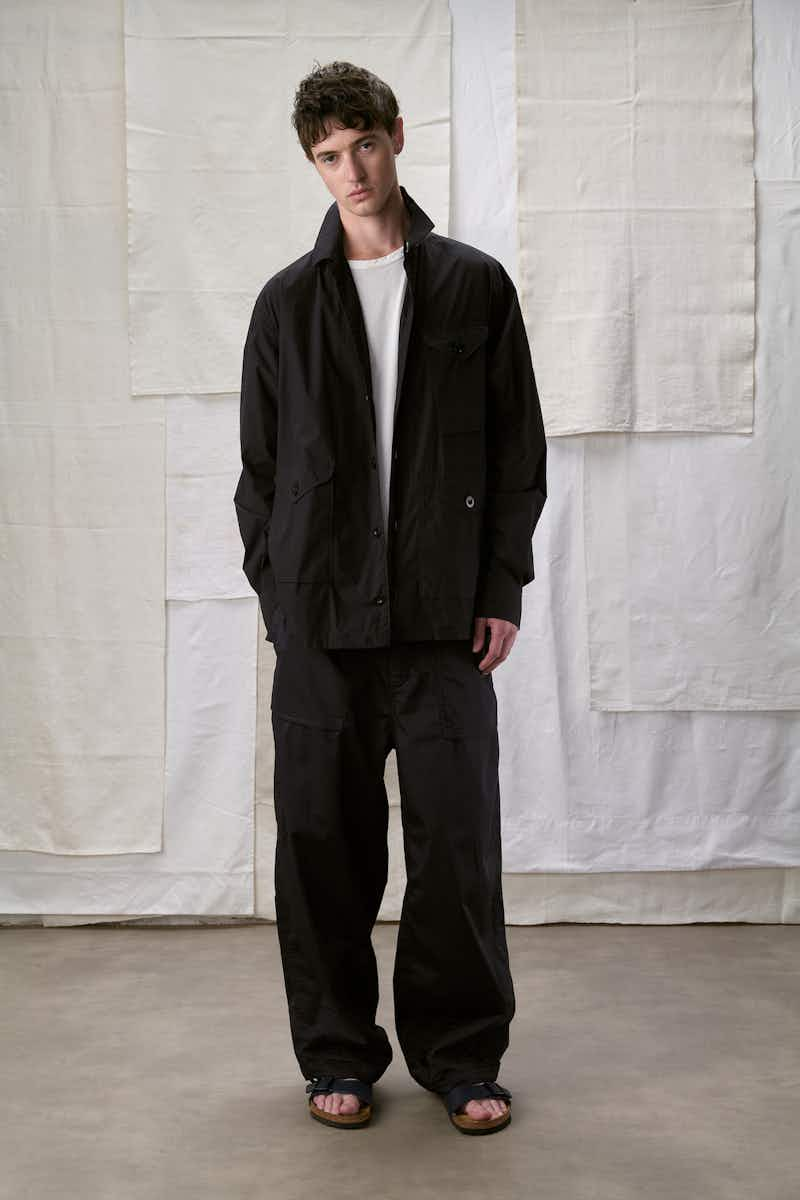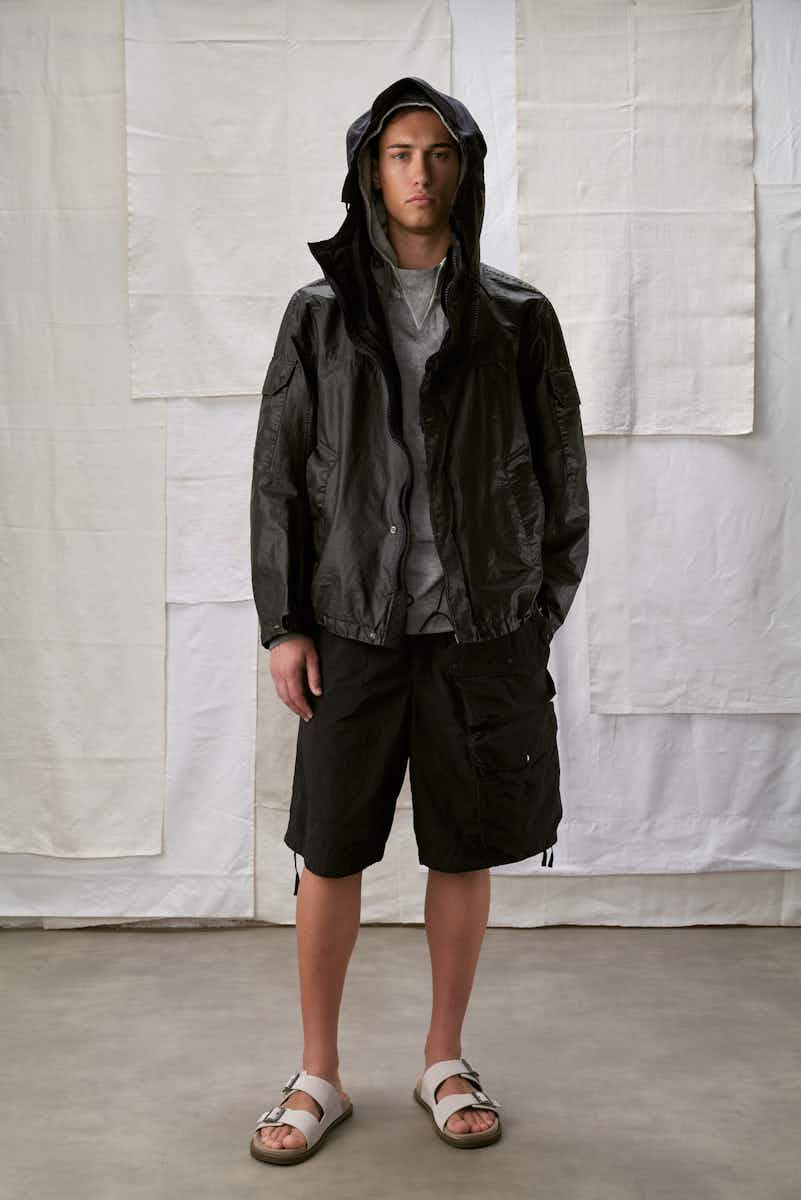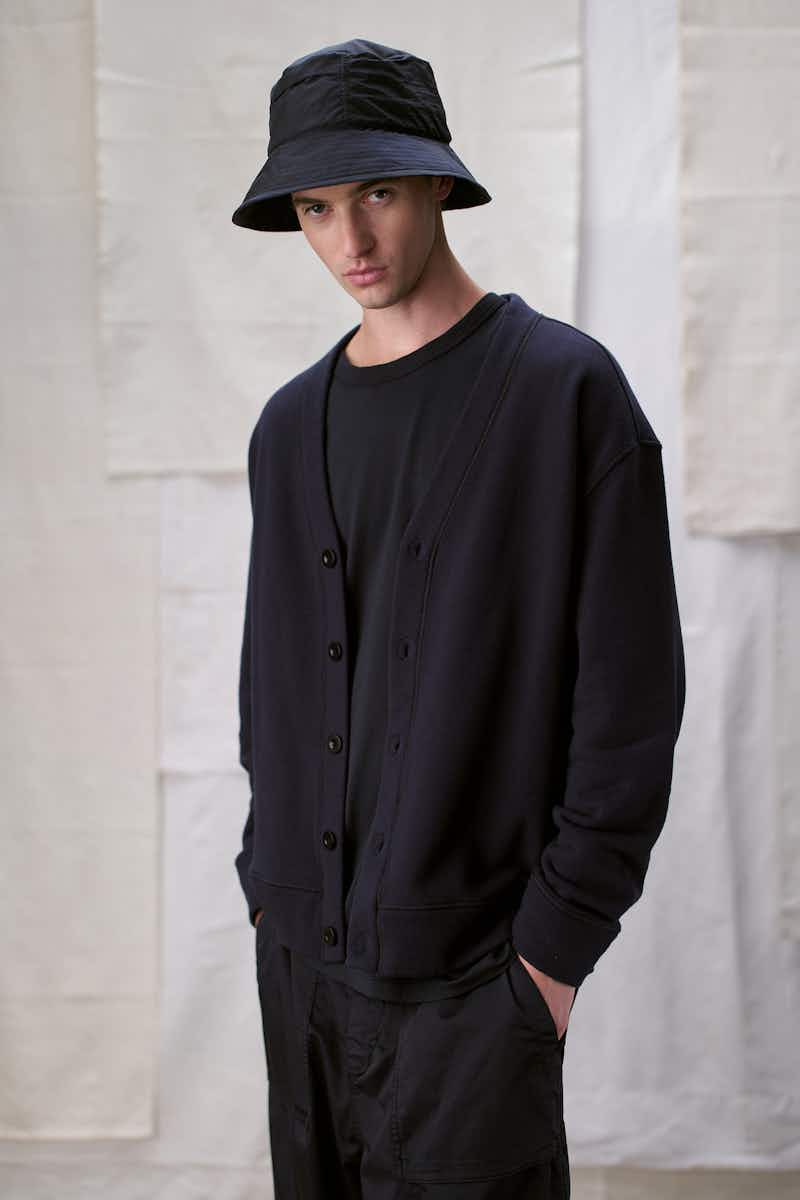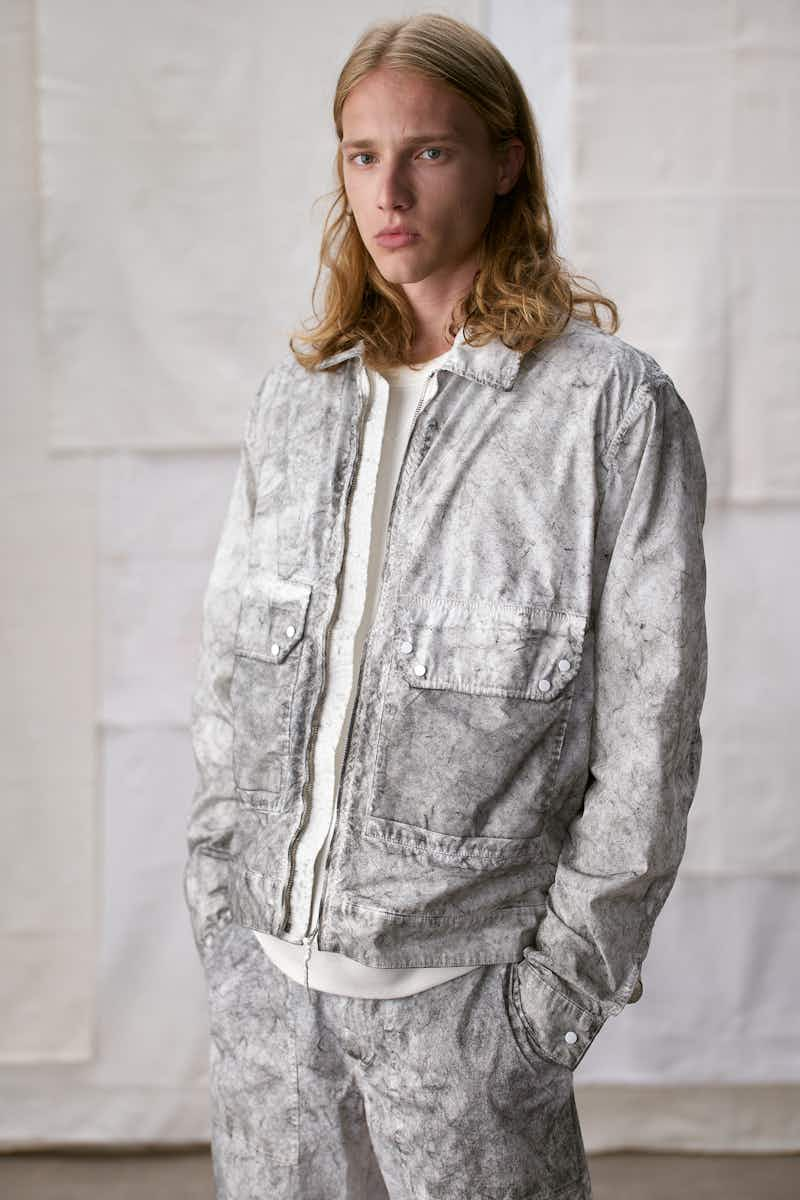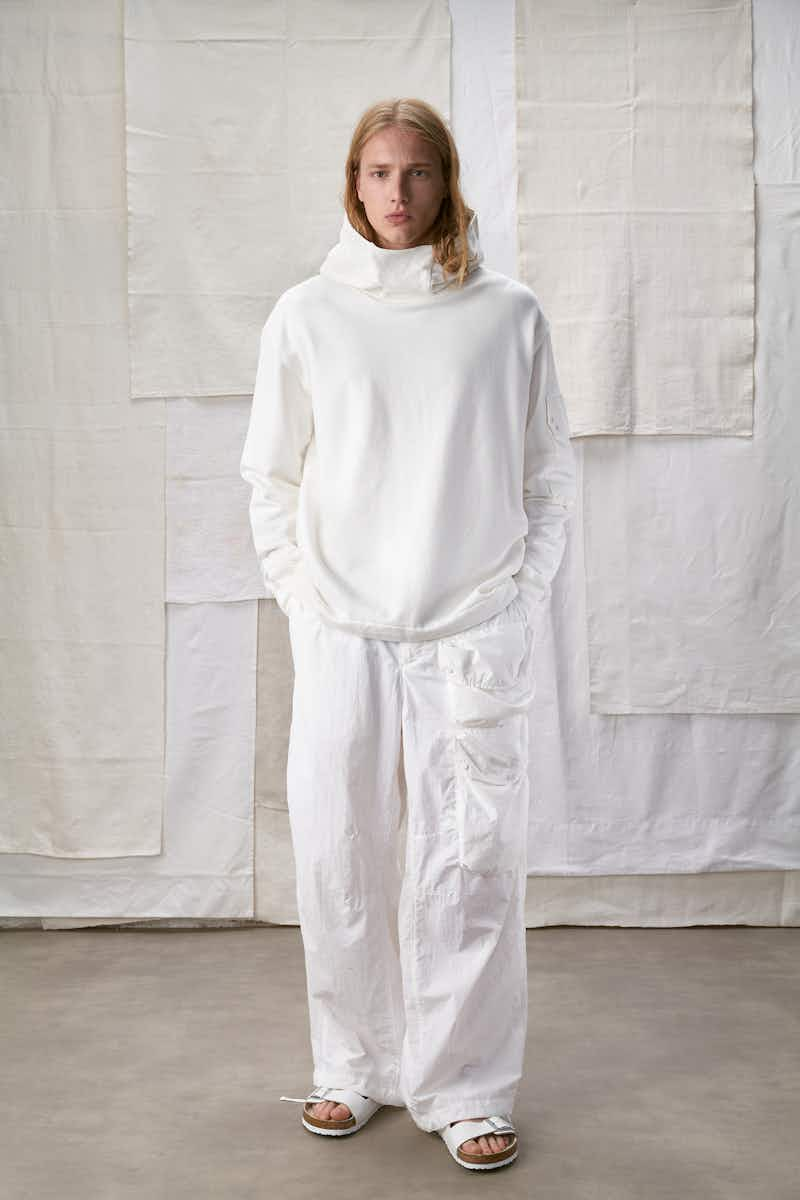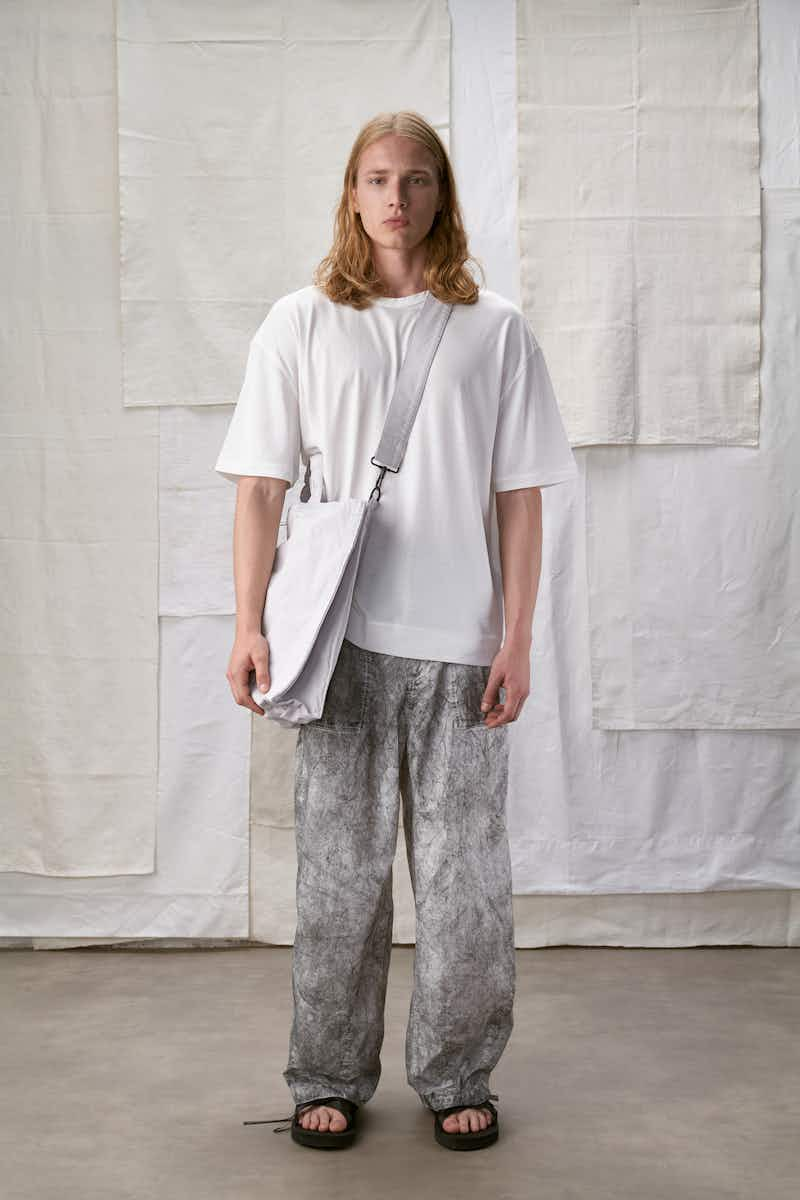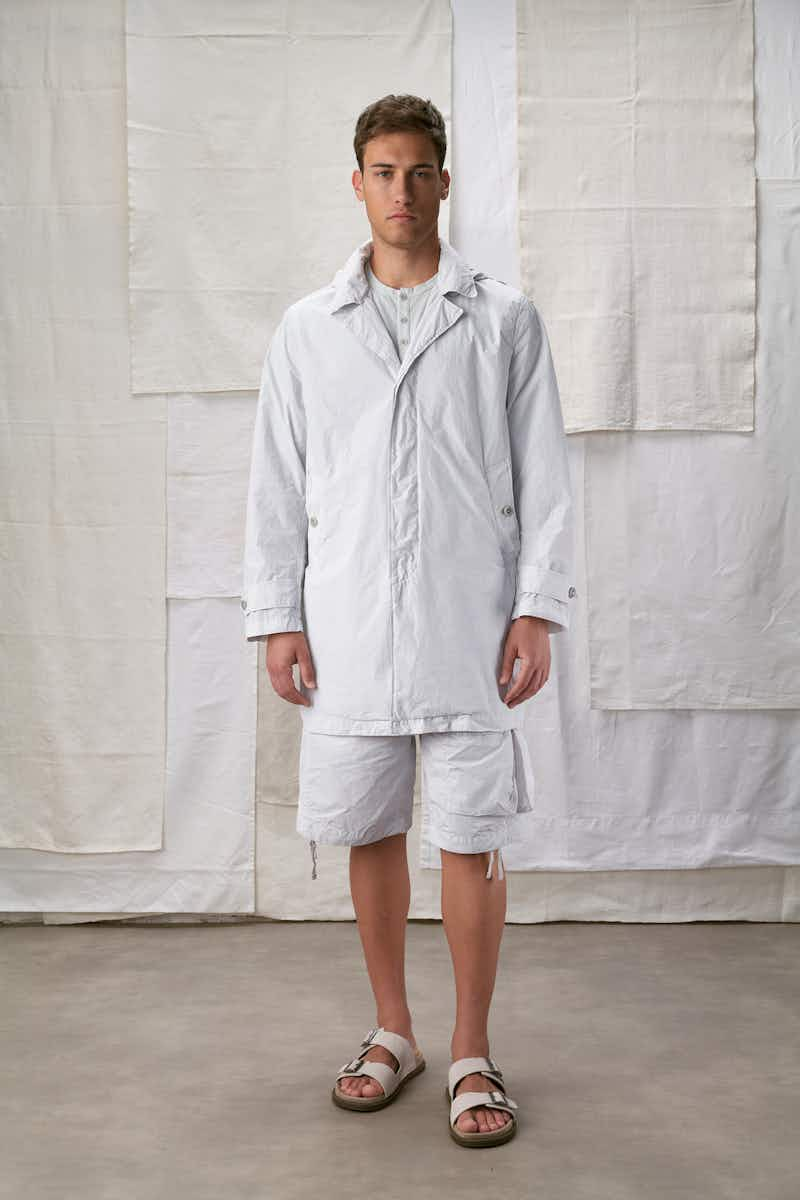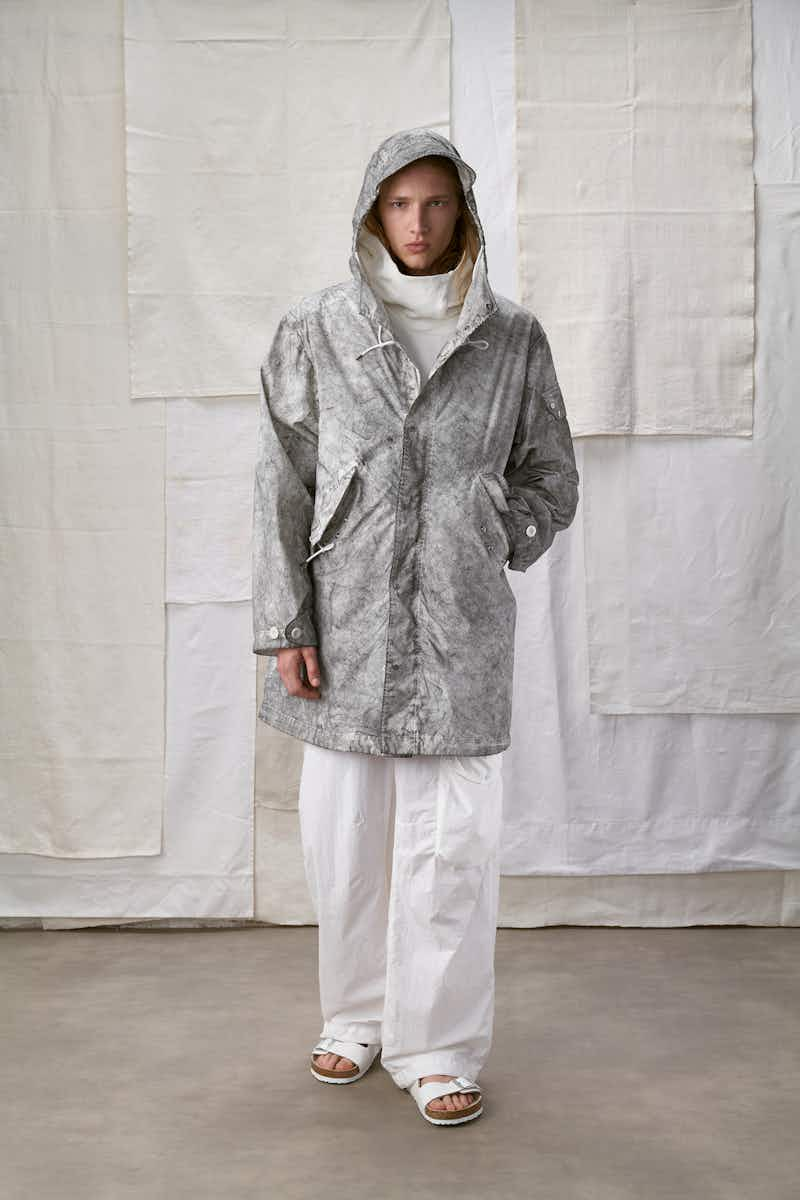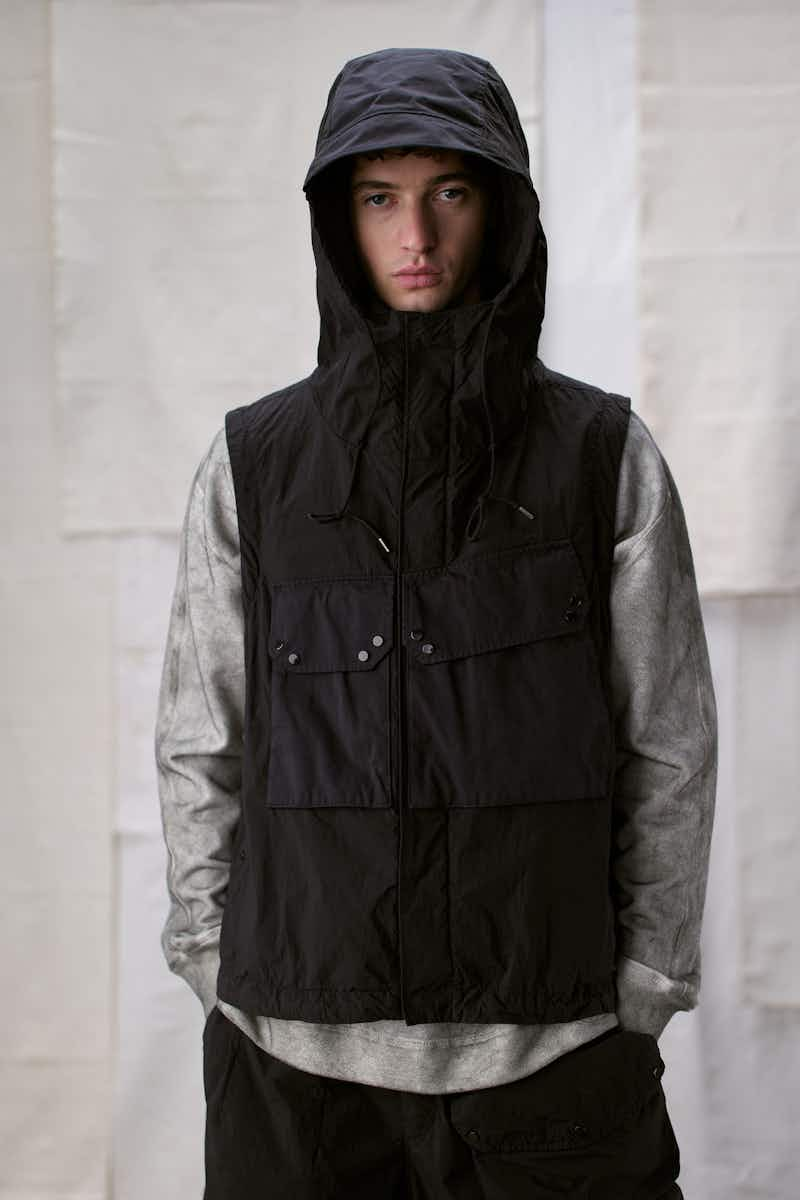 What?
Creative director Alessandro Pungetti's latest outerwear proposal, awash with ingenious dyeing techniques guaranteed to enliven every gorpgeek's summer rotation.

Why should we care?
There's gorpcore, and then there's Ten C. The latter ditches excessive or splashy techwear clichés, opting instead for specially treated fabrics that stand the test of time. Here, function and form are considered equal, resulting in easy-going mid-season jackets, such as SS24's pastel-hued anoraks, made in a signature polyester-nylon jersey.
But don't be fooled by the less-is-more approach. Behind these coats lies a tricky process. In fact, Pungetti, who helmed CP Company's design between 2001 and 2009, had suggested using Ten C's jersey – a Japan-manufactured fabric – to his former employer, but the material was rejected for being too difficult (and expensive) to work with.
Now, after more than a decade steering his own ship, Pungetti has delivered endless designs using the jersey, adding yet more iterations and materials for SS24. This commitment to a rigorous process and the unique washes of each and every coat appears across the collection, while the calculated colour blocking only elevates Ten C further. Cement-grey, crinkle outer with an oatmeal canvas collar? Perfetto!
Dotted across the showroom, trousers and coats were mottled as if white fabric had been rolled in dirt, taking cues from the Arcari quarry's caverns and their interactions with light. Pockets were flipped 90 degrees and pale hoodies came with cowl neck hoods and off-centre drawstrings. Indeed, the devil was in the detail.
Any standout pieces?
The concrete grey anorak, piece-dyed for a tonal difference between the pockets and the main body of the garment. As for those papery, crinkle-fit jackets, these were a fezzy fit pic must.
Any tips?
If you're wearing the white, skip the red vino.

What?
Alessandro Sartori's latest collection for Zegna that proves, once again, stealth wealth is a look with legs.
Where?
The Piazza San Fedele, a majestic square in central Milan, resplendent with an eighteenth-century statue of Italian senator Alessandro Manzoni towering above the runway.
Who was there?
A mixed bag of famous faces: Chris Pine, John Boyega, and Scandi thespian Mads Mikkelsen all sat on the FROW, joining throngs of quiet-luxury loyalists.
So, what did it give?
Loose and loaded with linen, Sartori's SS24 collection took the latter as its starting point, introducing what are undoubtedly the luxest looks to grace Milan that weekend. As is usually the case, it was all about the understated, but not at the expense of blink-and-miss-it magic.
Here, lapel-free blazers in lax linen were teamed with pearly white trews that billowed without creasing (an art form). Meanwhile, belted jumpsuits with invisible seam pockets and quarter zip shirts cast in bonded leather peppered the edit. Together, the threads on show were an exemplary take on a ​"timeless classic".
Part of the appeal lay in these intentionally obscured design tricks. Didn't catch the embossed contour lines on the cream polo knit, or the espadrille soles fixed below bulbous stomper shoes? Sharpen up. These days, quiet luxury is more than an onus on impeccable cashmere roll-necks. Rather, it's an ingenious use of line and texture that now hides capital‑F fashion under the guise of traditional luxury.
Finally, the timeless-toff-meets-feckless-fashionista crossover has arrived. We'll lap it up.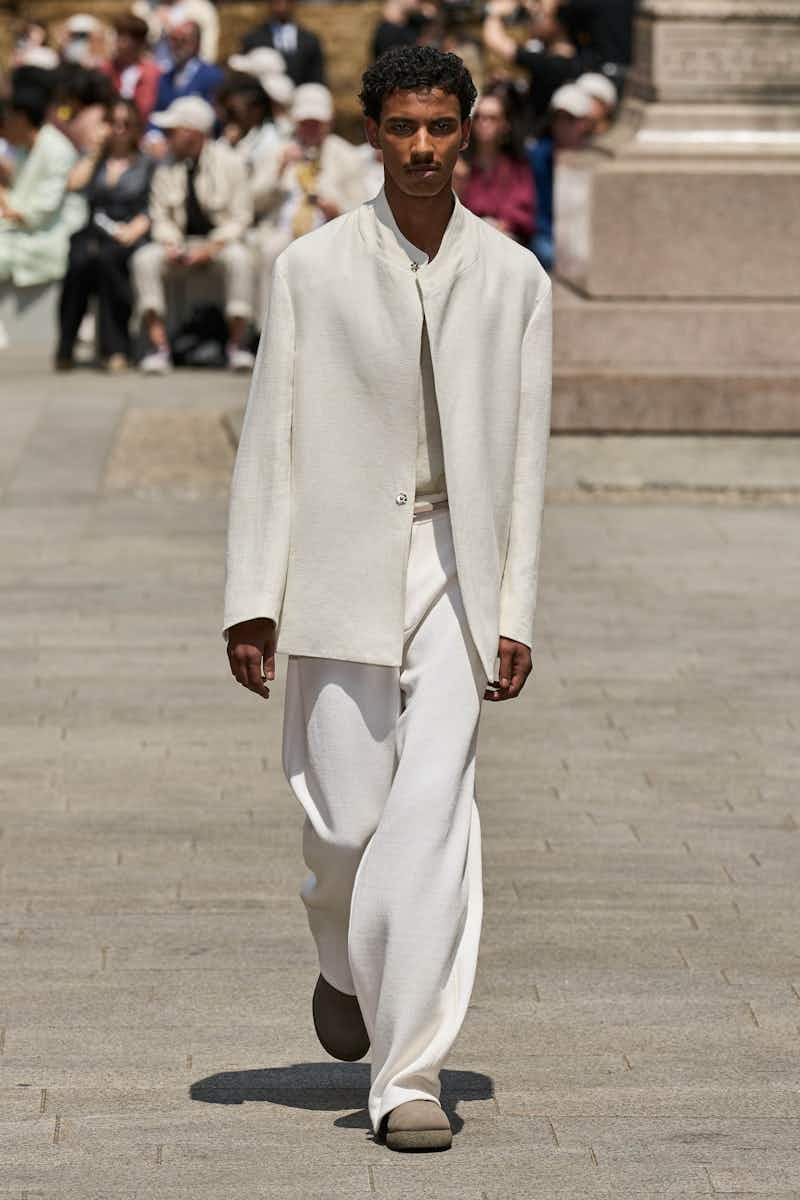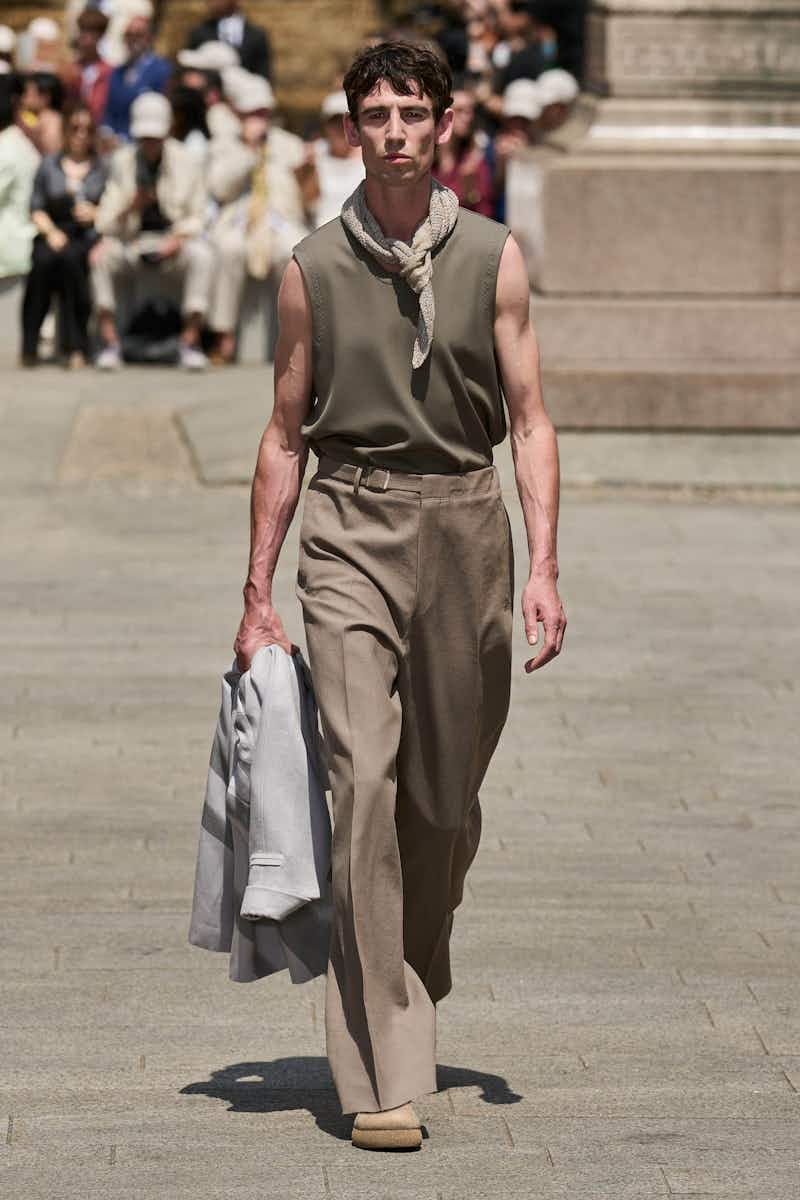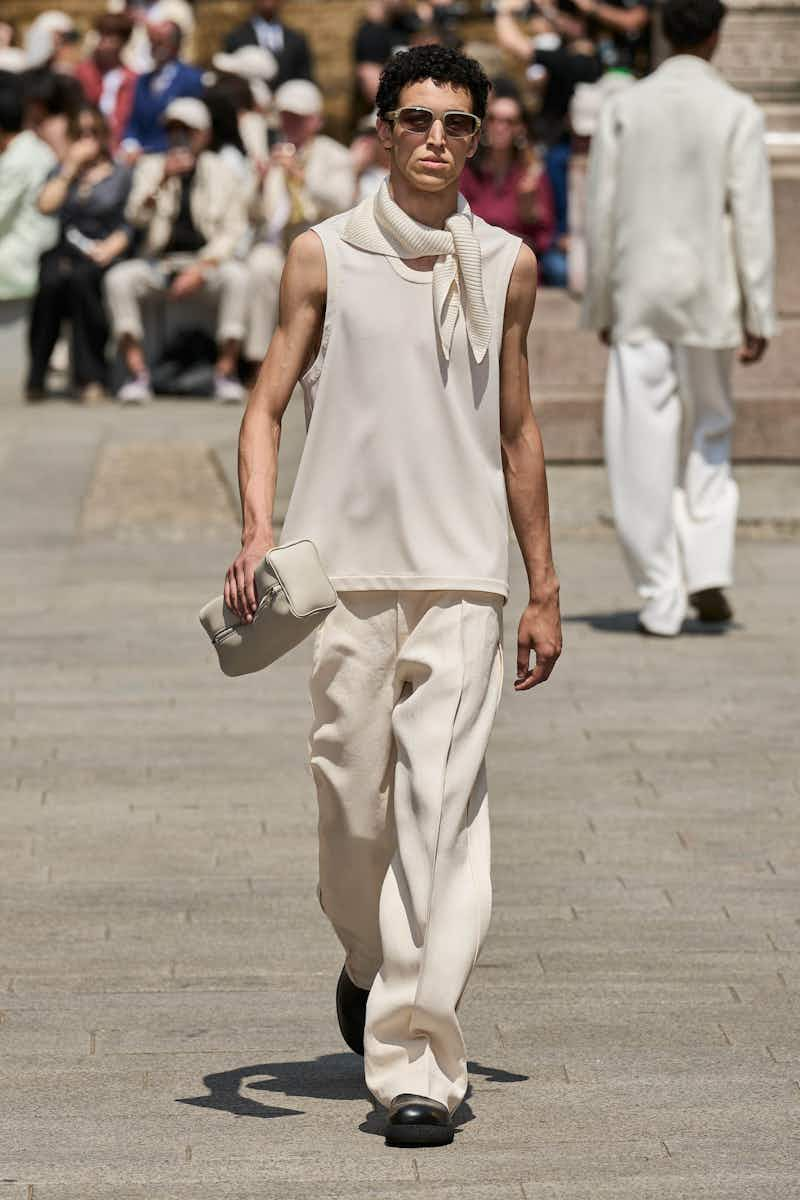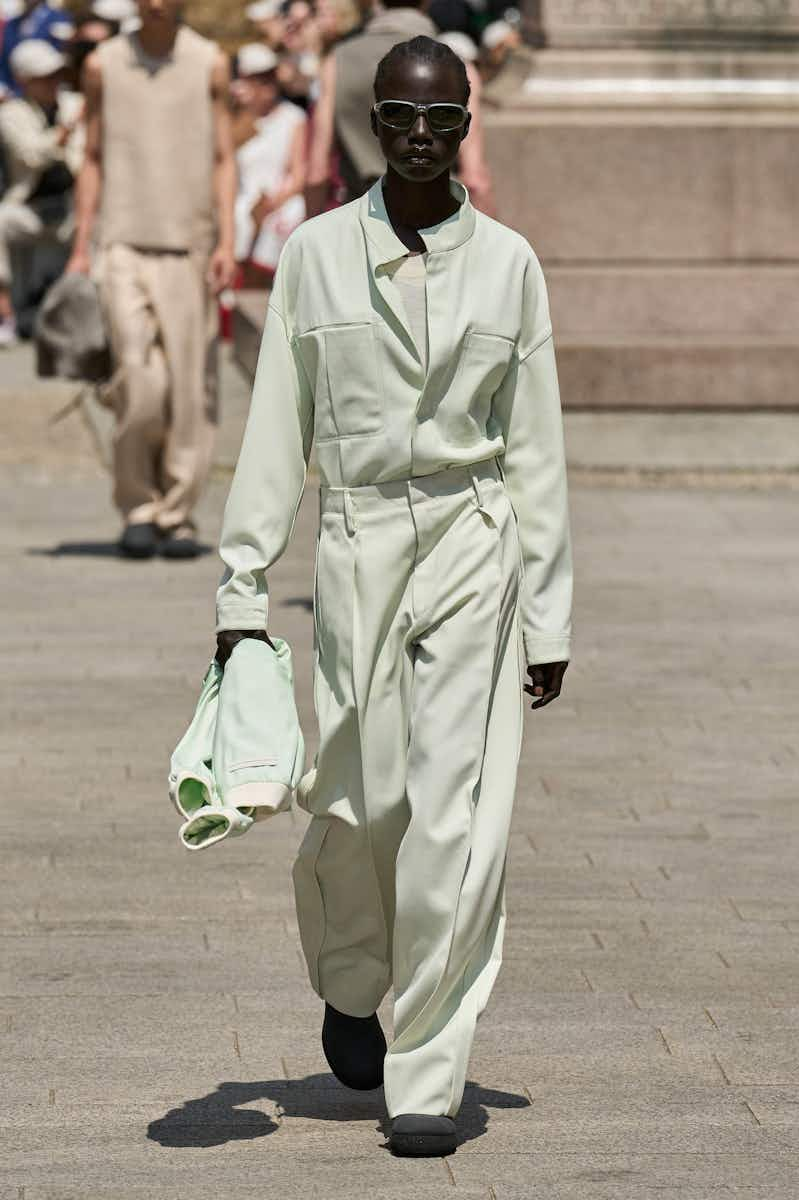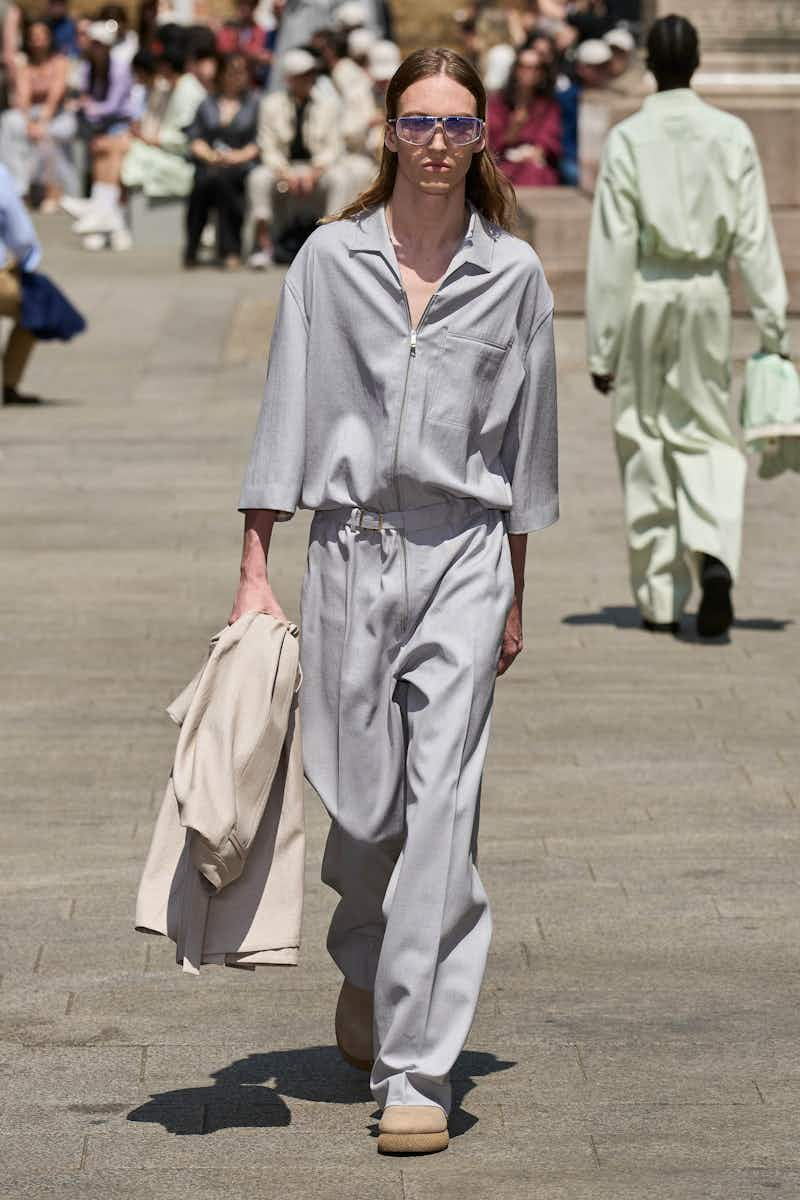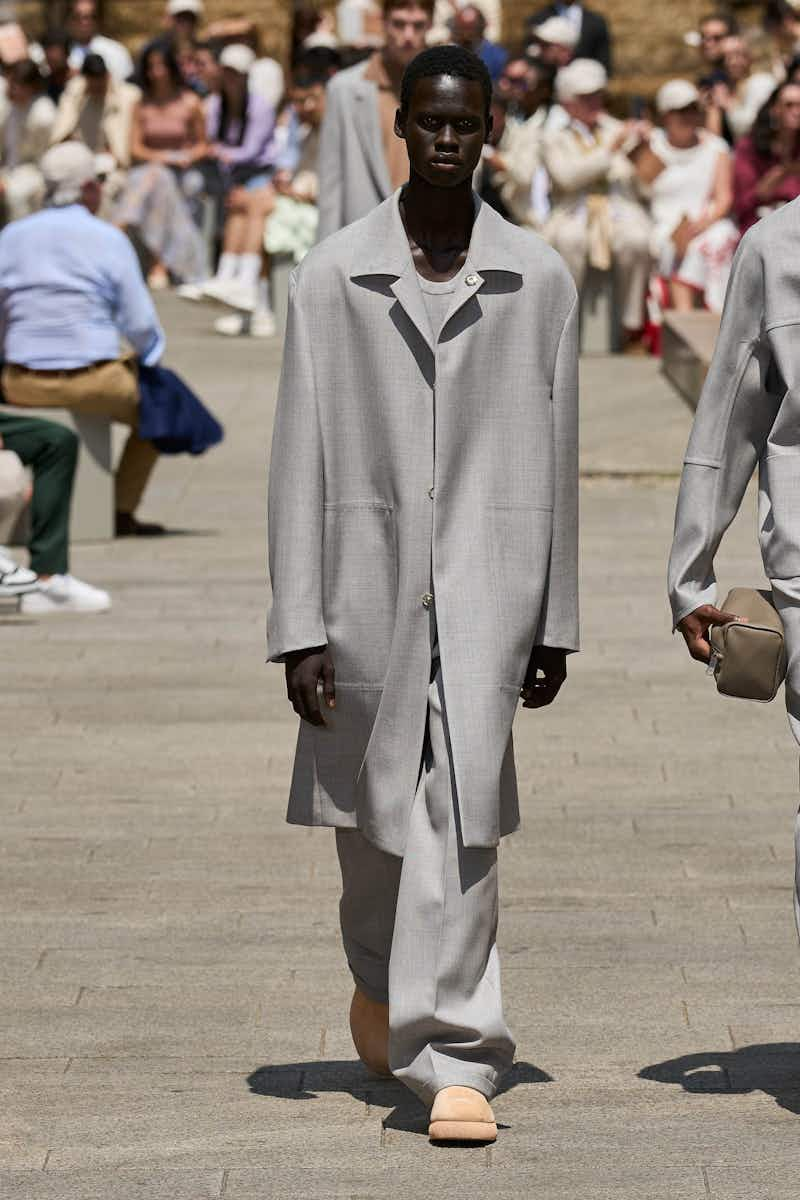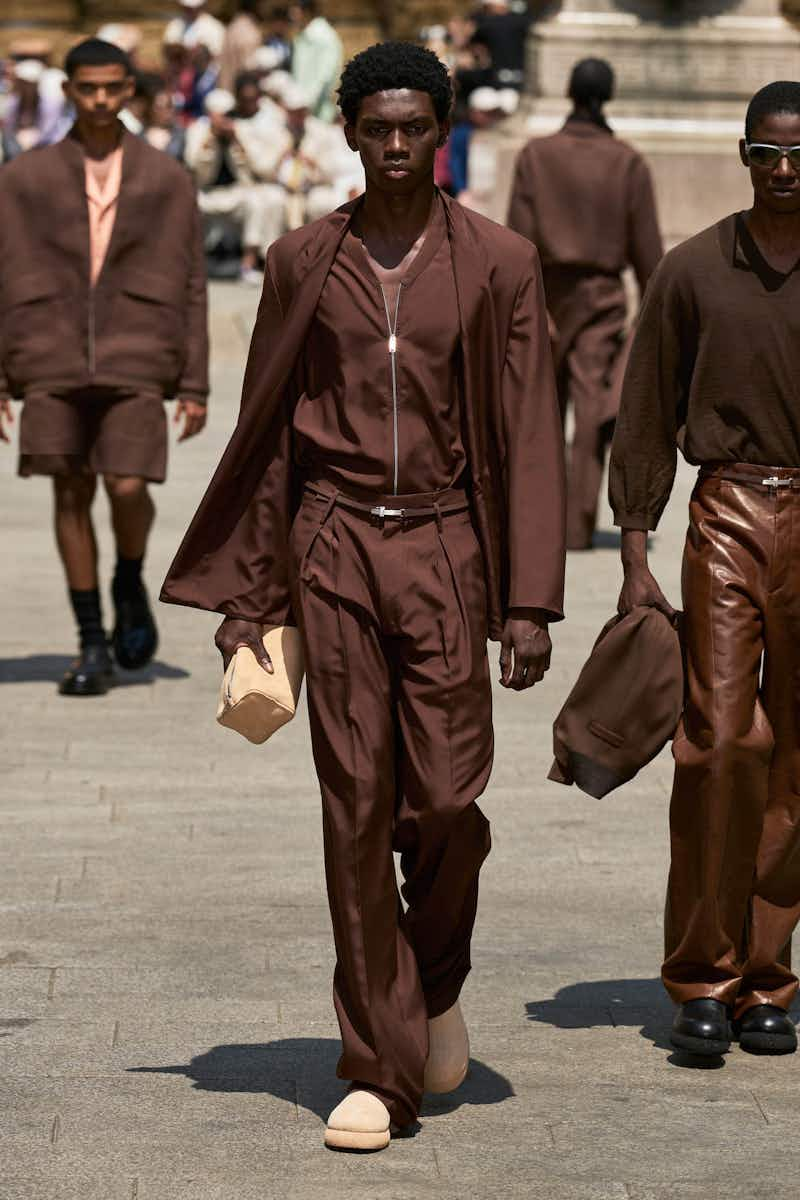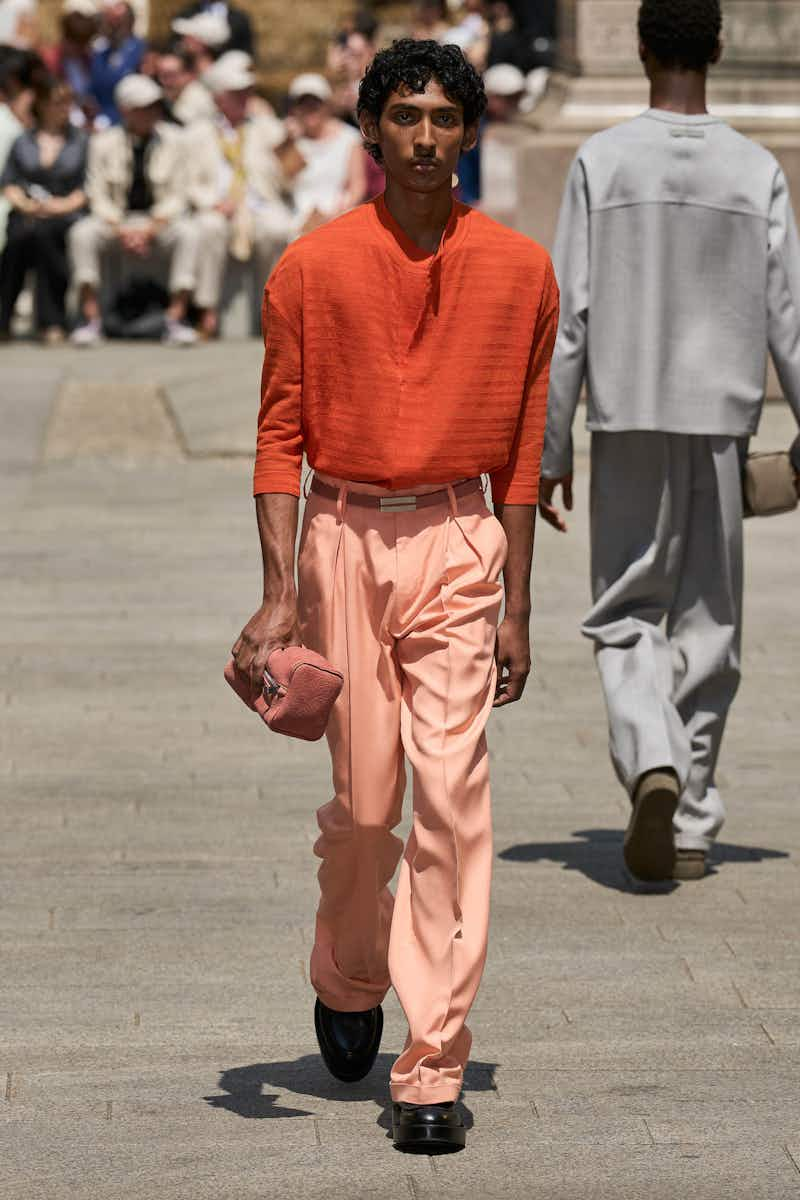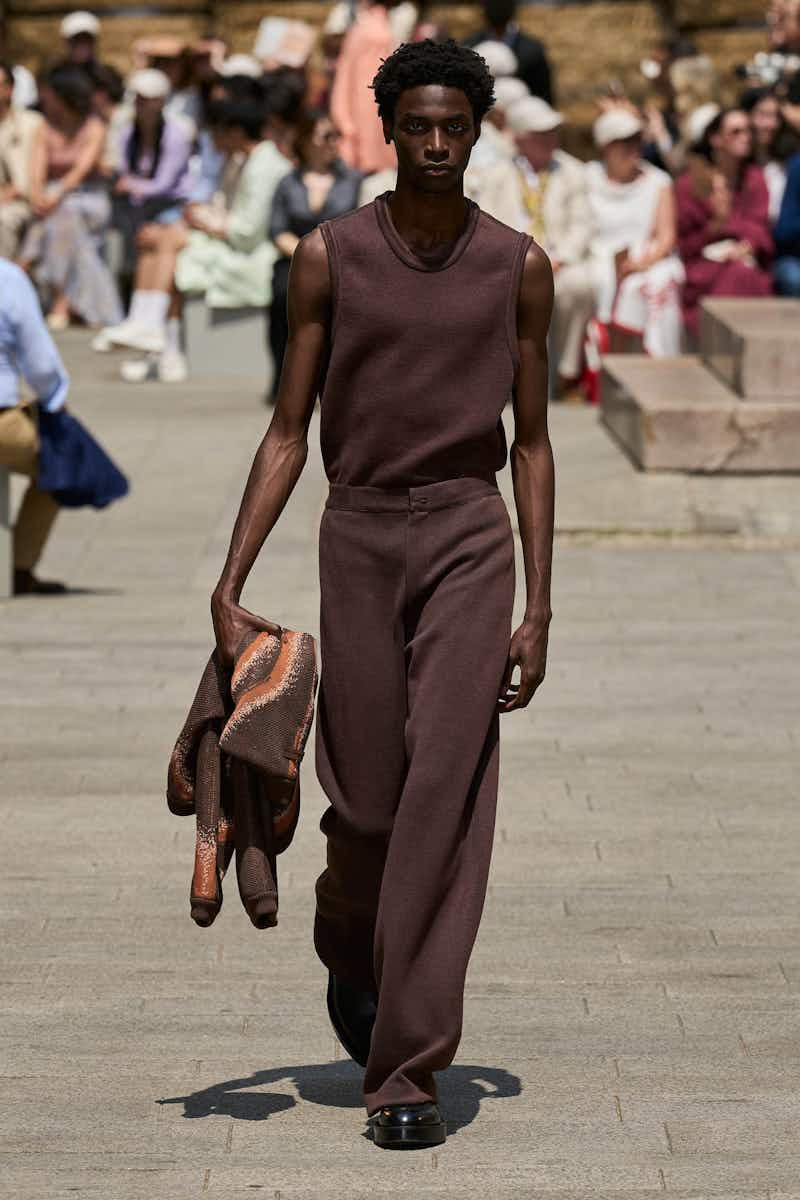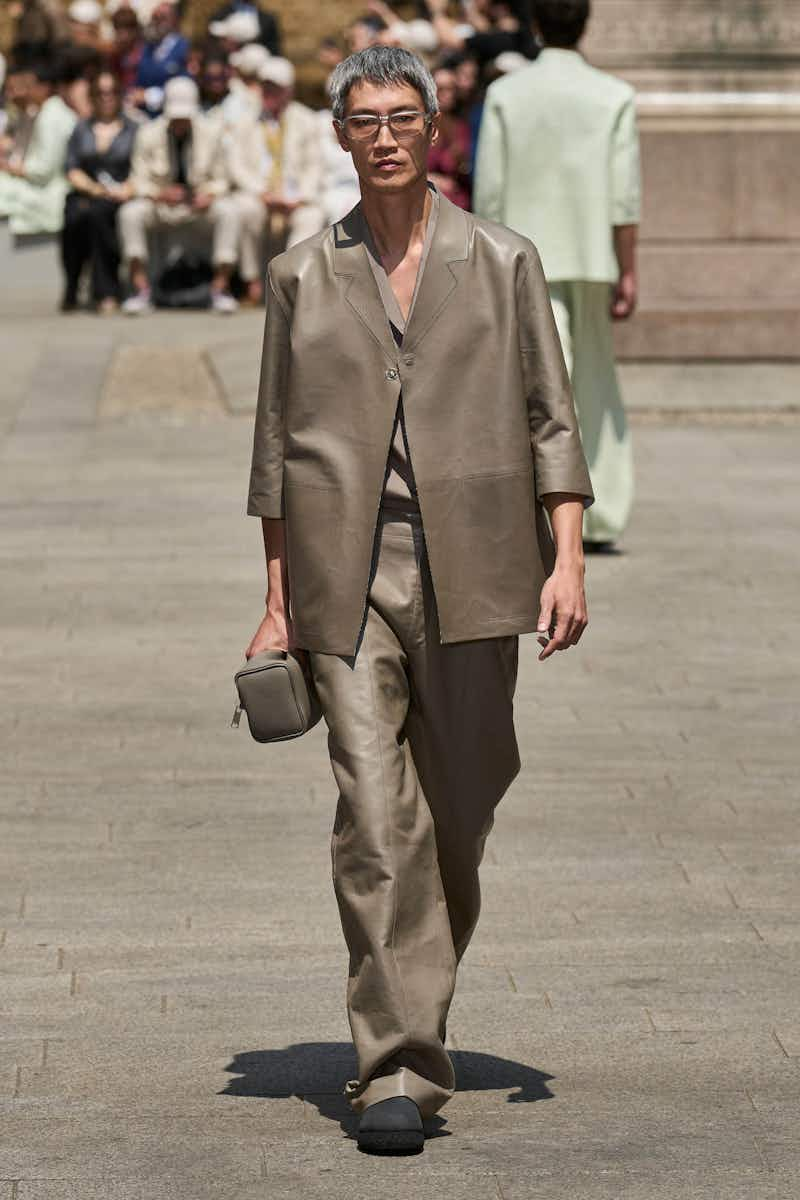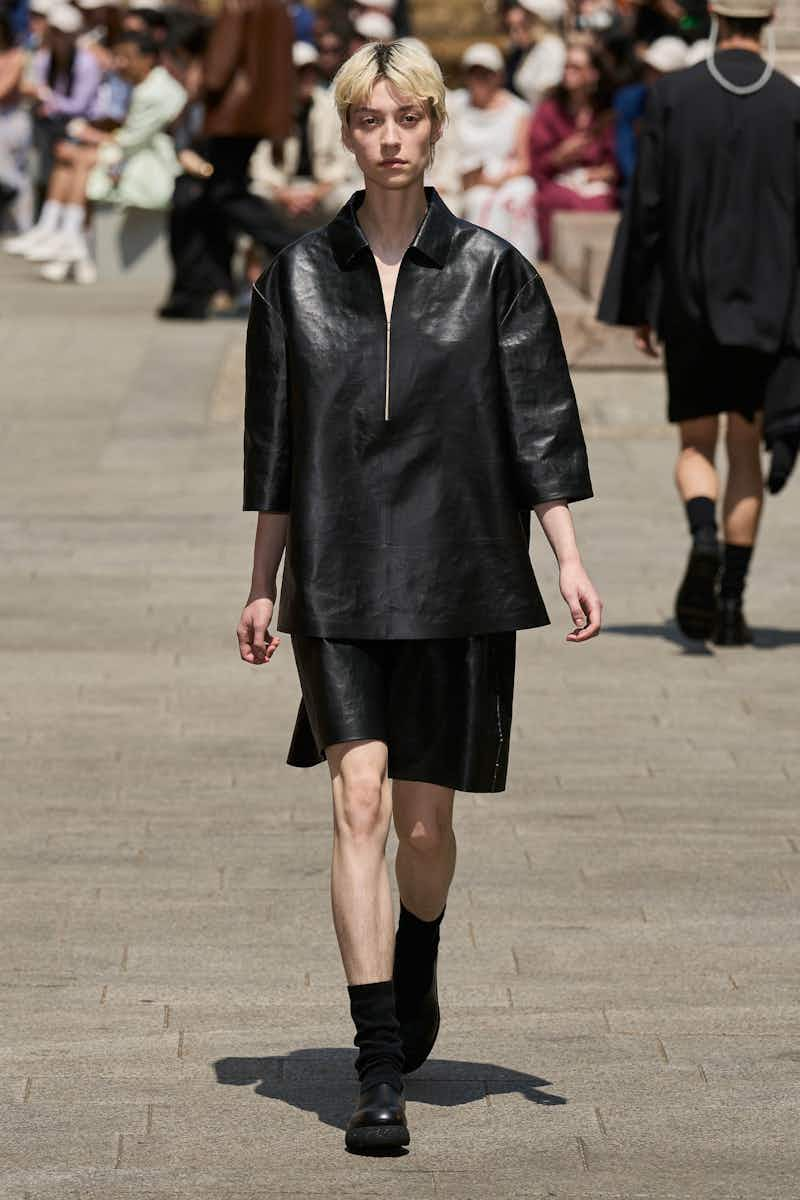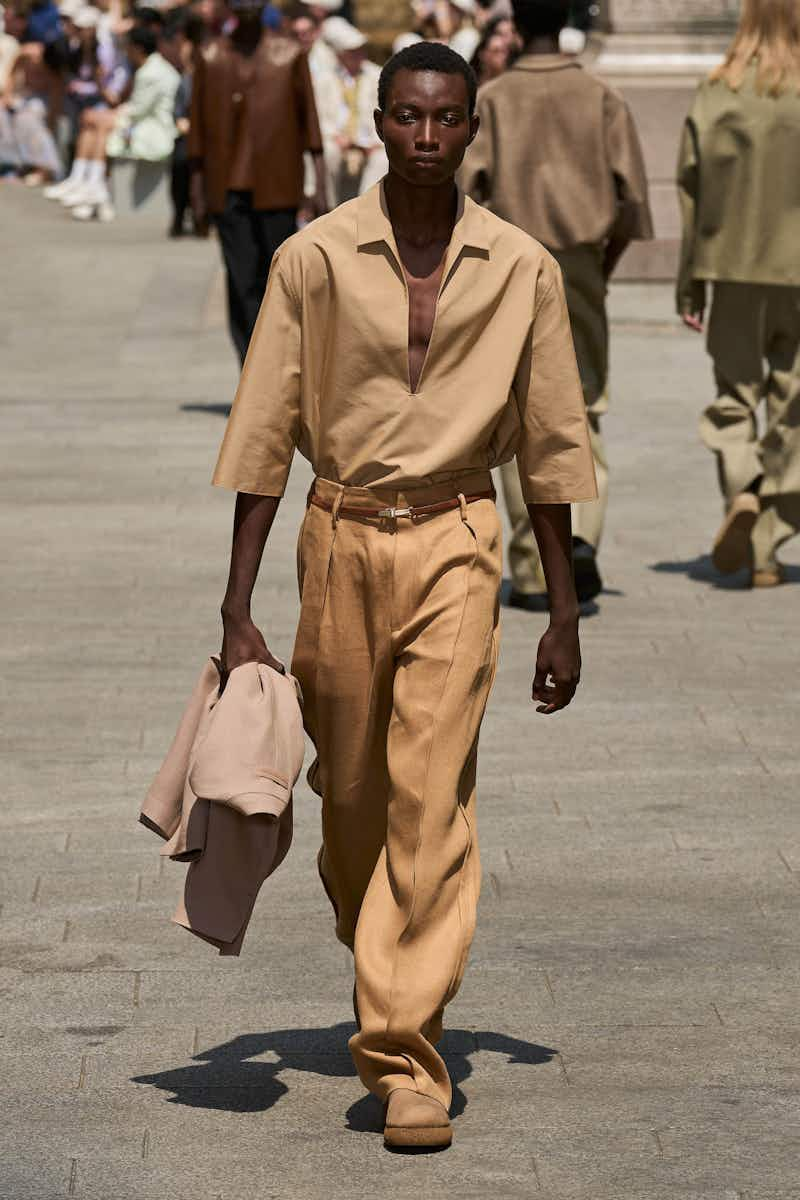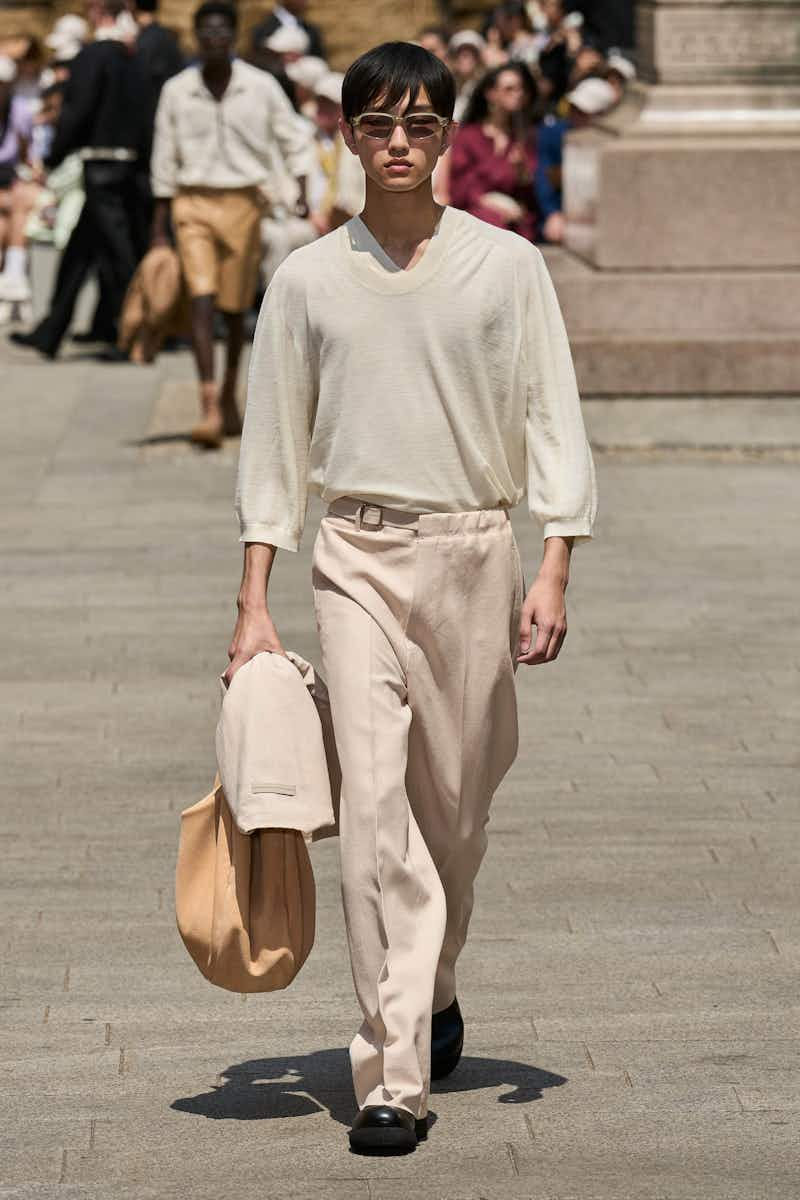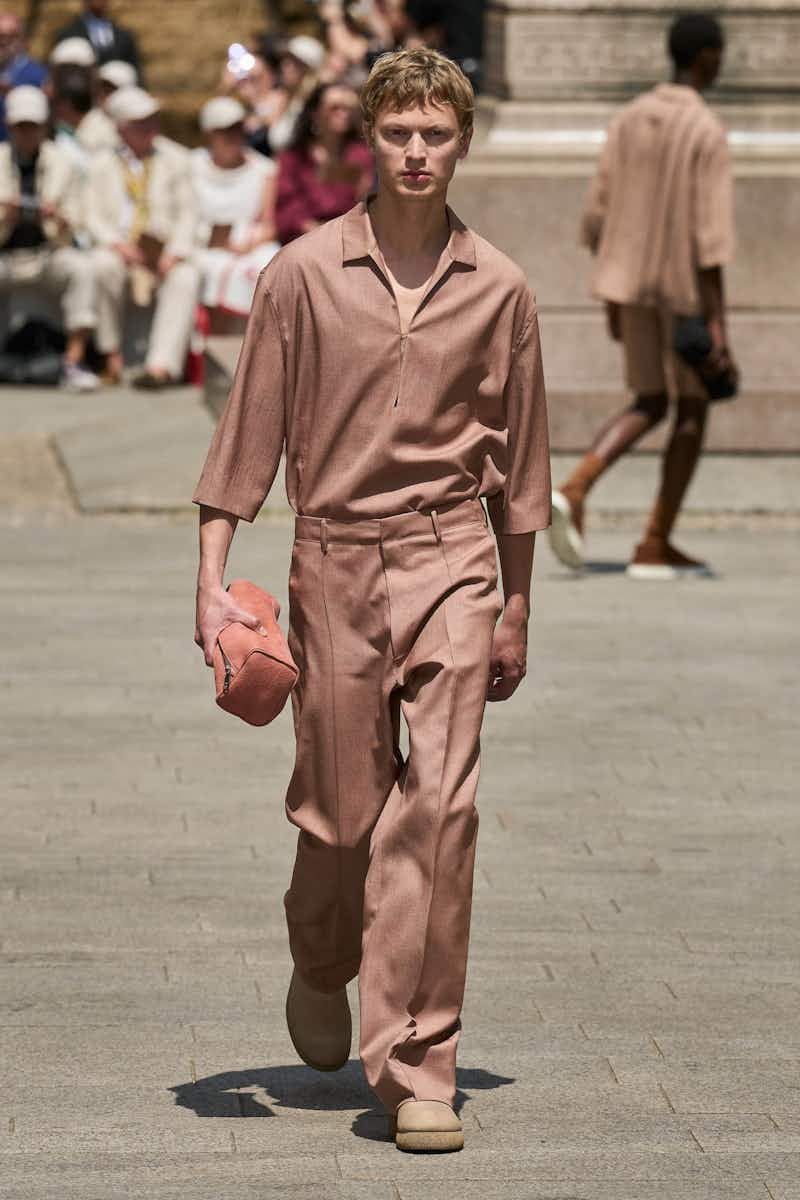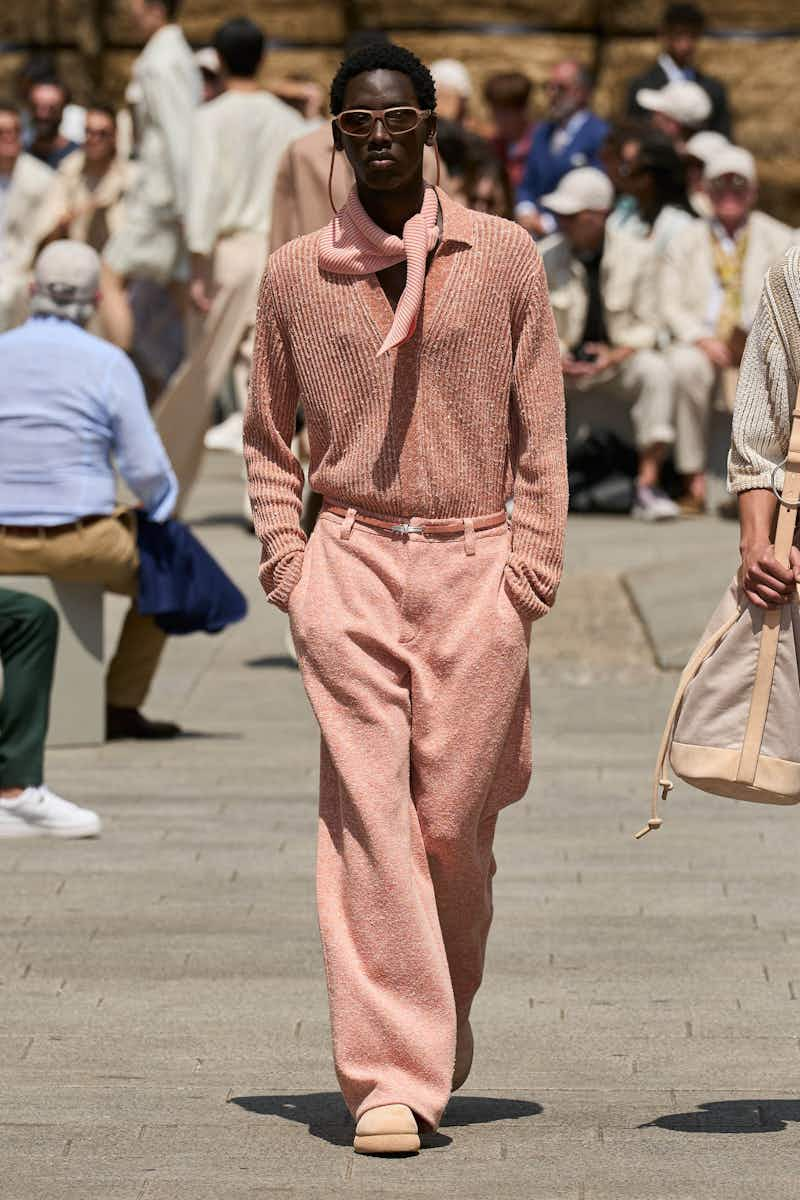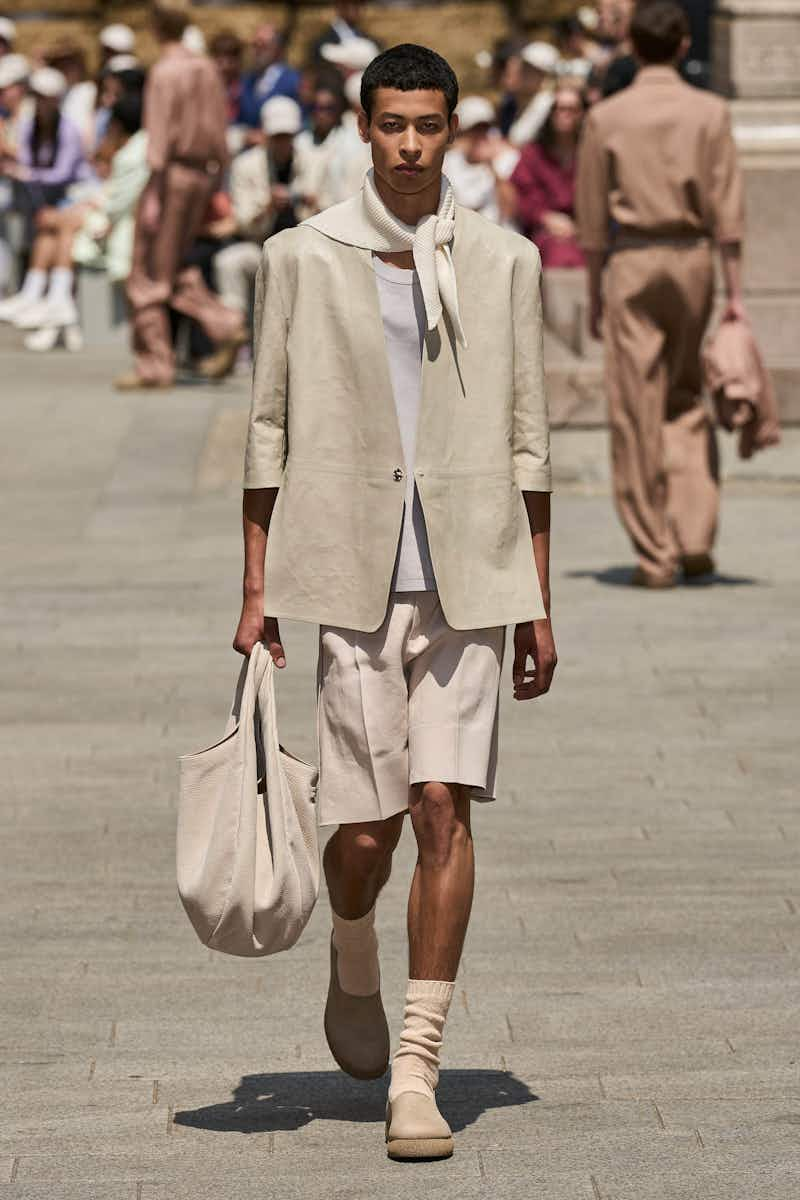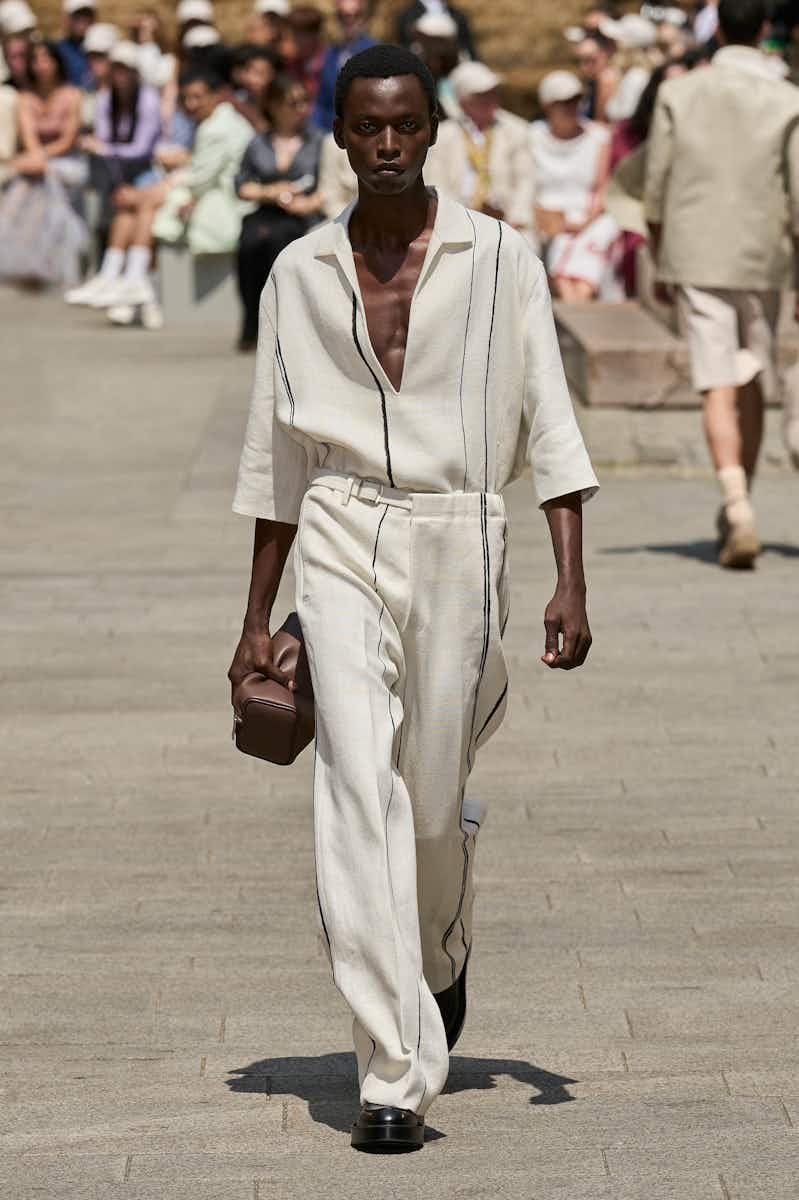 More like this