Why cowboy hats are summer's hottest gig accessory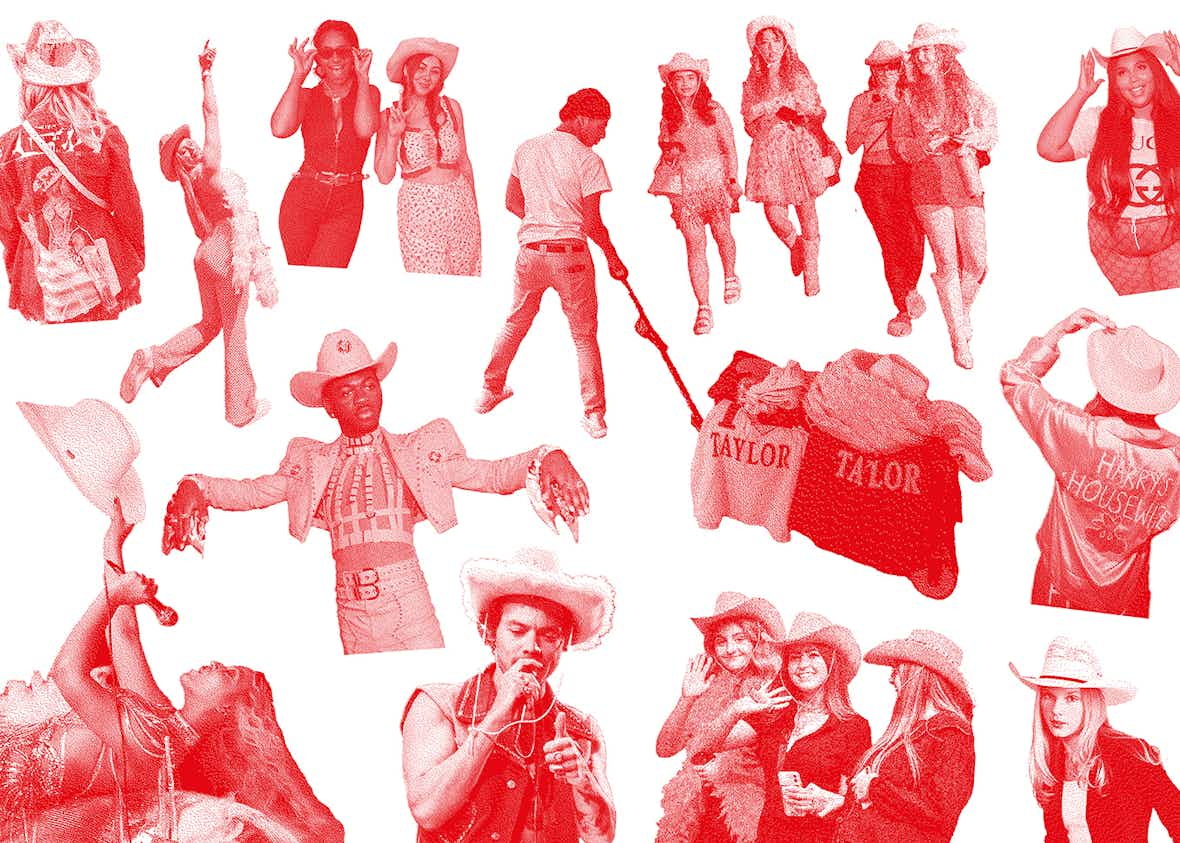 The western headwear is worn with feather boas at Harry Styles' concerts, paired with cowboy boots at Taylor Swift's shows and bejewelled at Beyoncé's.
Anyone attending a stadium gig this summer can expect fans in full voice, drink prices to make you wish you could pay with Klarna and many, many cowboy hats.
They're worn glittered and disco at Beyoncé concerts. The Harries wear theirs with feather boas. Swifties match theirs with cowboy boots, nodding to the Fearless era. And off stage in pop land, Lizzo and Lil Nas X are just two of the other stars helping to make ​"howdy partner!" the greeting of the summer. That cowboy emoji? Surely most used in all those gig group chats.

The urge to don a cowboy hat at gigs is so strong that, according to Pinterest, in the run-up to Styles' Love on Tour UK dates this month, searches for cowboy hats increased by 100 per cent. Meanwhile, Abby Misbin – the woman who made Beyoncé's mirror ball cowboy hat worn on the cover of Renaissance and in the show – has sold out of her $285 hats, thanks to demand from the Beyhive.

It's more than a bit of frivolous fancy dress for the stans. These hats are embedded in fandom lore. Styles' connection with the cowboy hat, for instance, goes way back. ​"In the 1D days, someone threw one on stage when they were in the southern states. He just, like, put it on and that was it," says Zsuzsa who runs the @harrystyleslookbook Instagram account (she prefers not to use her surname). They're now a connection between those in the crowd and Mr Styles himself – especially if the stars align. ​"I think it became a thing during Love On Tour when fans were throwing hats on stage and he picked them up."

Beyoncé and Lizzo, meanwhile, are nodding to their Texan roots. To paraphrase Formation, you'll never get the country out of ​'em. "[Texas is] sprinkled throughout all of [Beyoncé's] music," says Bri Malandro, the founder of @theyeehawagenda, an Instagram account dedicated to documenting the history of Black cowboys and cowboy looks across Black culture more recently. ​"She's never hesitated to show love to her home state. I've been a fan forever and she's always given me ​'cornbread fed, Southern belle'." For fans, Malandro says, the hat is ​"a very fun way to show that you're down with the clique."

The cowboy hat is, of course, hardly new – it has its roots in the headgear of the Mexican Vaqueros in the nineteenth century, with John B. Stetson credited with making the first all-American version, sometimes also known as a Stetson, way back in 1865. It's estimated that one in four of the original cowboys wearing these hats would have been Black.

Away from the history books, more recent cowboy hat moments run from the iconic (Dolly Parton always, JR Ewing in ​'80s Dallas – his hat is now such a thing it's in the Smithsonian) to the cringe (Kate and Wills in matching cowboy hats on a trip to Canada in 2011, George Bush on the ranch). But maybe part of their mass appeal now is Y2K heritage to please the Depop girlies. See: Mary J Blige, Lil Kim and Madonna in the Music video.

Malandro started @theyeehawagenda in 2019, after she noticed artists such as Lil Nas X, Lizzo and Cardi B wearing western-style outfits. But it's ramped up since then. ​"It's always been something that would pop up every now and then but nothing like this, at least in my lifetime," she says.

So why have pop stars suddenly gone mad for western headwear? Well, fashion has long been partial to the hat. Tom Ford (another Texan) has worn one, and then there's millionaire James Goldstein, the ​"fashion cowboy" who became a fixture at fashion shows over the last decade. Super-stylist Luke Day – a man whose outfits cause mass hysteria amongst street style photographers at fashion week – has made the cowboy hat a signature, with 15 in his collection. He's also noticed how the accessory has become more popular recently. ​"They literally are everywhere," he says. ​"I kind of pick and choose [when I] wear it now."
If the cowboy hat could, in the wrong hands (eg. Bush's), be seen as a symbol of Red State patriotism, Day explains that it's also a big part of gay culture, as seen in artist Tom of Finland's work, for example. ​"The cowboy is definitely one of those sexual pinup types that we're drawn to," he says. Growing up wanting to wear women's clothes, this was a compromise. ​"The heteronormative kind of fancy dress costume for me was the cowboy outfit," says Day. ​"It became my childhood go-to." In 2023, Day has leveled up the cowboy hat by wearing it with a suit. ​"A flashy cut off short is fun but I really like it [more formal]."

Fanbases, by and large, have not got this memo. They're worn with abandon by the Harries, who are known for their ​"go big or go home" approach to dressing up. ​"On Sign of the Times, he has the line ​'Welcome to the final show /​Hope you're wearing your best clothes'," says Zsusza. ​"It's only fitting that the fans dress up for him the way he does for us like every single time. There are really no limits to what you could wear. It's a really, really good vibe."

At Beyoncé concerts, fans add corsets, silver and catsuits so tight they could be used for green screens. Beyoncé herself is always intentional with what she wears, so she might well be referencing both Black cowboys and LGBTQI+ culture with her hat. But Malandro thinks, as a concert accessory, the cowboy hat's not that deep. ​"You could wear it to make a political statement but it also happens to make most outfits look really hot," she says. ​"I think at this point, in the age of vanity, that's what it represents for most people."


More like this