Step inside designer Leeann Huang's cyber-realist fantasy

Off the Rails: Inspired by lenticular technology, Cowboy Bebop and sprawling US road trips, the Taiwanese-American designer blends nostalgia and surrealism in her latest trippy collection.

Designer Leeann Huang is no stranger to experimenting with materials and fabrications – in fact, pushing them to their sartorial limits is what she's become known for since graduating from Central Saint Martins' MA Textiles for Fashion course in 2020, at the height of the pandemic.
Last year, Huang's graduate collection played around with the boundaries of recycled plastic and figuring out how to make it sexy without compromising on wearability. Referencing Charlie's Angels and Totally Spies, each piece was highly innovative and offset with some seriously camp seduction. In that sense, Huang's latest body of work, Cowboy Bleu, feels like a natural progression.
Exploring cyber-realism this time, the 27-year-old honed in on lenticular textiles, creating a collection that comes to life as soon as it's physically worn, with holographic images and animations moving smoothly across floor-grazing coats, skimpy skirts and strappy dresses.
"I'm always inspired by the way a garment feels and how it moves," Huang says. ​"I have a large collection of lenticular souvenirs because I love how it's an analogue technique which holds nostalgia for a lot of people."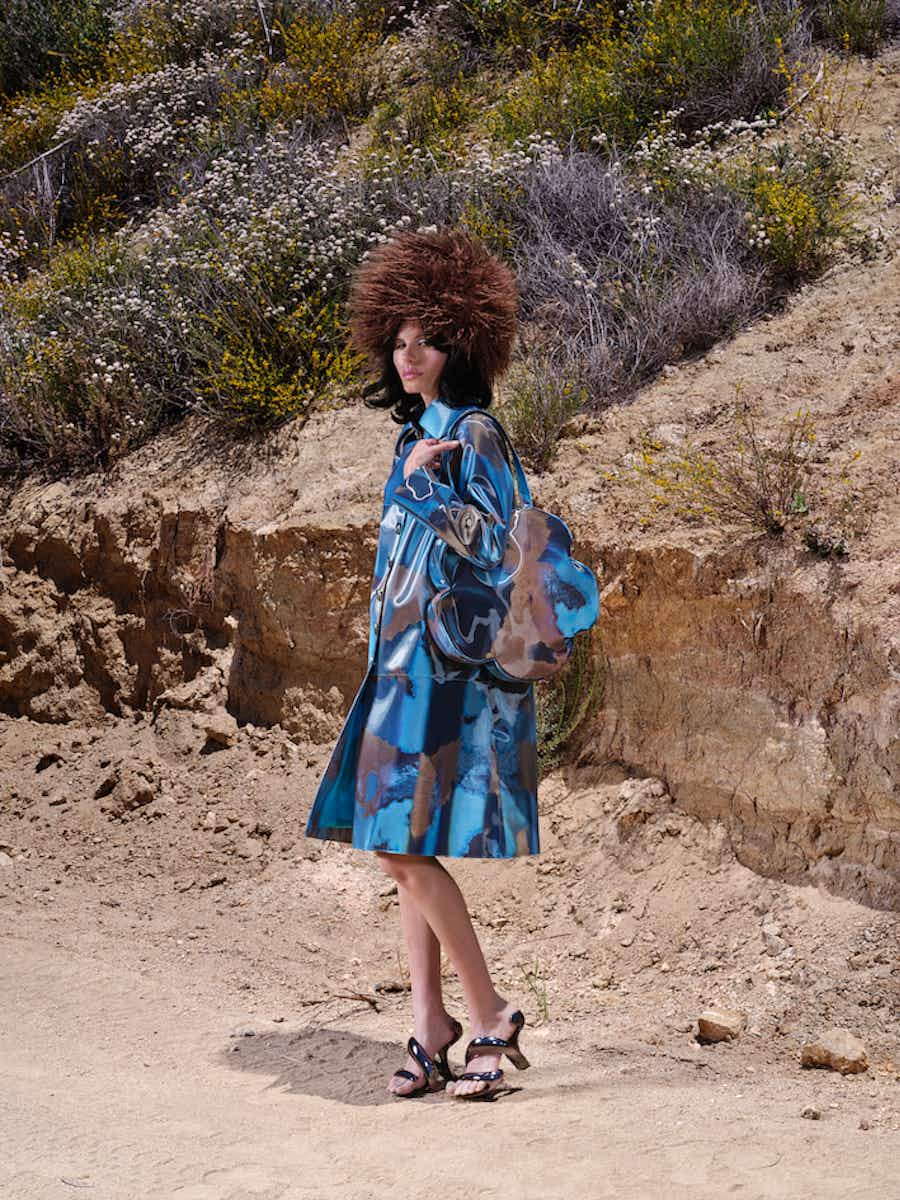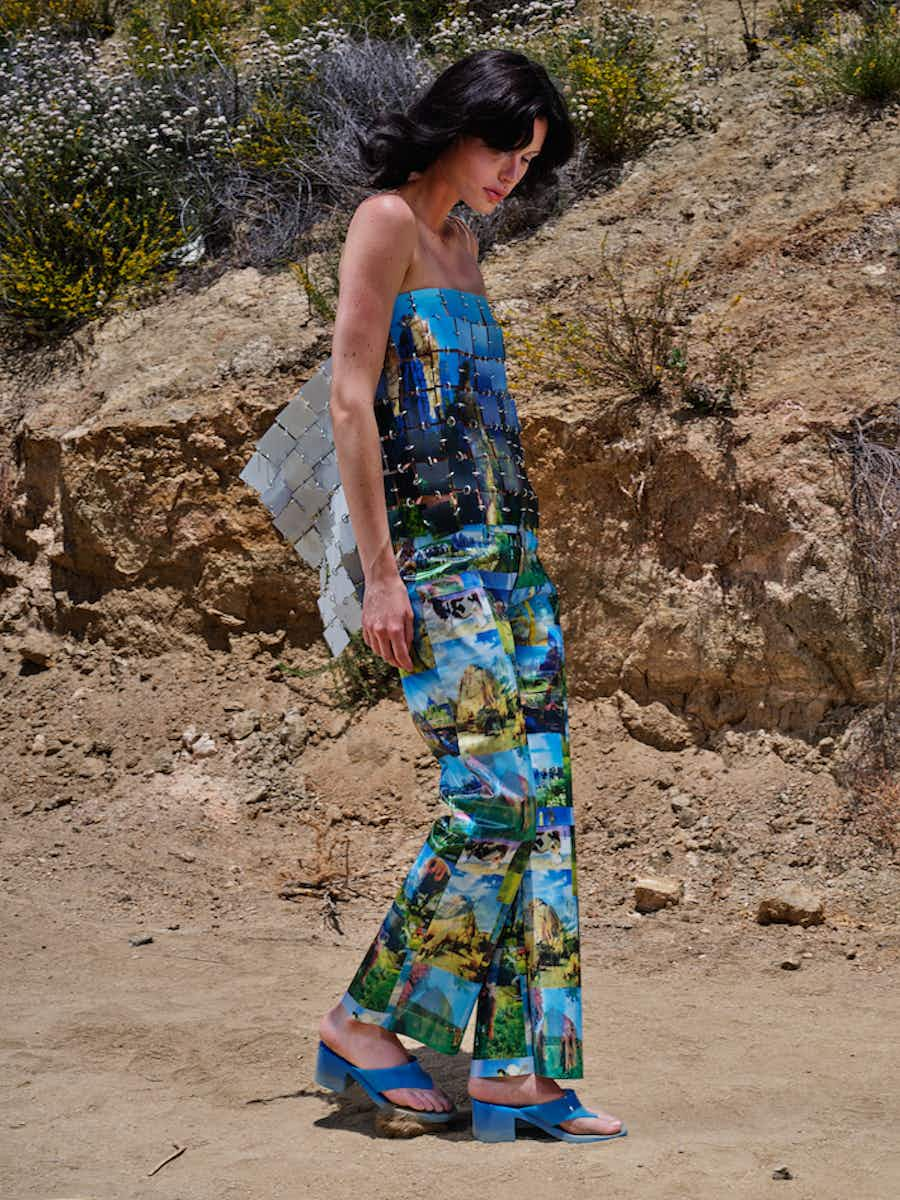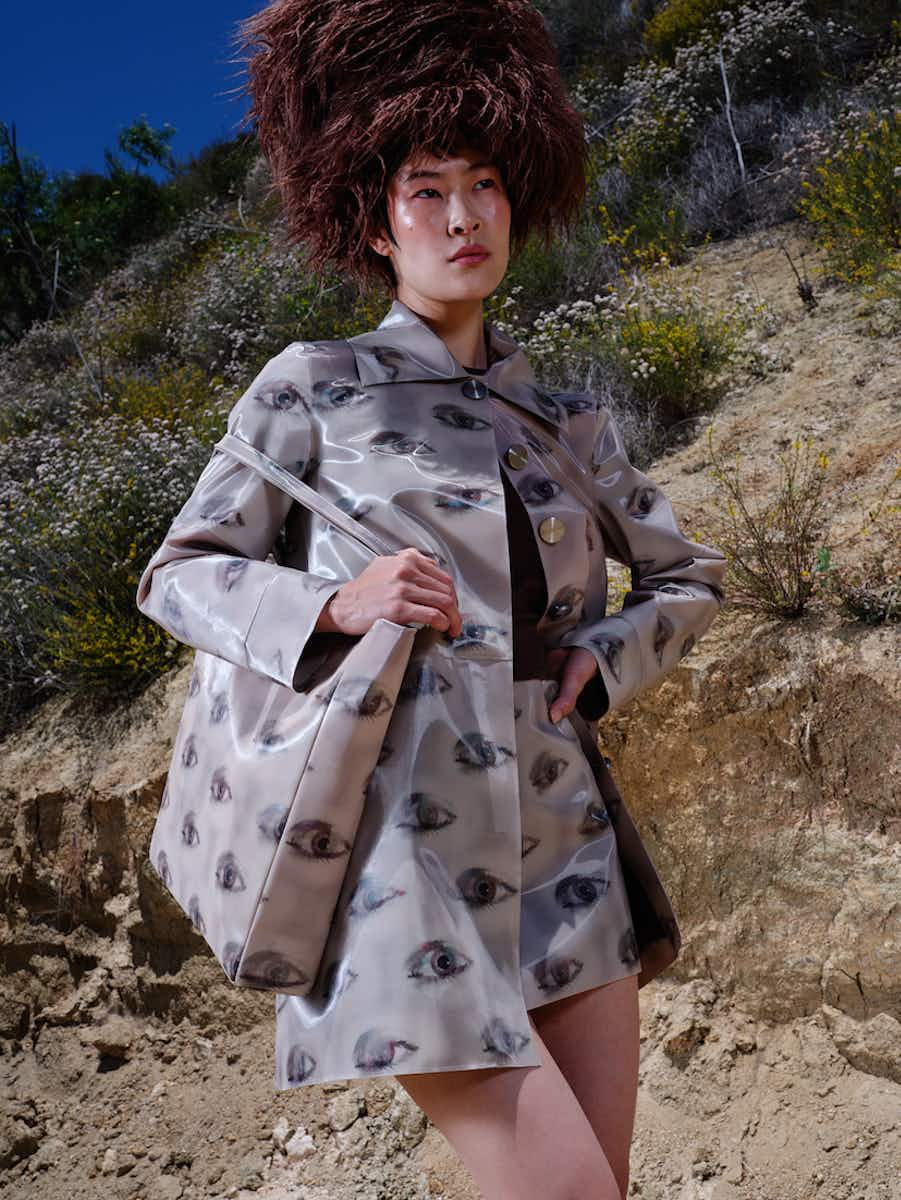 Having grown up between California's San Gabriel Valley and Taiwan, Huang describes Cowboy Bleu as ​"an ode to the American road trip and the landscapes of my childhood", specifically the inside of her dad's car and watching TV in transient hotels. ​"I daydreamed a lot while staring out the window, travelling through deserts and mountainscapes," she continues.
For Huang, these trips were equal parts disorientating and inspiring. They meant she had time to fantasise about becoming a trucking cowboy, ​"nomadic and travelling around in my pick-up truck with not a care in the world," as she puts it. ​"I wanted to express this period [in my life] through clothes and moving image textiles."
The designer's love of Shinichirō Watanabe, the director behind Cowboy Bebop and many other cult TV shows, was an influence for the collection, too: "[They] were always about wacky oddball outsiders finding their way through a strange universe, which really resonated with me. I wanted to capture the same sort of nostalgic adventure."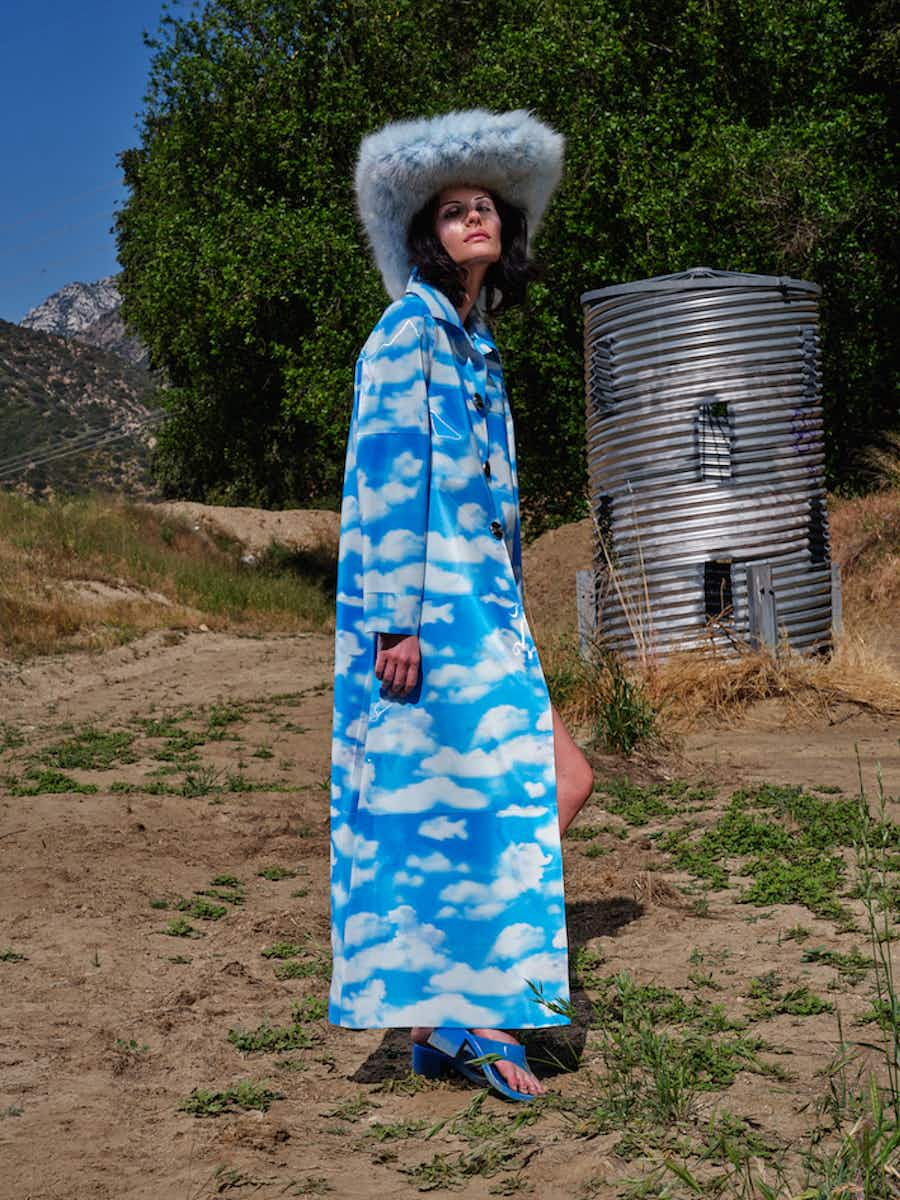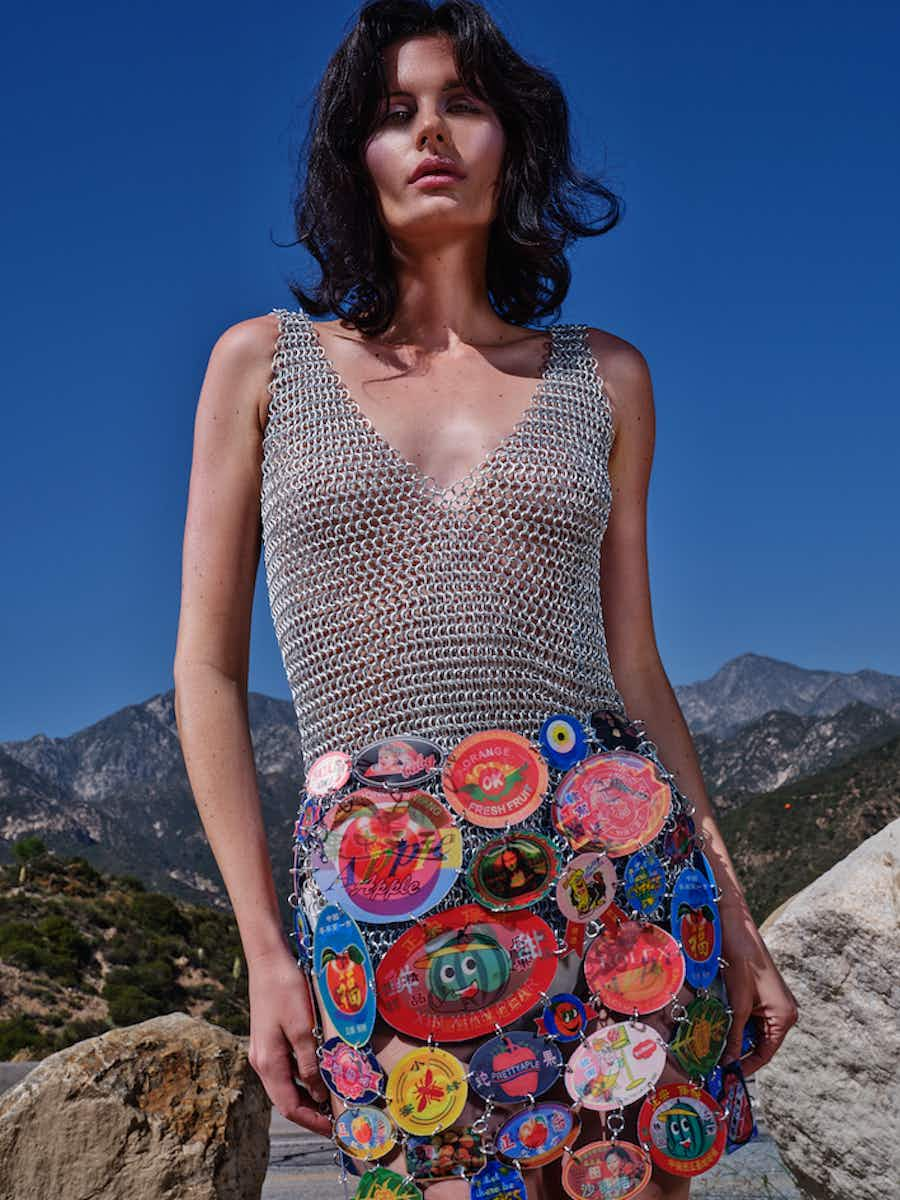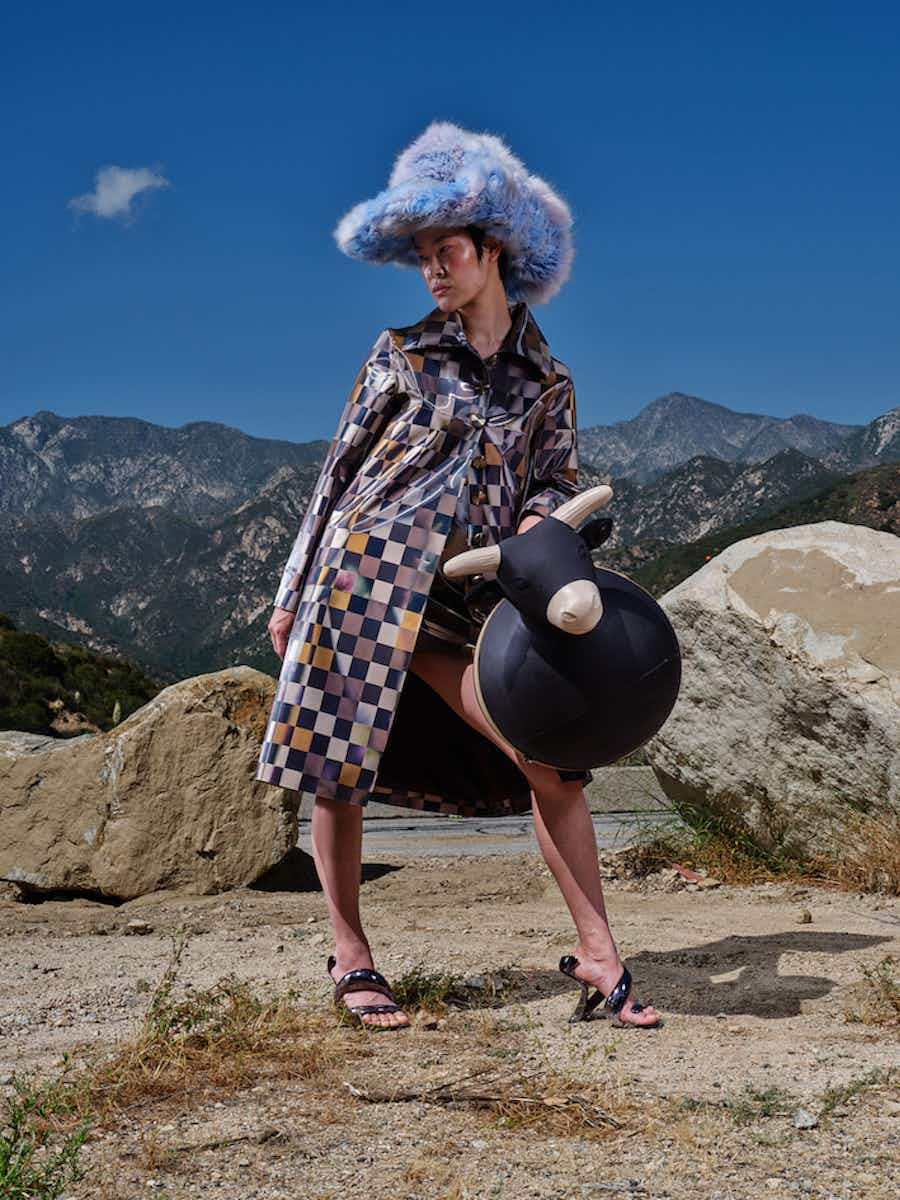 Working with a toy factory who helped her print lenticular images onto clothing, Huang sought out soft recyclable rubber as her material of choice for Cowboy Bleu. One dress features saturated vignettes delicately held together by metal rings – boxy like a Courreges get-up from the ​'60s yet distinctly futuristic in its experimental fabrication, complemented by a patchwork assortment of scenes from old westerns or cartoons.
Meanwhile, the tiles of a mini-skirt are made up of fruit stickers Huang gathered from around the world. She also cut up one of her dad's old posters of the Zhangjiajie mountains in China to make a strapless top, collaging it with stock photos and collected postcards to create new images altogether.
Though heavily inspired by her childhood and vintage imagery, Huang's designs undoubtedly speak to our desire for constant streams of entertainment and stimulation. After all, screens are everywhere: in our hands, our homes, our cars, on the street. Wearing them on our bodies feels like the logical next step. And if that involves garments as surreal as Huang's, maybe that's not such a bad thing…


What's your daily motto?
Gatekeep, gaslight, girlboss.
What do you currently love and hate?
Love: television, arcades, hugs, cakes, hiking, round animals, paddleboarding, mountains, compassion and empathy.
Hate: humidity, Yelp, wilful ignorance, mosquitoes, everything else bad in the world – there's too much.
What do you reckon you'd be doing if you weren't a designer?
I'd be a chef or maybe something to do with forensics. I like to work with my hands and figure out the mechanics of everything, so something methodical, technical and crafty. But I think I'm too clumsy to be either!

Who would you most want to see wearing your clothes?

Someone fabulous, beautiful and funny like Amy Sedaris, Lizzo, Patti Harrison or Greta Lee.
What gets you out of bed in the morning?

Knowing I can get back into bed later.
What do you listen to the most in the studio?

A lot of podcasts and sitcoms are on repeat, often a bad blend of true crime and Bob's Burgers.
Where's the best place to let your hair down?

Being in nature is the best. Running around Malibu or Redondo Beach drunk with my friends and staring at the sunset is the safest and freest I can possibly feel. And I love the night, when it's so far from the glow of the city and so dark that you can see the entire galaxy in the sky.
Who would you invite over for dinner?

My brother and my friends. Funny people I love, who also love food!

CREDITS:

HAIR AND MAKE-UP Adriana González
TALENT Yoa Mizuno and Gillian Bozzani

More like this