'

Nearness' is a visual celebration of colour, identity and culture

Bianca Saunders' first collaborative exhibition brings Black History Month to a close in style.
Today marks the start of a ​"culturally rich" journey for Bianca Saunders. This weekend the fashion designer launches her first collaborative exhibition, Nearness, which explores the work of inspiring black photographers, artists and filmmakers.
For the Brixton event marking Saunders' SS20 collection, the 26-year-old south Londoner is teaming up with socio-political filmmaker Akinola Davies Jr., curator Rochelle White, poet laureate Caleb Femi, collage artist Jazz Grant and photographer Ronan McKenzie.
Also coinciding with the end of Black History Month, the collaborations champion creativity for people of colour. But equally, Saunders has bigger ideas. ​"Of course it is about Black History Month and all the artists are black," she acknowledges, ​"but I also want people to see their talent and how much it truly connects."

Nearness focuses on the subject of familiarity, and the artists' contributions are carefully spread throughout four units in Brixton Market. ​"It's almost like a treasure hunt in a way," explains the Kingston University graduate. ​"From room to room you find the different artworks. It's a bit easier to take in. Sometimes when it's all in one room it's too overwhelming. With this people will take more time to see the work separately."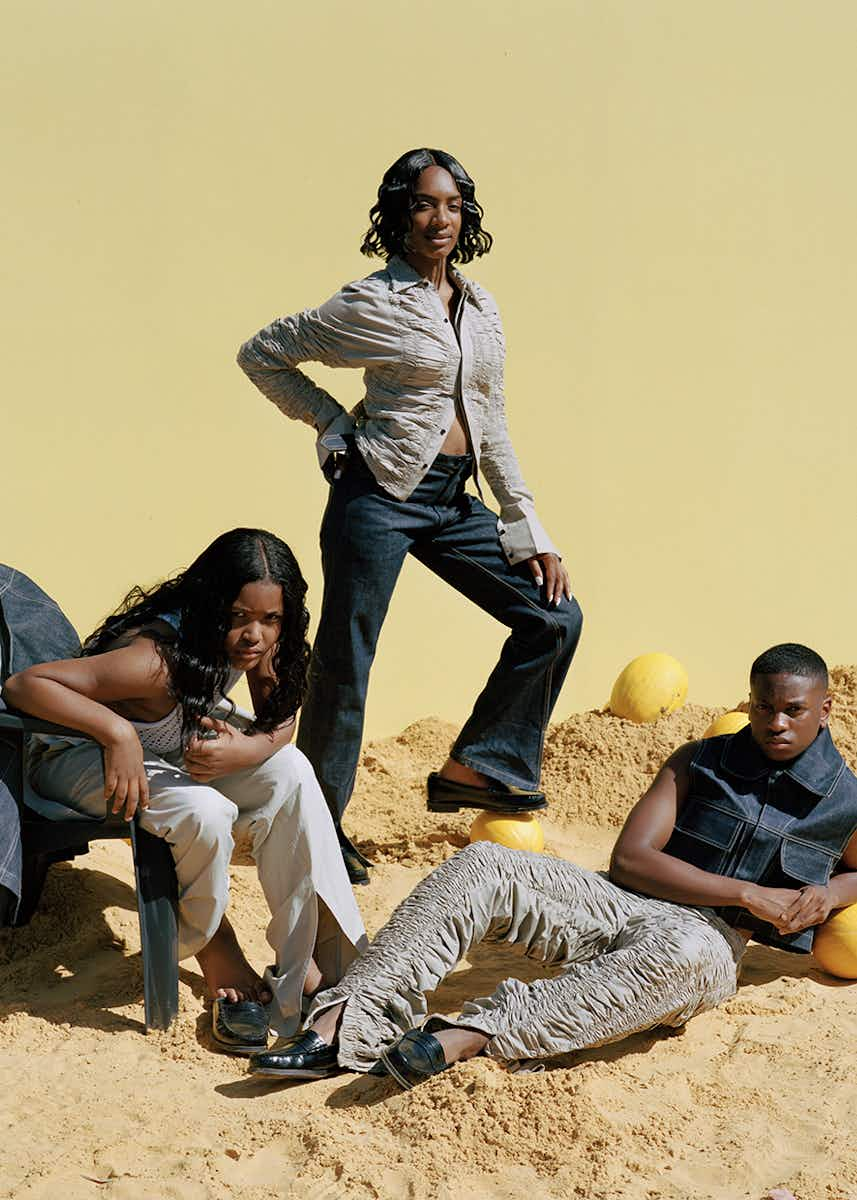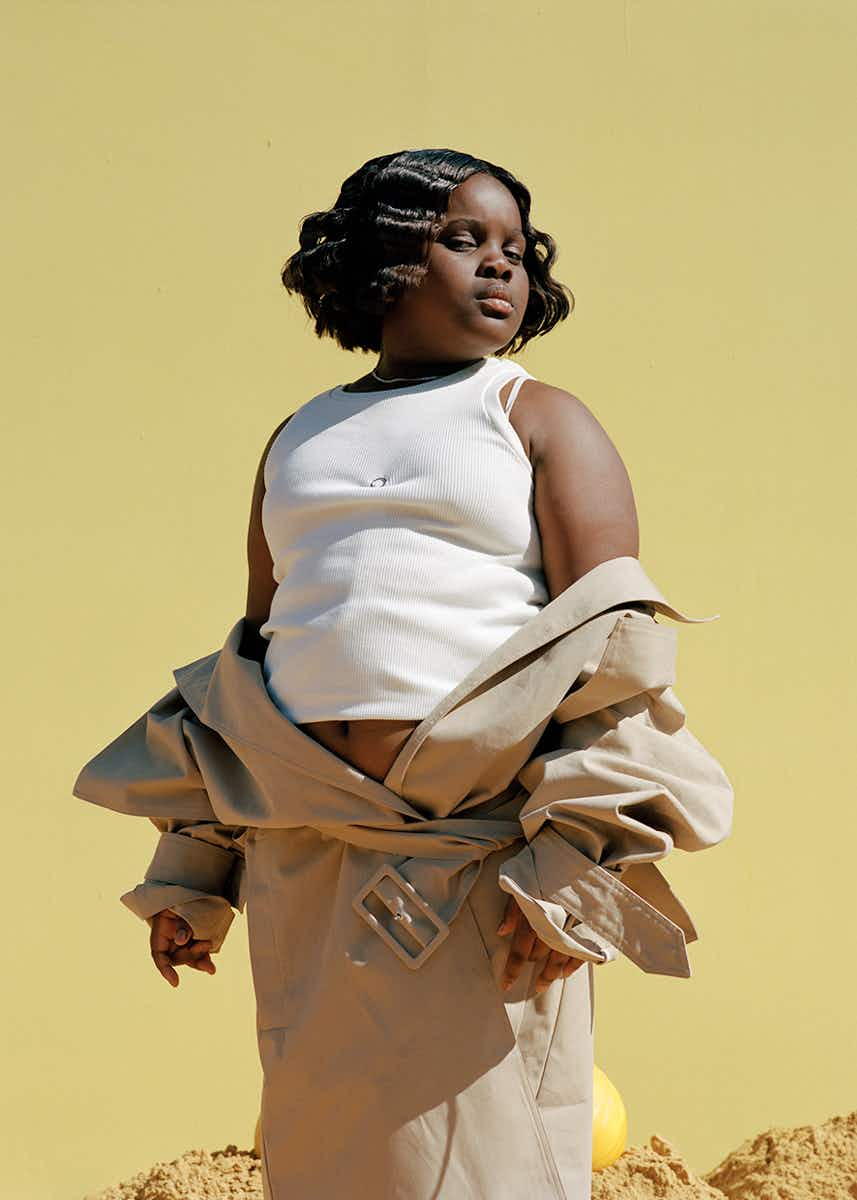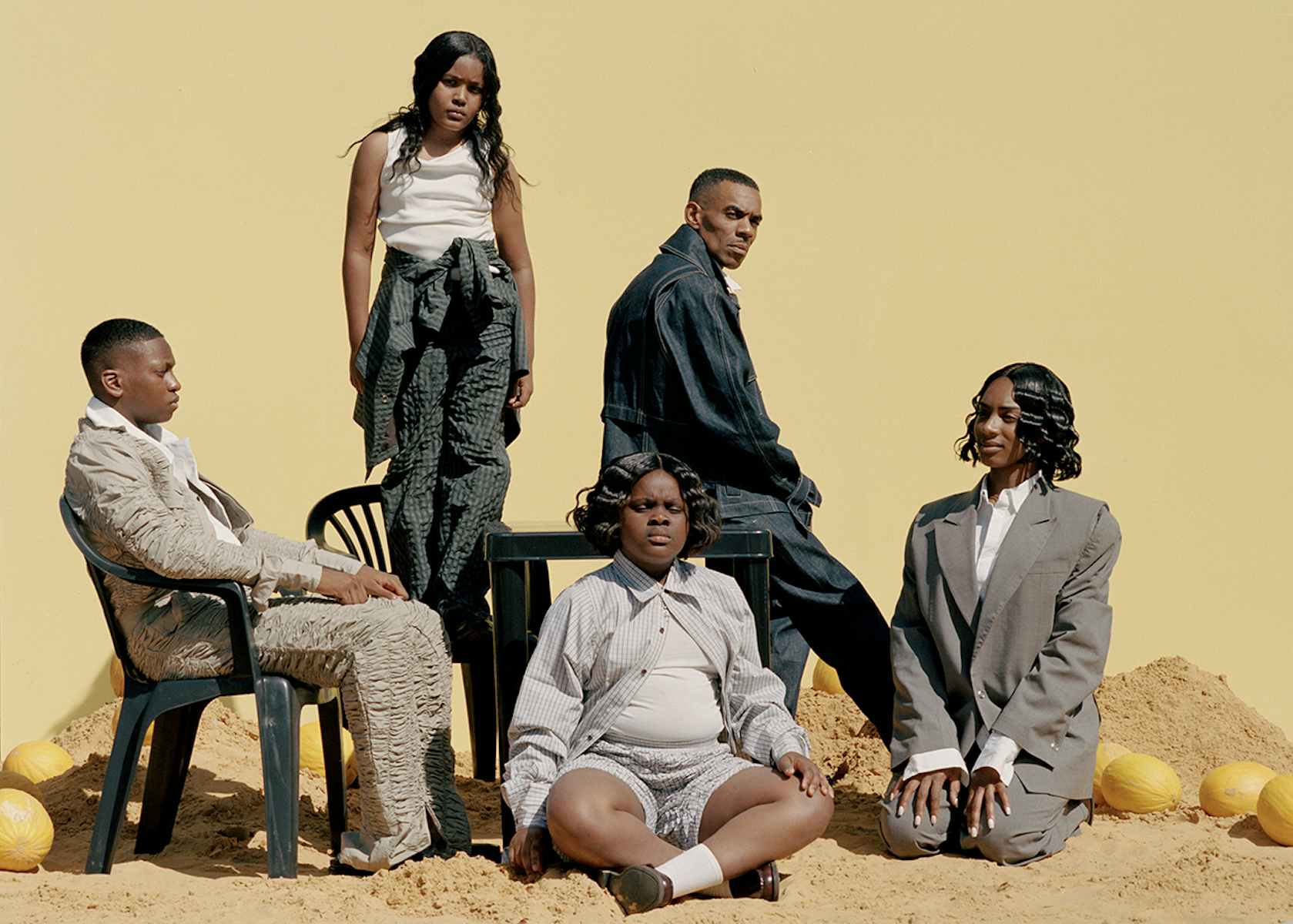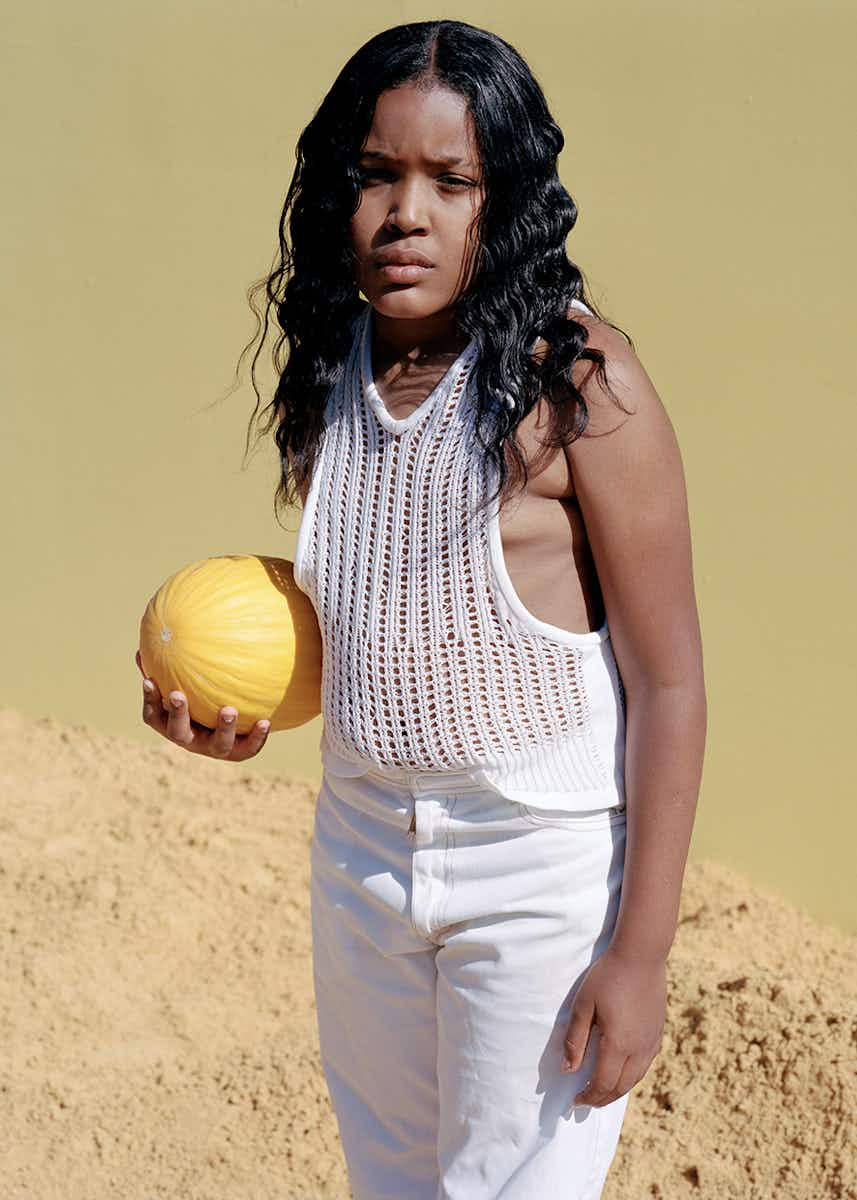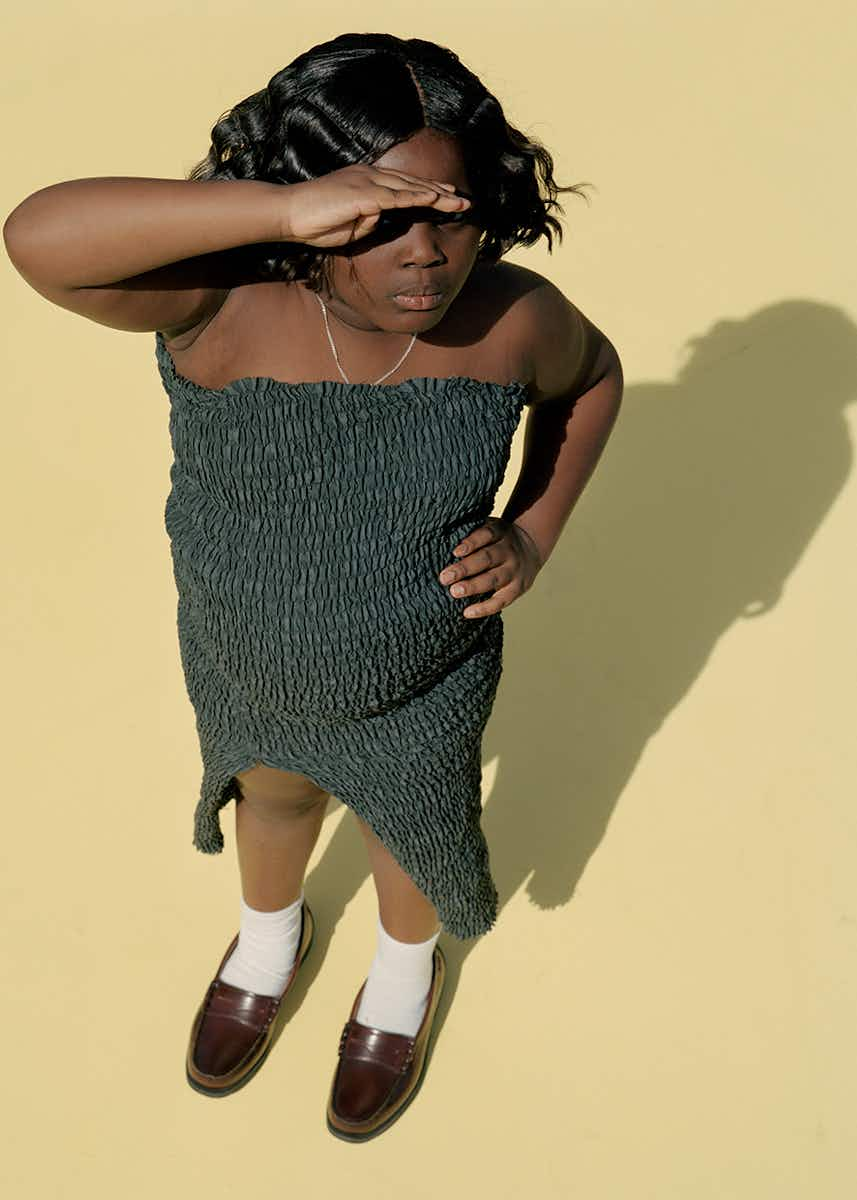 To kick things off Saunders collaborated with McKenzie on a photographic project titled Yellow. Drawing influence from American artist Deana Lawson, whose candid portraiture resonated with the pair, the collection features Saunders' close family members, including her nine-year-old cousin.
"It's all about connection and ownership. It's quite empowering because of the characters in it. My cousin is in it and she comes across as the strongest character in there, whereas the oldest one is a bit more calm. She really owns it.
"I wanted to bring back my roots of the Caribbean, the warmth and energy of the Caribbean," Saunders continues, ​"even though we're in the UK. The stable feeling of yellow walls creates the feeling of familiarity. Ronan and I were interested in the dissolution of boundaries between interior and exterior settings that the clement Caribbean weather allows, and in turn the interactions these encourage between people. Family tables are set up outside, buildings are constructed from perforated white trellis, which allows the elements to encroach. Spaces become a unique collage of built and found."
In another room sits Akinola Davies' vibrant video tribute, Zazzau. The short film captures a African equestrian festival, an ancient tradition that is ​"synonymous with the south of Nigeria," Davies explains. ​"At the time I made it, there had been a lot of negative press about some Muslims in Nigeria. And I guess for me it was just a reminder that these are our brothers and sisters and this is part of our culture.
"I think it's really for our generation to tell our own stories within landscapes where people feel comfortable and not exploited," he continues. The message of Davies' work is simple. ​"I want people to see themselves as culturally wealthy. Black people are super broad and dynamic. So if someone feels inspired and sees things that make them feel spiritually engaged, that for me is the most important thing."
Jazz Grant's series Gated Community explores black history through mixed-media collage. She became intrigued by the strength and charisma of pioneering black musicians when experimenting with the medium as a way to express ideas of garment construction. Her spirited work is a tribute to those who have been subject to racism and prejudice.
"There is an ongoing struggle for black artists to reach a genuine equal status," says Grant. ​"Showcasing creativity within the black community is encouraging that association and discourse to change."
Renowned in the fashion world for questioning conventions and challenging stereotypes within her menswear collections, Bianca Saunders has translated her defiant spirit to this celebratory event.
With its feet firmly rooted in south London – a place that holds a personal connection for all involved – Nearness brings together a cross-section of multidisciplinary artists whose creative visions each enrich London's cultural dialogue.
"A lot of the time being a person of colour living in a city feels quite monolithic," states Davies, ​"where in actuality black culture across the globe is diverse. [It's] important in a space that's being gentrified and reappropriated to showcase something that is as dynamic. We should take stock in history so that people don't feel panicked into just doing something for this one [Black History] month. We need to give it the value it deserves."
Nearness is open to the public from the 25th — 27th October

More like this