Artist Conor Murgatroyd on locality, optimism and hope

The rising Bradfordian painter presents us with WINDOWS – an online exhibition of eight brand-new works showing the banality, and beauty of life in lockdown.

Conor Murgatroyd has established himself as one of the UK's leading emerging artists over the past few years. His work takes an emotive, explorative look at everyday life through vibrant depictions of the human figure. A man walking his dog, his gran's living room and even bassline and garage collective Bad Boy Chiller Crew have featured in his vision of modern Britain, captured through the lens of a working-class Bradfordian now living in Peckham, London.
Today, he presents WINDOWS – an exhibition of eight brand-new paintings documenting our mundane, day-to-day lives over the past year. In one enamel-on-canvas painting, Avin A Butchers, a leather jacket-clad man queues to buy meat from a butcher. In 2 Rotts, a pair of Rottweilers wait outside a grocer for their owner.
"The human interactions in the paintings are the reality that I see," 25-year-old Murgatroyd says. ​"I love going to the shops and looking from a distance, watching everyone go about their daily lives." Whether he's painting chatty old locals, menacing scaffolding vans or, the artist's favourite, Rottweilers, each scene catches a moment in real-time. The artist's voyeuristic style is particularly playful in Yum, where he paints an ​"imaginary American bulldog" walking into the shop, while a teen carrying a JD Sports bag eyes up bread in a bakery.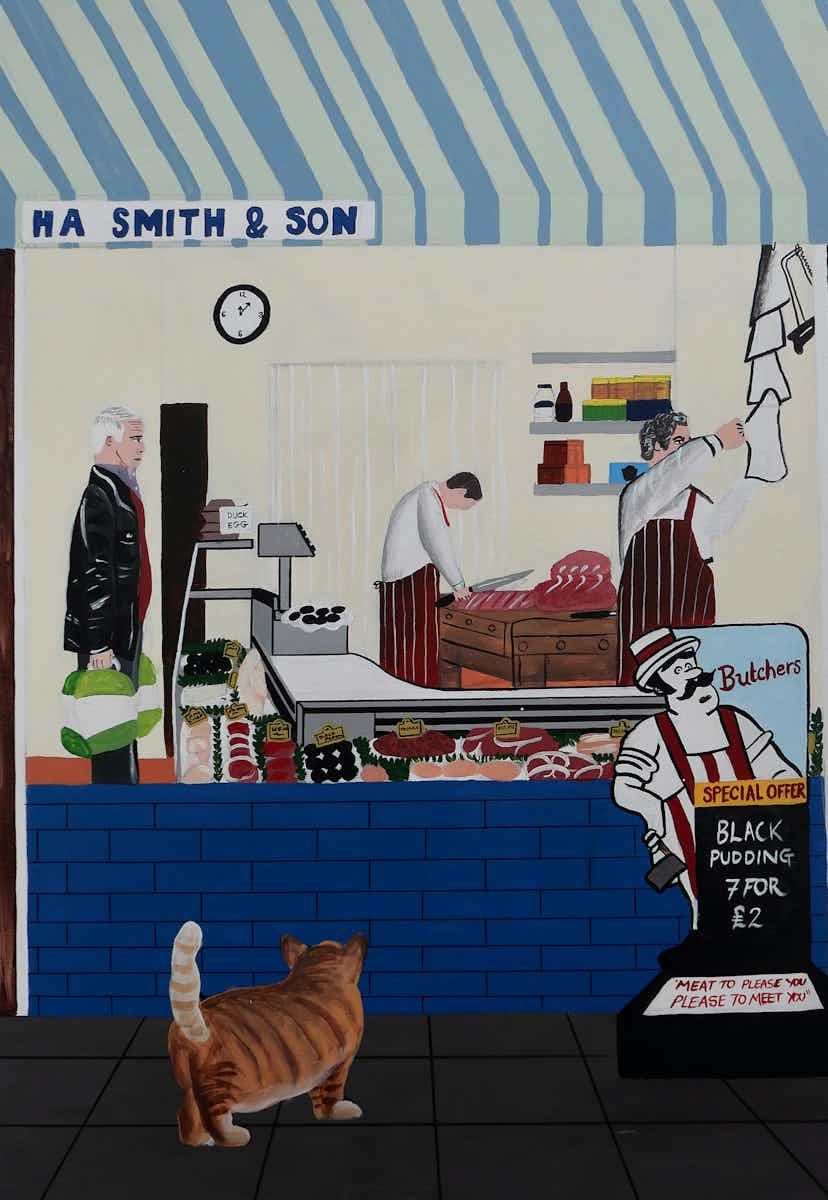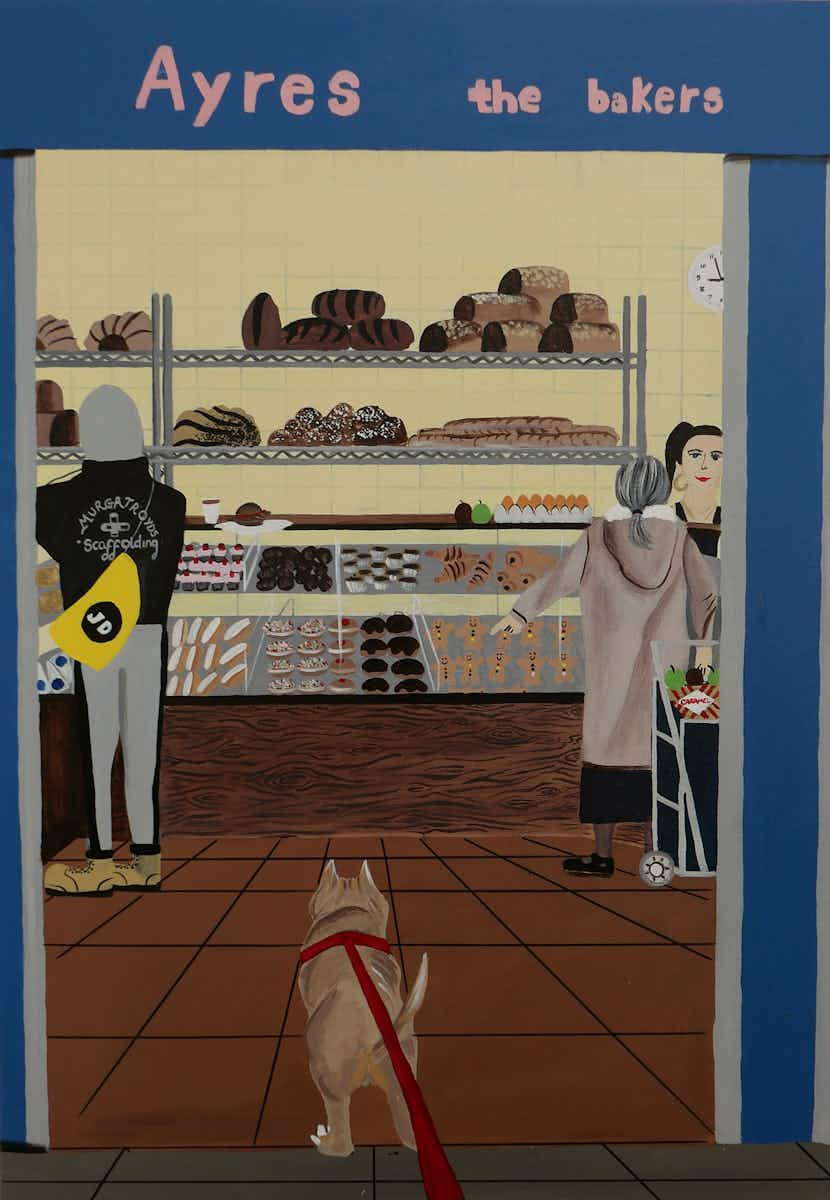 The scenes in the series were inspired by Murgatroyd's conscious decision to shop from more independent stores in his local area a while ago: ​"For the price in big supermarkets, the quality of food doesn't come close to all my local shops," he says. It all started, though, with his love for Manze's Pie & Mash on Peckham High Street – an established, much-loved eat-in, serving the community since 1902. For the artist, it was all about the old-school interiors and ​"great character". ​"I just wanted to capture that," he says. ​"Then it was a domino effect of me doing paintings of all my favourite shops."
It's this locality and familiarity that gives Murgatroyd's paintings a timeless charm. Through the observations, he's hoping to carve a piece of history that one day, post-pandemic, people can look back on. Through the use of traditionally-styled shops, he wants to highlight how well they've adapted to the ever-changing times. ​"I think that's one of my main ethos of my work," he says. ​"I have great respect for the past and histories of basically everything. I try to take that into my future, and I suppose it shapes my being."
With all the doom and gloom of the past 12-months, WINDOWS is an optimistic hats-off to those making do with what we have to offer us right now. During bouts of loneliness – which many of us can probably relate to – Murgatroyd has even found a source of happiness in chatting to the characters in his paintings. ​"The interactions I have at all these shops and with the people in them make me stronger mentally, and make me happy," he explains. ​"I think art should be about how we deal with life and, for me, I try to depict scenes that I hope will make others feel positive."

More like this