Hail Satan!
Satan. The arbiter of evil. The orig­i­nal bad boy. He's had a tough time being under­stood, hasn't he?
From pop cul­ture ref­er­ences such as The Exor­cist (1976), The Craft (1996) and, um, The Bible, right through to media hys­te­ria sur­round­ing heavy rock­ers Black Sab­bath and Mar­i­lyn Man­son, Satan has man­aged to ter­ri­fy par­ents and lure teens to the dark side since the heady days of the Gar­den of Eden.
But while our obses­sion with evil doesn't appear to fal­ter (see the last US elec­tion), it appears that Old Nick has found a home in some­thing far less men­ac­ing than the half-man, half-goat we've grown accus­tomed to…
Direct­ed by Pen­ny Lane, a new doc­u­men­tary, Hail Satan?, fol­lows the efforts of The Satan­ic Tem­ple and their mis­sion to sep­a­rate church and state in the US.
A new reli­gion, The Satan­ic Tem­ple was found­ed by Lucien Greaves (who goes by a false name) and Mal­colm Jar­ry dur­ing their time at Har­vard in 2013. Best described as a polit­i­cal­ly active reli­gious group, the Tem­ple fights against what it per­ceives as Judeo-Chris­t­ian val­ues infil­trat­ing west­ern laws – some­thing its mem­bers argue ben­e­fit only the con­ser­v­a­tive Chris­t­ian right.


"Satanism is meant to reject all moral decen­cy as dic­tat­ed by West­ern cul­ture by Judeo-Chris­t­ian val­ues," Greaves says. ​"They're the arbiters of what is good. You can't real­ly doubt any part of that or you're on the side of Satan."
Film­mak­er Lane, who is now a ful­ly-fledged mem­ber of the Tem­ple, was com­pelled to doc­u­ment the group hav­ing come of age dur­ing the polar­is­ing ​"satan­ic pan­ic" of the ​'80s and ​'90s. It was dur­ing this peri­od – when mass hys­te­ria erupt­ed around so-called cults oper­at­ing on the fringes of soci­ety – that Greaves got his first intro­duc­tion to Satan, too.
"Main­stream media took con­spir­a­cy the­o­ries that Satan­ic cults were secret­ly engag­ing in can­ni­bal­ism and infant sac­ri­fice seri­ous­ly," Greaves says. ​"I was a child then and these kinds of claims were com­ing from author­i­ta­tive sources, so I nat­u­ral­ly thought they were true.
"It came to be that none of it was true at all."
When The Face sat down with Greaves to dis­cuss the film, the con­ver­sa­tion revolved heav­i­ly around debunk­ing these myths. ​"It doesn't mat­ter if they're athe­ists or Chris­tians," he told us. ​"They don't seem to under­stand how some­thing could be metaphor­i­cal to us, but also reli­gious­ly meaningful."

For fol­low­ers of the Tem­ple, Satan is metaphor­i­cal. They don't wor­ship a fig­ure, and reject any the­is­tic ideas unless backed by cold, hard facts. It's some­thing Greaves describes as ​"the future of religion".
"Ques­tion super­nat­ur­al assump­tions, demand evi­dence for every­thing and demand equal lib­er­ties for all points of view," he says. ​"That very much runs counter to Judeo-Chris­t­ian history."
But if their reli­gion isn't based on a beard­ed man float­ing in the sky, what is the dif­fer­ence between mem­bers of The Satan­ic Tem­ple and athe­ists? Both reject non-the­is­tic ideas, both believe in a sep­a­ra­tion of reli­gion and state. But the for­mer chose a provoca­tive image as their mascot.
Per­haps the dif­fer­ence is that mem­bers of the Tem­ple are more will­ing to accept the beliefs of oth­er reli­gions – so long as it doesn't infil­trate into the lives of every­one else?
"That's the irony of The Satan­ic Tem­ple," Greaves agrees. ​"We're very open­ly non-the­is­tic, yet peo­ple think there's some­thing fun­da­men­tal­ly dis­hon­est about us. I think we're prob­a­bly the most hon­est reli­gious voice present now."


And Hail Satan? makes this notion very clear. The Tem­ple isn't out to erad­i­cate reli­gion, but rather hold a mir­ror up to soci­ety. For reli­gious mem­bers to ques­tion their motives. There's a lot at stake and they're ruf­fling a lot of feath­ers – espe­cial­ly in Amer­i­ca, where many God-abid­ing cit­i­zens still fear the wrath of the Red Horned One.
"There's still a puri­tan­i­cal under­tone in the Unit­ed States where vio­lent rhetoric and vio­lent scenes on our tele­vi­sion are not seen as offen­sive at all, but you show a breast and all hell breaks loose," Greaves says. ​"It's a real­ly weird back­ward culture."
This ​"weird back­ward cul­ture" was put to the test when the Tem­ple attempt­ed to erect a huge bronze stat­ue of Baphomet (essen­tial­ly a Satan­ic goat) next to the Ten Com­mand­ments stat­ue in Arkansas last year. There was – rather unsur­pris­ing­ly – sig­nif­i­cant uproar, as the film depicts. But when the stat­ue was unveiled, mem­bers and free-speech activists alike cheered in glo­ry. One to The Tem­ple, Nil to the US Chris­t­ian right.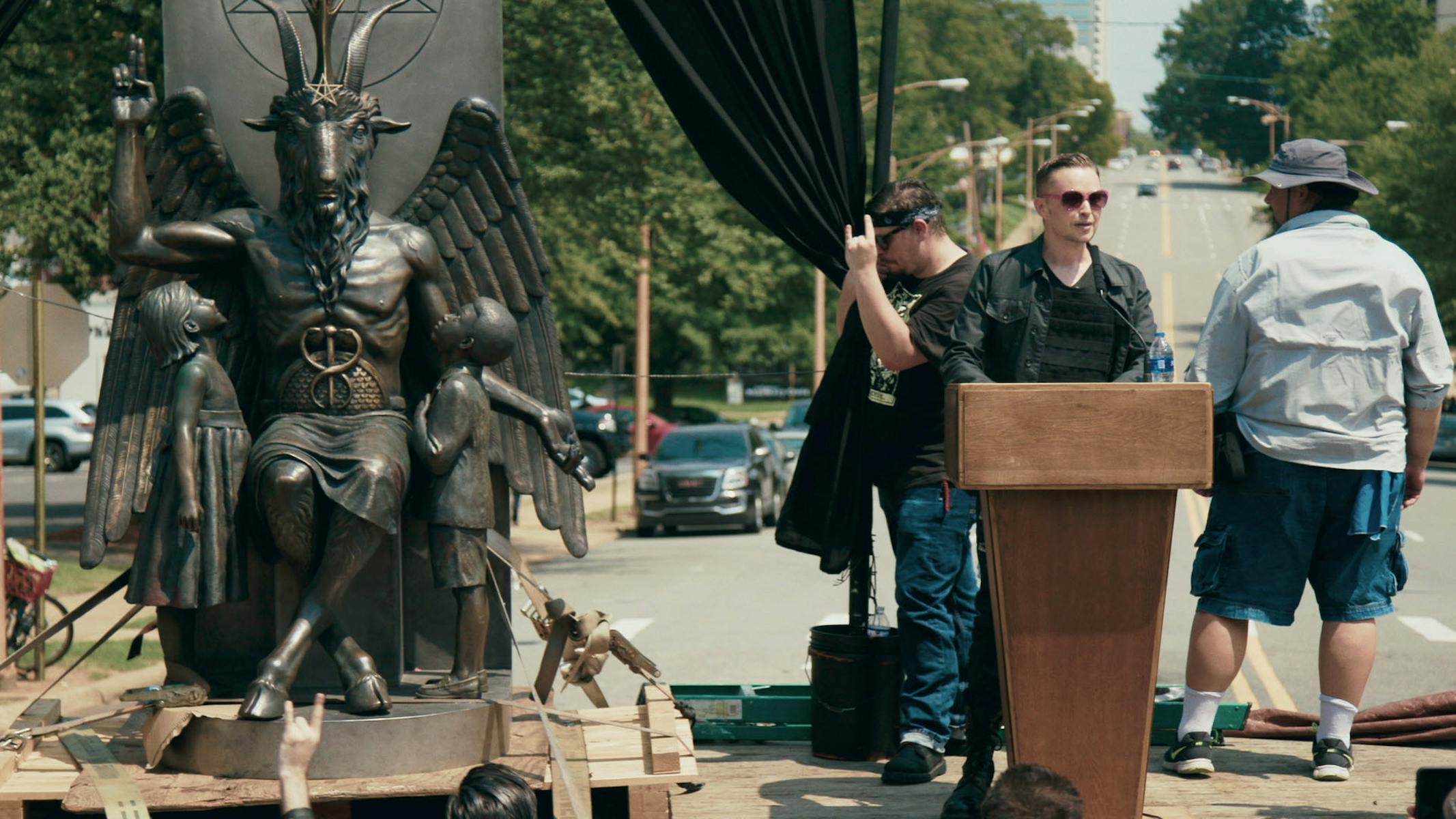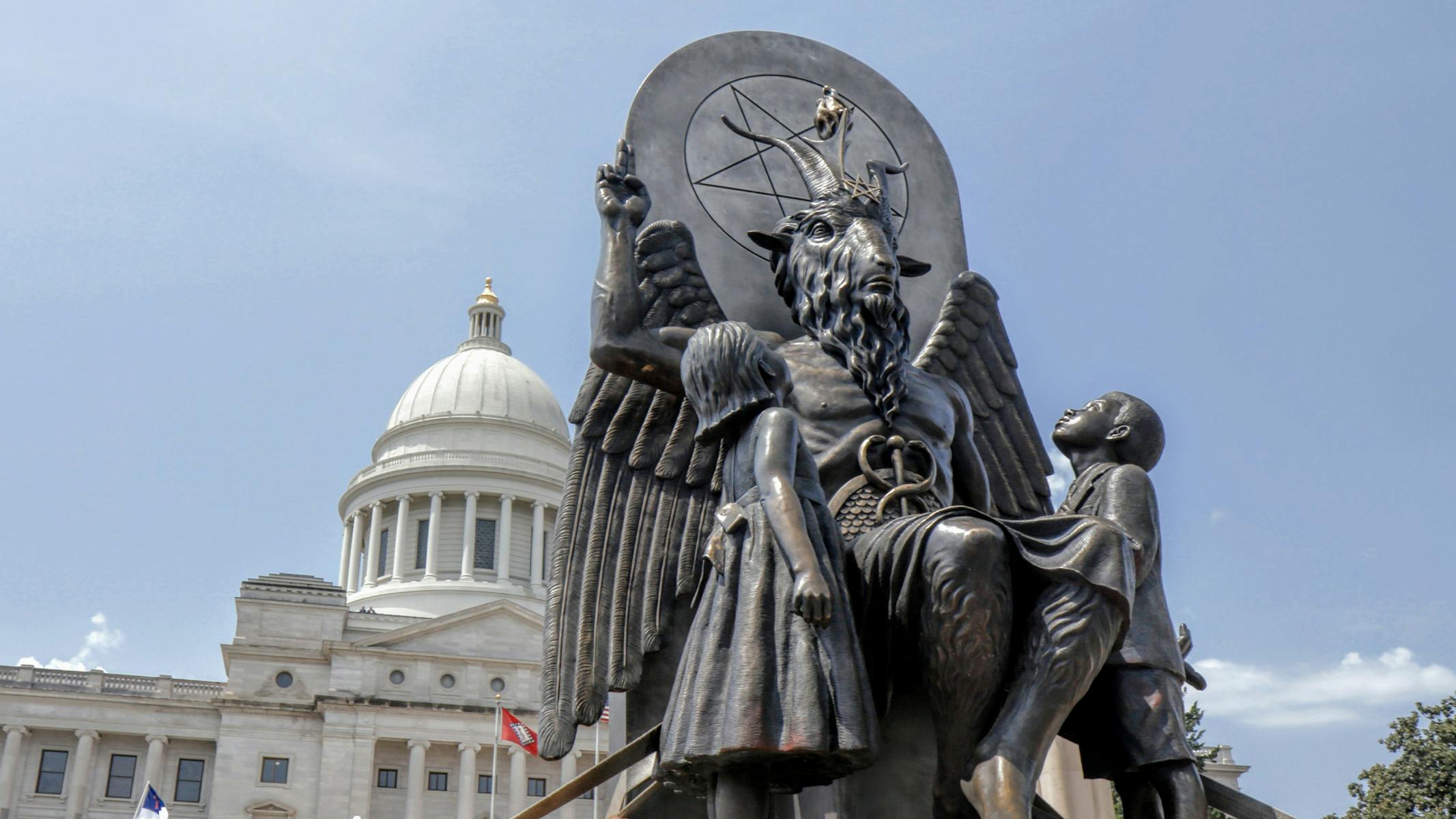 "The state made the argu­ment that we don't deserve to have our mon­u­ment on pub­lic grounds because they were argu­ing that we're mere­ly satir­i­cal, not a real reli­gion and beneath the dig­ni­ty of the court," Greaves describes. ​"They said our mon­u­ment didn't deserve to go out because it's not reli­gious, but they need to scrap that entire argu­ment now because just last month we announced that the IRS has recog­nised us as a legit­i­mate religion."
Hooray. Because, ulti­mate­ly, Greaves and co are out to do good. Whether it's through offer­ing Mus­lims refuge after the 2015 ter­ror­ist attacks, the Temple's Men­stru­atin' with Satan cam­paign, which aims to make men­stru­a­tion prod­ucts more read­i­ly avail­able, or its stance on LGBT rights in the Unit­ed States – the fol­low­ers of Satan are out to tack­le con­ser­v­a­tive Amer­i­ca with full force, and just a hint of prankster.
"Satanism just isn't for every­body," Greaves says. ​"It doesn't have to be."
---