Sign up for our latest BEYOND THE STREETS event
Catch UK spray-can master PRIDE in conversation with BEYOND THE STREETS founder Roger Gastman at Saatchi Gallery's major street art and graffiti exhibition supported by adidas Originals.

Graffiti crews are like supergroups: collectives of artists with their own distinctive energy but also a definitive synergy, creating something greater than the sum of their parts. Few have been more influential than The Chrome Angelz, one of the UK's original batches formed in the 1980s, changing the face of graffiti forever with every single spritz of spray-paint.

Now, 40 years since he featured in the UK's first ever graffiti exhibition at Bristol's Arnolfini Gallery, crew co-founder PRIDE is appearing at the UK's largest ever graffiti exhibition at Saatchi Gallery. Part of THE FACE's event series with adidas, it'll see PRIDE in conversation with BEYOND THE STREETS founder Roger Gastman on 26th April.

Want in? Enter your name via the form below to secure a spot. The panel talk starts at 7:30pm and doors are at 7pm, so arrive early for a drink and a schmooze.
First integrating graffiti into his creative practice at Camberwell School of Art, PRIDE – or Errol Donald when he's not lettering – became an underground legend as part of The Chrome Angelz alongside the likes of Mode 2, Zaki, Scribla and Bando.

The crew were at the forefront of European graffiti, linking up with London's hip-hop heads to give the NYC style a fresh lick of paint. No wonder they were originally known as Trailblazers: they paved the way for scores of UK graffiti writers to follow. Now, Donald's continuing to make his mark in a different way: as a creative wellbeing practicioner and youth mentor.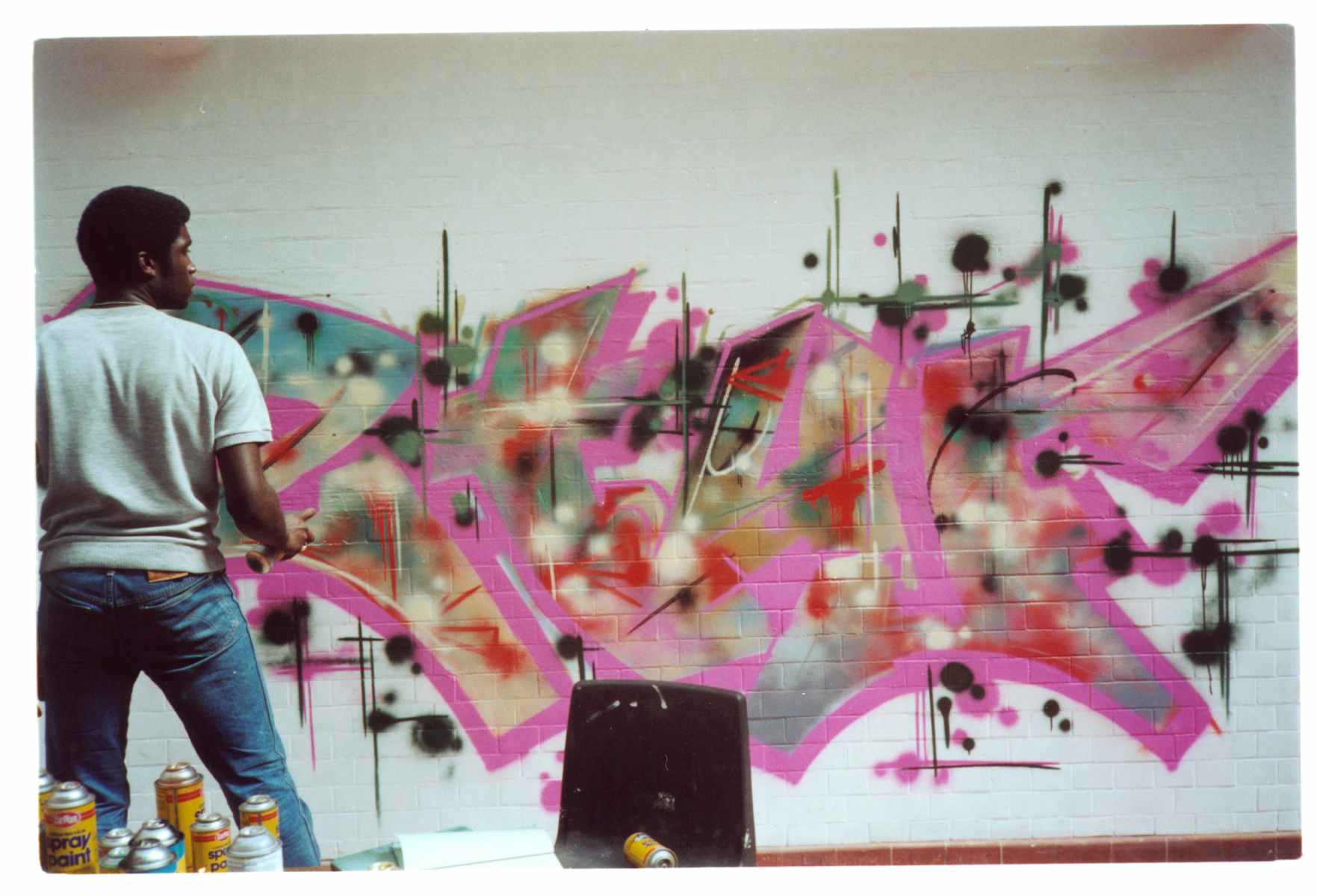 Donald will be in conversation with a very special guest: BEYOND THE STREETS founder Roger Gastman, the definitive graffiti historian, world-renowned urban curator and producer of Academy Award-nominated film Exit Through the Gift Shop. His latest documentary, Rolling Like Thunder, platforms the freight train graffiti movement before the street art scene really got going across the globe.
This event is part of THE FACE's series with adidas Originals, supporters of BEYOND THE STREETS LONDON: the UK's most comprehensive ever street art and graffiti exhibition. So far, we've spoken to original sharpshooter and longtime adidas collaborator Lawrence Watson, customised adidas Originals pieces with painter Alfie Kungu and gone crate-digging with the capital's selector elect Eliza Rose. Now, we're bringing it back to the old school with PRIDE, celebrating the indelible mark he made on street culture.
Not visited BEYOND THE STREETS LONDON yet? Make sure to get down to Saatchi Gallery before 9th May for more street art, graffiti and memorabilia than you can shake a spray can at, including rare archive adidas pieces.