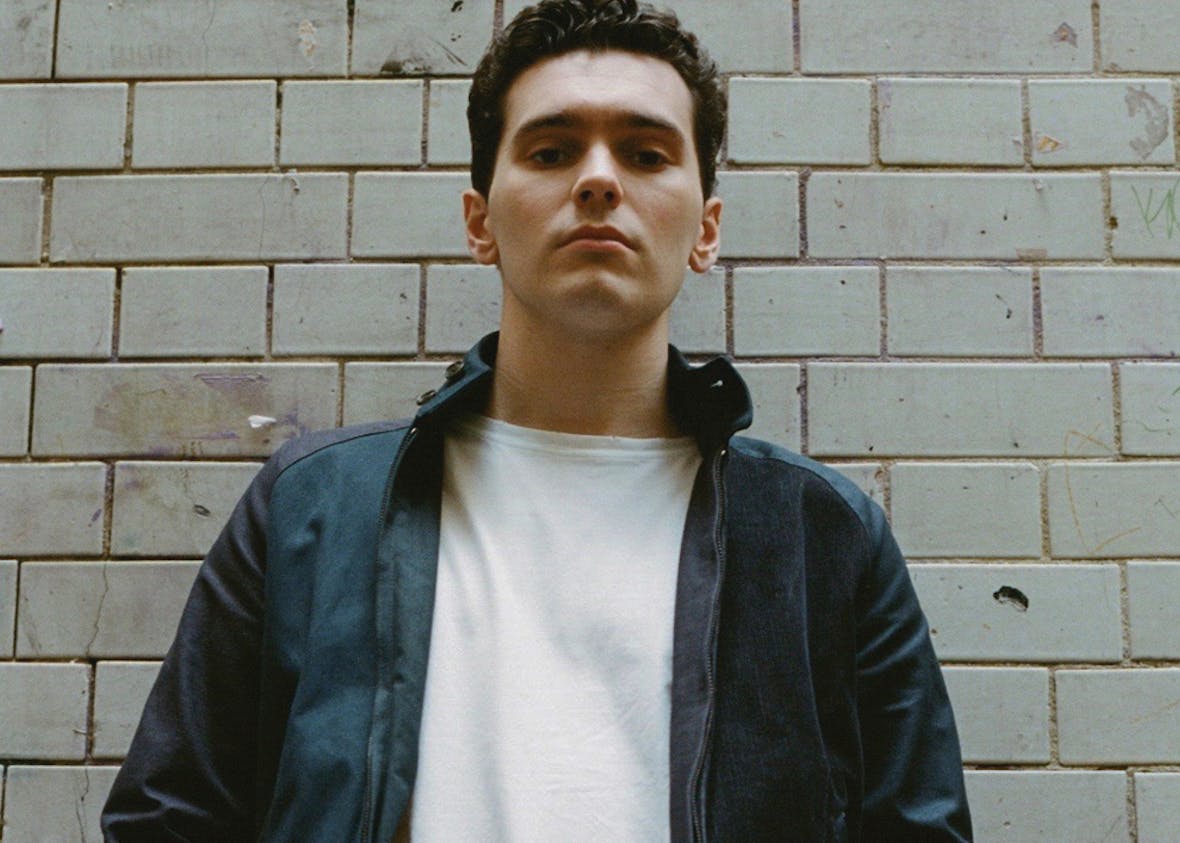 Blind­ers, Noughts + Crosses
Anoth­er night, anoth­er swanky par­ty invite for the fast-ris­ing actor. This evening, Jack Rowan's on the guest list for a spe­cial Lon­don screen­ing of Pedro Almodovar's lat­est. But, to be hon­est, it sounds a bit like hard work.
"If I go, I have to show up," the 22-year-old says, face cur­dling at the thought of attend­ing as Some Kind of Celebri­ty. ​"I'd rather just go to the pub."
This just about sums him up. Rowan's as down-to-earth as they come, even as his 2019 scales ever greater heights. This August Bank Hol­i­day week­end he returns to British TV screens in Peaky Blind­ers, his sec­ond series on the BBC's still-got-it dra­ma about tough – but ever-so-styl­ish – ear­ly 20th cen­tu­ry British gang­sters, led by Cil­lian Murphy's charis­mat­ic Thomas Shel­by. Rowan repris­es his role as gyp­sy box­er and reluc­tant Blind­er, Bon­nie Gold, in the show's high­ly-antic­i­pat­ed fifth sea­son, the return of which is her­ald­ed by its own arts fes­ti­val in Birm­ing­ham next month.
"After box­ing for the Blind­ers, he's a known guy," he explains of Gold's jour­ney. ​"He knows his involve­ment is pos­i­tive and neg­a­tive, d'you know what I mean? You get to do that big fight, but now peo­ple know who you are. Now you're infamous."
That descrip­tion of his character's progress could almost be applied to Rowan's own career. The Lon­don­er was a sen­sa­tion in his first prop­er act­ing role, in Born To Kill, the 2017 Chan­nel 4 dra­ma about a 16-year-old school­boy with a psy­cho­path­ic emo­tion­al hin­ter­land. Chill­ing­ly com­pelling, Rowan stole the show from vast­ly more expe­ri­enced co-stars Daniel Mays, Romo­la Garai and Richard Cole, and went on to win the Welsh BAF­TA for Best Actor.
"That will for­ev­er be in my heart," he smiles. ​"It was the first time any­body ever chose me. At the time I was a risk, d'you know what I mean?"
Already this year he's enjoyed anoth­er first: Rowan was offered a role on the short Adult­ing with­out hav­ing to audi­tion. ​"That's an hon­our to me," he beams of a 30-minute dra­ma billed as ​"a mov­ing sto­ry about a neu­ro-diverse girl and a lost boy." The film is part of Chan­nel 4's anthol­o­gy series On The Edge, which selects work from new writ­ers and uses fresh tal­ent to pro­duce it. Air­ing in Octo­ber, ​"it's a whole project of peo­ple lift­ing each oth­er.
"I was proud to be a part of it because it's help­ing peo­ple grow. If I can be a part of your short film and it's a director's first major cred­it then I'm fuck­ing on it," he says pas­sion­ate­ly, then prompt­ly apol­o­gis­es for swear­ing. ​"You don't even need to pay me."
Also in the bag is his first fea­ture film lead. In Boys From Coun­ty Hell he plays a fun-lov­ing vam­pire-slay­er (with an accent bor­rowed from his North­ern Irish dad). ​"This is well play­ful," he laughs. ​"This kid don't take noth­ing seriously."
Then, in ear­ly 2020, an even big­ger moment: Rowan co-leads the BBC's much-antic­i­pat­ed adap­ta­tion of the first book in Mal­o­rie Blackman's beloved Noughts + Cross­es series. The ground­break­ing 2001 nov­el is set in a par­al­lel uni­verse where blacks (Cross­es) reign over whites (Noughts). It's no exag­ger­a­tion to say this has been wait­ed on by an entire gen­er­a­tion of young adult read­ers. As Rowan notes with pal­pa­ble respect for Blackman's work: ​"The sto­ry is incred­i­bly unique and very ahead of its time."
He plays Cal­lum, a poor Nought kid who falls in love with Sephy, a politician's daugh­ter – and a Cross – played by new­com­er Masali Baduza. In a world where dif­fer­ence is demonised, their star-cross'd, mixed-race romance is crushed by the author­i­ties. Cal­lum turns to ter­ror­ism in the fight for freedom.
It's a big role, and an impor­tant, time­ly one. And pos­si­bly a con­tro­ver­sial one, too. When I put all this to Rowan when we meet for drinks in a pri­vate mem­bers' club in London's Soho, he nods.
"As an actor, I feel like I've gone anoth­er lev­el up. I've gone through things as Cal­lum I've nev­er had to go through myself."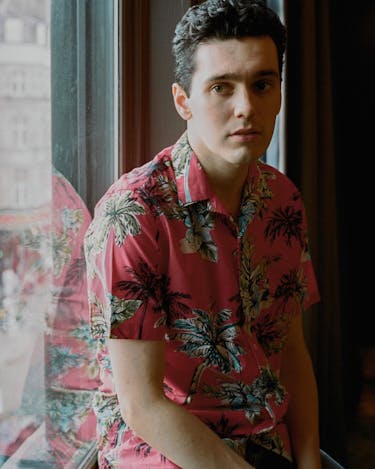 Film­ing in South Africa – which only unshack­led itself from apartheid three years before Rowan was born – inten­si­fied this. ​"That's crazy, right?" he says, eyes widen­ing. He's aware as any­one that the bit­ter lega­cy of apartheid lives on. ​"Twen­ty-five years in his­to­ry is noth­ing. They still have trou­ble, they still have prob­lems. It's very raw there. That brought a whole oth­er lay­er to [film­ing]."
Shoot­ing one par­tic­u­lar scene, the ongo­ing ten­sions and con­tra­dic­tions hit home.
"You've got per­haps the more priv­i­leged white sup­port­ing artists play­ing oppressed Noughts," he says of the extras onset, ​"and the more pover­ty-strick­en black guys as Cross police offi­cers, bat­ter­ing us." He shakes his head. ​"That's recent his­to­ry, but in reverse. I've nev­er had to expe­ri­ence that before. Some­times I'd sit there and say: damn, I'm a long way from south London."
At least he had fel­low south Lon­don­er Stor­mzy – or ​"Mike", as Rowan calls him – along­side him for the grime star's much-hyped cameo. ​"It was amaz­ing to have that Life Moment. Like, yeah, cool, Stor­mzy!"
Born in south Lon­don in 1997, Jack's first love was box­ing. Pick­ing up the gloves at a local Streatham club aged 10, he thought his path was set. ​"I felt like I meant some­thing. There was some­thing mag­i­cal about the sport."
He only tried his hand at act­ing after injury kept him out of the ring for 16 months. To fill the time he joined a Sat­ur­day morn­ing dra­ma group ("I wouldn't real­ly call it a ​'school'") in Cam­den, north Lon­don, even­tu­al­ly land­ing his first ever act­ing job in a 2015 episode of long-run­ning TV crime dra­ma Silent Wit­ness. It was also the day of his 25th fight.
"What a day! That was a great first job to get – I'd gone from noth­ing to an estab­lished show. I was just hap­py-go-lucky," he gush­es, still grateful.
Box­ing taught him the impor­tance of work eth­ic and self-dis­ci­pline. At teenage house par­ties he would stay sober, sneak­ing off to fill his beer can with water; he didn't want to miss out, but he always need­ed to be ready. As he says: ​"If you turn up to the box­ing ring unpre­pared, you'd get found out. It's the same turn­ing up on set. I always come prepared."
Despite – or because of – his increas­ing­ly busy slate, Rowan still lives with his mum. On paper at least. He esti­mates he's only been home eight weeks this year.

Mum might have to get used to see­ing even less of him. If Noughts + Cross­es is even halfway as good as the source books, Rowan is on the cusp of major star­dom. But true to form, mod­est Jack Rowan cred­its the sto­ry, not the star.
"It's because it's impor­tant, espe­cial­ly on such a big chan­nel as BBC1. It's good that they're putting out a show that's so risk-tak­ing, that chal­lenges people's ideas."
Before all that, though, comes the return of Peaky Blind­ers, the show that's put Jack Rowan front and cen­tre in the nation's liv­ing room. It's already giv­en him a career high­light, at the end of the last series.
"When I was a kid, I used to dream of win­ning a box­ing title, and I got to do that in the final episode. I knock him out, bang, and I'm on the rope and I've got hun­dreds of peo­ple scream­ing back at me going: ​'YEAH!' And I'm going: ​'Yessss!' Spot­light, cam­era, all of it.
"I realised then: that was a dream come true. It was fic­tion­al, but I got my moment. I got the dream."
Peaky Blind­ers returns at 9pm on Sun­day 25th August on BBC1; episode two airs at 9.30pm on Mon­day 26th August.
---