Louis Partridge: the Enola Holmes actor on playing Sid Vicious
Prada loves him, he's acted in one of Netflix's biggest films of 2020, and is about to star as Sid Vicious in a TV drama about the 20th century's most notorious British band, the Sex Pistols. Where did it all go wrong, Louis Partridge? Where did it all go wrong…?

Taken from the new print issue of THE FACE. Get your copy here.
A lanky lad with a bit of a mullet skates past the café window. He's not going so fast that his clobber isn't obvious to the eye: battered white Adidas, straight-leg black jeans, dark blue sweatshirt bearing the logo of American lager Coors.
Couple minutes later, lad's back, skating in the opposite direction, only this time his wheels catch on the roots of a tree. He tips off the board, sprawls forward towards the pavement, hastily recovers and pushes on up the road.
Don't tell his 7.5 million-strong Insta-gang – nor Mrs. Prada, who cast him in her Holiday 2021 Collection campaign alongside Julia Garner, Shira Haas and Taylor Russell, and for whom he walked in Milan earlier this year – but: if Louis Partridge was trying to make an entrance, it's not quite going to plan.
Couple minutes later, he's back again, clattering through the door, board under his arm, all apologies. No, he wasn't trying to make an entrance. ​"Sorry, I couldn't find the café!" he says, flustered and not a little confused – his place is only round the corner: an 18-year-old from South London living with his mum, dad, little sister and family dog.
"There's a lot of piss-taking at home, which is important," Partridge says, flustering now died down. The actor/​model is talking about the don't‑get-any-fancy-ideas response to his shooting-star, pandemic-era fame from his two sisters, one, 20, off at uni, and the other, 15, ​"or is it 16? That is bad. I should know that!" Little more than 18 months ago he was a 17-year-old post-GCSE student whose acting CV mostly comprised uncredited extras work in Sunday evening BBC comfort staple Call the Midwife ("a little street rugrat playing football in the back of a shot"), a role in four episodes of historical costume drama Medici (no, us neither) and a blink and you'll miss him part in 2017's Paddington 2.
Then came Enola Holmes, an adaptation of a YA novel about Sherlock Holmes' adolescent sister. Enola was played by Stranger Things breakout star Millie Bobby Brown, whose blockbuster teen fame supersized the film's viewing figures. Young Louis – who played Viscount Tewkesbury, a floppy-haired aristo ​"nincompoop" going googly over Enola – held on for dear life as, following the film's launch on the streamer, his IG following went up by two million in seven days.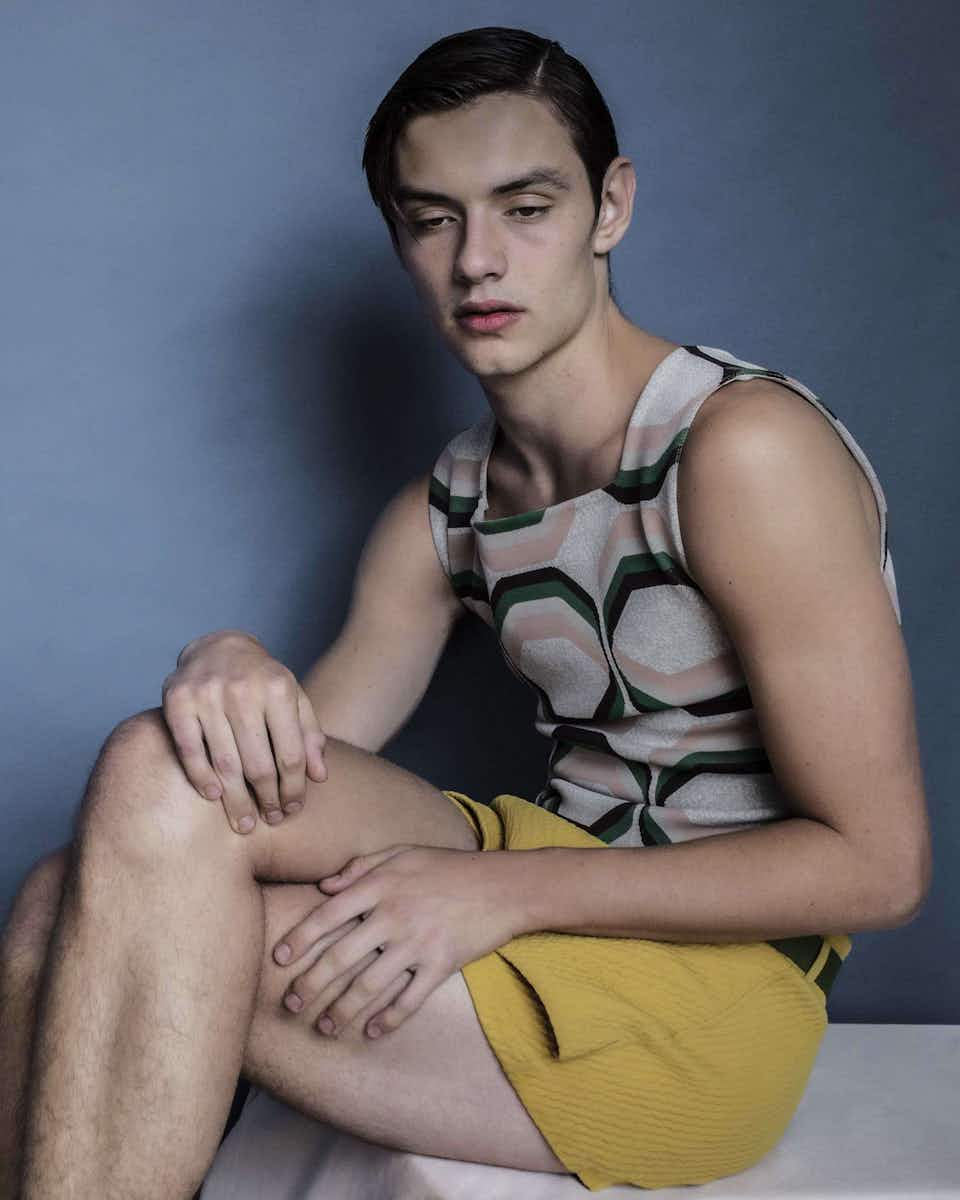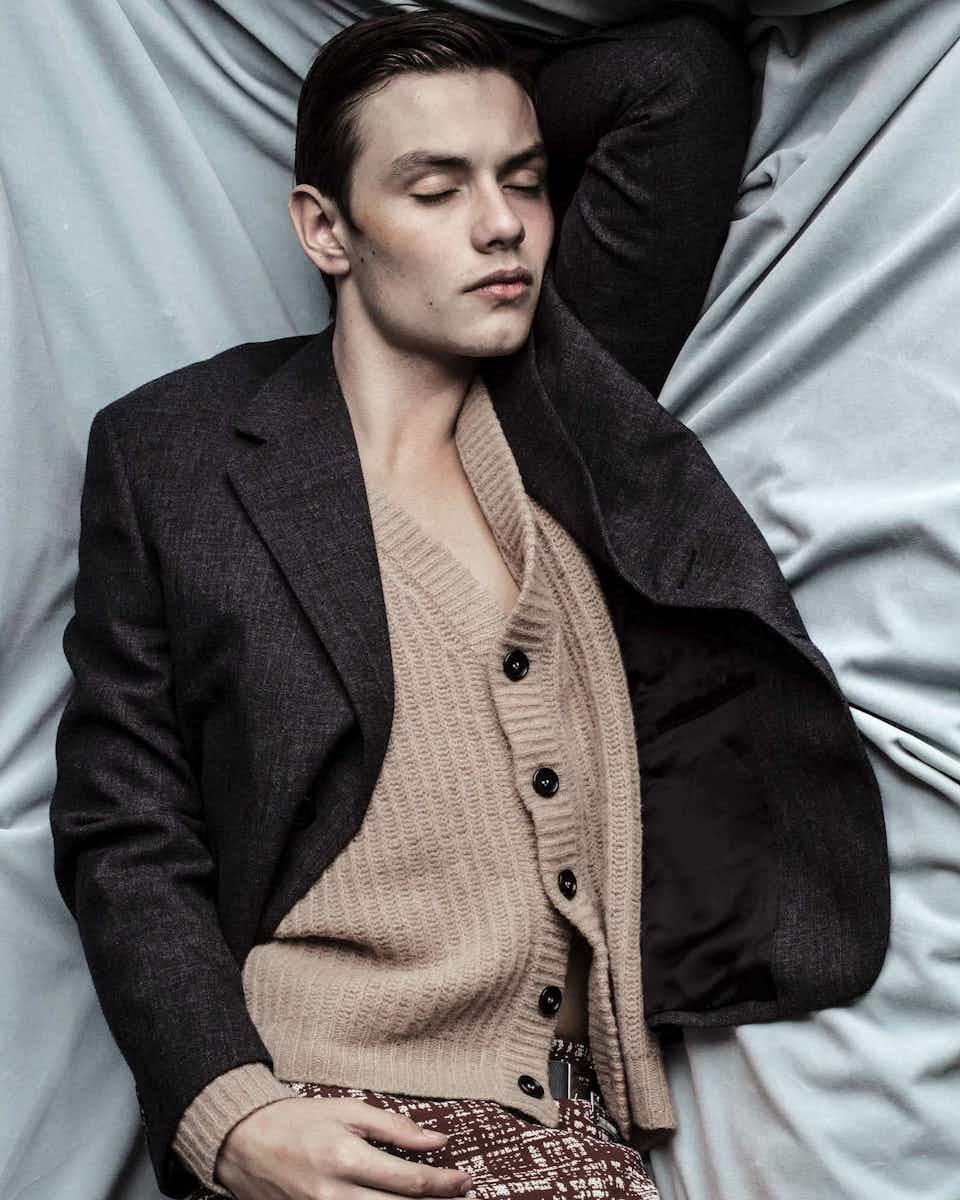 "It was just insane," he says, exhaling, remembering that vertiginous uptick in his profile. ​"I think it's a little weird for my sister at school because, obviously, the kind of people that watch Enola Holmes are her mates and in her year, that demographic. But she really doesn't care about it too much. My family are trying to keep things as normal as possible… even though it's kind of fucking mad that it's happening!"
And now comes Pistol, which is even fucking madder. The six-part series, playing on Disney+ this summer, is directed by Oscar winner Danny Boyle (Trainspotting, Slumdog Millionaire). The rock'n'roll'n'rage drama is the story of the Sex Pistols, the punk rock pioneers whose 1977 debut album Never Mind the Bollocks, Here's the Sex Pistols lit a bomb under a mid-'70s British culture that was a rhapsody in grey.
The London foursome comprised guitarist Steve Jones, on whose memoir the series is based; vocalist John Lydon, aka Johnny Rotten; drummer Paul Cook; and bass player Sid Vicious (real name John Beverley). They blazed a loud, disruptive, violent trail wherever they played – and wherever they didn't, with multiple venues and local authorities cancelling them before they could even arrive in town. As proclaimed in Pistol by their Svengali-like manager Malcolm McLaren (played brilliantly by Thomas Brodie-Sangster, last seen in The Queen's Gambit), the band were his ​"sexy young assassins", his ​"seditionary sewer rats".
Playing Vicious with top-off, swastika-wearing, chest-slashed, lip-curling swagger, goonish physicality and utter commitment (with two real-life scars on his left forearm to prove it) is Partridge. How much did the actor – only just born in the summer when the old lag remnants of the band staggered together for their third reunion, for 2003's Piss Off Tour of North America – know about the Sex Pistols before landing this gig?
"Really not a lot!" he answers cheerfully as we tuck into a very un-Pistols avocado and toast ("my girlfriend loves this") in the café. ​"I'm probably quite similar to other people my age: have heard of them. But you have this preconception – you associate them with bad [stuff] and chaos. But I didn't really understand the music or what they were trying to do. But fuck me, after making the show, it's changed everything."
Sixteen chaotic months after the release of Never Mind the Bollocks, it was all over for that classic line-up of the band. On 2nd February 1979 Vicious – by then a heroin addict – overdosed in a New York apartment, a cloud of suspicion hanging over him after the death by stabbing, four months earlier, of his girlfriend Nancy Spungen in their room at the city's Chelsea Hotel (he had been charged with second-degree murder and was out on bail). She was 20, Vicious 21.
But as Pistol depicts it, in the early going he was the band's secret weapon, even though he could barely play bass. By the end of episode two, which recreates the landmark Pistols gig of 3rd April 1977 at North London cinema Screen on the Green, Vicious's first appearance with the band, the bloody writing is on the wall.
"This isn't love," says fashion designer Vivienne Westwood (Talulah Riley) to McLaren, her boyfriend, clocking the crowd's rapacious enthusiasm for Vicious, ​"it's appetite. They'll eat him."
The line neatly foreshadows the problems that are going to befall Vicious, as he sinks into drug abuse to help him deal with a car-crash fame for which he's wholly unprepared. ​"He was the best character for that [spotlight], but also the worst," Partridge says in agreement, pointing to the musician's ​"undernourished" upbringing (dad left as soon as he was born; stepdad dead six months after he married infant John's mother, Anne, an addict herself). When Vicious gets attention, he only craves more.
"That really comes across when the band's gone to shit. He's doing anything he can to get the crowd to cheer, like cutting his chest. It's so tragic. He feeds on that attention, goes after it, wants to be the most shocking, to make the most noise."
Quite the role, then, for a kid from Wandsworth with one big film under his belt. Consider, too, the fact that Partridge was still at sixth form during filming, the fee-paying Alleyn's School in Dulwich, South London. Equally, Boyle tells me, because Partridge was only 17 at the time, ​"Disney made us delay all his sex and drug scenes until he was ​'of age'. Our schedule was almost over and stacked up with his remaining adult scenes all scheduled into the last week, the week he turned 18. What a birthday he had!"
"Yeah!" nods Partridge. ​"What a way to welcome me into the adult world! Bang!" he says with a clap of his hands of an 18th he'll never forget, on 3rd June last year. ​"I didn't realise they'd actually done that, but thank fuck they did because I was doing my A‑levels as well. They finished in May. Up until then, I'd had some quite nice scenes but I remember thinking [looking at] the schedule that I had all the dodgy scenes at the end. And they said: ​'Yeah, we planned it for you.' The geniuses!
"So I finished my A‑levels and then it was: ​'Right, you're an adult, get on set, here's the needle!'" he says, laughing.

A couple of months after completing filming, Partridge received his A‑level results: two A* (English and French), one A (Film Studies). Blimey, I say. Clearly multi-tasking, not to mention over-achieving, comes easy to this son of a lawyer father (who now works in legal recruitment) and accountant mother (who now helps out at a special needs school ​"down the road"). Partridge squirms in embarrassment.
"I'm making it sound like I did more than I did!" he splutters through a mouthful of breakfast. ​"I don't quite know how that happened. It felt like one big fluke, to be honest!"
As it was, Partridge was able to leave school last summer with both qualifications and the defining role of his young career under his Sid-appropriate studded leather belt. Then it was almost straight into filming Enola Holmes 2, between October and December last year.
"Still had my Sid hair," he notes of his spikily choppy black barnet, ​"and they said [on set]: ​'What are we going to do with that?' Thankfully, it was not my problem!" (Somewhere else he still has his Sid hair: his photo on the provisional driver's licence he proudly shows me, purposefully applied for while Partridge was still sporting his punk crop.) ​"But it was really fun going back to Millie and the crew. I actually was at Millie's the other night and saw [Enola Holmes 2] for the first time. It gets a thumbs up. It's just really cool."
And for the record: yes, Partridge has a girlfriend, an ​"ex-friend turned girlfriend [who's] in the business"; but no, it's not Brown, ​"you'll be glad to know!"
Does he think he was a better actor on Enola 2 than on Enola 1 because of Pistol?
"Honestly, I was thinking that same question. I would be the first to pick myself apart, but I can appreciate that I've learned and I've got a bit more comfortable with it. I mean, that's ultimately what I want to do," says an actor who's under no illusions about his relative lack of actual, full-on screen experience.
Then, at the start of this year, Partridge managed what lots of regular 18-year-olds do in the year after school: he went travelling. He and an old mate from primary – to whom he'd lost out for the part of Robin Hood in a school play (lil Louis had to settle for playing Maid Marian) – spent two months in Brazil and Colombia. They only returned two weeks ago.
Did he manage to completely disengage from the work?
"I did. Although funnily enough, the next part I'm playing is a traveller, so there was a little bit of thinking about that," he says, letting something slip about a top secret role which starts filming this summer and about which he's giddily excited [three weeks after our interview, that role is announced: a part in Apple TV+ thriller series Disclaimer, alongside Cate Blanchett and Kodi Smit-McPhee]. ​"But I was completely off-grid. It was amazing, I just switched off. Back to basics with a backpack. Three pairs of pants, three pairs of socks, couple T‑shirts! It was wicked. I've got a photo of the worst place I stayed in. It was £9 a night, cheapest I could find. Which, again, I think you need. That was a personal favourite."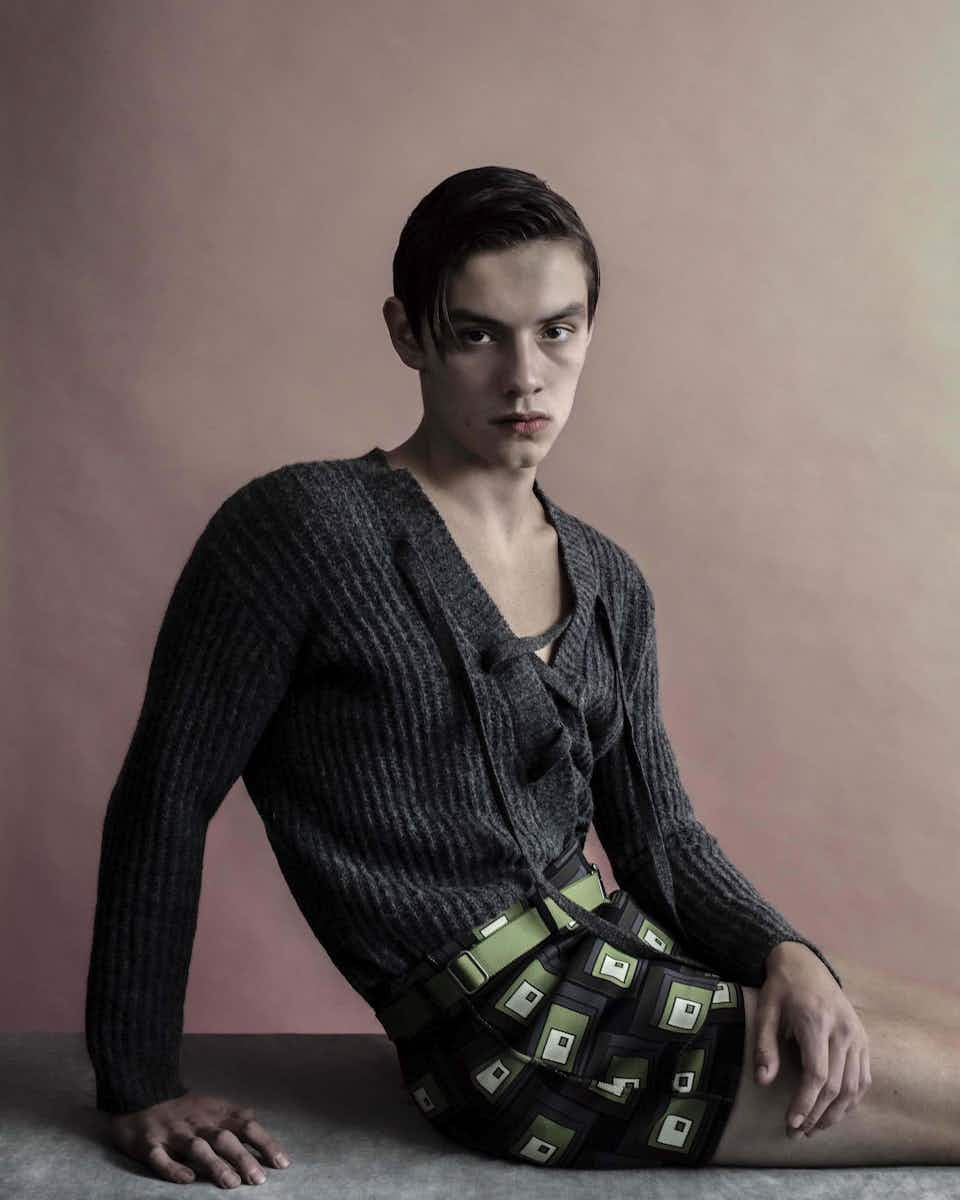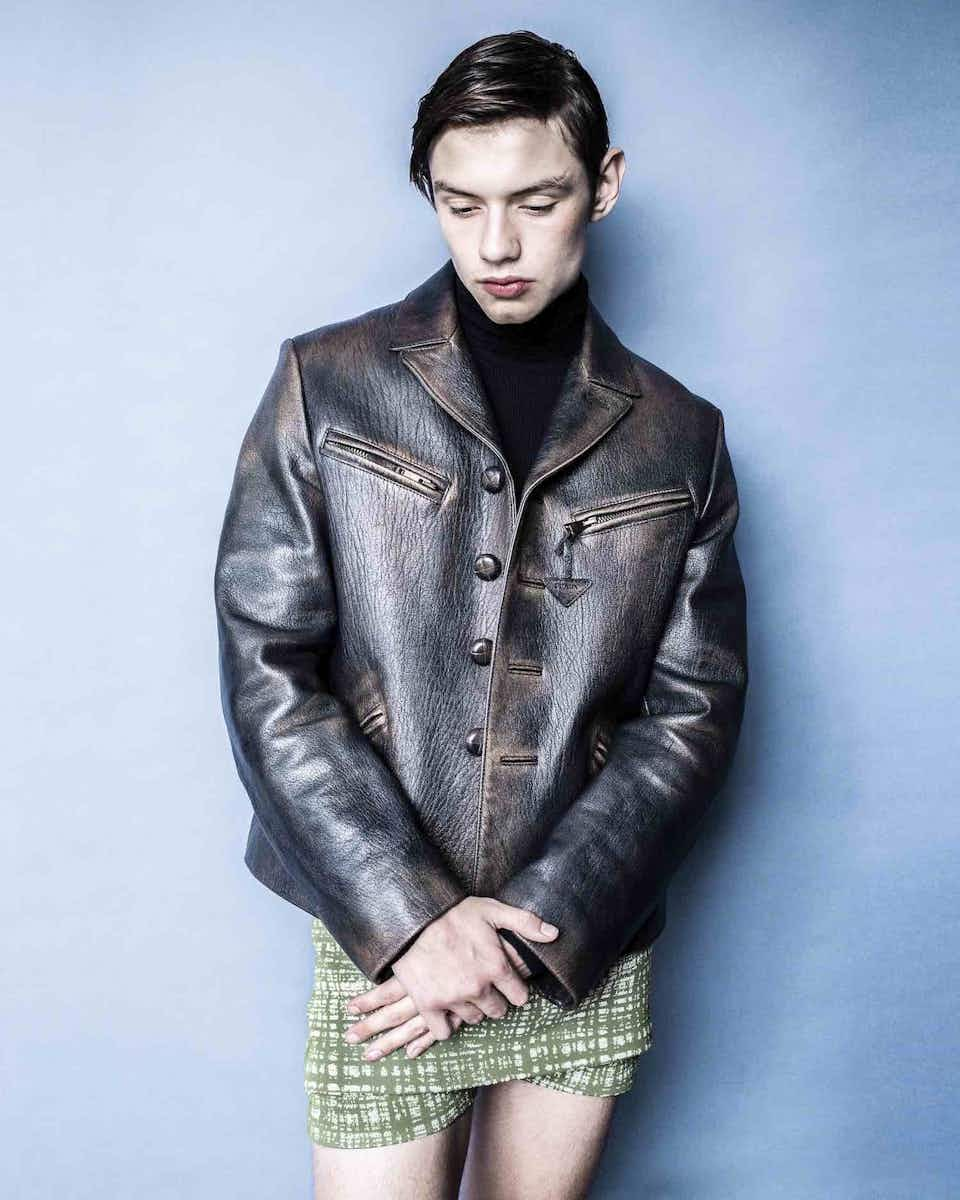 He fiddles with his phone and shows me a picture of a dilapidated concrete low-rise block in Belém, the Brazilian city that's the gateway to the Amazon. ​"I stayed in that room up there," he says, pointing to the window. ​"That's at two in the morning. We got in off a boat, where we spent three days in hammocks. Then we had to look for a hotel – and then I got recognised while I'm in clothes I haven't washed for days!" Bleary and stinky though he was, he had to pose for a fan photograph. ​"But the smell as I put my around them," he says with a shudder, sniffing his armpit again now.
"I was recognised so much in these tiny, tiny towns in Brazil," he adds. ​"It was insane. I was staying in youth hostels and I'd be recognised. This was all Enola Holmes – Netflix is massive in South America, I figured out! Kinda scary."
That recognisability – that hotness, stinky pits and all – is something he's still, mostly, fine with. ​"It makes me more aware of myself, I'd say, out on the street, which I'm not a massive fan of, just because of photos and things. But it's not the worst thing in the world!" he says brightly.
How many times a day would he say he's recognised?
"It comes and goes, to be honest. Yesterday I went into town and I was recognised three times before I even got to Waterloo [station]. It was nuts. But then some days I can do anything, be on Oxford Street, and nothing. And I haven't been recognised today, which is nice."
Something else Danny Boyle said to me: ​"The world will spoil him. We want to relish our actor princes by showering affection on them before we take them to Gethsemane. But he seems to me to understand the traps that lay hidden, awaiting him. And he has a very clear idea of what he wants to do."
When I relay this to Partridge, at first he gapes at the props: ​"Wow!" I ask: is Danny right? Do you have a good understanding of the traps that are waiting?
"I think I'm just cautious in my growing age, and I'm getting more cautious! That's really interesting," he says, beaming, abashed, tickled. ​"Ah! What a lovely way of speaking, and what a lovely thing to say. But I think that's right. I guess time will tell."
Boyle also talked of Partridge in the context of Gary Oldman – not just one of our finest actors of the last 50 years, but also the only other man to have portrayed Sid Vicious on the screen, in Alex Cox's well-regarded indie film from 1986, Sid and Nancy.
Two big footsteps, then, in which this 18-year-old is treading. An anti-hero musician with a life cut short, a cult following and an entire mythos around him. And a fellow Londoner who, five years ago, won an Oscar for playing Winston Churchill. No pressure, mate!
"Quite!" Partridge splutters again. ​"But Gary Oldman was 28 when he played Sid, and I was 17. So there is a definite sense of trying to do something that wasn't done in that [earlier] film."
Dead right. In Pistol, his youth, his freshness and that charmingly gauche, teen-boy realness – skateboard fails and everything – are in Louis Partridge's favour.
"It works in a weird way because I'm playing this innocent kid who's in this massive world, who wants to take everything, grab everything, try everything. Then you see how that innocence is" – Partridge smacks his hands together again – ​"hit like a truck. And I'm really proud of it. To be a part of that…" he concludes, grinning, ​"is just insane."
Pistol launches on Disney+ on 31st May
HAIR Matt Marshall SENIOR PRODUCER Dominika Dekiert PRODUCER Luciana Samanlego PHOTOGRAPHER'S ASSISTANT Bradley Polkinghorne STYLIST'S ASSISTANTS Florence Armstrong and Marc P Salas

More like this