Taylor Russell: the indie-film breakout for 2020
Volume 4 Issue 2: The 25-year-old Canadian actor on making waves and making Waves.
Arti­cle taken from The Face Volume 4 Issue 002. Order your copy here.
Taylor Russell arrived in Hollywood like a car crash. Or, rather, because of one.
The 25-year-old actress ​"had, like, $3 in my bank account" when she landed a $15-an-hour job fulfilling orders at an Amazon warehouse in her native Vancouver. Finally, she was gonna be rich! Then, the day before her first shift, she was in a traffic accident.
"But I got a settlement [from the insurers]," she begins as she sips a cortado in a café in New York's West Village. The price of a back injury: $8,000. ​"I took all the money and went down to LA. It was all the money I had in the world but I was like: ​'I have to live here. I have to make this work and get a job.'"
Russell, dressed today in a skirt and baggy white tee decorated with garden tools and Dansko clogs (a personal style she describes as ​"A$AP Babushka"), made it the risky, old-fashioned way. She took auditions, burned through her savings and booked a handful of low-key film roles. For her efforts, she was awarded ​"the most awful deal ever" to work for five years on a TV show in Atlanta that was ​"just not good". With only $300 left, this was the gift horse – and she was looking straight into its mouth. Instead of signing on she turned down the offer. ​"I was thinking: ​'I think there's something better out there for me.'"

Dejected and broke, Russell returned to Vancouver. She worked at an Indian restaurant for the summer, handing out free chai samples. Then, in 2016, came the call from Netflix.
"It was the best day of my life," she says of being offered the role of Judy – the clever daughter of the space-faring Robinson family – in the streaming giant's Lost in Space reboot, which was released last year. ​"That moment felt like: ​'Oh my God, the tiles underneath me have shifted and everything that I've been asking for from the universe has come to fruition in this moment.' I knew things changed for me at that point. Mentally, financially, stability-wise… It was a huge turning point."
She doesn't believe in The Secret, Rhonda Byrne's bestselling paean to manifesting success through Pinterest boards and positive thinking, but only one year after her big Netflix moment, Russell has truly lucked out. She simmers with buried feeling in one of the most emotionally potent films of the year – director Trey Edward Shults' Waves, a story about the ripple effects of one extreme incident. It's an endocrine-drainer about the shifting cogs of an African-American family who struggle to hold it together once their lives change forever. It could be a sleeper Oscars contender.
Russell has yet to hear any real peer feedback about her performance, apart from the deafening praise of critics ("The revelatory performance in Waves belongs to Taylor Russell," said The Hollywood Reporter). She admits she would love a Patti Smith review ("my head would fall into my gut"), but did spot The Weeknd, aka Abel Tesfaye, at an early screening.
"Taylor was one of the only names in the credits I wasn't familiar with, yet to me, became the most memorable. A soon-to-be star," Tesfaye says of his fellow Canadian's performance. ​"She brought such authentic emotion to her performance that I felt like I was peeking into someone's actual life. Her acting is so perfectly subtle and reserved, much like the character she's portraying, that by the second half of the film you felt every bit of her painful process."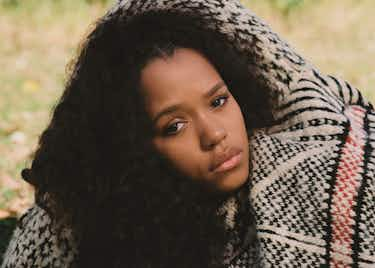 The entire second half of Waves belongs to Russell. Her character Emily, dealing with the public fallout of her brother's incarceration, embarks on a Florida road trip with her new lover, Luke (played by Lucas Hedges, the sandy-haired snack you may recognise from Mid90s, Lady Bird or Manchester by the Sea). They make pit stops to swim with manatees and grab junk food, all the while comparing growing pains to the bleeding-heart sounds of Kid Cudi.
"It was a G.O.O.D music summer," Russell beams. ​"We were with the crew on this tour bus, which is like a dream of mine because of Almost Famous," she continues. ​"Then the bus broke down, and it started raining, and Lucas and I played Kanye West and Teyana Taylor, and we ran across the field, and just started dancing."
The road trip scenes with Hedges were among the first she shot, with the production crew keeping the cameras trained on the pair and seeing what transpired over three days. It was a slice-of-life approach encouraged by Shults, who hoped to capture his subjects acting naturally, telling a story of a relationship as it bloomed. And boy, did it.
Russell first met Hedges after Shults arranged a hangout with the actor before she was even cast. They went roller-skating in Los Angeles with Kelvin Harrison Jr, Russell's on-screen brother. ​"We went on a walk around LA for a long time," she says. ​"You know when you meet somebody, and you're like: ​'This is just part of my tribe – in any capacity'? It doesn't matter, friendship or whatever you are, you speak the same language and you feel comfortable. That's how I felt immediately with Lucas. I just felt very comfortable with him. And we laugh at all the same things. So it was just easy."

Russell and Hedges began dating once filming wrapped. They shared a courtside kiss which was caught by the paparazzi at a New York Knicks game in December last year. Are they ​"official"? Russell makes a zipped-lips gesture and offers a smirk. I ask what she thinks about the photographs. ​"I don't know what you're talking about! What photos?"
The Waves cast bunked together in a house while shooting in Florida. They prayed each night, meditated, took ice baths. Hedges made puppets and Russell shared a room with her co-star ​"Lex", aka Euphoria breakout and The Face cover star Alexa Demie.
It was, she acknowledges, like a quasi-commune. Every morning she would wake up, take a swim in the ocean (warm ​"like bath water") and Lex would make them adaptogen mushroom lattes. Harrison Jr suggested they take a trip to the art store to stock up for crafting sessions. ​"I bejewelled Kelvin's face, very Euphoria-esque. We made paintings, collages. We had a lot of dance parties."
Russell has survived a car crash, made a movie, bagged a boy and found a fan in The Weeknd. Hers is a rags-to-riches yarn not even a screenwriter could conjure up. In future she's hoping to work with directors Spike Jonze or Paul Thomas Anderson, but she'll need some good luck to top her performance in Waves. In her words, making this film was ​"the best experience ever. Ever. I don't know if I'll have that again filming. I'm praying to God that I will."
Hair Nai'vasha at The Wall Group, Makeup Tyron Machhausen at The Wall Group, Production Rosanna Gouldman, Production manager Katherine Bampton

More like this