My Media Diet: Bodies Bodies Bodies star Maria Bakalova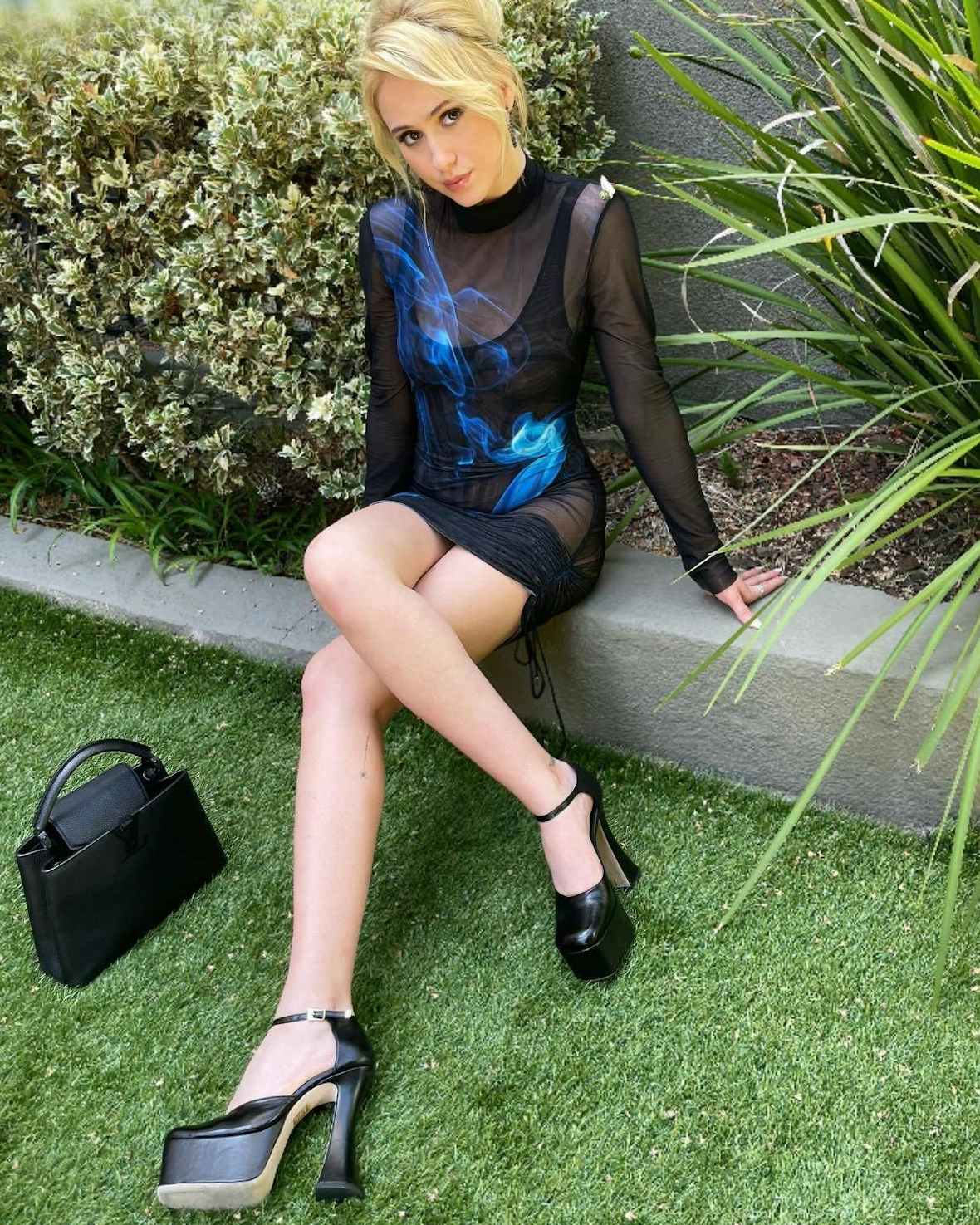 A24's slasher-comedy satirises our obsession with social media on the big screen. Here's how one of its lead actors likes to spend her time online.

When Maria Bakalova dials into our Zoom call from her Los Angeles apartment, she's fighting off a serious bout of jet lag. The actress has just returned to the US after a jam-packed month of filming and visiting family and friends in her home country of Bulgaria.
The 26-year-old grew up in Burgas, a city located on the Black Sea coast, before moving to the States in 2019. Bakalova's experience of fame so far has been, well, interesting to say the least. Starring as Tutar Sagdiyev, Borat's teenage daughter in 2020's Borat: Subsequent MovieFilm, she went from living a relatively normal life to suddenly bearing the brunt of a wave of alt-right American criticism. She claims that ​"half of the population of the United States" disapproved of her and the project.

Hollywood, though, couldn't get enough. After filming Borat, she caught the attention of Judd Apatow and went on to play Anika in The Bubble, a comedy about a group of actors living through a world-shuttering virus (sound familiar?). After that, she found herself on the set of A24's highly-anticipated satirical slasher, Bodies Bodies Bodies.

The movie, which hits US cinemas tomorrow, follows a group of uber-wealthy pals as they gear up to party hard and fast in a remote family mansion. Things take a turn for the worst when a whodunnit game leads to IRL murder. Before long, the group turn against one other in an attempt to find the culprit. Director Halina Reijn and the ensemble cast – including Pete Davidson, Myha'la Herrold, Chase Sui Wonders, Amandla Stenberg, Rachel Sennott and of course, Bakalova – successfully toe the delicate line between humour and toe-curling horror.

Bakalova plays Bee, an outsider to the friendship group brought along for the ride by her new girlfriend Sophie (Stenberg). She's timid, shy and desperately wants the others to accept her – even though it soon becomes clear she doesn't stand a chance. Bodies is as much a rollercoaster slasher as it is a commentary on social media, Gen Z's obsession with their phones and mental health buzzwords. Bakalova feels neither entirely millennial nor Gen Z, but admits that she, too, is glued to her phone.
Up until this point, Bakalova avoided watching scary films whenever she could. Channelling this pre-conceived fear of the genre into her acting, she was ​"waking up every morning worried that something bad was about to happen, or with the feeling that something that already happened and I didn't remember". This anxiety was exacerbated by film set's location: the notoriously-haunted, upstate New York village of Sleepy Hollow. ​"For God's sake, we've all heard of Sleepy Hollow!" she says.
Bodies examines social media and the culture surrounding it on the big screen. So what does Bakalova get up to on the one she keeps in her back pocket?

The last article I found myself thinking about was…
An article that my manager sent me about Bulgaria being an overlooked country in Europe. I was like, ​"Hmm, maybe we should make more things that are [geared] towards different countries outside of Europe so people can come to visit, because that's a nice cultural exchange." It was pretty boring. I'm an adult now!
The last new artist I discovered on Spotify was…
Acid Arab. they're French DJs that make cool Middle Eastern music. I really, really liked it and then realised that it's a soundtrack for a movie, The Man Who Sold His Skin. I'm completely obsessed right now.

The last picture I liked on Instagram was…
Probably a puppy. I want to get one – preferably a small puppy, so I can travel with it.
The last TikTok I sent to a friend was…
I recently created an account but I have no freaking idea how to make TikToks. I really don't remember what the last one I sent was, sorry!
The last series I binged (or watched a lot of) was…

The second season of Hacks and The Staircase with Toni Collette, although I'm not that big on series.
The last book I stayed awake reading was…
Save the Cat by Blake Snyder. It's a book about screenwriting – I'm interested in how to write a proper script. I'm currently reading something kind of weird, a small novel by Vladimir Nabokov called The Eye.
The last podcast I spent hours listening to was…
I'm not good with podcasts! I haven't listened to any in my life. I think the weirdest part is that every time I try to listen to audiobooks or something, I have to sit and not do anything, which makes no sense. To listen, I have to be concentrating. And to be concentrating, I have to stop.
Bodies Bodies Bodies is in theatres in the US from 5th August and in the UK on 2nd September 2022


More like this