Sebastian Chacon on Daisy Jones & The Six and Ecuadorian trinkets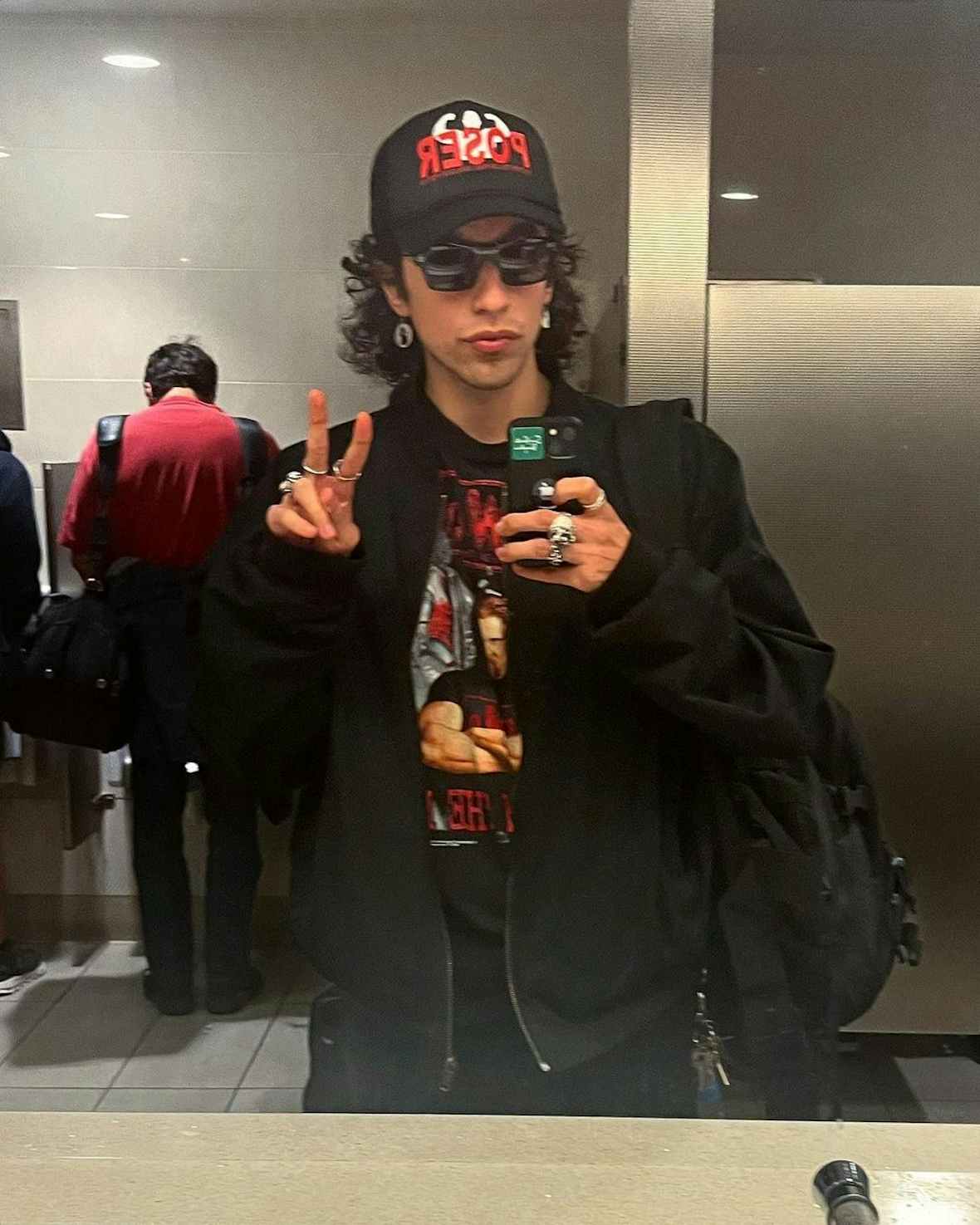 Call Sheet: As he braces for the release of Amazon Prime's new blockbuster series, the New Yorker takes a trip down memory lane.
Rabid fans pierce the Manhattan air with screams, their frozen fingertips clutching notepads and iPhones as they wrestle through the snow for autographs and selfies. Security quickly moves in on a guy getting a bit too close for comfort, nearly tackling him to the ground. Famous faces graciously wave and soak in the atmosphere, as they come to terms with the scale of their latest accomplishment.

These were the scenes at a preview screening of Daisy Jones & The Six in New York earlier this week, but it could just as easily have been plucked from the new Amazon Prime series itself. An adaptation of Taylor Jenkins Reid's Fleetwood Mac-inspired, best-selling book, the plot follows the rise and fall of the titular fictional ​'70s band – big emphasis on fall. The series' USP? Its pseudo-documentary format, depicting band members coming clean about the band's split in face-to-camera interviews years after the fact.

Zooming in from a New York hotel room the morning after the screening, Sebastian Chacon is still processing the frenzy. Having appeared in shows like Pose and Penny Dreadful: City of Angels, the 29-year-old is no stranger to the spotlight, but witnessing the feverish reaction from fans in person appears to have sent his head into a spin. The eager beaver who had a run-in with security? That was Chacon's brother, who was just trying to wrestle through the crowd to give his big bro a congratulatory hug.
"It's been a rollercoaster," says Chacon, who plays the band's drummer, Warren, in the series. ​"It's exciting, but at the same time you're scared, because you want to do right by the intense fans of the book."

Well, mission accomplished. ​"The fans were over the moon," he says of the initial reaction, flashing some nail art as he swoops his hair out of his face. ​"It makes sense. The book is like an oral history, with a bunch of interviews. But to see it on screen is a totally different experience. If I were a diehard fan [of the book], I would be over the moon, too."

Time, then, for a bit of R&R to celebrate a job well done. While put up in his swanky hotel suite, Chacon's thinking of unwinding in the spa – he might even order room service for the first time. But not before he answers some pressing questions about his career. Sorry, Sebastian, the fluffy dressing gown and club sandwich will have to wait.

The thing that made me want to get into acting is…

When I was a kid, I went to Ecuador, which is where my mother's from. There are these guys over there who do sketches and skits in the street, bringing people [from the audience] into the show and, and there's a huge circle. Everybody comes out to see it and there's amazing energy. I remember seeing that and going, ​"Wow!" It's a magical thing. It's just some fellas, but everybody's out of their minds about it. I was so shy as a kid, I couldn't imagine being able to command a crowd like that.

My most embarrassing audition moment was…

I had an audition years ago for a musical theatre thing. I had prepared the song, but right before I had the audition they said, ​"We want you to sing both parts [of the duet]." I fucked up so bad. The thing is, auditions have changed now – they're all on tape. You can do it at home and if it's weird or shitty, you just do it again. That's definitely prevented a lot of [bad] audition moments.

My favourite memory from filming Daisy Jones & The Six is…

Some of my favourite memories are at the beginning of the show, because we start out as a starry-eyed band and then, as it goes on, things become dramatic and complicated. So at the beginning, it really felt like [we were in a band], because we had spent so much time together. The director, James Ponsoldt, was like, ​"just fuck around." There's a scene where we're trying to teach a character how to play poker with cigarettes; a scene where I'm in a pirate costume, running around and sword-fighting. By the end of the show, the characters look back on those days like, ​"What happened? It used to be so simple." It's like, ​"Yeah, I remember those days, too!"

The project that taught me the most about myself was…
I just did this movie called Humane directed by Caitlin Cronenberg. That character goes through a lot of trauma – he's an addict that has scars and walks with a cane. After doing Daisy Jones, where I'm the funny, boisterous guy, it was weird going back to [a serious character] having a panic attack in every scene, pulling my teeth out and shit. But when you confront those roles, it really forces you to really look at yourself. I was shooting in Ontario, Canada, a steel town where I didn't know anybody, so I was just focusing on myself for a good two months.
One item that travels everywhere with me is…

There are so many things! Growing up, I moved a lot, so you develop a habit of making your home with your little trinkets – jewellery, old things that my mother has given me, gifts from friends and little rocks. I have these milagros that were from my great, great, grand-uncle. He was a bishop in Ecuador in the 1800s and they're little silver charms that were made by people who wanted to pray for a miracle. There's a little pig to pray for an abundance of food. One of them is a leg – I think someone injured their leg. There's a baby, for someone who wanted their child to be OK. Some of them are just people praying. I think that kind of belief is a really important, beautiful, powerful thing.

The TV show I'm bingeing at the moment is…

My friend from Paris was here over the last two weeks for Fashion Week. We literally watched all of Physical 100. It's this Korean show on Netflix, where 100 athletes compete, like, really physically powerful individuals. I don't really watch reality shows, but this is so dramatic. They replay everything about four times.

The most useful acting tip I've ever received is…

When I was working with Tim Olyphant on Daisy Jones, he said: ​"When you've got your close up, act like the camera's on the other guy." That was such a simple piece of advice that changed my whole game. Otherwise, you feel like you have to do something [and overact].

And the worst…

The shittiest piece of advice I've had was when I did an indie film – nobody really saw it – and I was playing a guy who was going through some emotional shit. The apartment we were shooting in had a cat in it and I'm very allergic to cats. I'm sniffing, tearing up, can't breathe and they're just like ​"use it for the scene!" I hate it when people say that. It's too hot on set and you're sweating? ​"Perfect! You can just use it." Like, come on.

Daisy Jones & The Six is available to stream on Amazon Prime from 3rd March.

More like this