Six things you've got to see at BEYOND THE STREETS LONDON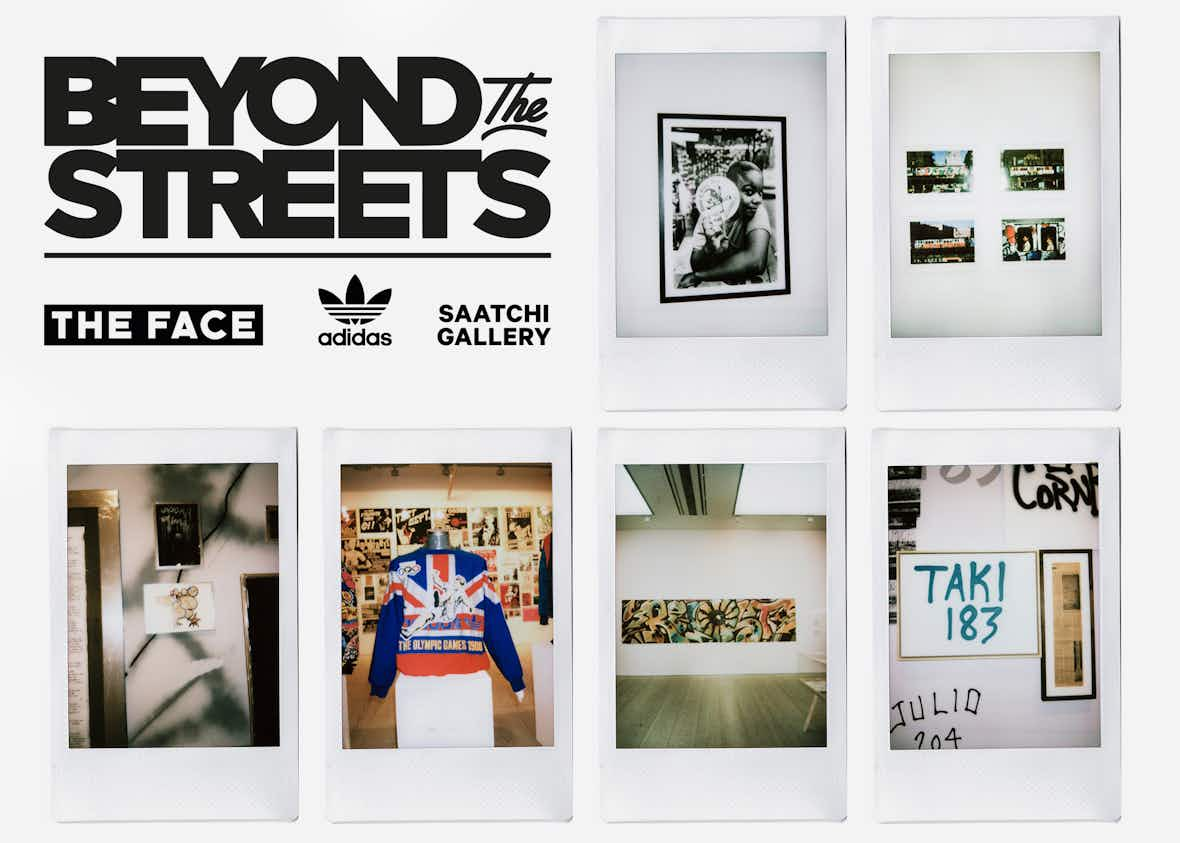 We asked three friends of THE FACE to highlight the pieces that you really shouldn't miss at Saatchi Gallery's street art and graffiti exhibition.

BEYOND THE STREETS LONDON, Saatchi Gallery's huge street art and graffiti exhibition, is so major it's almost worthy of its own postcode. Taking over the gallery's entire space, the showcase is stacked with work from over 100 of the globe's biggest names in the street art sphere, featuring creations from the likes of AIKO, Beastie Boys, Fab 5 Freddy, GOLDIE, KAWS, Lawrence Watson, Robert 3D Del Naja and ZEPHYR, and that's not even the tenth of it.

Over the last month, THE FACE has been celebrating this groundbreaking display of the underground by teaming up with adidas Originals – who supported the exhibition and contributed an array of archive apparel – for a series of events. So far, we've discussed film photography with Lawrence Watson, customised adidas pieces with Alfie Kungu; and headed up a workshop seeing hit-girl Eliza Rose dig through her crates live at Saatchi Gallery. Head down to Saatchi Gallery before 9th May and stay tuned for a final event which will see us in conversation with another street culture legend.

Of course, in an ideal world, you always want to see every single piece at an exhibition, especially when it's this good. Realistically, though, unless you have a godly attention span, endless time on your hands, the ability to perfectly navigate a labyrinthine museum and a meticulous tick-list, chances are you might not give the odd piece the love it deserves or, even worse, accidentally ghost it altogether.

So, to make your visit a little easier, we've asked three friends of THE FACE to each share their two favourite pieces from the exhibition in their own words, giving you a six figure sum of artworks to look out for when you head to Saatchi. Absorb these selects, get your tickets patterned and pretend to your mates that your impeccable taste immediately homed in on these exact pieces.
The capital's undisputed raconteur and one half of wildcard sketch duo Jonah and Stan, filmmaker and man about town Jonah Francis West has worked with streetwear's biggest names.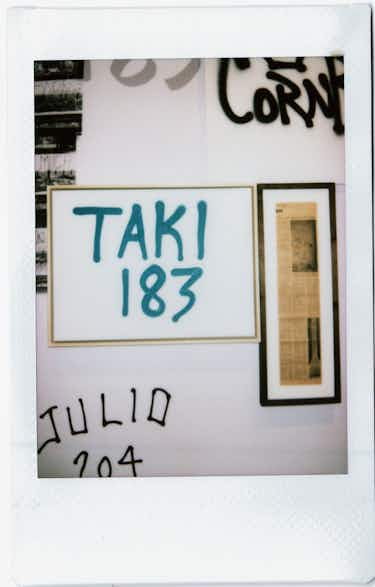 TAKI 183 Installation ​"I loved seeing TAKI 183's work, I think he had some tags on a canvas! One of my favourite parts of graffiti even to this day is tags. He was one of the first taggers and it's dope that he was a kid just repping the block he's from (183rd Street) and to see his reach in the flesh was sick! Tags is the birth of graff' – it's where it all starts. I think there's something magical about that. OK, I sound like a proper nerd."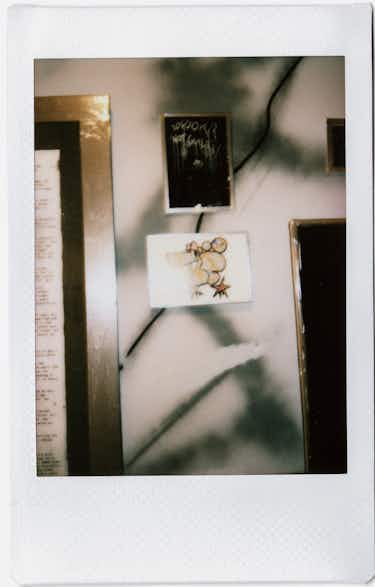 10 Foot photograph​"My other chosen piece was this picture from the 10 Foot video. It's a feds' TSG van blammed with 10 Foot tags all over. Geezer just don't care!"
Stylist and consultant Lewis Munro cut his teeth as Fashion Director of PAQ before dressing the likes of Dave, Mura Masa, Headie One, Arlo Parks and Aitch.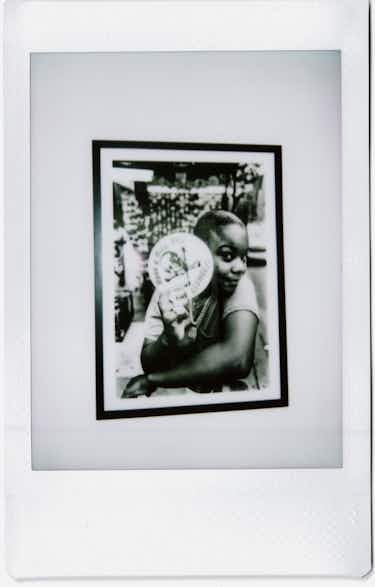 Roxanne Shante, New York, 1980s by Lawrence Watson ​"Lawrence Watson's photos of hip-hop icons, like Run-DMC or this one of Roxanne Shante holding up a ​"have a nice day asshole" sign, are iconic. His work captures their personalities in a way that feels three-dimensional!"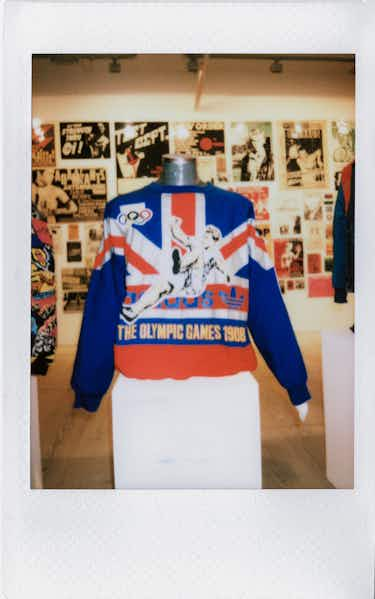 adidas 1908 London Olympics Sweatshirt ​"The exhibition features classic adidas pieces that are synonymous with OG hip hop culture, including Beastie Boys tracksuits and Run DMC trainers. Seeing the 1908 Olympic Games sweater on display brought back feelings of nostalgia. During my teenage years, I was a huge fan of LA creative Taz Arnold, who is renowned for his chaotic styling that blends OG hip-hop logos from brands such as MCM with the likes of Gucci to create truly unique looks. When I saw him in the sweater, I searched for it high and low for about six months until I finally found one on eBay. I think I still have it in storage somewhere."
Legendary graffiti artist Zomby has been painting London with his warped otherworldly characters for decades as part of the DDS crew, known for his unreal can control and unstoppable flow.

"Painting" by REVOLT 1983 ​"When I first got into graffiti the main inspiration was New York subway graffiti; the film Style Wars came out in the early ​'80s and I watched it religiously to reference the graffiti style that was coming out of New York. I always remember REVOLT in the film talking on a bridge in a wasteland in New York, his name always appealed to me because of the meaning of REVOLT."

​"REVOLT had a very simple but stylish lettering style and was always readable in comparison to other New York graffiti writers who had a very complex lettering style. He also has one of the most stylish tags. From what I remember, REVOLT was in the RTW, one of the biggest bombing crews in New York in the late ​'70s and early ​'80s comprising of other artists Min One, Iz The Wiz and Quick to name a few. They dominated the New York subways within these years."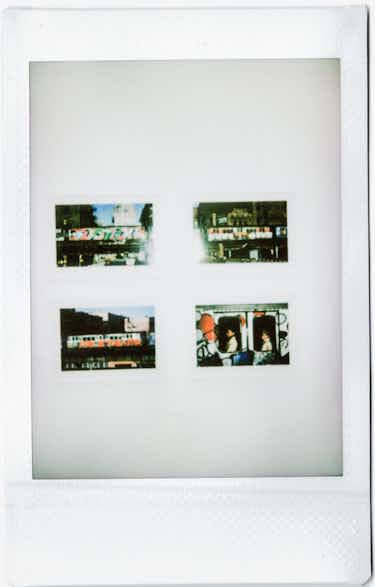 Martha Cooper's photography ​"Martha Cooper's photography was probably one of the most important early documentations of graffiti, if it wasn't for her (and Henry Chalfont) the world wouldn't have seen what was happening in New York. The book Subway Art probably single-handedly created graffiti scenes throughout the world. As a kid seeing this it was very inspiring and contagious, Martha Cooper will always be to me one of the best and important graffiti photographers the world has seen, as she was there in the hay days of New York capturing the early subway graffiti in hostile and dangerous environments. She was trusted and embraced by the subway writers who loved to see their work immortalised in photos."