The Stranger Things kids' terrible haircuts, ranked from best to worst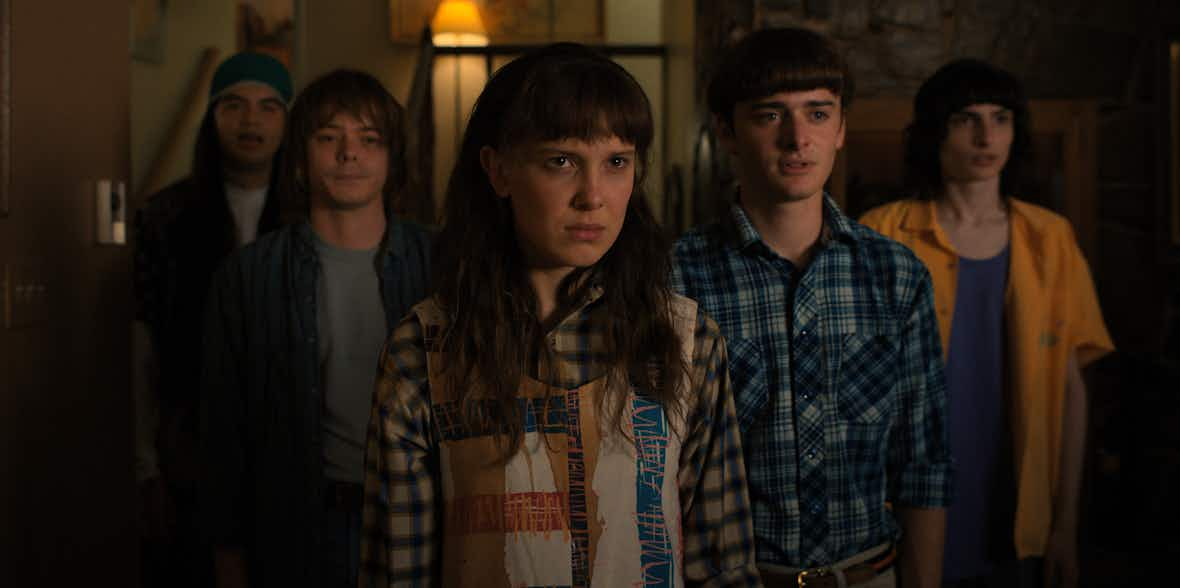 After a three-year wait, the fourth series of Stranger Things has finally dropped. But we were too distracted by the cast's dodgy 'dos to concentrate on what was actually going on.
Blimey, can you believe that it's been three whole years since the last series of Stranger Things? Trick question. Of course you can. It's been yonks.

And a lot has happened: the virus which will not be named, the fall of the president who will not be named, the rise of tech billionaires who will not be named (but will be hyperlinked here and here)… You get the picture.

But the most devastating, earth-shattering thing that's happened between series three and series four of Stranger Things? The young whipper snappers who burst onto our screens back in 2016 grew up.

Millie Bobby Brown, Sadie Sink and Co. are, like, proper adults now. Old enough to get legally pissed in the UK and cover their bodies in tatts if they so wish. They look old, too. There's no sign of wrinkles (yet) but we reckon they've all probably outgrown their costumes from 2019. And while the cast's coming of age might not have been a huge concern to the average Joe, we're quite sure it stressed the Netflix show's hair and makeup department out a little bit.

It shows. When series four finally dropped last Friday and we tuned into the latest supernatural antics plaguing the people of fictional town Hawkins, we couldn't help but be distracted by one small detail: the Stranger Things kids' terrible haircuts. It seems that – in an effort to conceal the gang's sprint through puberty – wigs, extensions and clip-on fringes were ordered in bulk to make them look less like celebs and more like awkward teens. Sure, it did the job. But did the stylists have to do the cast that dirty?

With that in mind, we thought it was only right to give you a thorough analysis of what really matters about the new series of Stranger Things: a definitive ranking of the kids' new barnets from best to worst.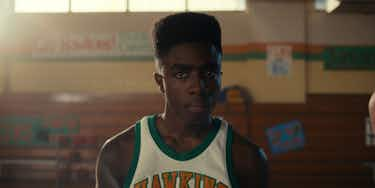 OK, so this haircut is not actually that bad. In fact, we would go as far to say that it's pretty good. Era appropriate for the 1980s-set show, Lucas, played by Caleb McLaughlin, looks fresher than the Fresh Prince himself with this hi-top fade. And with celebs like Khalid even sporting the look in recent years, he's pretty much on trend for the Insta-era too. Top marks for the hi-top.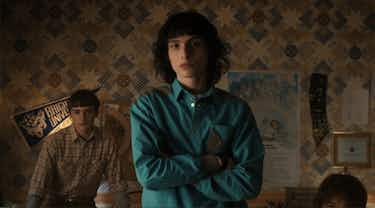 Finn Wolfhard is no stranger to a long, shaggy do, so this cut for his character Will is pretty much just a variation of a style we already know works. The only real difference is the blunter fringe, which makes him look like the kind of guy you'd find knocking about East London kombucha bars, but not necessarily in a bad way. Gut health is important, people! And so are neatly cut fringes.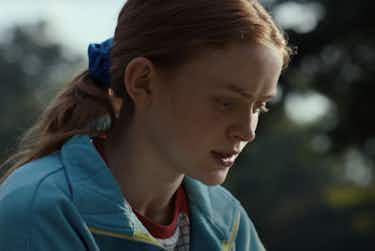 Again, the stylists pretty much left Sadie Sinks' ginger mane to its own devices here, simply tying it up with a scrunchie. Age appropriate and timeless. Her character Max genuinely looks like a teenager here but, then again, that could just be down to her sweet little angel face. Either way, this look proves the age old adage ​"don't overthink it, stupid" to be true.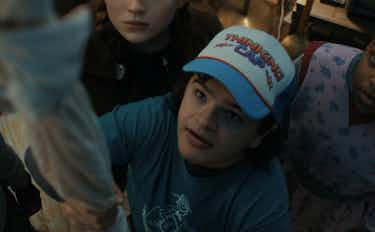 Played by Gaten Matarazzo, smarty pants Dustin proper loves his thinking cap (which literally says ​"thinking cap"), so rarely takes it off, leaving what's underneath up to the imagination. We do see a few curly tendrils peeking out the back, which look pretty cute. But we preferred it when these curls were allowed to frame his face in earlier seasons, so alas, the curly-haired science whizz comes in at third on the Bad Haircuts Leaderboard.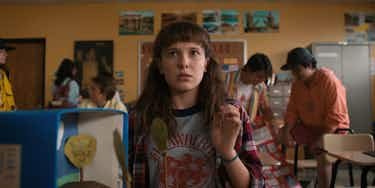 Quick, call the police. A crime against haircuts has been committed and we need whoever's responsible to be locked up ASAP. The thing is, Eleven's do wouldn't actually be that bad if it weren't for the clip-on fringe, which looks like it has been hacked at with a pair of children's scissors. Plus, it's so obviously fake it's distracting, surrounding Millie Bobby Brown's face like a flimsy foam picture frame kit from Hobbycraft. Sorry, Mills. You deserved better.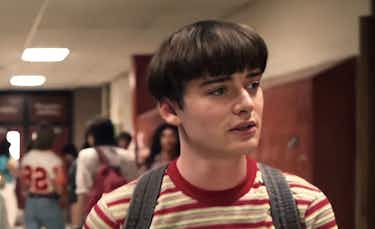 Will has had a rough time of it from day one on Stranger Things. In the first series he was trapped in the Upside Down, the next year he was bullied and called ​"zombie boy", and he went through it all while sporting a bloody bowl cut. Poor kid. Just can't catch a break. Played by Noah Schnapp, he's been forced to wear variations of the bowl cut wig throughout each series of Stranger Things but, somehow, this one feels worse than the others. Perhaps it's the attempt to do a semi-fade at the bottom, or the fact that no adult man should ever be seen wearing a bowl cut. Or maybe we should take our own advice and not overthink it: the look is just really, really bad.
Special mention: Jonathan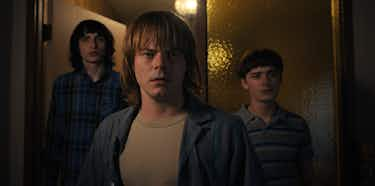 We wouldn't necessarily consider Charlie Heaton's Jonathan one of the ​"Stranger Things kids", but we have to give a special mention to this truly dire hairdo. That wispy clip-on fringe… it's enough to make even a Demogorgon recoil in horror. But maybe that's the point, to be fair.

More like this