The Bear: how a show with no sex got the internet so horny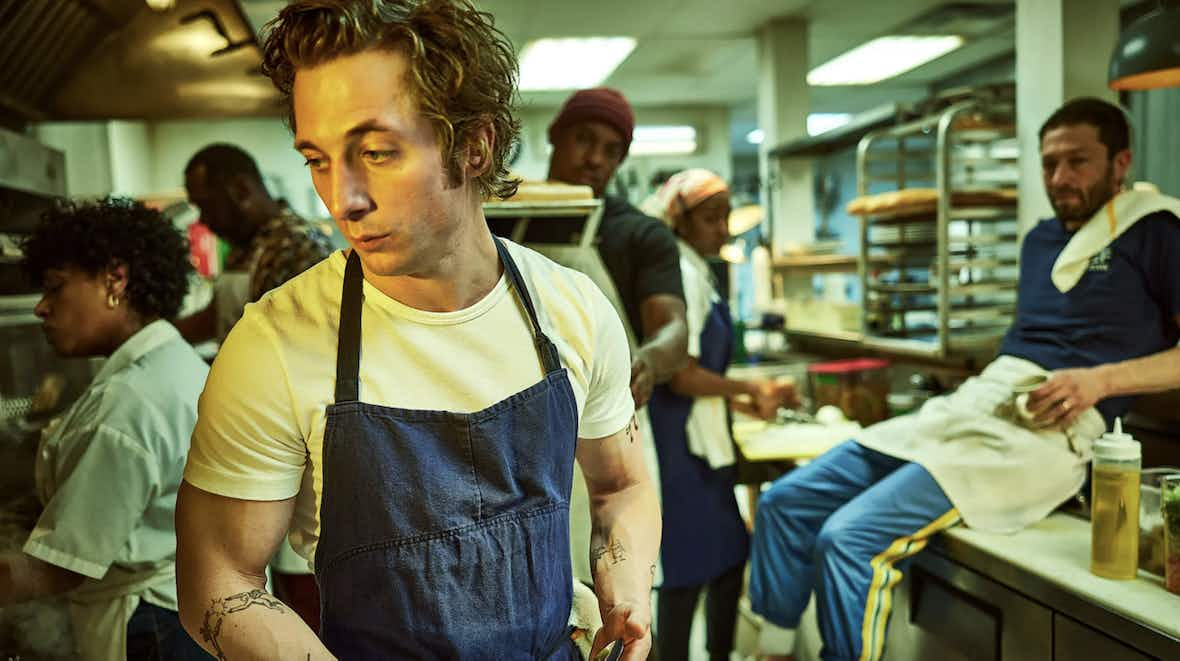 Can you remember the last time you watched a series without romance as one of its central premises? Us neither, until The Bear came along. So why does it still feel so sexually-charged?

The Bear, FX on Hulu's hit comedy-drama series, is the most unintentionally horny show of the year. It's also one of the best.
In less than a month since its release, the series has generated Euphoria-levels of Twitter discourse. As of last week, it was renewed for a second season – a big win for watchers who couldn't get enough of its frenetic, Uncut Gems-style pace and revelations about the gruelling machinations of working in a restaurant kitchen, some of which rang so painfully true for some food service workers that they couldn't finish watching.
For the uninitiated, The Bear follows Carmen ​"Carmy" Berzatto (Jeremy Allen White), a Michelin-star level chef – once named best in the world by Food & Wine magazine – who's forced to return home to Chicago to run his brother's failing sandwich restaurant, following his suicide.
Keen, practical and over-qualified young chef Sydney (Ayo Edebiri) is hired to help Carmy turn The Original Beef of Chicagoland into a functioning establishment – or ​"a respectable place of business" – much to the dismay of the restaurant's other workers. They resent and distrust Carmy for disrupting the ​"delicate ecosystem" they've been working within for years.
Slowly, Original Beef's employees start warming to Carmy's way of running the show – which isn't without its many hiccups – particularly baker Marcus (Lionel Boyce), whose quest to make the perfect doughnut forms an enthralling part of his character's arc. Much like Carmy's upgraded beef sandwiches, The Bear blends its selected ingredients together to create something so delicious it keeps you coming back again and again: an equal parts hilarious and moving character study with plenty of drama, sandwiched between an examination of addiction and grief through food. The only thing missing? Sex.
And yet, for a show that takes no interest in any of its character's sex lives, The Bear feels remarkably sexually charged, with its high-octane focus on ticking clocks, close-ups of sizzling meat and simmering sauces, dexterous vegetable chopping and, crucially, lingering shots of Carmy as he battles his demons to try and bring order to one of the most chaotic kitchens in Chicago.

Not to mention the lack of sex in The Bear feels at odds with the internet's overwhelming response to the show. Viewers have been sent into a near frenzy by ​"the working woman's Timmy Chalamet", AKA Jeremy Allen White, who was previously known for playing Phillip ​"Lip" Gallagher in the US version of Shameless.
"In [that show], he was framed as ​'sexy'," says Beth Johnson, an associate professor in film and media at Leeds University. ​"So the knowledge that viewers of The Bear might have if they recognise Allen White from Shameless means the white space left in terms of sex is filled by traces of the actor as a highly sexed character."
Without wanting to over-intellectualise things, Allen White is also, simply, hot. Watching him subvert this image of himself in The Bear looking ​"like the type of fuckboy every woman knows", as one article describes him, with his tattoos, dishevelled hair and 20-a-day habit, is all part of the fun. Sex in the show is then replaced by his character's love of food ​"as a stand-in for sex and intimacy," Johnson continues. "[It's] shot in a really intimate way, which creates an eroticism and chemistry that leaps off the screen."
As Allen White noted in his recent interview with Vanity Fair: ​"There isn't a moment of any character being attracted to a person or a thing. I mean, Lionel and the doughnuts is truly the most sexually charged [part of the show]." Ayo Edebiri agrees: ​"Food is sexy, you know," she tells THE FACE. ​"These people are very driven by their work, and I think there's a tension there. It's been very funny to see the response."

By not including any sex, The Bear makes a statement about the harsh reality of working in food service. Characters like Sydney and Marcus are so absorbed by the demands of their job that there simply isn't any space for it. Carmy, as a chef running his own restaurant, does so at the expense of what you might consider any aspect of ​"normal" life – in this case, romance. His relationship with his colleagues and family is also stifled by grief, and as these emotions get pushed down into the depths of Carmy's psyche, the pleasure and frivolity of romance do, too.
Daniel Brookes, a lecturer in film and television at Bristol University, suggests that TV dramas tend to ​"parallel the evolution of sexual politics" in the world at large. He points to It's a Sin grappling with the AIDS epidemic and Lena Dunham's Girls mirroring the ​"new rules" of contemporary dating as examples of TV reflecting our evolving sexual culture right back at us. In a political climate where sex and issues surrounding romance and consent are arguably quite polarised, The Bear​'s decision to steer clear from both altogether feels telling.
"There's definitely a cultural anxiety about these things," Brookes says, ​"but sex and romance are a bit like history. Even when you try to ignore it, it seeps back into frame somehow. There are implied textures [like] meat and flesh in The Bear, inverted power dynamics and constant closeness, which is often used metaphorically for desire."
The value or necessity of sex scenes in film and TV has long been debated. Do they interrupt the action? Are they even worthwhile? Sydney Sweeney​'s sex and nude scenes in Euphoria were deemed by many as gratuitous, for example, while season one of Bridgerton included a contentious sex scene that glossed over a character's assault.
As we usher in the summer of Big Intimacy, shows like Netflix's Heartstopper and Conversations with Friends have ​"eschewed sex for moments of tenderness and heartfelt emotion". It feels as though the flavour of sex scenes and relationships we've been seeing on screen lately has shifted, and intentionally or not, The Bear is in keeping with that. Ultimately, the show's decision to remain asexual – for now – works in its favour. And much like Original Beef's returning customers, we're hungry for more.


More like this