Meet Wayne Diamond, the man who made Uncut Gems unfuggedable
This New Yorker is a diamond in the ruff, and his brief appearance in the Safdie brothers' heart-pounding new film takes the insanity to a whole new level.
"Shut up, cunt! Stupid bitch," Wayne Diamond barks back at his small, yapping dog as he opens the door to his Upper East Side apartment. His curved TV is blaring MSNBC. Donald Trump's face swims across 72 inches of prime living room wall space and the volume level appears set to ​"dull roar". ​"Ten things I hate," Diamond says, switching the TV off, ​"Donald Trump. Donald Trump. Donald Trump. Donald Trump. Donald Trump. Donald Trump. Donald Trump." He lists off Trump's name seven times on his fingers, the remaining three implied. ​"Almost everything else in life, I could live with, but this guy…"
In the flesh, Diamond looks like Leif Garrett with a shoulder-length mullet, the same hair he's had since, I would guess, the ​'70s. His skin is the toasted hue of a South Beach sunset, where he says he spends 15 days each month at the four-star Delano Hotel. On a phone call to arrange this interview, he mentioned getting a blowout. His teeth sparkle like wet Chiclets. His eyes glint with the threat of a noogie from a fun uncle. If image is personal currency, Diamond is flush.
Wayne Diamond, real name Wayne Diamond, stars in the Safdie brothers' new film Uncut Gems. Well, the end. The casino part. He plays a cartoonish version of himself, an übermensch megalomaniac who hits on Adam Sandler's mistress (played by Julia Fox). He's every bit the lothario, whose advances she works to her benefit when she needs help to get out of a bind. As part of his role, Diamond flies high above Mohegan Sun – that over-advertised Connecticut pinkie ring casino – in a helicopter. "[The Safdies] said, ​'You play this rich guy, you come in a helicopter. You take her into the air. You make people laugh.' So when the helicopter came in, I started screaming, ​'I go through 150 million every time I drink!'"
The entire scene, most of which was improvised, is the Safdies' response to Leonardo DiCaprio on Quaaludes slinking out of his car in The Wolf of Wall Street. Diamond's cameo is less than 10 minutes of the entire film. Ask anyone who's seen it, though, and they will tell you how crucial his role is, how memorable his performance, or how balls-to-the-wall he takes his high roller smarm.
If you know the Safdie brothers and how they prise their actors from between the cracks of New York's steam-cleaved pavement – pulling vagabond Arielle Holmes off the streets of the Diamond District to star in Heaven Knows What, for example – then the story of how they discovered Wayne Diamond will be unsurprising. It was 2008. He was at West Village gastropub The Spotted Pig. The film's co-producer (and husband of Emily Ratajkowski) Sebastian ​"Sebo" Bear-McClard was eating there with Josh Safdie. ​"I was a little fucked up. I talked to everybody, so I started talking to them," Diamond says. ​"They seemed to like me." The Safdies were a year out from releasing their first feature film, 2009's Daddy Longlegs. Diamond later appeared on the Safdies' Know Wave-hosted radio show, Sudden Star, in 2014. They kept in touch.
The gestation period for Uncut Gems was nearly a decade. It was written sometime between 2009 and 2012. The directors' father, Alberto, was a Diamond District runner. He hawked precious jewels on consignment in the outer boroughs of New York. The germ of their idea for the plot of Uncut Gems emerged from their father's reheated folklore. When the brothers were immersed in the Diamond District to uncover the ins and outs of the business around 2013, they found a young girl panhandling. Arielle Holmes' life story – a tough scrape as a drug-dealing Bonnie & Clyde together with her boyfriend, Ilya – was too compelling. Gems was shelved, and they made 2014's Heaven Knows What. Robert Pattinson saw it, and emailed to ask the Safdies if he could be in their next film, whatever it was. Gems wasn't a good fit, they told him, so they wrote a movie just for Pattinson: 2017's Good Time.
Two blood drainers committed to celluloid, and it was finally time to make Gems. ​"I got a phone call about two years ago, and the Safdies say to me, ​'We're gonna do [Uncut Gems], but you're not the star,'" Diamond recalls. ​"I said, ​'What do you mean, be a star? I'm not even an actor!'" Diamond thought the call was a joke, until the film's casting director, Jennifer Venditti, called him up four months later and asked him to audition. He improvised a scene where he makes a pass at a girl. ​"I did this whole fucking thing with this chick. And there, I dropped a dime, I come onto her, ​'Hey baby, how you doin'? You're hot. You wanna fuck?' You know, that kind of situation. So [Venditti] says, ​'You're the guy, we love you. You're perfect for the part.'" Venditti remembers it differently. ​"He was not inappropriate at all," she says. ​"He was just his charming, wild self."
Wayne Diamond's charming, wild self grew up in Oceanside, Long Island with three sisters and one brother. His father, Alan, taught accounting at Nassau Community College and Adelphi University. His mother, Marilyn, was a schoolteacher. They struggled financially. In 1968, hoping to catch up with his friends heading South after graduation, Diamond caught a Greyhound bus for $19 to Florida. He was dropped off at the Eden Roc in Miami Beach. ​"I weighed 100 lbs. I had nothing to eat. I was just starving," he says. What he saw was a Slim Aarons photo come to life. High society minglers collecting food orders at a counter as they were called out. They signed their names and took the food. The name Meyer Lansky was called. Diamond signed for it, told them something like ​"I'm the nephew!" and collected a burger and coke.
"So I'm eating, I'm having a good time," Diamond says, his hand gestures selling his story at a discount. ​"This little guy, about five feet tall, comes over to me, says, ​'Hey, kid. You sign a name, Meyer Lansky, to a bill just now?' I said, ​'Yeah, I see everybody else signing names, so I signed the name.'" Diamond had no idea he had unwittingly bilked one of the most notorious mafia men in America of his lunch.
Read next: BTS of Uncut Gems starring Adam Sandler, Julia Fox and The Weeknd Photographer Anna Pollack talks us through the hair raising action on the set of the Safdie brothers' film shot in New York's Diamond District.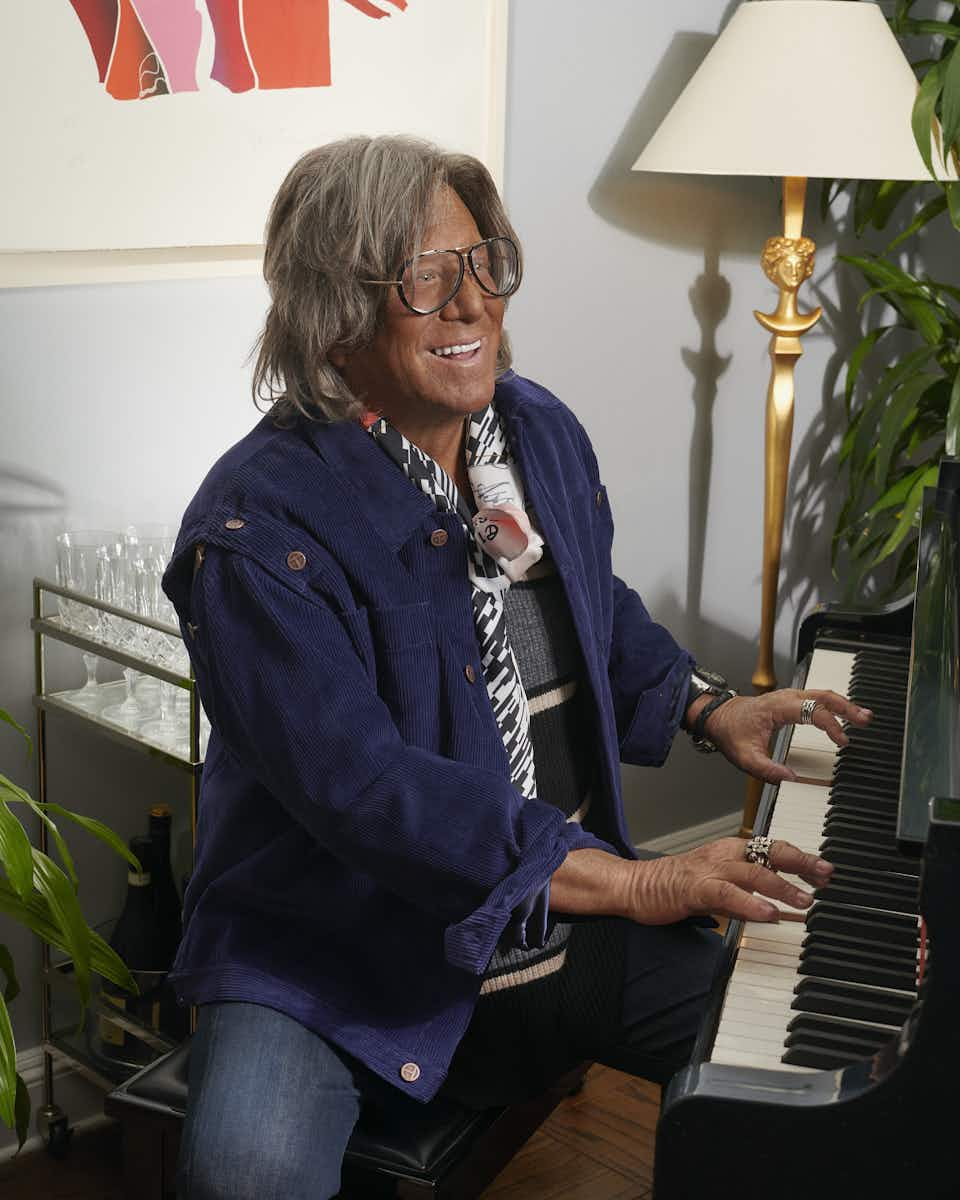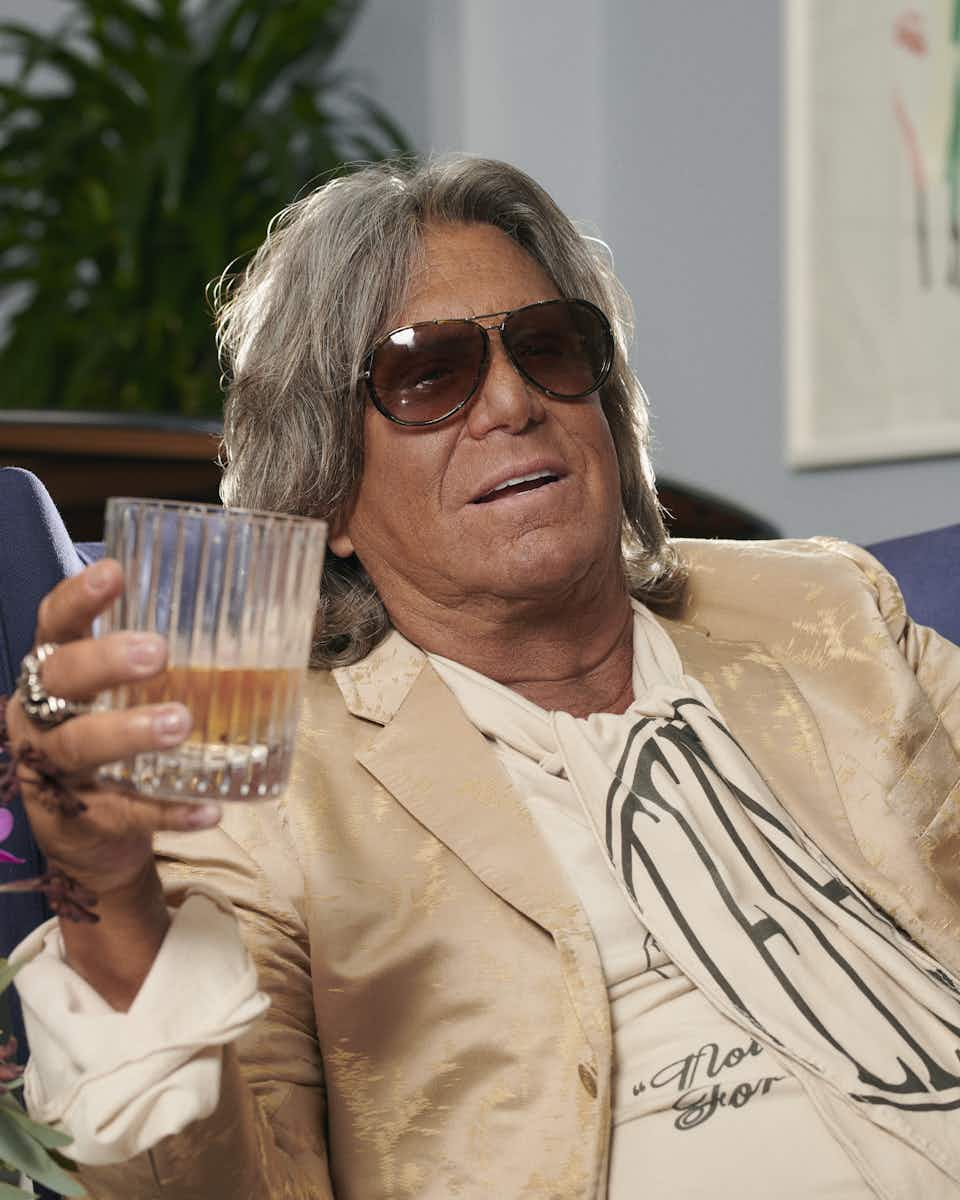 Rather than hire a hitman to take out this minor felon, Lansky listened to Diamond's story. How he was hungry, how he arrived with nothing, how he could maybe pay him back for the burger once he scrabbled together some cash. Lansky was best known as the ​"Mob's Accountant", the financial architect behind every crooked operation. He asked if he was good at adding up numbers in his head. Uh huh, Diamond said, he could. ​"So he gave me like 20 numbers. I added ​'em up in my head. He said, ​'You're my kind of guy,'" and told Diamond to give him a call when he got out of college. Back in New York, Diamond worked packing boxes in the Garment District. ​"I was already like 21, 22 and I wanted to be in [the dress] business," he said. He dialed up Lansky, who remembered him.
"He ended up putting me in business. I was 23 years old. I designed something called a hanky hem, and it became the hottest dress of 1974," he says. ​"I like to see chicks look good, you know, not wearing that shit."

His label, Diamonds Run, amassed him half a million dollars in ​'74 alone. But he noticed Lansky was cooking the books. ​"I took the books, I stole them [from him], for ripping me off, and I went into business for myself. I did really good, up until about 2000, [when] I retired."

Among his many accomplishments, Diamond says that he designed every dress Vanna White wore on Wheel of Fortune. He claims he introduced Max Azria to the business, who, before their meeting, ​"didn't know what a dress was!" He did jumpsuits at the same time as Halston.
"Without sounding like Donald Trump, I was the best dress designer in the ​'70s, ​'80s and ​'90s for the average woman," he says, sounding like Donald Trump.
Diamond is still waiting for overdue recognition. He threatens to march the 30 or so blocks down to the Fashion Institute of Technology one of these days and tell, er, somebody that ​"I'm the guy that designed all the fucking dresses for those years."
Read next: Julia Fox:​"Adam Sandler really believed in me" The underground star who steals the show in the new Safdie brothers movie.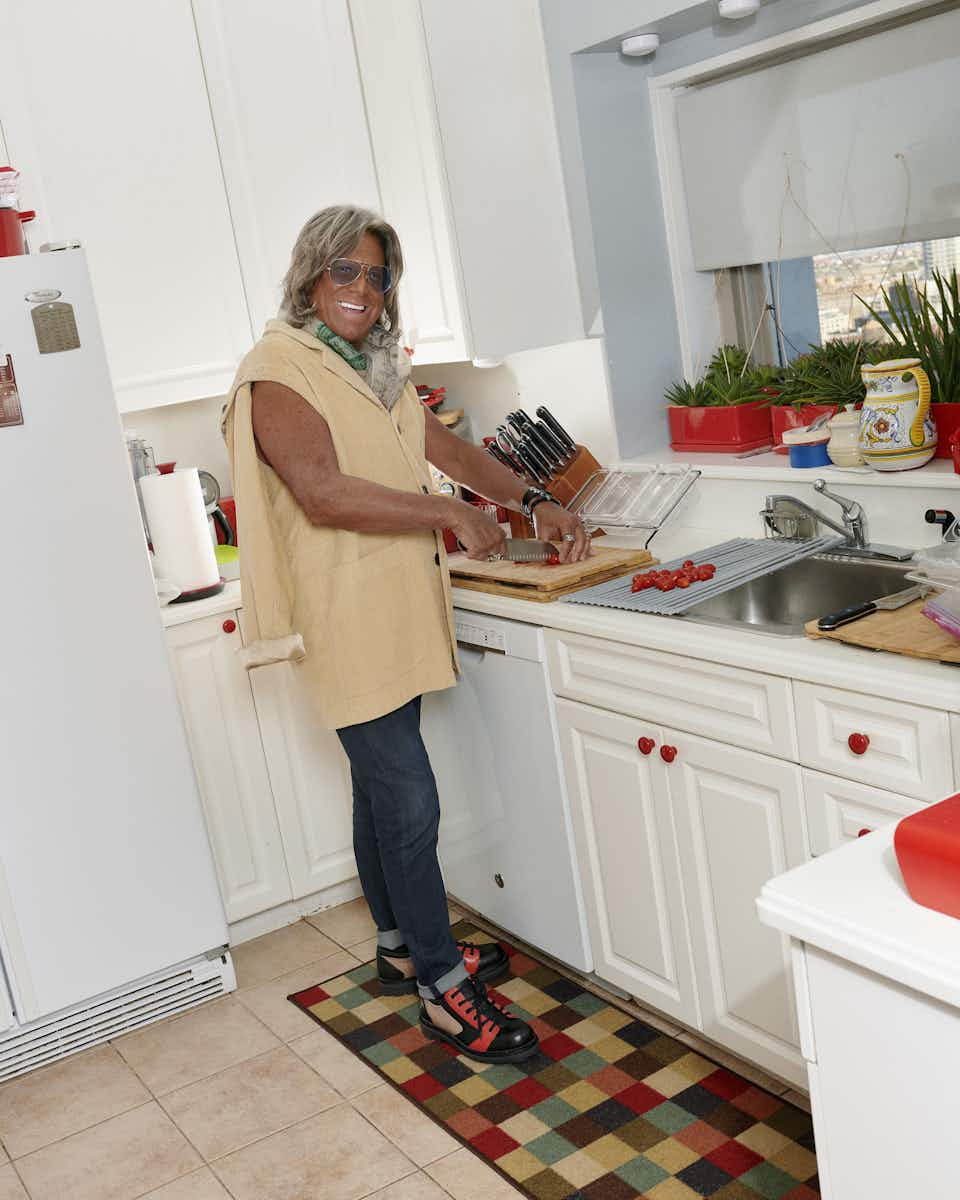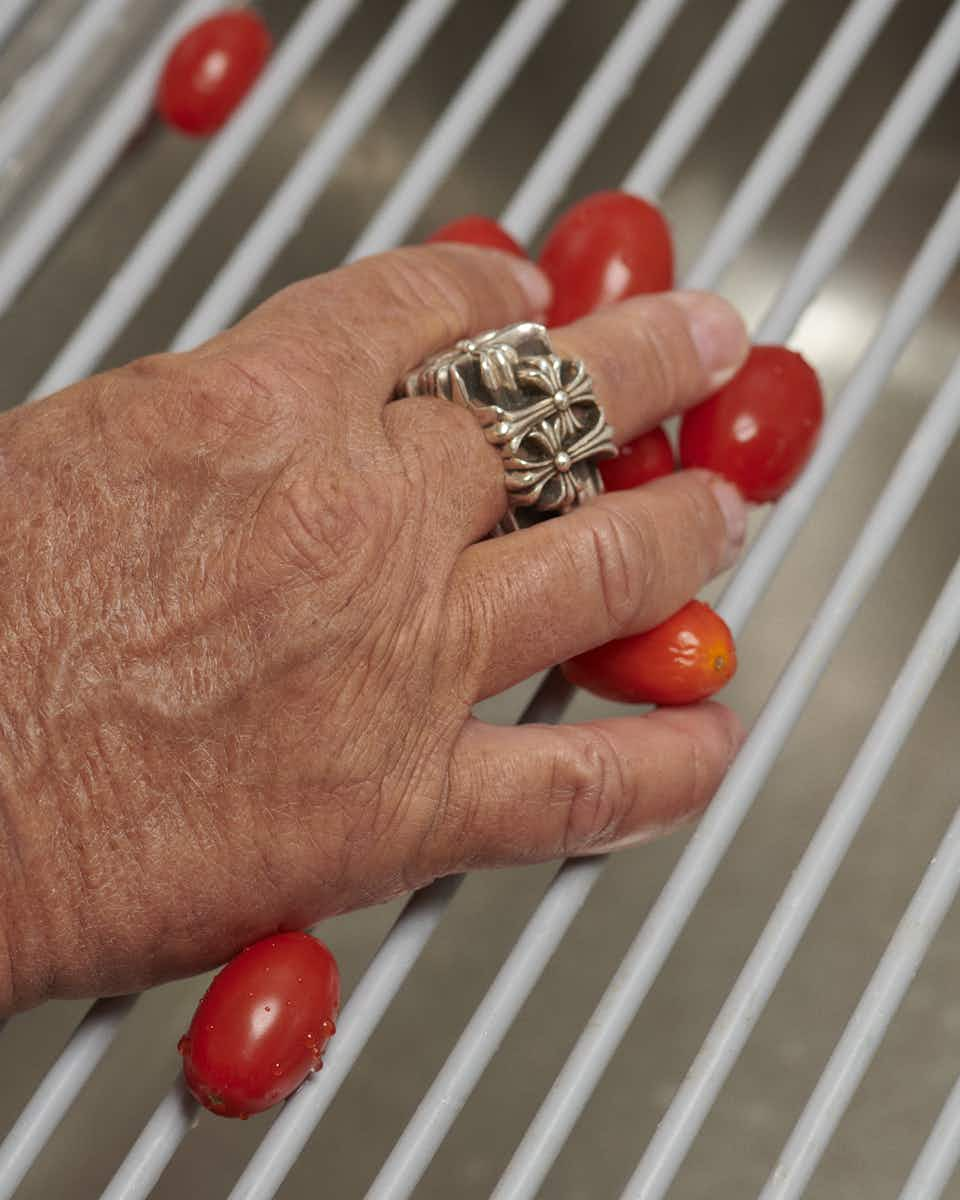 Diamond moves around his apartment like Austin Powers navigating a den of single blondes. His swish movements are probably abetted, in this case, by the light whooping of Quincy Jones' Soul Bossa Nova – known to most as the theme song to Austin Powers – which is, no word of lie, playing on his surround sound speaker system as he fixes himself a drink. It's happy hour, baby, yeaahhh! ​"You can't always get what you want" is emblazoned in large block letters across the back of his t‑shirt. What if Diamond was afforded that recognition he craves? Uncut Gems could be that chance, now that he's playing out his sunset years as an actor.
Diamond flashes his Vegas residency smile, sits back down on his couch and tells me about his attempts at breaking into showbiz. ​"I tried to get a movie done four years ago, which is funny because everybody wanted me to go back into garments. I said ​'I'm not doing shit for a movie.'"
He takes a sip of his drink, looks at the floor, and tells me how, after retirement, he became a gambling addict. Not unlike Adam Sandler's character in Gems. He won, ballpark, ​"four, five hundred thousand" dollars and lost around ​"seven, eight hundred thousand one time, too," he says, giving his drink a quick swish and following up with a gulp. ​"I worked hard, I made money, I lost a lot of it. But I can't complain. Big fucking deal. I'd rather get into this field and have a lot of little parts and do it every day of my life, until I die, you know? And that would make me happy because it keeps me busy with a bunch of young kids."
Diamond has been taking acting classes since he retired. He likes comedy, just wants to make people laugh. People will crack up at Diamond's character in Uncut Gems. ​"The [Safdies] used me to make ​'em laugh. ​'You make people laugh, Wayne, the minute they see it.' They said, ​'Don't worry, you'll be a star, everybody's gonna remember you.' The intensity of the movie was so strong, they needed somebody like me to come in there and make them laugh." He's waiting by the phone for his next casting call, filling out his hours as a long-term adolescent at his favourite haunts: The Box, Bar Pitti, Emilio's Ballato. Maybe he'll soon bump into his next benefactor. But Wayne Diamond has always been one to make people laugh, tell tall skyscraper yarns, invent a version of himself and then attempt to be it. Laugh all you want, but then stop to consider: who's having more fun?
Read next: LaKeith Stanfield is one of Hollywood's most stunningly diverse actors The acting choices of LaKeith Stansfield demonstrate range, taste, and a predilection for the uncanny.
Photography assistant Kenyon Anderson, Stylist assistant Jasmine Cabrera, Special thanks Jennifer Venditti.

More like this