The five movies and TV shows to binge next week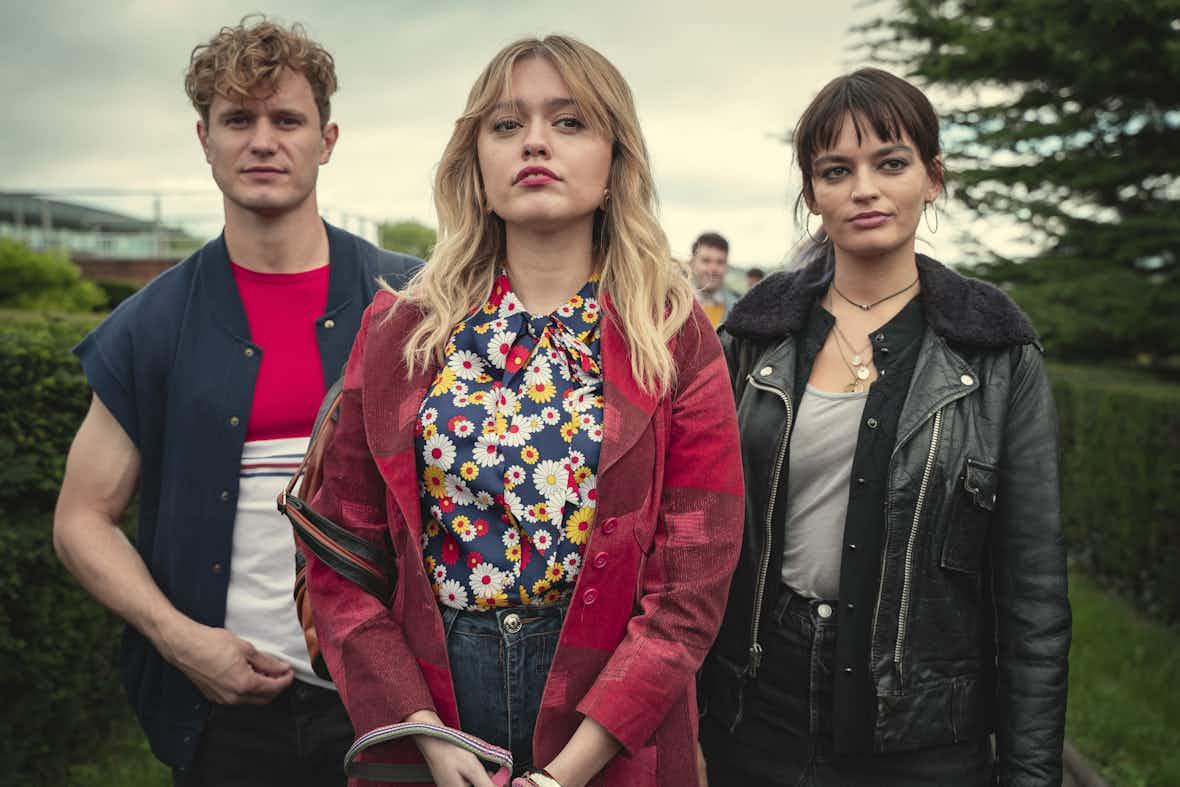 Screen Time: Say no to the endless scroll through streaming platforms. Read our guide to next week's best watches.
Listen up, fashion fiends. We know you're distracted by the SS22 collections currently stomping down runways at London Fashion Week. But we also know that, post-Fashion Week, pretty much everyone's in need of a good slob sesh on the sofa.
So today, we present your after-after party plans: five new TV shows and films that will help you relax after the glitz and glamour migrates to Milan. From the latest series of Sex Education to the return of RuPaul's Drag Race UK, here's what to keep your eyes peeled for this week.
Got time? Watch it all in one go
Sex Education

The school holidays are well and truly over, so it's back to Moordale High this week. What's changed over summer (and, er, the show's pandemic hiatus)? Well, Otis has a moustache, Maeve has an edgy new fringe and the school has a new headteacher, Hope. Played by Girls' Jemima Kirke, the new top dog is on a mission to put the breaks on her students' unrelenting sex drive, which isn't helped by the fact that they'll soon be embarking on a school trip to France. Good luck with that, babe.
Available on Netflix

The film worth leaving home to see
A Brixton Tale
Posh white girl meets working class Black boy in Darragh Carey and Bertrand Desrochers' directorial debut, A Brixton Tale. That may sound a bit trite. But the plot thickens when you realise that the girl in question, Leah (played by Sex Education alum Lily Newmark), had been secretly filming the boy, Benji, around Brixton for an art show. Once they start dating, Benji agrees to let her carry on filming, but when he sees the final footage projected onto the gallery's walls, the weight of the white gaze comes crashing down on him. Race, class and privilege all take centre stage here, in a film that will make you think about the difference between uplifting others and exploitation.
In select UK cinemas now.
A documentary to feed the brain
The Story of Looking

Mark Cousins offers an intimate reflection on the power of the visual world in The Story of Looking, prompted by an upcoming surgery to restore his own vision. Quietly powerful, as he considers the role that looking has had on his own life, as both a cinephile and a filmmaker, he unravels how the visuals we ingest shape us, while also unpacking the difference between looking and seeing.
Available at select screenings from 17 September

Absurd comedy or reality TV to crack a smile
RuPaul's Drag Race UK

Start your engines, UK huns. Mama Ru has returned to Britain to search for our next drag superstar and, if it's anything like the last series, we're in for a treat. What would our winter lockdown have been like if we didn't have Bimini Bon-Boulash to cheer us up every week? It's not even worth thinking about. And just as we kiss goodbye to summer and brace for cold weather, a whole new set of queens are waiting in the wings to brighten up our autumn. We thank God.
On BBC Three every Thursday at 7pm from 23rd September

A poignant, essential watch full of talking points
Help

Sure, a film about the pandemic probably seems like the last thing you want to watch right now. But with stars of the calibre of Jodie Comer and Stephen Graham, Help is actually worth resurfacing all that trauma for. Written by the prolific and brilliant Jack Thorne (The Virtues, His Dark Materials, loads more) the action takes place inside a Liverpool care home, where Comer's freshly qualified carer has formed a bond with Graham's patient, who's battling young onset Alzheimer's. Then Covid hits and, well, we're all too familiar with what happens next. But even though you've already seen the harrowing stats, Comer and Graham's performances make this essential watching, humanising the headlines for a poignant reflection on the pandemic.
Available on All 4 now.


More like this