Five film and TV shows to watch over Christmas

Screen Time: Christmas specials, blockbuster streams and juicy drama to ride out your festive food coma with.
Give yourselves a pat on the back. There's only a week left of 2021 and you've survived through winter lockdowns, anticlimactic summers and Matt Hancock's Jingle Bell Ball outfit. Traumatic. It's time to massage the brain a bit, don't you think? You know, push all of that to the back of your mind and replace it with festive fodder.
And with it being Christmas Eve, er, today, there's plenty of that on hand. While the festive period may now be filled with uncertainty thanks to the pandemic, one thing that remains constant is television's capacity to keep us entertained between now and the new year. From Christmas specials to blockbuster streaming moments (think Leo, J‑Law, Meryl Streep, Timothée Chalamet and Ariana Grande all in one film), here's what to watch while you pick out the Purple Ones.
Got time? Watch it all in one go
A Very British Scandal

Remember 2018, when Hugh Grant played Jeremy Thorpe, that politician who tried to get his ex-lover murdered in the ​'70s, for miniseries A Very English Scandal? Well, three years on, the salacious scandal format is being revived under the ever so slightly altered title A Very British Scandal. This time, Paul Bettany and Claire Foy take centre stage as the Duke and Duchess of Argyll, whose very public divorce got messy when racy photos of the latter were provided as evidence of her being unfaithful. As many have pointed out since the scandal erupted, the Duchess of Argyll was probably the first revenge porn victim on record and newspaper nicknames such as ​"The Dirty Duchess" were slut-shaming. Now revisited through a modern lens, A Very British Scandal might just change the public's perception.

The first episode airs on BBC One at 9pm on Boxing Day, with all three episodes available on BBC iPlayer from that time. Episodes one and three will be aired the following two nights on BBC One.

For cosying up on the sofa…
The blockbuster you don't have to leave home to see
Don't Look Up

Here are two things you should know about Netflix's big holiday Blockbuster Don't Look Up: A) early reviews are not great and B) the film's cast will make you watch it anyway. It's got Leonardo di Caprio and Jennifer Lawrence as astronomers who have noticed a deadly asteroid is on course to destroy Earth, Meryl Streep as the US President, Jonah Hill as her son and Chief of Staff, Cate Blanchett as a news anchor, Timothée Chalamet as a greasy punk, Ariana Grande as, well, a pop star and many more names that look impressive when listed in a trailer. A not-so-subtle allegory about climate change, when DiCaprio and Lawrence try to warn the world about the asteroid, pretty much no one cares – particularly those with the power to change things. Where could writer and director Adam McKay have possibly found inspiration for this one, eh?

Available on Netflix now.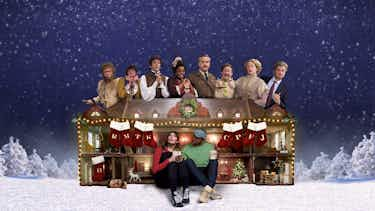 Ghosts Christmas special

It wouldn't be Christmas without a ghost story, would it? If you've already watched A Christmas Carol (The Muppets version, obviously), then we suggest you make a seasonal visit to Ghosts' Button House, where Mike and Alison have discovered a man living in a tent on the grounds. Thank God, then, that they have Button House's unhelpful apparitions on hand to help deal with the situation. We're sure Lolly Adefope​'s Kitty can barely contain her excitement.

Available on BBC iPlayer now.

Full-fat Crimbo content to get you in the mood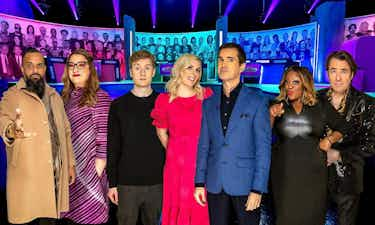 Big Fat Quiz of the Year
Fine, this annual quiz isn't strictly Christmas-themed, but is there a sound that you associate with leftover turkey more than Jimmy Carr's owl hiccup laugh on Boxing Day? This year, Carr is joined by Jonathan Ross, Sarah Millican, James Acaster, Judi Love, Sara Pascoe and Guz Khan, and there's guaranteed to be plenty of gags about all of the moments that defined 2021. No, nothing will ever beat the halcyon years when Noel Fielding and Russell Brand teamed up as the Goth Detectives, but if a crowd-pleasing Boxing Day watch is what you're after, Carr's quiz is just the thing.
On Channel 4 at 9pm on Boxing Day.

Talking points for when your next wave of social fatigue hits
The Book of Boba Fett
When Disney teased a Boba Fett spin-off series at the end of season two of The Mandalorian, the Internet collectively lost its shit. Now, the latest addition to the Star Wars franchise has finally arrived, for an action-packed journey following the pursuits of the galaxy's most feared bounty hunter. Taking place around five years after Return of the Jedi, the series follows Boba Fett and mercenary pal Fennec Shand as they attempt to claim territory once ruled by his old boss Jabba the Hut. Sadly, there's no Baby Yoda in this series, but rumours are swirling around about some pretty major cameos. Keep your eyes peeled.
On Disney+ from 29th December.


More like this