The legend of Troy Deeney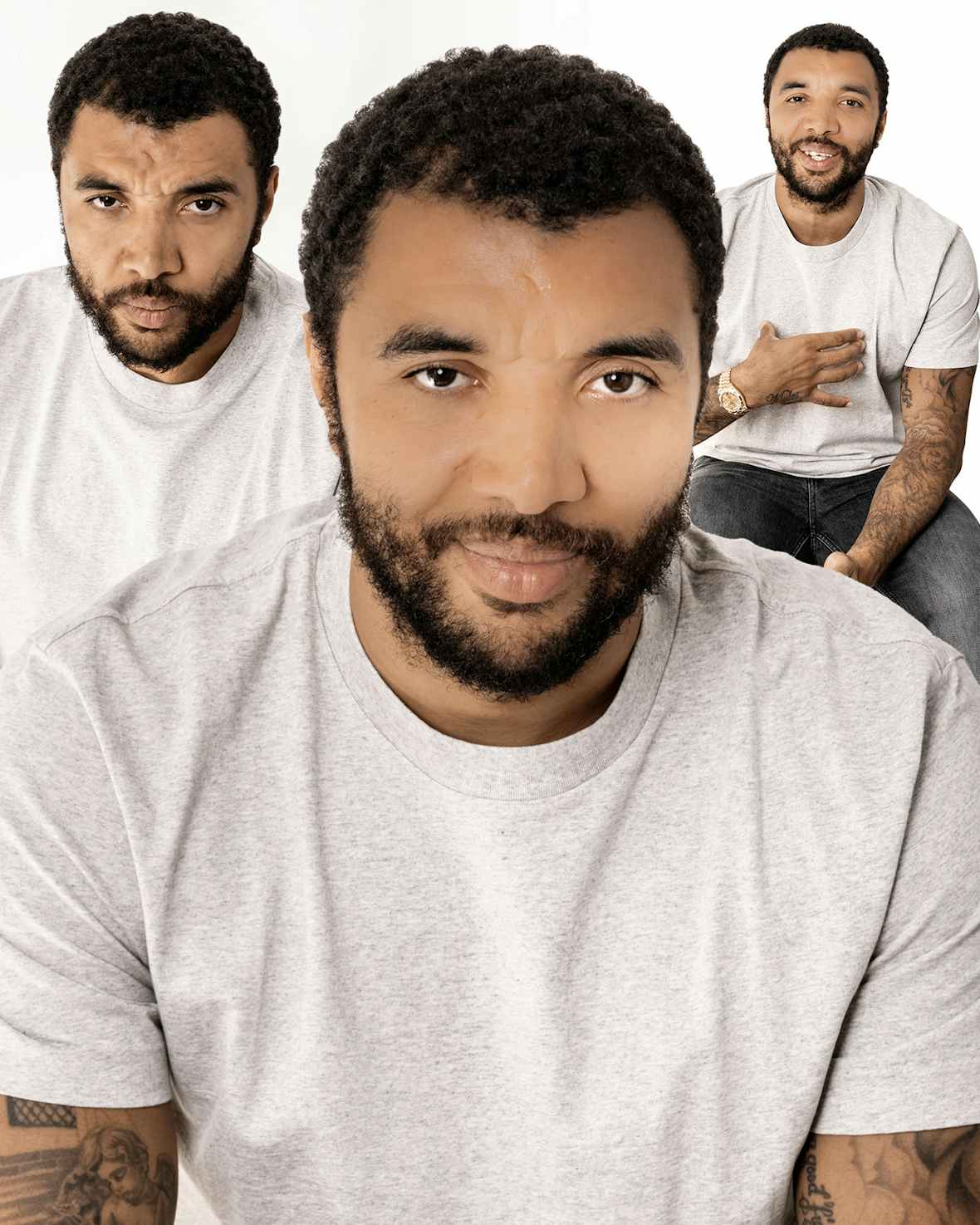 In the last year, the Watford FC striker has secured the BLM logo on Premier League kits, written a memoir and created a podcast series with guests Ian Wright and Elton John. Anything else? "Big mouth got relegated. Now I have a point to prove."
Troy Deeney walks into the room and asks: ​"How are you feeling about last night? The George Floyd stuff…"
Damn, we're there already. Don't get me wrong, I wanted to talk to the Watford player about his involvement in football's Black Lives Matter movement. But I thought we might ease in with a question or two about the Championship side's crucial 1 – 0 win against Norwich City, a victory which took them one step closer to a fast return to the Prem (a feat achieved four days after Deeney and I met). Or Jose Mourinho's sacking as Tottenham manager. Or the European Super League debacle.
But not today. Today, Deeney wants to talk about news news, specifically the former Minneapolis policeman Derek Chauvin's conviction the previous day for the murder for George Floyd. The verdict was read out as Deeney travelled home to Surrey from the Norwich match – he'd been following the trial each night on CNN – and he's already texted the Premier League captains group to remind them that, through taking the knee, they all played a part in making history.

Ostensibly we're here to speak about Deeney Talks, his new podcast, but throughout our interview he seems keen on upending the traditional footballer-journalist power dynamic. As well as my feelings on the Chauvin verdict, he wants to know about where I grew up, what my school was like, what you learn on a politics degree, how often my parents spoke to me about race, how often I cry.
He takes me through the audiobooks he's been listening to on his drives to and from Watford's Hertfordshire training ground. Titles include Barack Obama's A Promised Land, Akala's Natives: Race and Class in the Ruins of Empire, Michelle Alexander's The New Jim Crow: Mass Incarceration in the Age of Colorblindness and Alicia Garza's The Purpose of Power: How We Come Together When We Fall Apart.
Deeney is best known as Watford's talismanic, tub-thumping club captain. The striker, 33 in June, has built a footballing career and a public persona on scoring goals, clattering his hulking frame into opposing centre-backs and winding up opposition fans by slagging off their players.
But pantomime villainy aside, Deeney's story is remarkable. He grew up in Chelmsley Wood, an enormous council estate east of Birmingham's city centre, and was raised alongside two younger siblings, primarily by his mother Emma. His stepfather, Paul, spent Deeney's early years in and out of prison.
"I was never going to be a footballer," Deeney informs me, although today he certainly looks like one, in Louis Vuitton sneakers, Fear Of God sweatpants and a Nipsey Hussle T‑shirt. ​"Limitations and ceilings were placed on me from a young age, having social workers as a nine year old or not finishing school… Working in a factory or being a drug dealer, they were the only two options."

Aged 18, he was working as a bricklayer and paying to play for Chelmsley Town, which plays in the Midland League, the ninth tier of English football's pyramid. Over the following decade he rose through the professional game, playing for Walsall in League Two and League One before signing for Watford, then in the Championship, in 2010. They reached the Premier League five seasons later. He'd assumed the captaincy in 2014 and, aged 30, led the club to the 2019 FA Cup Final against Manchester City, a game they lost 6 – 0 (brutal).
But Deeney's ascent of the pyramid has not always been straightforward. In 2012, he served three months in prison for affray after a fight in Birmingham city centre during a particularly tempestuous period following the death of his stepfather. His release from prison marked a turning point.
"I've made a lot of mistakes, I've gone through all of that and, at 23, [I was] in a position to go forward. So really, from that age, I kind of just went, you know what, I've just got to be me… . I had this mentality of like, I'm just going to be the full version of me, and you're going to like it.
"I really hate the word ​'normal,'" he continues when I ask how his life experiences have equipped him to begin his podcast. It's a series of one-on-one loose conversations, in which he seeks to humanise a range of famous people. ​"Your ​'normal' and my ​'normal' are totally not the same. We just use the word ​'normal' to normalise everything."
This season Deeney's spent four months out of action rehabilitating an injured achilles, which afforded him the spare time to develop the podcast. In the opening run of episodes, he speaks with Ian Wright about working on building sites and recovering from violent childhoods. He asks boxing promoter Eddie Hearn for tips on making time with his family. He wants to hear about Louis Theroux's experiences interviewing neo-Nazis and Black nationalists, and what he therefore makes of BLM.
He speaks to friends Mo Gilligan and Anthony Joshua and, through Watford, he speculatively reached out to the club's former chairman (and honorary life-president) Sir Elton John. The lifelong fan – who has a stand named after him at Vicarage Road – was happy to sit and chat for 45 minutes.
"I was nervous," Deeney confesses, ​"I felt a responsibility. He's trusting me to have this conversation. What's Sir Elton John's normal? What makes him tick? He's been one of the most famous musicians in the world for 50 years – what defines success? Aged 74, how do you reinvent yourself?"
"In seasons two, three and four, I want people to open the podcast series and go: ​'Wow, Troy spoke to him! He's going to ask some fucking uncomfortable questions, let's see where this goes.'"

Deeney's also used the time to put the finishing touches to an autobiography, which delves deep into an upbringing in which both he and his mother were physically assaulted by his stepfather when Deeney was nine. He's declined opportunities to write about it before. But now, with his mum's help, he's managed to make a degree of peace with the past.
"I spoke to my mum and I just said: ​'I want to do a book, but there's going to be some things in there that people won't like.' Remember, it's my perspective, I am only speaking about how I can remember it as a kid, as a teenager, how I can remember it now. So I wanted her input on it massively.
"Me and my mum are close," he continues. ​"We have a great relationship, and she's my queen, but there's this connection through trauma that we haven't really dealt with."
Aged nine, Deeney started leaving school early to pick up his younger brother and sister and make them beans on toast while his mum worked.
"To people from a stable household that must be really alien, but that's my normal. So what, you had to pick up and walk home and miss the last lesson of school? It's alright, It's what you do for your family."
Deeney wants the book to be honest, but also remembers his responsibility, realising the value of his life story. He's keen to assert that ​"it's not going to be a book about sadness. I was never sad as a kid. Did I have issues and things that happened? ​'Course I did. But my childhood as a whole, I remember it fondly.
"I was a kid that just played football. There's kids like us everywhere, in London or Birmingham or Manchester. It doesn't matter if you're white or Black or Asian, you will have gone through something where it's just like: how do we crack on from here?"
While this message might be universal, there are also moments when Deeney feels he's been treated differently because of his ethnicity. He recalls an incident on the children's clothing floor at London department store Selfridges. Pre-Covid, he was shopping with his partner, Alisha Hosannah. She was heavily pregnant with their now 15-month-old son.
"My missus has walked maybe 10 yards ahead… I've got, like, two or three items, just little things, kids' stuff. I'm literally walking from one section to the next to ask my missus: ​'Do you like this?'"
"The [sales assistant] hasn't seen her, and goes: ​'Can I take that off you?'"
"Why?"
"I wanna make sure that you're not gonna… umm… do you need to try it on?"
"I was like: ​'It's for a newborn!' Then my missus came over, and I'm like: ​'The baby's there!'" he relates, showing me how he gestured towards her bulge. "'Do you want me to put my arm up her and try it on?'"
Deeney had had enough and asked for the manager, who duly came over and ​"realised who I am". An apology was belatedly offered, as was a voucher. Deeney told them what to do with it.
"The thing that people never understand is the change you see in a person as soon as they go from ​'you're not supposed to be here' to ​'oh shit, I could get in trouble here…' ​'Can we do more? Do you want a drink?' No, I don't fucking want a drink, I'll buy my own one!'" he fumes.

Troy Deeney knows you can't get angry in these situations, but they've been part of his experience his entire life. Sure, nowadays they might occur in department stores or luxury car showrooms, but in the aftermath of the murder of George Floyd, and when people have tried to deny that racism exists in Britain, years of feelings welled up within Deeney.
Ahead of football's return from lockdown in the 2019/​2020 season (at the end of which Watford were relegated to the Championship), Premier League chiefs scheduled regular Zoom calls to keep the 20 club captains updated on plans. In one of the last calls before the restart, ​"racism" was the final item on the agenda. But when it looked like the call was going to be prematurely adjourned, Deeney blurted out: ​"Racism. What are we doing about it?"
"I don't think who I'm talking to," he recounts, giving a good impression of that aforesaid ​"full version" of himself. ​"I just think: ​'You said you were going to do something, you didn't do it, now I've got a problem… This is bullshit… There were protests, the NBA were doing things, and we're really not going to do shit?' I really wasn't cool with it. ​'We need to do something!'"
Deeney knew he had the backing of Leicester City's Wes Morgan, who he'd been messaging throughout the call. But after his outburst the conversation fell silent. Then, one by one, Kevin De Bruyne [not City's captain but representing the club on the call], Jordan Henderson, Seamus Coleman and Harry Kane each pledged their support.
"So then it just sorta went like: ​'OK, Troy, come back to us in 24 hours with an idea.'"
De Bruyne had already suggested ​"Black Lives Matter" as a replacement for surnames on the back of players' shirts but, when some of the captains reconvened on a Zoom call, Deeney felt they could go a step further. Alisha, a graphic designer, said she could come up with a logo to replace the Premier League badge on each team's kit. Over the following days Deeney was joined by Morgan and Henderson on calls with Premier League officials.
"After three or four really awkward conversations we got there. In the Premier League, [even] if you've got three or four influential Black people who want to do something, you [still] need the backing of everyone else."
In taking the knee, a direct reference to George Floyd (and its originator, formerly NFL player Colin Kaepernick), and wearing kits with Alisha's Black Lives Matter logo on their sleeves, with its clenched fist replacing the A in Black, clubs and players projected a unified front in their stance against racism – one that fans, viewers and the watching world couldn't ignore or miss.
"That's why I sent the message today saying: ​'I know [the verdict] might not have affected you in the same way, the George Floyd stuff, but in the [Black] community it's huge.' And I think we played a part in that," he adds of a global movement that added pressure and weight to the fight for justice. ​"I genuinely do."
But Deeney knows that while hearts and minds are important, it's legislative change that's really required. He's spent the past year in meetings with league chiefs and members of parliament discussing the processes which will secure the movement's longer-term legacy.
"We have the short-term goal, which is to do something impactful, which keeps people believing that change is coming. The long-term goal is legislation," he says, referring to laws to prevent racist abuse both in stadiums and online. ​"The midterm goal needs to be every player, every club, who's associated with Adidas, Nike, Watford, Arsenal, whoever, put on pressure, speak to your superiors [about these issues]. Because if not, it won't change."

Four days after our conversation Watford beat Millwall to secure promotion to the Premier League. Deeney watched the game from the stands – having had knee surgery last summer, he's been forced to sit out much of the 2020/​21 season (though he did get seven goals in his 18 appearances). But he's back running on grass at Watford's training ground and will be raring to go again come August.
"I've got a point to prove," he told me as our conversation drew to a close. "[Last season] the club got relegated, but the big mouth [also] got relegated," he adds, pointing towards himself and acknowledging his own forthright demeanour.
So now Deeney's looking forward to the club's return to English football's top flight. His good friend and teammate Nathaniel Chalobah has worn the captain's armband in his absence, but Deeney's naturally hungry to win back his place in the team.
"You're not gonna outwork me," he states firmly. ​"You're just going to out-talent me. I don't mind saying I'm not the best. I know what I'm good at, which is a skill within itself. You're not going to outwork me," he repeats, ​"and if I do have to give up my place as the main striker or the captain, you better be fucking good!" he concludes, eyeing me intensely, just to make sure I've got the message.
Welcome back Watford and welcome back Troy Deeney. It's going to be fun having you in the Premier League again.

Deeney Talks is available across all streaming platforms now


More like this