Black Sherif is Ghana's openhearted music star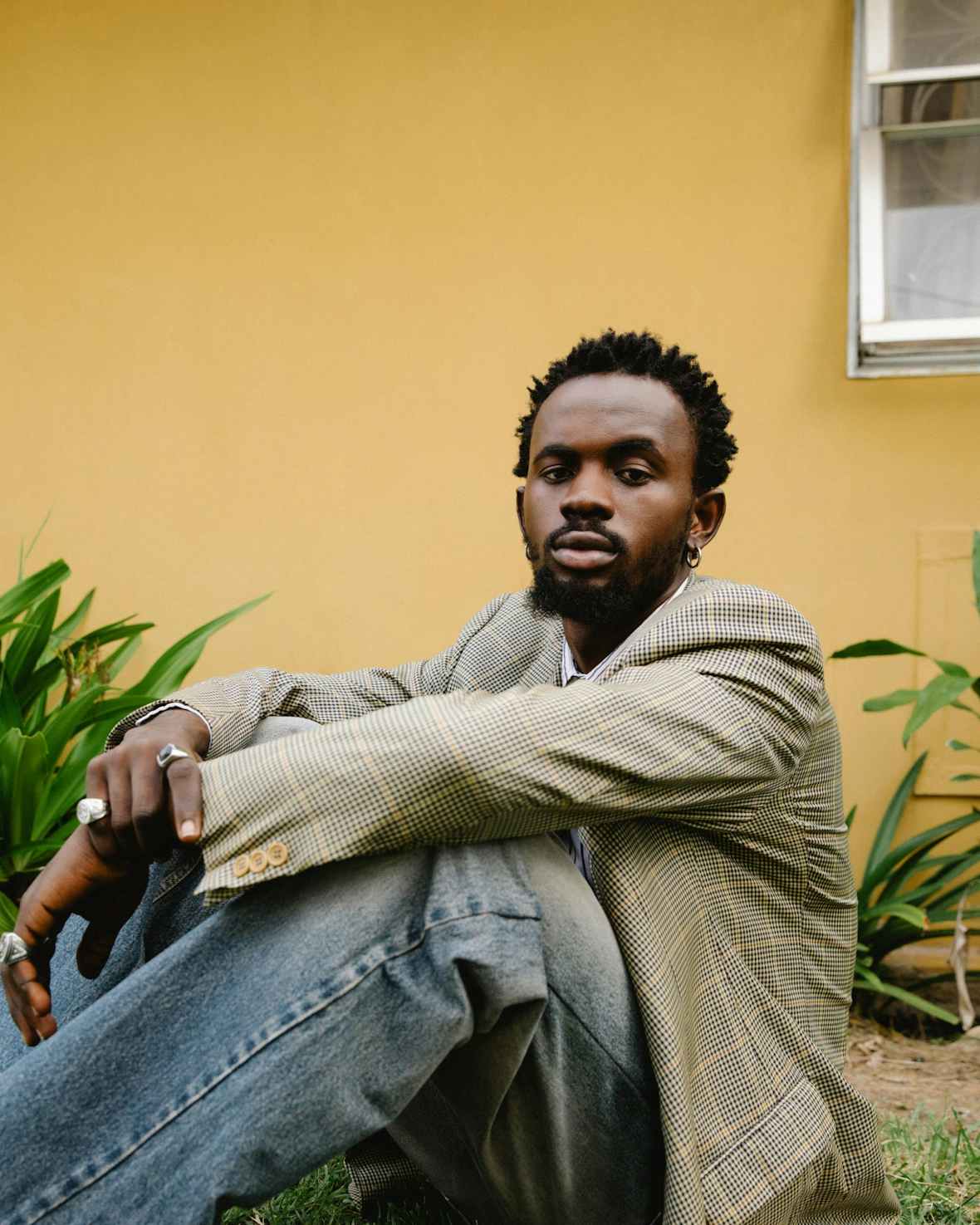 Following a chaotic adolescence, Blacko struck gold with his hybrid style of hiplife and drill. In his interview with THE FACE, the 20-year-old talks about repressed emotions, working with Burna Boy and taking immense pride in his debut album.
When Black Sherif is about to make a big leap, he likes to be around the tranquillity of the beach. So on the night that the Ghanaian superstar's debut album The Villian I Never Was was due to drop, he rounded up some friends and headed to Laboma beach, Accra for a night of celebrations and fireworks.
"I love nature so being at the beach was great for me because the vibration and spirit was great that night," the singer says, laughing over Zoom from a tastefully furnished flat in a suburb of Accra. Over the course of our conversation, Blacko speaks slightly sheepishly in his raspy voice and flashes a toothy grin from time to time.
It's a far cry from the fiery persona that vociferous releases like Second Sermon and Kwaku The Traveller have cultivated, but it's important to note that – despite being one of the biggest breakout Ghanian musicians in recent times – Black Sherif is a 20-year-old barely through his second year in university.

Still, it would be a huge mistake to consider the singer a soft touch. ​"Growing up in the zongo [the hood], your experiences and responses [to it] can be aggressive," he says about his cool disposition. ​"I used to be very aggressive as well, but after leaving high school and maturing, I realised that life doesn't always have to be that way. I discovered that if you relax and analyse situations, you can see better options."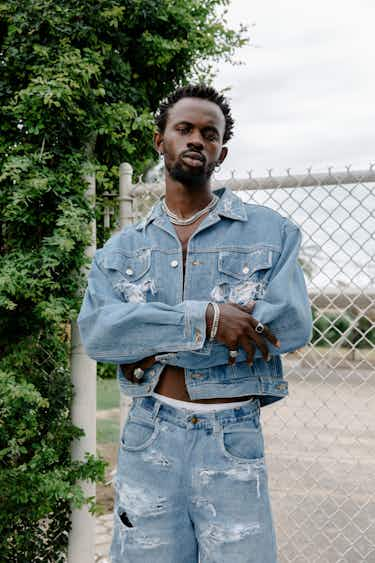 As he grew older, he picked up the street code of silence, walling up his thoughts without anywhere to process them. ​"One thing I learned from growing up is hiding your emotion," he says. ​"Where I'm from, you can't tell anyone about your business because everyone is going through something and no one is ready to listen."
He got his first taste of music from his mum, a big highlife fan who invited him to listen when local highlife bands played celebratory wedding numbers and funeral dirges in a park directly opposite his childhood home. His dad put him on to reggae and hip-hop around age nine, sparking his passion for lyrical storytelling.
Things took a dramatic turn for Blacko around 2016 when he started failing in high school. But as his grades slipped, he found a music community of like-minded students at Kumasi Academy that revolved around beating tables in classes and listening to the latest Migos songs. It was also around this time that he started composing his own music, experimenting with trap flows and fusing it with elements of hiplife.
Following his high school graduation in 2019, Black Sherif moved to Accra, keen to make a fresh start at university, where he is still studying. But a series of situations he refuses to go into in detail railroaded him during his first year. ​"These are experiences that I can't speak about fully because I'm not the only one that went through it so I try to guard it," he says. ​"What I can say is that life happened to me, there have been shared experiences with so many others and these experiences caused me so much pain and gave me scars that I still have today."

Retreating into making music proved to be the saving grace. ​"What helped me was channelling all the hurt into music, that's my coping mechanism," he says. Blacko returned with a high-energy sound – bouncy highlife rhythms merged with gritty drill beats. Kumasi's asakaa boys has recently developed a Ghanian iteration of drill as an explosive depiction of life in the hood, which helped pave the way for Blacko's style.

Then came Black Sherif's one-two punch. Released in May 2021, the track First Sermon served as a potent introduction to his emotionally intense style. The hype was superseded by the anthemic Second Sermon, in which Blacko paid tribute to a cousin who passed away and reflected on his newfound success.
Second Sermon launched Black Sherif from a promising regional act to rising global star, and Burna Boy was quick to hop on a remix. ​"I tried to feel hyped about it but it wasn't hitting me," he confesses. ​"So I just tried my best to feel normal because I know that's life." Blacko suggests that the feeling of numbness came from the shock of the African Giant cosigning him so early in his career. ​"It's mad because that was literally two years after high school, I was a fresher in university and I was dropping a song with Burna Boy."
There were reports that professional disagreements within Blacko's network were threatening to stall his success, but in March 2022, he dropped his biggest hit so far, Kwaku The Traveller – a poignant track in which he admitted that he'd ​"fucked up" in life. The humble relatability clearly resonated – the track is one of the biggest African songs of the year, having being used for TikTok videos more than 20 million times. It currently sits on over 18 million Spotify plays, and it was reported that it was the most Shazamed song in the world at one point.
Following the success of KTT, a series of festival performances were scheduled for the summer in Europe, but Black Sherif had another plan: a burning desire to record his debut album, The Villain I Never Was, at home in Ghana. ​"I left it all to finish this album because I wanted to give it my all," he says wistfully. ​"I lost gwala [money] but I knew what I was working on and that it was going to have a huge impact. That's a part of my soul, there are parts of me in this project."
The complexity of Blacko's experiences and journey collide on The Villain I Never Was where he attempts to make sense of the grief and guilt that has marked his rise to stardom. Testament to the UK music scene's synergy with West African artists, the album features production from J‑Hus's right hand man Jae5 and Manchester tag-team Litek and Whyjay, who recently struck gold with Central Cee's Doja.
On songs like Oil In my Head and We Up, Black Sherif leans into that heightened sense of pride, even if there's still a sense of pain in his voice. He's not quite sure what people will take from this project, but he's quick to point out that he doesn't want to be viewed through the lens of pity.
"There's a lot to unpack there and people will take what applies to them," he says, readjusting his black hoodie. ​"But I want people to focus on the positives from my journey and keep that with them. Because, ultimately, this is the story of a winner, despite how sad it might sound."

Corrections: this article initially stated that Black Sherif celebrated the release of his album at a beach in Laboma, Accra. It also stated that working with Burna Boy didn't ​"fulfil him as much as he expected". It was amended on 14th October.

More like this