Say goodbye to Brockhampton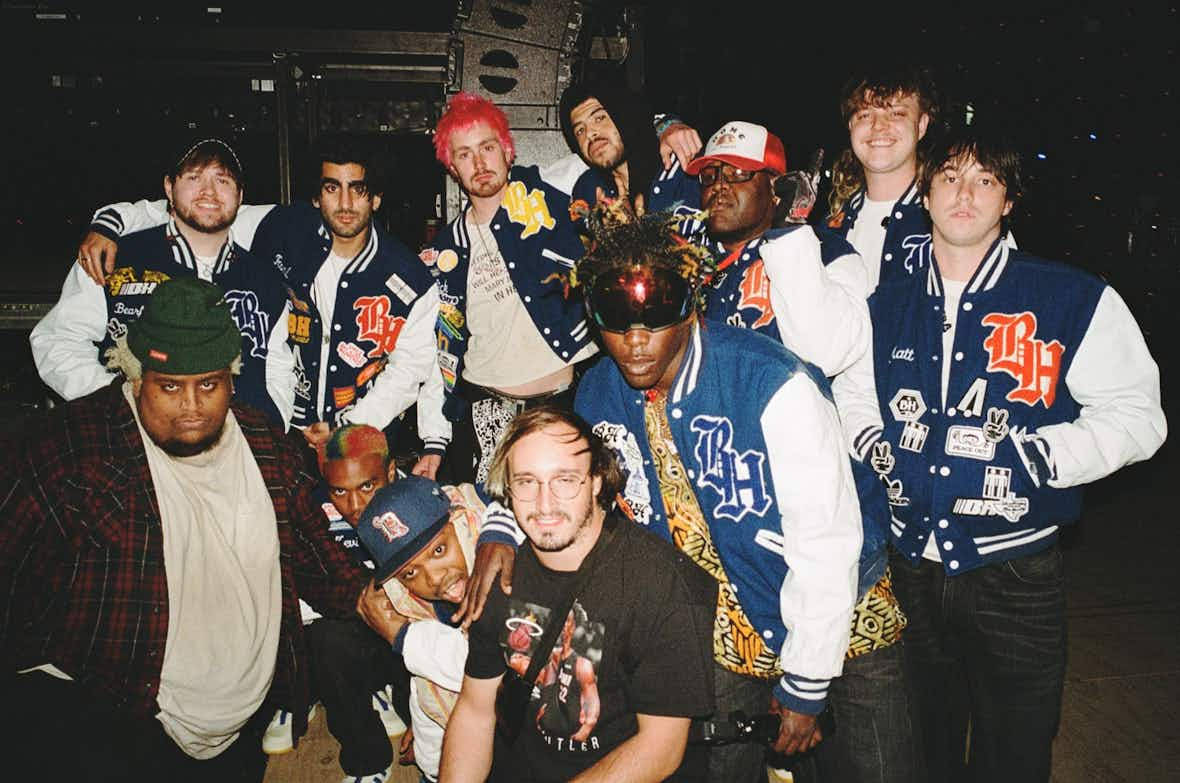 After a turbulent eight years, the hip-hop boy band has dropped their final album.
Since forming in 2014, Brockhampton have worked at such a relentless pace that they were reportedly signed up to drop six albums in three years. During their time in the limelight, they weathered waves of hype and backlash, fallings out and the firing of founding member Ameer Vann, who was accused of sexual misconduct.

Although they were undeniably huge at points, Brockhampton felt like the ultimate cult band. They took their fans on a wild ride, archiving their shared home with DIY documentaries and offering real time updates on the band's deterioration with messy tweets. At their best, they were funny, vulnerable and extremely cool. Conceptually, the band seemed to answer the question: fellas, is it gay to live in a house with your dozen or so best friends? with a decisive and enthusiastic yes.

The seeds of Brockhampton were planted back in 2010, when future members Vann, Joba, Matt Champion, Merlyn Wood and Kevin Abstract attended high school together in The Woodlands, Texas. Following the dissolution of the group AliveSinceForever (which included Abstract, Vann and Dom McLennon), in 2014 Brockhampton took shape in San Marcos, Texas as a 14-strong collective, some of whom had been recruited by Abstract via a Kanye West fan forum. By 2016, they were recording together in Hollywood and being co-managed by Christian and Kelly Clancy, who'd recently struck gold with Odd Future.
Now, Brockhampton leave us a bittersweet parting gift: The Family, their seventh and – they insist – final album.

Produced by Bearface, the group's Belfast born singer and beatmaker, and LA songwriter boylife, the album is drenched in warm soul samples, bringing to mind the early work of their increasingly toxic early idol Kanye West.

While opening track Take It Back sees Kevin Abstract toast to the band's success ("Who would have thought we would have made it off the damn forum /​Maaaaan, I wish we got to play The Forum!"), its tone becomes more poignant as the album goes on. Abstract has considerably more air time than the other members as he paints a picture of troubled interpersonal relationships, the fractious impact of fame on the band ("This the most corrupted vision /​I turned my friendship into a business into an empire") and the pressure of overpromising to their record label ("Did we sign for too many motherfuckin' albums? Probably!").

Still, all revelations of bad vibes on The Family doesn't really change my fond feelings towards Brockhampton. They were one of the most genuinely interesting and progressive groups signed to a major label, and their vivid imagery – including the covers for the Saturation album trilogy – is seared in my mind. They were also one of the greatest live acts around. Their 2018 Coachella performance, for which they wore bulletproof vests with all-caps epithets emblazoned on them – Abstract's boldly reading ​"FAGGOT" – still stands out as one of the best live performances I've seen in the past 10 years. Backed by a bizarre-looking orchestra with their faces painted blue, they rapped with explosive energy, while allowing Bearface to slow things down with a softly-lit interlude full of rock ballad guitar solos.

But for fellow Brockhampton stans mourning their breakup, the good news is that at the end of The Family, Abstract leaves an intriguing promise: ​"Get out of your seats, the show is over – it's solo time."

More like this