The duality of Don Toliver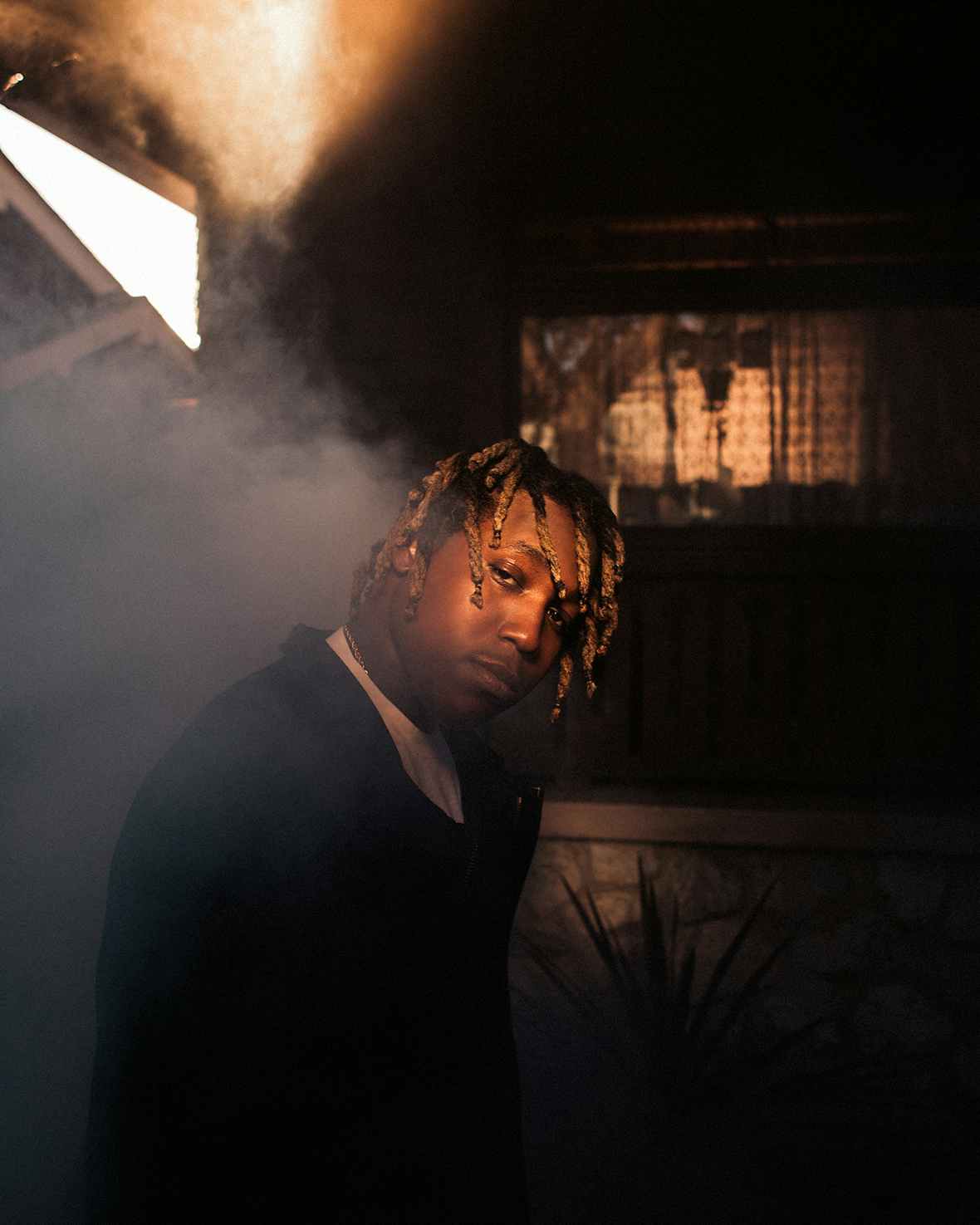 The trap'n'b artist – signed to Travis Scott's Cactus Jack label – talks Astroworld, TikTok and horoscopes over the phone from his hometown Houston.
Last year, Grammy-nominated rapper Travis Scott namechecked a relatively unknown artist in his Netflix documentary Look Mum, I Can Fly!
"There's mad kids out there, like Don Toliver," said La Flame.
A few scenes later, the film cuts to the Astroworld-rapper handing Toliver a diamond encrusted, cactus-shaped pendant in front of a crowd of howling fans. Inscribed with the words ​"Cactus Jack", the gift confirmed the 25-year-old as the latest signee to Scott's Cactus Jack record label.
It's no surprise Scott keeps tight tabs on Toliver. Since the release of his 2018 mixtape Donny Womack (dropped a day before his breakout feature on Scott's platinum-selling track, Can't Say) the Houston-raised artist has quickly established himself as hip-hop's most melodic crooner. It's a title he's earned through his contribution to Scott's JACKBOYS project, as well as his debut album Heaven or Hell which dropped last month.
Born Caleb Zackery, Toliver crafts salacious 808 beats amplified by his ethereal falsetto. He half-sings, half-raps choruses detailing steamy hook-ups, indulgent turn-ups and years spent dabbling in narcotics. It's a sound best exemplified by his tune No Idea, which reached no.22 on the Billboard charts in January after blowing up on TikTok.
Right now Don Toliver is isolating in his Houston hometown, we got him on the phone to chat about his upcoming tour with The Weeknd and the one habit he picked up off Travis Scott…
Hey, Don. How is isolation treating you?
There's no pressure – I just dropped one of the greatest albums of the decade and I feel real good about it.
I read online that you called it Heaven or Hell as a nod to your Gemini duality… are you a fan of horoscopes?
I'm not really big on horoscopes but I do feel like the Gemini sign resonates and that it does have a bit of truth to it.
Like what?
The biggest thing is definitely the ​"two sides". I like it because I have different personalities at times but it's not always a good or bad thing. It's just different vibes.
So, how does that relate to the album?
Heaven or Hell is a different way to explain the vibe of the music. Heaven is the good, the regular, the good vibes. Hell is just a kind of nightlife, street club, a whole other vibe – a different personality than what you would have in an office or work environment.
Which song is peak heaven and which is peak hell?
Peak heaven is Cardigan as it's very feel-good. Peak hell is After Party.
Do you have any other unexpected interests?
I'm from Texas so I love 4x4 vehicles. I watch a lot of off-roading on YouTube. I sit at home and I watch these guys have the time of their lives getting as dirty as possible. It looks like the funnest thing ever from my couch.
Back to your obvious interests. What was the first song you ever wrote?
One I did in high school called Bitch I'm in the Building. That was the first song I ever recorded and had people listen to – it got the whole school lit! It was a good feeling because I wasn't really coming at anyone like a rapper, I was just into shoes.
How did you link up with Travis Scott?
Travis is from Houston, too. One of my managers I was working with at the time reached out to one of Travis' closest friends that he grew up with. He liked the vibe of the music and came to a show one night. After that, he showed the music to Travis and the rest is history.

Have you picked up any habits from working with him?
The one thing I picked up from Travis is making the studio a home. Anytime I'm around Travis, we set up shop and we make it home. It really brings out the best in us because there's nothing to worry about [other] than what's at hand.
We might have a TV going, we might have some video games on, smoking a little bit, eating good food, vibing, pulling up tracks… all kinds of stuff. Just making it real comfortable.
What's your craziest memory from the Astroworld tour?
Every night Travis would intro Can't Say acapella and the whole crowd would sing it word-for-word. I'd never done arenas before and to see the crowd every night singing the song me and Travis wrote together, word-for-word, just took me away, everyday.
You said you were a trainer guy at school… What brands do you rate?
One of my favourite brands that I grew up wearing was Supreme. It's always been a go-to favourite my whole life. I love the work and all the dedication Supreme puts into every piece. I have never gotten a Supreme piece that wasn't lit. Even a little handbag is made with quality and love.
No Idea became such a massive sensation on TikTok.What did you make of all the dances?
I love it, man. I feel like people are getting the chance to be themselves and express themselves in a different way than just being negative. I have no problem with it, I think it's pretty fire – the creativity that's coming out of the kids is pretty dope. I love it. It's definitely a blessing for me as well that it happened that way. On that TikTok drip.
You've got a tour coming up with The Weeknd… can we expect a track anytime soon?
I can guarantee that it will happen. We'll definitely collaborate. The XO family [are] supportin'.
What other plans do you have for the next year?
I just want to touch people as much as I can with my music and my presence. I want people to understand that I'm doing this from my soul. I'm really tapped in on what I'm feeling and showcasing that on the tracks. I want people to have a good time with the music and make history. Get some platinum records, some Grammys – that would be alright.
That's what I want from the year, I want it all.

More like this