Dua Saleh: 4,000 miles from home
Born in Sudan, raised in the American Midwest, Dua Saleh is now in Wales, wrapping a role in Sex Education. But just how did a queer underground musician land a part in one of Netflix's biggest shows?
Taken from the new print issue of THE FACE. Order your copy here.

Newport, South Wales, is a long way from Minneapolis, Minnesota.
Perhaps it's further when you're sitting in Wetherspoons on a Tuesday night, pushing a Mediterranean vegetable lasagne around your plate.
But, after a day soaking in the full flavour of the Republic of Wales, that's where Dua Saleh is, dressed in a hoodie and Nikes that would be grail in London, E3.
The 25-year-old Sudanese-American has landed a role in season three of Netflix's colossal teen hit Sex Education, filmed across Cymru's southern wards. And while the part came to the musician-turned-actor – who had just achieved a modest breakthrough as an experimental singer-rapper – physically they had to come to it, crossing the Atlantic mid-pandemic for a six-month residency.
"I was surprised Sex Education even found me or had heard about me," they say, gripping a ginger ale as we talk during a fleeting relaxation of restrictions last December. ​"They were searching for artists that were non-binary… I think they just listened."
When Netflix shared the news in September 2020 that Saleh was one of three new characters joining the show (the others being Girls' star Jemima Kirke and Star Trek: Discovery captain Jason Isaacs), the response among their followers was both shock and excitement: one of TV's biggest shows had picked up a queer underground talent who radiates activist energy.
Cal, Saleh's Sex Education character, is also non-binary. A student attending Moordale High, they encounter the school's new headmistress (Kirke) and promptly clashes with her.
"Cal is very resistant and rebellious and disestablishmentarian," Saleh states, clearly charged by their new gig. ​"Cal's resisting the status quo because the status quo is inherently violent to the students. It is harmful to their self-expression and their identities."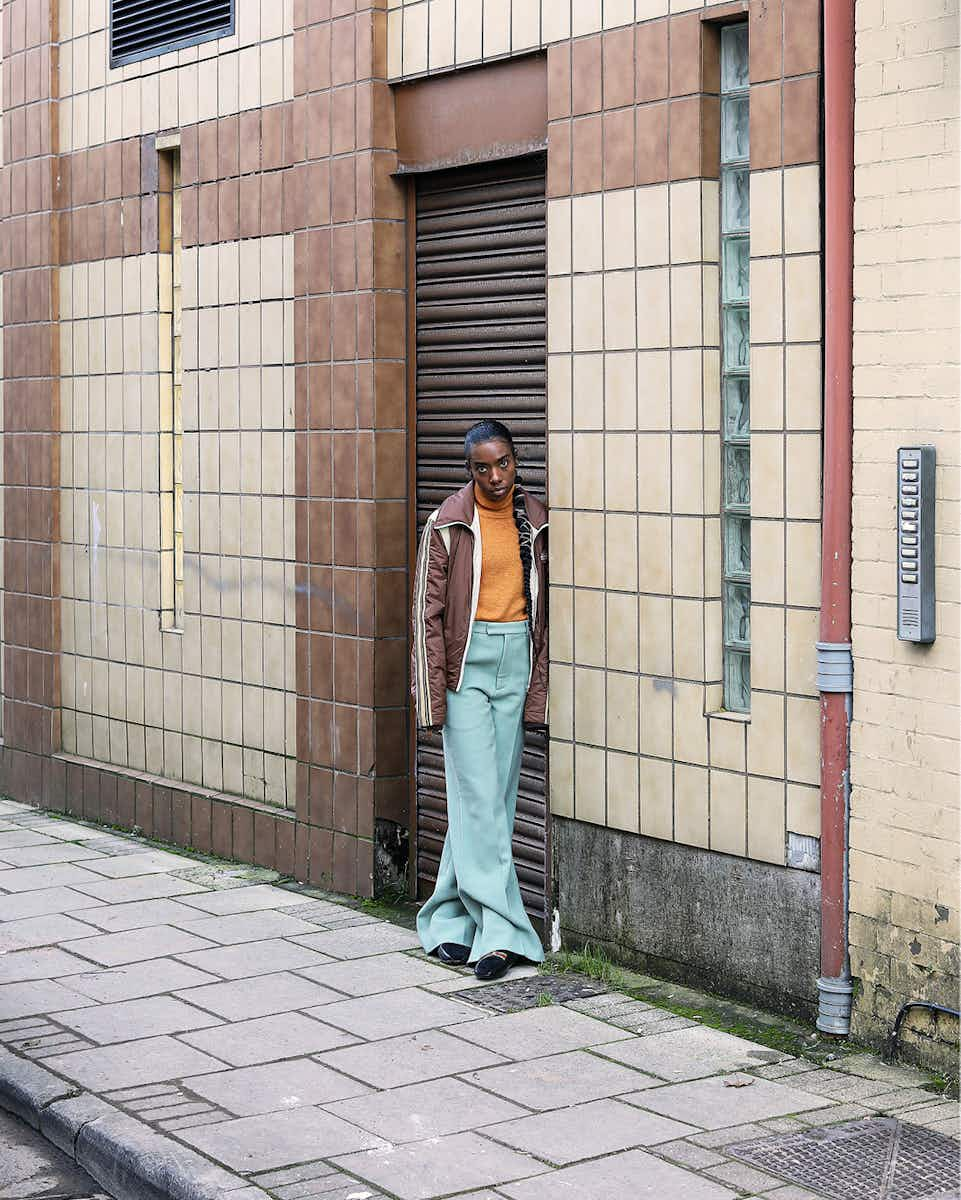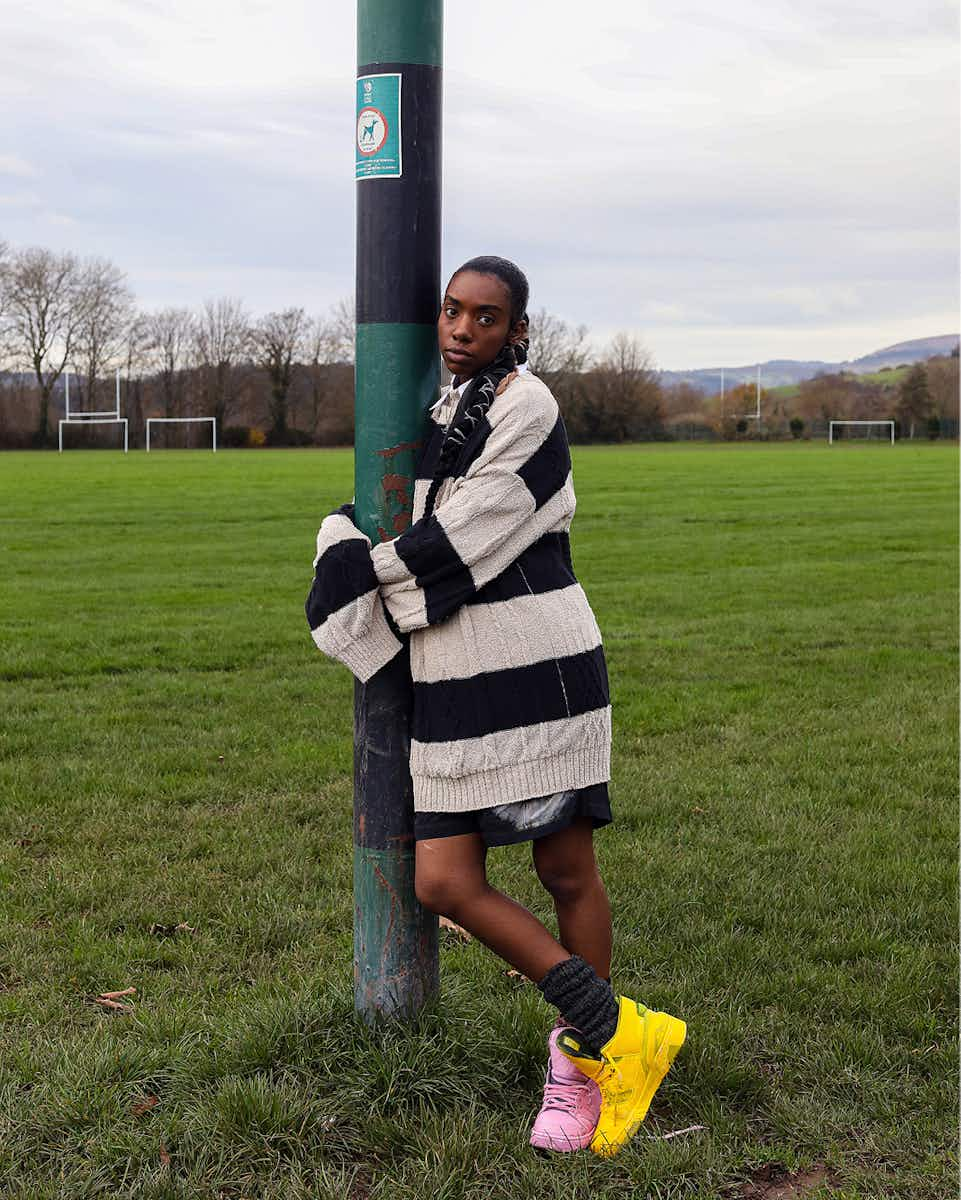 Throughout its previous seasons, Sex Education has presented characters that defuse archetypes: in this figurative utopia of sexuality's spectrum, everyone has their awkward and poignant moments. There's celebration in working things out as you go along and reassurance in fucking it up along the way. We were cheated by Grange Hill, weren't we? Not just because Gillian Anderson wasn't in it.
"All of the characters are well thought out," Saleh says, unfamiliar with ​'90s teatime BBC One. ​"They're very intentional – you get to learn more about them as the series goes on. My siblings are like: ​'Wow, I love that show.' So it's really beautiful."
Born in Sudan, Saleh arrived in the US aged five after their family fled their homeland's civil war.
"I'd lived in Eritrea in refugee camps for four years," they explain. ​"Then I lived in Fargo and Finley [both in North Dakota], St Paul [Minnesota] [and] another city on the outskirts somewhere in Minnesota that I've forgotten the name of. We moved to New York and New Jersey, Portland [Maine] and back to St Paul. Then I moved to Minneapolis [where] I've found a plethora of nonbinary people, which a lot of people can't say they have. I'm very grateful to have trans communities."
In 2019, at a time when Netflix had around 140 million subscribers, the first season of Sex Education was seen by 40 million households within a month. It made instant stars of actors who give their roles forensic emotional detail: Emma Mackey (as Maeve Wiley) has mastered emotional pull through silence. Ncuti Gatwa (Eric Effiong) speechifies with his own Rwandan-Scottish enunciation, rarely heard on any show. Connor Swindells (Adam Groff) conveys his pent-up character through physical gesture, crossing a shop counter like it's a pommel horse.
Saleh hasn't really thought about how their profile will rocket overnight once the show is aired later this year. (Their already healthy Instagram following of 30k will surely increase 10 times, then maybe 10 again.) ​"I like having to think outside of myself," they say. ​"I do that with music quite often."
Their debut EP, 2019's Nūr, was an unfurling ride whose name translates to ​"the light" in Arabic and is also a common genderneutral name. ​"I had gotten out of a depressive spell but I also wanted something gender-neutral that reflected my identity," they explain of the title. ​"As a Sudanese person, Arabic is part of who I am, my heritage, just as many Welsh people speak Welsh. The language is my upbringing and will be there no matter what." (Saleh has since sung in the language on bilingual track Smut.)
Throughout 2020 Saleh was prolific. Aside from taking time to curate a guide of inspiring Black Minnesotan musicians for THE FACE in July, they released music almost every month, from March's London drill-influenced double single ManOman/​mOth to June's stunning EP Rosetta, named after the godmother of rock'n'roll, Sister Rosetta Tharpe. Sometimes sweet, sometimes perturbing, their sound is never not atmospheric, with hints of the skeletal percussion and airy soundscapes found in early FKA twigs material. But it's their commanding vocal performances that really stand out, stretching language to a syrup-like consistency before springing back like a big cat going for the jugular.
"People have said I sound like a combination of artists together. When they say it, I'm like: ​'Oh, I do listen to them all the time.' The weirdest was Nina Simone and Björk. If Björk was fucking trans or something that would be fucking crazy," they jab, with a laugh. ​"Or if there were a non-binary version of Lil Wayne. I would have liked to have seen somebody who was a reflection of my identities."
Last June, Saleh released body cast, a track produced by fellow Minneapolis artist Psymun about police brutality. Written in 2019, it was originally intended for a future project. ​"We weren't going to drop it, but George Floyd was murdered by police officers in Minneapolis," Saleh explains. For them, the political met the personal: this was their second experience of a Black person being killed by the police in their hometown.
"I had written that song prior because of another murder, Philando Castile [in St Paul, 2016]. It kept running through my mind: I wanted to donate funds to an organisation working and mobilising around that issue to defund Minneapolis police departments." All proceeds from the song were donated to Black Visions Collective, an organisation for Black liberation based in Minnesota.
The song opens and closes with voice recordings of a Montana woman, Angela Whitehead, standing up to police attempting to illegally enter her home in 2019. Its artwork is a memorial of Black citizens killed by police in recent times, including Floyd. ​"I kept waking up and hearing the song, and falling asleep hearing the song. Everywhere I went I could hear it playing in my head," Saleh says. They admit they were worried that ​"it was maybe self-indulgent about my trauma with seeing this happen in my city multiple times and nothing being done. [But] just watching events happen and seeing people repost triggered me. I was like: ​'I need this out.'"
As a statement, showing Saleh's true artistry, the track turned out to be a breakthrough, even played on Radio 1 in December, some six months after its release. Today they have nearly 260,000 monthly Spotify listeners trawling through their back catalogue.
Saleh's been writing in Wales during their downtime, too, as well as home-cooking Sudanese food. ("I'm still getting adjusted to the food here. Chips on a full Welsh breakfast? The foreigner in my spirit won't let me do that early in the morning.")
"If you look through my Notes app, it's mayhem," they continue. ​"I've been figuring out Ableton. I've recorded a bunch of stuff with Psymun, Stint [Canadian songwriter/​producer Ajay Bhattacharyya, who's worked with Zara Larsson, MØ, Demi Lovato and Kesha], and some other people. Also songs I've produced myself.
"It's kinda funny," they reflect as they finish their ginger ale. ​"I started singing a cappella at poetry slams because I was broke. Then people started booking me for shows, and I was like [laughs], ​'Oh, I can make a bag out of this.'"
This year they will truly secure it.
Production Katherine Bampton. Photographer's assistant Alex Lloyd Jenkins. Shot in Newport, South Wales. Thank you to all the staff at The Coffee Shop, The Priory Hotel and Waterloo Hotel. Diolch yn fawr, Ben Reardon

More like this