Goldie: ​

"

The ​

'

90s had everything!"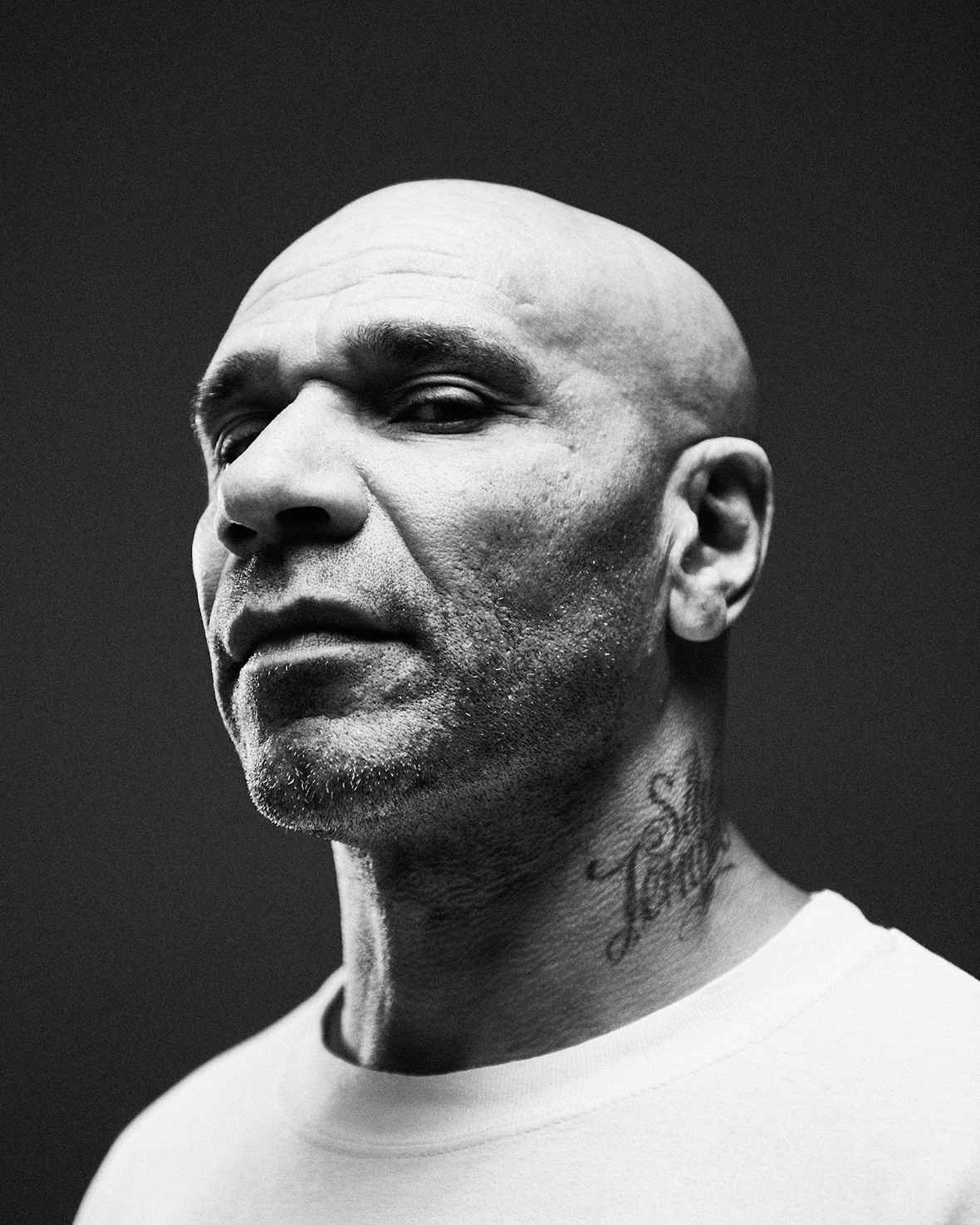 My Media Diet: The dancefloor legend talks through his upcoming album, stripping it all back and his fears for the future of nightlife (tip: get off yer bloody phones).

Something's just run over Goldie's head. Mid-conversation, a loud, audible scurrying can be heard darting across the ceiling. He's totally unphased, carrying on his sentence before clocking my look of confusion (or fear, concern) over the Zoom call.
"It's my big lizard. He chases this bird through the roof. He's been living up here for years," he says. ​"They're in the cement part of the house, so they can't get into the house."
Well, glad that's cleared up.
Speaking to THE FACE from Phuket, Thailand – where he's lived since 2015 – Goldie's gearing up to talk about his upcoming LP, The Start of No Regret, which is being released under the banner of new duo Subjective, the other half of which is revered engineer and sound producer James Davidson. The Start of No Regret is his first proper release since 2015's LP, The Journey Man, which became his highest-charting record ever, peaking on the UK Charts at No. 6. Noted for its innovative take on euphoric club beats, it was almost an autobiographical storytelling exercise, nodding to his formative years through its sweat-soaked drum and bass beats, while also spanning genres like soul, jazz and downtempo.
Similarly, The Start of No Regret is a 14-track patchwork quilt of Goldie's best bits since the 1990s: mind-bending jungle, drum and bass, bits of rave and heavy basslines throughout. But also worming their way in are occasional bursts of neo-soul (supplied by Greentea Peng), alt-jazz (cheers, Tom Misch) and blues and soul (hats off, Natalie Duncan). It's these additions that make the album feel innovative, never succumbing to nostalgia, which Goldie of all people could easily lean into to make a hit. After all, he's the self-proclaimed ​"90s guy". But while Gen Z's all over the decade that made him, he knows this record couldn't be a looking back exercise – no matter how much he loved those heady years.
"The impact of the ​'90s is far greater than the ​'60s will ever be. I had the same conversation with Virgil [Abloh] about it," he says of the late designer who picked up Goldie's Amen Break and used it as part of the Louis Vuitton SS22 soundtrack. ​"He said to me, ​'The impact of what you guys did in the ​'90s is huge'. The ​'90s had everything!"
The ​'90s didn't have a global pandemic, though, which Goldie fears will disrupt the home he's lived, breathed and loved since his early-'90s come up: the dance floor, the transcendental mecca that has seen him through his greatest hits. ​"I found myself reading about coronavirus and the effects of it on clubbing. I feel slightly blessed and overwhelmed with what has happened because of it," he says, referring to the reemergence of raves and the celebrations that have ensued as a result of being locked up for months.
But there's one new addition to the dancefloor that has our Goldie in a state of fear: smartphones. ​"That was followed very quickly with a real fear and belly ache thinking, ​'Oh my God, what about my daughter's kids? What about this new generation that have been pacified with telephones? Are they smart enough to jump over the telephone and go, ​'There's a new trend where you switch it off and go to a club!'' It scares me slightly."
Though these anxieties were no doubt amplified by the pandemic, themes of fear and uncertainty were already present in the tracks Goldie had lined up beforehand, like Dark feat. Greentea Peng. ​"The whole idea of mental illness and where it's at, we wanted to have this real stop-you-in-your-tracks moment," he says. ​"I think a lot of young people will resonate with that record. And even by her own admission, I think it's one of the best tracks [Greentea Peng] has ever done."

Brushstrokes, Goldie admits, is ​"probably one of the greatest songs I've ever written." It's plain to see why, with its seductive pre-Chicago house beats poised to tingle the nostalgic spidey senses of a new Gen Z audience that's packing dancefloors come the weekend. It's one for the new discoverers. ​"It comes off the back of what was happening with Chicago footwork, which doesn't get a lot of love as its own movement, but I think it's a really beautiful track," he says.
For Goldie, this record was all about stripping it back – to a degree. Sure, he doesn't compromise on head-spinning beats, tracks to see the night in and the following after-hours sesh, but this is by no means a ​"deeper meaning" release. ​"We didn't want to make something where it takes 20 years for people to go, ​'this is a great album'," he says. ​"Journeyman​'s amazing, Mother​'s a fantastic piece of music. But it took years for people to get their heads around it."
Not this time. The Start of No Regret is a release for fans old and young. For the nostalgists, the nu-ravers, the Gen Z kids that were locked up during their formative years, the OG skankers and basically anyone in search of a big, fat, good time.
"I've personally done everything I wanted to do with music," Goldie says. ​"I thought this a really great way of celebrating in an almost looking back way, but without any traumatic experiences tied to it from the decades of music I've been through."

The last artist you discovered on Spotify?
It wasn't really a new artist as such, but I felt that BADBADNOTGOOD are bloody good. I was introduced to them through Virgil [Abloh]. He said, ​'You've got to check this band out, they're really cool'. I hit them up and it turns out they're massive fans, so there might be something on the cards…
What's the last new word you learned?
Suay, which means beautiful in Thai. It's not a street word, it's not an English word, because I'm living here!
The last meme that made you laugh?
Oh, there are a few. But it was Silence of the Whams, with George Michael dressed as Hannibal Lecter. That was pretty funny.
Last series you watched?
I just watched season four of Gomorrah, which I was bitterly disappointed in. The last series that I thought was amazing would be Mr. Inbetween. When the Australians get it right, they get it right. Think about Romper Stomper (1992)!
What's the last bit of music that blew your mind?
I listened to Michael Kiwanuka and I thought: ​'Jesus Christ, I've obviously been living in Thailand too long'. He won The Mercury Prize and I think his music's amazing. Solid Ground is an absolutely great piece of music. I felt very, very strongly about that music. It's powerful stuff.
The last picture you liked on Instagram?
I think it was a picture of Shara Nelson that I thought was really cool. I saw this picture which pushed me to do this post on Massive Attack. I saw the picture of the album cover of Blue Lines and I thought: ​'What an album, man.'


More like this