Helena Hauff is going stir crazy

The German DJ rose from the dimly-lit underground to headline some of Europe's biggest dance festivals, smashing out intense electro for thousands. But is she about to pack it all in to work in an Italian restaurant?

When Helena Hauff picks up the phone, she's in the middle of a daily conversation that has united us all during These Troubled Times: what are we having for dinner?
Several weeks deep into lockdown, in her hometown of Hamburg, and the electro connoisseur is contemplating giving up DJing to work in a restaurant, having used the time to unlock a hitherto unknown passion for Italian cooking.
"I've made fish with polenta and red peppers. I'm gonna to make some gnocchi tonight. I make my own pizza," she says. ​"That's pretty much the only thing I do."
To which the obvious response is: of course Hauff cooks Italian! Classic yet unpretentious, rich in historical and regional quirks yet fundamentally simple. And all dependent on the best quality ingredients – in Hauff's case, substitute a glug of Ligurian olive oil for a sharp sting of a ​'90s electro rarity. [Alright, that's enough of that – Heavily Laboured Metaphor Ed].
Equally at home on a massive festival stage or in a pitch-black basement, Hauff has grafted her way to the upper ranks of the underground since appearing on club radars in the early 2010s. As a resident at Hamburg rave-shack Golden Pudel, she gained a reputation for her deep-digging taste and out-of-time, punkish aura: drinking whisky, smoking cigs and, as legend has it, living off white bread and cheese to afford a Roland drum machine. She wasn't even online, and her monochrome press shots, all leather jackets and kohl-rimmed stares, gave off an aura of untouchable cool. (That's soon dispelled in conversation, when she turns out to be a right laugh).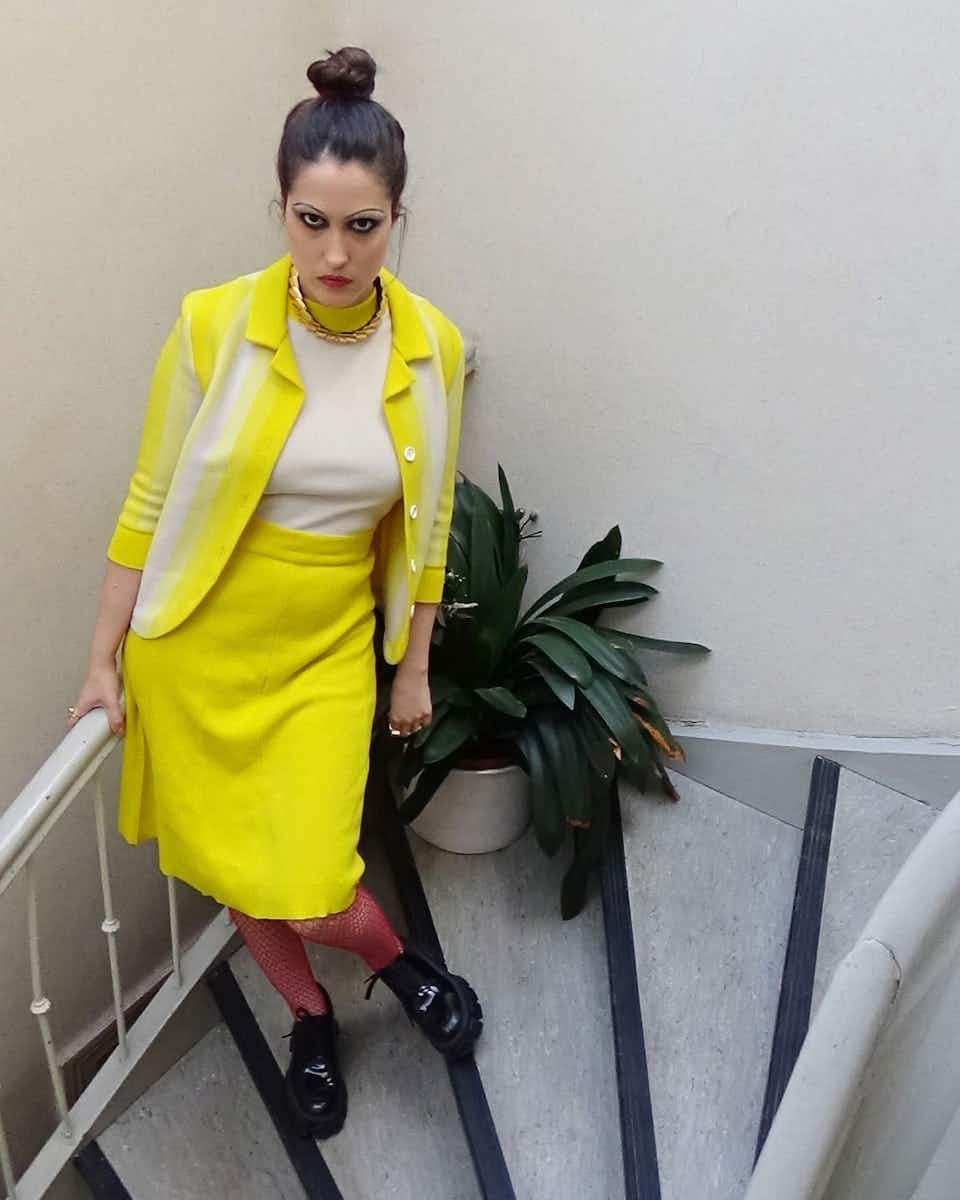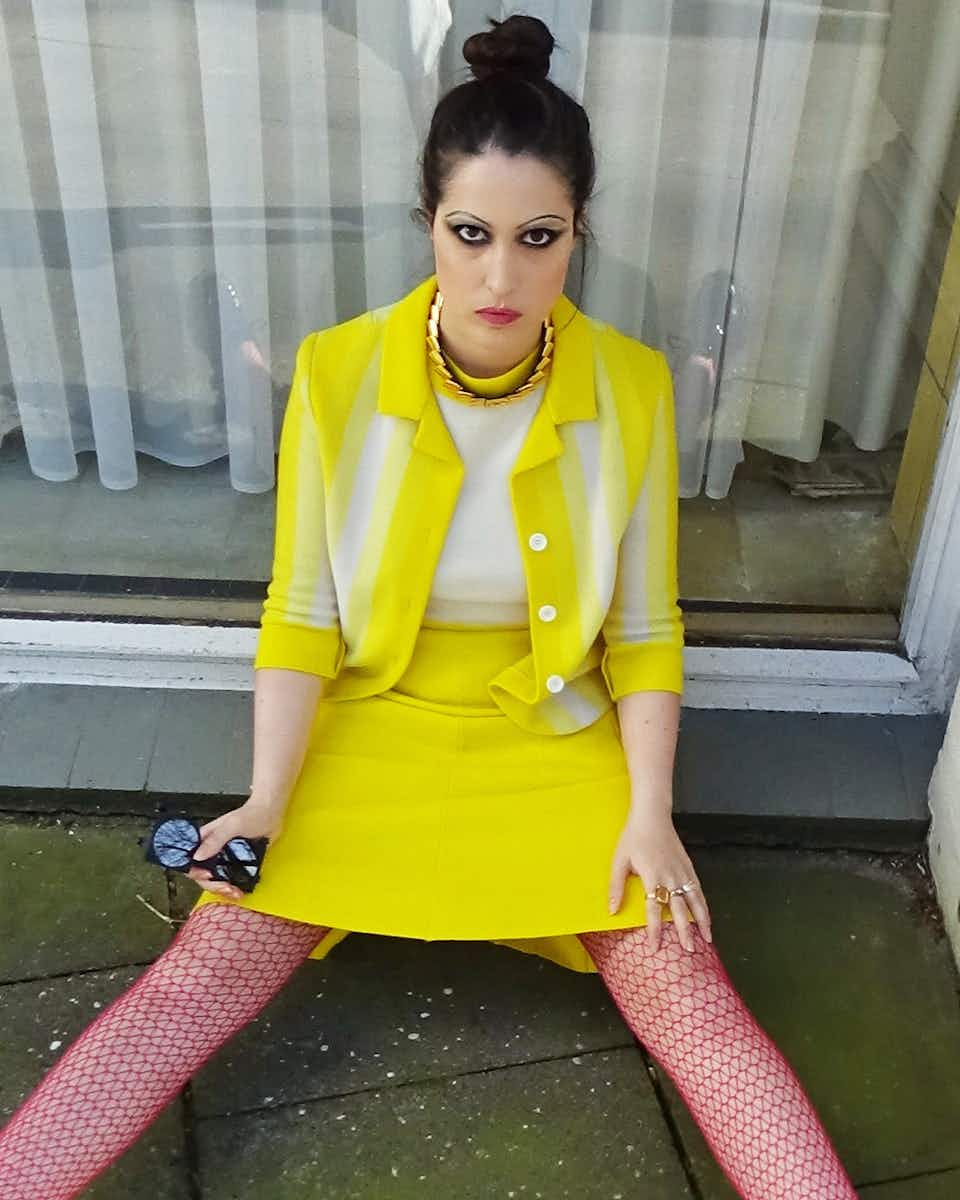 From 2013, a stream of cassettes and 12"s laid out the fundamentals of her sound – blasted techno, gritty drum workouts and occasional noise experiments – before her debut album, Discreet Desires, took the analogue machines into more menacing, sci-fi inspired territory. By the time her second LP, Qualm, came out to ecstatic reviews in 2018, Hauff was headlining Europe's biggest dance festivals, smashing out rabid electro to thousands of happy ravers without diluting her style a drop.
But now the hard-touring DJ is stuck indoors, with an entire summer of gigs and festivals cancelled. She's tried to record some music, ​"but a couple of my instruments are broken and I can't get them repaired," says the German, in a distinctly English-leaning accent perhaps absorbed from her Midlands-born partner Gregg, whose band Children of Leir have released two albums on Hauff's label. ​"It's good to have the time, but it's weird to feel like you have to do it now rather than when you actually feel like doing it."
As it happens, Hauff's last rave was also mine: a tear-out set in the big room at Bang Face, the donk-friendly UK festival where DJs vie for attention with naff arcade games and a roiling sea of inflatables. Between the fancy dress competitions and the ridiculous DJ names (Spongebob Squarewave? Trancey Beaker?!), it's beloved as the UK rave scene's guiltiest pleasure. For Hauff, it's ​"the coolest festival out there".


"At a lot of bigger festivals I have to be a bit careful what I play, so as not to be overwhelming," she points out, ​"but at Bang Face I can play different [styles] and people really appreciate it." This is both generous and accurate; the Bang Face audience famously like to go hard. ​"I remember saying to people, ​'This is the last bit of normality you're gonna see for a while'… at Bang Face," she laughs.
There is one neon-bright spot on the horizon, though: Kern Vol. 5, her hefty triple-disc contribution to Berlin club Tresor's mix series. Following previous entries from underground luminaries like DJ Hell and Objekt, Hauff's first commercially released mix is a thrilling snapshot of her record bag as it idles. Old favourites slot in between new finds, including some of her most-played tracks of last year like Shinra's twisted epic Pinwheel and a battered Umwelt remix of Subtopia, AKA German hardcore fiend The Mover.
It's one of the fastest mixes she's ever recorded, hurtling along at over 140 BPM most of the way, and it's also the longest – a result of her stubborn dedication to vinyl records and her consistently outlandish taste. ​"I only play vinyl and I don't have any other way of recording a mix. I could do it on a computer, but it wouldn't really be me. So I had to get the [unreleased] tracks pressed onto dubplates – but then I realised that I'd picked a lot of mad tracks that are really difficult to mix," she laughs, ​"so it ended up being really, really long."
Rarities include Aussie rave unit Nasenbluten, whose Intellectual Killer samples ​'90s horrorcore rappers Gravediggaz: ​"Roping up the devils, have ​'em hanging from my testicles!!!" ("I don't even see it as dark, I just find it quite enjoyable and uplifting," Hauff breezes.) Then there's Mayhem by Esoteric, an alias of Curley Schoop, a Dutch acid techno pioneer who died much too young in 1998. It's her favourite track by Schoop, she says, and ​"my copy of Mayhem is in a horrible state, so I needed to have it in there to get it on vinyl."
Hauff will be waiting a long time to test that scratch-free pressing on a club system. ​"I was really looking forward to the big festivals as well – that feeling of being in front of thousands of people, and they all have their hands in the air…" Until then, there's gnocchi to be rolled and the promise of the first big night out after lockdown. ​"When the restaurants and bars are open again, I'm gonna go for a really nice meal," she declares. ​"And then get completely wankered."


Tresor will release Kern Vol. 5 on June 19th

More like this