Mabel: ​

"

I was living my dream. But I didn't know how to deal with some of it"
Close-Up: The Brits' Best British Female is back with deliciously confident, club-ready banger Let Them Know. Having battled with stress and anxiety following her biggest year so far, she's ready to step back into the spotlight.

Beyond the implied glitz and glamour of celebrity status, being an artist in the mainstream music industry is a particularly cut-throat line of work. We've seen countless apples of the public eye crash and burn in the pursuit of becoming a pop star and staying relevant. It's hard to avoid being chewed up and spat out.
Mabel McVey is a pop star in the most effective of terms; impeccably styled, madly charming and the darling of her one million Instagram followers. She's learnt a thing or two about the pitfalls of the modern music business since fourth single Finders Keepers reached the UK Top 10 in 2017.

The 25-year-old singer is an artist label heads dream of. She's a chameleon entertainer, able to slip into various genres with ease, collaborating with Afroswing artists like Not3s and Kojo Funds, as well as commercial dance juggernauts like Tiësto and Jax Jones.
Finders Keepers made Mabel a rising star, putting her under pressure to top her blow-out hit. She did that with 2019's Don't Call Me Up, which peaked at Number 3 and later appeared on her debut album, the suggestively titled High Expectations. In February last year, a few weeks before the first UK lockdown, she won Female Solo Artist at the 2020 BRIT Awards.
And then, it all became too much.
On the surface, Mabel's been very active during the pandemic. She's kept her social media output steady, and in 2020 three of her tracks reached the top 10 – Boyfriend, West Ten with AJ Tracey and Tick Tock, the infectiously catchy collaboration with Clean Bandit and 24kGoldn. But behind the scenes, she forced herself to take a much-needed break from writing and recording, also minimising her press schedule to prioritise her emotional and mental wellbeing.
"I was really tired, I kind of needed a minute," she says of dealing with the heady stream of success, touring and travelling she experienced alongside releasing High Expectations. ​"Nothing can really prepare you for the 2019 that I had.
"Sometimes I'd wake up and be like: ​'I don't know what fucking country I'm in.' It was incredible, but also I think it took me out of a creative space for a long time."

Now feeling replenished, Mabel is ready to get going again. She's speaking over Zoom from her home studio in London on a day where she's juggling myriad promotional obligations. She's chipper and alert, gleefully pinging out answers in between bites of salad. Her anthemic comeback single Let Them Know seems destined for the dancefloor, as soon as we're all allowed to do that sort of thing.

"I just got really inspired by thinking about wanting to be out again, that sense of freedom that we're all going to have when we're able to meet up, dance and enjoy music together," Mabel says of Let Them Know, which she co-wrote along with MNEK, SG Lewis and RAYE. "[It came from] reminiscing on those times that were so easy to take for granted before. Now if you ask me if I wanna link, I'm never gonna say no!" she adds with a laugh.
Let Them Know is inspired by the music of ballroom and voguing culture, the telltale signs being its knocking house rhythms and the equally sassy refrain, ​"Baby, you're that bitch". Mabel had watched classic ball culture doc Paris is Burning (1990) as a kid with her mother and been privy to the underground scene by way of her godfather, the late fashion maverick (and OG FACE stylist) Judy Blame.
"I think I've grown up with so many people around me that have immersed me in ballroom and vogue culture – like, my mum's been going to ballrooms her whole life.
"I just want to give a nod to that world and celebrate it," she continues of a scene created by queer and trans innovators in New York. ​"So many people don't know that they're inspired by that culture. Pop music, dancing, pop culture – it all looks the way that it does because of that world."

Mabel's musical family is no secret at this point. She's the daughter of Neneh Cherry and Massive Attack producer Cameron Mcvey. Her step-grandad was legendary free jazz musician Don Cherry, whilst sisters Tyson and Naima are also recording artists, making leftfield R&B and improvisational electro-jazz respectively.
Mabel enthuses over the diverse background that shaped her upbringing, from being born in Malaga, Spain and growing up between Stockholm and London, eventually settling here aged 18. But ironically, the nomadic lifestyle made her crave the kind of mundanity most people dream of escaping in their younger years.
"Me and Tyson are always joking about how we both had this weird fantasy of wanting a clear, suburban background, where we ate potato smileys," she recalls with a smile. ​"Like, my mum would never allow food like that in our house."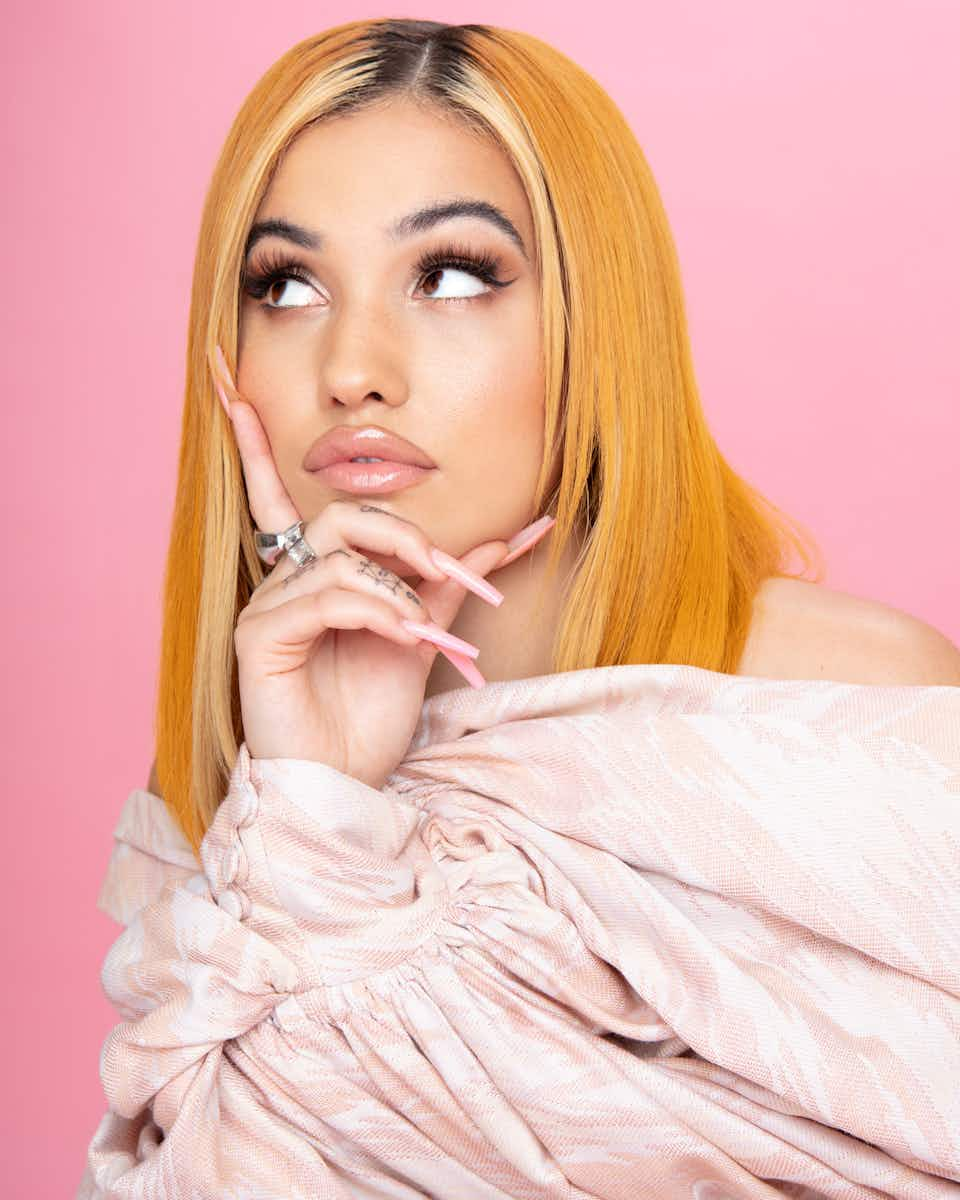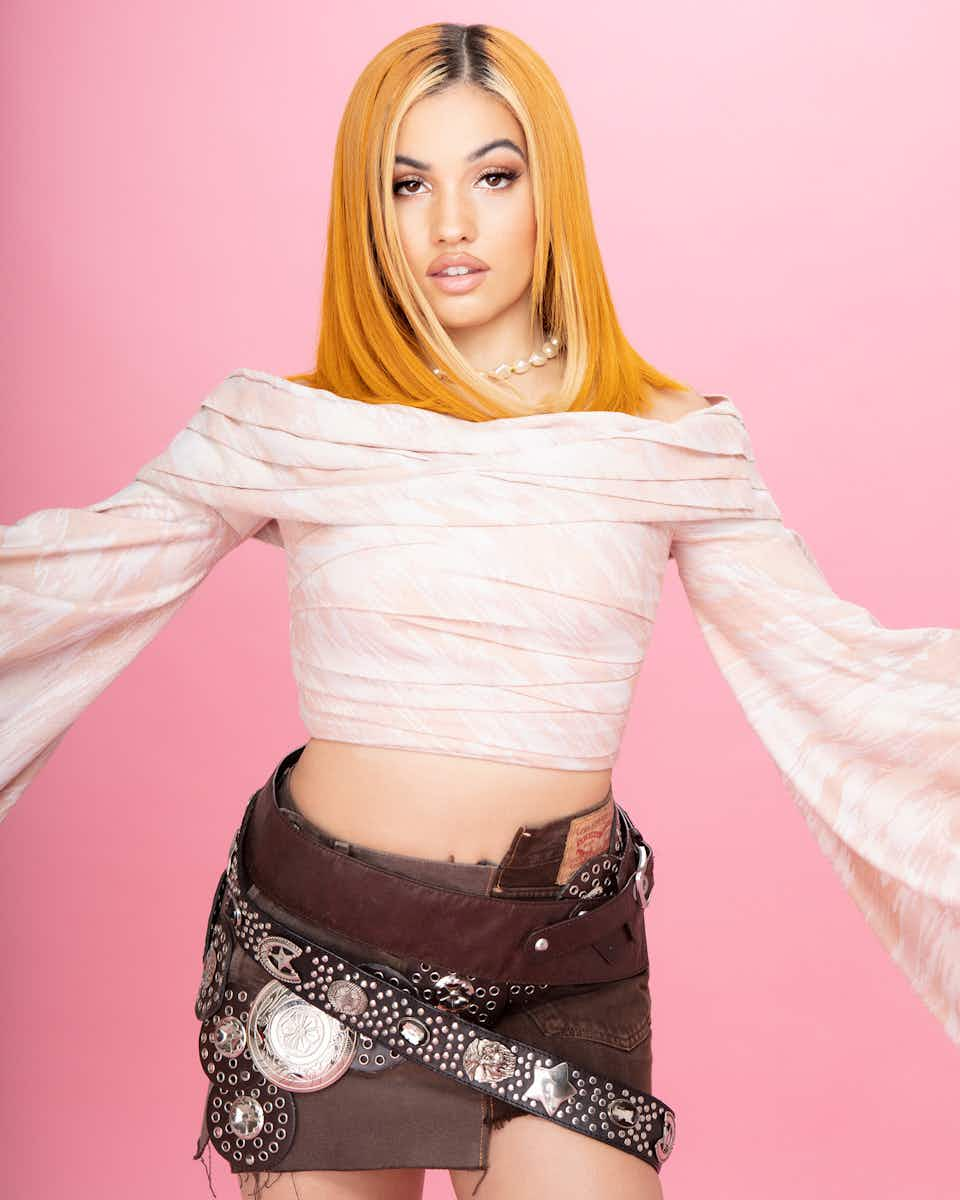 Before finally settling in London, she'd spent her teen years in Sweden and found it difficult to grasp her identity. With her mother of Sierra Leonean-Swedish heritage and her father both English and Scottish, her mixed-race background was a source of anxiety ("they don't really have a word for mixed-race [in Sweden]") and the teenage Mabel grappled with mental health struggles.
"I've had a lot of self-worth and confidence issues growing up. I had a difficult time socially in school. I stopped going at 15, because I just couldn't deal with the idea of what other people may or may not have been thinking."
This, in part, explains her recent struggles.
It's a tale as old as time. Long hours, relentless promo, and proximity to negative opinions can do its best to nip away at even the most seasoned performer. And for anyone wanting to maintain relevance, there's a pressure to keep running on the high. Keep up with press and social media, with fans adamant for new releases, or risk failure.
Mabel pauses, reflecting on how the stress and anxiety of the past few years caught up with her.
"I'm still so grateful that I've had those experiences and got so much support from people and radio and publications, like I was living my dream in many ways. But personally, I just didn't know how to deal with some of that. I saw the horrible things that people would say about me seep into what I already thought about myself. It all eventually piled up."
So in a world where prioritising rest is unthinkable, she shifted against industry culture and took a break – albeit one that still allowed her to release three tracks last year. Mabel moved back in with her parents during the pandemic and generally spent more time with family. It's given her space to claw back her confidence, reassess her priorities and figure out her personhood in the process.
"Everything's so disposable and has to be done yesterday – I can't function like that," she tells me. ​"I now know the things that I need in order to be the best artist and person I can be, just to be a functioning human being. I like to horse ride, I like to dance, I like to read. These are all things I found out about myself since I just stopped the madness!"
Now, Mabel's creative energy is recharged. She's working on her second album, which she's planning to release later this year. The new music is deliciously in-your-face, she says, a series of full-on dance records inspired by Madonna, CeCe Peniston and Whitney Houston.
"Freedom and celebration are the keywords I'm using to describe the music that I'm making now, because there's been so much darkness. When I went back to make music, I [had to ask myself], either I'm focusing on those things, or I'm going to be the person who's going to bring light."
"No, they can't beat you down," Mabel sings on the hook of Let Them Know, her slick braggadocio intended to inspire listeners who've also been struggling with their confidence in recent times. ​"It's not about needing to be sassy all the time, it's also about those moments when you're feeling insecure – can you still know that you're that bitch? Can you still tell yourself that you are worthy?"
"All the little things [I think] about myself – ​'I can't do this, or be like this as an artist' – I'm gonna wear all of those awkward things proudly," Mabel concludes with a sense of determination. ​"And I just want people to do the same."
Stylists Assistant: Simone Beyene Seamstress: Su Haines Hair & Makeup: Amanda Jah
Production: Katherine Bampton

More like this