Hear Hodge swap techno for tranquility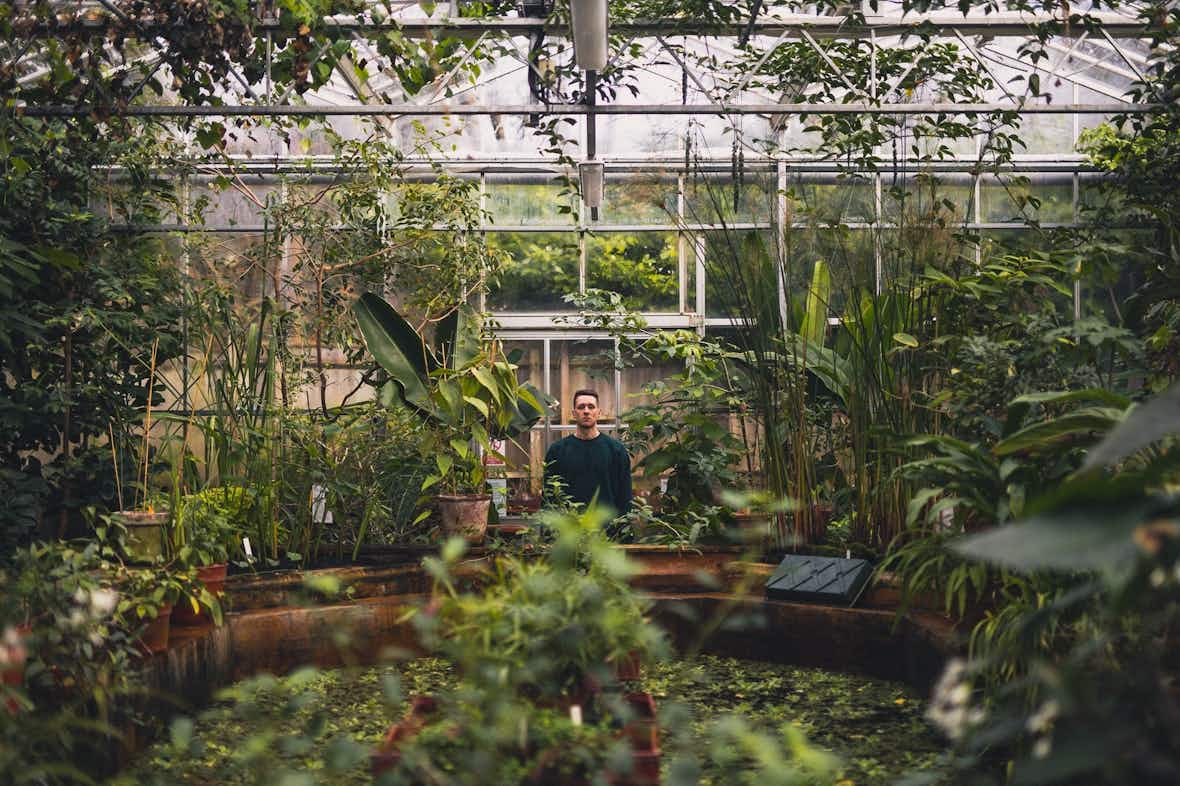 The Bristol DJ/producer showcases the softer side of his club music peers.
Hodge has mastered the art of chest-rattling club music. Formerly of the house duo Outboxx, in the earlier half of last decade, he began to explore a harder, often darker sound for his solo output. With releases on labels like Livity Sound, Punch Drunk and Pinch's Tectonic label, he's joined the ranks of Bristol producers who make techno with boosted bass that's inspired by the city's musical heritage – from its status as dubstep's ​"second city", to trip-hop and the sound system culture of the Jamaican diaspora. In recent years, Hodge has showcased an experimental flair, releasing over 20 EPs including collabs with the likes of Laurel Halo and Shanti Celeste.
But, the thing is, people don't seem to be craving as much club music during the lockdown. And so for his Face Mix, Hodge blends gentle and pensive productions, mostly from producers and labels more associated with the rave. It functions as a teaser of sorts for his first-ever album, Shadows In Blue (to be released 17th April via Houndstooth), which – alongside harder material – includes psychedelic soundscapes influenced by prog-rock aesthetics, science fiction and his love of horticulture. Listen to Hodge's Face Mix below.
How has self-isolating affected your relationship with music?
It's actually been really positive. Right up to the world shutting down, I'd been gigging so much. And because of that, I'd been in that loop of looking for music to play out and constantly planning sets. Constantly DJing can sometimes warp your relationship with music as you so often listen for stuff that will ​"work in the club". Having some time out to stop and reflect has let me listen to music again, absorbing sound in a calmer way, and that I guess is the idea behind this mix.
What has been your proudest moment as a DJ/​artist so far?
Right now when I think about life-changing moments, due to being at home probably for the longest period since I started DJing, it all comes down to travelling to places I never expected to go and playing music there. The Asia and America tours stand out as big moments for me. For example, playing in the mountains at Paramount festival in Japan was incredible. I was playing super fast techno in the middle of the day with a really happy, fun and loose crowd all dancing around a field whilst looking out at snow-capped mountains. It was so amazing, makes me laugh just thinking about it.
If The Face's readers have few quid to spare to support the music scene, where are some good places to spend it?
There are a lot of people self-releasing music to help them meet their bills and rent. For example, lots of websites are doing run downs of new Bandcamp self-releases to help artists out, so keep an eye out for that. Secondly, I'd say – if people can – then spend money at online record stores that can't function in their usual way right now. For me, two of those in Bristol are of course Idle Hands and Rewind Forward.
Tracklist
1. Lack – Inside (Forthcoming on Livity Sound)
2. Chevel – Underwater (Different Circles)
3. Minor Science – Second Language (Whities)
4. Burnt Friedman – Monkhide (Latency)
5. Deep Nalstrom – Between Spaces (Natural Selections)
6. Ulla Straus – House (Quiet Time)
7. Katie Gately – Ritual (Houndstooth)
8. LH – ??? (Unreleased)
9. Shanti Celeste – Sun Notification (Peach Discs)
10. Laurel Halo – Hyphae (Self Released)
11. Hodge – Canopy Shy (Forthcoming on Houndstooth)
12. K Lone – Bluefin (Forthcoming on Wisdom Teeth)
13. John Beltran – 10 Days Of Blue (Peacefrog Records)
14. Jay Glass Dubs – The Controversial Control (Forthcoming on Berceuse Heroique)
15. Bruce – Gary Deeps Snyder Dreams (Unreleased)
16. Lord Of The Isles — Inheritance ft. Ellen Renton (Forthcoming on Whities)

More like this