The best music T‑shirts to buy as Christmas gifts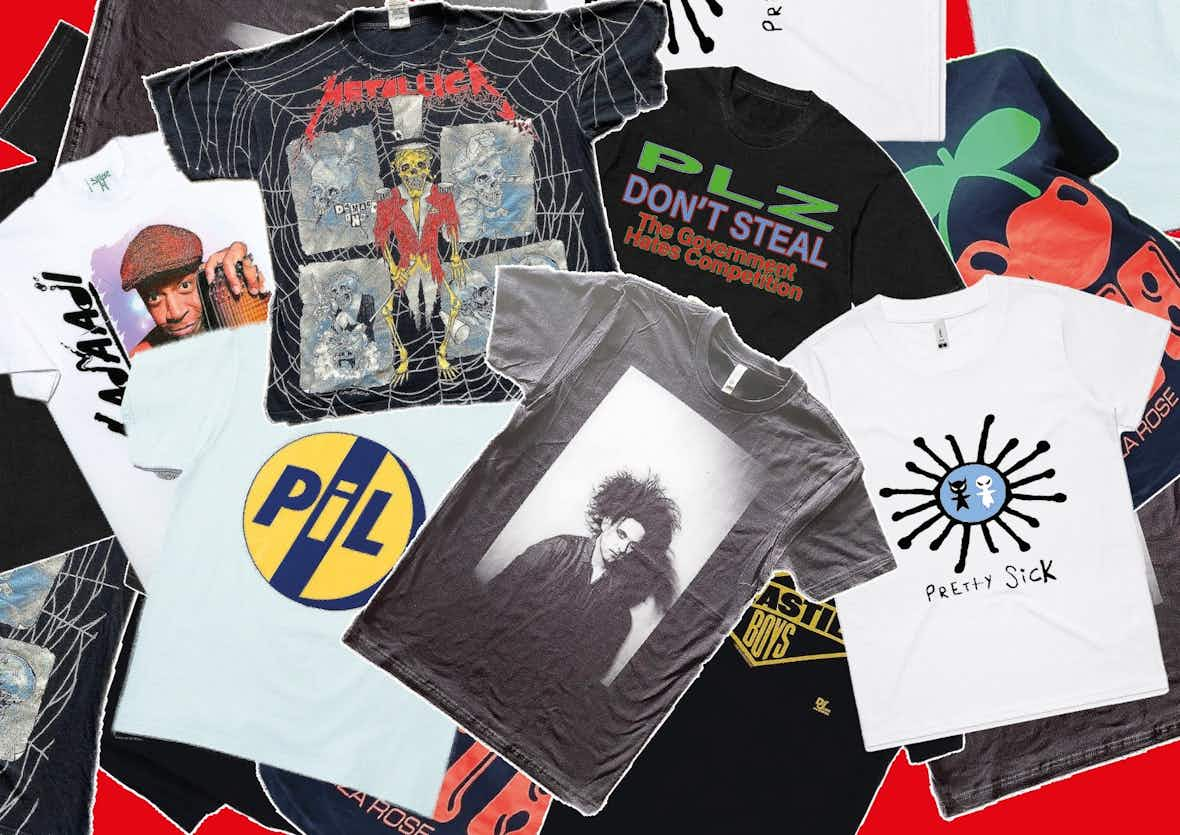 Here's where to buy bootleg band tees, stylish merch and vintage gems.
Music nerds tend to be a bit snooty. So if you'd like to gift one some clobber this festive season, you'll need to do better than a slogan T‑shirt from Urban Outfitters.

Fortunately, it's not too tricky to get your hands on a good music tee these days. Instead of just slapping their album cover on a T‑shirt, artists are dropping increasingly stylish merch (incentivised, maybe, by the fact it's one of the few ways to make some profit). There's a strong bootleg scene out there, and there's so much hype about vintage at the moment that people seem willing to splash £120 on a moth-bitten Slipknot t‑shirt from 2002. At least it's environmentally-friendly.

So, as Christmas approaches, here's some advice on how to buy a T‑shirt that's actually cool.
Vegyn​'s had some really good artists on his record label PLZ Make It Ruins: from London rapper-poet John Glacier, to eccentric indie guy Ethan P. Flynn, and rising London singer George Riley. The merch is also banging.
This California-based shop does ​"punk-style shirts of underground and subculture heroes and legends", often collaborating with fellow bootleg lovers such as NYC blogger Justified Arrogance. Here you'll be able to find worn-looking tees adorned by icons such as Robert Smith, Kate Bush, Madonna, Lemmy and Bowie.
This site is a gold mine for old band tees. There's not much on there for less than $100 though, so you'll need to really love the person you're buying for.
In recent years, John Lydon has sadly lowered himself to the status of an incoherent right-wing edgelord. But he's also fronted two of the best bands of all time – the second being Public Image Limited, his fearlessly innovative (RIP Keith Levene) post-punk outfit. PiL have a truly iconic logo, and so Supreme must have been rubbing their hands when they secured this collab for their AW22 collection. It drops on 17th November worldwide, so act quick or prepare for absurd prices from resellers.
Sabrina Fuentes' band Pretty Sick really wear their ​'90s alt-rock influences on their sleeve – which bodes well for their T‑shirts, because alt-rock bands had great t‑shirts back then.
Everyone knows that Eliza Rose and Interplanetary Criminal's Baddest of Them All is one of the biggest and best tunes of 2022. Good-hearted rascal Johnny Banger recently celebrated the chart-topping dance anthem with a limited batch of tees. And at the time of writing, there are still some on his website. Get ​'em before they're gone.
Ladi Kazeem runs The Vault and Surrealism, shifting vintage clothing and posters, respectively. His Depop is like an emporium of pop culture nostalgia, and he doesn't charge crazy prices either.
Online Ceramics x Laraaji frog tee
Laraaji, the legendary new age musician and laughter meditation therapist, has had a thing for frog puppets for many years, which inspired this collab with relentlessly trippy clothing brand Online Ceramics. If you're going to buy this for someone, make sure they've checked out Laraaji's music first. Because – yes – you should be able to name at least five songs by an artist before you wear their T‑shirt. This is a hill I will die on.

More like this