muva of Earth is London's next alt-jazz superstar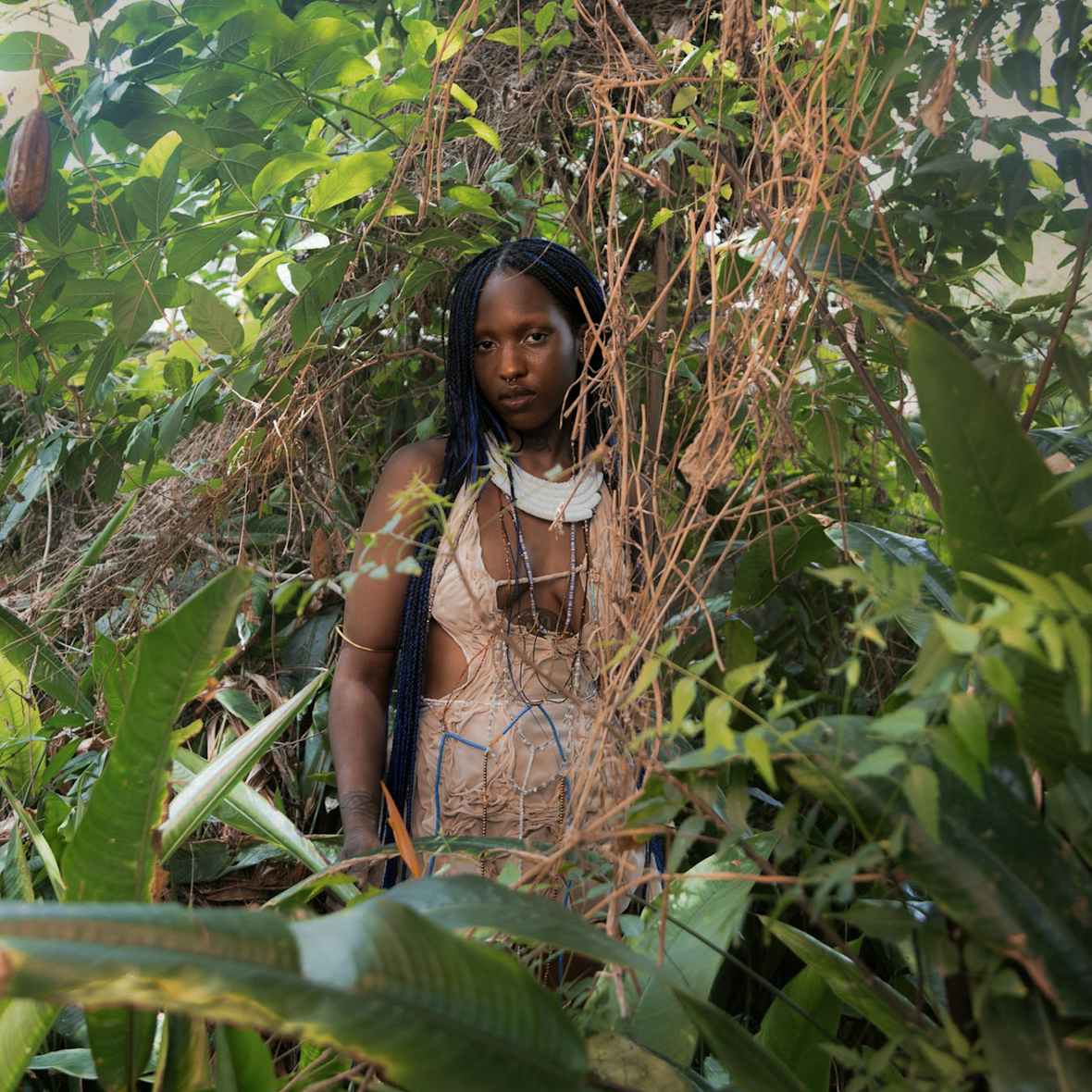 100%: Davina Adeosun-Bright's debut EP, align with Nature's Intelligence, is as cool as an ocean head-dunk on a sweltering day. And she's got the charisma to match.

Davina Adeosun-Bright, the musician better known as muva of Earth, has always wanted to make empowering music.
"I think there's something empowering about showing vulnerability," she says, Zooming in from her home in South East London. It's raining hard outside, but the sunroof in Davina's room illuminates her face, a bit like a deity, actually. Behind her, a poster of Amy Winehouse's Back to Black album cover hangs on the wall.
Even over a Zoom – which can often leave a lot to the imagination – there's a peaceful energy surrounding her, fitting well with the theme of her upcoming debut EP, align with Nature's Intelligence. It's more free-form than her previous work, a spiritual and meditative project that blends neo-soul with jazz and afrofuturism.
Stand-out track hear me above, which opens with a medley of chimes and piano, is a therapeutic, life-affirming listen. Her voice transcends: ​"I am centred and aligned with nature's grace /​I love my sense of femininity /​I love the crown that was gifted to me". Meanwhile, your intuition is your friend, a song made in collaboration with drummer Edward Wakili-Hick, goes down a similarly subtle route before exploding into roaring, upbeat jazz percussion.
"I was fascinated by the idea of growing," she says of what inspired the project. ​"How things can grow and evolve with time, how things quickly fade away and turn into something else. It's definitely a thank you to nature. Not in such a literal way, but by aligning yourself with nature, so many things can grow."
Growing up in a British-Nigerian household influenced Davina's work, too. Her mum, who was born in Nigeria, passed on ​"comforting, beautiful things" about her home country. Meanwhile her dad, who was born in Brixton, ​"had a different personality and showed me everything about being an African-British person.
"My family weren't massively into music, but I've always loved singing and playing with my voice," she continues. ​"Going high, going low… I wanted to train it, so I took music lessons and made my first song at 19." At first, she made jazz and hip-hop fusion songs, before leaning into the former as her poison of choice. The next port of call? An album, of course.
"I've always enjoyed listening to albums from beginning to end. I want to be an album-maker, for people to listen to my music over breakfast or when they need a story to connect with. I want listeners to feel relaxed, empowered and open. I want them to feel peace."

10% If you were cooking to impress someone, what would you make?
For breakfast, I like to impress people with my vegan omelette and a ginger, pineapple and spinach smoothie. For dinner, maybe a nice plantain lasagne.

20% What's the secret ingredient in your vegan omelette?
Black salt has quite an eggy smell and so does chickpea flour, so I use both of those. Sometimes I add spring onions and red peppers in, too, if you really want to go there – and avocados on the side to dip into, as it can be a little dry. You can grate vegan cheese onto it as well. You know, really decorate it.
30% What's a bad habit you wish you could kick?
Definitely overthinking, a habit most of us have developed and grown quite attached to. I'm literally watching YouTube videos on how to just be present as we speak.

40% What's a piece of advice that changed your life?
Just do it. It's very simple.

50% If you ruled the world for a day, what would go down?
I still feel that in lockdown key workers didn't get a break, so I would love for them to have one – my mum's a key worker. I'd also advocate for a break from your phone for 24 hours. It would basically be a non-working day that ends with a big concert on the beach in Madagascar.

60% Love, like, hate?
I love tea. I like people. I hate rudeness.

70% Dream holiday destination?
India. I'm going there in February!

80% What are some of your favourite nature spots in London?
I love Sydenham Woods in South London. It's really lovely – I've even made some of my songs there. I also love the Japanese garden in Peckham [Rye Park] and One Tree Hill near Forest Hill. There's a nice view of London from there. There are also some lovely woodland places around Rotherhithe that I've recently stumbled upon. You can see rabbits there.
90% If you could travel back in time to see an iconic music act perform, who would it be?
It would be lovely to see someone like Prince perform. I'd also love to see an intimate set from someone like Nina Simone. That would be a beautiful moment.

100% What can artists do to help save the world?
I always say that we sing and write for those who are maybe not ready to express themselves yet. We sing for those who have been tamed, who are not able to vocalise for things. When I met Erykah Badu, I thanked her for her bravery; her lyrics have given me so much confidence. She's inspired so many people. I think not being afraid to be brave and make mistakes is so important. We're human, too. It's important to tend to your humanity as much as your legacy.
align with Nature's Intelligence is out 15th September

More like this