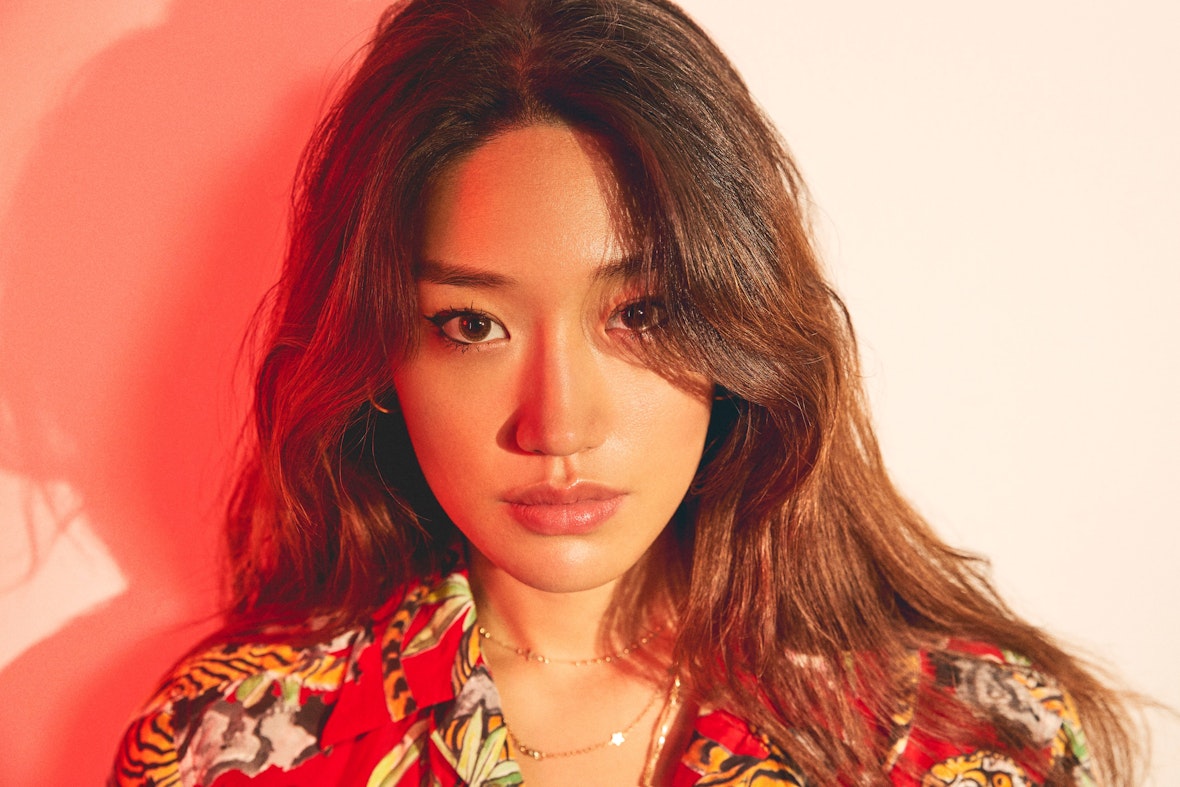 Peggy Gou's DJ-Kicks invites us into her deep record collection
Rating: 3/​5

Peggy Gou was the first South Korean DJ to play the hallowed halls of Berghain, checking off a bucket list she compiled on completing her debut EP in 2016. Just three years later, following a handful of releases and a stratospheric rise into Gou-mania, she's marked another off the list: her own DJ-Kicks, the arbiter of taste, and, in her words, ​"the premier class of DJ mixes."
The artwork, for which Gou sits in a bedroom accompanied by a (composite) tiger, represents Korean tradition as well as highlighting the animal's critically endangered status — the tiger disappears as you turn to the inside cover. The tiger is also, allegedly, a metaphor for Gou's personality. But tigers are known to sleep for 20 hours a day, and Peggy Gou doesn't have time for that. After playing in excess of 200 shows in 2018, at times Gou's DJ-Kicks steps away from her time in the booth. Across this 73-minute mix of 19 tracks, Gou invites us to explore the key records in her varied record collection.
An ambient, fluttering intro courtesy of Spacetime Continuum and Gou's first ever production, Hungboo, makes way for Pearson Sound's Earwig, with its squirming 303 bassline. There's eerie ​'80s funk, glittering Milanese techno, a dive into Black Merlin's material inspired by and recorded in Papua New Guinea, and a slice of Detroit courtesy of Kyle Hall, R‑Tyme, and Carl Craig as Psyche/​BFC.
Gou flits brazenly between tempo and features music that ranges from 1983 (Pegasus – Perseguido Por El Rayo, The System – Vampirella) through to 2019 (there are three new exclusive tracks on the mix from Gou, Hiver and I:Cube). But rather than a linear mix, in which the tracks melt into one another with an instinctive ebb and flow, Peggy's is a scattered collage. The transitions are snappy, and this results in some jarring moments. Take, for example, the fiery acid licks of Shades of Rhythm's Exorcist into the melodic drone and groove of Kode9's Magnetic City.
DJ-Kicks currently counts less women in its ranks than I can count on both hands; eight, AKA less than 12% of the 69-part series to date. Before Laurel Halo, who mixed the first DJ-Kicks of 2019, the last woman to do it was Nina Kraviz in 2015. With Peggy Gou now behind the third mix of this year, let's hope this is a marker of things to come. In a similar vein, as vocal as she is about equality in the music industry, and as a frontrunner of Smirnoff's Equalising Music campaign, it would have been nice to see Gou allow more room here for any female artists that have shaped her musical landscape too.
On the subject of landscapes; one of the deeper cuts in the mix, Rytm804, comes courtesy of Sweden's Dorisburg, one half of Genius of Time. Dorisburg once said that he sees his tracks as distant landscapes (he pictured Sinai Hypnosis as sunset over a desert in space). If this DJ-Kicks was a faraway vista, there'd be rocky outcrops, steam curling up from fumaroles, and flashes of unpredictable weather. Far from the vibrant sun-kissed horizons of It Makes You Forget (Itgehane) or Starry Night, Peggy Gou's DJ-Kicks is mercurial in its finest moments, a chop and change glance into the moodier, more atmospheric corners of her influence.
---