"

This ain't every man for themselves": Rico Nasty calls for Black sisterhood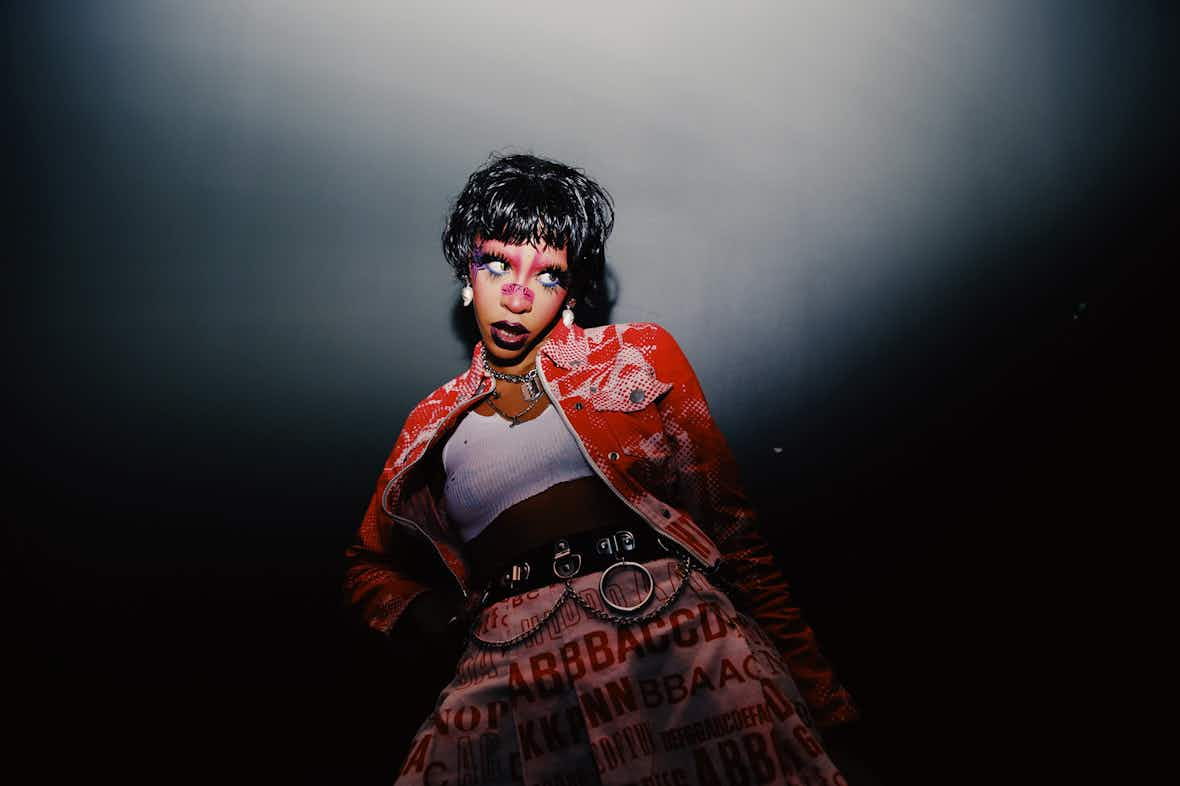 The Big Interview: Mixing sugary hyperpop with aggressive punk rap, Rico's explosive album Nightmare Vacation is a cathartic release to cap a traumatic year.
The question is: how does the world treat Black women? And Rico Nasty answers: ​"like shit."
This year has been politically, culturally and spiritually difficult for every Black woman, from watching the murder of Breonna Taylor be justified by the state, to the harassment of Megan Thee Stallion by her abuser, via multiple traumatising points in between.
And in the midst of the Covid-19 pandemic and the racial terror of police violence, Rico Nasty – a fearless punk-rapper who's adored for her expression of Black women's rage – was figuring out what she needed to do with her long-delayed debut album Nightmare Vacation.

"I think that the music that has come from this album is pretty timeless," she says of the finished product. ​"We were trying to see if [Nightmare Vacation] is relatable three years from now. Because when you listen to [2018 single] Bitch, I'm Nasty… I said, ​'Fuck Trump.' And that nigga is a non motherfucking factor right now, it can't even be acknowledged. That never fucking happened as far as I'm concerned.
"So on this album, I'm like, how do we talk about current events without being current? How do we talk about shit that's really going on right now, without making this an album of 2020, and making it an album for the world to enjoy forever?"
We're speaking on the day after Thanksgiving – a week before the release of Nightmare Vacation – and right now, Rico Nasty is just grateful for the simple things. The 23-year-old is sitting in her Fort Washington, Maryland home, most grateful for her grandmother's baking skills and the half-a-dozen pies filling her fridge this holiday season. ​"I don't have the gift of cooking like her," Rico admits. ​"I mean, I tried to make mac and cheese once and obviously it looked pleasing on the outside, like Instagram would have loved it, but it tasted like shit."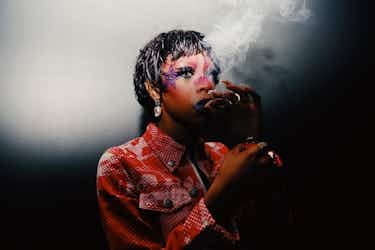 Rico is in the midst of getting her five-year-old son Cameron ready for school, and as we debate star signs and the mistreatment of idols like Kelis ("the industry fucked her. They fucked her for being powerful and acknowledging her emotions") and Aaliyah ("don't disrespect Aaliyah. She had class, bro"), it feels like catching up with the high school friend you've always admired. The woman known to her family as Maria Kelly holds various identities and lived experiences that exist beyond her rap persona as Rico Nasty. That's a truth Black women know intrinsically: always being something for everyone and yourself; too few spaces to feel deeply.
Rico's rise – from releasing Summer's Eve (2014), the first of her seven mixtapes, while still in high school to signing to Atlantic Records two years ago – was met with shock from an industry who expect a very different type of aesthetic from women in rap, nevermind a DMV artist based so far away from the hip-hop capitals of New York, Los Angeles and Atlanta. But her fierce lyrical prowess was undeniable, as was her inspired ability to merge hardcore rap and pop-punk.

And this, unquestionably, is Rico's moment, both as a rapper and a poster girl of a certain alternative style. This summer she announced a make-up collection with Il Makiage. In October she made her debut in the second Savage x Fenty show, having been approached by Rihanna to become an ambassador for her lingerie brand. Posting after the show, Rico was typically upfront about what the moment meant for her: ​"I really don't have a way to put words to all of my emotions rn. Because I've never felt like the ​'sexiest' girl or even had the confidence to pretend. But since I've been a #savagexambassador I'm always trying on new stuff in the mirror. It really has helped me get comfortable with my body and realize … everyone is different somehow we all look good in @savagexfenty … free your inner savage."
But despite Rico Nasty's considerable profile as an artist, it took some time to chisel away at Nightmare Vacation. She initially turned in the first version of the album– which now, she realises felt too similar to her Kenny Beats produced mixtape Anger Management – in November 2019. But after a strangely muted response from the label, she decided to take the hint. ​"I'm like: ​'Obviously, there's something wrong…' And I just started spending the whole day just listening to the tracklist over and over again. By five days, I'm tired of the tracklist, and that's when I knew… So," she says with a shrug, ​"I started over."
In August 2020, Rico dropped iPhone, the first single from Nightmare Vacation, featuring sugary-yet-abrasive hyperpop production from Dylan Brady of 100 gecs. A month after that, she released Own It. And October, she dropped Don't Like Me, boasting head-turning features from Gucci Mane and Travis Scott protege Don Toliver.

Now, finally, Nightmare Vacation is the record Rico needs it to be: a mesh of her gnarliest punk instincts and exhilaratingly catchy pop sensibility. Alongside iPhone, Brady's production returns on both OHFR and Let It Out, the latter alongside 100 gecs bandmate Laura Les. Smack A Bitch – Rico's breakthrough anthem and, many would argue, most cathartic moment to date – reappears on the album, retooled with a set of features from rising rappers Sukihana, ppcocaine and Rubi Rose.

"Sukihana is like a fairy godmother," Rico says of the Atlanta-based artist, who previously gained fame with a lucrative Only Fans account and her appearance on the reality TV show, Love & Hip-Hop Miami. ​"You might not be having the best day, but sometimes it's shit she got to say. You don't want to hear it, but you need to hear it. And it's so real, you be like: ​'Damn, bitch. Let me step my pussy game up, or just let me step my personality game up, stop being so stank and judgmental.' And I really love her for that, for giving that perspective of women."
Rico also has a growing friendship with ppcocaine, who's making the transition from social media star to career musician. ​"For a female rapper on TikTok with no crazy co-sign is sick, it's fucking sick. It's inspiring. She's younger than everybody." At the age of 19, ppcocaine has already dealt with homelessness, drug addiction and being ostracised by close family. ​"Her story too is very inspiring," Rico says of the singer whose tracks Hugh Hefner and 3 Mustekeers have gained over 20 million streams on Spotify, ​"because I felt like I could relate to that. You want to do your own thing [because] your family kind of turned their back on you a little bit. I definitely relate to that. Definitely relate to not feeling like the best person, but still trying to promote that message."
"And I just fuck with all of them!" Rico says of her peers, simultaneously juggling her son's Zoom school class setup. ​"I feel like all of them speak to different versions of females. Smack a Bitch, for a long time, only was relatable to girls like me, alternative girls, the weirdos, and all this other shit. But now it's relatable to any type of woman. And, yeah, we were smacking bitches this whole time, and it seems like we going to be smacking bitches and niggas the way they were coming on them tracks."
Rico Nasty has long been infuriated by the way Black women are treated in the music industry. But tomorrow is a new day, and she can't help but feel inspired by the new wave she's helped usher in.
"One thing I can see about this generation and the new coming of female rap is it ain't no every man for themselves," Rico tells me. ​"There's social media, and if you want to choose the beef with somebody, if you want to choose to do that, do that. But if you want to be positive and embrace everybody that come in this bitch because you know how scary it is coming in this fucking industry – you don't know nobody, and everybody looking at you crazy, judging you and shit – then you'll be nice. And you move as such, because at the end of the day, bro, that's all it is. It's just being nice to one another."

More like this