Self-loathing, mushroom trips and gravy baths: the long road to slowthai's new album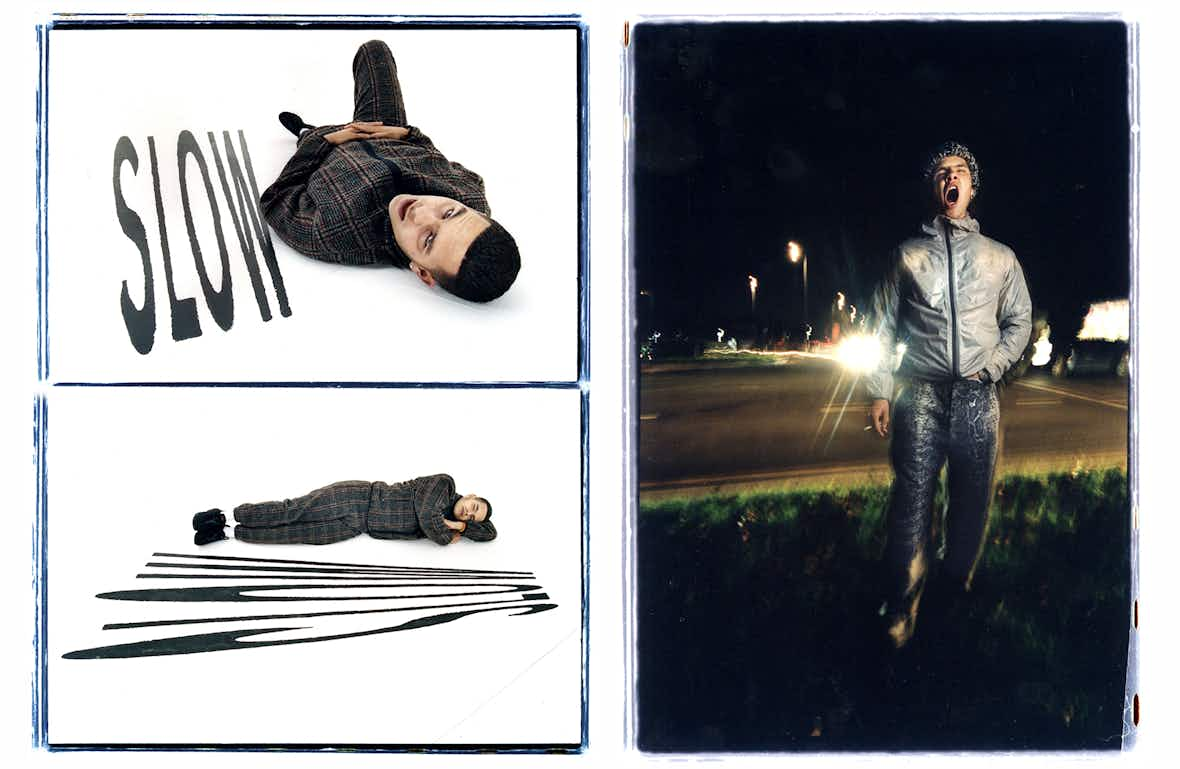 The Big Interview: In an era where controversy cuts the quickest through the noise, many people have already made up their minds about slowthai. But with TYRON, the Northampton rapper wants to show us the whole story.
Around 700 years ago, William Tell shot an arrow through an apple on his son's head.
As the legend goes, Tell, a small-time farmer of the land now known as Switzerland, had refused to remove his hat for the Austrian aristocrat Gessler. As punishment he was ordered to shoot the small target balanced atop his obviously shit-scared son. If he failed, both he and the boy would be killed.
But Tell came through, successfully splitting the apple, becoming a Swiss folk hero and, in the process, allegedly sparking off a series of historical events that would turn a group of poor, scattered medieval farming settlements into a prosperous nation.
In a straight-up nod to this tale, the artwork for TYRON, slowthai's second album, shows the rapper slumped under an apple tree, a bloodied arrow through his eye. It's the latest metaphorical appearance for a fruit that crops up in countless fables, metaphors and phrases: the Garden of Eden, Newton's discovery of gravity, the golden apples of Greek mythology, ​"an apple a day keeps the doctor away", the ​"bad apple".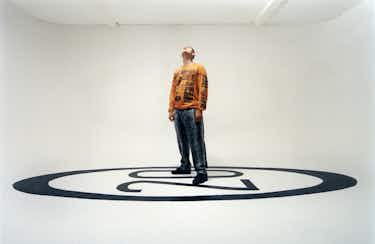 slowthai is recounting these googled details, and more, from his phone's notes app. The 25-year-old is video calling from the living room of his mum's house in Northampton, still his permanent home. He's sat next to his childhood friend, manager and video director Lewis Levi, and he's wearing his new merch: a black hoodie with a rosy apple on it.
"It's, like, playing on both being the son and being the one shooting the arrow," slowthai explains. ​"Two sides of the fence."
Underlining the messaging is the artwork for feel away, the first single from TYRON. It depicts slowthai biting into an apple as lusciously red as the one on his chest. Only it's full of maggots.
In an era where controversy cuts the quickest through the noise, many people have already made up their minds about slowthai.
Emerging in 2016 with debut single Jiggle, slowthai's dark, head-splitting brand of punk-spiked rap caught fire after early outings on underground label Bone Soda. Glowering lyrics about Theresa May and Richard Branson captured the zeitgeist and sense of despondency in the air, and his shows became renowned for being heaps of sweaty bodies – as well as a steal (he sold tour tickets for a fiver). Here was the voice of the disaffected youth who wasn't afraid to speak truth to power, and sounded like no other MC around while doing it.
The rapper brandished a severed dummy head of Boris Johnson at the 2019 Mercury Prize ceremony, an act that landed him more attention than the Brexit-and inequality-skewering Nothing Great About Britain album for which he was nominated.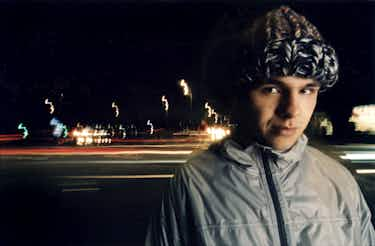 Then, of course, there was his controversial appearance at the NME Awards in February this year. A series of improvised raunchy jokes between him and comedian Katherine Ryan, who was presenting him with the Hero of the Year, didn't play out as intended, and the general consensus was that slowthai was overstepping the line. A tense exchange between slowthai and hecklers (one who reportedly shouted ​"misogynist") in the audience led to a physical altercation, with drinks and a microphone being thrown both to and from the stage.
"We were both in character," Ryan has since said of the event. ​"I was hosting what I know to be a very raucous, traditionally rock ​'n' roll awards show. I love having a moment in the room … When that happened, I thought: ​'We can have some fun with this.' … We were both evenly matched and doing a pantomime."
Taken out of context, clips of slowthai's apparent misogyny spread like wildfire on Twitter. It was baffling to anyone who knew Ladies, the slowthai track that took a magnifying glass to toxic masculinity. The Daily Mail glowed at the "'shameful' sexual harassment" by the ​"Boris Johnson-hating rapper". slowthai donated his award to Ryan and apologised, but the damage was done: a new version of slowthai's story was out there. ​"I am not a hero," he wrote.

Immediately after the NME Awards, slowthai gave up drinking.
"I was heavily down," he wearily admits in his (ordinarily sing-song) East Midlands accent. ​"I don't wanna throw the word ​'depressed' around, but I was definitely very self-conscious. Just hating everything really, feeling low, be it from too much drink or taking too many drugs. I just felt shit – that's the best way to put it. I felt like a piece of shit.
"We all have bad days and good days but it just felt like I was having one big long bad day."
Spending time with friends and family – as well as making his second album – was what got him through, even though he ​"didn't want to do fuck all" at first.
"Getting things off my chest, I started feeling more confident in who I am, being more self-aware and aware of how the people around me feel, and not relying so much on substances for confidence."
In the video for feel away, slowthai demonstrated that he could put himself in the shoes of a woman at her most vulnerable. In a maternity ward, he gives birth while watching his partner marry another man. Then it turns out that he and the baby are made of cake. ​"I always wanted to be pregnant," he says unexpectedly, explaining how the idea was influenced in part by his own absent father [born Tyron Kaymone Frampton, slowthai was raised by his half-Bajan mother Gaynor in Northampton after his dad walked out when he was three]. ​"Generally, how it goes is the man leaves the woman when she's pregnant or after, and he goes and starts his whole life," he continues, a sweeping statement that nonetheless tells you a lot about young Tyron's outlook on life. ​"It's important to have that reversed role and see what it's like for other people."
Still, for all the deep messaging – the track was also a tribute to his brother Michael, who passed away two weeks after his first birthday – slowthai had a great time on set. It was ​"a lot of lying down in a gown. Luckily my bum weren't out. But I never want to eat cake again."

TYRON is split into two conceptual halves. The first is the hype, excitable, sweat-inducing slowthai that you'd see at one of his shows, where he'll strip off and source accessories like sunglasses or socks from his fans and, more often than not, end up crowd surfing. The tracks are short, like flashes of lightning, with their names capitalised. As you might have gathered, it's the angry half. ​"Used to jack cars with a Phillips," he yells on 45 SMOKE, a searing trap cut with bass that threatens to blow your speakers. The A$AP Rocky-featuring MAZZA is equally aggy: ​"Ayy, make the place look like a murder scene!" he raps.
And there's a tune with Skepta called CANCELLED that tackles the idea of people gleefully tearing him down: ​"I must be cancelled, ain't got much longer."
When a preview of CANCELLED started doing the rounds, the reaction was split between some gassed fans and others who disapproved. The abuse allegations towards Octavian had recently emerged, and people were critical of slowthai's apparent insensitivity in teasing a track with the defiant refrain: ​"How you gonna cancel me?" featuring Skepta (who'd previously been affiliated with Octavian) while social media was filled with discourse about purging the music industry of abusive men.


But as someone who witnessed domestic abuse first-hand growing up, slowthai is quick to denounce it as indefensible. He's also ready to challenge anyone making that tenuous link between him and the alleged deeds of another musician.
"There's a pocket of people that just want to see you fail, they constantly have your name on their lips. [But] I'm making music for myself and people that listen to me. I'm not making music to talk about anyone else's situation. I'm not the narrator of their story so fuck ​'em. I have my voice. But I'm not there to be man's guardian."

The second half of TYRON is softer, the more vulnerable side of slowthai demonstrated in reverb‑y guitar lines and sweet, crackly production.
On the Kelvin Krash-assisted nhs, slowthai urges the listener to confront their flaws, warning that otherwise they'll be stuck with them: ​"Always had the bum knee, you will always be chubby /​If you suck in your tummy, when you're starin' at the mirror."
The track, which comes backed by a video in which he dances atop a mountain of toilet rolls and receives a pint through an airplane window, pays tribute to the undisputed heroes of 2020: ​"They're not exactly getting good money out of it," he says of our healthcare workers. ​"They're just generally doing it because they like to help people. I got nothing but praise for them.
"But that's the thing," he adds, leaning into the laptop screen with his trademark gappy grin, ​"we should praise them more and uplift them and try and help them a lot more than we do. The government is putting more money into our armed forces to modernise them, which don't make any sense in a time of crisis where we need money."
Broadly, he describes TYRON as a personal pilgrimage: ​"it's like the journey of me trying to understand myself. You've gotta go through the shit to get to the good bit, I suppose."
He continues: ​"It's like understanding that there's two different sides of us, the side that we want people to see and then the side we don't, it's like the duality of being a person."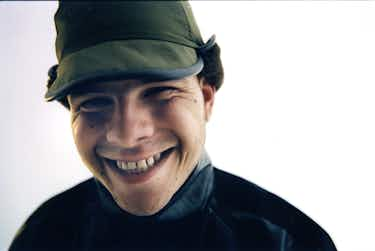 I first met slowthai in November 2017 on a photoshoot, one of the first he'd ever done. He turned up with his producer, hypeman and DJ Kwes Darko, and we ended up shooting on the street in Hackney with slowthai diving into a pub, charming the locals and challenging them to an arm wrestle. The kind of person who remembered everyone in the room's name, at one point he had me and the rest of the crew pretending to strangle him and contort his mouth into weird shapes using our fingers, yelling: ​"C'mon, you're being too gentle!"
Kwes is still around – he provides vocals and production on TYRON track DEAD – and is part of a solid team of friends and collaborators that slowthai likes to maintain around him, including Kenny Beats, J.D. Reid, Samo and Dom Maker of Mount Kimbie. James Blake, equally, who supplied composition and sang on feel away, took on the role of in-studio therapist. ​"Obviously I had a lot of things going on, and he was trying to talk me through things."
To help him process those things over lockdown, as well as writing and recording TYRON, slowthai has been kickboxing and reading books like Akala's Natives and Ryan Holiday's Ego Is The Enemy – which explore at race and class, and how you can do anything if you put your ego aside, respectively.
He's also been bathing in gravy: a recent TikTok found him filling his bath with Bisto before diving in and ladling the sauce into his mouth. The idea stemmed from fans telling him: ​"You're a different gravy."
"It was horrible though," he laughs. ​"When all the granules fell to the bottom of the water, it's just this thick, greasy sludge… I hopped straight in the shower and it wasn't coming off. You know when you put baby oil on and it's all slip ​'n' slidey? I was scrubbing and scrubbing and it was like I was never gonna shake the gravy." He pauses for a second. ​"It hasn't put me off though, I could eat gravy all day long. It was like therapy."
Therapy has also come in the form of a different kind of drug-taking. slowthai used mushroom trips ​"to open my eyes and reset my way of thinking. I'm not a scientist so I can't say it's the cure for depression but I know that it definitely helped me. It uplifts and brightens things where things may seem gloomy. If you want to find out stuff about yourself, I'd say do psychedelics. But," he says, adding a note of caution, ​"don't abuse stuff and it won't abuse you."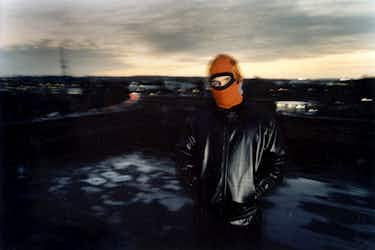 A week before we chat, I receive in the mail a postcard from slowthai. He sends them to the 6000 or so people who have previously bought vinyl copies of his music or bits of merch. On the front, he's grinning maniacally in a homage to Aphex Twin on the cover of his Richard D. James album.
The message on the back offers an insight into his feelings: ​"Some days I wake up happy like a bird out an egg and other days I struggle to love myself." He signs off as ​"Thai" at the end, with a bubble heart scribbled over the ​"i". Signing all the cards took him two 12-hour days. Two weeks on, he still can't feel his thumb properly.
Hosting a pub quiz on Twitch recently, slowthai asked his fans questions about flag colours, what botany is the study of, and ​"what starts with e and ends with e and contains one letter?" (Answer: envelope.) He sips a Staropramen, sings Geri Halliwell songs over the background music and talks about how his hat makes him look like Devvo.
"So this is new, yeah?" he says about making his quizmaster debut. ​"So there's gonna be mistakes. But I'm a believer that mistakes can make great things."
The story of William Tell is hotly disputed. After being passed down orally, German playwright Schiller canonised the neat, Hollywood version we know now with the apple in 1804. Some historians doubt it ever happened at all, after a similar story was found written in an earlier Danish history. It's a reminder that narratives can easily change, and that there are always at least two sides to every story.
TYRON is released 5th February 2021
Producers Mikey Krzyzanowski and James Clarke, Art Department Patrick Plummer, Photography Assistant Rory Mclean

More like this