Victory Lap is broadcasting the UK rap scene's fresh energy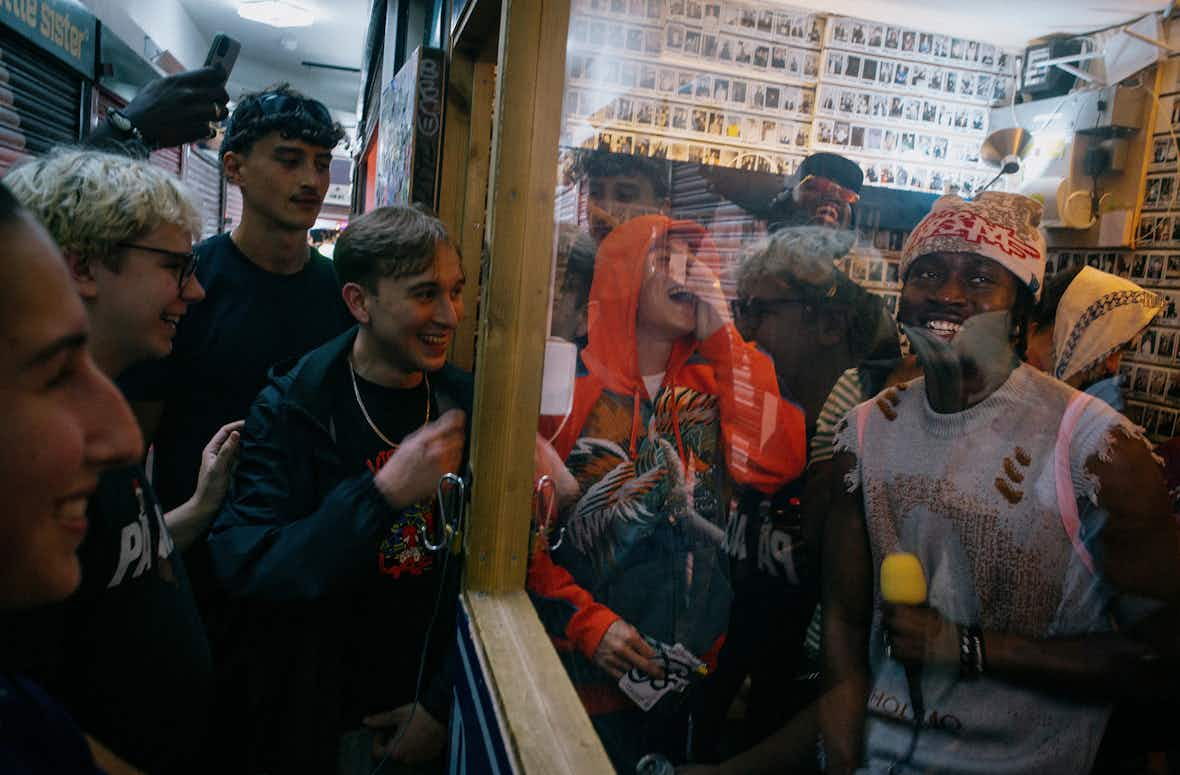 First-gen grime pioneers honed their craft through MC clashes in youth clubs and on pirate stations. Now, Victory Lap is bringing back raw radio sessions for the new wave of underground talent.

Taken from the new print issue of THE FACE. Get your copy here.

On a grey Friday night in Peckham, South East London, a couple hundred people have congregated in Livesey Exchange, a block of garages that has been repurposed as a grassroots community project.

In the austere concrete space, DJ Ngozi Diamond riles up the crowd with certified classics such as Giggs' Talkin' da Hardest and Chief Keef's moshpit opener Faneto, while many of the teenagers or twenty-somethings in attendance mouth along to tracks by more niche rappers, too, like Manchester's Nemzzz and Len, an experimental South West London artist with a cult following.

In a dark corner of the venue, a makeshift bar sells rum, tequila and bottles of Magnum tonic wine. Outfits range from a Nike Tech Fleece paired with Jordans to baggier looks brandishing the playful logos of independent UK brands such as Peak Television, Drama Call and Always Do What You Should Do.
At around 9pm, the vibe intensifies. Everyone huddles in a circle and any MCs in the building are urged to push their way to the middle. Tonight's event is a collaborative effort between the Play Piem club night, the Got No Data platform run by Luton rapper BXKS (who's on hosting duties) and Victory Lap, the radio station that's bringing fresh energy to the UK's sprawling rap scene from its base in a Peckham arcade. The main attraction is the cypher. There are multiple crews in attendance and at least 25 MCs eager to grab the solitary, shared mic. A cypher often lets each MC spit 16 bars each before another artist jumps in. But tonight, there's just a general guideline that no one should hog the mic. It has a camera gaffer-taped to it, recording the determined focus in their faces close-up. There are plenty of new wave alt rappers in the cypher, open-minded artists who are drawn to leftfield production that pairs spaced-out synths, jazz or soul samples with trap, drill or occasionally palpitating Jersey club drum patterns. This scene is often labelled ​"chill rap" on TikTok, although most people wince when you mention that.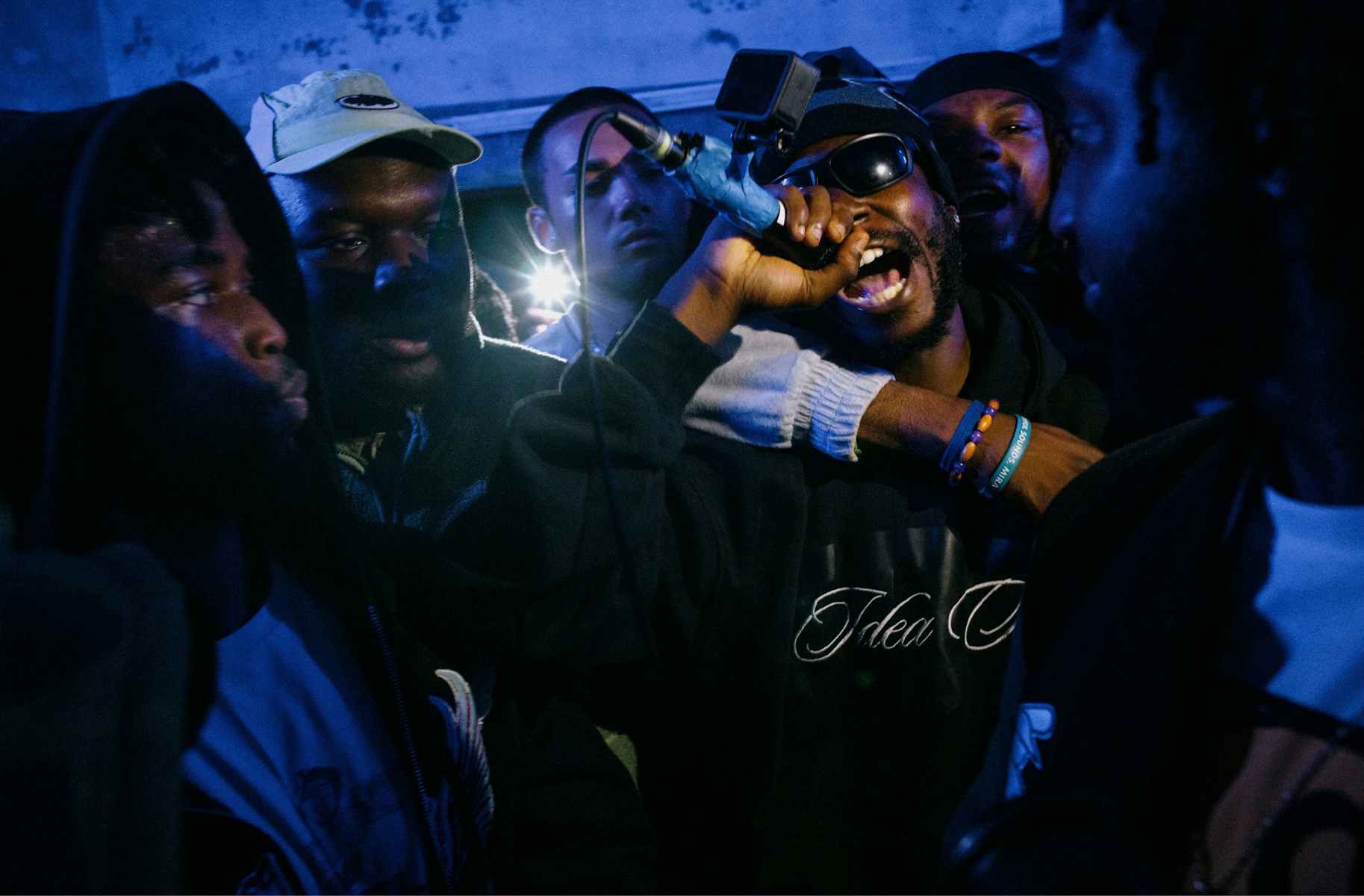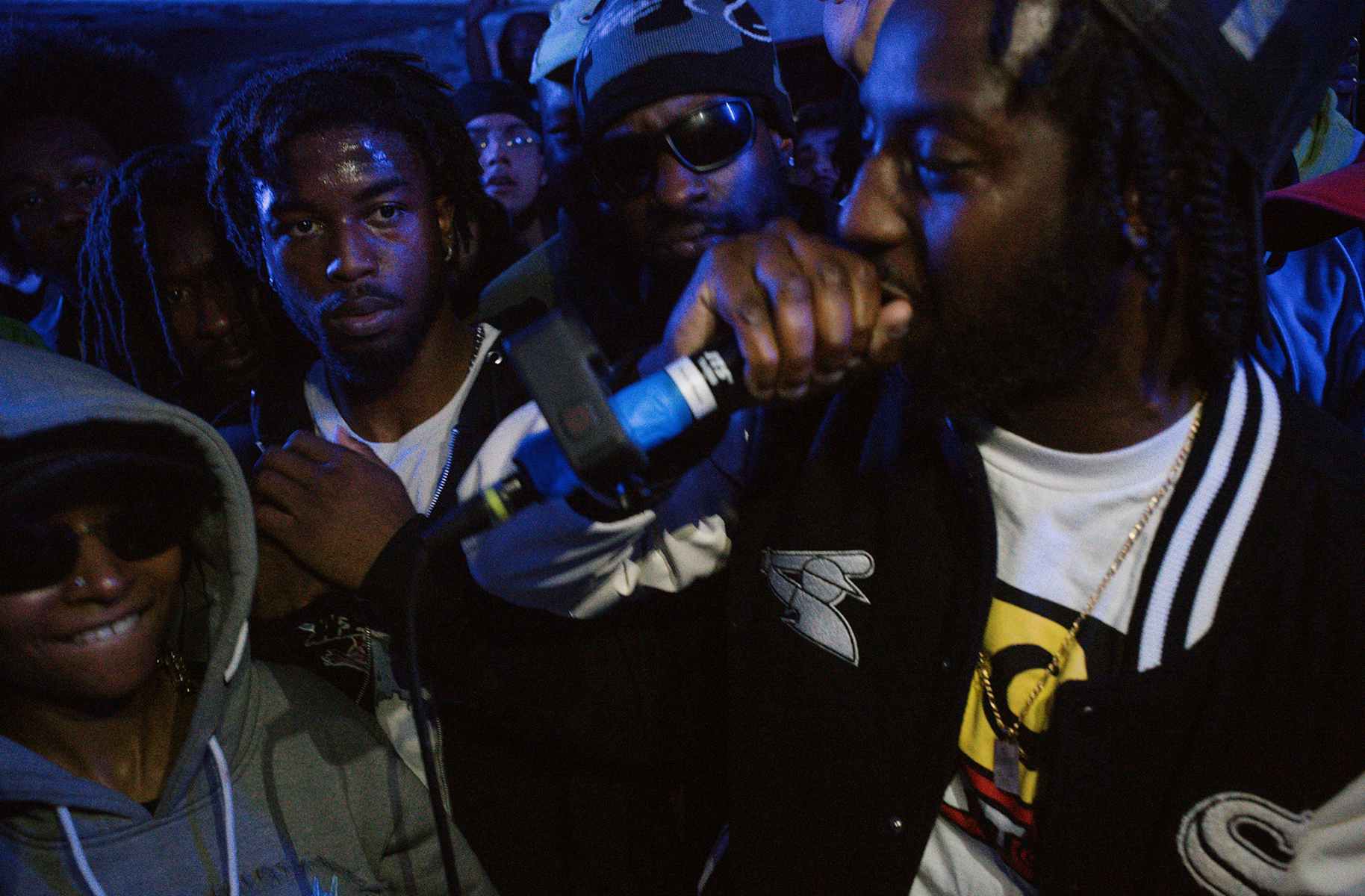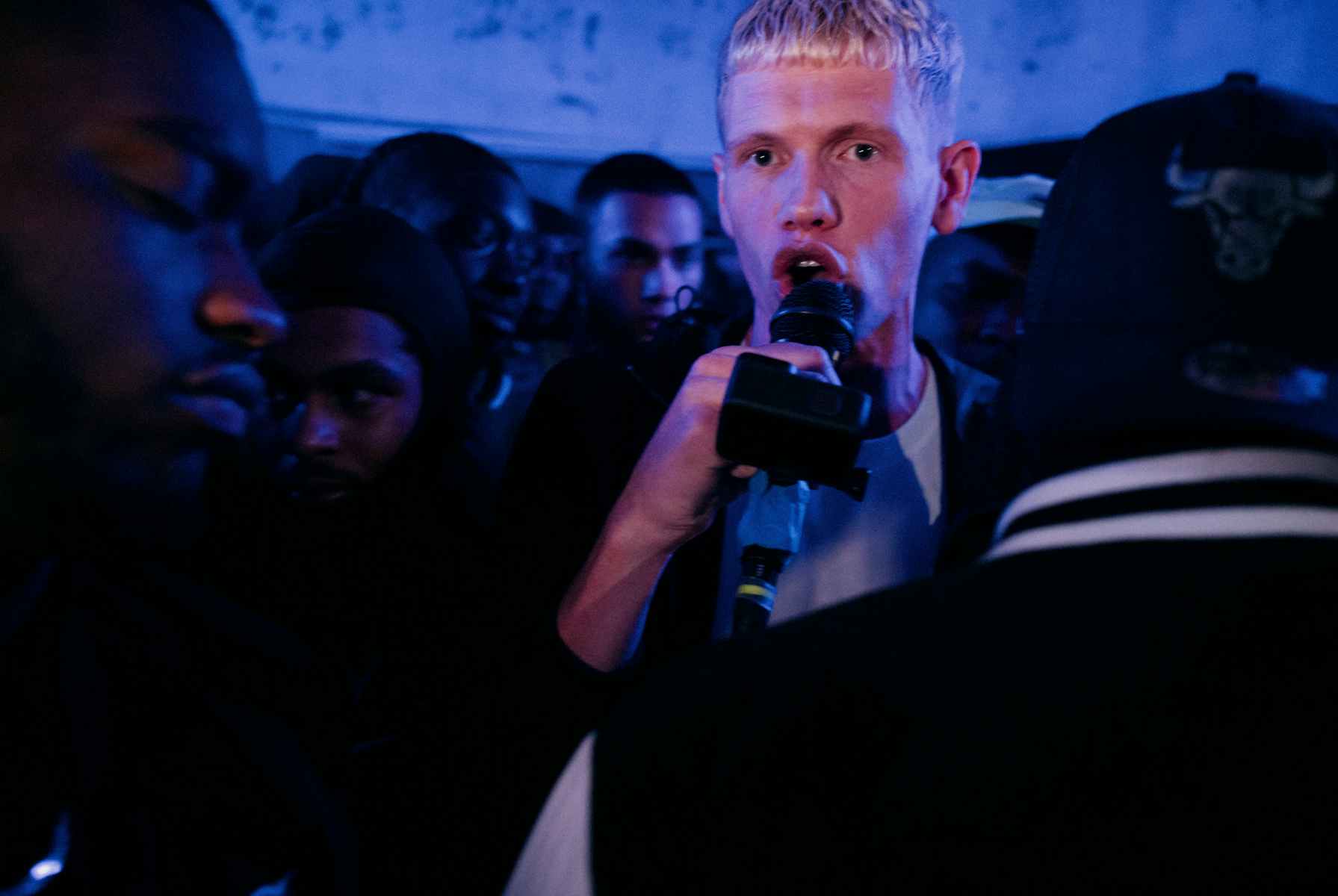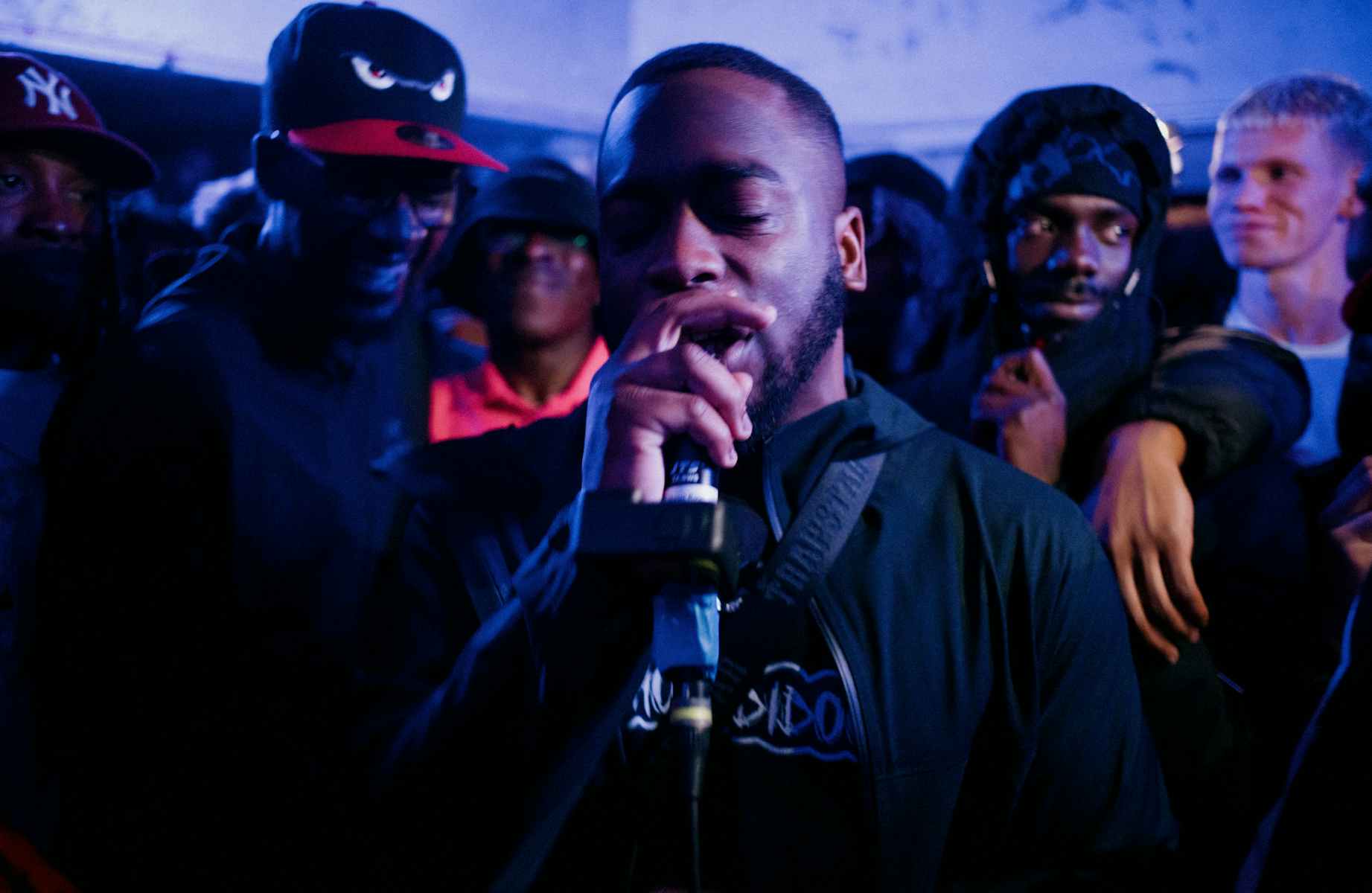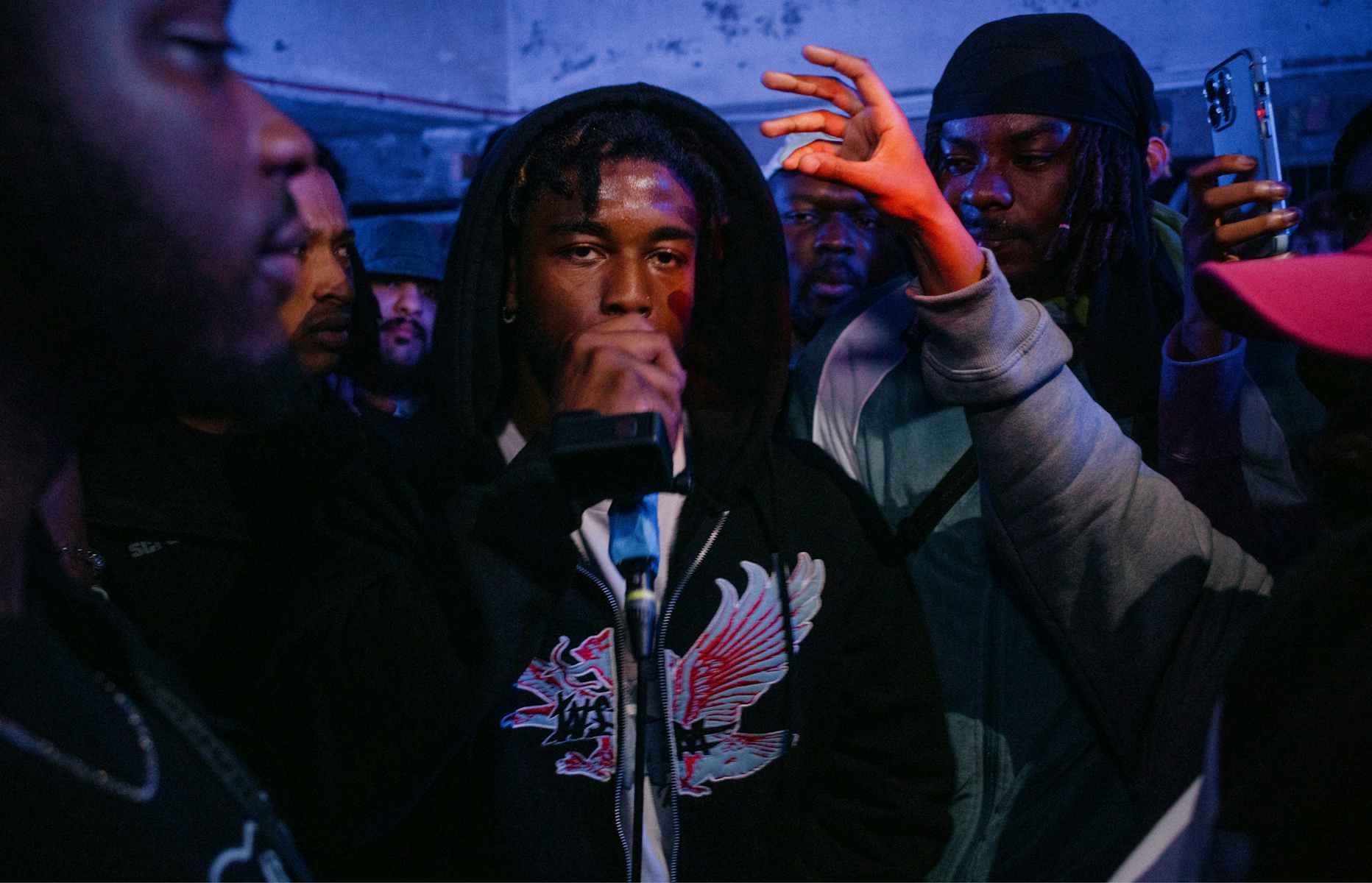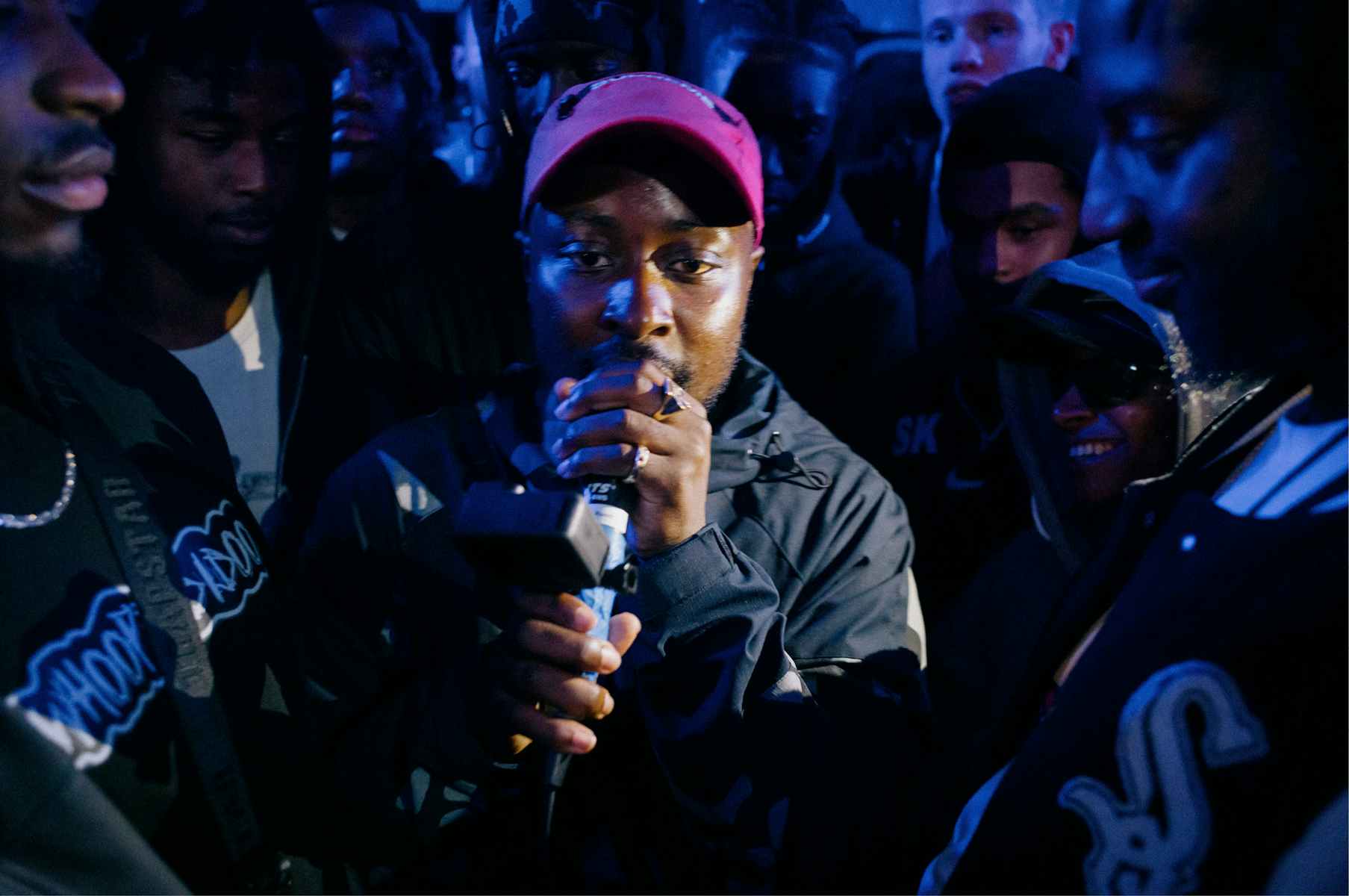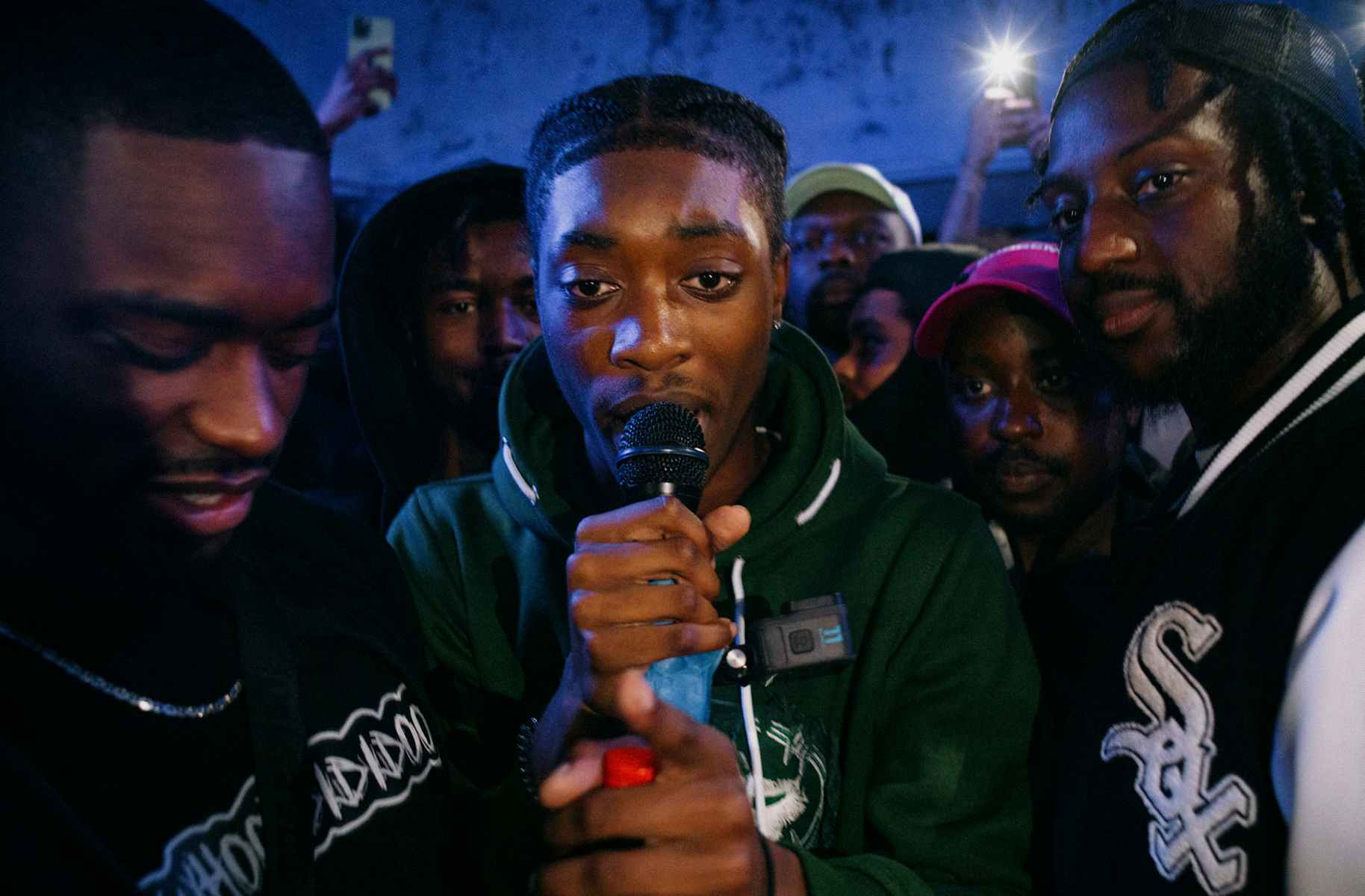 After a grime-heavy segment in the first half of the cypher, BXKS switches it up: ​"DJ, please can we get some jazzy drill for the MCs coming on so they can spit their ting?'"
BXKS's face is mostly hidden by a massive grey hood pulled over her cap. She gets two wheel-ups and, whenever she's on the mic, the audience leans in to try and capture the moment on their phones. In a room full of potential stars, she's already one.
Since the summer of 2020, Victory Lap has been broadcast as a live monthly radio show on the independent station Balamii. Although it isn't strictly a rap show – the appearance by Canterbury collective Escape Plan, for example, brought garage, drum ​'n' bass and singer MaZz's soothing neo-soul vocals – it's mostly the footage of freestyles and cyphers, recorded on a fisheye camera in the corner of the studio, that has been going viral. And although Victory Lap's audience locks in to hear artists with little or no industry backing, the mainstream wants a slice of the action, too.
Last July, Drake posted an Insta dump that included a clip of Victory Lap team member and internet funny guy Niko B in the Balamii studio, rapping about his fantasies of smoking zoots on Love Island. In June this year, Victory Lap announced they'd teamed up with the radically DIY, era-defining clothing label Corteiz. The collab turned out to be a special episode of the show, for which Dave and Central Cee, close allies of Corteiz mastermind Clint, joined a live session featuring Niko B, BXKS, Len and underground artists Rushy, JayG, Kibo (who Dave co-signed on air, for his ​"superhuman" skill) and Kirbs (who's since dropped a track on Central Cee's Live Yours label).
The next day, Dave and Cench dropped the single Sprinter from their collaborative Split Decision EP. Victory Lap was the only promo they did for the project. It spent ten consecutive weeks at the top of the UK charts.
Victory Lap radio takes pride in being loose and laid-back, which sets it apart from the ferociously competitive nature of old-school grime clashes or today's big-budget, pre-recorded freestyles such as Daily Duppy. This, reckons core Victory Lap member Joe McDermott, is what the younger generation are drawn to.
"With Central Cee and Dave, they want to see Cench laughing with Dave in the background," the 28-year-old tells me in a Shoreditch co-working space, where he's working on Victory Lap pretty much full-time after leaving his day job.
"They want to see them passing a phone around, passing the mic, cracking jokes and forgetting their bars."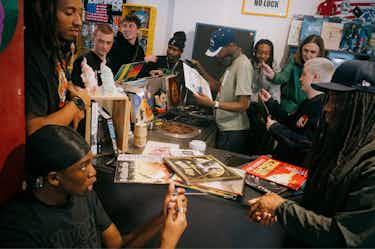 Live, communal MCing is in UK rap's DNA. In the early ​'00s, before streaming, social media and YouTube, first-generation grime rappers made a name for themselves in clashes and on live pirate radio broadcasts, taking influence from UK garage and dancehall, where live MCs played a crucial role in hyping up the crowd. When grime enjoyed a mainstream resurgence in the mid-2010s, there was a new wave of communal MCing, often in the form of massive groups gathering around the mic at London's now-defunct Radar Radio, where Dave occasionally showed up in the early stages of his career.

Then, grime didn't exactly die – the genre's loyalists kept the underground going when its audience shrunk once again – but by 2018 it had been mostly eclipsed by the mainstream breakthrough of UK drill and Afroswing, ushering in a new generation of rappers who might rack up a million YouTube views on a track before they'd even considered performing it live.
During this period, the chaotic chemistry of cyphers and grime sets – those adrenaline-fuelled moments where MCs lock in with an instrumental the DJ's thrown at them and get a wheel-up – were sorely missed. Writing for Black music publication Trench earlier this year, Son Raw called for more communal MCing in the UK scene. ​"It'll only benefit [new artists] when it comes to their stage presence when performing at shows and festivals," he wrote, ​"something that many have said isn't as tight as it could be for a lot of artists."
Don't get it twisted: Victory Lap hasn't single-handedly revived the UK rap cypher – Tim Westwood's Cribs sessions and the Groundworks platform, for example, have hosted exhilarating drill cyphers. But it's helped a growing number of new artists recognise the power of sharpening their live skills.
"I'm seeing loads of people trying to get back on the radio, get their own show, get cyphers going," says Joe. ​"Whether it's live or on radio, in person or whatever. Which is great." Case in point: Travs Presents, a live events series which launched last year, is rapidly gaining traction by channelling the raw energy of old-school grime, hosting explosive cyphers across London.
"It's an old format [Victory Lap] has updated and brought into the new generation; it's taking it back to the essence of pirate radio culture," says Metal Messiah, a well-respected UK music archivist with an encyclopaedic knowledge of grime. He says it's healthy for new-gen rappers to embrace the spontaneous chemistry and friendly competition of the cypher. ​"They haven't got these 40-year-old pirate radio legends doing the same old bars. They've got people that the younger generations can see, like Ashbeck or El Londo. These are the artists of tomorrow."

Most of the Victory Lap team are in a shared group chat, which includes Joe and Niko, as well as musicians and creatives Brian Nasty, Omari Lyseight, Brandon Nega, Cody Tyler and Gray The Jeweller. But it's hard to pinpoint exactly who's officially in the crew – they're not even sure themselves. ​"That's what I love about Victory Lap," says Joe. ​"Not everyone is like, ​'Yo, I'm officially in Victory Lap,' but all these people will ride out for it. I just feel like it's a thing that's making everyone push in the same direction."
Brian is also inspired by the all-in-it-together ethos. ​"Any music you've ever loved, nobody has come out and come up on their own," he argues. ​"Whether that's punk bands being associated with one another, grime rappers associated with one another, or the Soulquarians [collective] with D'Angelo and Erykah Badu."
Victory Lap launched in 2019 during a group holiday in New York. When the crew needed a name for mixes they'd recorded on Brooklyn radio stations Half Moon and The Lot, back at their Airbnb they landed on Victory Lap: celebratory, braggadocious and reminiscent of something you might find in a computer game.
Gaming glues Victory Lap together. Long before the radio show, Playstation parties (i.e. voice chat rooms) are how Brian and Brandon cemented their friendship with Joe after bonding on the dancefloor at an Ace Hotel Shoreditch rap party around nine years ago. It's also how they stayed close with Niko B, who they met at an Odd Future gig, when he still lived in Milton Keynes. And it's even helping them keep their transatlantic connections tight: Victory Lap has maintained its allegiance with like-minded New Yorkers, such as lo-fi hip-hop artists MIKE and Sideshow, via gaming parties.
And the wider cultural resonances don't end there. The Victory Lap crew has been known to orbit around East London's Bankrupt, the Brick Lane store where you'll find young, independent clothing brands alongside skateboards, photography books and zines, and Three 6 Mafia vinyls. Everyone in its wider network seems to either make music, direct videos, run a club night, design clothing – or a combination of all the above.
Corteiz is the key inspiration. Launching his label in 2017, by 2021 Clint had made the brand's Alcatraz logo synonymous with British youth culture off the back of a small team and guerilla marketing. His first ever pop-up was at Bankrupt's old shop in Shoreditch. ​"His work and his movement and his team have shown us that you can get what we're trying to get done on your own terms," says Brian, ​"and not feel like you have to wait for someone to give you what you're after." Joe agrees. ​"I think Corteiz has returned the power to the DIY and made DIY really cool again."
A couple of weeks after the Peckham cypher, Victory Lap drops a new, limited batch of T‑shirts, all featuring graphics that Joe designed himself. Since the Dave and Cench moment, international artists have enquired about appearing on shows and bigger companies have been keen to collaborate.
But Joe doesn't want to lose Victory Lap's independent spirit. ​"I think people are going away from huge brands," he says. ​"They're realising that there's a lot of power, respect and credibility in just doing your own thing."

22, North West London

What do you love about your part of London?
I live in a pretty relaxed area, which has had an effect on my music. [It] has very laid-back and chill melodies.
What do you rate about Victory Lap?
It's bringing back the grime essence in London. It feels like there was a while when it was rare to see a bunch of people standing in a room and sharing a mic. That's an unmatched energy.
Describe the UK rap underground in three words.
Exciting. Underrated. Bubbling.

22, Kensal Green
What do you love about your part of London?
Most of my people are local. Only gotta walk for five minutes in any direction to see the mandem.
What do you rate about Victory Lap?
It's sick because they're showcasing a lot of UK talent that is slept on.
What does the scene need less of, and more of?
Less copycats. More innovation.

24, North Enfield
What do you love about your part of London?
It's not gentrified yet. It still feels like there's pockets of culture.
Describe the UK underground in three words.
Varied. Free-spirited. Talented.
Why is this a good time for London's music scene?
People are bored with regurgitated pop formulas and they're looking for more uniqueness. A lot of contenders for being the next heavy-hitter are probably cooking somewhere in London.

24, North Enfield
What do you love about your part of London?
The culture and ethnic diversity taught me a lot of valid life lessons. Also, there's a lot of good food.
Which old school MC do you most respect?
Skepta.
Why is this a good time for London's music scene?
The possibilities are endless, and people are hungrier than ever.

20, Hackney
Describe the UK underground in three words.
Wavy. Jumpy. Unpredictable.
What's a lyric you heard recently which made you smile?
"I wasn't always a fly guy, I had to grow wings" [from Gave It All by Nines].
What does the scene need less of?
Less throwaway music.

20, North London
How do you feel when you're spitting live on radio?
It feels mad natural, especially when you're rapping with your friends. It just makes it live. You don't really feel the pressure as much.
Why is this a good time for London's music scene?
There's a spotlight on the UK rap scene that's brighter than ever before, with guys from the UK doing a mad ting across the world. It's up to us, the younger generation, to finish the through ball the older guys gave us.
What does the scene need less of, and more of?
The scene needs less fake and more authenticity. People need to realise it's cooler to be yourself rather than tryna be the next guy.

23, Kennington
What do you rate about Victory Lap?
It's very authentic, very real, very raw. It's a plat- form for up-and-coming artists, and artists already in the industry, to come together and just go crazy.
How do you feel when you're spitting live on radio?

Energetic. And eager to show what I've got, to show man's talent. Show what I've got in the locker.
What's a lyric you heard recently that made you smile?

One of my own: ​"A couple forks, we all eat equal, for the cause around some good people". All of my brothers, we're all going to eat equal. If I make it, we're all gonna be up together.

More like this