There is a com­mon myth that les­bians pre­fer stay­ing in to going out. The belief is that we would rather stay in bed with our cats and a cup­pa than go to the club – when real­is­ti­cal­ly, les­bians want to dance, get drunk, and let their hair down just as much as the next person.
The issue is find­ing a place to do so. It's not that les­bians would pre­fer a qui­et night in, but sim­ply that we have absolute­ly nowhere to go. As London's LGBTQ+ dis­trict you might think les­bians would flock to Soho on a Fri­day night, when in fact, of the 30+ gay venues only one is designed for women.
Whilst nights at Heav­en and G-A-Y mar­ket them­selves as LGBTQ+ inclu­sive, they remain undoubt­ed­ly dom­i­nat­ed by men. Queer women need their own space to feel com­fort­able with­out being pres­sured to dress, dance or behave in a cer­tain way. Only last week­end, dur­ing a Pride event of all places, a les­bian friend of mine was asked ​"are you even queer?" whilst out­side of a gay club. ​"My sex­u­al­i­ty was ques­tioned by a gay man – on Pride of all f***ing days – because I didn't fit his per­cep­tion of queer," says Han­nah Con­nol­ly. ​"Do I need to shave my head and only wear dun­ga­rees? To be asked to prove my queer­ness in front of the same peo­ple I'm seek­ing accep­tance from taps into some­thing big­ger. All I want­ed was a drink and a dance, now I'm hav­ing an iden­ti­ty crisis."
The dual­i­ty of homo­pho­bia and misog­y­ny sees women left behind in the gay scene when spaces aren't active­ly work­ing to include them. Gay men are the default and clubs run by gay men often favour pro­gram­ming that appeals to their own inter­ests over con­sid­er­ing the wider LGBTQ+ audience.
This being said, indi­vid­ual club nights led by women are pop­ping up more and more fre­quent­ly. No club to go to? Thank­ful­ly, some women are solv­ing the prob­lem by cre­at­ing their own events. The likes of Pxssy Palace, BBZ, and Butch, Please are gain­ing pop­u­lar­i­ty, whilst in the East Lon­don two of the best known LGBTQ+ venues, Dal­ston Super­store and Vogue Fab­rics Dal­ston (VFD), are host­ing les­bian nights of their own.
Celeste Guin­ness began work­ing with Dal­ston Super­store 18 months ago to cre­ate her night, Female Trou­ble, ​"a typ­i­cal Female Trou­ble par­ty aims to be a Venn dia­gram where activism, dyke-drag and les­bian in-jokes inter­sect," she says. ​"We've had polit­i­cal par­ties like our ​'Dykes Against Microplas­tics' and par­ties hon­our­ing the les­bian activists that were instru­men­tal in the Gay and Les­bian Lib­er­a­tion move­ment of the West Coast of Amer­i­ca in the 1970s."
Celeste con­tin­ues, ​"In the midst of all the news of queer spaces clos­ing, we've had some new hope this week in the form of a brand new girl bar open­ing: LICK in Vaux­hall. Between this and The Chateau, an excit­ing queer scene is tak­ing shape now in South."

Mean­while, Alexan­dra Love­less hosts the reg­u­lar club night, Nice Mover at VFD. ​"My club isn't a les­bian club, but I'm a les­bian and I run it, so nat­u­ral­ly there are more queer women present. Just due to the impact of hav­ing a core group of queer women at its cen­tre, that in turn rip­ples out into the community."
"The audi­ence reflects the source, gay clubs are by and for gay men, and women are after­thoughts at best and intrud­ers at worst," says Loveless.
Thanks to the open­ing of LICK club last week­end, London's les­bian scene broad­ens to a whop­ping TWO clubs. What began as a reg­u­lar club night, found­ed three years ago by Ted­dy Edwardes, soon evolved from the event ​'C U Next Tues­day' to LICK, the now per­ma­nent club in Vaux­hall. Saturday's debut open­ing wel­comed a queue that filled the street and con­tin­ued around the cor­ner. If there wasn't proof enough that les­bians want their own nightlife scene, women were will­ing to wait over an hour to get into the club.
"The prob­lem is that all the oth­er options for queer peo­ple are so heav­i­ly male-dom­i­nat­ed that a lot of queer women don't feel com­fort­able going there, so les­bian venues are essen­tial," says LICK's founder Teddy.
Graph­ic design­er, Jas­mine Lasode, is a new employ­ee of London's for­mer only les­bian bar, She Soho. Aside from her place of work, Jas­mine was unaware of any oth­er les­bian nights, as she explains, ​"when cus­tomers ask me if there's anoth­er les­bian bar I explain that we're the only one, which shocks every­one I speak to."
But She Soho isn't to everyone's tastes. In the same way that straight clubs vary in music genre, les­bians want more options than Rihan­na and Lit­tle Mix. ​"If I were to open my own les­bian night the music would be dif­fer­ent, and the space that my night would occu­py would also be dif­fer­ent. I would switch it up every week and have guest DJs," says Jasmine.
Not only do women need their own space to feel com­fort­able, but dif­fer­ent vari­eties of music, too. It's great to have some­where to go, but if you're into soul music and the club only plays tech­no then you're not going to go, regard­less of its clientèle.
Les­ley Mag­a­zine is the soon-to-be print pub­li­ca­tion that cur­rent­ly takes its form as an Insta­gram account. It's ded­i­cat­ed to arts, list­ings, nightlife and com­mu­ni­ty news for and by LGBTQIA+ women, trans and non-bina­ry peo­ple. Accord­ing to found­ing edi­tor Kat Hud­son, ​"there are two free print week­ly list­ings pub­li­ca­tions run pre­dom­i­nant­ly by and for gay men in the city but noth­ing of that kind for our com­mu­ni­ty. As we all work in LGBTQ+ nightlife we decid­ed to join our forces togeth­er and cre­ate Les­ley as an umbrel­la col­lec­tive voice for our com­mu­ni­ty. We have over 30 nights, organ­i­sa­tions, inde­pen­dent zines, artists, and indi­vid­u­als involved in the mag­a­zine already."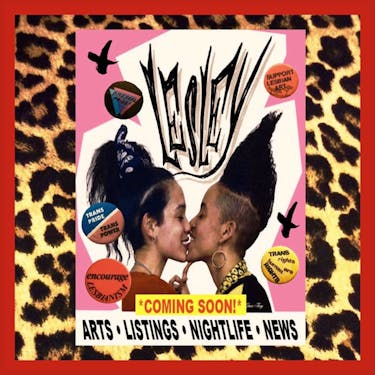 Les­ley is the go-to social media account for all les­bian hap­pen­ings in and around Lon­don. ​"I don't think there's as much of a lack as peo­ple seem to believe," says Kat. ​"So many excit­ing club nights and oth­er events have sprung up in the last year or two and the com­mu­ni­ty is real­ly thriv­ing. There are a few things on every week for les­bians in the city at the moment."
Queer women have become used to wait­ing for announce­ments for one-off events and plan­ning their going-out-agen­das around club nights that hap­pen three times a year. But with Les­ley and now LICK, our community's nightlife is begin­ning to evolve.
For the LGBTQ+ com­mu­ni­ty, going out is so much more than booz­ing and danc­ing. A club spe­cif­ic to any mar­gin­alised group, is sim­ply a space with four walls and a roof where that group feels safe, feels acknowl­edged, and can see obvi­ous sim­i­lar­i­ties between them­selves and oth­er clien­tèle. For straight peo­ple, there are so many clubs to choose from that they come in the form of ping-pong are­nas, doc­tors' surg­eries, cir­cus­es and ball pits, with a club for every genre of music you could imag­ine. But for women attract­ed to women, the only com­mon theme seems to be rarity.
There are no oth­er estab­lish­ments for les­bians to mix with oth­er les­bians. But more than social­is­ing, LGBTQ+ clubs allow the queer com­mu­ni­ty a phys­i­cal space where we are both vis­i­ble and pro­tect­ed. Where we can recog­nise our­selves in oth­ers and build rela­tion­ships that are essen­tial not just to liv­ing, but to sur­viv­ing as some­one with­in the community.
Queer spaces need to be acces­si­ble to all ages, and there should be more places for under-18s that allow them a sim­i­lar sense of com­mu­ni­ty. For young peo­ple with unac­cept­ing fam­i­lies, it is vital that they are able to find these spaces and build rela­tion­ships with peo­ple who share sim­i­lar sto­ries. It's no coin­ci­dence that the LGBTQ+ com­mu­ni­ty make up 40% of home­less youths.
As progress for women moves slow­ly, the progress for queer women moves even slow­er. We can only hope that the open­ing of LICK and pop­u­lar­i­ty of inde­pen­dent­ly-run nights trig­gers a chain reac­tion. If you're read­ing this, why not start a club night of your own?
---