Alexander McQueen announces brilliant new arts education programme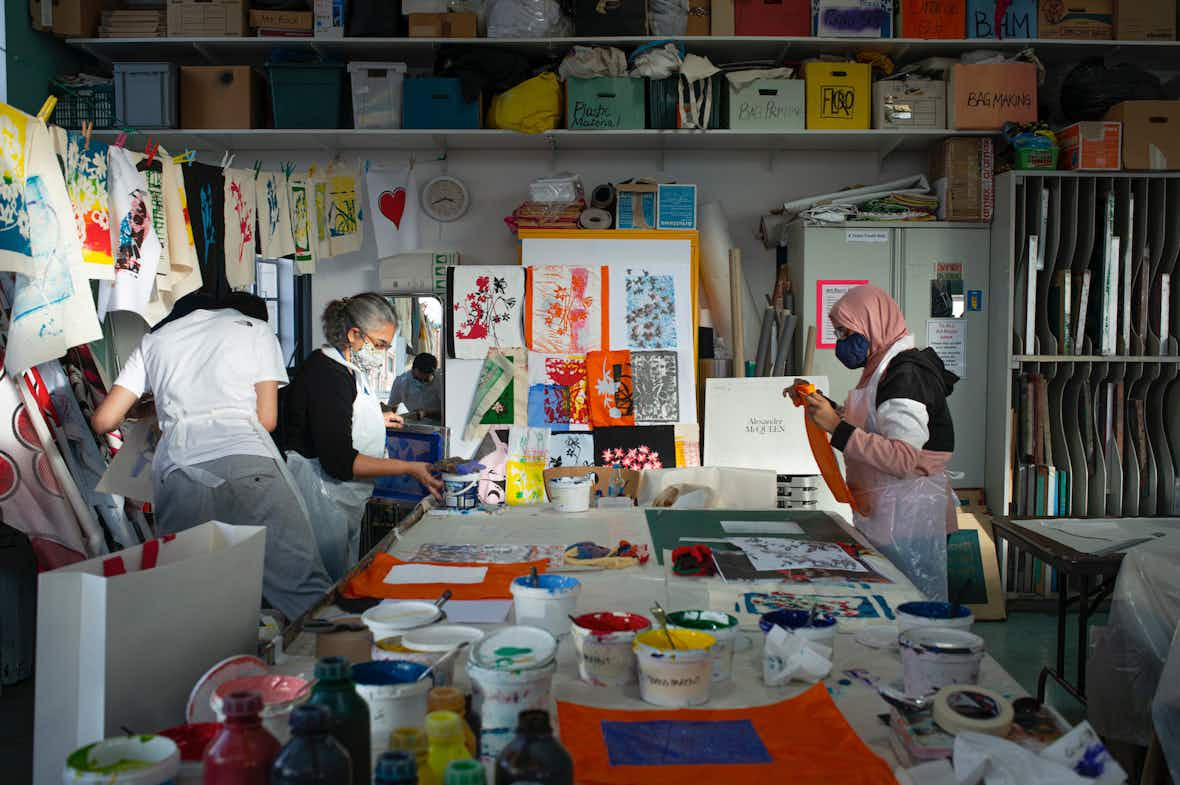 Partnering with A Team Arts Education, the initiative will work with young people based in the East End of London keen to work in the creative industries.

Alexander McQueen has announced a brand-new arts education initiative, partnering with A Team Arts Education (ATAE), an East End-based community youth organisation that works to support London youth wanting to get into the arts. Whether painting, fashion design, photography or more, ATAE bridges the gap between secondary education and bona fide careers – an often difficult pathway relying on money and connections.
Located in the borough of Tower Hamlets, the initiative returns to the core of the British house: Lee Alexander McQueen grew up in the area and later, in the early 1990s, ran a studio in nearby Hoxton before the initial, acclaimed shows that launched his career.
"It feels especially important for us to be able to take part in supporting young people from the East End of London," says creative director Sarah Burton. She's had a huge involvement in the initiative since talks began. ​"At this house, we all know that talent comes from everywhere, irrespective of background. At a time when UK arts education is narrowing, being cut and young people are under pressure, we're inspired and humbled to be able to join with A Team Arts Education in their exceptional grassroots work in providing fashion, textiles and art and design programmes."

The relationship between Alexander McQueen and ATAE started through an educational outreach programme of workshops, which Burton was running with members of the house's design team, online, throughout the pandemic. While McQueen has worked with various colleges and universities over the years – for example, the Alexander McQueen Scholarship was awarded to one student enrolled on the MA Fashion course at Central Saint Martins – the partnership with ATAE offers even younger people arts-led initiatives over the school holidays and Saturday programmes.
"At a time when schools and local authorities are reducing their arts budgets and provision, we still need the arts to help bring about a positive recovery and come together after the Covid-19 pandemic," says Sarbjit Natt, director of ATAE.
"Working with Alexander McQueen will provide inspiration, hope and opportunities to an area that has established links to the fashion and textiles industries that are now hidden through layers of history and a changing urban landscape," Natt continues. ​"The collaboration will help the arts to flourish in a positive way for young people and the wider community of East London."
Over the next year, McQueen will support ATAE financially and expand the workshops and classes they started digitally over lockdown. IRL events with McQueen's design, textile and embroidery teams will then be structured as ​"The Explore Programme", an introduction to various creative pathways.
Then, in collaboration with Central Saint Martins (where both McQueen and Burton studied), the institution's Insights Programme – led by outreach practitioner Berni Yates – will open doors to higher education. This will be targeted at young people, who may not have access to arts subjects in school, offering social enterprise opportunities and dynamic progression of talent throughout the fashion industry.


More like this