Balenciaga's shoes are about as battered as we all are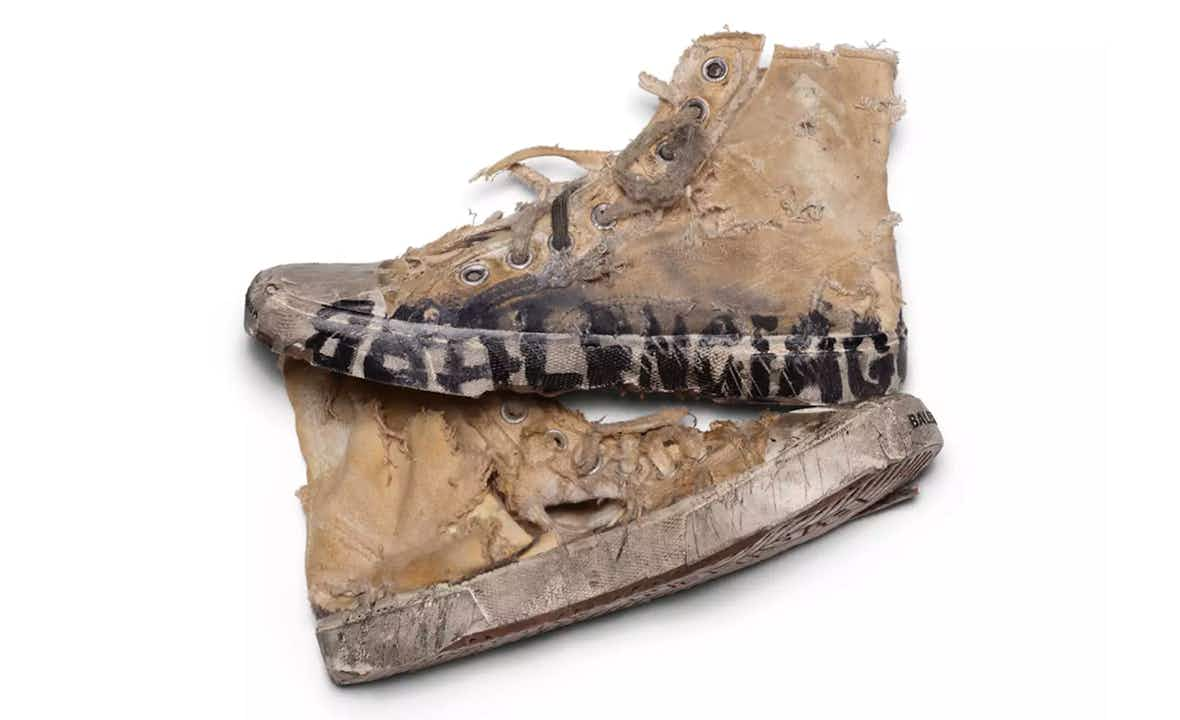 The most controversial shoe in the world right now has the internet's knickers in a twist, perhaps rightfully so. But then again, Demna Gvaslia does everything for a reason, right?
Earlier this week, Balenciaga released a shoe so battered and bruised it had sneakerheads' actual heads swivelling 360°. It made headlines, parted the sea of social media in a frenzied debate and, given its £1,850 price tag, pissed off a helluva lot of people. With just 100 pairs available, you lucky sods will practically hear the cash register ring with every step you take.

With a barely wearable shoe costing more than some people's monthly rent, the dedicated disruptors from Paris are fanning the flames of social aggravation. And given the state of the world – cost of living, climate emergency, war in Ukraine – we're a pretty angry bunch. Offer us the opportunity to air our grievances at a shoe? We're like a rabid dog to a bone.

Yet you get the sense that Demna Gvasalia, Balenciaga's creative director, had bigger intentions than to flog an overpriced, beat-up shoe for his own gain. Art imitates life, dunnit? And commentary in fashion, on what is happening right now, is few and far between: the world seemingly content to slink into a never-ending cycle of nostalgia as though our asses are plonked on a retro bean bag.
Step forward, then, Gvasalia releasing the shoe like Rafiki holding Simba in The Lion King. Good fashion reflects the world. Look at Raf Simons' SS02 collection, where a tribe of hooded models defiantly wafted flamethrowers against a backdrop of war and disruption in the Middle East. Or the ​'90s ​"heroin chic" movement which served as a yearning for realism following the brash styles of the​'80s. Or in fashion imagery like early-'90s United Colours of Benetton ads reacting to the death and destruction of the AIDS epidemic.

Beyond the bonkers pricing and the argument of a ​"poverty chic" aesthetic – the so-called Paris Sneaker is named after a city that, as of 2021, has an estimated population of 300,000 homeless people – it's safe to say the distress of the shoes mirrors the social tensions we're all feeling right now. We're all drained, bothered and hanging on by a thread.

Gvasalia is no fool. Last year, he gave a rather telling interview to GQ​, owning pretty much every question mark anyone had ever had about him. The IKEA bags, platform Crocs and dressing Kim Kardashian wasn't meant to be​"understood by the average social media critique". He doesn't care.​"I just do fashion that I love and enjoy," he said.​"It is really as simple as that." But that's not to say it's frivolous. Here comes the all important point:​"Everything I do has a reason for it."

For AW22, Balenciaga staged a potent show inside a giant snow globe. Initially, it was meant as a statement on the climate crisis. But with Russia's invasion of Ukraine taking place just a few days prior to Paris Fashion Week, the Georgian designer – himself having fled war-torn Georgia in the​'90s – turned the show on its head as an act of solidarity, placing Ukrainian flag t‑shirts on the seats. Models, visibly struggling to walk against the wind machines and fake snow, looked as though they, too, were fleeing. For Gvasalia, pulling the show out of respect to the, then, escalating situation, would have been giving in to the pressures of Russia. He decided to support Ukraine with steely determination.

Since Gvaslia's inception as creative director in 2015, Balenciaga has respectfully bowed to the house's storied past in its precise cuts, gowns and subversion of classics. Yet at the same time, it has become its own stringent entity, its rock-hard exterior akin to the cement walls of a Berlin warehouse rave. Gvasalia's Balenciaga has brought us haute couture for the internet generation, comical gags, and a proper understanding of underground youth trends culminating in the dark corners of Paris' back alleys.

It re-energised fashion's obsession with The Matrix, minimised sunglasses to teeny-tiny proportions and – we think – had a great laugh while doing it all. Seasonal collections have tightroped from strength-to-strength, and 1.4mil Gen-Zers giddily tune in to catch all the action on Balenciaga's TikTok – described as a ​"weird, wonderful K‑hole". But what Gvasalia does best is political fashion, like the SS20 show staged in a faux-political arena washed floor-to-ceiling in a blue not far off from the EU flag, or Pre-AW21's collection using 90.6 per cent sustainable fabrics and ​"GAY Pride" logos stamped over hoodies. In the age of aesthetics, digging beneath the surface can feel like a rarity, but one he does without trepidation.

With only 100 of Balenciaga's Paris Sneaker on offer, it feels less like an actual, wearable item of clothing but rather a collector's item – some sort of distorted relic of our very real times.

As a luxury house, the price shouldn't be too surprising. Believe it or not, there are people out there who will fork out close to £2k for a pair of these bad boys – they're walking down our very streets, hiding in corners and queuing up for the latest drop. And if Gvasalia's track record of making meaningful fashion is anything to go by, let's go with the deeper meaning theory.

The shoes are about as tired and withered as our very soles. If you're taking it too seriously, perhaps you're missing the point.


More like this