All hail the rise of bonkers denim

More than just a casual trouser, this season designers have found ever-inventive ways to reimagine your blue best friend.
You heard it here first: complicated denim is back and better than ever. This season, brands like Acne Studios and Marine Serre debuted denim gowns and oversized, shredded coats. Loewe said that denim can and should be worn on your feet (shredded sneakers, anyone?). While Trussardi and Marni announced that exaggeratedly frayed jeans were hot property. (Not to mention, printed matter being all the rage at Vivienne Westwood and Ahluwalia, and pockets going beyond utility over at DSquared2.)
Over the past 170 years, denim has become the ultimate tool in observing styles and trends, a democratic item of clothing worn by moody teenagers, off-duty presidents and pretty much everyone in between. Luxury designers have often attempted to distort and transform the fabric in infinite combinations. But at the AW22 shows, the presence of denim has been particularly undeniable.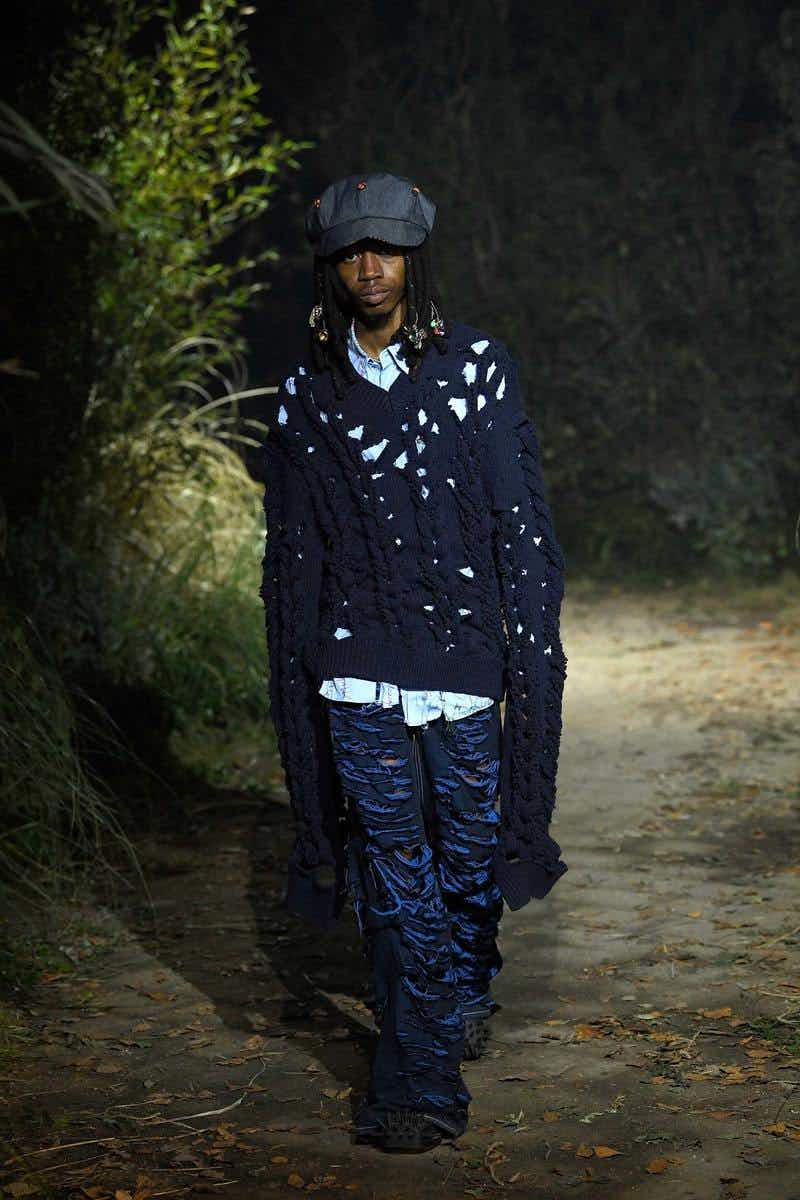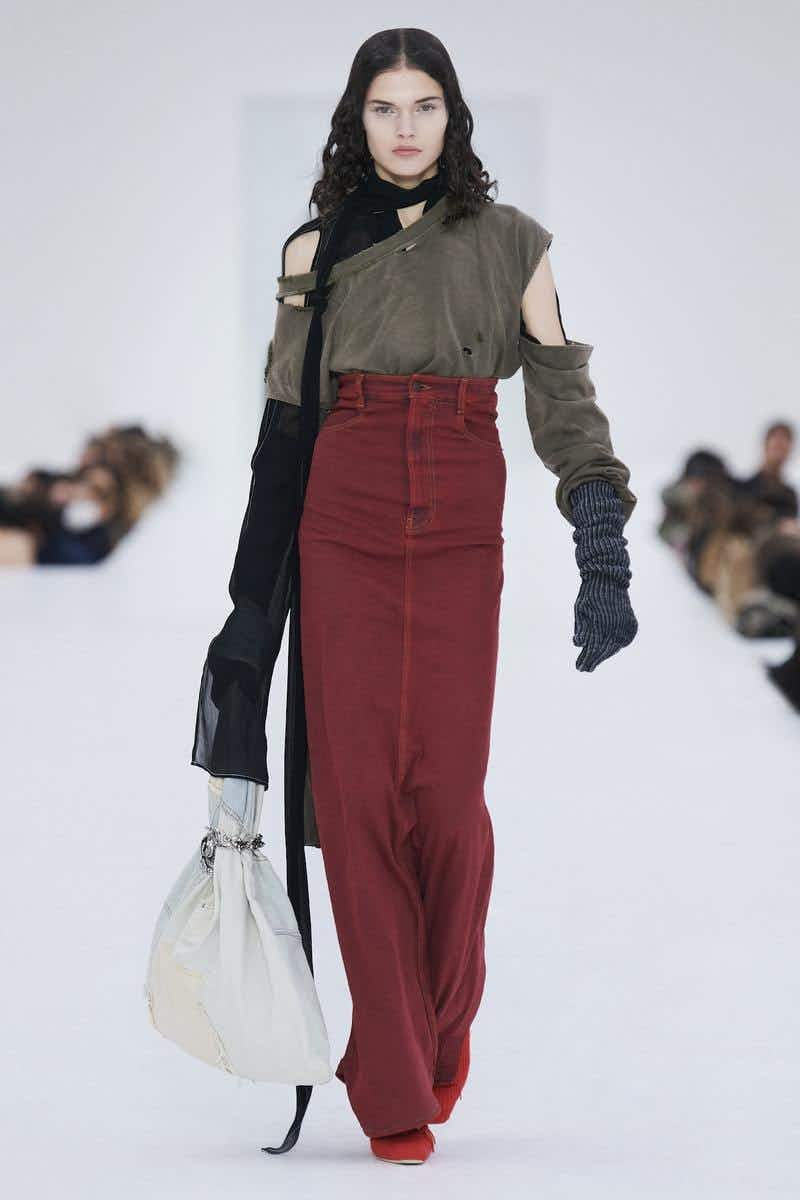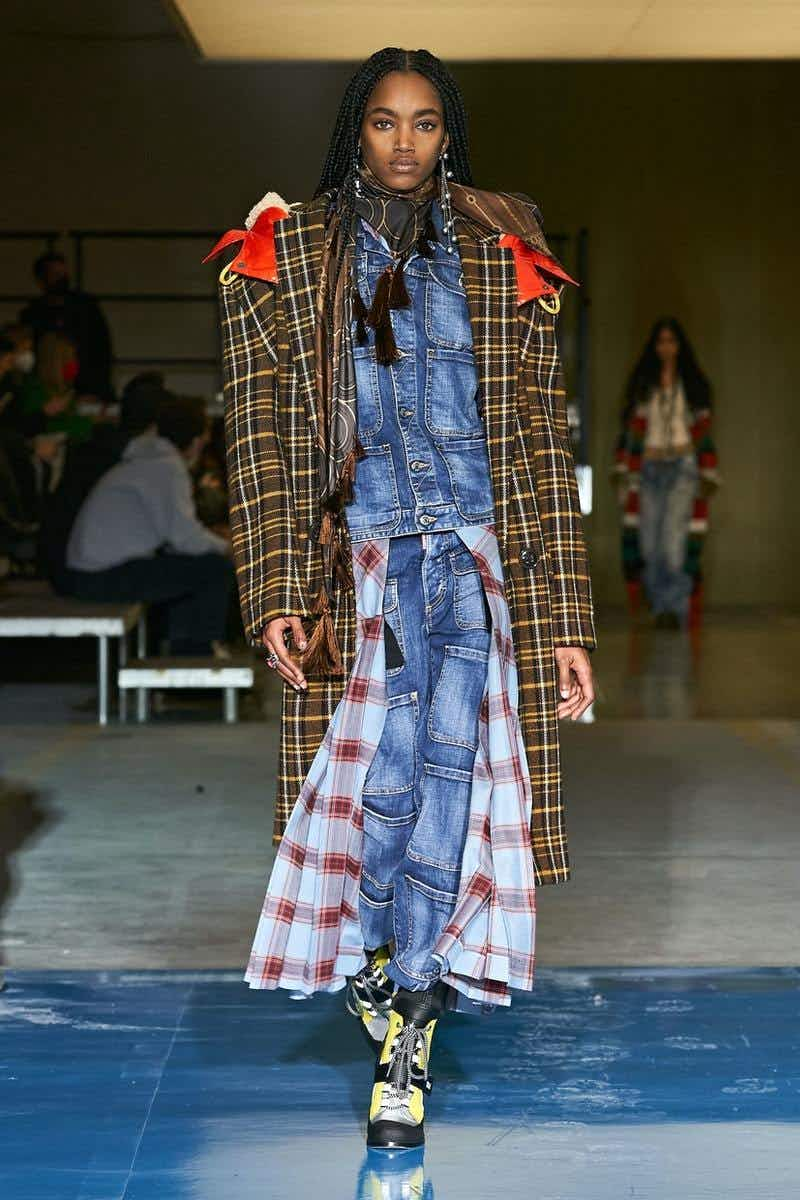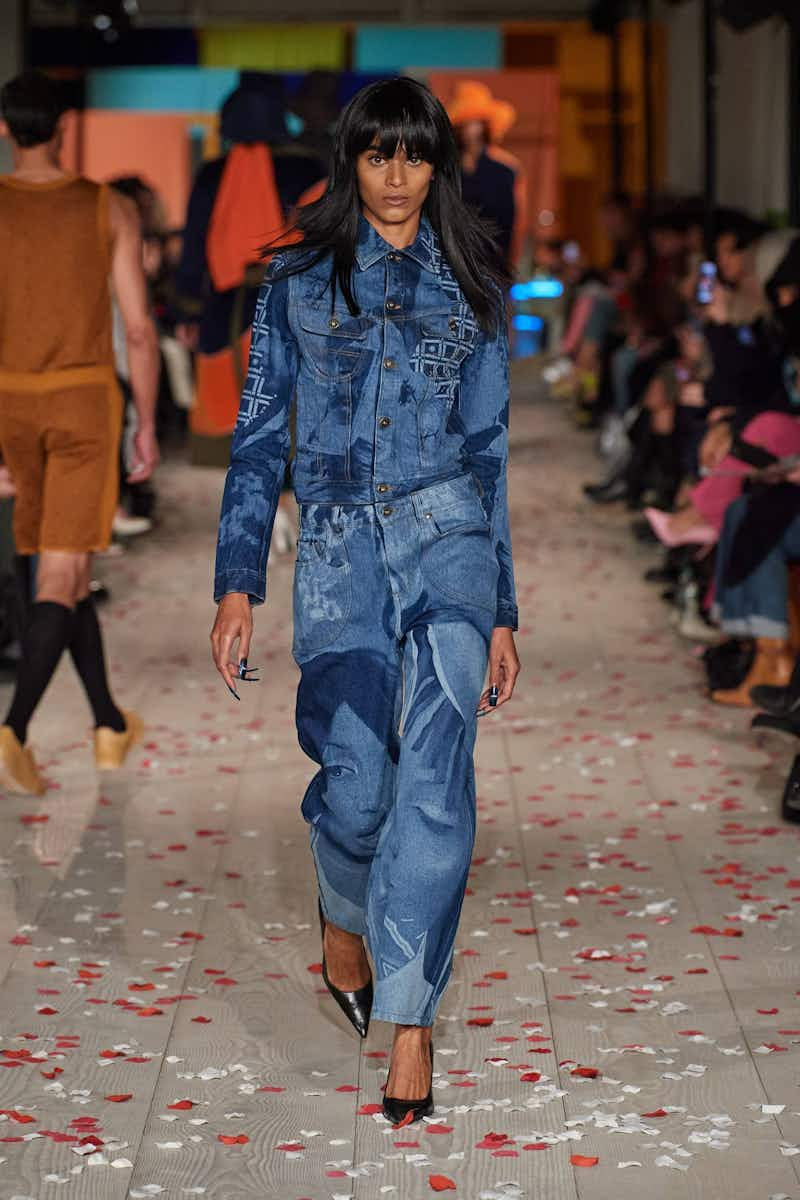 There was a moment in the mid-2010s when statement jeans became, well, the statement. This gave rise to the massive mainstream success of brands such as RE/​DONE (which subtly reinvented classic cuts) and Ukrainian brand Ksenia Schnaider (whose wide-leg-skinny-jean mashups became a Bella Hadid go-to). Chanel's Pre-Fall ​'14 collection, Dallas, heavily featured statement denim skirts and dresses, as well denim cowboy boots. But then statement denim arguably faded into the background for a few years. Sure, there were Vetements' lopsided, choppy jeans and Y/Project's gravity-defying cuts and shapes. But the desire for denim was nothing like of late.
Although 2020 ushered in an uptake of sweats and work-from-home cosies, it also saw a rise in DIY fashion, accelerated by the growing popularity of TikTok. With Gen‑Z cutting, slicing and stitching their wardrobe basics, this season felt like an off-shoot of hyper-experimental takes on something as simple as denim. Look, we're not saying screenshots of DIY TikToks are being plastered on the moodboards of Parisian studios, but there's an undeniable mirroring effect of Gen‑Z's aptitude for experimenting and the sheer volume of highly innovative basics seen this season.
Of course, brands such as Sacai and Junya Watanabe have always manipulated traditional denim silhouettes, embracing the quality and techniques of Japanese-produced denim. So too has London designer Martine Rose, with jeans turned into chaps, cut off at the calf or nodding to middle-aged dads found on golf courses.
This season, however, designers appear to have gone so far as to usurp the appearance of denim and trick the mind altogether. At Matthieu Blazy's debut collection for Bottega Veneta, although the opening look appeared to be a tank top and a simple pair of jeans, the pieces were actually made entirely of leather. In addition to the denim shoes, Loewe also brought similar surrealist tactics to the runway by using textural denim screen prints rather than the textile itself.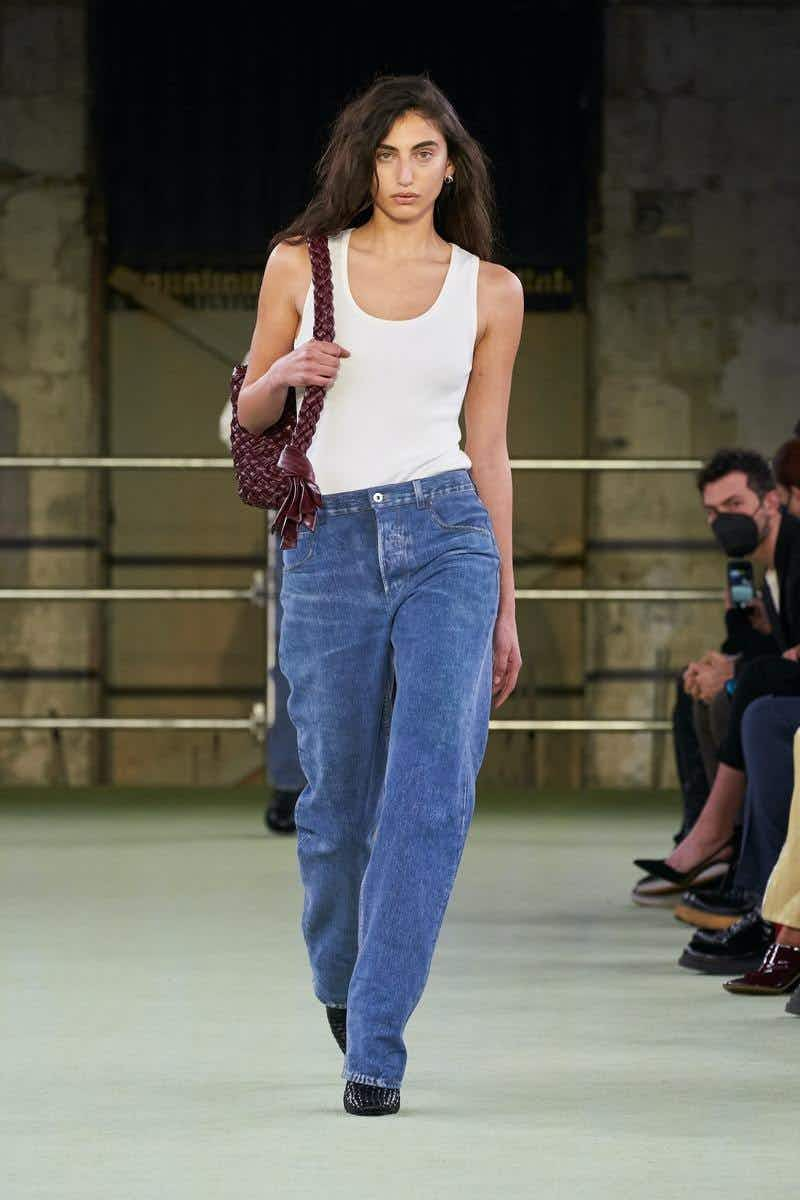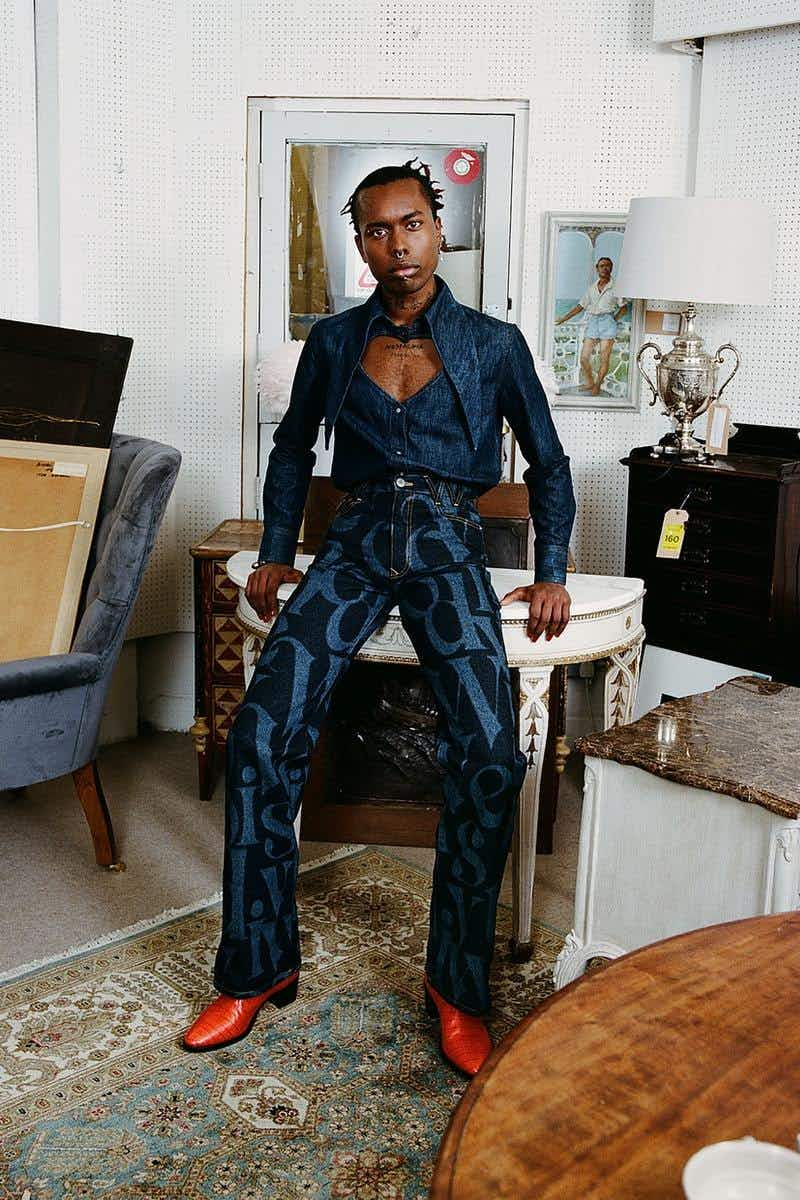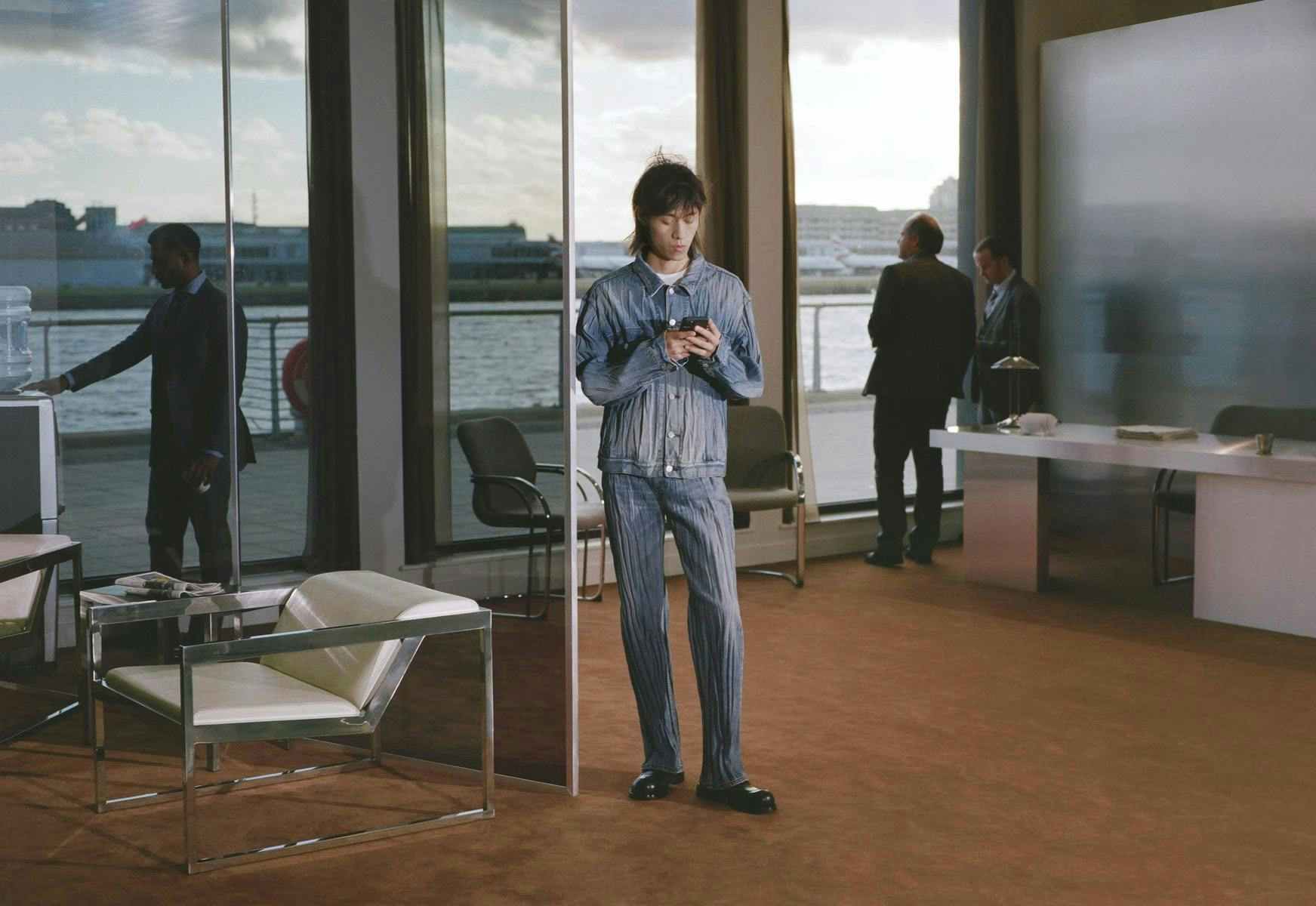 While some toyed with optical illusion, designers such as DSquared2 and Ahluwalia returned to pragmatic silhouettes paired with statement tailoring and prints to elevate the overall effect of the look. Ahluwalia's screen-printed denim revived the statement jean, keeping the basic tailoring while using prints taken from Bollywood and Nollywood film posters, stretched over the leg on a pair of jeans, or the torso on a boxy denim jacket. Meanwhile, DSquared2 subverted the humble pocket to maximal effect, lining a jeans and jacket combo, and going super baggy, of the acid house variety, in an indigo pair of low-slung jeans, youthful in their laid-back style.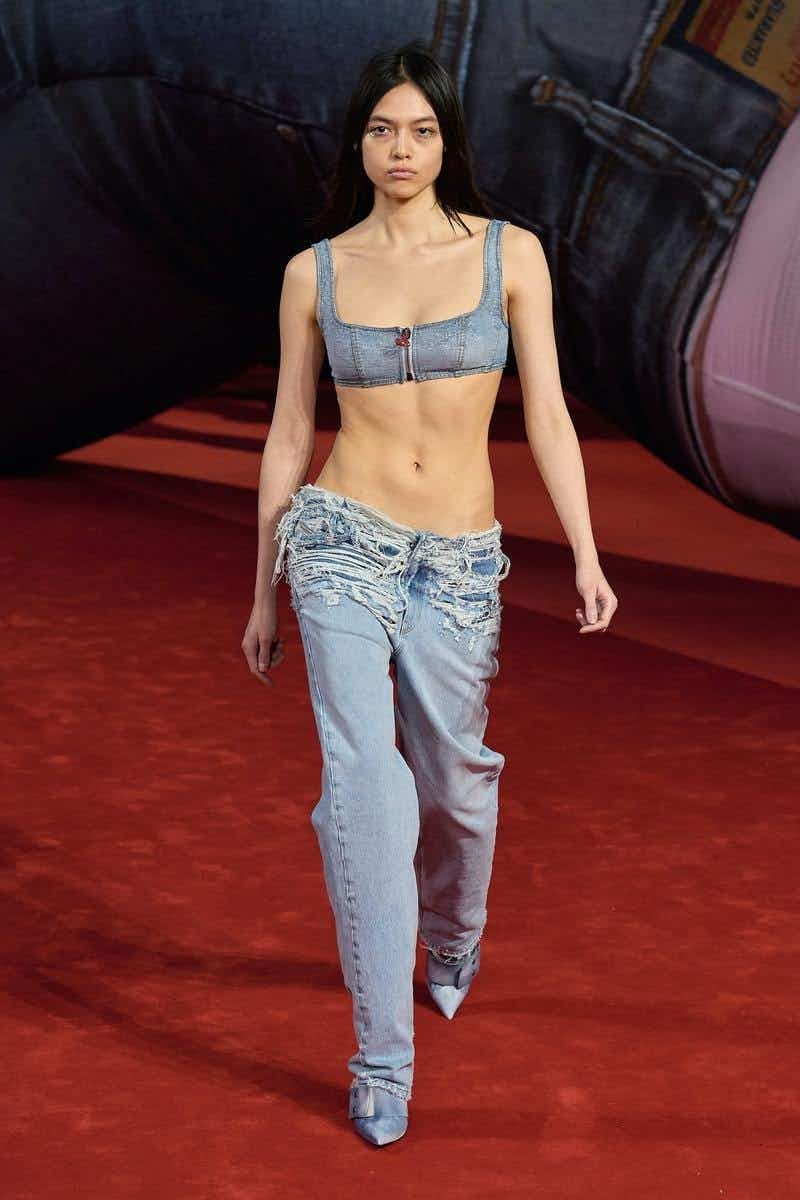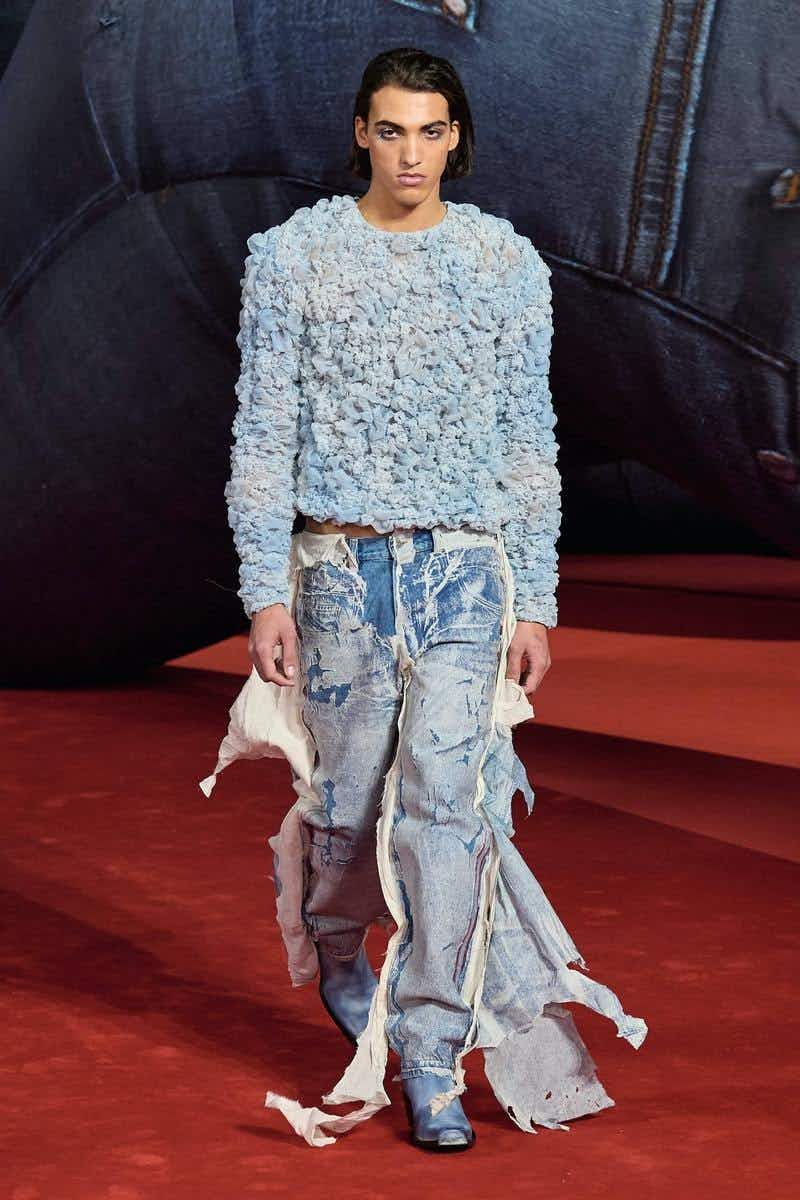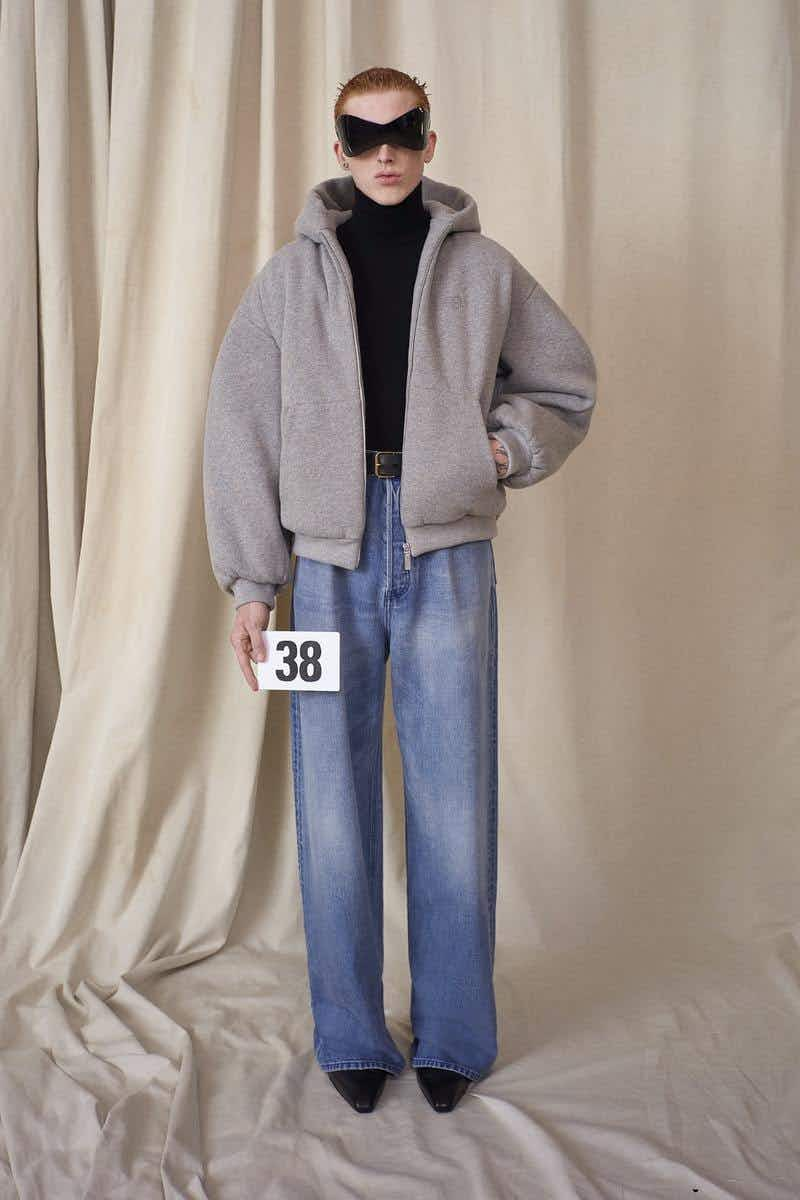 The person best placed to ride the newly mobile denim train, however, would be Belgian designer Glenn Martens.

In his years helming the Y/​Project brand, he has expanded his tailoring repertoire to include the convertible cowboy jeans/​jorts, as well as the deep‑V denim bottoms.
Since Martens' appointment as creative director of Diesel in 2021 and his stellar debut in June, he's made the brand's historically sexy jeans a focal point of statement denim's revival, successfully dusting off the brand and bringing it to Gen‑Z attention.
His latest collection, shown in Milan two weeks ago, was saturated with frayed edges, embossed logos, skin-tight catsuits, statement overcoats and even a huge inflatable doll wearing Diesel jeans. Stir it all together and throw in a few beautiful alien-like painted models, and it was another viral collection for a man riding high off the back of his couture debut when he guest-designed Jean Paul Gaultier (to critical acclaim) at the end of January. As Demna Gvaslia proved with his couture debut for Balenciaga in July 2021, denim can be designed for the hyper-wealthy, slipping in a pair of blue jeans in a regal collection for the internet generation. For Martens, it was a seemingly casual, instead placing a full-length denim skirt alongside ornate gowns.
Be it freedom in post-pandemic dressing, a salute to youthful DIY techniques or a return to dressing, quite simply, for fun, there's no denying that statement denim is back. And whether you're wearing the real deal or, in Bottega's case, just an illusion, it should be enough to keep those battered skinnies to the back of the wardrobe.

More like this