Di Petsa on being wet, wet, wet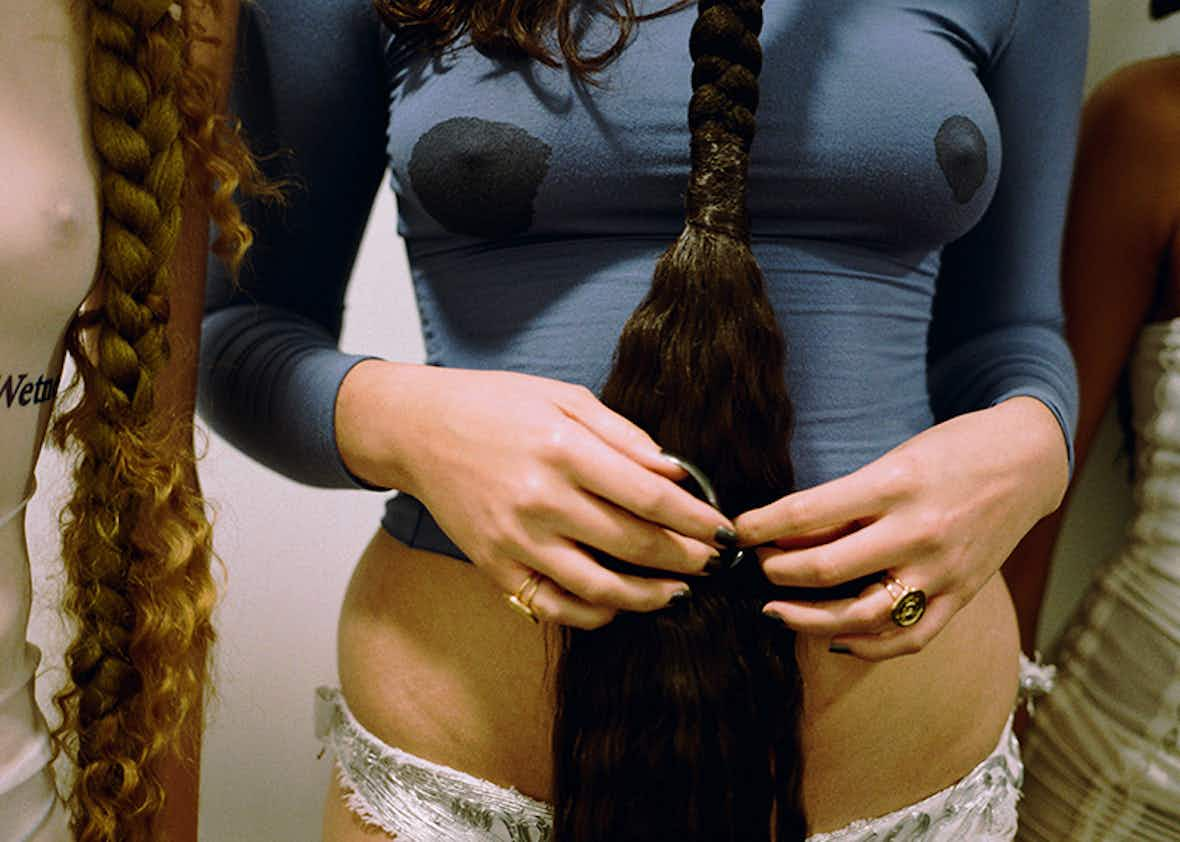 The Athens-born designer created a Garden of Eden orgy for her AW20 presentation. But why so wet?
Upon stepping into Di Petsa's AW20 presentation, an odd yet satisfying humidity could be felt in the air, like once the rainfall ends on a hot summer's day. A subtle scent of moss, perfume and flowers lingered, too.
This was no ordinary London Fashion Week presentation. It was the work of 25-year-old London-based, Greek designer Di Petsa – hardly anything she has done since graduating from Central Saint Martins' MA Fashion course in 2018 has been ​"ordinary".
Petsa grew up in Athens, where she was brought up by her seamstress grandmother. It's during this time that she first cultivated her craft. ​"I was a very weird kid," says Petsa over the phone from her Hampton Court Studio, five days after her show. ​"I liked to be [left] alone and [to] make dresses out of napkins."
These days, her custom designs are far less makeshift. Worn by the likes of FKA twigs, Rina Sawayama and Kylie (and Stormi) Jenner, Petsa is best known for her use of white draping – a technique that harks back to her Athenian roots. Her pieces cling to the body like a Grecian stone statue and look like they are completely drenched. A classy wet T‑shirt contest of sorts.
Petsa isn't the first designer to super-soak her designs, though. Alexander McQueen's SS98 show, titled Golden Shower – until it upset people and was changed to Untitled – saw models walk down an indoor runway while being rained on. The white tailored pieces worn by the models gradually shapeshifted to new forms, clinging to their bodies as they stomped through puddles. Fast forward to Maison Margiela's AW17 collection, and you'll see dresses and blouses, made from silk and crêpe de chine that give the effect of nude skin. Most recently, New York swim and shapewear label Chromat presented blue wet look T‑shirts as part of their SS19 collection.

But Petsa's ​"wet-look" effect is not printed, nor is it the result of rainfall. It's based on a top-secret formula that took the designer six months to develop and perfect alongside studying. But as a ​"big believer of slow fashion", it was all part of the design process. She is reluctant to share information on the process, but what she can tell us is that the design process is totally unique – each dress is custom-made and the fabric is first draped on a mannequin while its still wet, then sewn by hand.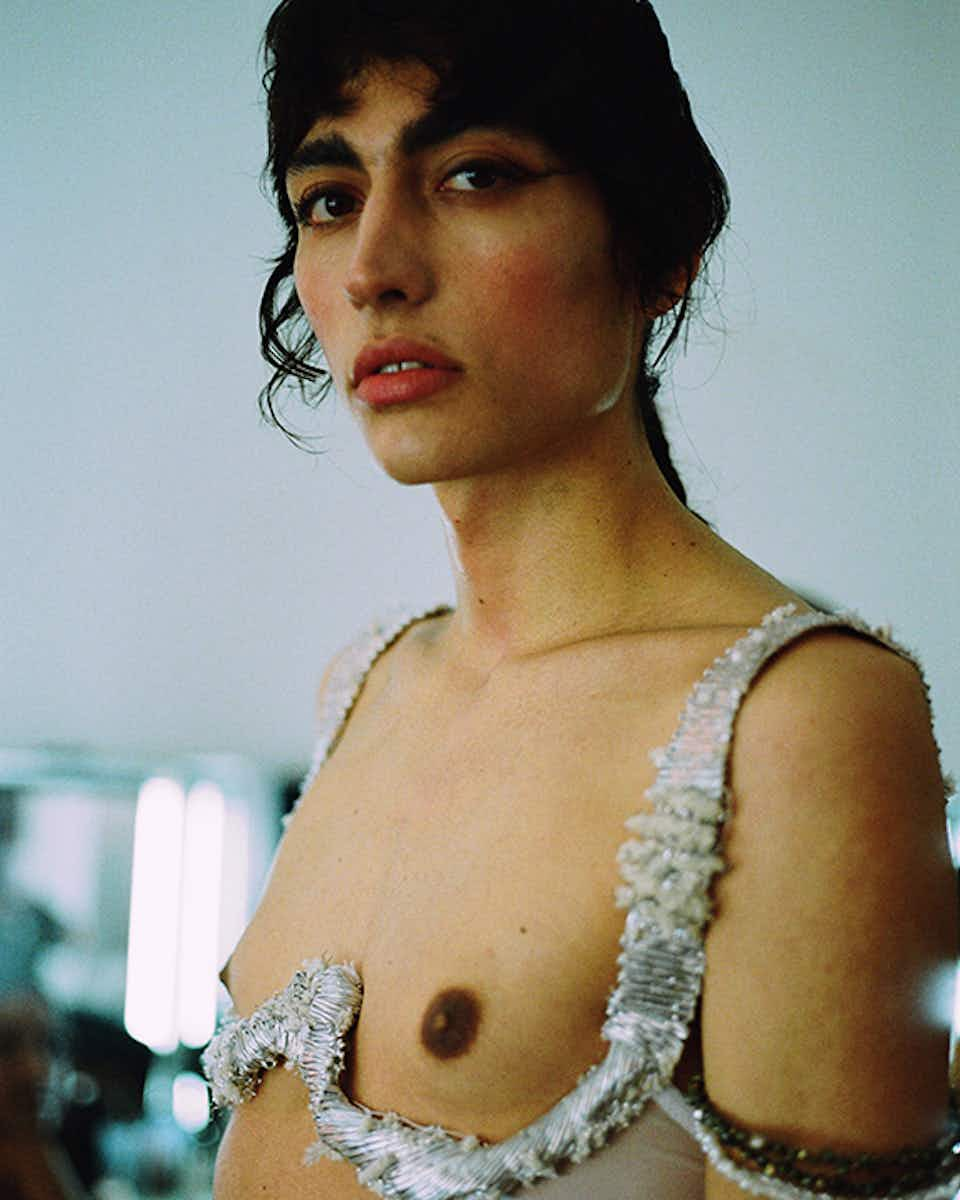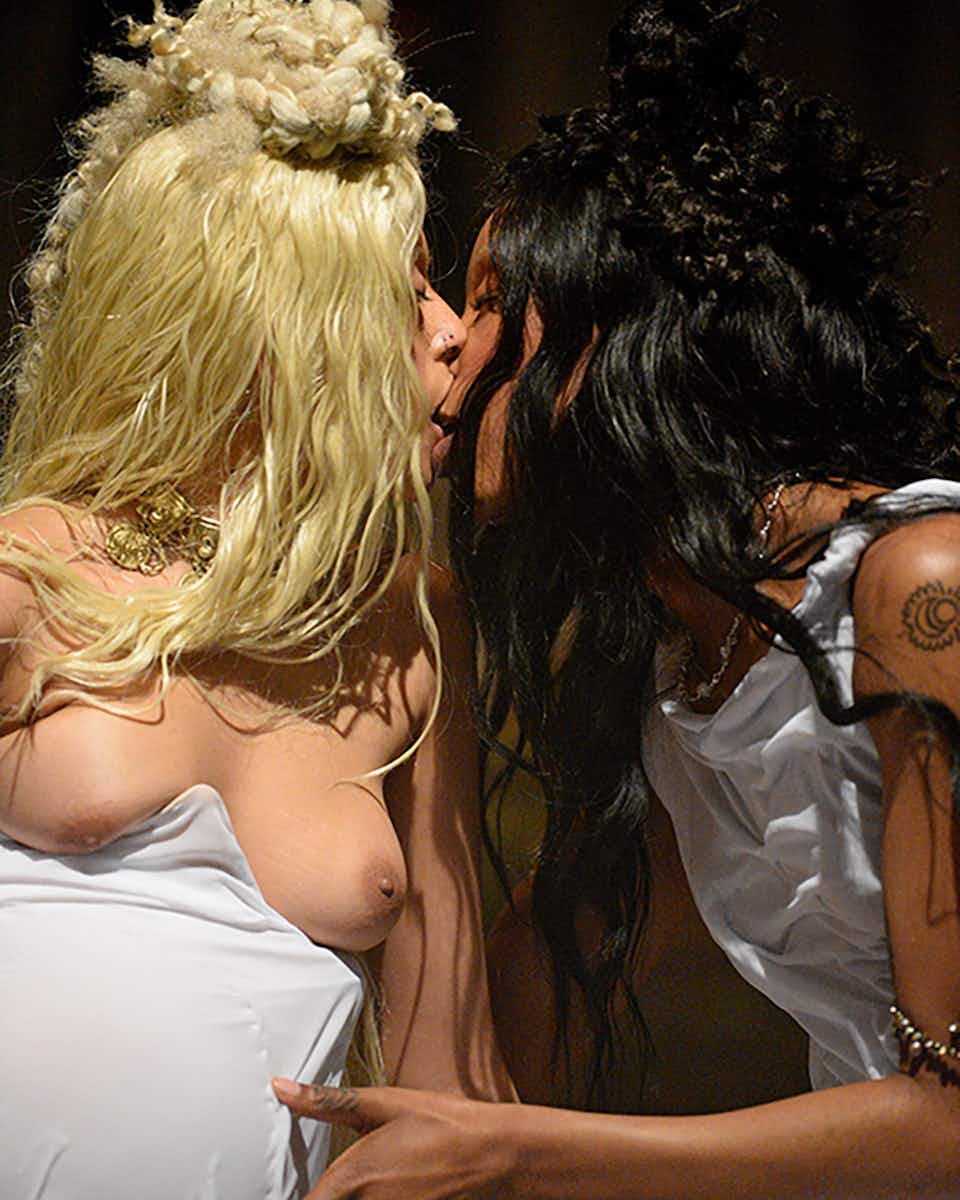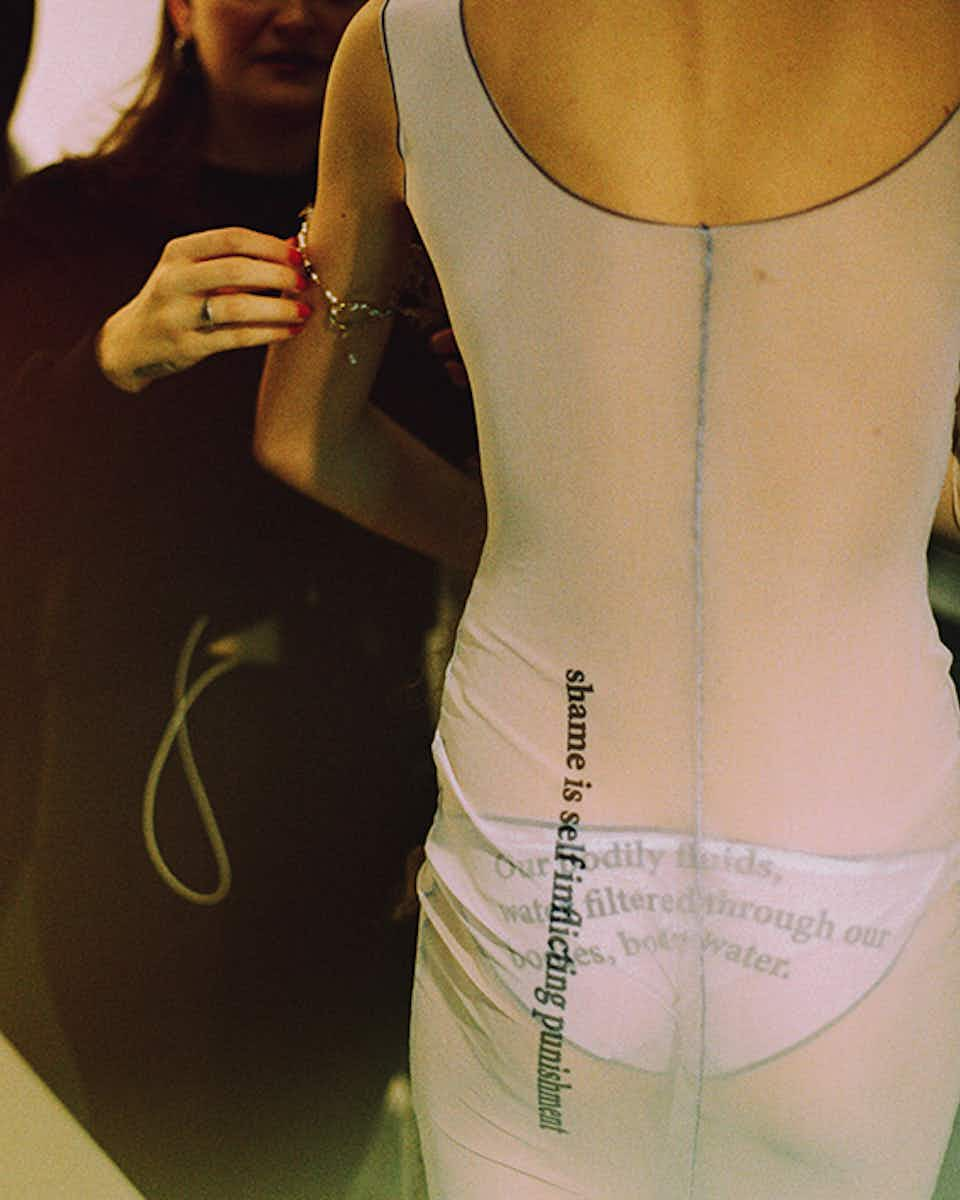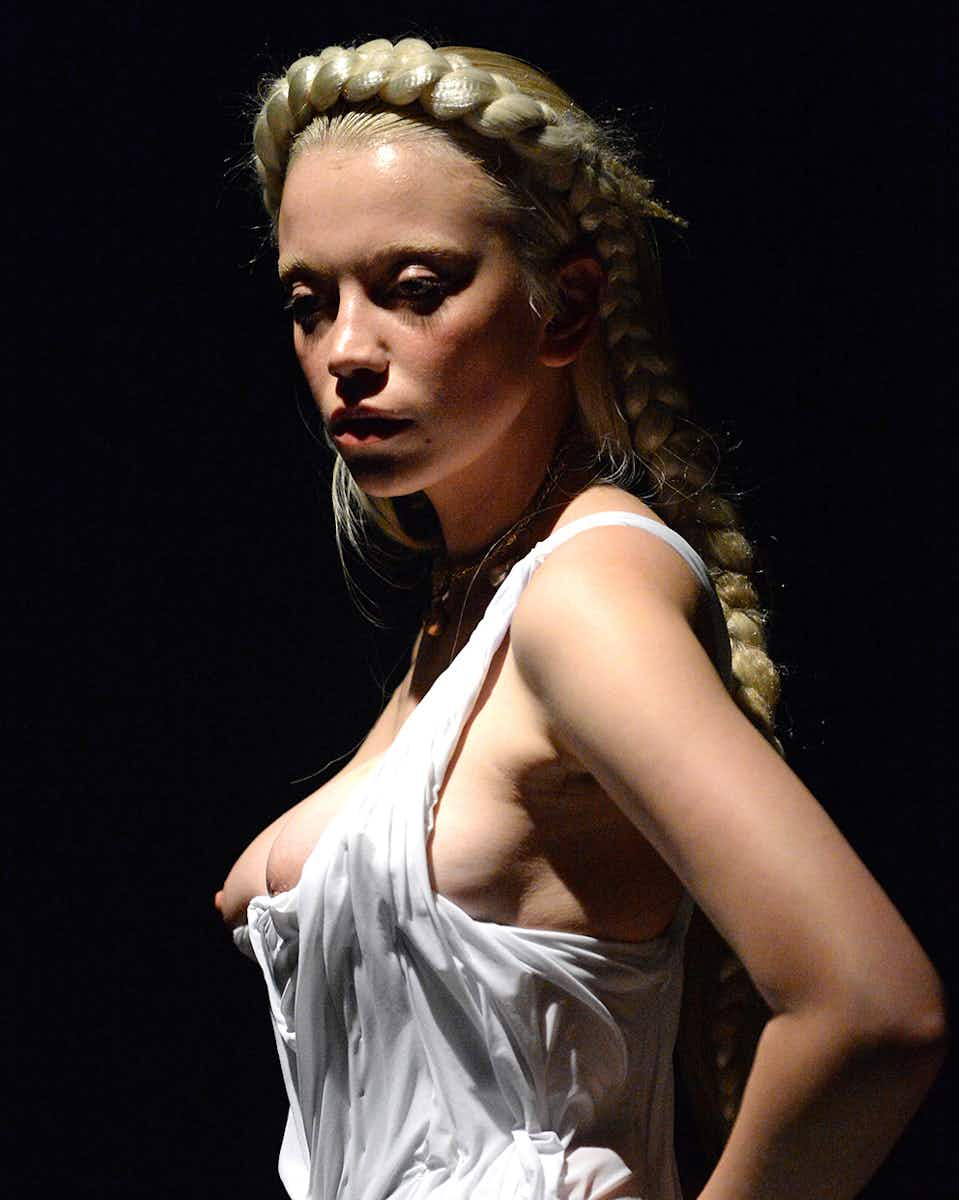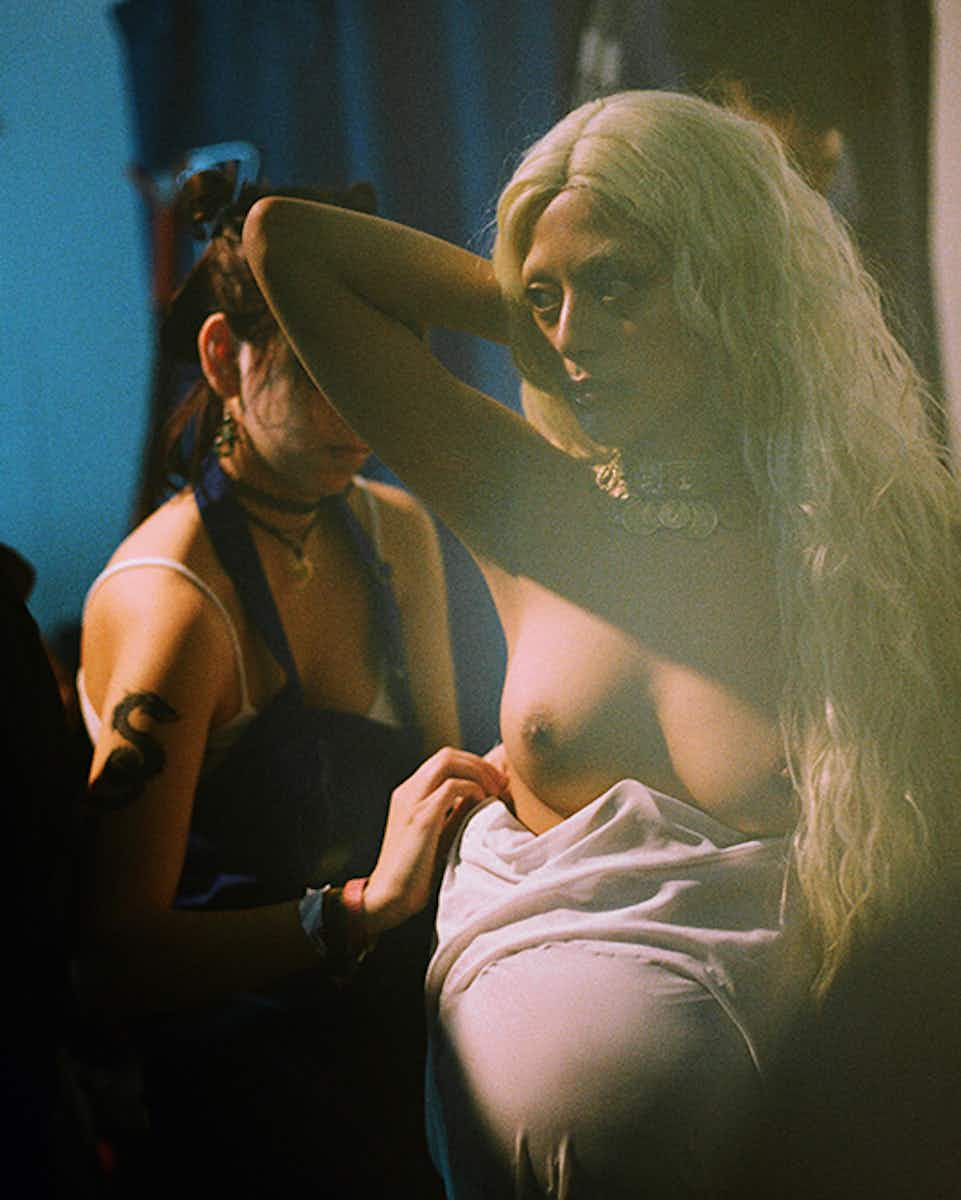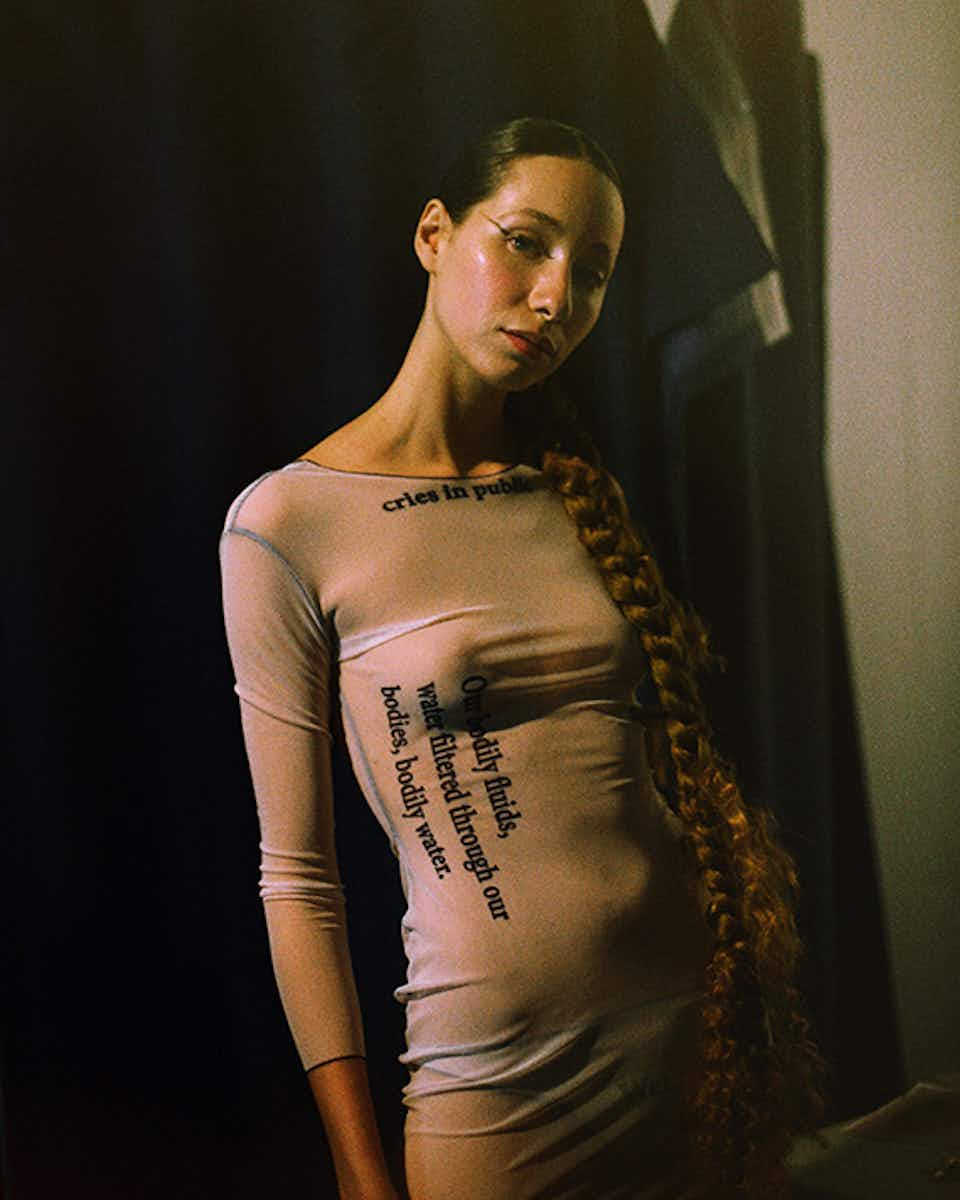 But why so wet?
"The concept of wetness and bodily fluids has been an inspiration for many years," says Petsa. ​"Our relationship with our bodily fluids is very telling of how deeply ingrained bodily shame can be, becoming something very sanitised and censored, especially with women's bodies."

The designer's presentation was, then, an uncensored protest to the censoring she feels so strongly about. It was heavenly, but it was – shall we say – offbeat. Something of a Garden of Eden orgy. Within the British Fashion Council showspace, a group of Di Petsa-clad women howled, snogged and moved in motion to a soundtrack of soft lavta strings and breathy vocals while touching one another up.
A make-shift pond was placed in one corner – that models dipped their hands in and out of – surrounded by an abundance of blooming flowers, marble steps and miniature Greek columns. Petsa herself stood front and centre, involved in the performance.
Her background in performance art, prior to her time at CSM, influences the way in which she presents her work. Positioning herself in the spotlight isn't new territory. In one piece before she embarked on during her MA Fashion course, Petsa pissed herself in public, an event that would later inspire her wet jeans worn by Alexa Demie in an Office editorial. But it was her interest in the relationship between the designer-model-audience triangle that had her joining in on the Big Time Sensuality.


"That's why I participated in the performance – I always try to be very personal with the projects I do," says Petsa. ​"We usually see designers at the end doing a little bow wearing something completely different to the models. I design a lot on myself – it's stuff that I would wear."

Her designs are almost scientific. The references – periods, breast milk, vaginal wetness – read like a biology textbook. But it's the politics of bodily fluids Petsa is fighting against. Her first ​"proper" project was called Vagina Archives. For 30 days, she collected her own vaginal fluids and put them in petri dishes ("It was like a diary") to explore the link between bodily fluids and bodily shame, in tandem with her own sexuality.

When designing the ​"soaked" dresses, Petsa had been envisioning a woman with a wet vagina walking down the street ​"fully accepting that she is constantly wet". Petsa later points out that, for women, wetness is something that ​"distinguishes if they'll have sex or not". Intimacy is something else that heavily influences Petsa's work: ​"I've always had a very deep connection with strangers – I'll meet someone new and they'll tell me their deepest secrets."
Whether through the chest-hugging fabrics, flattering drapes or Cupid-like robes, the designer's designs are every bit as intimate as they are empowering. Di Petsa's formula will remain a secret, but it's certainly no secret that she's onto something special. Just don't try this at home.

Styling Kate Iorga, Casting Chloe Rosolek, Set Ellie Koslowsky, Music Violette Wilson, Makeup Crystabel Rilley, Hair Issac Poleon

More like this