Fashion East SS22: a celebration of home, hedonism and London spirit

Welcoming Chet Lo to this season's roster, Fashion East saw Maximilian, Goom Heo, HRH and Jawara Alleyne present electric London fashion for the masses.

For his first outing with Fashion East, Chet Lo made a Splash, but it's not just his SS22 collection title that pointed to the seas. Over the past year, most of us have longed for an epic adventure out of, well, reality and Lo provided that through fashion, inviting us along to his tropical haven.
Taking notes from an idyllic holiday, the bright hues of summer cocktails, calm seas and warm sunsets were injected into the collection, turbo-charged and spiked out Chet style. With his future fashion take on knitwear – his design process uses ​"really thin fishing wire [that is] very difficult to knit with because it's so unpredictable," he told THE FACE last year – Lo's signature, strategic pattern cutting came into full, unabashed effect in scuba-style evening dresses, bonkers, oversized handbags, a dress with a rubber dingy attached to it, and two-piece sets in psychedelic pink and blue swirls. Cuts were deeply considered; the designer used angled hemlines to accentuate the shoulders, stomach and upper thigh, while beach cover-ups acted as a second skin, clinging to the body as though emerging from the deep sea.
The holiday may be imaginary (for now) but Lo's got you covered on all bases when the time to pack finally arrives. For evening dips in the pool, an electric blue bikini with a matching swimming cap, featuring his signature spikes. For a romantic candlelit dinner, a sexy halter-neck evening dress in fuschia draping the body and slit down the side – big time sensuality. For when temperatures drop at night, a velour track top. Club Chet is open for business: all-inclusive, out of this world.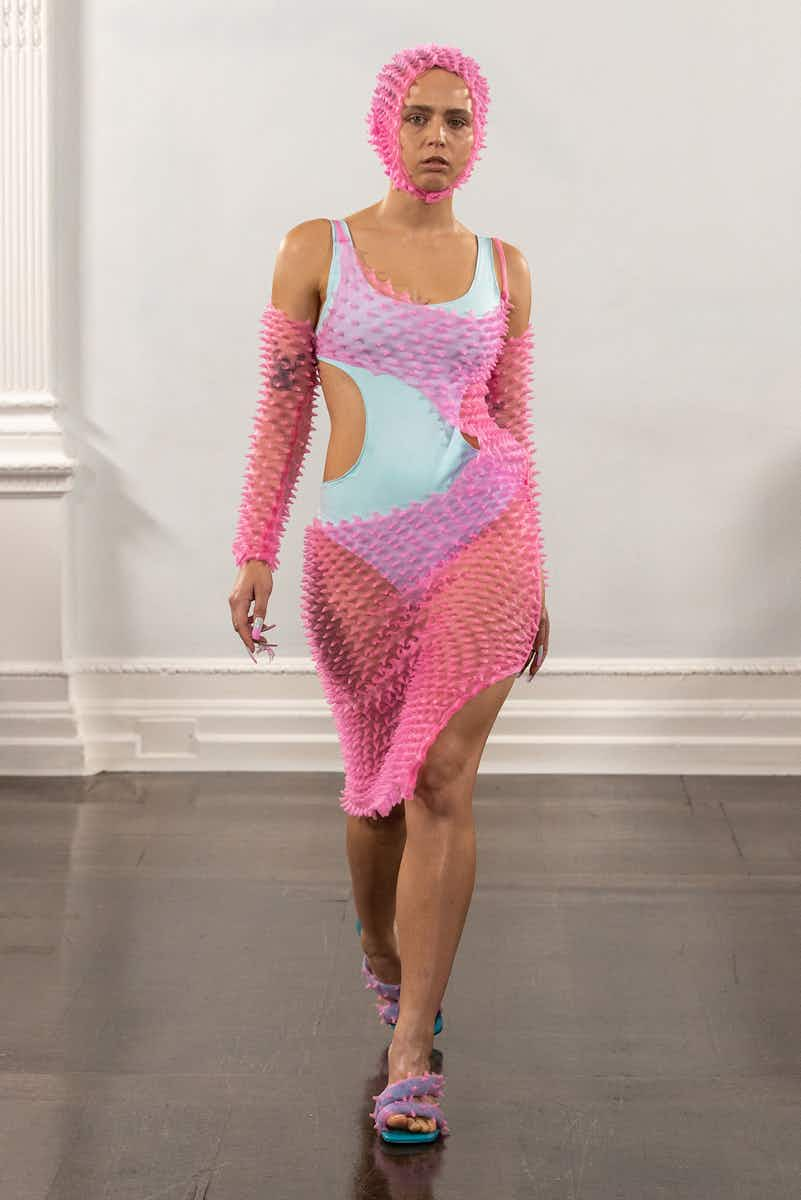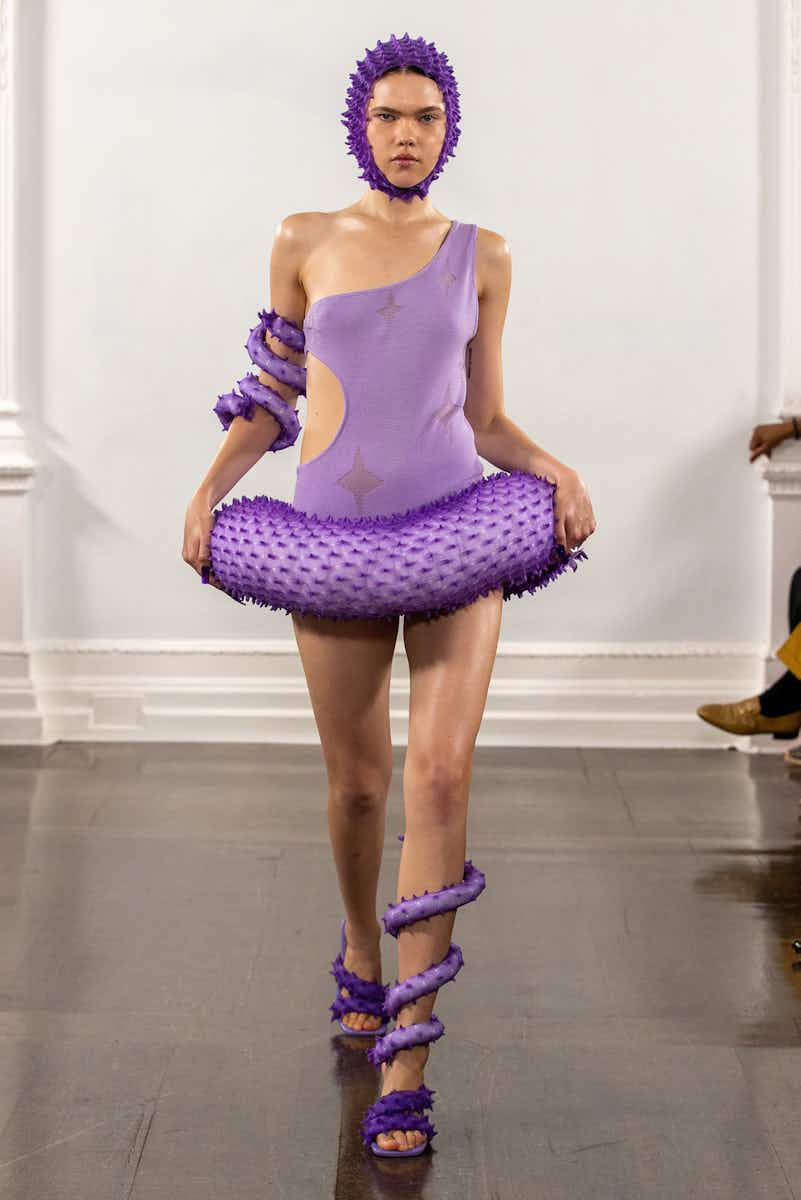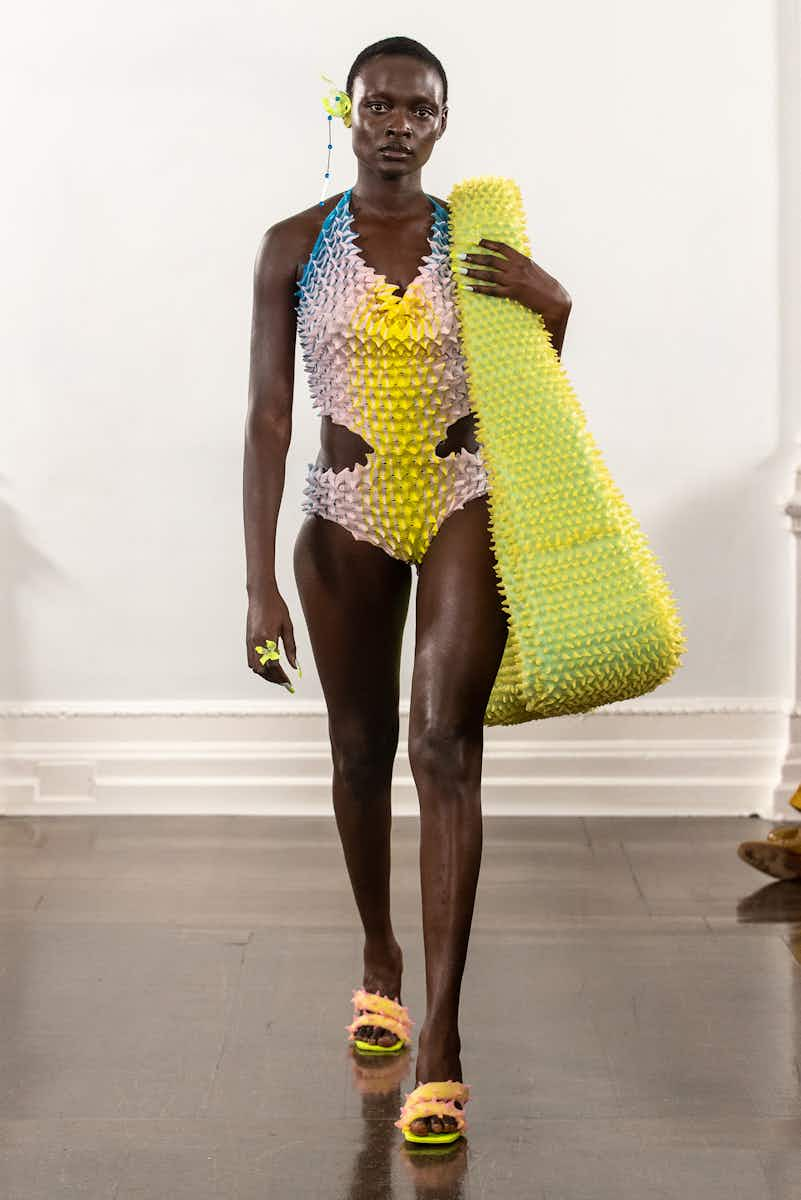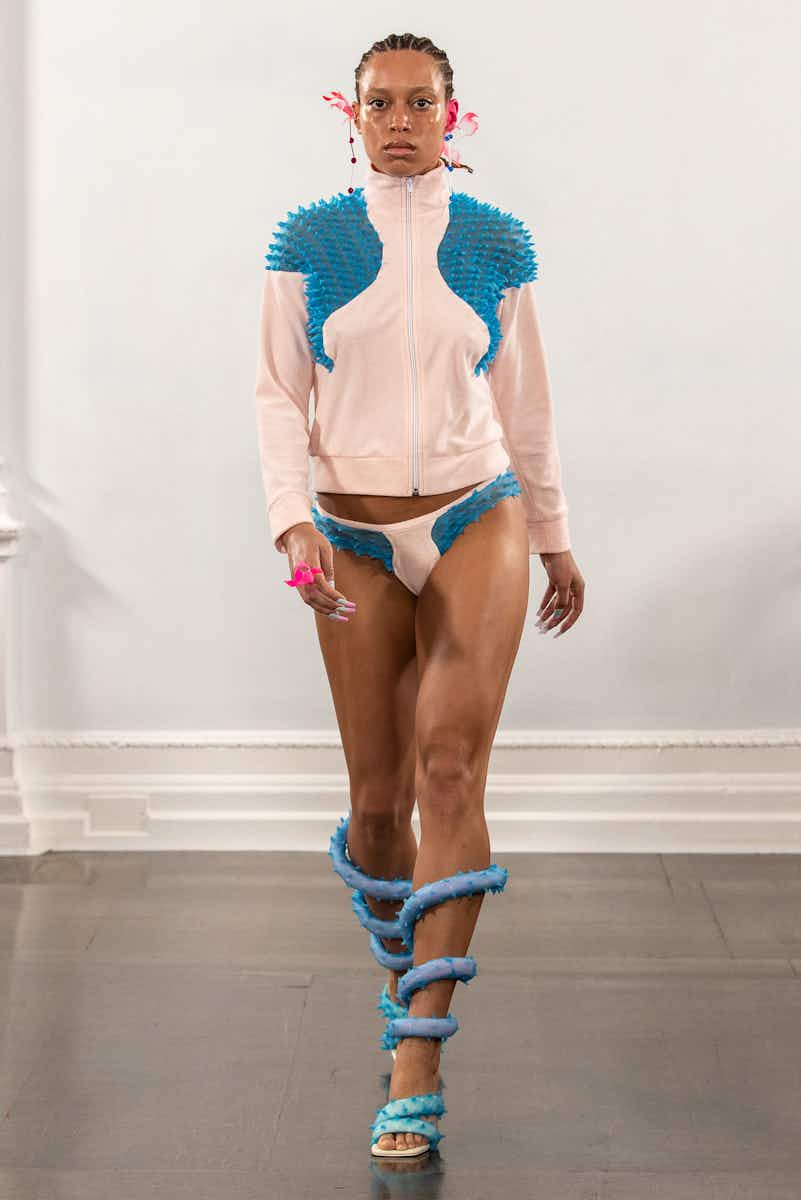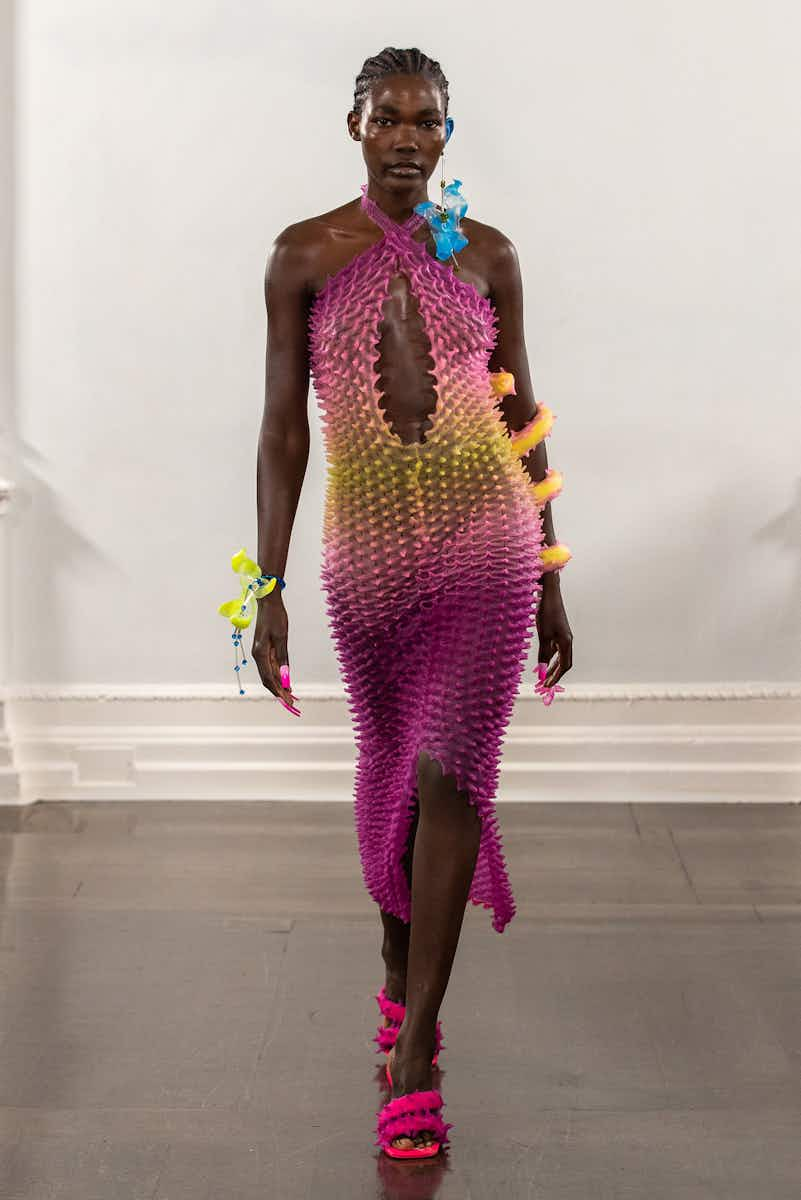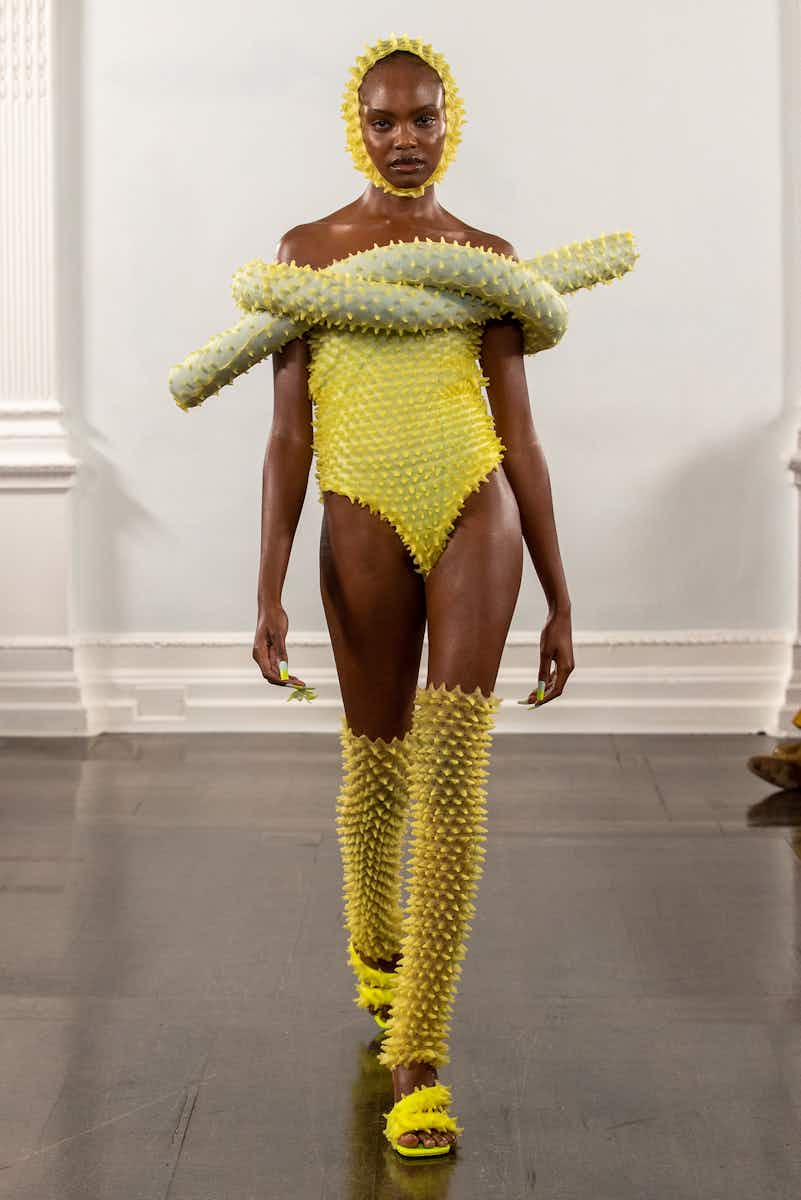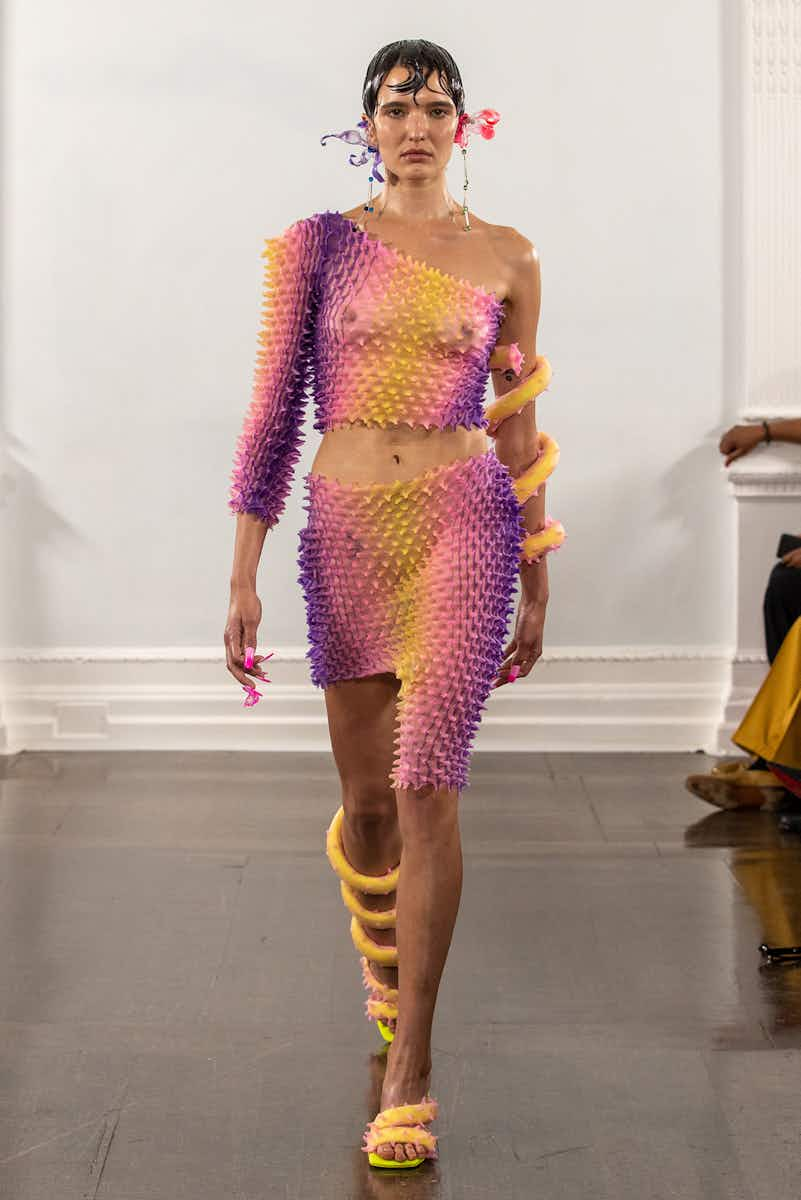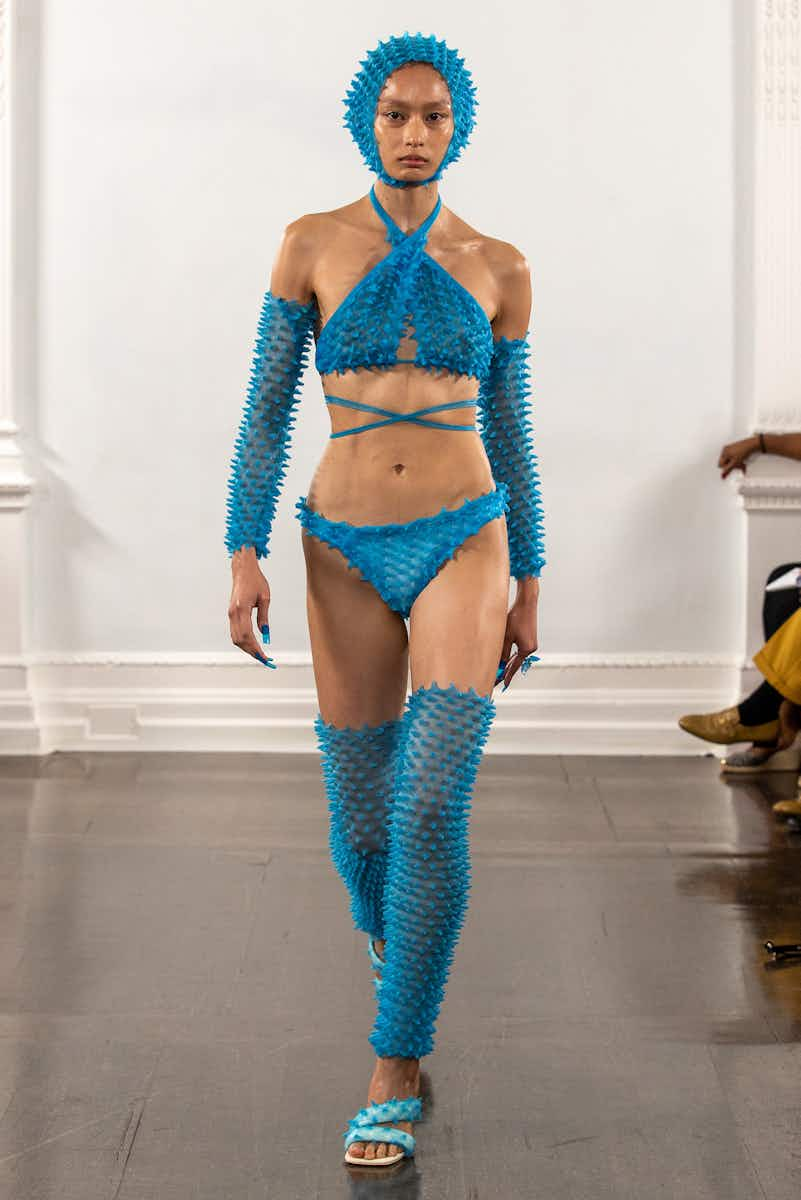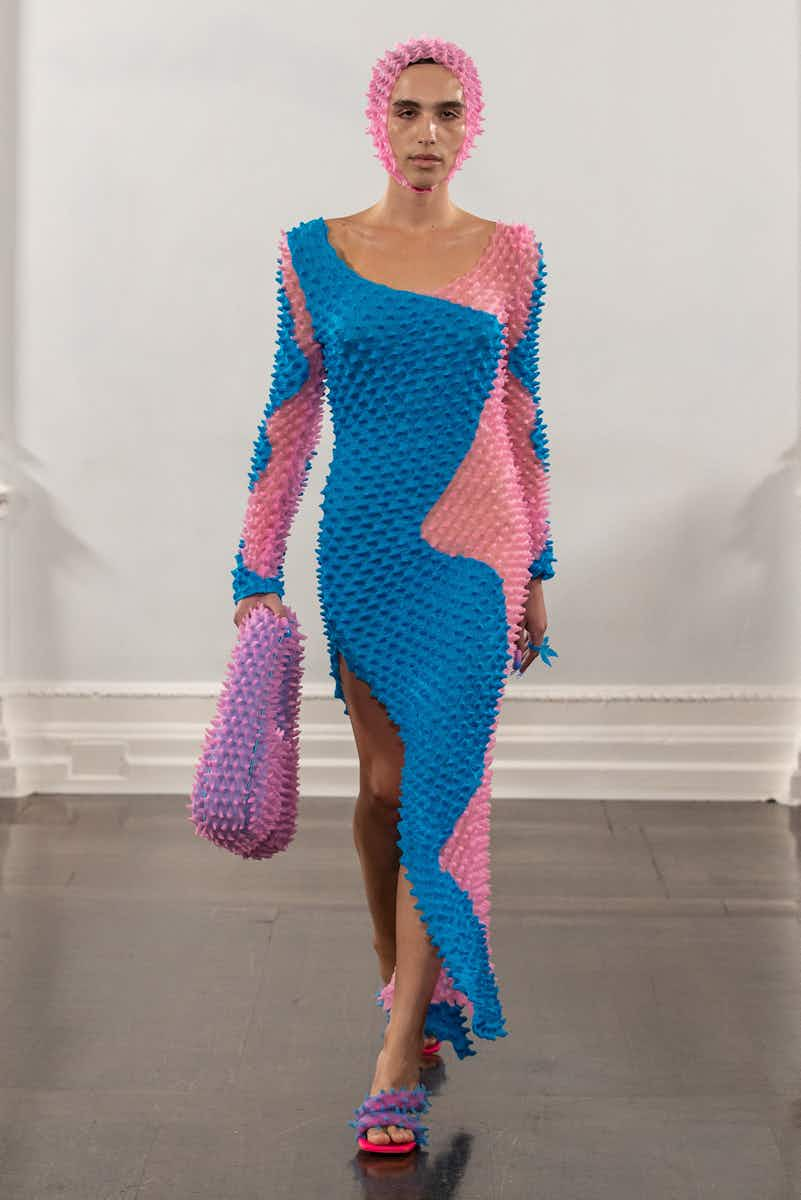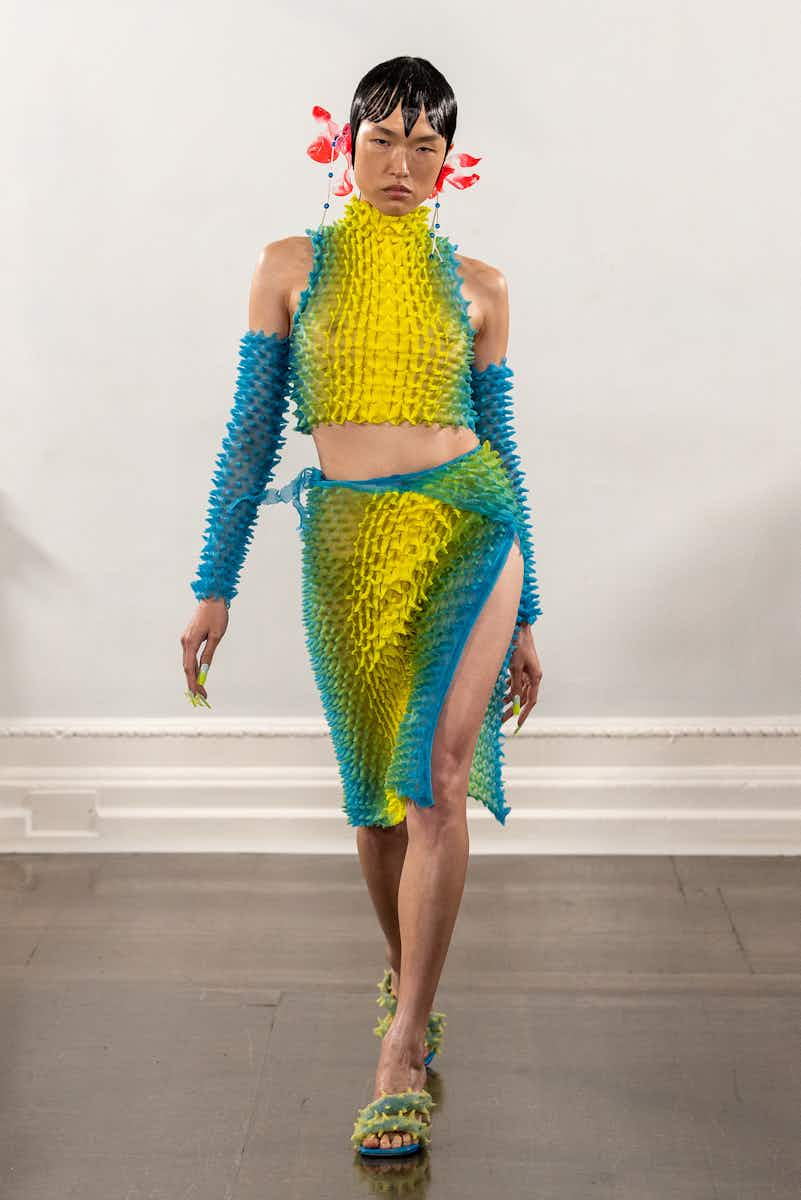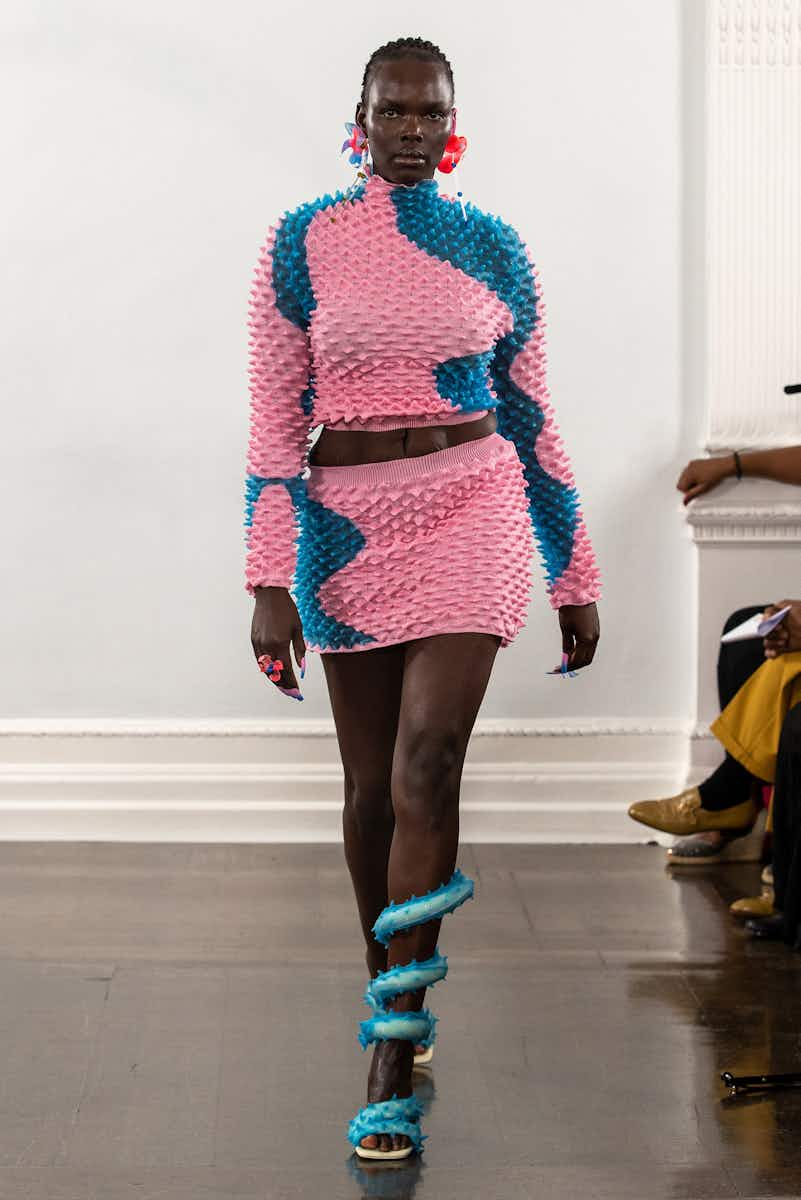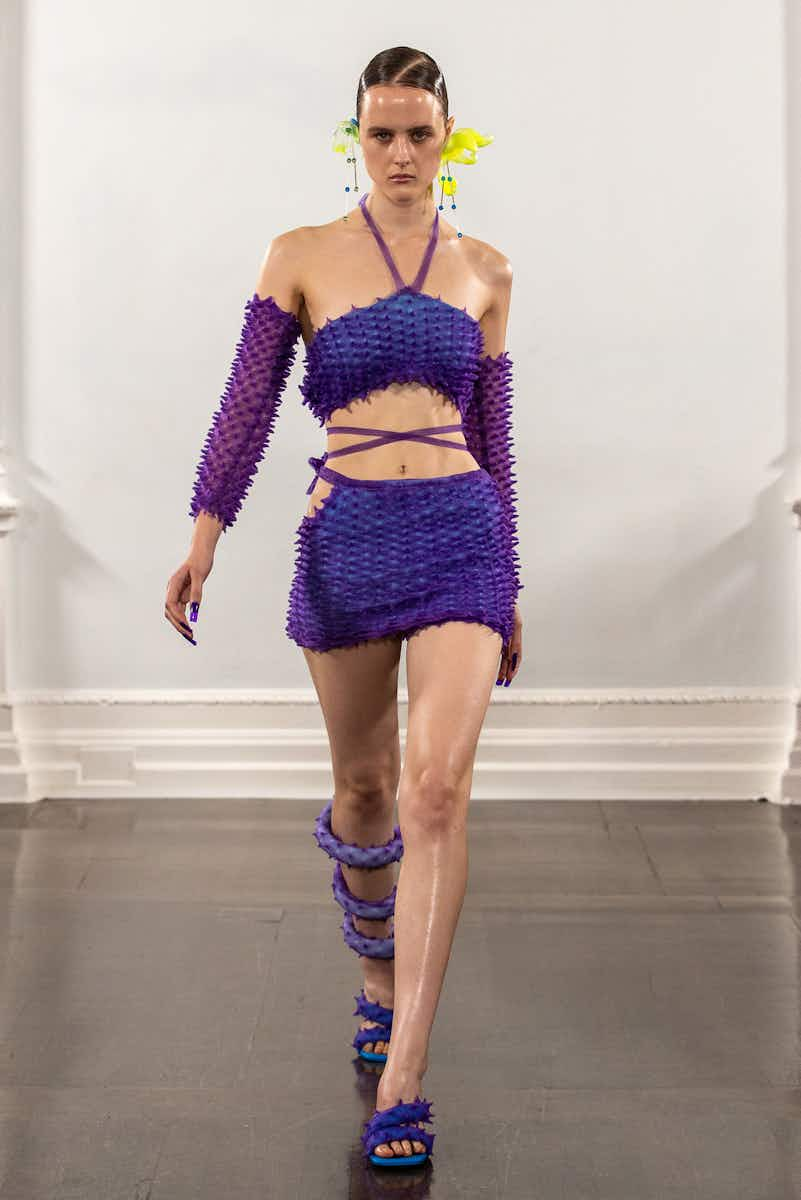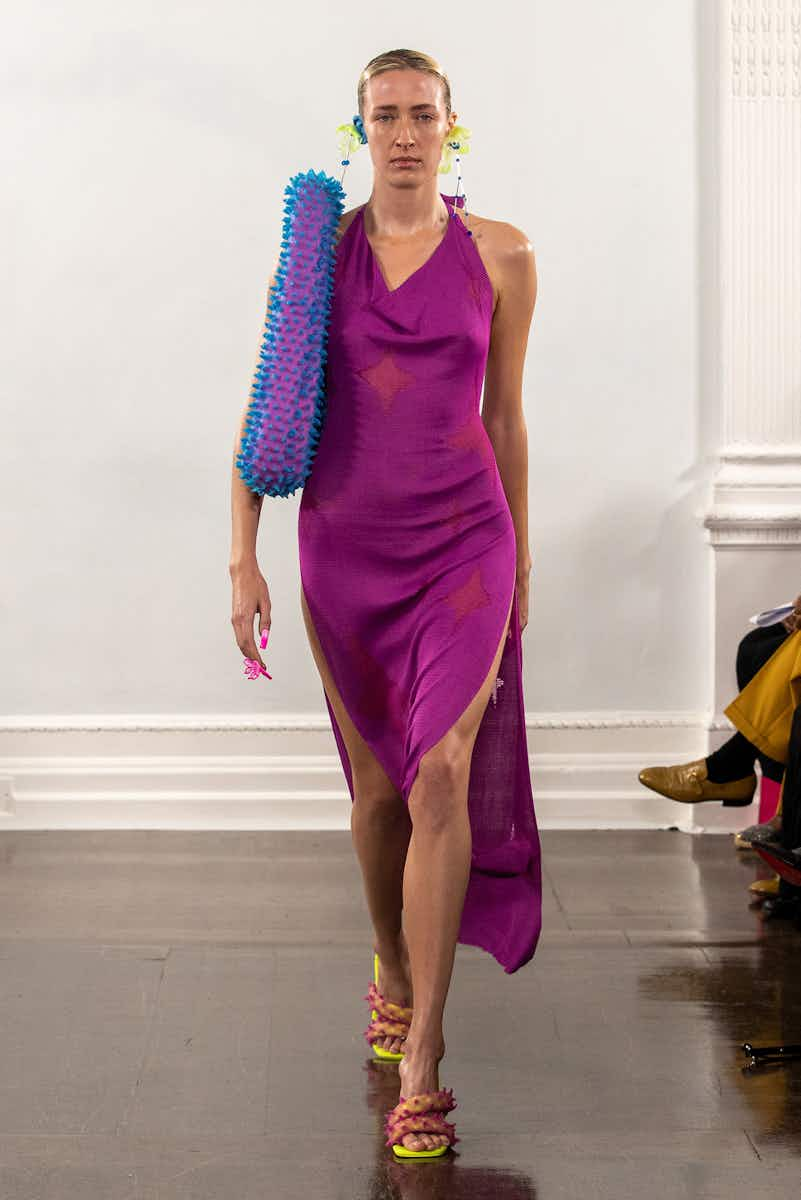 Maximilian joined Lulu Kennedy's fashion incubator at the start of the pandemic last year, so after two digital LFW shows, his IRL, physical debut was hotly anticipated – and for good reason. The designer has established himself as one of the most thrilling talents to emerge from the capital at lightning speed, owed to his deeply personal storytelling, exquisite cuts, attention to detail and a sensuality so appetising fabrics melt like butter on the skin they dress.

Maximilian's SS22 collection, Scarlet Ibis, was a dramatic finale to Monday's physical show, full of action, sex, glamour and, a recurring theme in his work, home. This season, the designer looked to the vibrant hues, tropical sounds and laid-back leisure that colour memories of visiting family in Trinidad during his childhood. The sea became a nostalgic symbol of homecoming; a monumental focal point of freedom and escape.
The designer opted for looser, softer silhouettes inspired by balmy moonlit nights. Evening dresses were fitted but not tight, with slinky detailing and matching armbands, while a skirt pleated outwards with sheer cut-outs on the torso, wrapping around the neck. An icy blue dress was a nod to the warm ocean breeze, slit down the side, crossed over at the chest and featuring Maxilian's signature harlequin print in devore-velvet. Menswear was refined, with sharp shoulders and deep v‑neck cuts on tailored blazers worn with thong sandals – a casual crossover for seriously smart attire.
The seductive dancefloor, which has underpinned much of the designer's work so far, wasn't lost in the elegance. Instead, skin-baring one-pieces stretched from the crotch to the chest and accentuated legs; red became hyper-red on a shiny pair of PVC pants; a bandage skirt, bandeau and armband three-piece covered the body in primary-coloured blocks, leaving the torso, legs and arms exposed for freedom to move.
In an emotional finale, a model was painted in ashen black in tribute to the dark exuberance of the Black Devils (Diablo Cojuelo), a group of men who playfully torment carnival attendees in the Dominican Republic. In collaboration with designer Nasir Mazhar, a rubber-coated plant-like piece was attached to the model for a dramatic finish.
As Maximilian took his final bow, his mother ran out to hug her son. For a designer who continually pays homage to the family that raised him, it was a fitting (and tear-inducing) end to yet another electrifying collection.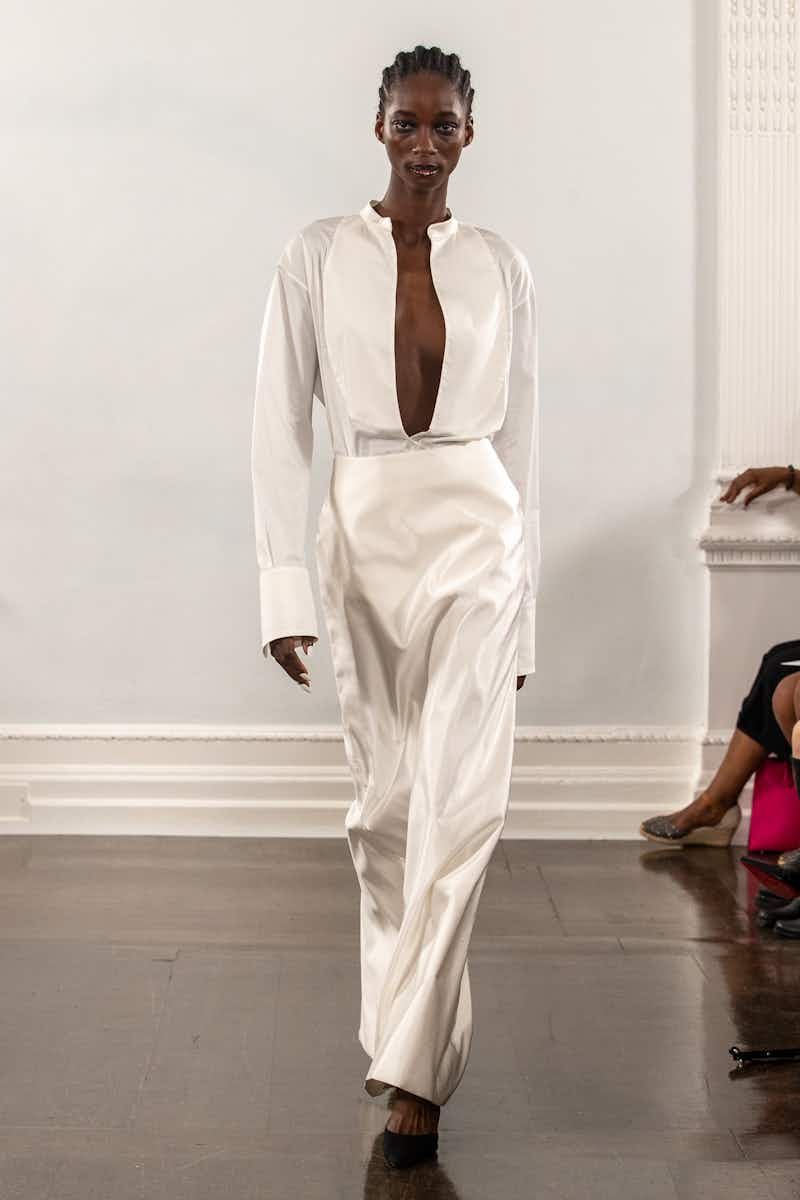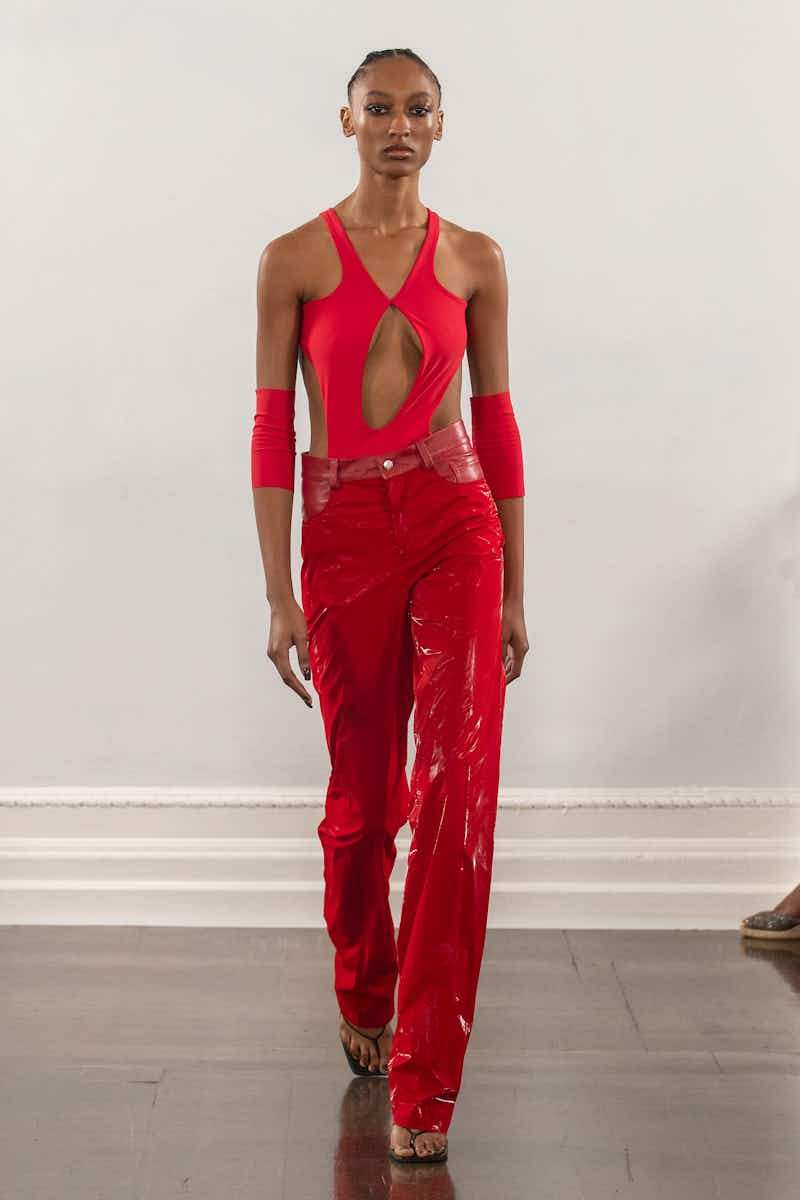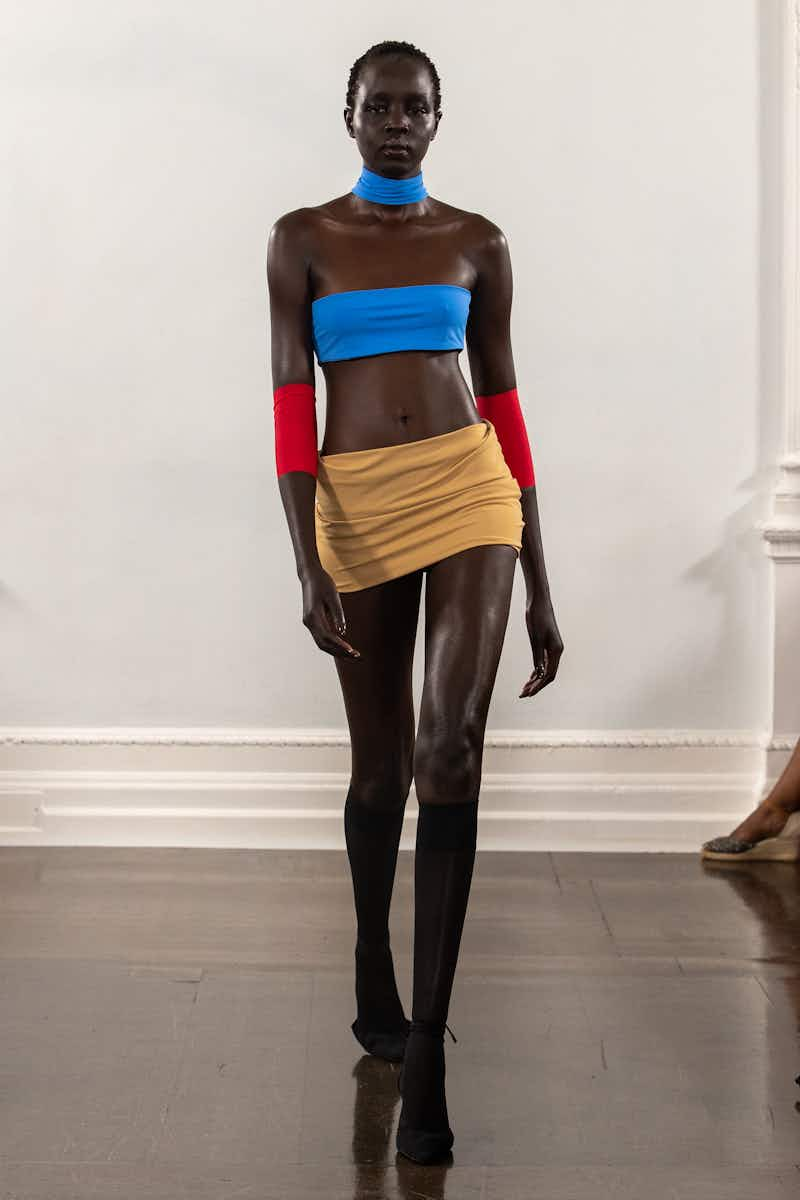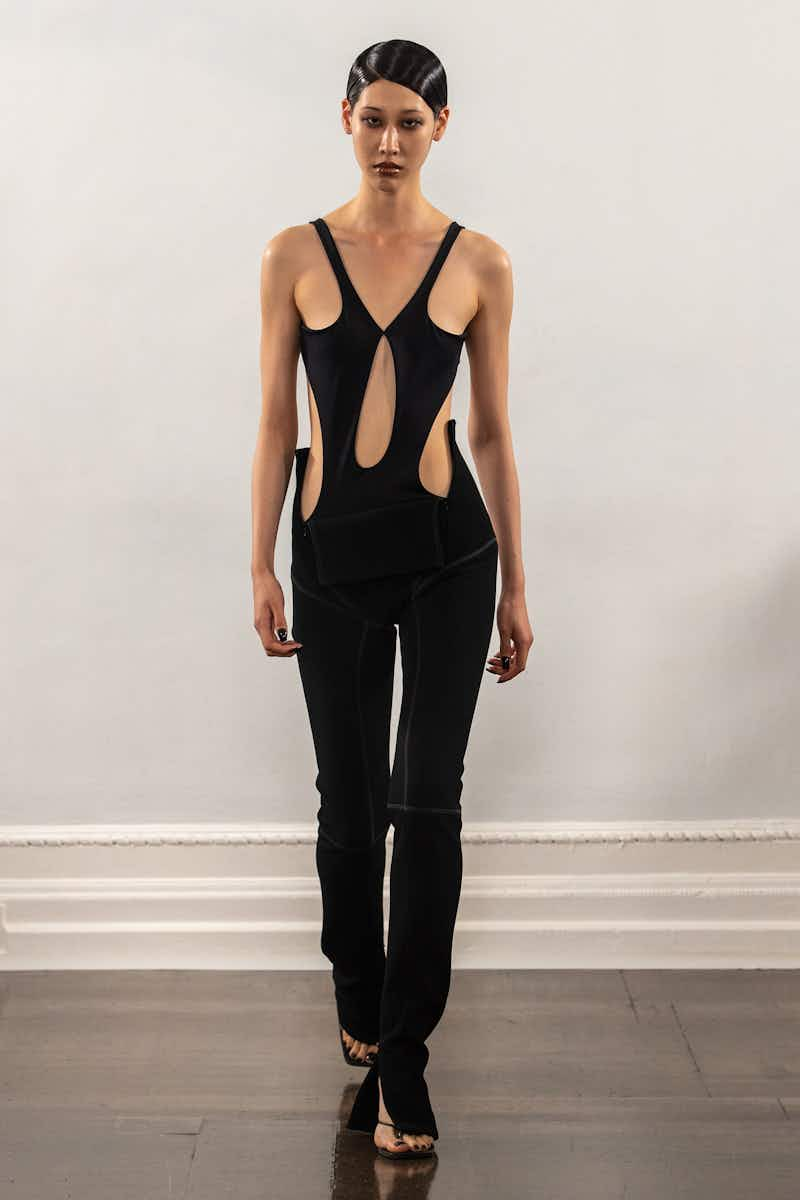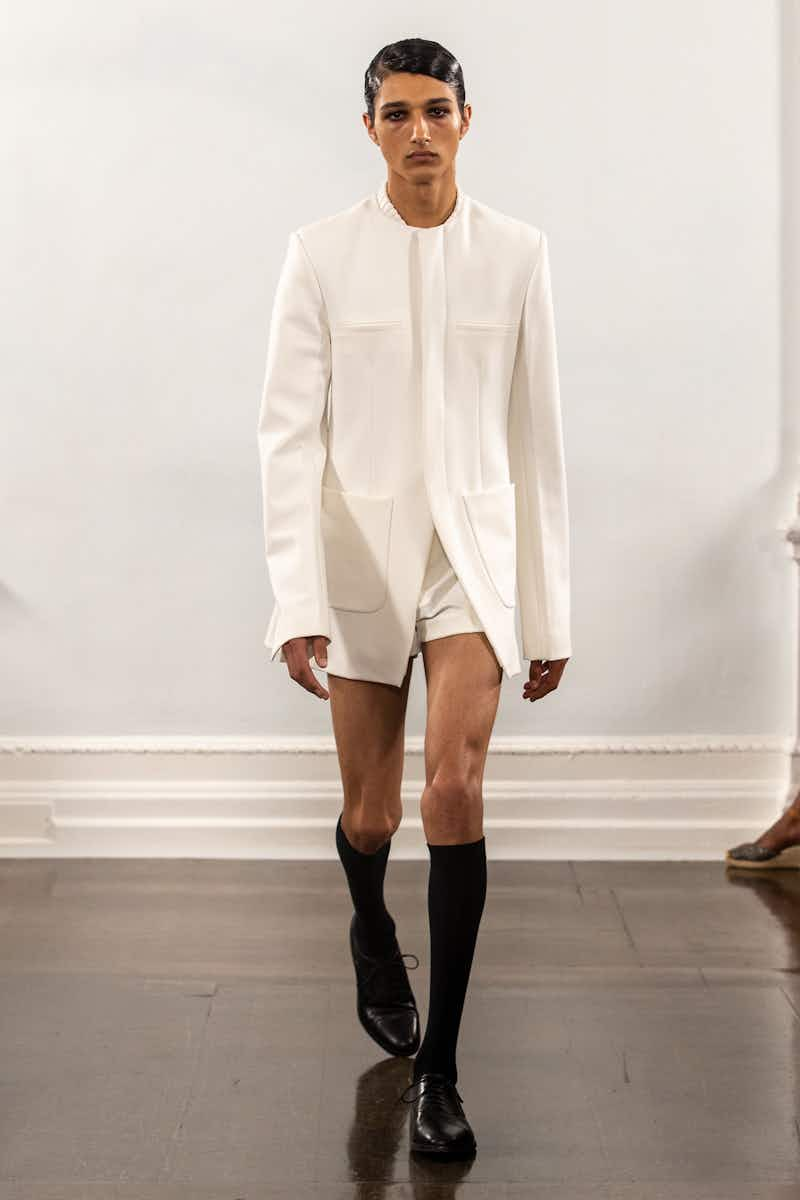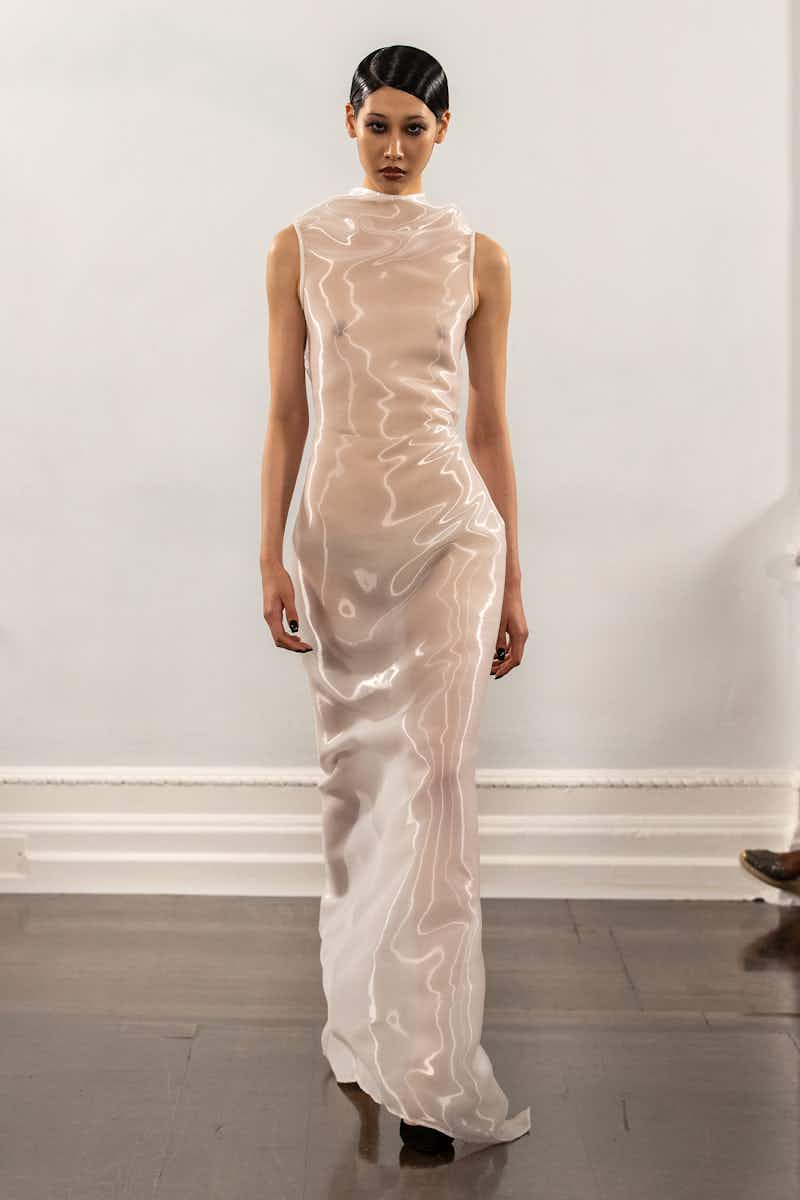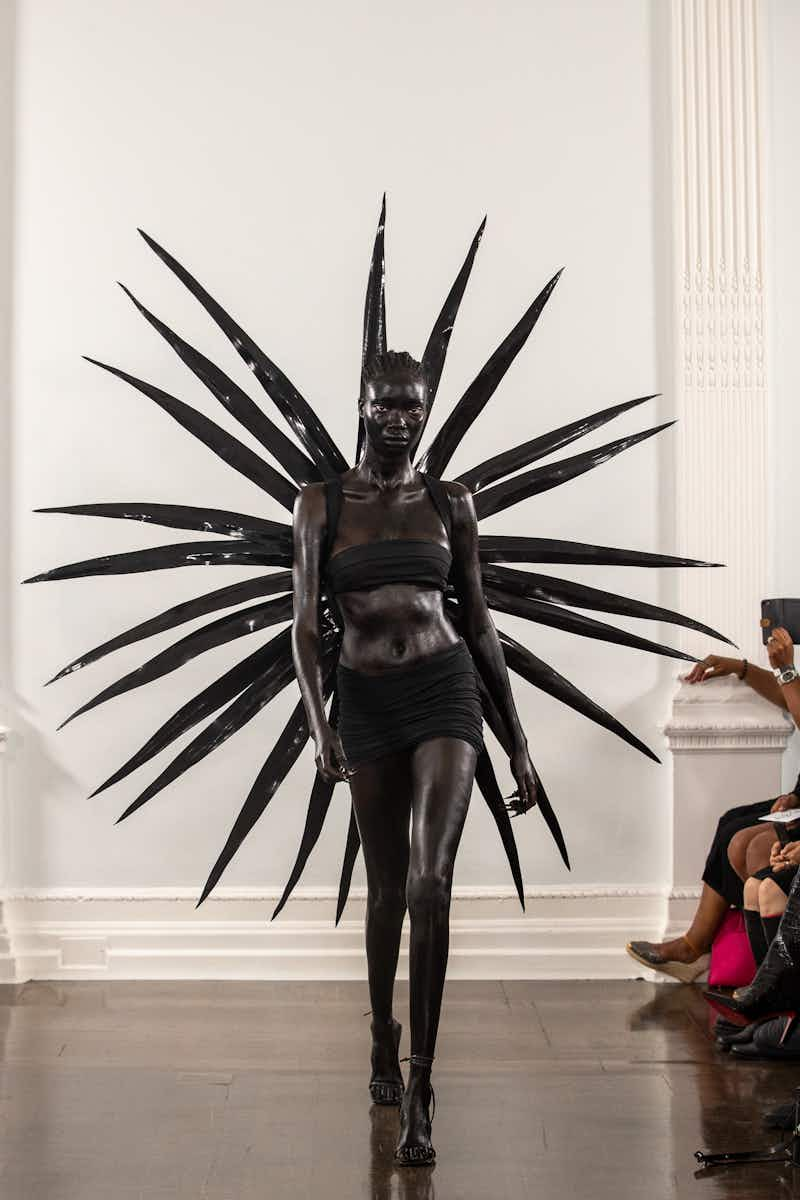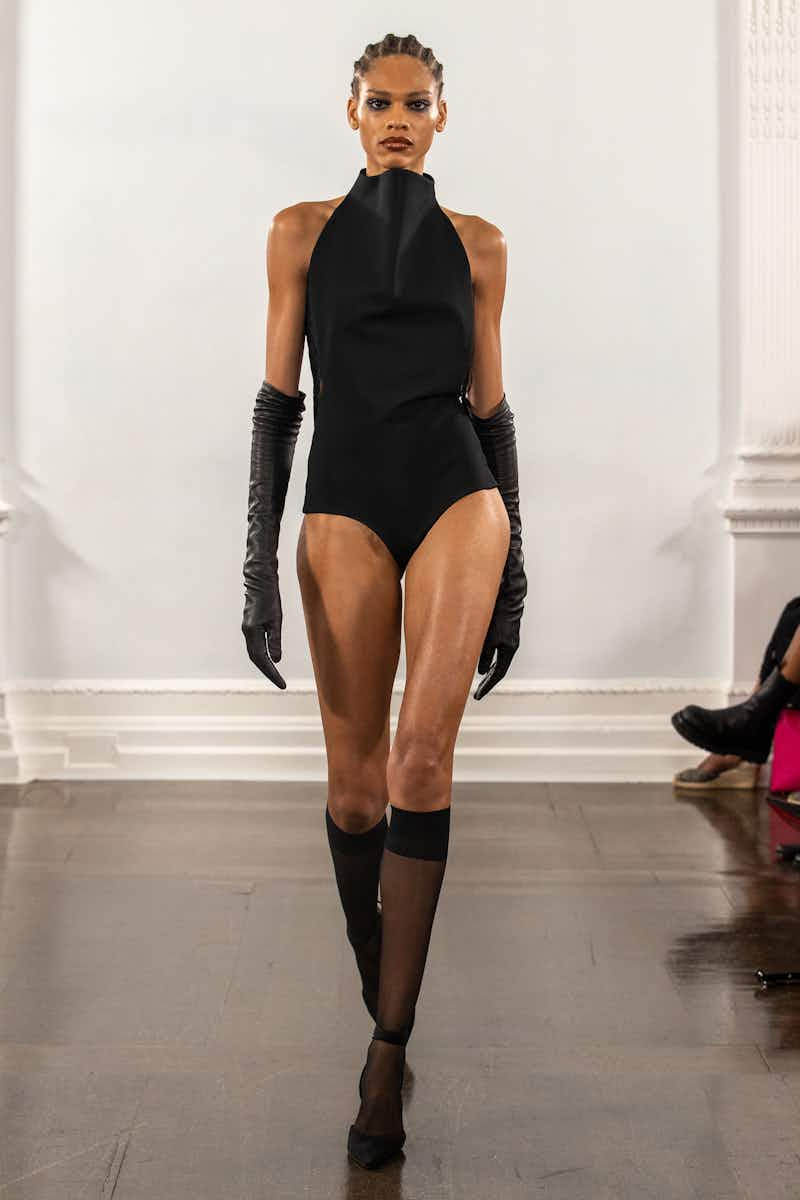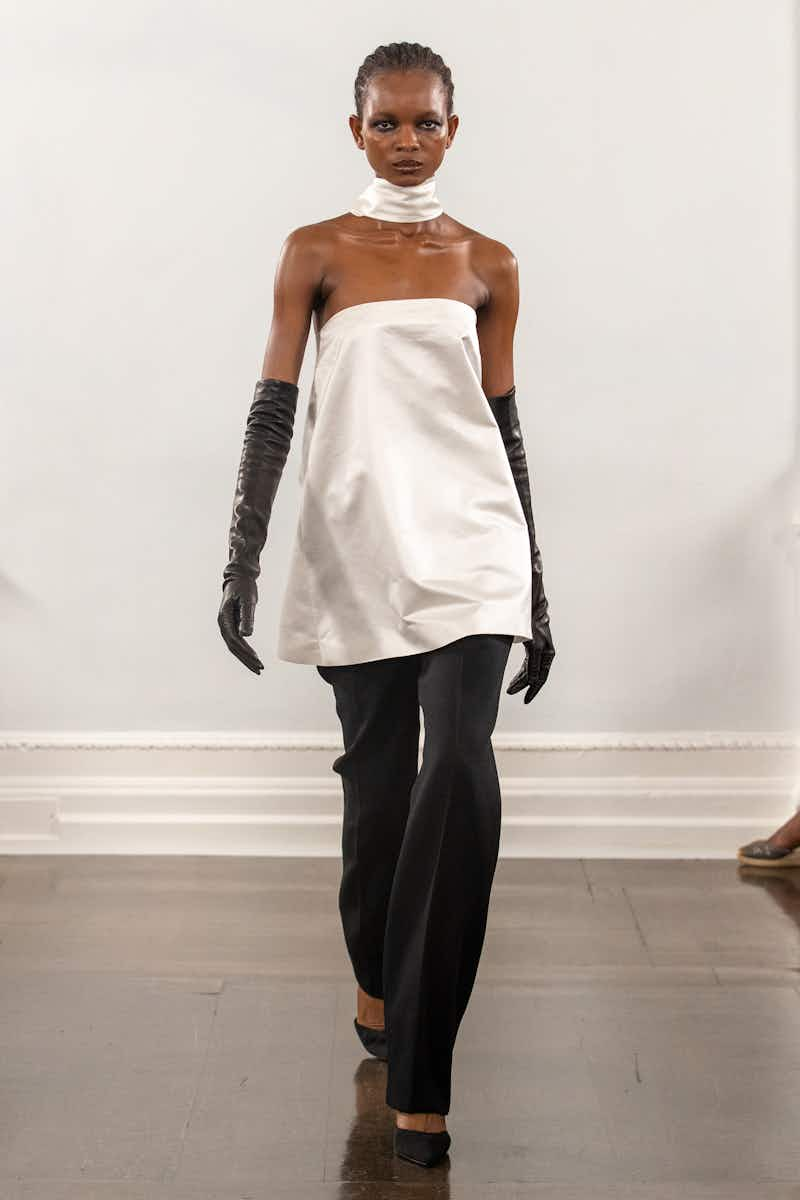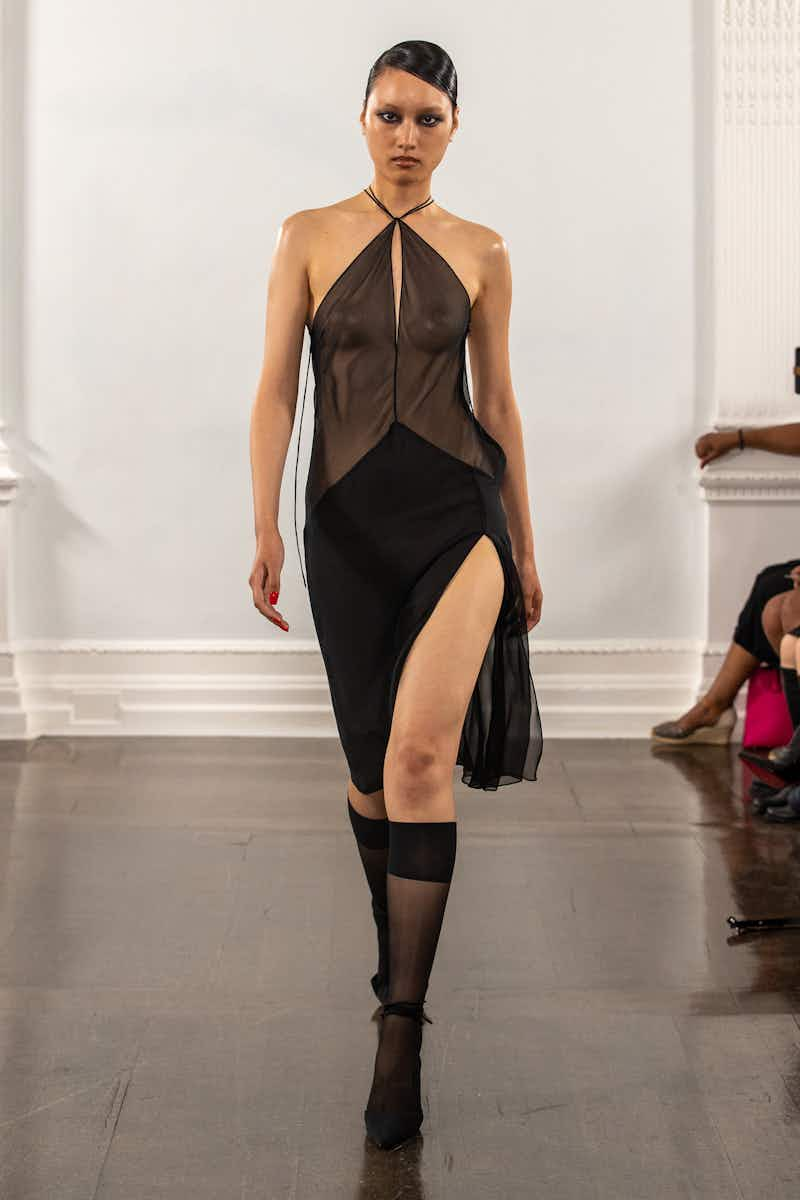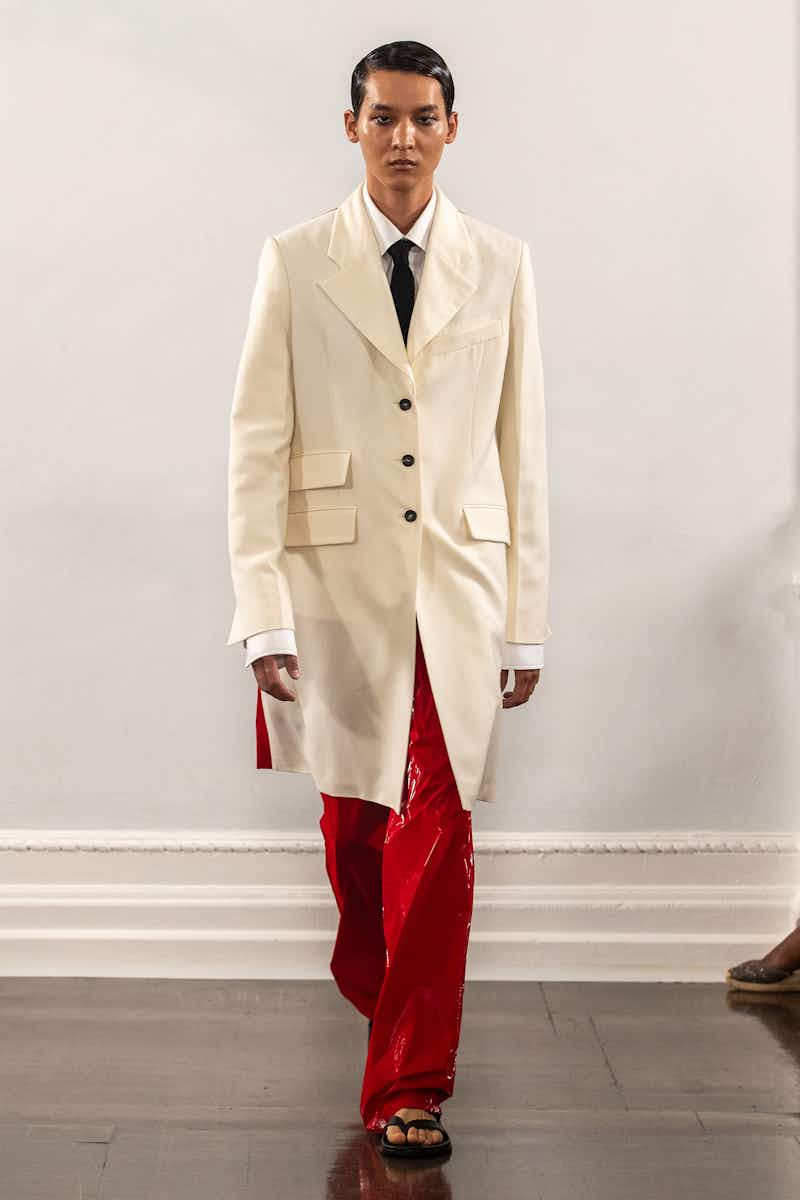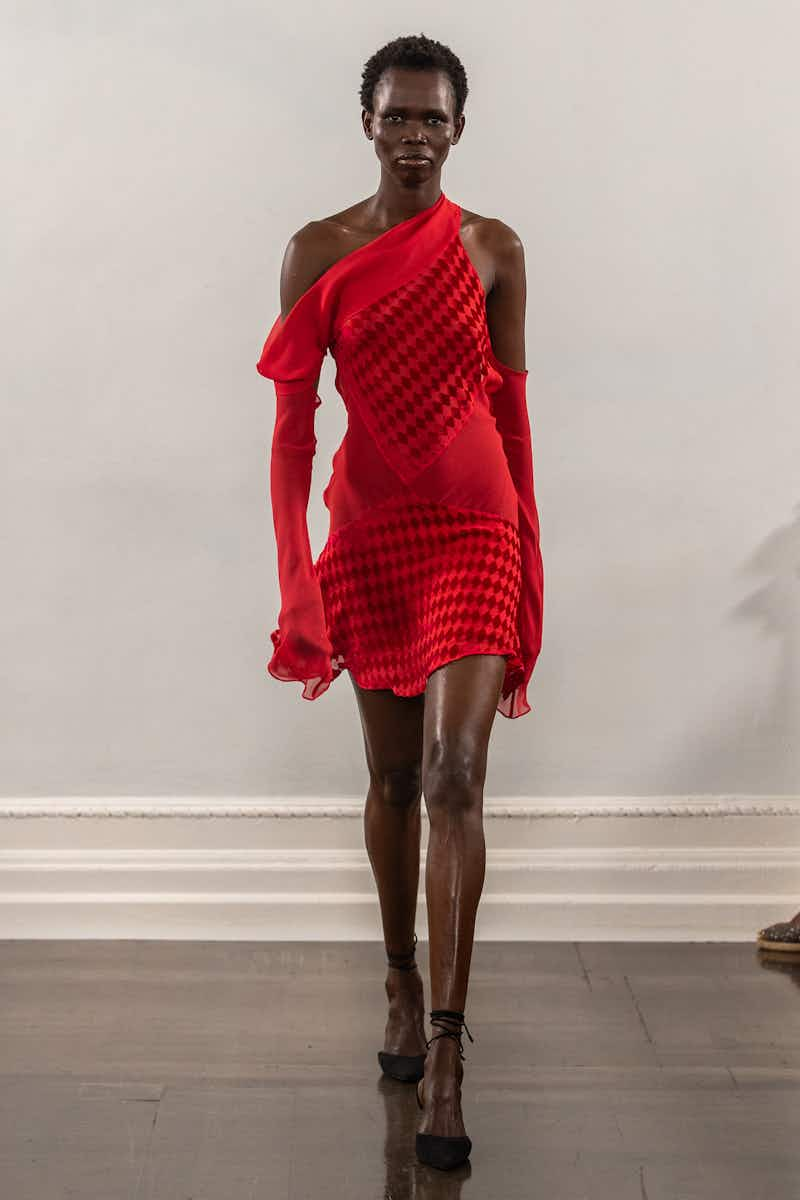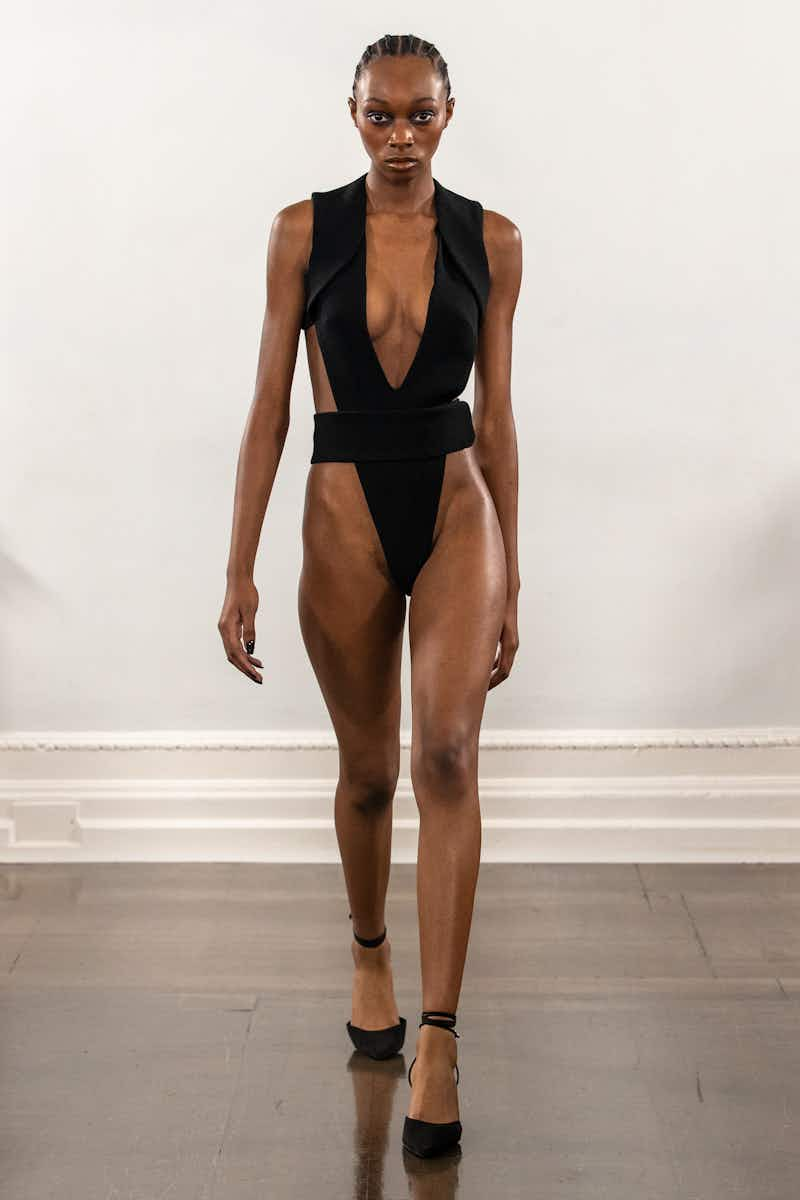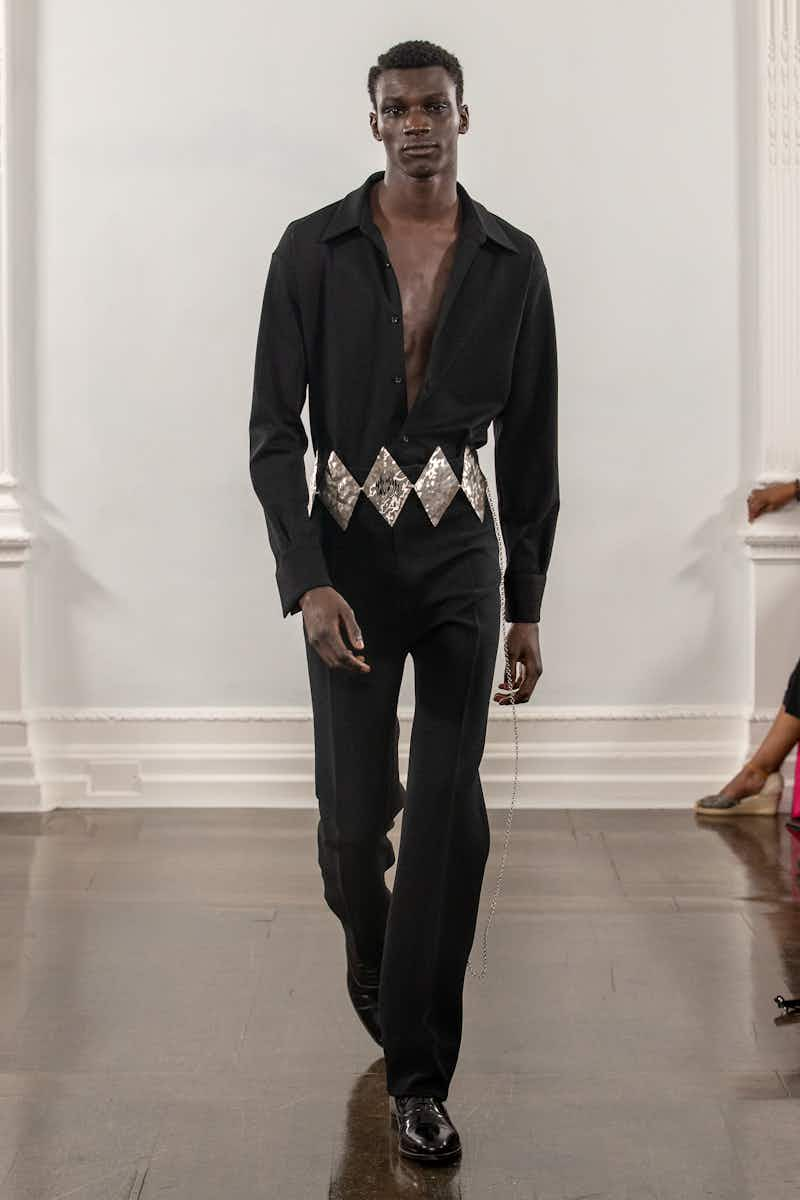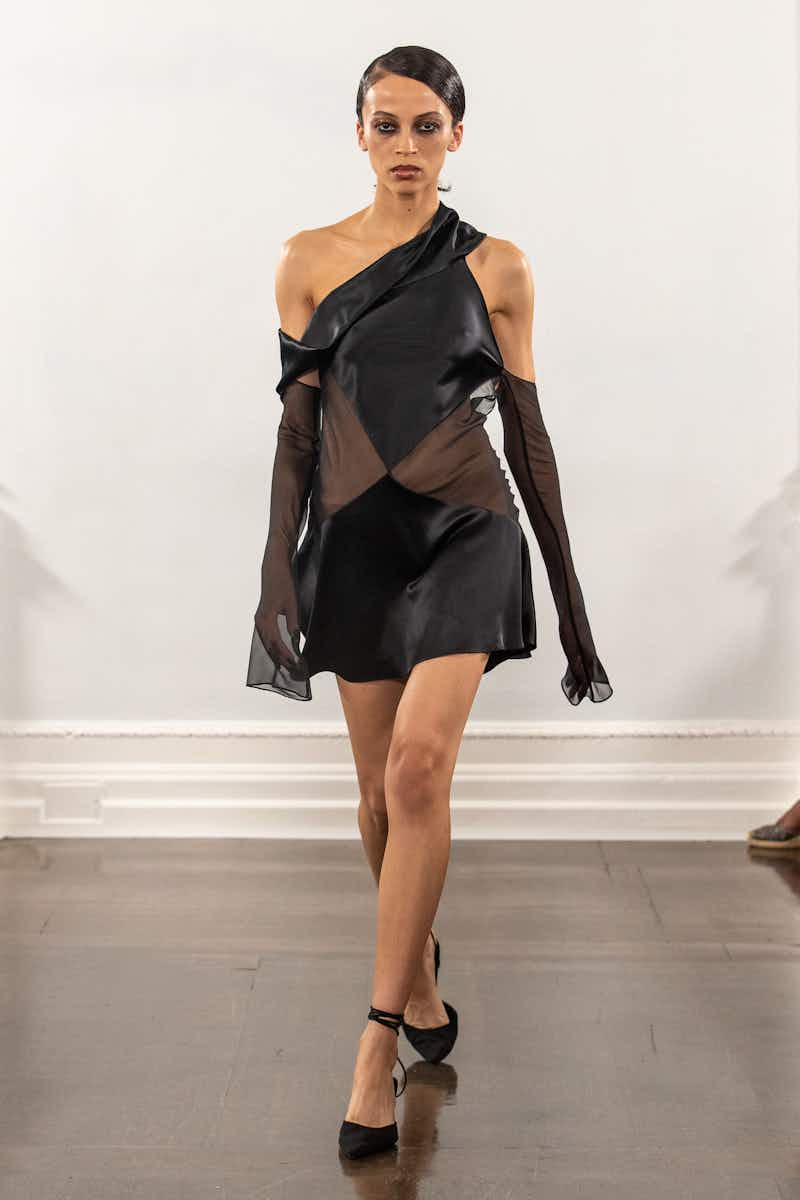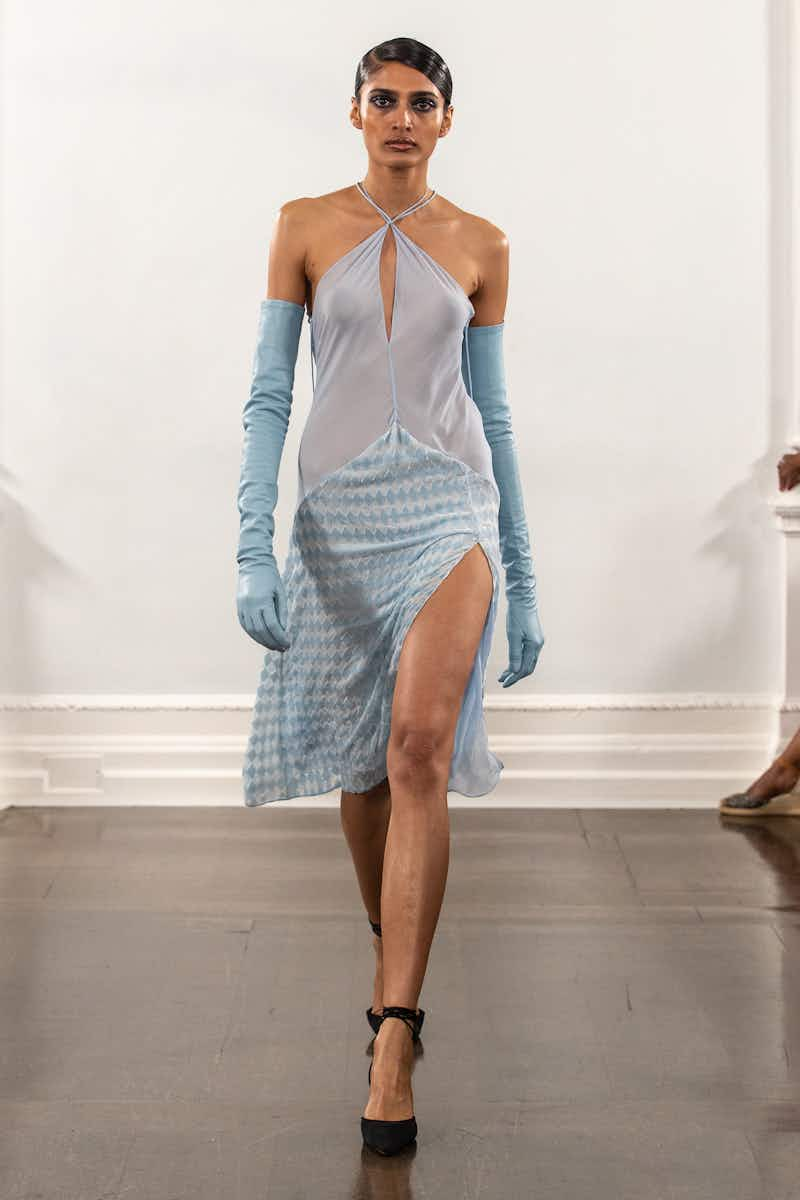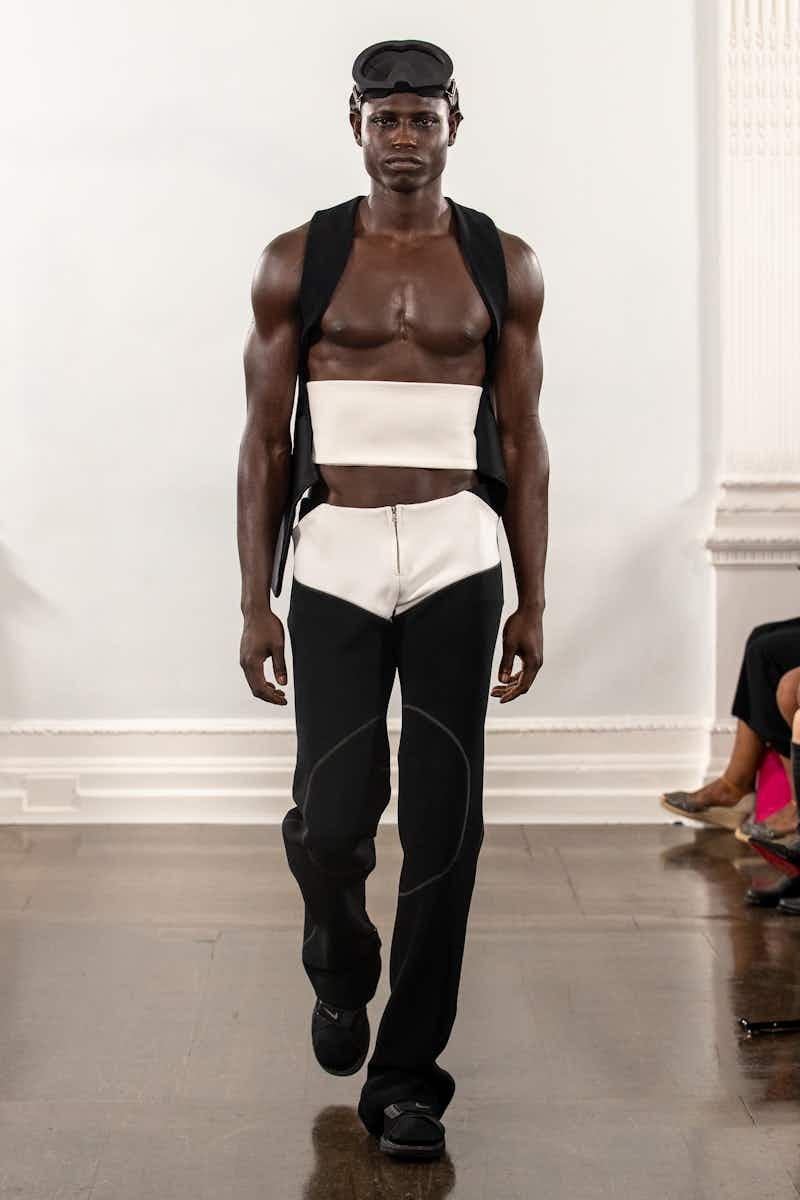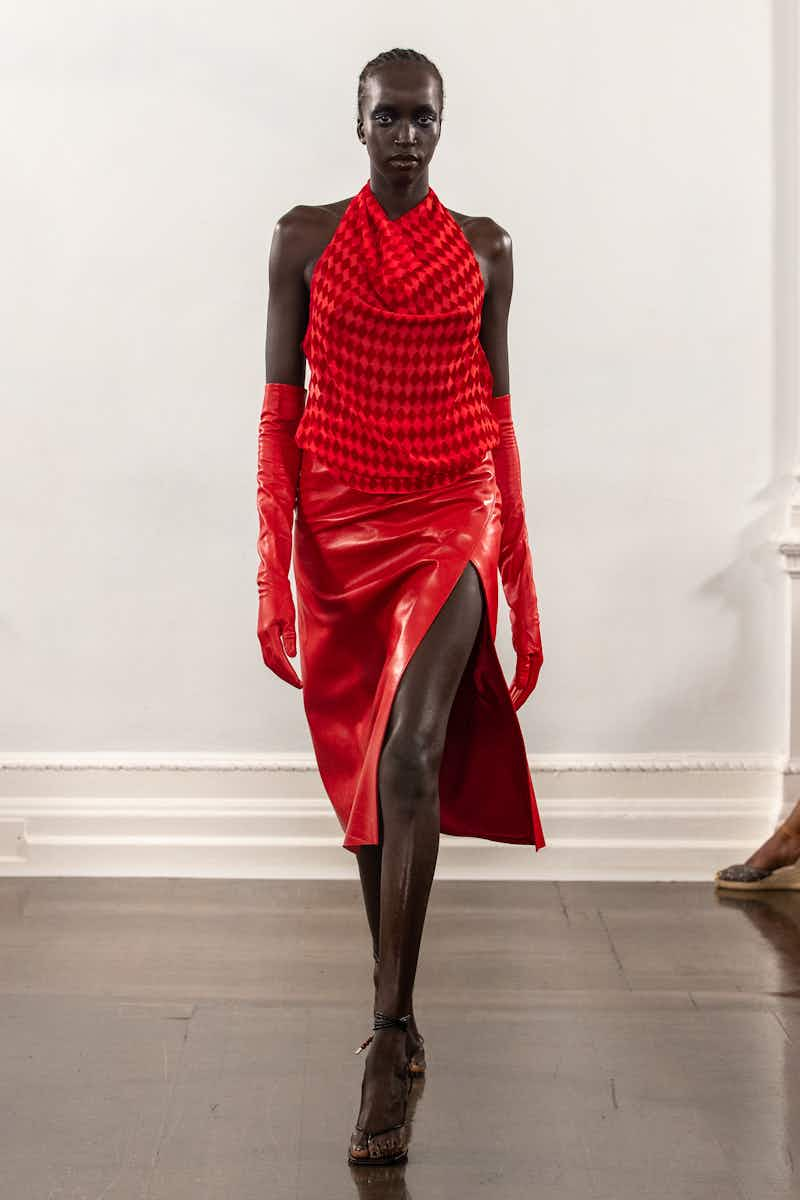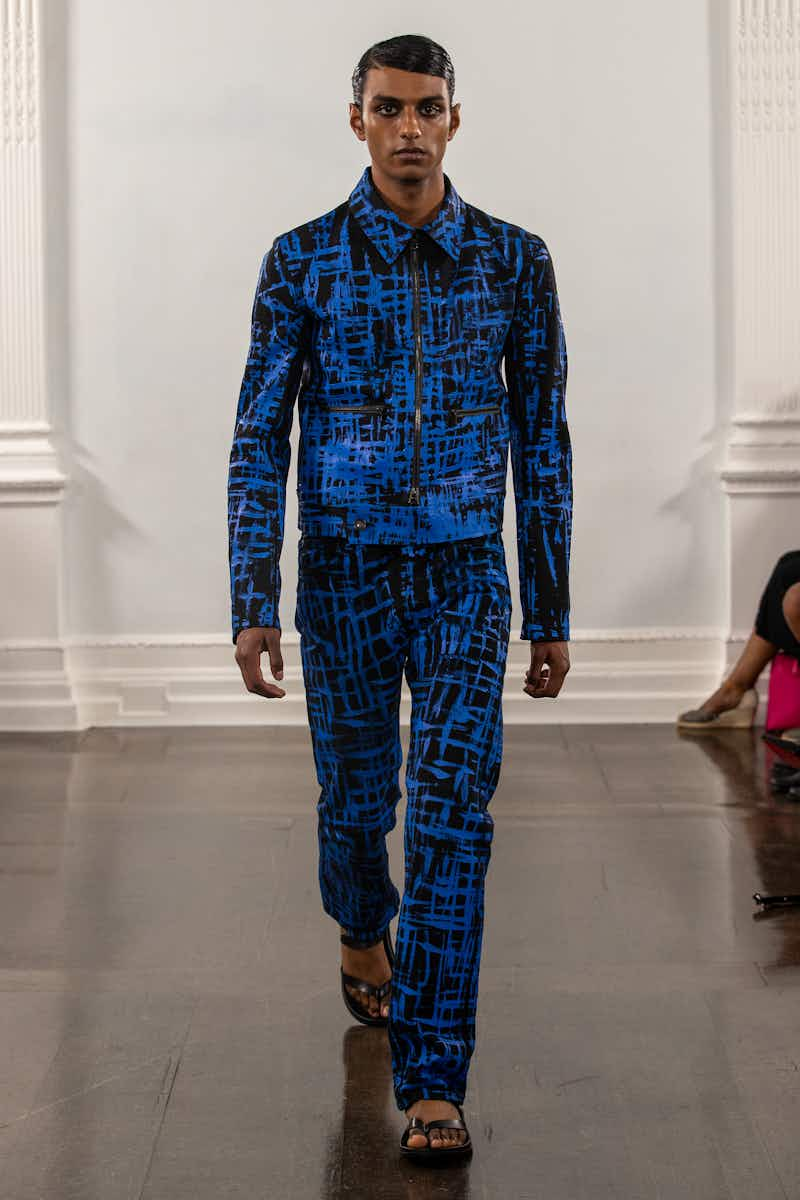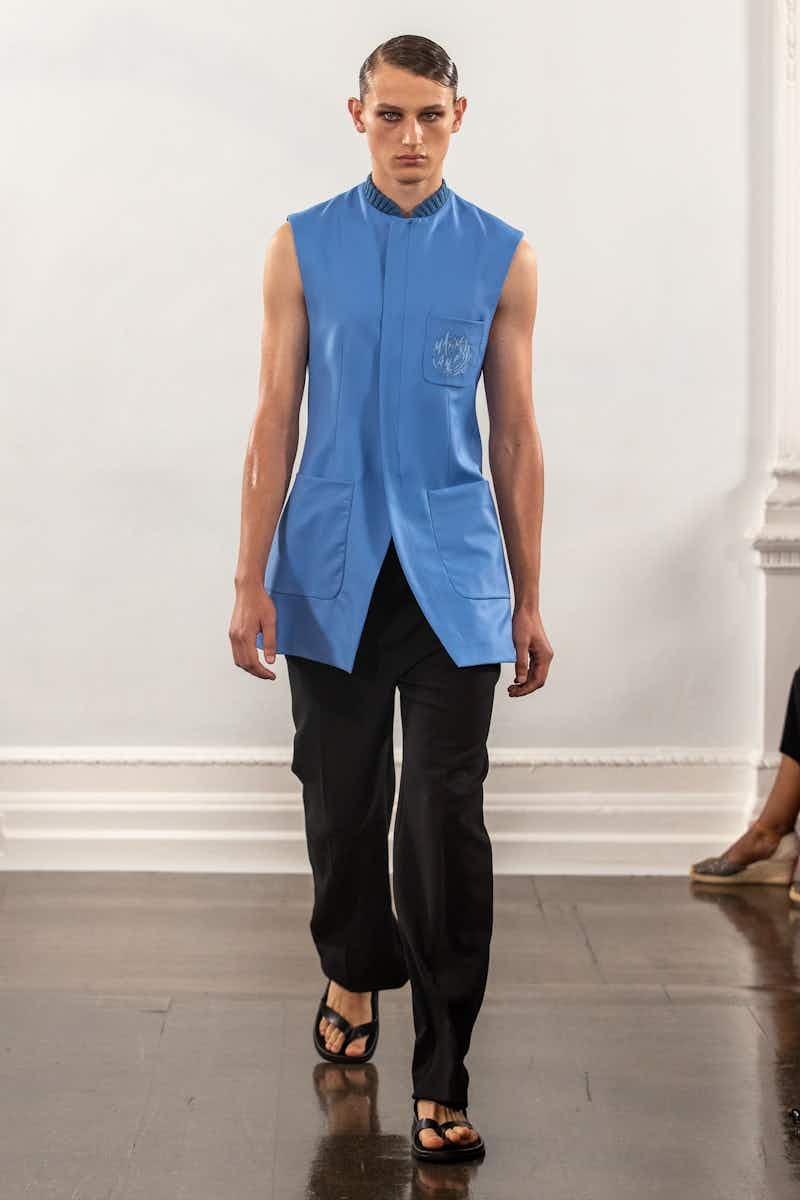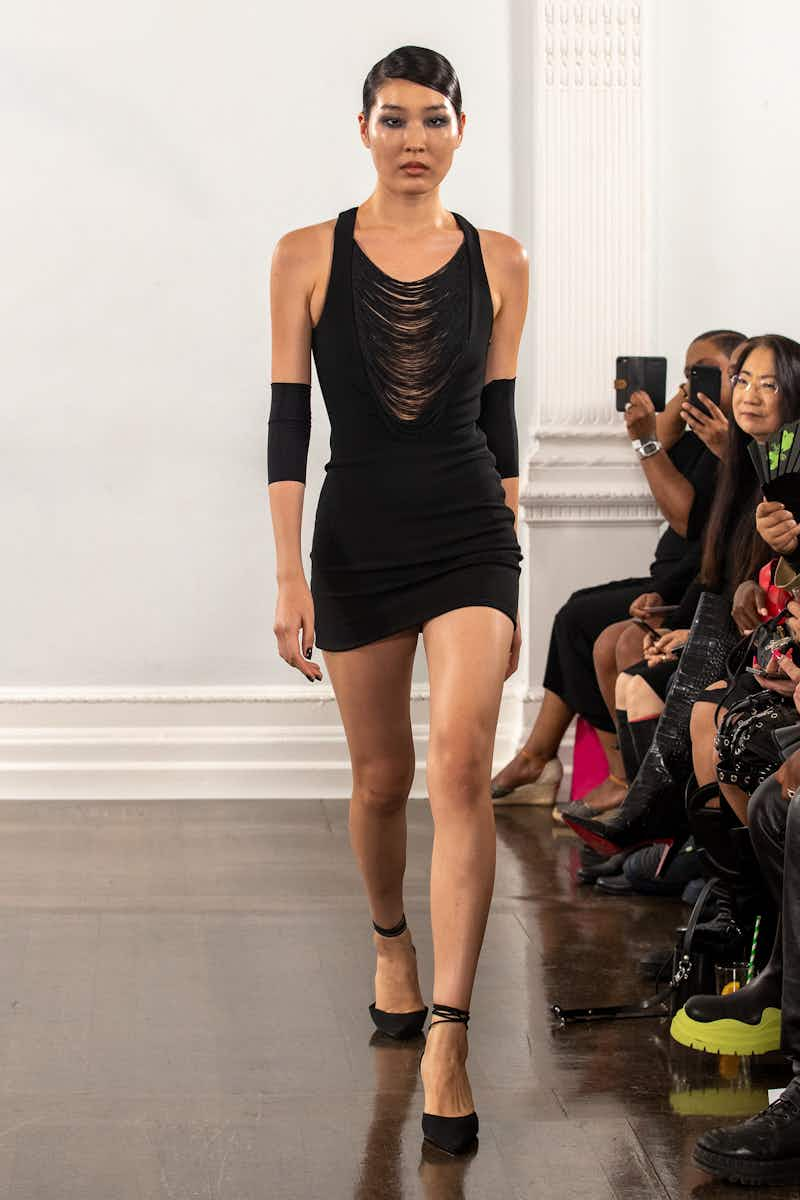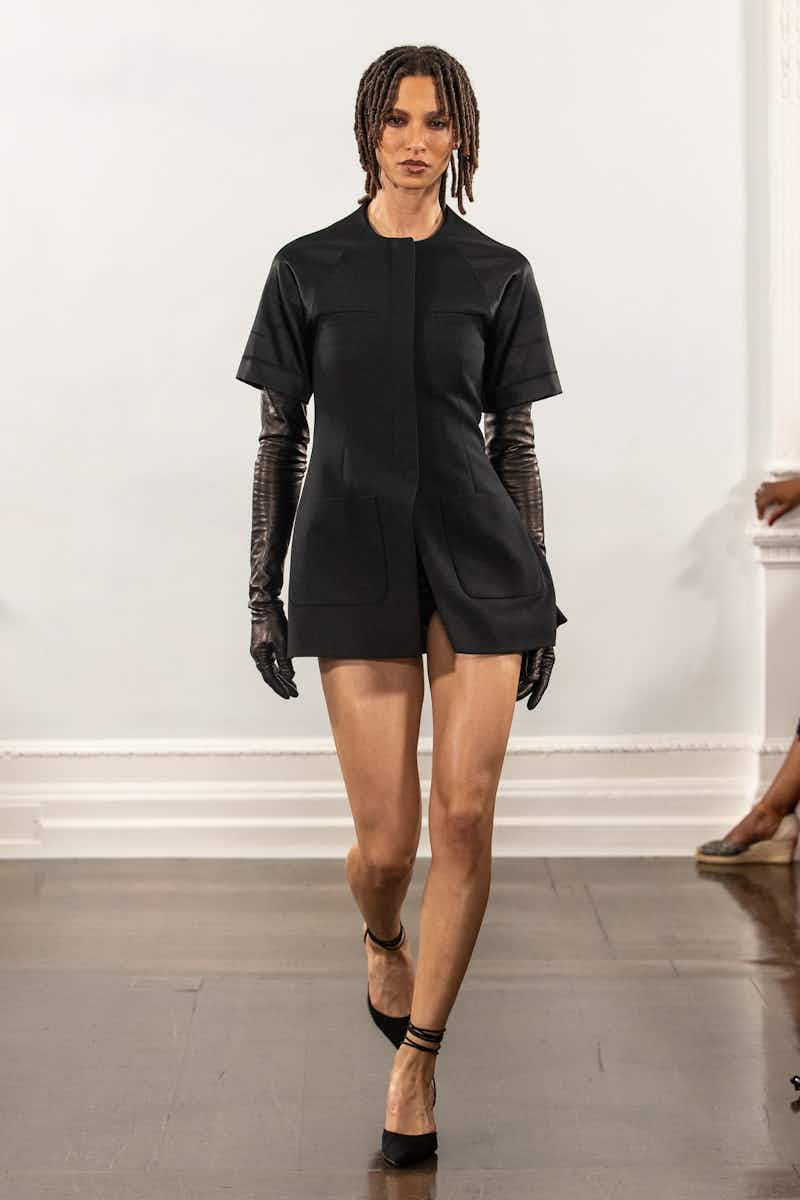 While Chet Lo and Maximilian sent models down the runway, Jawara Alleyne showed his second collection with Fashion East as a presentation, continuing his exploration into sustainably-minded repurposing and recontextualising. This time, Alleyne used the T‑shirt as a base and, crucially, draping as his technique du jour. ​"Draping gives a beauty to menswear that you don't normally see, because for some reason draping is usually seen as for women – it's not often found in menswear," he told writer Charlie Porter in his press release. So, the designer layered and draped a polo top, which freely hung off the body yet was somehow still structured.
Freedom is key for Alleyne, his brand challenging the often rigid constraints of traditional menswear. Rather, the designer looks to his upbringing in Jamaica and the Cayman Islands to contextualise his attitudes to sizing (often oversized), ageing (clothes for all) and the life-cycle of garments. Often highlighting the unfair weight of expectation young designers face, Alleyne is proud – as he should be – of the re-constructed garments he brings back to life. His latest collection is no different. It's rock-steady, with an asymmetric T‑shirt dress, rave-ready vests and roomy trousers that free the body and, most importantly, the mind from the constraints of life in a big city. Go large, move more, escape and relax.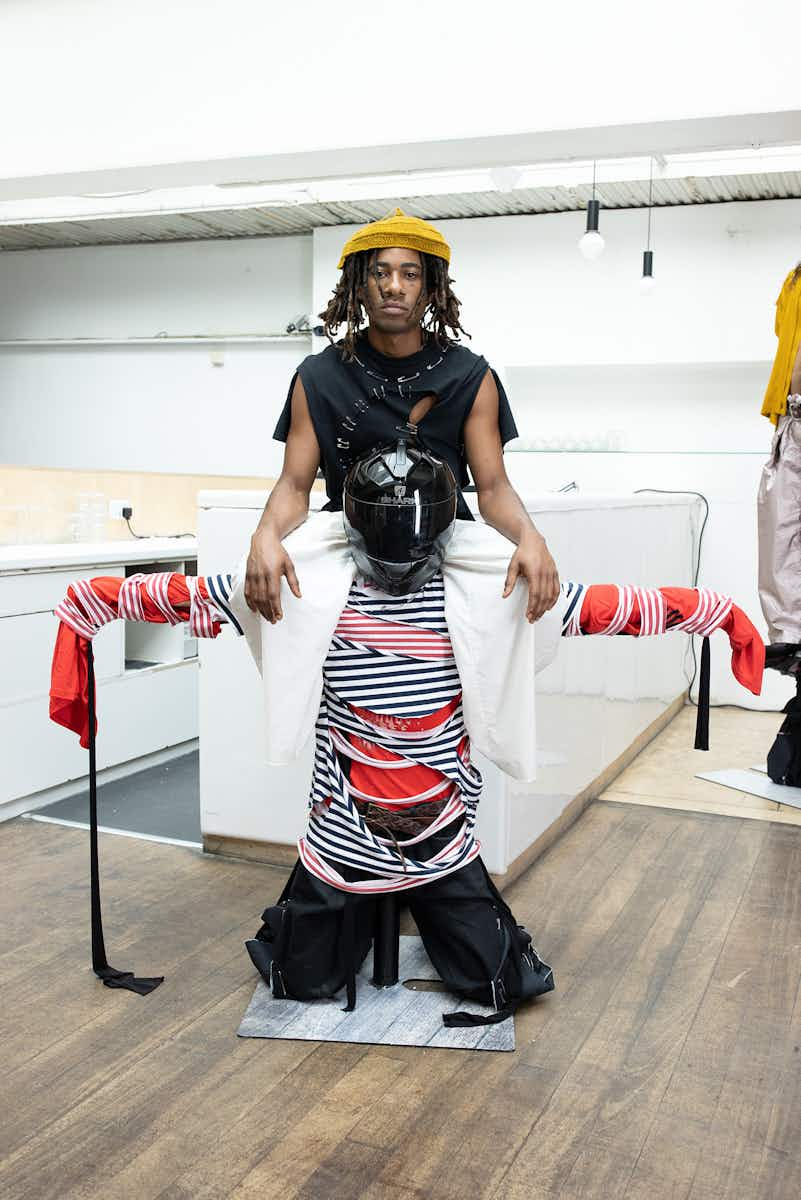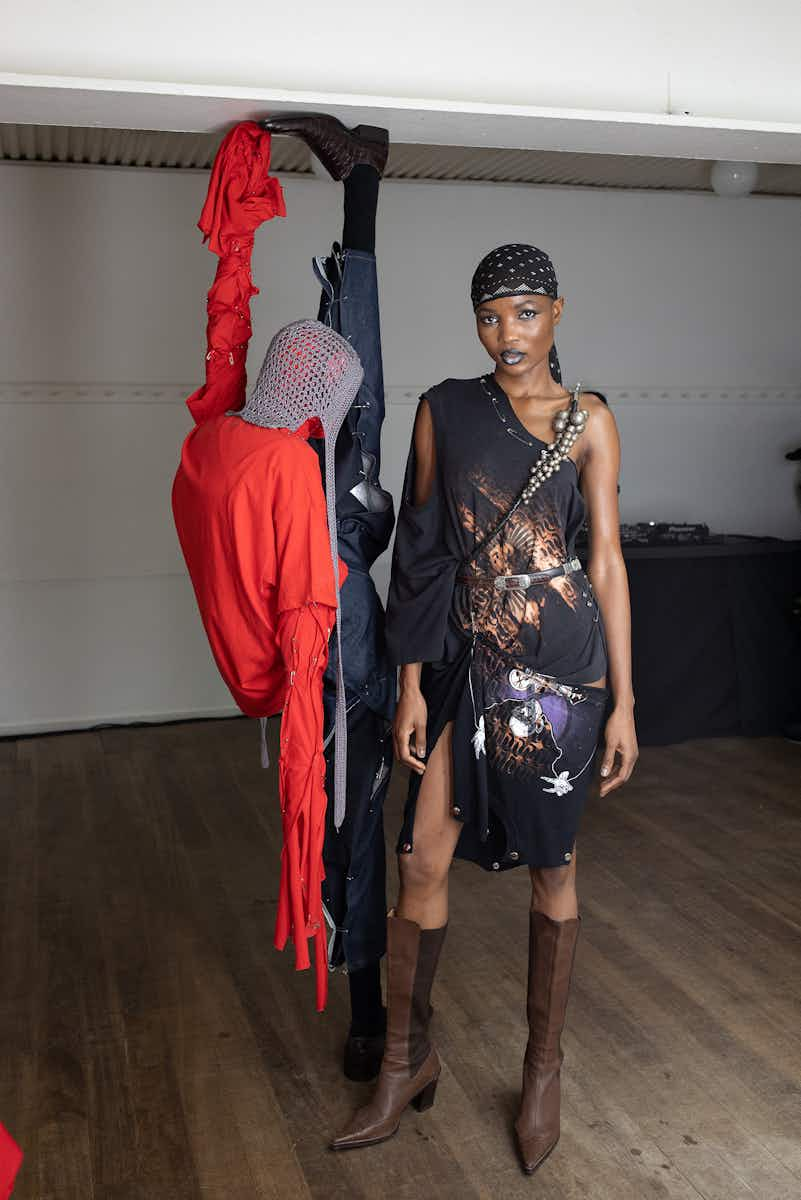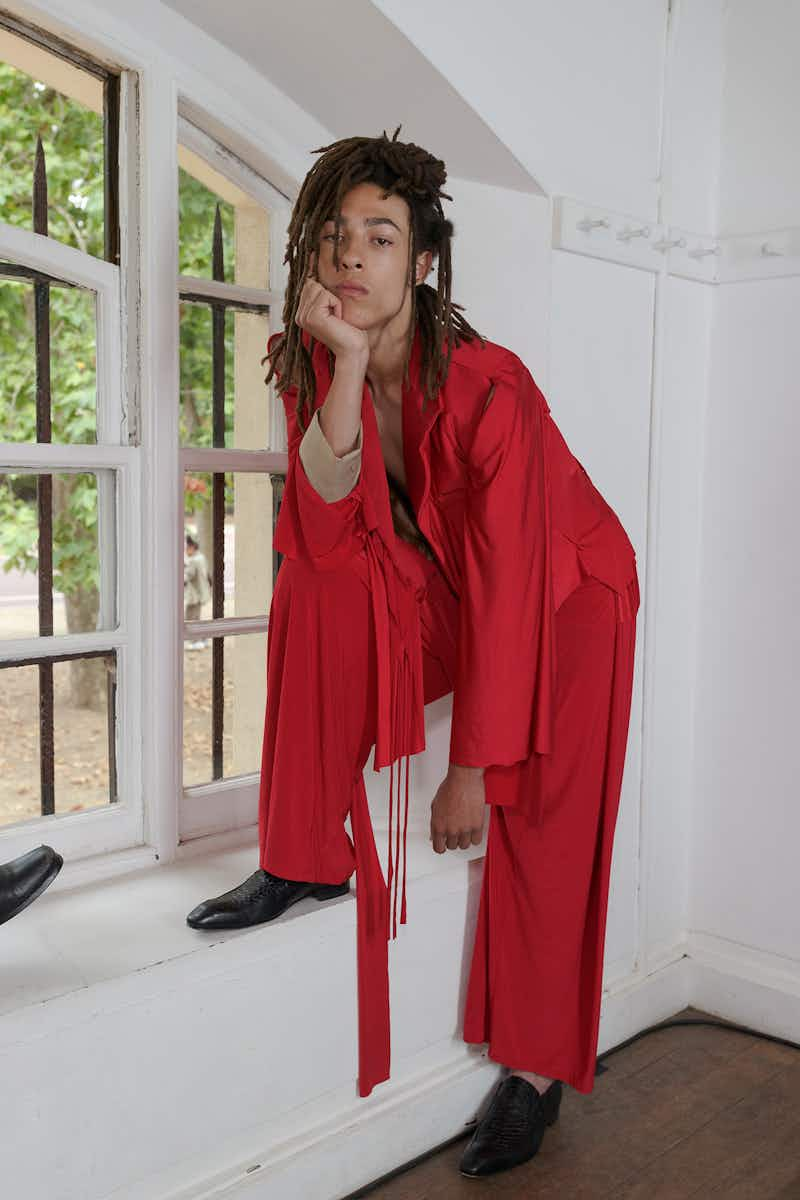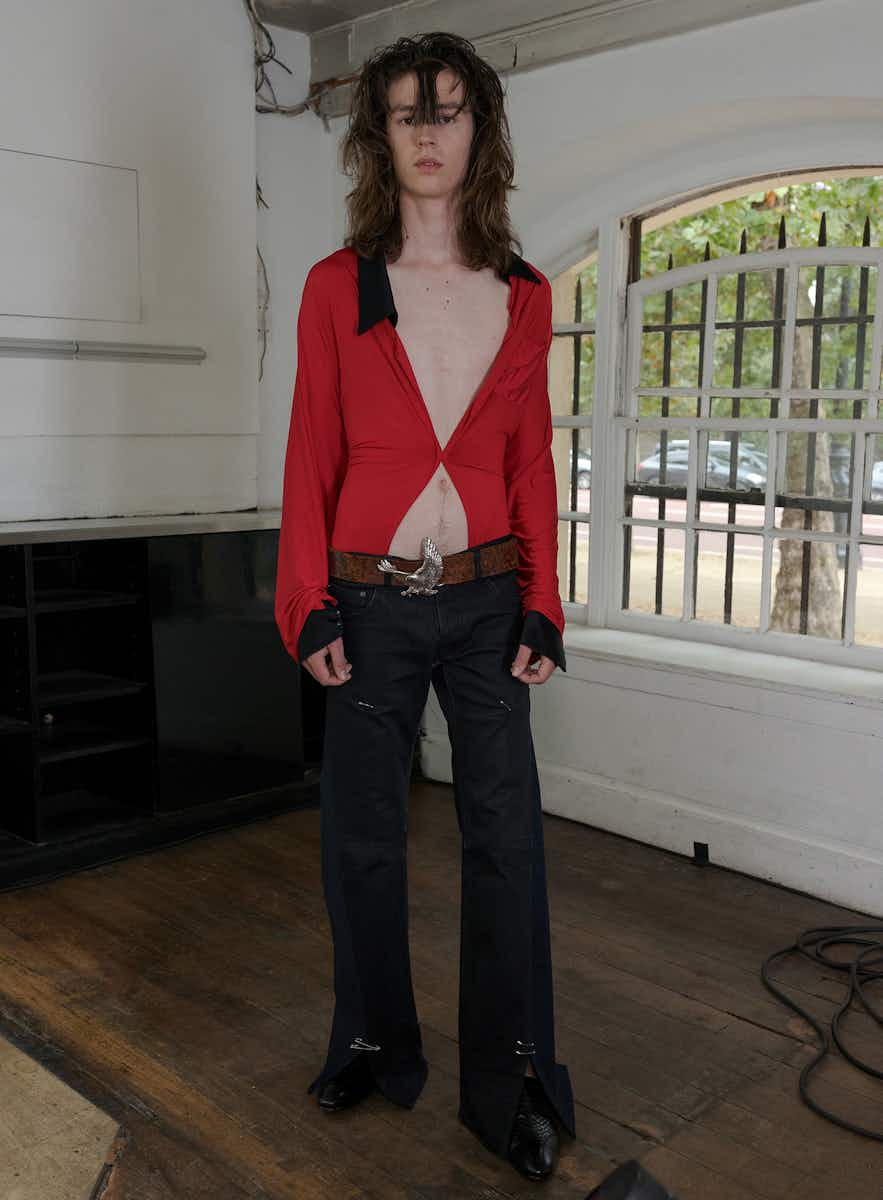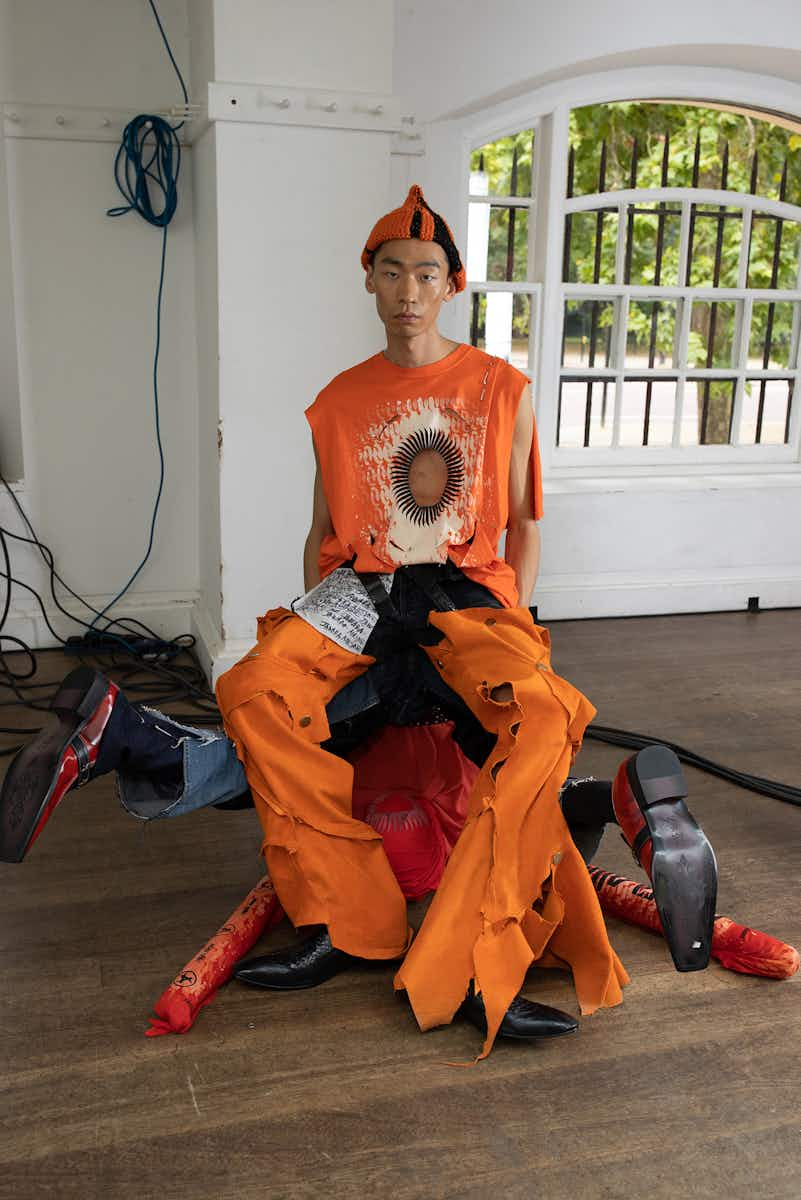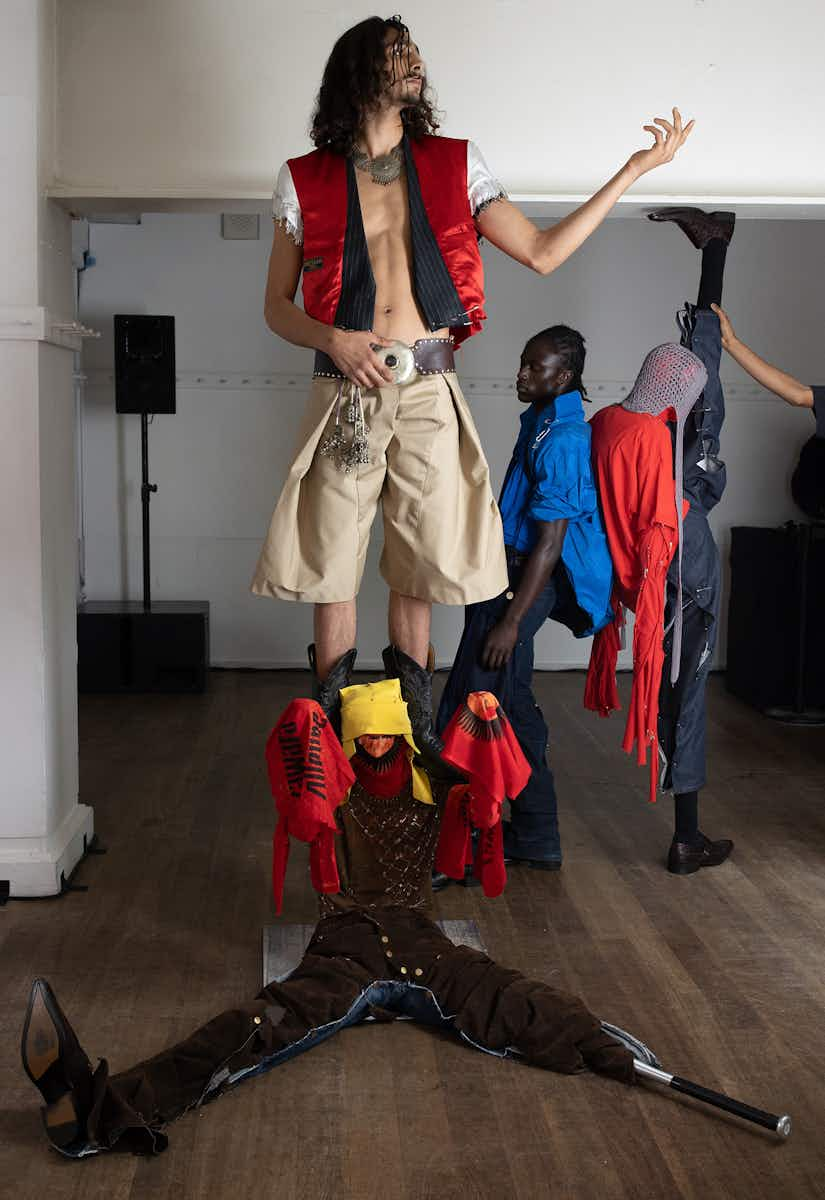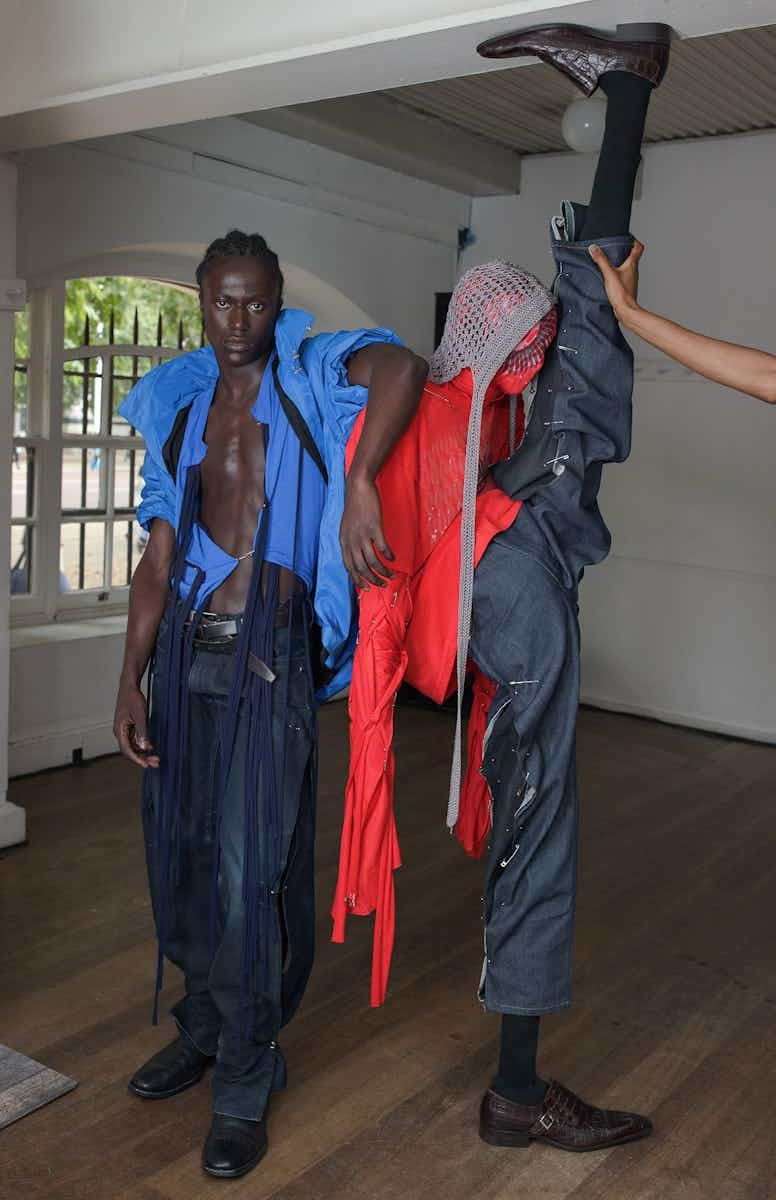 There has always been an eerie sense of trepidation throughout designer Goom Heo's design process. Whether she's lurking in the dark corners of the neighbouring flats that she peers into or the rocky alcoves of faraway seas, the Korean-born designer often dips her toe into what most of us run far from. For her fourth collection, presented digitally, with Fashion East, she connects to this dark side wholeheartedly, keen to raise questions in the weirdest scenarios and ultimately find answers.
With those answers, chaos becomes a source of much-needed comfort. As ever, menswear is subverted to intoxicating heights. Goom Heo explores nakedness with skin-baring chain tops and exhibitionist statements such as trousers slashed in the shape of swirls. Harking back to previous collections, in which the designer became a peering voyeur over the pandemic, she re-references curtains of fringing, adding dark denim washes in indigo blue and stone grey for a chaotic turn. Sensually, Goom Heo explores the body in a practice that brazenly exposes hip bones, butt cheeks and a lot of leg for a cheeky celebration of eccentricity. Whatever lies beneath, the designer's SS22 collection implores you to flaunt it.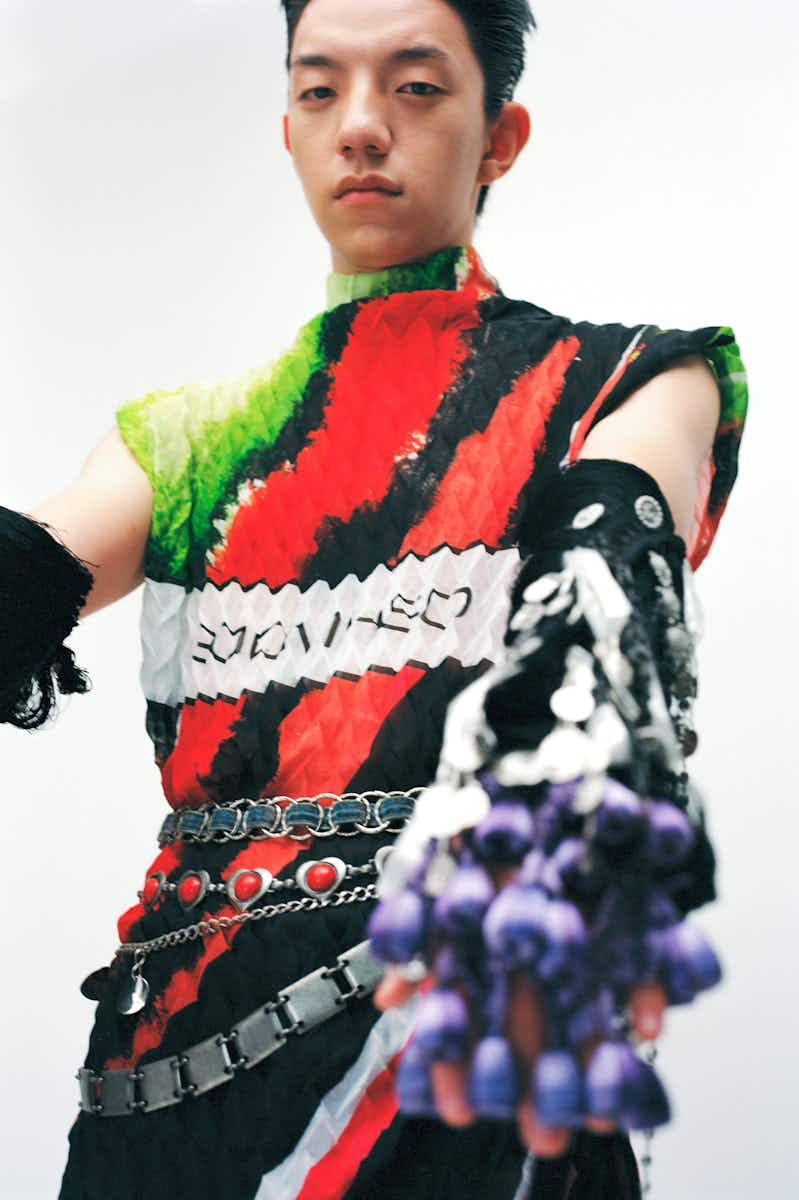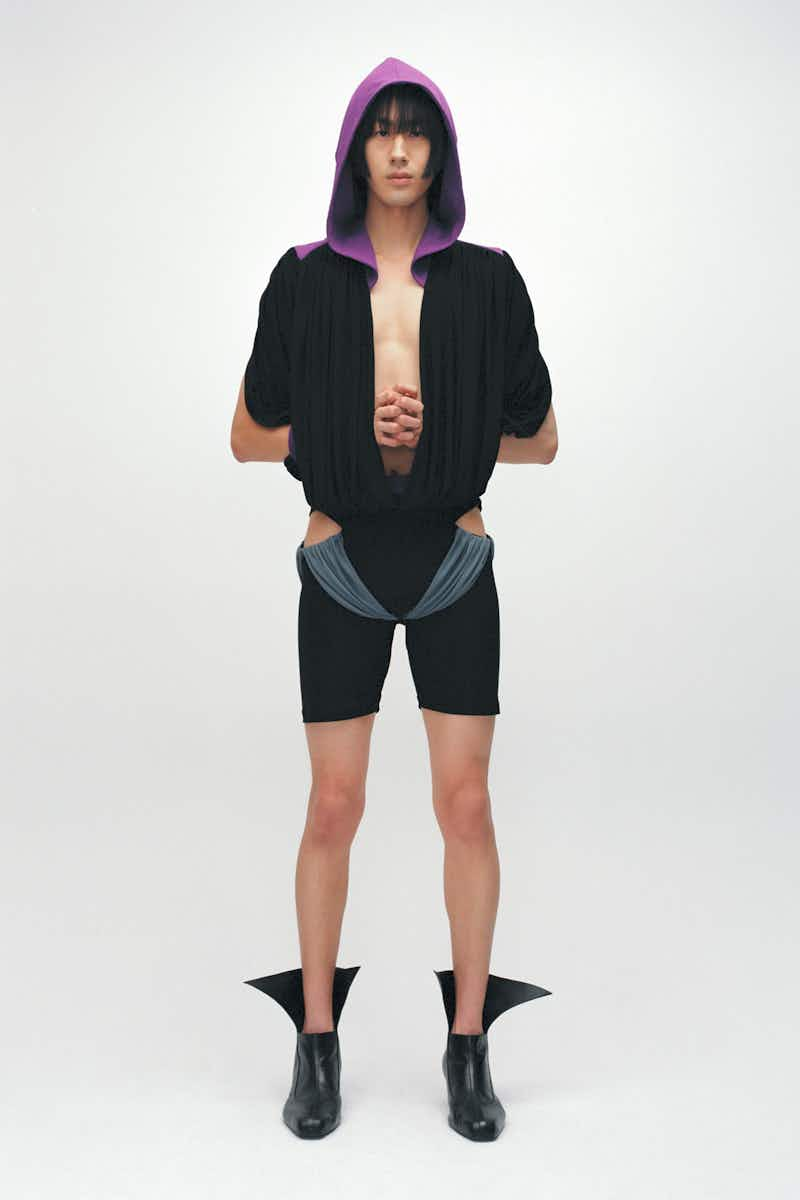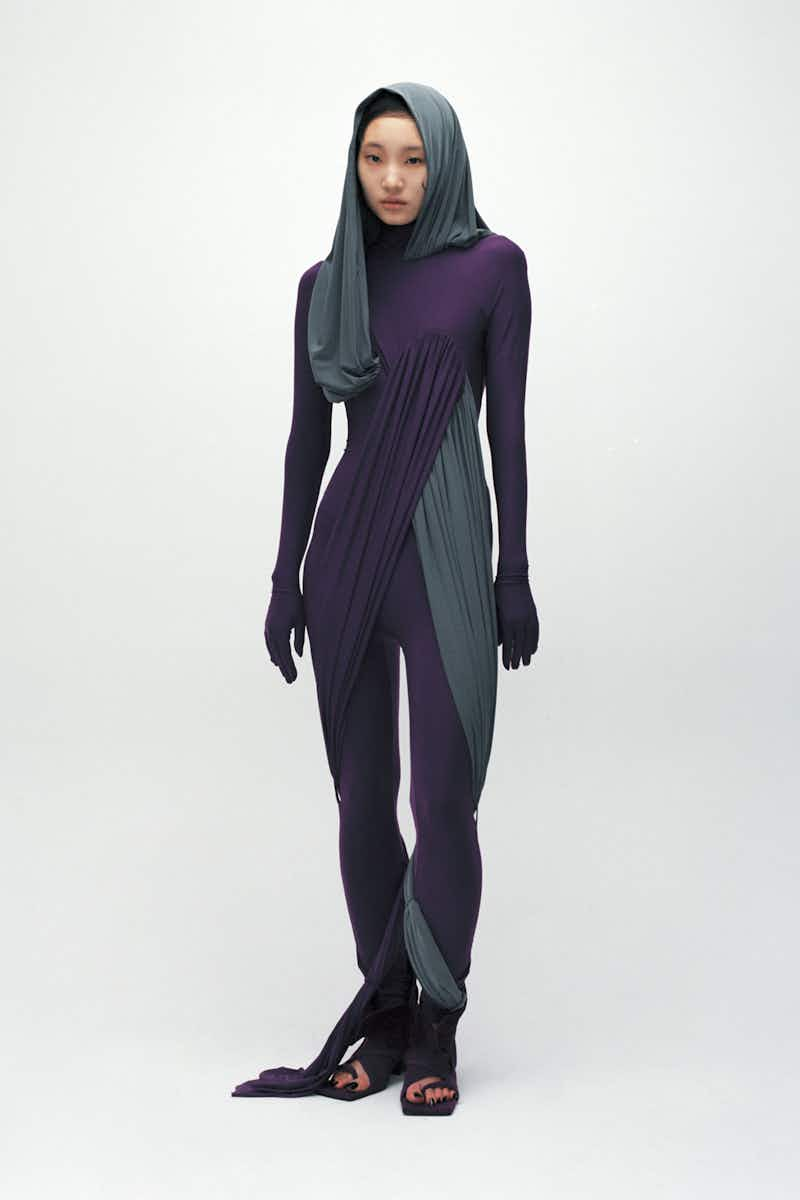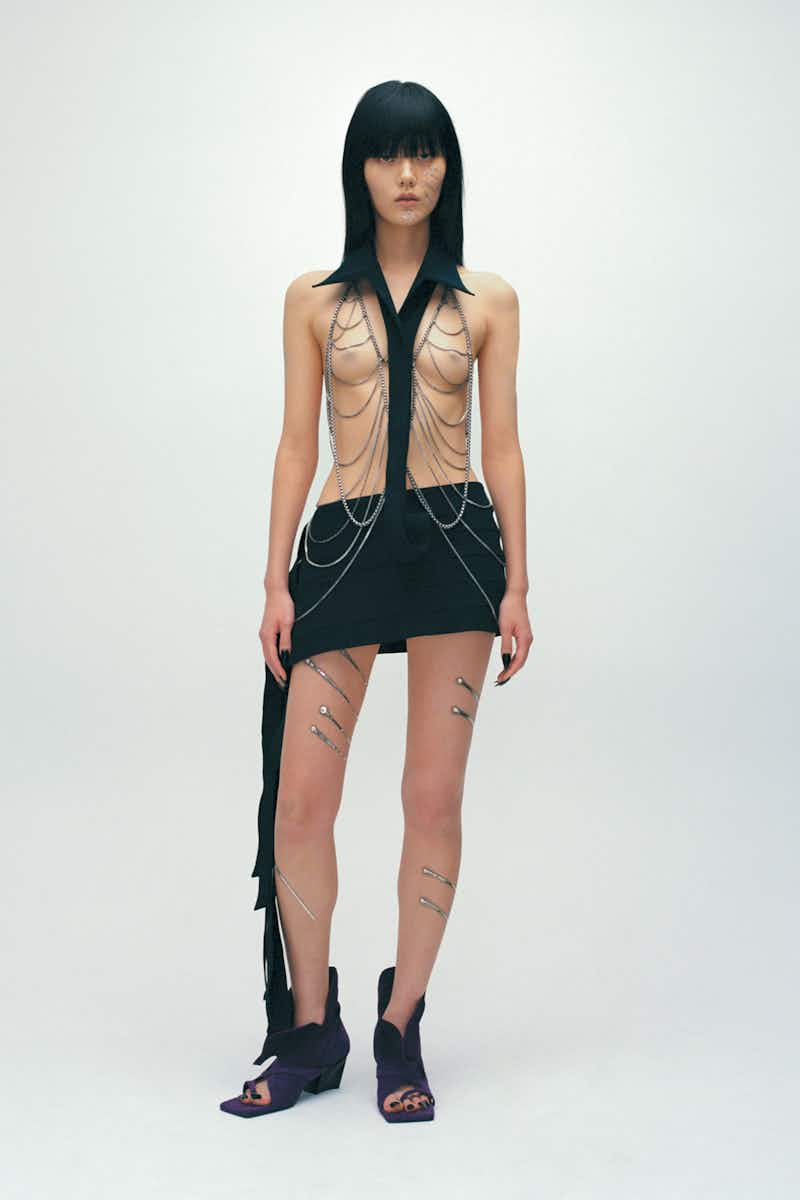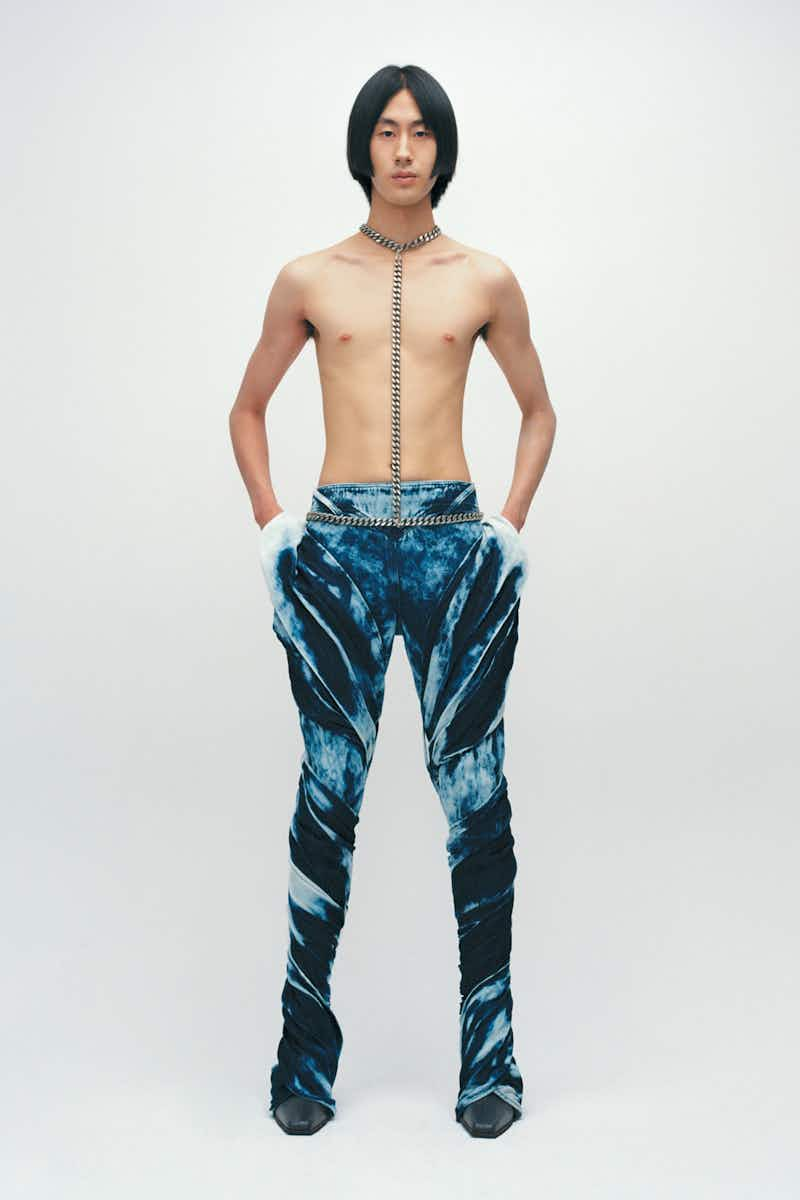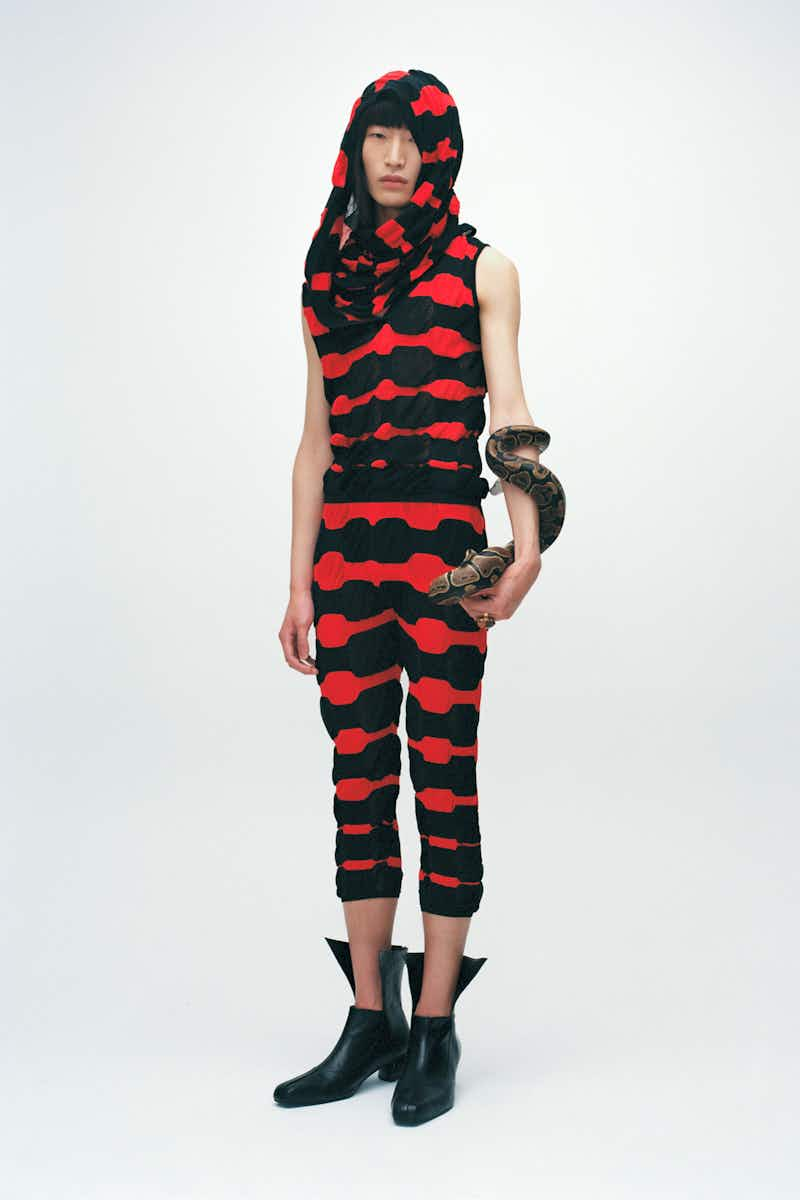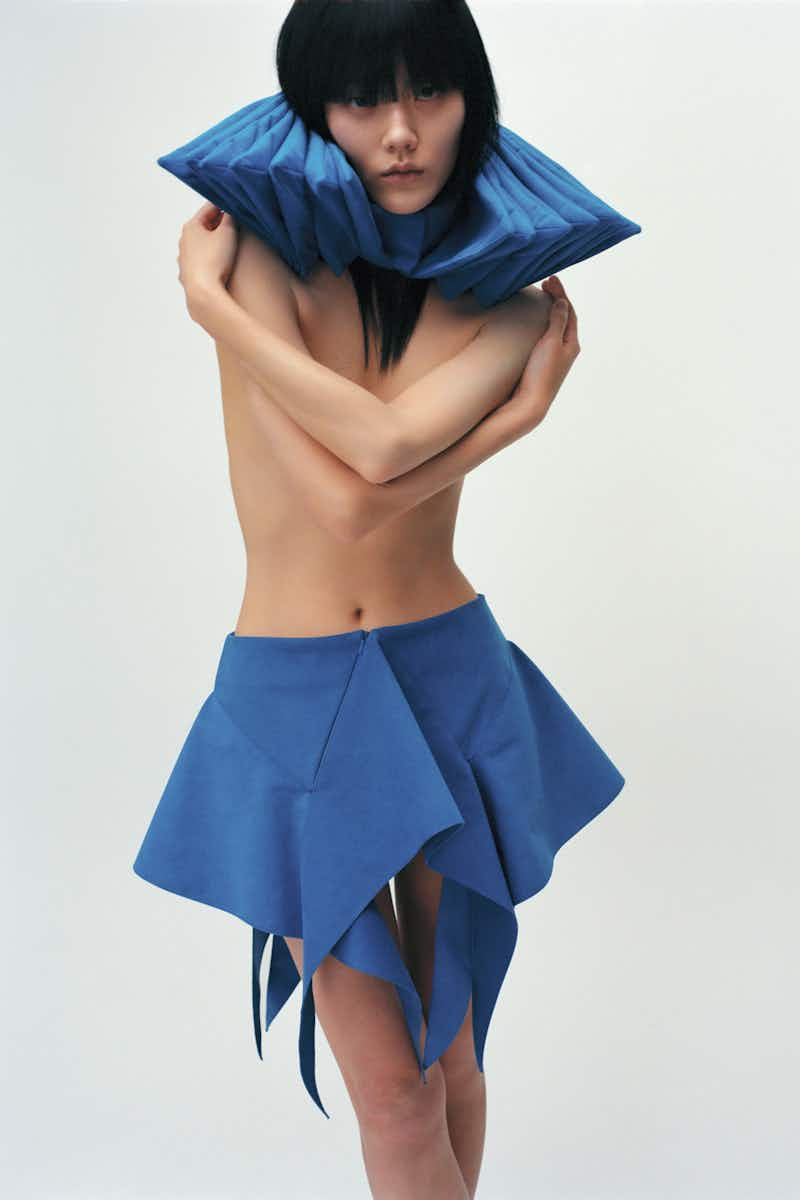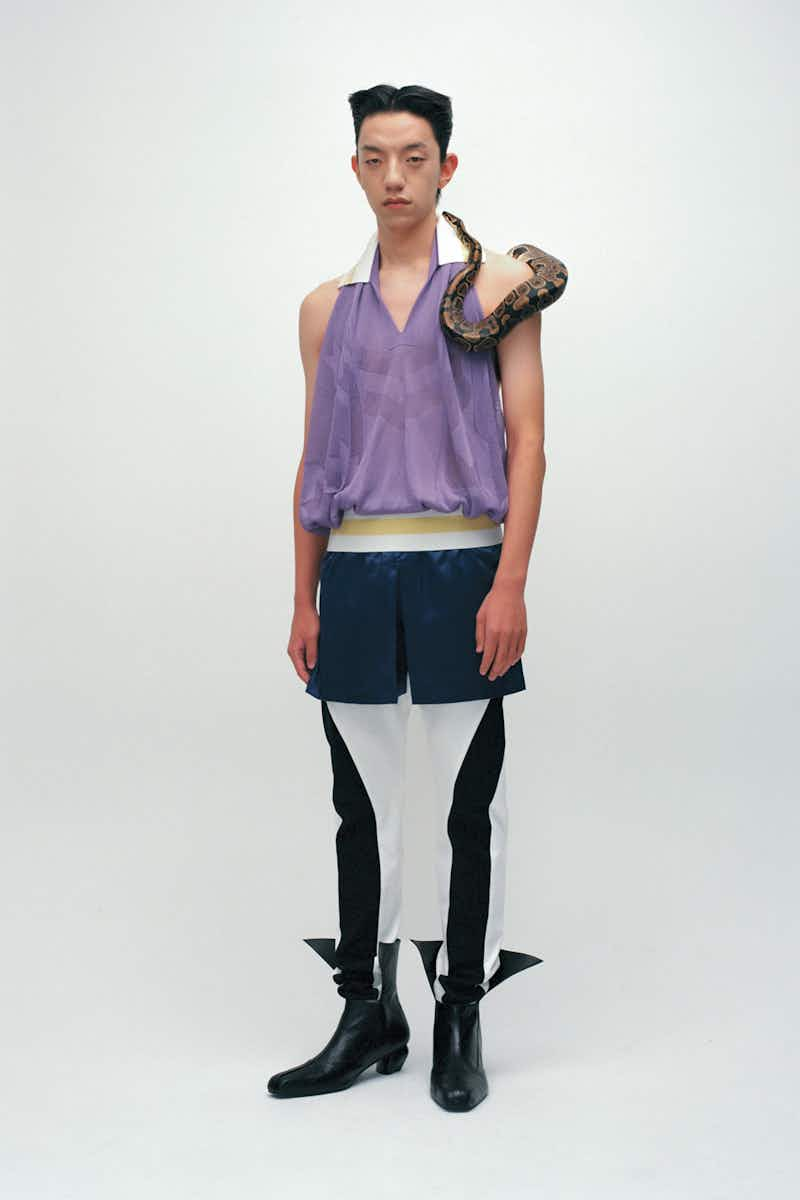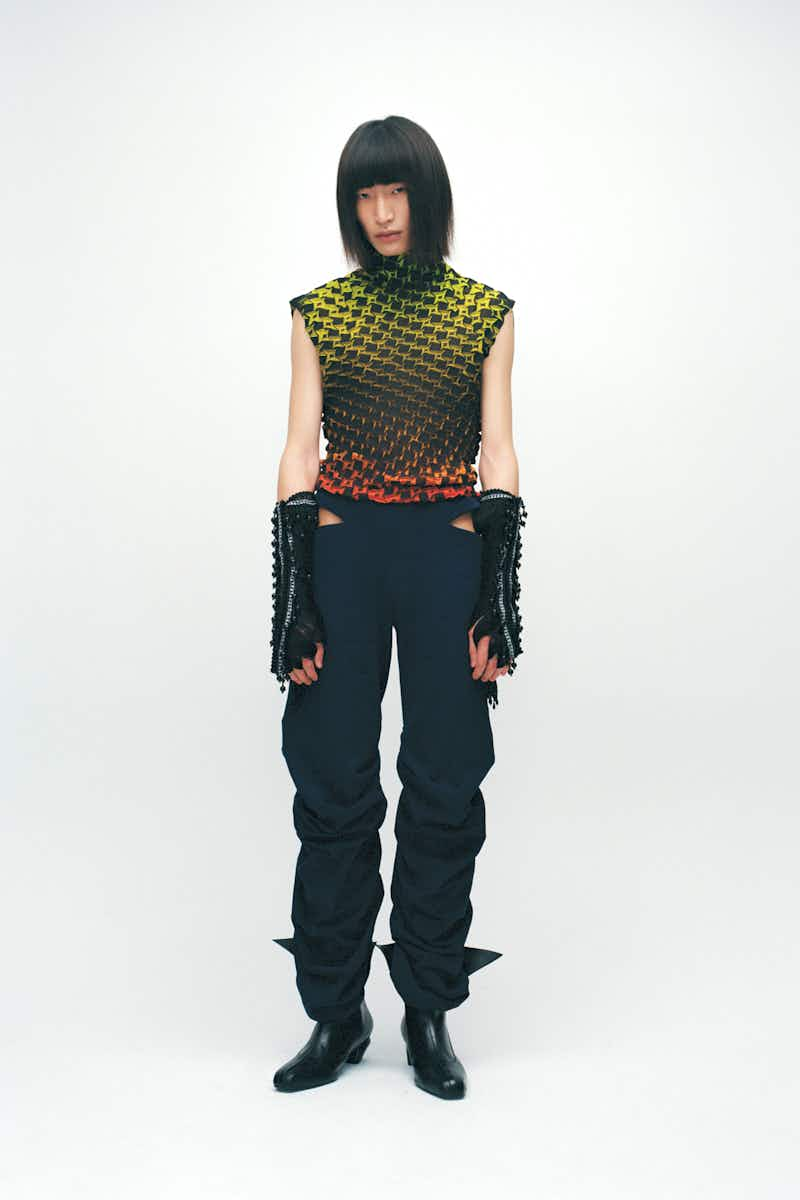 Together, we've witnessed a shift in the fighting spirit of sporting champions. No longer are athletes expected to push their mental health to its limits in the name of the game. Rather, modern-day heroes like gymnast Simone Biles and tennis player Naomi Osaka have demonstrated the sheer power of self-preservation. In former-gymnast HRH's second collection (presented digitally), the designer takes a leap into the pool with her first foray into swimwear, flapping into the strength and resilience of contemporary sporting heroes. ​"I actually loved the purposeful change of name from ​'synchronised swimming' to artistic swimming taking effect this year," HRH says. ​"I feel it celebrates the incredible creative presentation in this event while honouring the endurance behind it." Continuing themes from her debut collection, which was presented digitally last season and saw her take aim at sports team rituals via accessories, the designer's intention this time was to dress her team head-to-toe. She used fabrics designed to come into contact with water, with miniature ​"wet bags" reimagined in leather for a day-to-night setting. Alongside the designer's signature scrunchie, the ruched effect made its way onto waistbands on swimming costumes and the handle of a side bag, all in an array of hyper vibrant colours for a bit ​'o team luck.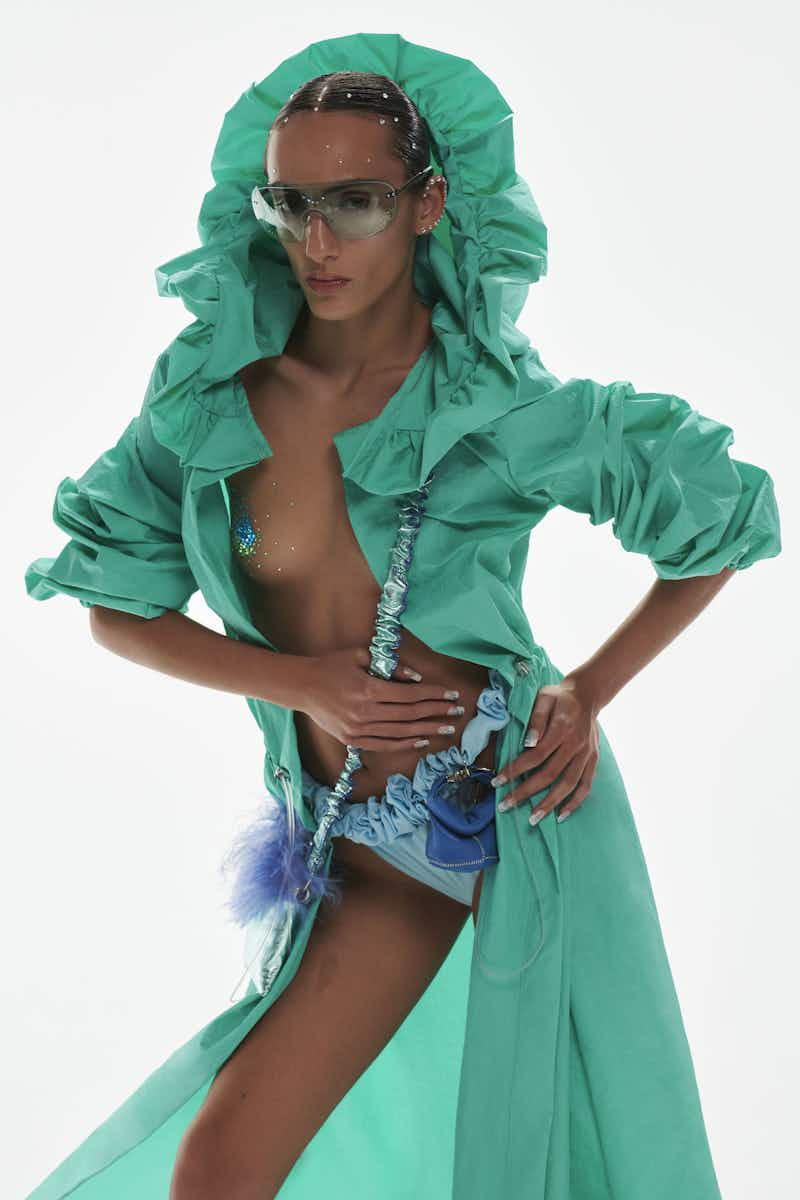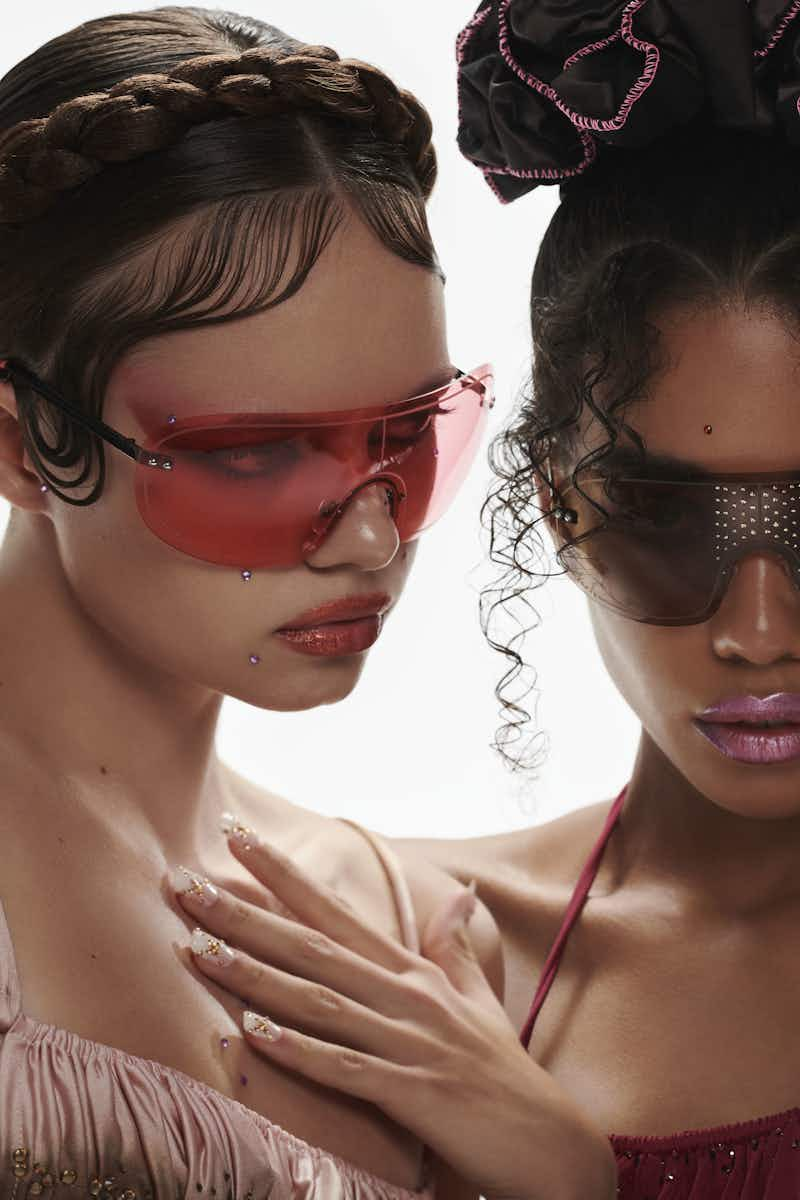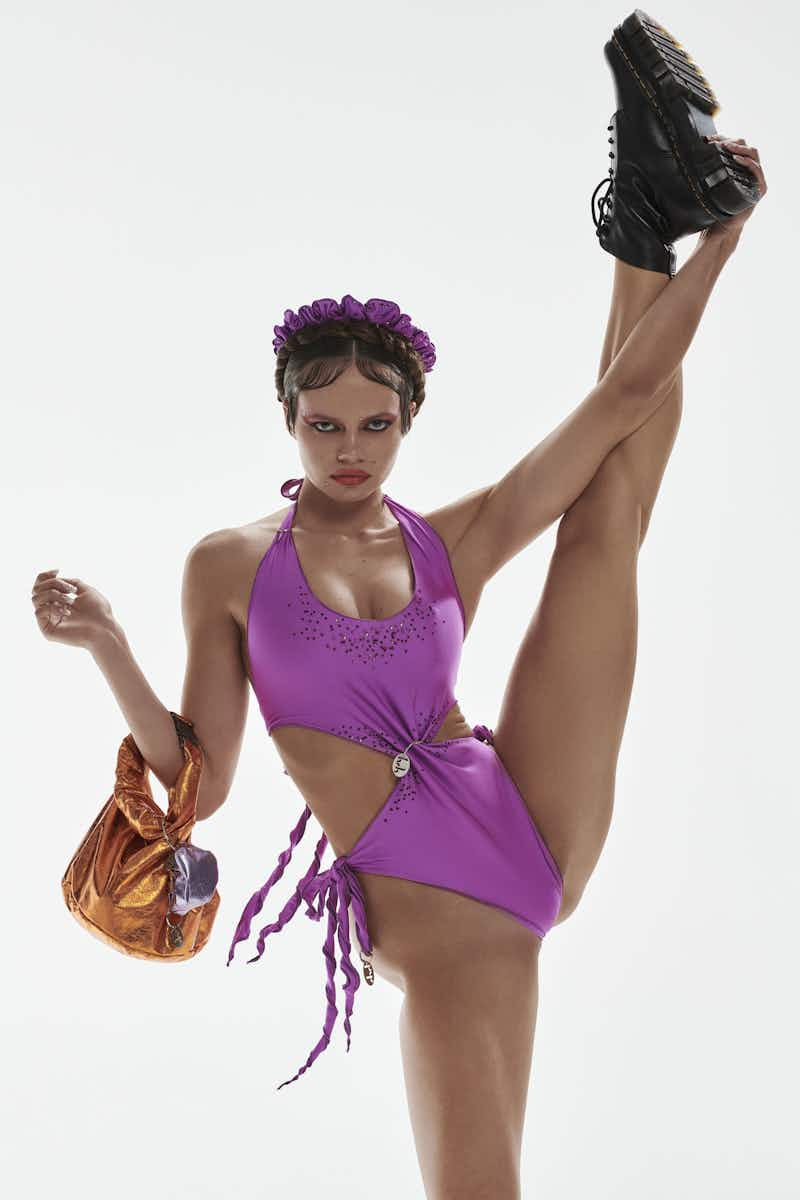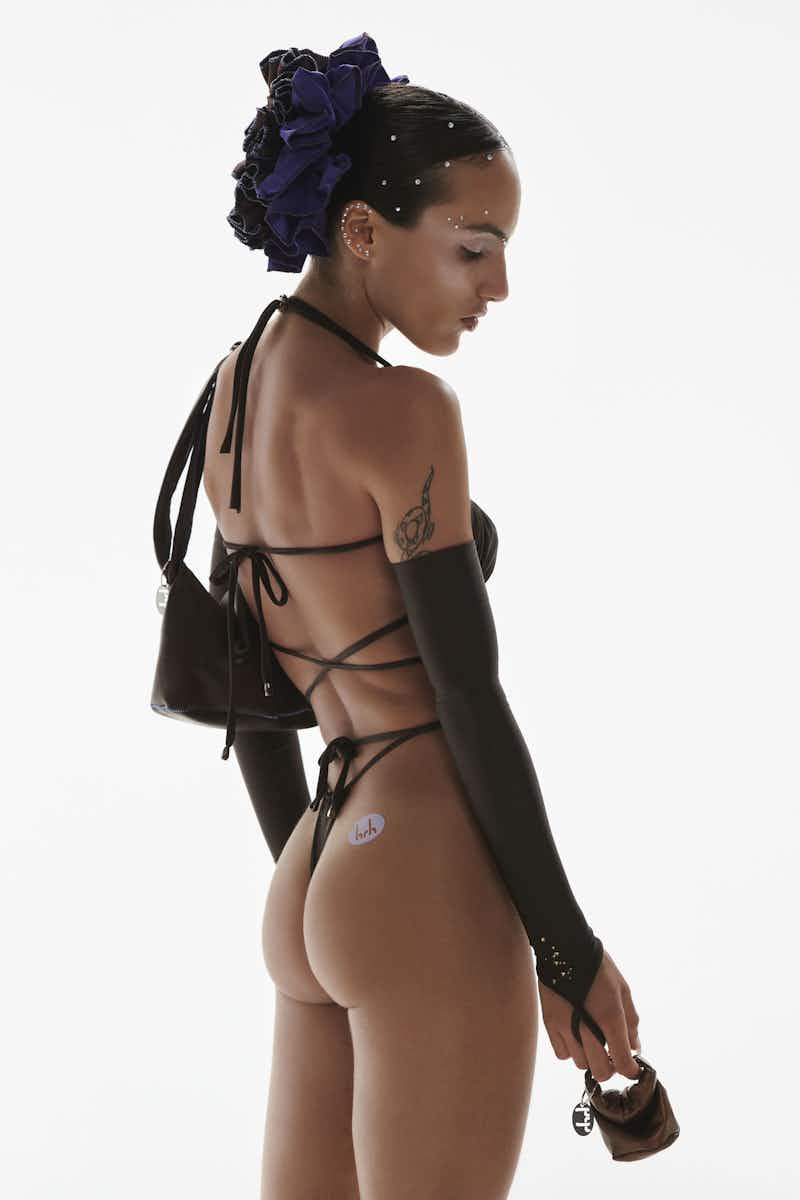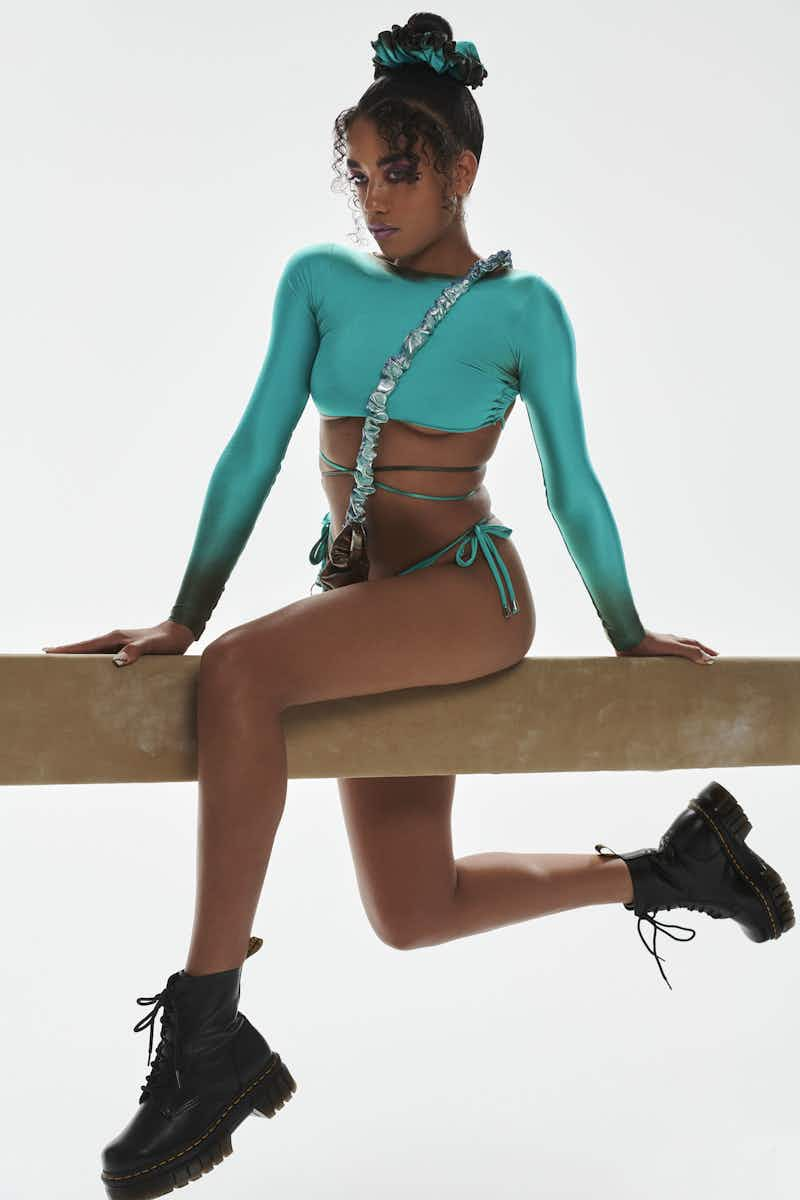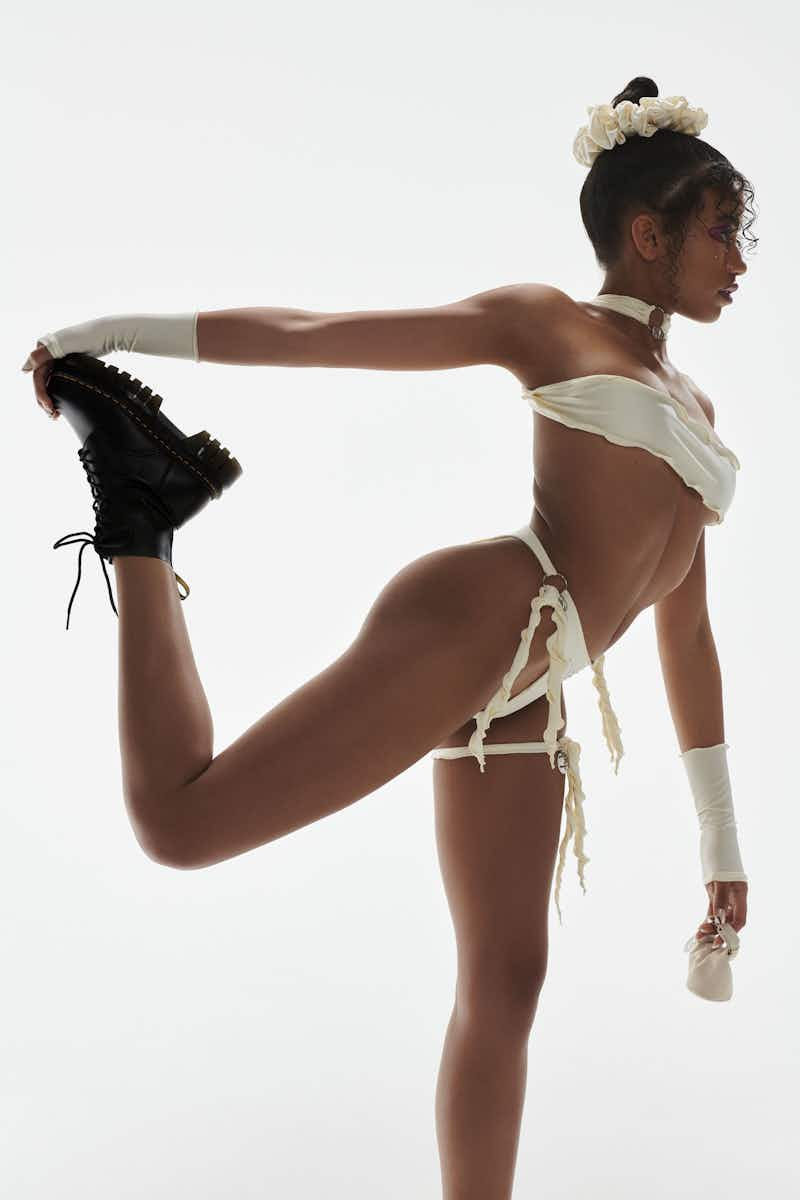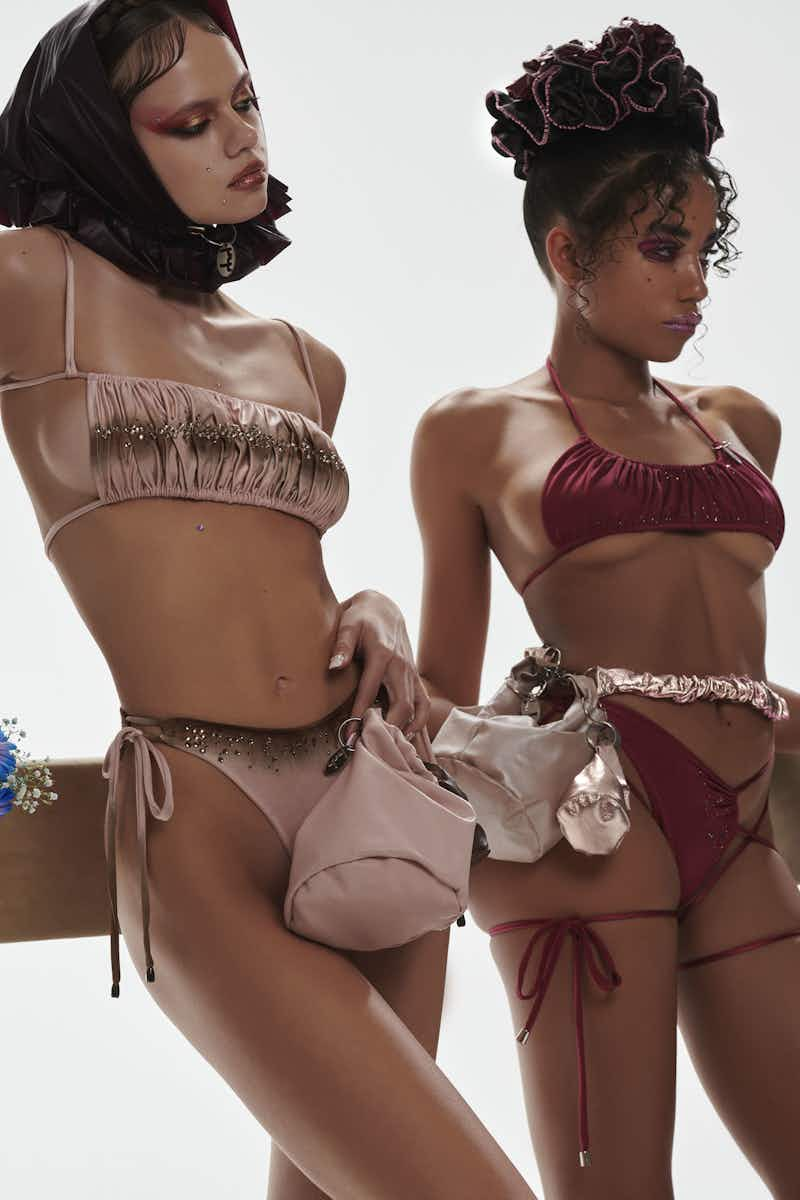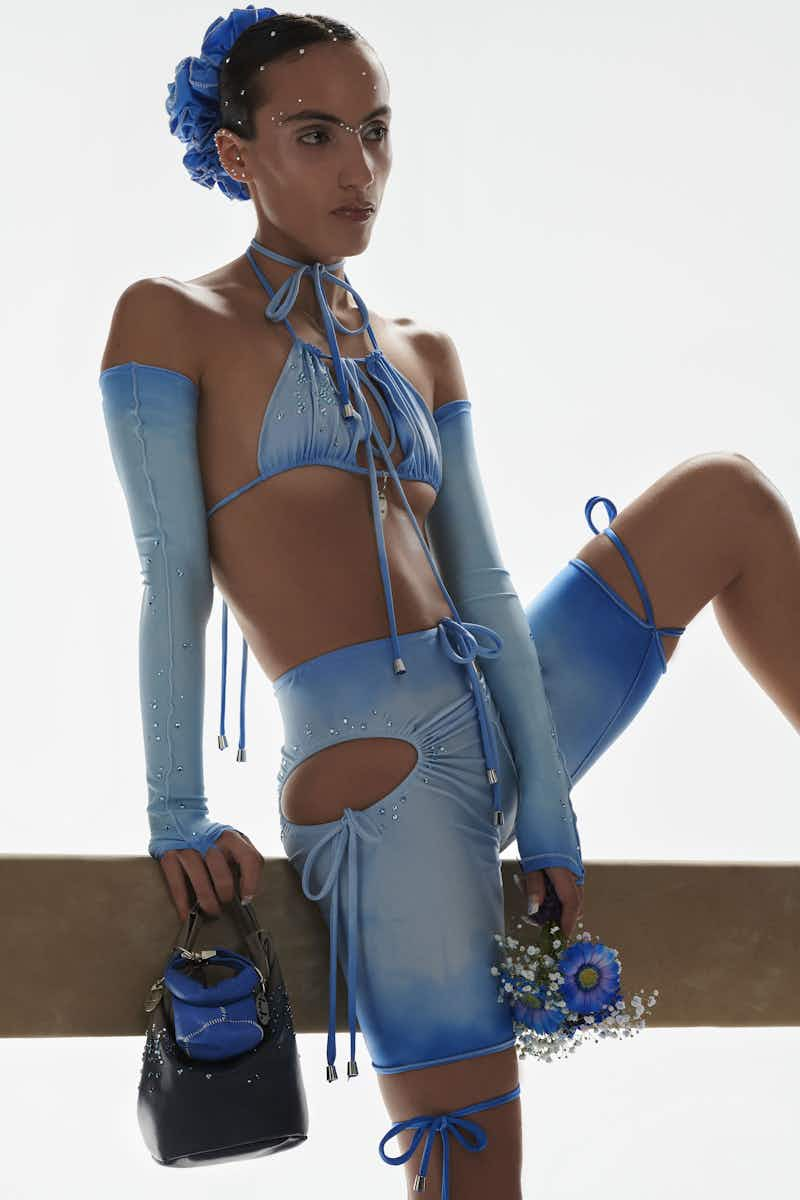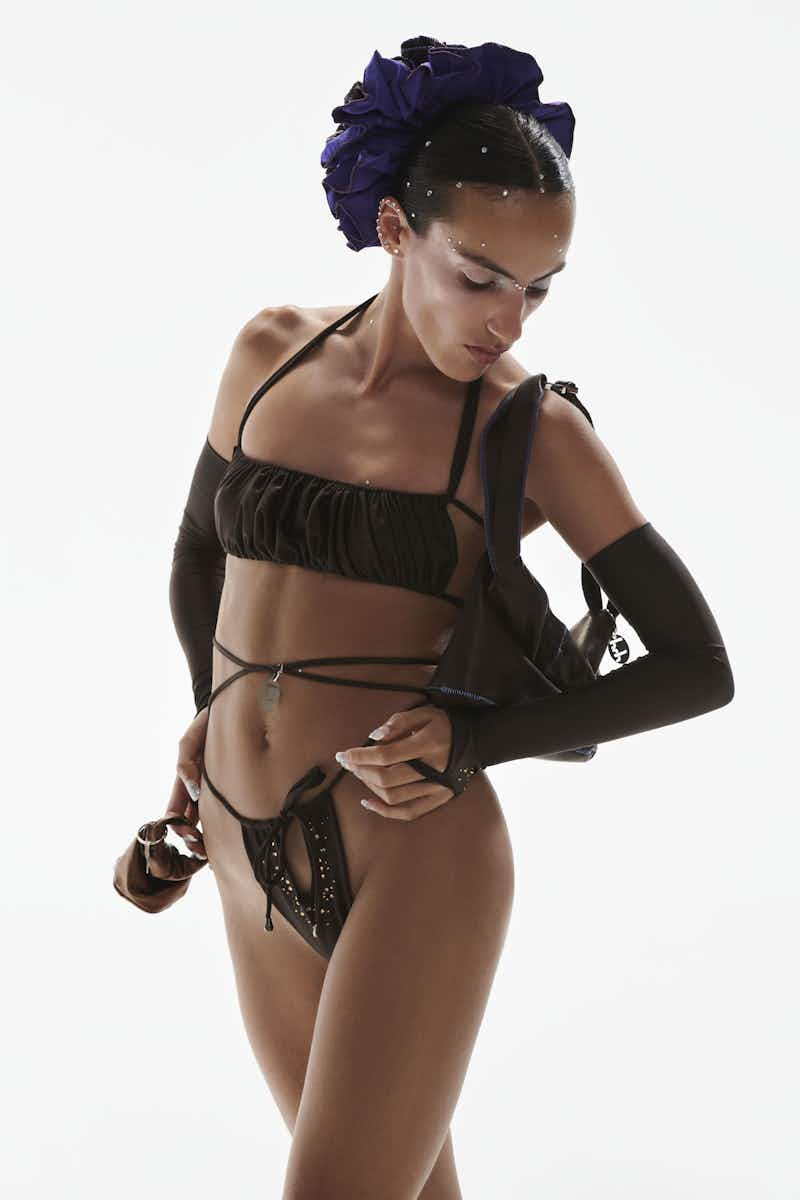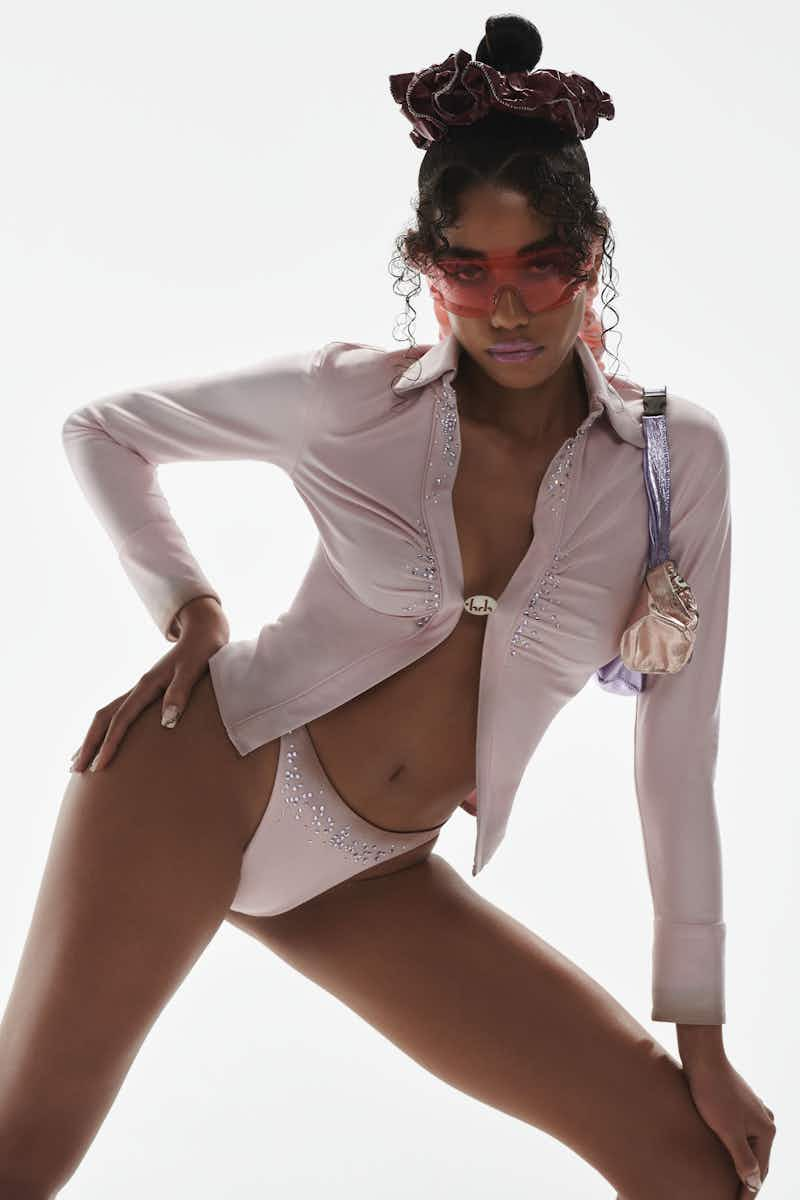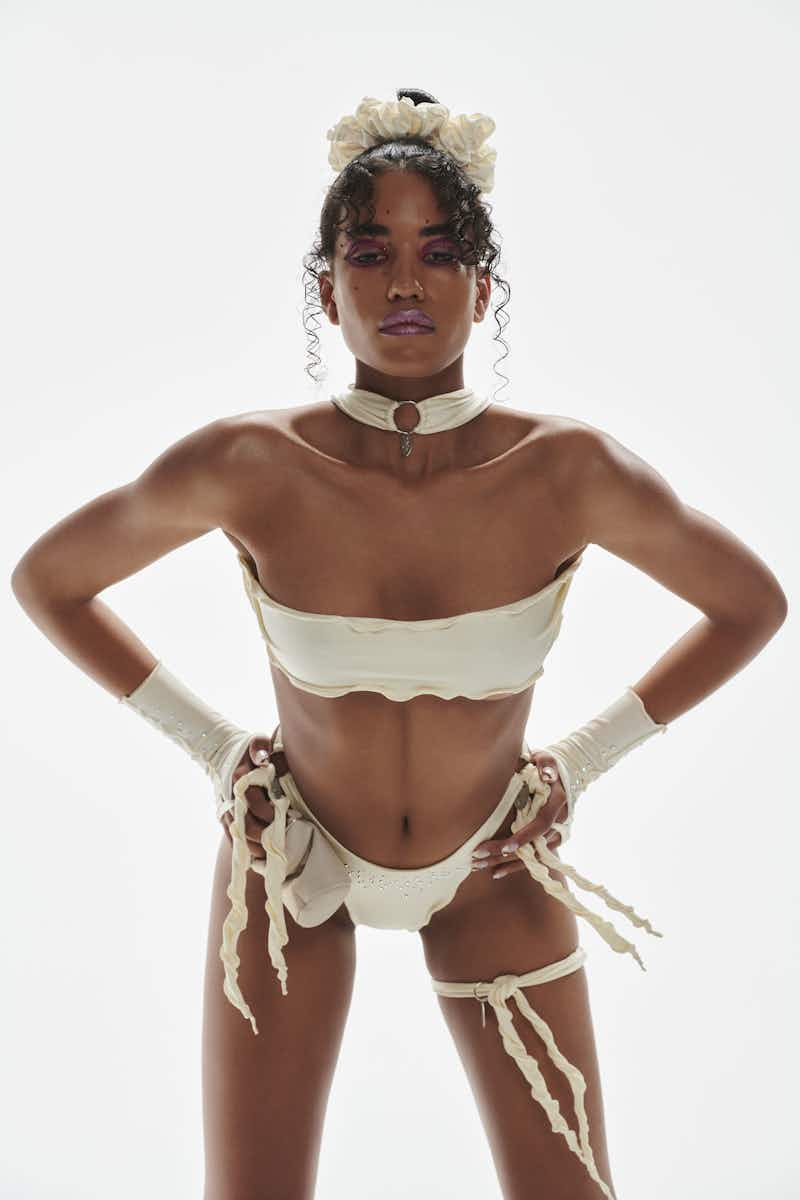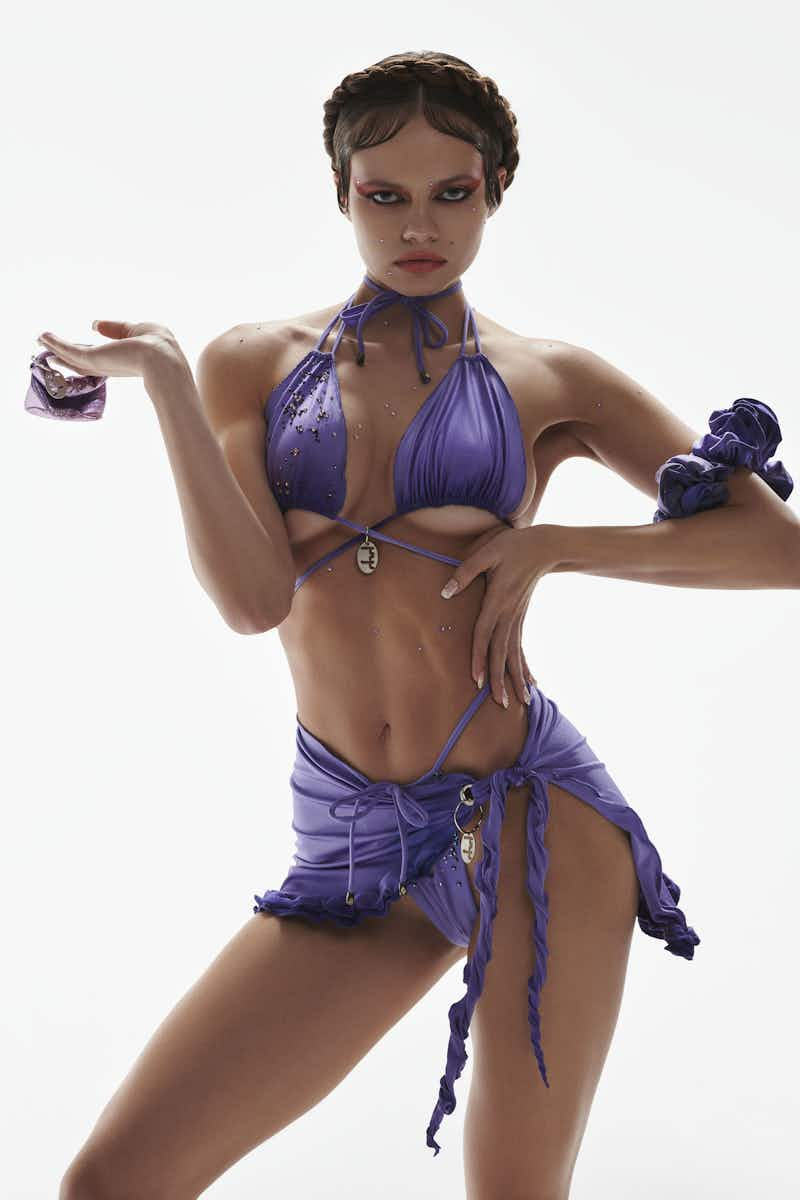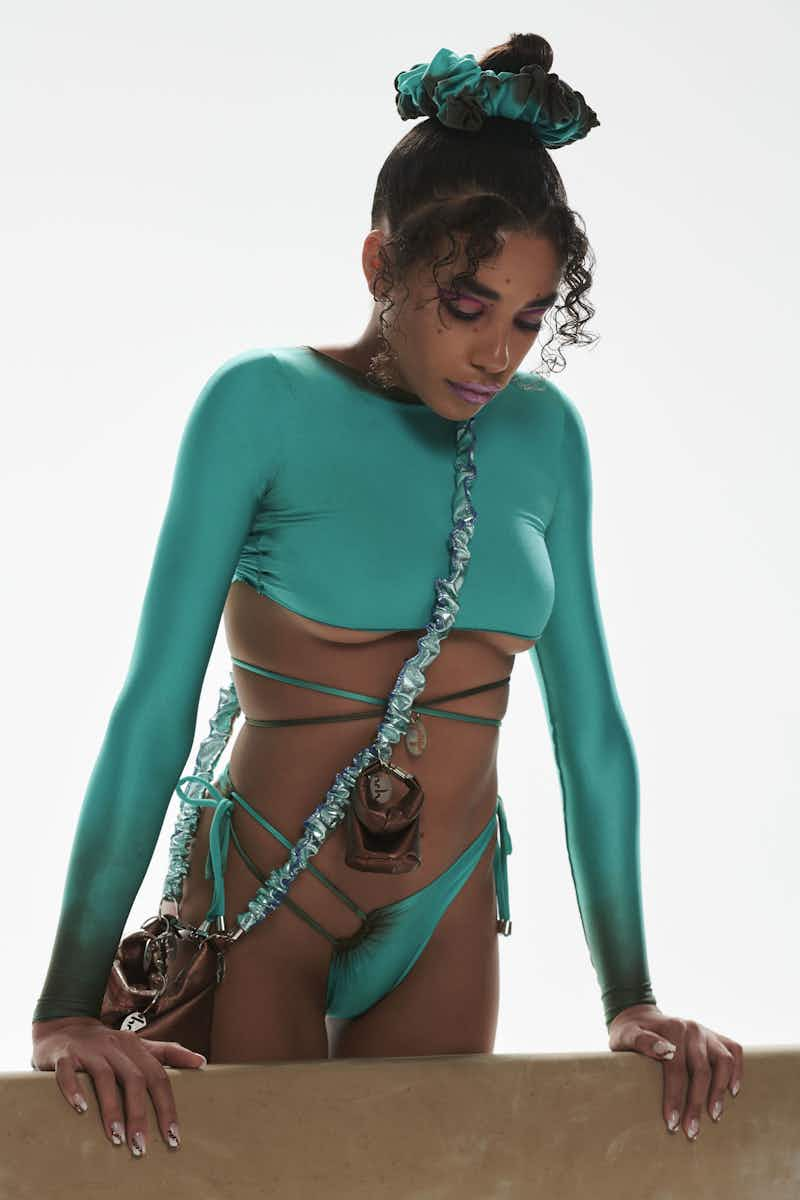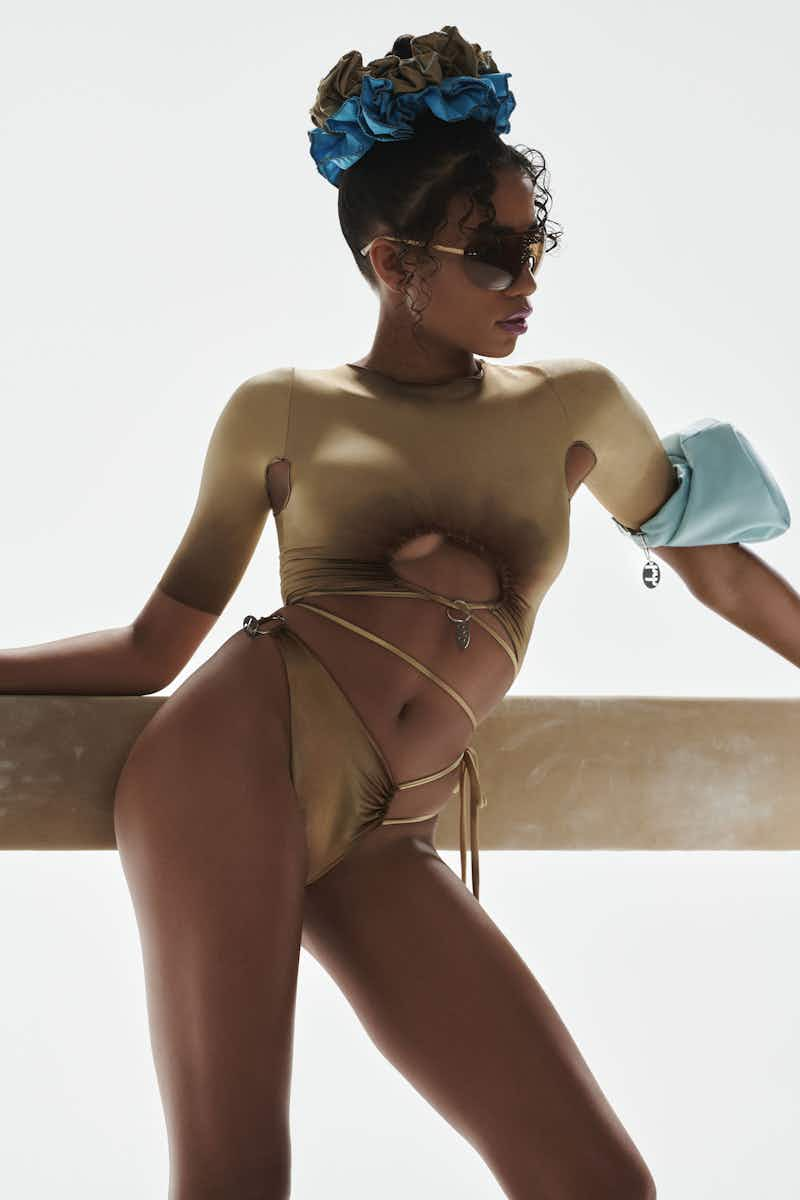 More like this