Happy99's alternate universe is fuelled by fashion and anime

Artists Nathalie Nguyen and Dominic Lopez have built their very own world where digital clothes are worn by miniature dolls and humans alike. Now stocked at Marc Jacobs' Heaven shop in LA, Happy99 is the real deal – both virtually and IRL.

Miniature dolls wearing tiny clothes! Animal Crossing virtual outfits! Innovative 3D campaigns! These are all key elements in the visual and sartorial universe brought to life by Happy99, the New York-based brand created by artists Nathalie Nguyen and Dominic Lopez.
There are no rules in their world, only reinterpretations of comfy classics like cotton tees, knitted vests, beanies and trainers, infused with esoteric anime and video game references, sometimes even inspired by kid's clothes.
Partners in both business and life, Nguyen and Lopez started Happy99 as a passion project while they were in a long-distance relationship in 2018. Now, it's a creative outlet for the pair to express their wildest ideas. Since debuting their first virtual fashion show a year later, Happy99 has developed a cult following, even selling their wares via Marc Jacobs' Heaven shop in Los Angeles.
"Neither of us are classically trained in fashion, but we've both been creating in multiple mediums for a long time," Nguyen says. ​"Clothing just happened to be the best physical vehicle to complement [that]." As it stands, the brand is a two-man show, from design and production to marketing and shipping.

​"I used to feel like this was a weakness because it didn't feel as cohesive," Nguyen adds, ​"but now we've leaned into it as a strength. We make what we want to wear, and the process feels like more of a creative sprawl rather than [striving] to meet traditional business goals."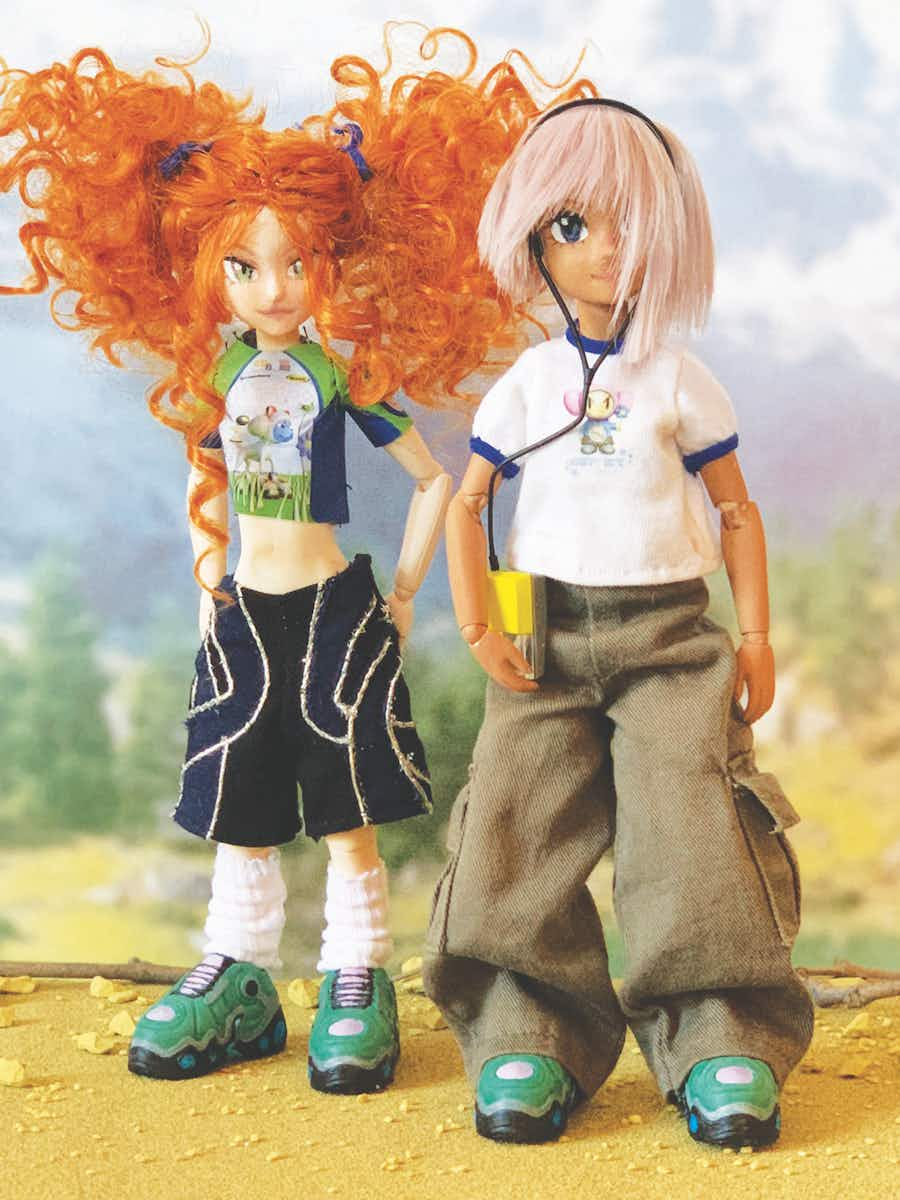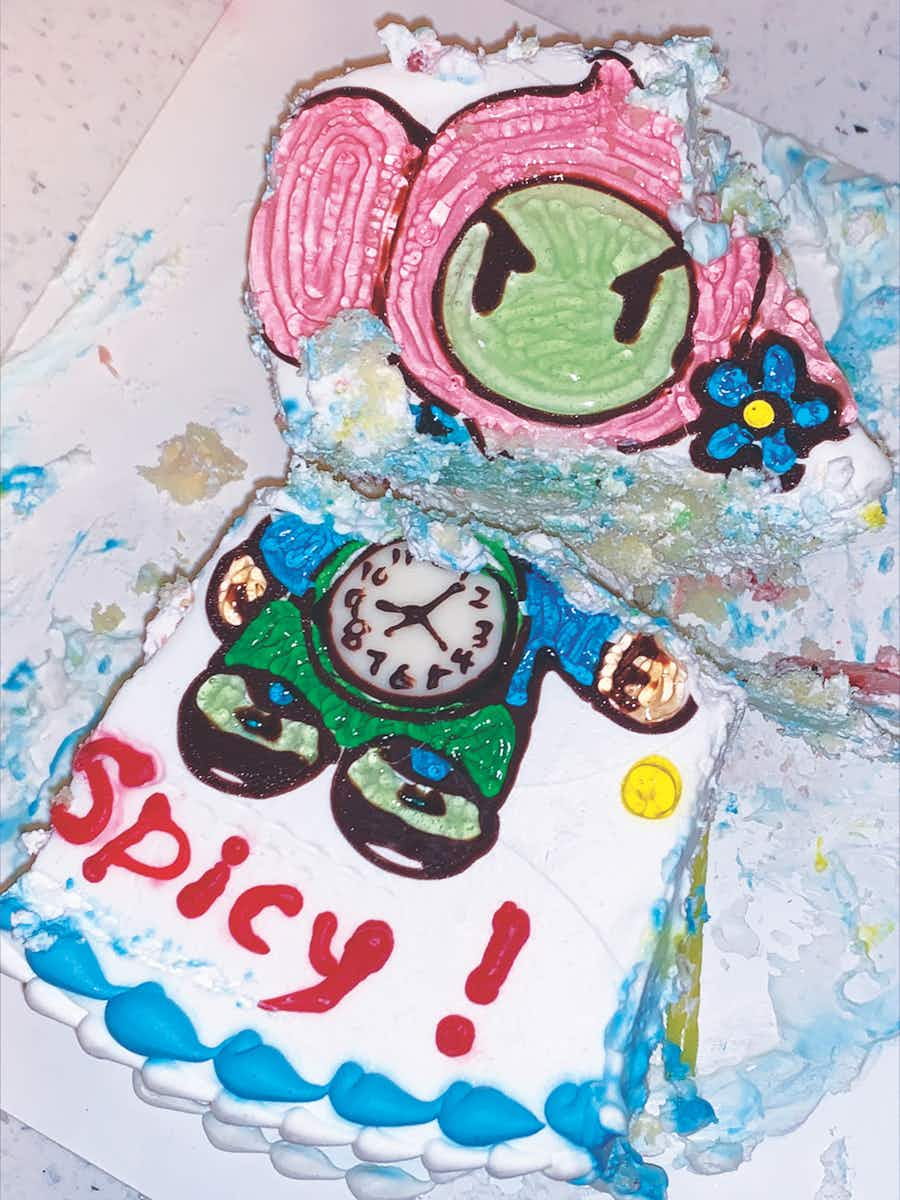 There's nothing traditional about Happy99, which is fundamental to its appeal. The brand's website feels reminiscent of Bebo and Myspace's early internet goodness, and garments aren't displayed in their usual physical iterations. Instead, rotating 3D renders of each piece are up for grabs, as though you might be selecting a new skin for a video game avatar.
"A huge part of the creative process is our character-driven world," Nguyen continues, placing emphasis on visual storytelling rather than consumer-driven trends. ​"That's not to say we don't work really hard on our physical products, but they're more of a byproduct of the [other] ideas we have."
"We make our own videos, score them and also design all of our own products," Lopez explains. ​"I think that adds a layer of authenticity that may not be immediately detected, but is a part of our DNA. The symbiotic connection we have with every aspect of Happy99 is what makes the brand."
While Happy99 has achieved ​"trendy" status, Nguyen and Lopez are determined to keep their integrity intact.


Curated by Fumiko Imano
"It was never our intention to be hyped," Nguyen says. ​"We both really enjoy people who exist beyond the universe of fashion, streetwear and Instagram-adjacent style, and who dress in their normal everyday settings. I never want to see [Happy99] become consumed as an it-brand, so we avoid influencer seeding. I'd prefer to give stuff away to our new friends at the local bike repair shop or the owners of our favourite Thai restaurant down the street."
So what's next for the creative duo?
"This visual storytelling experience always challenges me to learn more or explore new mediums, and the fact that we do everything on our own makes it super intimate," Nguyen says. ​"Even if it's one product or video that stands out, in the context of the digital world today, this thing is kinda unique," Lopez concludes. ​"That works for me."


More like this