Inside Hatton Garden's turbo-charged watch market

A new breed of hustlers are shaking up London's oldest and most venerable jewellery quarter, Hatton Garden: where talk is fast, prices are fat and every second is valuable.
The very first thing I saw Frankie Mardell do was spend £212,000. I'd arrived at his showroom, Trilogy Jewellers in London's Hatton Garden, while he was still caught up with another watch dealer. An imposing, fast-talking 26-year-old, he paused to greet me with a chirpy hello and a studiously firm handshake (flashing a monogrammed shirt cuff: ​"T" for Trilogy). Then he was back to business.
I watched from a velvet chair, drinking a complementary Voss water, as they bounced figures and codes and jargon off each other in a seemingly nonsensical end game until, somewhere, a deal was agreed: £212,000 for six watches: four here right now in a nondescript plastic bag and two that'll be coming in the post. I'd just witnessed a single moment's trade on the turbo-charged second-hand watch market: a freewheeling global exchange to which Hatton Garden, London's oldest and most venerable jewellery quarter, is a vital, valuable node. Frankie and the dealer shake hands, the lock clicks, the door buzzes open, the buyer leaves. ​"Right," Frankie says to me, ​"sorry about that, what do you want to know?" I ask about the story that brought me here, which I'd seen him tell on a watch influencer's YouTube channel. ​"So, yeah," he begins, taking me through his earliest interaction with the world of Swiss timepieces, ​"my dad died when I was eight, and he had this watch, an AP [Audemars Piguet] Royal Oak Yellow Gold 39 millimetre…"
The door buzzes, the lock clicks and another dealer arrives. Frankie switches straight back into sales mode, offering up the watches on his table, still in their manufacturer's plastic bag, in the impenetrable patois of the trade, where ​"wire" is £1,000 and serial numbers are everything. ​"What's it worth? 30 wire, it's cheap. 26331. Panda. 2019 Plus. 28 wire?" The two traders jostle back and forth until the other guy turns away, exasperated, deal-less. The lock clicks, the door buzzes. I ask Frankie how often this happens each day. ​"Oh, all the time, all the time!" he laughs. ​"He'll be back today, he's buying one of those watches. Where were we?" Frankie restarts without missing a beat, talking me through the growth of his fascination, from his father's watch through to his first sale, before we're interrupted again. Buzz, click, another dealer. He's back from Qatar with a £50,000 Vacheron Constantin on his wrist and a Gucci rucksack full of T‑shirts to sell. The two traders catch up, swap stories and try to buy things off one another. Eventually, Frankie pulls out a stack of notes thicker than a King James Bible and buys a few tops, while Trilogy's office staff ask the dealer about what he could bring next time. ​"Anything, man, anything, seriously," he laughs as the door buzzes, the lock clicks and he heads back out onto Hatton Garden's 19th-century streets.


What's the cost of impatience? Head two London Underground stops west from Hatton Garden, in Farringdon, to Bond Street, and you'll find showrooms for the world's grandest watch houses: Rolex, Cartier, Audemars Piguet, Patek Philippe. If you've come into money and want to buy the perfect piece, the finest watch ever made has just been released: the 2023 Patek Philippe 5712/​1R Nautilus ​"Moon Phase". Or so argues one of the UK's most prominent watch influencers, 28-year-old Ciaran Lea of GMG Watches. ​"The complexity of it," he marvels in one unboxing video. ​"The beauty of it. Every serious watch collector would have one of these in their collection."
If you visit the Patek Philippe showroom on Bond Street to buy that watch, a member of their placid, manicured sales team will pull out a sales brochure, pointing you to the figure: £66,670. But that's not the difficult bit. ​"There's about a four-year waiting list on that one," the salesman tells me. ​"And you can only get on the list if you've bought from us before."
I hadn't, and you probably haven't either. But if you really want one of the few hundred Moon Phases in existence, you can buy that watch from Ciaran at GMG and have it on your wrist the following morning. You can even pick it up from their London office, just off Hatton Garden. The cost of impatience, in this case, will be the new price: £165,000. Just a 250 percent mark-up, then. But someone, somewhere, will pay the price.
Hatton Garden, long established as the capital's diamond district, has been upended in recent years by a wave of brash young men in German cars with Swiss watches on the brain. These new-breed dealers have come into the trade on the tail of a gold rush. Some have made life-changing amounts of money in that time, some are still hoping to. The watch market moves millions through here every day, with little care for where the money comes from, so long as the cheque clears and the man buying (on both sides of the deal, it is always a man) looks you square in the eye. Up and down this street of some 300 businesses, younger dealers are taking over shopfronts, marking their territory and courting the clients who are willing to pay eye-watering sums to get what they want. All markets run on confidence, and this generation is awash with it.
You can spot the new blood in Hatton Garden, and the buyers they chase, by the whoomph of their shopfront designs, which put their shabby old neighbours to shame. Frankie Mardell's Trilogy is taut and restrained: a tunnel of black marble and brightly-lit watch bezels beckoning you toward the door and, just beyond that, to the foot of his long grey dealing desk. IceJewlz, another new addition two minutes up the street, is strewn from floor to ceiling with shimmering faux-bullion bricks. Instead of watches in the window, they have a gold-horned ram with diamonds for eyes, a giant necklace hung over a vista of Stonehenge and a purple mannequin leaning jauntily into the wall like a holiday photobomber.
Directly opposite, glowing like a Himalayan salt rock, is A Jewellers, a shop that lays claim to be the most exclusive in all of Hatton Garden. This is where Aitch and Burna Boy get their rocks, and Pierre-Emerick Aubameyang had them make a bright purple, jewelled chilli-pepper pendant for Bukayo Saka. As my status comes with conspicuously fewer carats, getting through the front door at short notice, even on a slow, muggy Thursday afternoon, was a bit of a miracle.
As I arrive the guard grills me, asks who I know, where they are and what I want. Faintly panicked staff stand on alert until one member comes forward and clears me in. Inside is a bedazzling array of watches, studded with reckless abandon. Diamonds, rubies and sapphires twinkle under the glass case, misted by the fog of Lost Mary Pineapple Ice vapour.
After a quick display of some of their finest – a 2019 Rolex Olive Day-Date with Arabic numerals, yours for £190,000 – 35-year-old owner Abtin Abbasi sweeps in, decked out in more Italian leather than the Pope's slipper closet. He's friendly but quiet, taking me almost wordlessly through the greatest hits of his selection. Dangling from his neck is a Cartier piece, a globe cupped by a pair of hands. ​"It means, like, the world is mine," he says.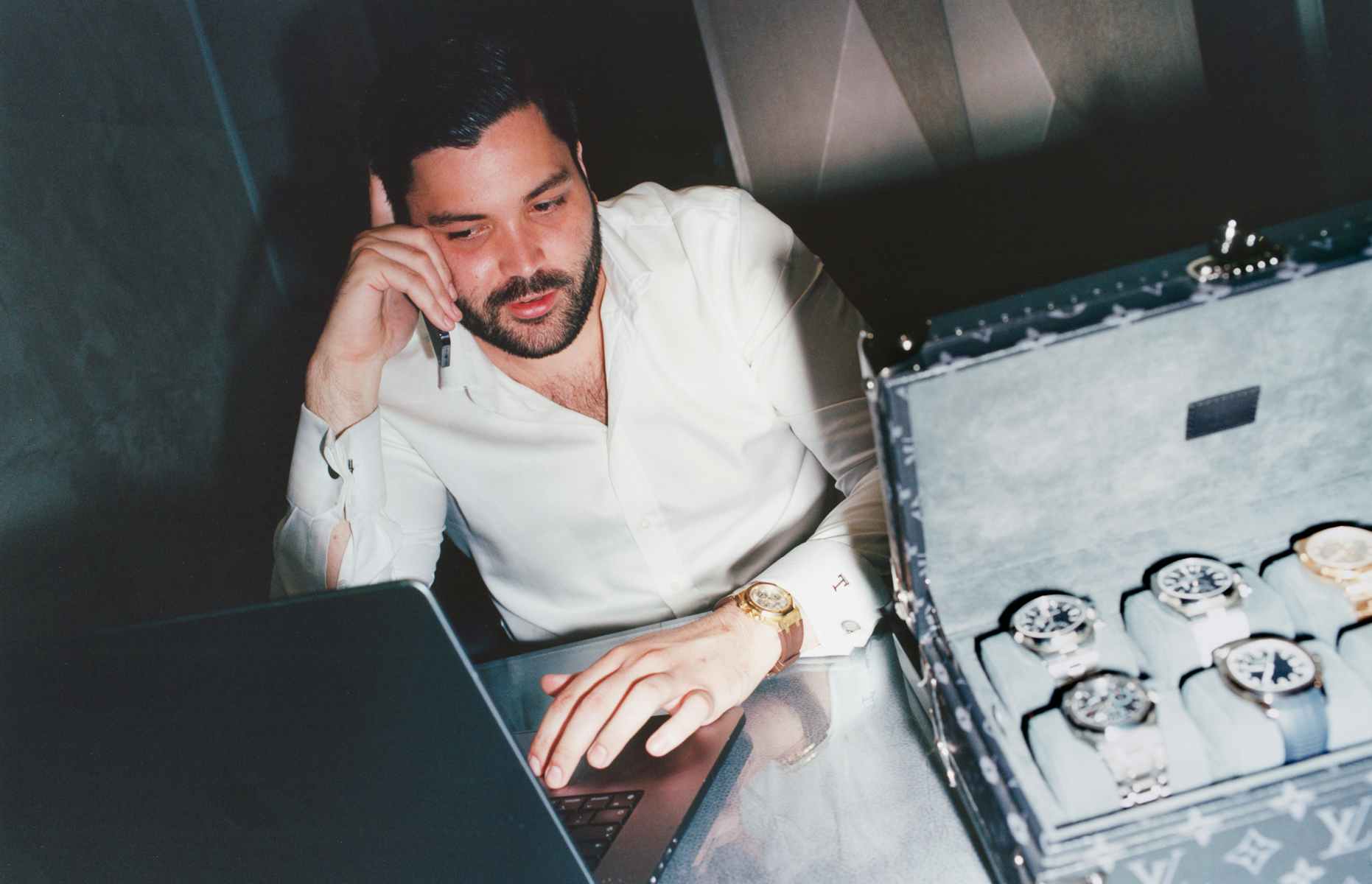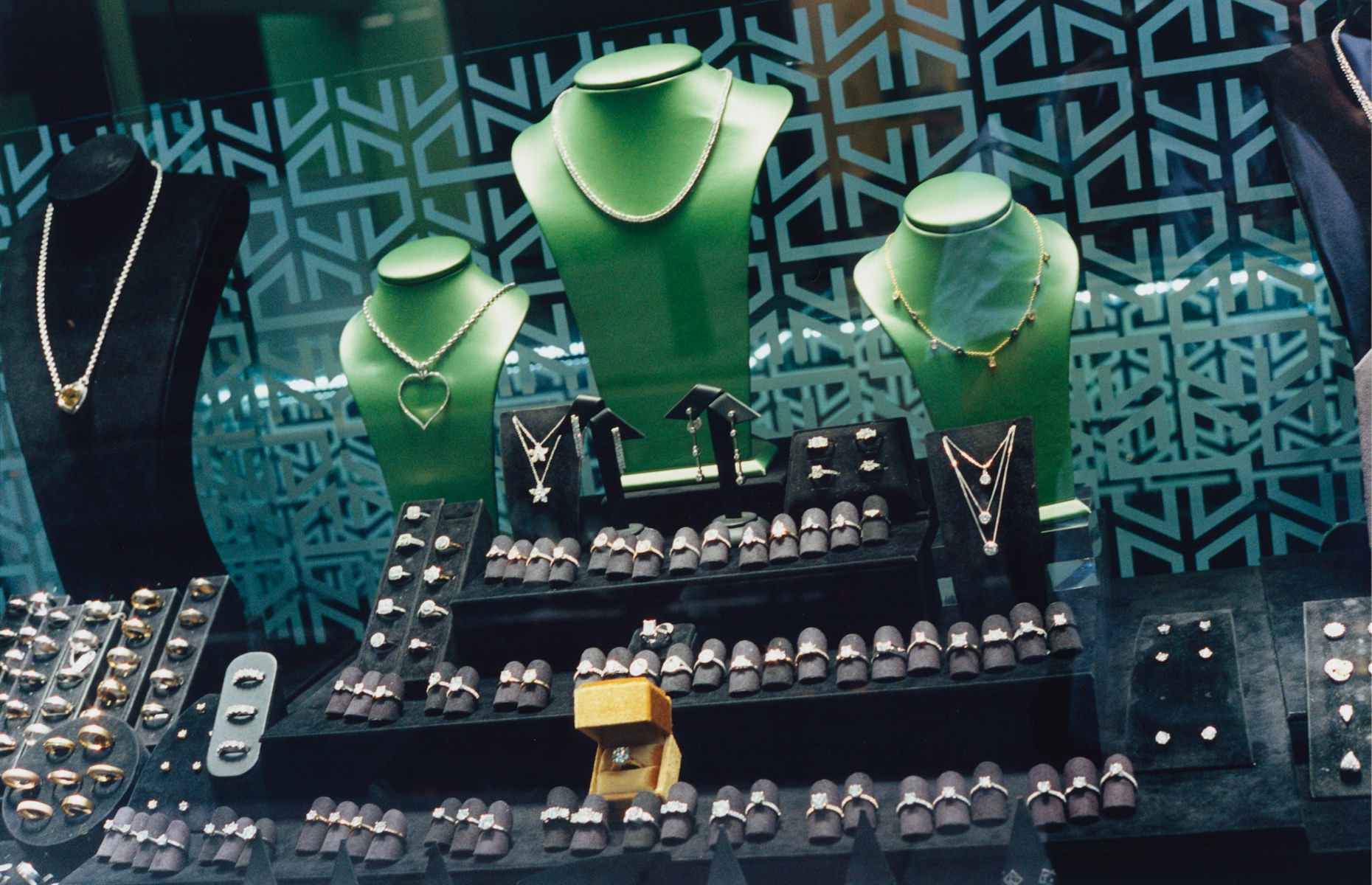 It's hard not to agree, I think, bottle of complementary A Jewellers water in hand. The dealer's life, by all accounts, is one of Dom Perignon, Cheltenham races, Amex points and first-class flights. They talk of clients all over the world, heading out on a moment's notice to Hong Kong or Miami to drop off a watch, then revelling in a buyer's largesse for a couple of days: a show, a party, a Michelin-starred meal for having travelled such a long way.
Hundreds of thousands of people track their exploits across every platform – Ciaran at GMG counts 122,000 acolytes on Instagram (11,000 more than his employers), while A Jewellers are advancing on half-a-million TikTok likes. Courtesy of their gem-studded wrist-candy, they live like rock stars, dress like footballers and flash the cash like ​'80s City boys. At this point, being the dealer is almost as attractive as being the buyer.
When the going's this good, gaining entry into that world is, predictably, a challenge. First, you must harbour a real, true obsession with watches. Frankie's came from that vintage Audemars Piguet that his mum allowed him to wear on his birthday, in annual tribute to his dad. Some had more circuitous routes into the industry. My chaperones, a pair of dealers from Suite Nine jewellers, escaped the madcap worlds of fine dining and train graffiti respectively, finding the watch trade a comparatively calmer enterprise. Others had more direct explanations. One dealer, who asked to remain anonymous, told me plainly that he'd just​"always liked watches".

But whatever the entry point, an anorak's grasp of the finer details is essential to making it in the watch business: not just bezels, faces and straps but serial numbers and the intricacies of watch construction. It's something that can get tested at any moment. One watch TikToker who goes by the name Dol, from Hatton Garden store The Secret Garden, sometimes patrols the street putting dealers on the spot for his viewers.​"116500LN," he reads out in one clip.​"116500LN," the other dealer repeats, barely pausing.​"It's a [Rolex] Daytona."
Once you've done your studies, you move on to the harder part: apprenticeship. Most of the time, a prospective dealer needs sponsoring into the world by an older patron, by favour or fortune. For Frankie, it was a chance meeting in an Essex pub.
"I was home from uni and bumped into this bloke who owned a jewellery shop," he says. ​"We got talking about watches and then he just booked me on a flight to Germany for a trade show the next week." The young, watch-obsessed Frankie got his first taste of the jet-set lifestyle and brought that drive back with him to a trial shift in his new pal's jewellers. ​"I sold four watches in a day, for a hundred grand [in total], so he offered me a job. I dropped out of uni and went straight into it." But he didn't stick around for long. ​"Six months later I thought, ​'I should branch out by myself', so that's what I did."
Stories like Frankie's are not uncommon: speedy transitions from mere enthusiast to full-time dealer in under a year, with a pitstop under the wing of a reputable jeweller on the way. You bring a client or two with you, I'm told, borrow a bit of money for your watch stock and, gradually, start trading, then carry on until your hundred-pound profit turns into thousands, piece by piece, watch by watch.
But Frankie says that shit only gets real once you join the legendary watch-dealer WhatsApp groups. It's there that the big boys play, trading watches and prices all over the world, 24 hours a day. ​"I remember one day after I'd taken my girlfriend to Winter Wonderland, I'd finally been added to a group DM with 150 different dealers in it. All of a sudden I got all these contacts and everything just went great [from there]. I moved into Hatton Garden the next month."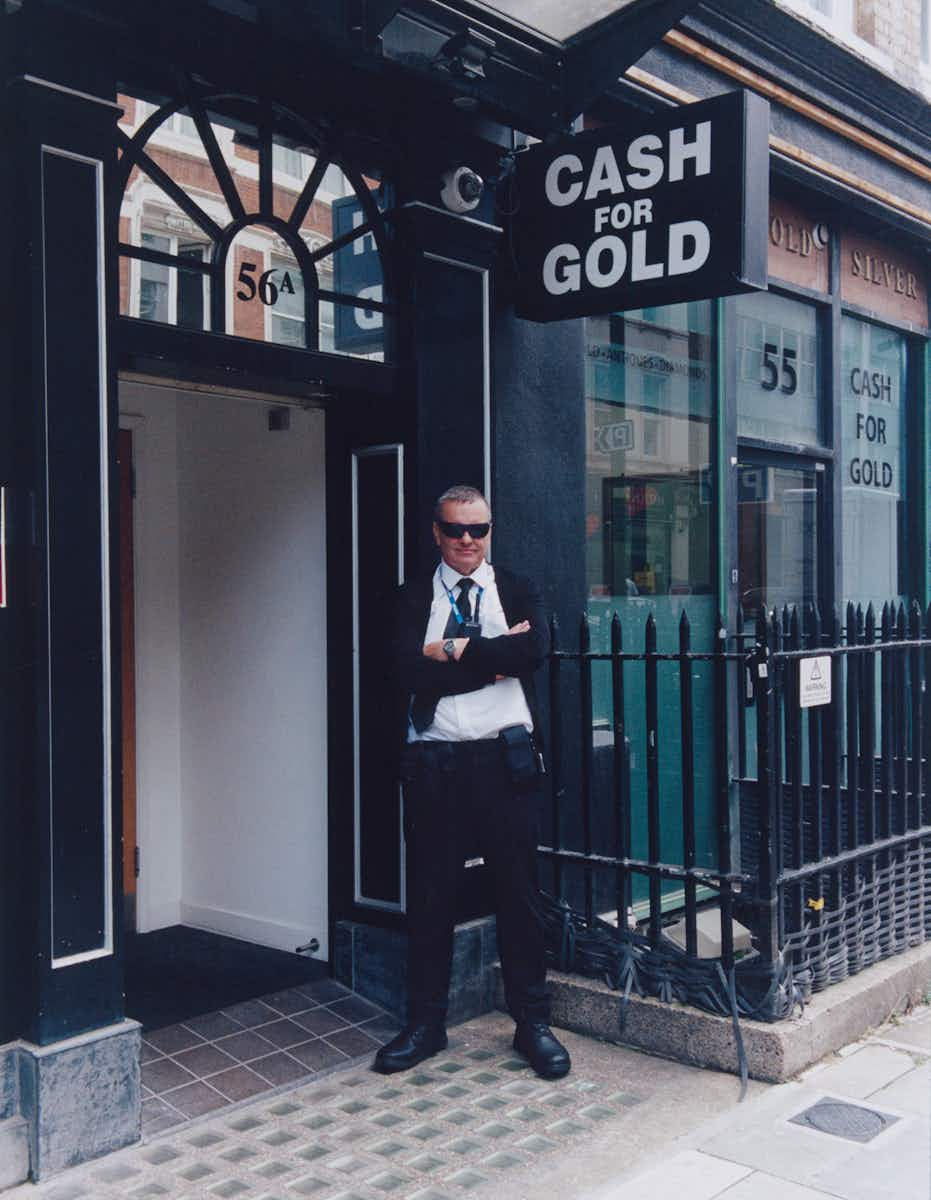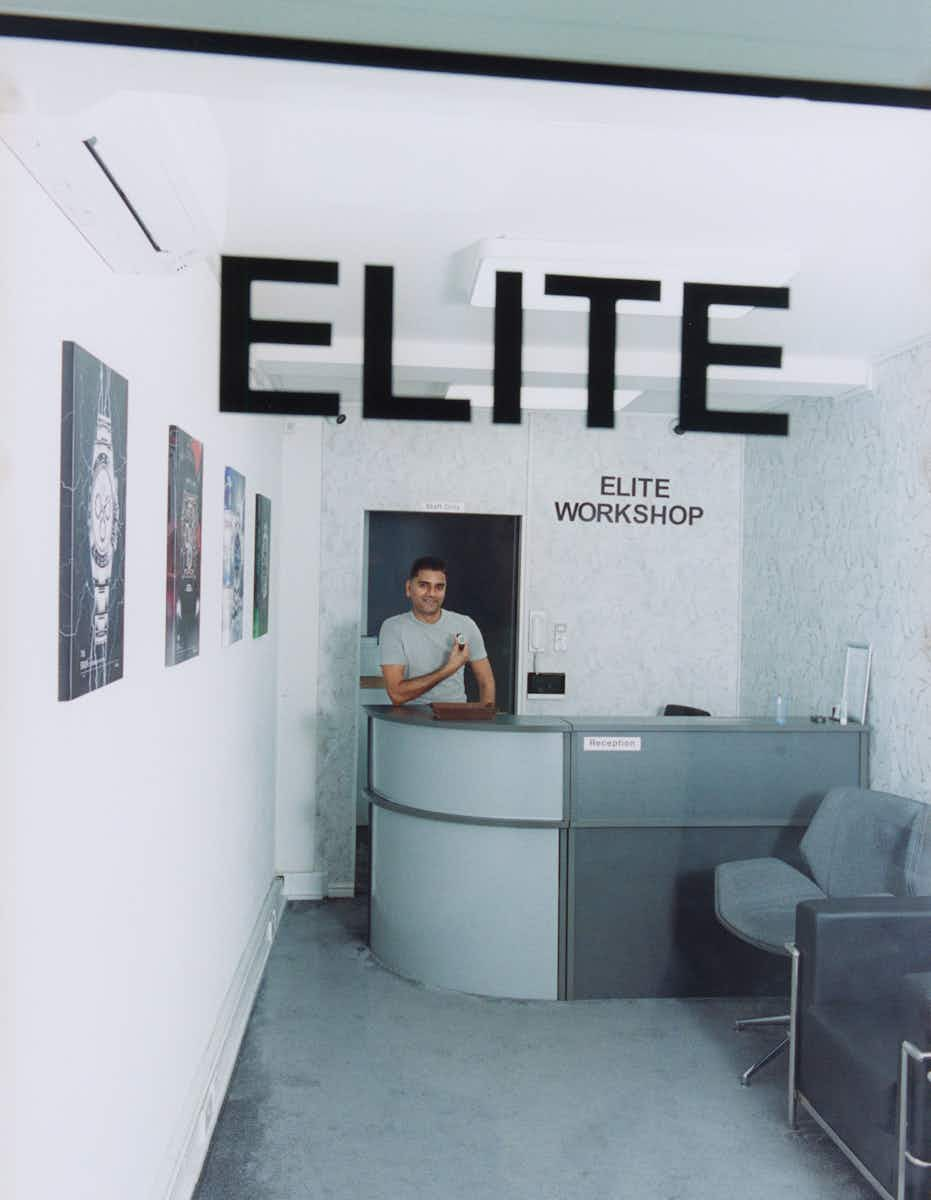 By the time Frankie arrived on the street in January 2019, the watch bubble was still in its infancy. A 1968 Rolex Daytona, owned and worn by Paul Newman, had set the auction wrist-watch record at $17.75 million (£13.9 million) in October 2017; it was a sale held by the Financial Times to have sparked the soaring resale prices that now undergird the global watch trade. Second-hand Rolexes of all stripes leapt in value by more than 50 per cent over the following couple of years, bringing other brands with them. Among investment-minded clientele, watches began picking up recognition as a portable, appreciable asset with quick and easy returns, as well as a fun little object to wear. As another anonymous dealer summarised this defiantly roaring trade: ​"You can sell a watch quicker than you can sell a house."
But it was, Frankie highlights, the pandemic which really sent the watch trade into overdrive. ​"Everyone had a lot of disposable cash," he recalls, ​"with the furloughs, the CBILS [Coro- navirus Business Interruption Loan Scheme], the bounce-back loans. Everyone I know, in the [watch] world, got a bounce-back loan. They're getting in trouble for it now, but they had money to spend." Like with crypto and collectibles (from playing cards to NFTs), the watch market was flooded with bedroom speculators, ramping up the prices even further. And as such, according to the same anonymous dealer, ​"some watches were going up in value maybe 10 grand a week, every week". The gold rush had begun and, as the world opened back up, multiple new dealers set upon the streets of Farringdon to pan for their share.
For movers like Frankie, the money flowing in was enough to seriously change his personal circumstances. He remembers with fondness the first time he stepped through the doors at Coutts to open an account. ​"It's a beautiful place, beautiful building. You'll be sat in a meeting and they'll grab an iPad and ask, ​'Do you want some champagne?', hit a button and in it comes." Hatton Garden became a vast trading floor where deals like the one I saw at Trilogy became commonplace. If a twentysomething kid can flip one watch, he can flip two, three, four, buy more, sell more, until he's showing up at Coutts with his pockets full of cash. In theory, anyway.
If you want to take the temperature of how Hatton Garden has changed over the last few years, stop by the local Costa. Frankie tells me that, from his ideal vantage point, literally next door, it's a trading house all of its own: diamond bracelets are dished out of sandwich bags in the backroom, next to the dearies sipping milky tea. The street runs on testosterone and caffeine, so dealers of all ages are in and out relentlessly. The young ones often get theirs on the go, but the old guard like to linger a little while.
On my visit to the coffee shop, three men in their late sixties are sitting at the window, all pillars of the old Hatton Garden: a debonair Egyptian, a permatanned geezer from Peckham and a quiet, husky-voiced Orthodox Jew. They're laughing and joking over the perils of age, impotence and heavy hangovers. Obsequious younger dealers come over to pat them on the shoulder and ask if they'd like another coffee. The old boys are obliging and appreciative, with hugs and cries of ​"Habibi!" (Arabic for ​"my love") booming out loudly enough to startle the baristas. At one point, the Egyptian dealer confides to his two friends that he has a gold Chopard watch that he has no idea who to sell to. They both pull out their magnifying glasses, pore over it and suggest he reach out to someone called Money Mark. ​"He loves anything with a name," said the Peckhamite, ​"he'll have it off you."
Sated with a bit of direction from his fellow old-timers, the Egyptian zips up his bag, thanks them and the nice young man who'd bought his mocha, and heads on across the street. As soon as he's out of earshot, the two remaining veterans turn on him like a shot. ​"Look at him," the Peckham geezer growls, ​"acting soft with us, like he can't sell a watch. He's a slimy Egyptian cunt." He waves two baccy-stained fingers in front of himself, toward the shopping arcade over the road. ​"And he loves those lot in there."
That arcade – known until recently as The Heart of Hatton Garden – is where ​"those lot", the new generation, have planted their flags. Frankie jokingly calls it ​"a cesspit", but highlights its pivotal role in his rise to the good life. ​"That's where I started out [in 2019], stall number six. They still haven't filled it," he says, bullishly, ​"they retired my jersey." Frankie likens it, accurately, to more of a bazaar. There are traders everywhere, one- and two-man operations with their own garish brands and curios on display. There's a choking, bewildering pace to the place, with the lights on full blast, the music booming and the coded chatter of the trade being hollered across the room from stall to stall.
It's a place for up-and-comers hoping to break out like Frankie did, as well as the more discreet who don't seek to advertise their wares so readily on the street itself. The business names are exercises in watch-based wordplay: Just Clocked, Watches R Us, Watch the Time, Sourced Time, Imperial Time, Luxury Times. Unlike the shops up the road, you can just stroll in through their open doors without the extensive vetting process of a security guard. Despite this, or perhaps because of it, the arcade's overall gatekeeper is the biggest of all – a seven-foot Russian in a button-down black shirt who looks like he could lawn-dart you through the Costa window opposite without breaking a sweat.

The arcade, however, is no place for a new face at the moment. Paranoia is extraordinarily high. Reports of armed watch thefts have abounded in recent months, with chilling tales of gun and knifepoint robberies, ambushes on street corners and daring motorcycle snatches. A total of 6,109 luxury watches were stolen in London last year according to the Metropolitan Police, and it's not just customers getting jacked. When I arrive, the word going around is that one young dealer in the arcade had been kidnapped weeks before by people he had taken to be fellow watch enthusiasts and shaken down for the entirety of his stock.
As such, the arcade's traders are particularly secretive. When it comes to the business of watches, they tend not to speak to anyone but each other. It took three efforts, and the help of my chaperones, to get beyond the silent treatment with any of the traders on the arcade floor. And when they did talk to me, their answers were clipped, sparse and guarded. But these dealers reveal themselves not by what they say, but what they sell.
Sponsored in, I was led through the chaos and cacophony of the main arcade and taken downstairs to the relative tranquillity of its basement: an even whiter, even brighter wide open space with the vibe of a Turkish dental clinic. A David Guetta track bounced off the walls as some of the downstairs dealers rolled cigs and finished their lunches. Greeting you with friendly Thames Estuary charm as you head down the steps, dominating the space, is Watch Index.
I meet Matt, Steve, their young apprentice Oliver and their even-younger apprentice Jack, a 14-year-old watch fanatic who had walked in off the street and asked for a job. ​"Sorry, we haven't got much stock in today," says Steve, ​"the market's tough at the minute." He's not the first dealer to murmur about the very recent, ominous drop in watch prices after years of relentless growth: the ​"bad market", ​"shit market" or, somewhat euphemistically, ​"buyer's market", depending on who you ask.
But it's all relative and, while it might be a lighter selection on display today, the value and rarity of their stock is staggering. ​"Hold this," says Steve, dropping a platinum Rolex Daytona into my palm. ​"Heavier, isn't it? That goes for about £100,000." My hand starts trembling. ​"They're our bread and butter watches, we sell those all the time. But hang on a sec…"
Steve and Matt emerge with a small, modest, vintage Rolex with a worn-out patina on the edge of the dial. ​"That's a Space-Dweller, 1968, we just got it in," Steve tells me. ​"There's only about 14 of these, anywhere." In 2008, this piece would have cost you £38,000. In 2020, it sold at Christie's for £104,142. Today, Watch Index have listed it for double that. ​"That'll be sold soon," says Matt. ​"That's the thing with us, we're quick. Watches just pass through, we have them for a couple of days and sell them straight on."
Steve is talking about the set of Richard Mille watches he'd taken out to display when Matt nudges over a tiny oak box with a slidable lid. ​"Go on," he says, nodding, ​"have a look, open it." Steve beams mischievously. Inside is a tanned, wizened bit of gristle that looks like a chicken's foot. ​"See, that," says Matt, ​"is a mummified hand. Five-thousand years old, a woman's hand, a real mummified hand." And so it is. A frail, tiny paw, broken at the wrist, squirrelled out of Egypt God-knows-when, bounced around God-knows-where and now here, in front of me, in the basement of this shopping arcade in East London, surrounded by watches twice the size and 10 times the value.
"I think it's cool!" Matt laughs. It might not be a timepiece but, as he delightedly describes it, ​"it's a talking piece! Mind you, the wife doesn't like it." Any other, er, artefacts tucked away at the back? ​"Oh, we've got a Louis Vuitton trunk back there from the ​'60s. There's a couple of Banksys. We've had Lamborghinis before. I've got a set of woolly mammoth tusks parked in a warehouse, they're thousands of years old. So long as it's legal, we'll sell anything."

Trading in these odder commodities is, to Matt and Steve, a way to stay one step ahead of the other watch dealers, upstairs and beyond, by offering their clients not just items they'd otherwise have to wait for, but things that they could otherwise never track down – or imagine they'd need. Like bits of long-extinct creatures, or hacked-off extremities once plundered from ancient tombs.
"Some of our clients are almost numb to spending money. They've got all the watches. They say, ​'Matt, I want something different today' and I'll show them the [mummified] hand. They might buy it then, or they could tell someone else, or in 10 years' time they might remember the place that had the hand – then we sell them a watch. That's the theory, anyway. And it works."
It does. The guys at Watch Index are riding out the market slump, come what may. A Jewellers are still sticking sapphires on Rolexes for Trey Songz. And Frankie Mardell has sold all of the watches I first saw him buy, and dozens more since. A watch dealer exists to make life a little easier for a man with too much money, because there is value in keeping the rich and reckless entertained. The door will buzz, the lock will click. Someone, somewhere, will pay the price.

More like this