JordanLuca SS22: a triumphant personal jubilee & celebration of life
This season, Jordan Bowen and Luca Marchetto have returned to the runway with a collection that doubles down on the importance of the present moment, via elevated jersey pieces, silk suiting and lightweight knitwear.

For SS22, Jordan Bowen and Luca Marchetto of namesake label JordanLuca had no intention of romanticising the past, an easy thing to do after the tumult and tragedy of the last year.
Instead, they doubled down on the themes explored in their AW21 collection: addiction and recovery, irreverent, vulnerable masculinity and, most of all, clothes as a means to channel emotions and make sense of the present moment.
This season the show took place in a scrap yard, with engines strewn around piles of metal and cars being crushed in a McQueen-esque setup. ​"There's a thread there about self-destruction, which always links back to our recovery, former addictions and what has emerged out of that," says Bowen. ​"There's a sense of thrill-seeking, racing through life and time, of collisions of minds and places."
By contrast, SS22 featured a considered, harmonious colour palette. Ice whites, sage greens, warm ambers and flashes of pillar box red adorned smart polo shirts and oversized summer weight knits, while a crisp silk suit with a long bridal train oozed drama in an understated, somber way.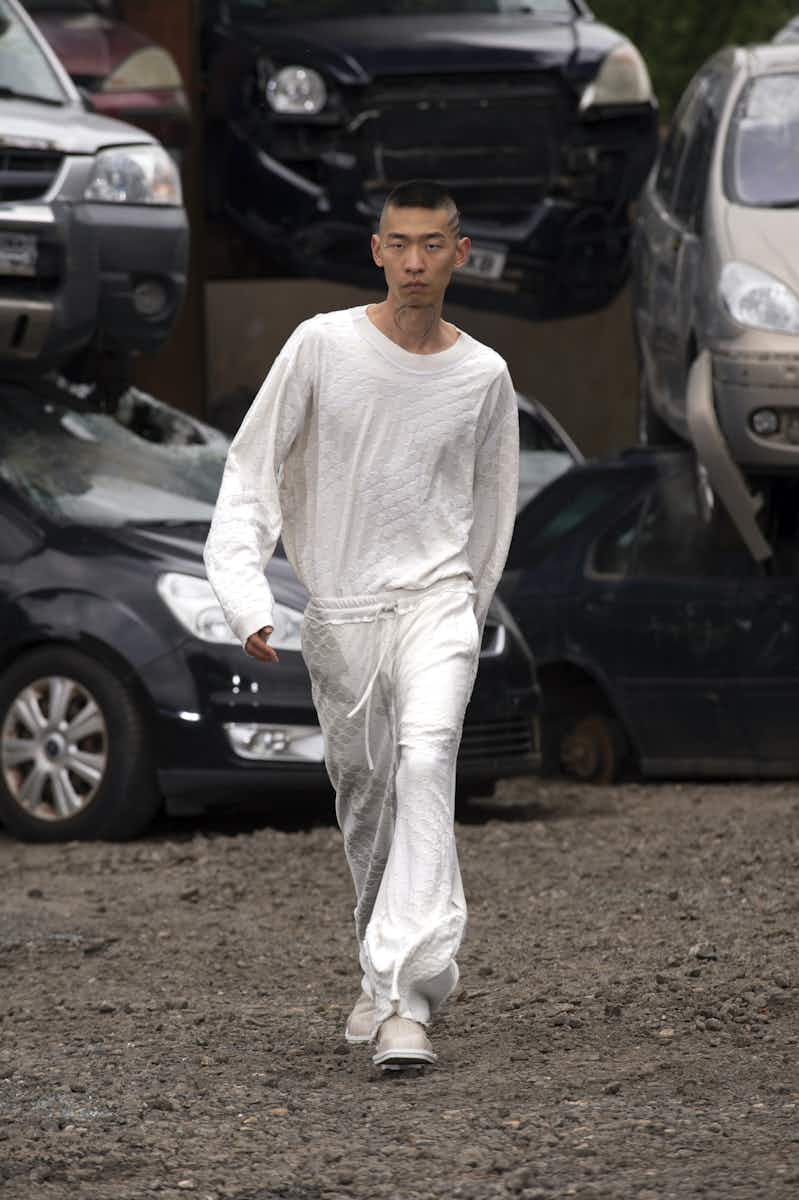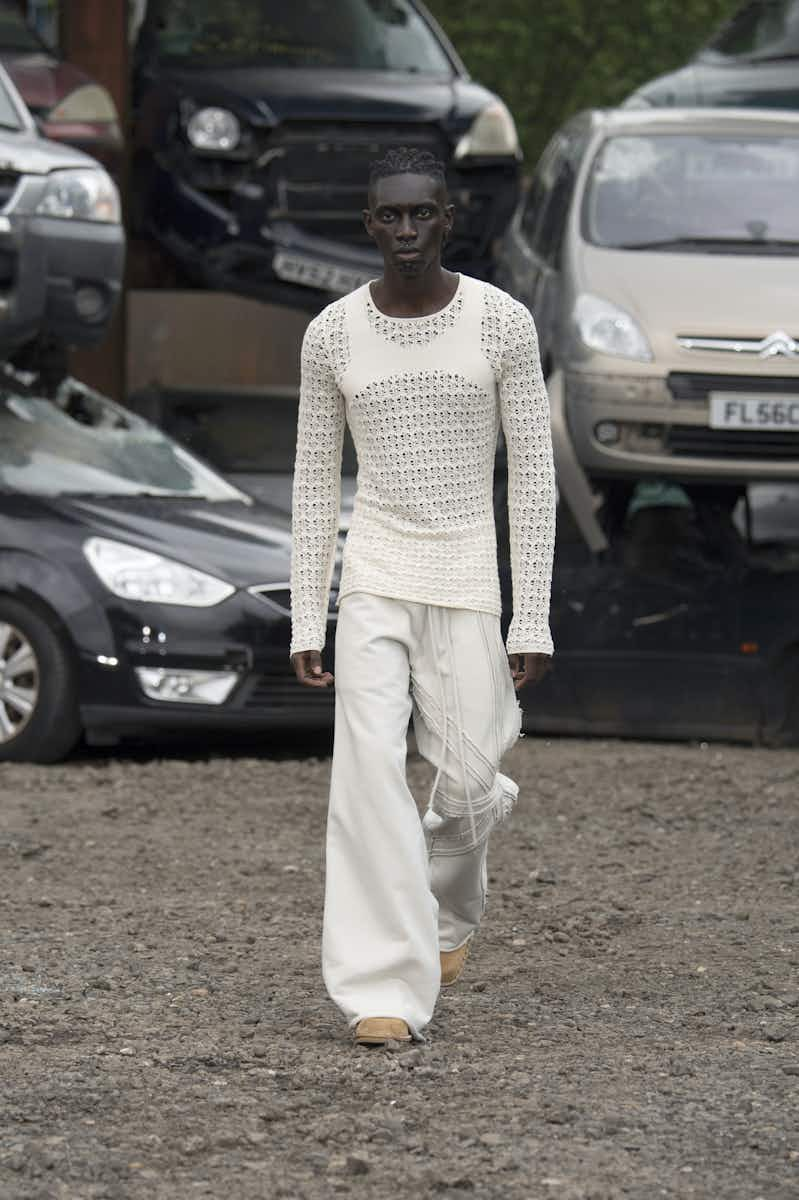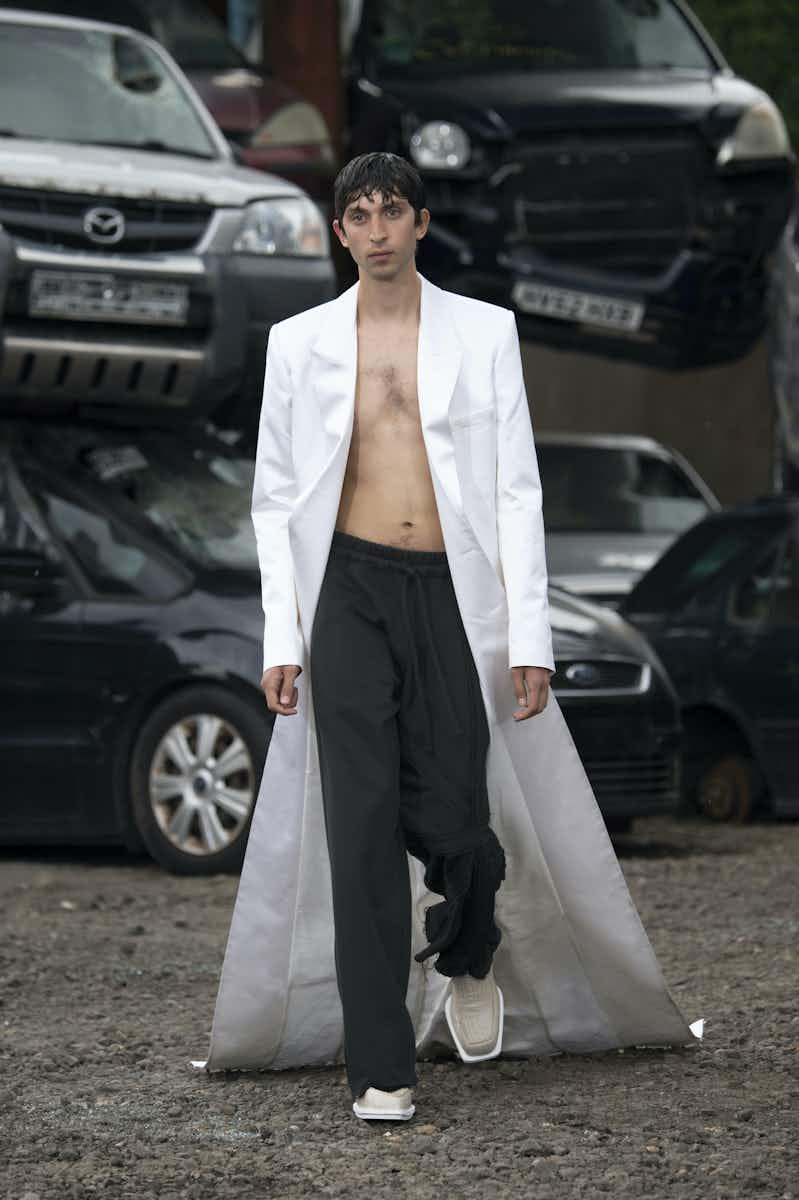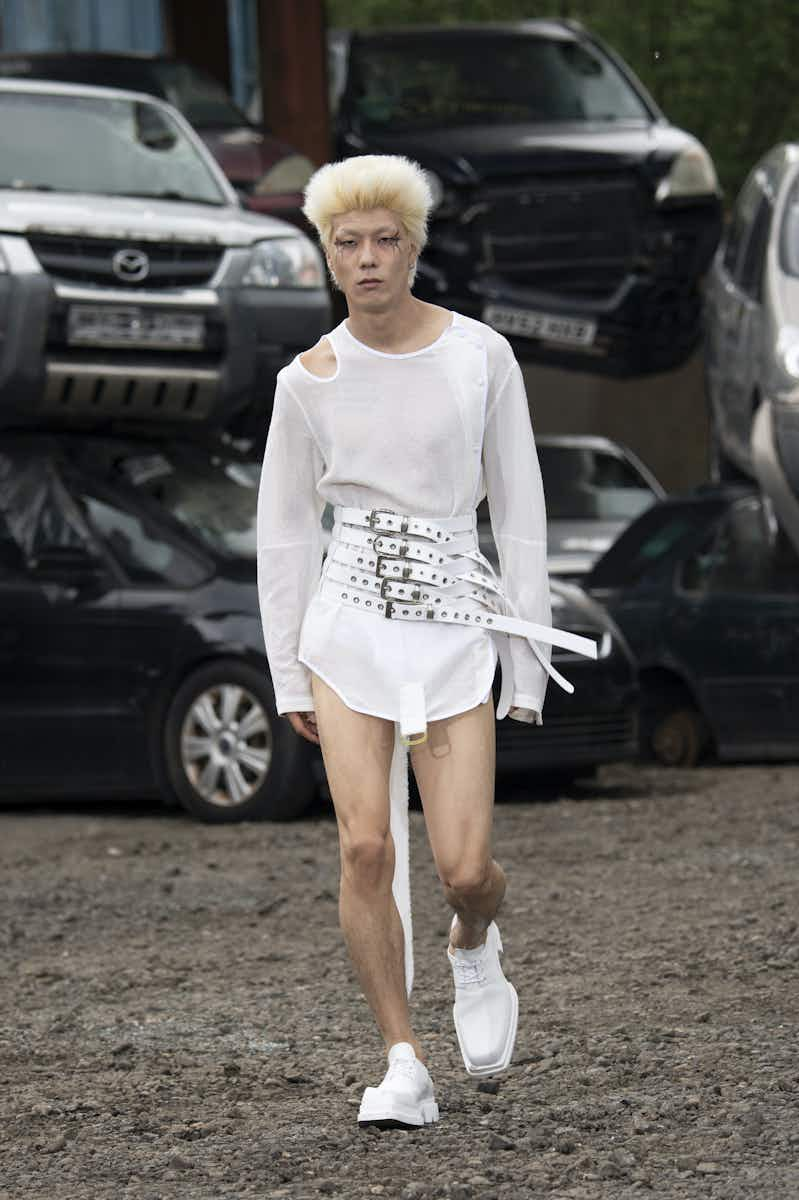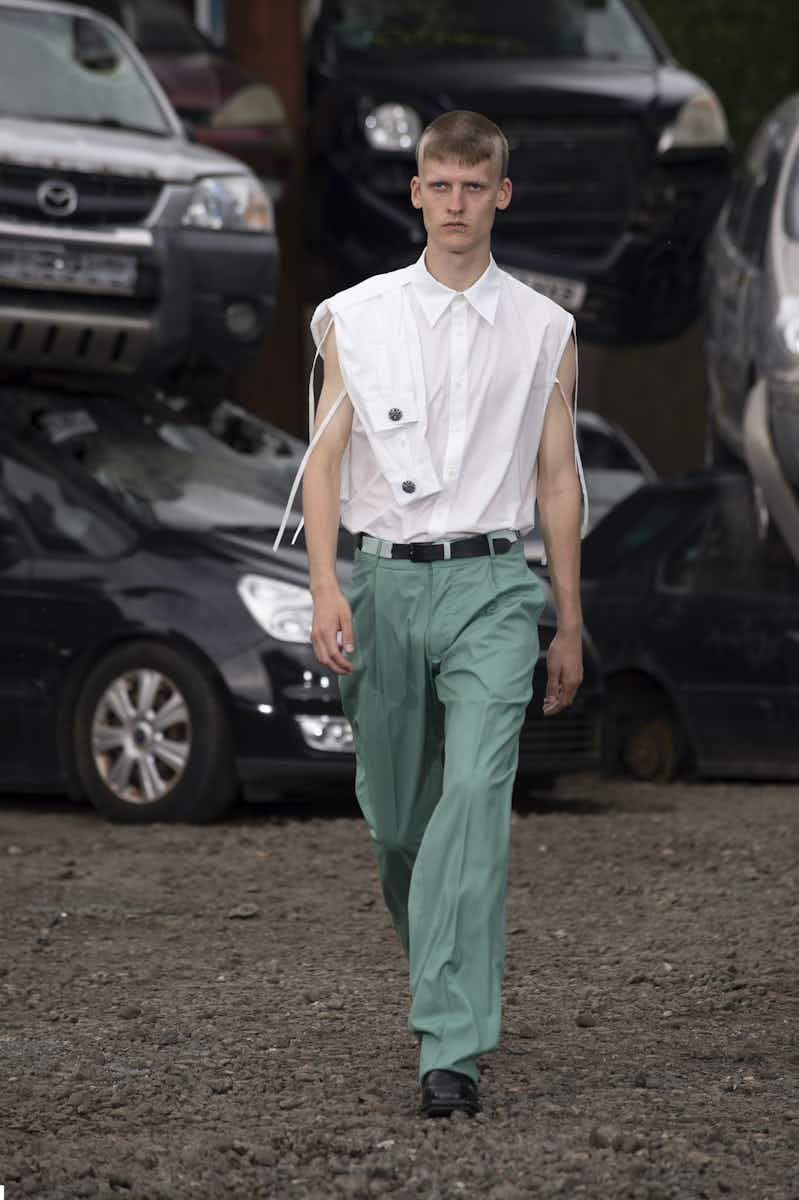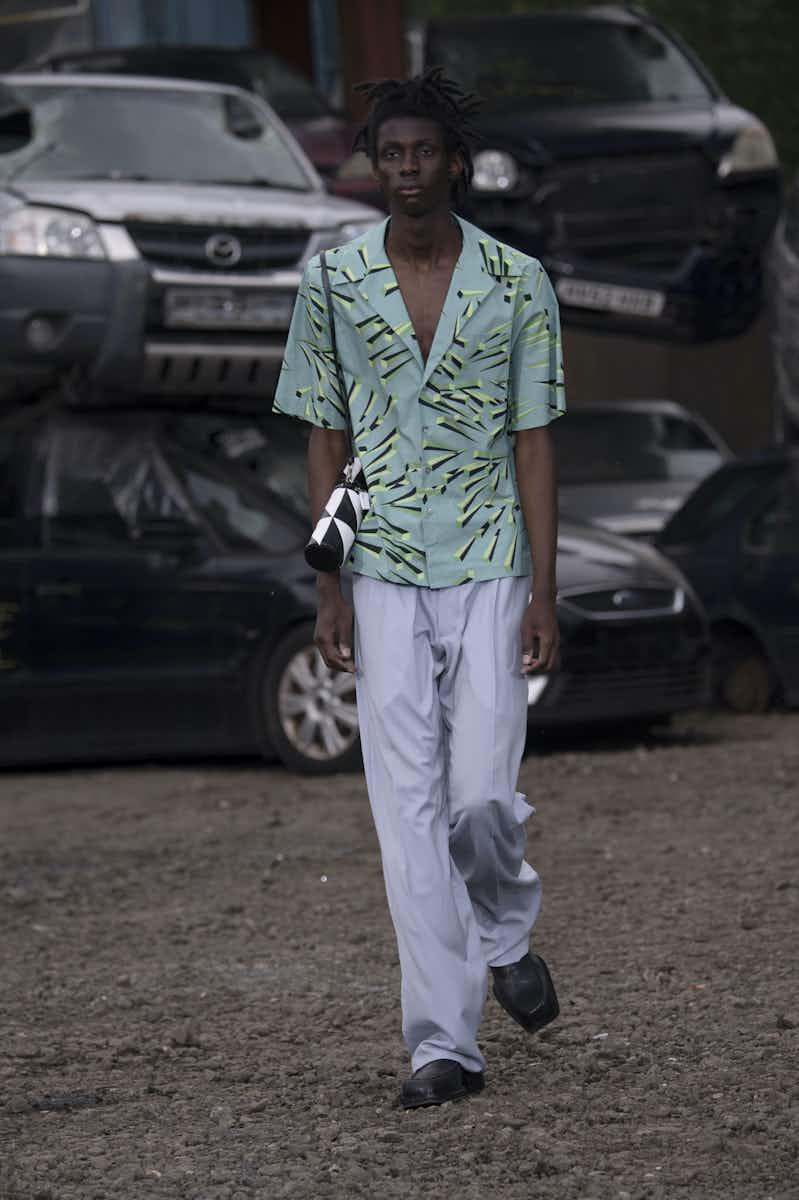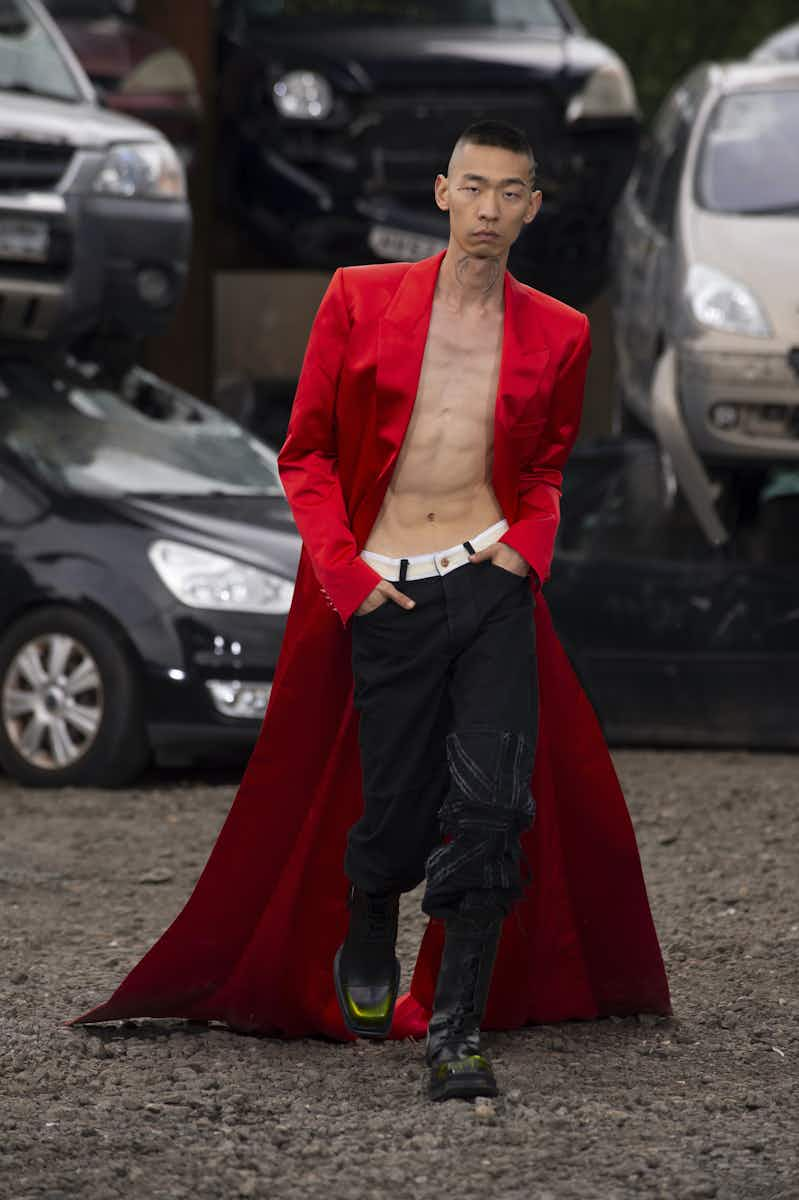 Bowen describes SS22 as ​"a personal jubilee and white flag of surrender", a celebration of life and vitality in the face of hardship and grief. He and Marchetto made a departure from the latter's Italian heritage, instead nodding heavily to iconic British memorabilia such as bunting, postage stamps and skinheads. A frayed Union Jack stitched onto cream jersey shorts, and vests and biker jackets made from machine stitched tulle roses proudly reference London's subcultural heritage without ever feeling overly nostalgic.
1950s Cuban silhouettes and chunky white platforms were offset by fine nanny corset knits, delicate white kilts and figure hugging mesh, all of which represented the catharsis intrinsic to rebirth and renewal – a vital point of reference for the design duo.
The transience and ephemeral nature of an eclipse also formed a strong foundation for JordanLuca this season, and its shape appeared on several relaxed jersey vests. ​"An eclipse is so rare and lasts for a matter of seconds," Bowen adds. ​"They really bring the importance of the here and now into focus."
In a glorious and triumphant turn, SS22 has allowed Bowen and Marchetto to look back in order to appreciate and revel in the present. They've enriched their design language in the process by putting together an incredibly visceral, tactile and commemorative collection. Here's to the now.

More like this