Make way for the mighty man-spreading shoulder
This year, menswear is opting for the big shoulder. It's time to take up even more space, boys… though you don't really need it, do you?

If men took up any more room, we'd all be dead. We would suffocate with our faces pressed against the door of the nearest exit against a backdrop of rip-roaring laughter and chat so crap we'd want to die sooner. Man-spreading their legs, men rule the world – and that's a lot of space to take up. And just when we thought there was little space left for them to pinch, a fresh silhouette from AW22's collections suggests otherwise. Blokes, our shoulders are about to get bigger.
The trends that emerged from the past month of menswear are all over the shop, from suiting up (Kenzo) and deniming down (Bianca Saunders) to globe-trotting (DSquared2) and having a saucy laugh (JW Anderson). But standing tall above them all is the big shoulder, hyper-masculine and obnoxious in its stature. It was perhaps best seen at Prada, where the big shoulder loomed in a cinched red trench, with the second half of the body zooming outwards.
Art imitates art and if there was ever a reference point for Prada AW22, it would be Raf Simons' AW19 collection, the highly-anticipated namesake presentation held just a month after his quick exit from Calvin Klein. Simons demonstrated a vision of masculinity that balanced toughness with serene softness in his AW19 collection. Elongated coats stretching to the ground – romantic if slightly feminine – bore military resemblance when worn with bowler-shaped helmets almost covering the eyes, like a young boy on duty. He'd long experimented with turning up the volume full whack, previously presenting maxed-out bombers and extended lines in keeping with his youthquake play on utilitarianism.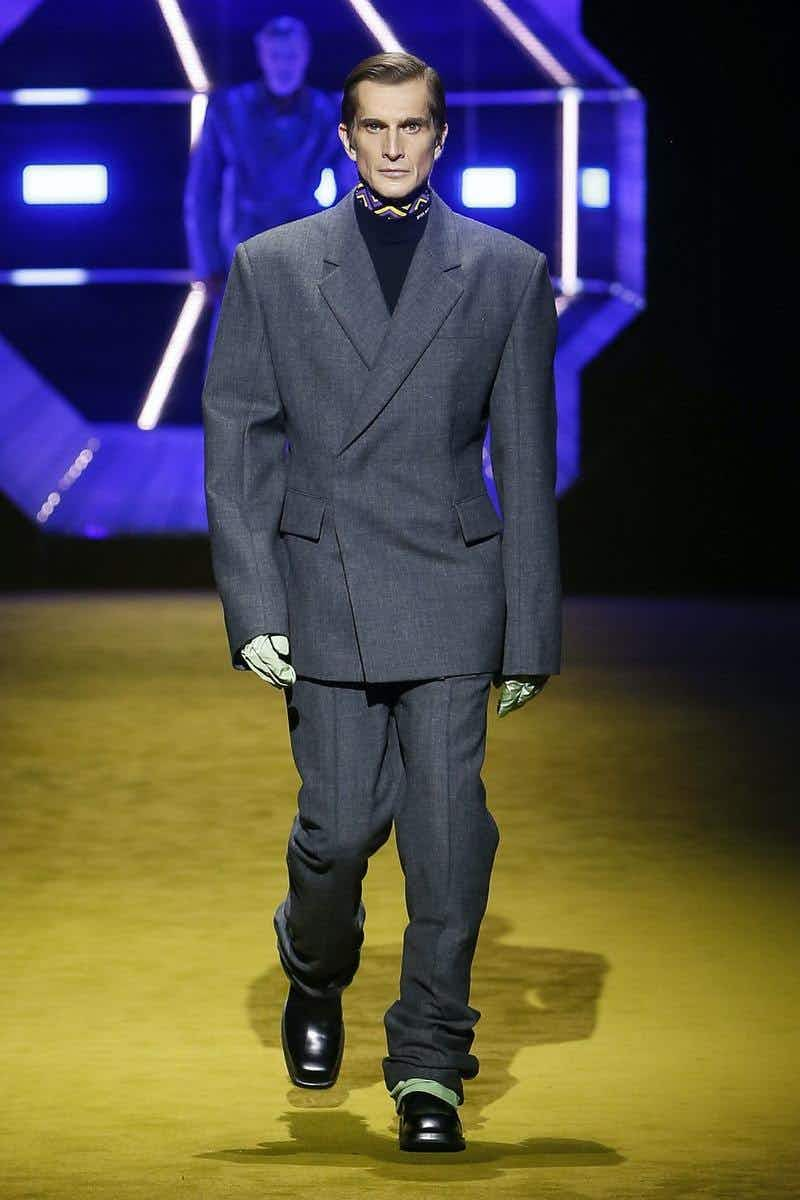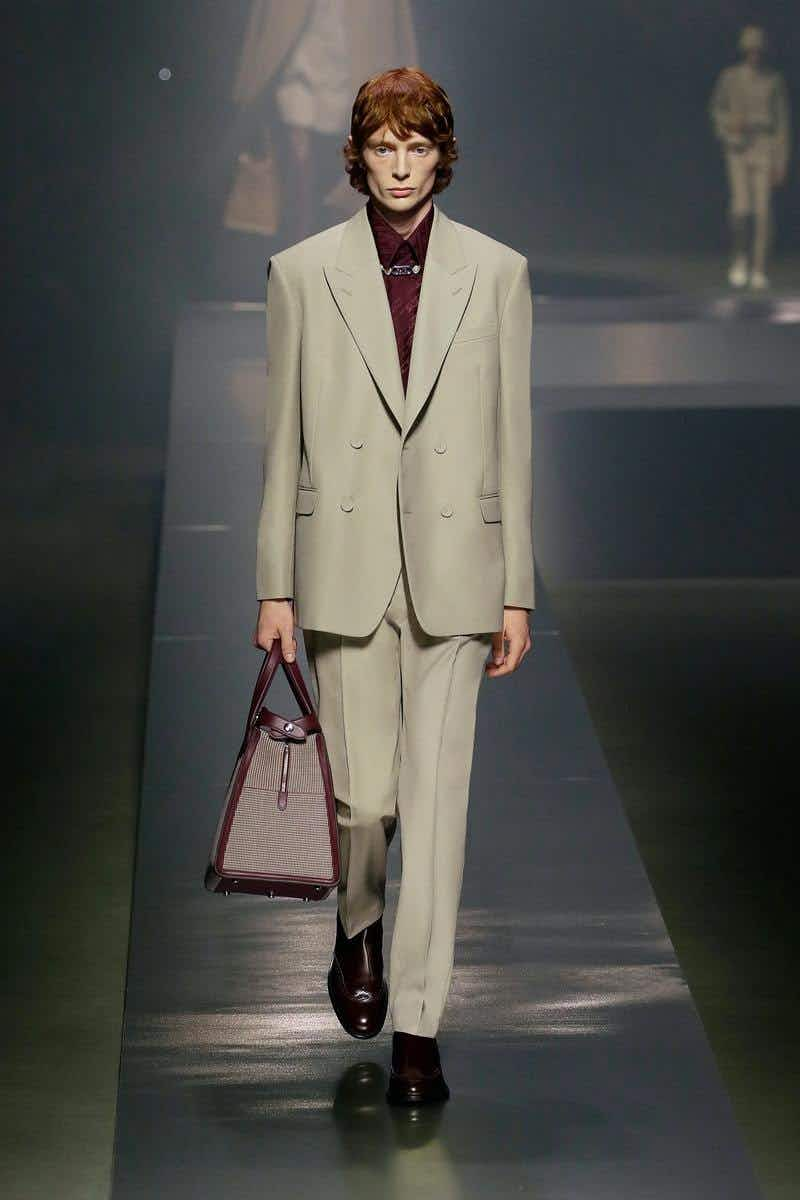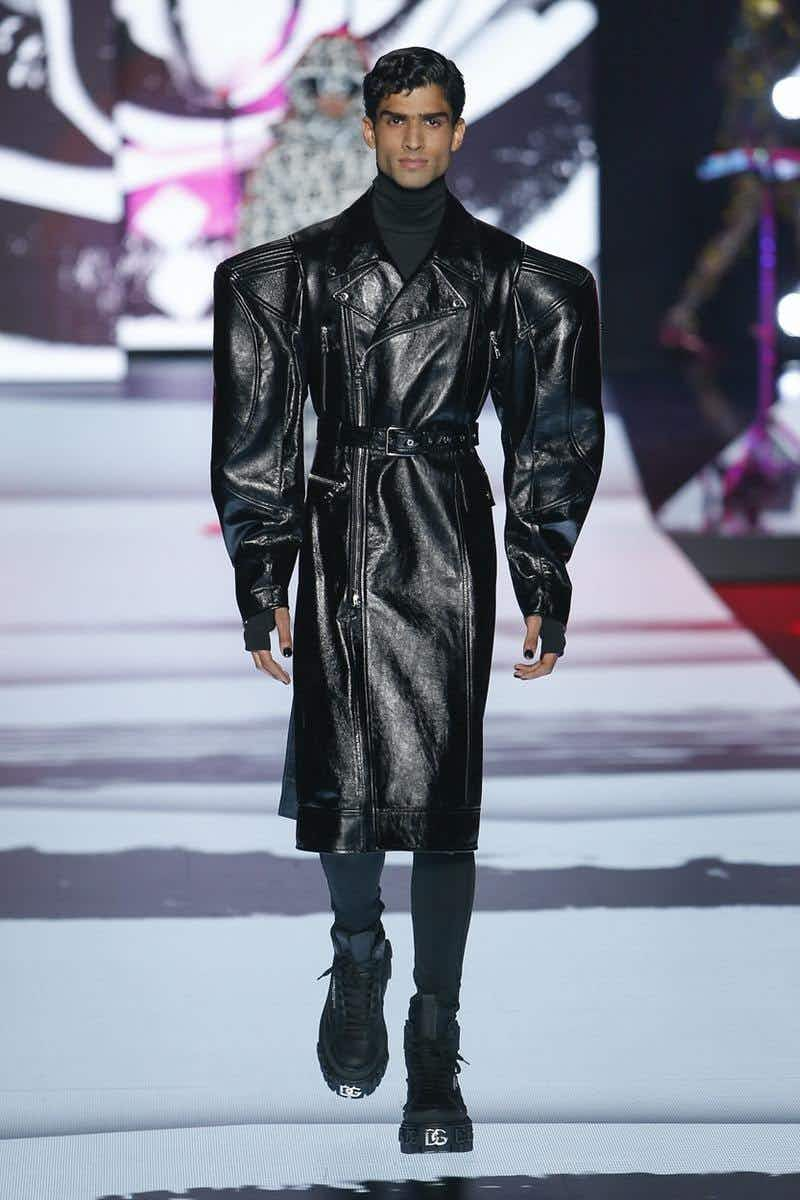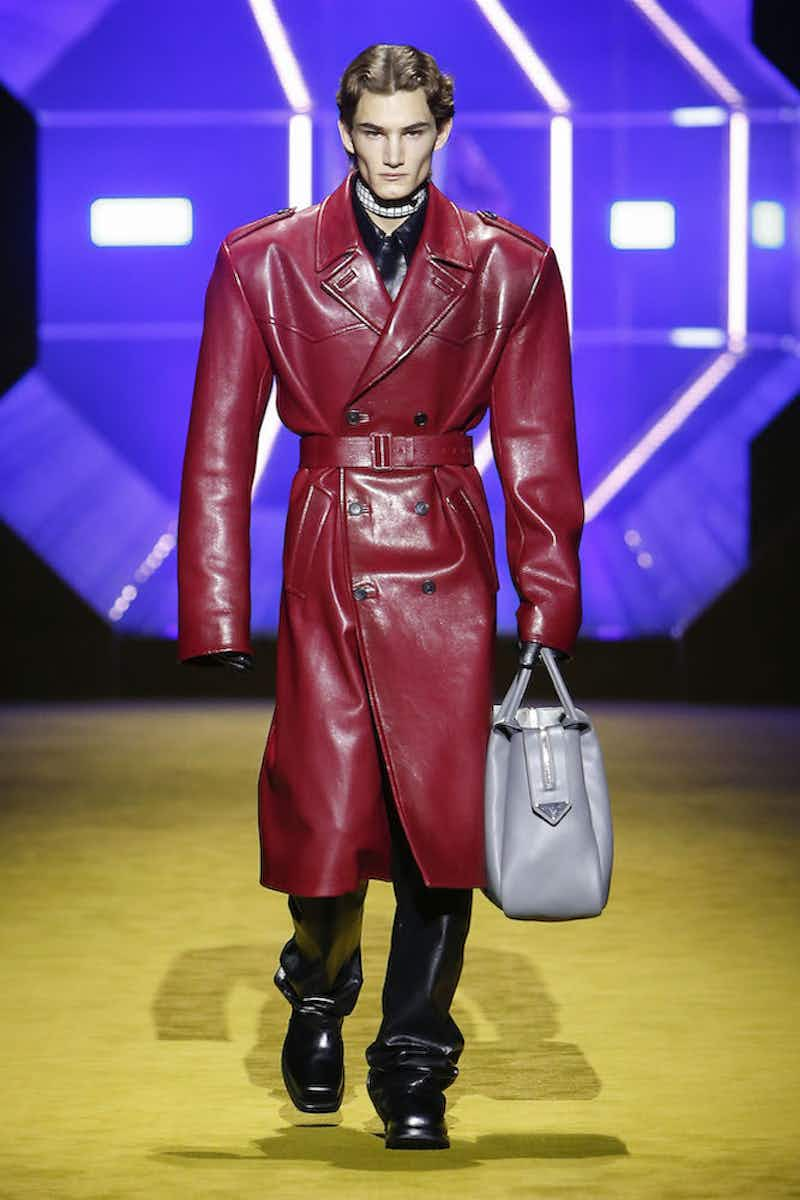 Now four seasons into co-creative directing Prada alongside Miuccia, Simons' latest collaborative collection for Prada felt like preparation for war, from the tip of the giant shoulder to the final walk of an evil uncle-looking Jeff Goldblum, draped in a giant black evening coat wrapping his 6'3 hot bod.
Look boys, don't shit yourselves. Big shoulders probably won't get that big this year… unless you go for Dolce & Gabbana's iteration of the trend. Those shoulders are even bigger than Prada's.
But Louis Vuitton's version of the trend was more spiritual, meandering through the clouds and beckoning at a sci-fi future, with shoulders angular and razor-sharp. Meanwhile, Silvia Venturini Fendi took parts of ​'80s power suiting in boxy blazers for the Italian house's AW22 collection, presenting super slick takes on bold shoulders, angular like Vuitton. And JordanLuca went all out romantic, pairing the masculinity of the broad shoulder on a blood-red jacket with a pleated skirt.
The big shoulder trend isn't new to recent fashion cycle. Demna Gvasalia's been taking the shoulder to higher heights since his days at Vetements, when stylist Lotta Volkova walked the runway in a dress with shoulders hoisted up to her neck – hilariously. Balenciaga's SS20 collection, set against an EU flag-hued backdrop, was a take on power in a time of great change as Brexit loomed. Here, the shoulders on button-up jackets, blazers, trenches, dresses and macs had no choice but to take up room – a booming voice of its own when many felt they had lost theirs.
Ready for war, a laugh or to make an impression in the office, shoulders are the big menswear moment of the year. Choose wisely – and don't take up more room than you need to, boys.


More like this