Everything going down at Milan Fashion Week SS23
All the hottest looks, all in one place. Starring: Diesel, Fendi, Brunello Cucinelli, Prada, MM6, DSquared2, Moschino, Blumarine, Gucci, Versace, Missoni, Ferragamo, Bottega Veneta and loads more.
MILAN

MILAN

MILAN

MILAN

MILAN

MILAN

MILAN

MILAN

MILAN

MILAN

MILAN

MILAN

MILAN

MILAN

MILAN

MILAN

MILAN

MILAN

MILAN

MILAN
Blood, lust and danger: the setting of Aniye Records' SS23 show was drenched in deep red. This one was for the coquette girlies – frilly nightwear pieces in baby pink, peach and white were embellished with hearts and crystals. Only this soft femininity had a hard, punk edge. Red lips and lace stockings were designed for the vampiric seductress. She might listen to unreleased Lana Del Rey, but she'll also suck your blood. Ripped black gowns, sheer lace maxis and trailing chiffon were all beauty and bloodshed. And as for accessories, locket necklaces, crucifix chokers and pointed diamante shades will be just the ticket for those main character moments. SW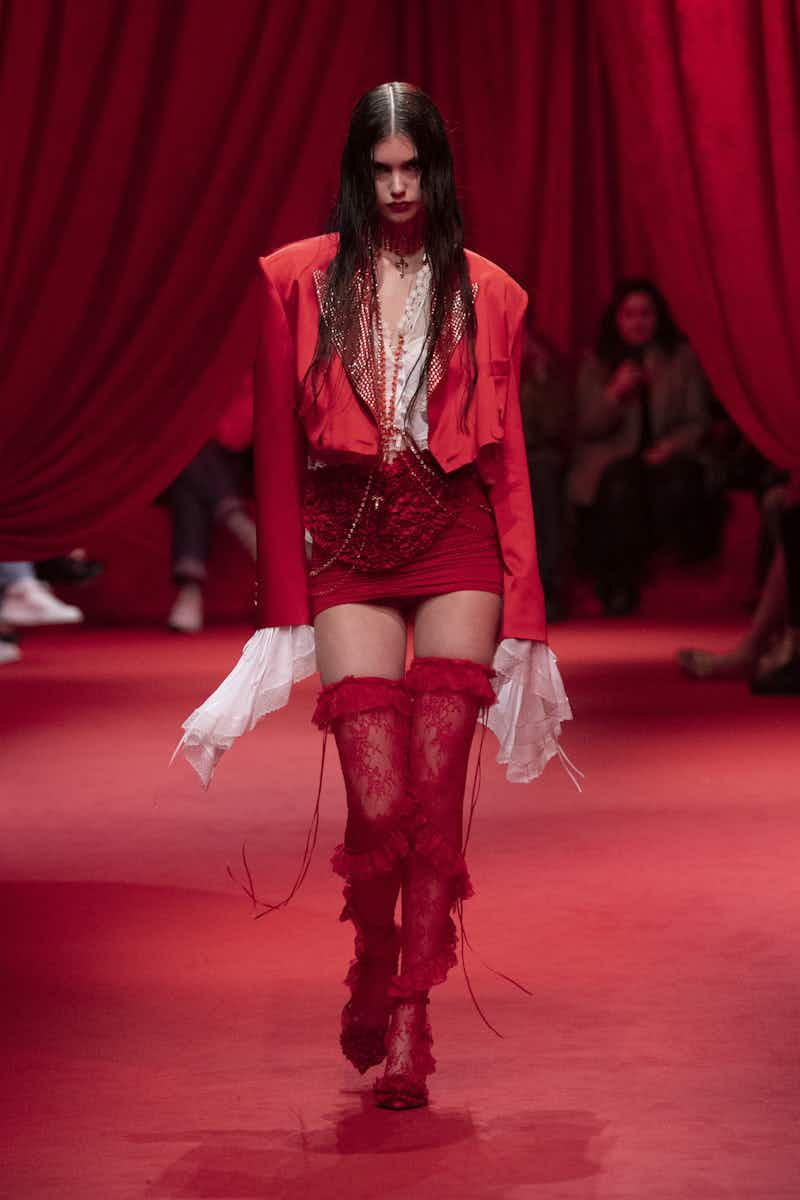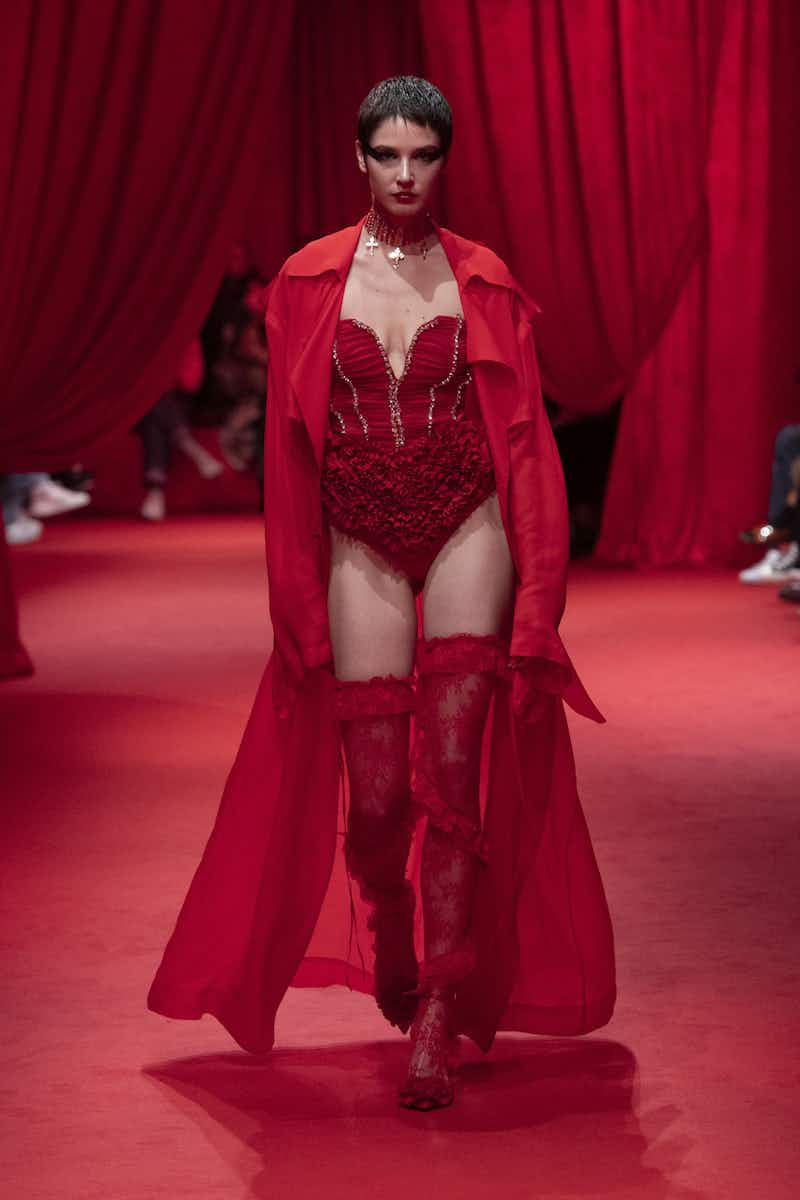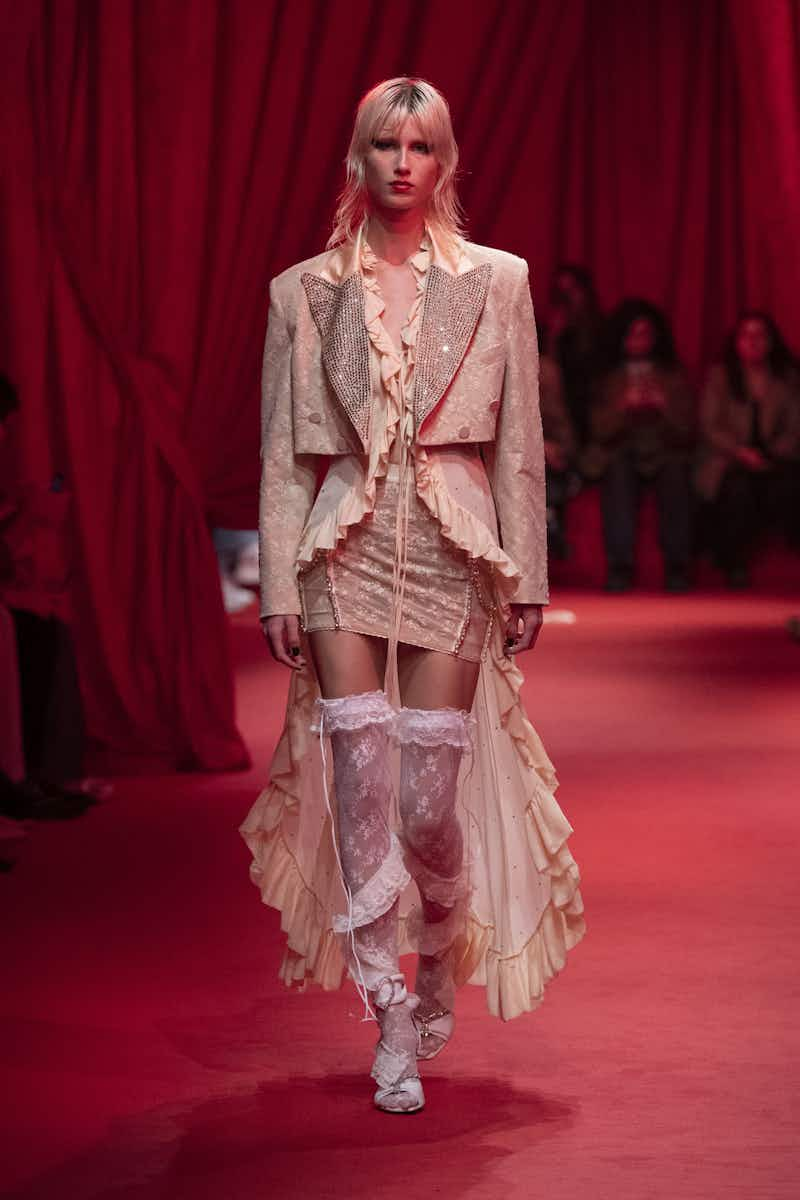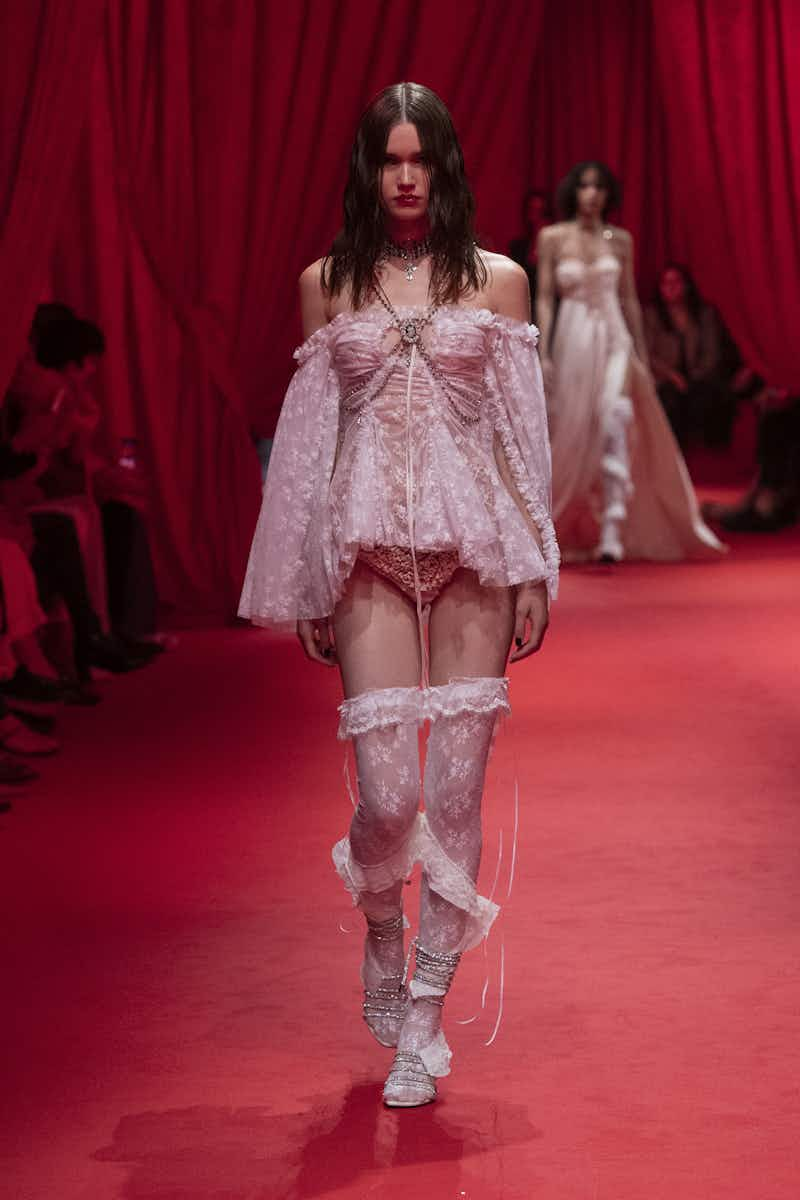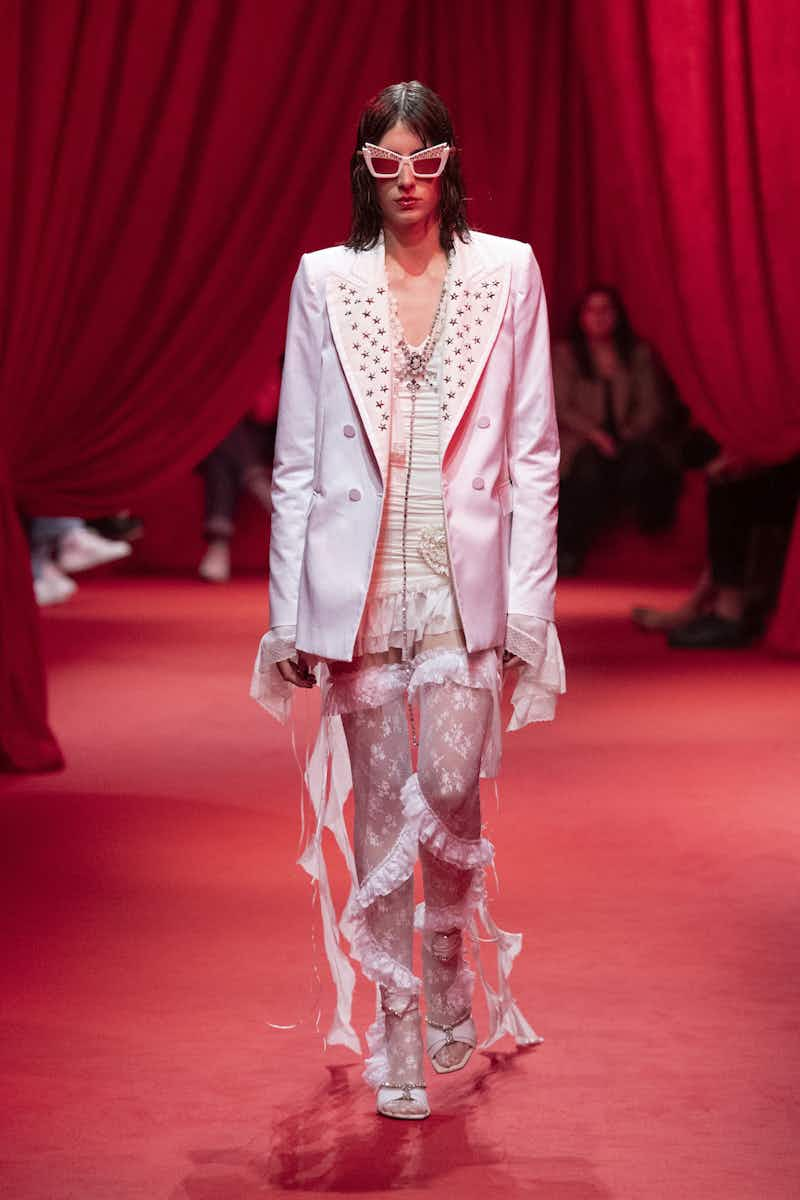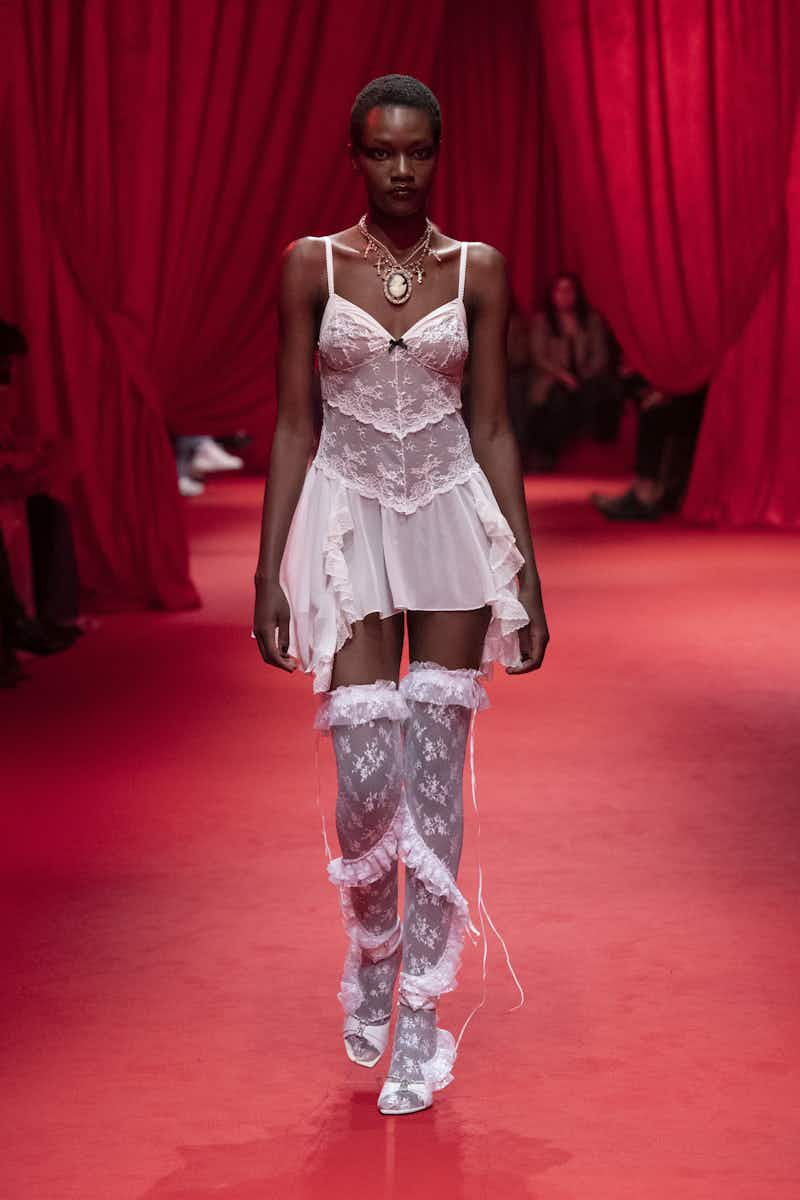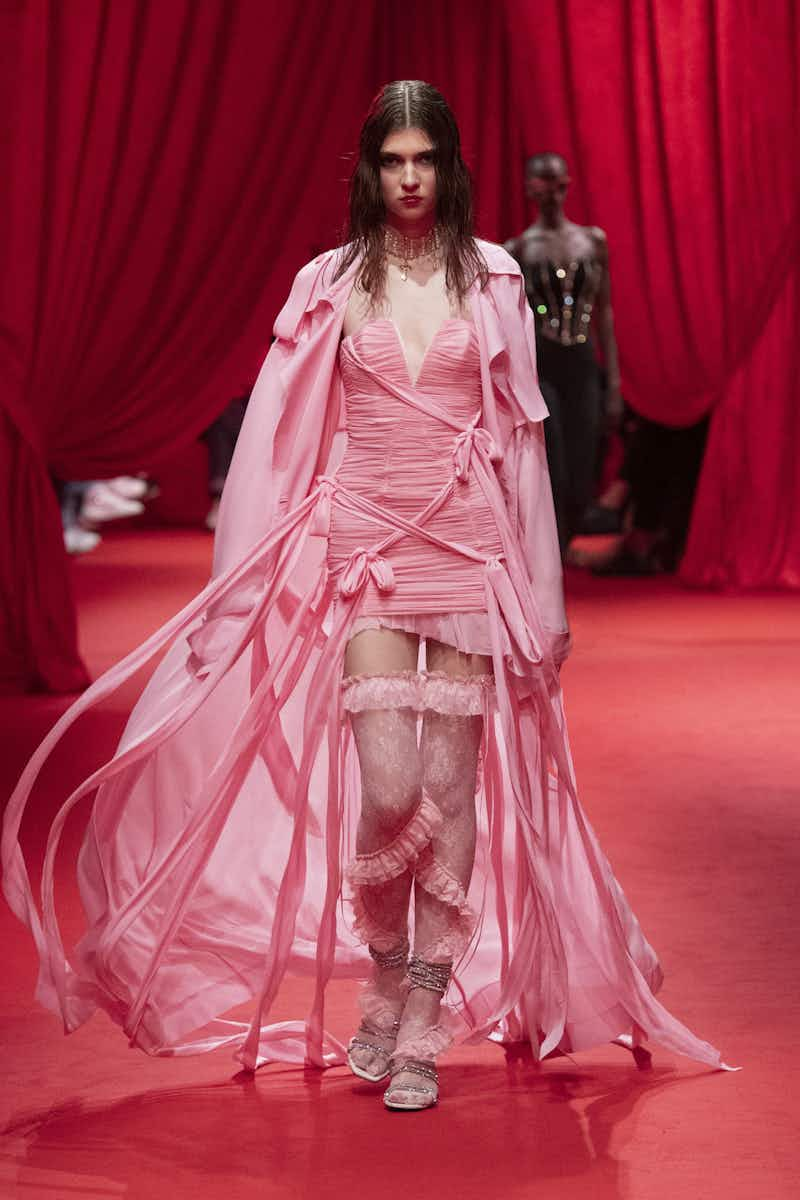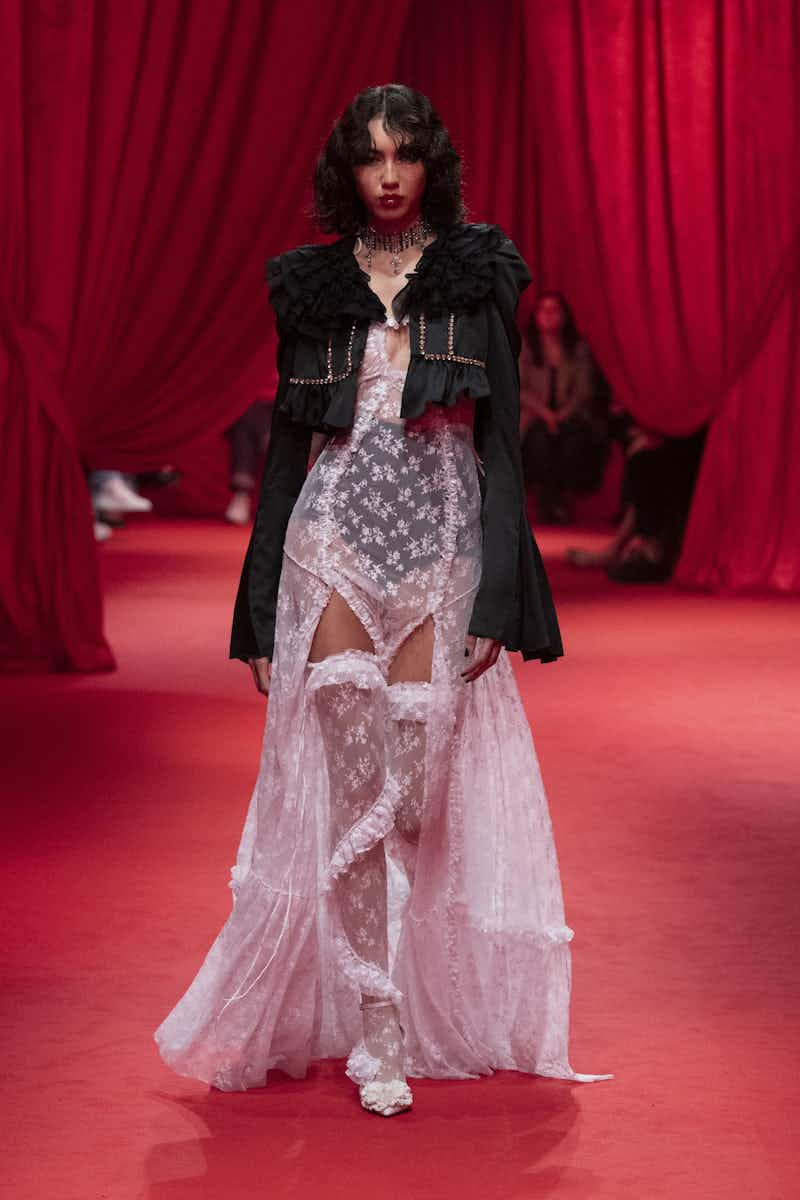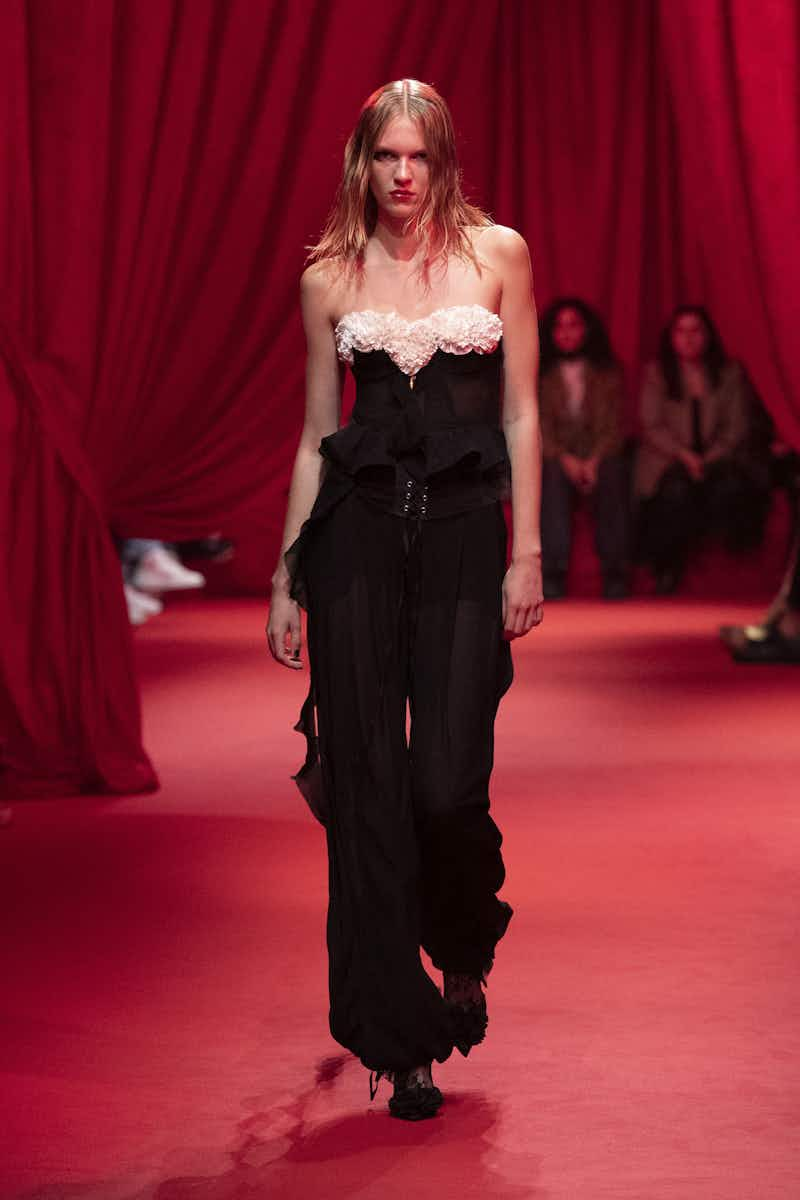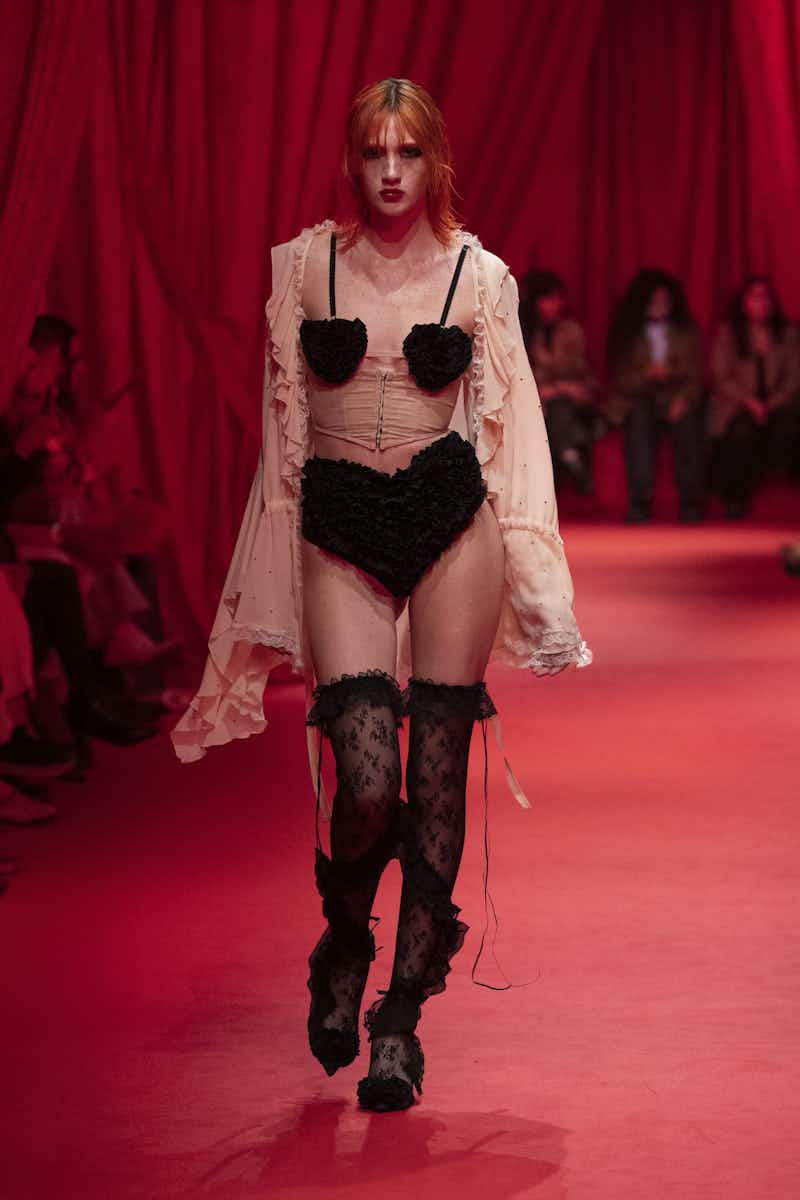 Matty Bovan imported a dose of London's riotous, DIY ethos to Milan this season, in a collection supported by Dolce & Gabbana. His trashy club kid aesthetic combined more is more stripes and zig zags with checkerboard and fruit machine prints, then transmuted in sequins, silks and knits. Sculptural corsets were less coquette and more arts and crafts with cartoonish floral embroidery and paintbrush prints.
Quilted fishtail skirts, bulbous silhouettes and ultra-ripped denim added to the heady organised chaos. As for the ginormous pointed hats and triangle masks, they could well have stepped out of an acid trip or nightmarish kid's film. Whether you're along for the ride or just waiting for it to end, it's near impossible to look away. SW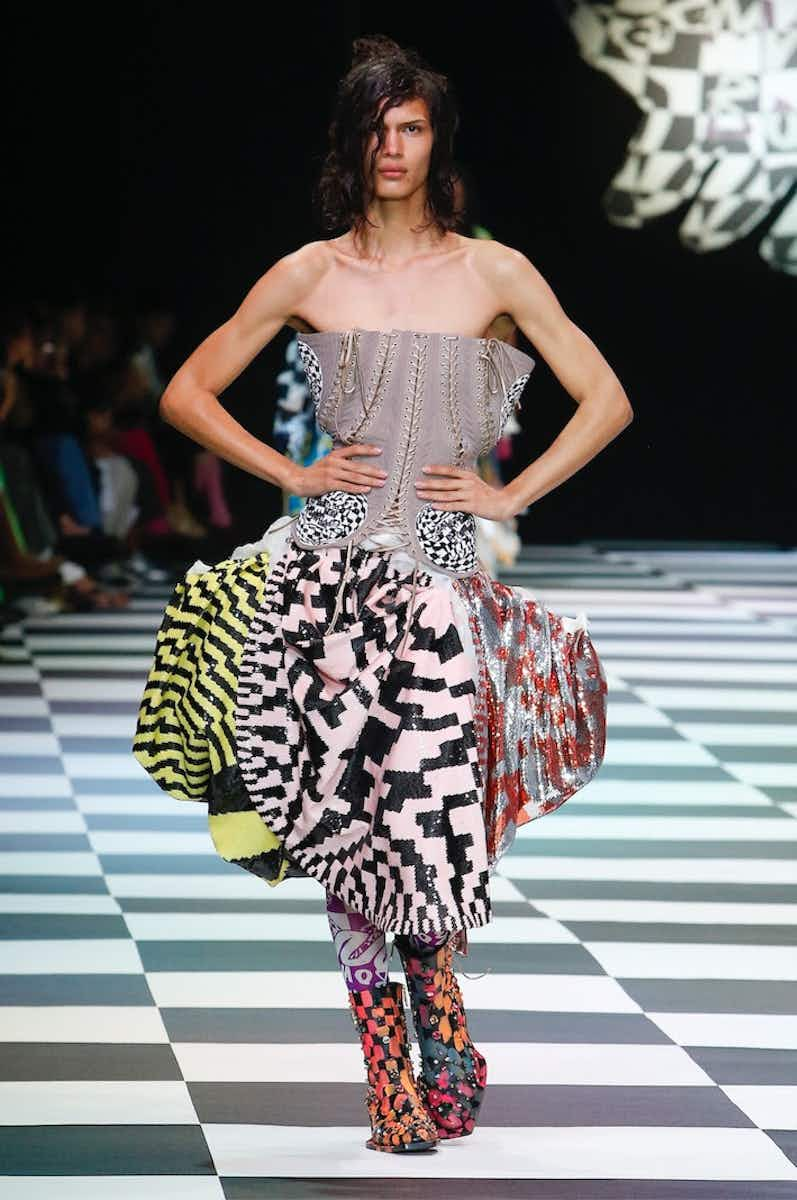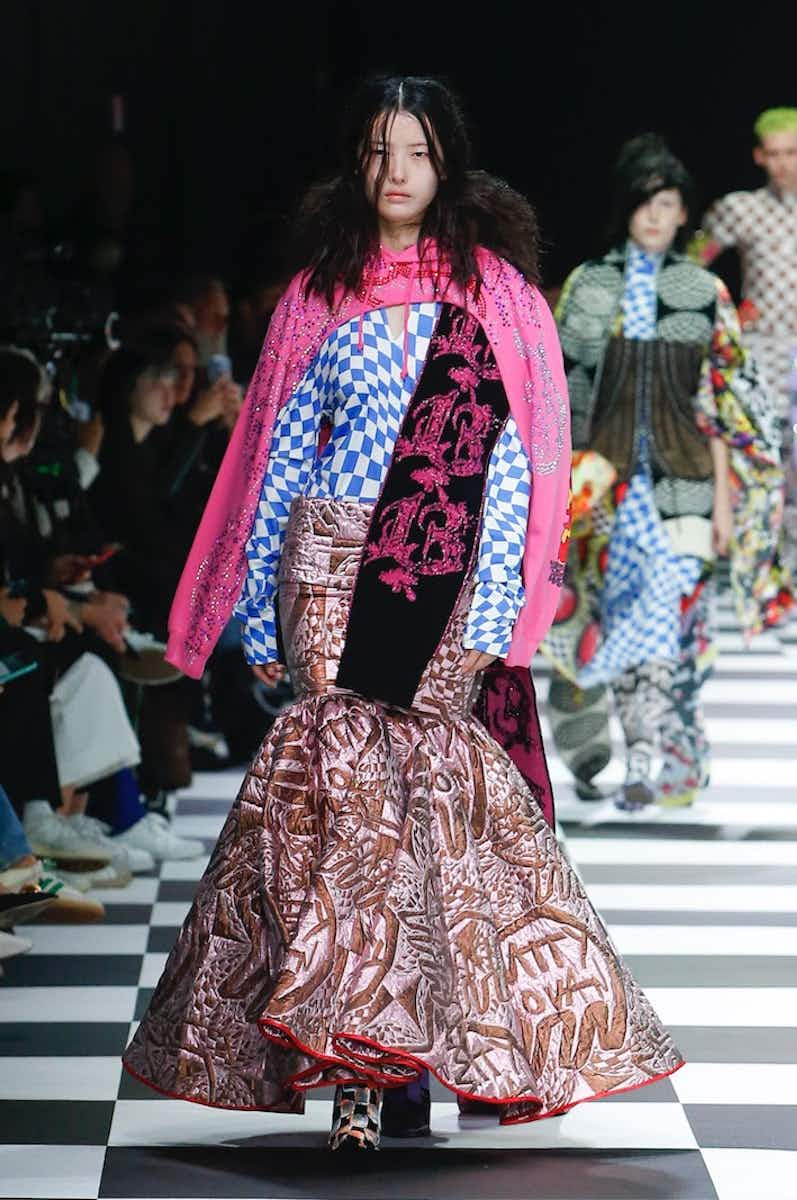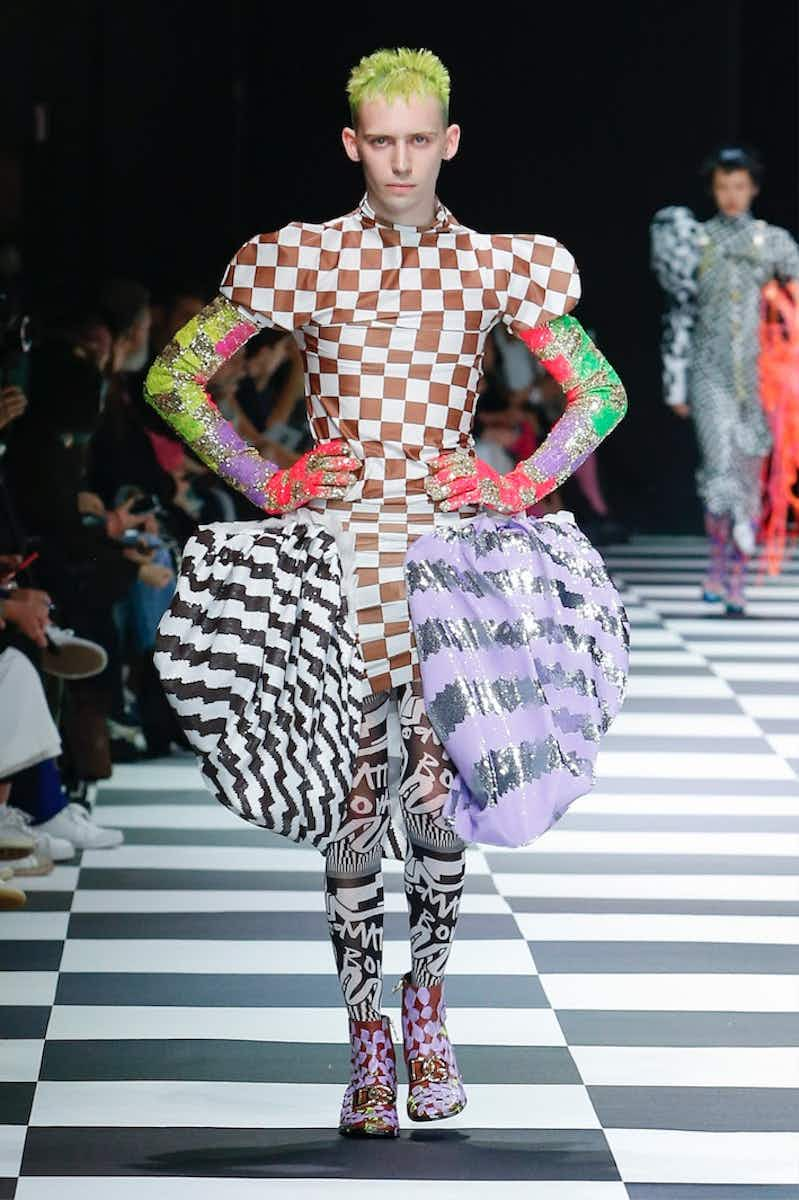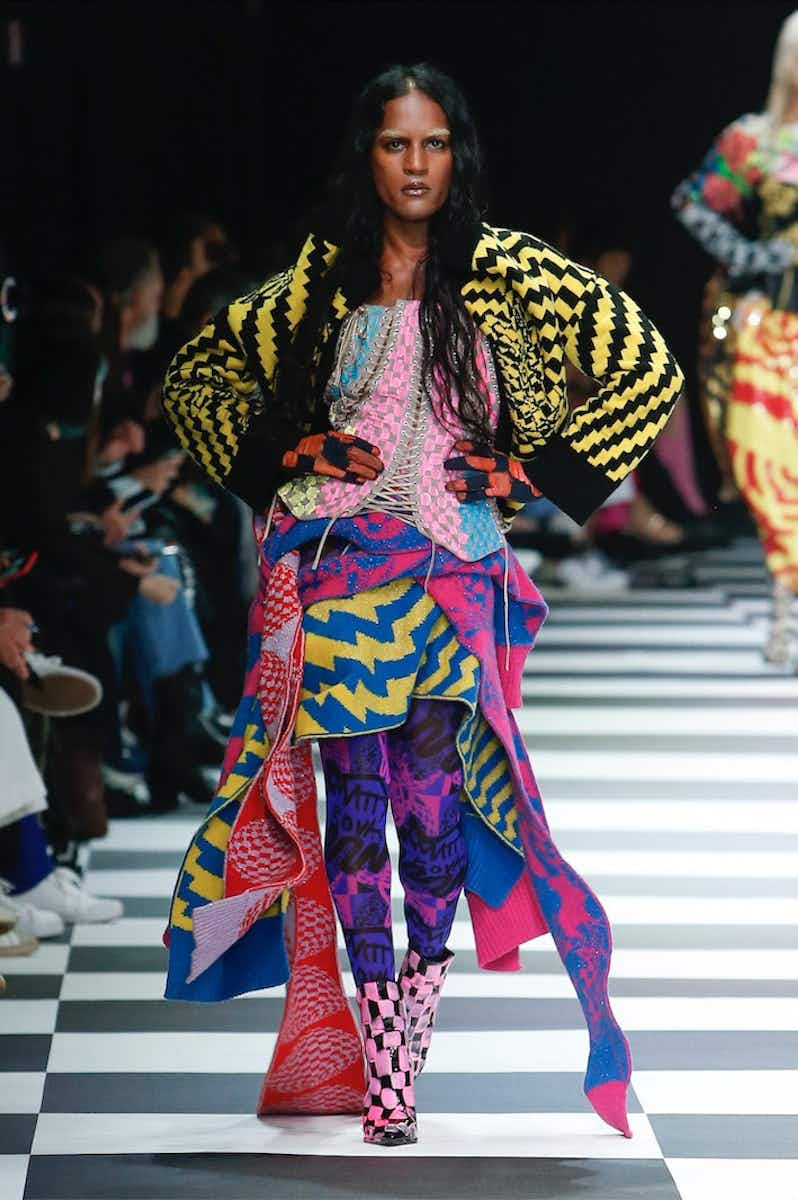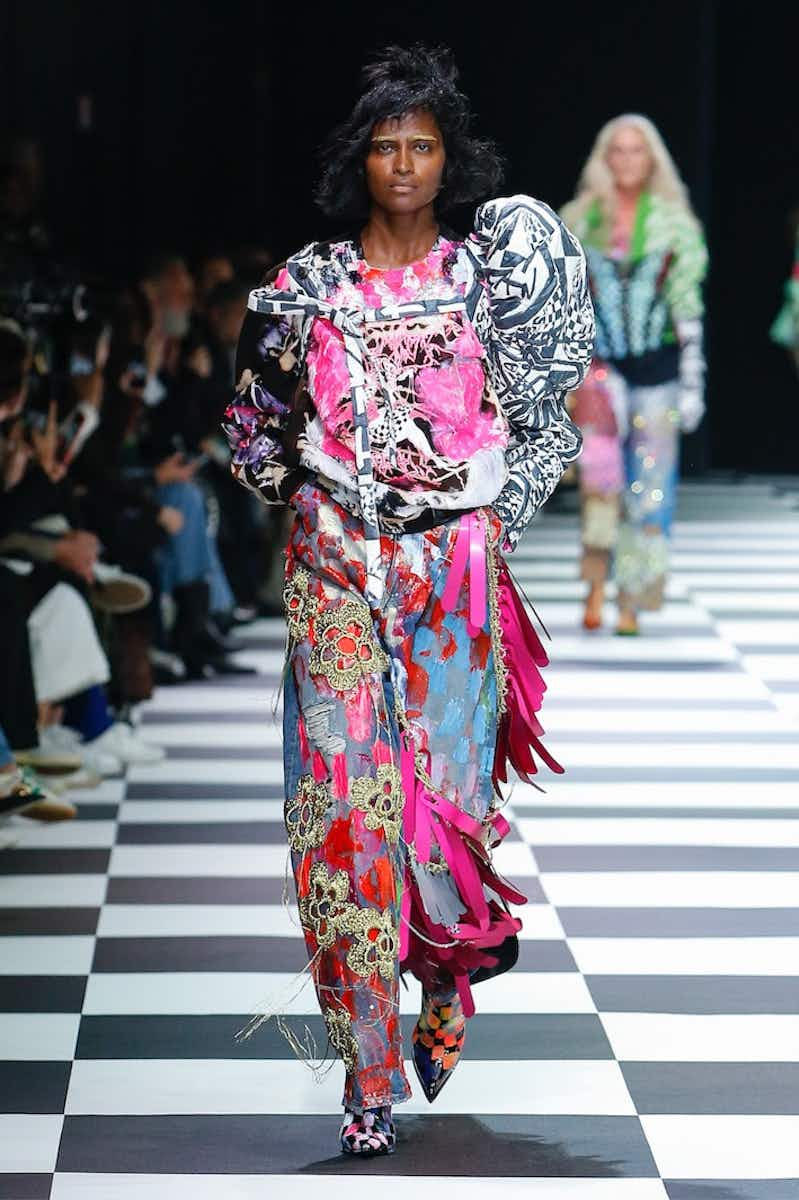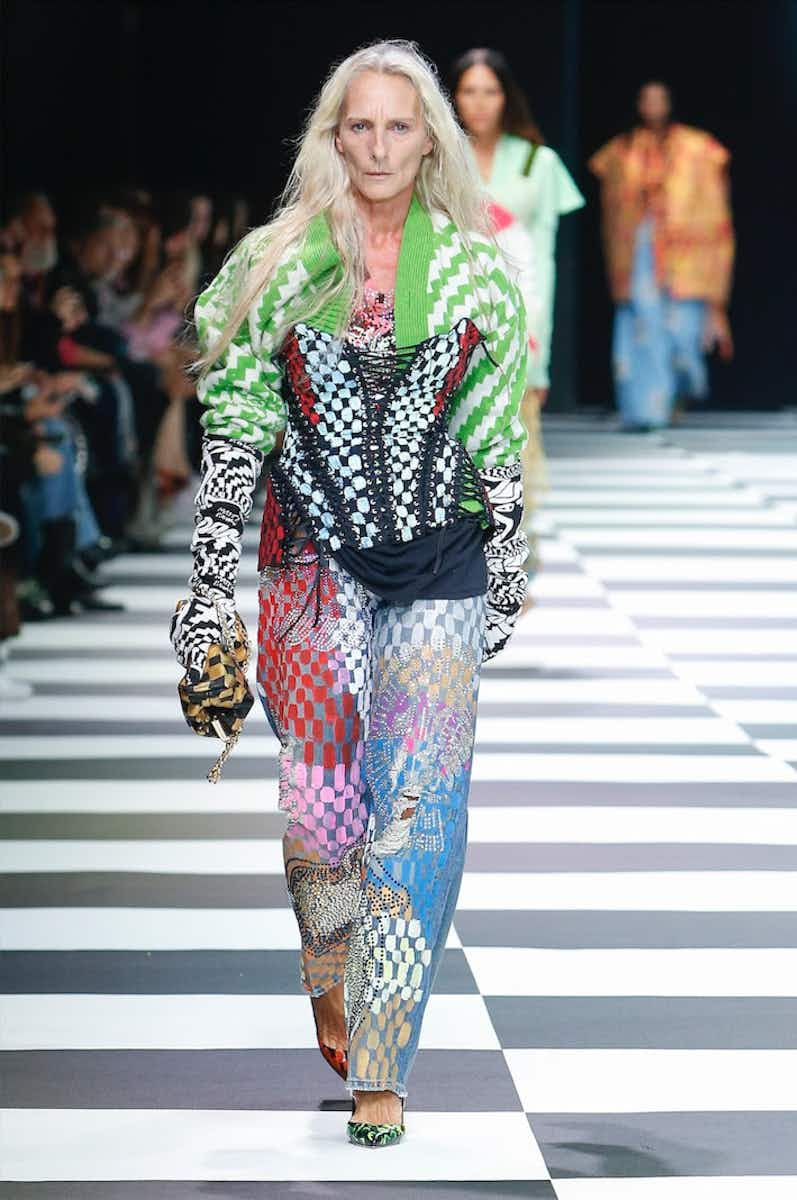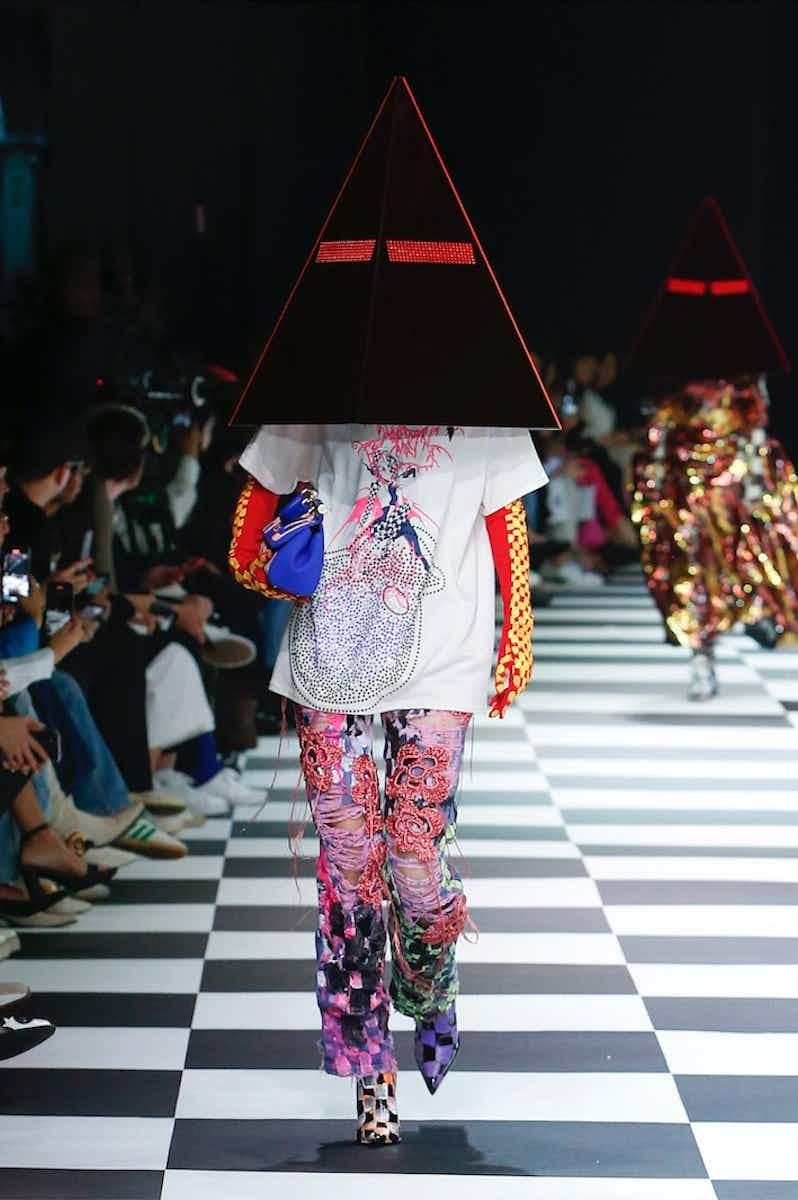 Giorgio Armani's SS23 collection was a symphony in blue. Fluid satin dresses, statement jewellery and iridescent beading opened in powder blue before leading into deeper shades of royal blue and purple, finally closing with gowns crafted in ethereal silver. Shell-like accessories and netted vests welcomed underwater allusions, but the look was more cruise chic than seductive siren.

While this Milan Fashion Week has seen an exciting array of new talent send youthful looks down the runway, Armani presented a counterpoint, designing with the older, sophisticated consumer in mind. These are clothes in aqua tones for wistfully sipping cocktails while staring out at sea. SW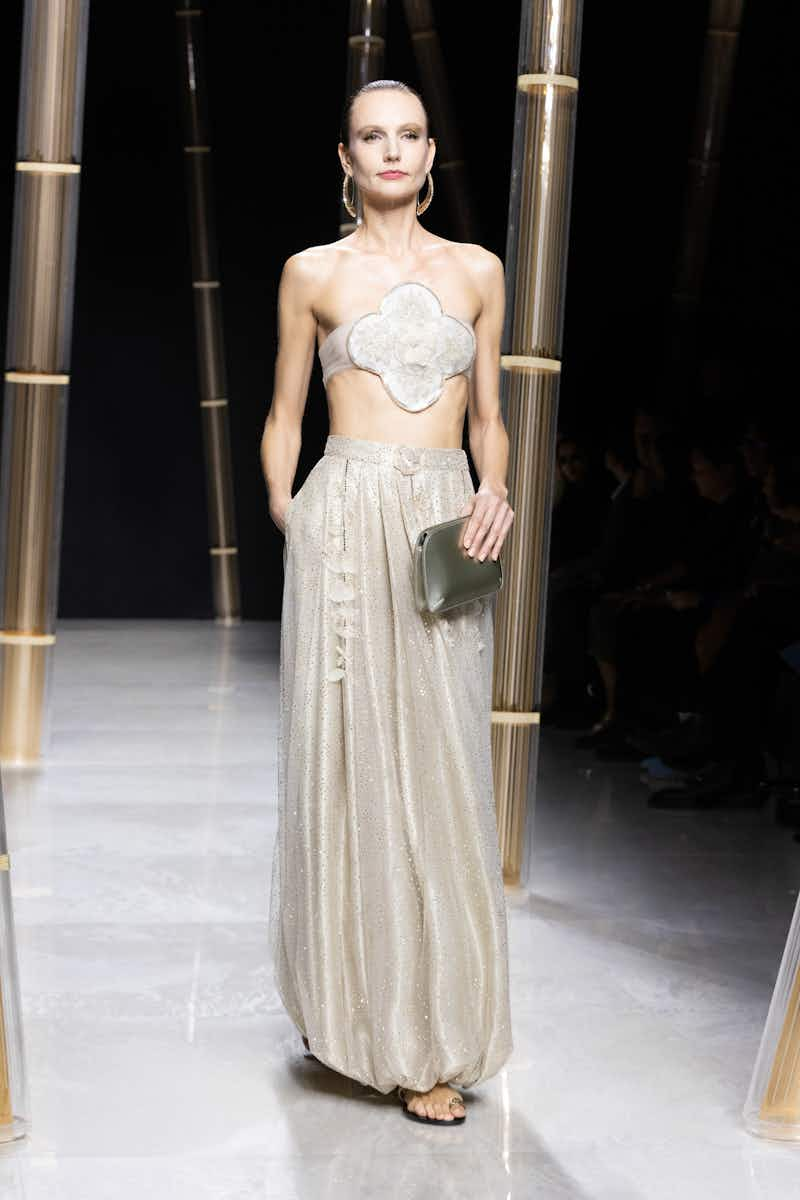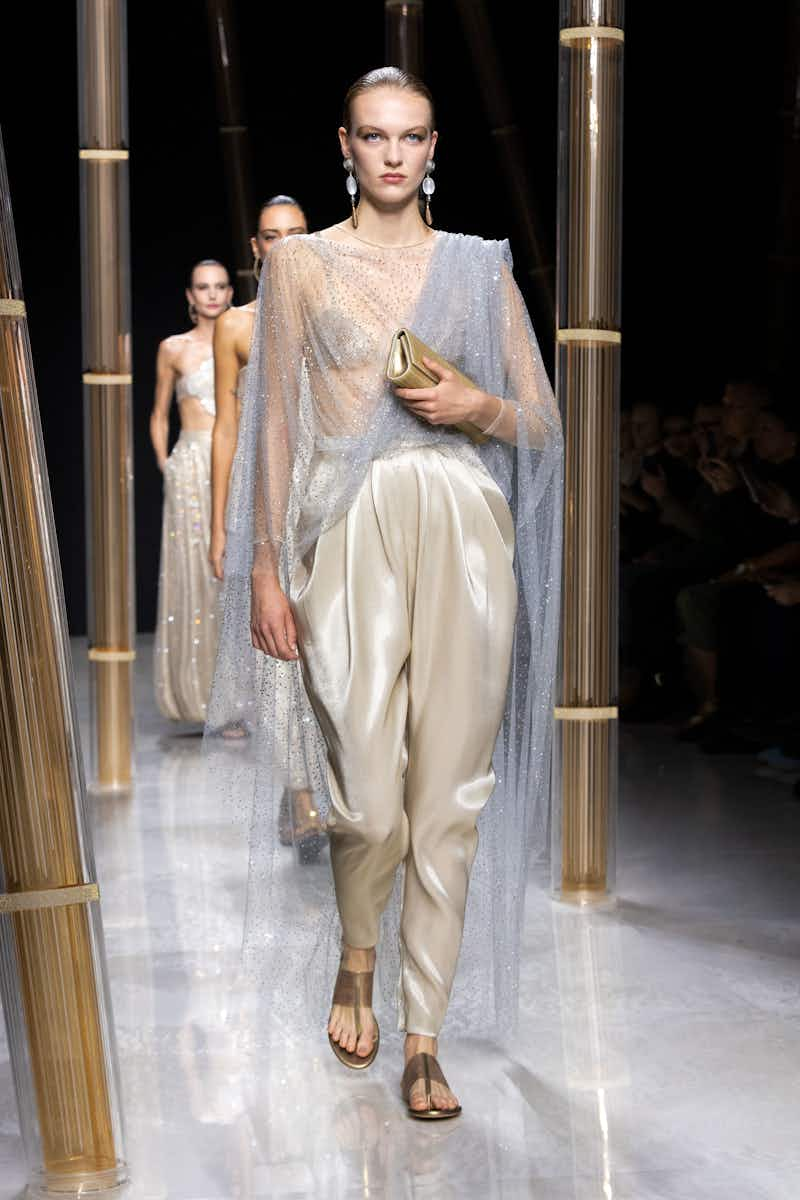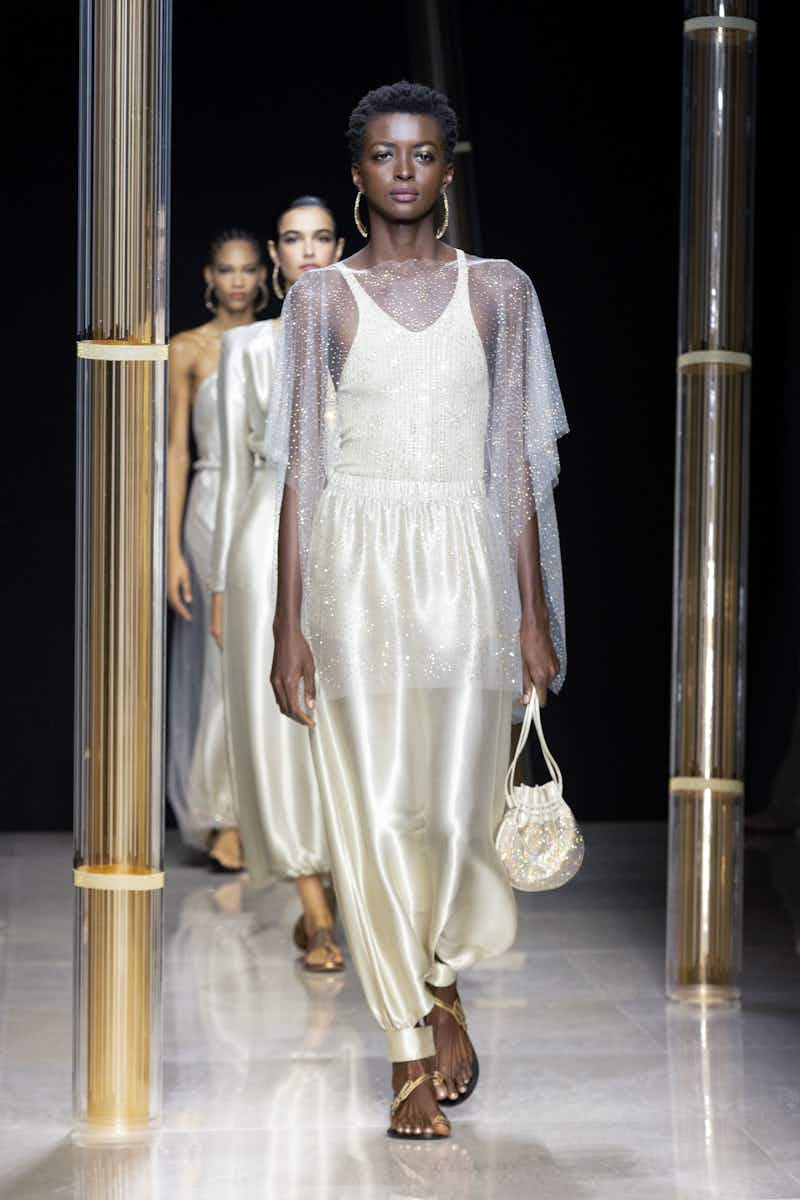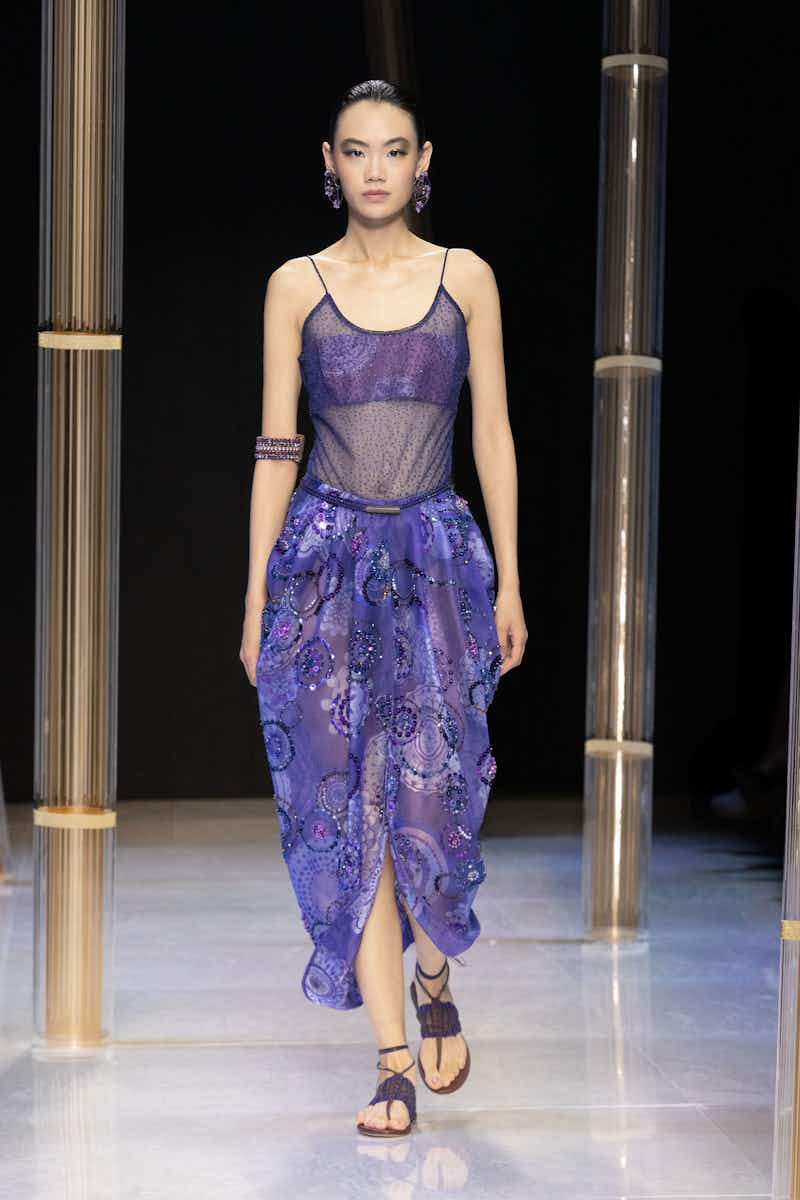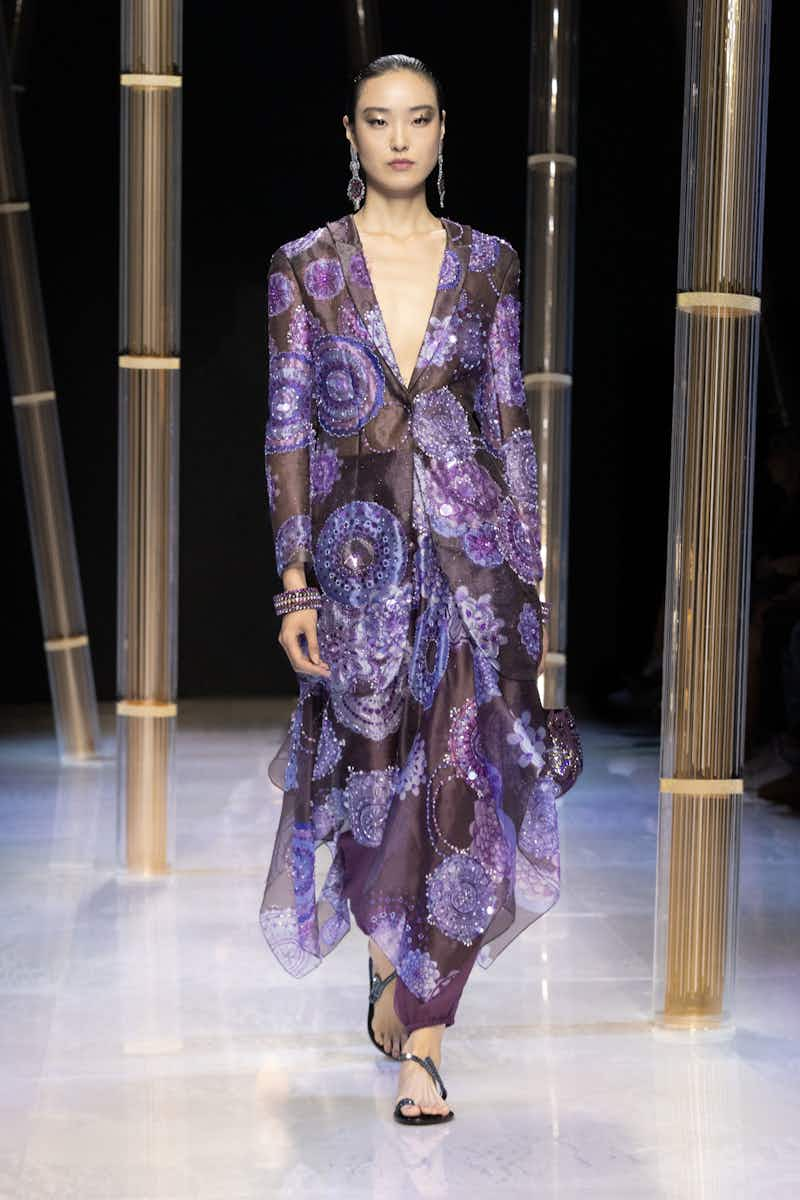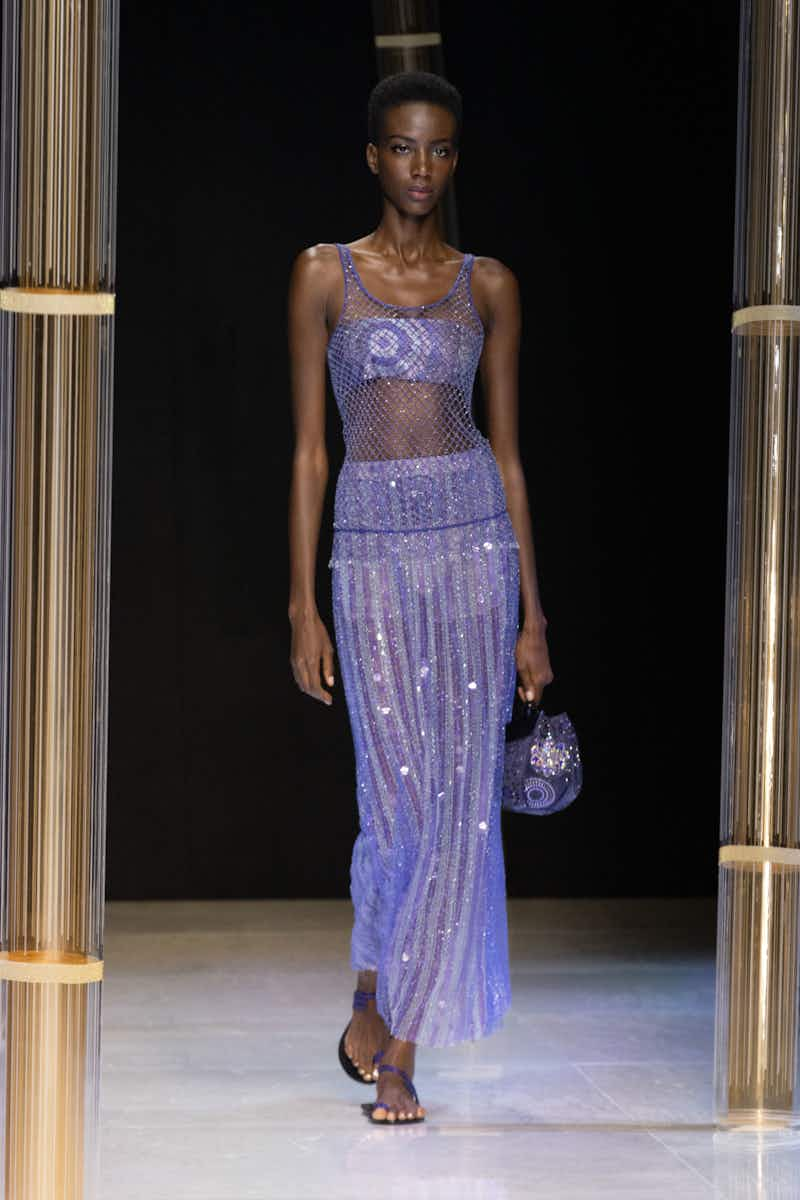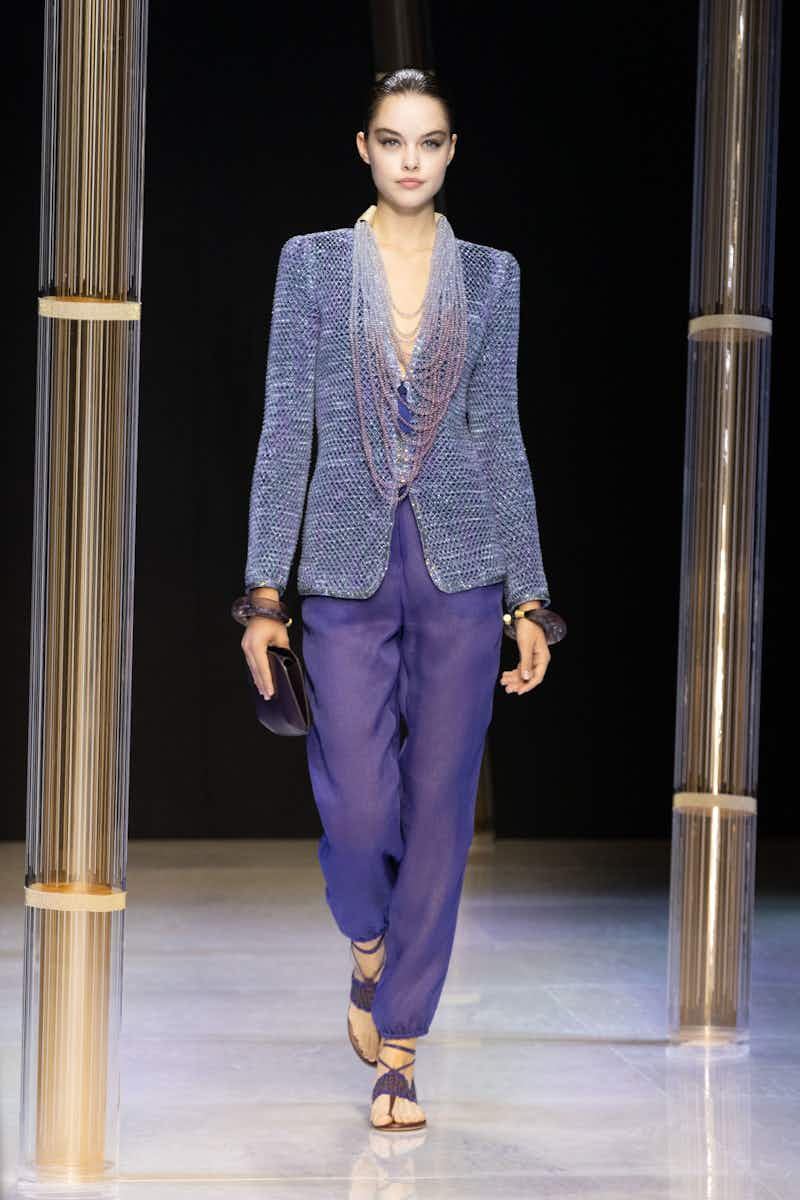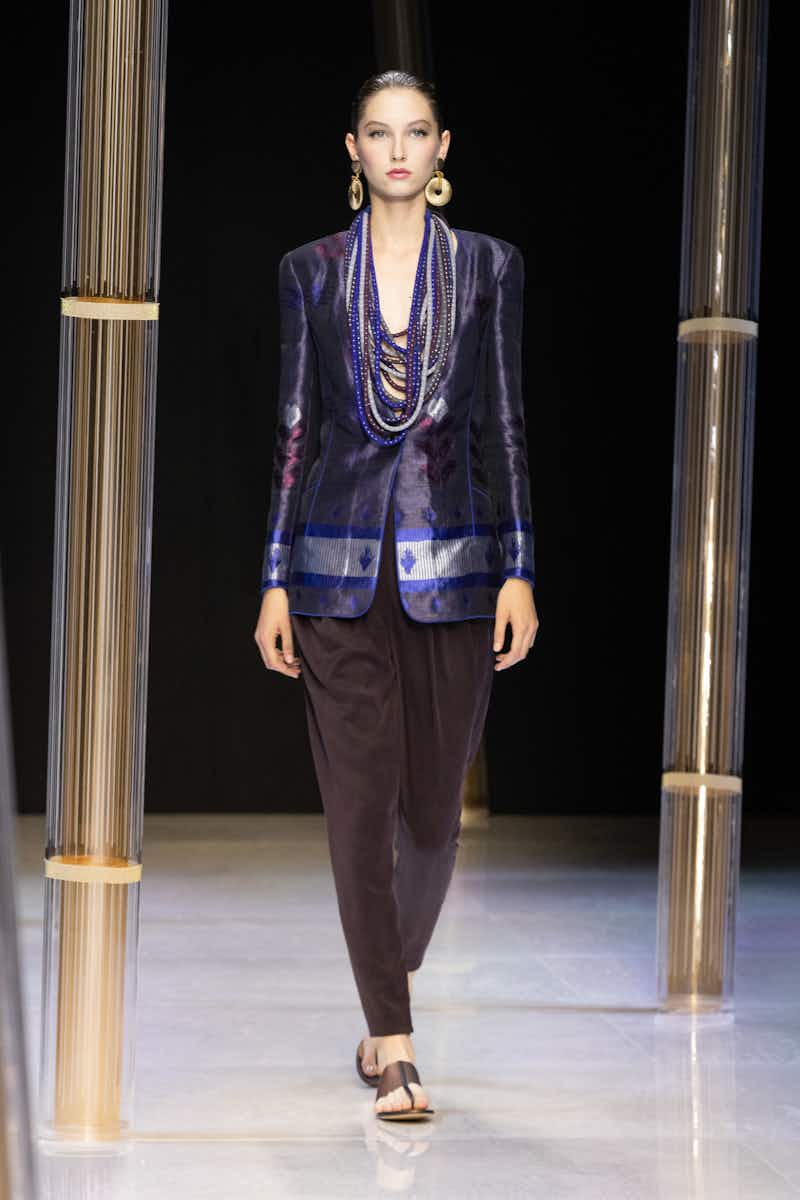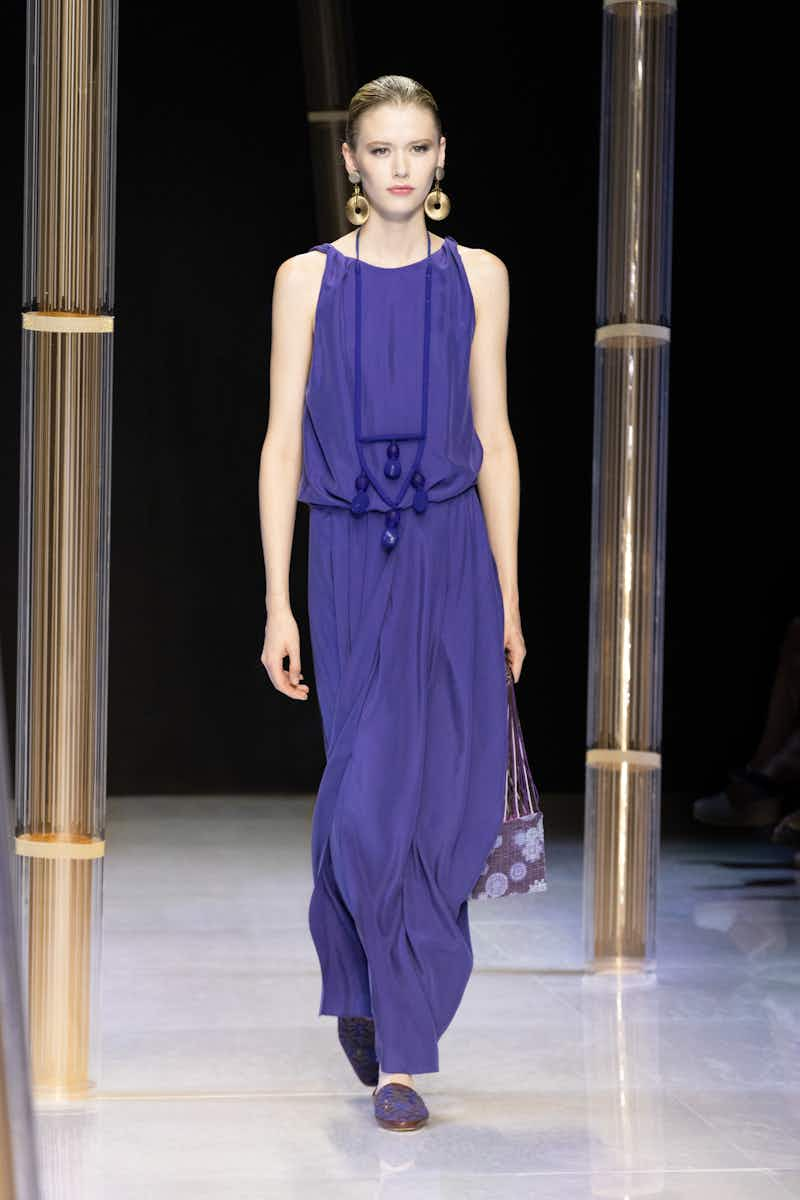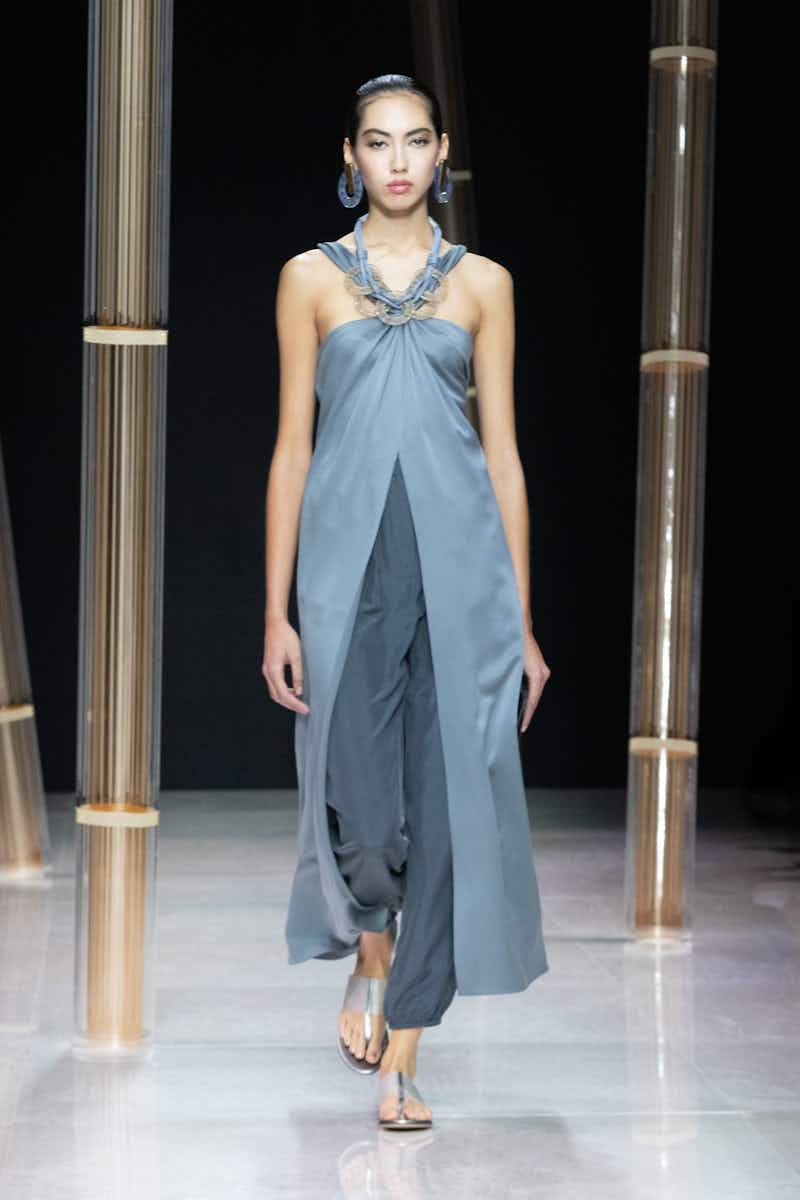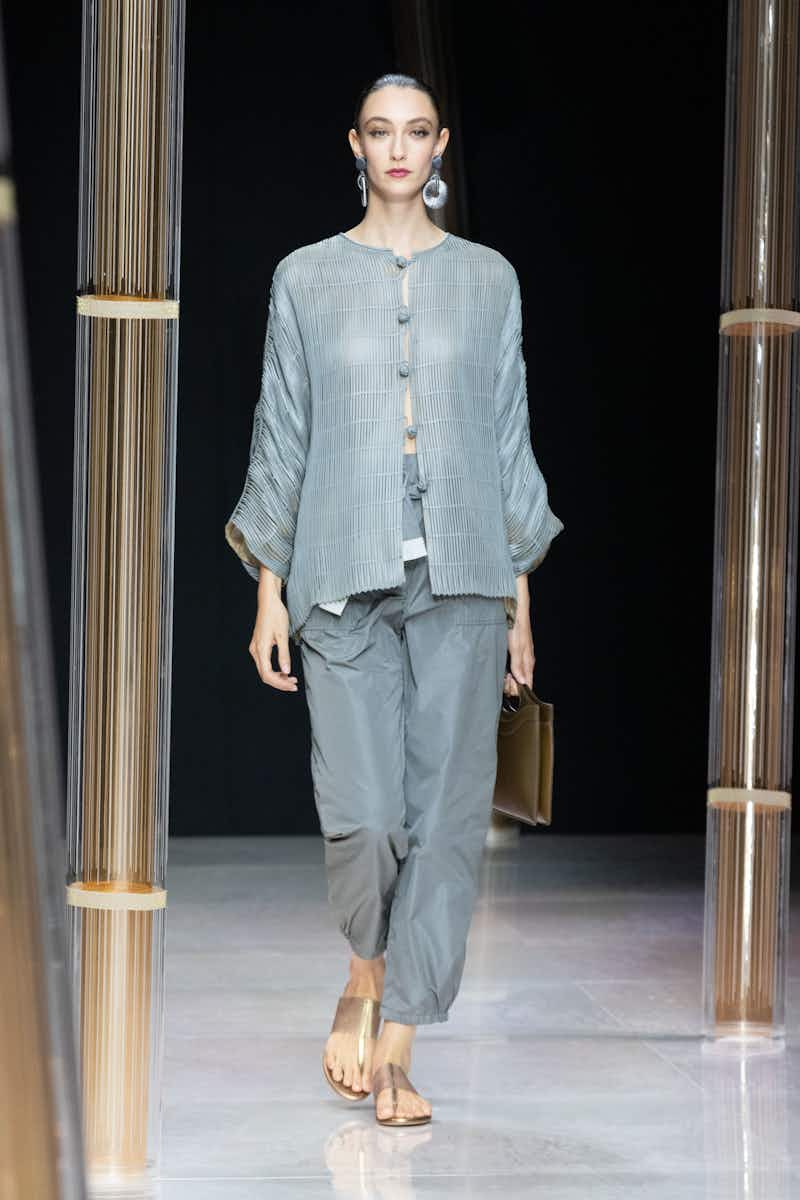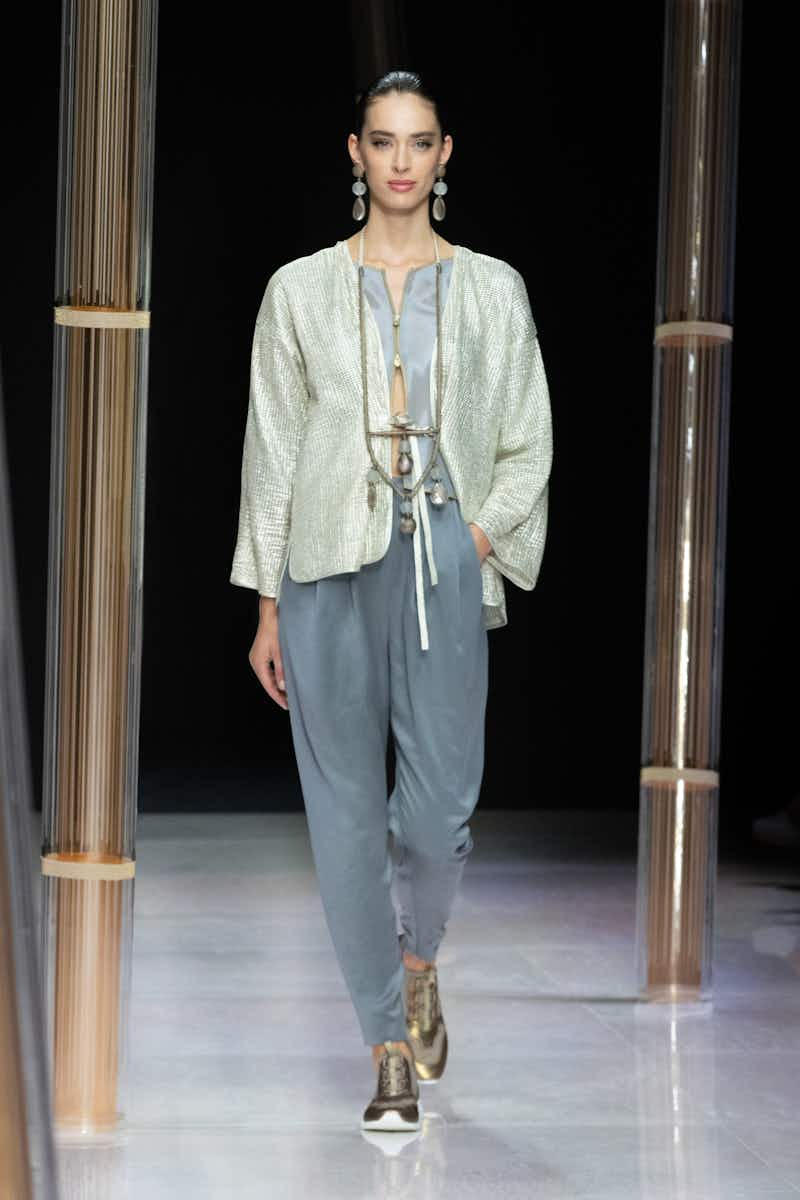 There was much to celebrate at the Moncler show, as the Italian house welcomed its 70 year anniversary. And, true to form, the celebrations didn't come quietly, as the brand kicked off a massive 70-day programme of global throw-downs, including The Extraordinary Expedition, an immersive exhibition starting in New York's Highline next month, before moving to London and Seoul.

CEO and Chairman Remo Ruffini also invited seven designers to reimagine the Maya jacket. With Rick Ownens, Pharrell Williams and Hiroshi Fujiwara amongst the remixers, each of the designers' interpretations will drop weekly from October 15th. And there's more: NFTs, a stellar global campaign sharing past and present photography from Moncler's extensive archive, and limited-run, metallic silver Maya jackets. Keep your eyes peeled – Moncler's gearing up to take over the world.

On Saturday, Moncler set the tone with a mammoth show. Titled Extraordinary Forever, the house took over Milan's iconic landmark Piazza del Duomo, along with 1952 (the year the brand was founded) dancers, musicians, models and choir members wearing special edition Maya jackets while singing, moving and shaking. Performing to a crowd of 18,000, the spectacle felt all-encompassing – a symbol of Moncler's connection to its ever-expanding community.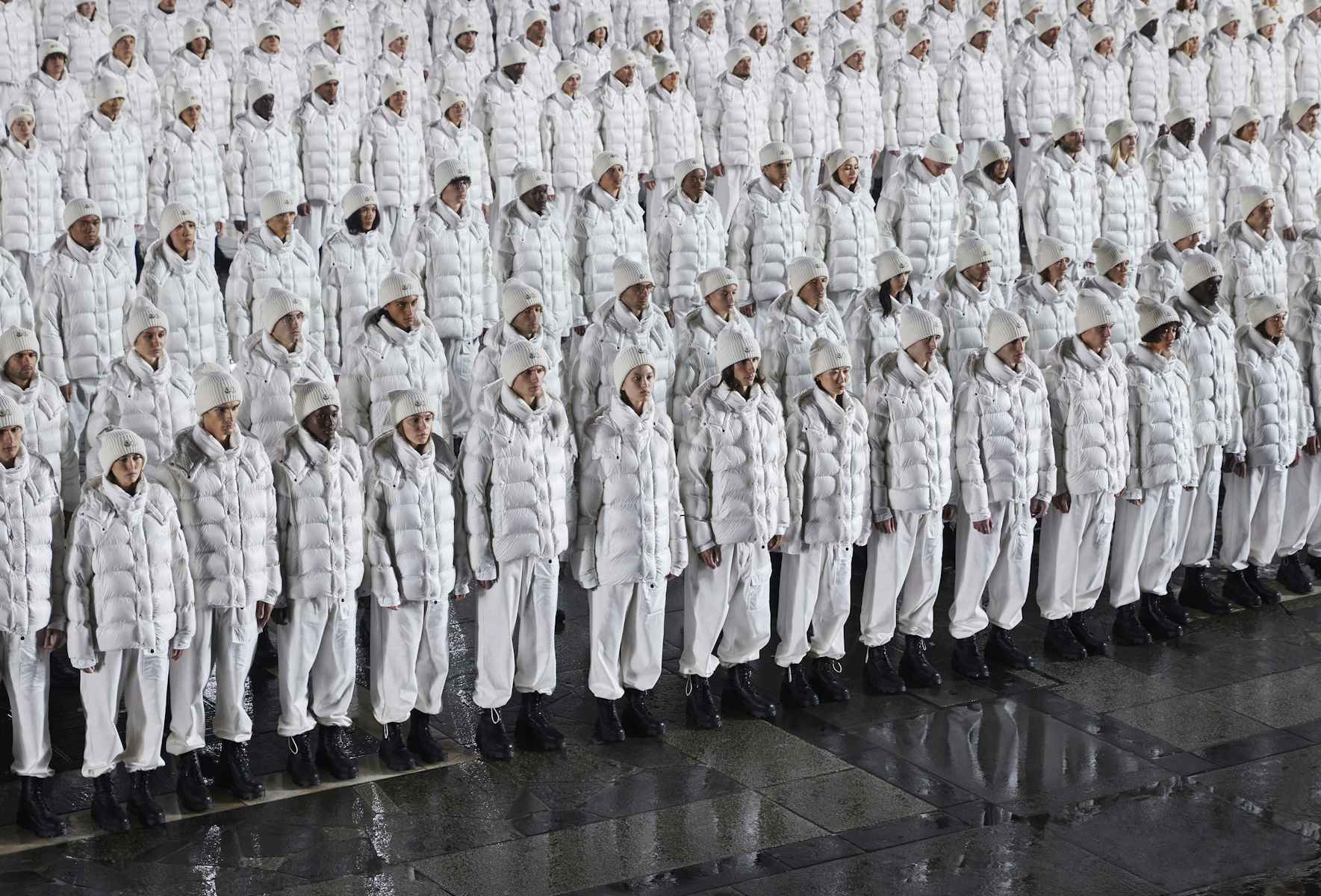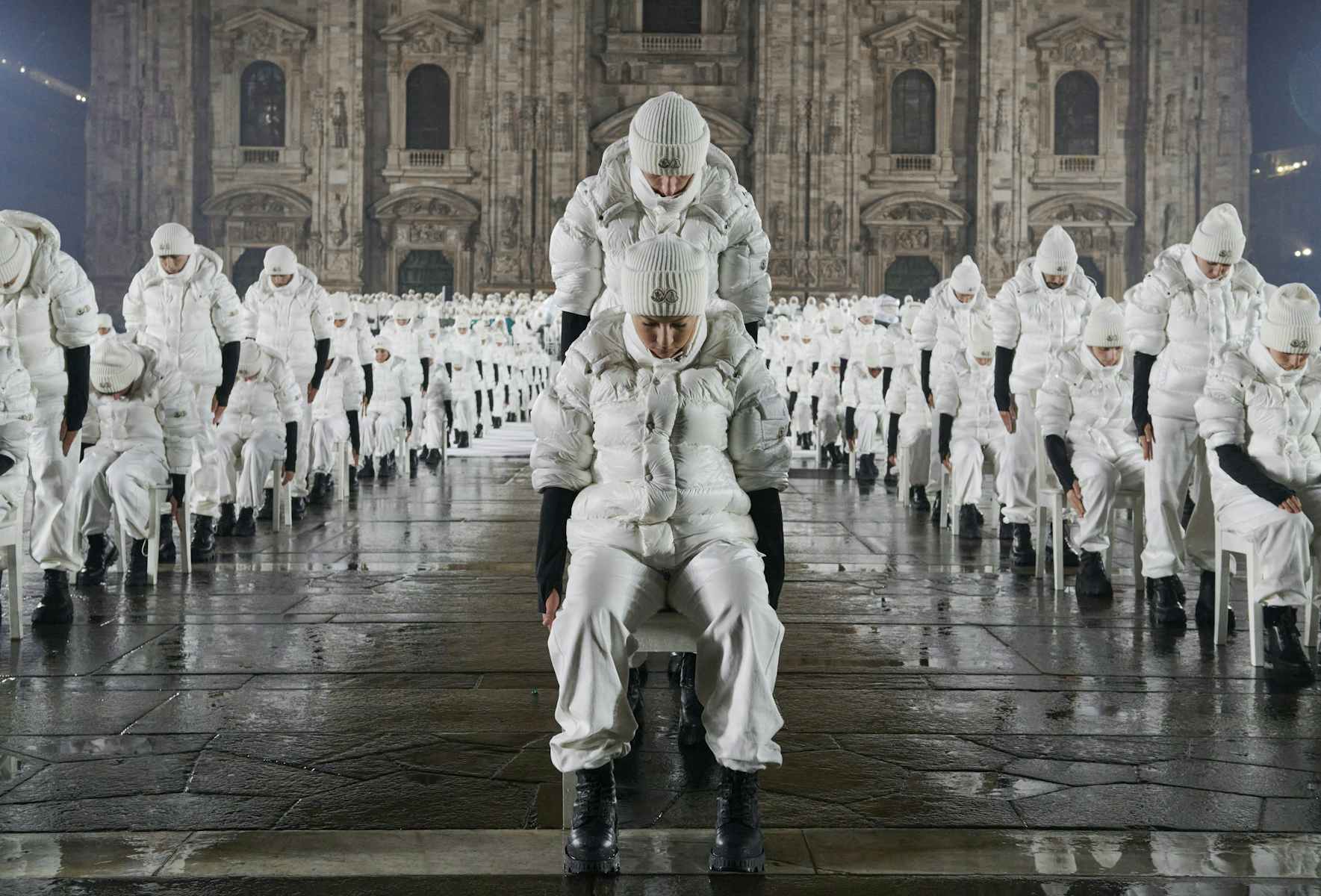 At Matthieu Blazy's Bottega, all is not what it seems. The SS23 show opened with seemingly casual normcore-led plaid shirts, denim and cotton tees. The big twist? They were all crafted entirely from leather. It's an expansion on the technical direction Blazy took off in last season in his first collection for the Italian house. One plaid leather shirt (worn by none other than Kate Moss) took a mammoth 12 layers of print to achieve the desired depth of colour – a testament to the painstaking design.
The clothes were captivating in their technical expertise: leather tweed coats, sculptural fringing and tactile appliqué flowers all demand a double-take. But Blazy retained a practical wearability and an overall simple, sharp aesthetic, proving that his unique point of view is as elegant as it is contemporary. SW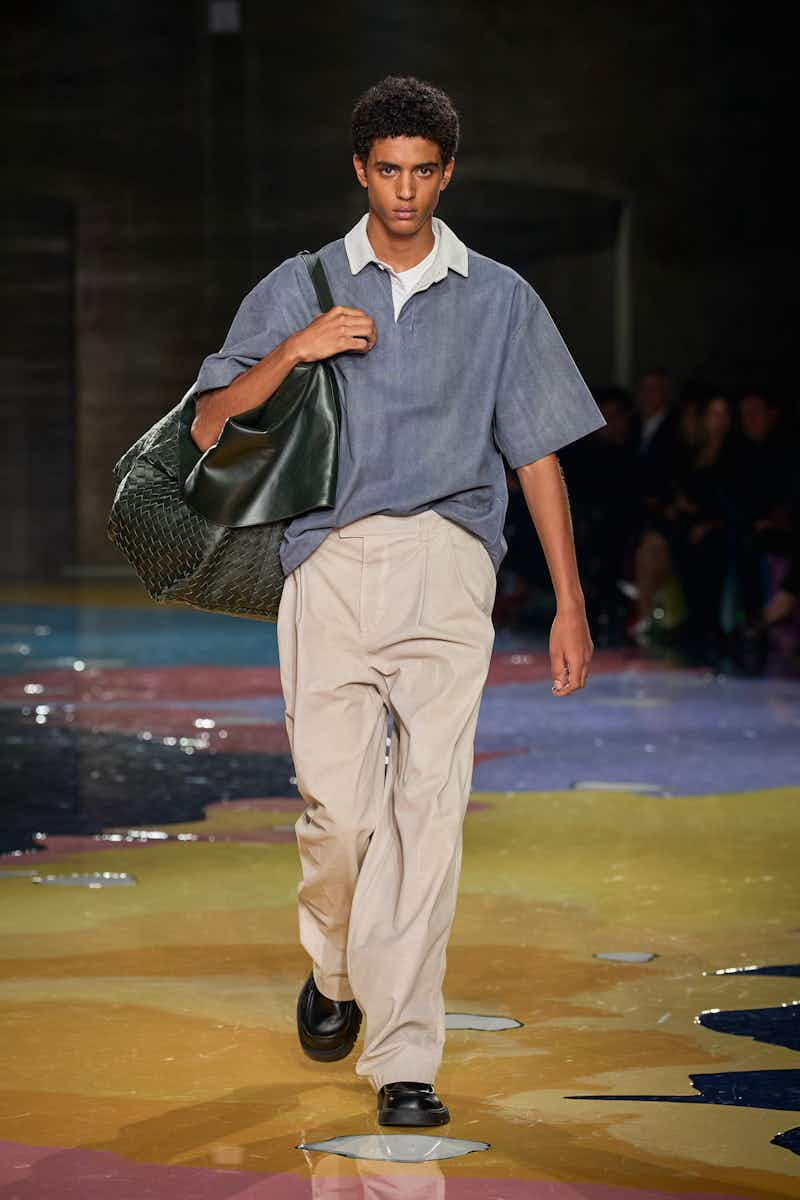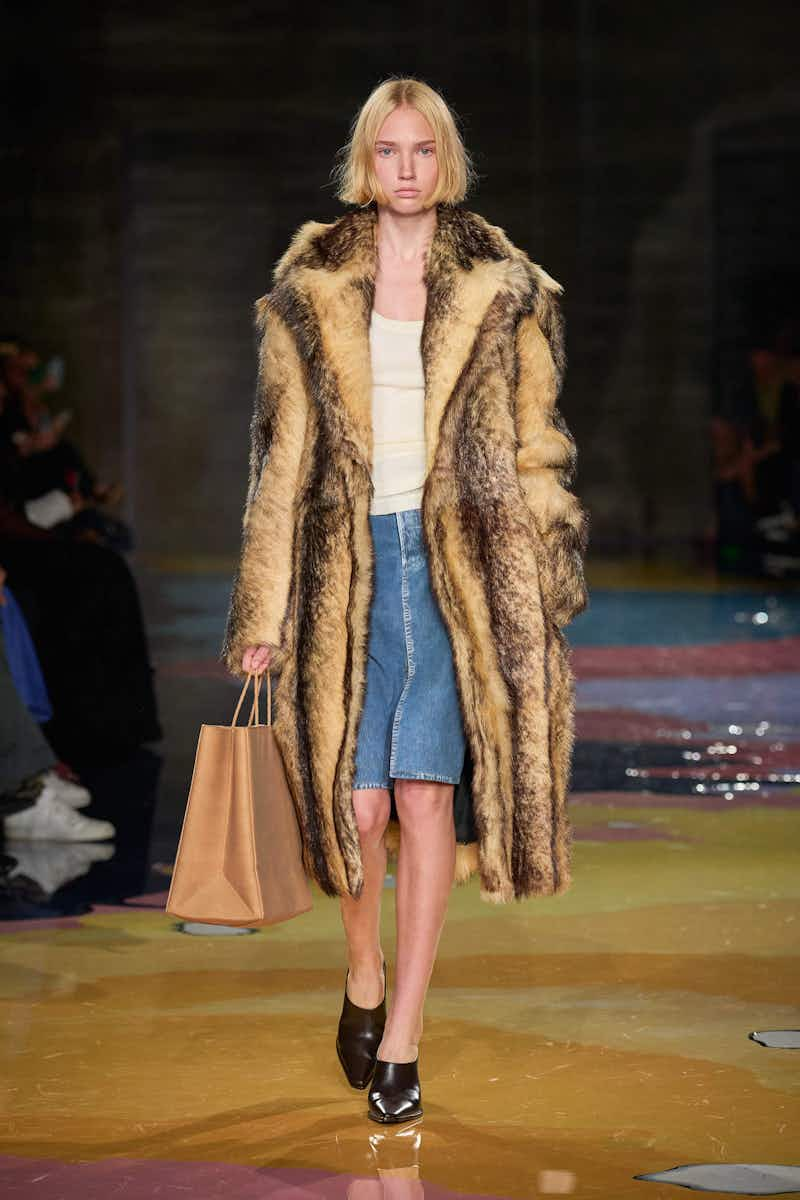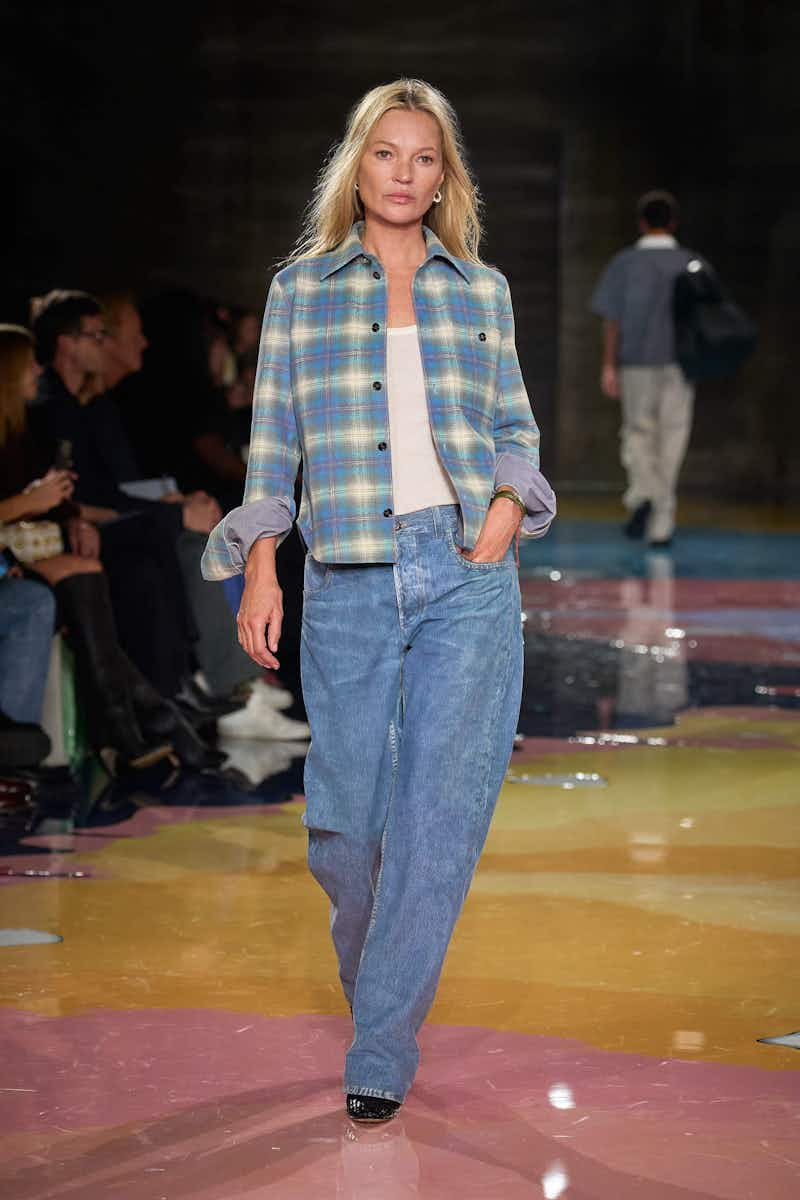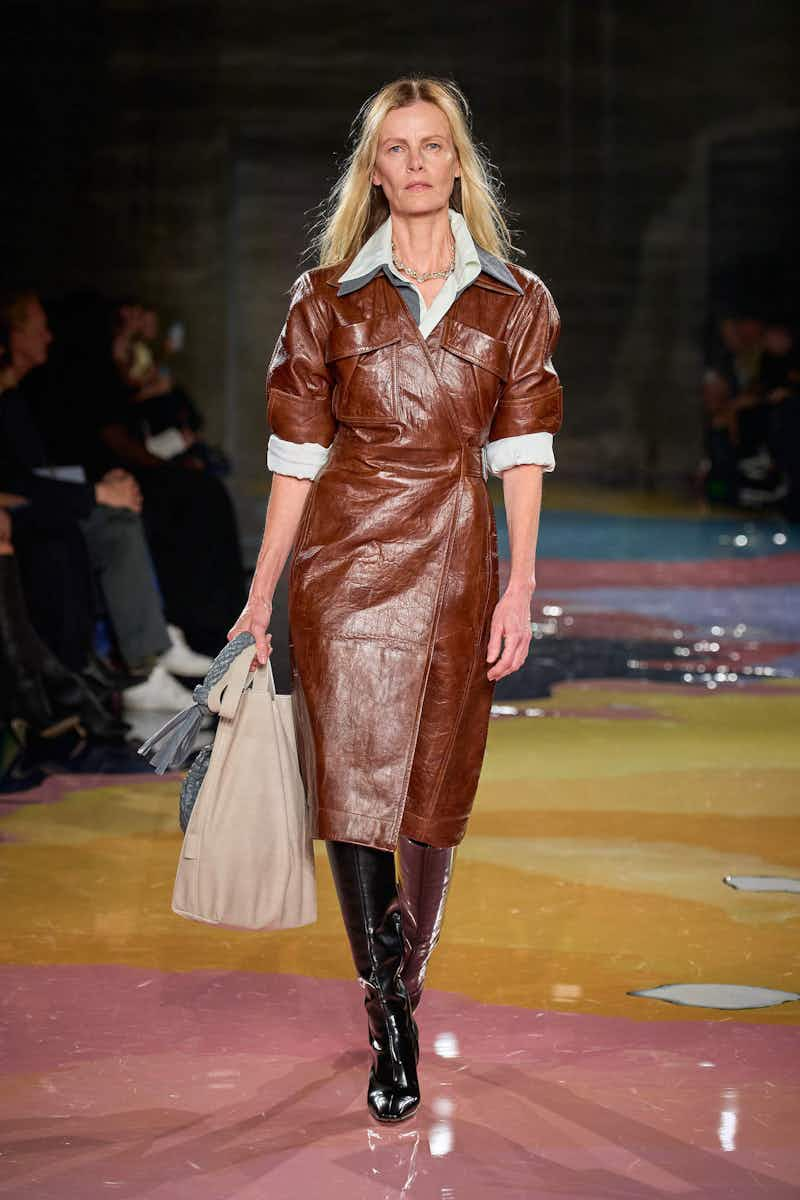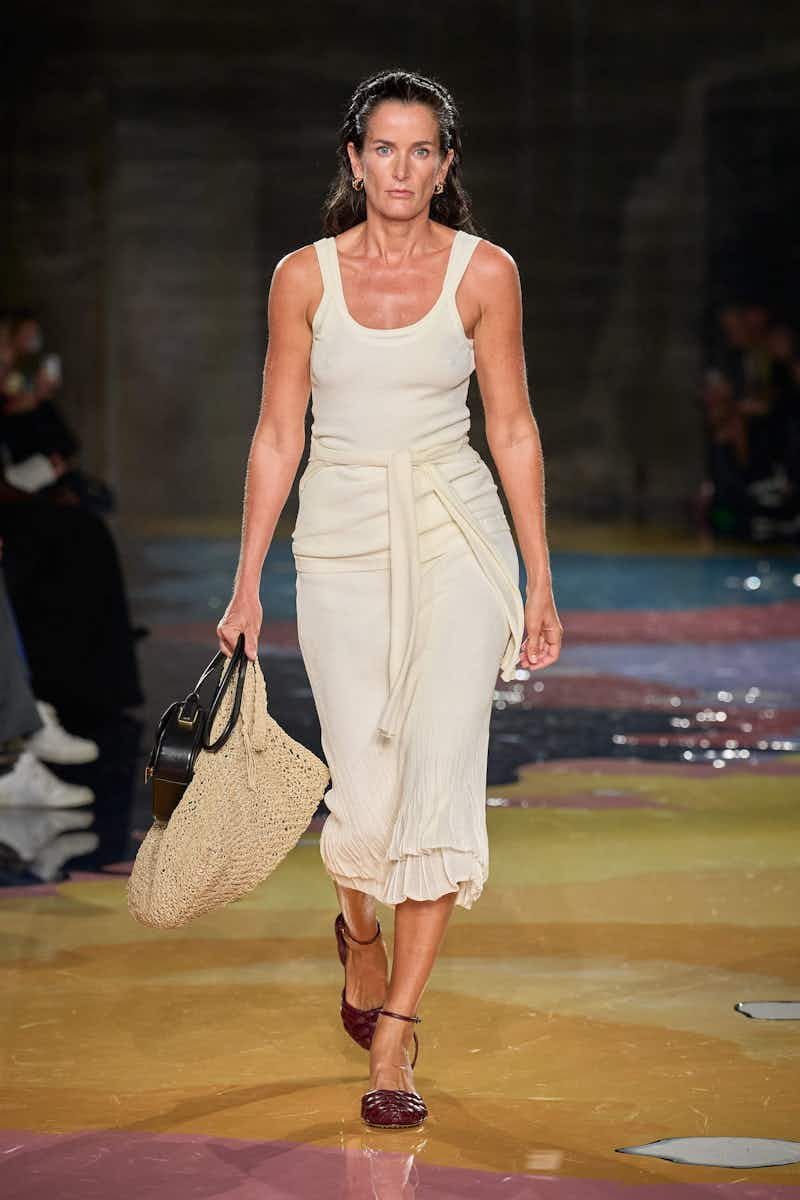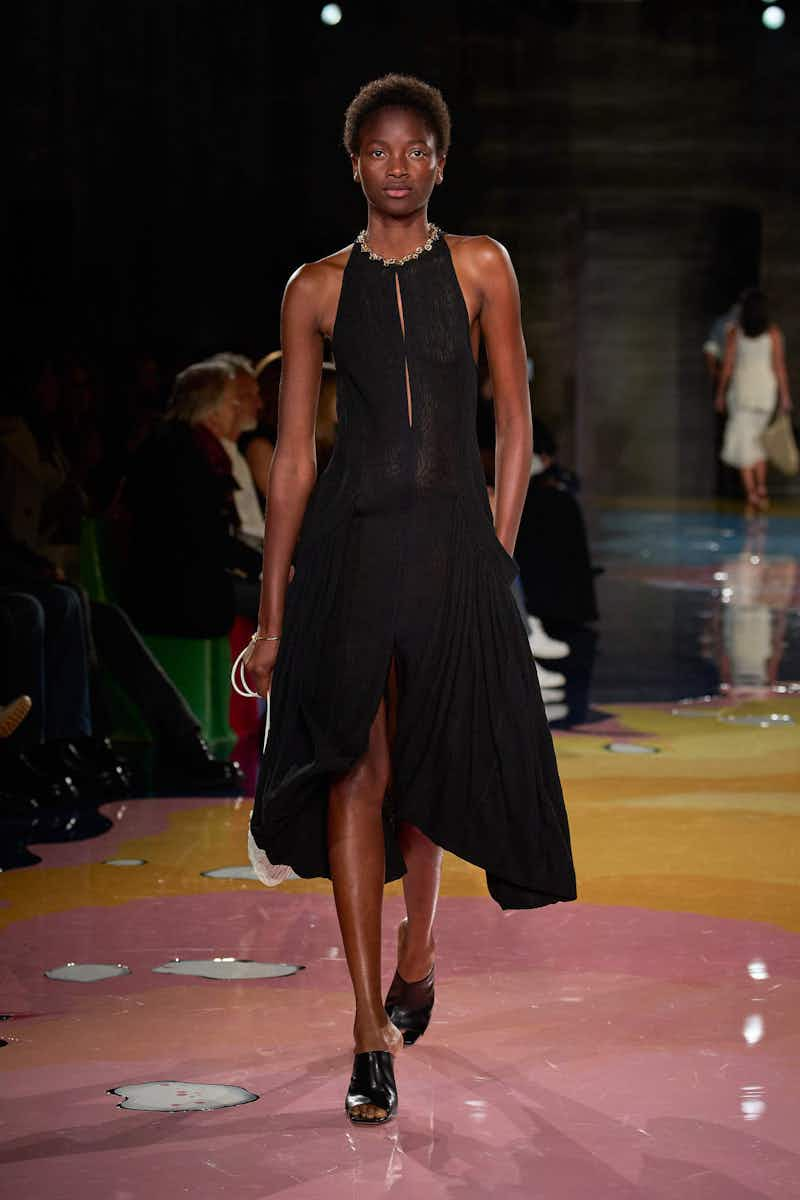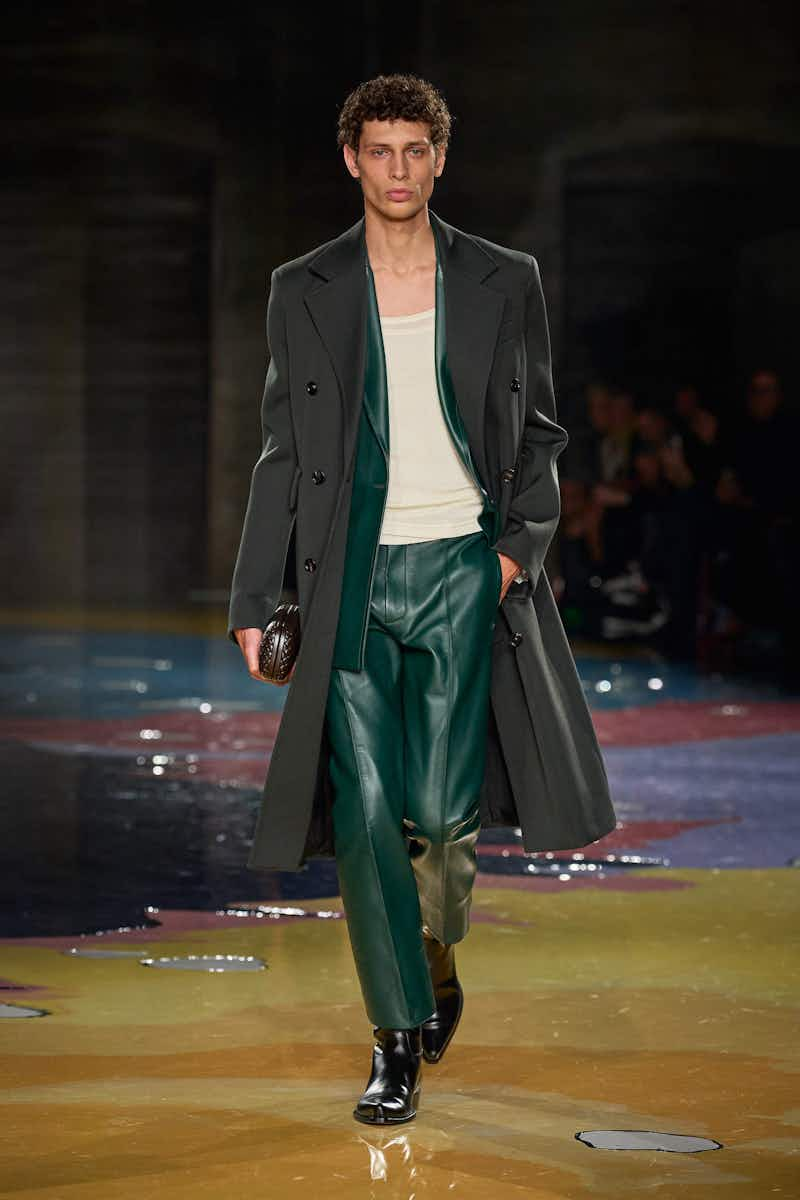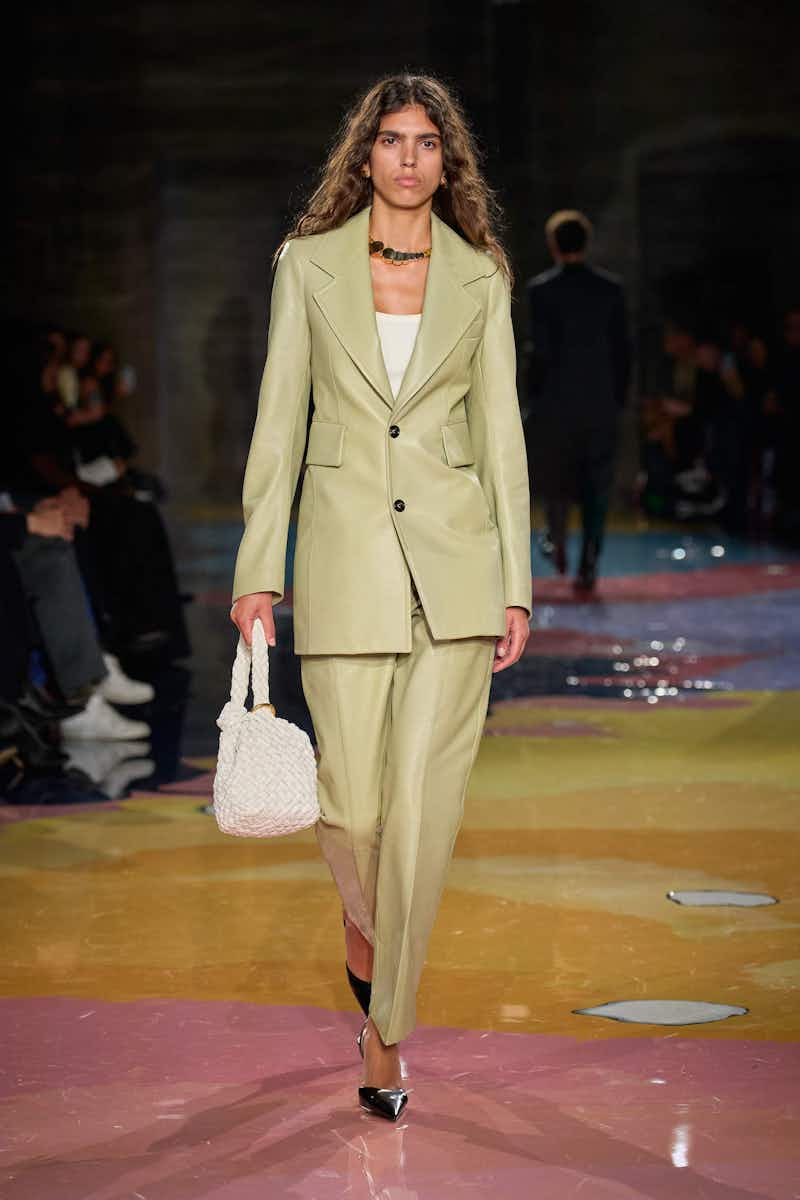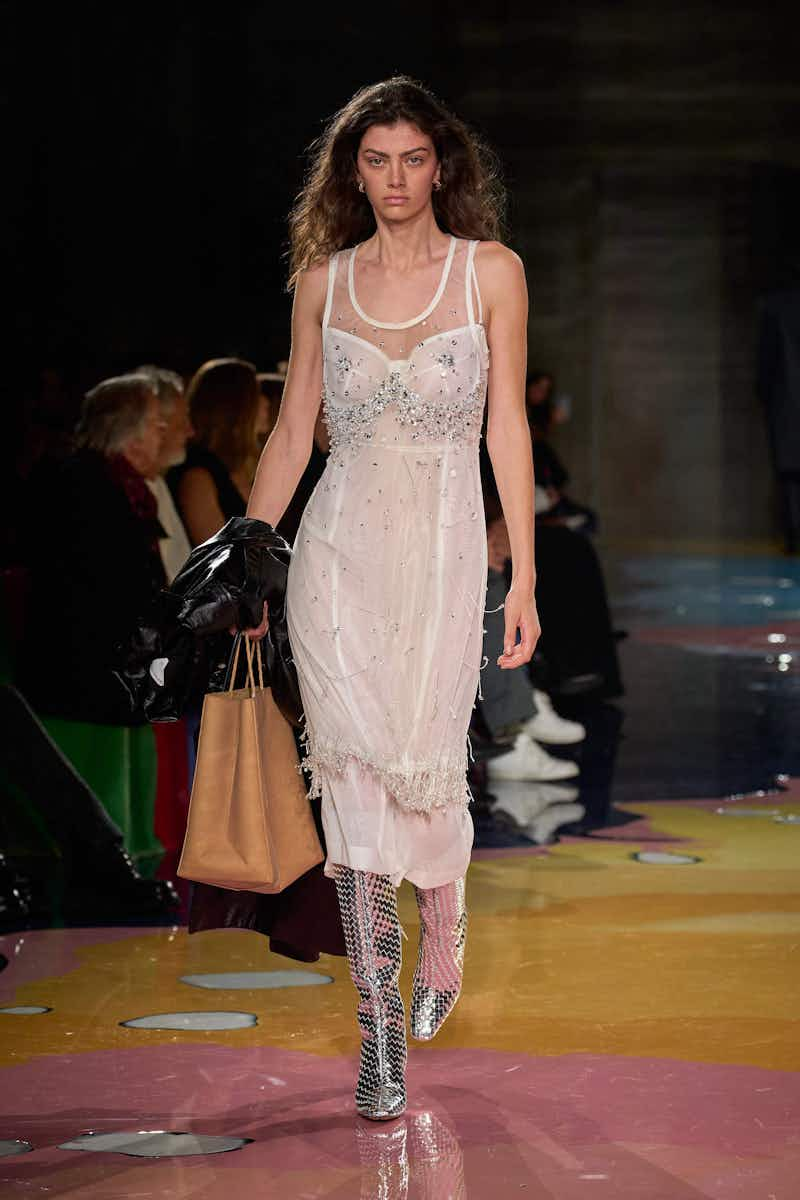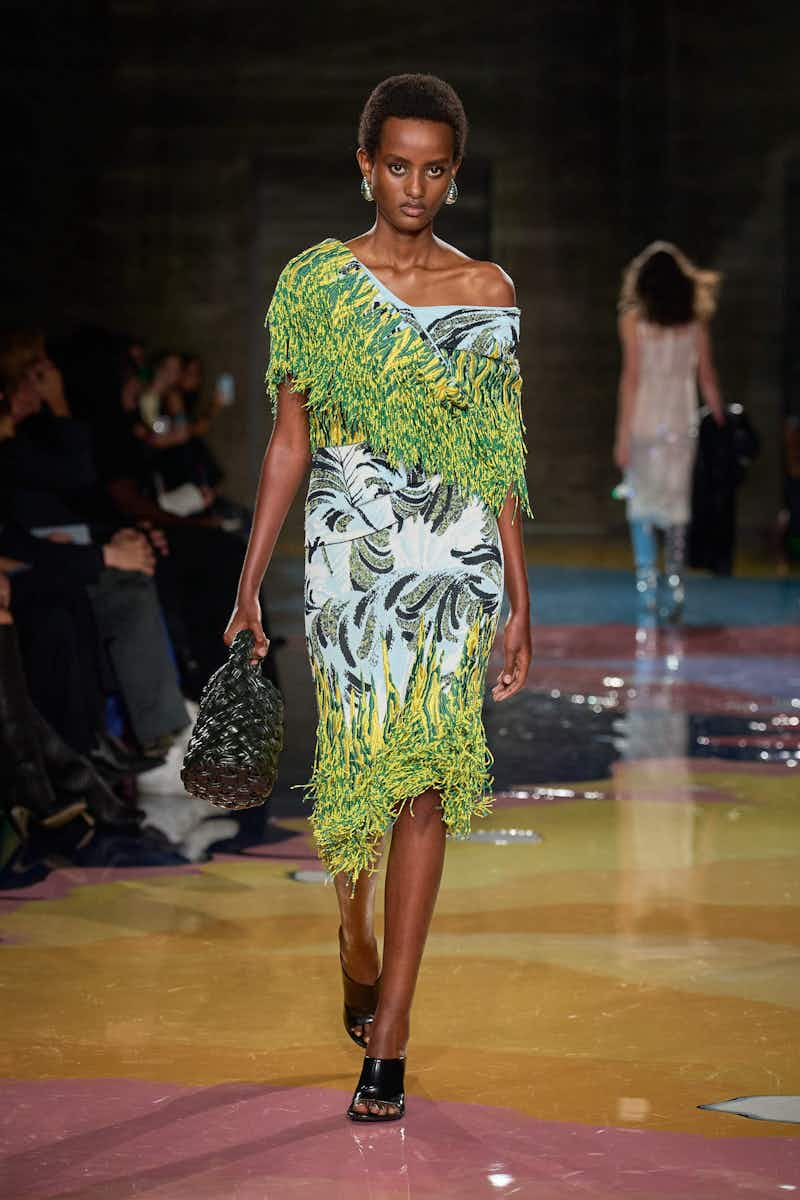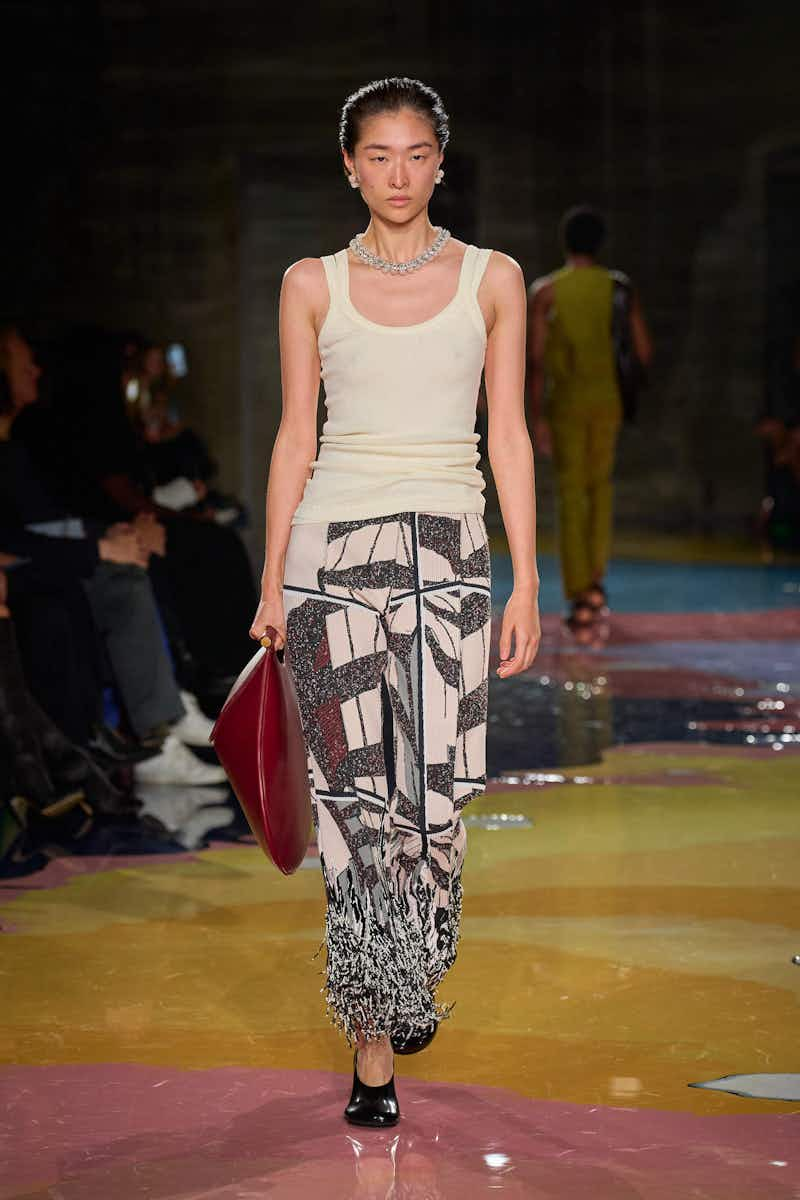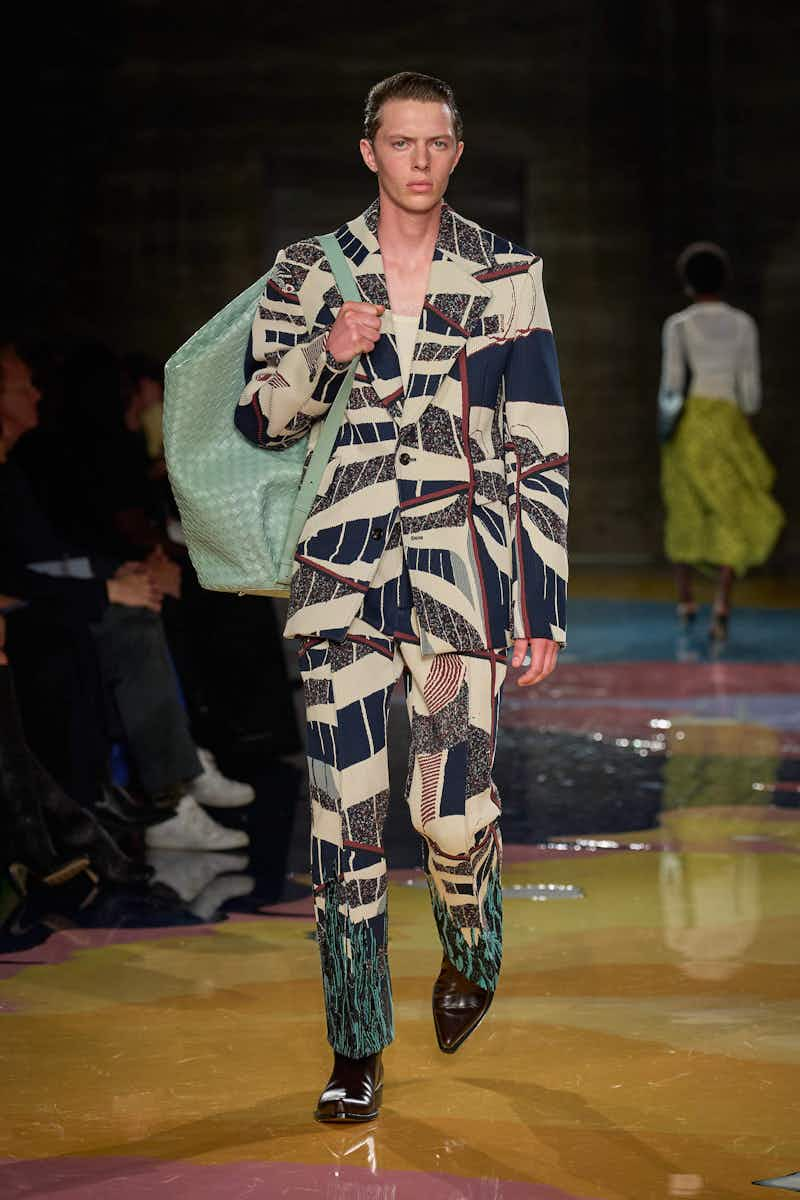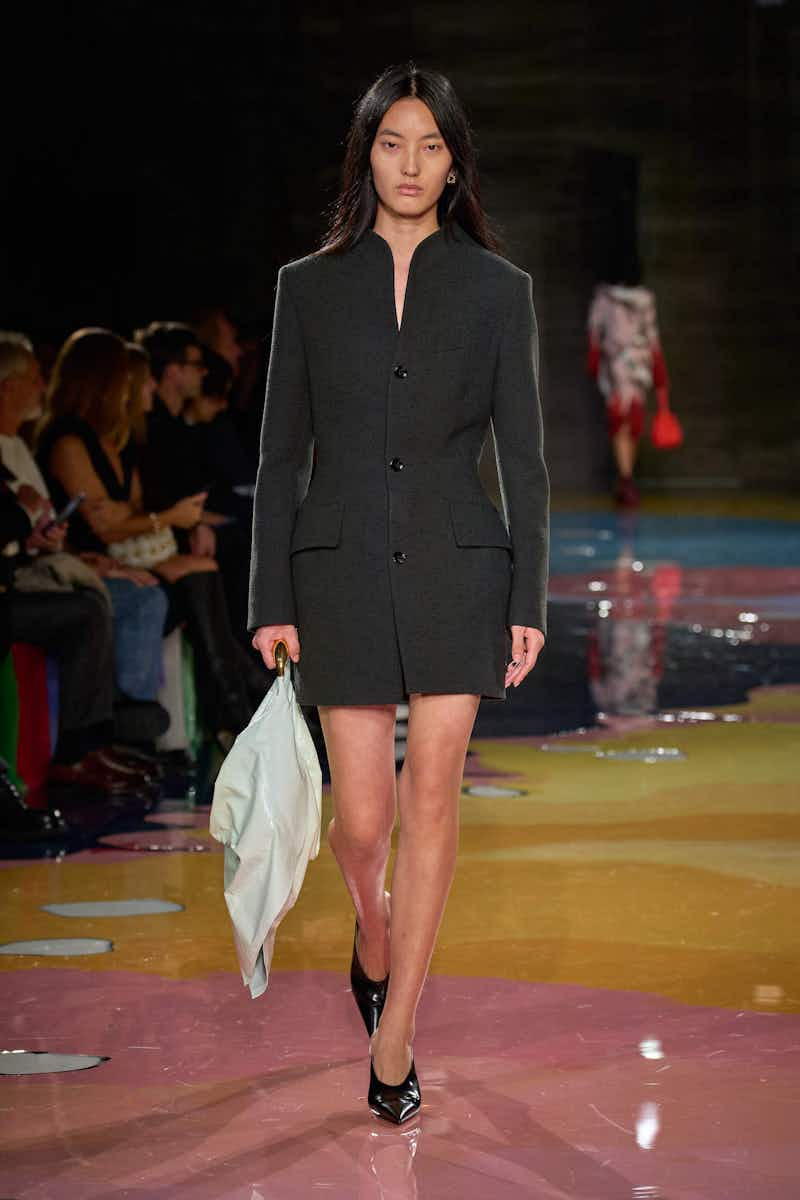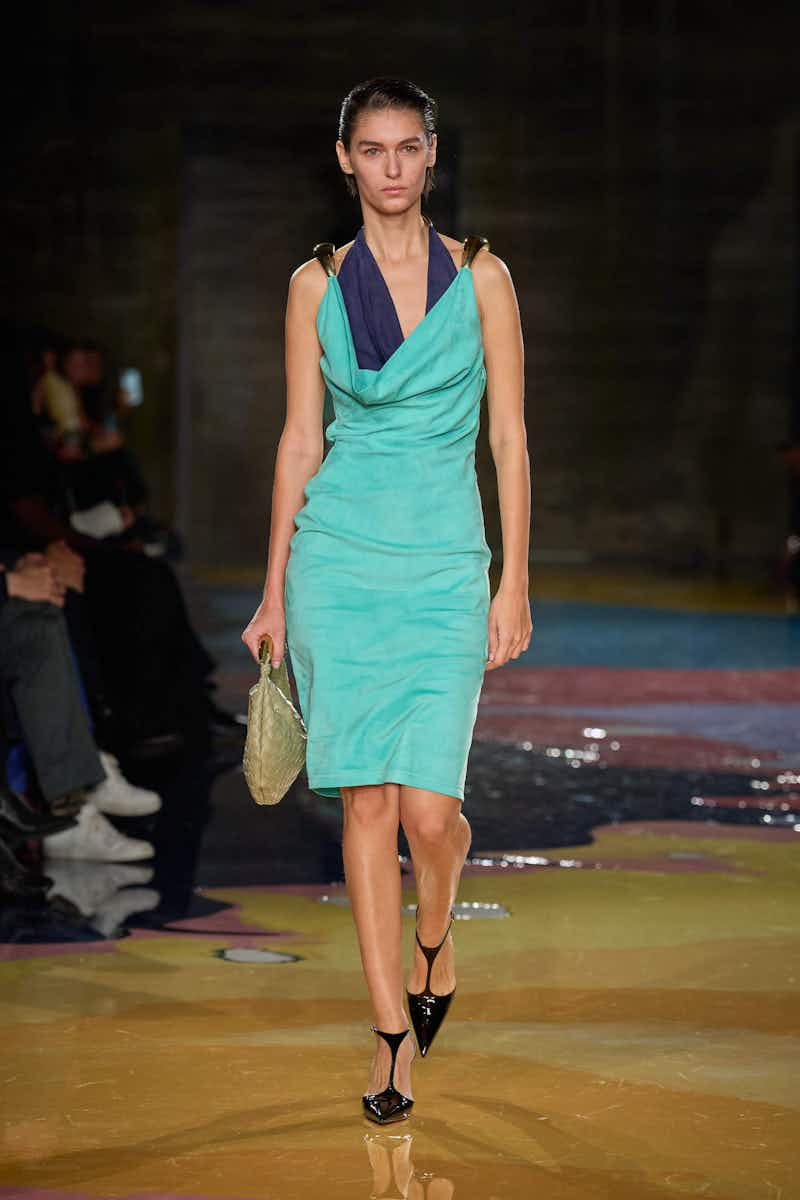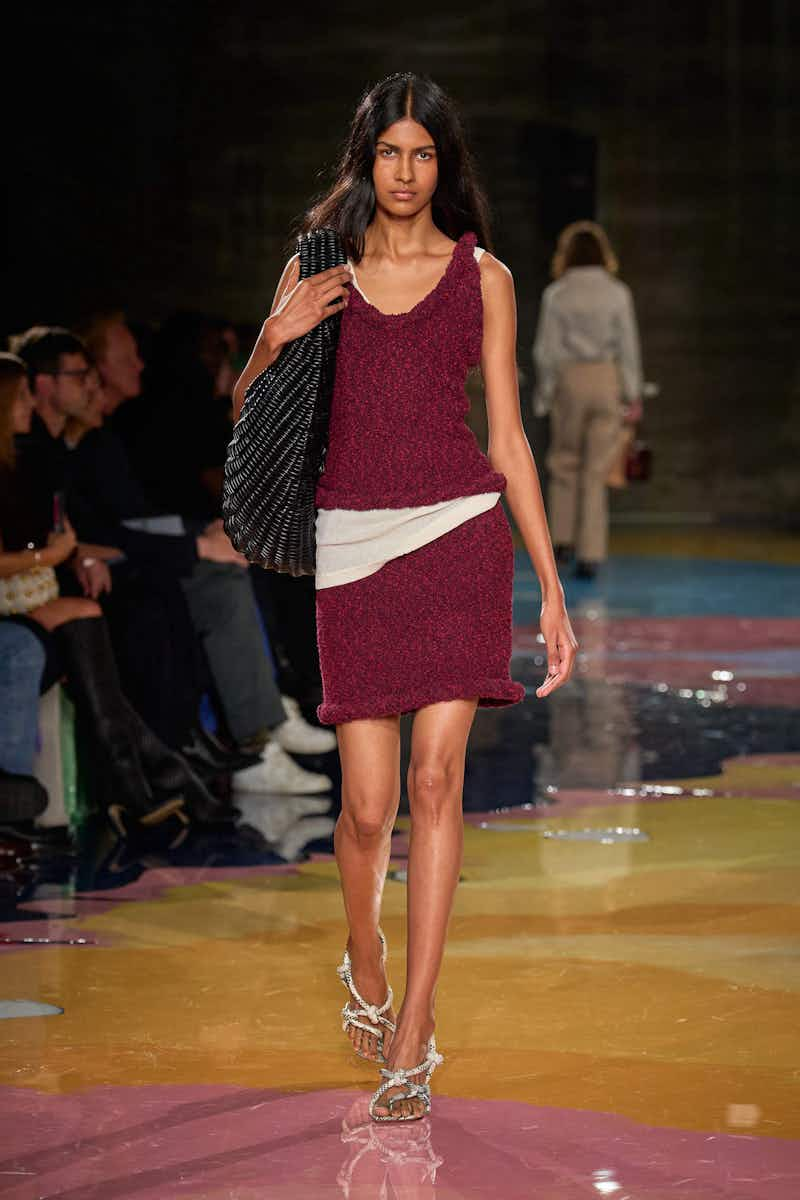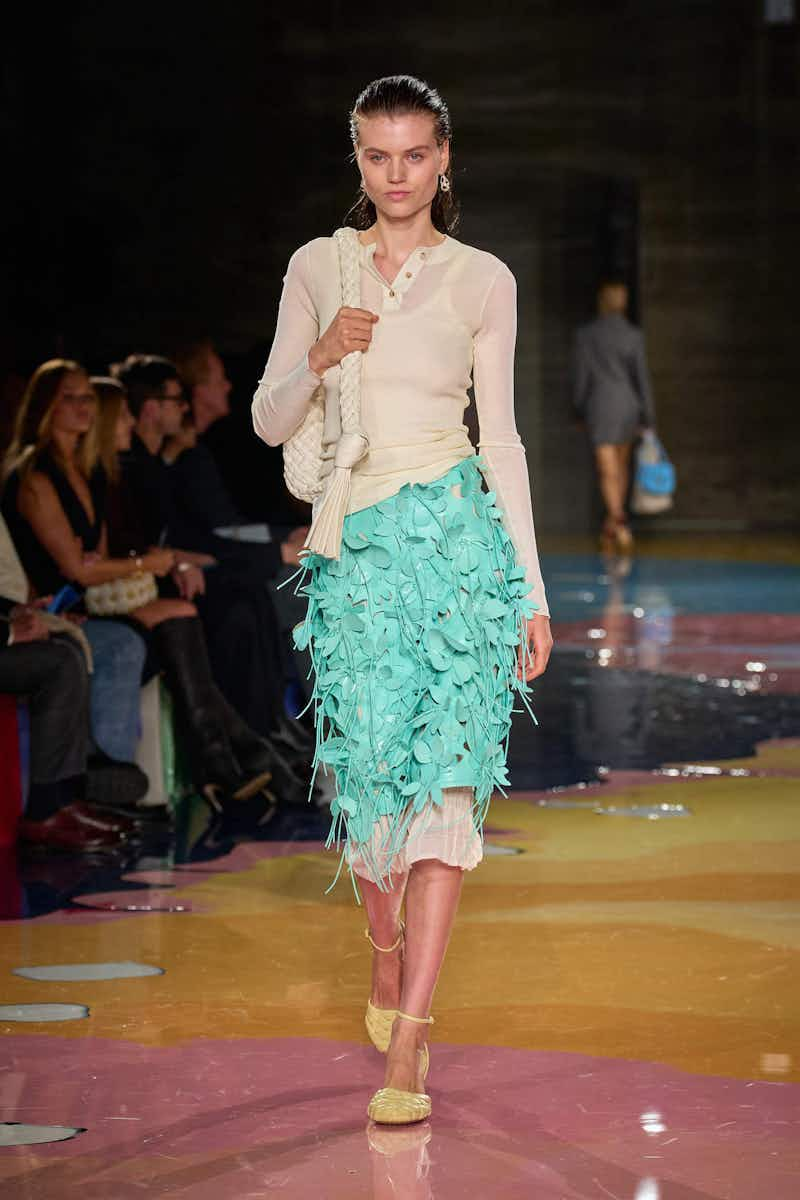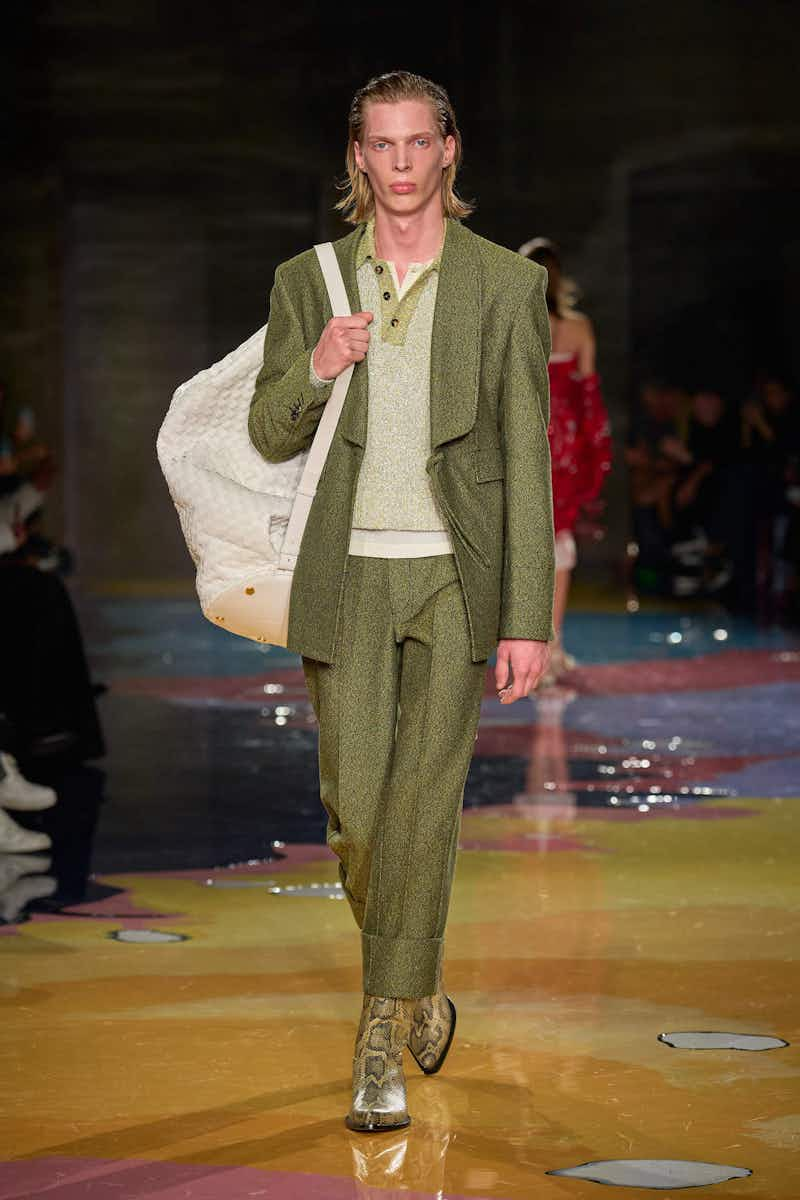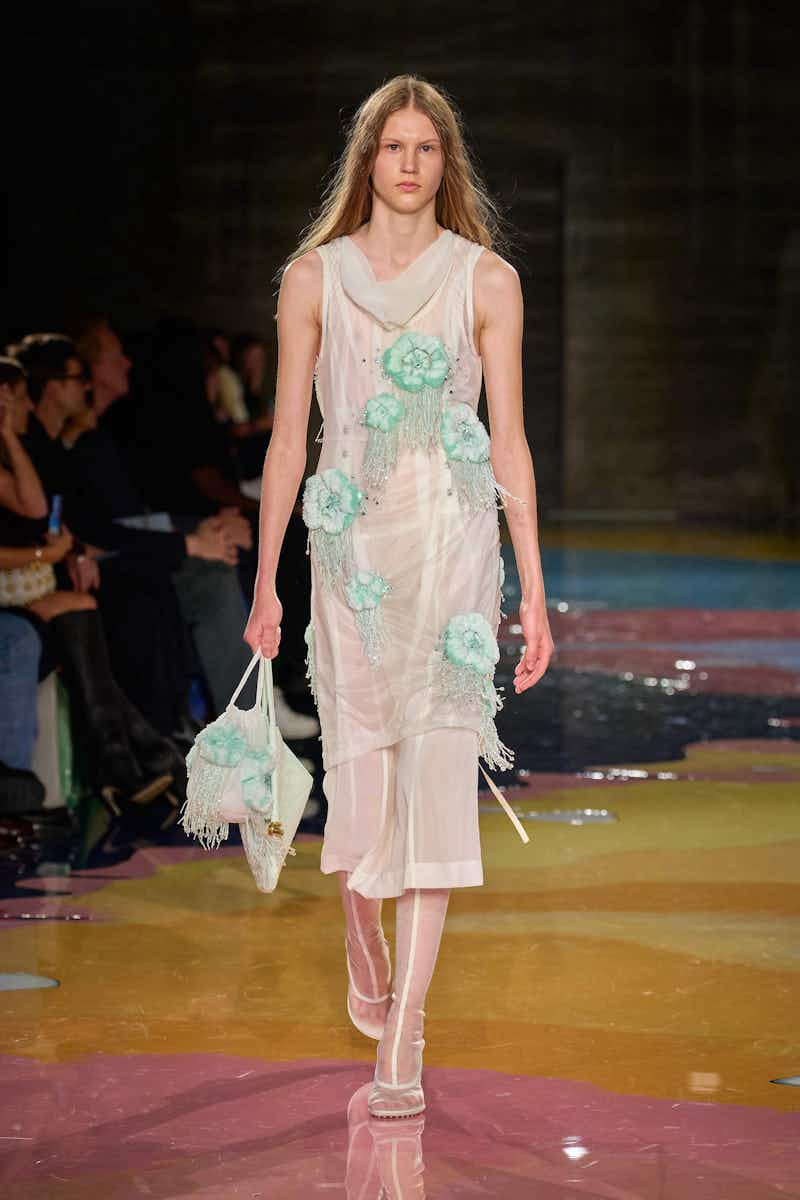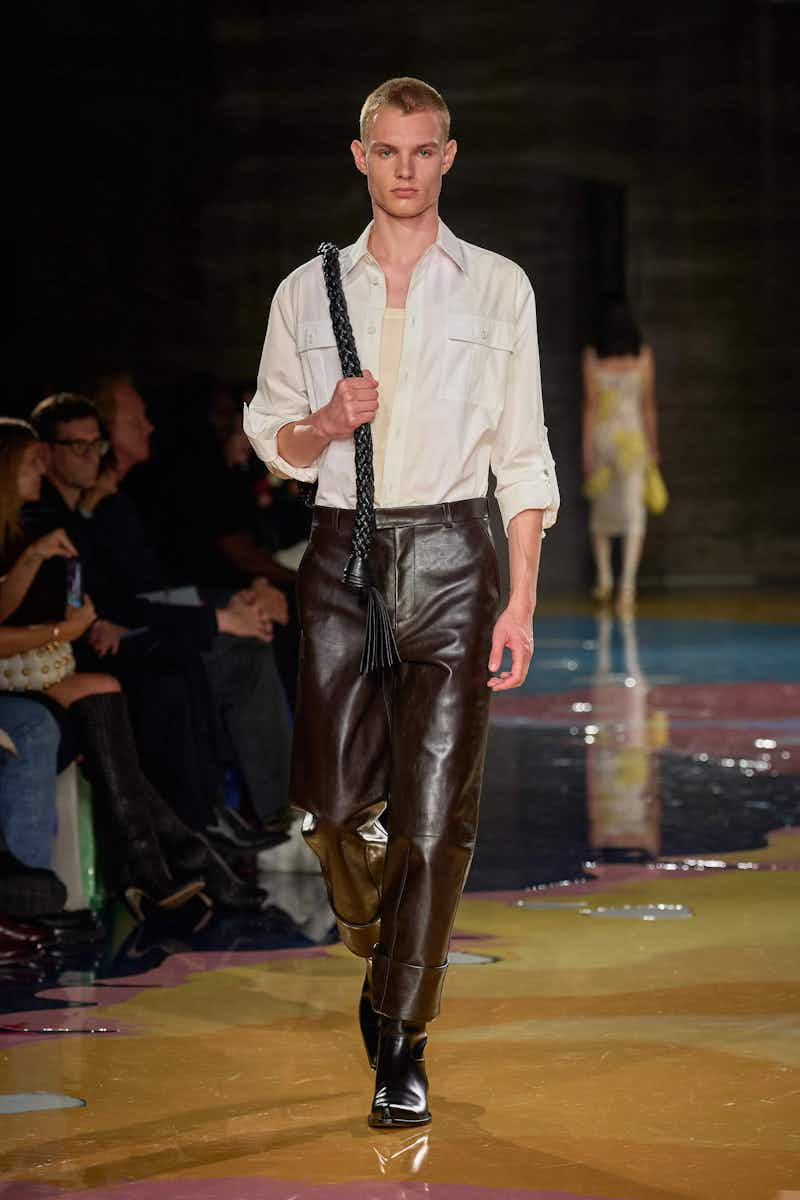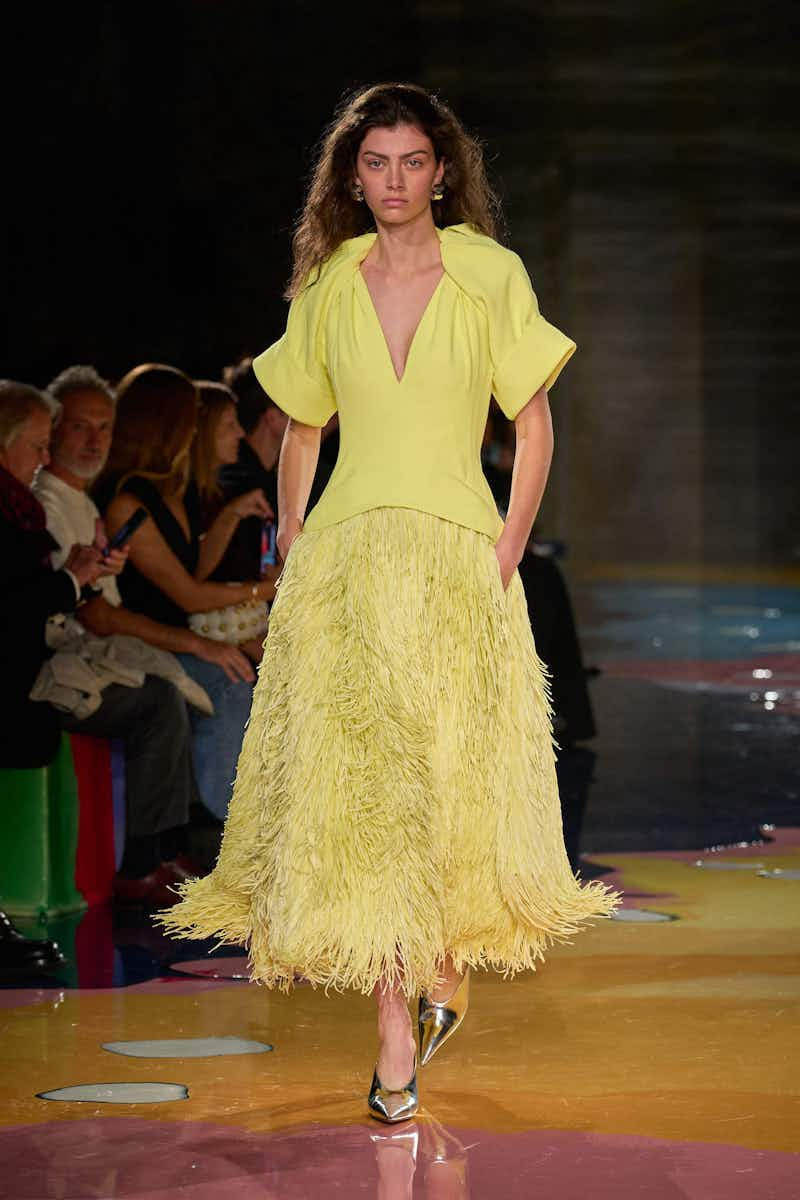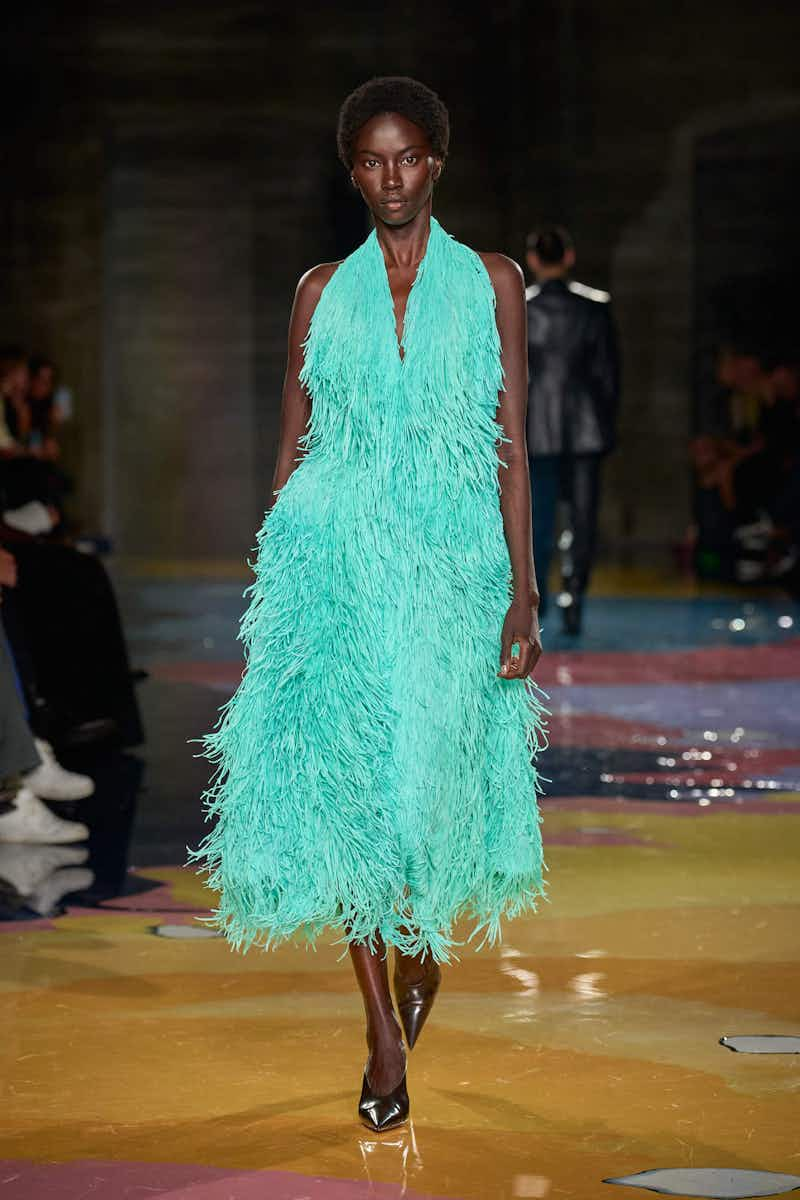 GmbH's Serhat Isik and Benjamin Huseby's second collection for Trussardi was about modernising the Milanese house's signature codes. Skimpy made-for-layering bodysuits opened the show, worn over polo shirts or beneath long coats. Leather work appeared in roomy crocodile biker jackets and midi skirts and cinched silhouettes translated as cascading ruched dresses tied at the neck. Cut-outs and barely there bralets introduced a feminine sensuality, while men's tailoring was fluid and relaxed.

After the duo's bold, disruptive debut last season, this collection was more pared back, communicating directly with the brand's history. That said, the motocross detail denim made sure there was still something for the rebels at heart. SW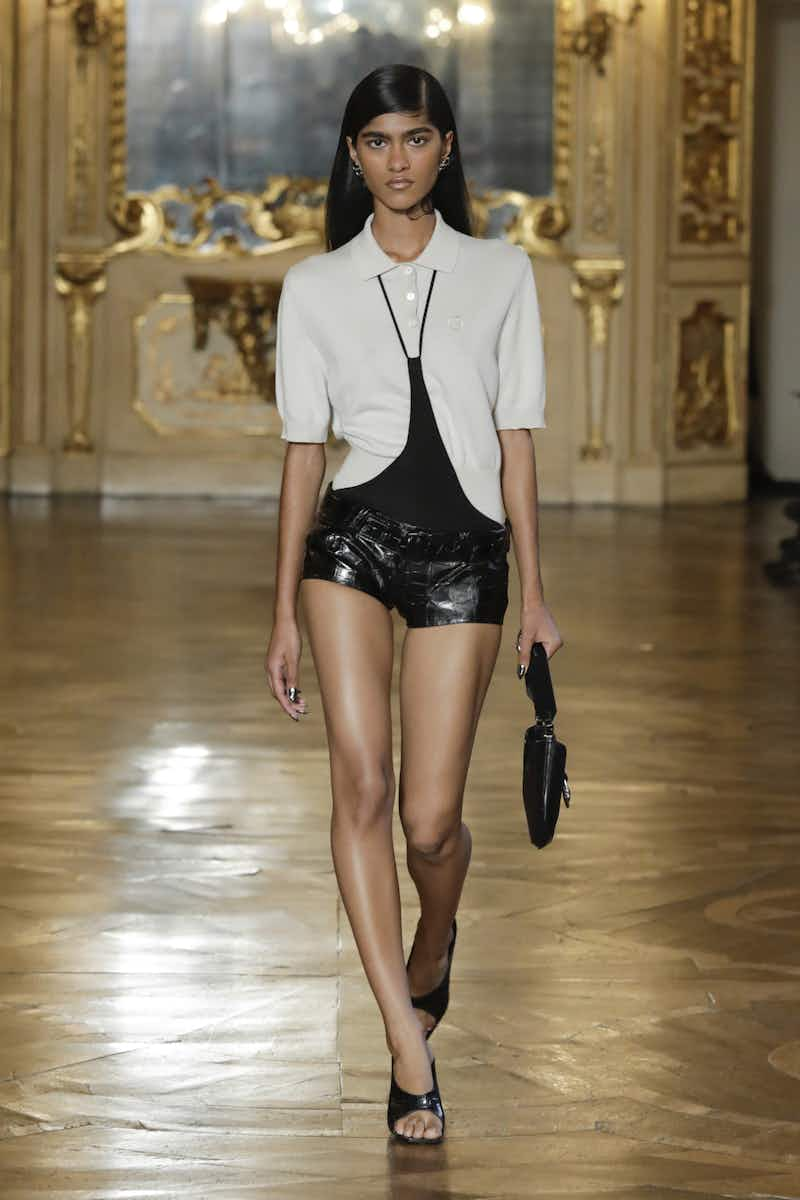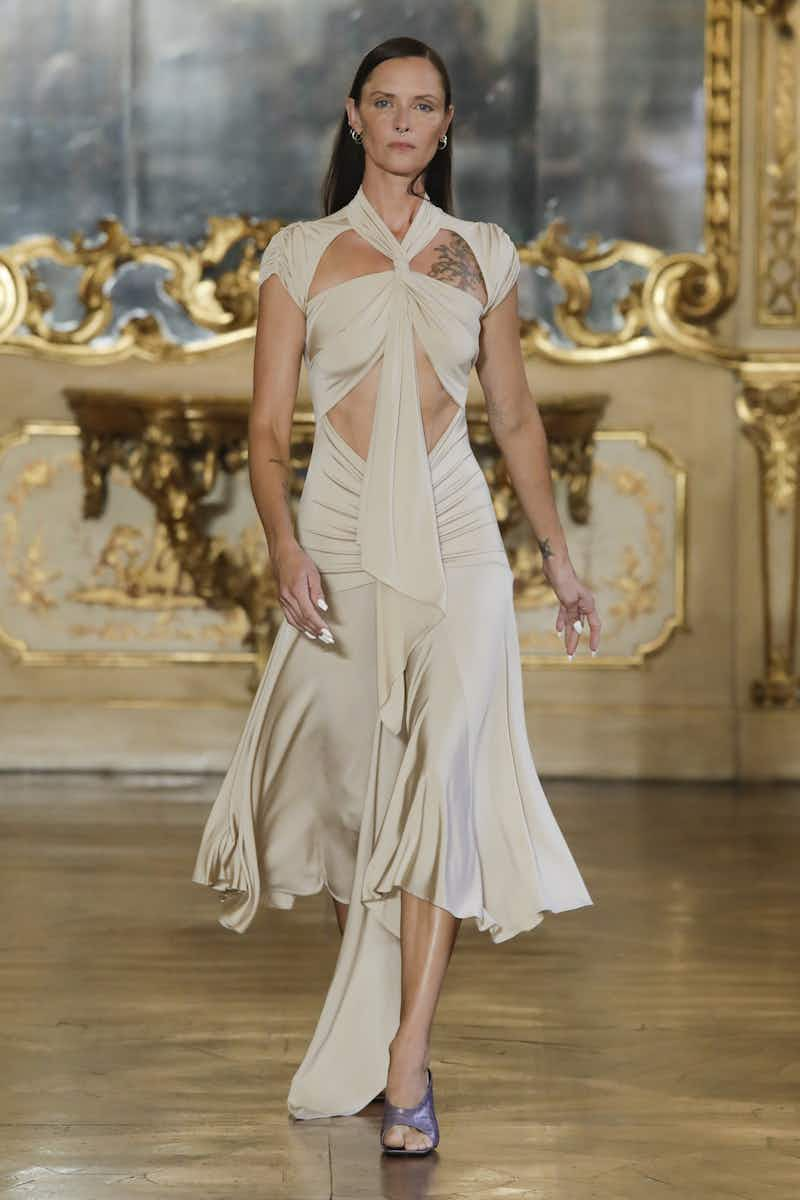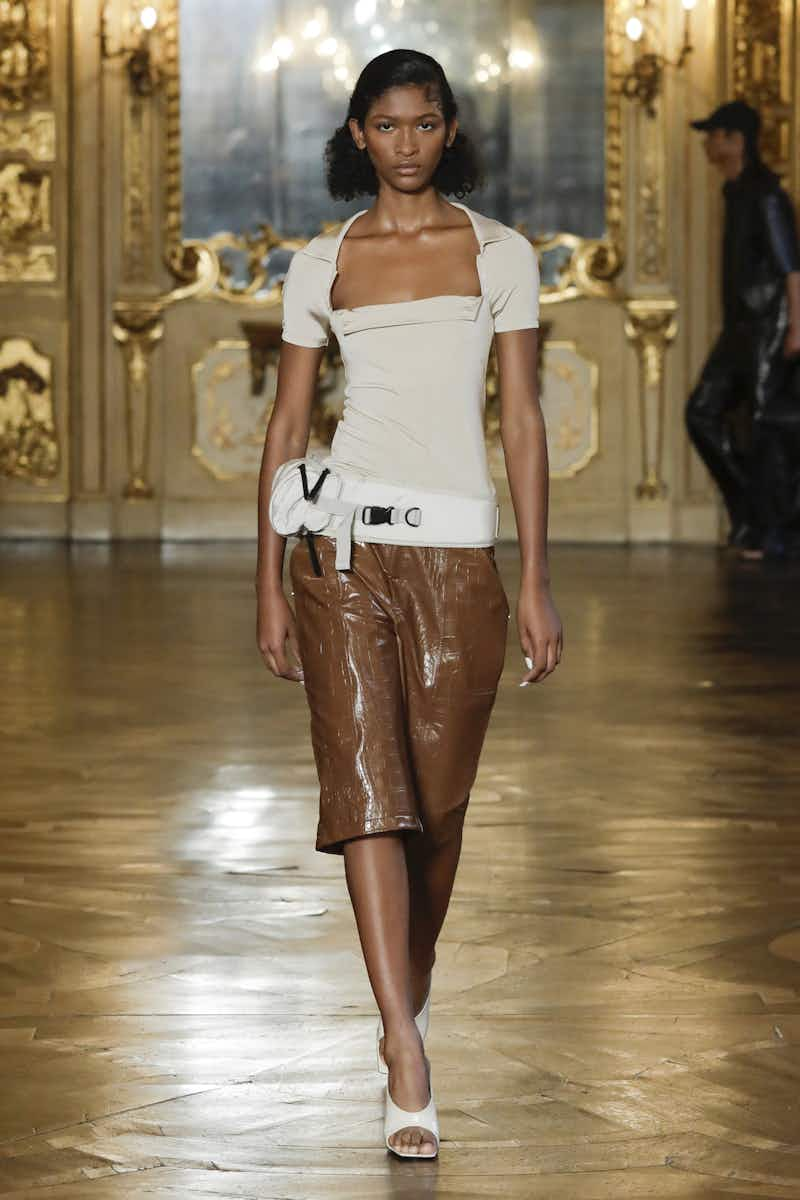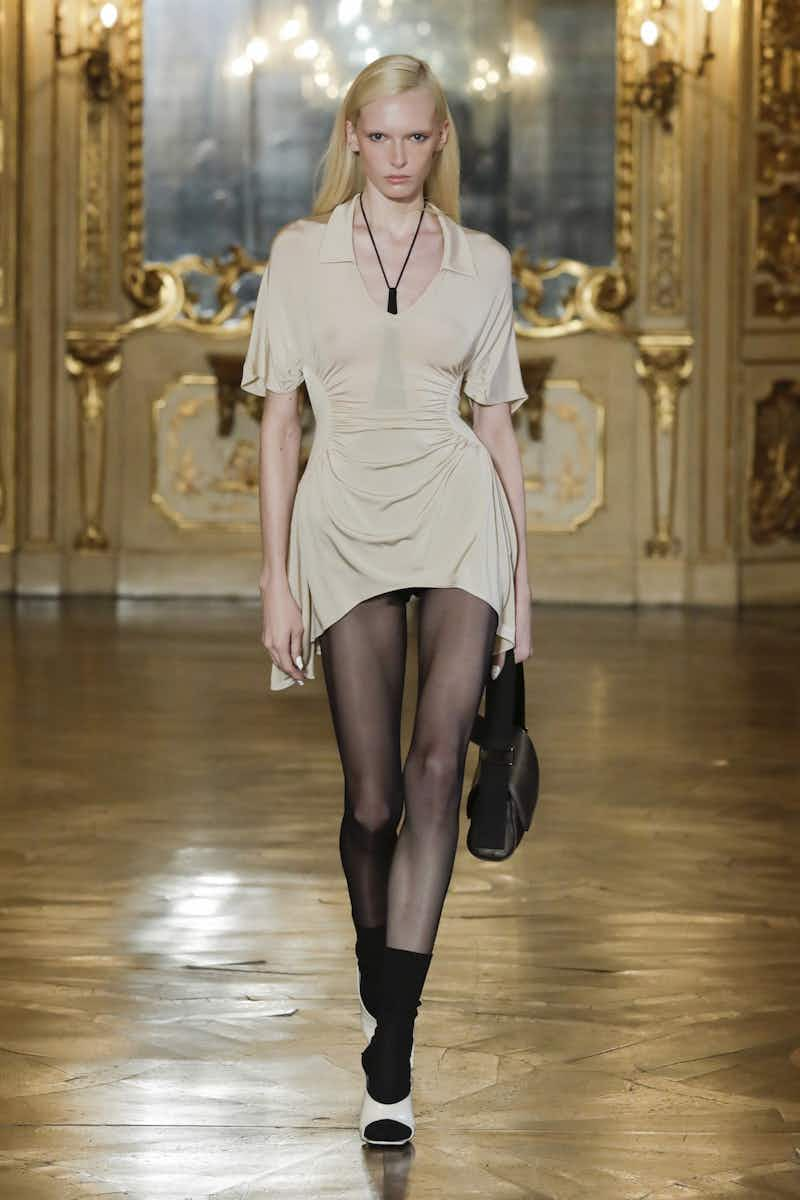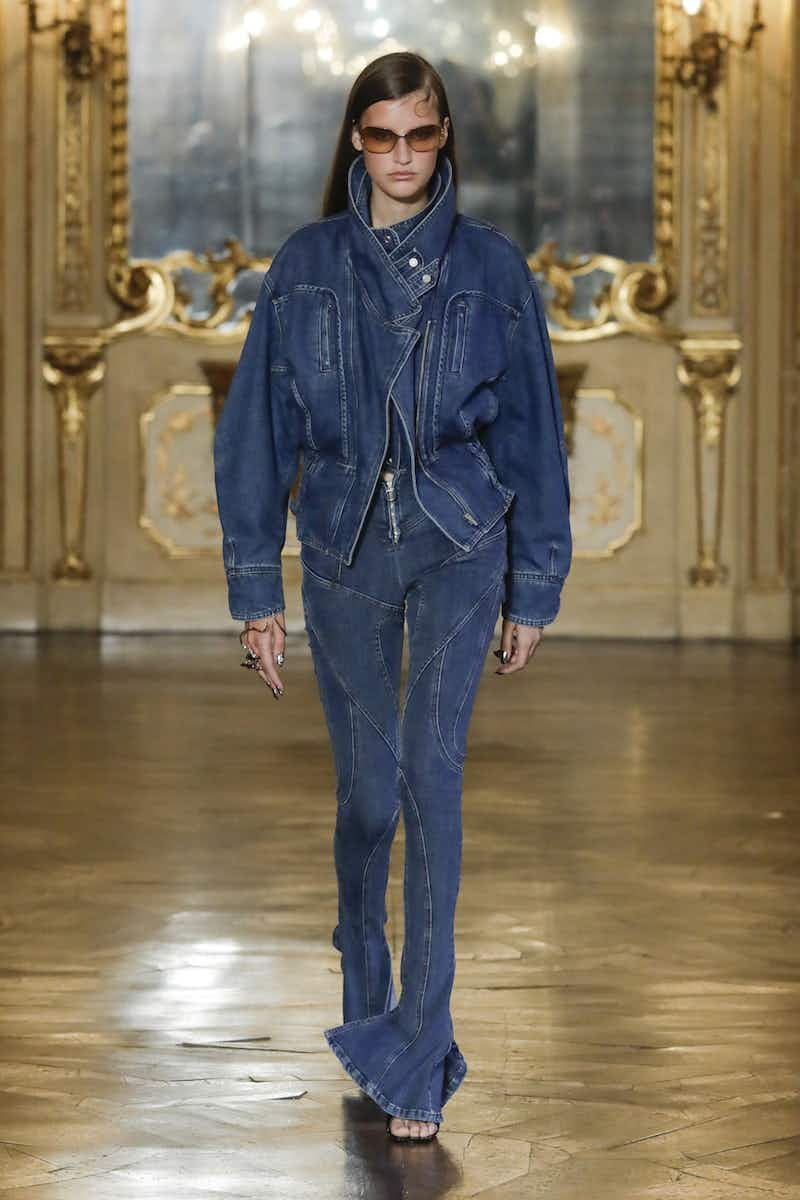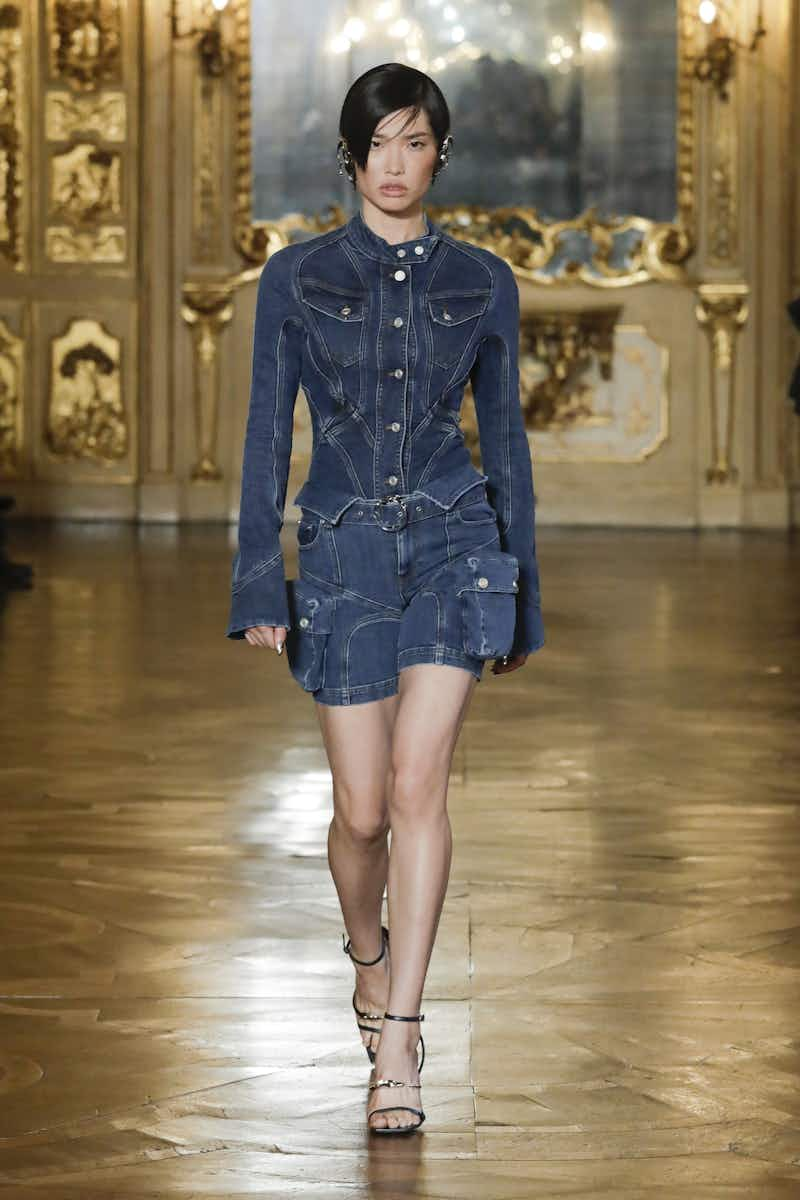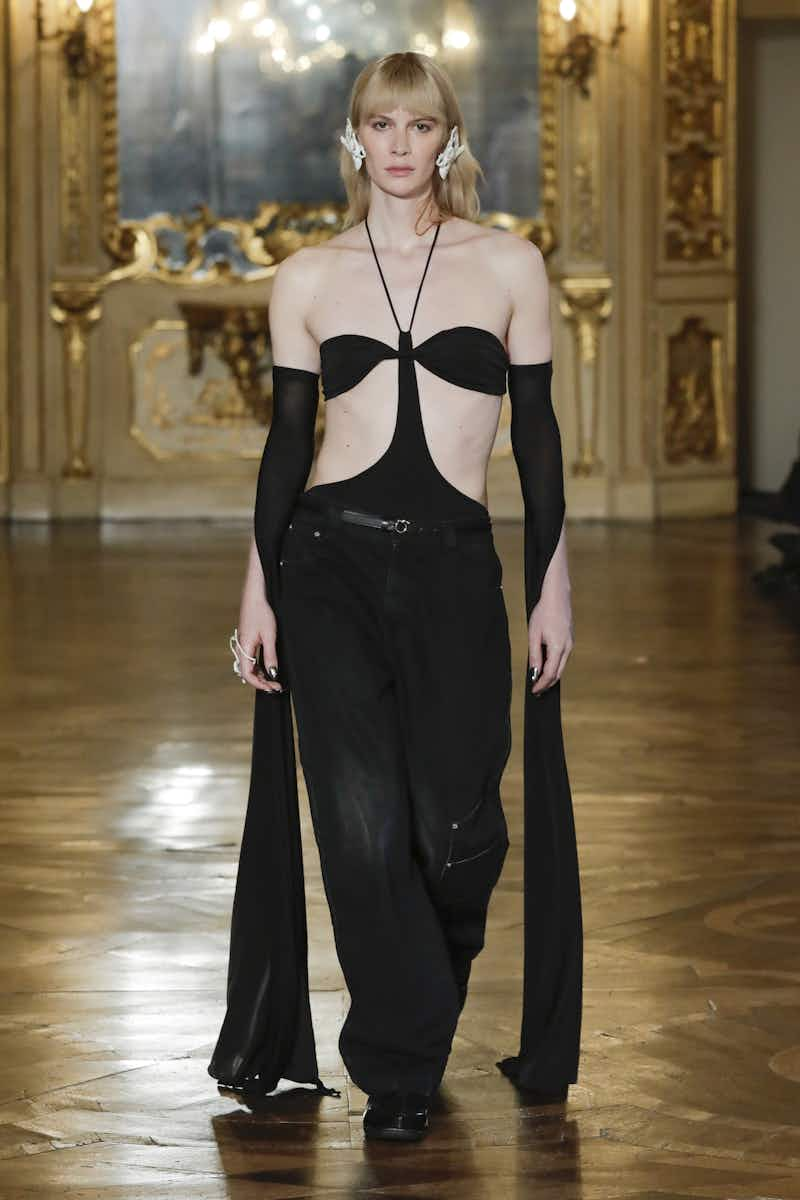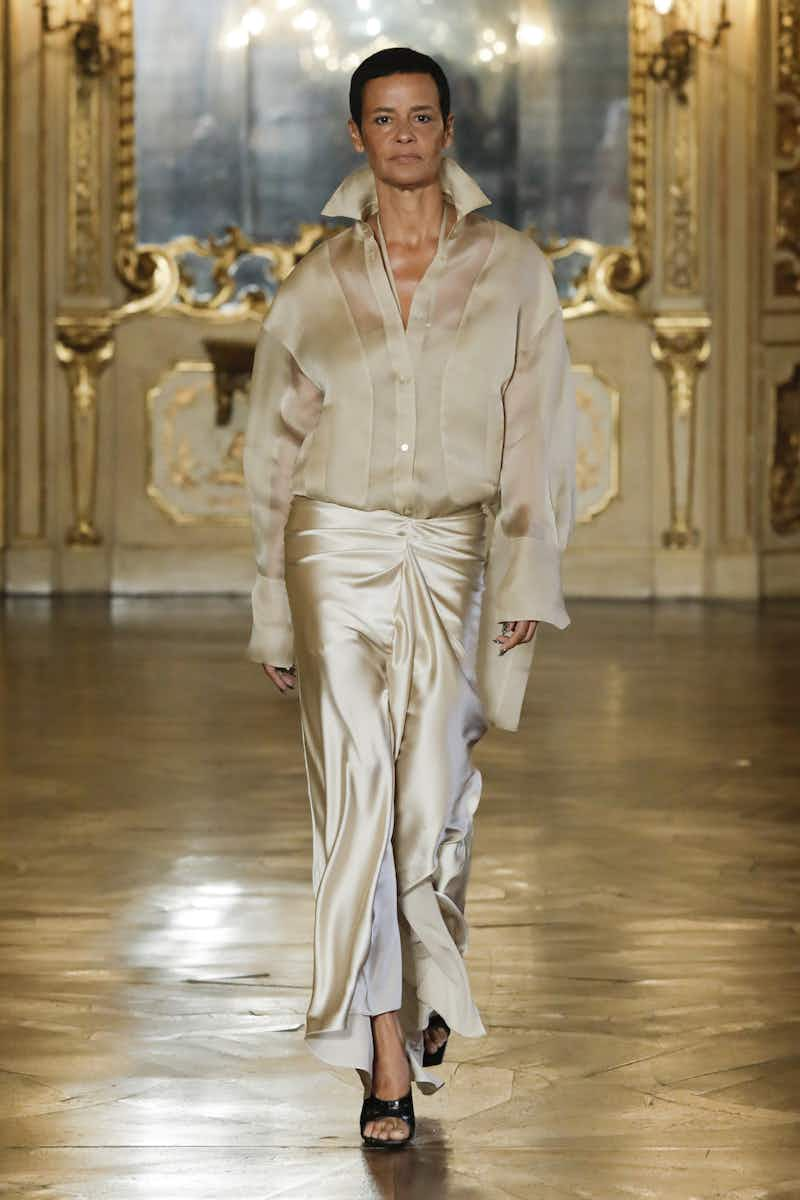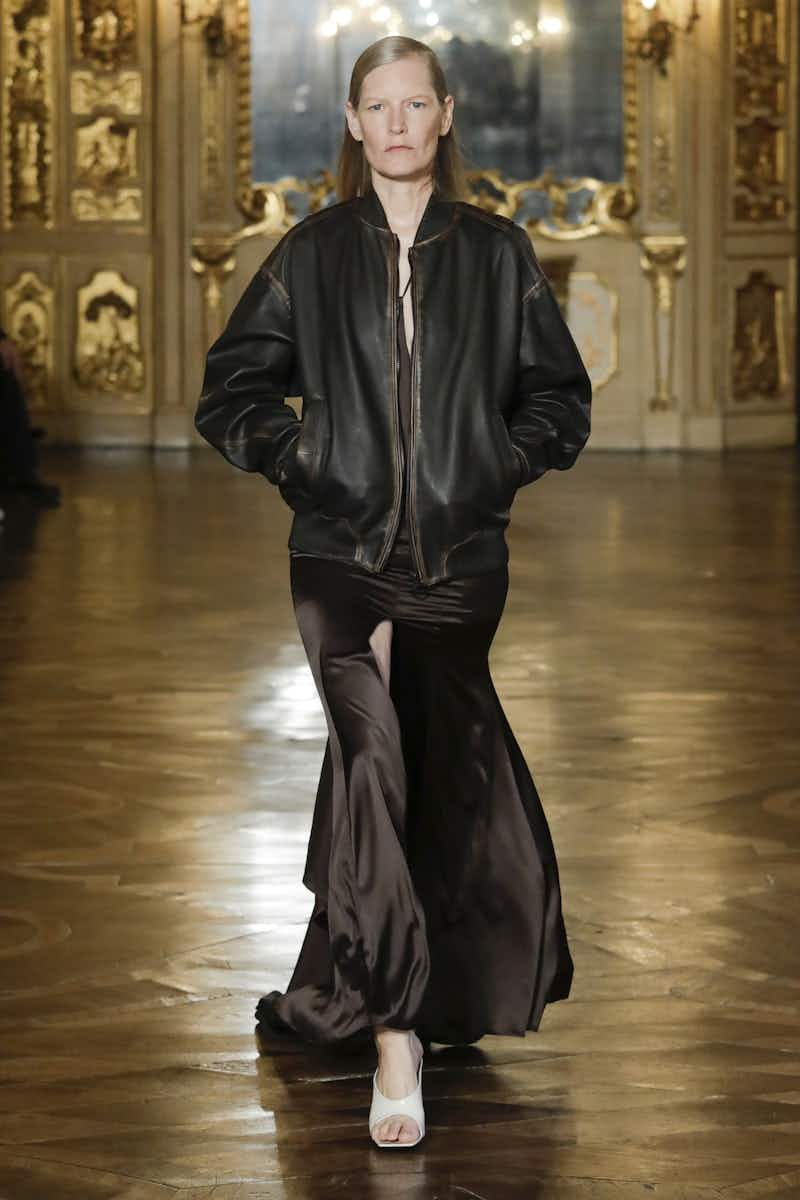 A blonde Kim K slurped spaghetti in the black and white film that formed the backdrop of Dolce & Gabbana's SS23 show, with the Italian house closely linked to the Kardashian clan since they dressed them for Kourtney's wedding back in May. When Kim flew to Milan earlier this week, she posted a pic accompanied with #CiaoKim and #DolceGabbana. Indeed, she made her own runway appearance with Dominico and Stefano at the end of the show.

The collection, titled Kim, was made up of reworked archival pieces selected by her from between 1987 and 2007. The clothes themselves channelled film noir sex appeal through embellished bustiers, PVC and lashings of leopard print, combining hourglass silhouettes with futuristic metallics. Chunky religious crosses or chokers spelling out ​"KIM", ​"D&G" and ​"LOVE" adorned the models' necks. Some say celebrity culture is the new religion, after all. SW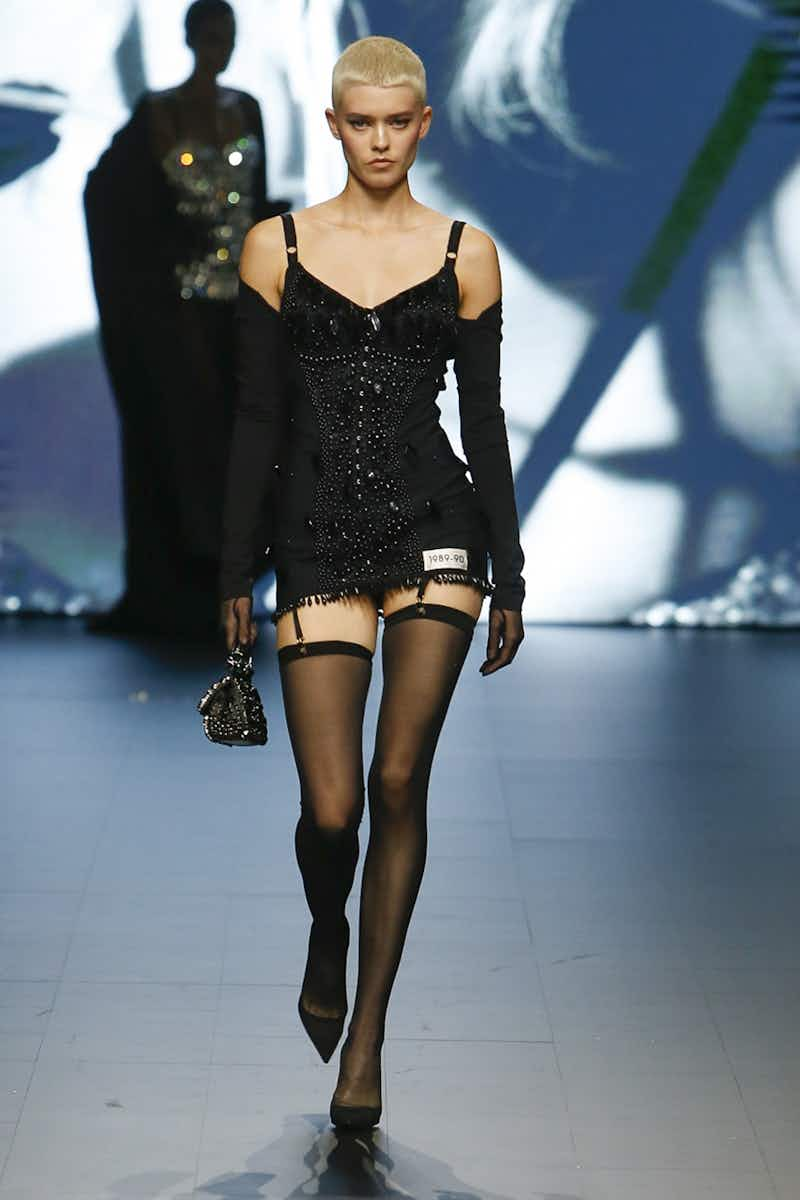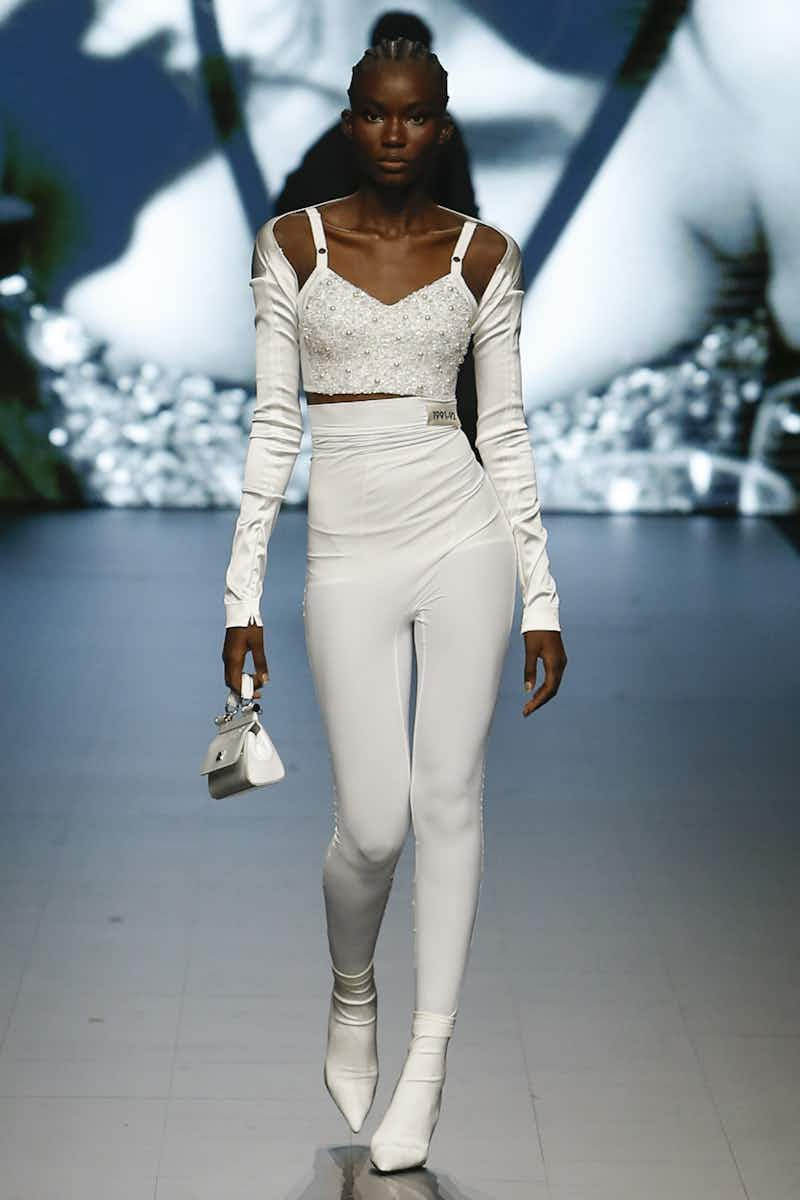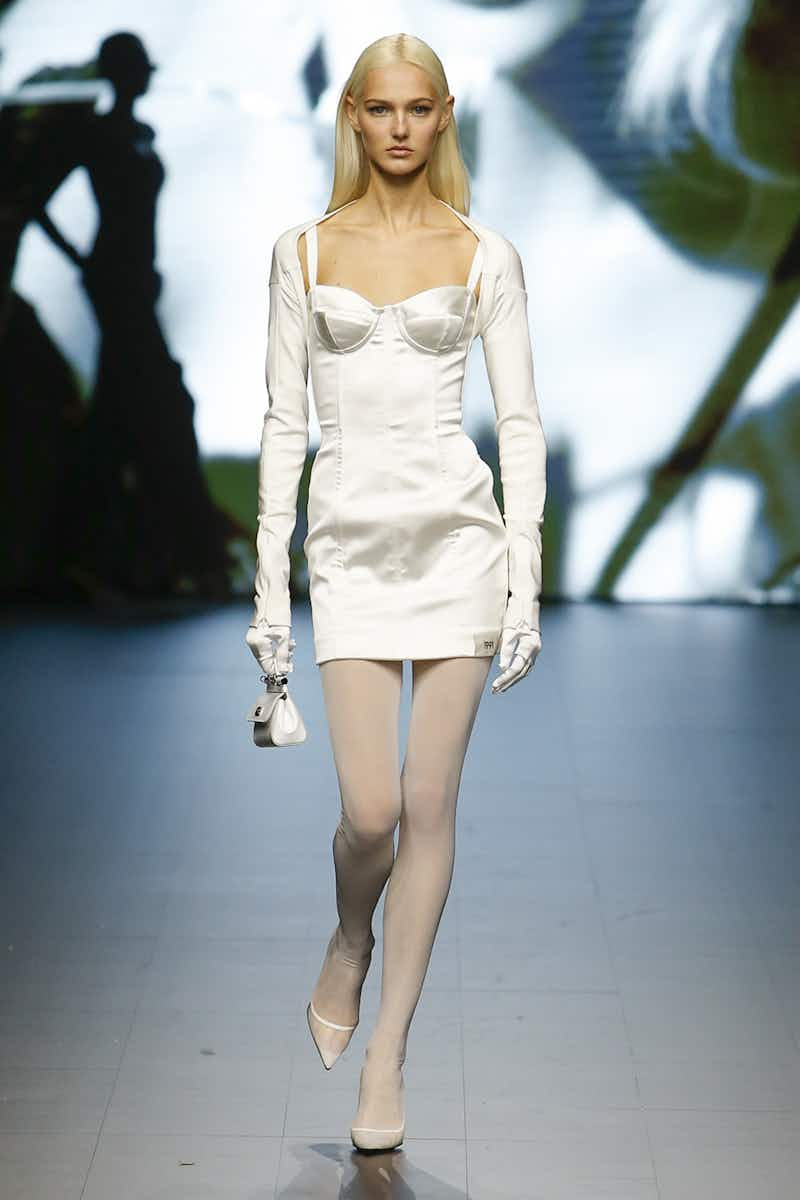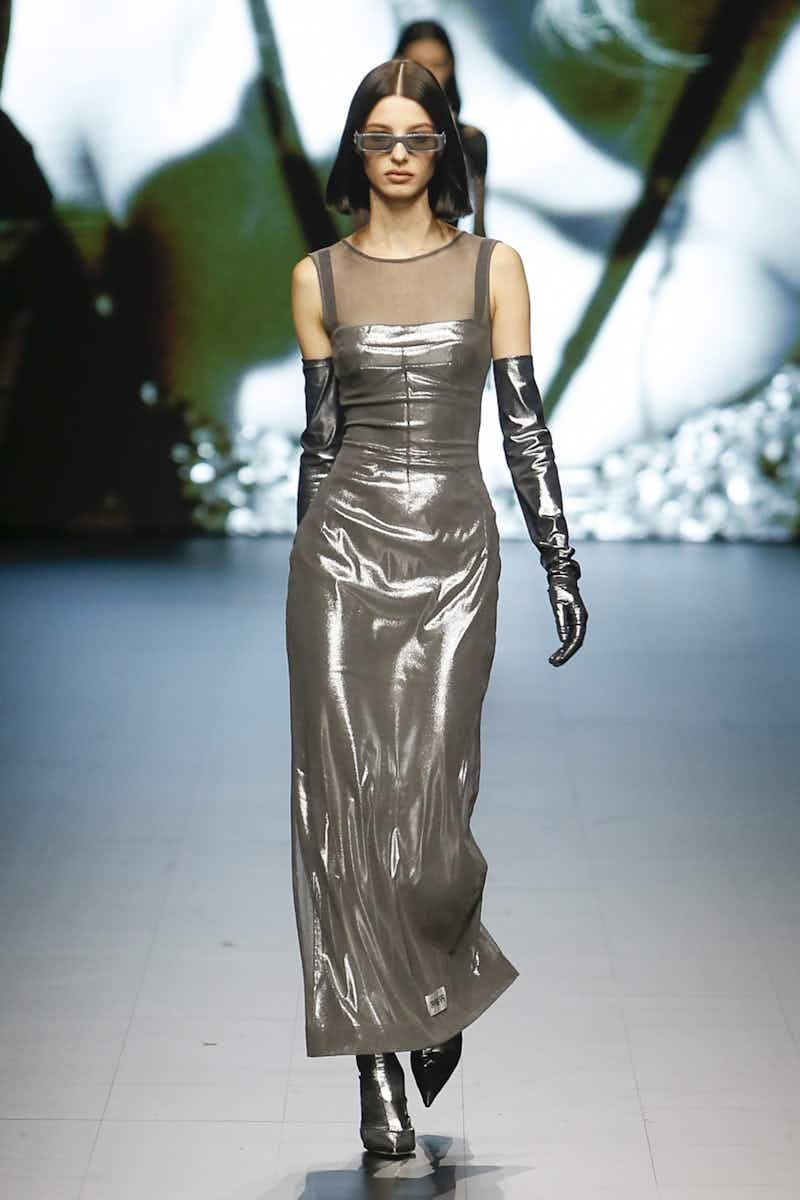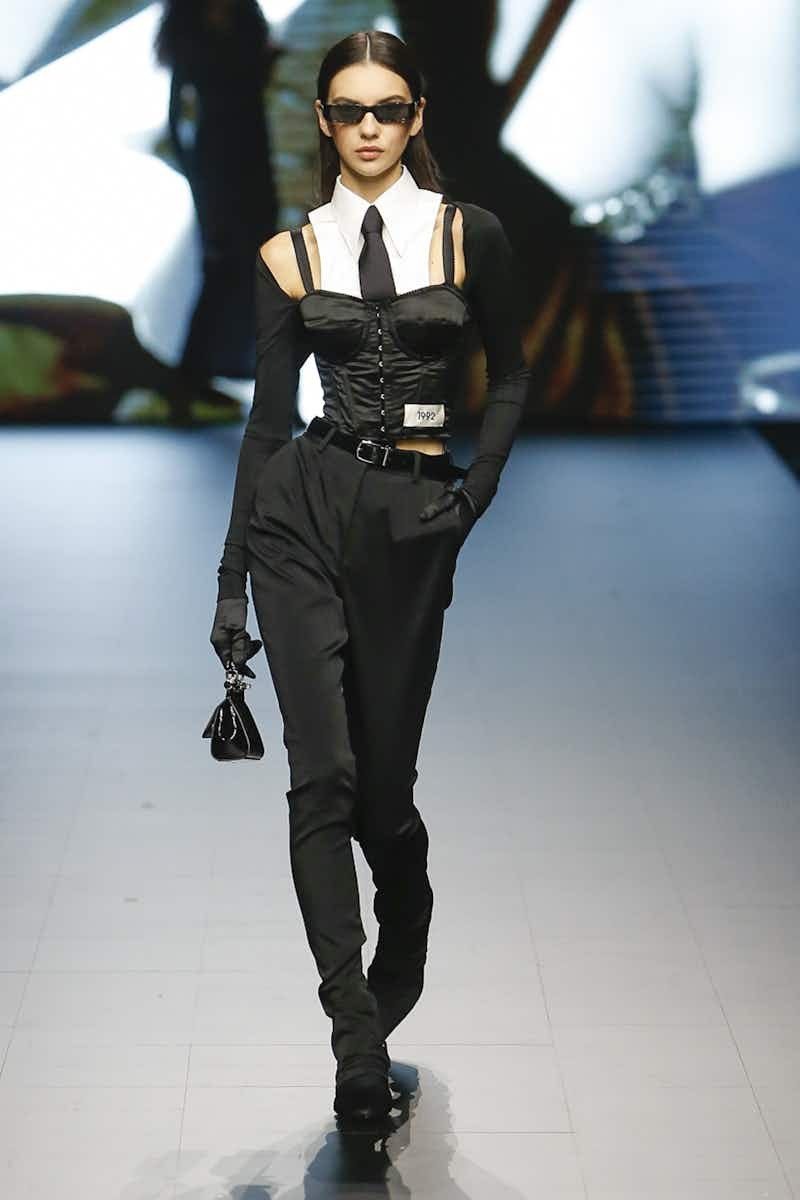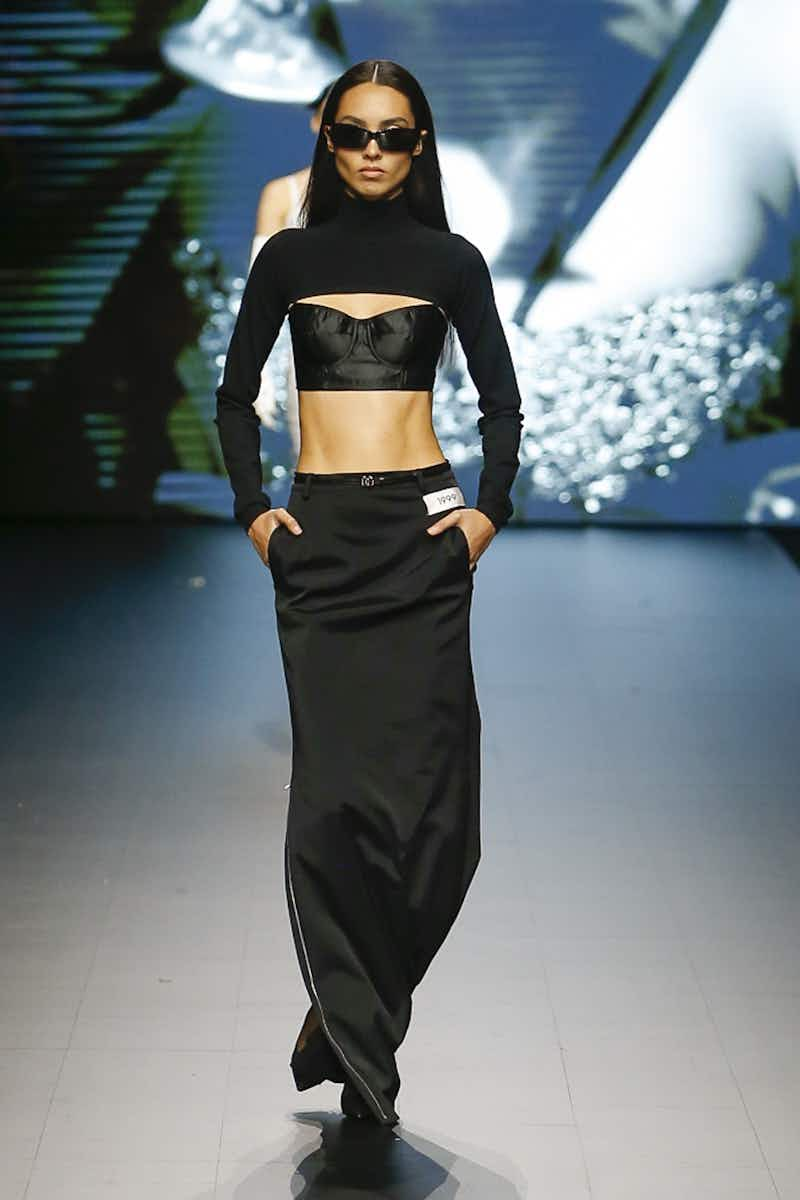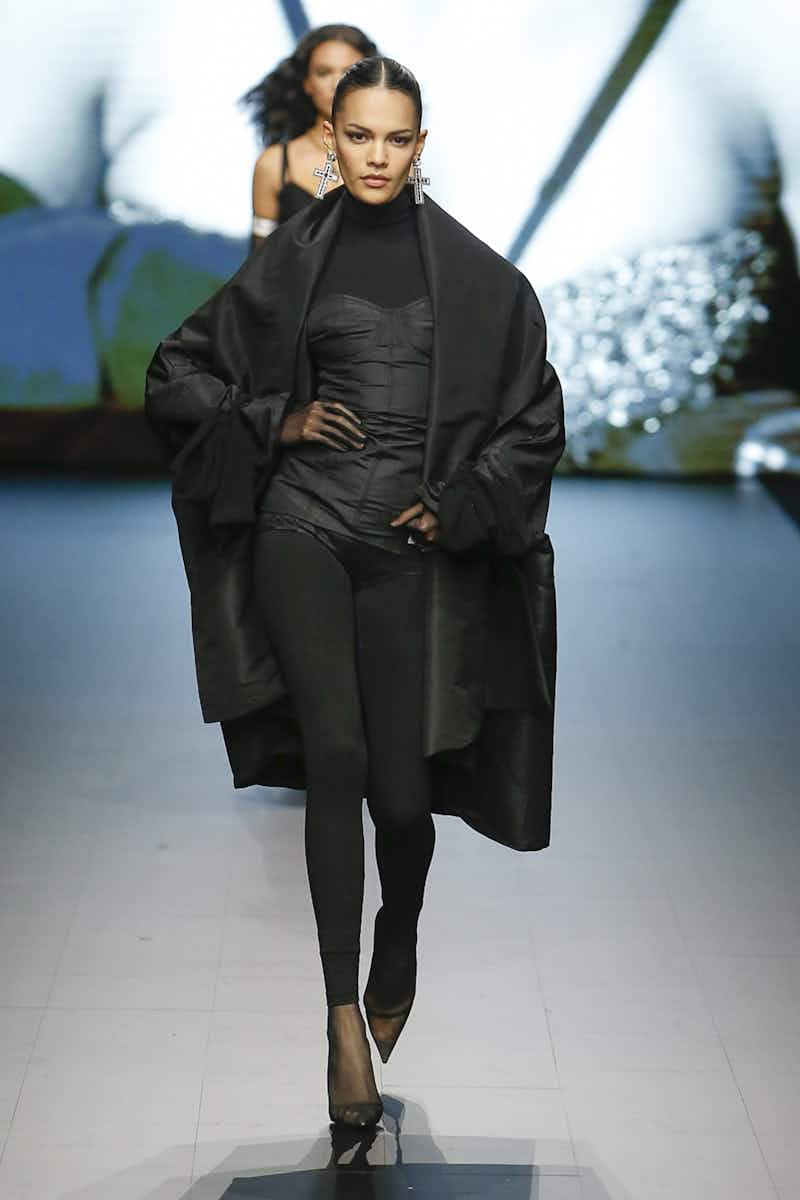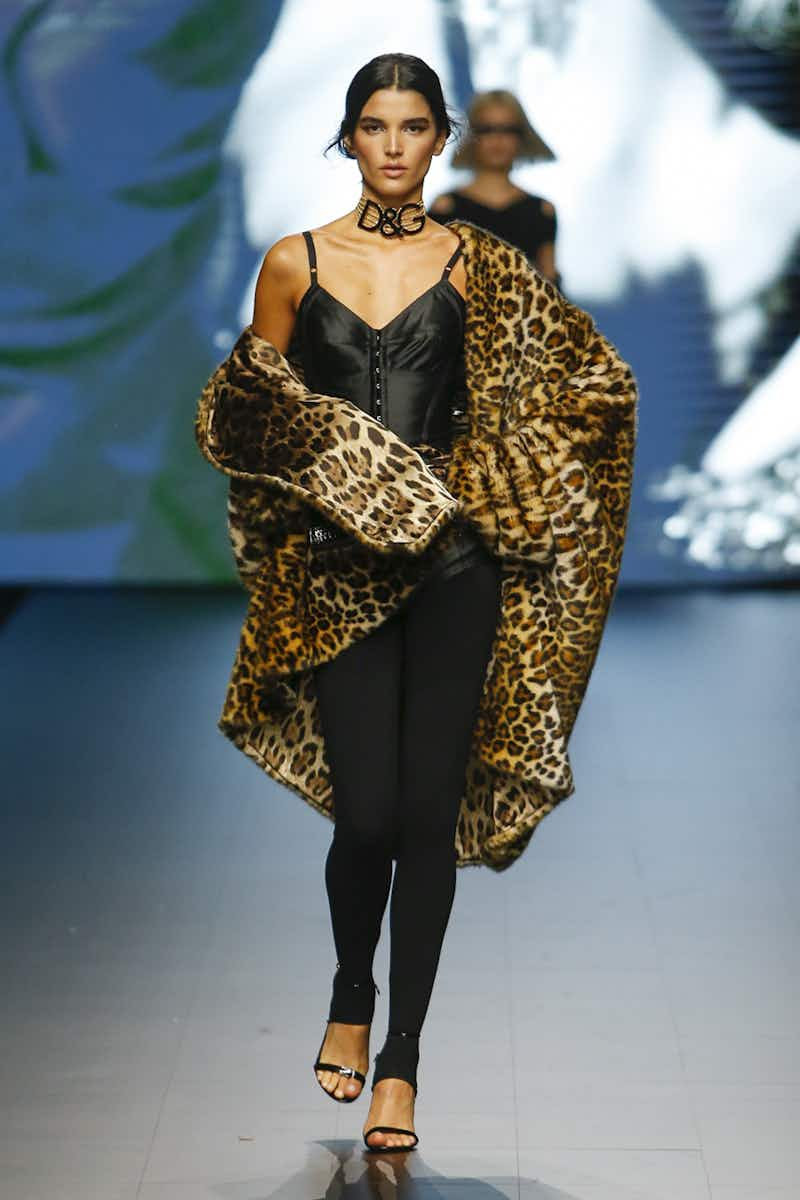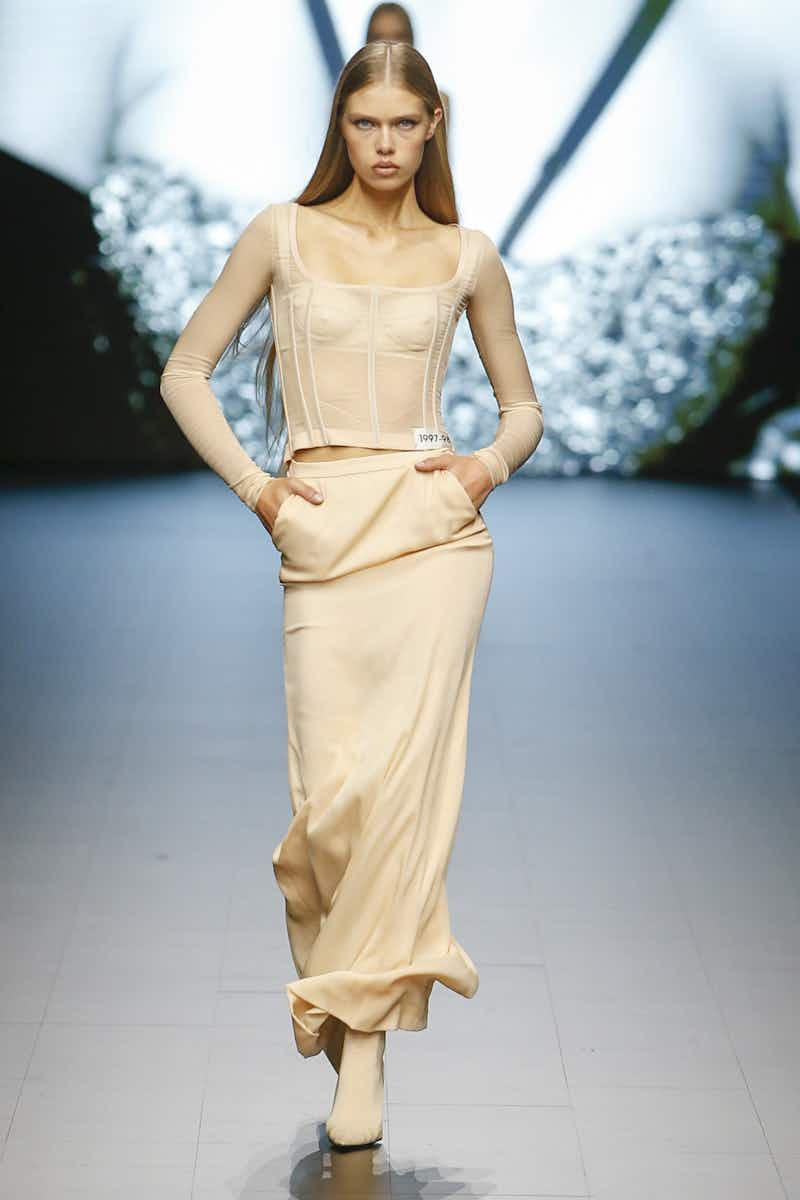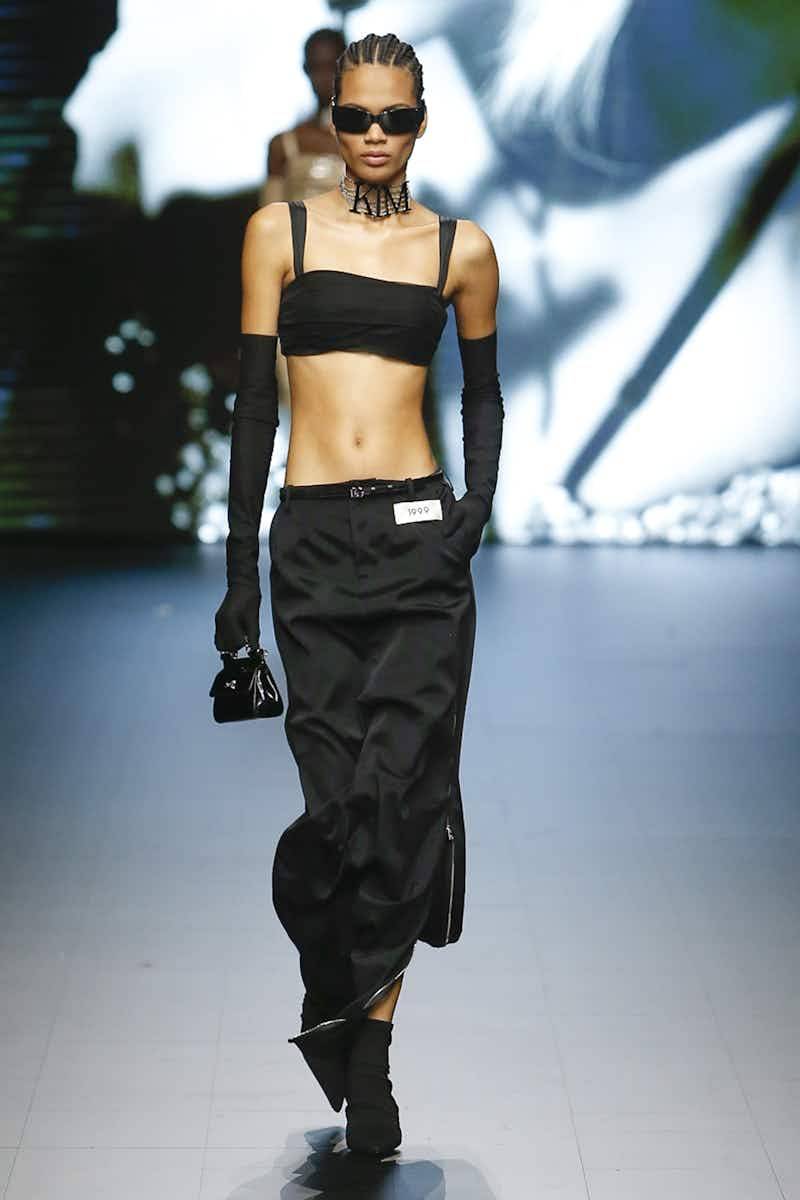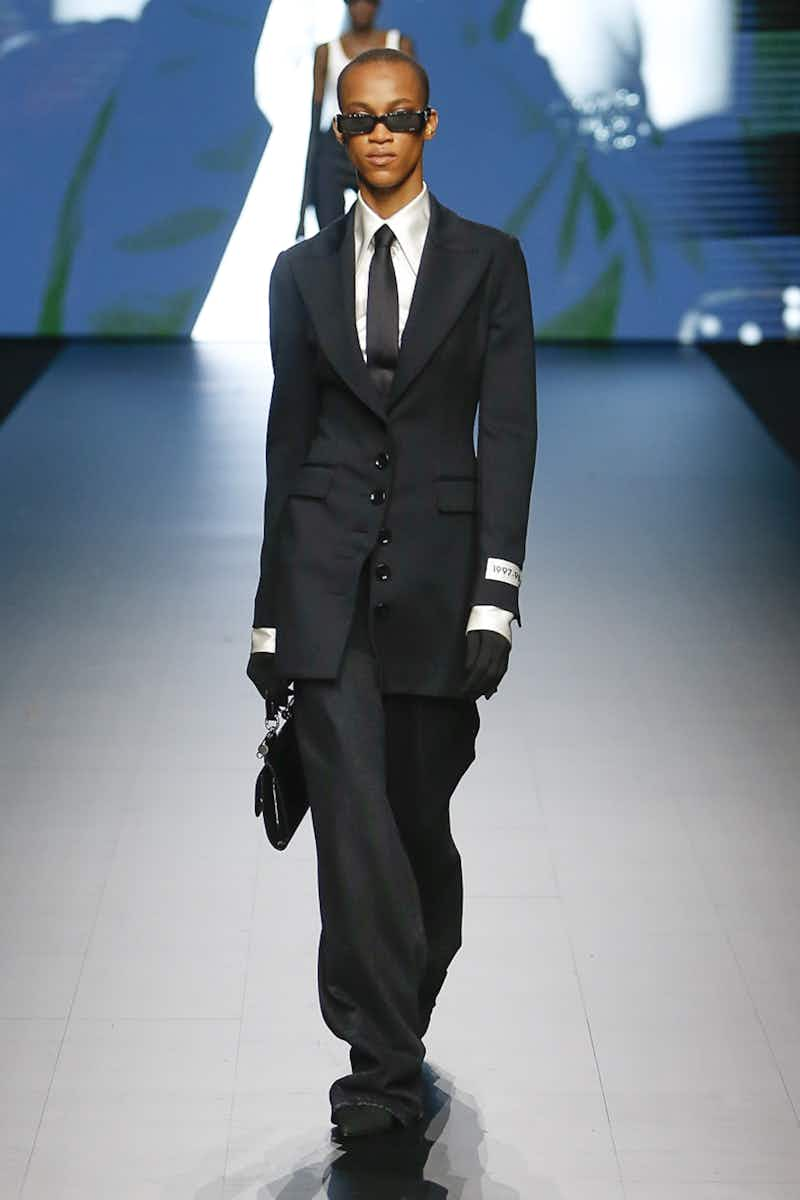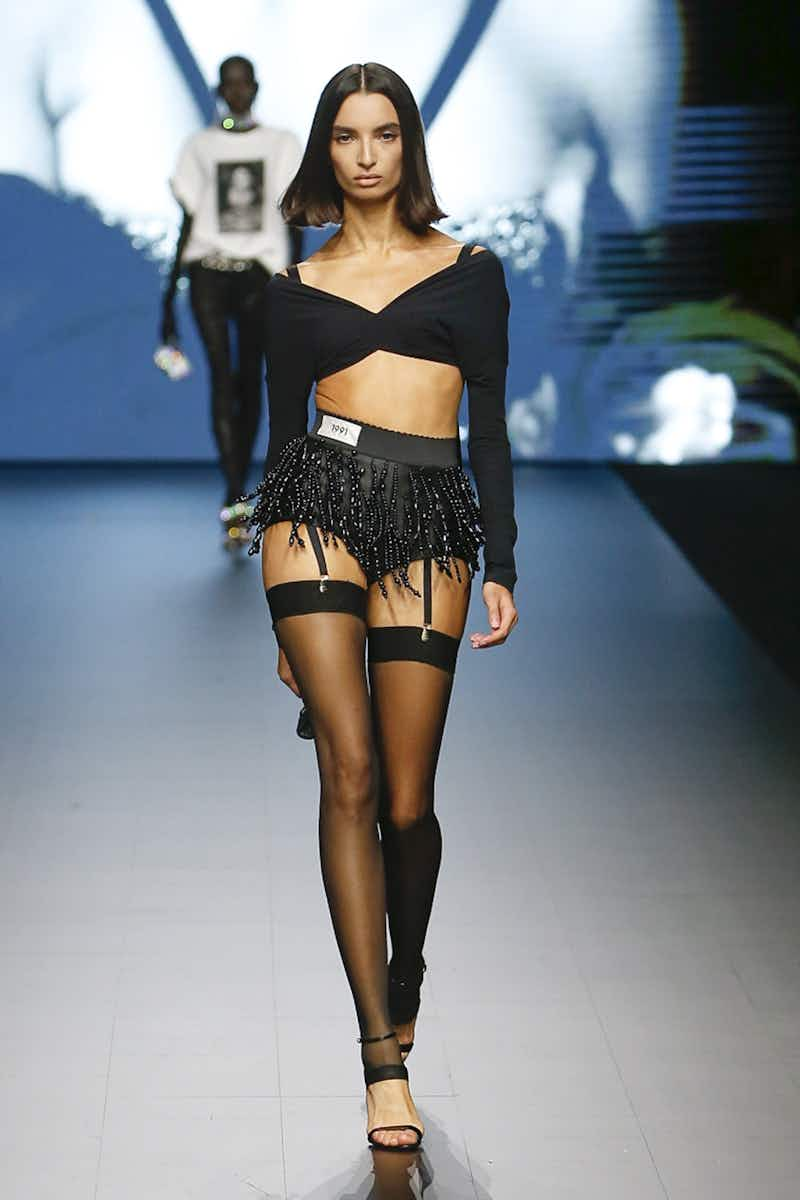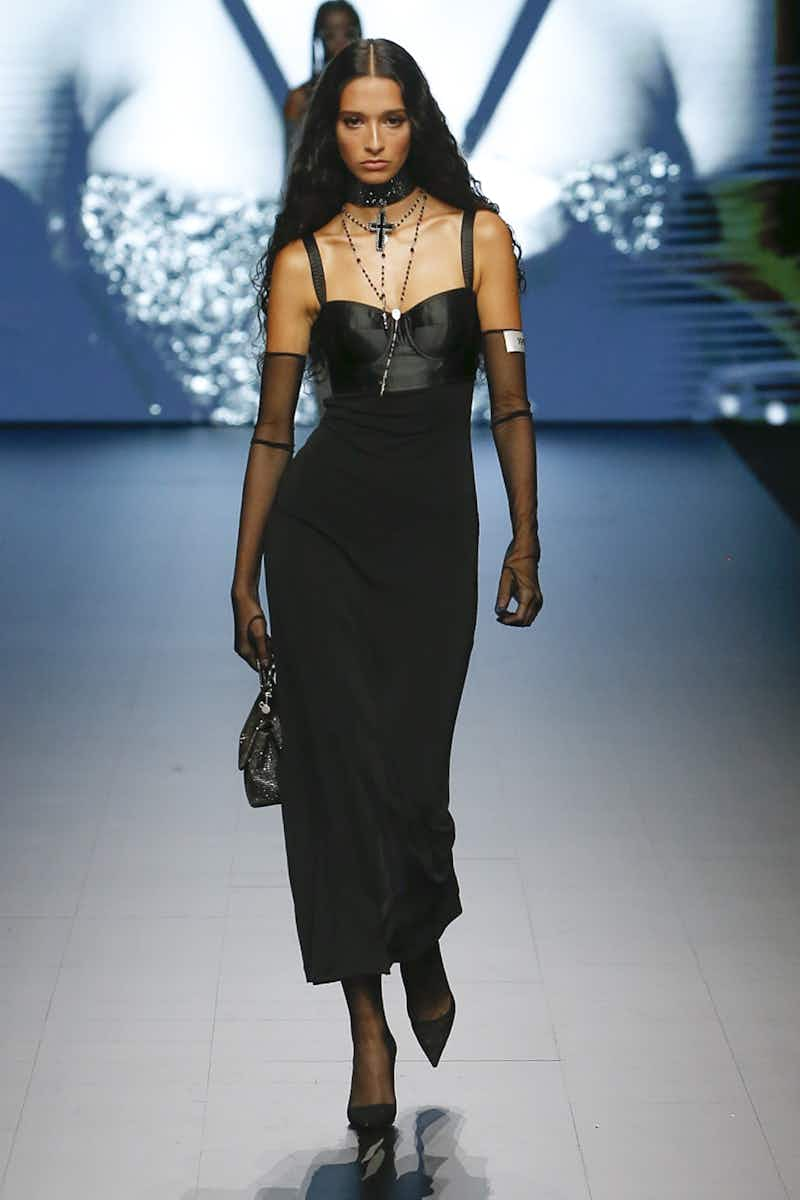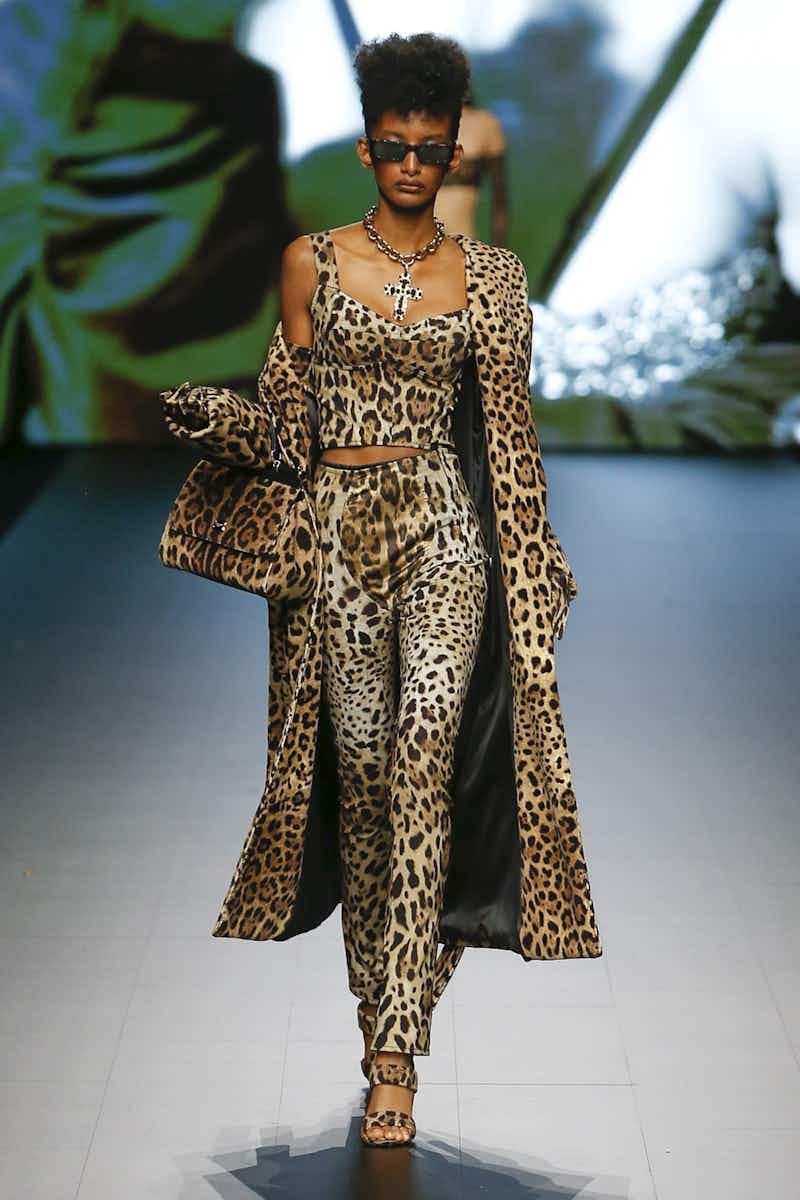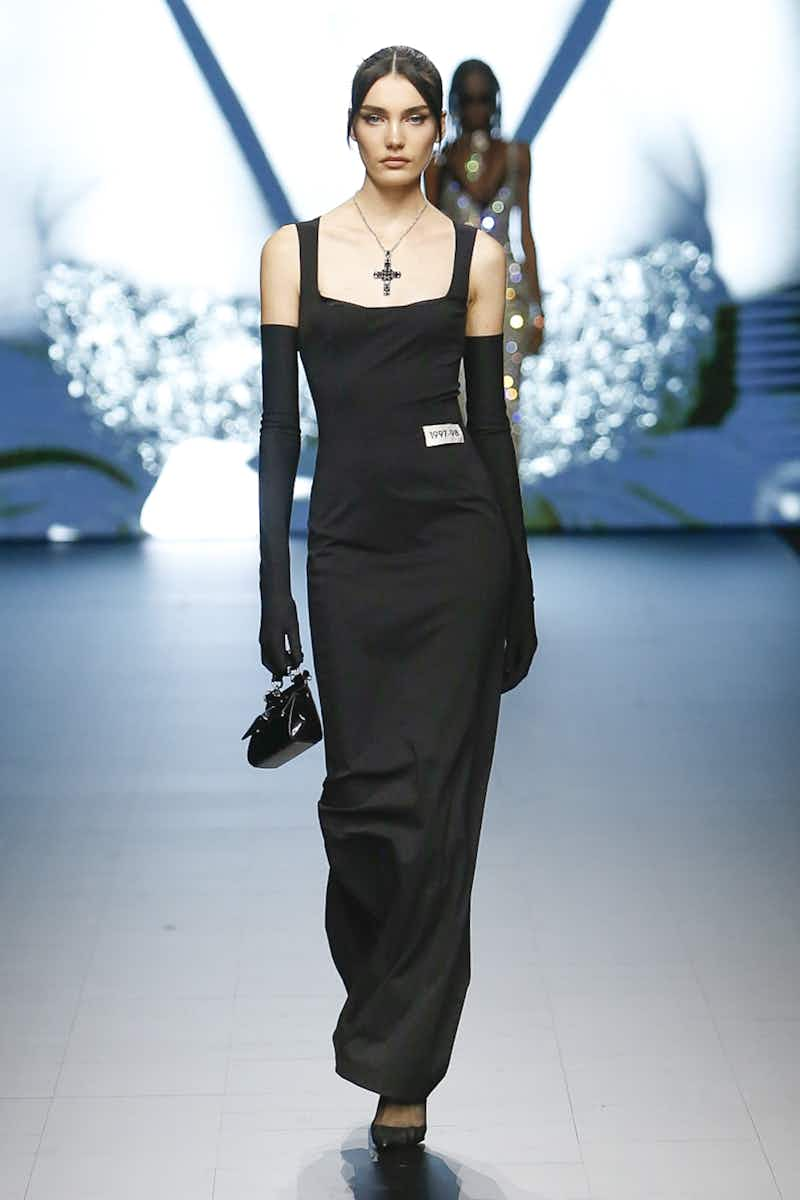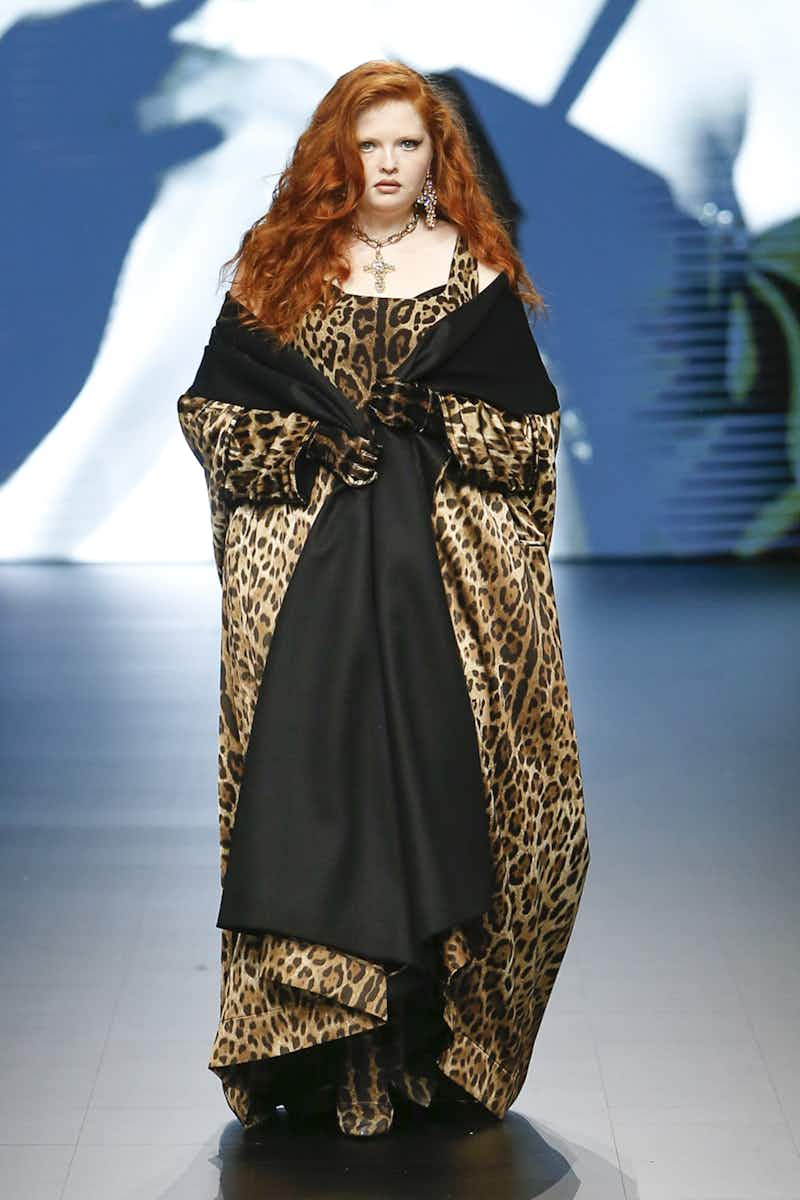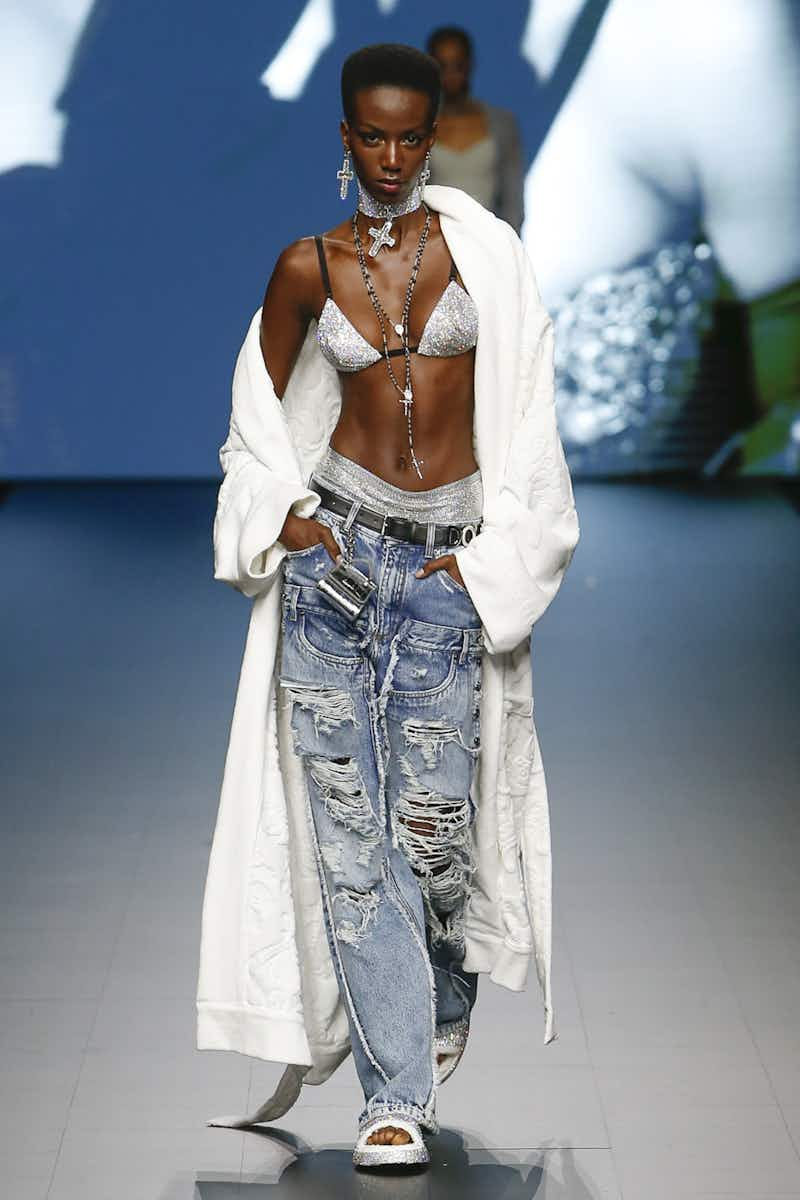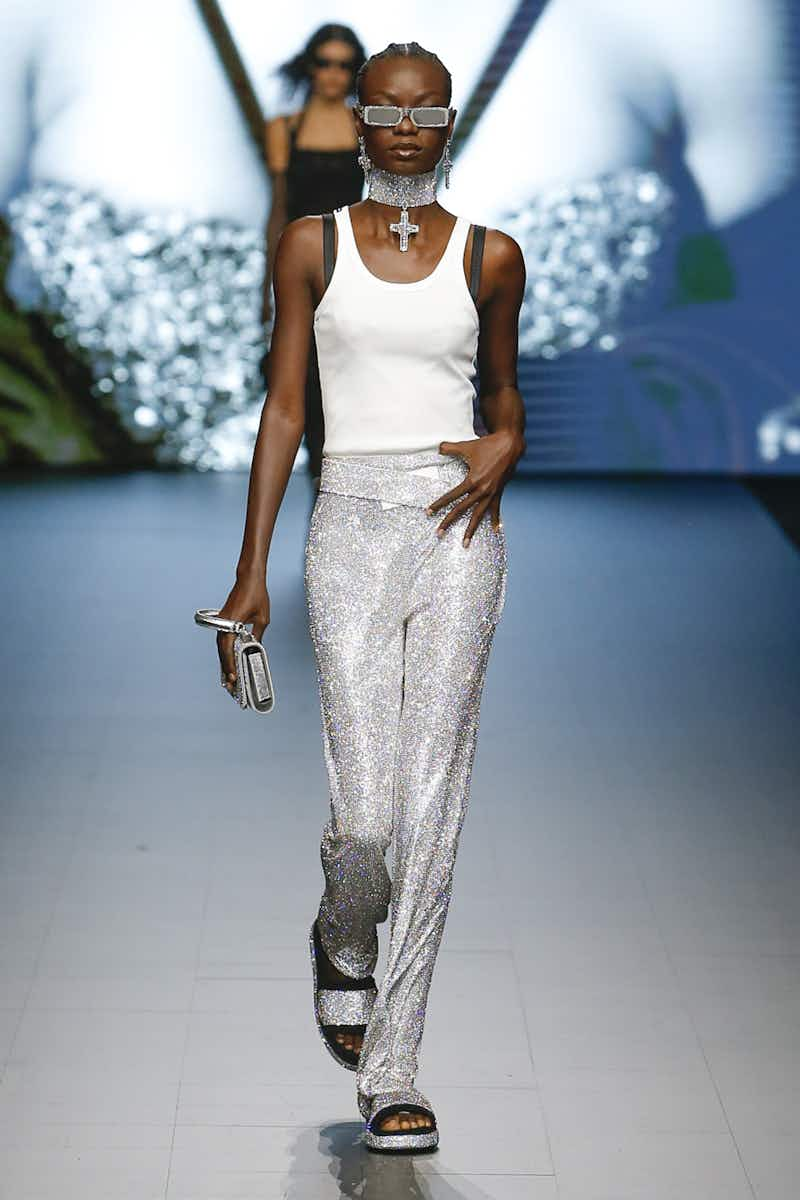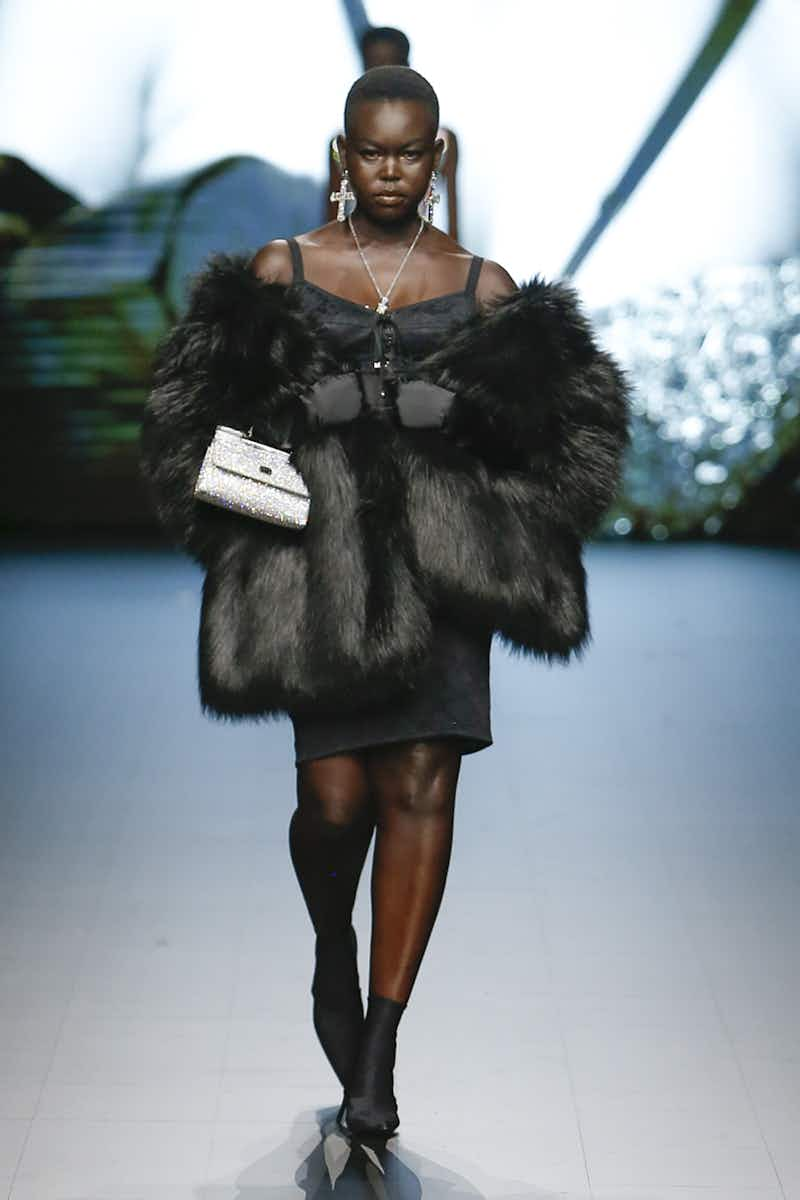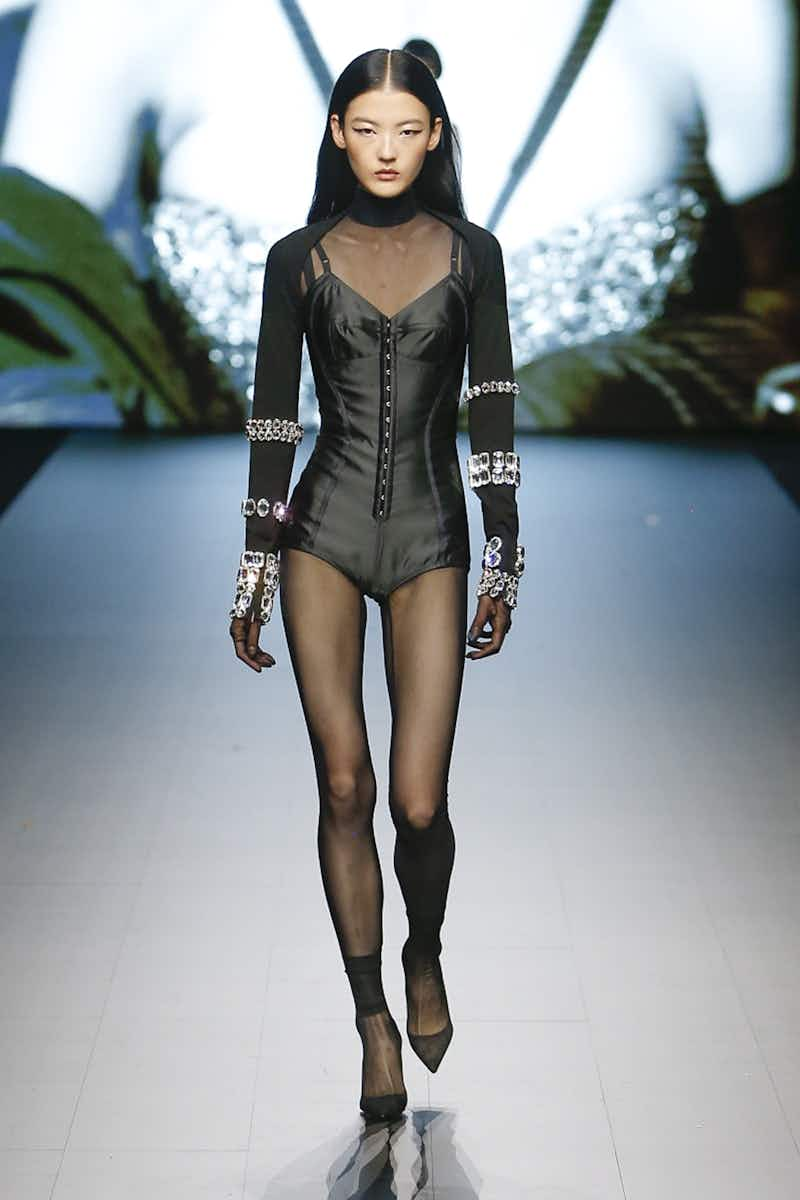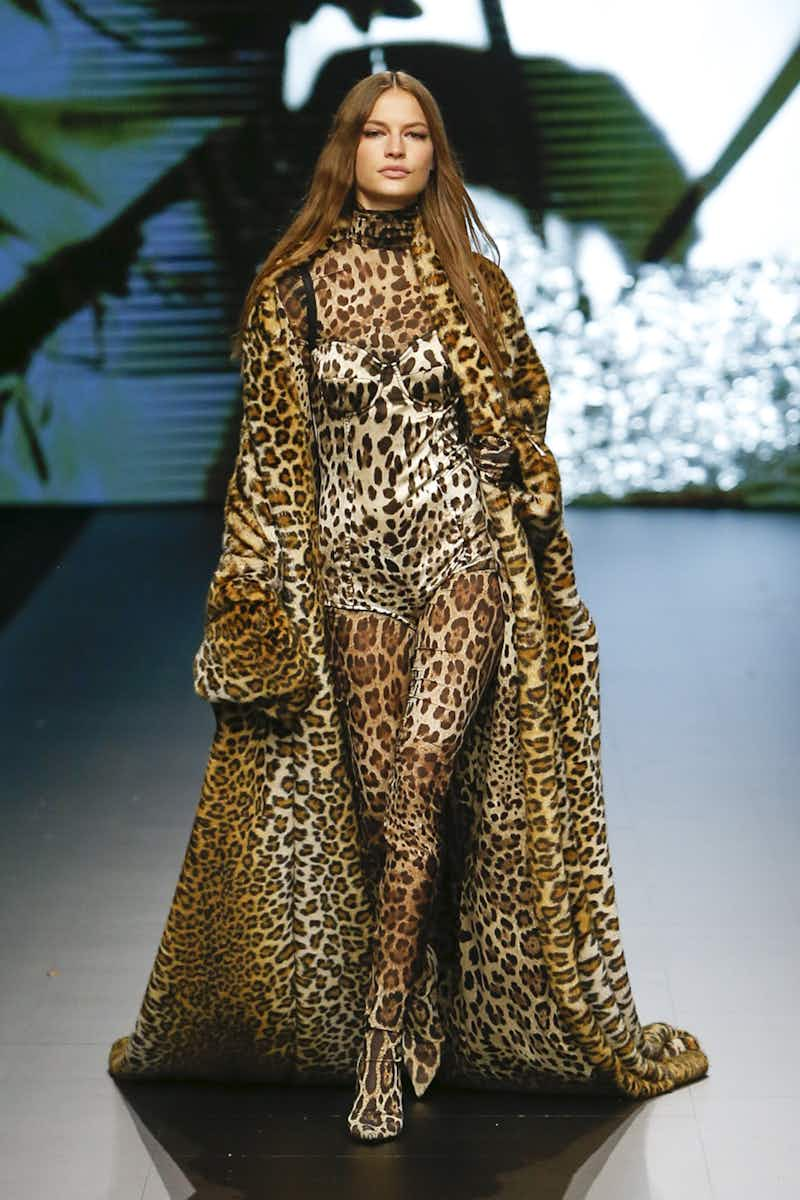 There was a lot of buzz ahead of Ferragamo's show, who recently rebranded by dropping the Salvatore. Its latest creative director is, of course, the highly acclaimed London designer and recent Fashion East alumni Maximilian Davis, whose first collection for the Italian house continued in his minimalist train of thought with fluid tailoring and slender, modern silhouettes consistent with Ferragamo's pared down aesthetic – though ultra modern in its clean lines and balancing of smart and sexy. Here, he brought his vision of red hot sex appeal translated through cut-outs and sheer draped iridescent dresses, to dazzling effect.
Sporty aerobic styles swiftly gave way to sleek ombre wrap dresses in aqua and sunset-infused palettes. Head-to-toe waterproofs in fiery red and brown added a slightly casual component, as did the matching PVC shirt and trousers combo – one of the collection's most boundary-pushing looks. Leather segments had an inventive touch, too, with hooded biker jackets and hot pants for men and women alike. The bold debut collection married Ferragamo's sleek aesthetic with Maximilian's eye for exploring sensuality in the details, and at just 27-years old, the designer's stellar debut signals great things to come. Shout out to OG FACE council member, Zainab Jama, on the runway, too. Mega. SW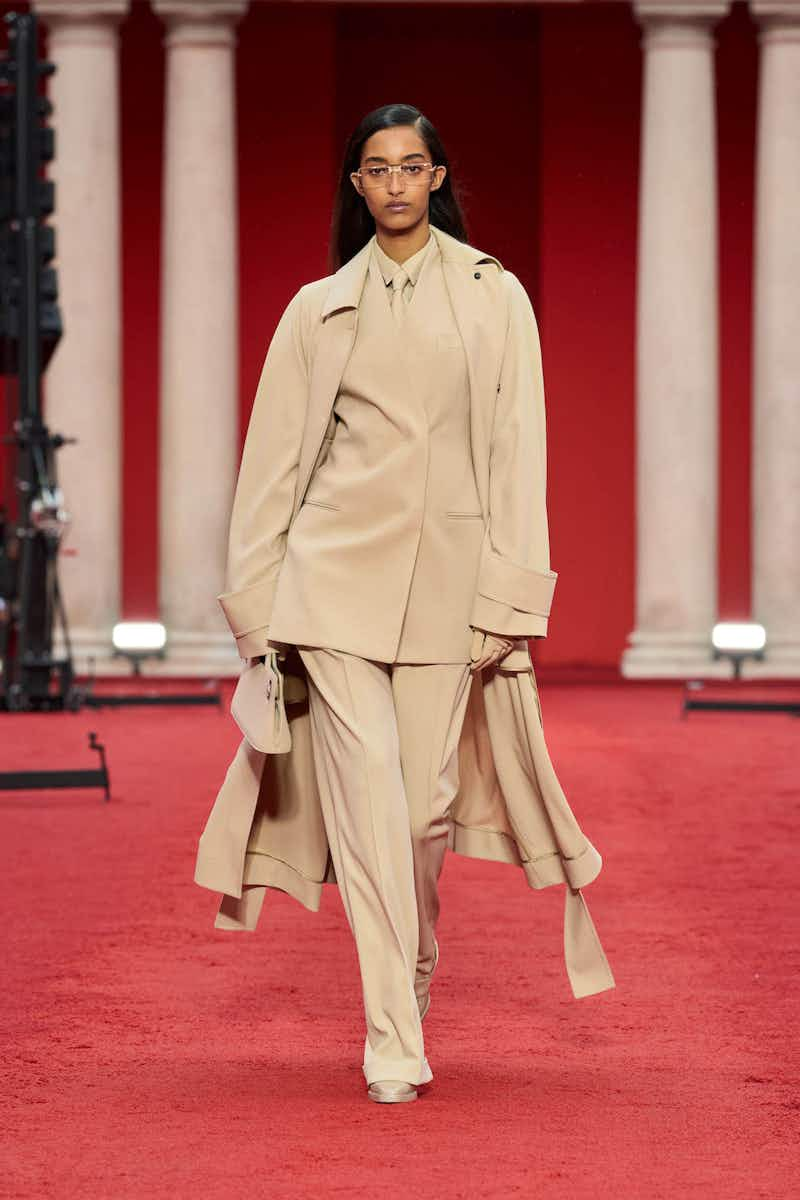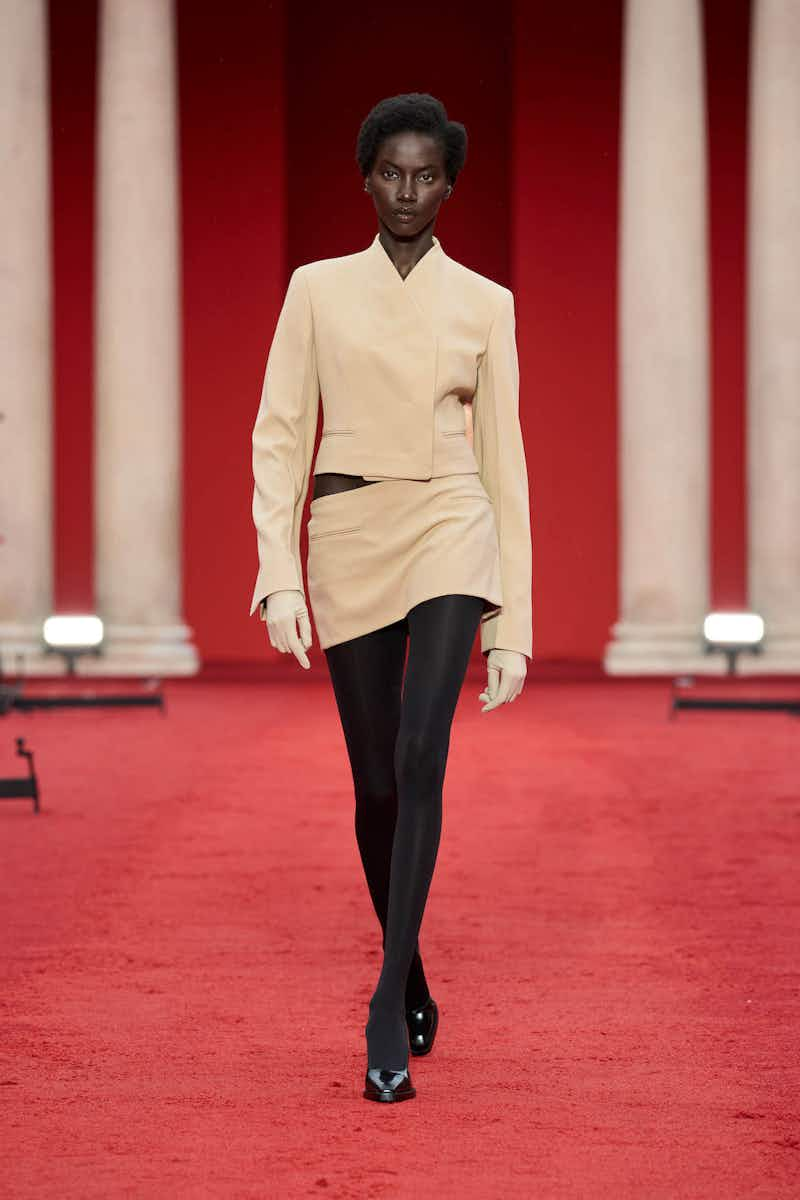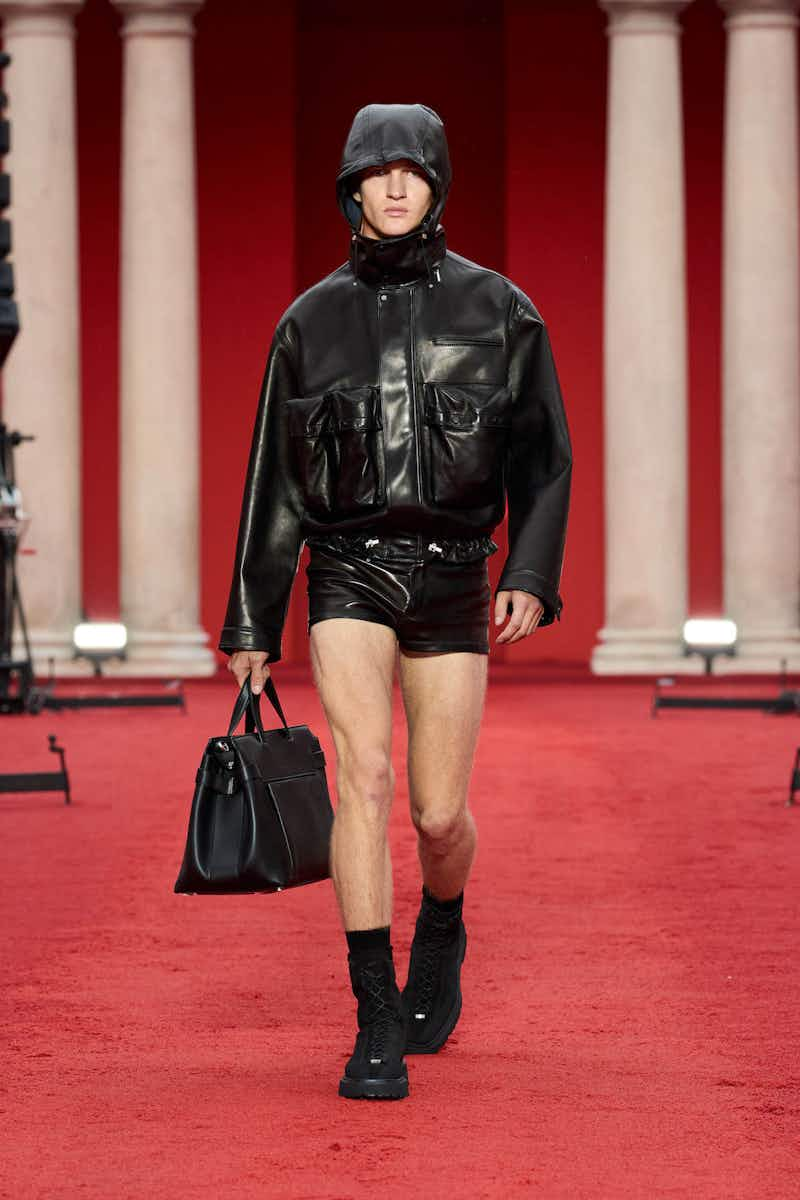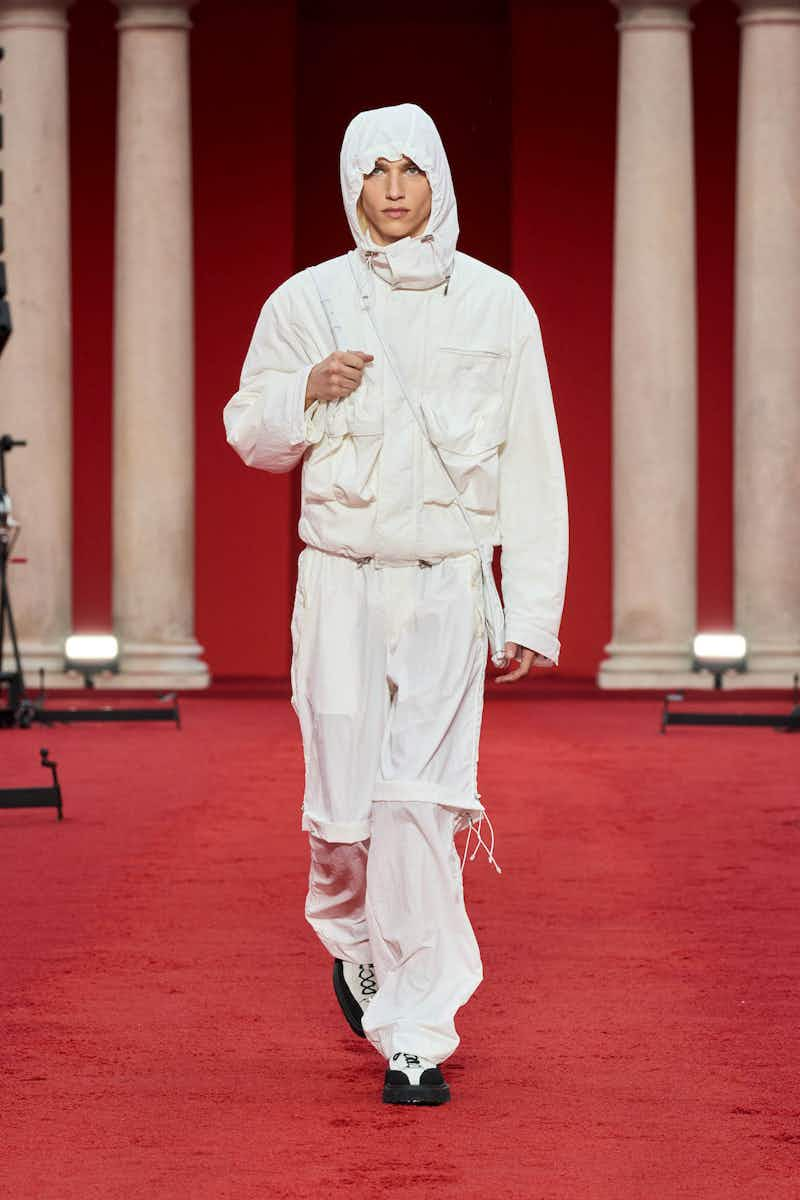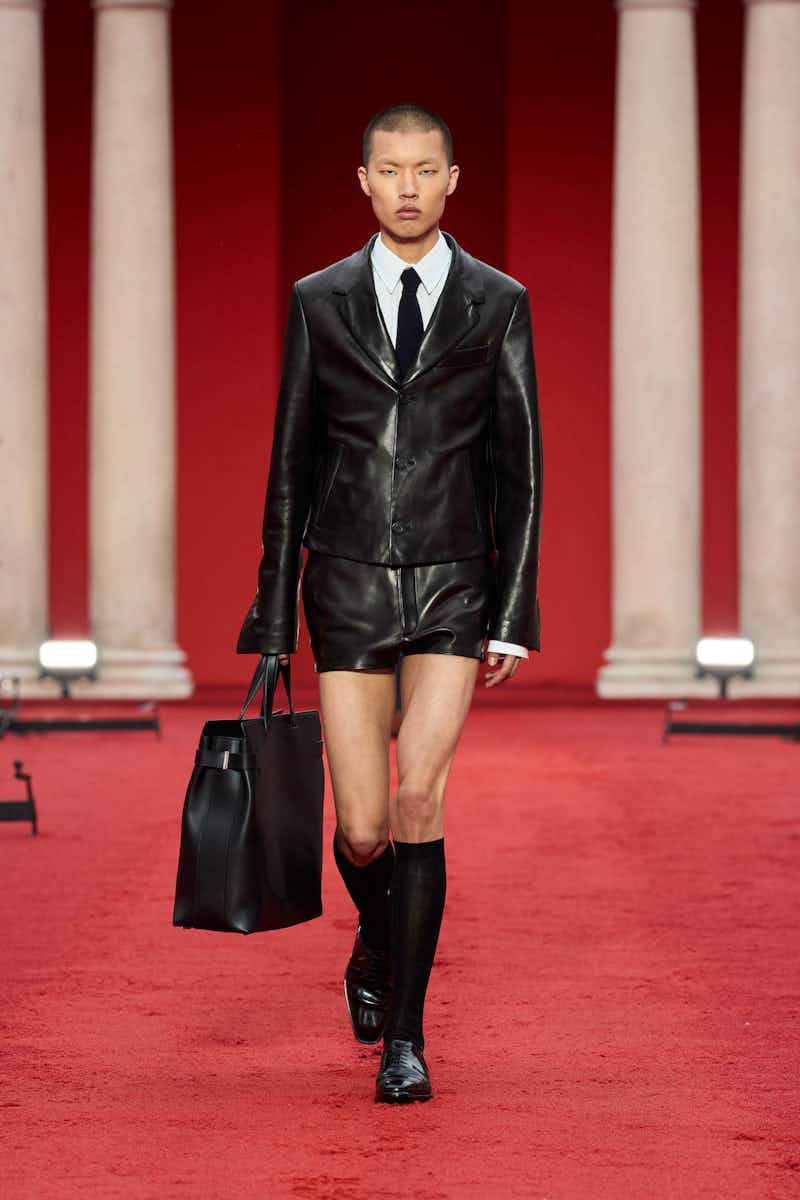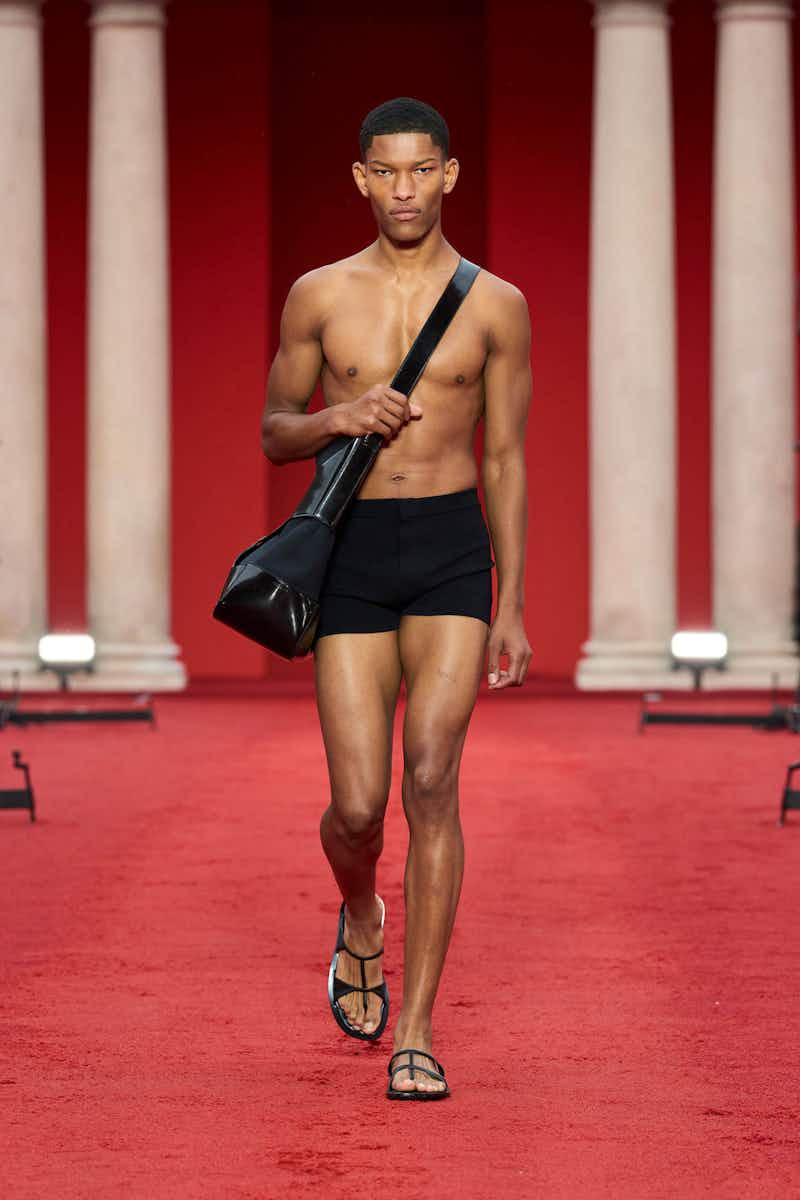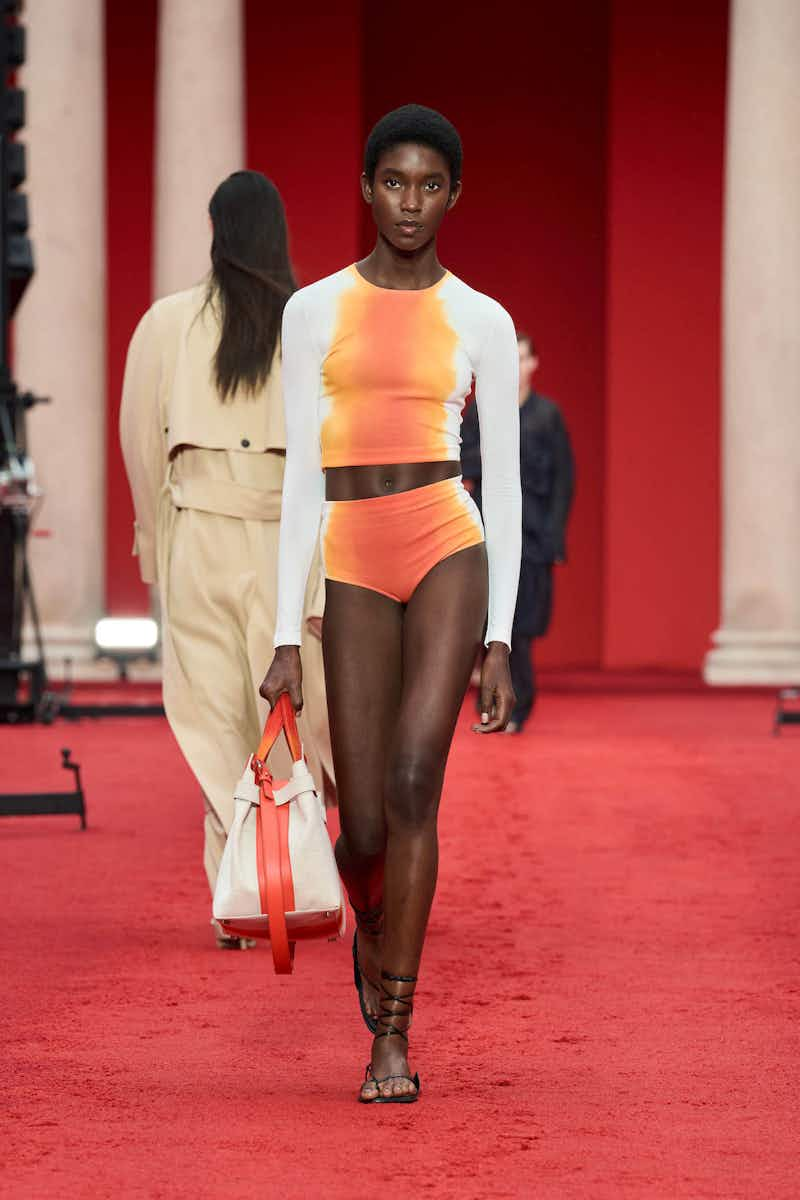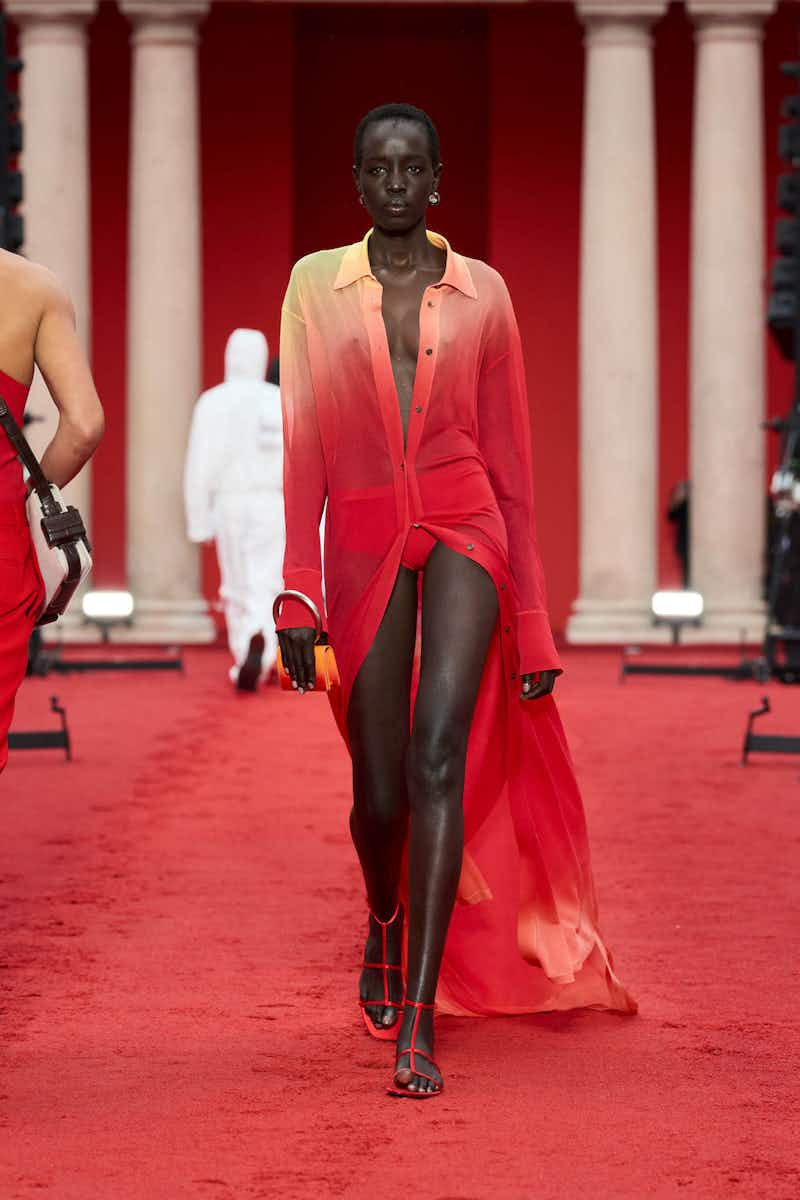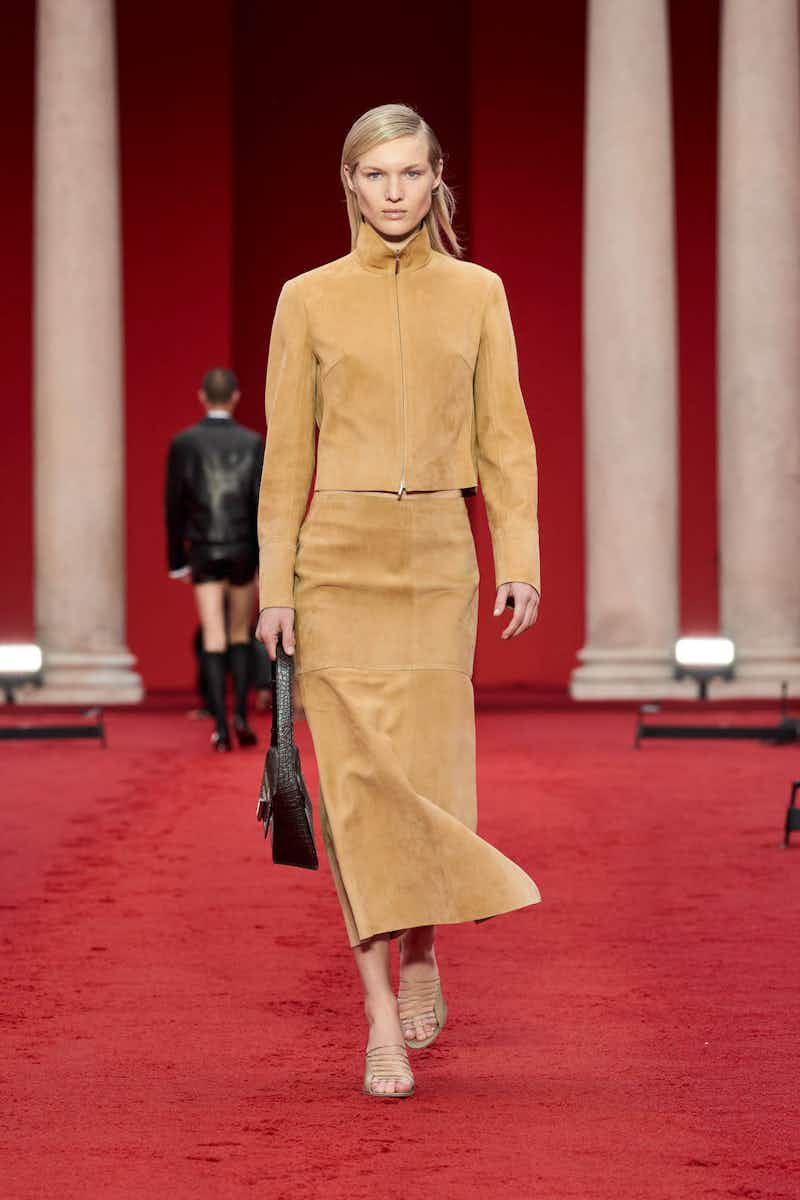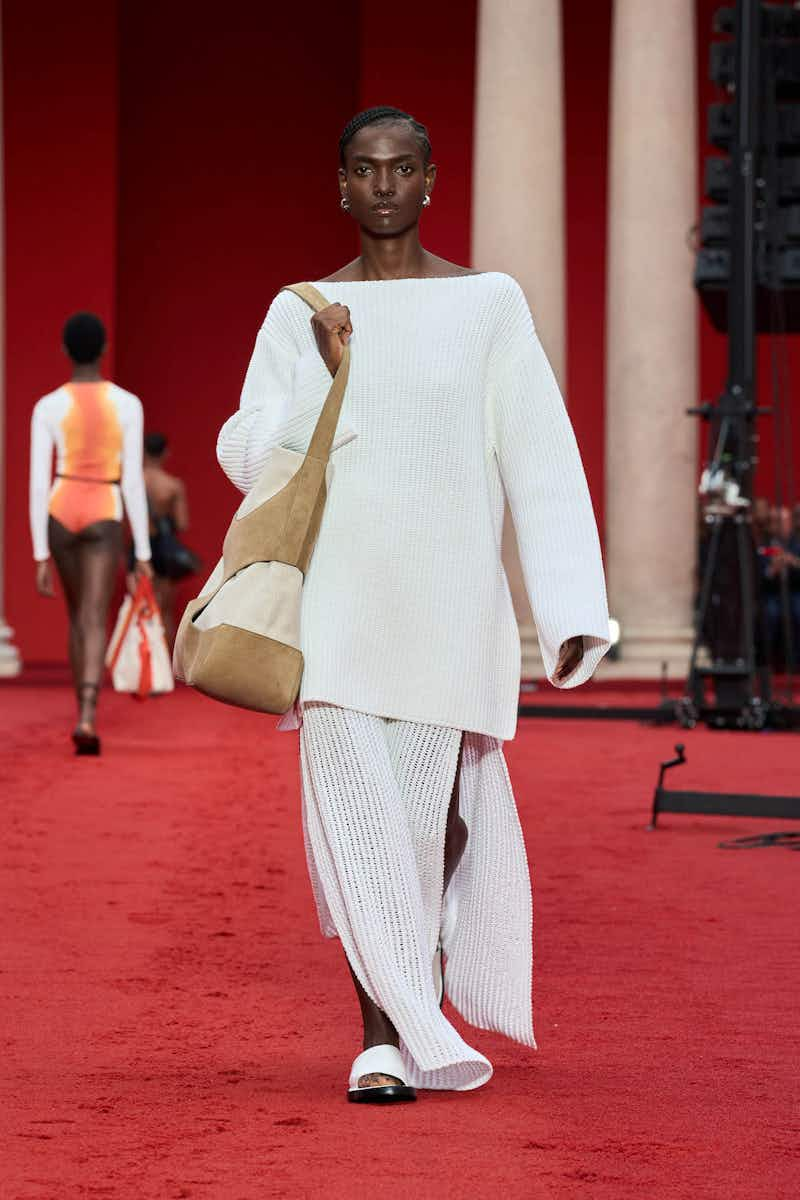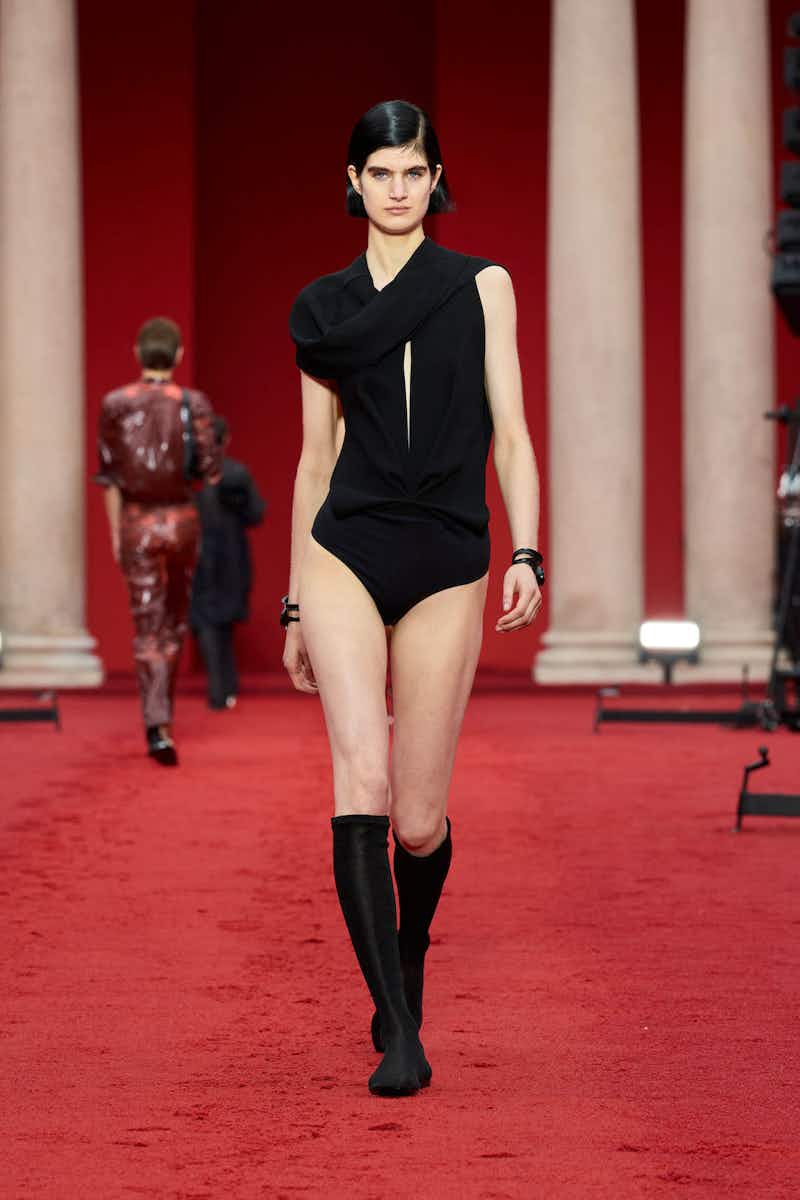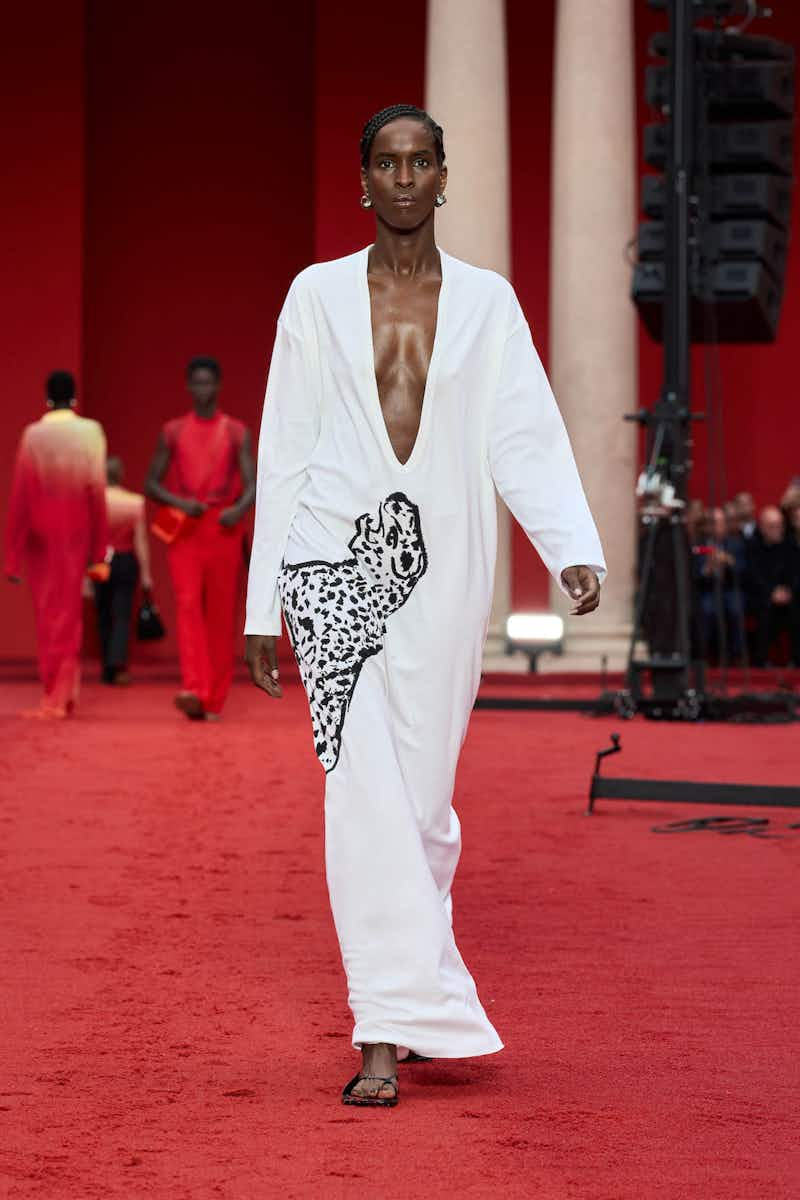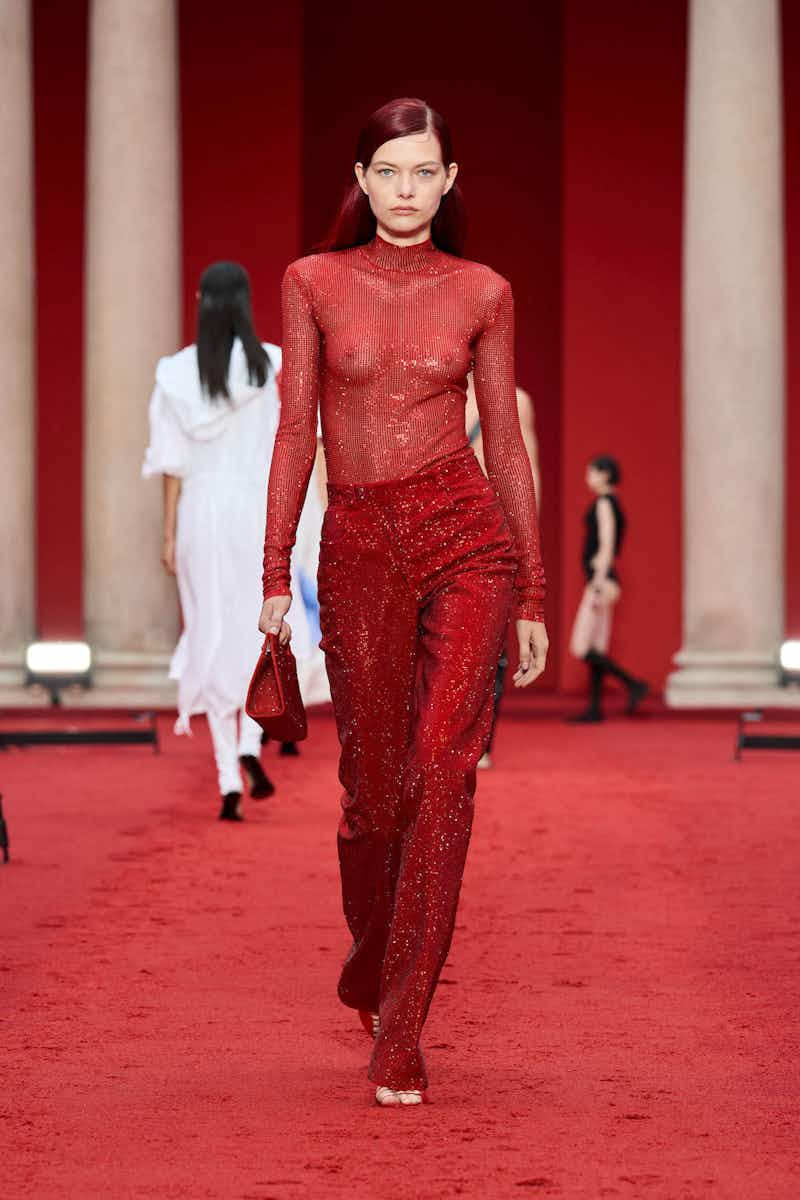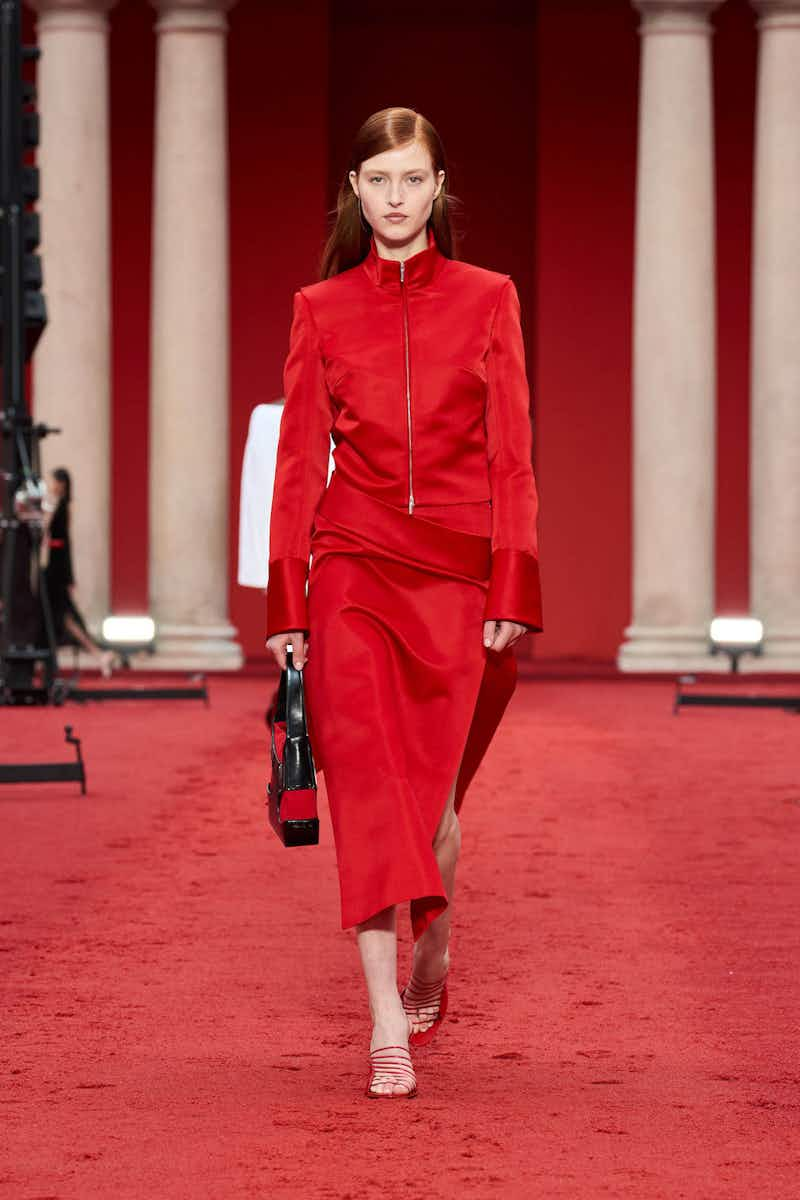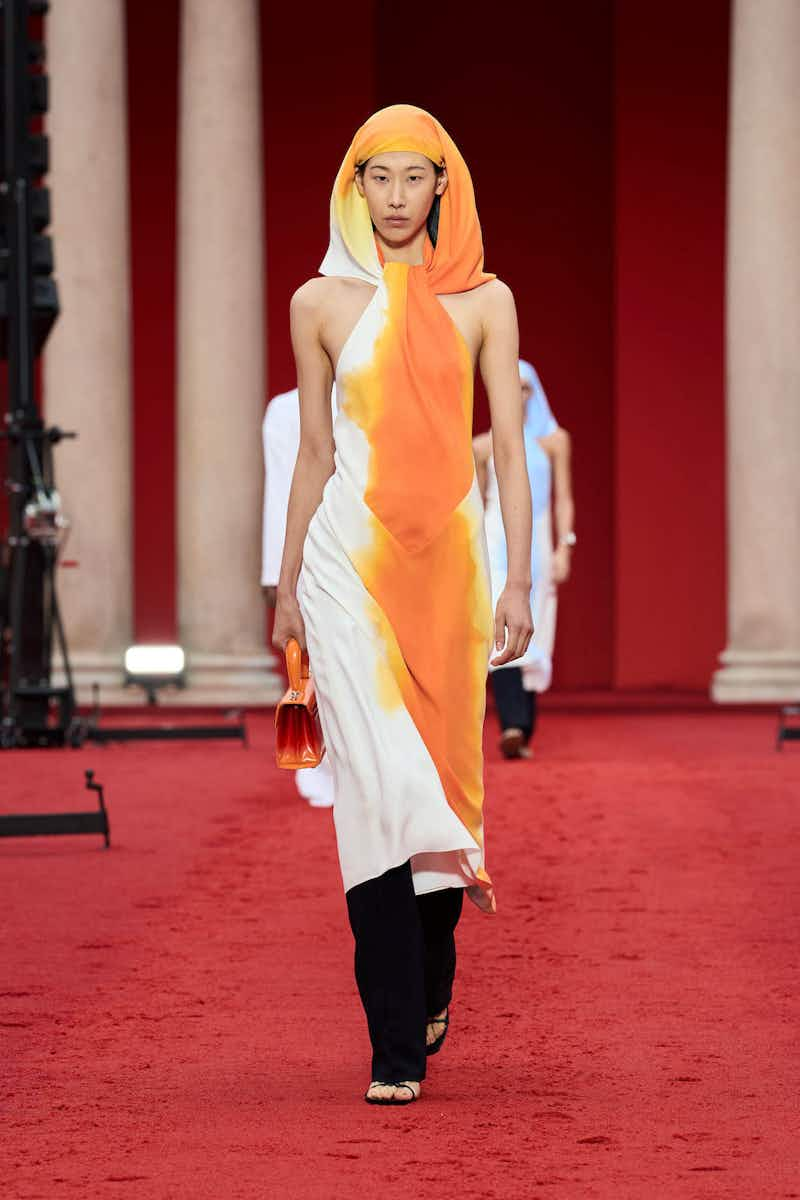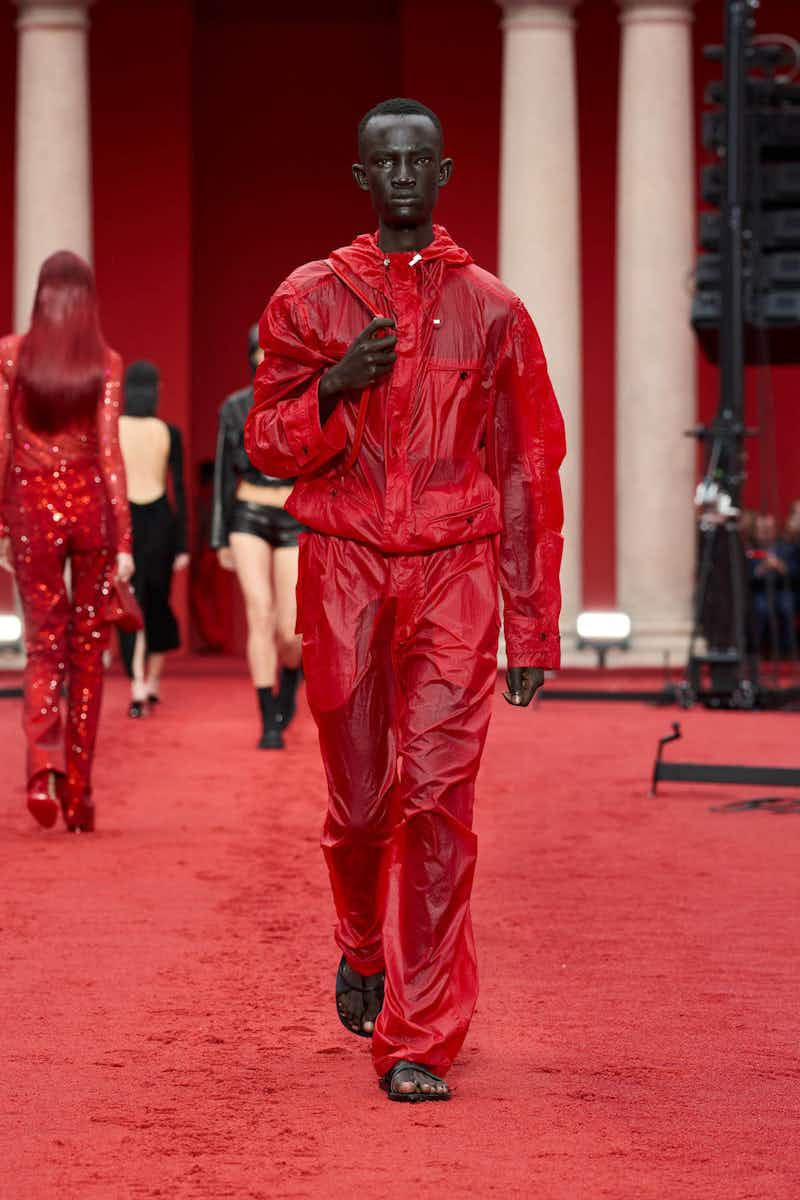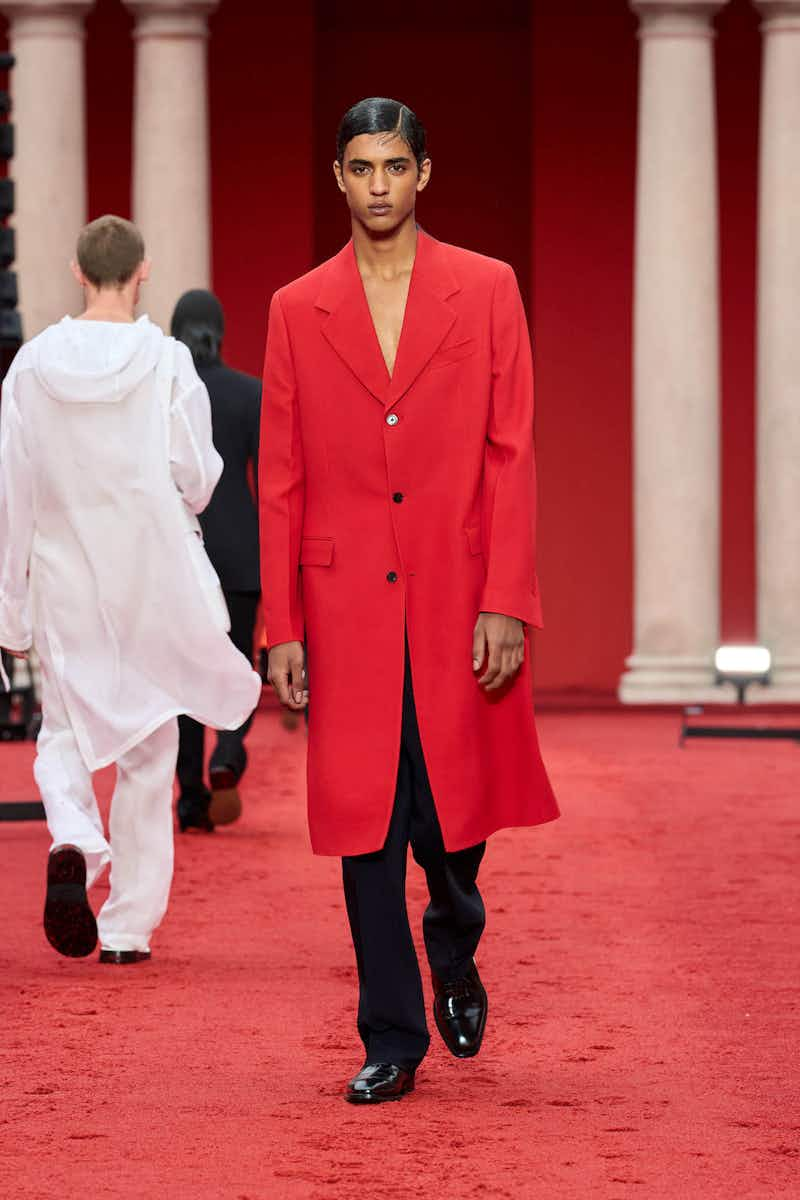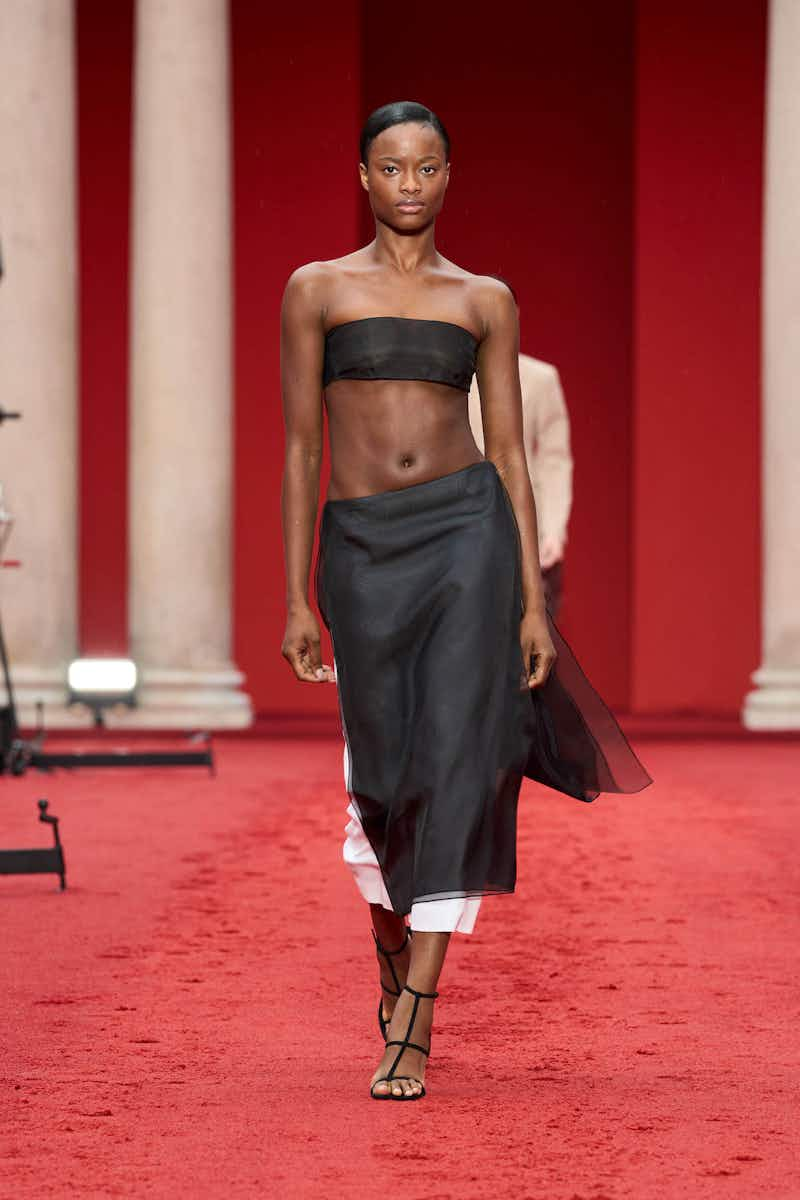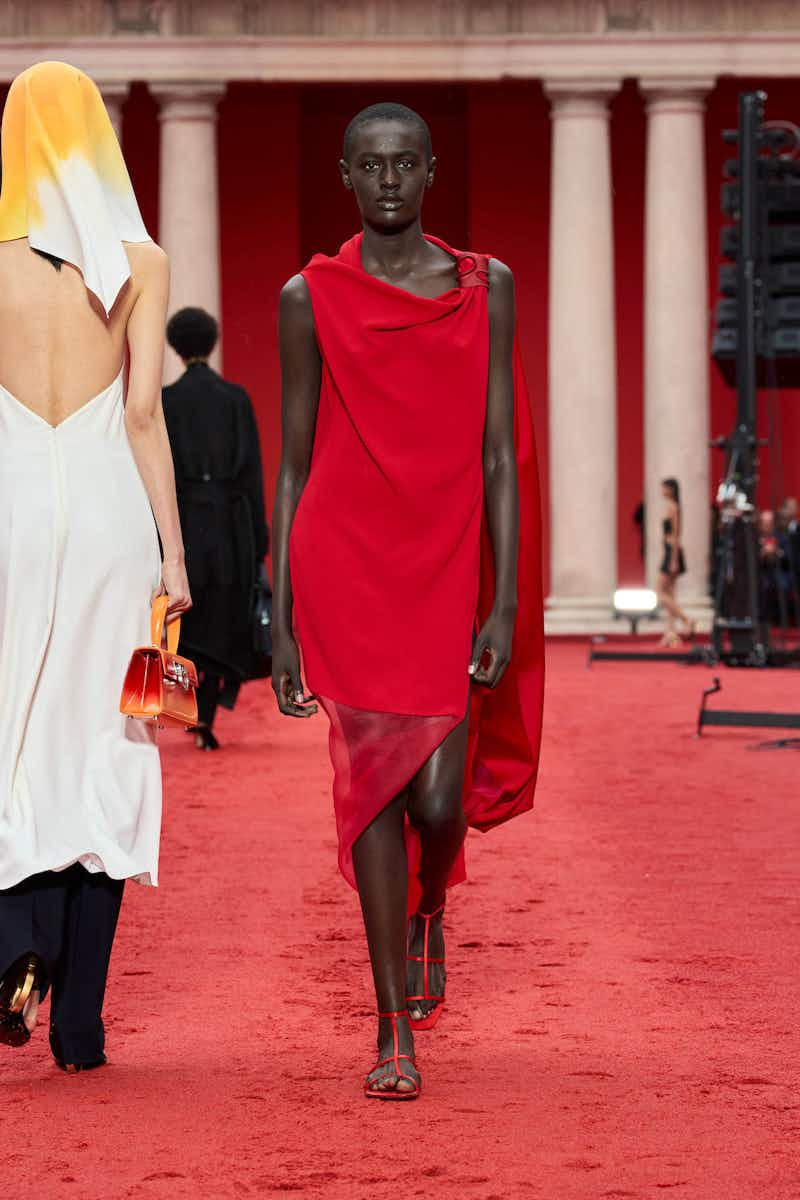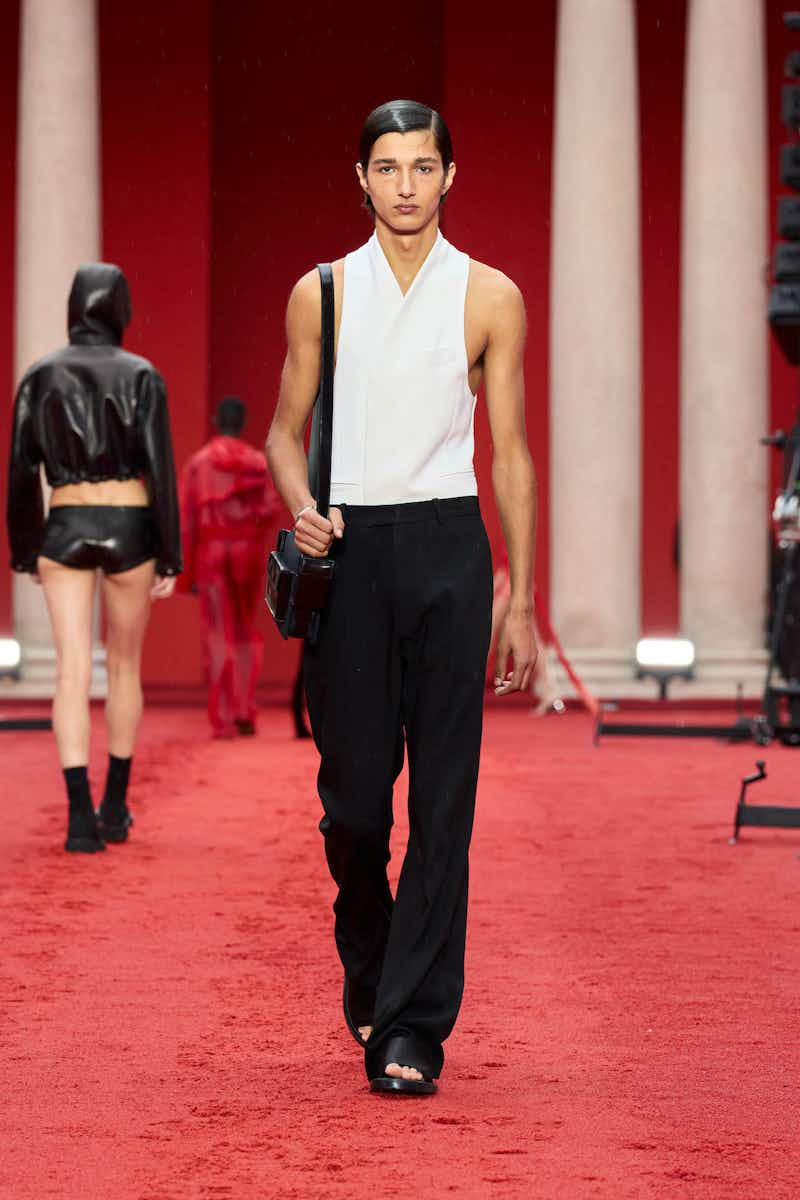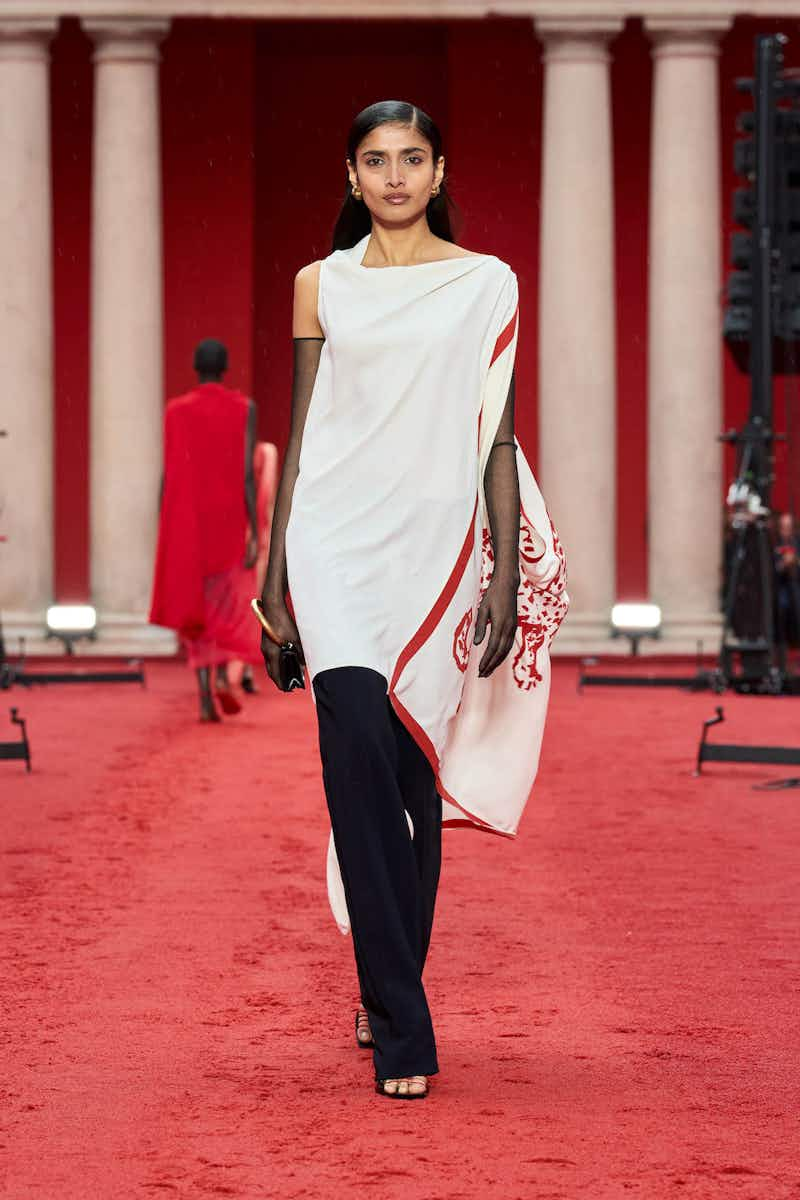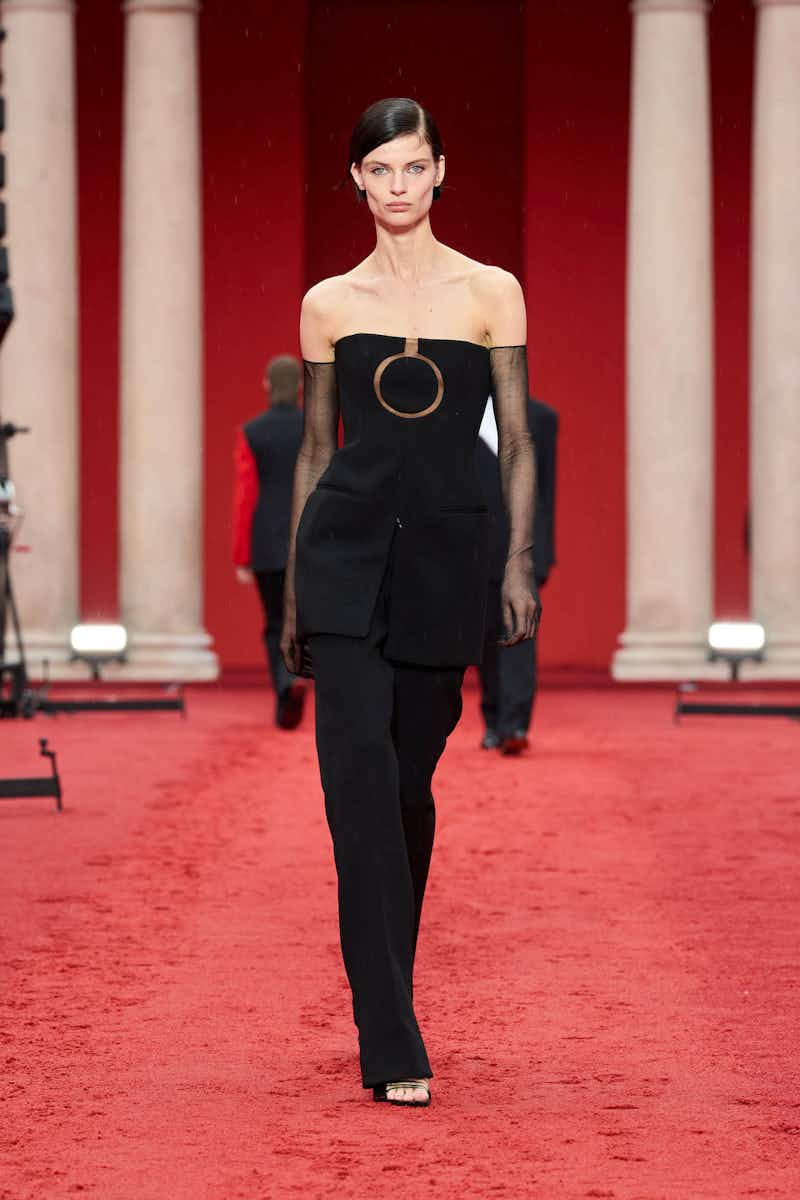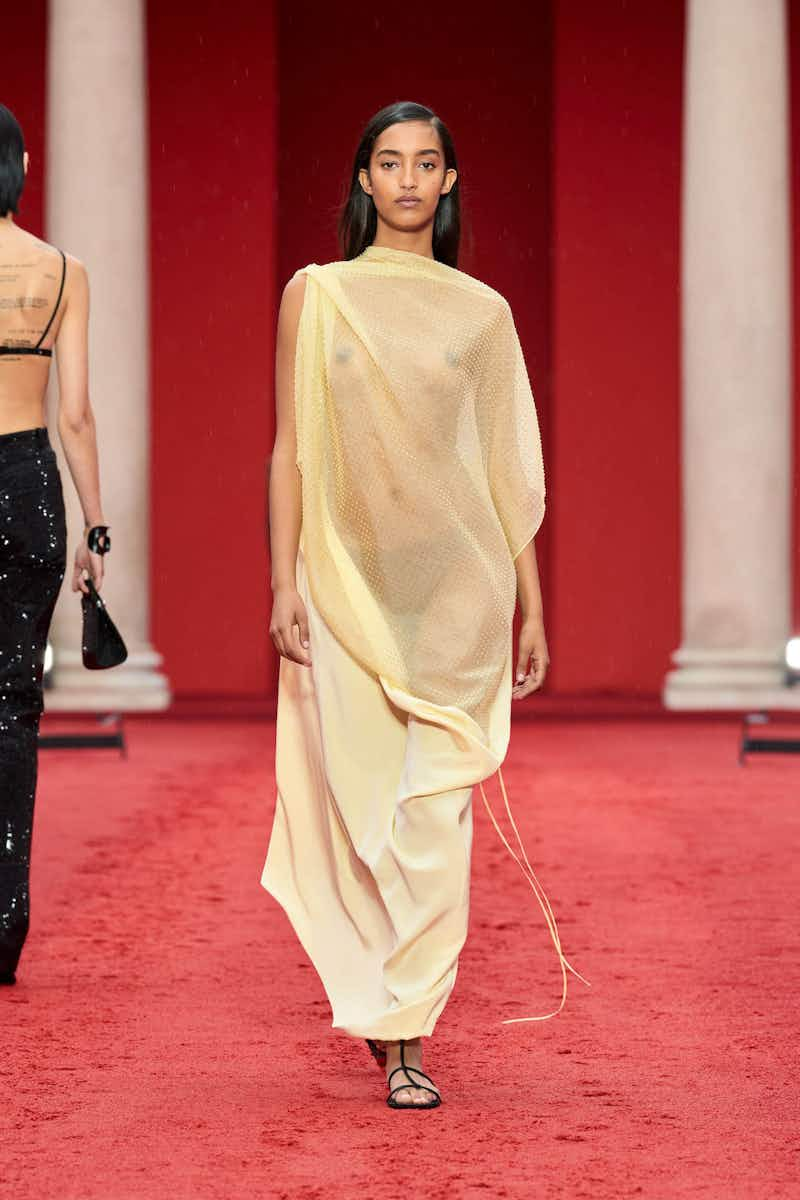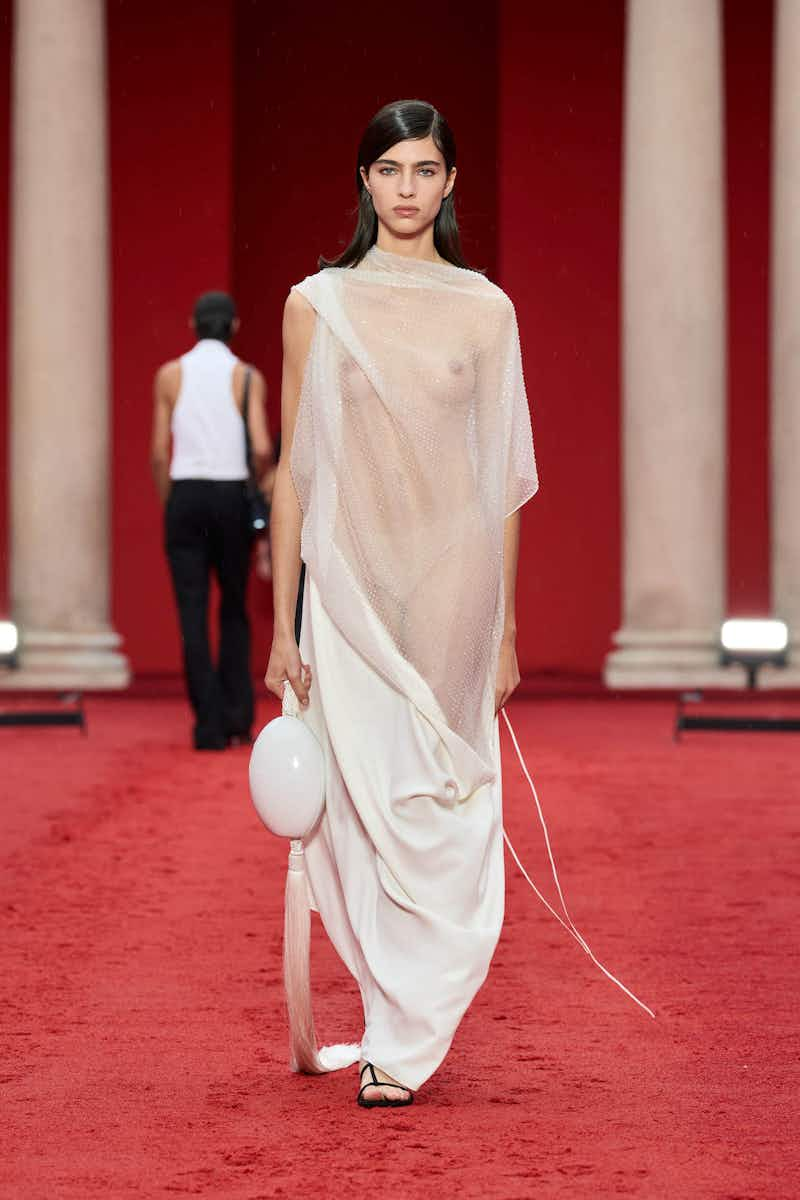 MSGM's SS23 collection showcased fabrics spanning from skin-tight lace, masses of sheer organza and ruffled denim as an ode to intuitive layering and frothy silhouettes. The collection's mood was playful and suggestive with camp pin-up-style bikini print tees alongside underwear layered over lace leggings and shirts. This was balanced with the grown up sensuality of cut-out minis and wrap dresses that elevated the collection beyond girlish dress-up. A standout was a see-through sequin slip delicately embellished with several silver rings.

The brand's usual acid colour palette was swapped in favour of black, white and soft pink, but highlighter yellow hues still cropped up occasionally in a sheer tulle skirt, lace bodysuit or bow stilettos that nudged the boundaries of good taste while adding to the collection's ever cheerful mood. SW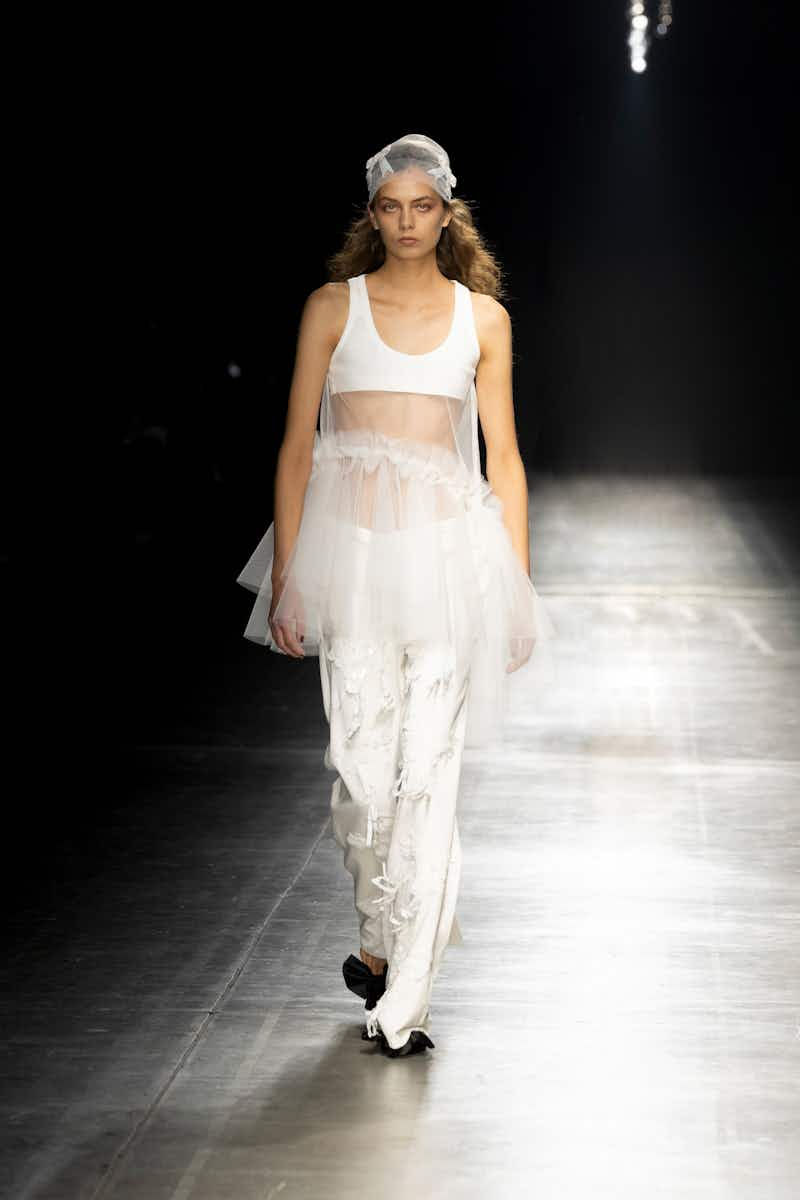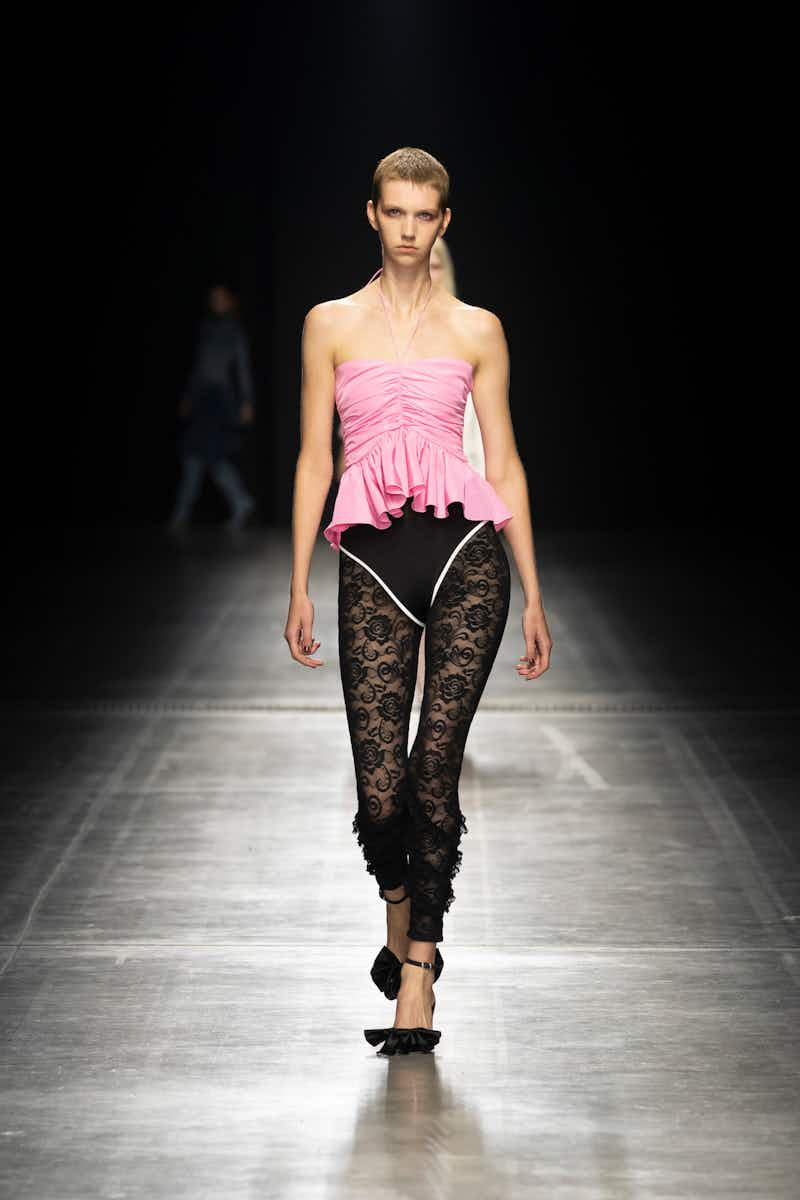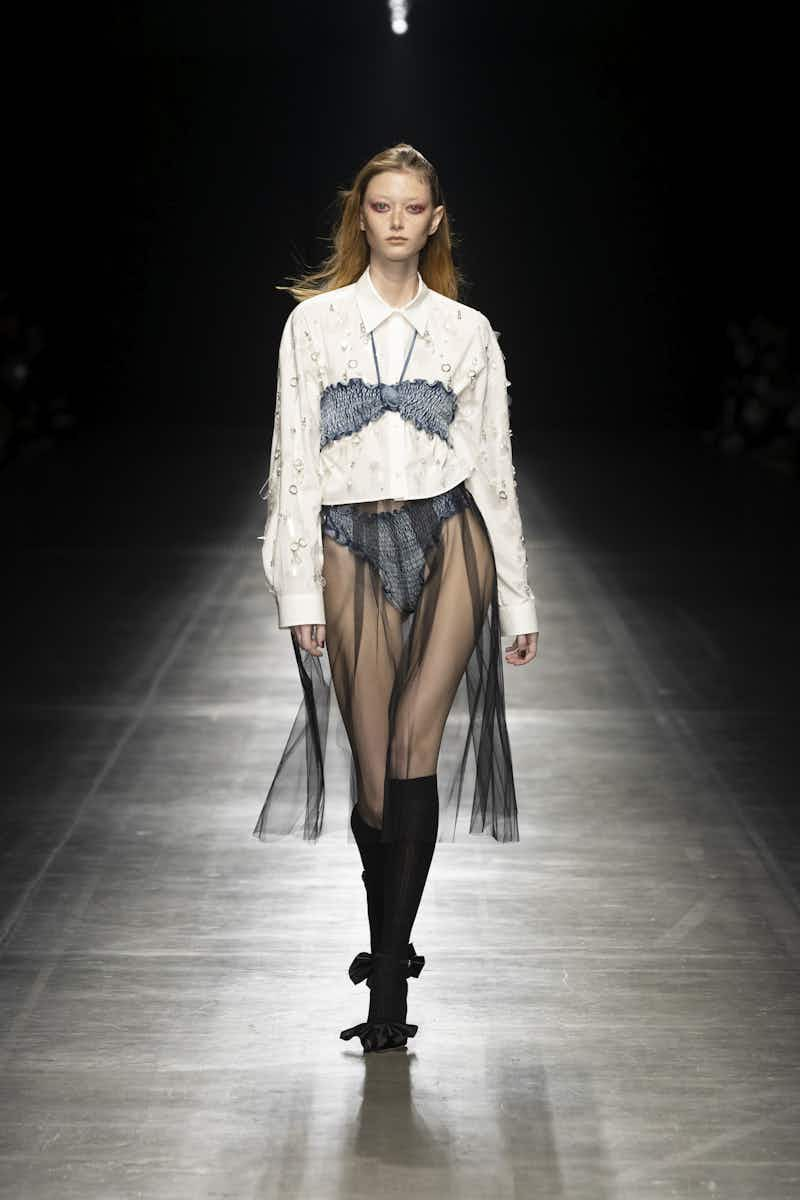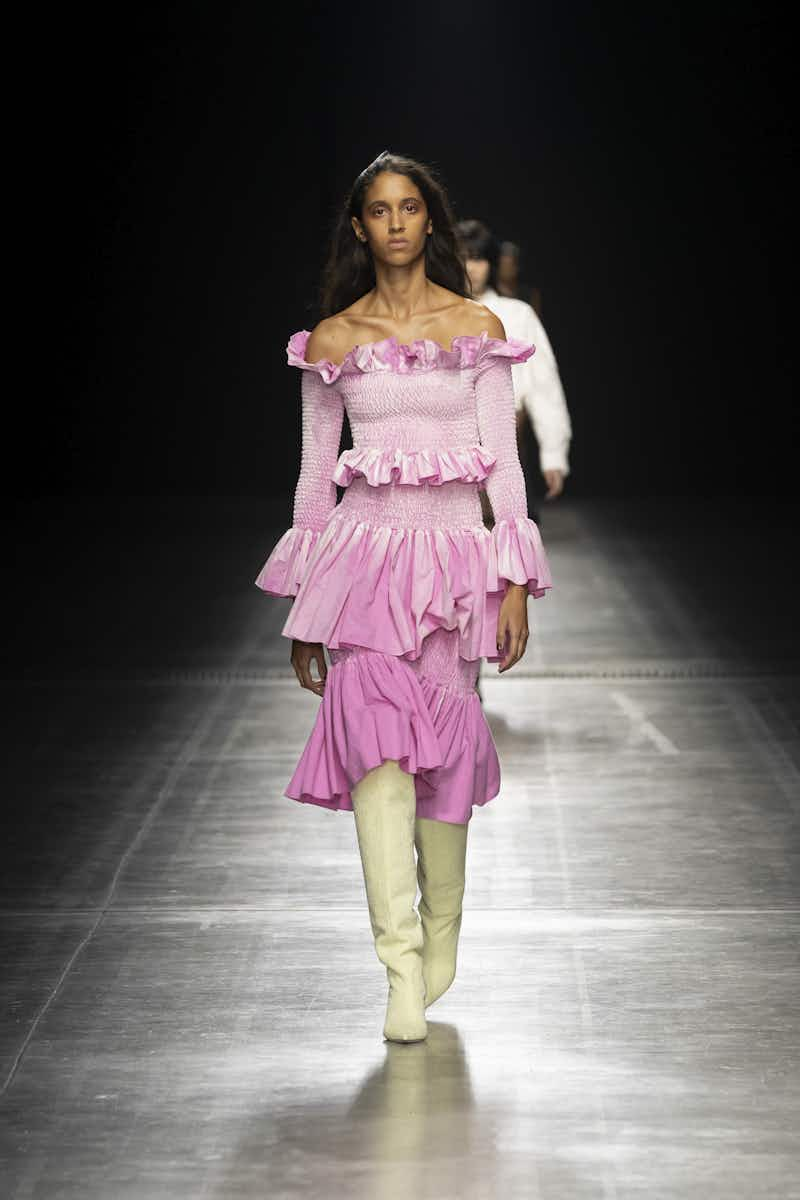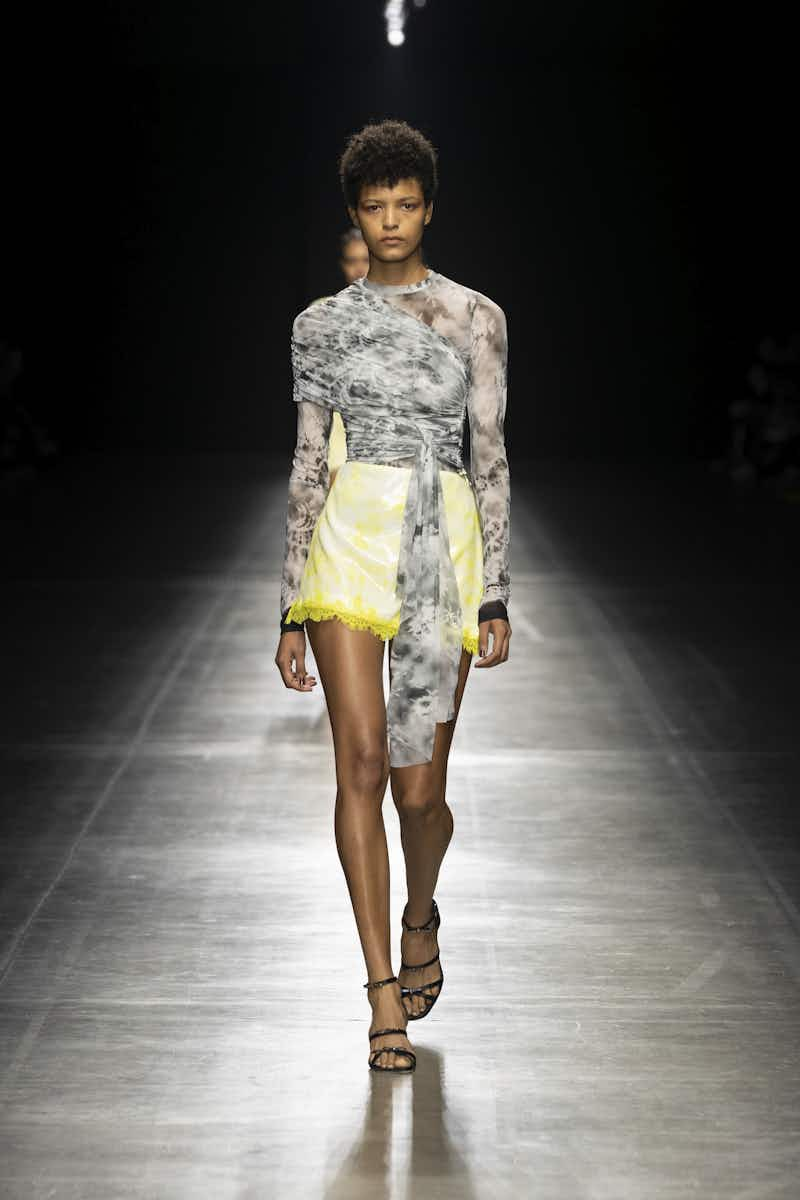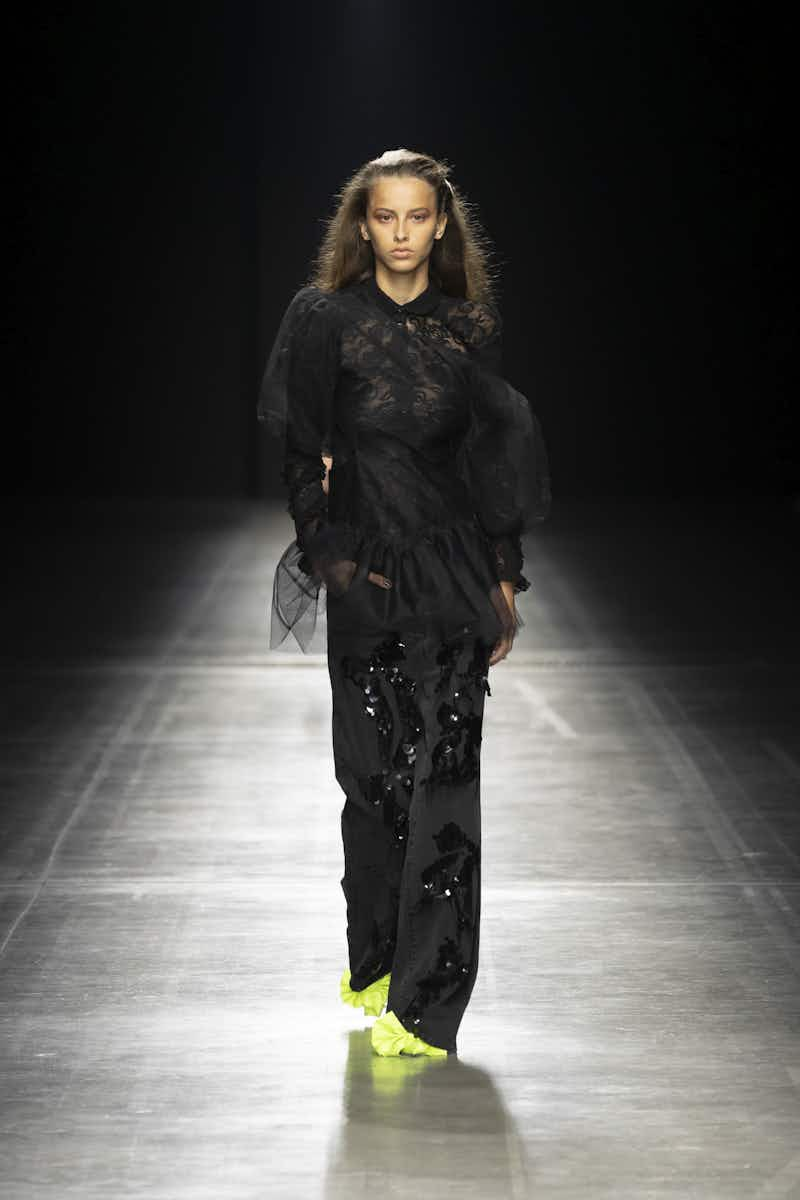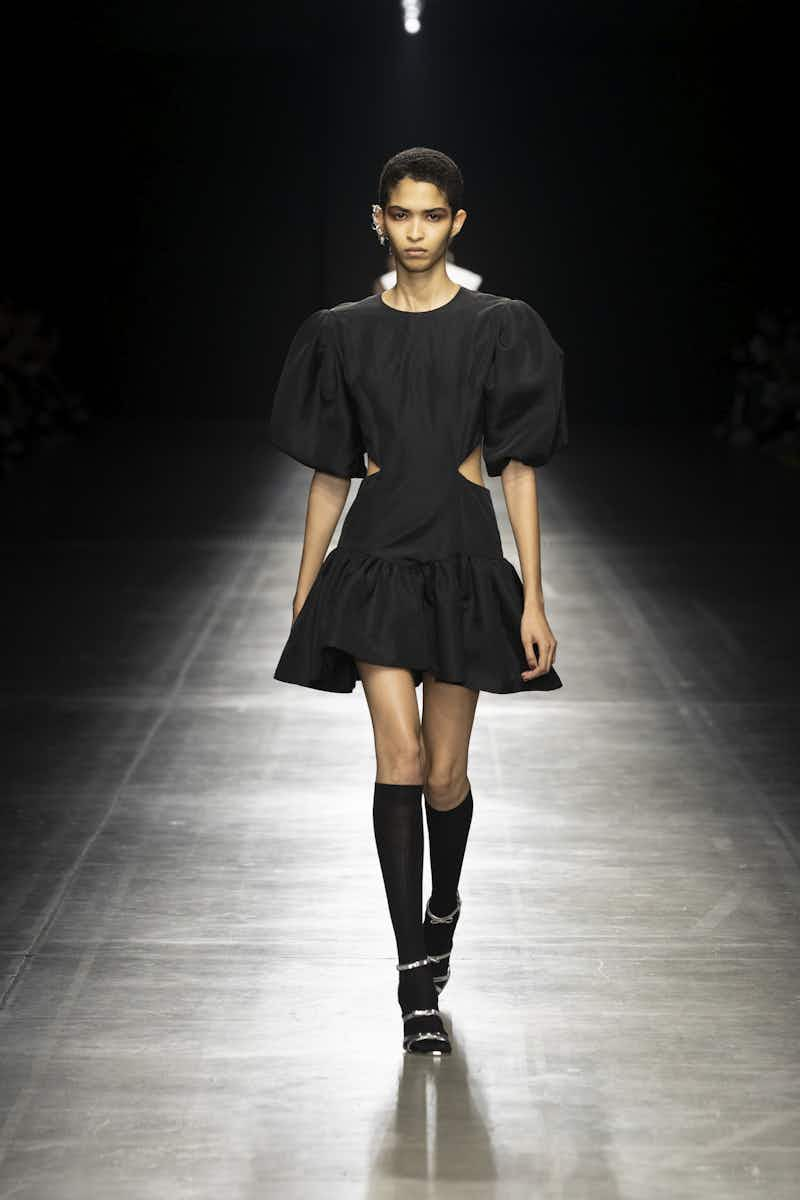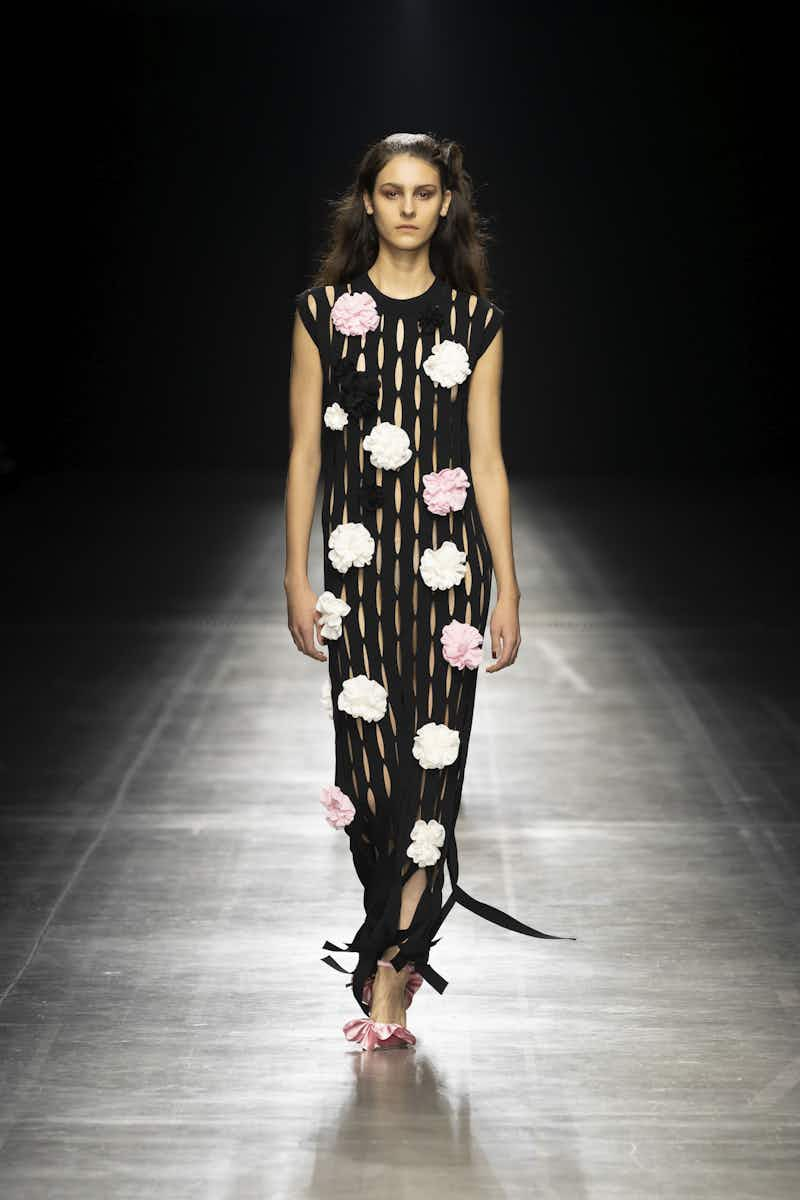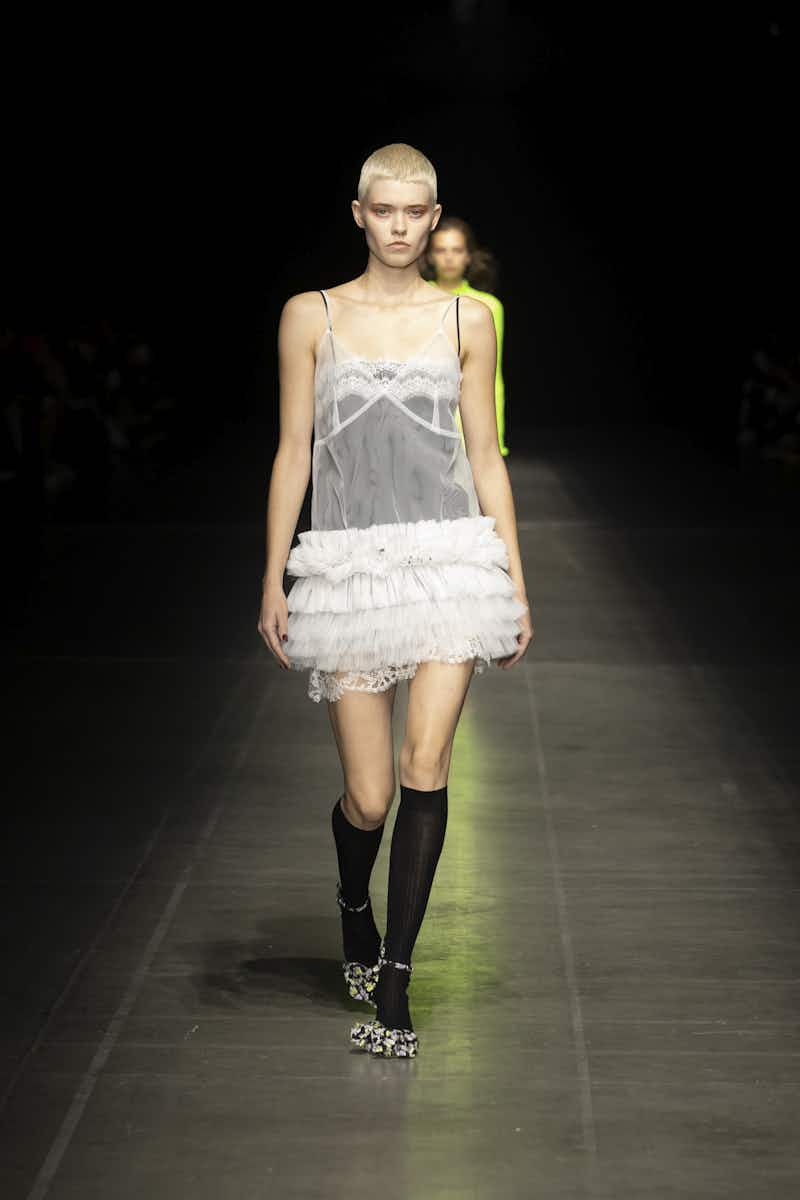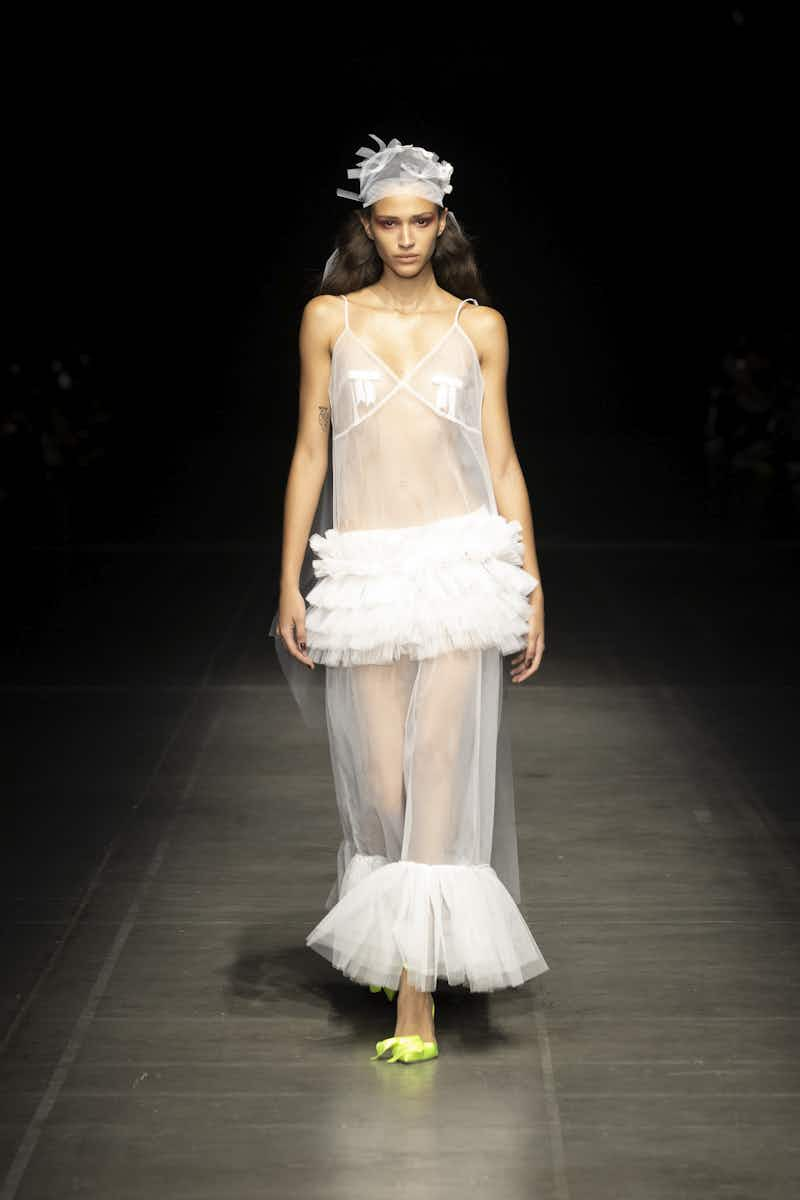 This season, Versace looked to the rebel girls from the femme fatales to biker goths, the vampires and Barbies. ​"I have always loved a rebel, a woman who is confident, smart, and a little bit of a diva," said Donatella in the press notes. Subsequently, the collection opened with a series of electrifying, ultra-sexy LBDs, figure-skimming with suggestive cut-outs and plunging cowl necks.
Biker jackets and leather micro-minis introduced a toughness to the collection before vivid violet and fuschia appeared via high-shine silk or graphic floral and zebra prints. Jeans were slashed and dyed, which is about as casual as you can expect Versace to get. Stiletto heels were so skinny they looked invisible, while towered platforms were made for serious stomping.
The closing series of teeny tiny silk slips and suspenders were topped off with veils, lending them a conjugal mood, but the Versace bride isn't pure enough for white, nor would she want to be. Instead, these black, pink, purple and neon yellow looks were giving sugar daddy's funeral – or crashing your ex-boyfriend's wedding.

Finally, newlywed OG Barbie girl Paris Hilton went full Barbiecore, closing the show in a glittery pink mini reminiscent of her iconic 21st birthday dress complete with pink stilettos and a matching veil. Now, that's hot. SW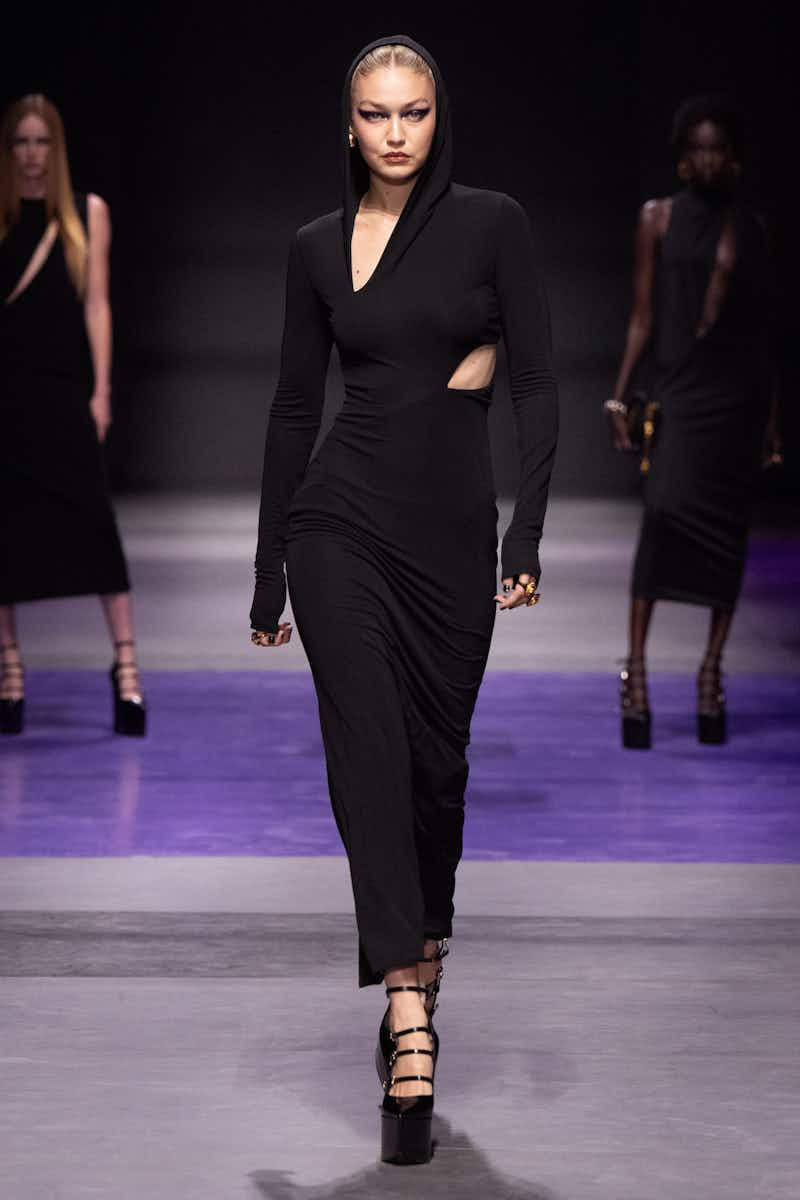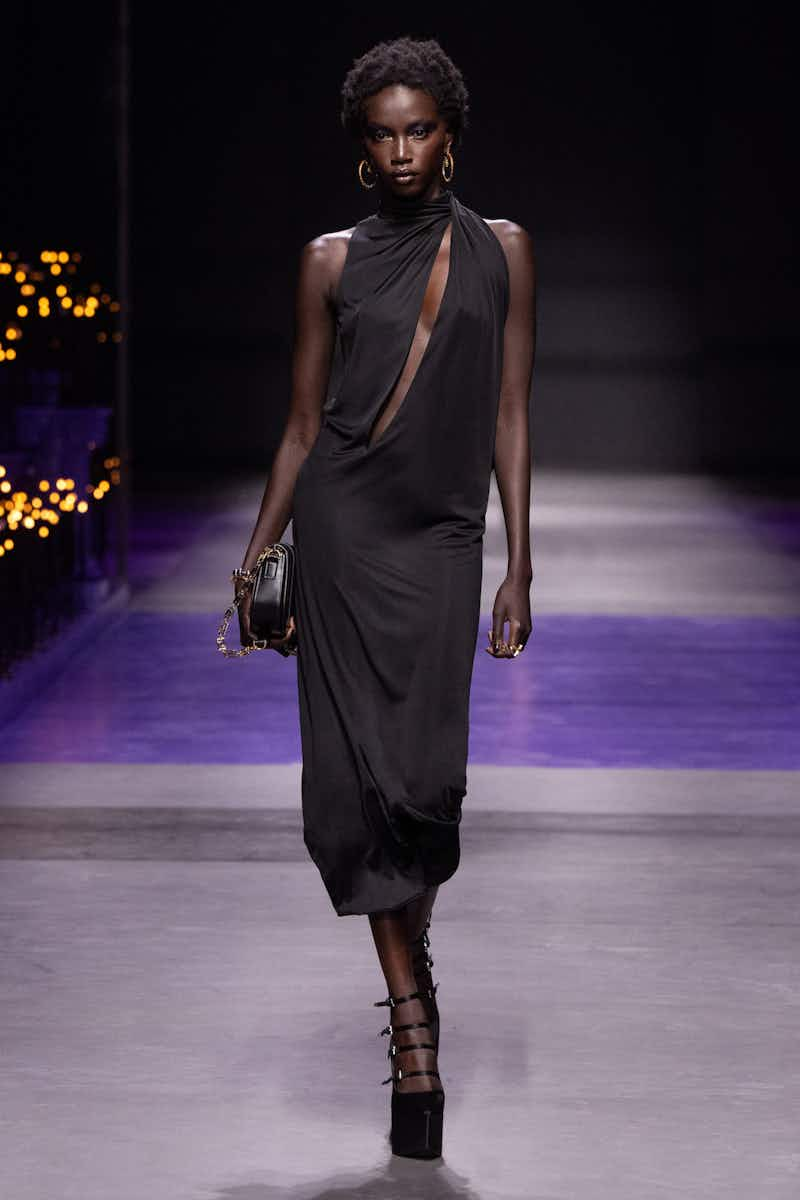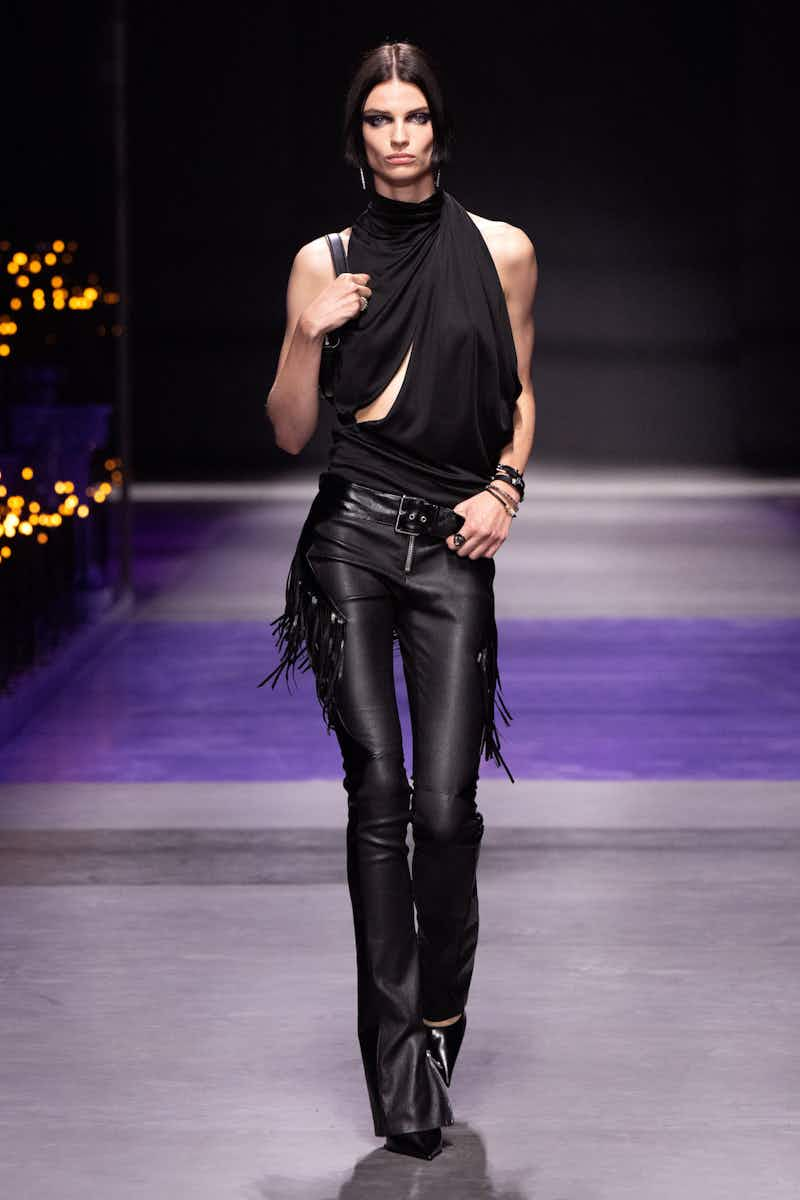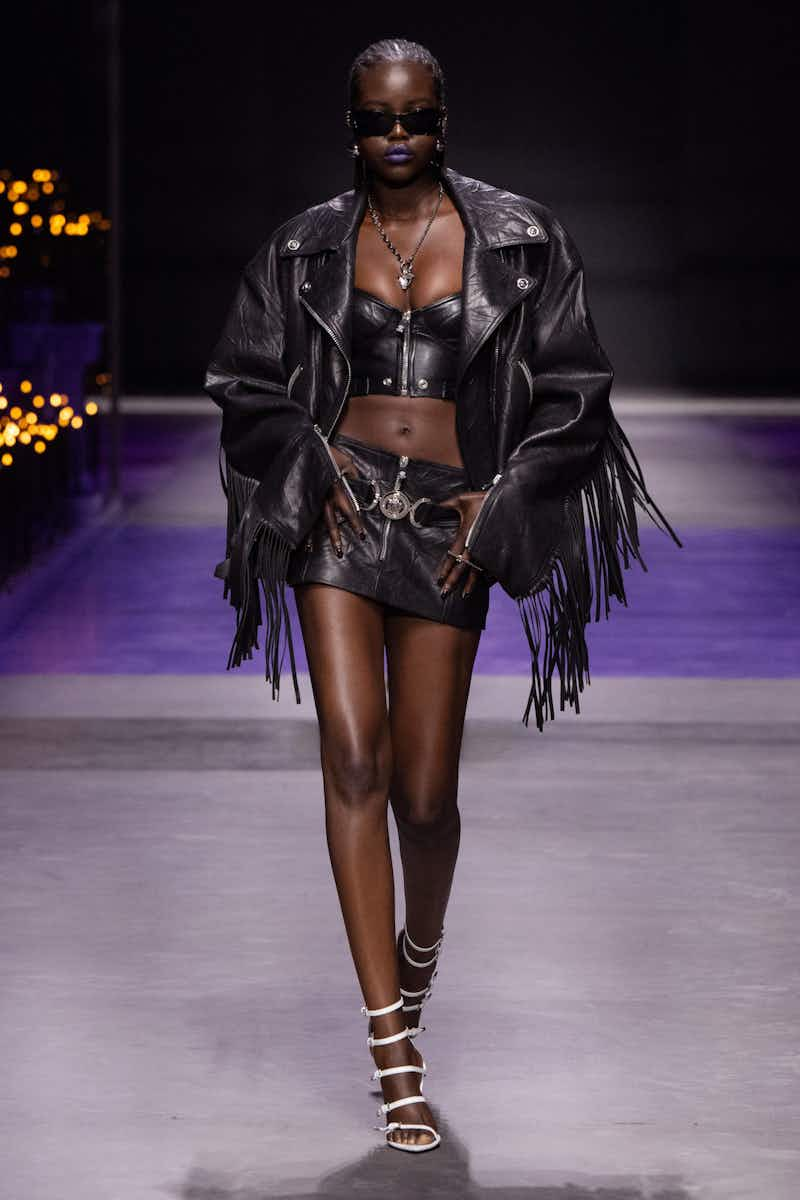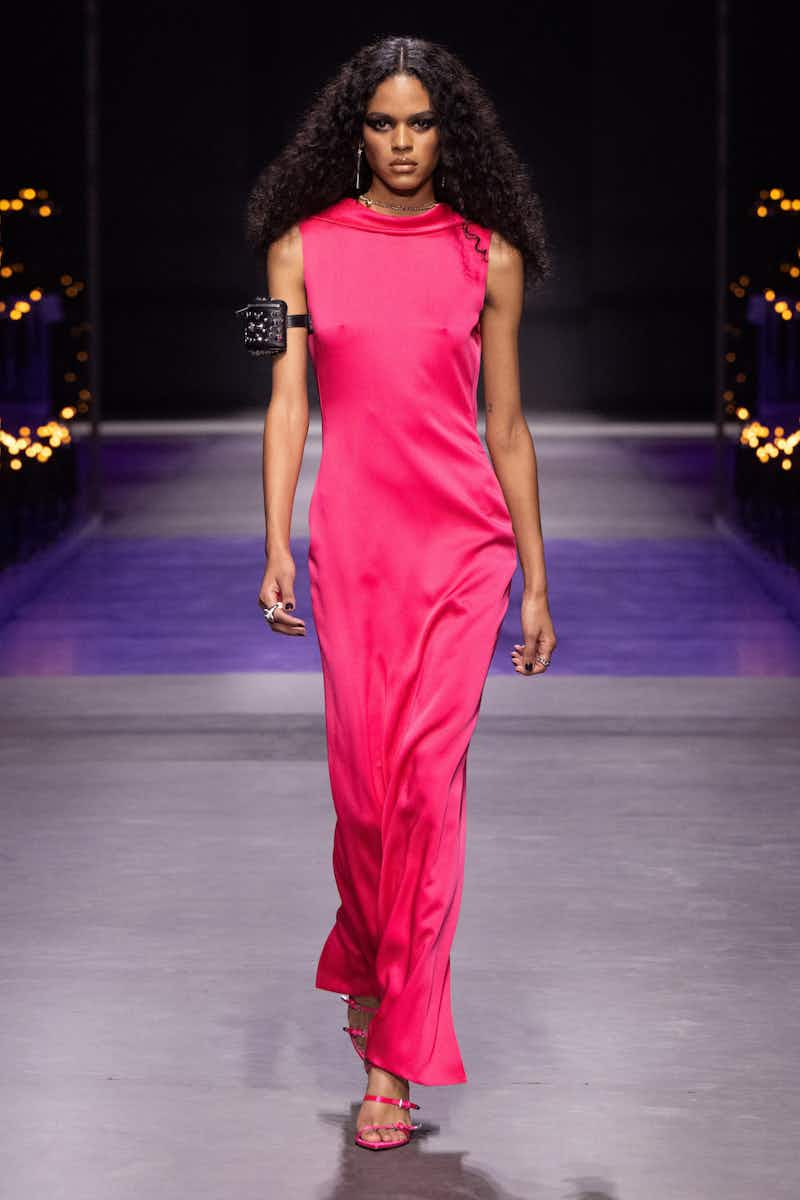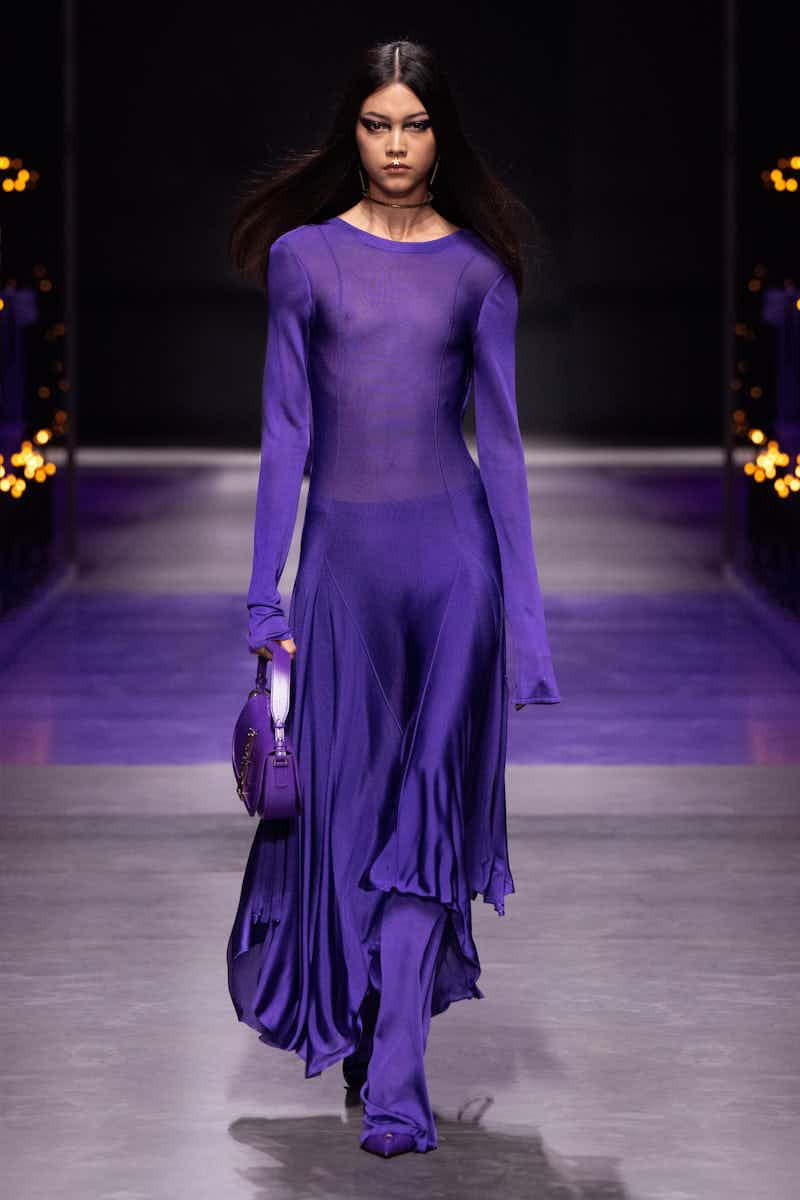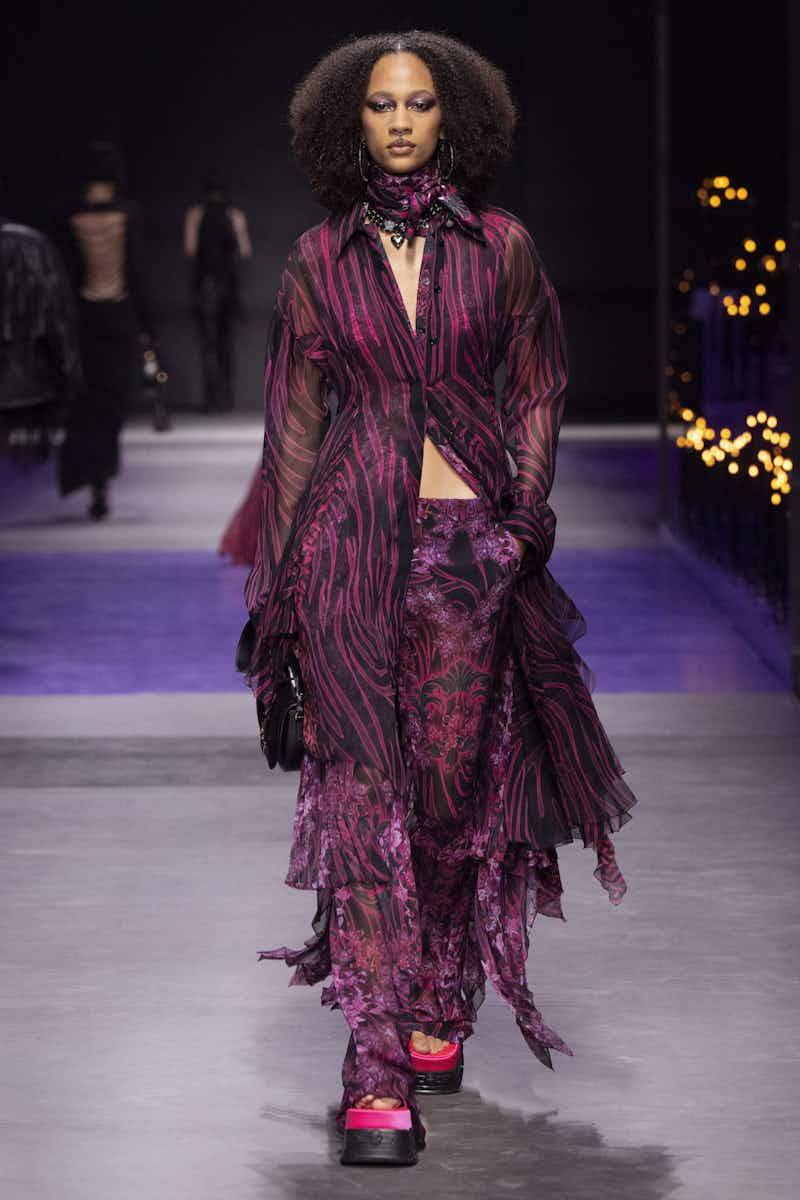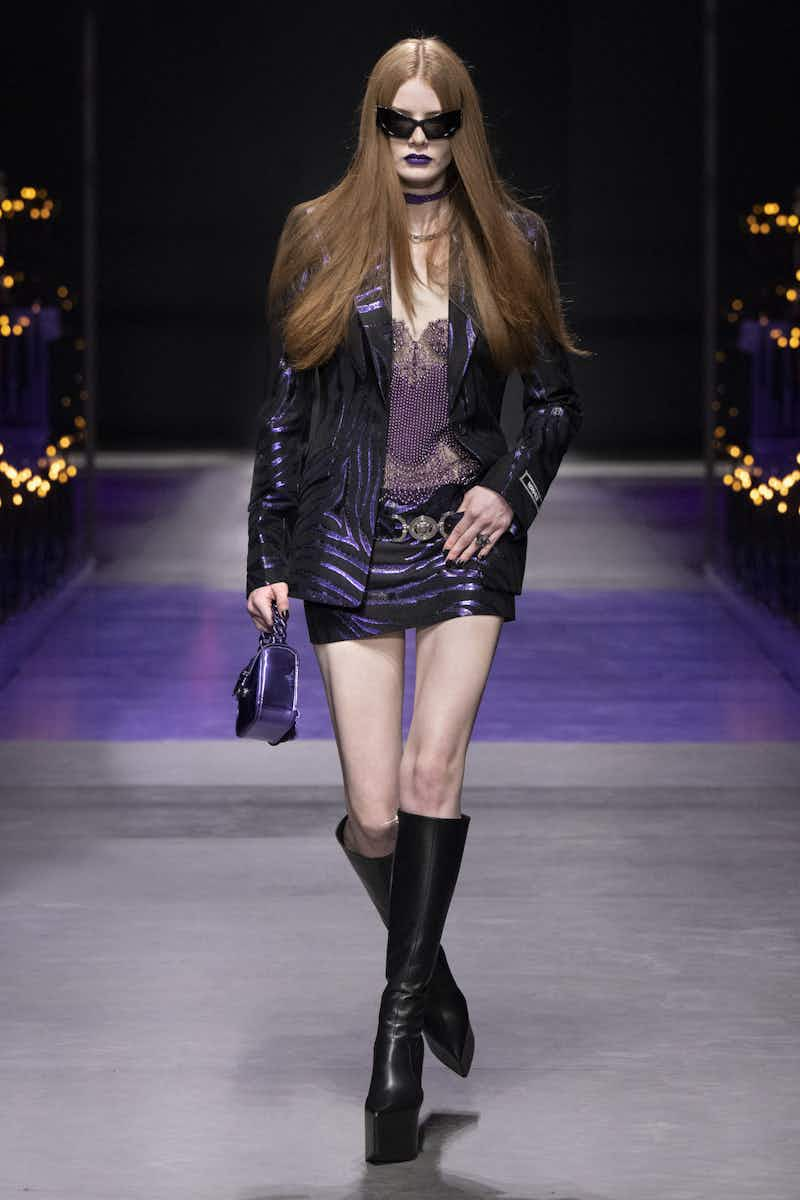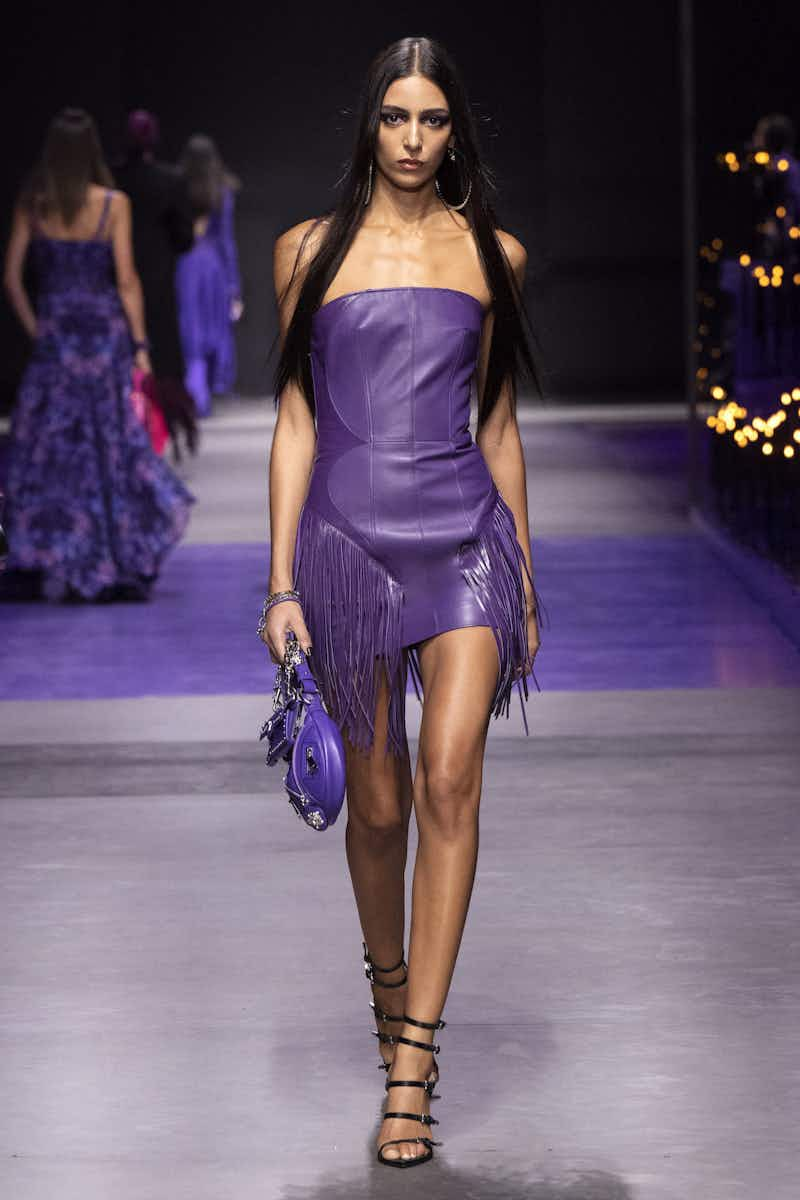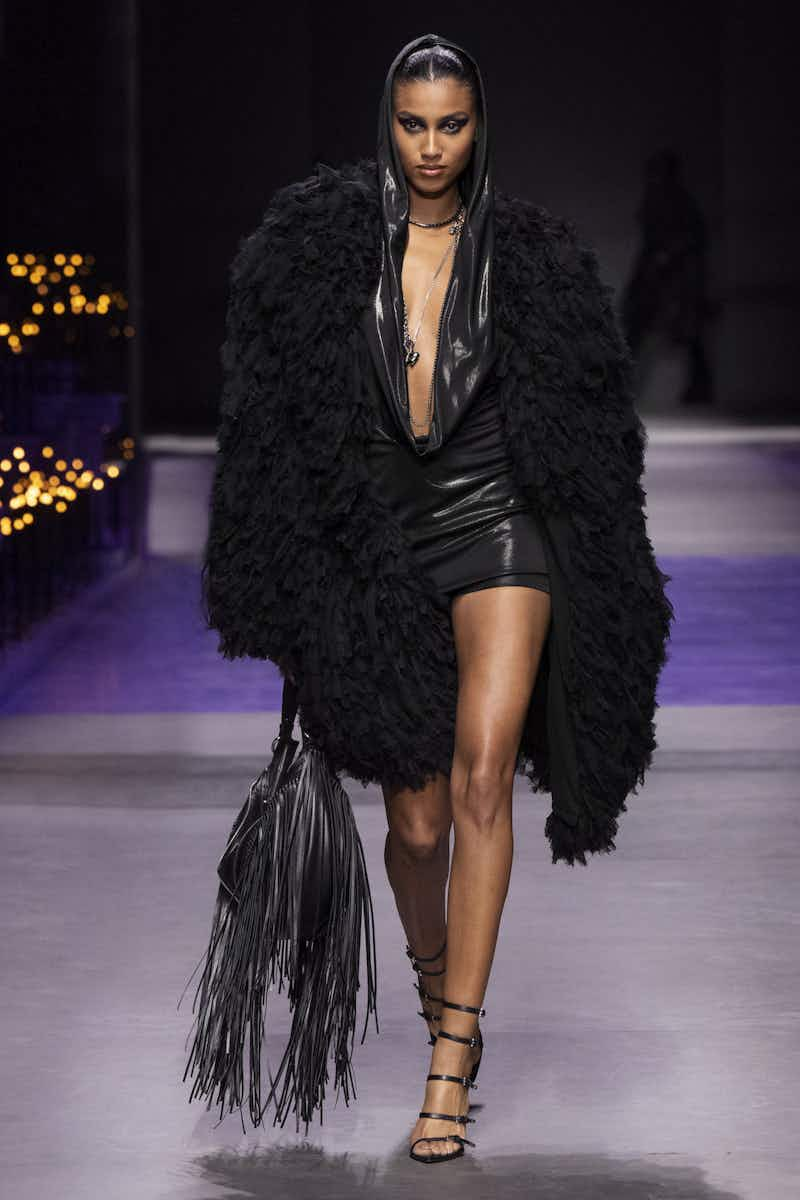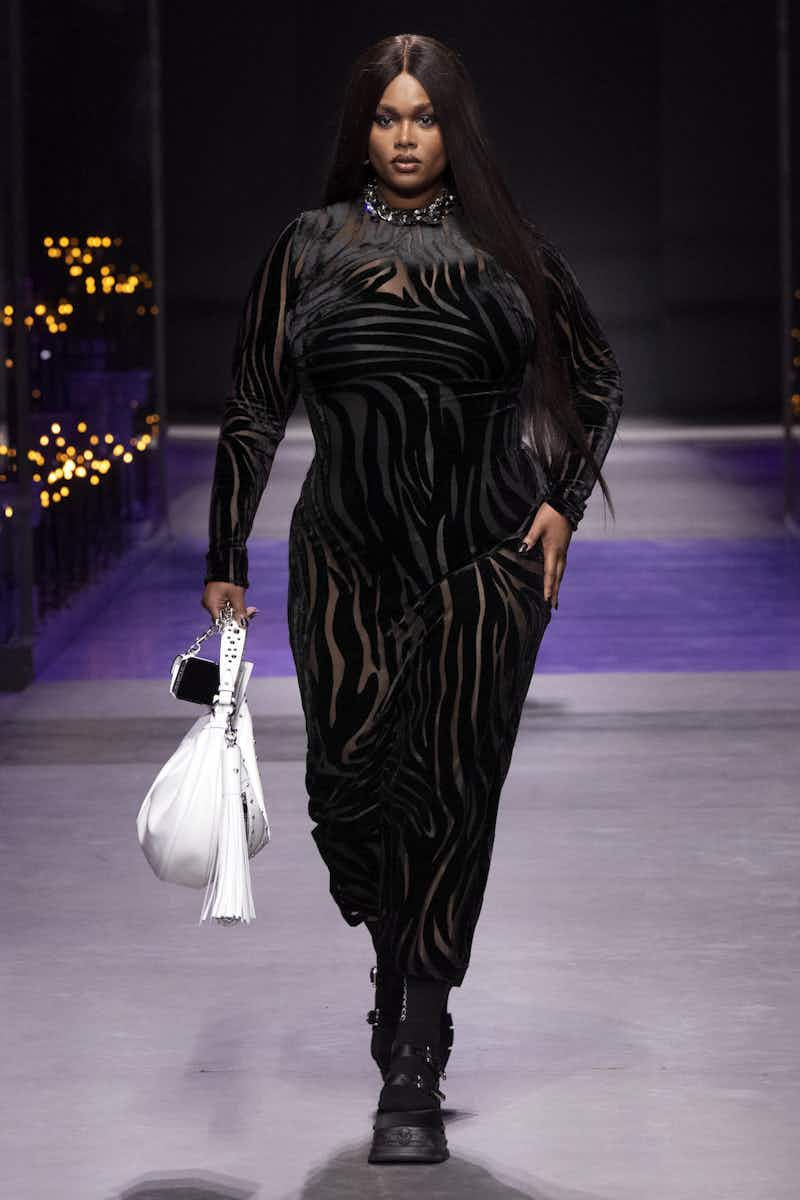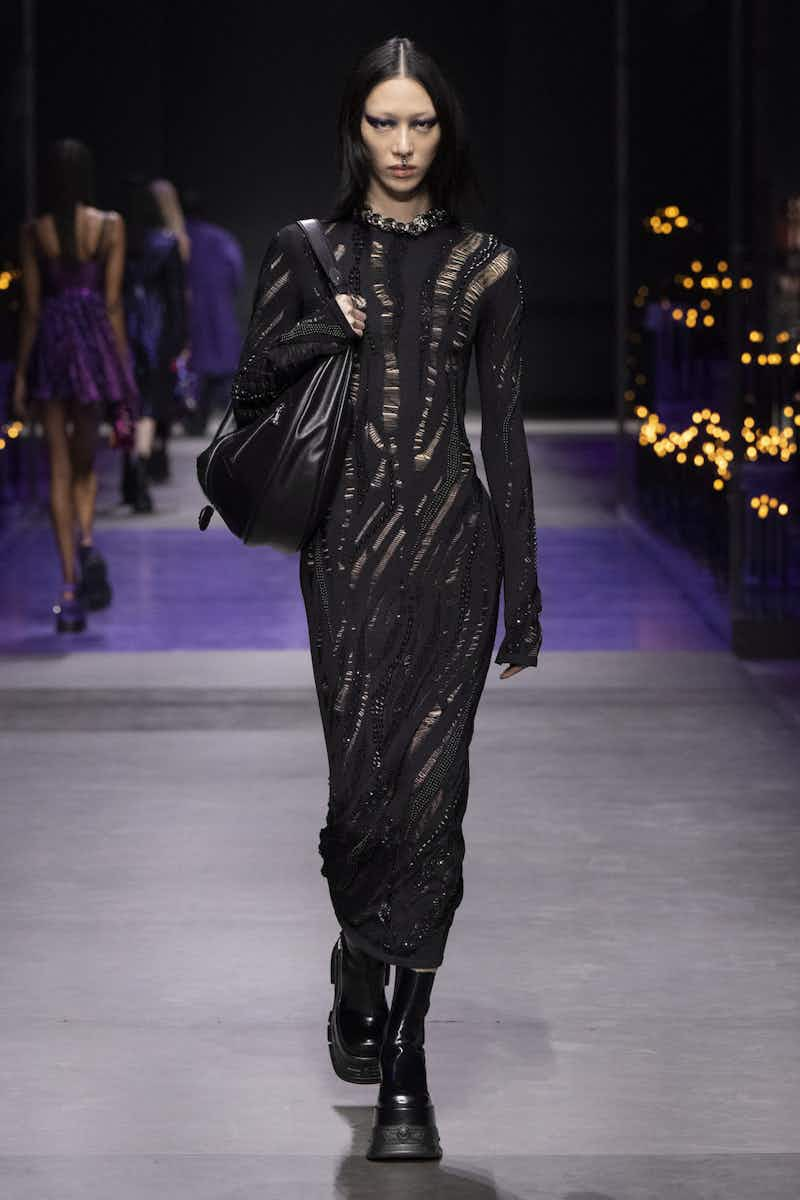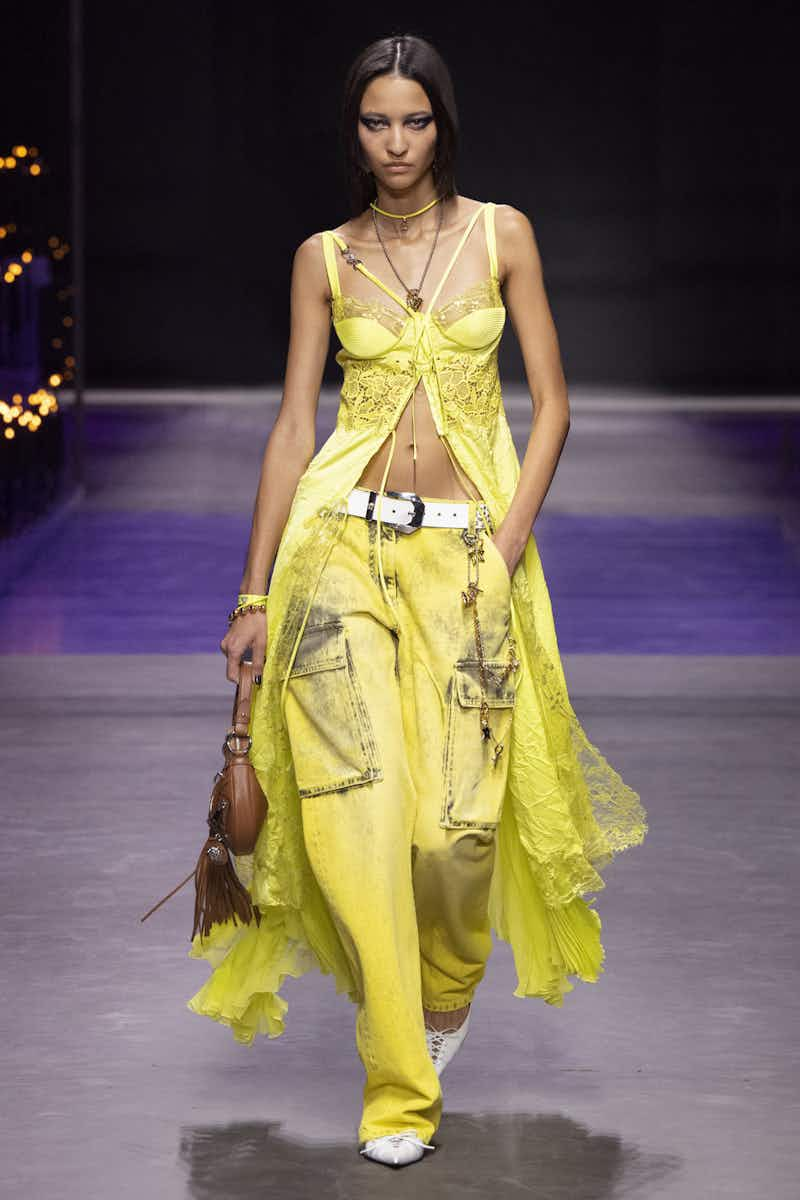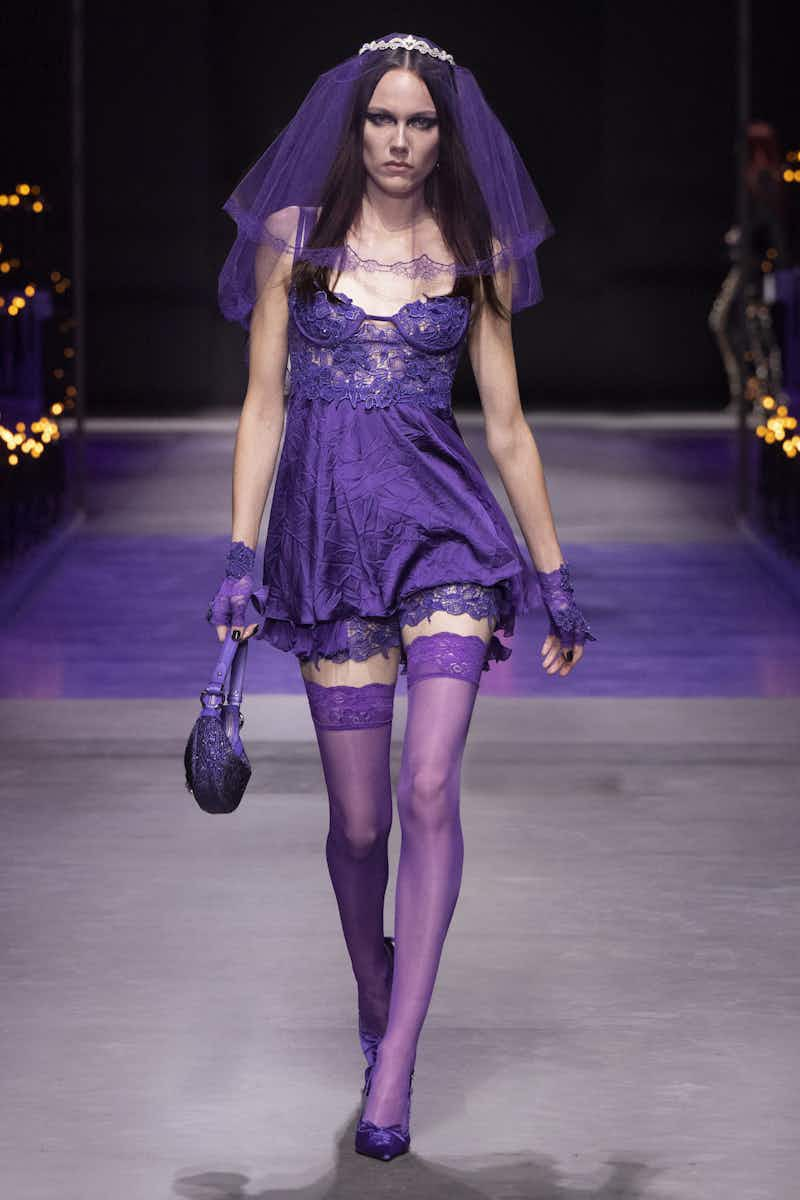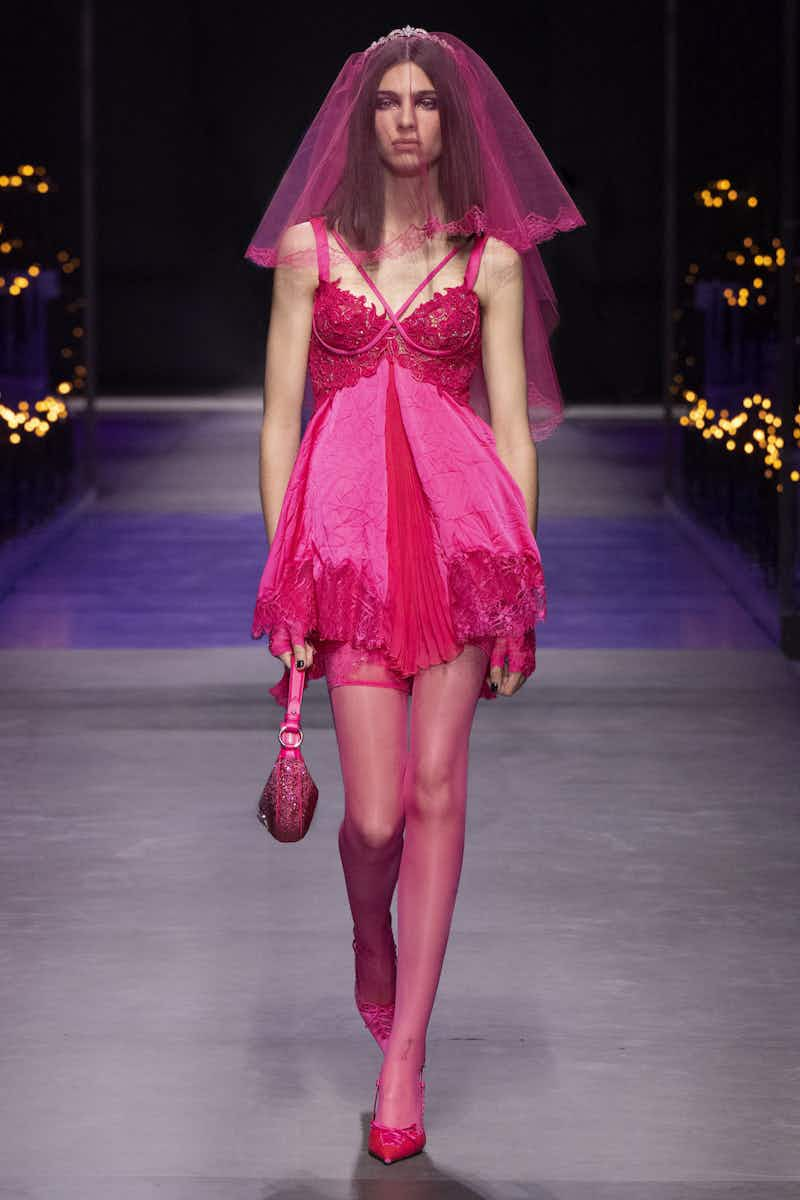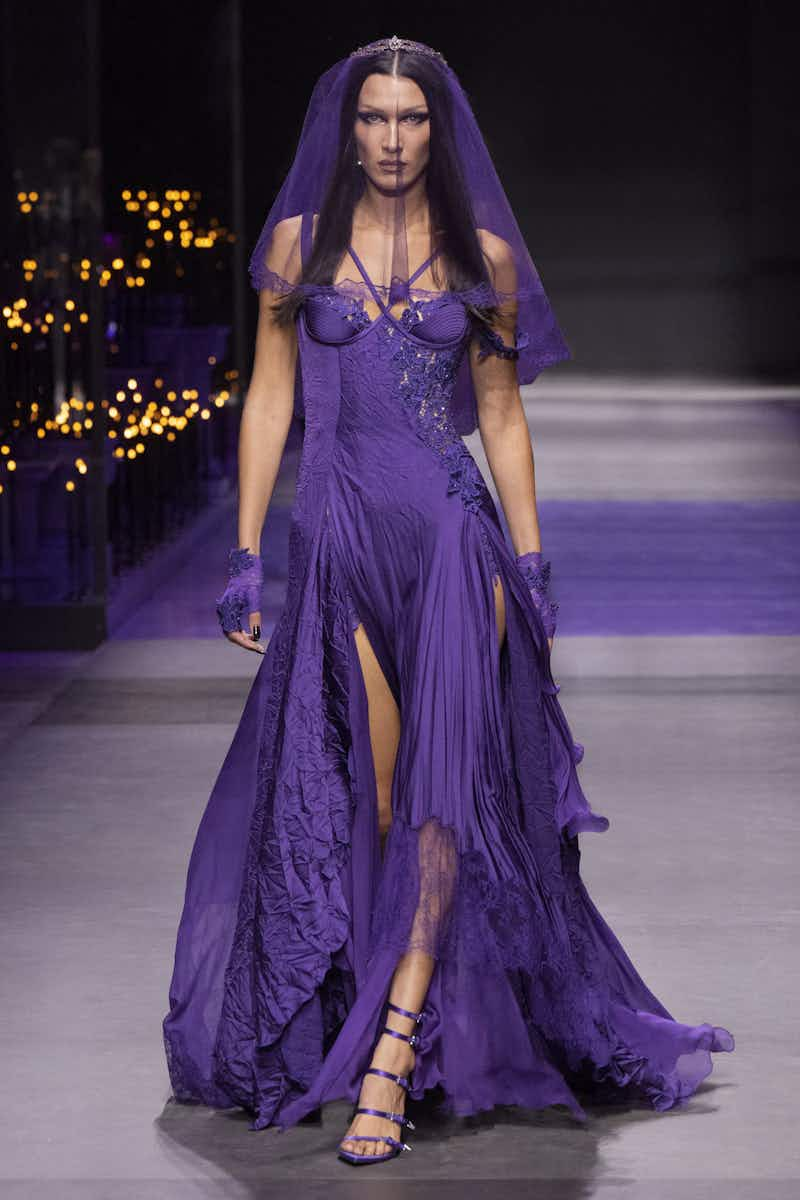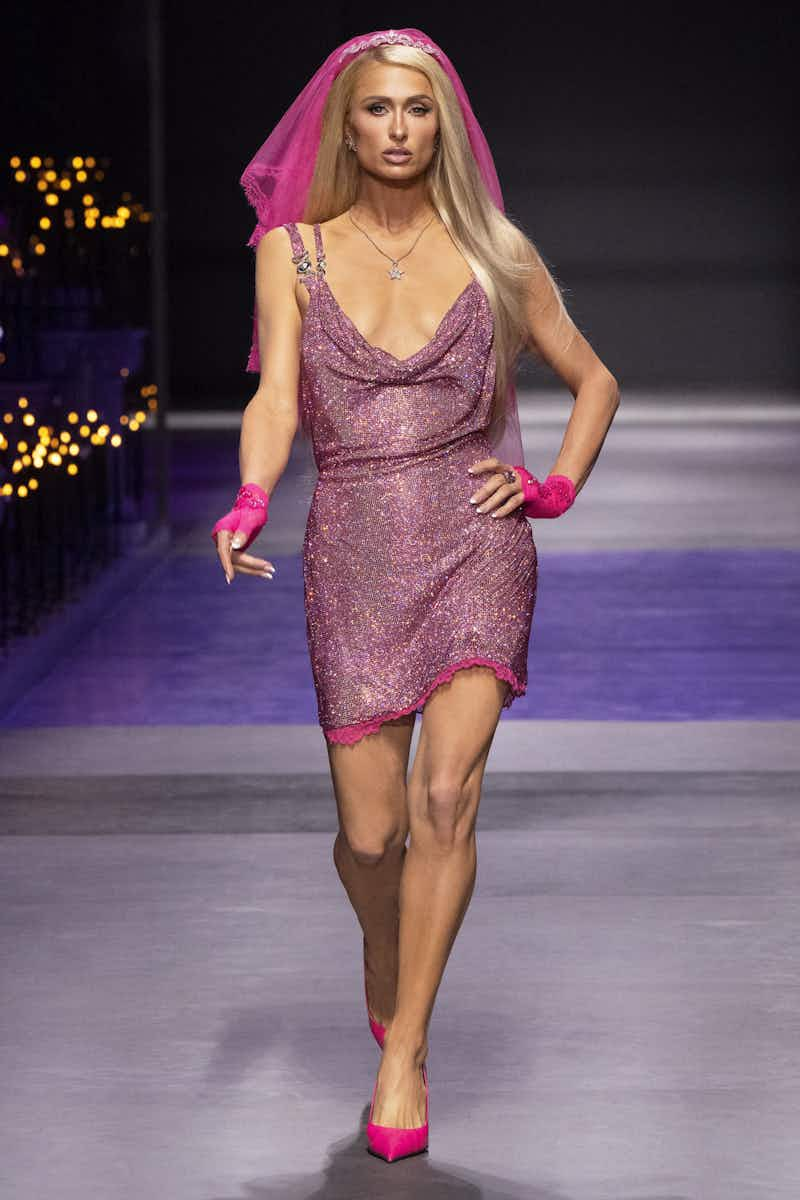 Alessandro Michele has long courted the off-beat and uncanny, whether with models carrying replicas of their own heads or aliens fronting campaigns. For Gucci's SS23 collection, titled Twinsburg, Michele, who is the son of twins himself, cast 68 sets of identical twins and, like an over-excited mum, dressed them all in matching outfits. We were literally seeing double.
The collection opened with a pair of simple black suits, only it wouldn't be Gucci without a left-field remix thrown in. The trousers hung from garters with bare thighs peeking out from beneath double-breasted blazers, a motif repeated throughout the collection. The styling was an ode to maximalism, which felt even more present because everything was doubled. 1980s-style padded sequin blazers were paired with wool check trousers, detailed floral embroidered dresses came with leopard print tights and frothy ruffled silk was imagined in rich clashing colours.
Most looks were accessorised with extravagant face jewellery; sunglasses attached with dangling crystals or ornate earrings that connected at the nose or beneath the chin. Gremlins (which multiply when wet) and teddybears became handbags that added to the mismatched playful aesthetic. But beyond the show's more gimmicky details, clothes were tailored, detailed and diverse. A sporty boiler suit for the nu-raver with reflective silver and yellow stripes came down the runway just before an elegant cream suit (paired with furry Gremlin sliders, of course.)
So, next time you turn up to an event and see someone wearing the same outfit as you, fear not. Twinning is in. SW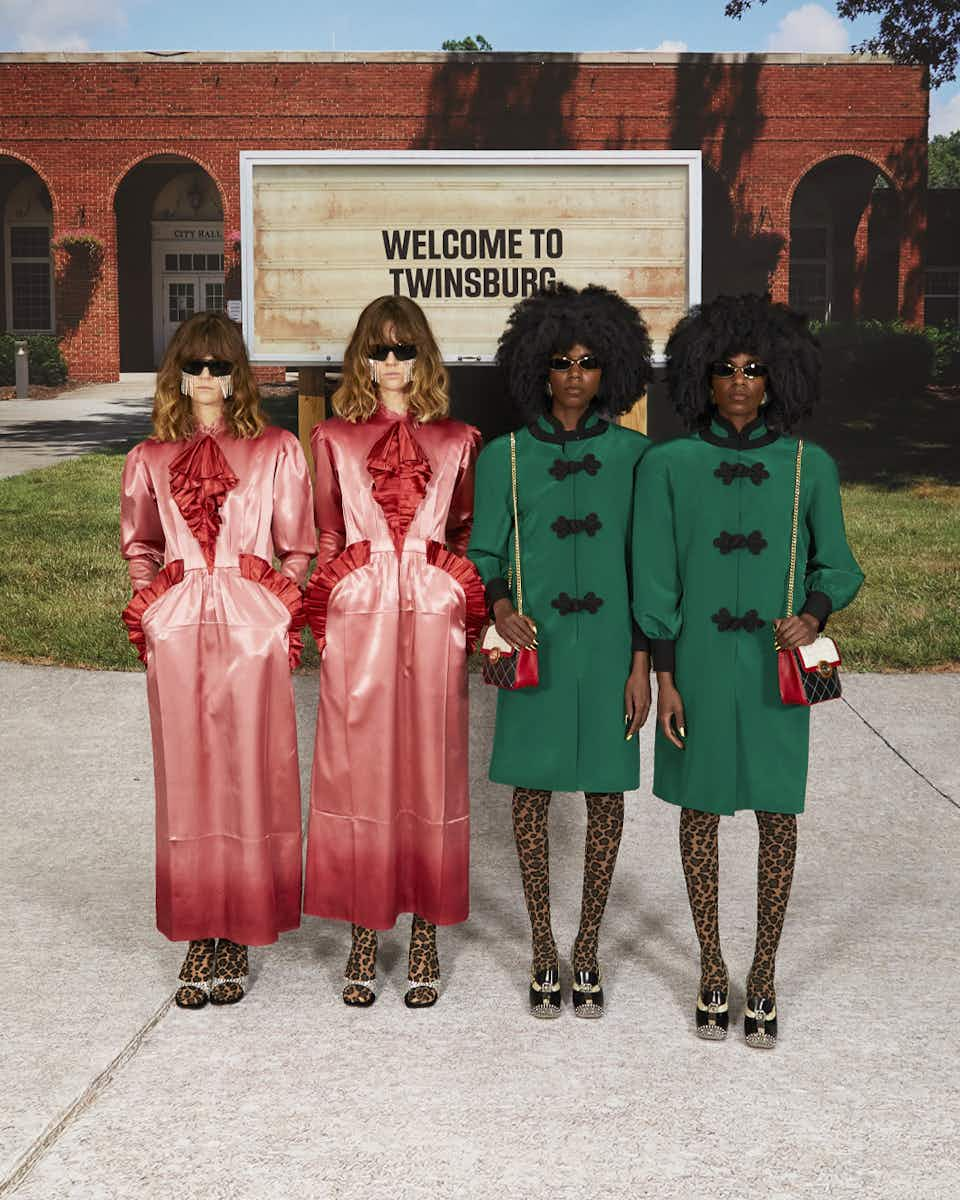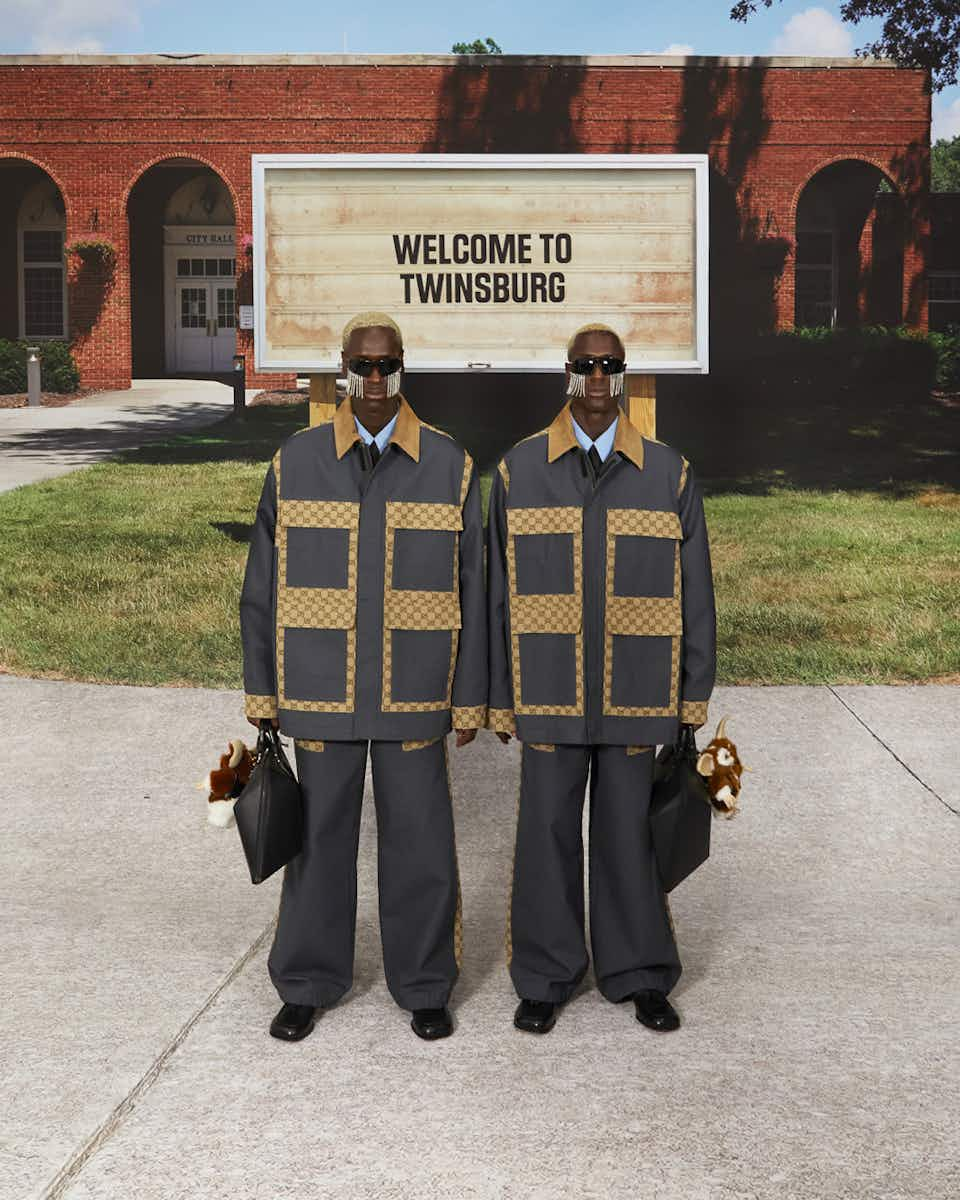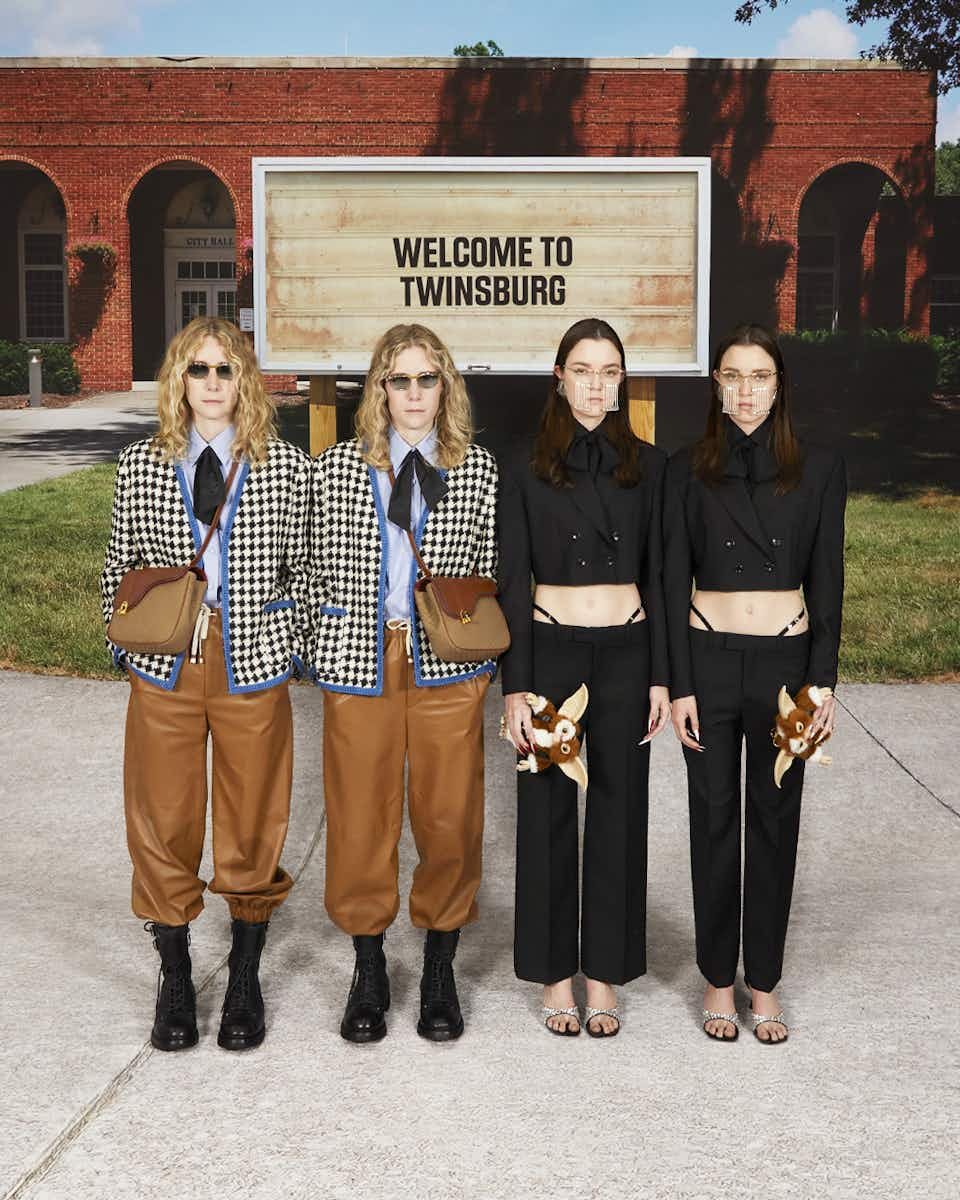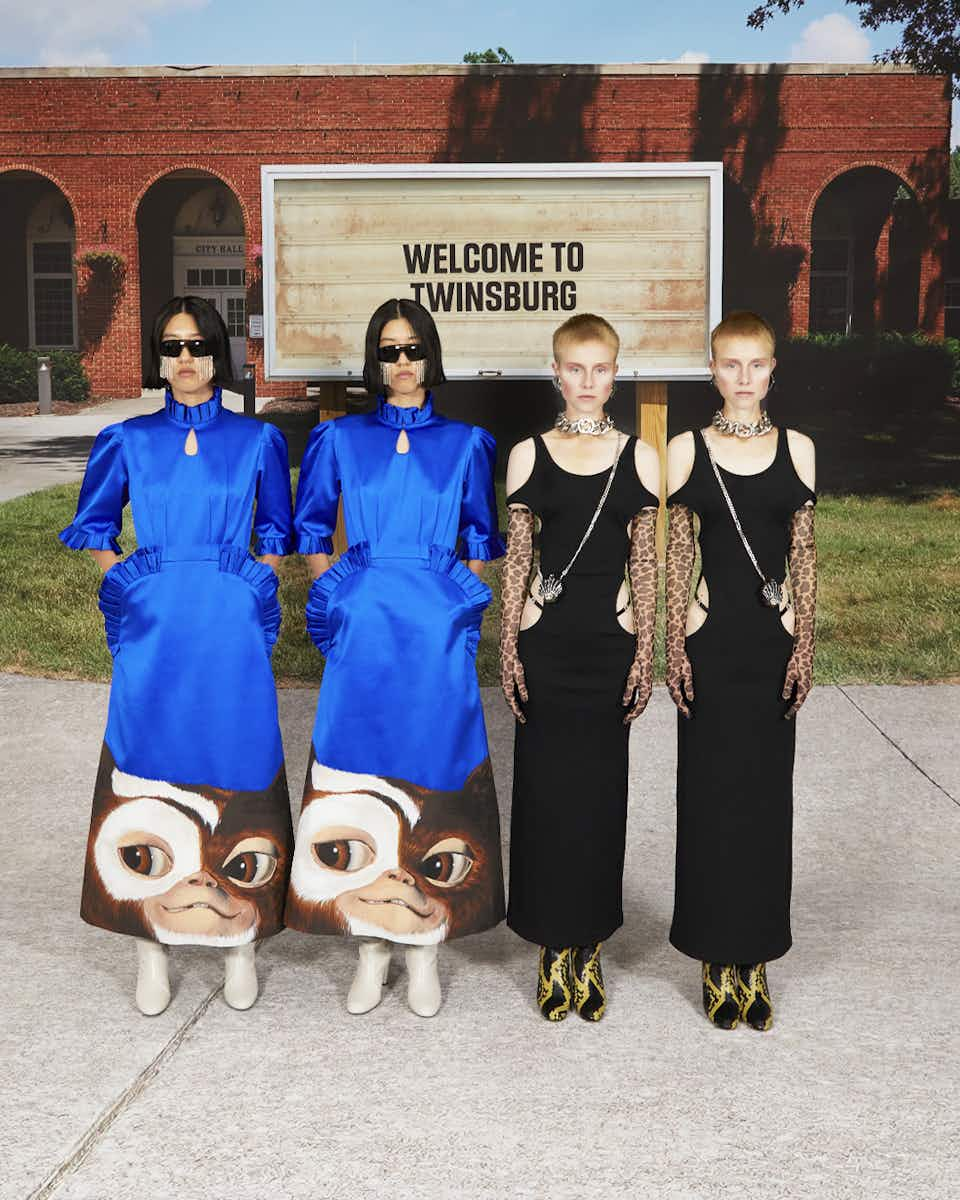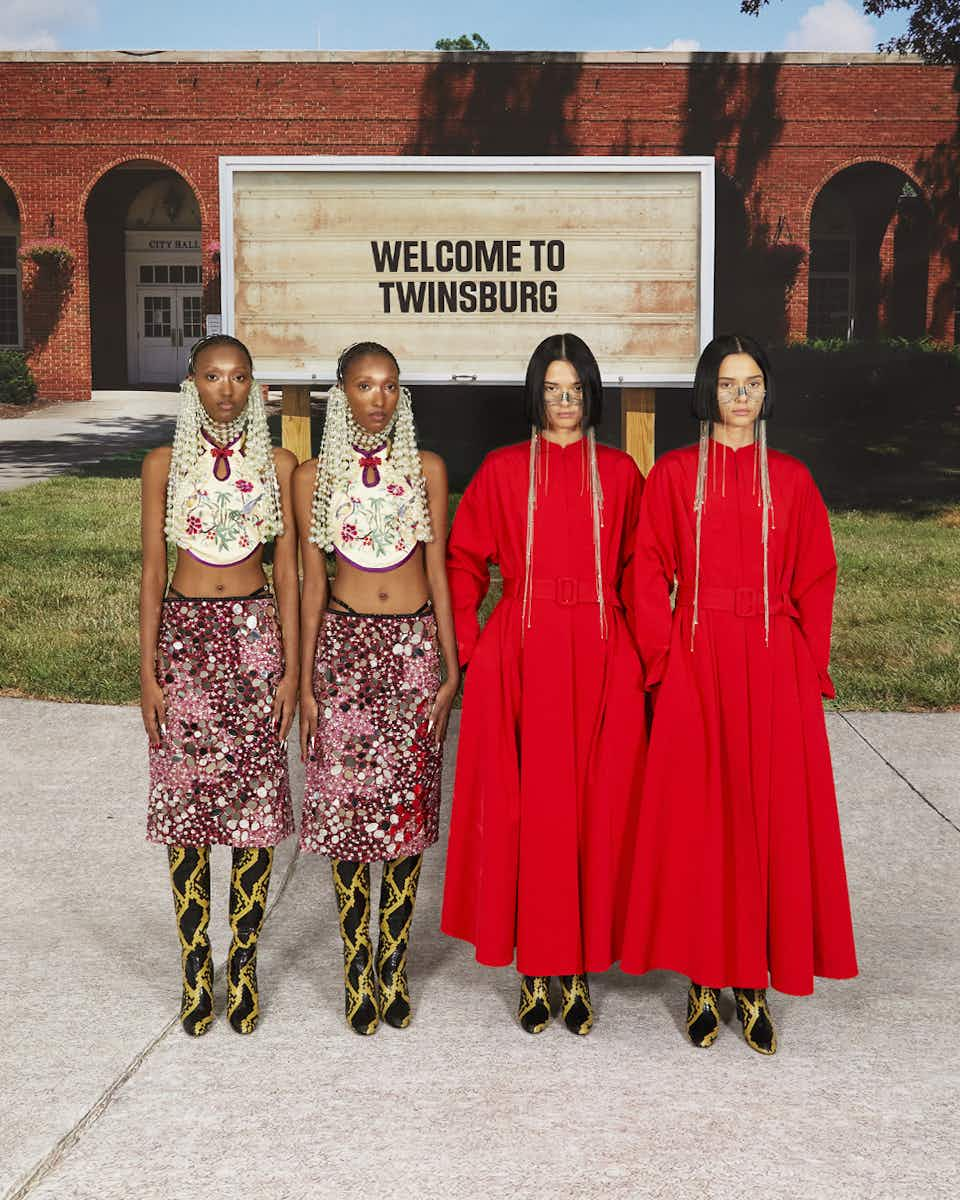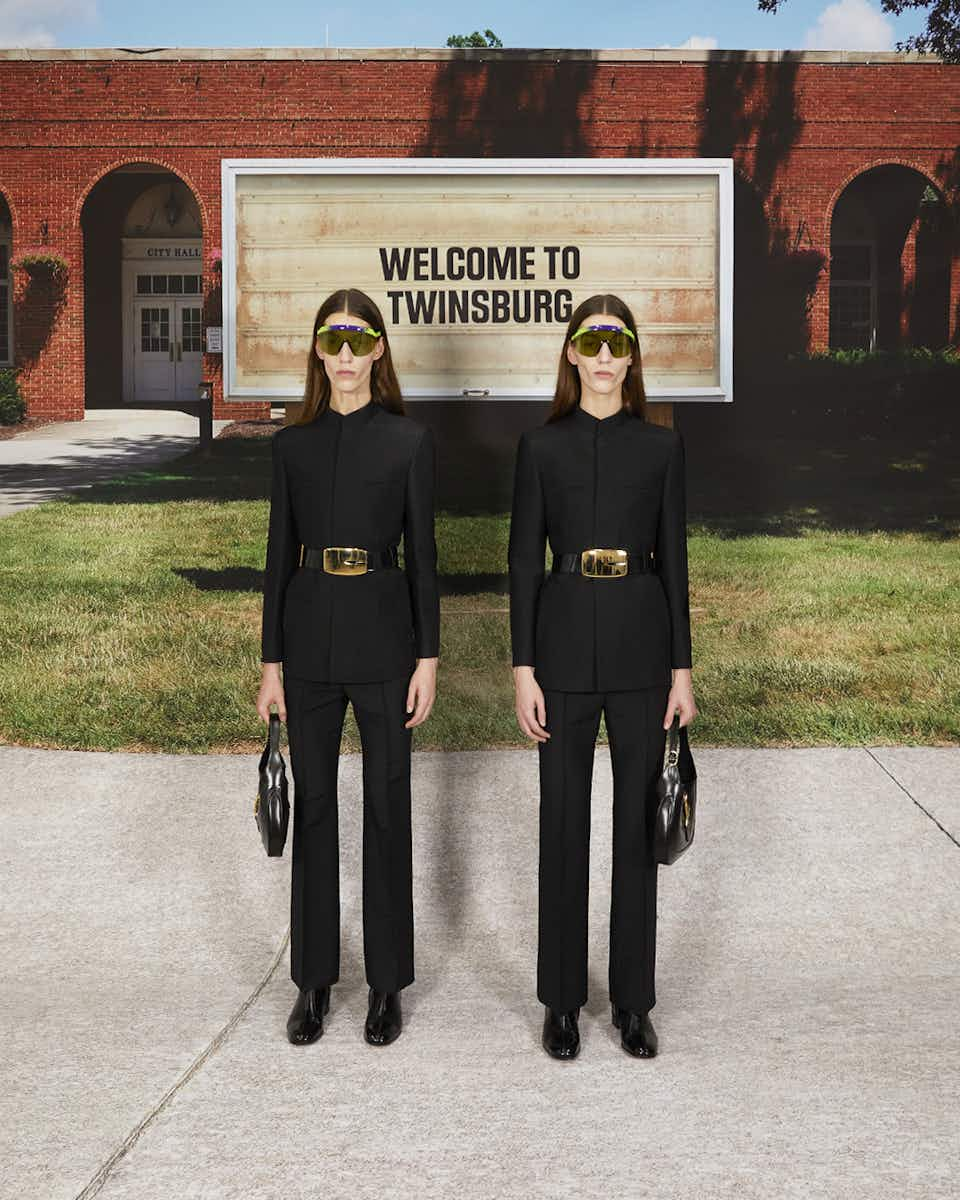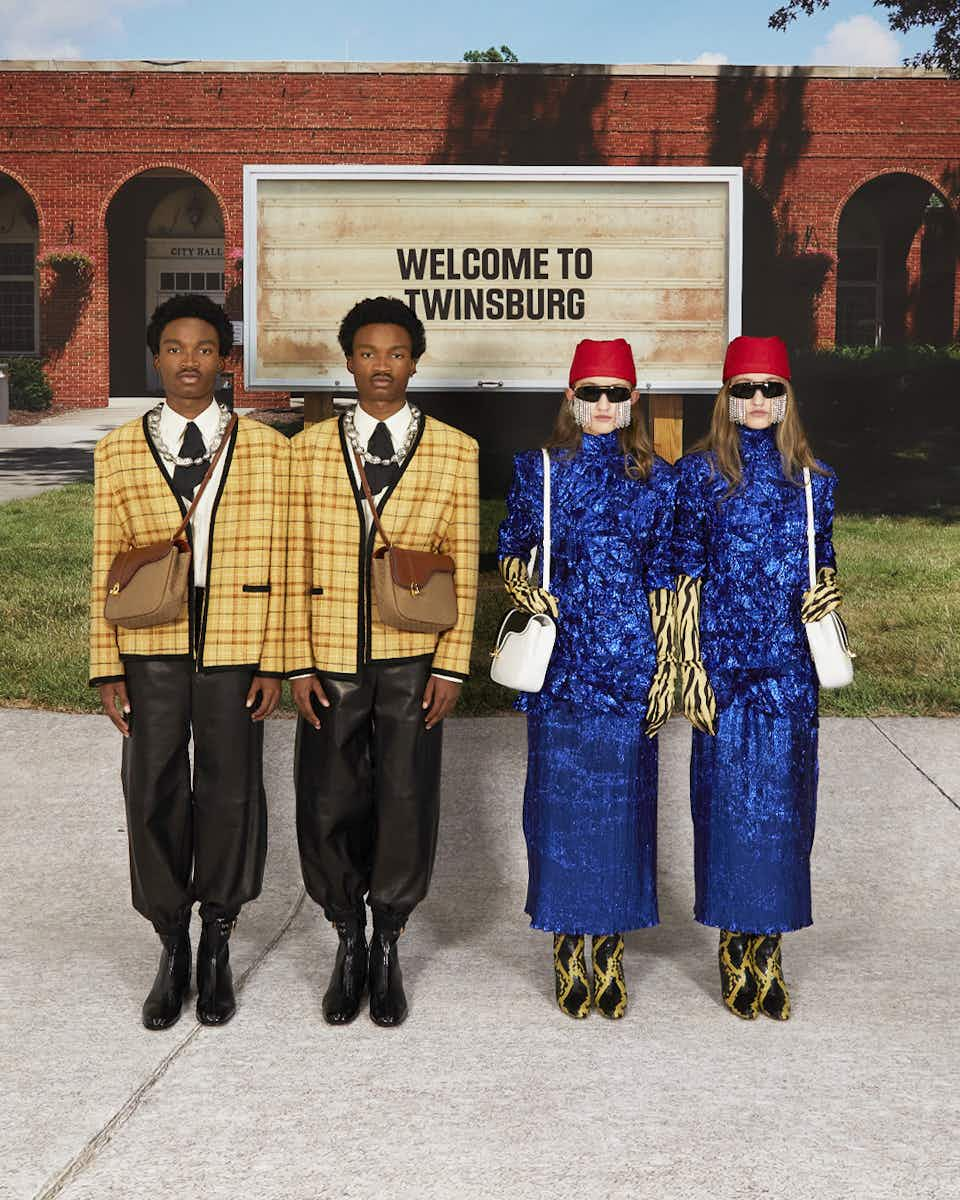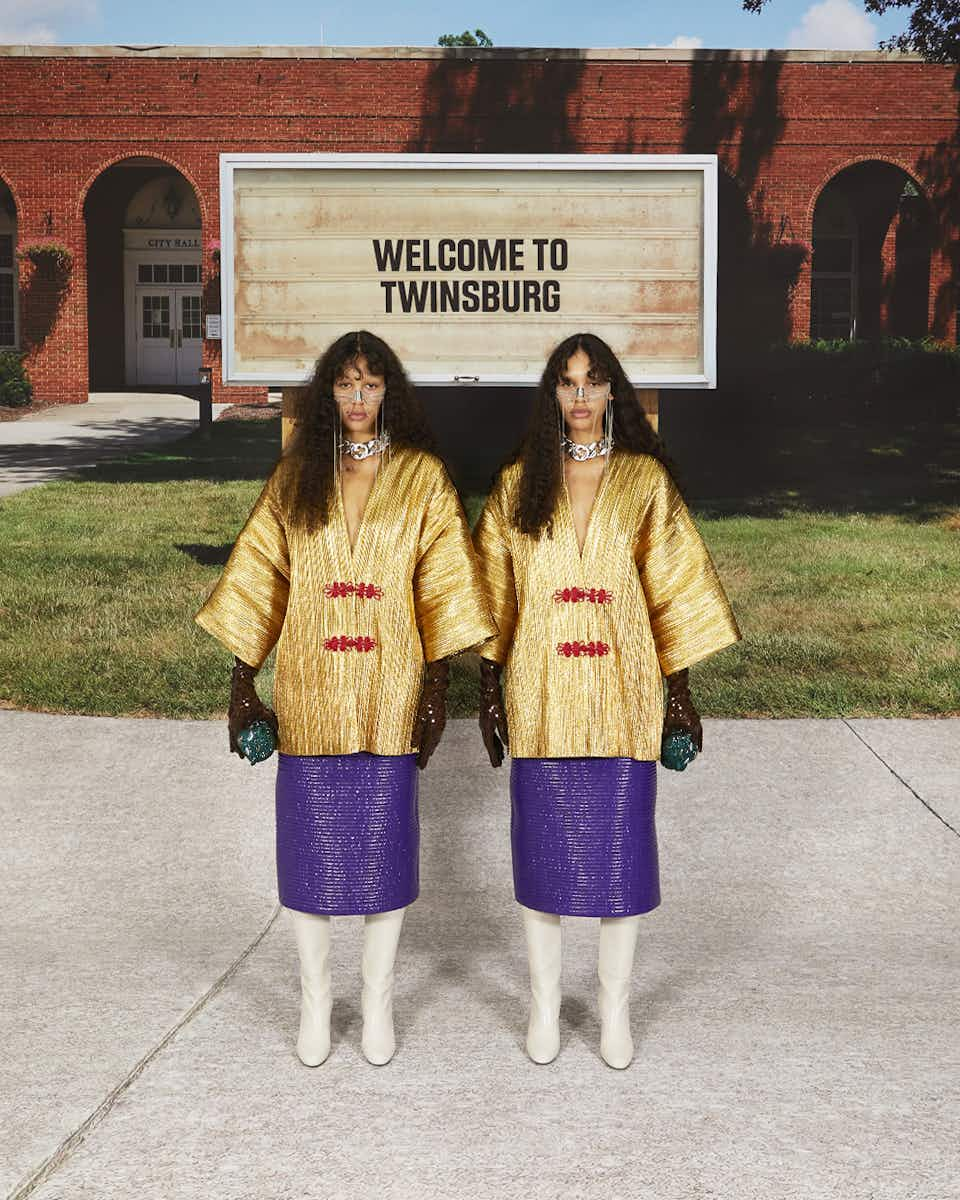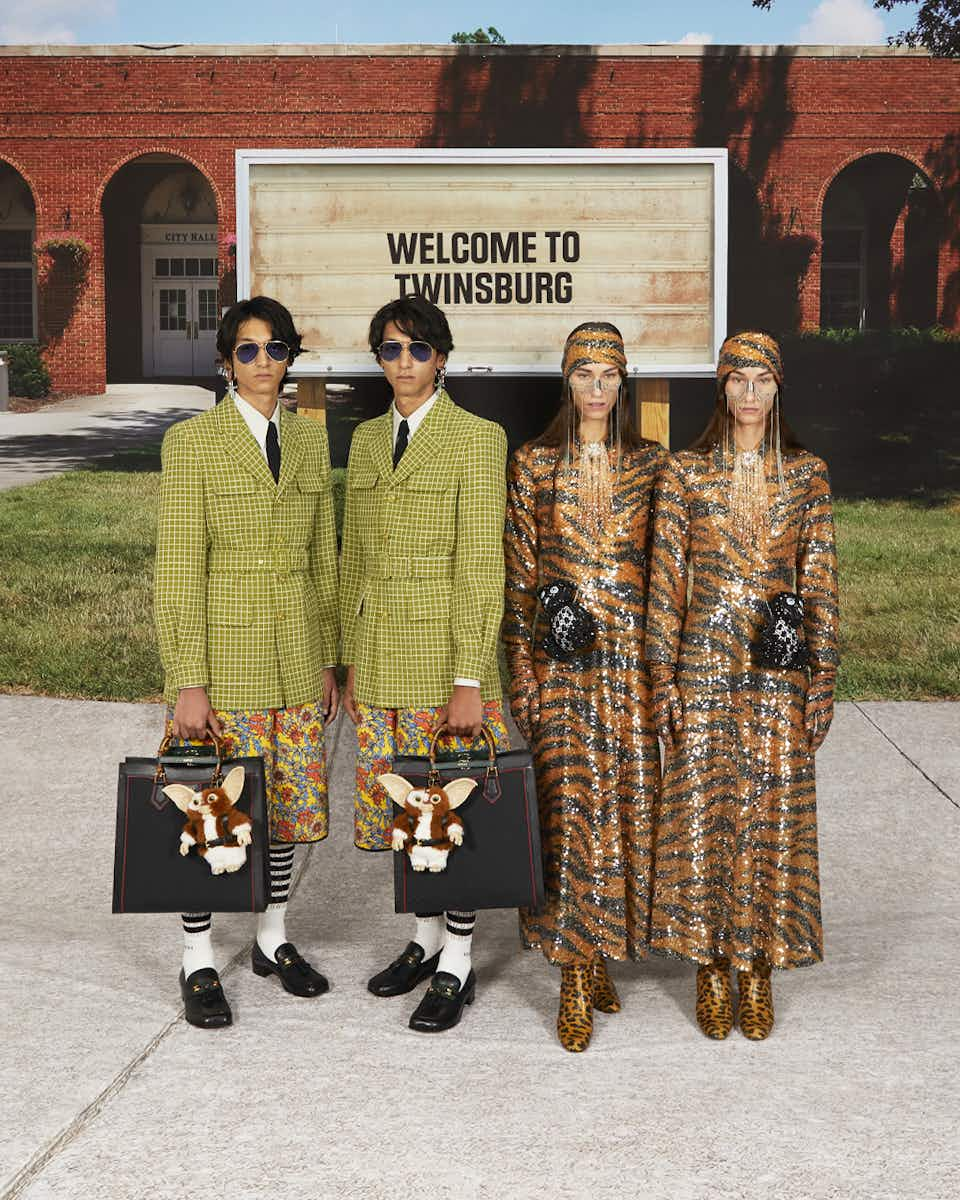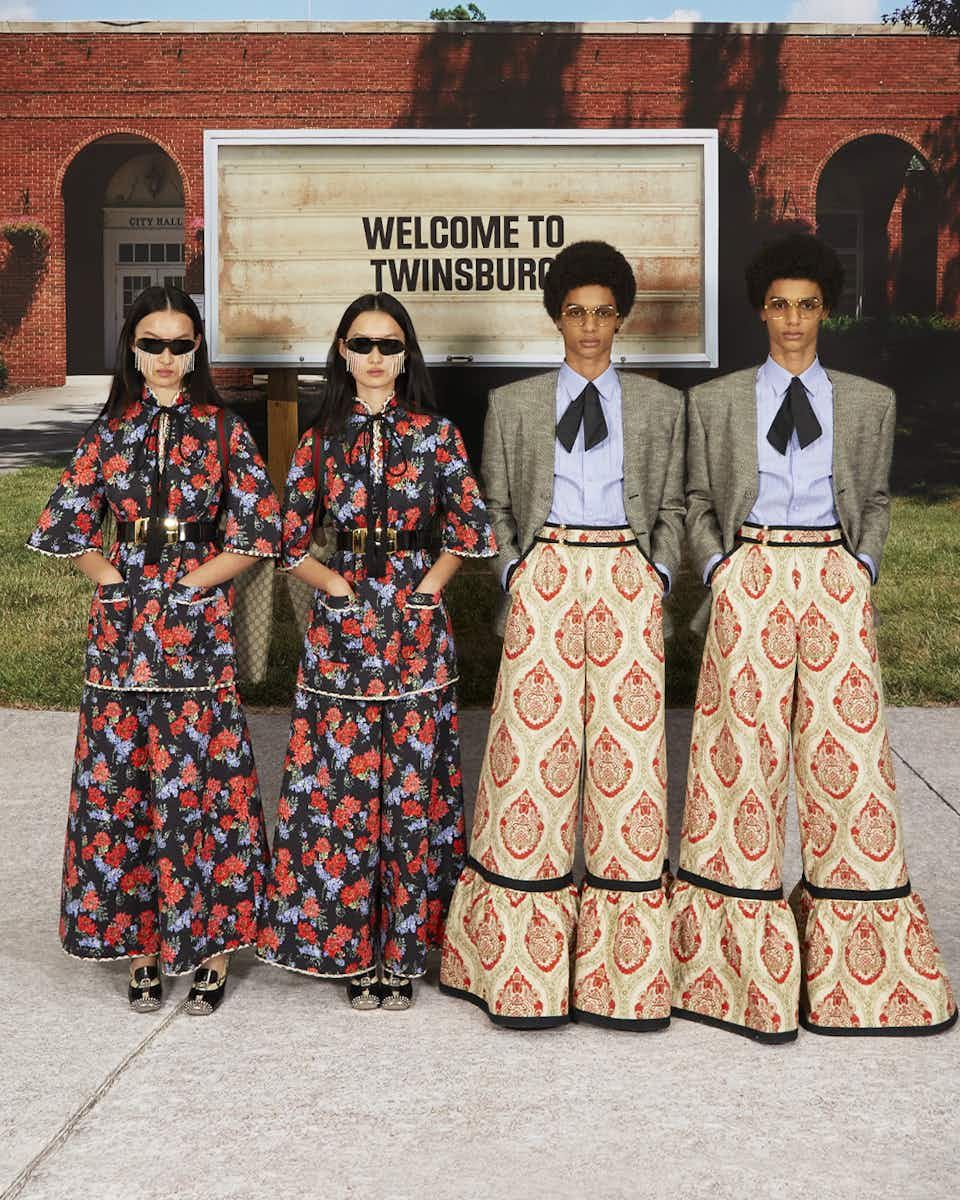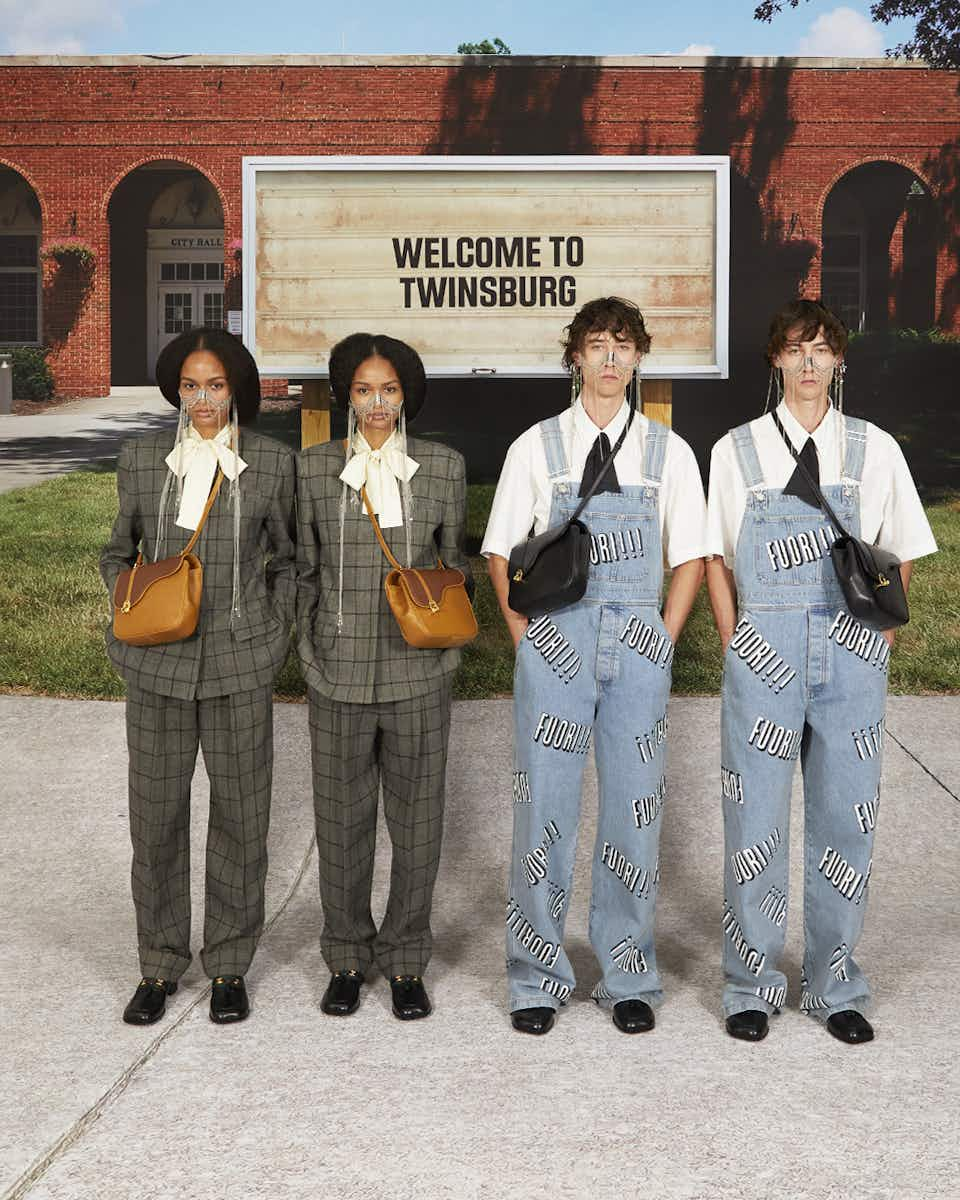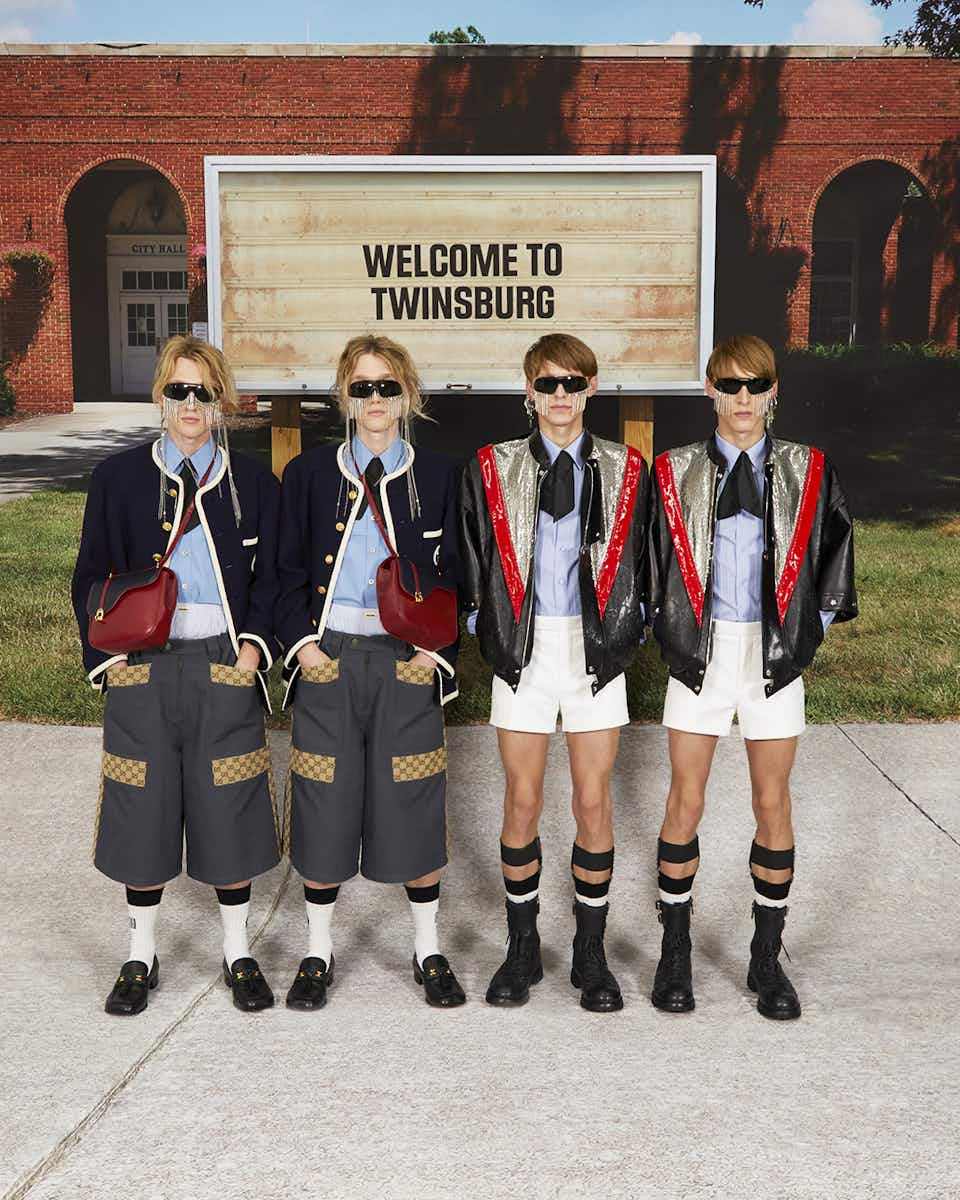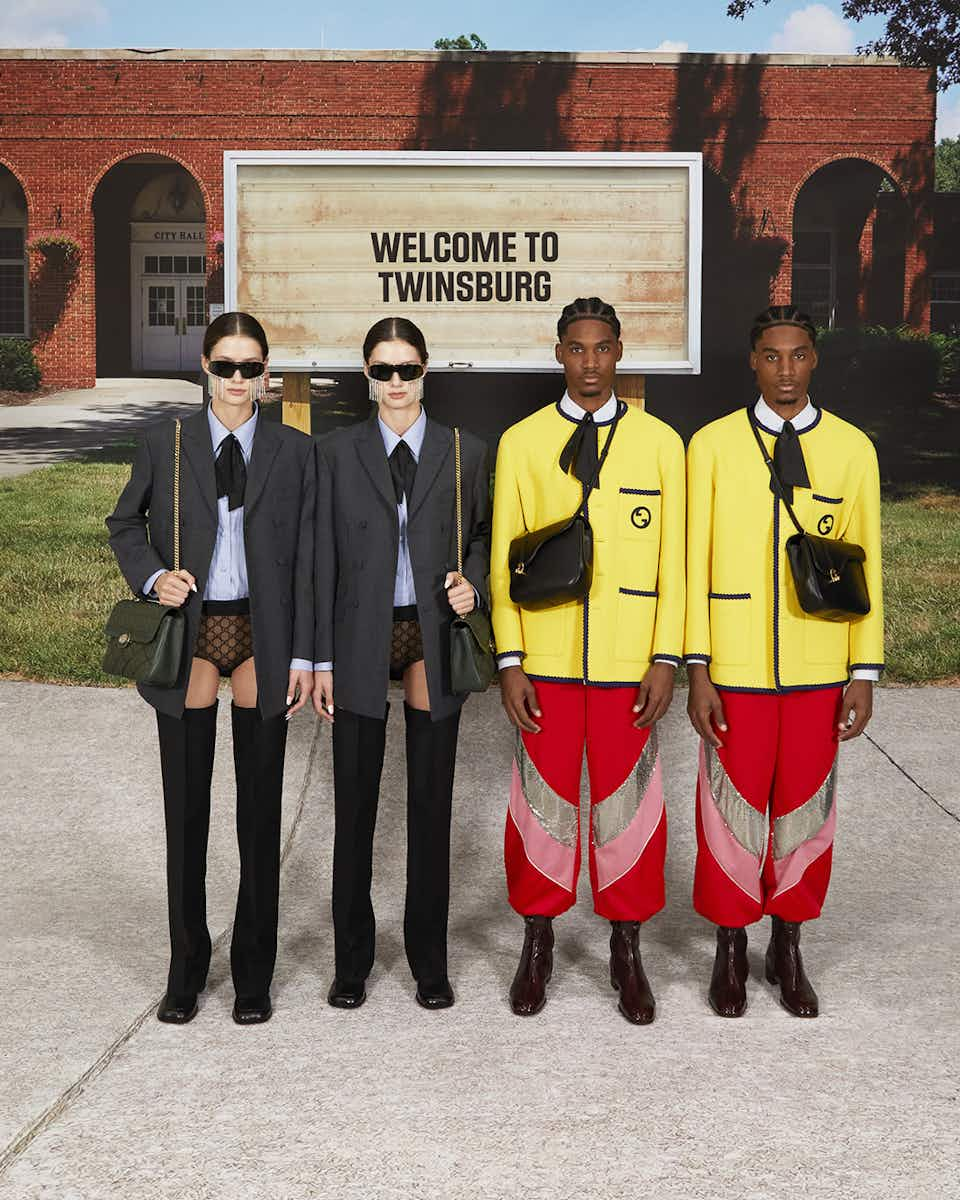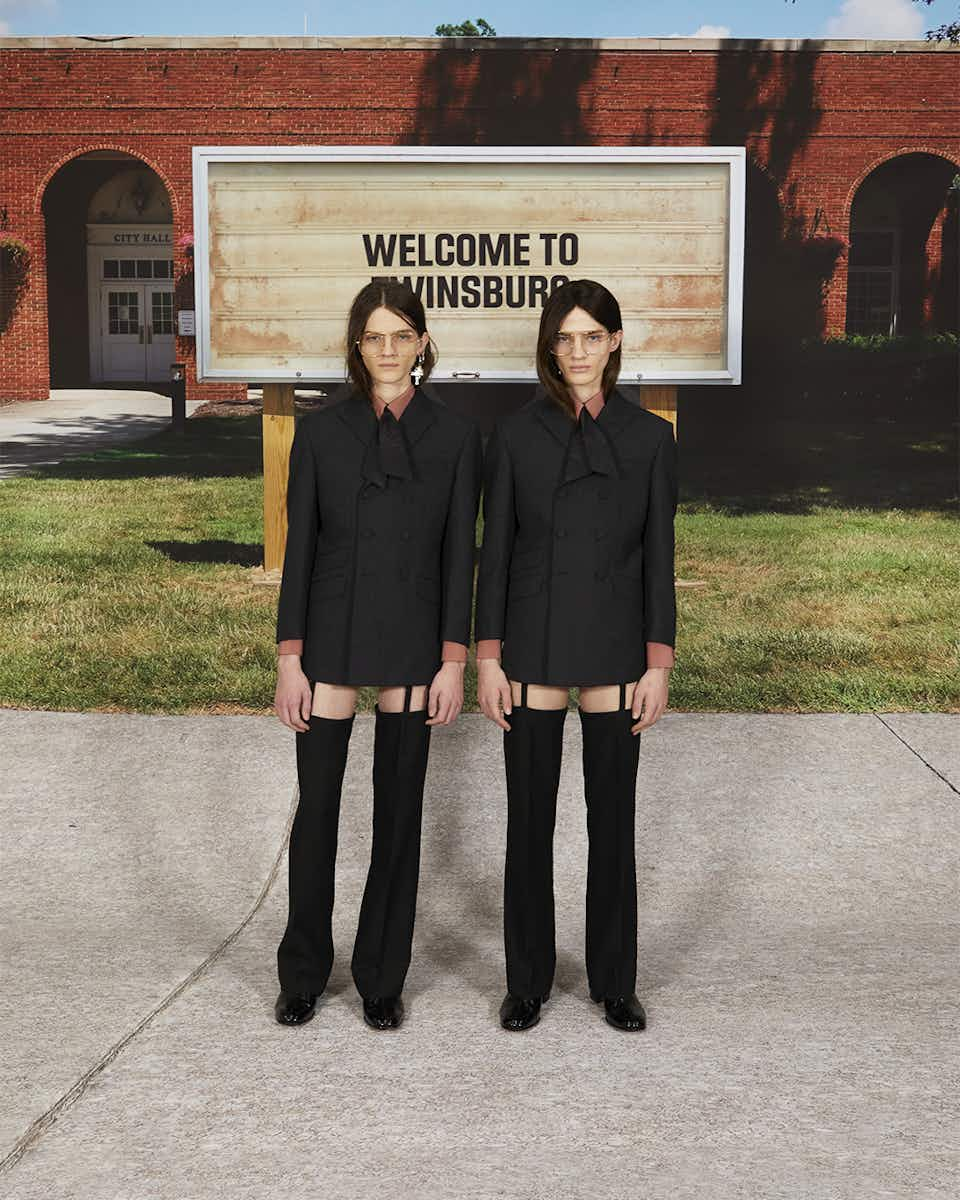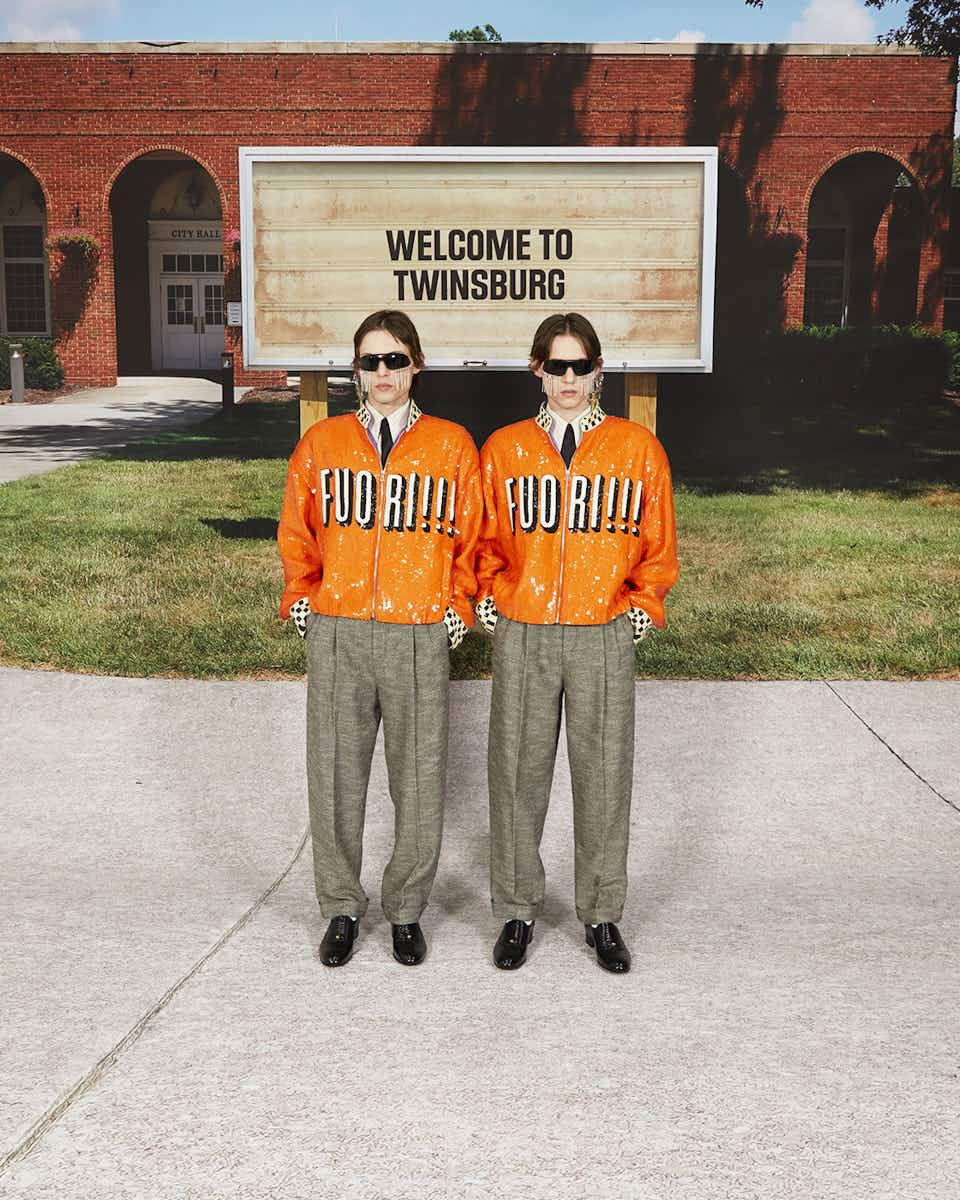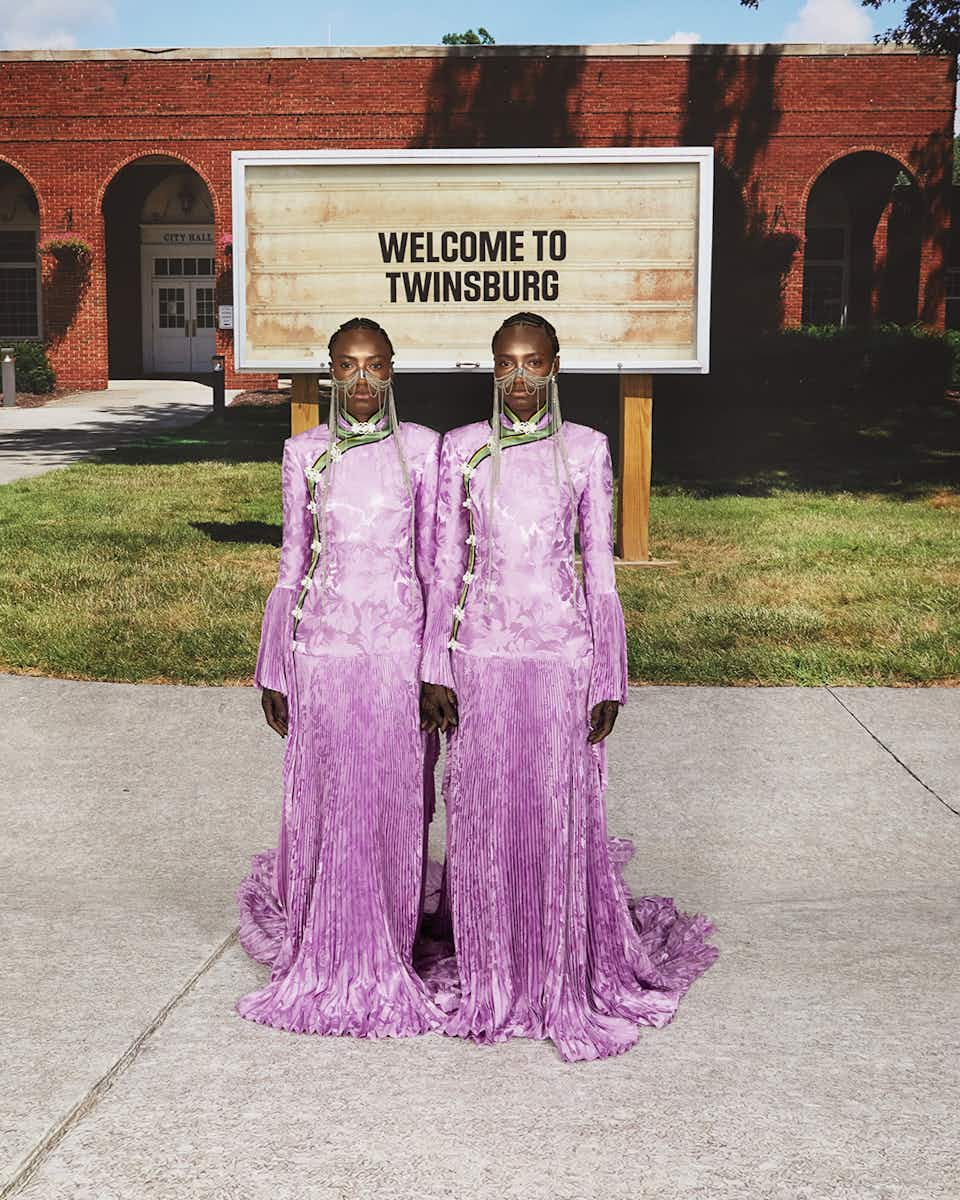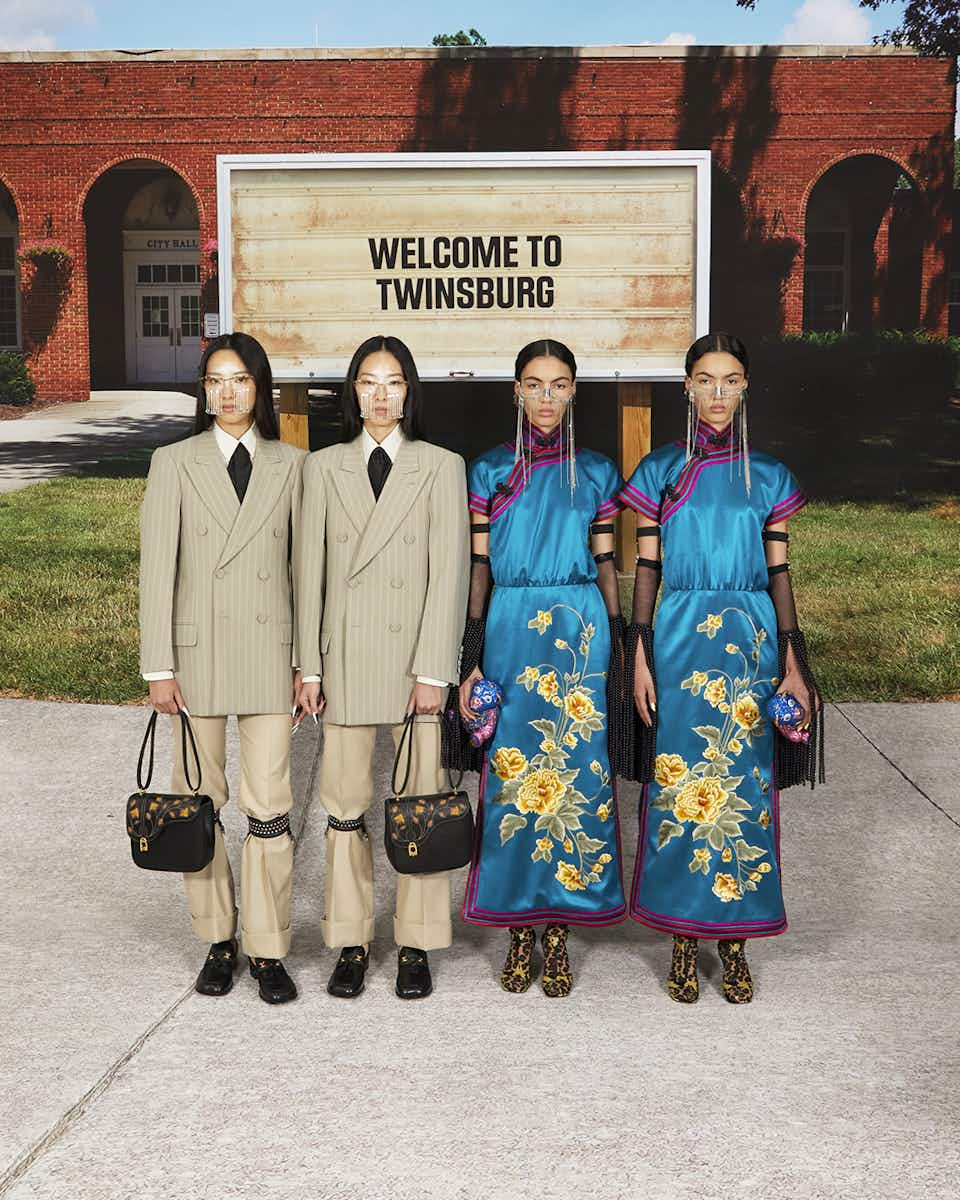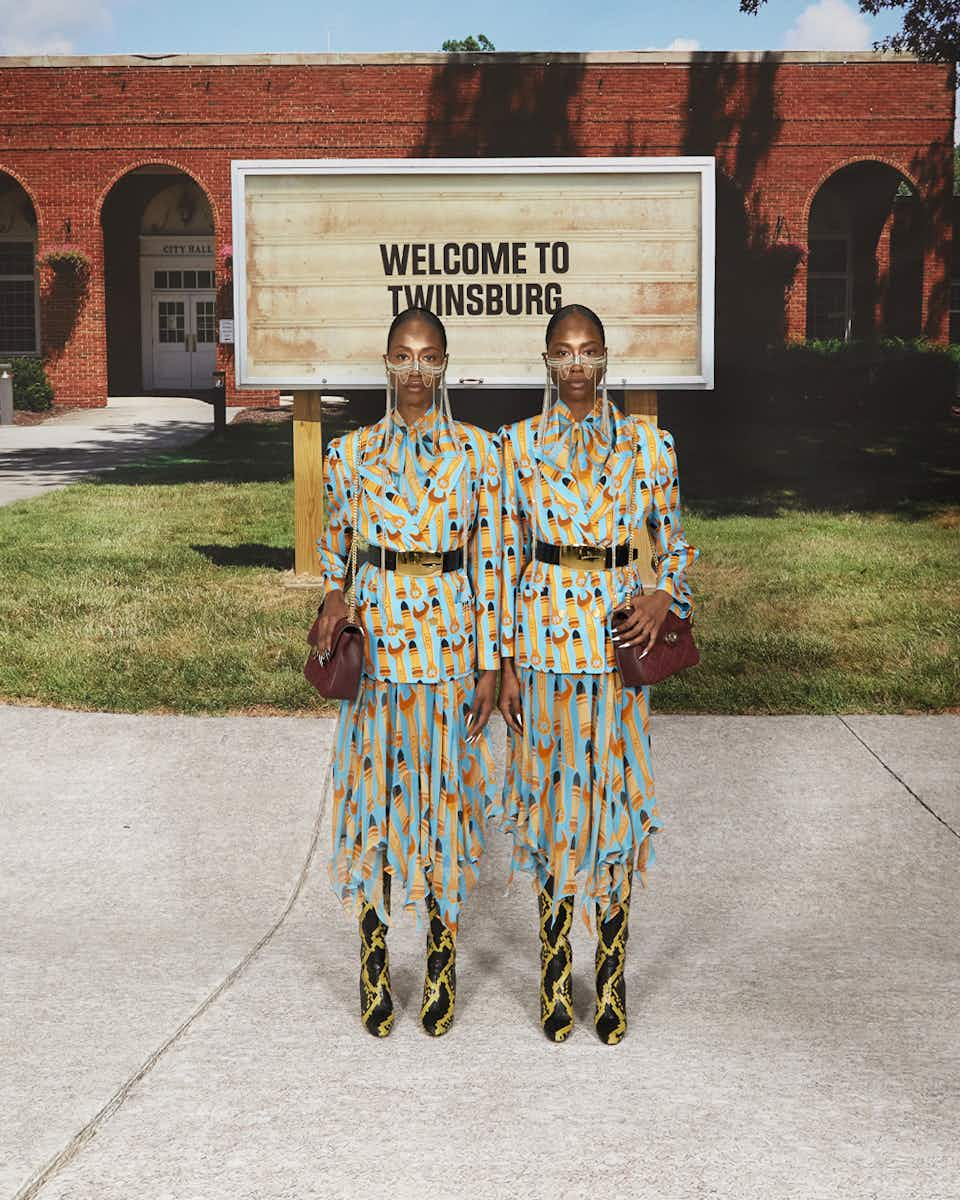 In his first catwalk show for Missoni, Filippo Grazioli continued to explore what he called ​"a new Missonism", twisting vivid colours and the label's quintessential graphics into younger, sexier silhouettes. This season, he mixed chaotic and striking monochromatic prints that resembled optical illusions, rejuvenating them in bright blues, pinks and yellows illuminated by contrasting white zigzags and stripes. The silhouettes were seductive: high-slit minis, slashed sheer midi dresses and figure-hugging maxis adding a sensual, pulse-racing undercurrent. Meanwhile, cardigans styled with micro-minis provided an obligatory nod to Y2K aesthetics. Grazioli's collection felt playful yet refined; a delightful showcase of loud, dynamic prints transmuted into elegant dresses, cardigans and minis. SW
Walter Chiapponi took a polished approach for Tod's SS23 collection. Since taking the helm as creative director last year, the designer has introduced his upscale vision to the heritage Italian leather brand, enlisting a roster of supermodels to help spread the word. The first look this season, worn by Carla Bruni, set the tone for a series of neutral pieces in tactile materials cut to perfection with a soft-structured ease. The romantic, refined aesthetic put an elegant spin on snakeskin coats and midis, leather jacket and skirt combos and wide corset belts. Even footwear that verged on being orthopaedic translated as polished and chic. Belted leather coats in rich plum, cherry red or beige – as worn by Naomi Campbell as the final look – introduced a jolt of eccentricity to the collection's fluid sophistication, making for a season that carefully balanced the house's casual codes with a contemporary eye for style. SW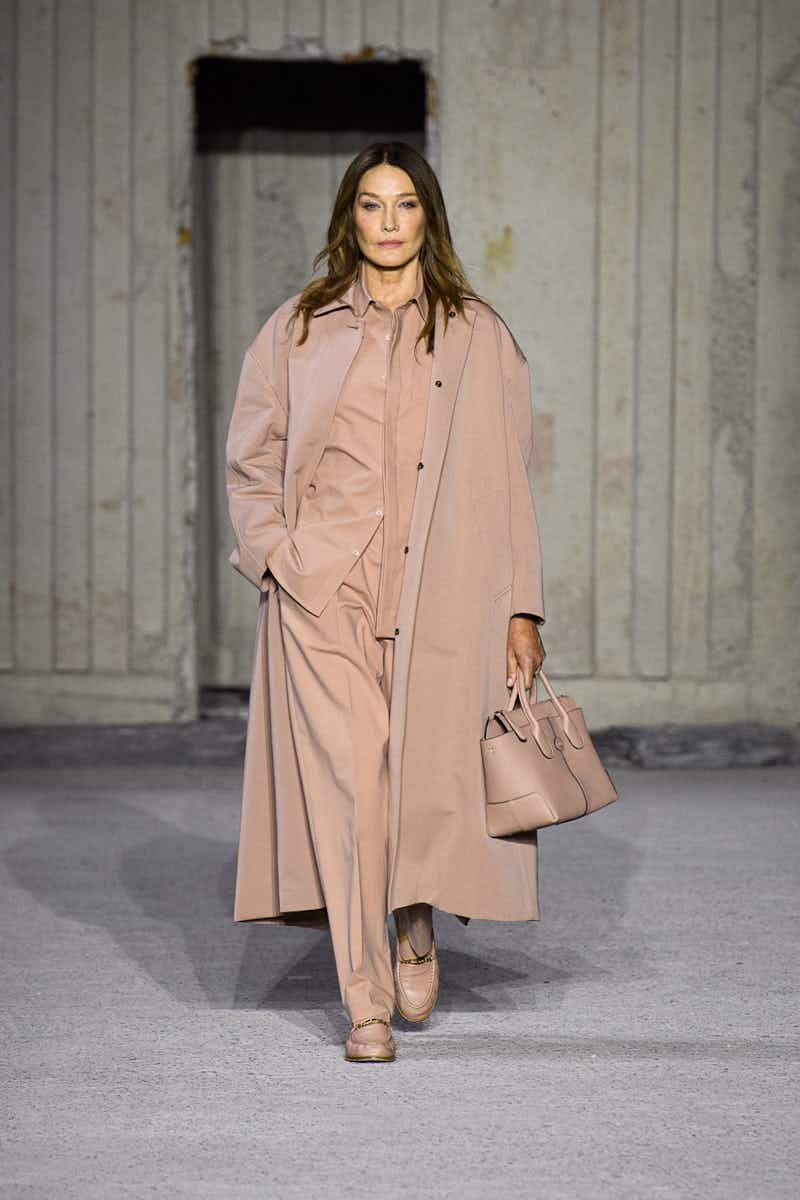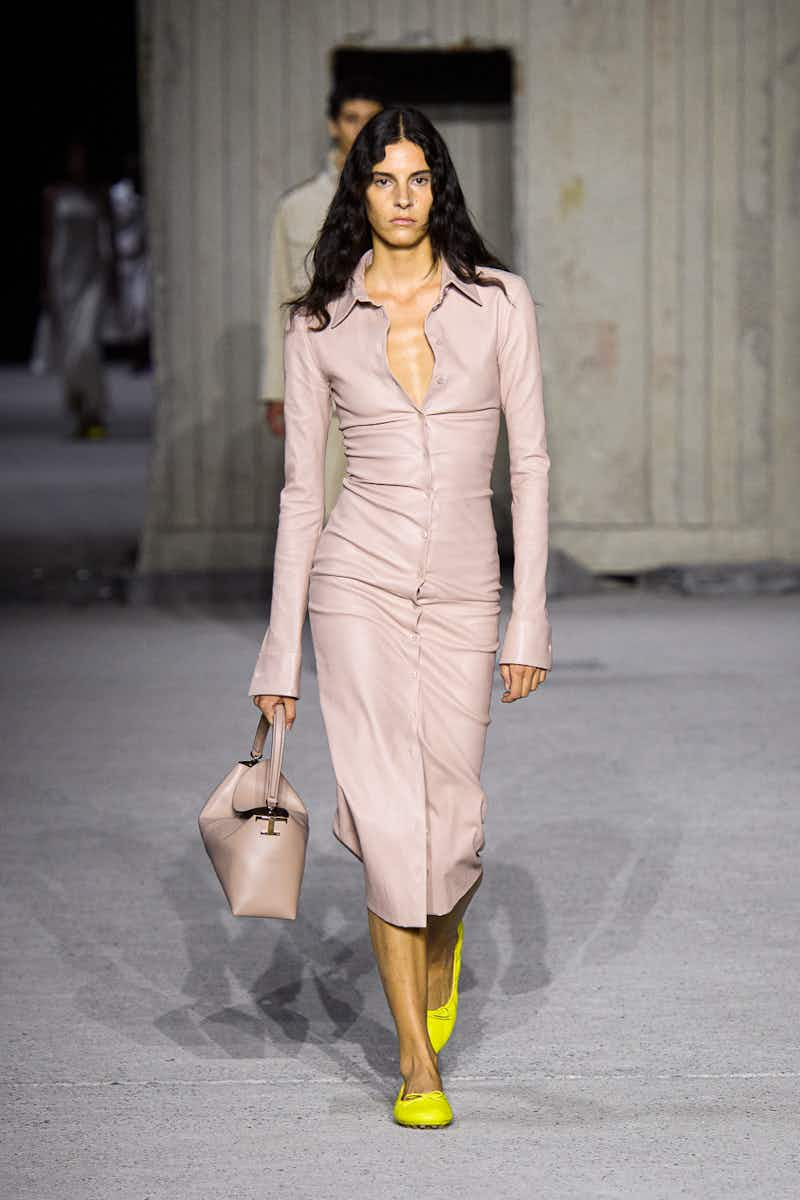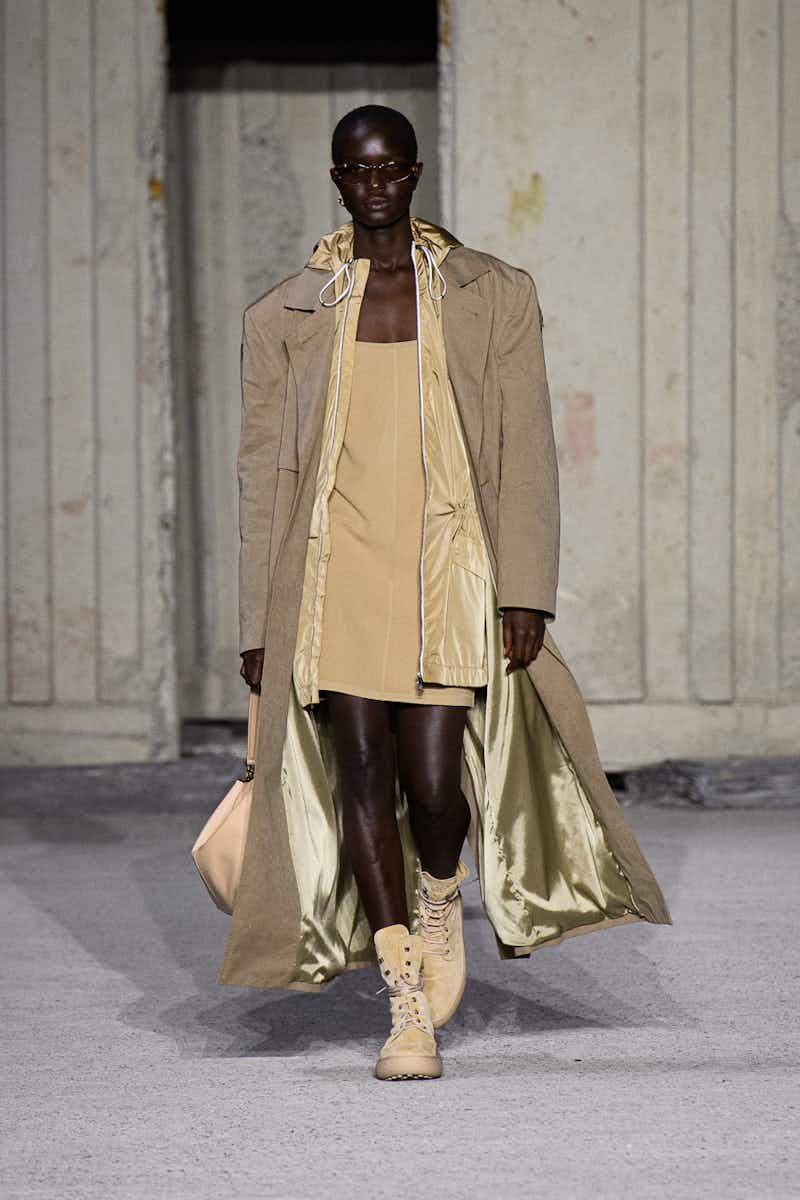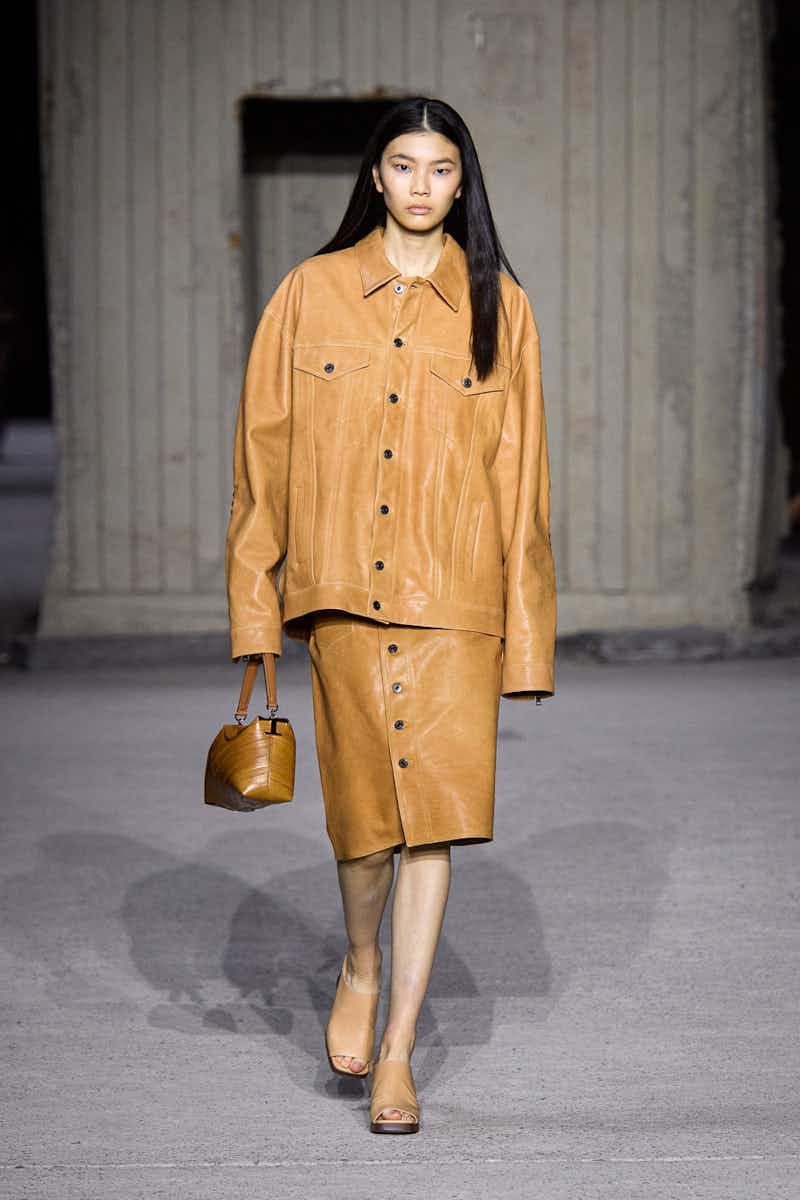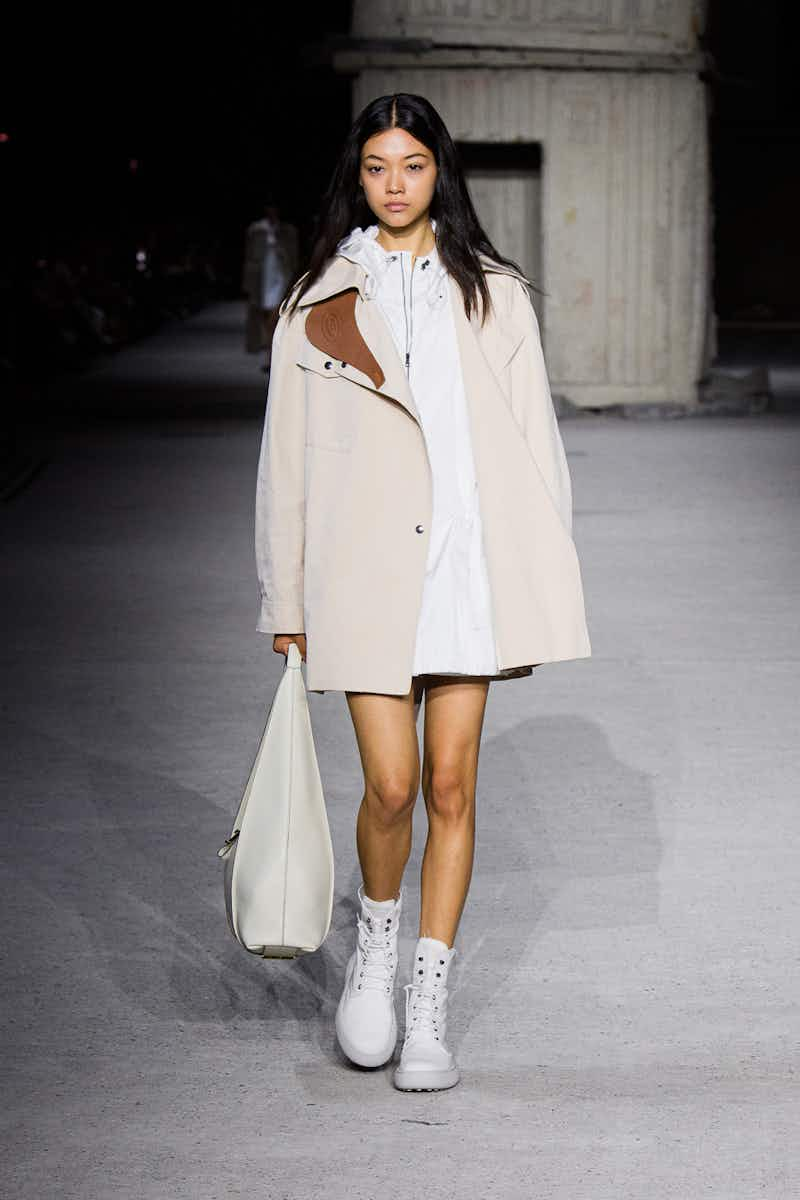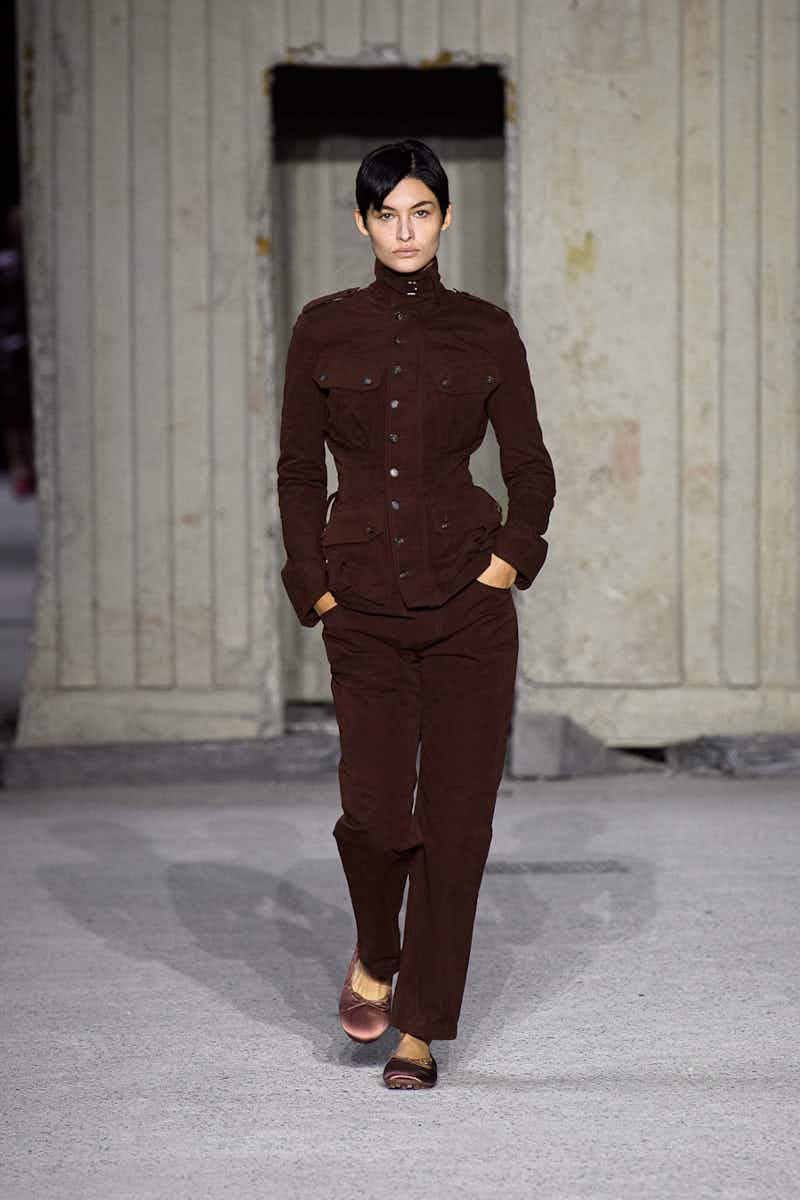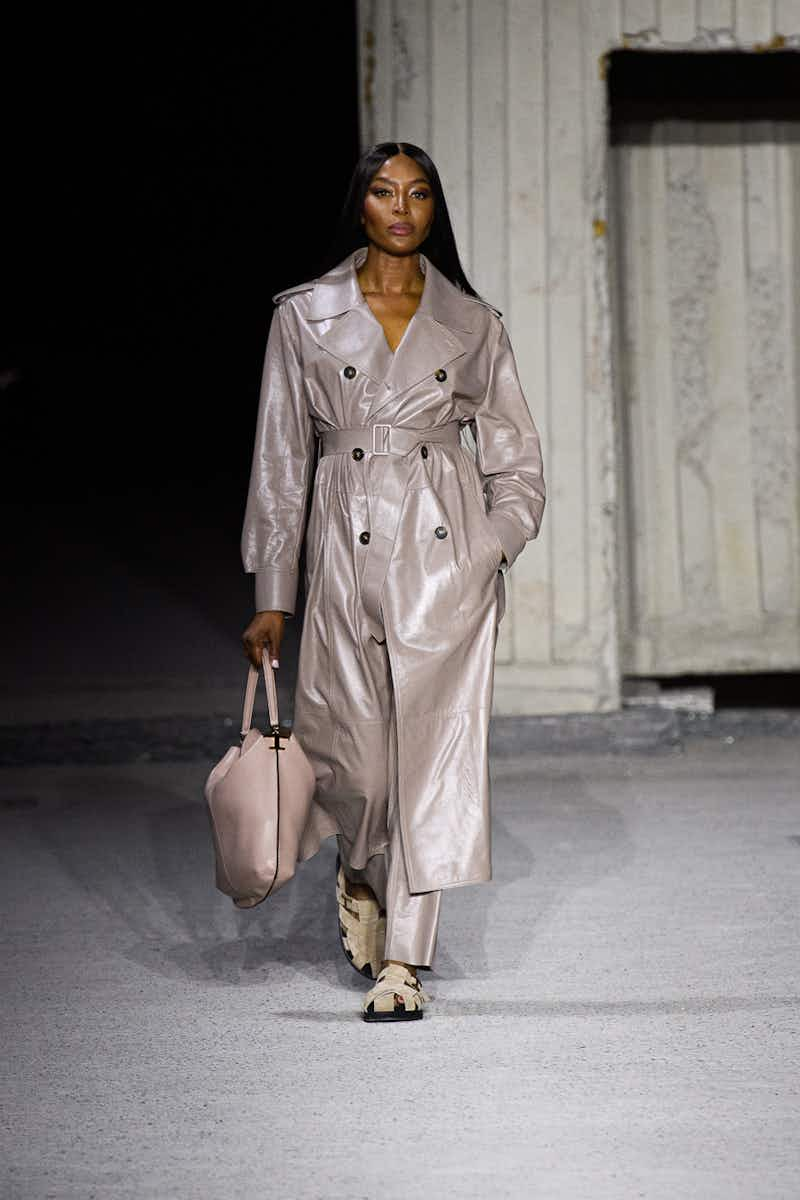 This season, Boss dived head-first into its newly-established Be Your Own Boss motto, bringing new meaning to power dressing for its AW22 collection. With a stellar show starring the likes of Naomi Campbell, Anthony Joshua and Adut Akech, Boss looked back to its signature archival pieces – slick tailored suiting in dark grey, boxy evening coats and ribbed knits – and amped them up. Each piece felt ultra-modern, with clean lines and slightly oversized proportions. And in a racy nod to motocross cycling, the venue featured caged globes of steel, while subtle safetywear motifs appeared on a frosty grey blazer, metallic silver biker jackets and suggestive cut-outs on sensual evening gowns. On your marks…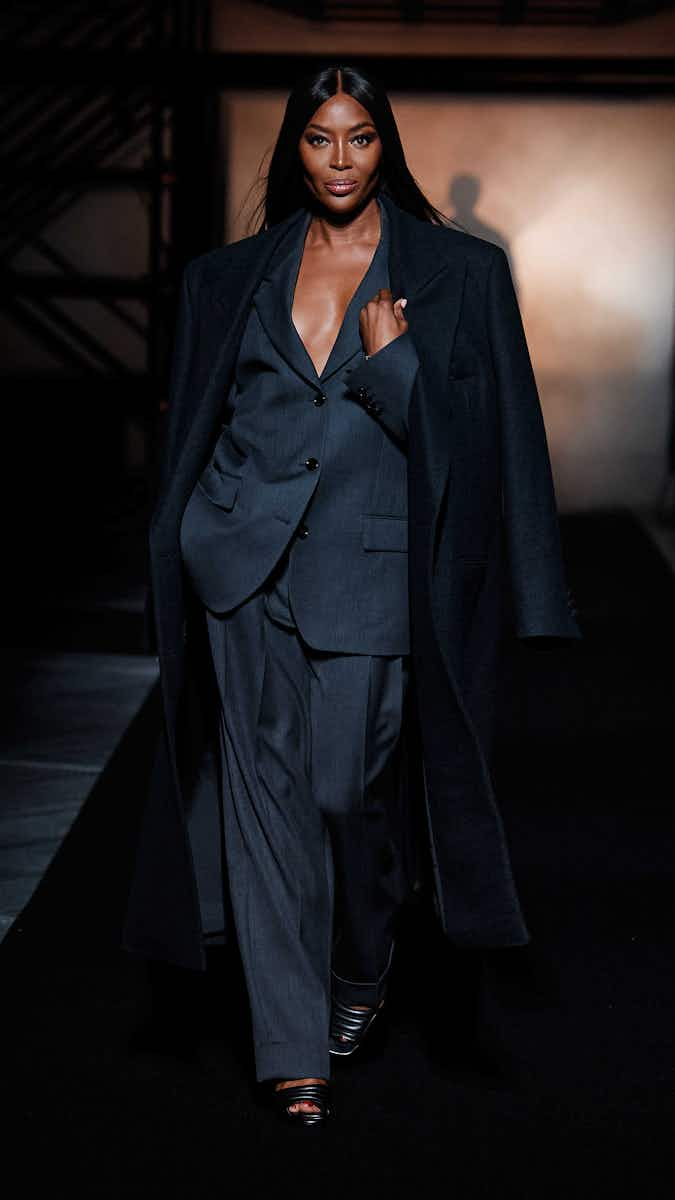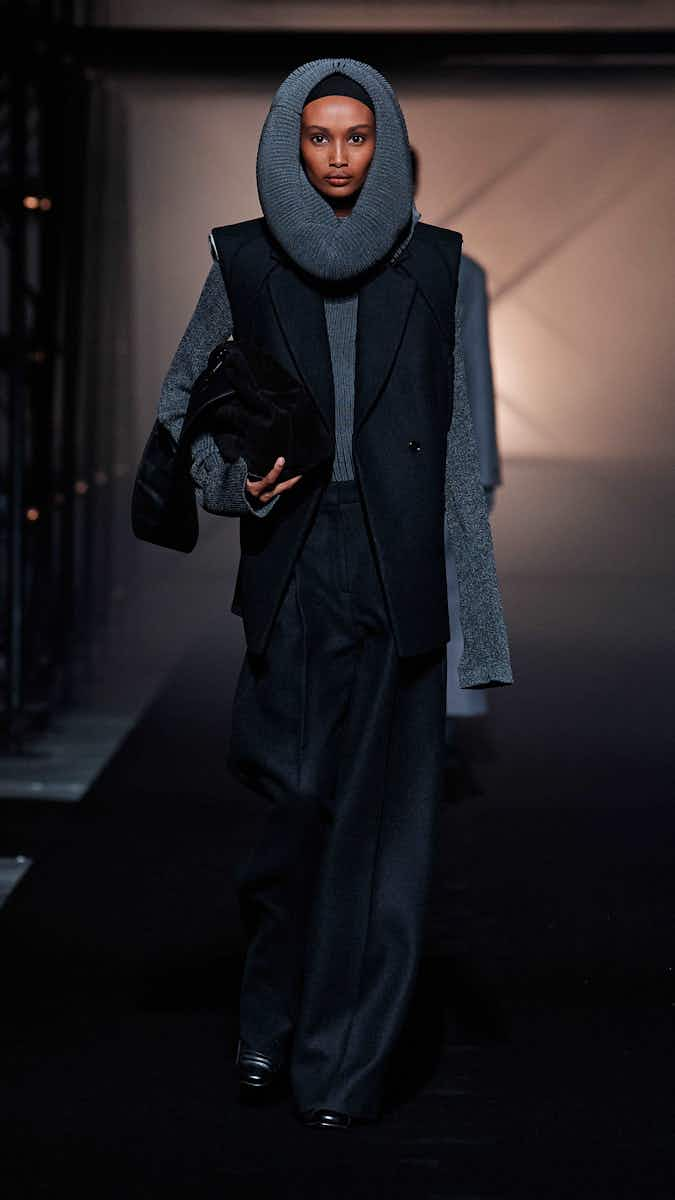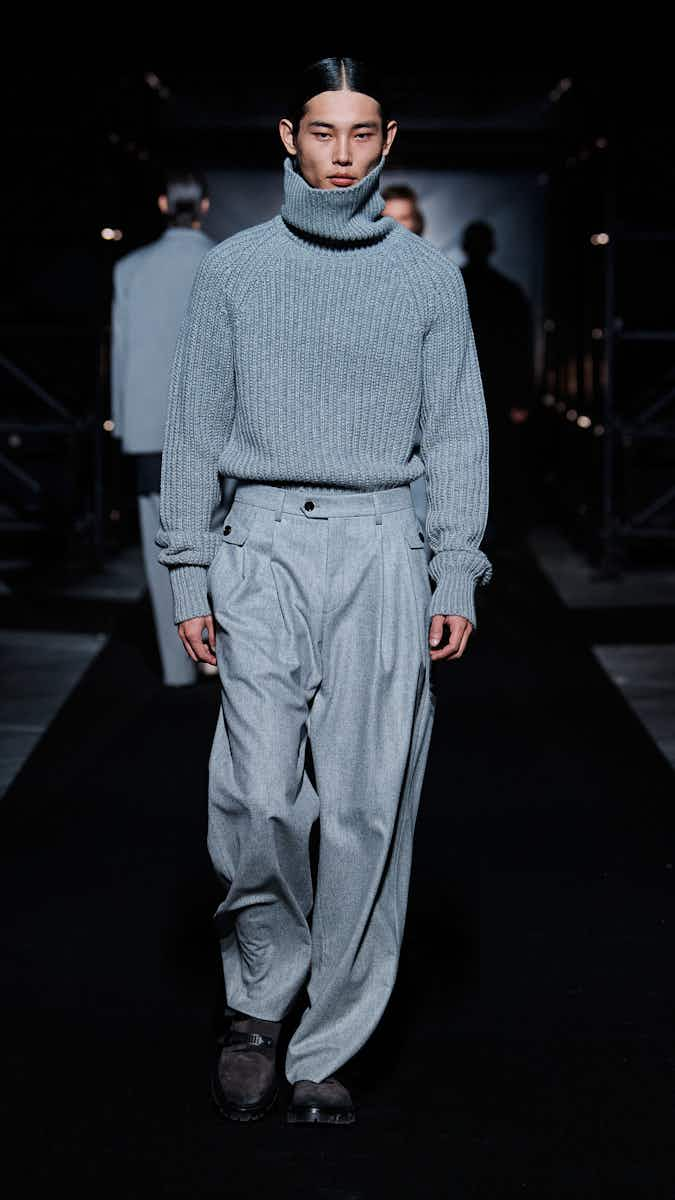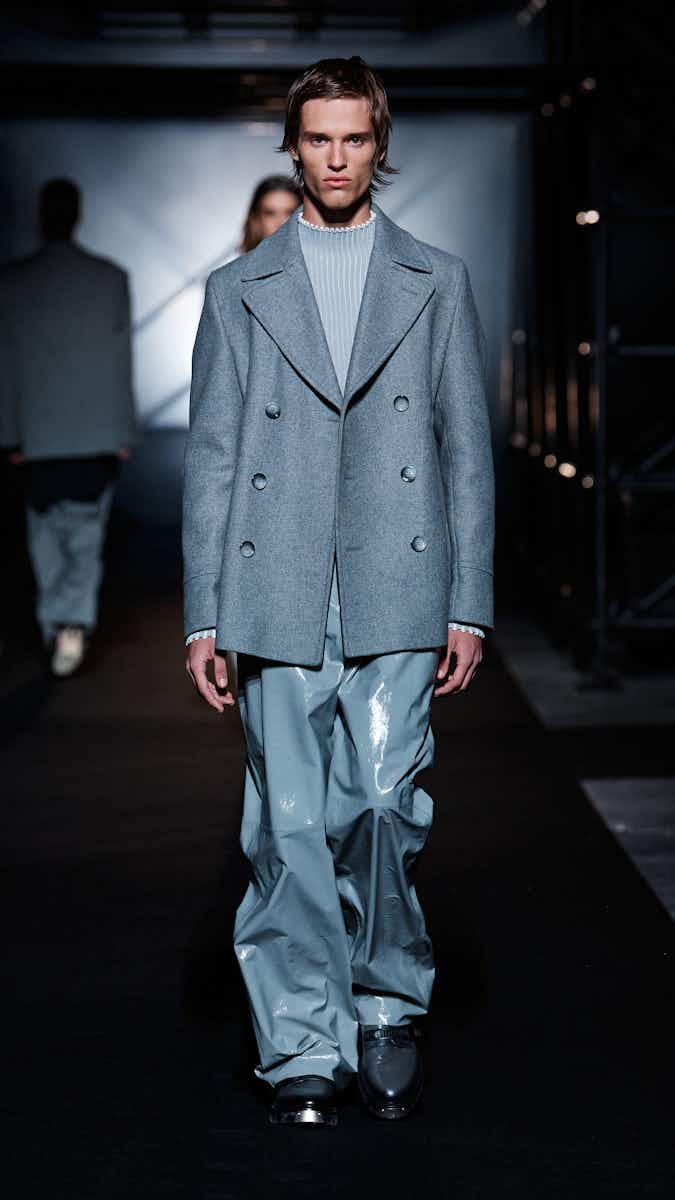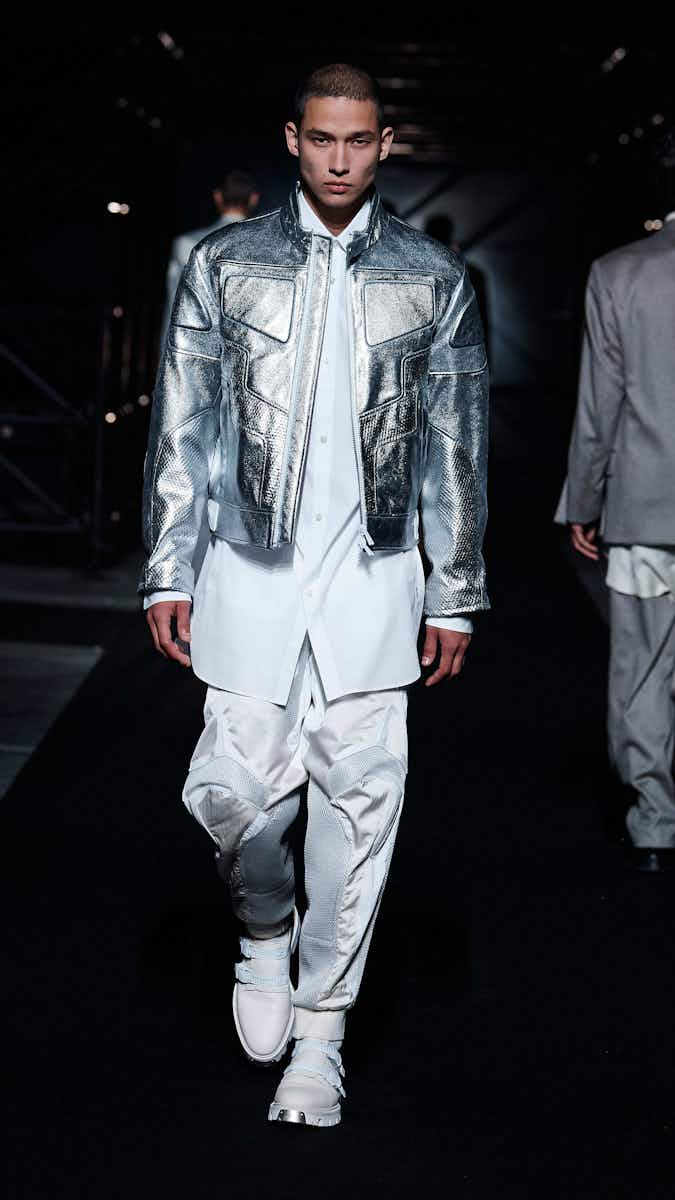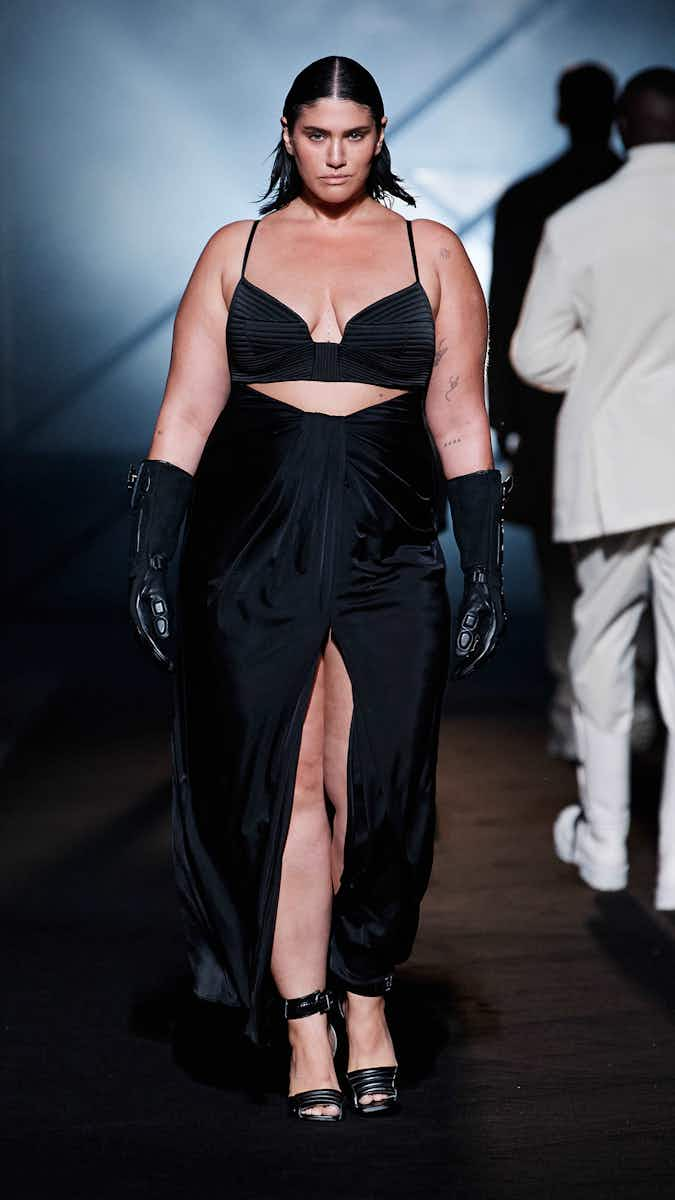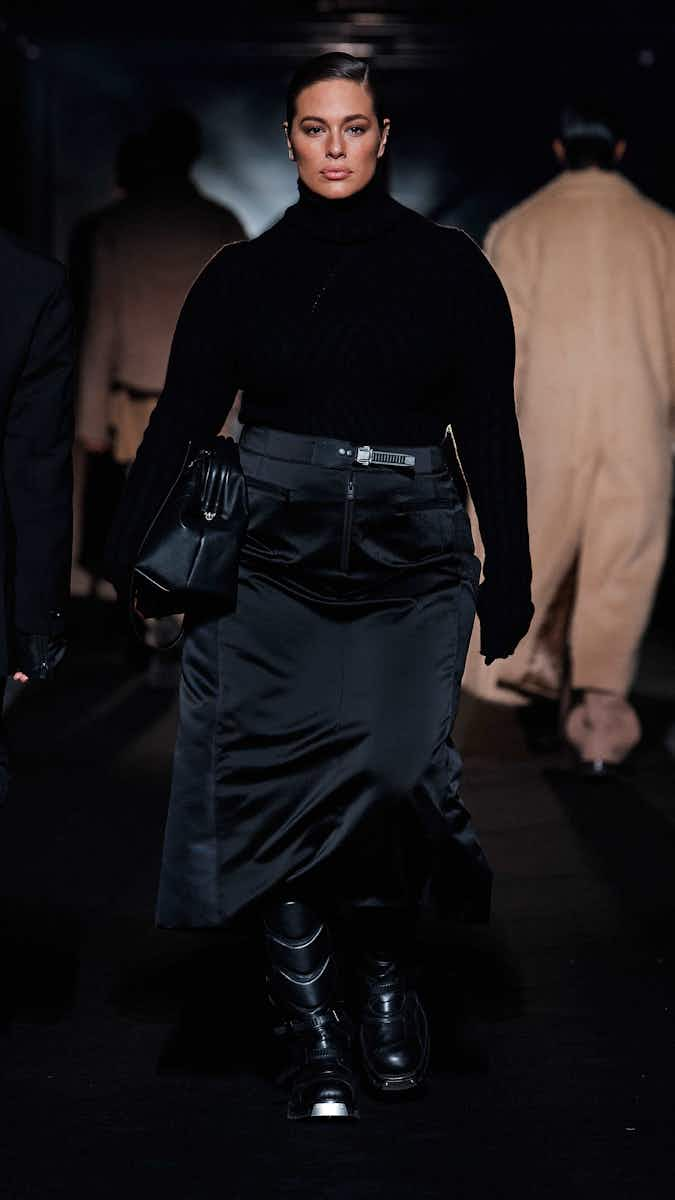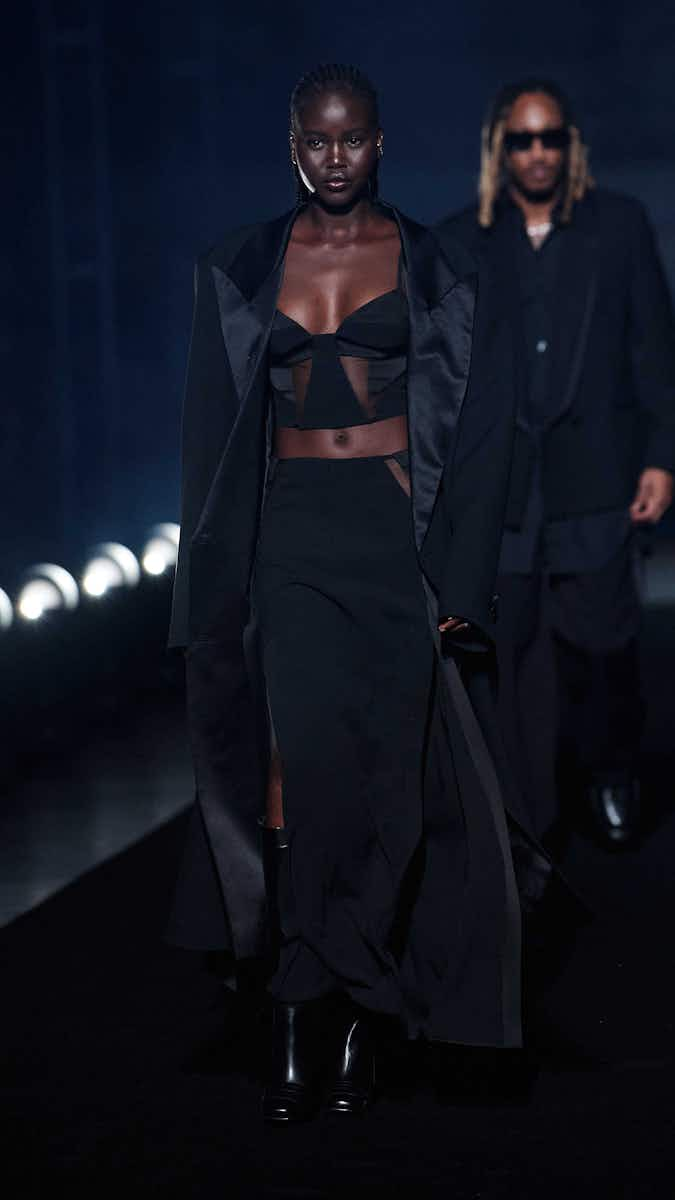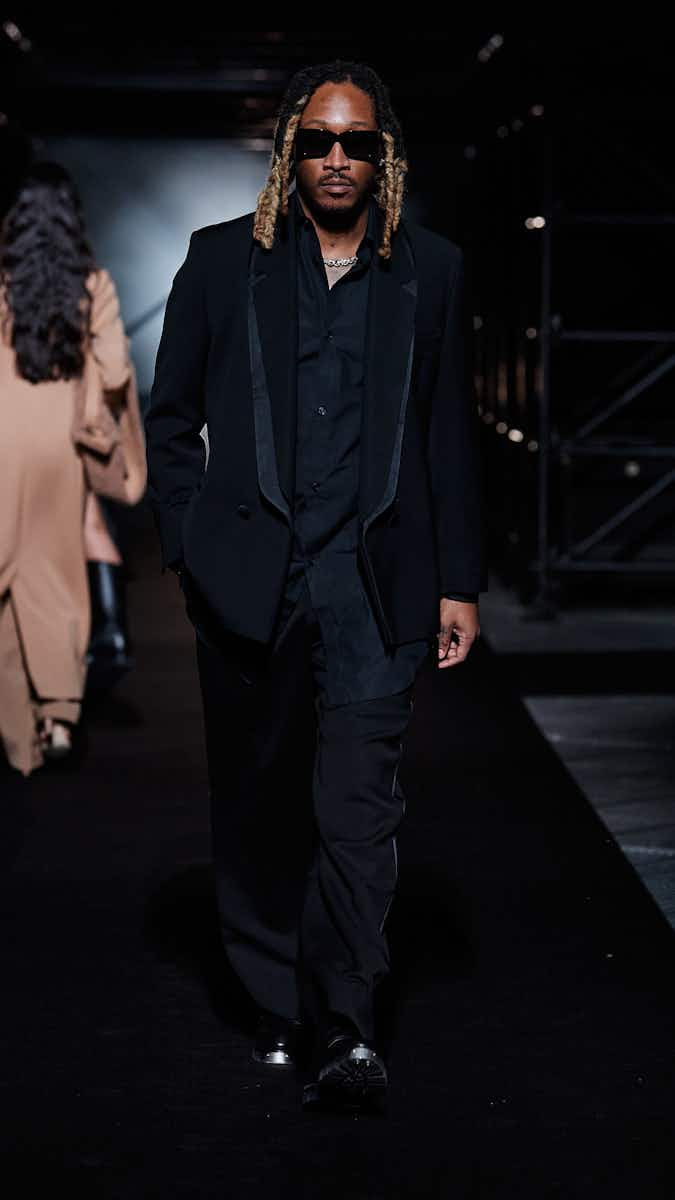 GCDS enlisted help from above for their SS23 collection – not God,aliens. In a brilliantly bonkers collection, the Italian brand used psychedelic motifs for an altogether trippy reimagining of Life on Mars, with skimpy swimwear, skintight catsuits and sexy motocross gear bringing new meaning to extraterrestrials. Alien Disco, as the show was titled, was all about finding yourself in a foreign place feeling like an outsider. But Giuliano Calza's vision has always been about welcoming the weirdos with open arms. Suddenly, alien abduction doesn't sound too bad.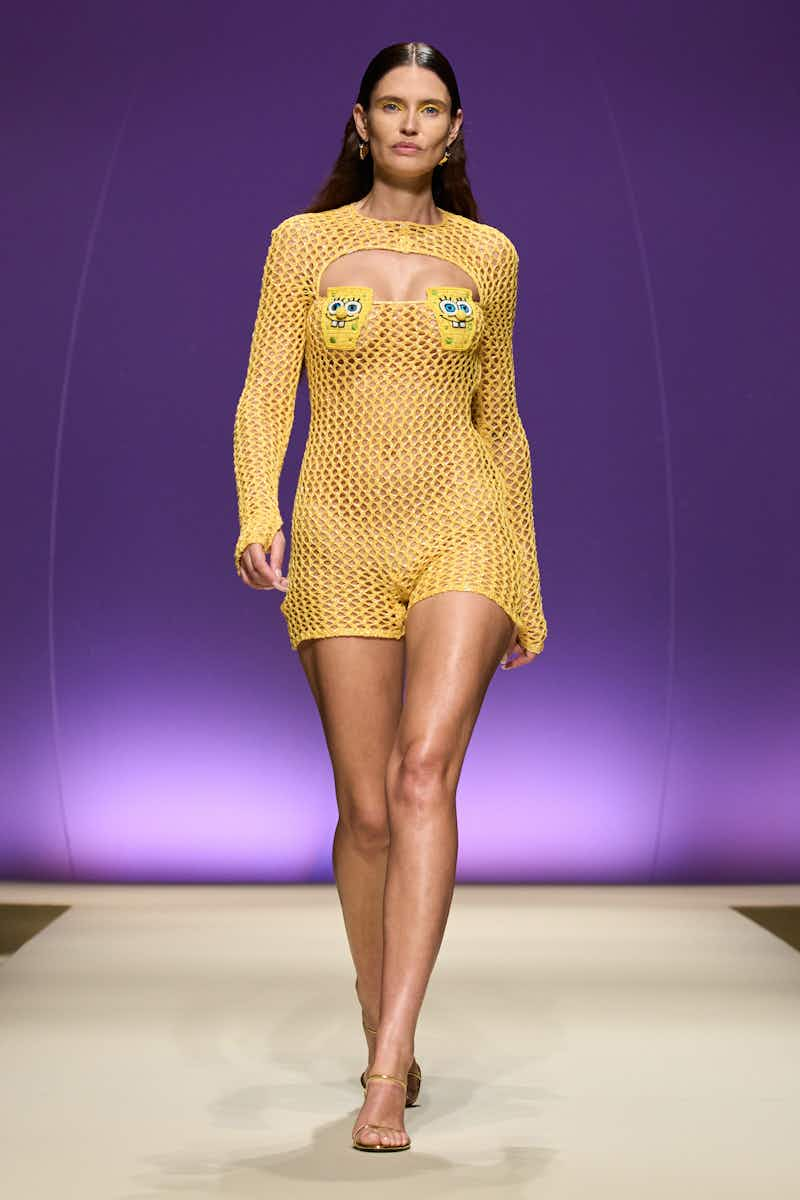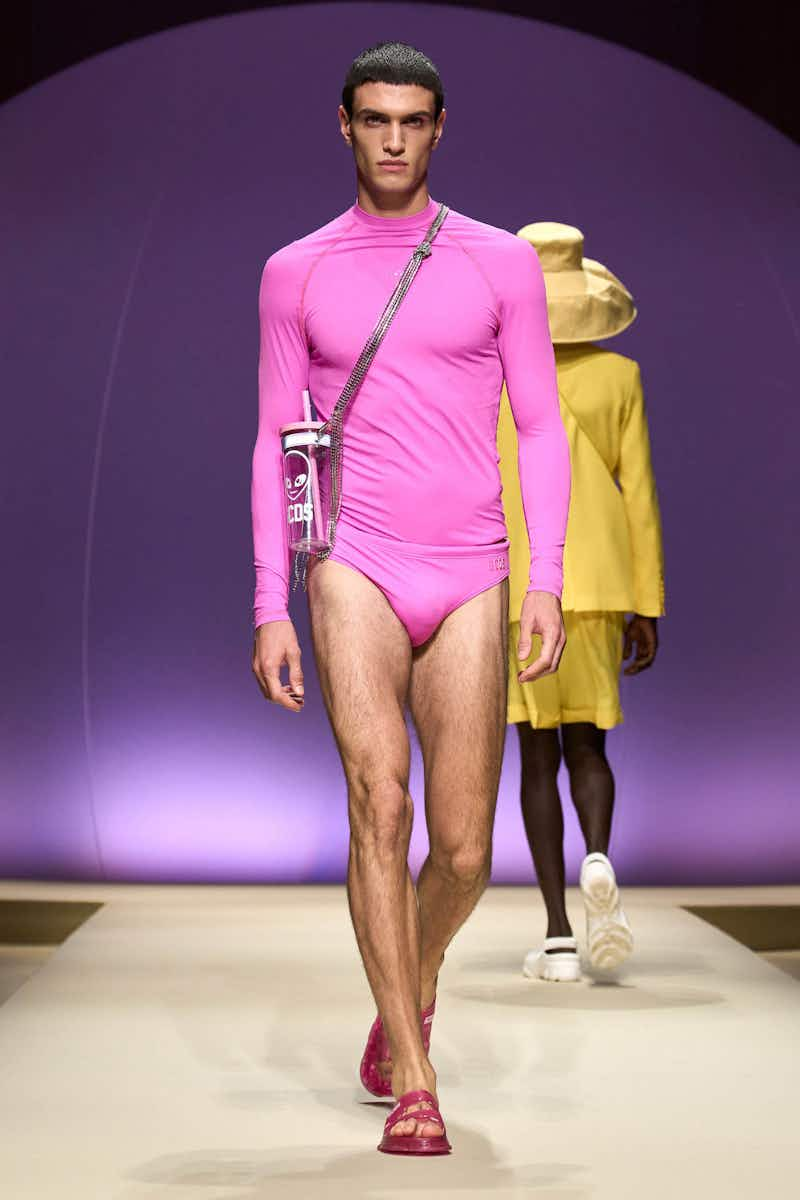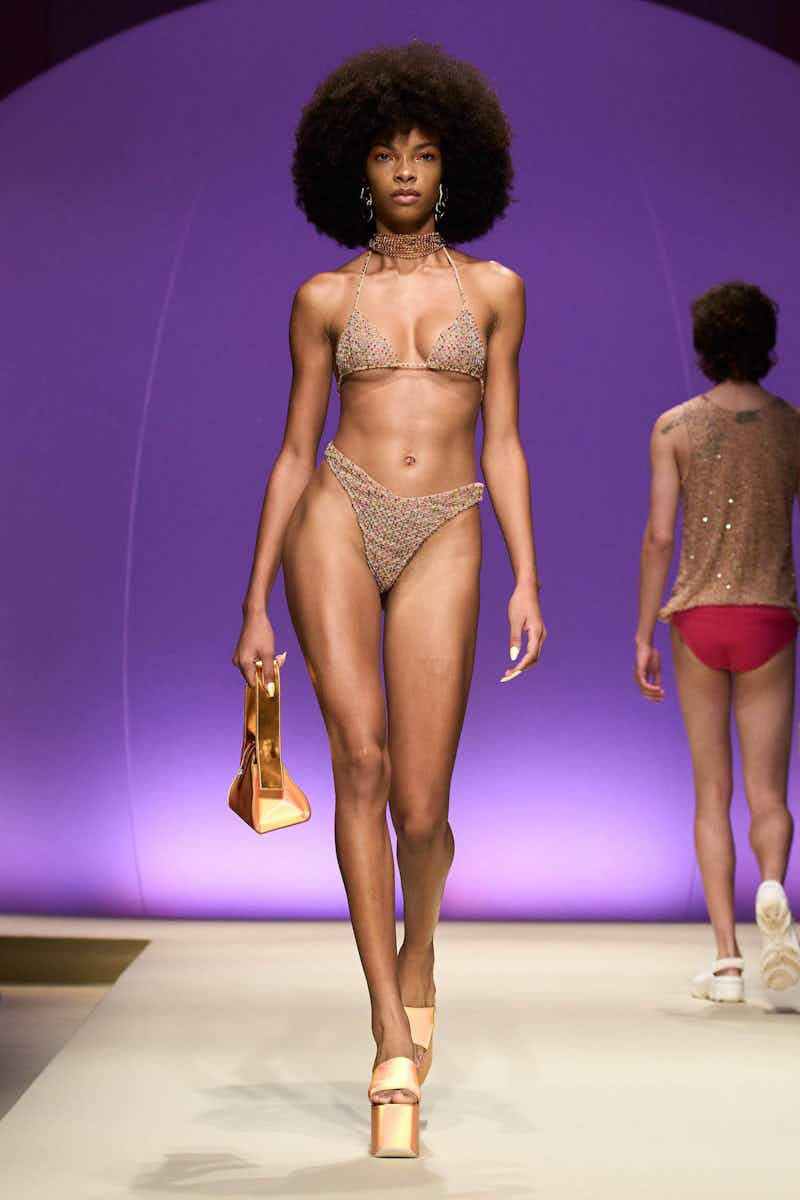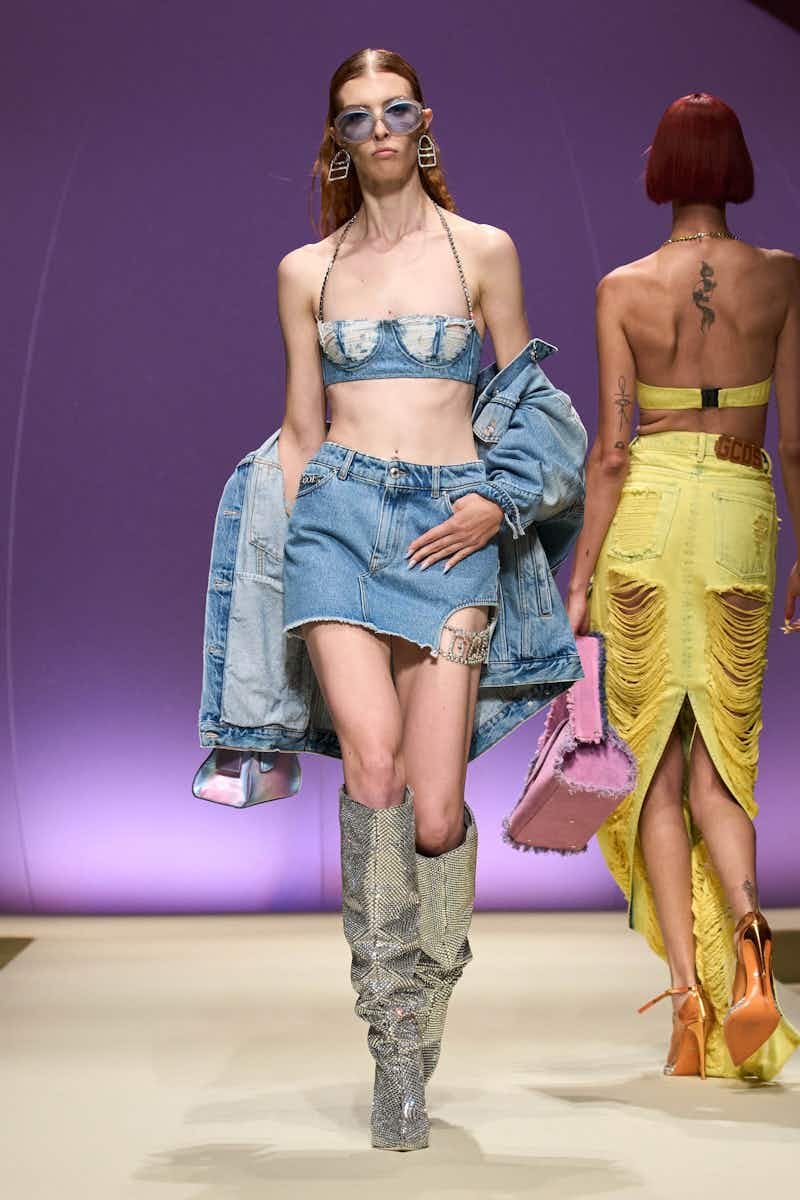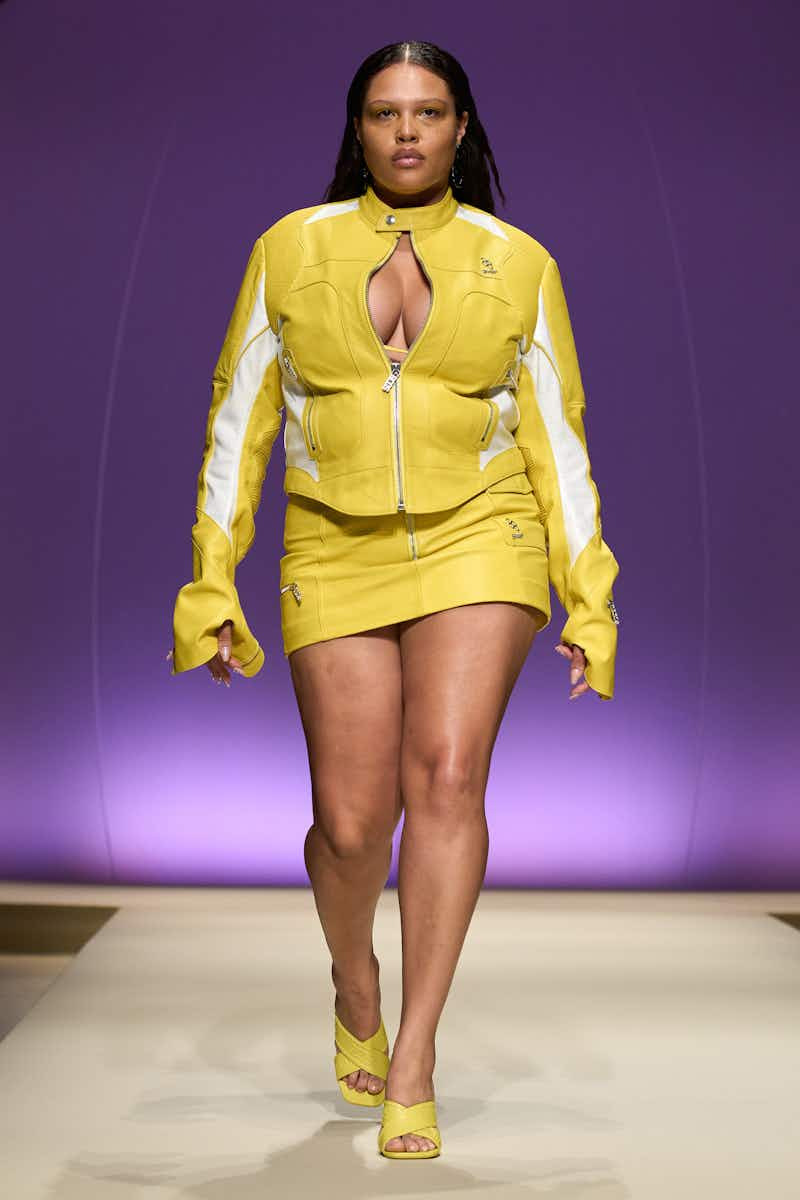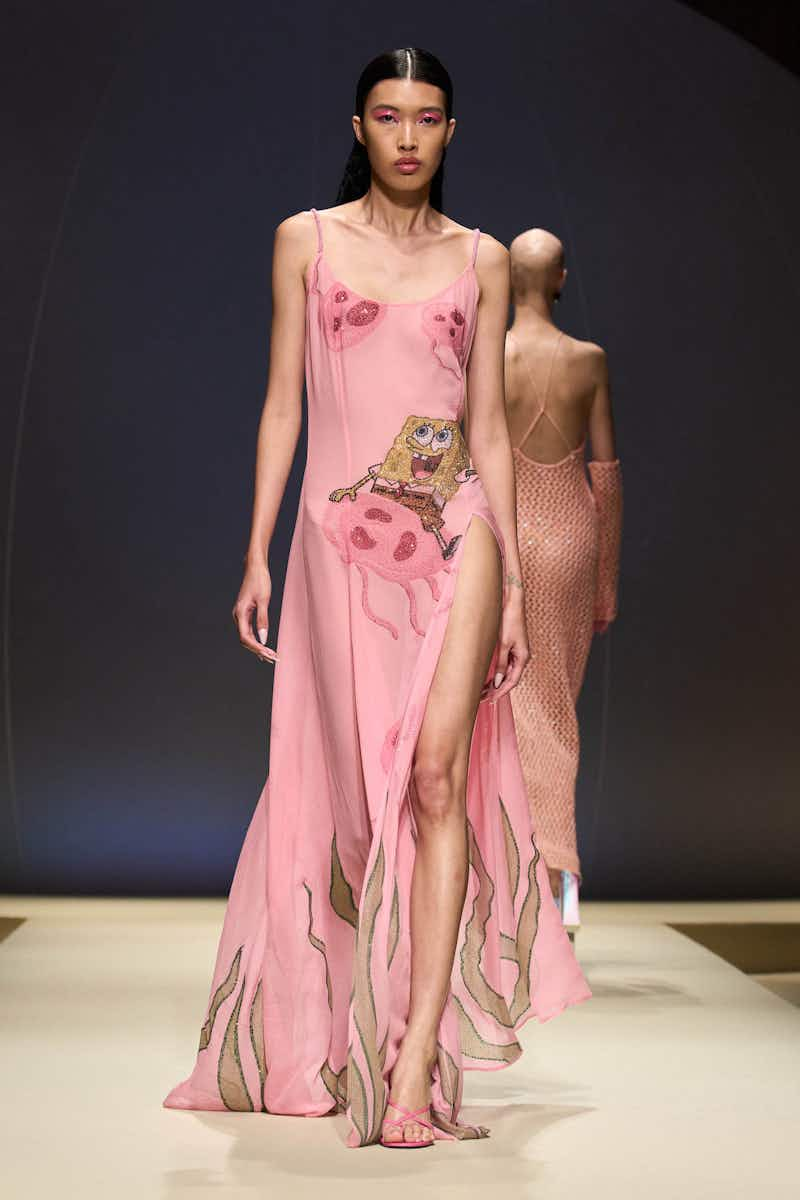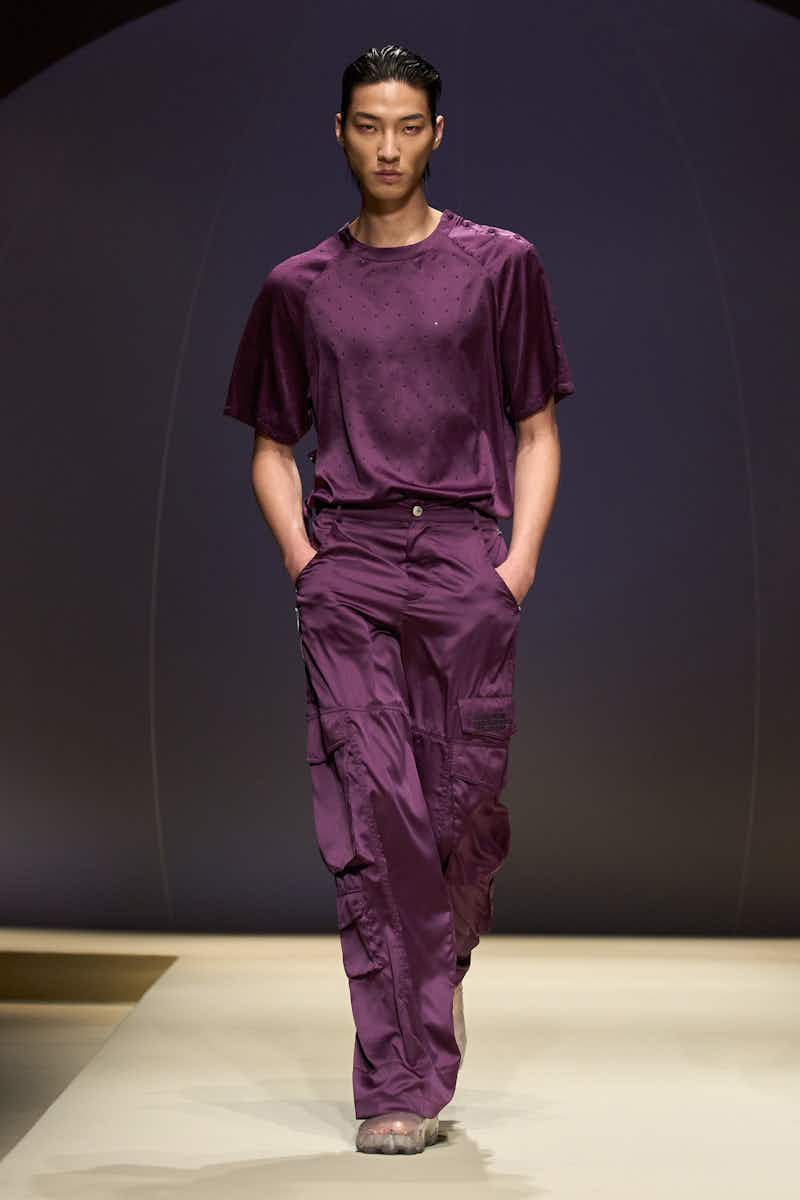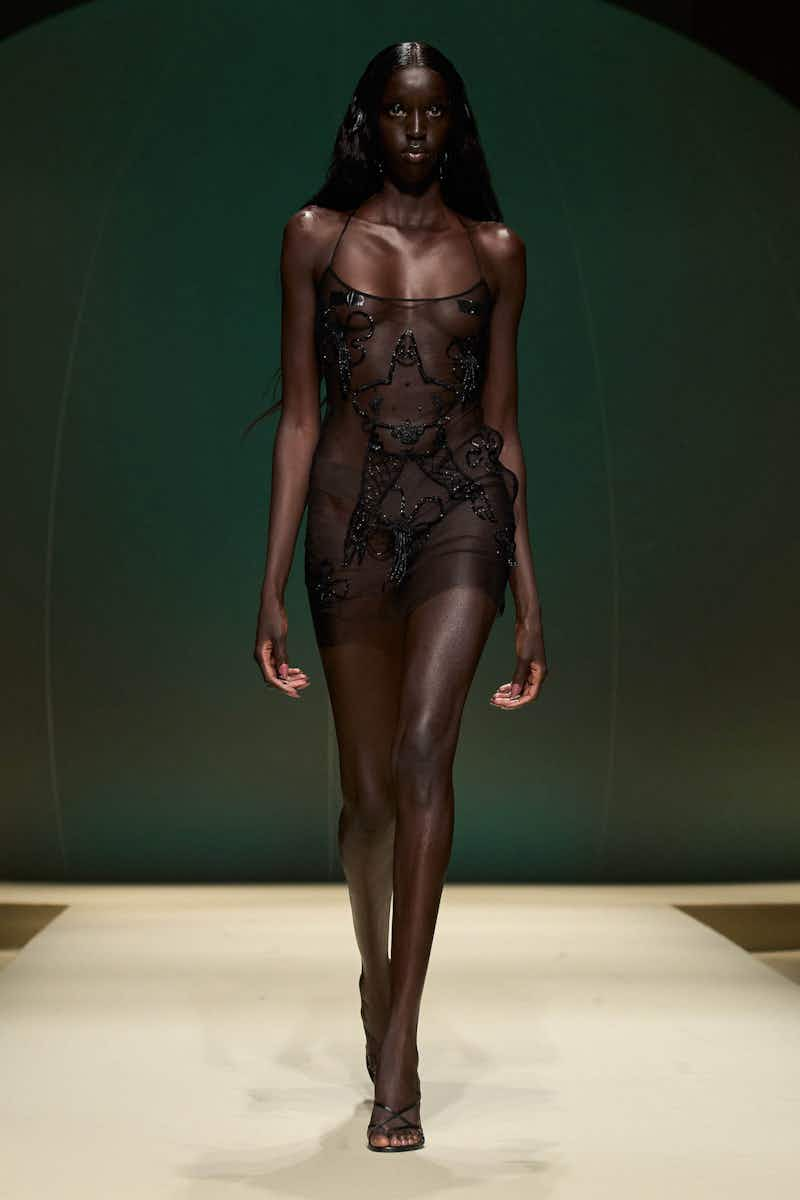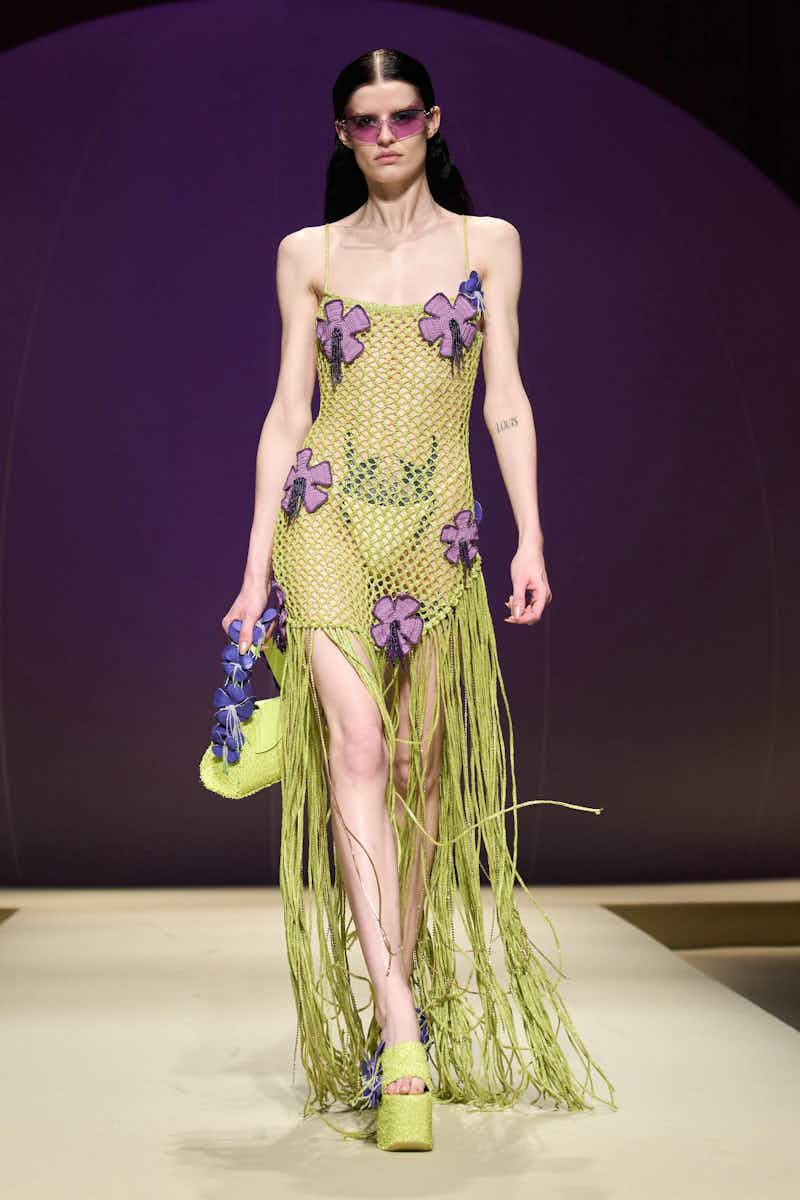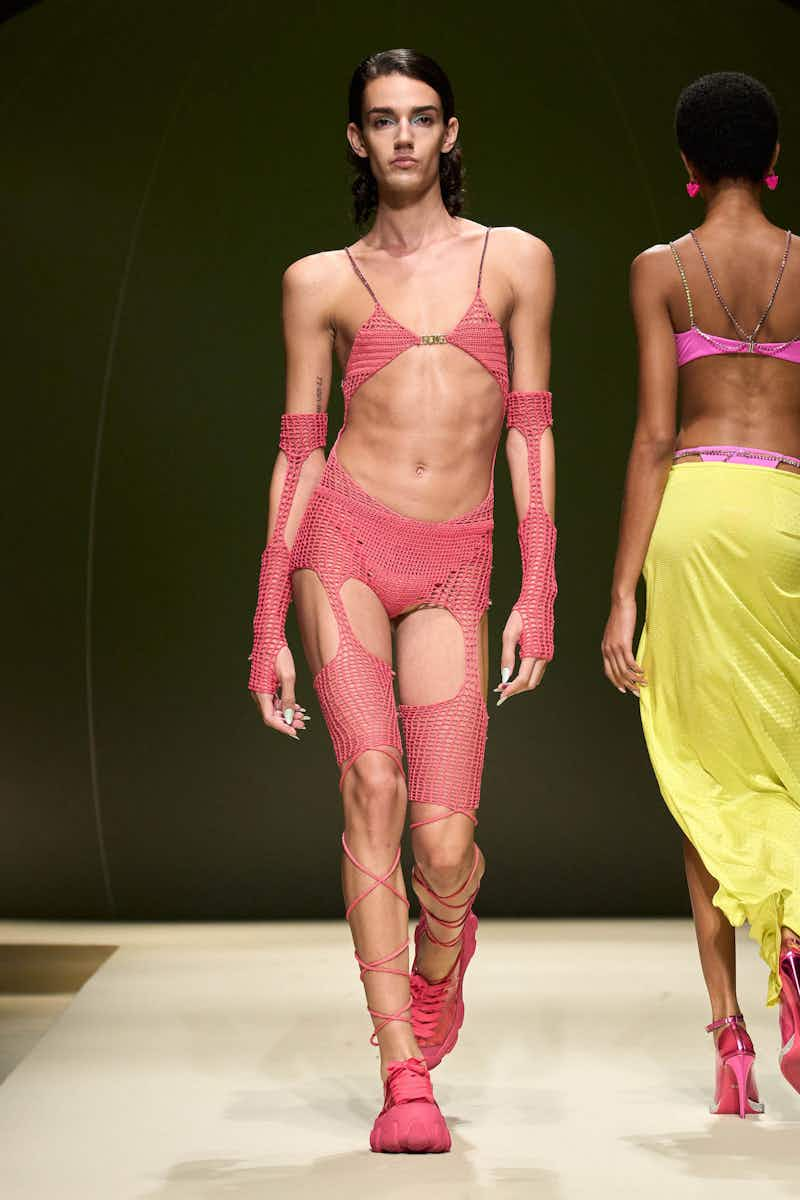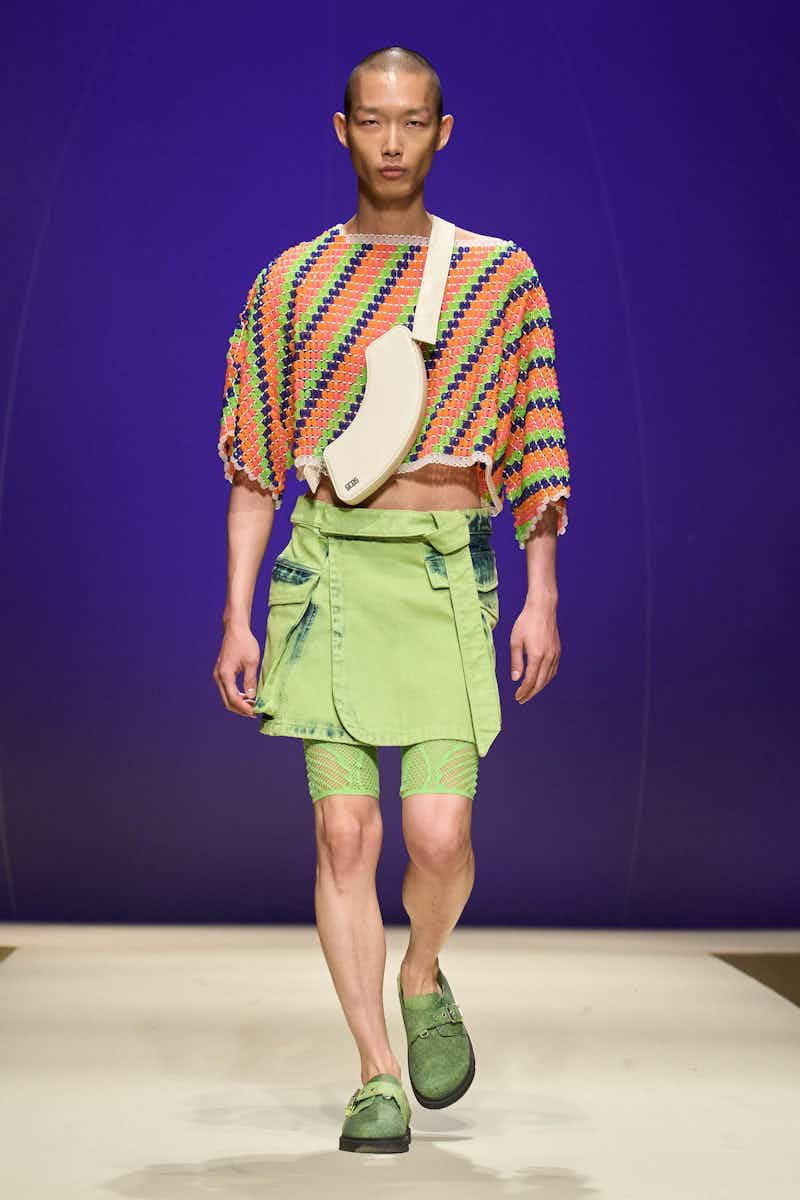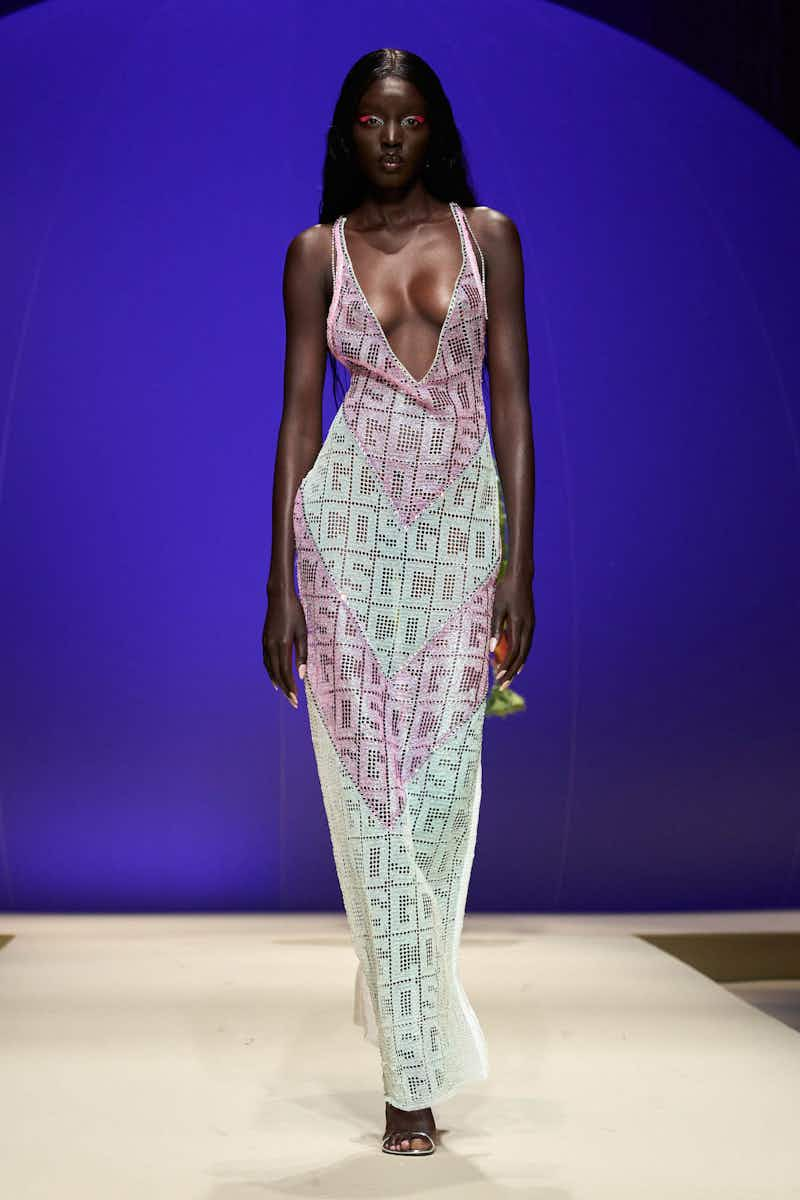 Remember when we told you fashion is washing up on shore? Call it our powers of prediction – Blumarine's SS23 collection was directly influenced by… The Little Mermaid. Yet despite the waterfall hemlines, sea salt hair and shell bra, this was one of Blumarine's darker collections, swapping the poppy Y2K styles of previous seasons for religious iconography (a cross necklace-slash-top), acid wash denim, utilitarian maxi skirts in cargo and blue denim and a rope‑y blood red top hanging from the shoulders. And like designers Simone Rocha and Stefan Cooke, this season Blumarine expanded its co-ed offering with menswear: think sexy mesh tops and low-rise trousers. And with its bumper accessories like patent leather platforms, lashings of layered pendants and bug-eyed sunglasses to hide last night's sins, Blumarine is still, firmly, invested in the party heads. TJ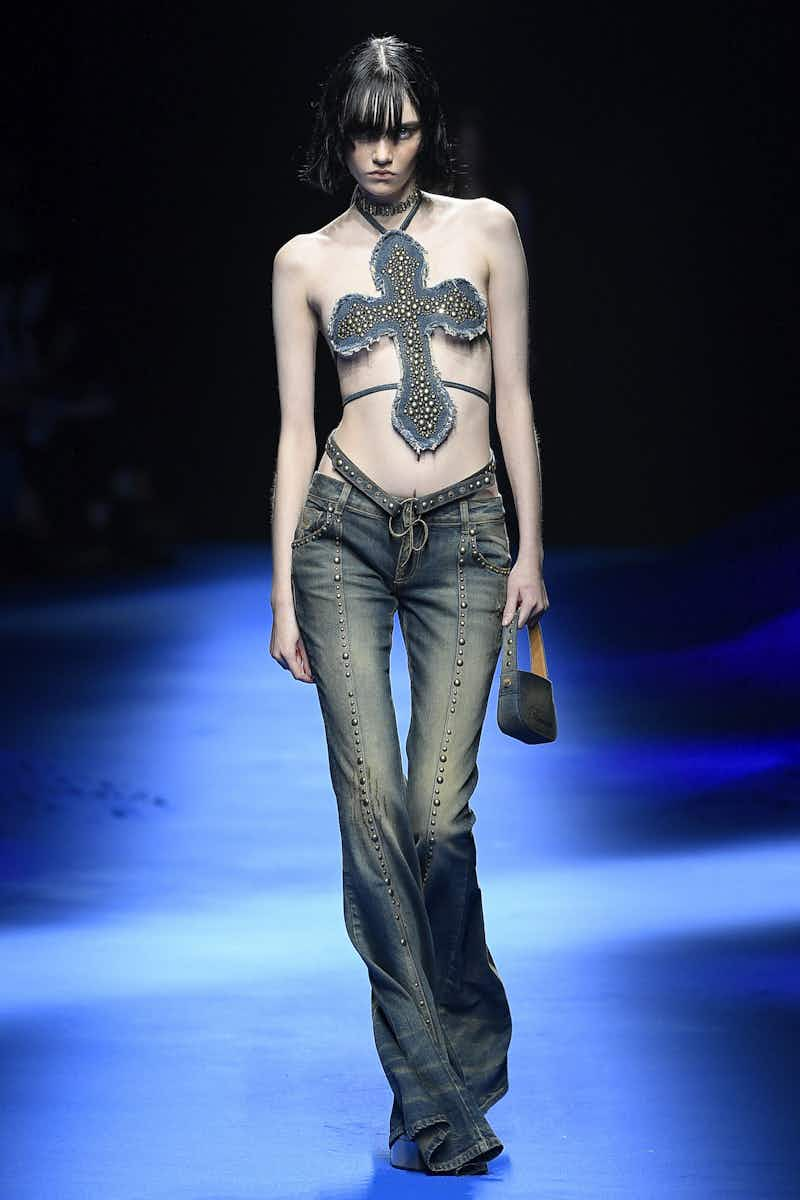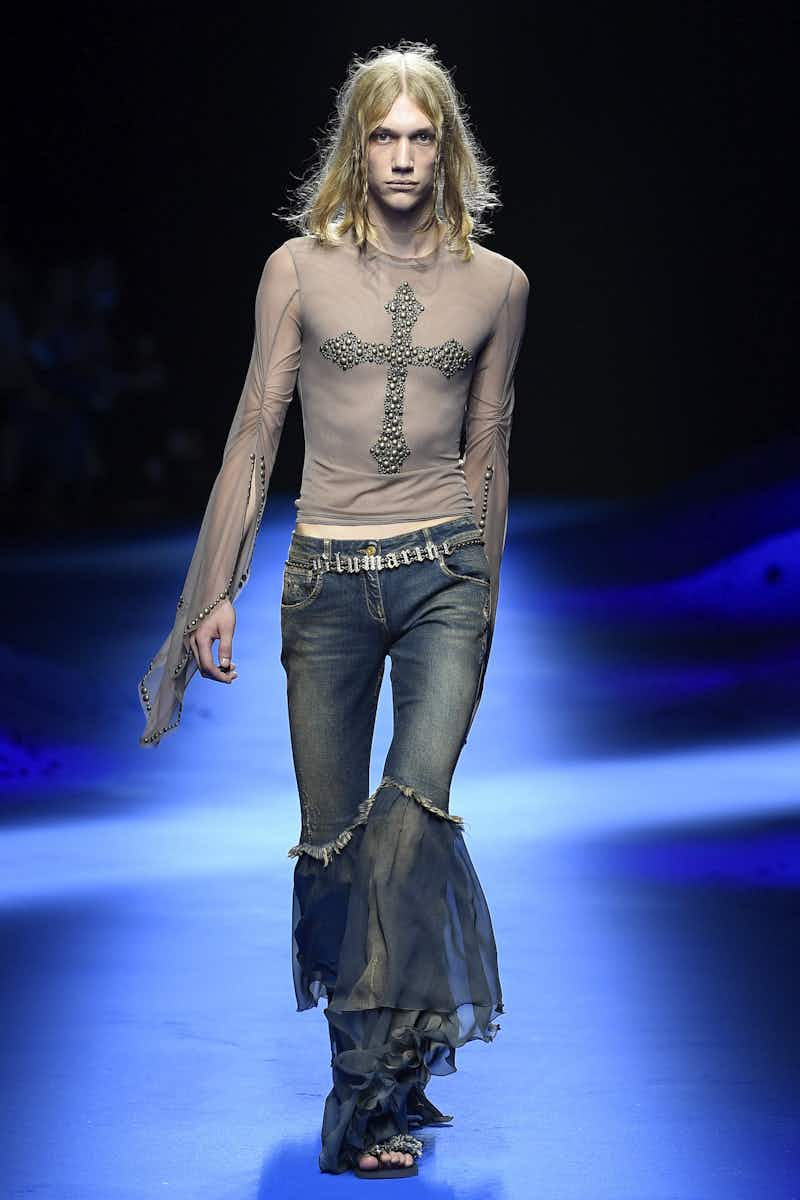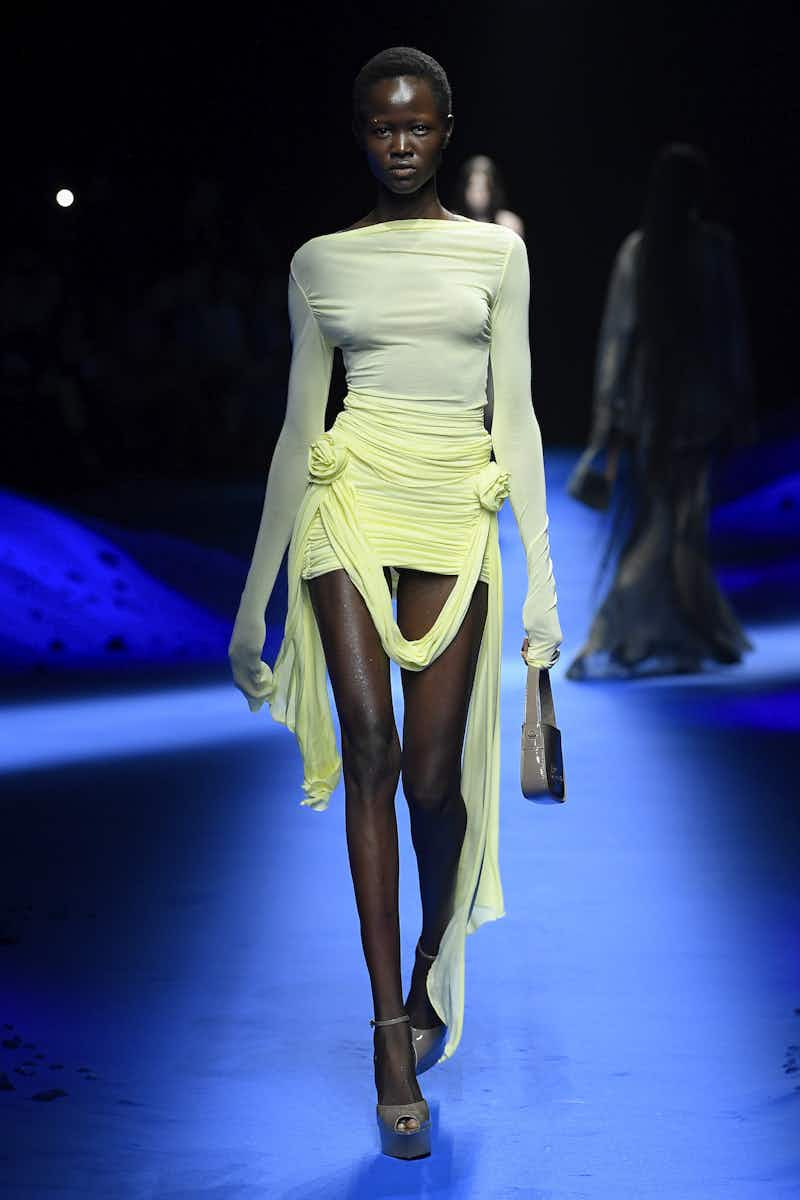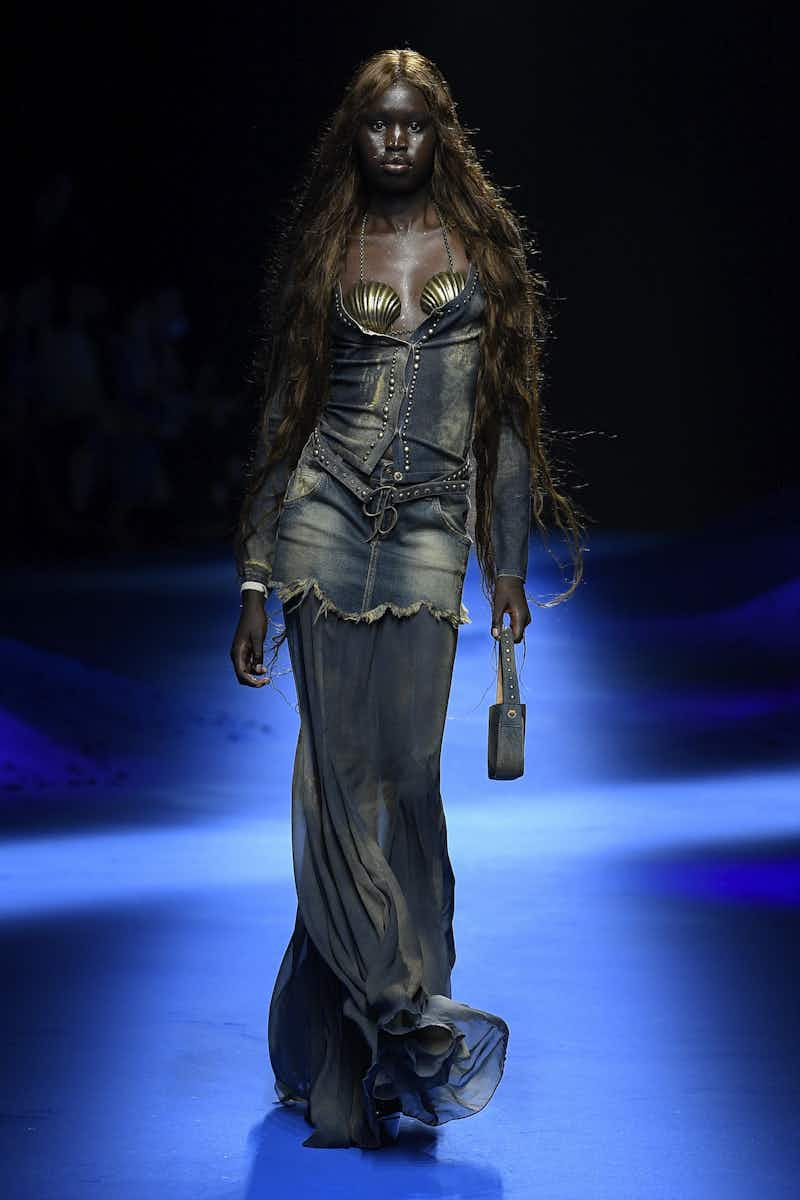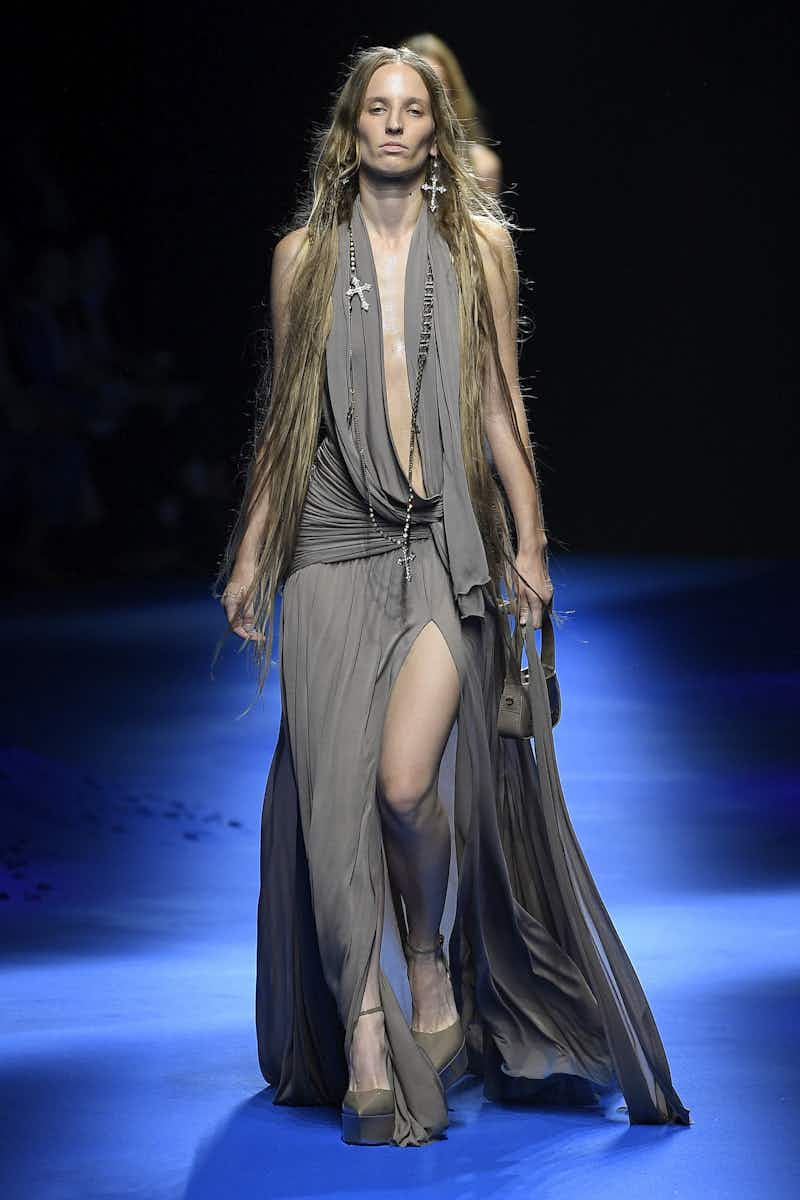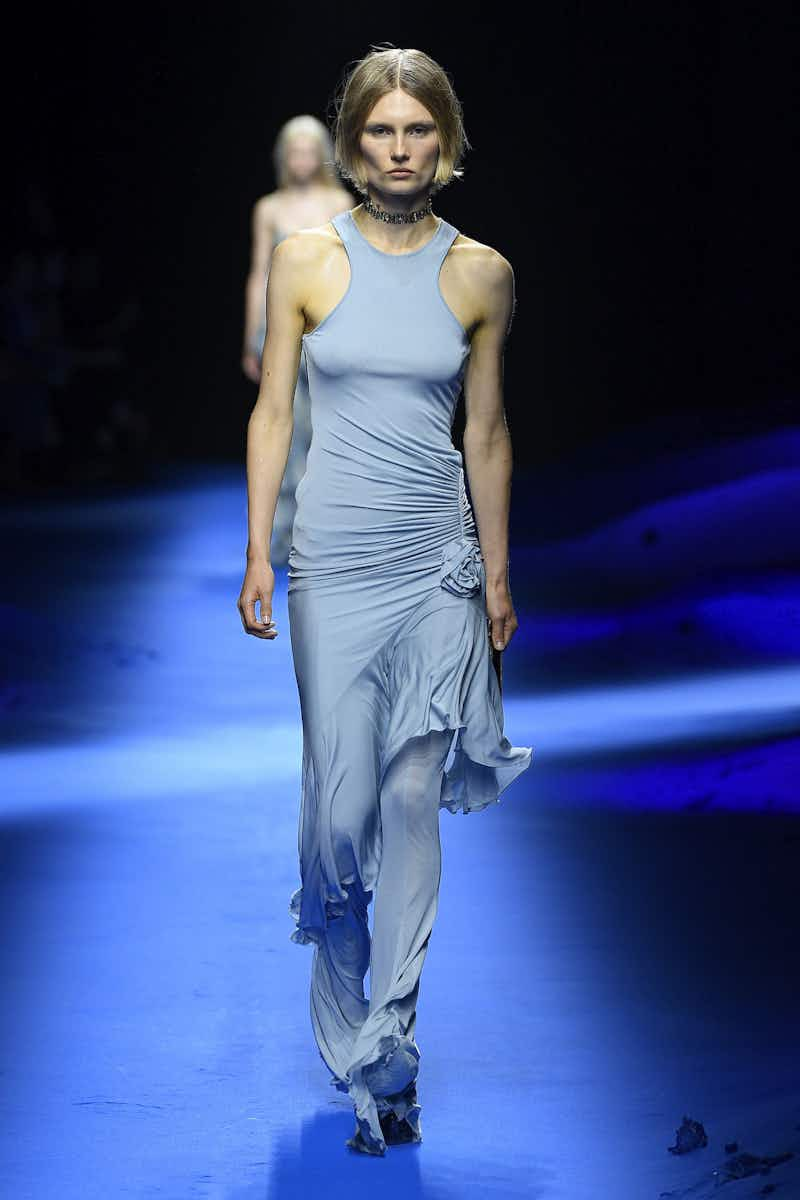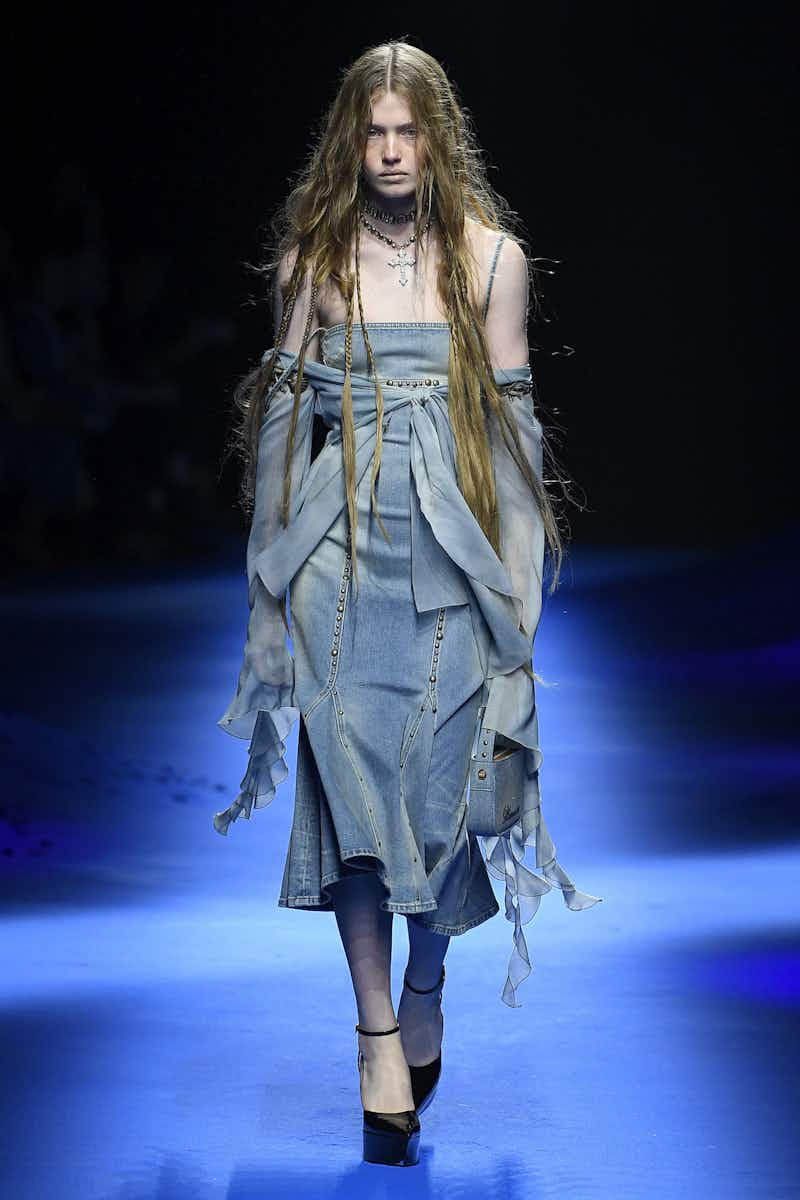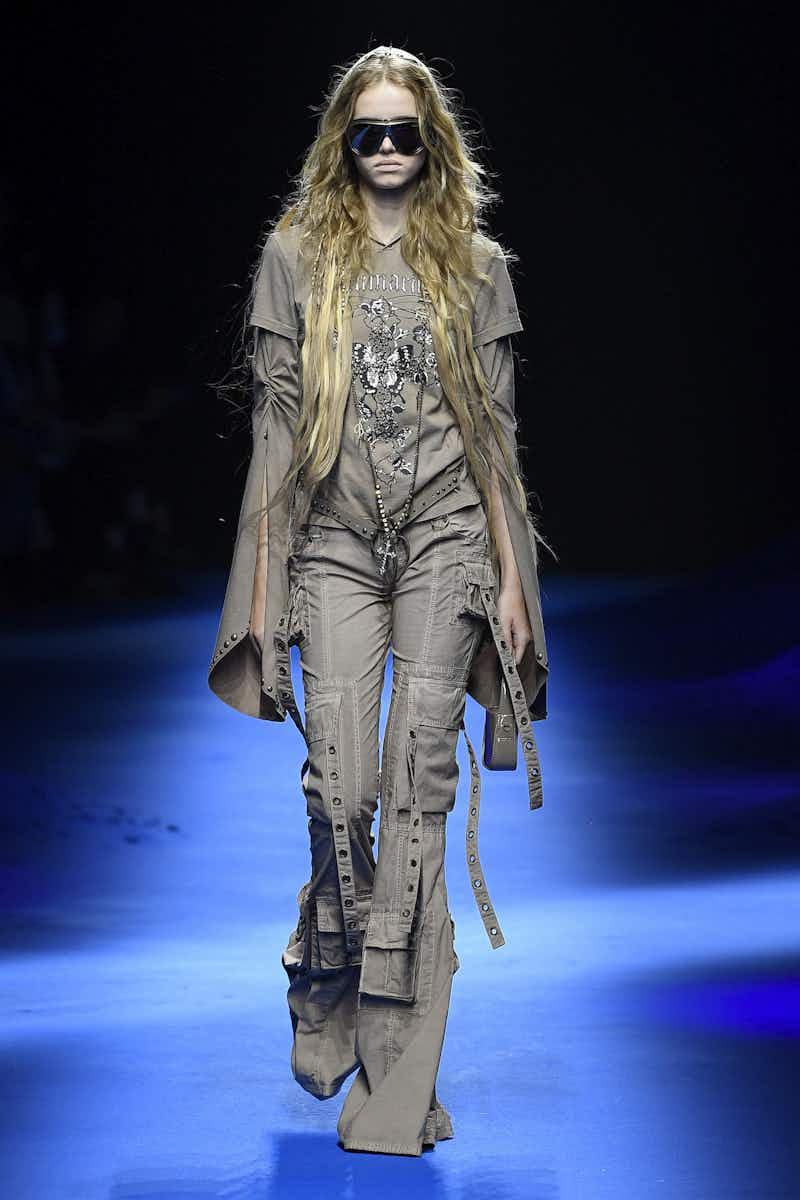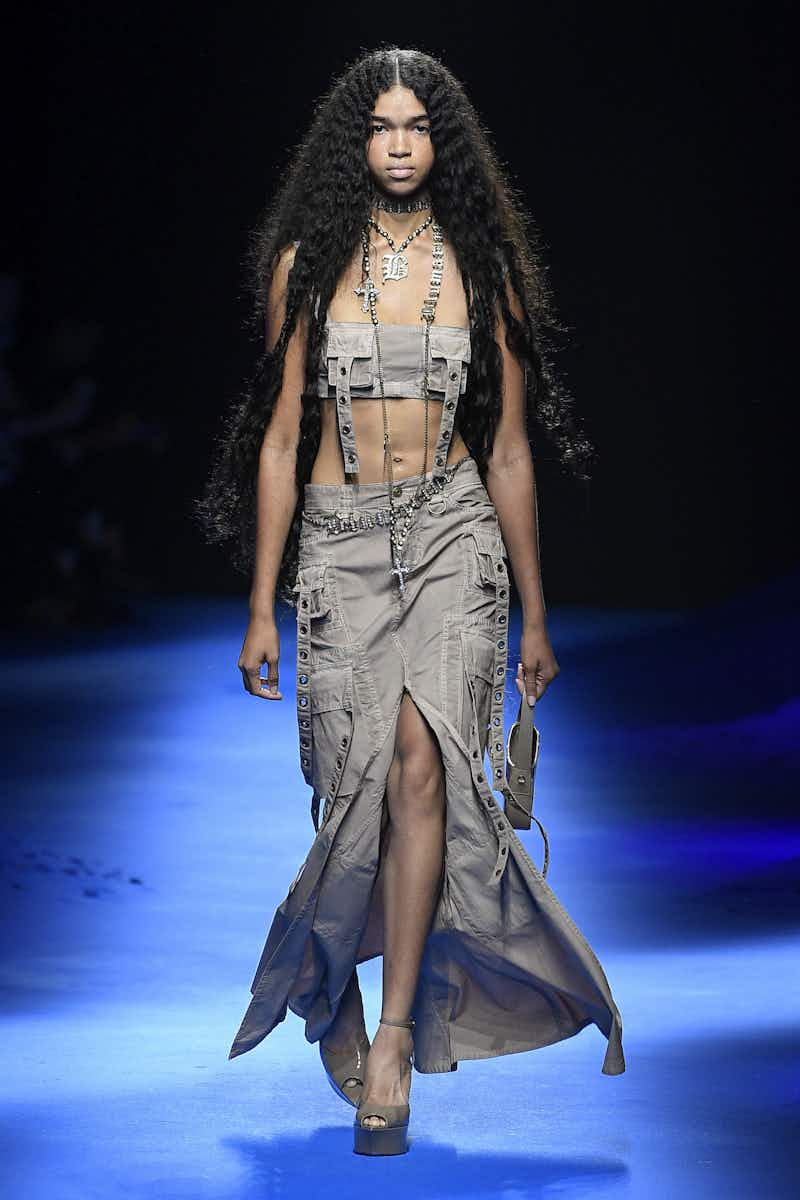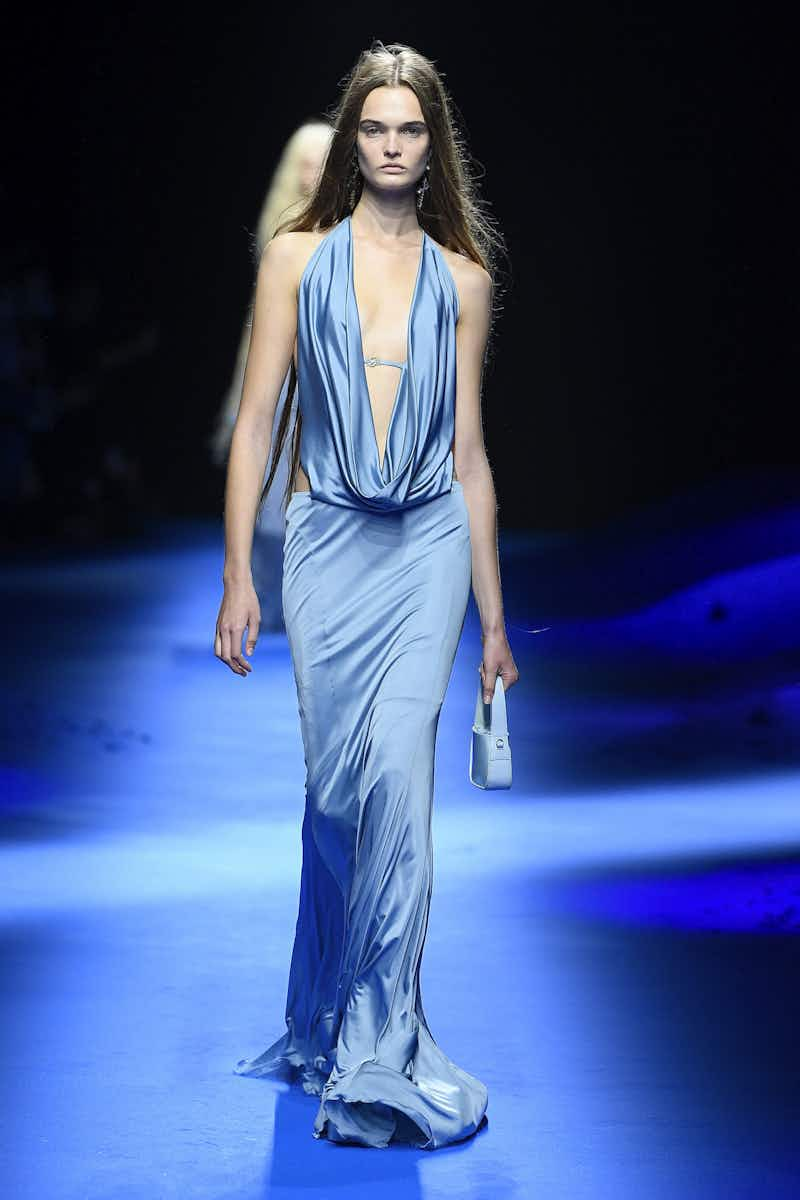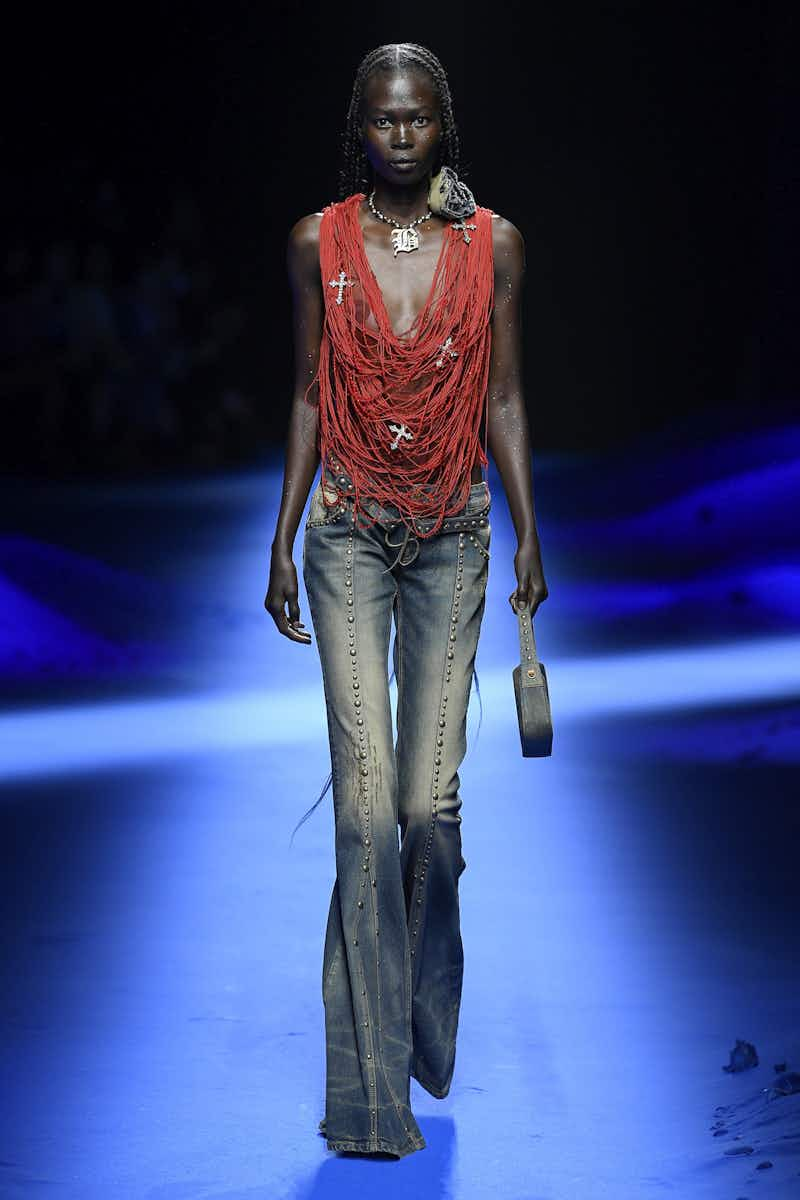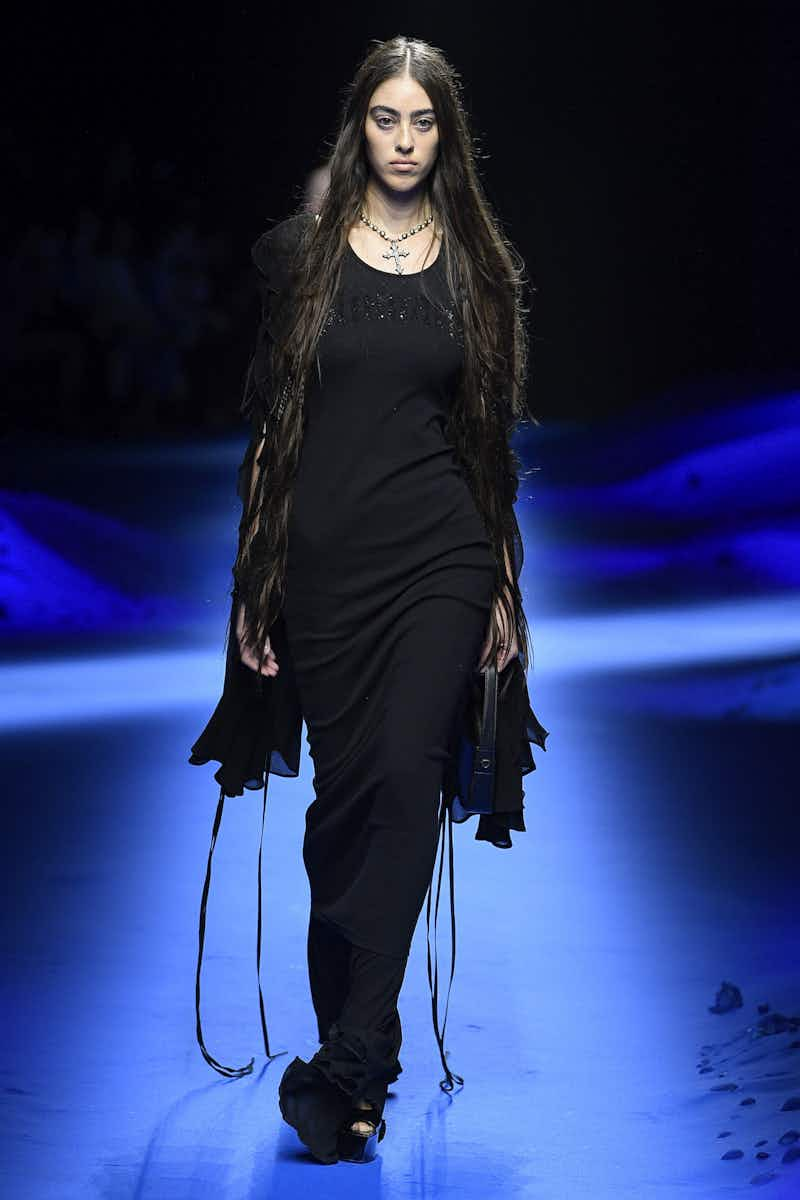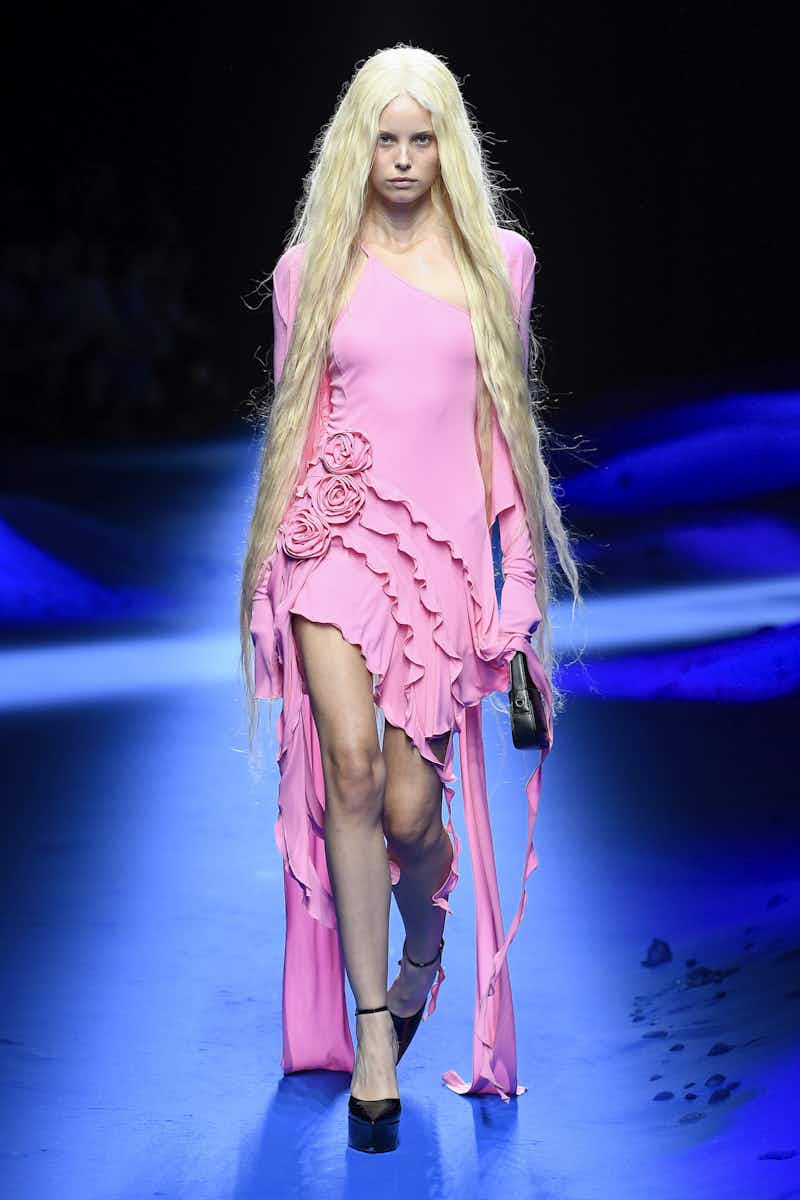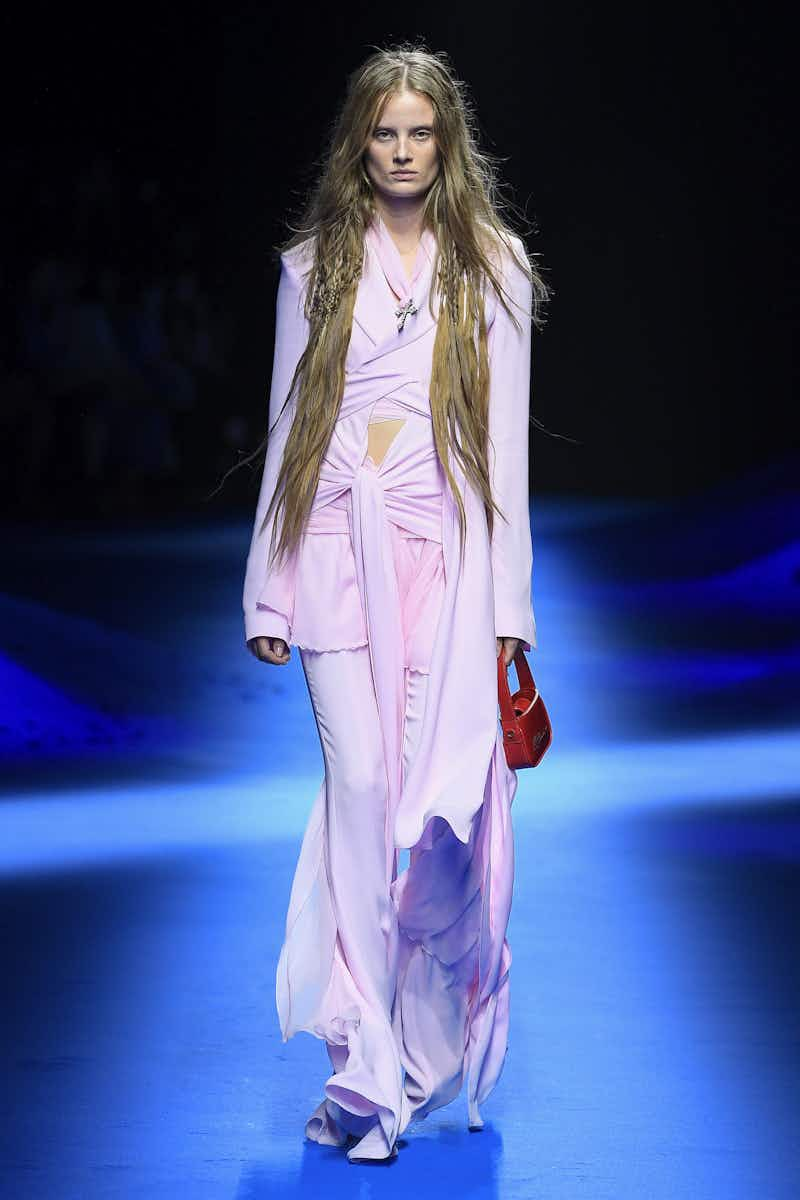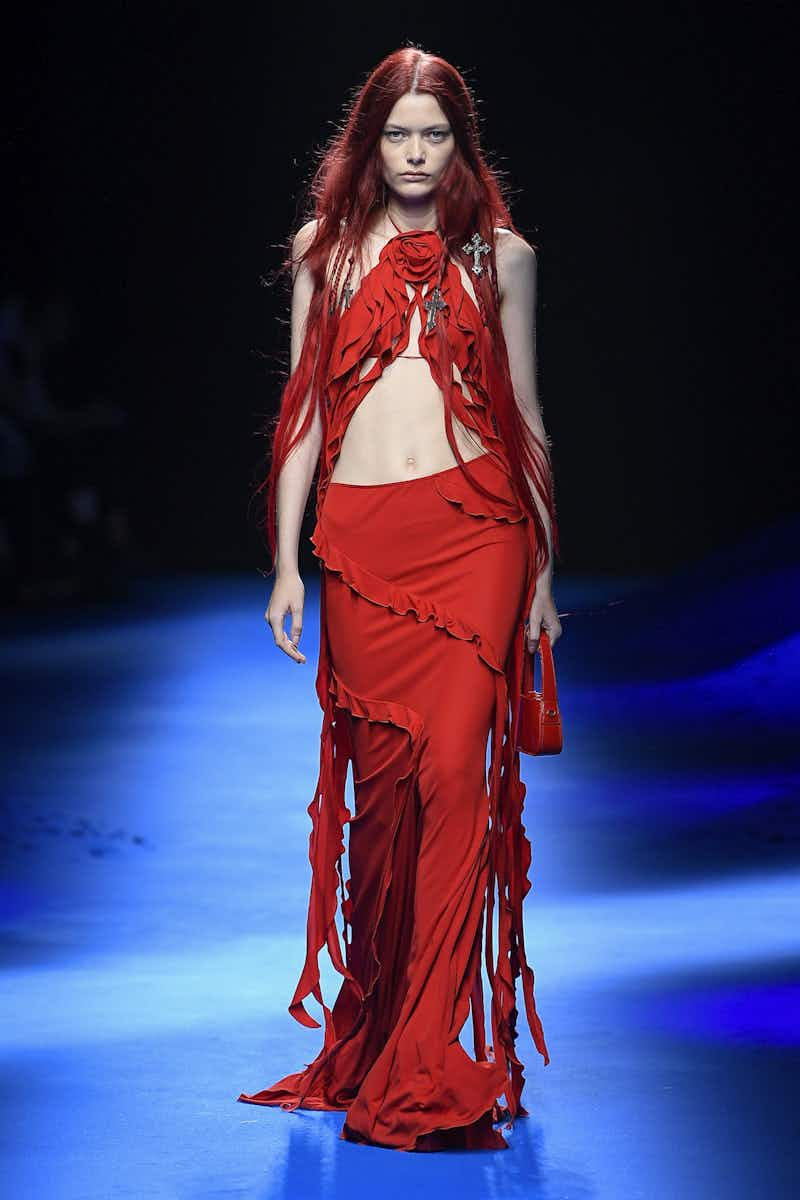 A subversive spin on dance rehearsals and the art of undressing, MM6's collection artfully emphasised the body. Leotards were left undone, poking out of loose-fit trousers, and jersey vests in nude, black and white were layered over one another. The sweet spot in this collection was the styling – the same vests were also wrapped around the waist of sharp shouldered coats, as if the wearer had been caught in an awkward moment. And elsewhere, distressed Margielaisms were rubbed raw on denim – a highlight being a jacket so tattered it gained a whole new texture, perhaps a warning signal of disassociated youth. TJ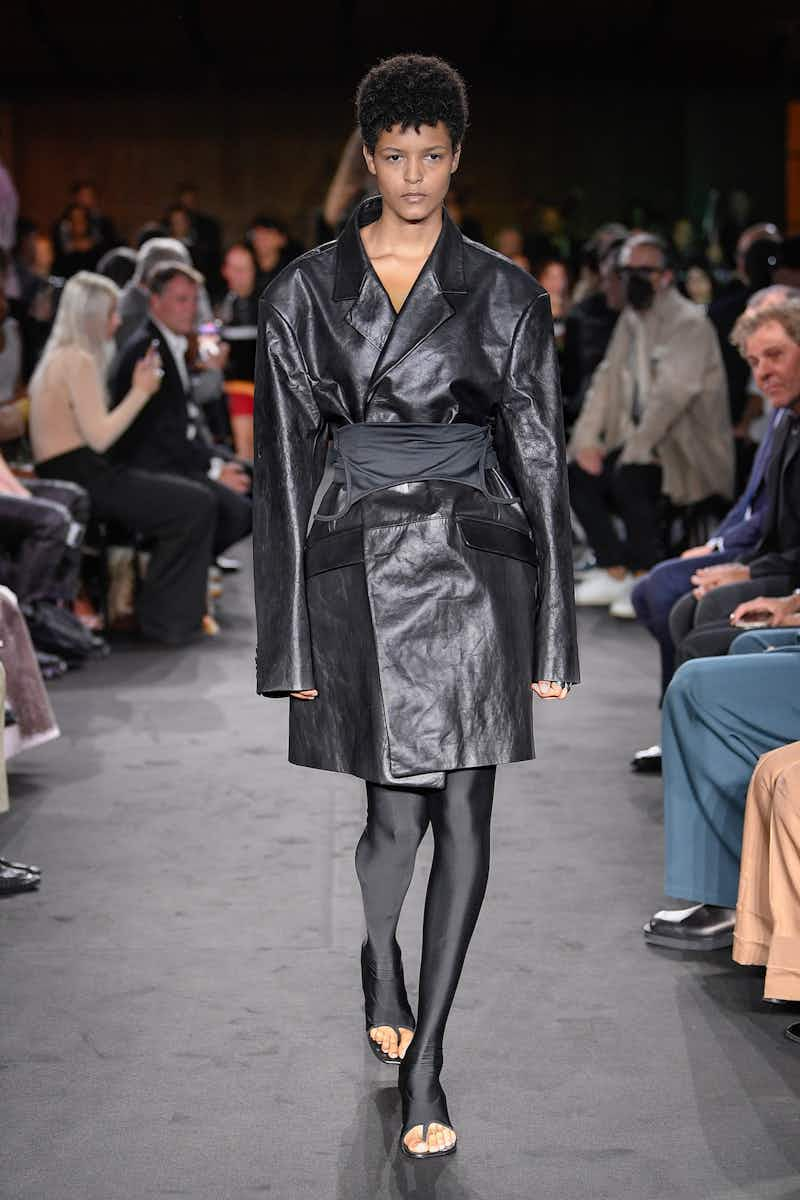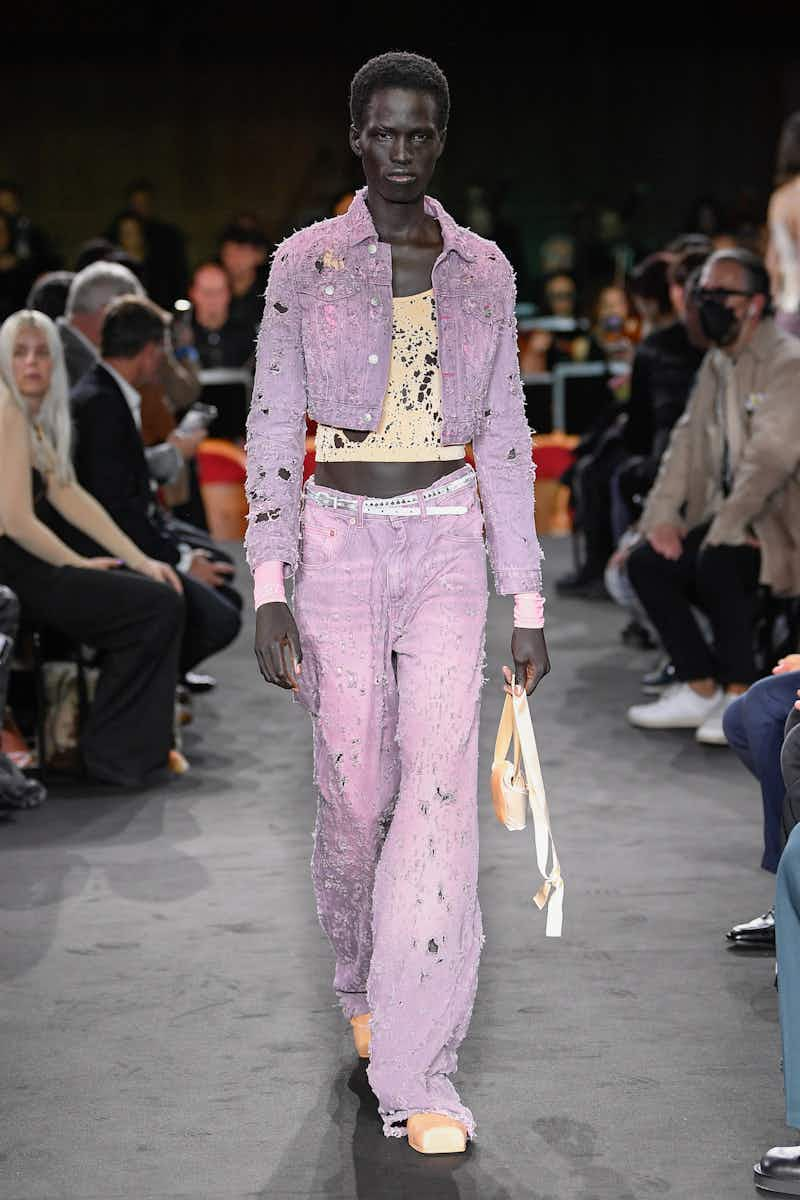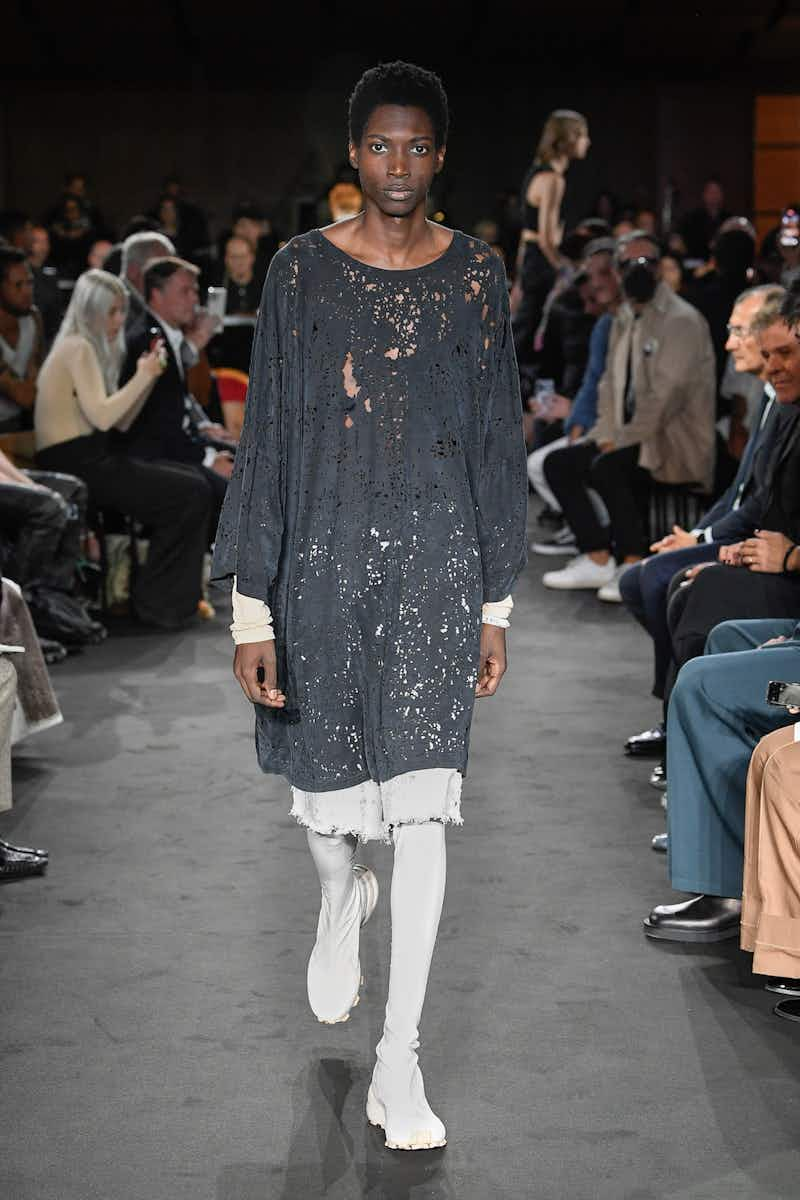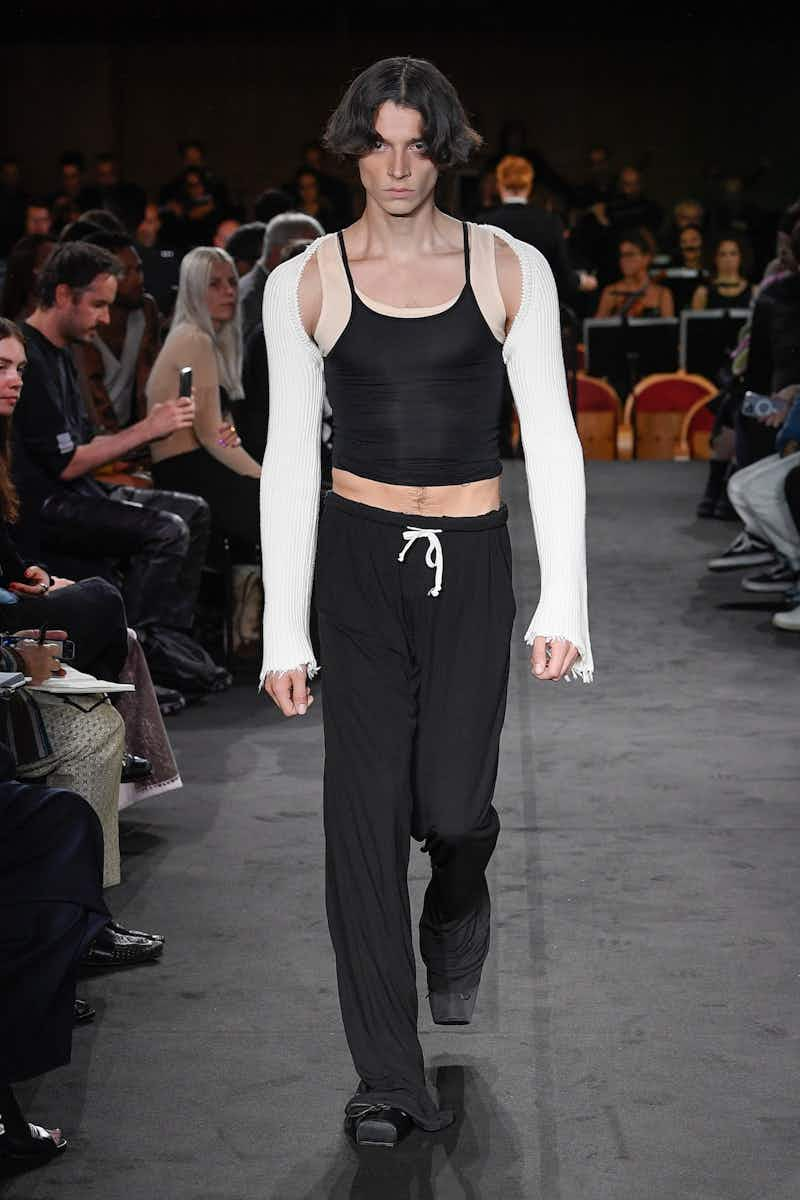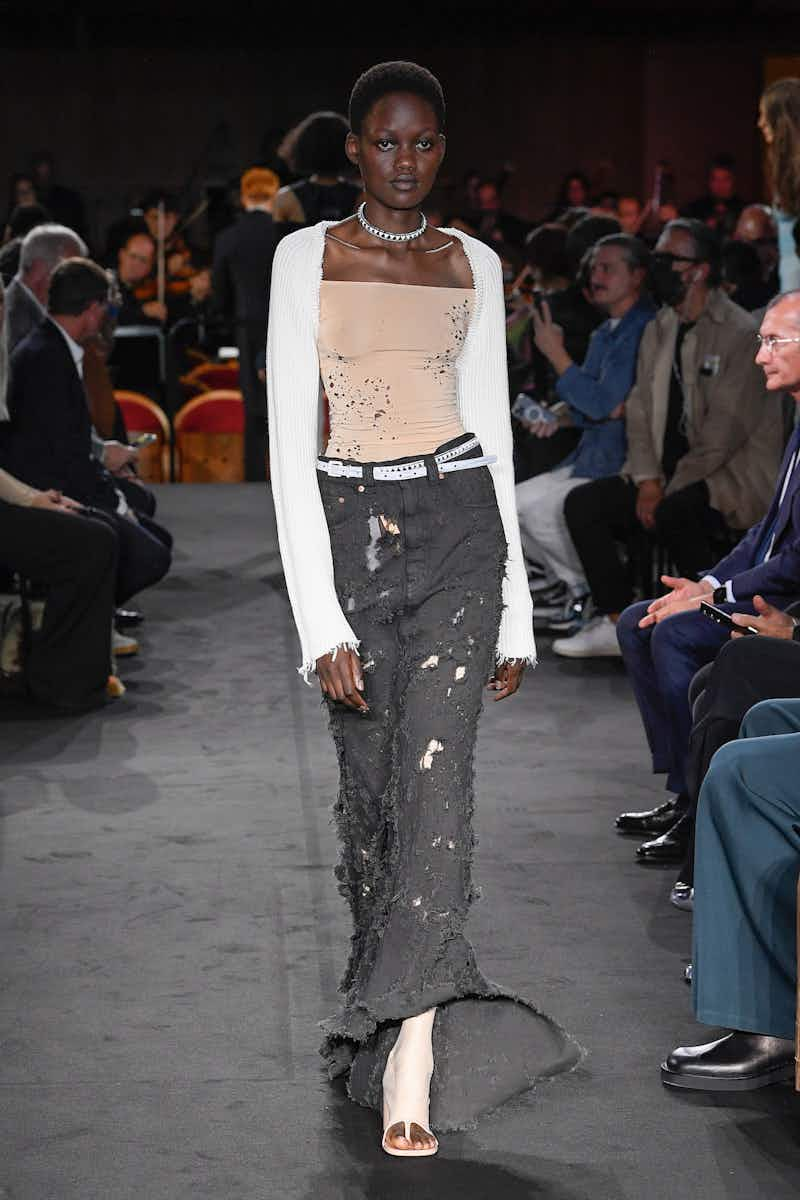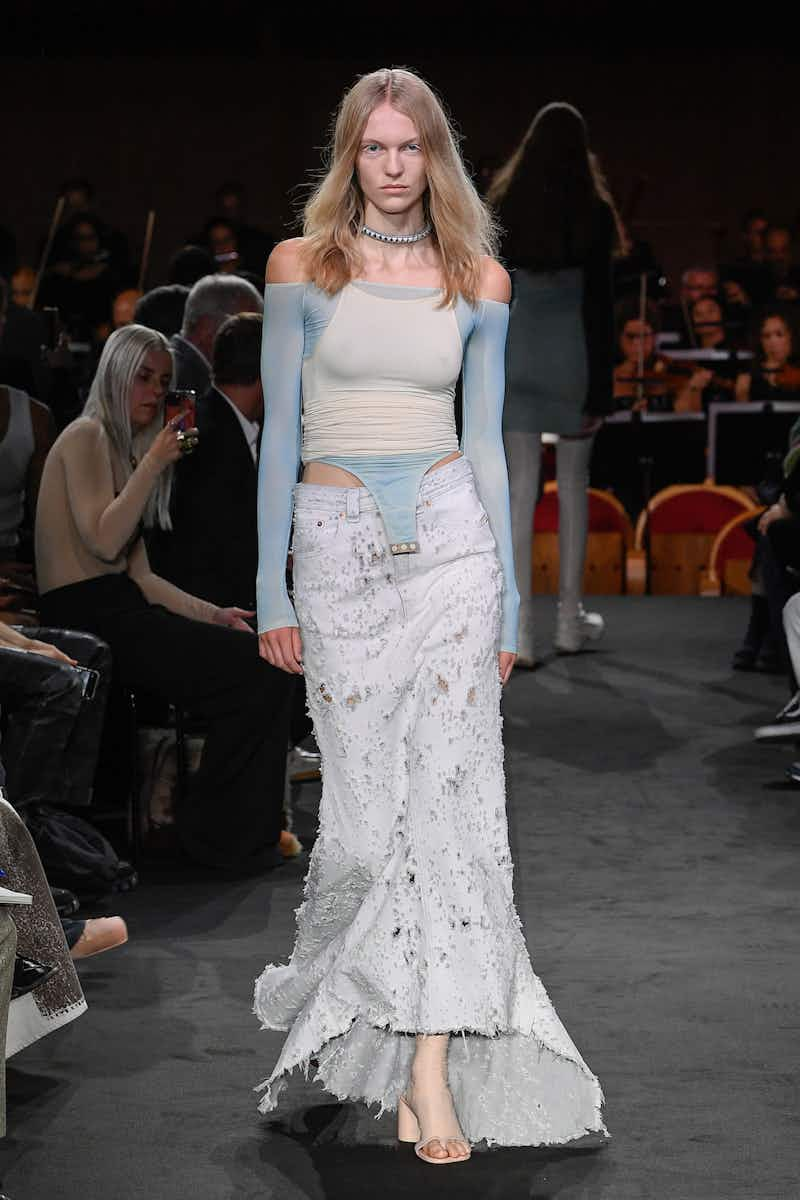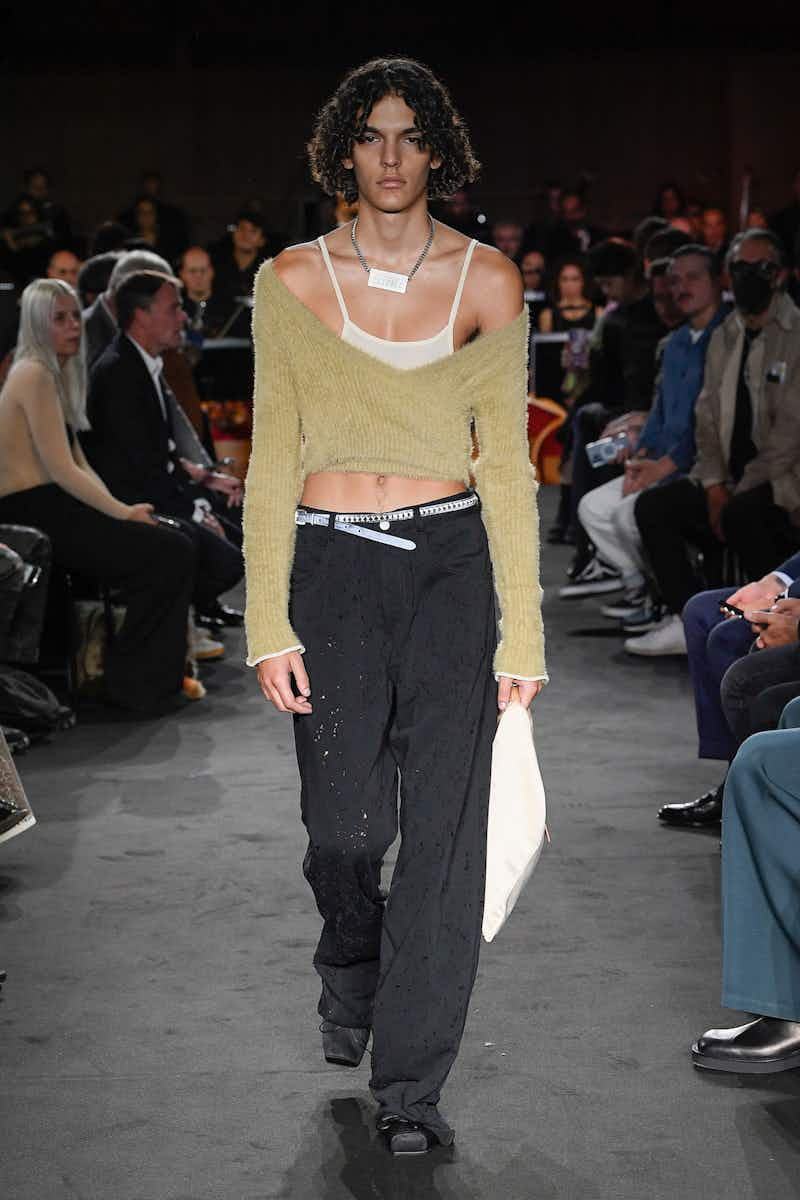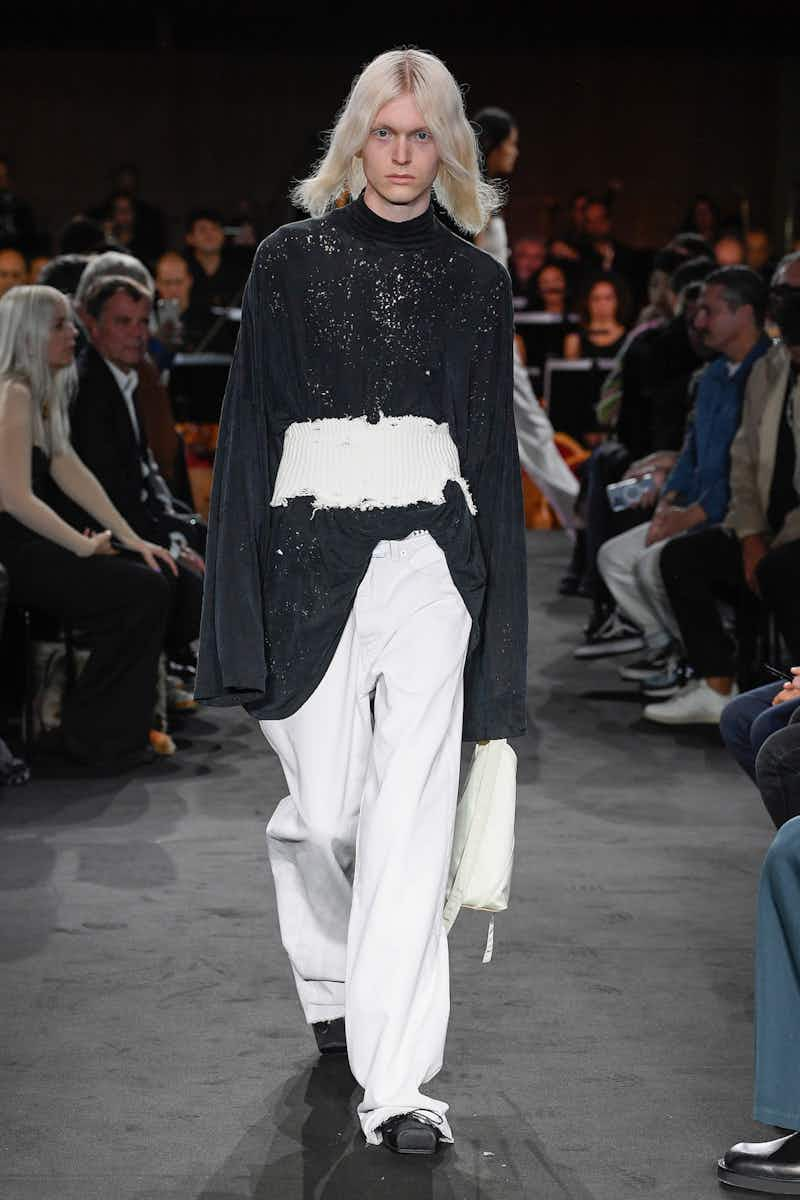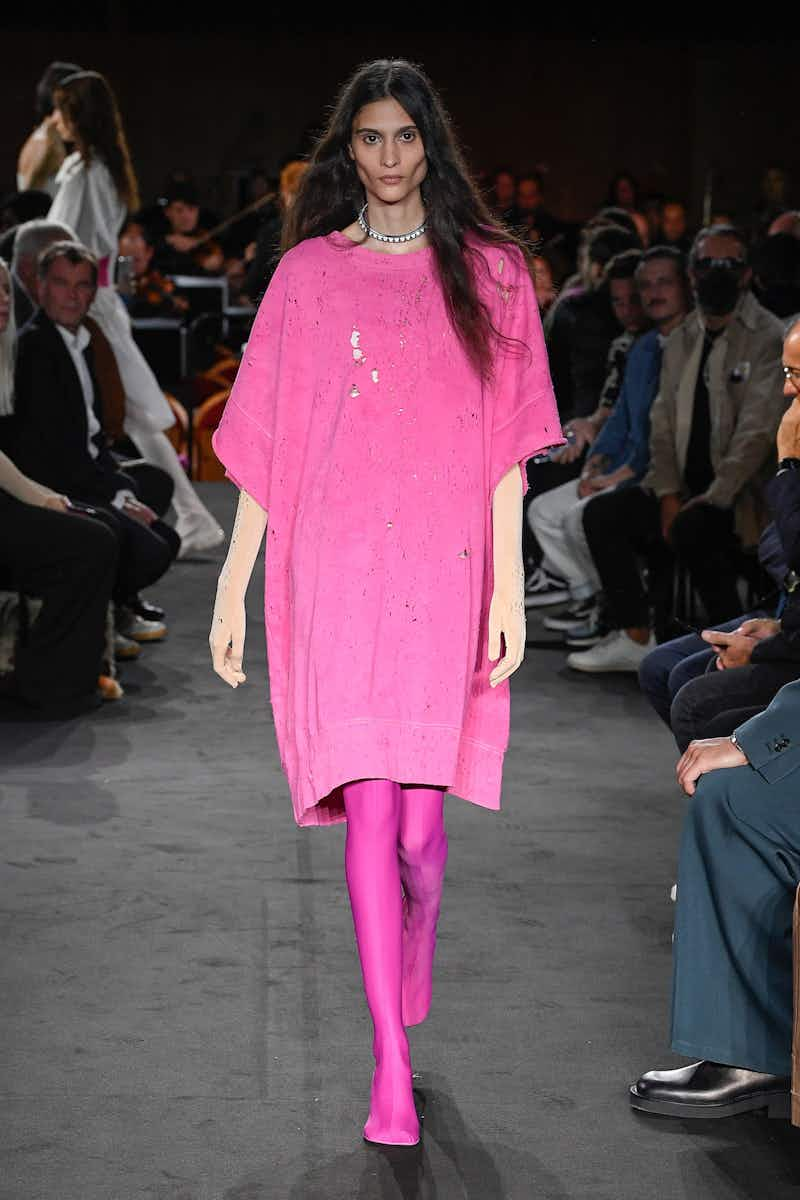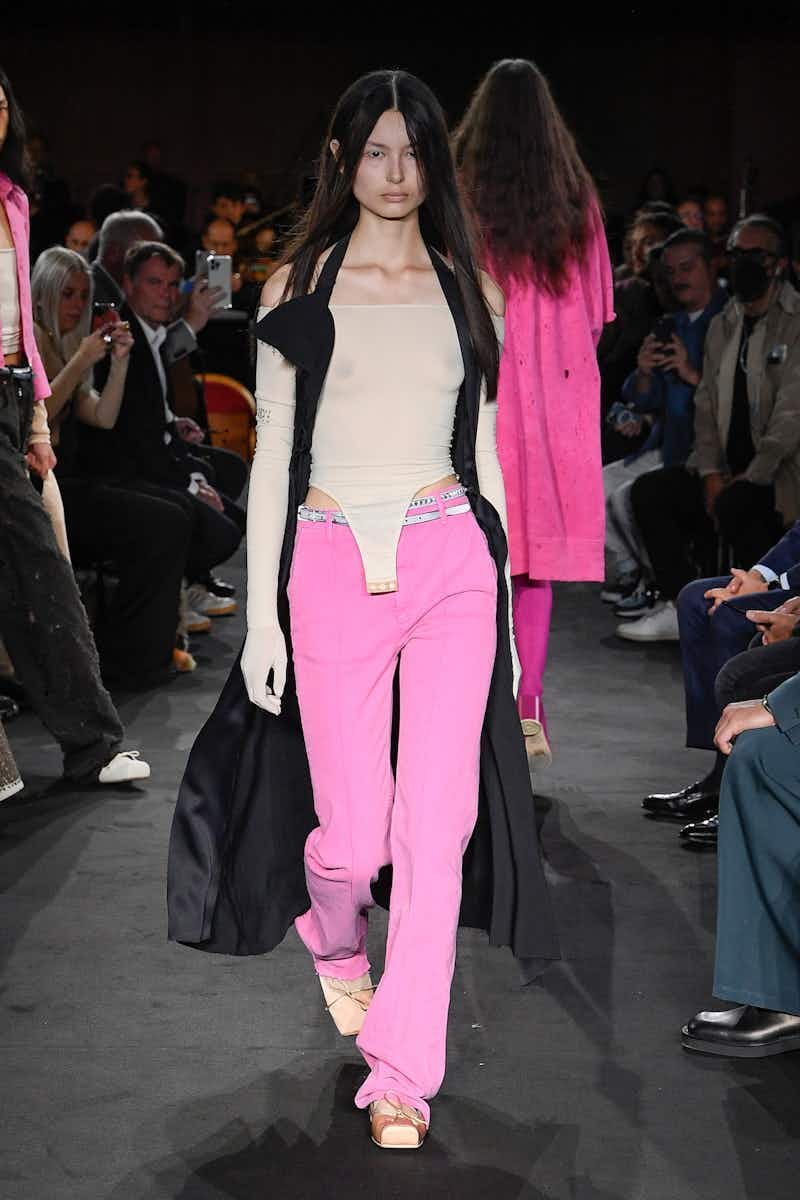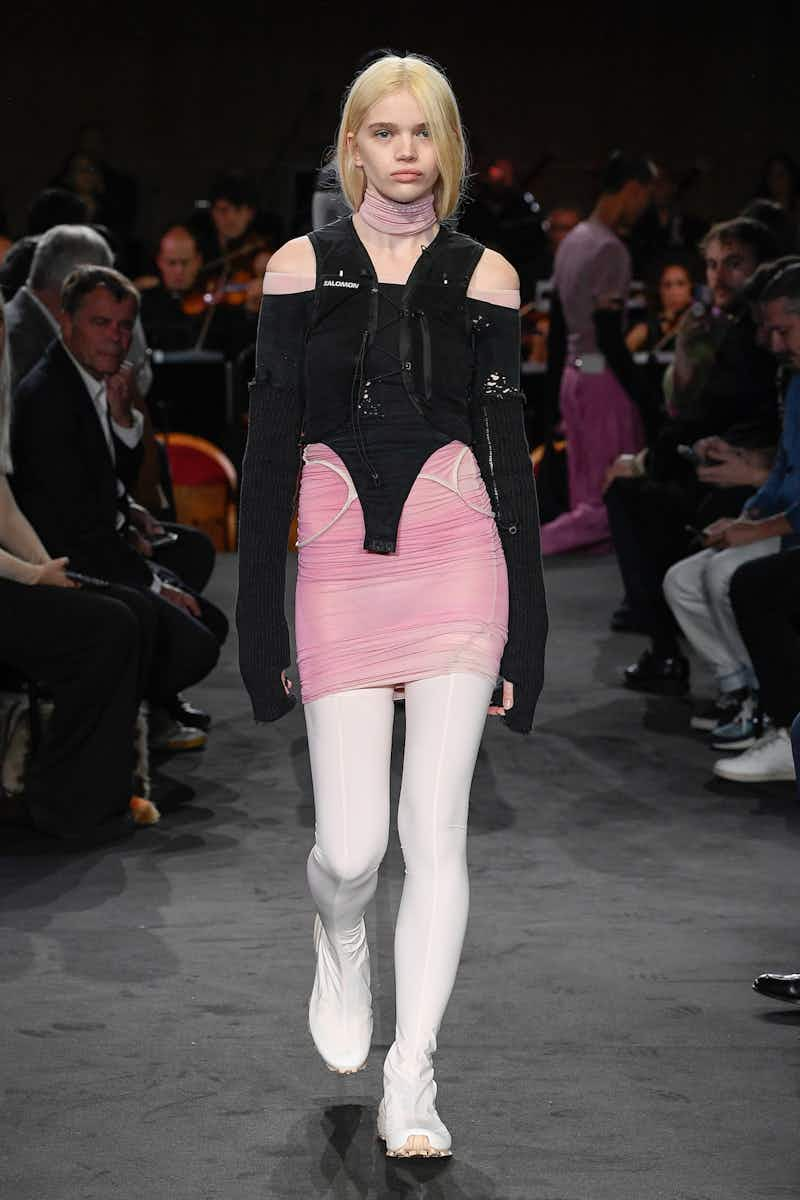 Travel has long been a part of Armani's storied history, designing for the free-spirited, open-minded drifter who finds treasures along the way. This season was no exception, with Emporio Armani combining lightness and linearity with sheer eclecticism in embroidered evening dresses and a calming yet lively pastel palette. Blazers were styled over sarongs and shirts lengthened into slick outerwear, while the movement of evening dresses felt spectacularly fluid, moving with its wearer and mimicking a breezy evening on the shore.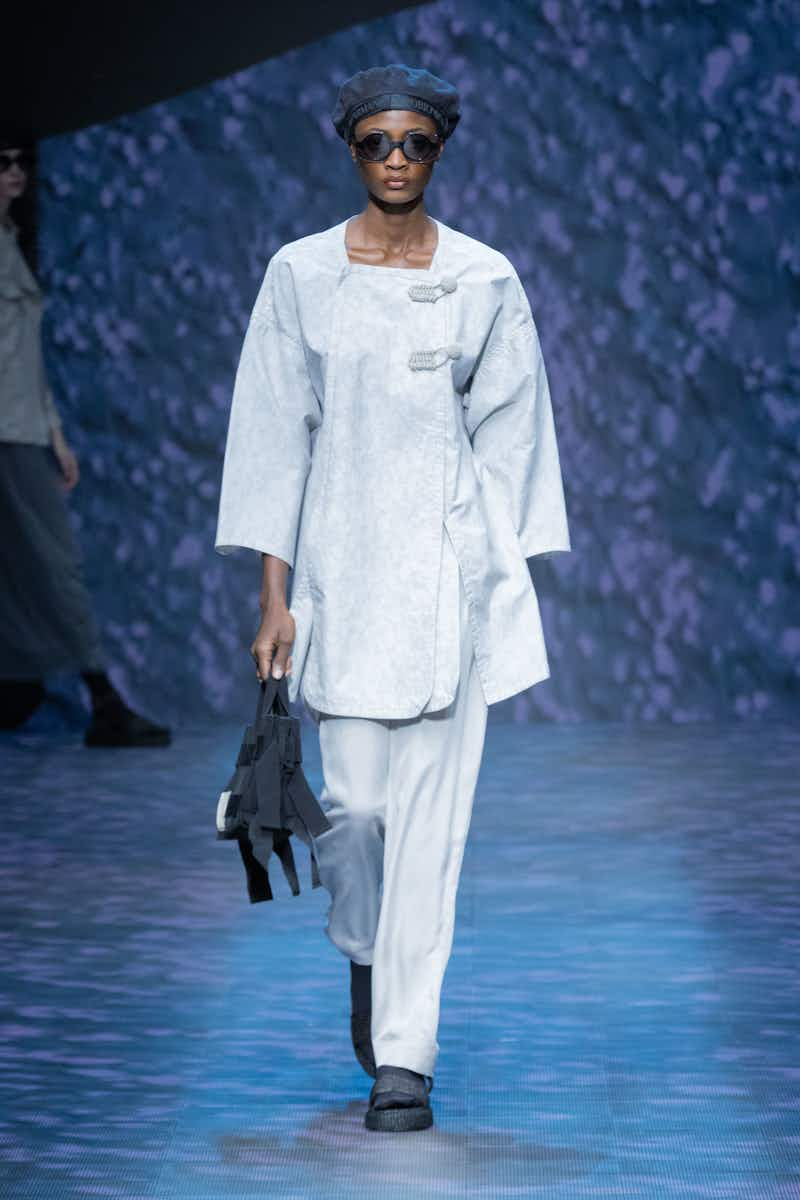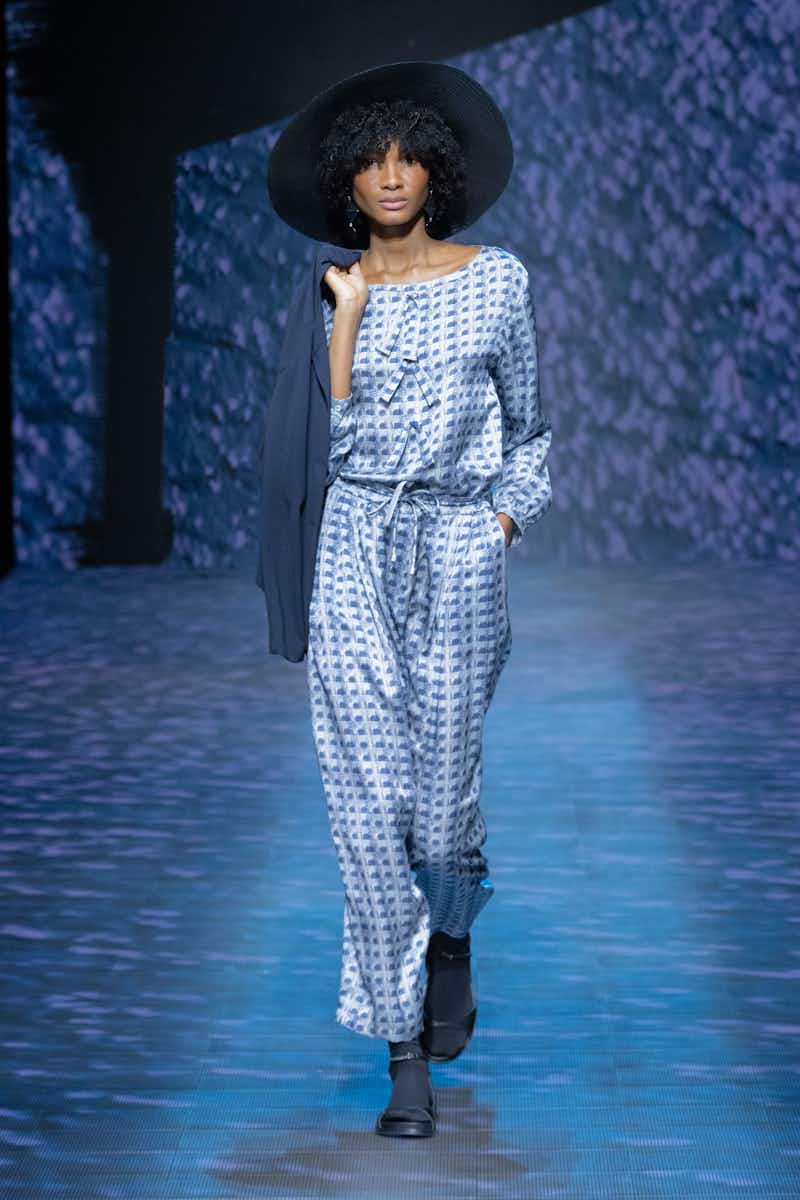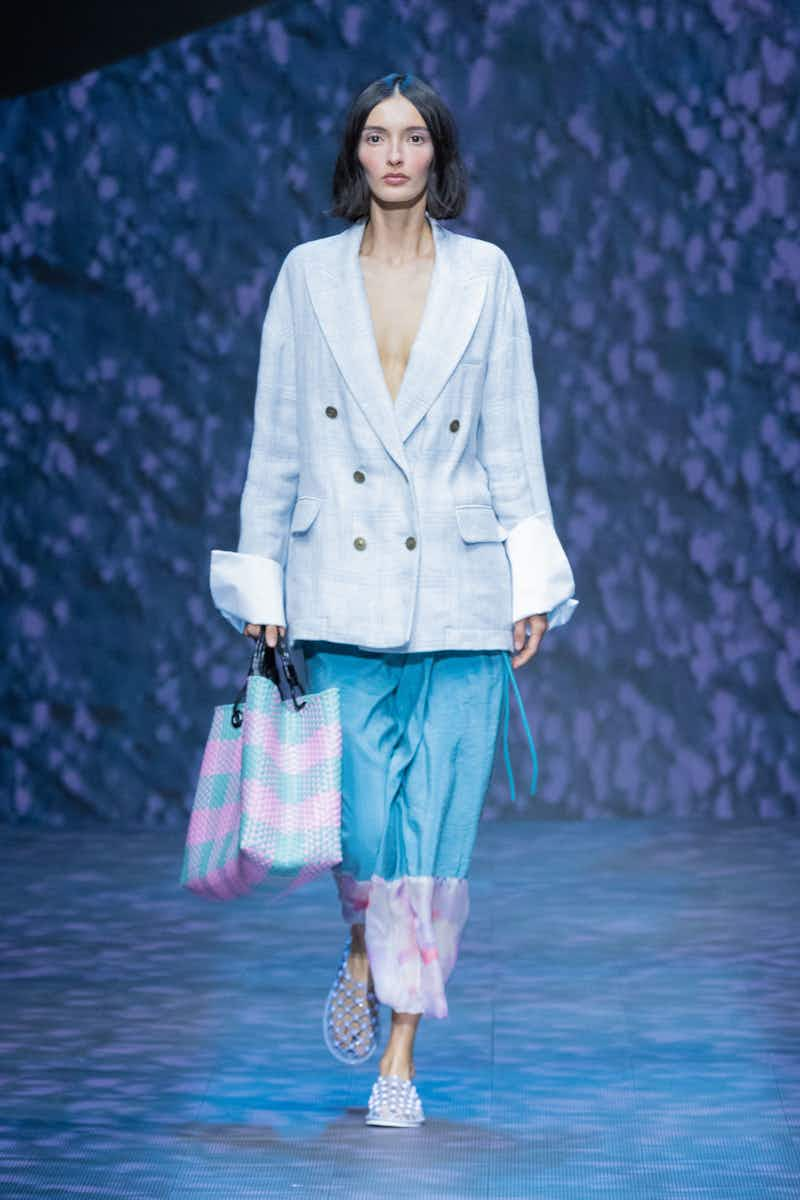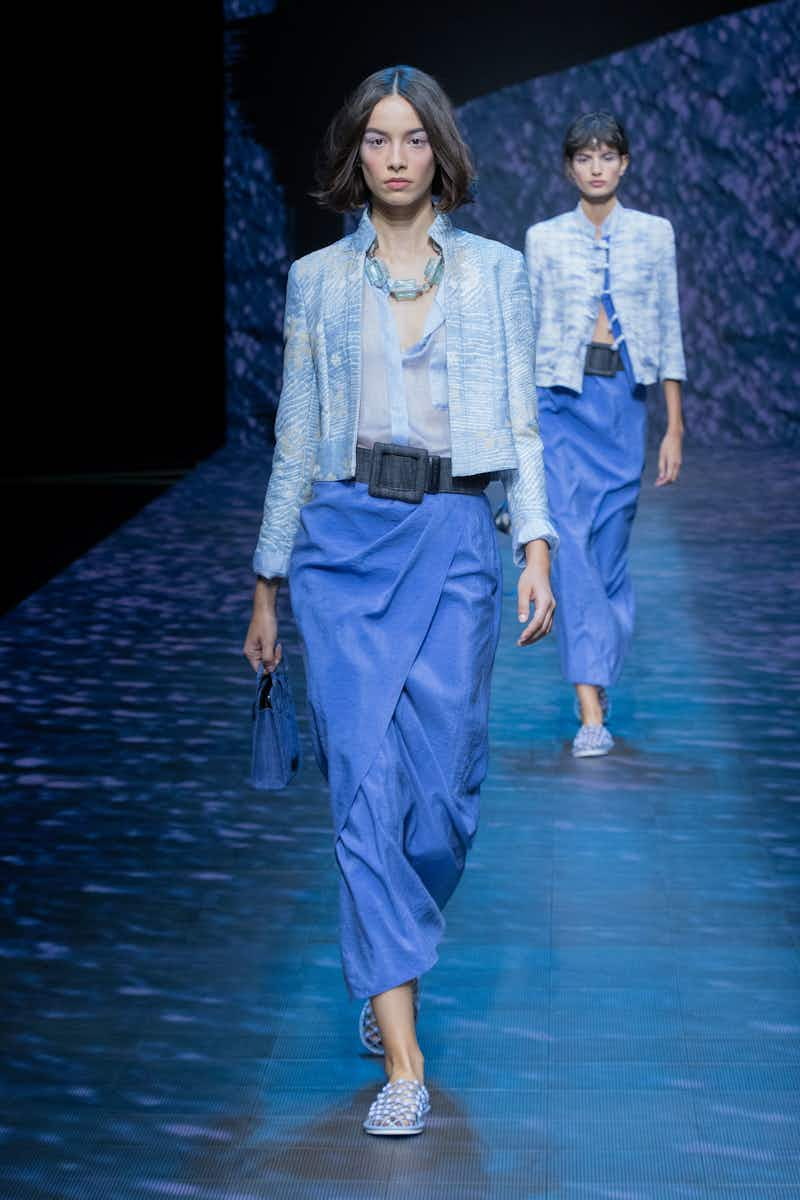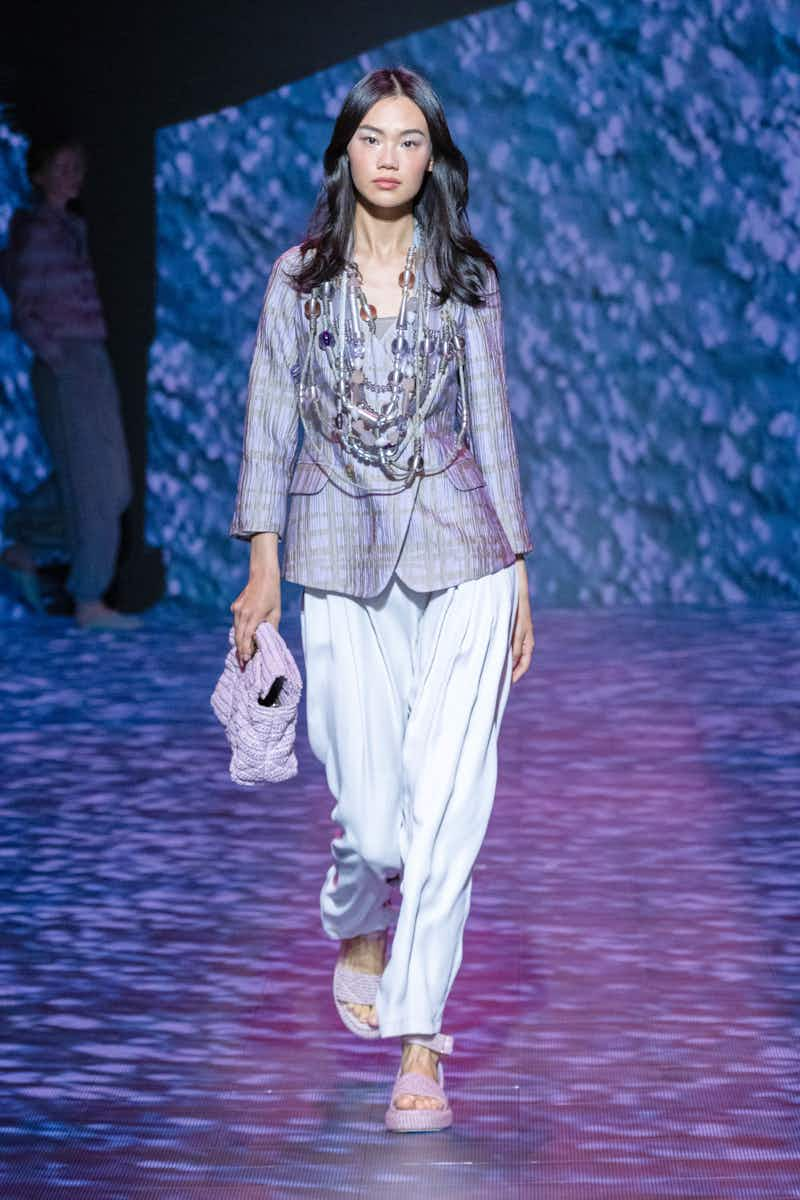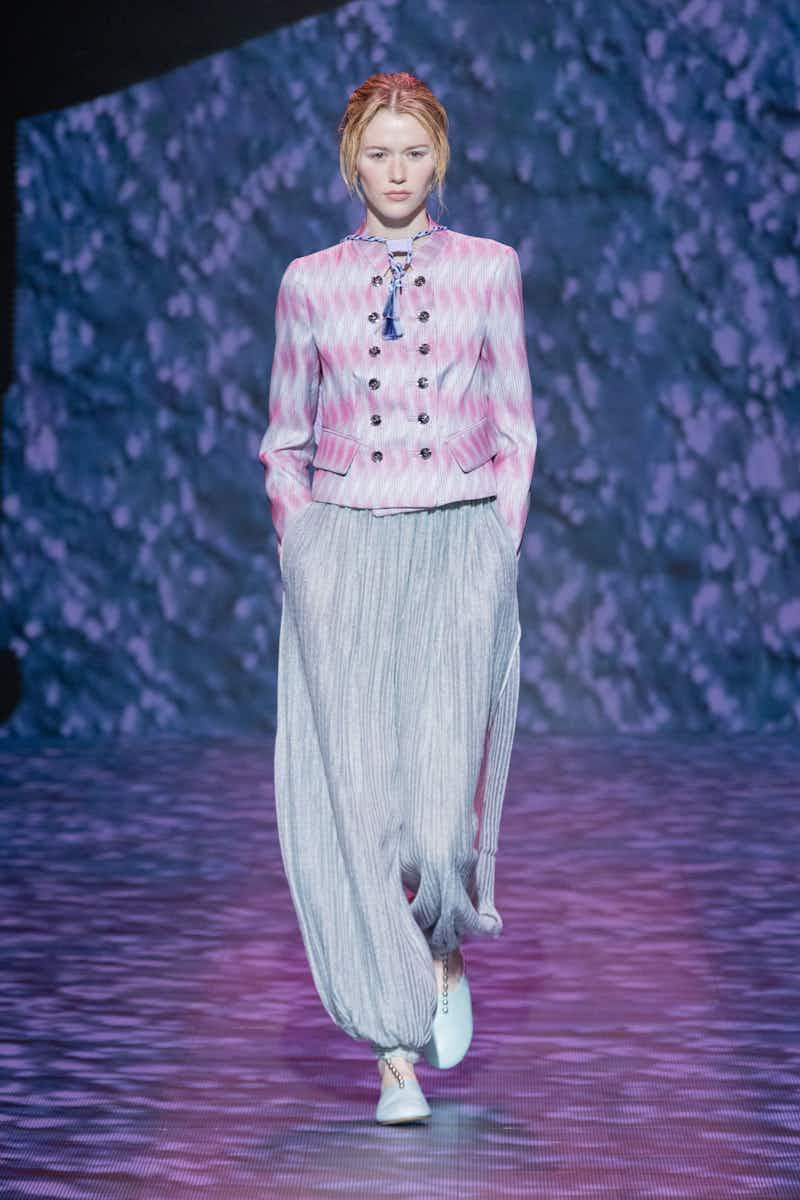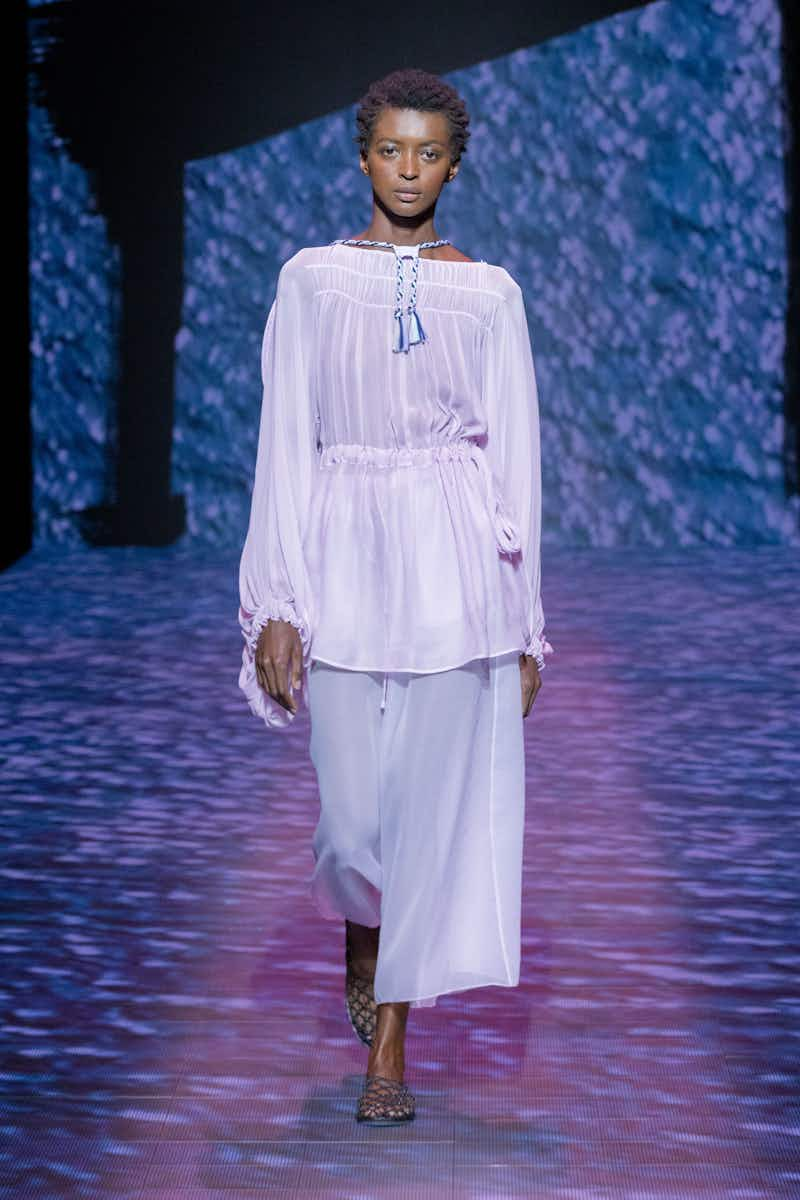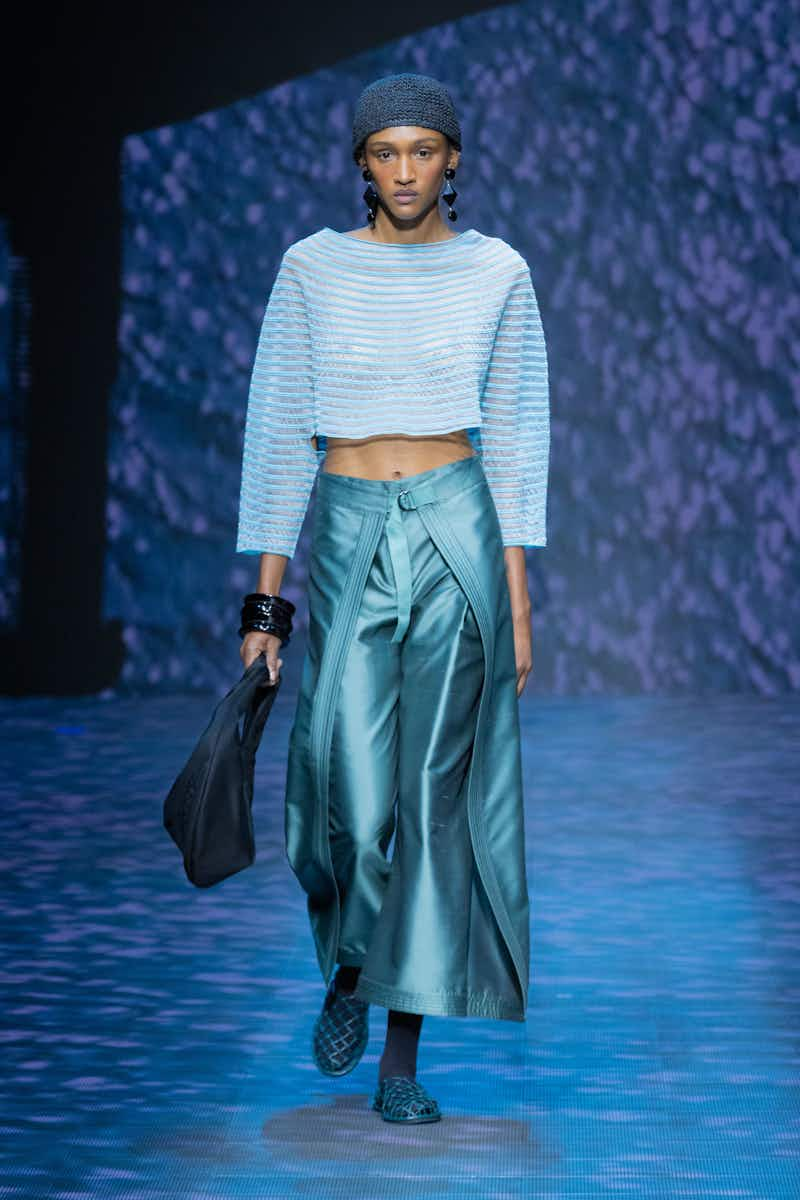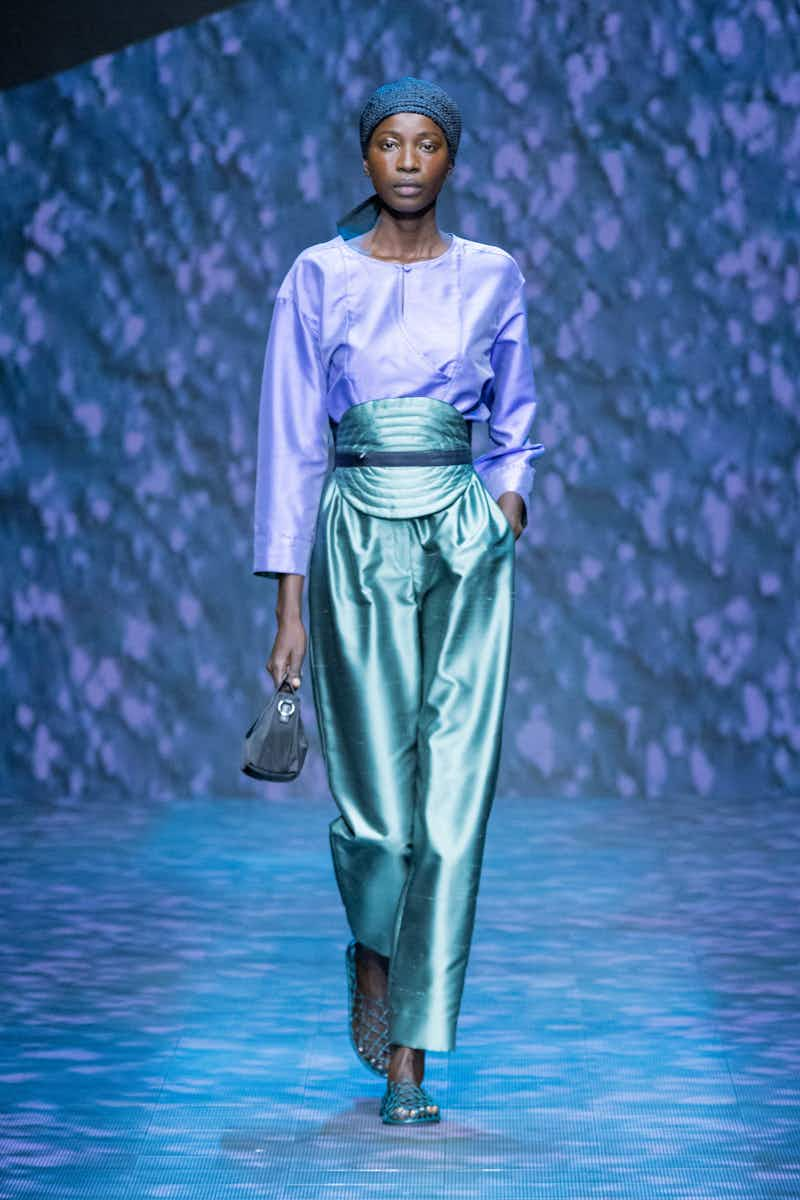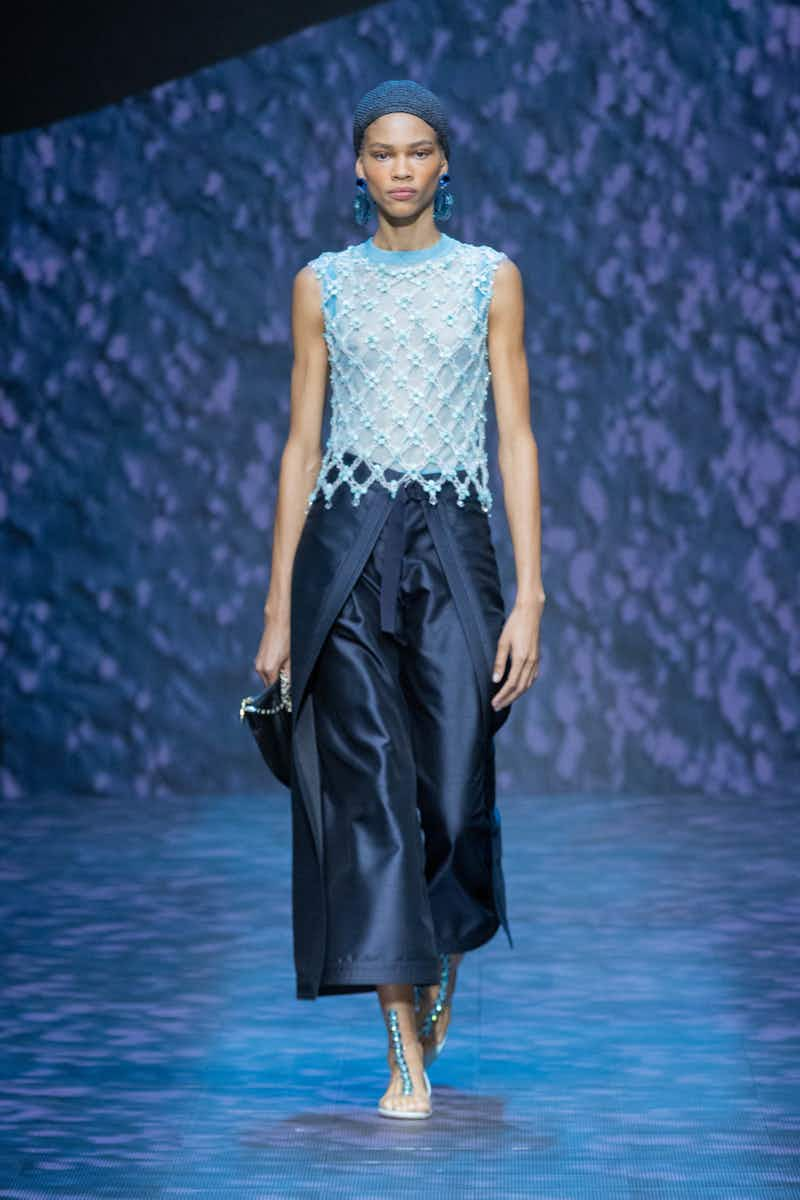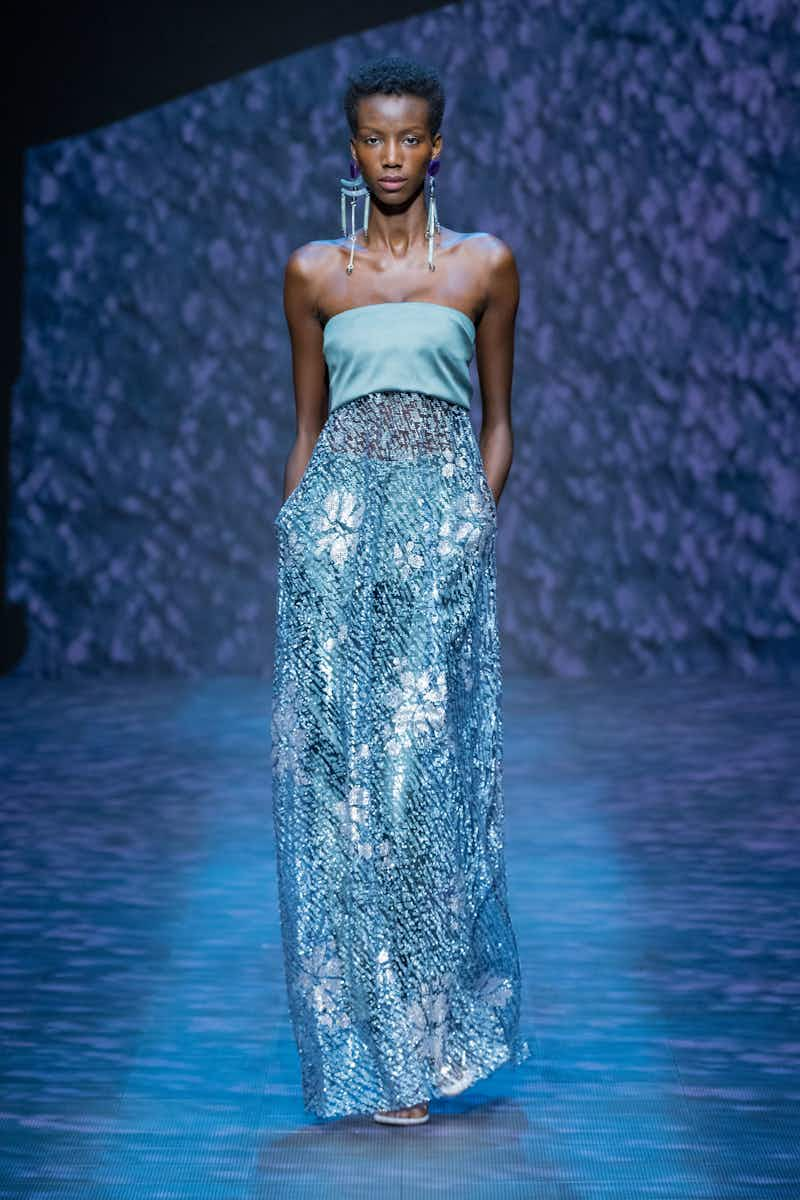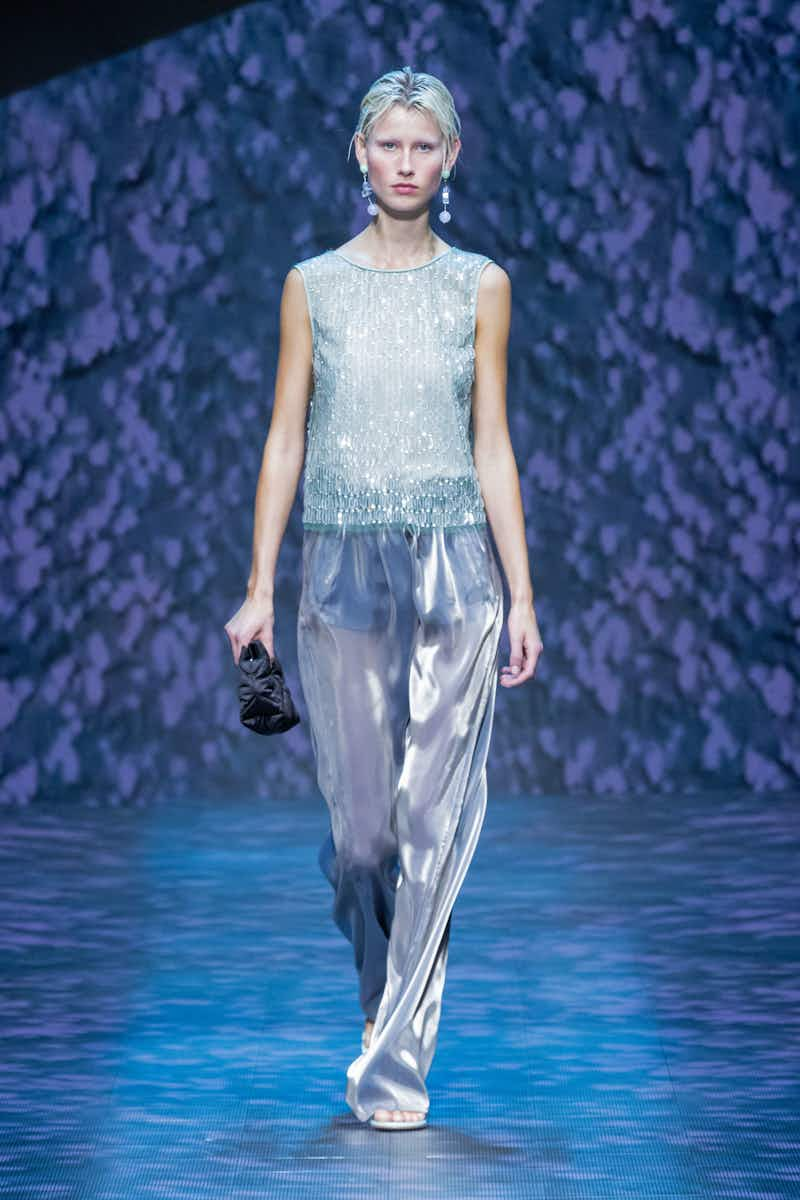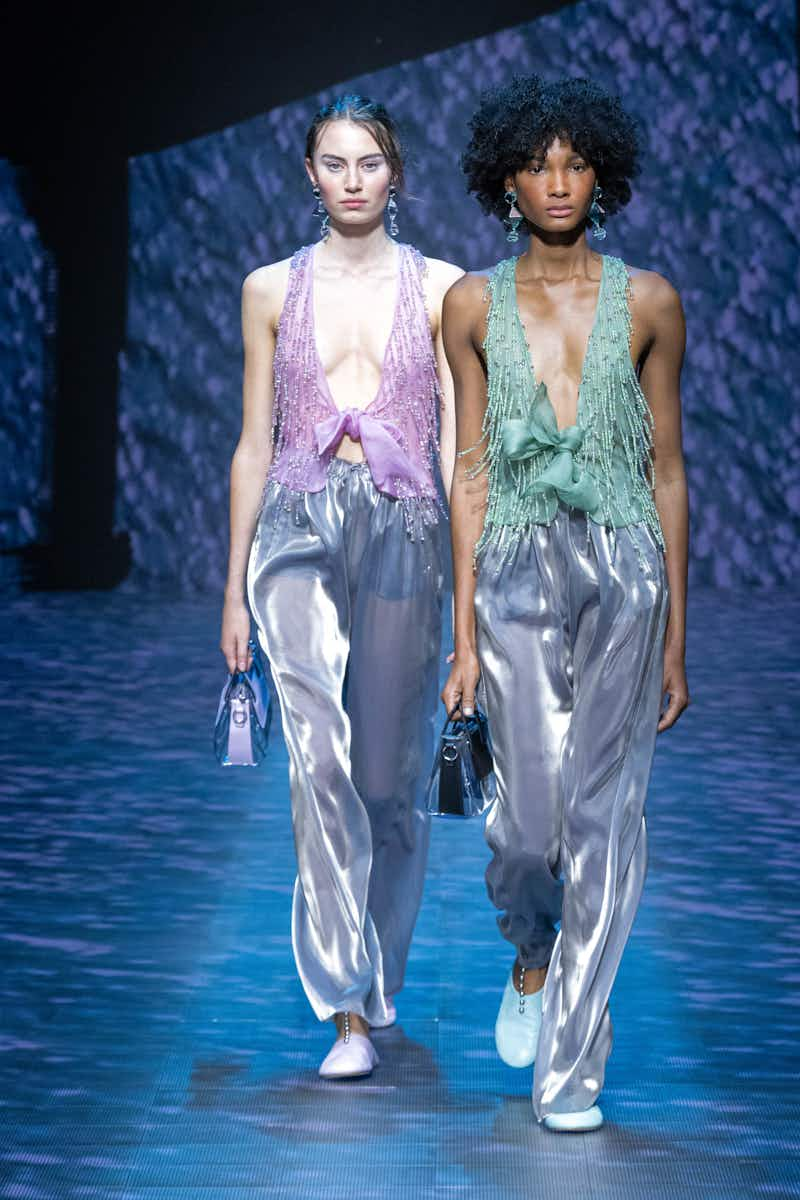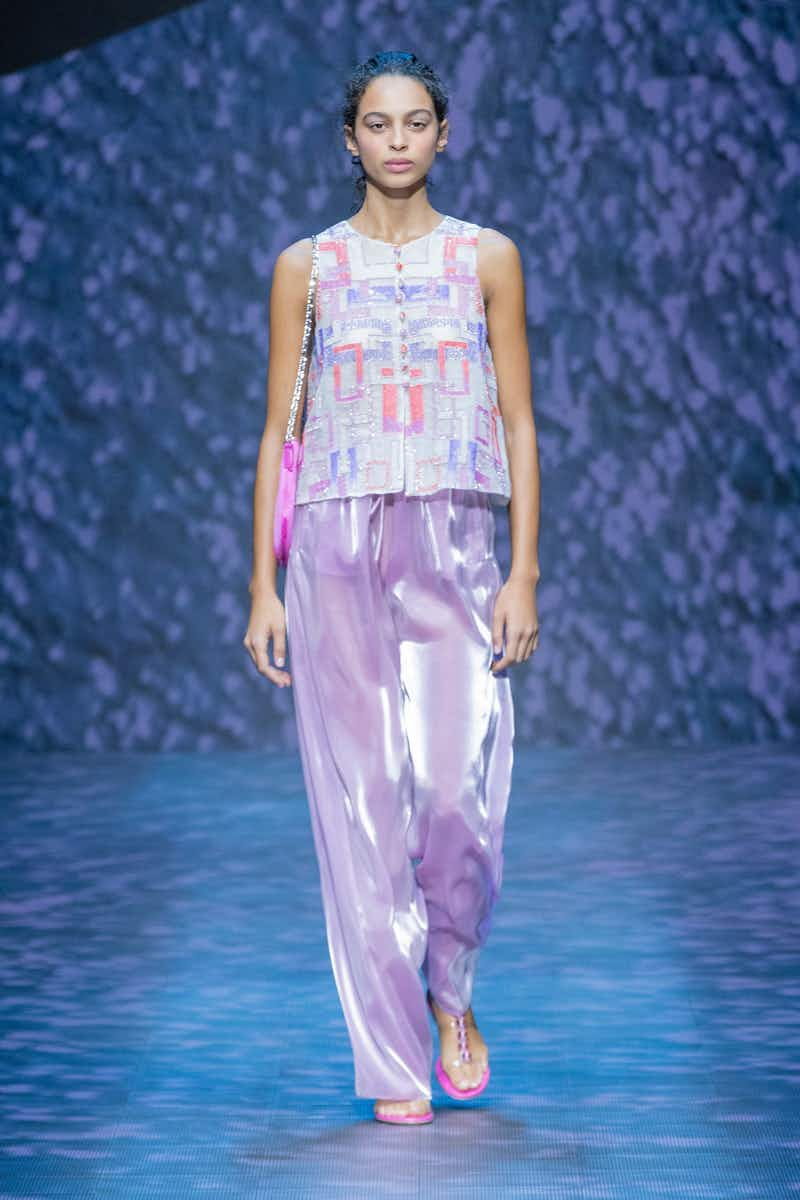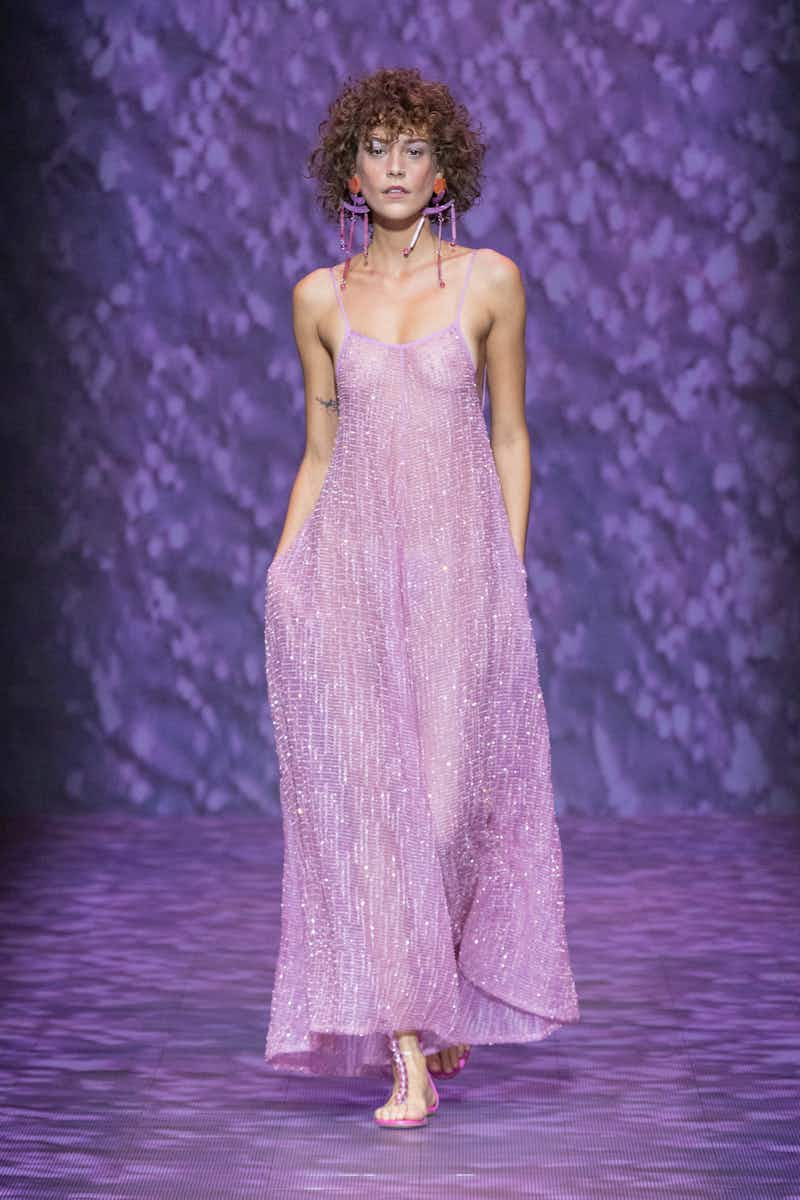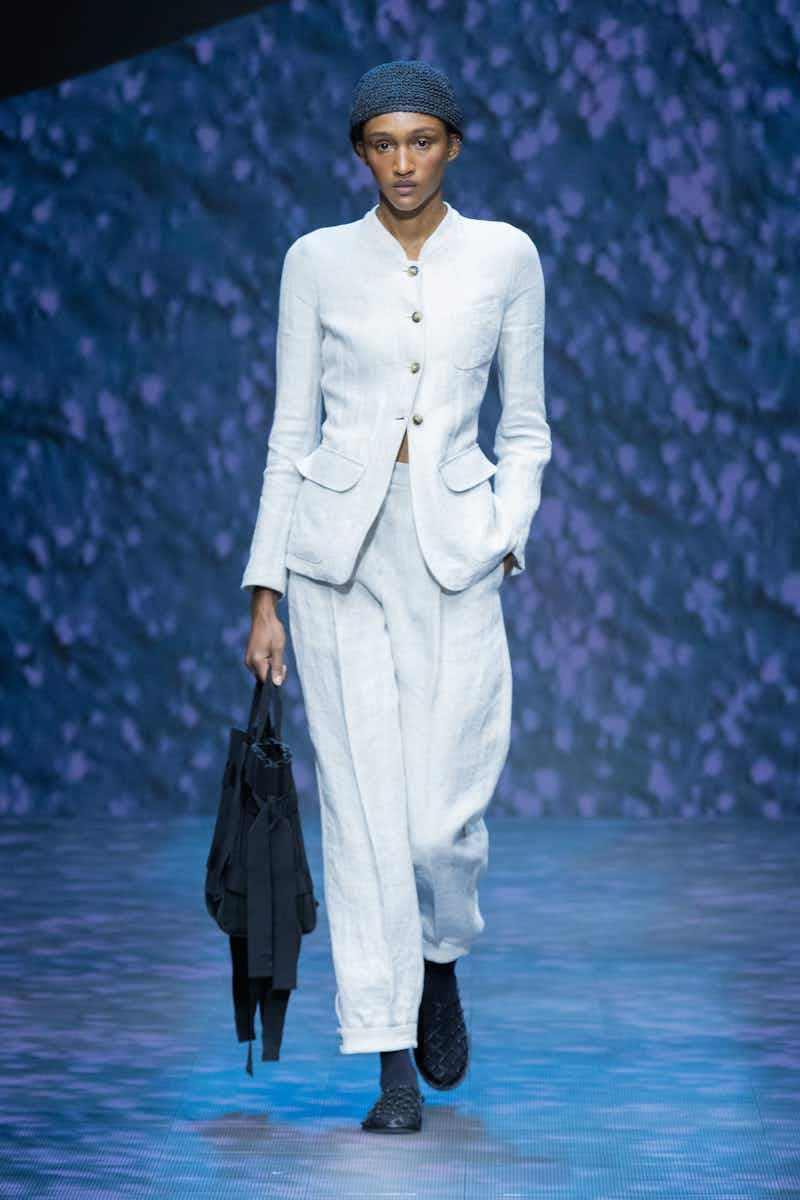 You can bet a pretty penny that, even in the bleakest of times, Jeremy Scott can turn crap to camp. For Moschino's SS23 collection, the designer took the financial hardships felt everywhere from the US to Sri Lanka and turned it into a gleeful, mad-hatter collection featuring inflatables. Because, well, inflation. It's inescapable. In a sea of designers producing optimistic shows in the hopes of escapism, Scott is the ringleader – and this is one of his most whip-smart collections yet. Through halter-neck evening gowns, sequinned party dresses and striped suits, Scott playfully interspersed inflatable ducks, dolphins and bows for a charismatic collection that left us feeling all sorts of giddy. ('Til we got the latest news notification. Dammit.) TJ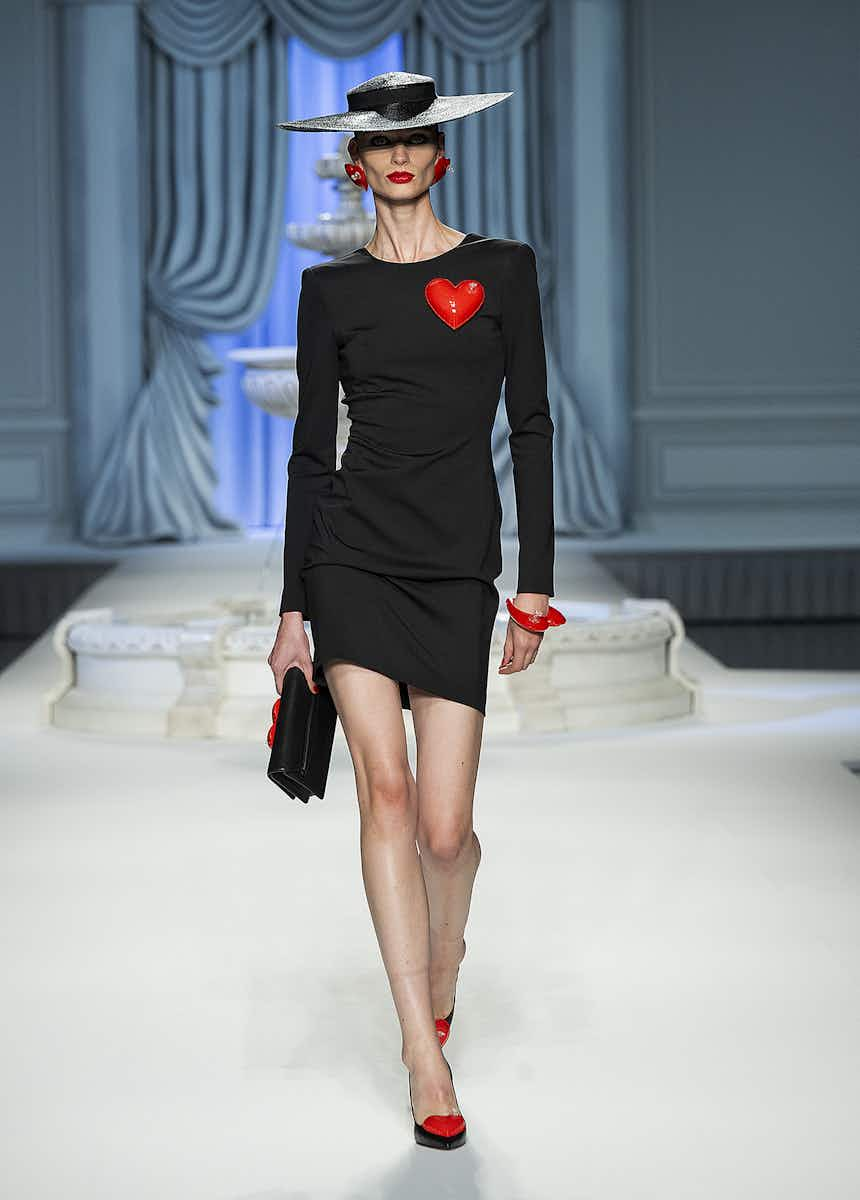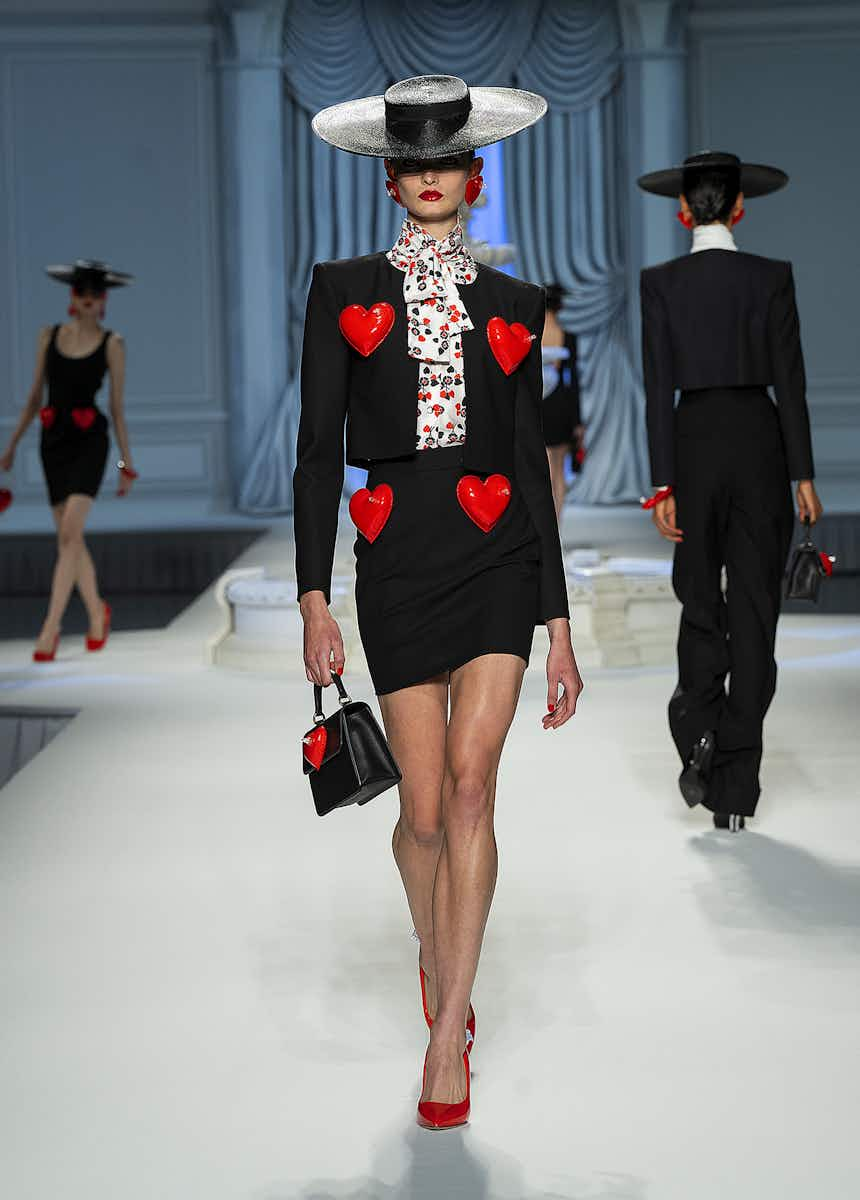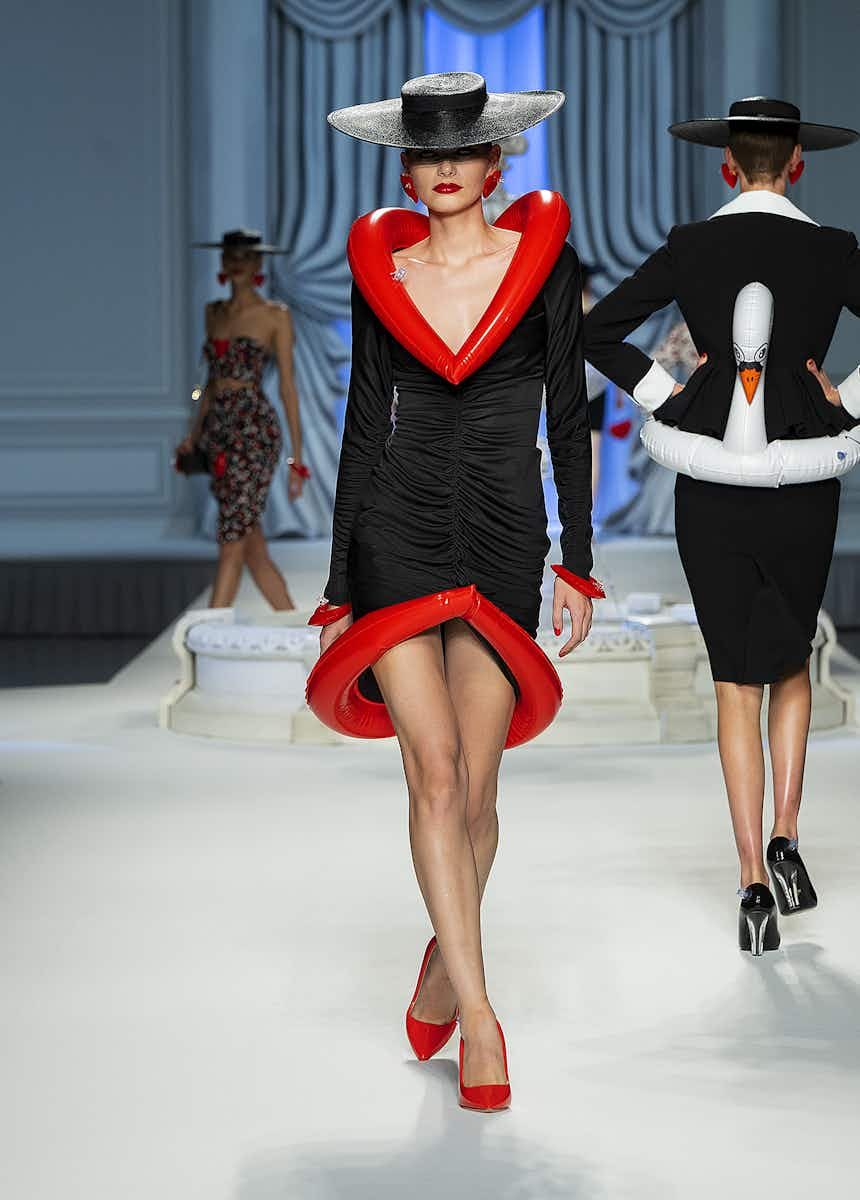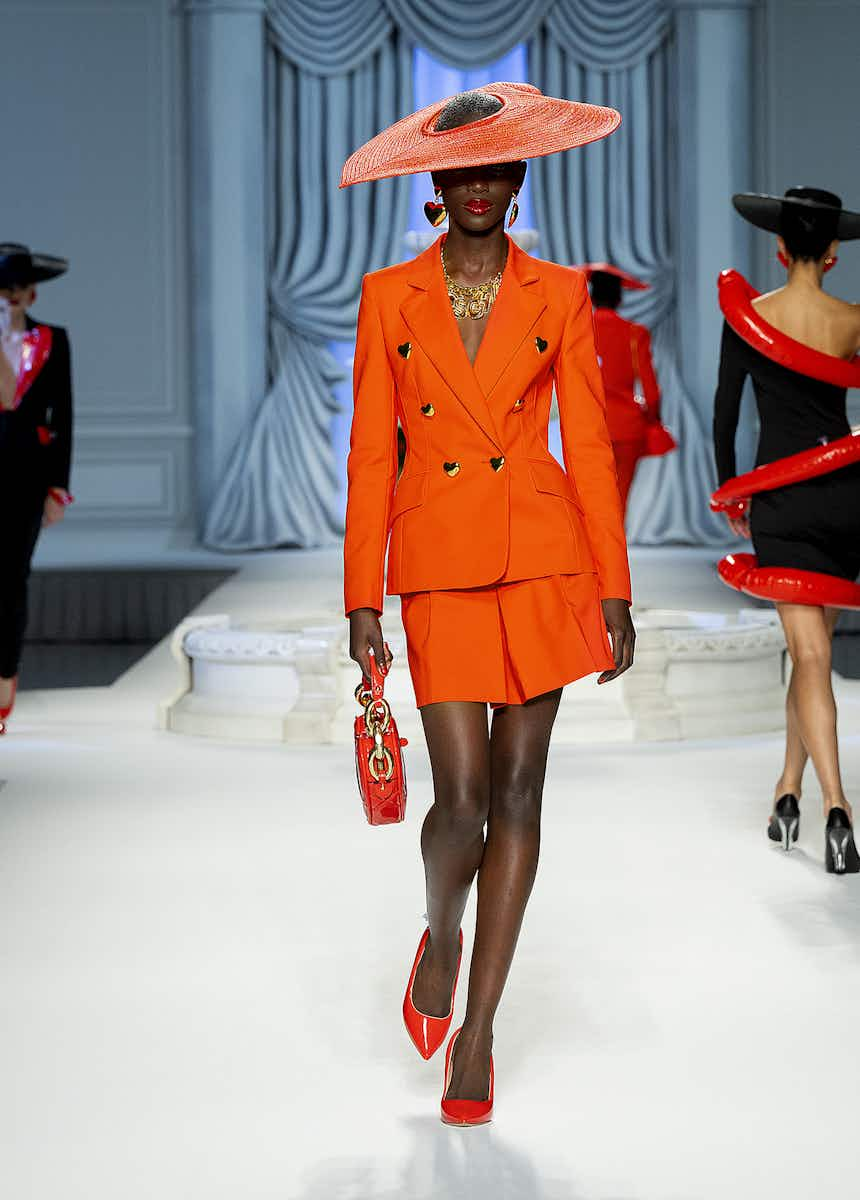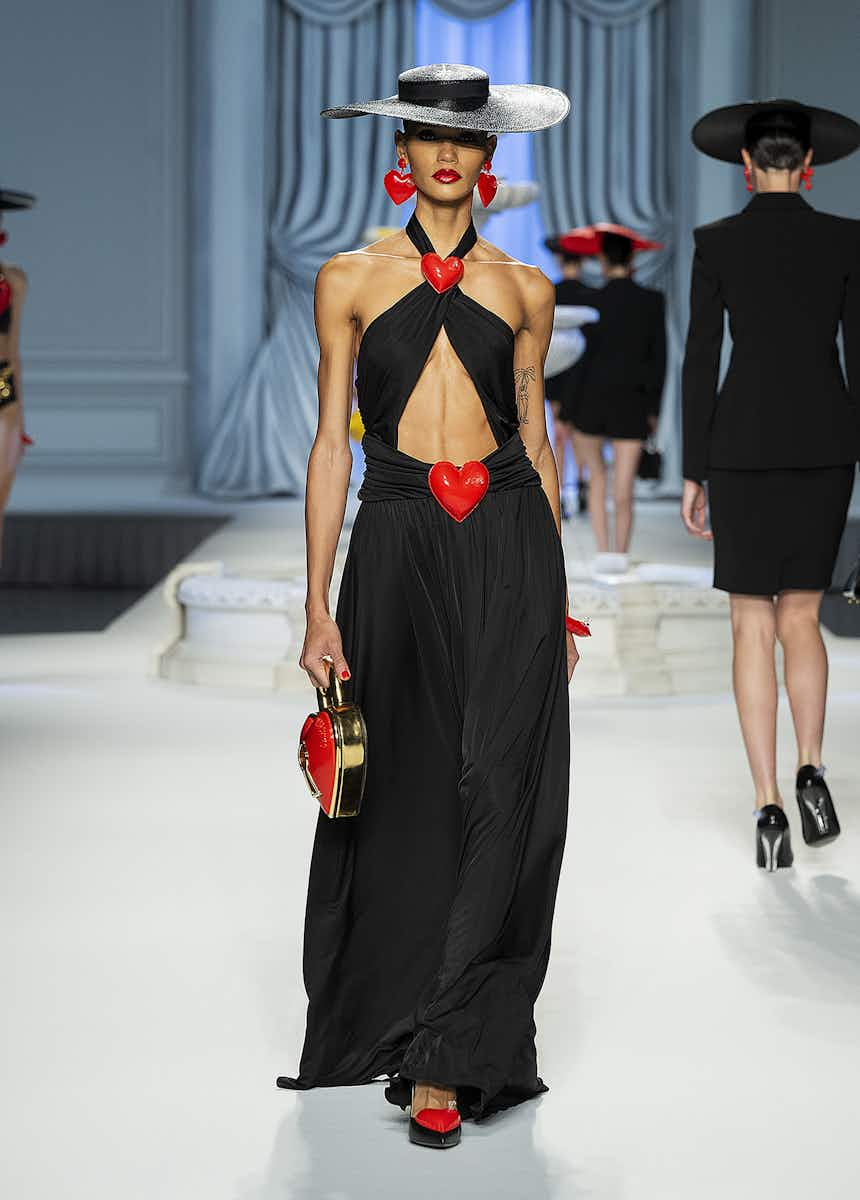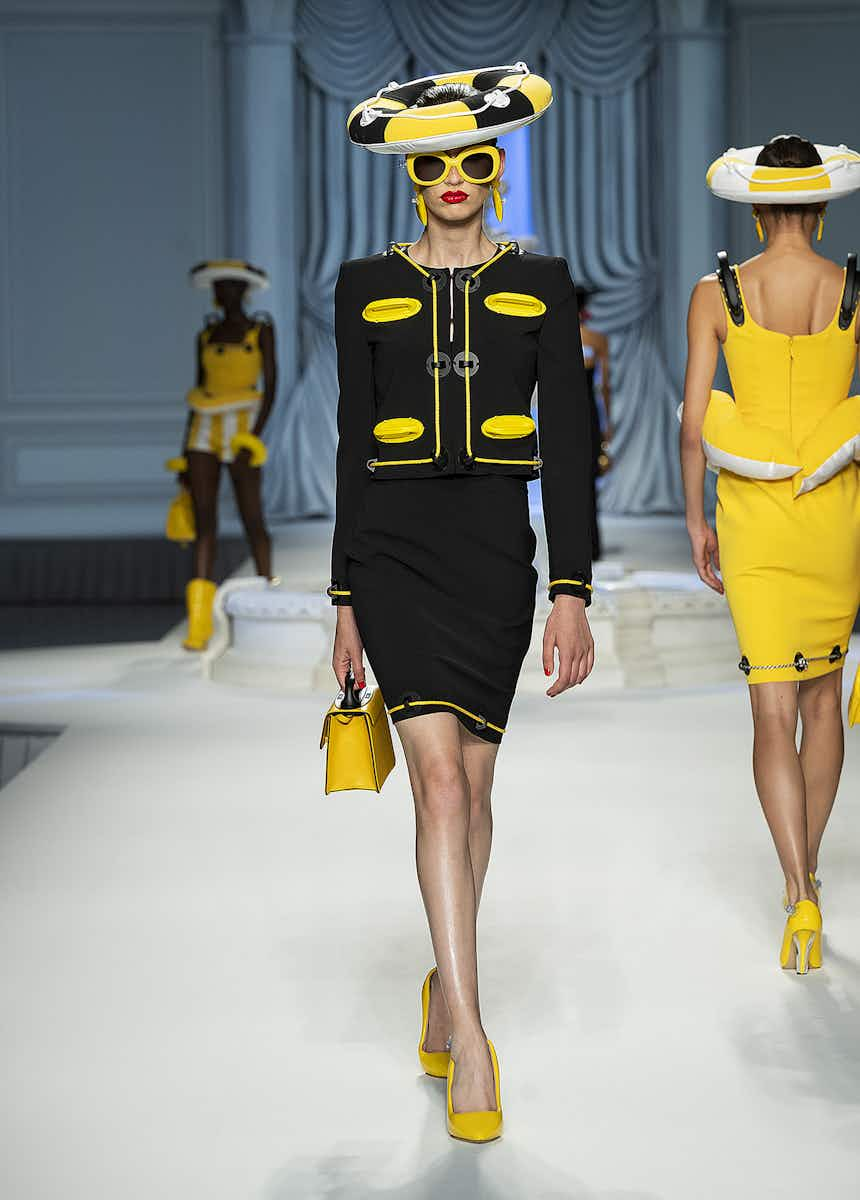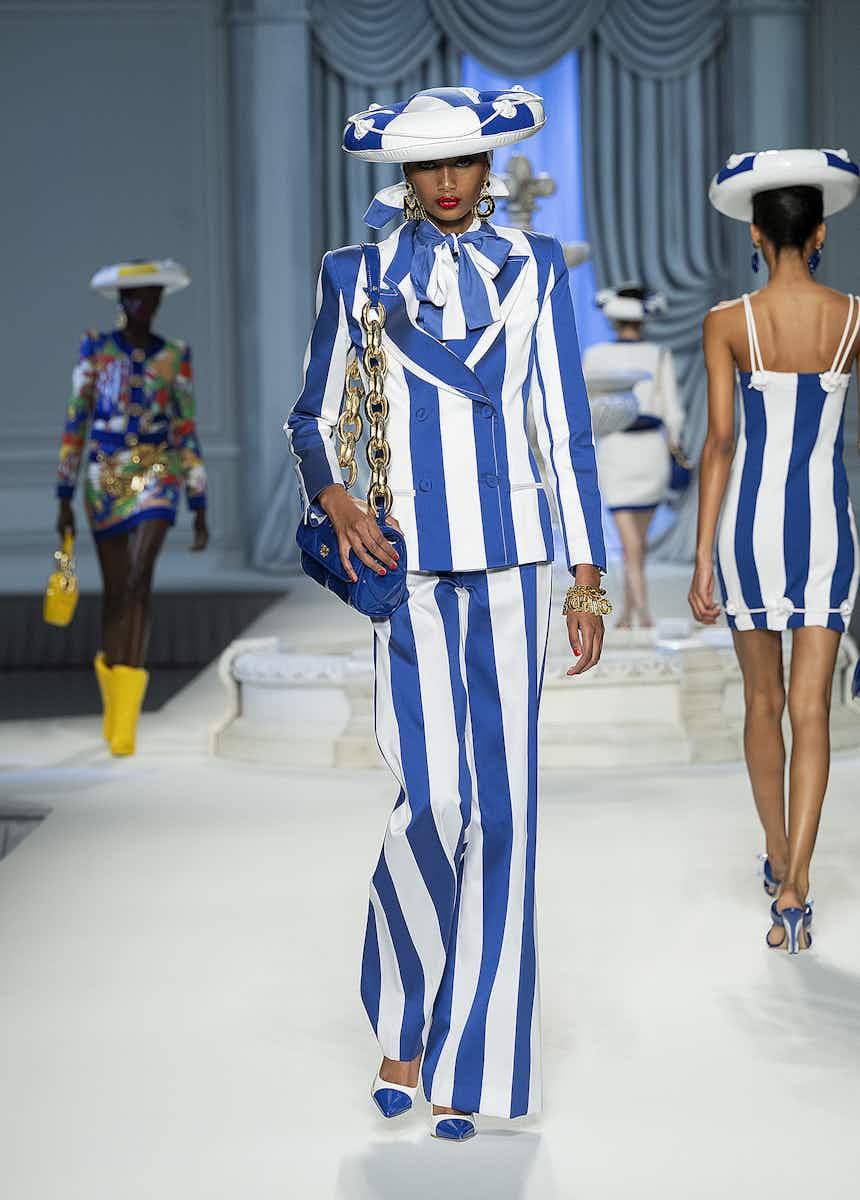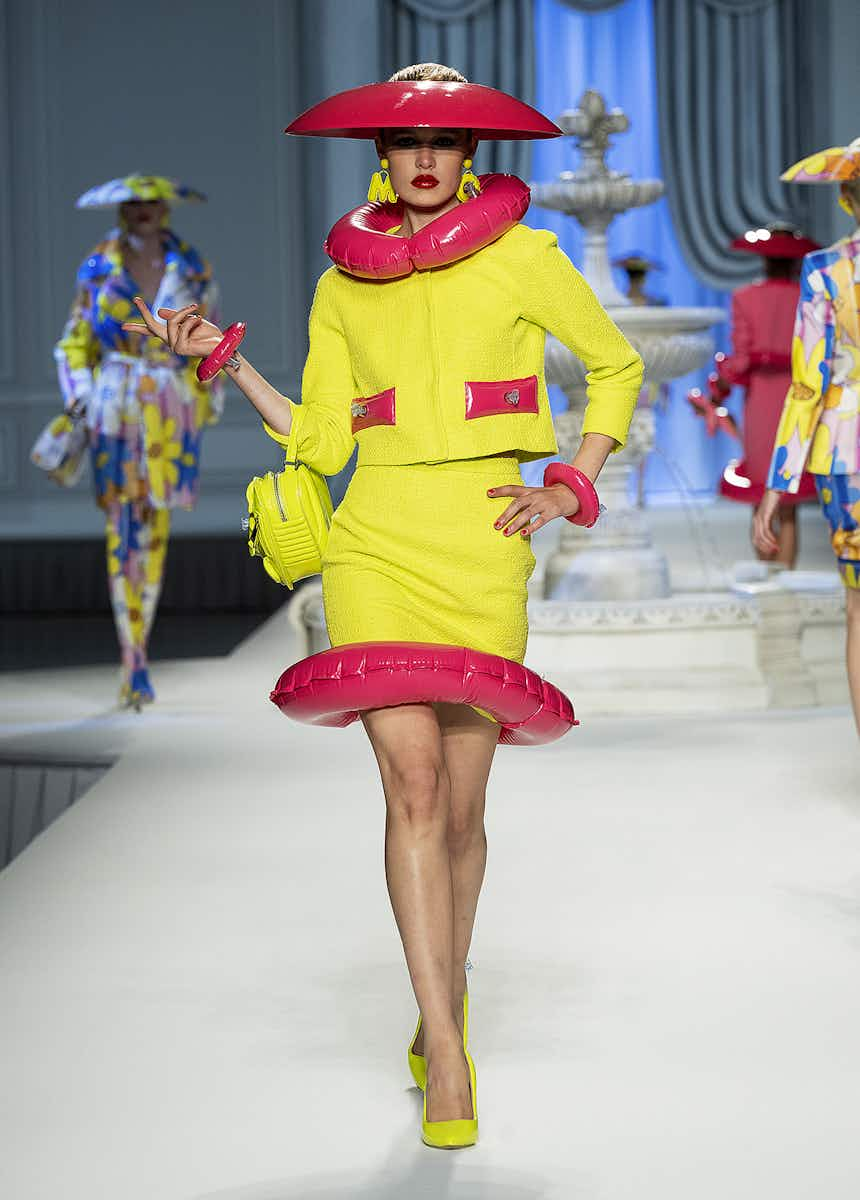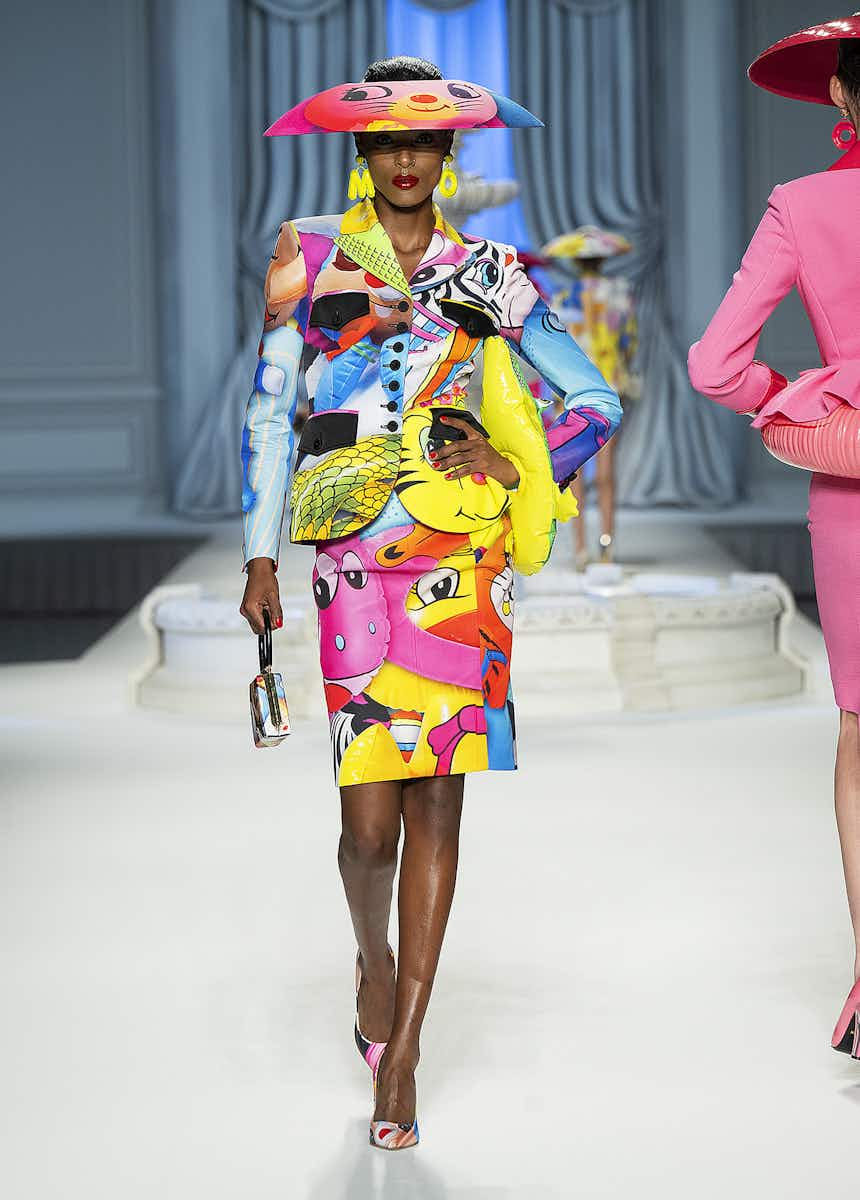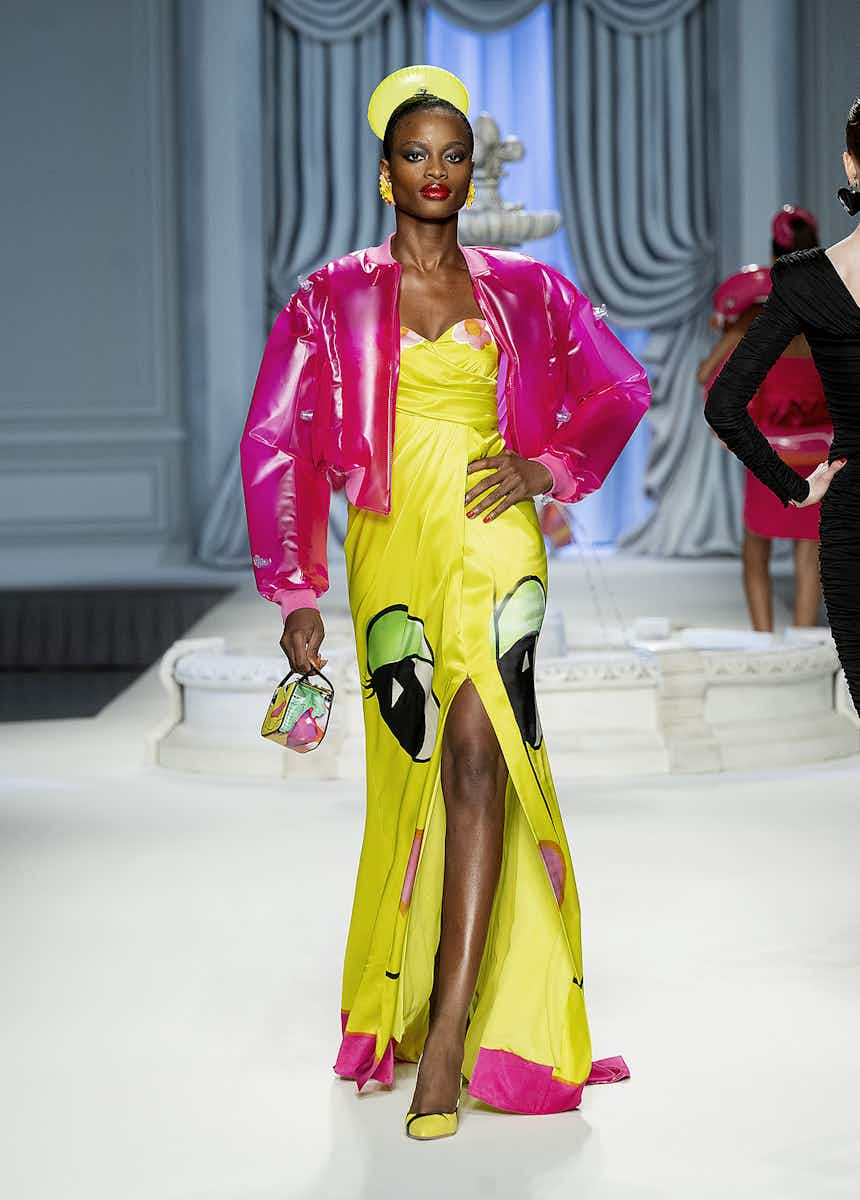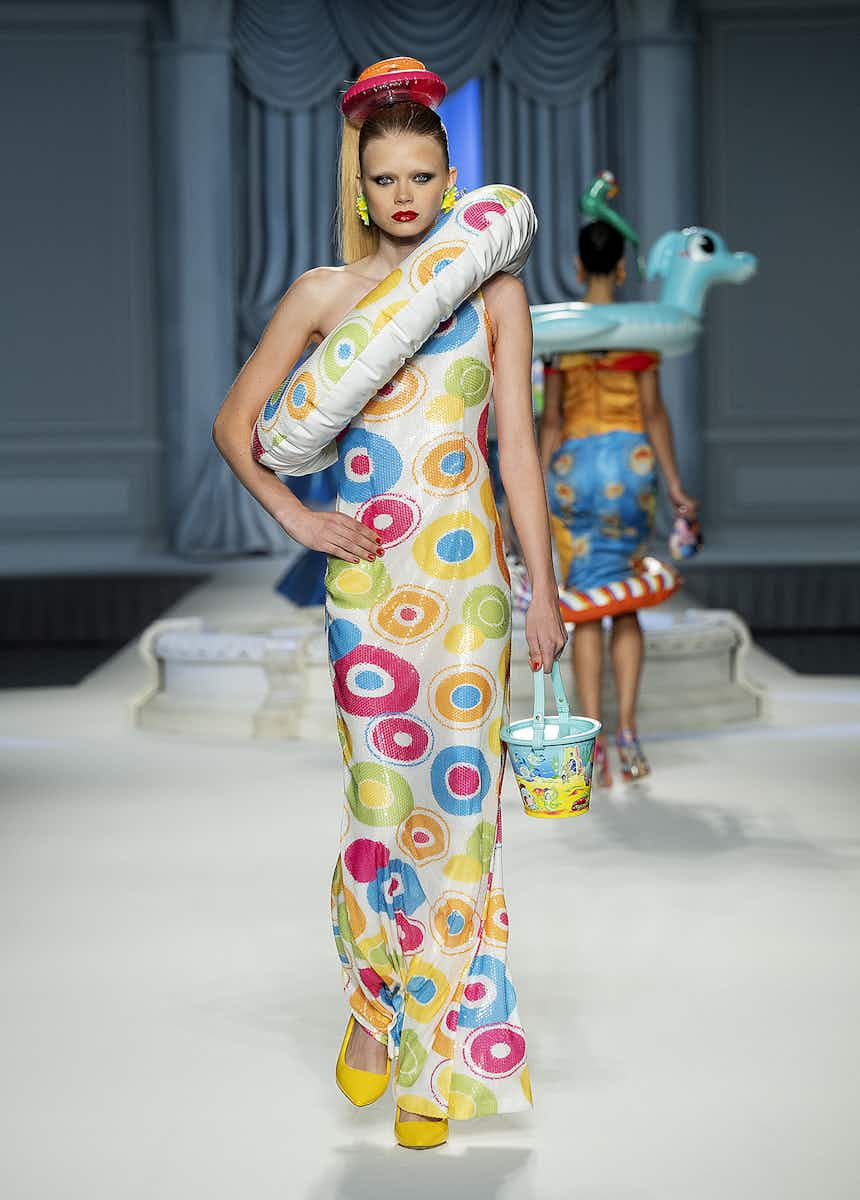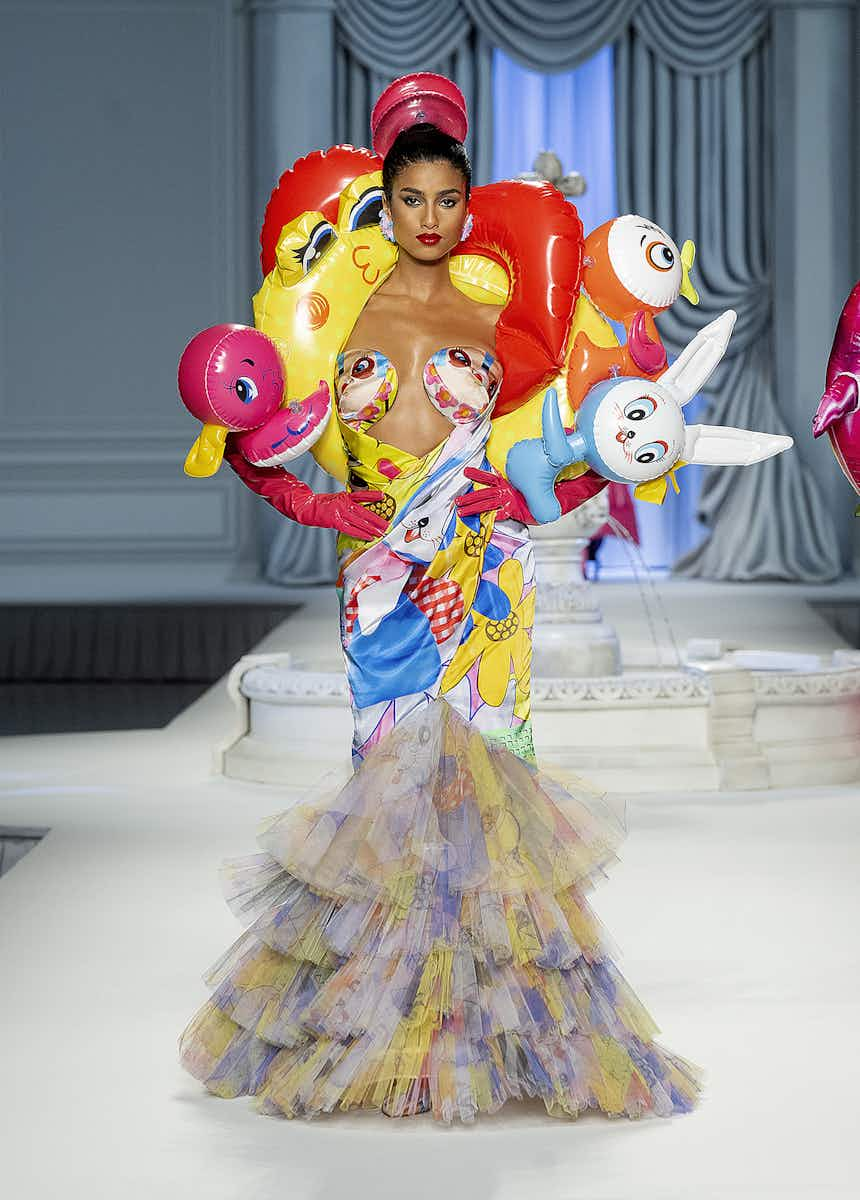 This season, Dean and Dan Caten retreated to a coastal getaway for DSquared2's SS23 collection. In a welcomed moment of laid-back calm, the co-creative directors made several playful nods to days spent at the beach, with references to rolling waves in translucent blue fabrics, Carrie Bradshaw-style Bermuda board shorts, tiny bikini tops and sarong-like dresses pieced together by knotted fabric. It carried on the breezy theme of June's menswear collection, which collaborated with The Bob Marley Foundation.But this is still DSquared2's most playful collection in a while, with unconventional layering – board shorts over shimmering sequin trousers, two shirts layered over one another and mini skirts over pedal pushers – feeling oddly, optimistically liberating. TJ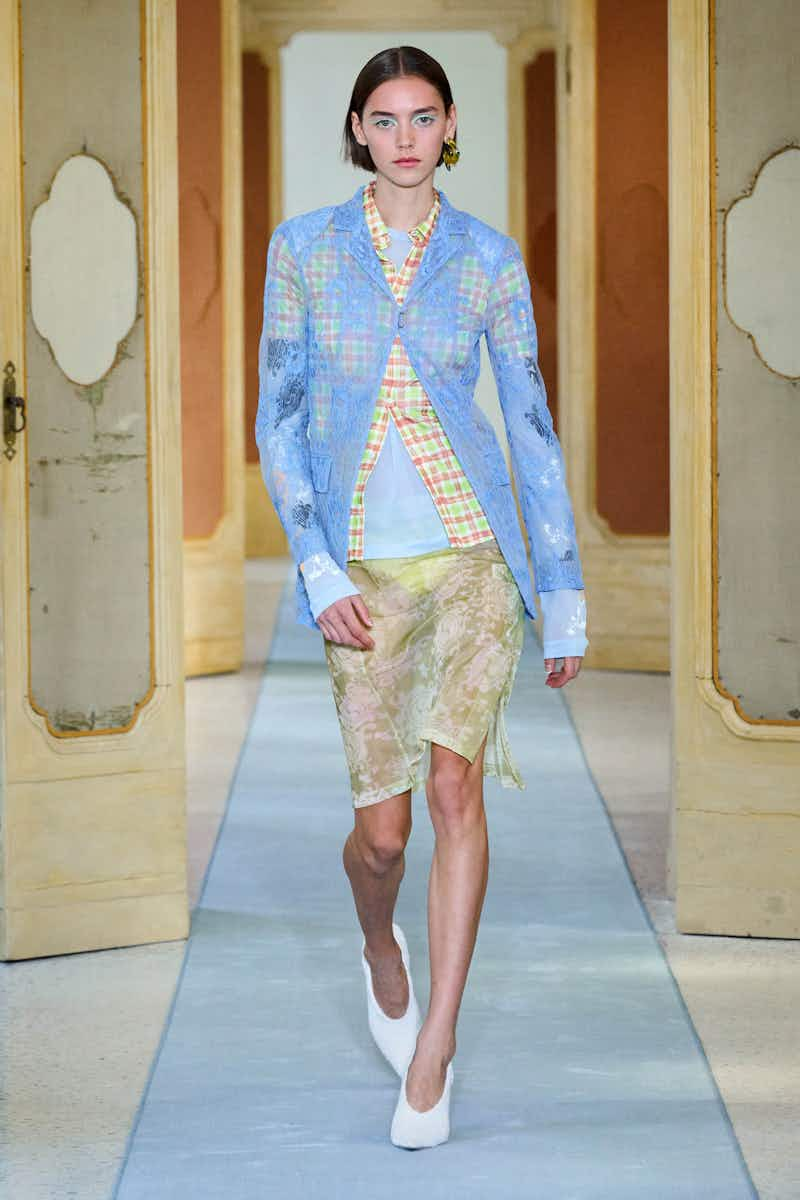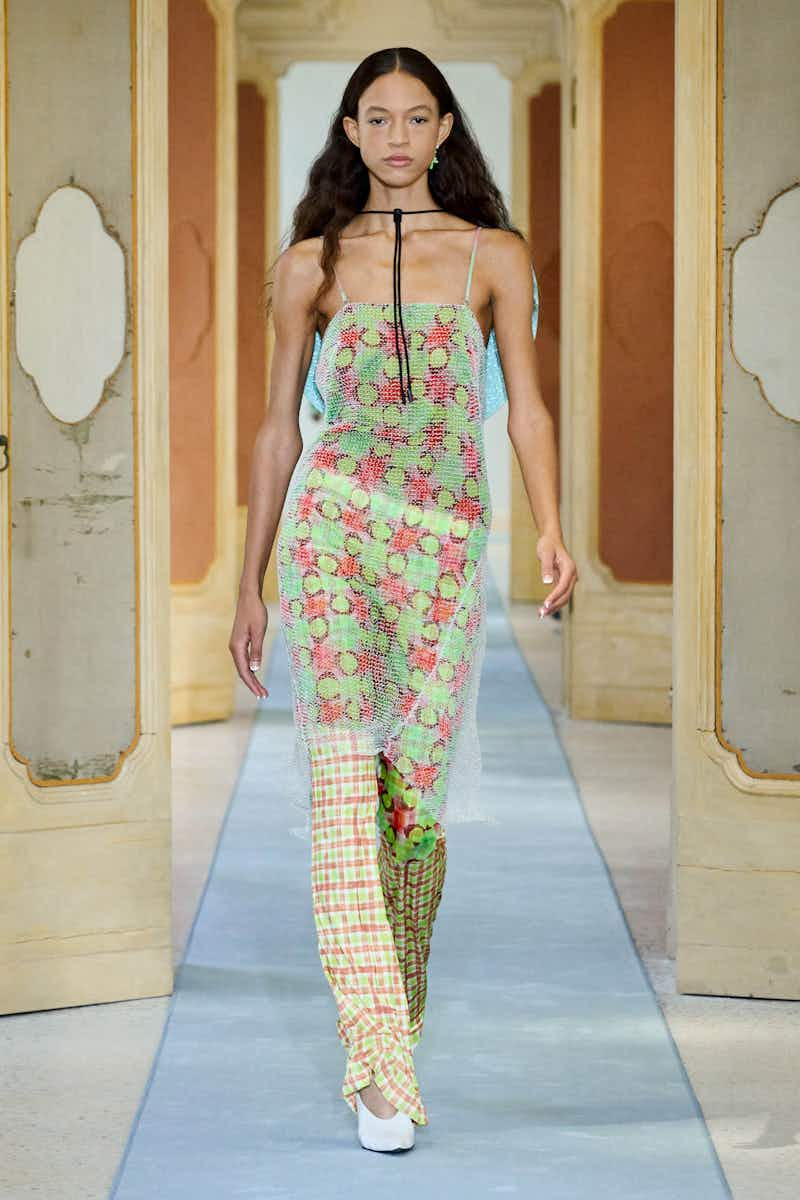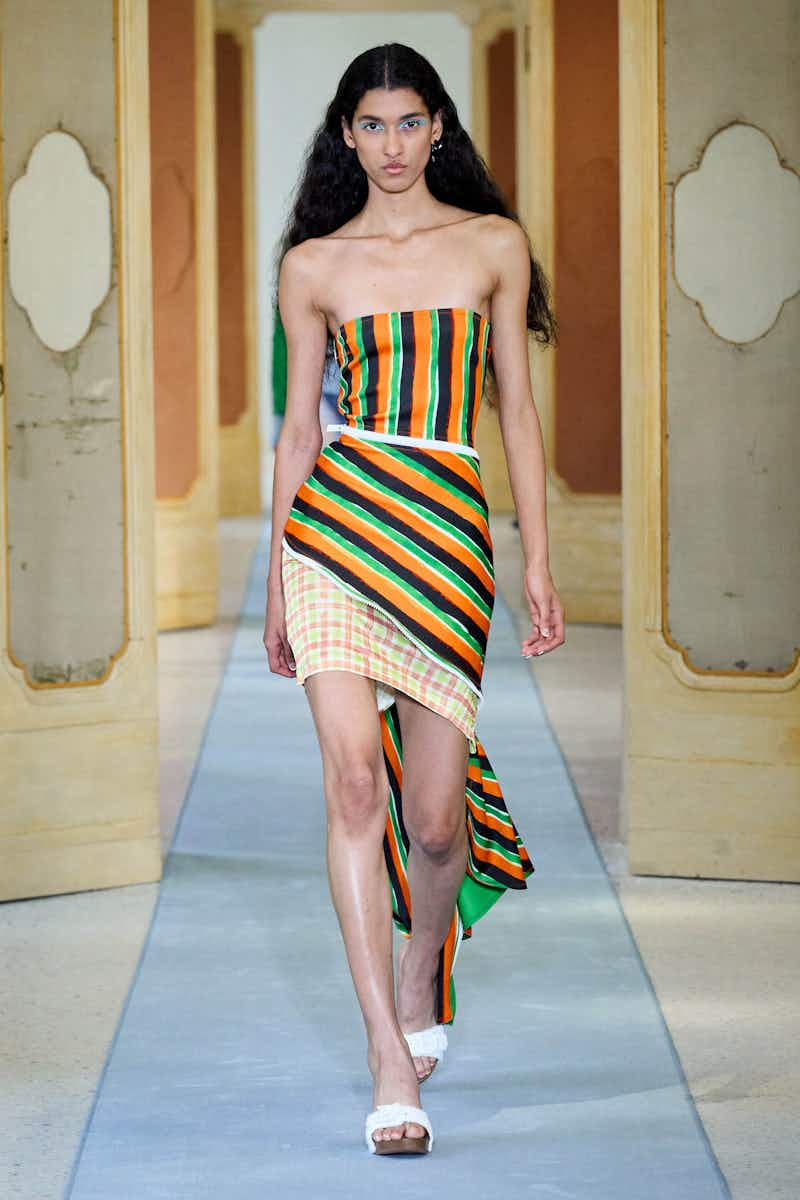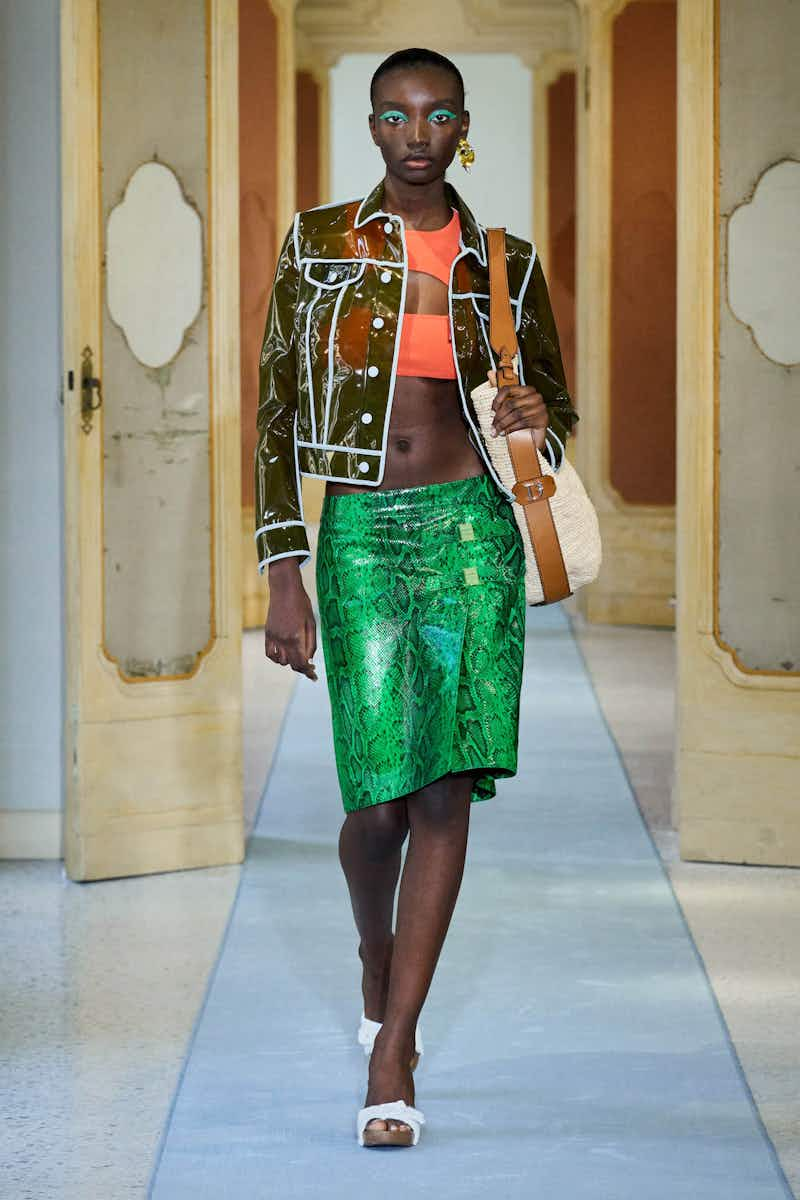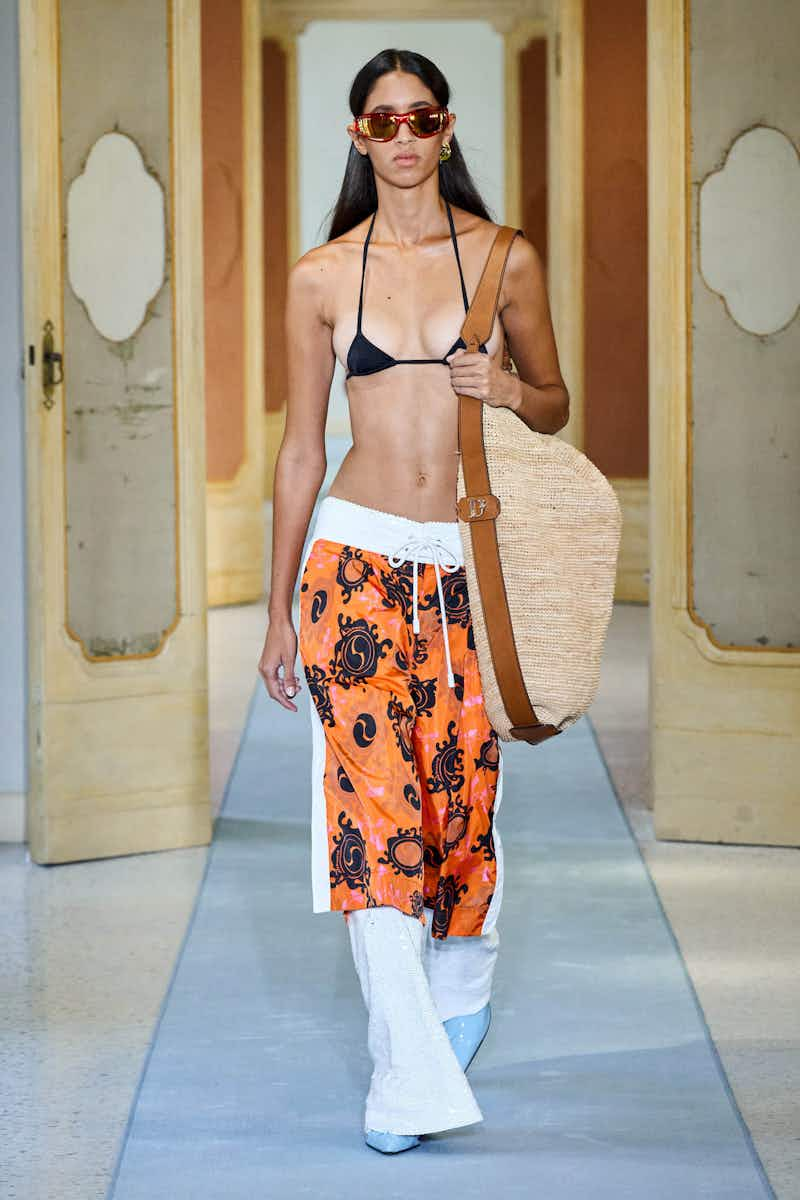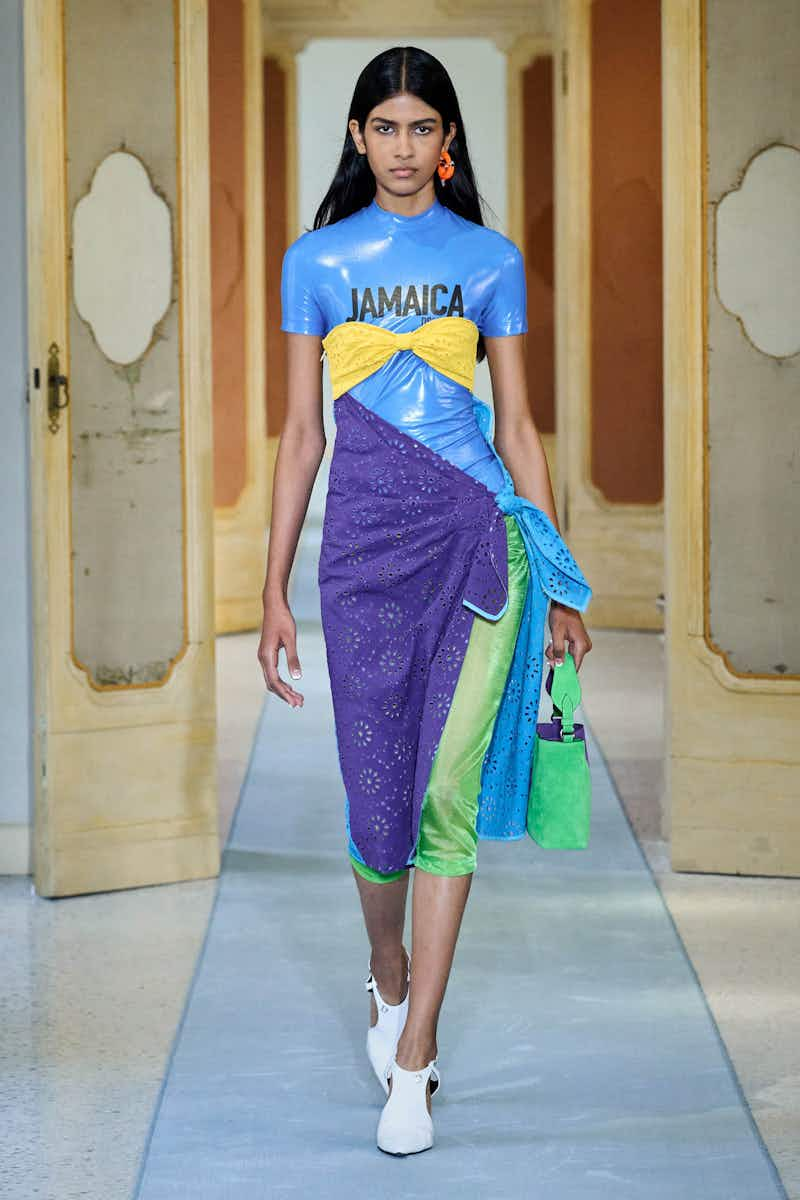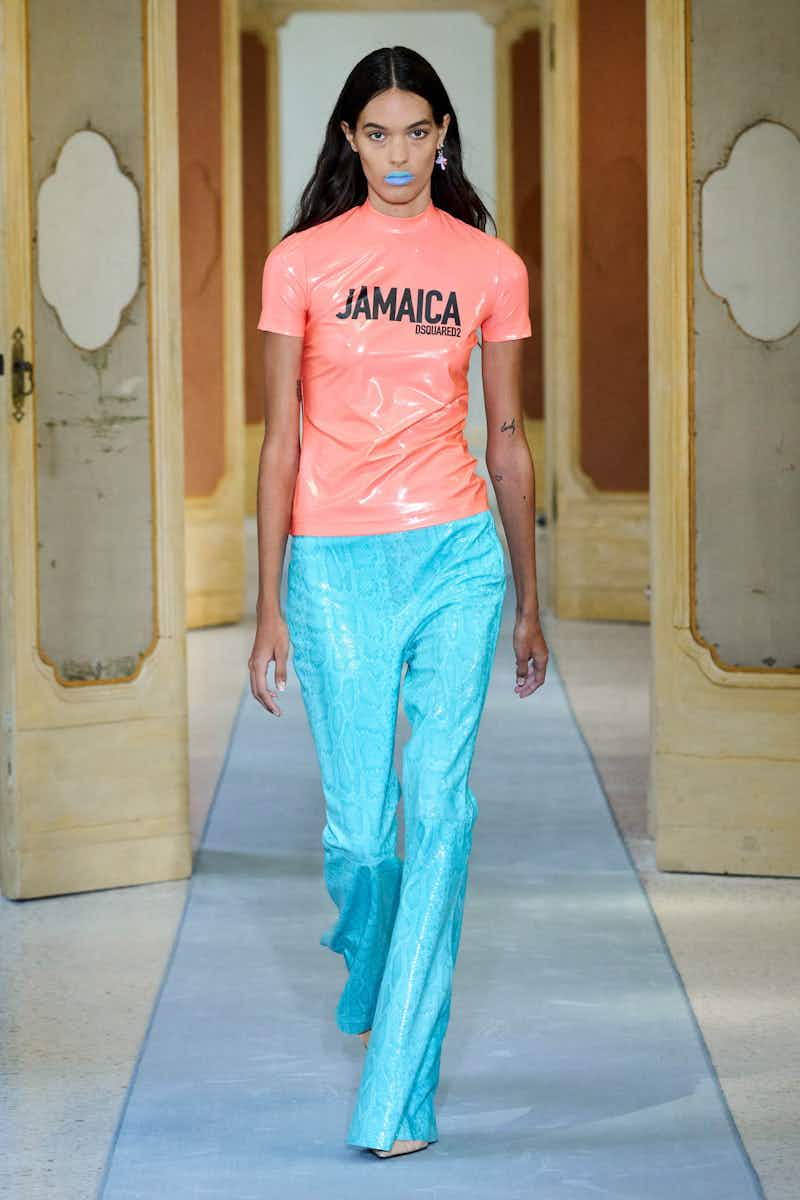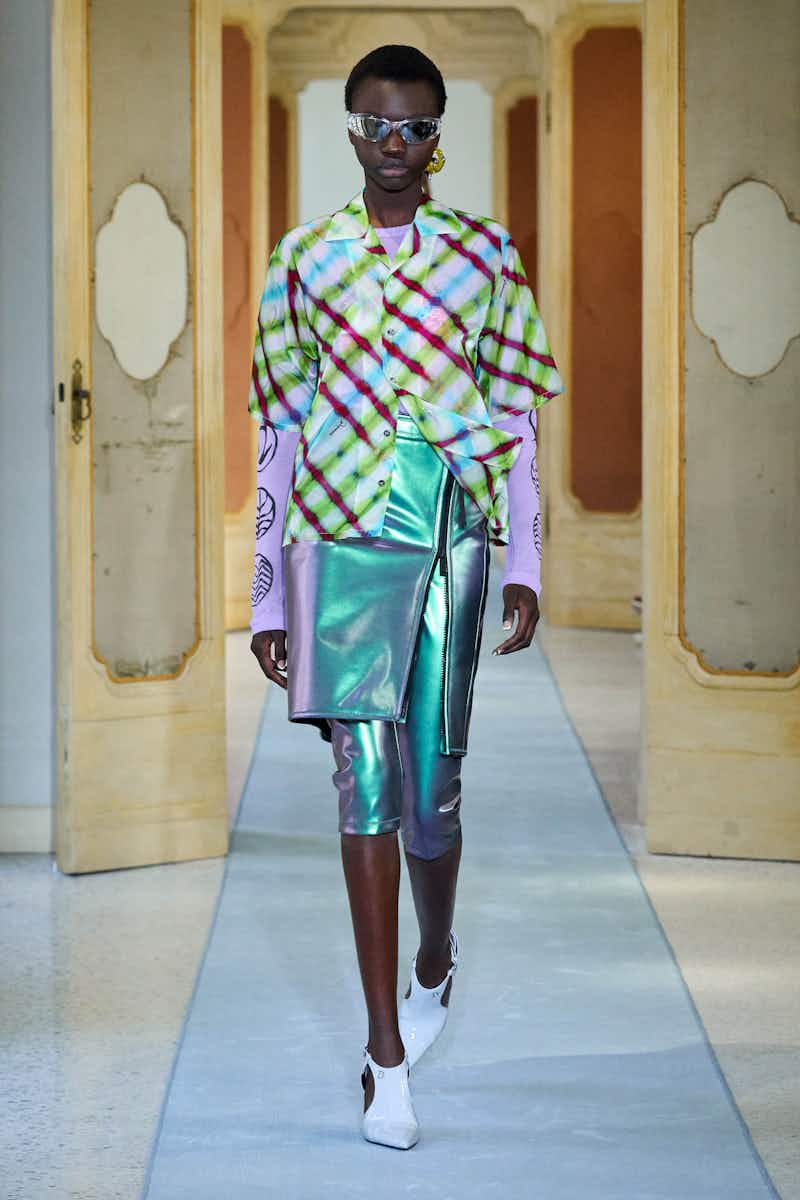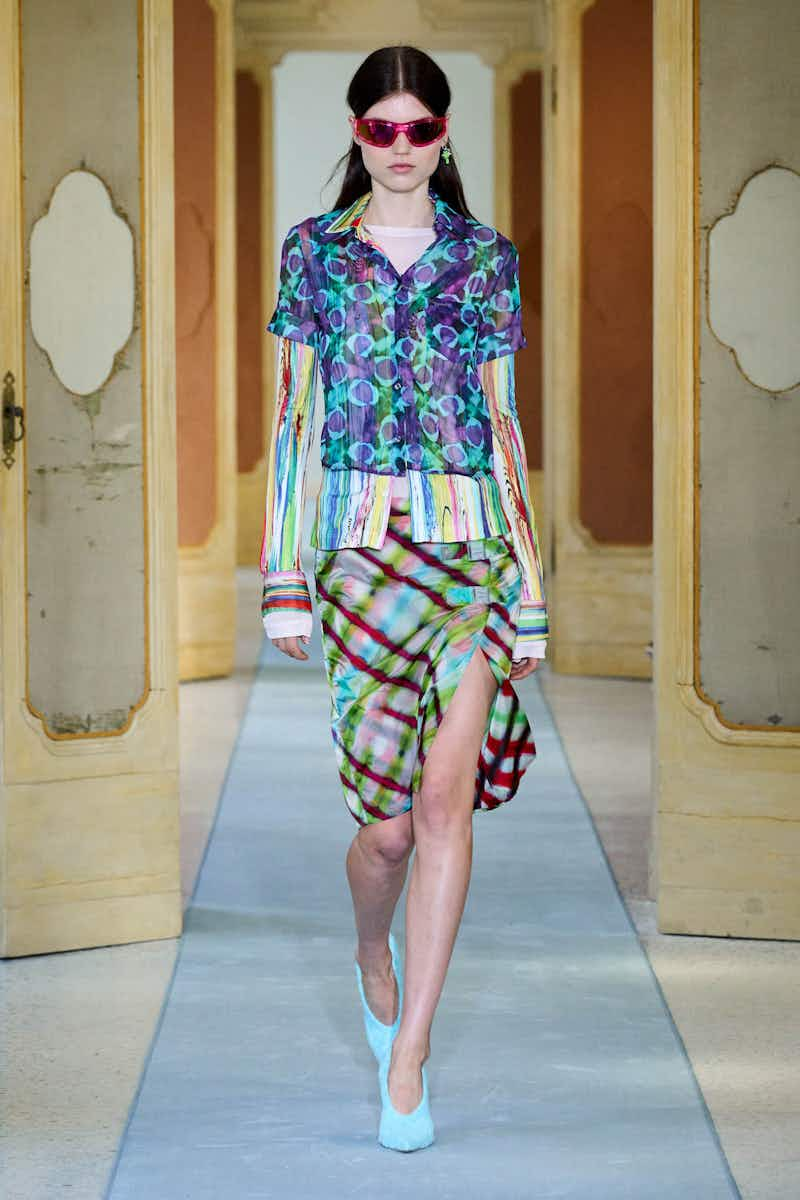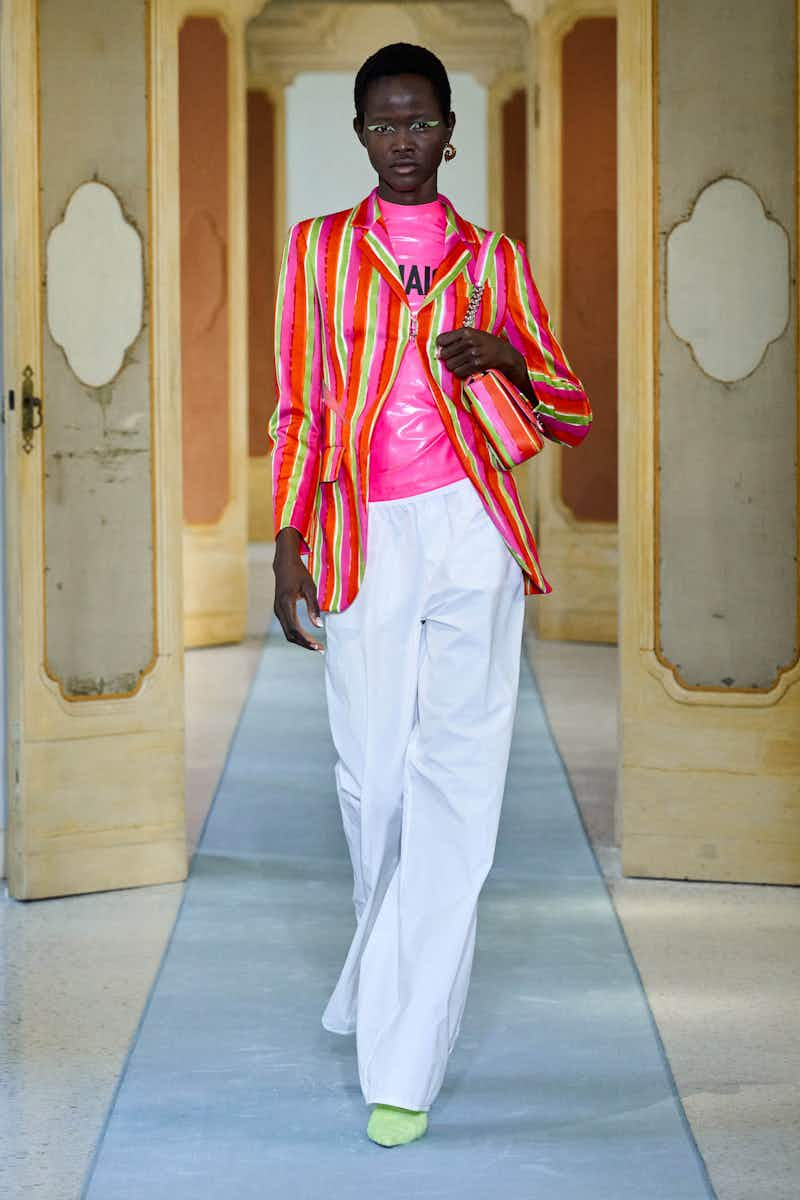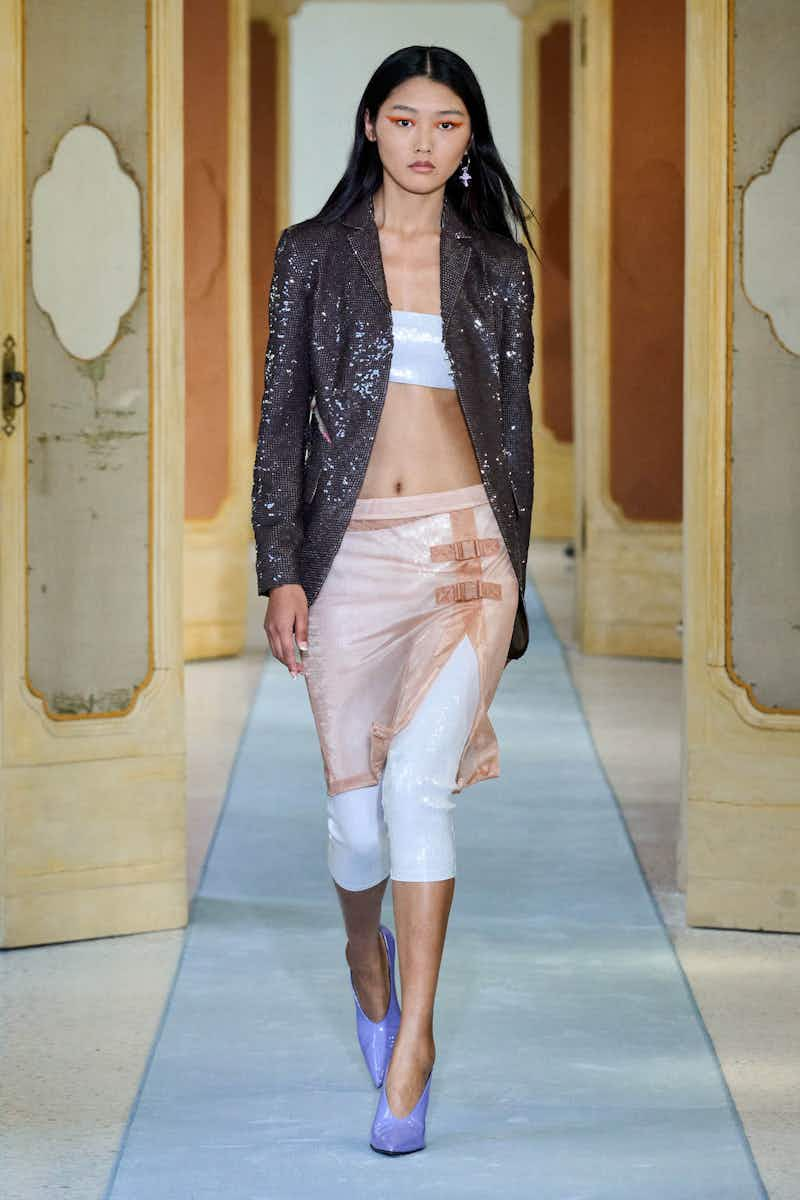 Prada has long perfected a balancing act: pretty and rough, delicate and tough, conventional and sensual. For SS23, Miuccia Prada and Raf Simons paired the hurried rush of the working world with tender domesticity. This was a hauntingly rich collection, one that used subliminal messaging to transform our busy lives into conceptual forms – as liberating as it was brutally honest.

The collection, titled Touch of Crude, kicked off with clean, uncomplicated tailored pieces, notably a grey one-piece shirt and trouser – Prada's latest take on practicality. What could be more functional than a time-saving all-in-one? But within the simplicity of blazers, round-neck knits and mid-length skirts were exposed creases in the fabric; traces of life that quietly observe everyday demands. Legs were tenderly exposed by thigh-high slits, while boxy jackets with large pockets on the front were held shut by models, as if they were rushing to their next appointment. With most looks sent down the runway with bags large enough to fit more than just the daily essentials, Prada and Simons' vision was steeped in reality.

​"The clothes are about simplicity, with no unnecessary complication. Politically, theoretically, aesthetically, we are drawn to these notions again and again," Prada said in the show notes. Simons added: ​"We liked the sense of fragility, the gestures of error. There was an excitement to that, to the crude. Reflections of life mark the clothes – pieces that have had a life."

But amongst this was romance, the kind that exists in the confines of our homes once we shelter from the outside storm. Almost ghost-like, a delicate barely-blue coat looked like paper, embroidered with lace on its cuffs and across the collarbone. And as the collection progressed, pieces felt increasingly cinematic: a sensual blood red slip, a strapless, frosty grey dress and, one of the more decorative moments, a crepe-like fabric that looked as though acrylic paint had dried over it.

A collection that lingered on fleeting moments, Miuccia Prada and Raf Simons embraced simple, everyday human gestures and made them otherworldly. TJ

Sleek, sporty looks collided with laidback loungewear at Japanese athletic brand Onitsuka Tiger. The show confirmed that wearing headphones as a necklace does count as accessorising, especially when paired with the simple white vest, a sexy wardrobe staple for some seasons now. A parade of minimalist colour blocking ​'fits in whites, greens, blacks and yellows put comfort first, while utility detailing and oversized cascading silhouettes merged fashion and function.

The brighter looks were like lessons in dopamine dressing. Mood-boosting sunshine yellow and lime green tracksuits will come in handy when the SAD hits. But for those who prefer to stick to a monochromatic colour scheme, there were plenty of oversized T‑shirts and hoodies to snuggle up in, too. If lockdown taught us anything, it's the importance of quality athleisure-wear and for SS23, Onitsuka Tiger offered just that. SW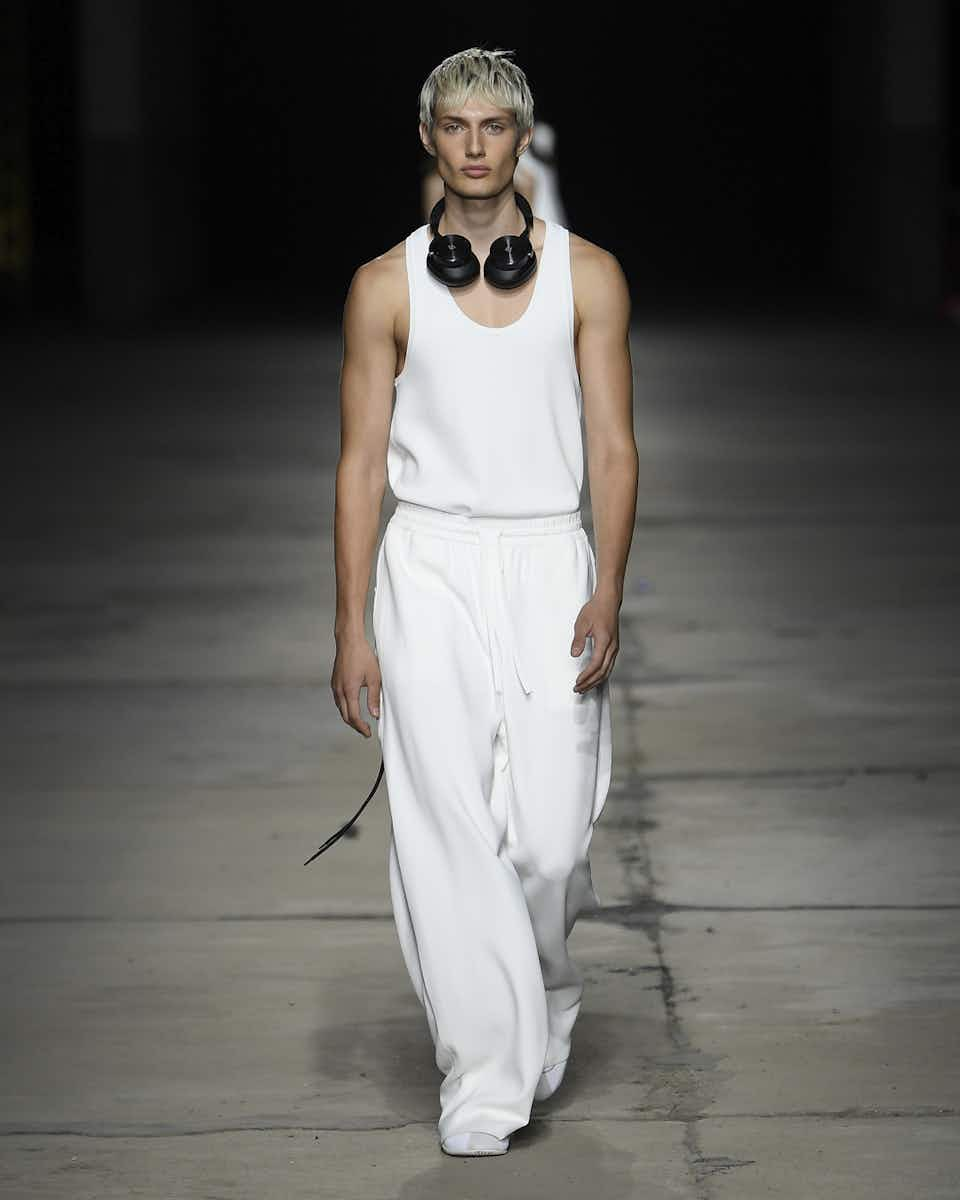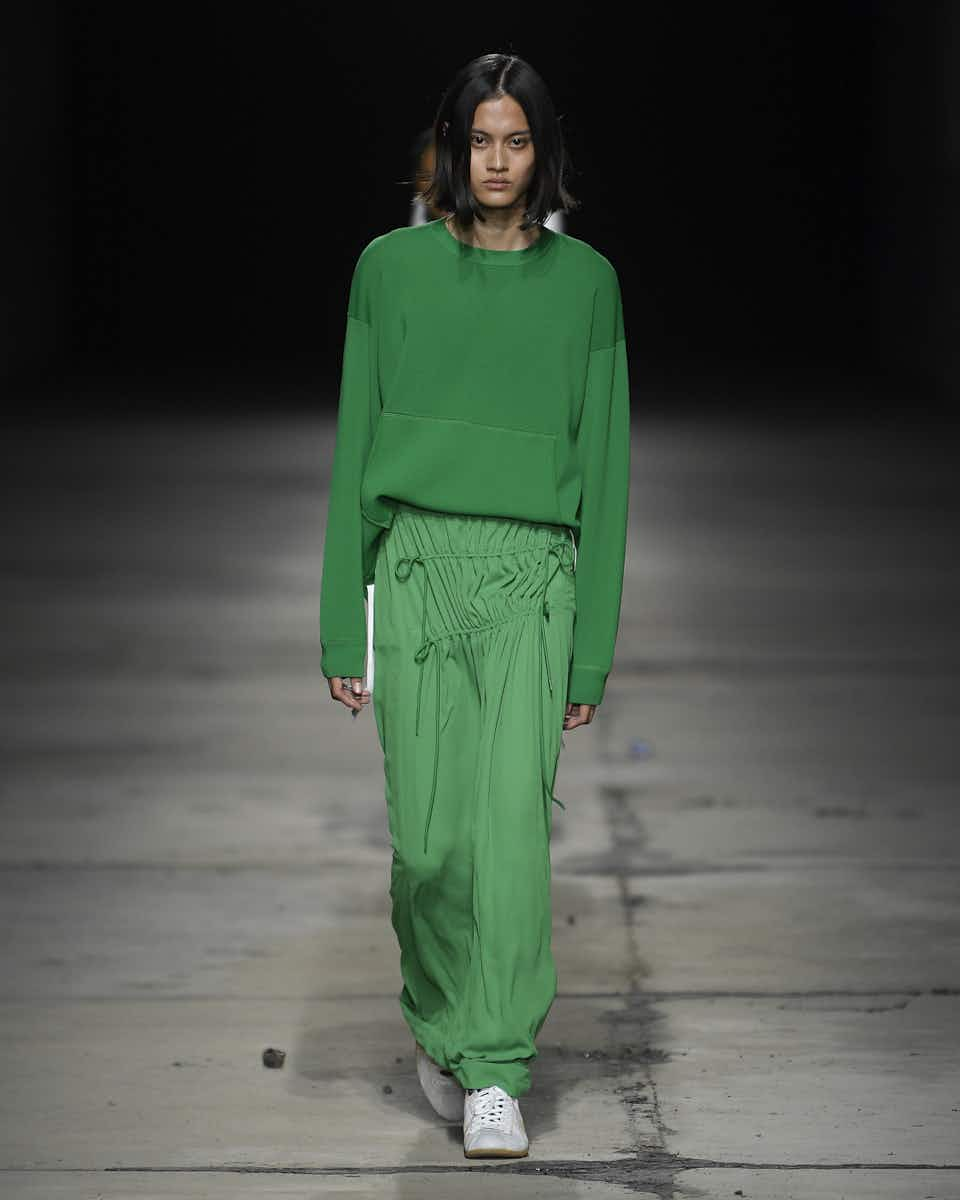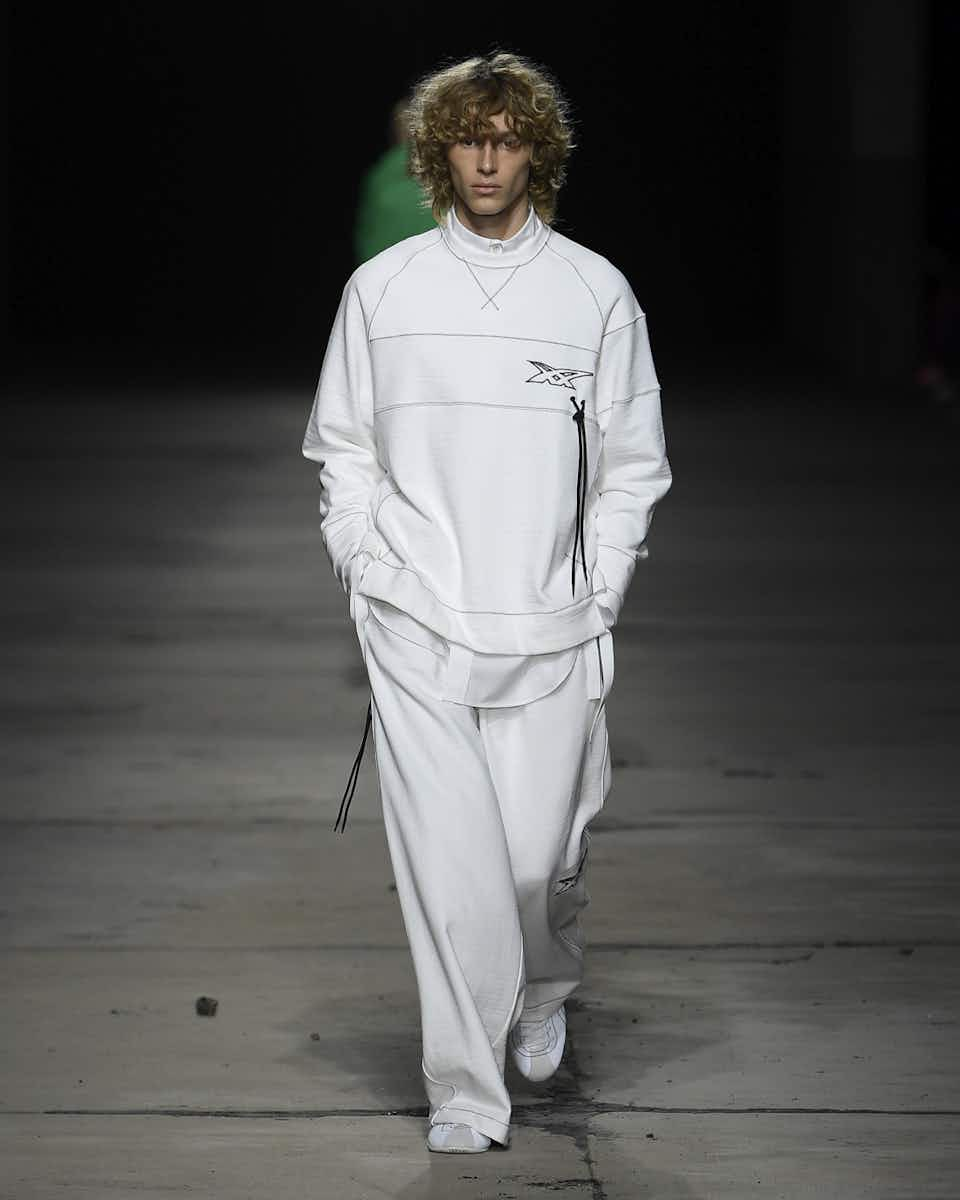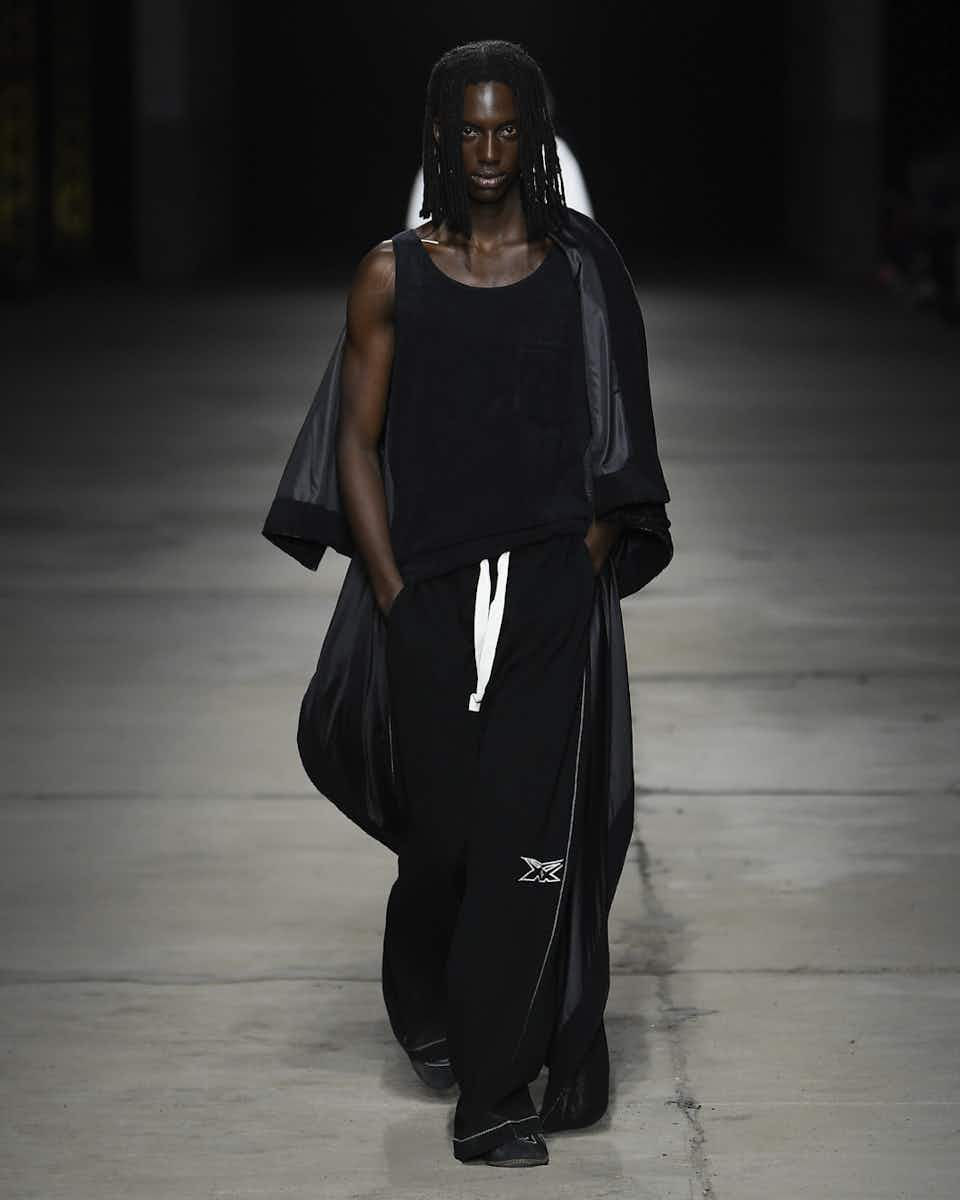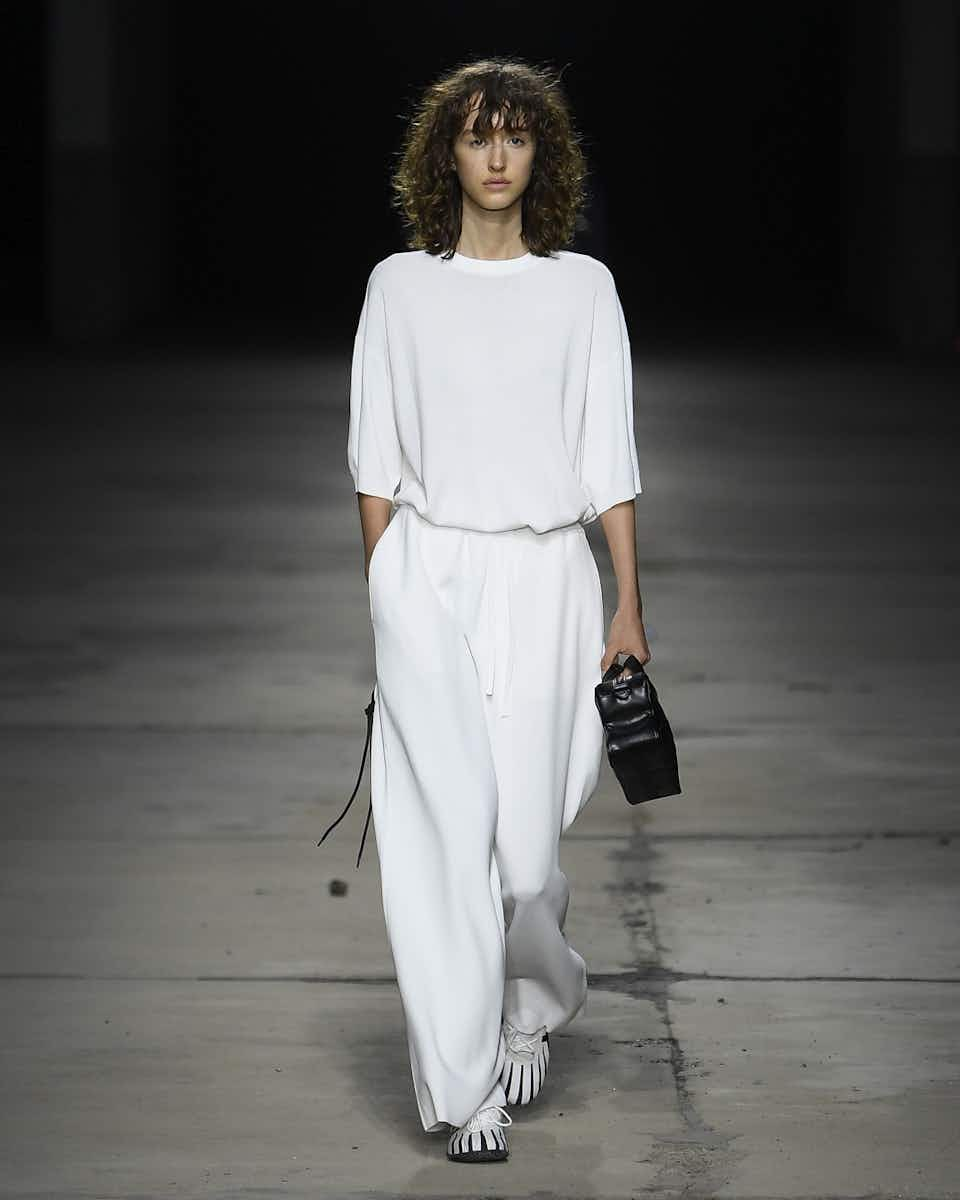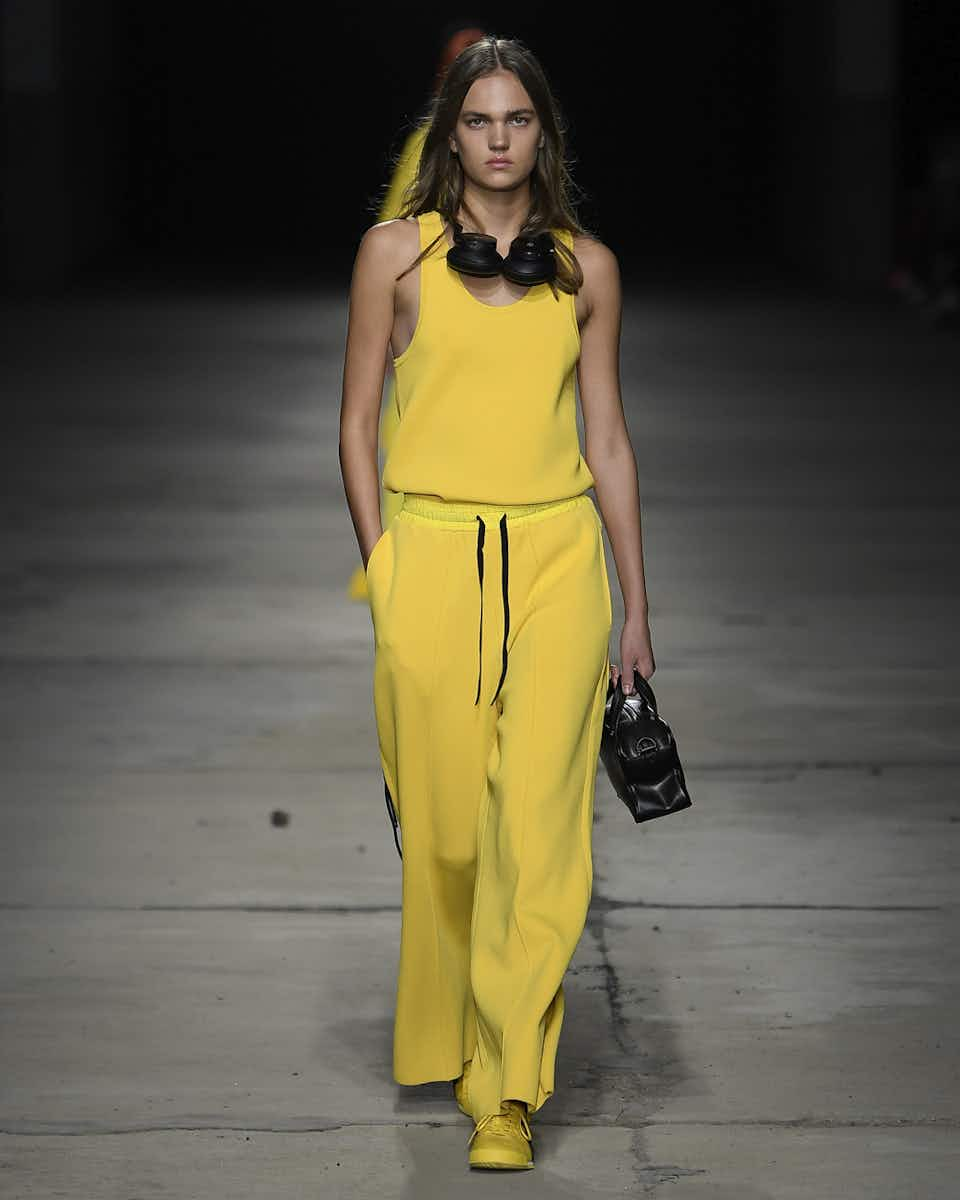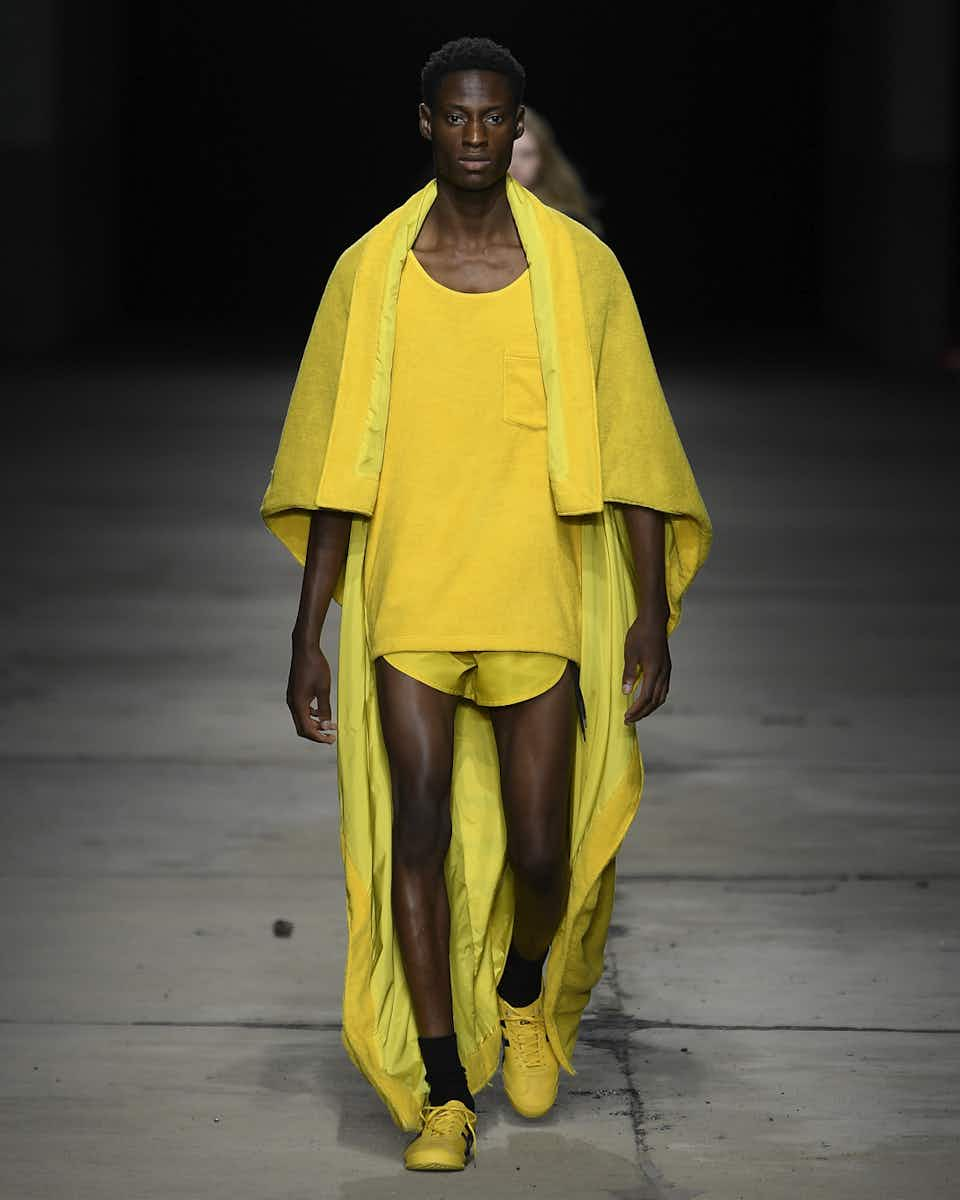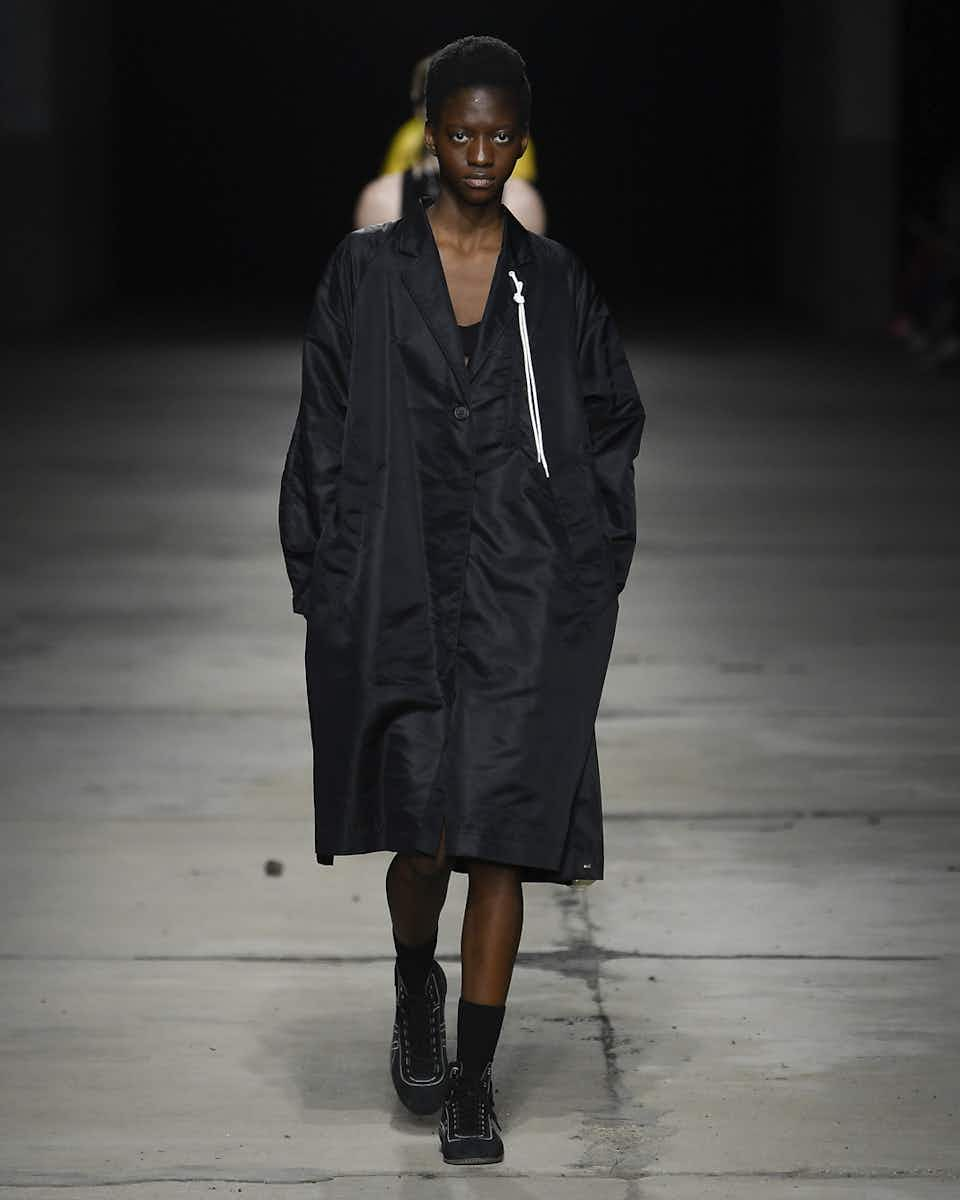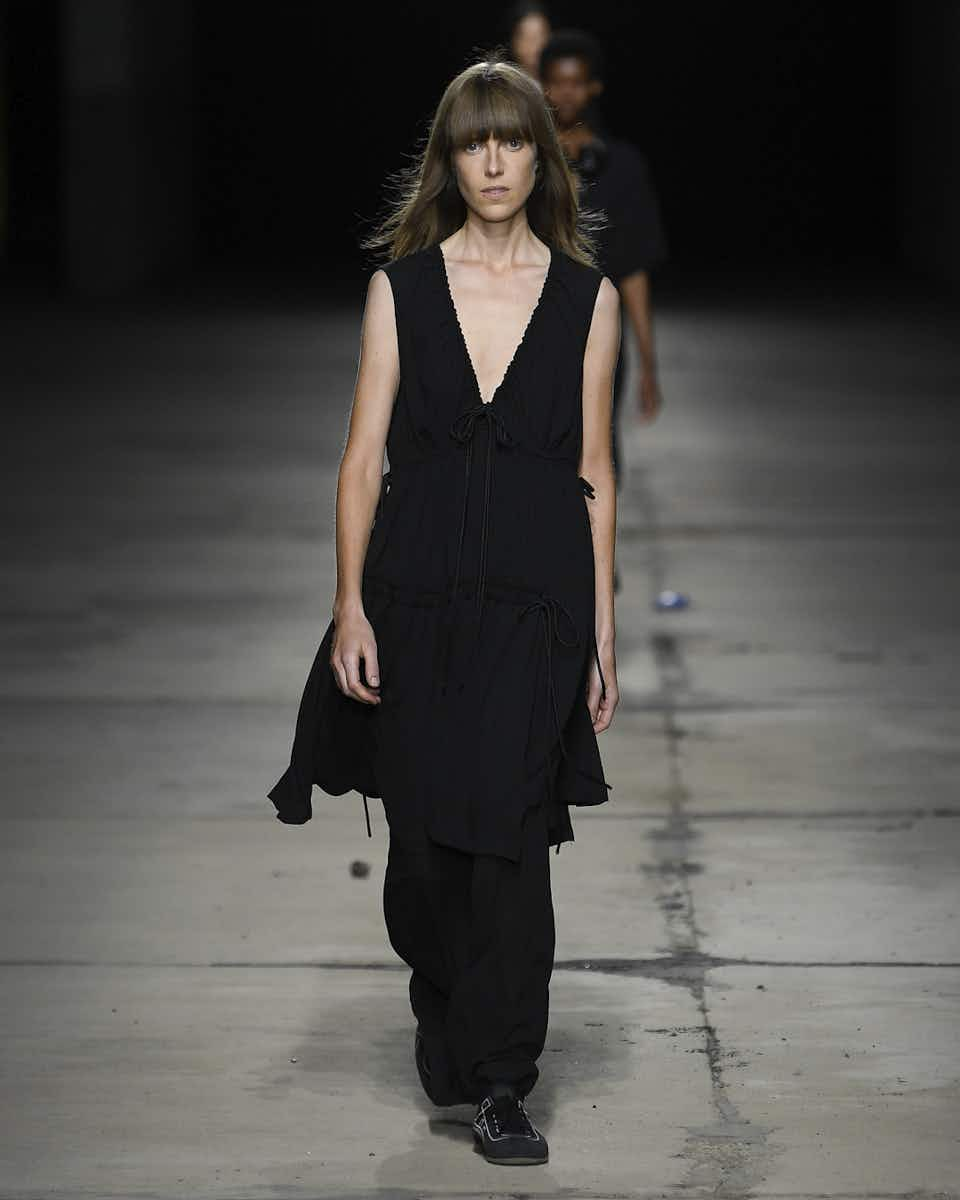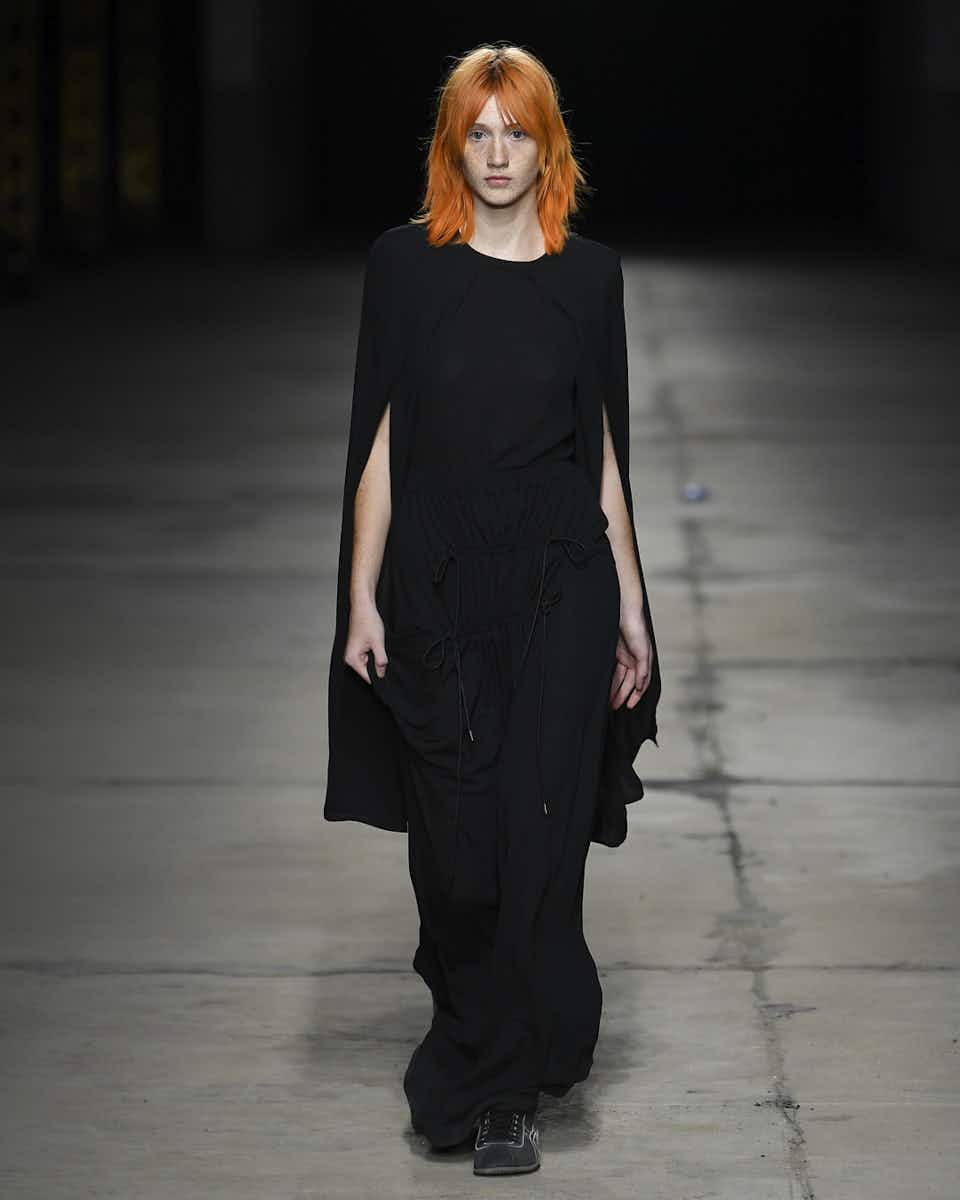 For SS23, the Brunello Cucinelli woman went on a safari trip. The family business sees daughters Carolina and Camilla collaborate with their father, bringing a fluid sensuality fit for the contemporary female explorer. At the same time, the collection harks back to a nostalgic vision of travel, before Ryanair flights and package holidays. Back when getting on a plane and visiting a new continent was the epitome of glamour.

Hiking boots, cargo pants and slouchy satin pyjama sets for the luxe voyager meet casual linen suits in cream, lilac, pink and beige, ideal for those cool tropical nights spent listening to the hum of cicadas. Meanwhile, organza jackets are finished with opulent embroidery, appliqué and sequins – a reminder of the intricate craftsmanship at the heart of the brand. SW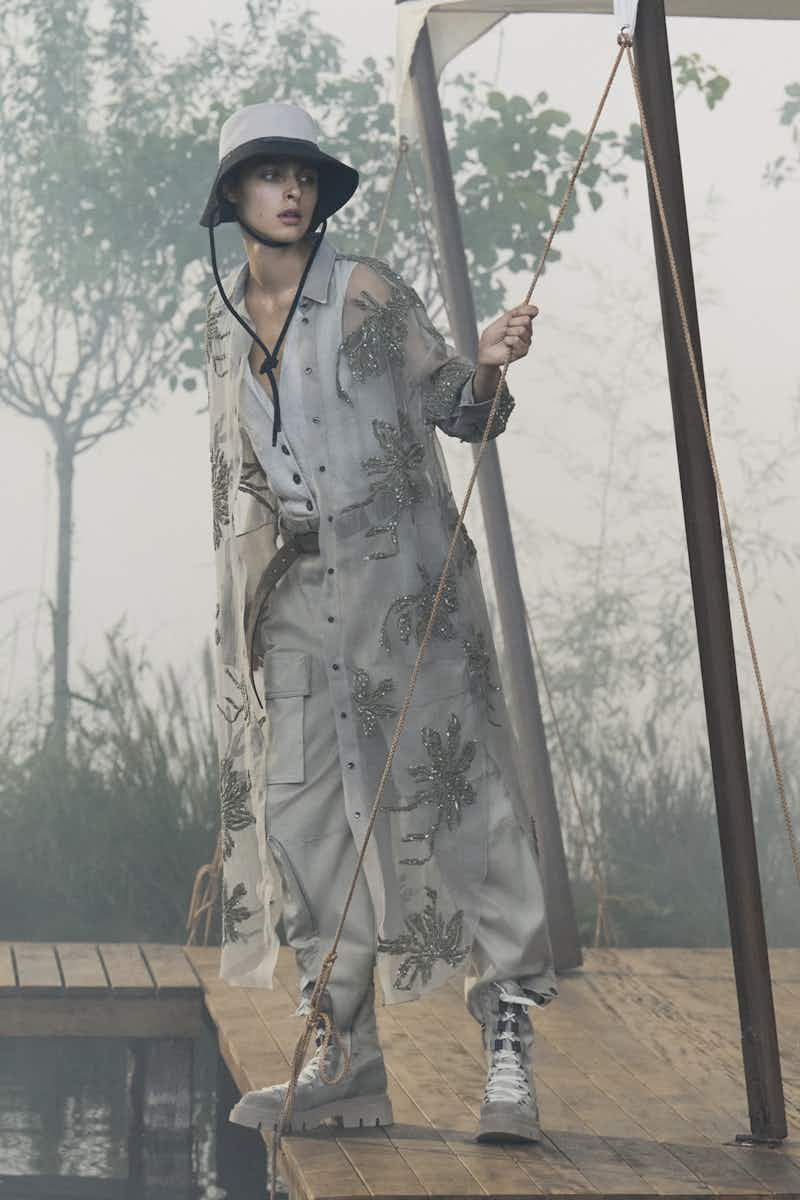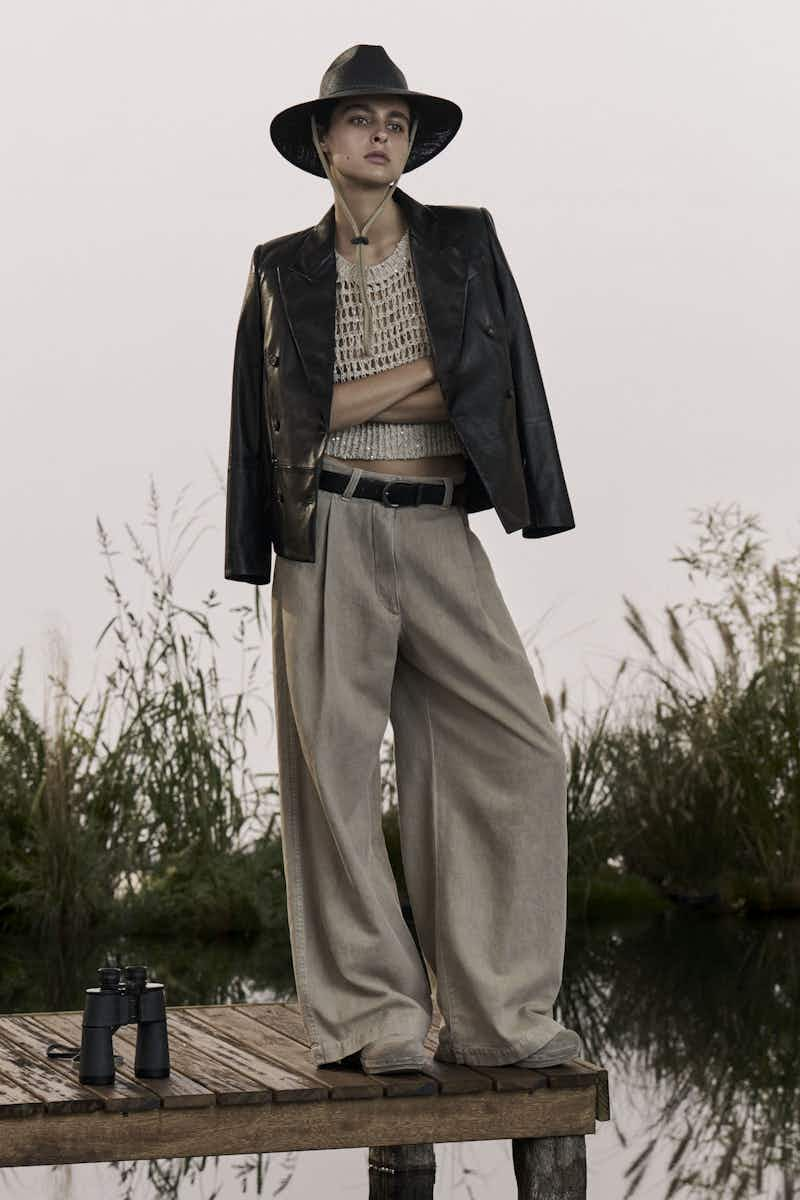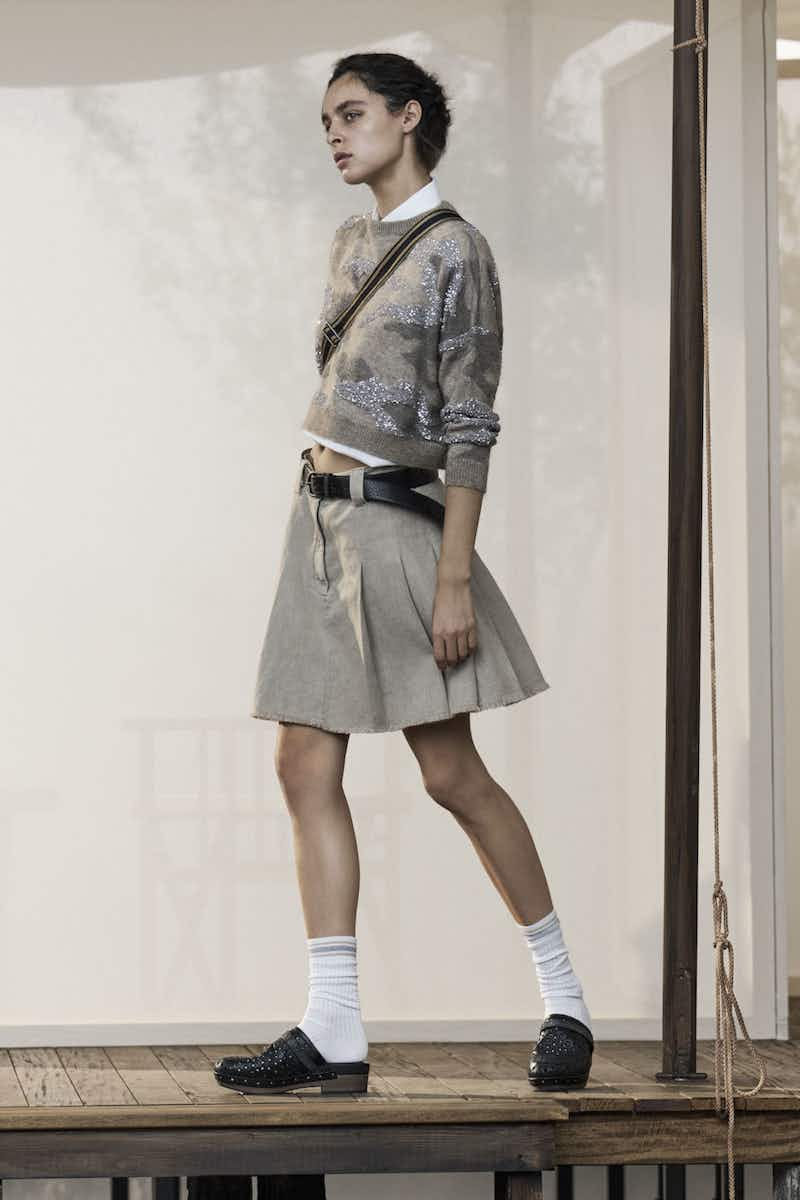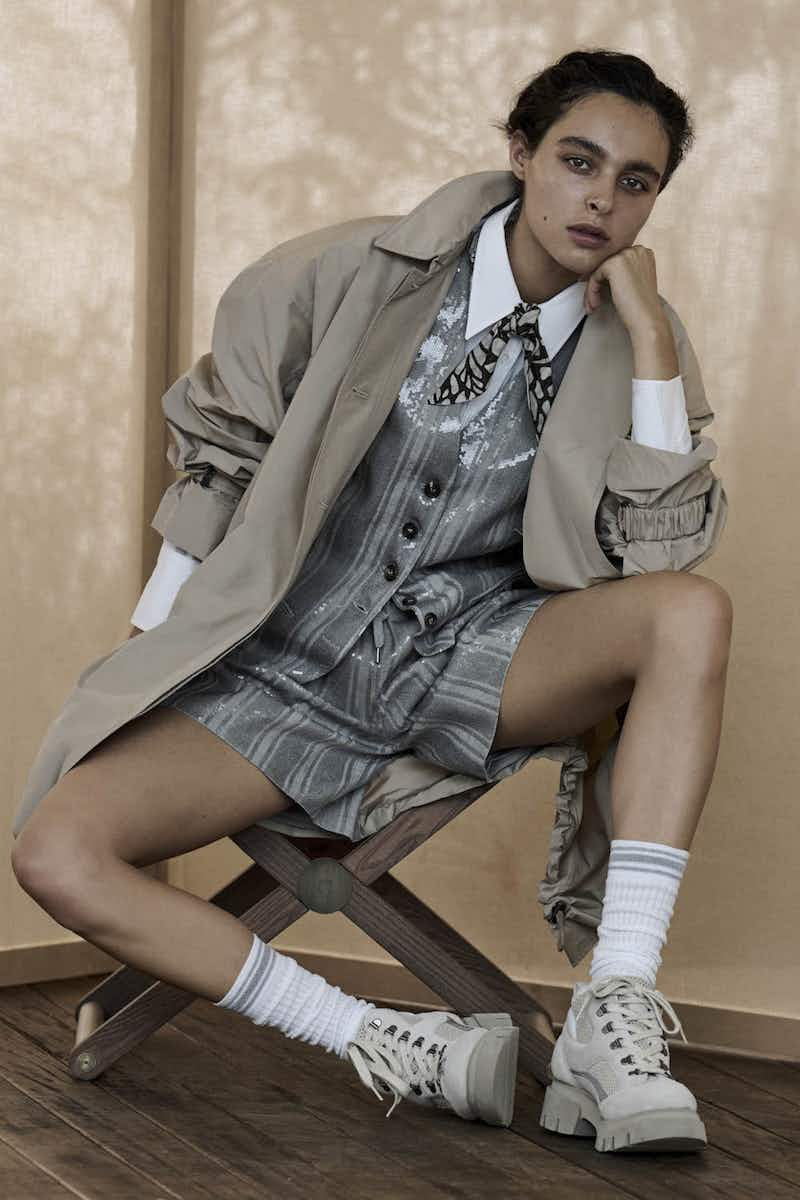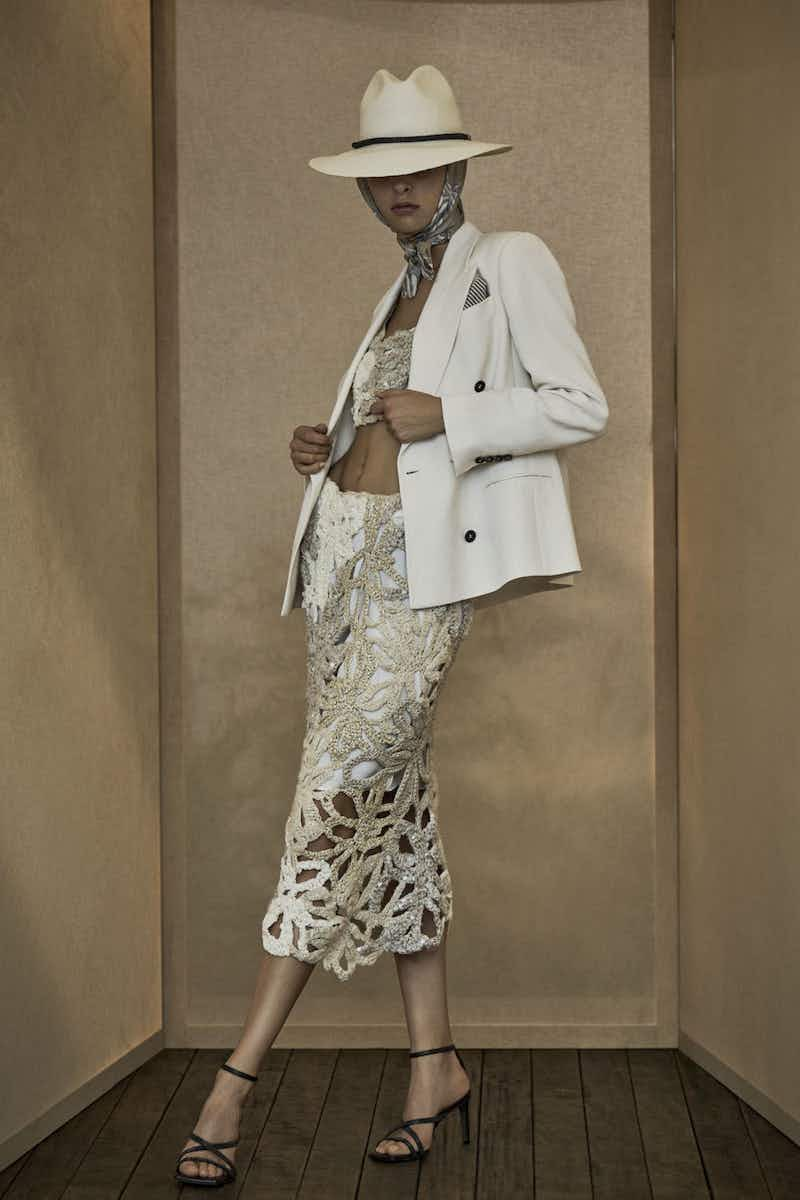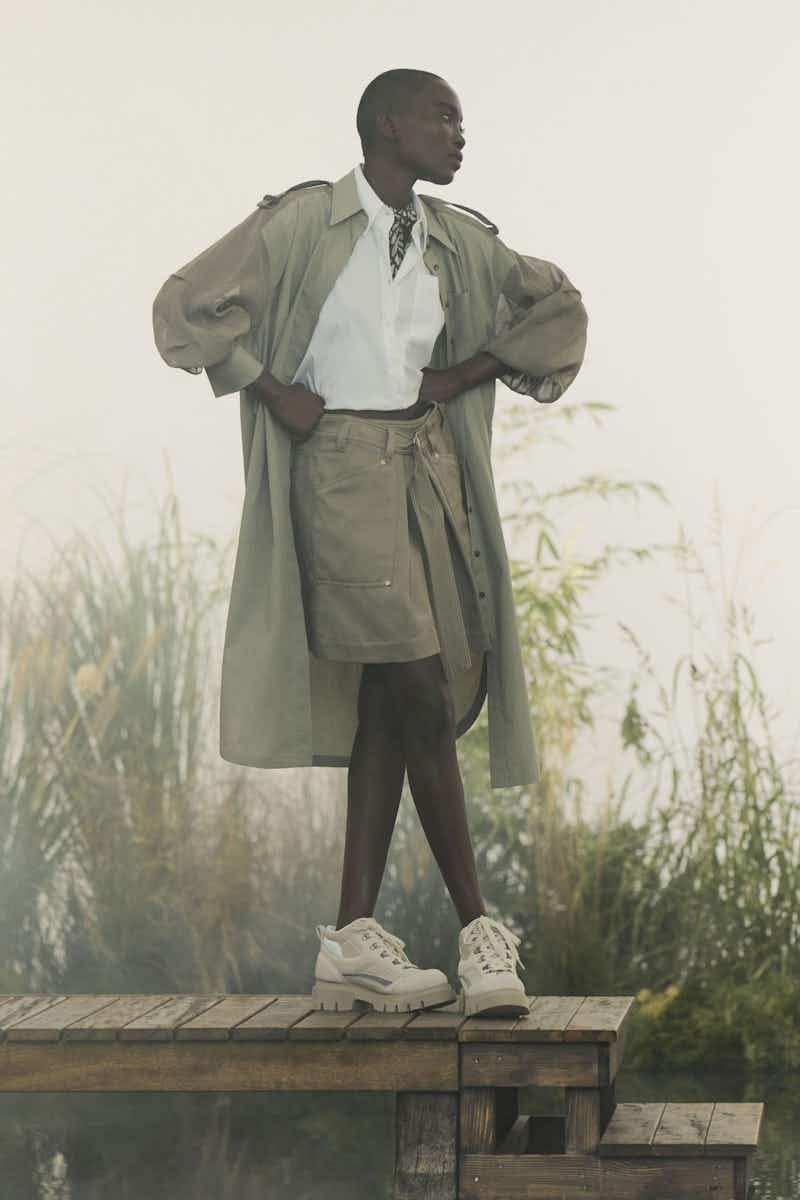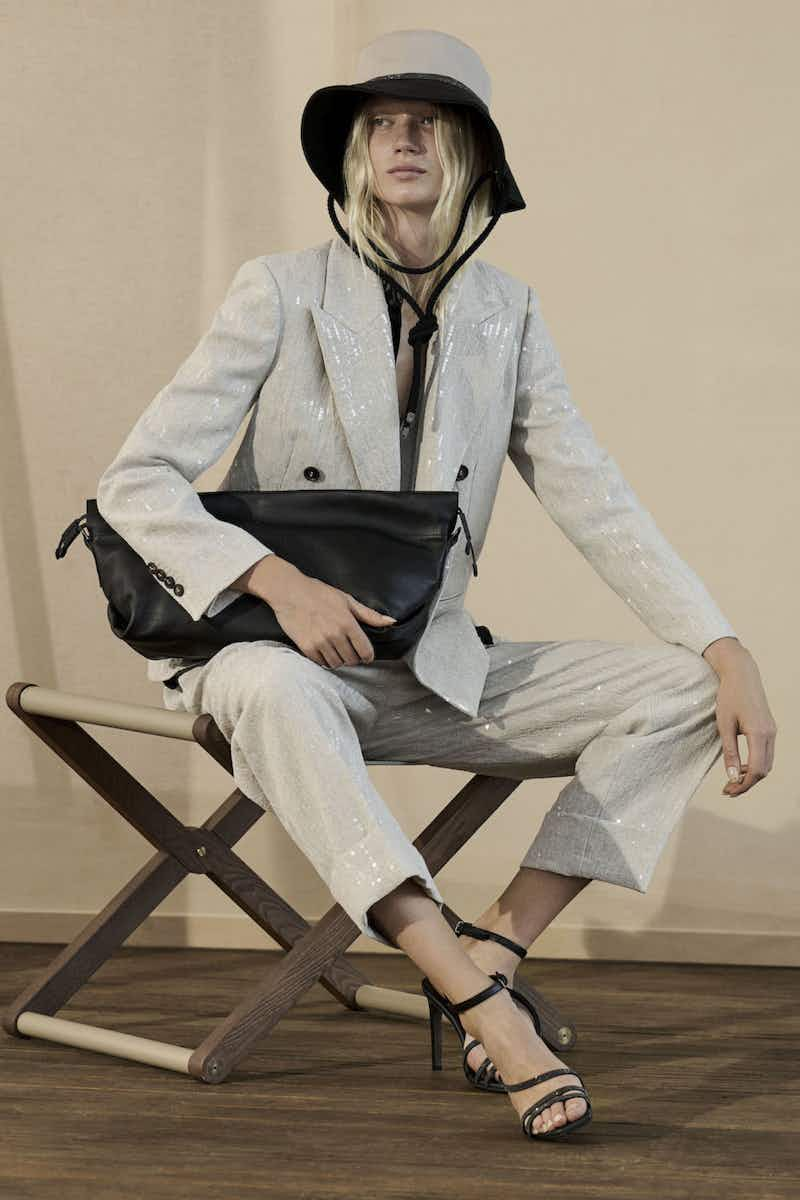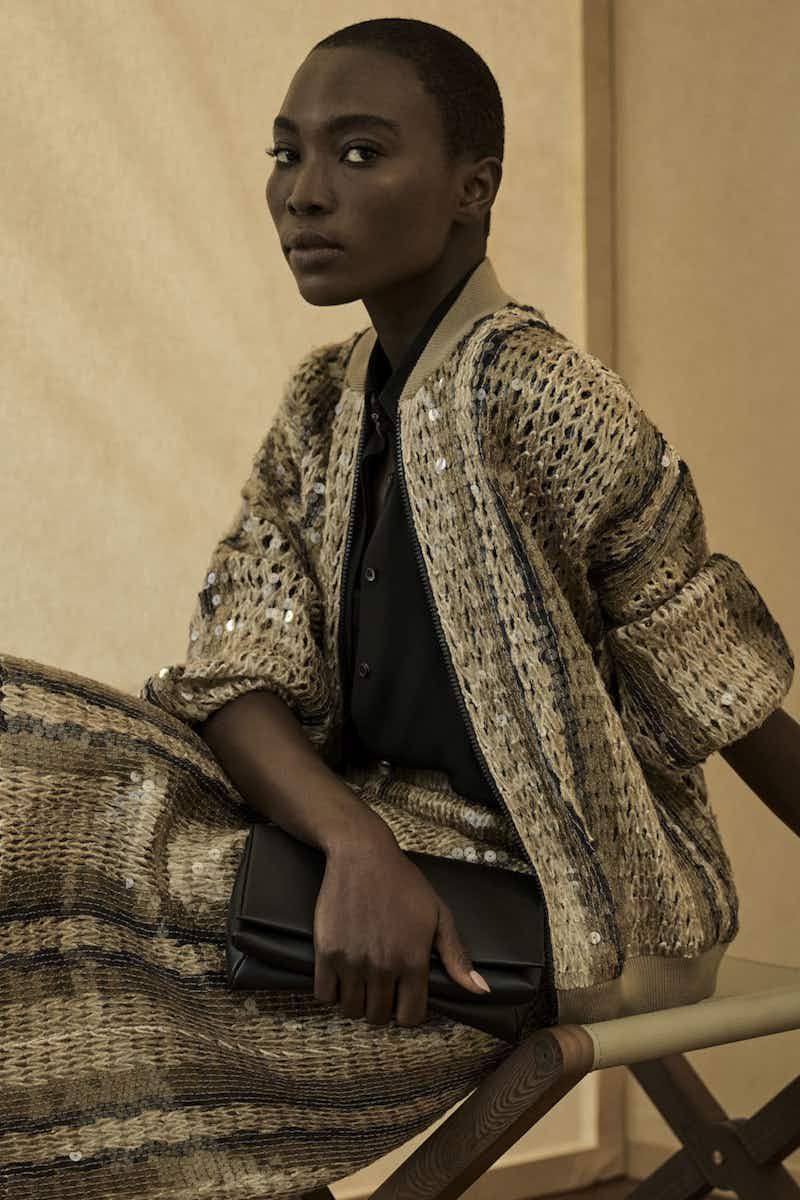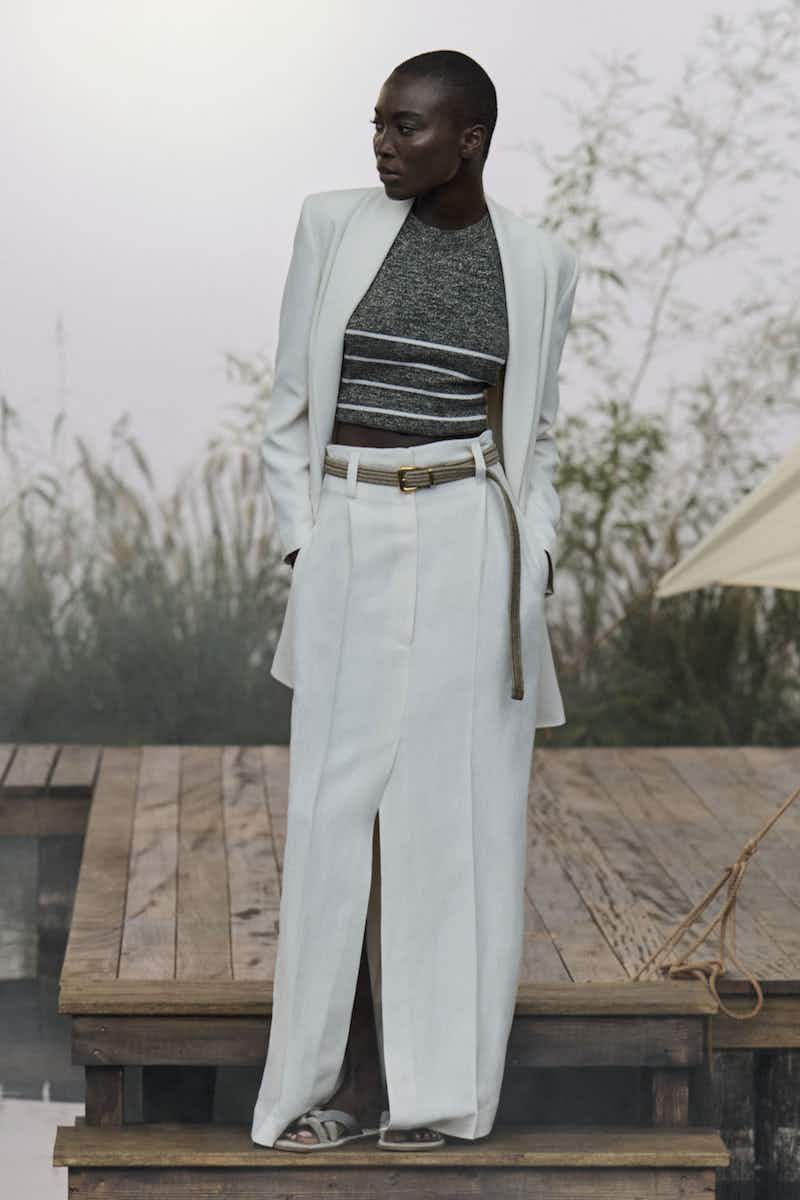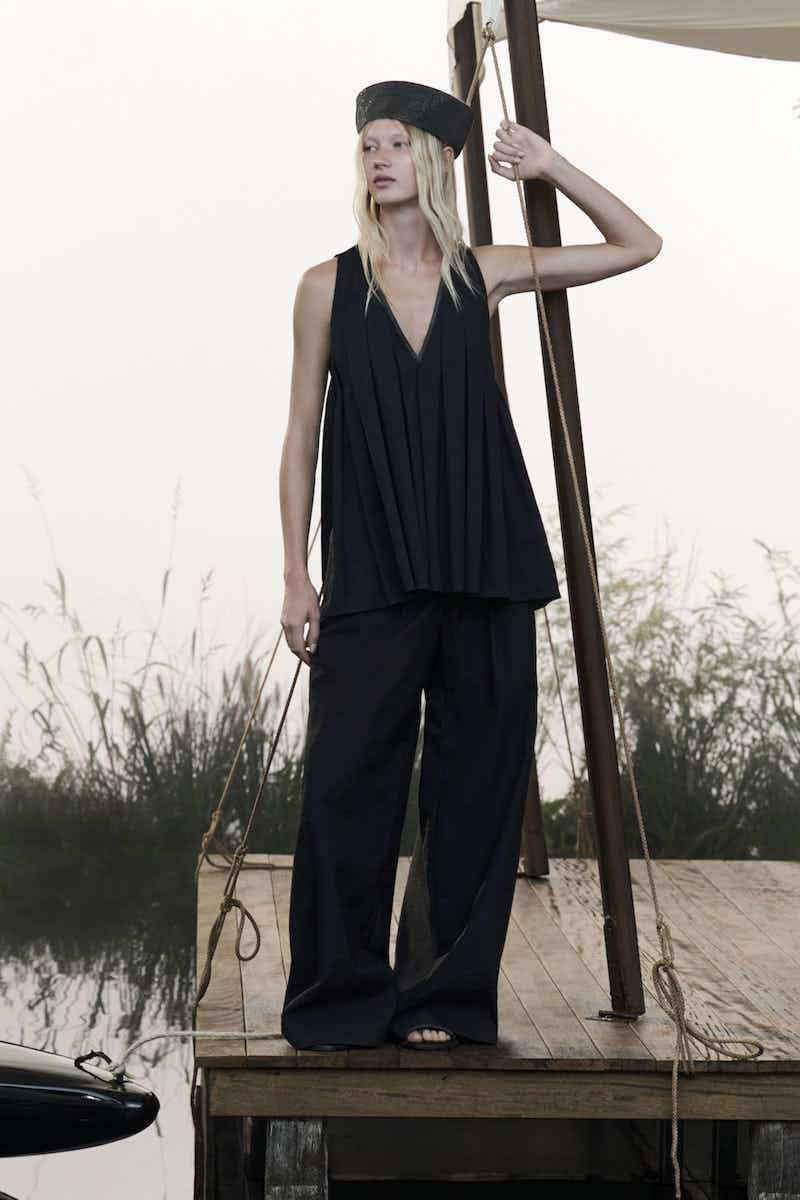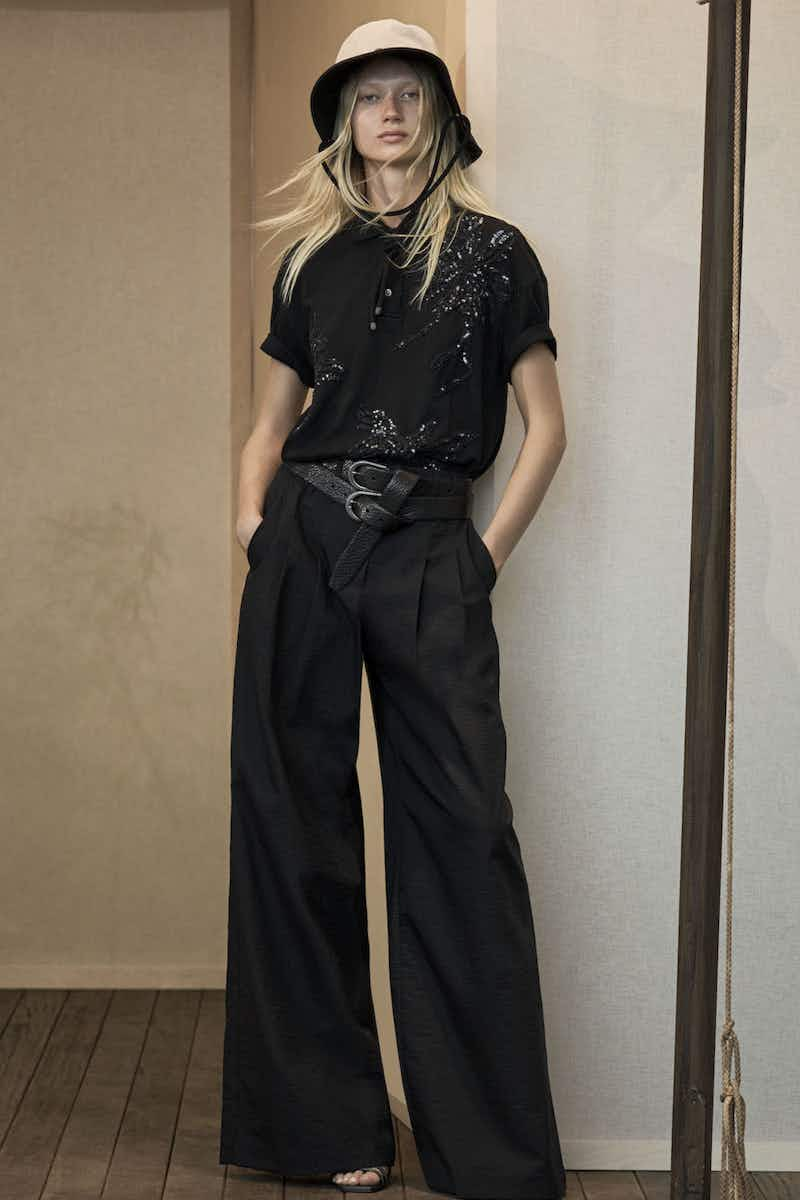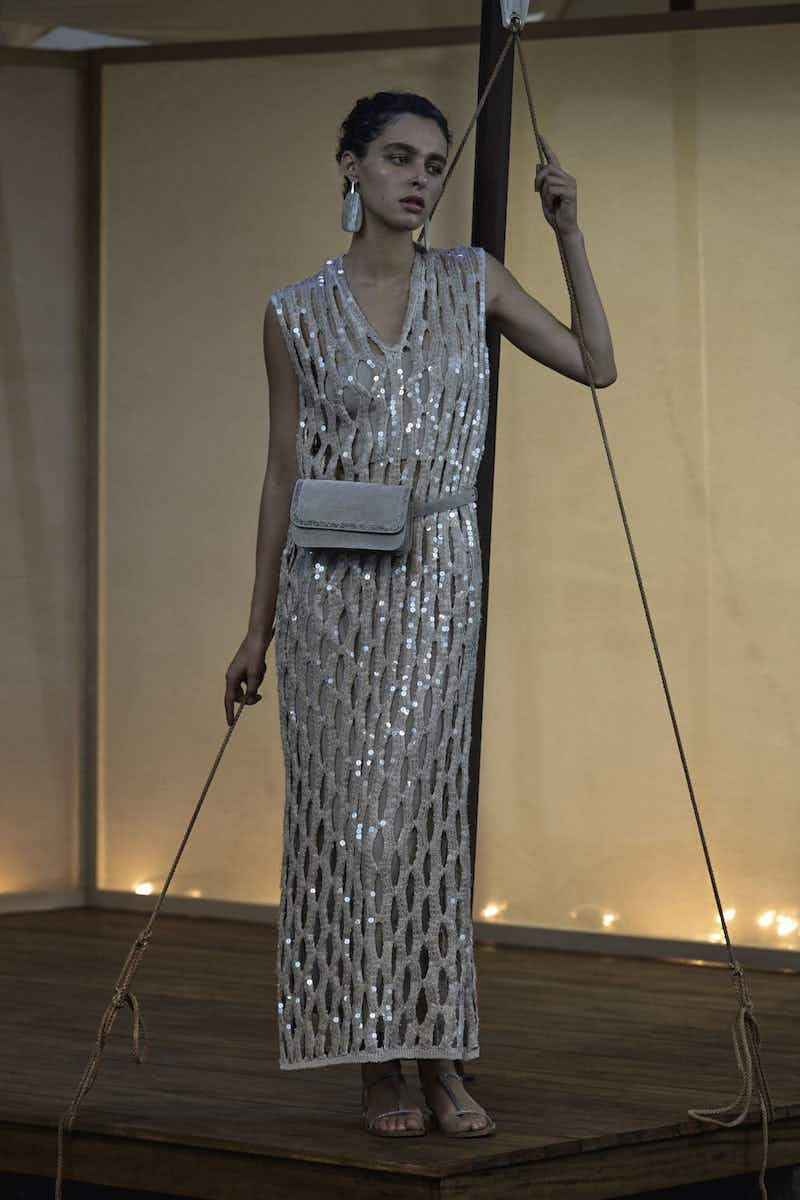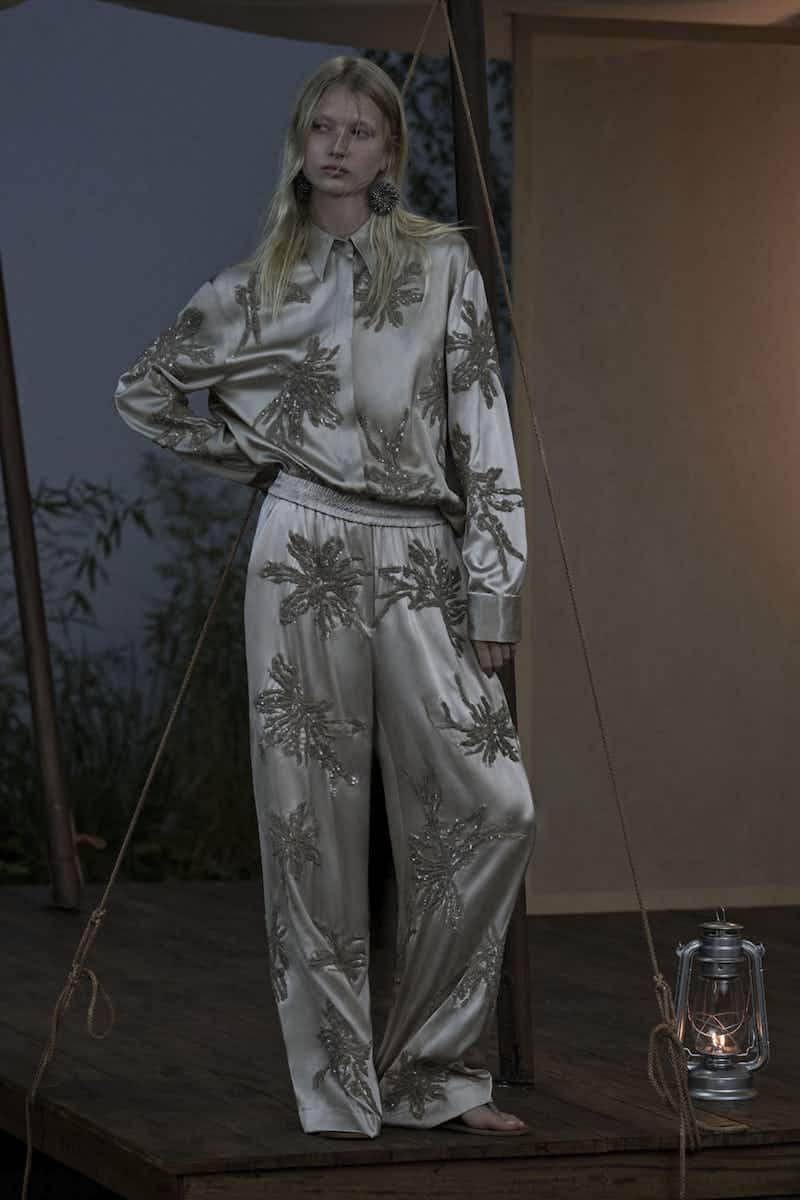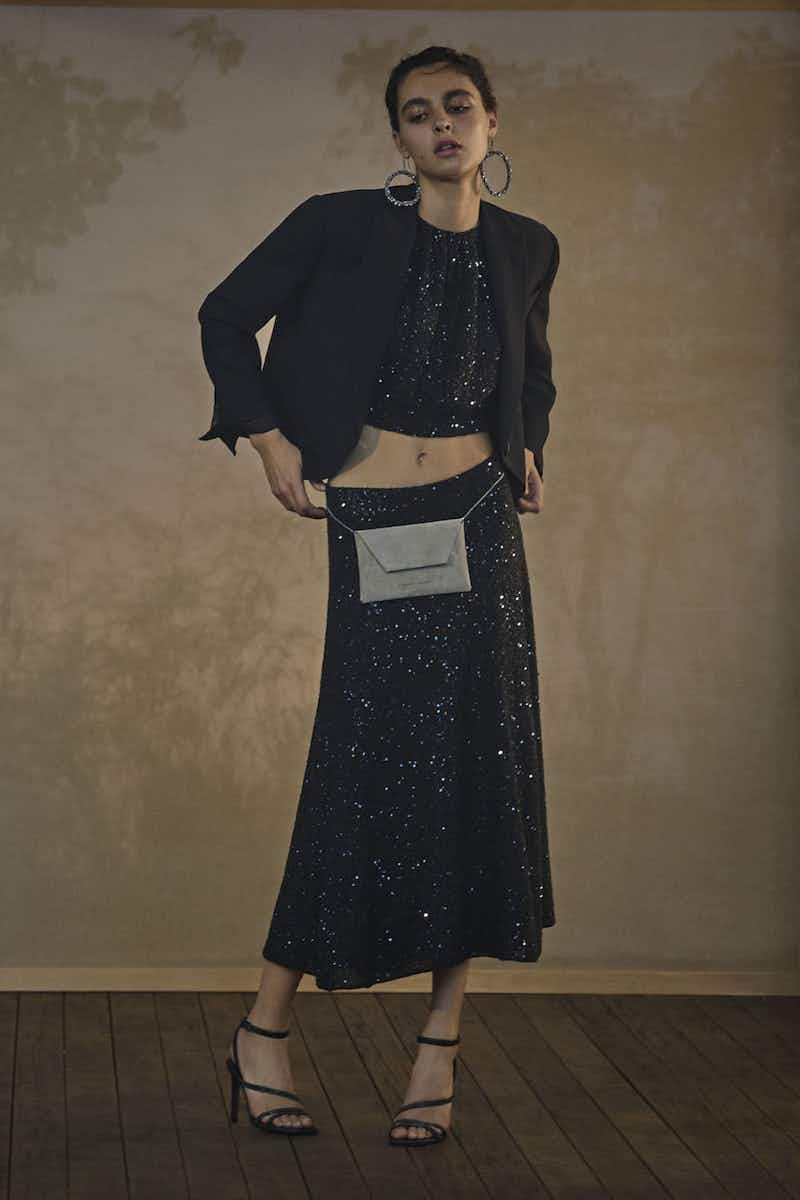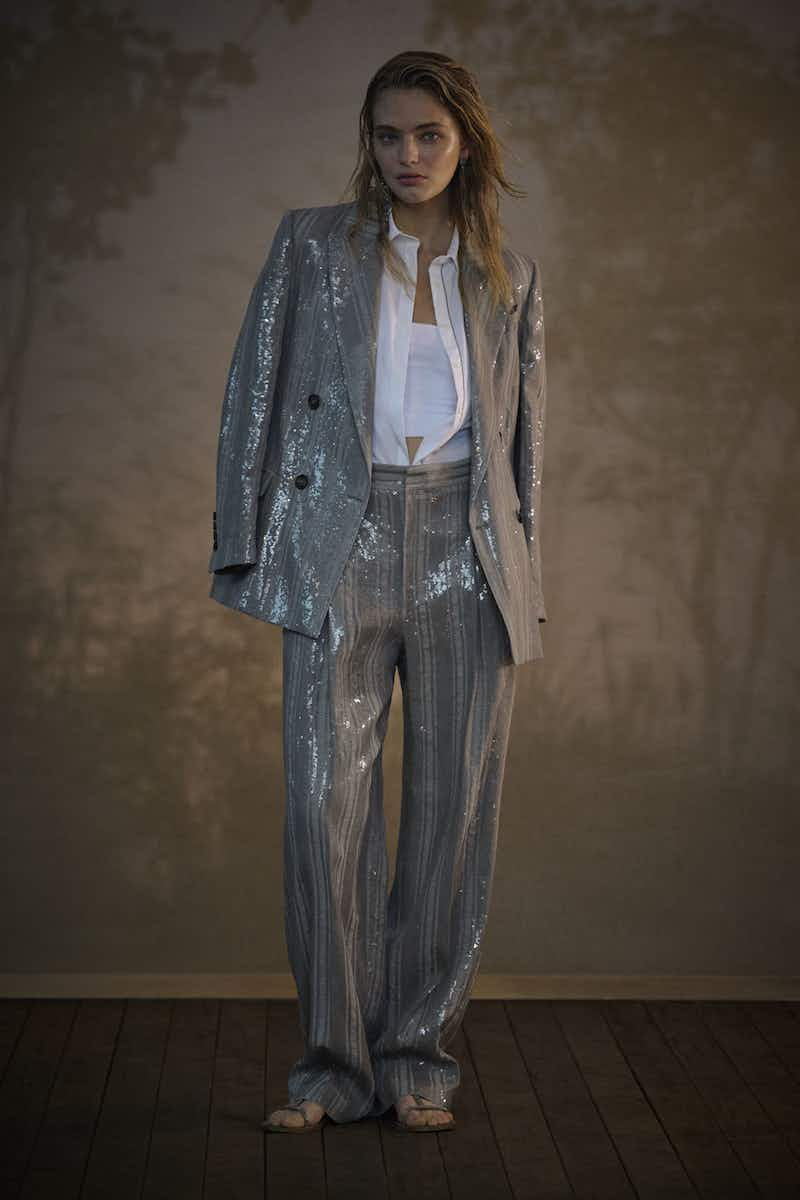 Fendi got all green-fingered this season with neutral earthy tones broken up by flashes of floral motifs and grassy hues. Colour trickled through in chunky colour block platforms and leather Baguette bags, while pieces were understated and refined, seemingly made with back-to-the-office dressing in mind. And standing out in a sea of muted, uniform looks were utility silk cargos, fluffy neon tops and a knitted mini-skirt.

The collection is endearingly wearable, even if one model took off her platforms mid-walk and carried them down the runway (hey, we've all been there). It's easy to envision Kim Jones' latest collection as individual pieces standing the test of time. Sometimes, amid the chaotic spectacle of fashion week, simple, brilliantly made clothes are a pleasant palette cleanser. SW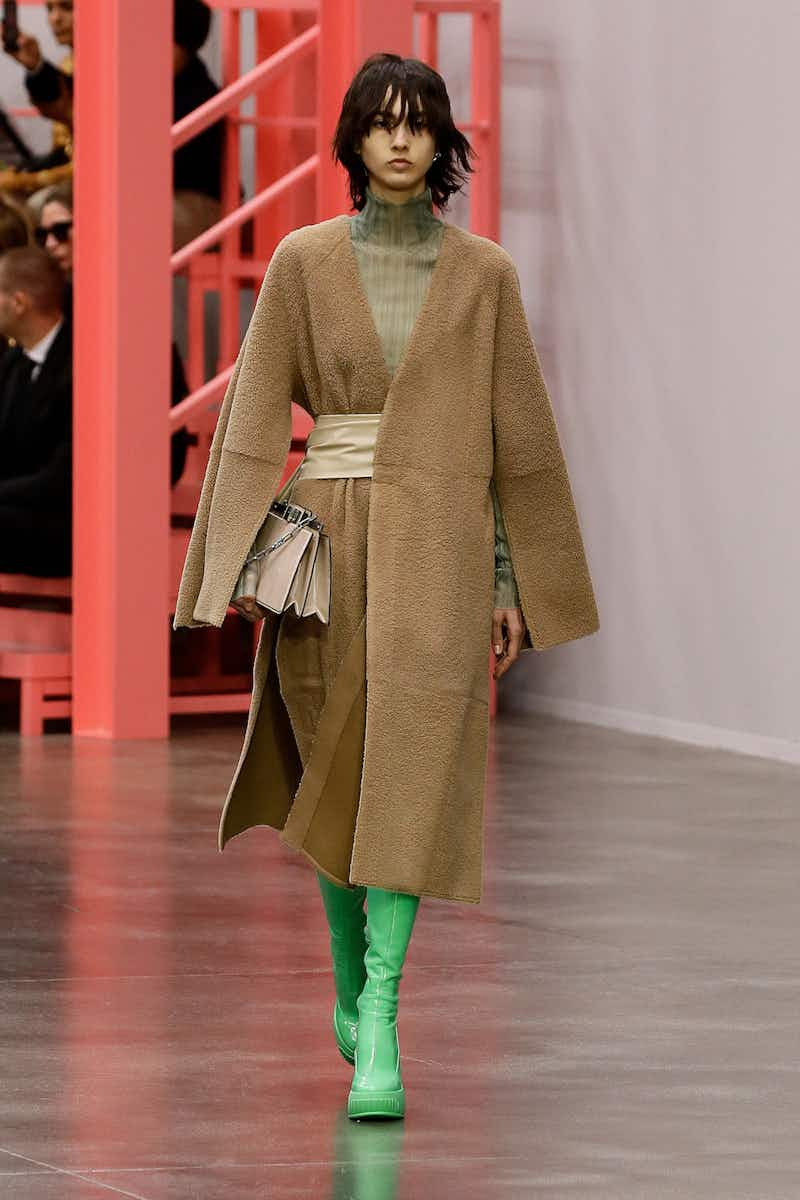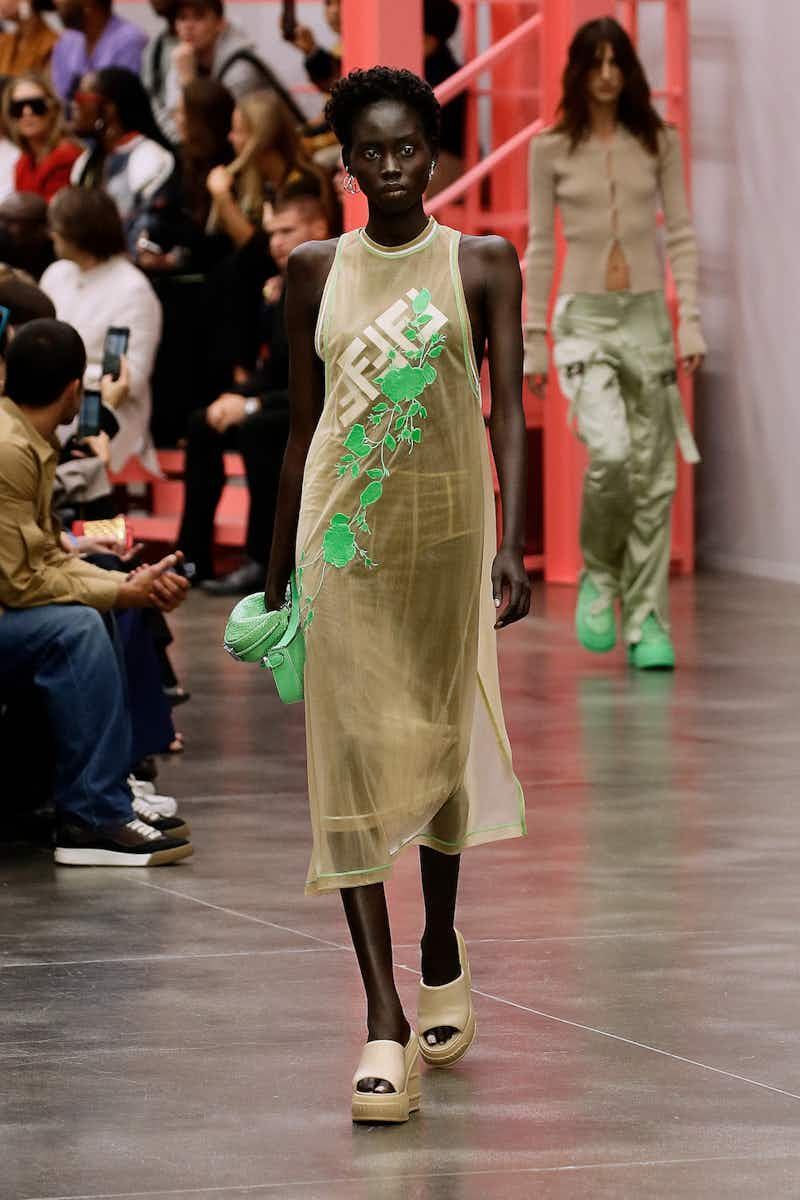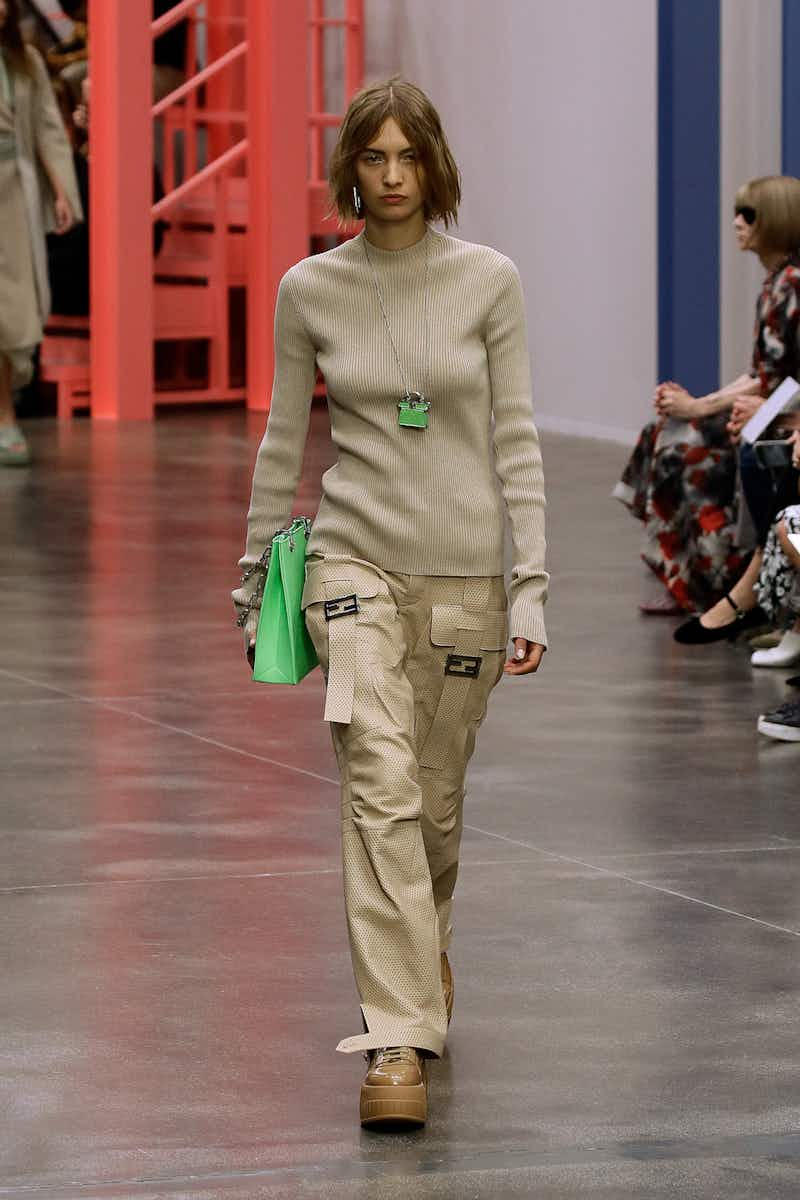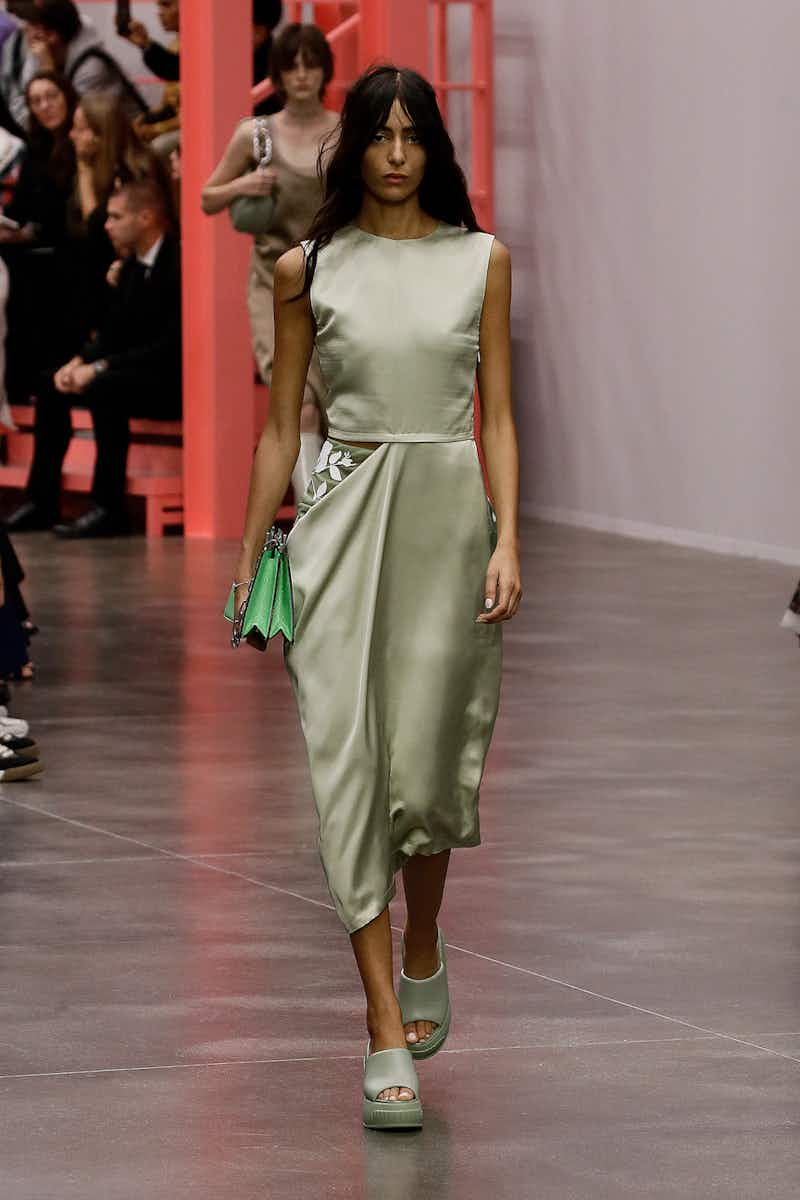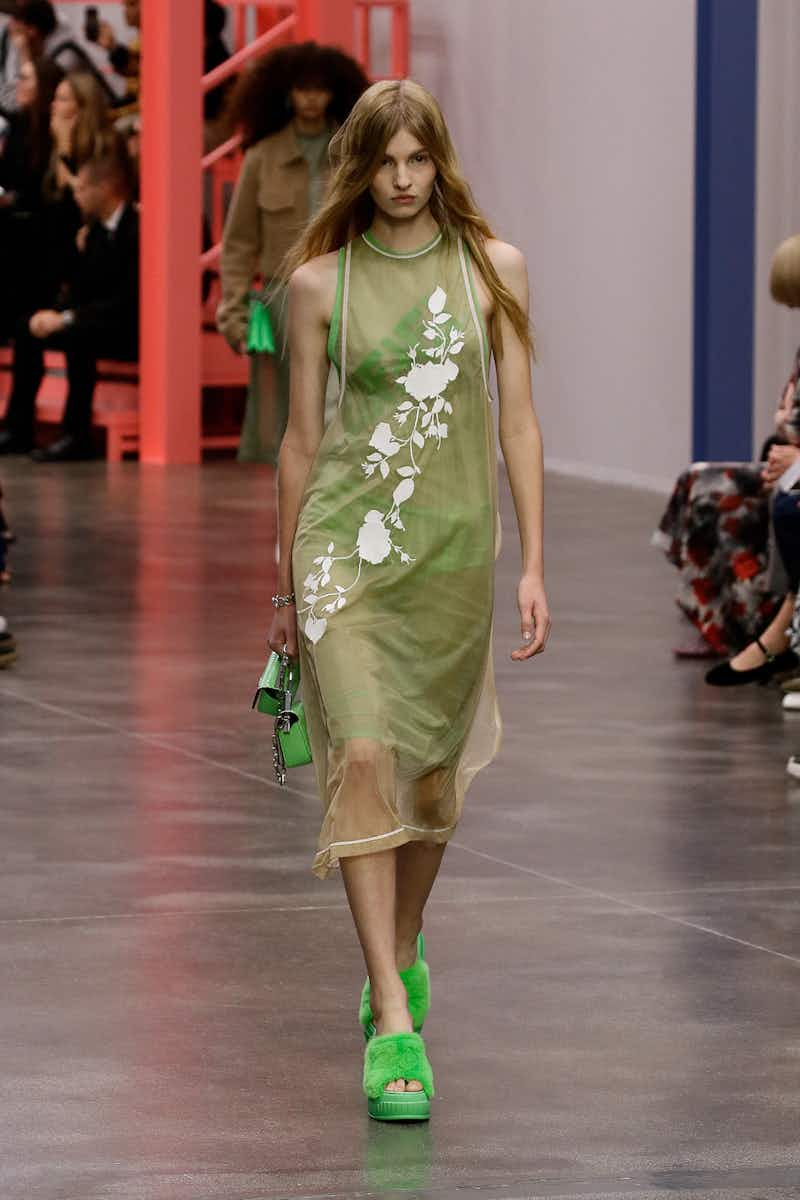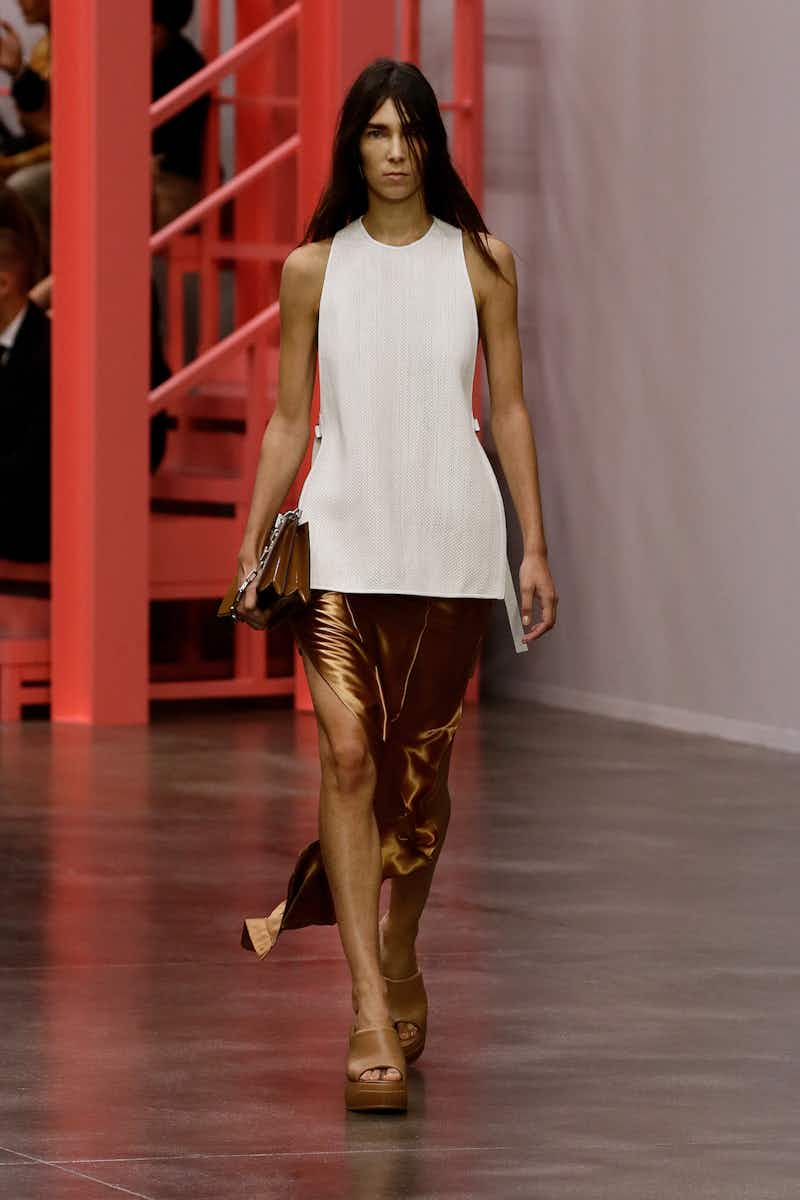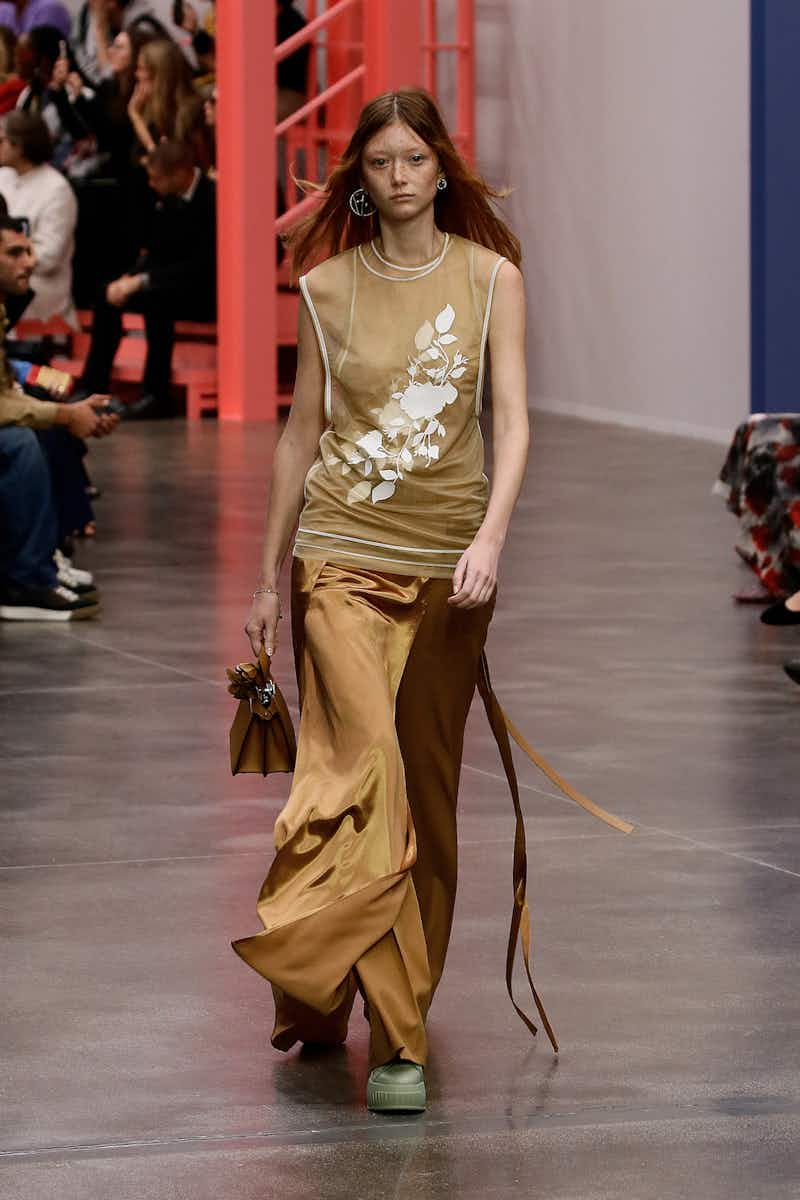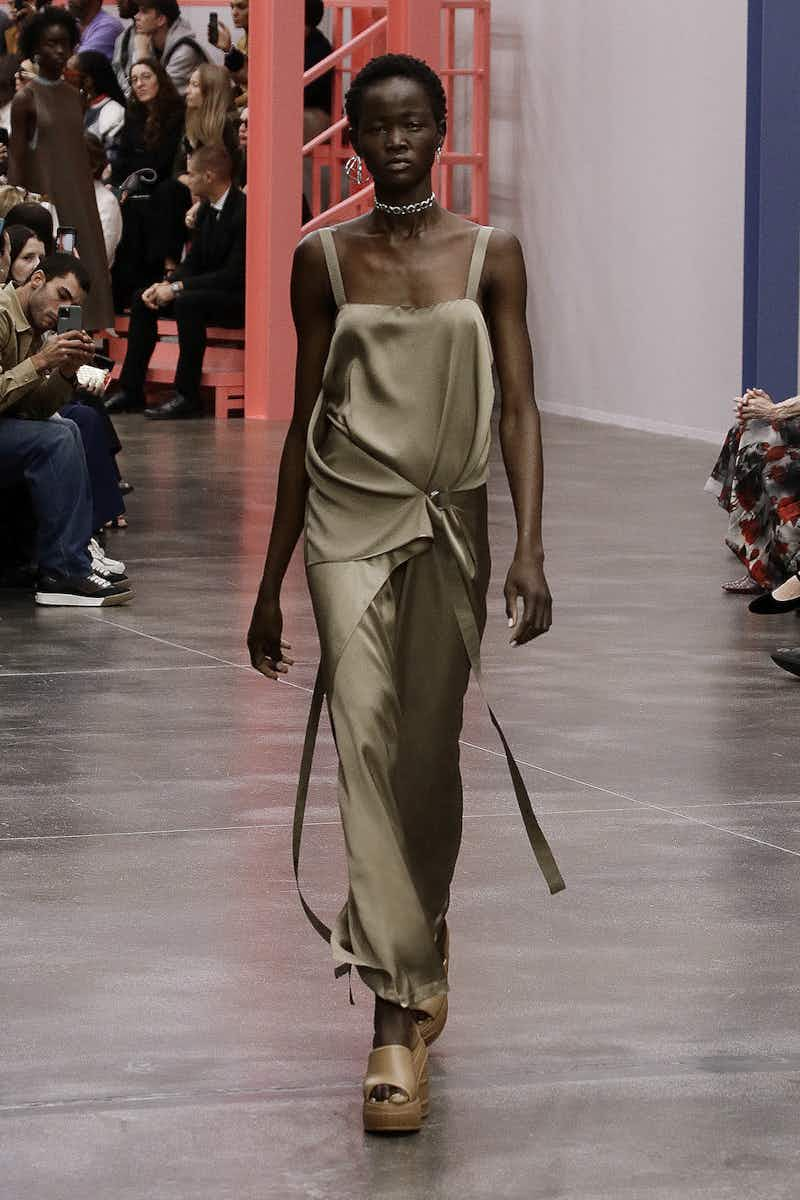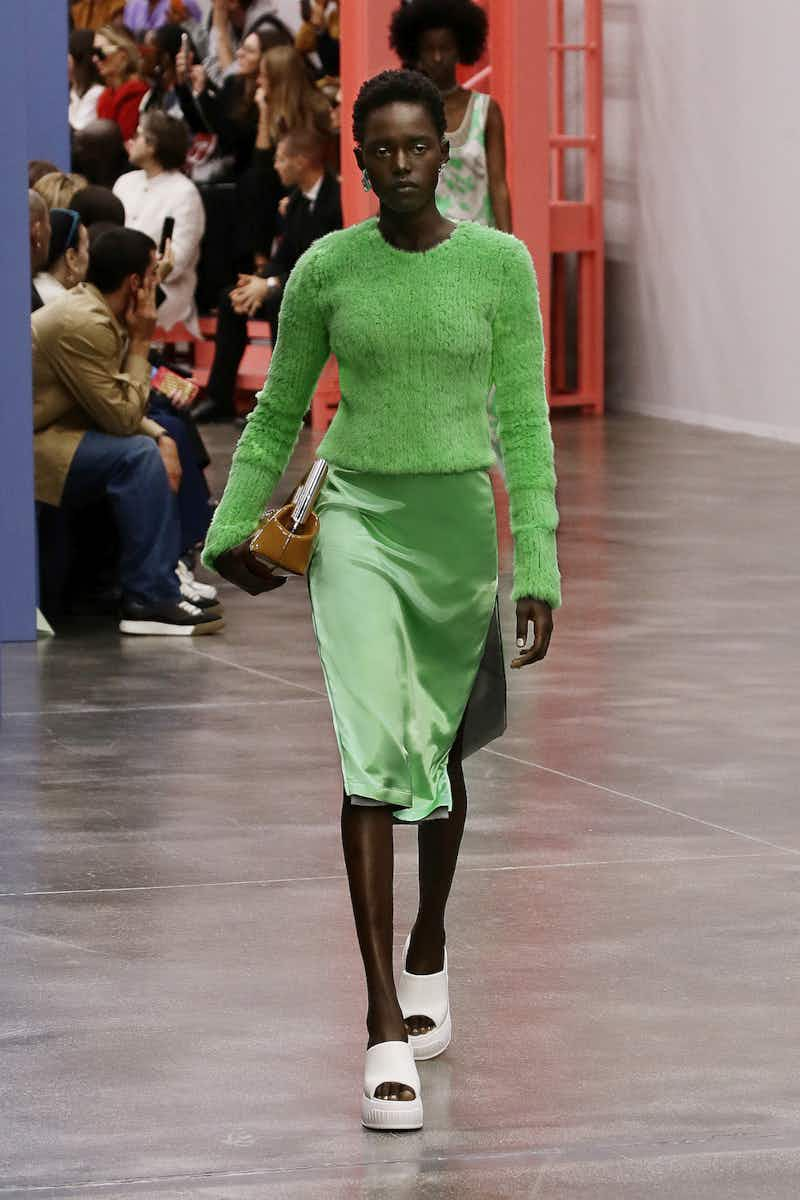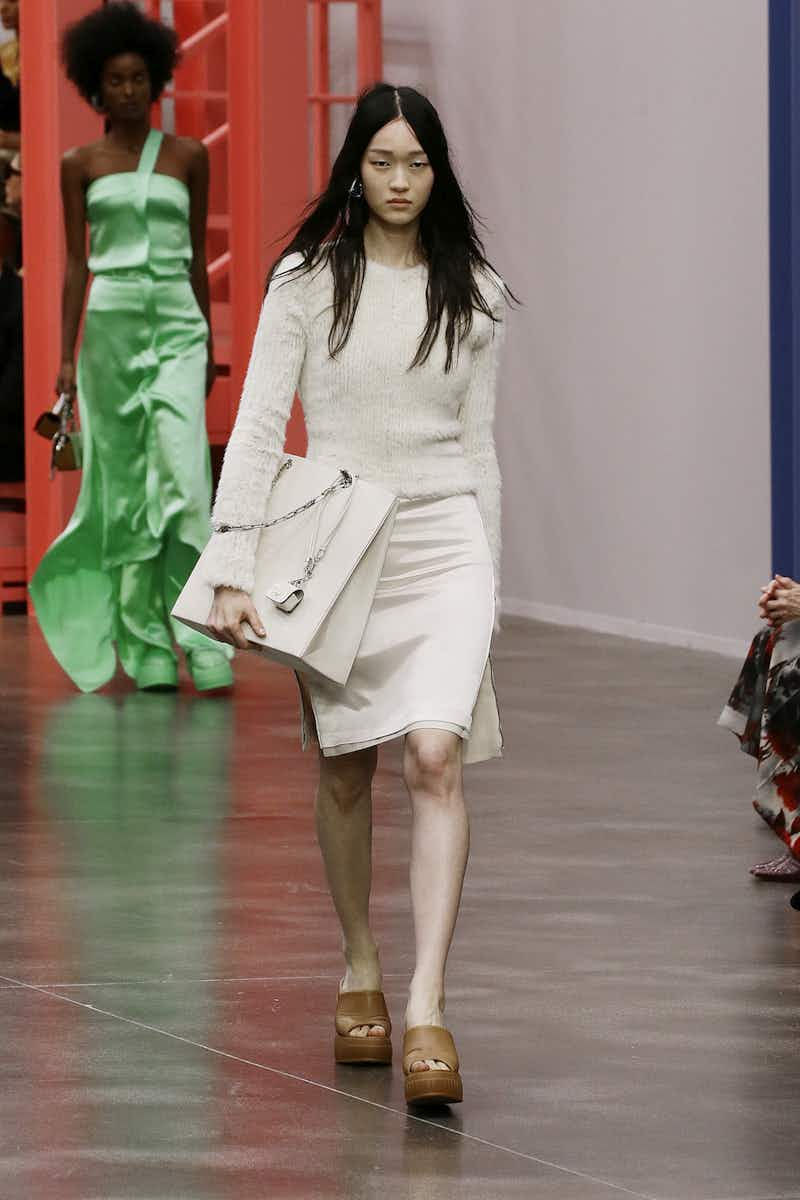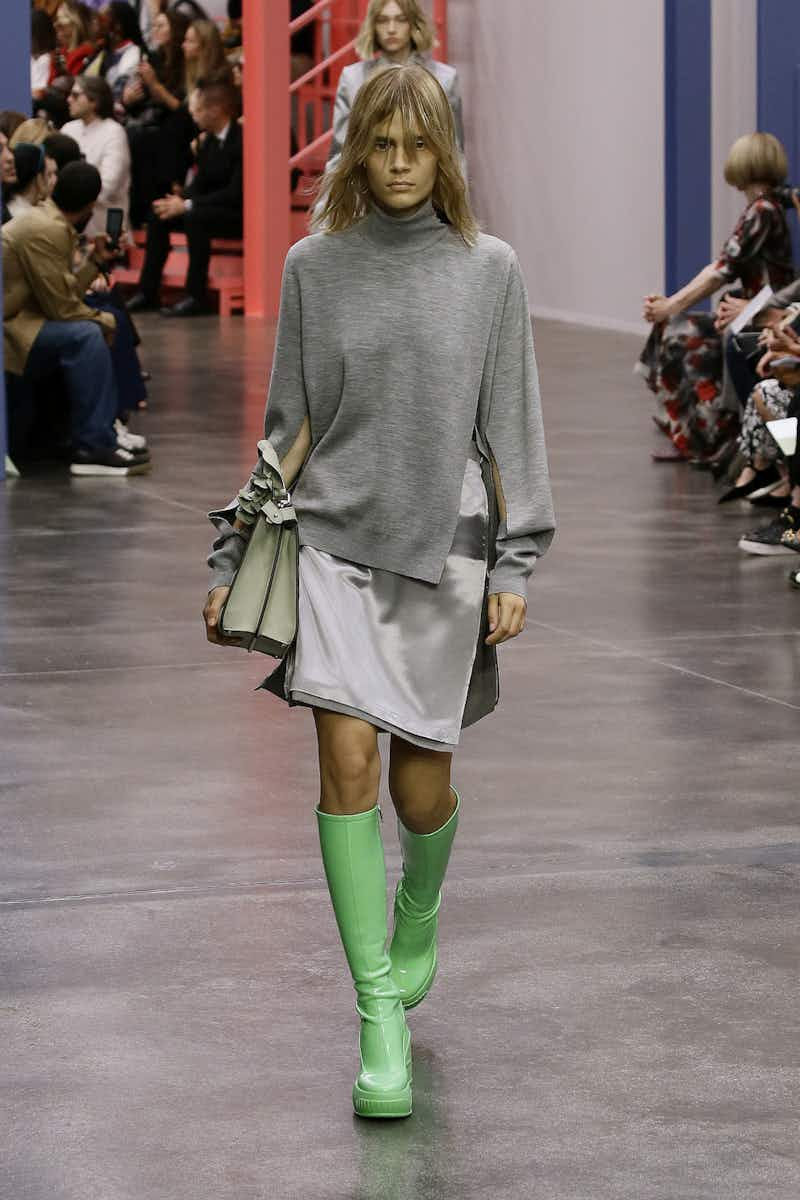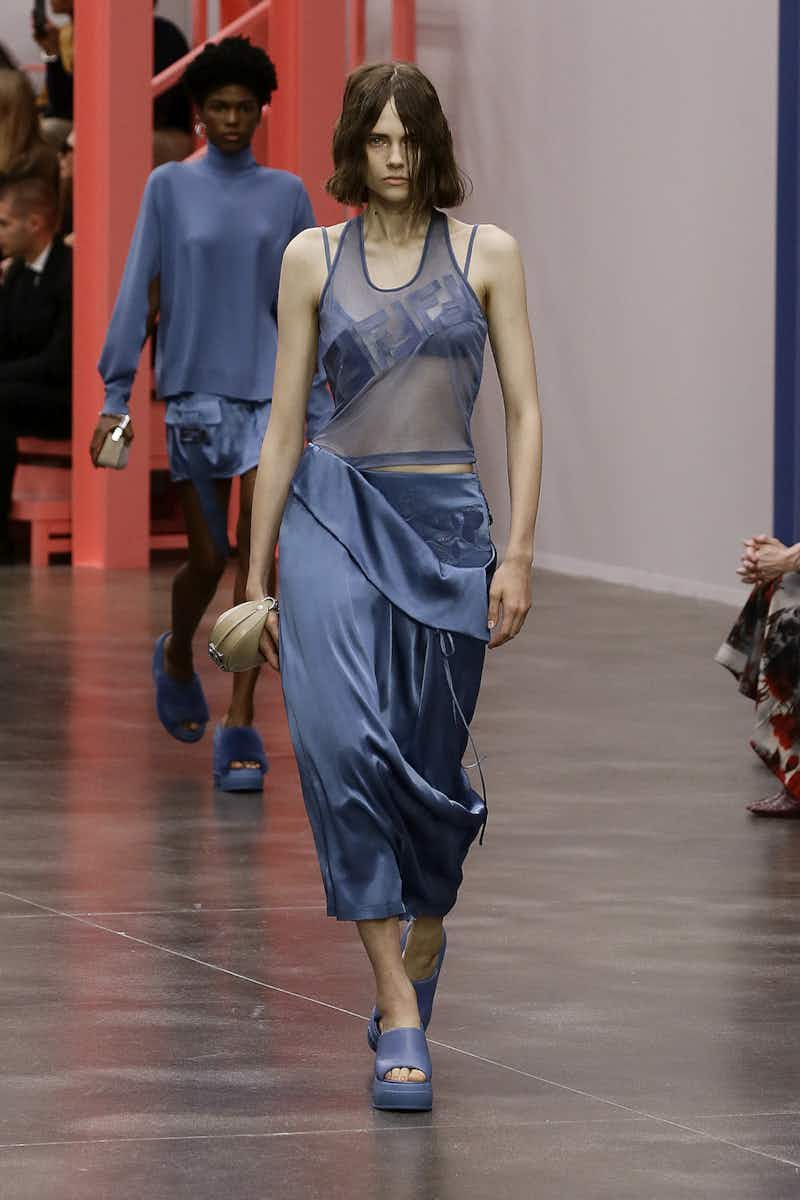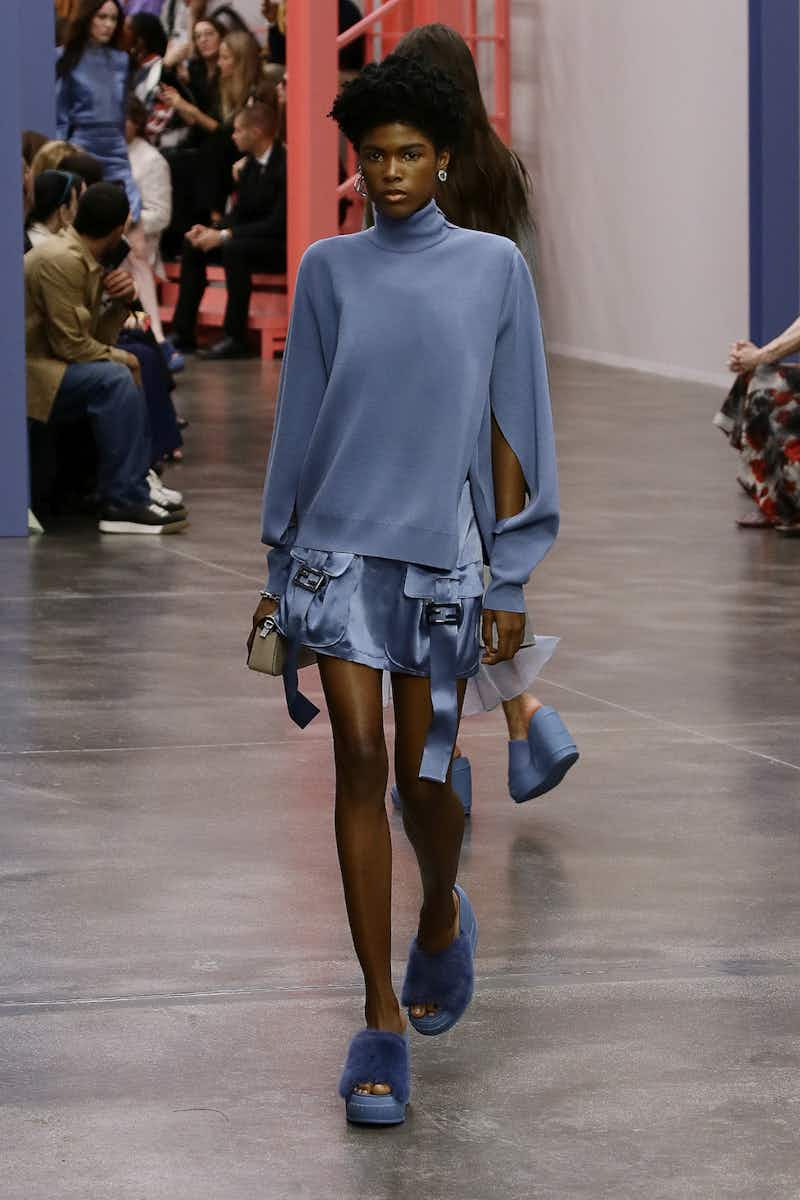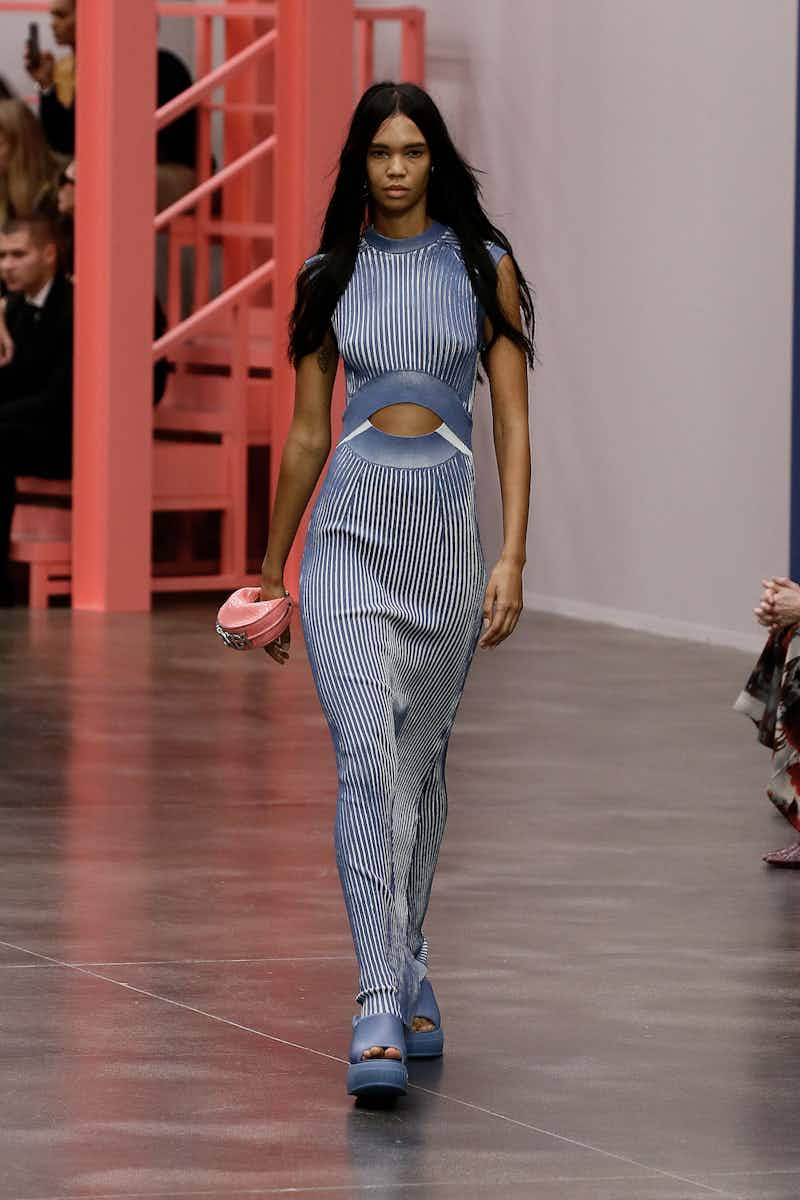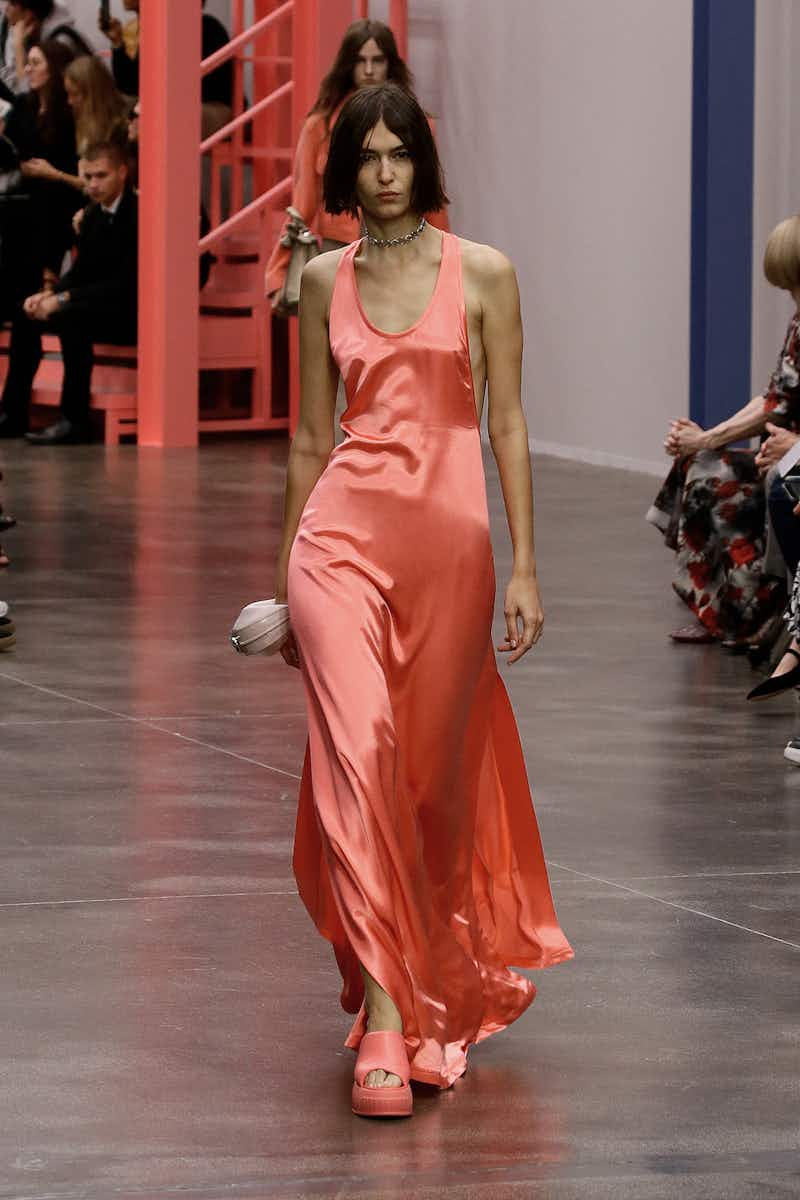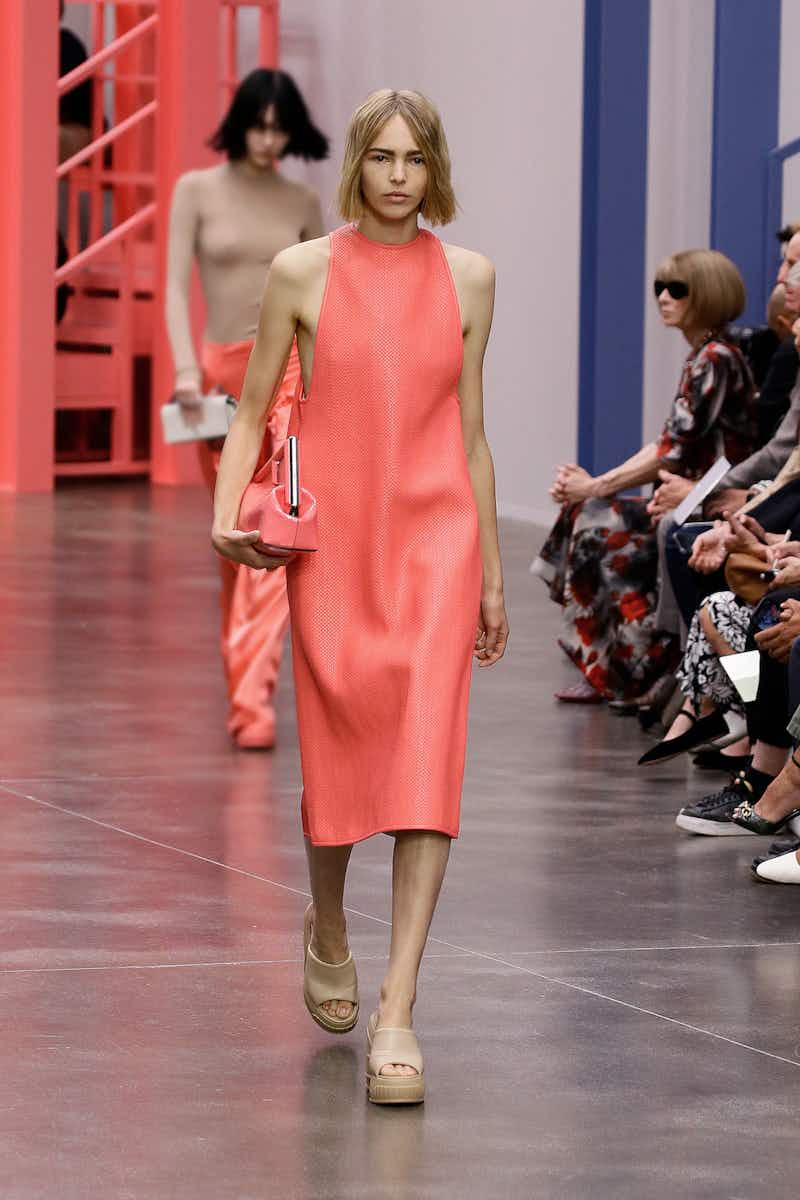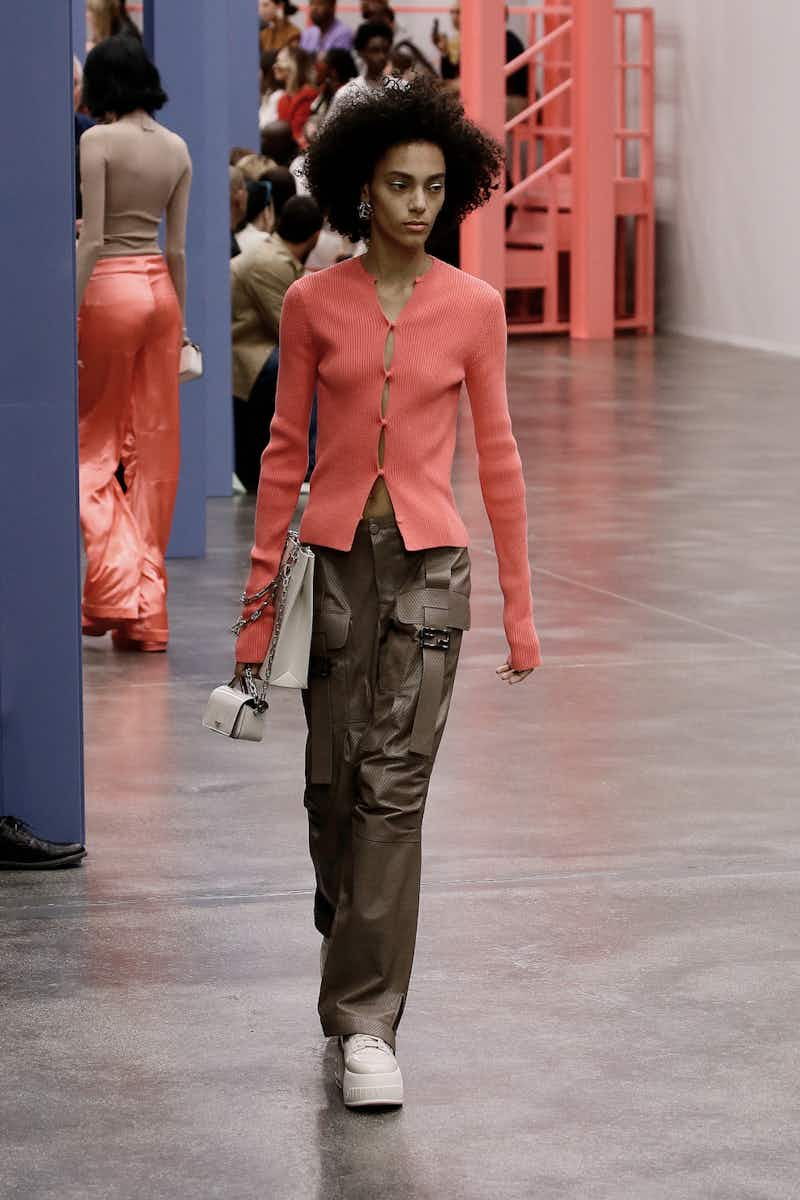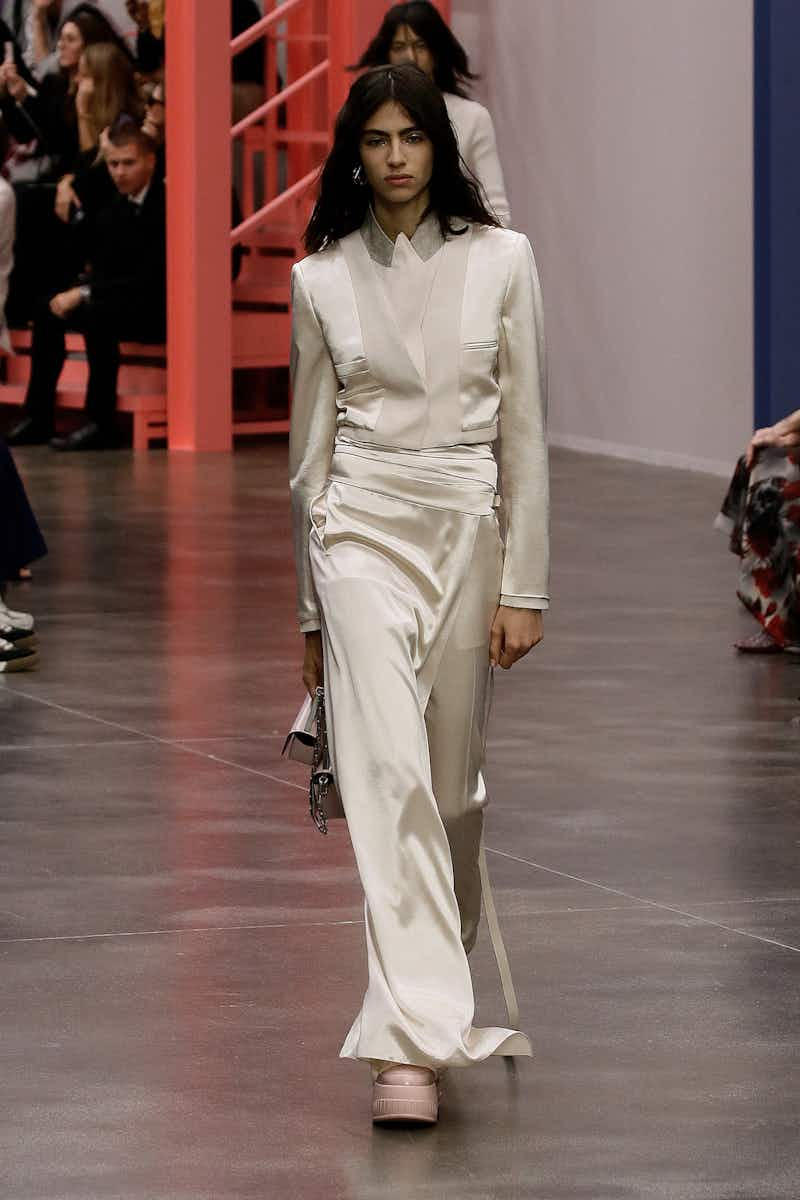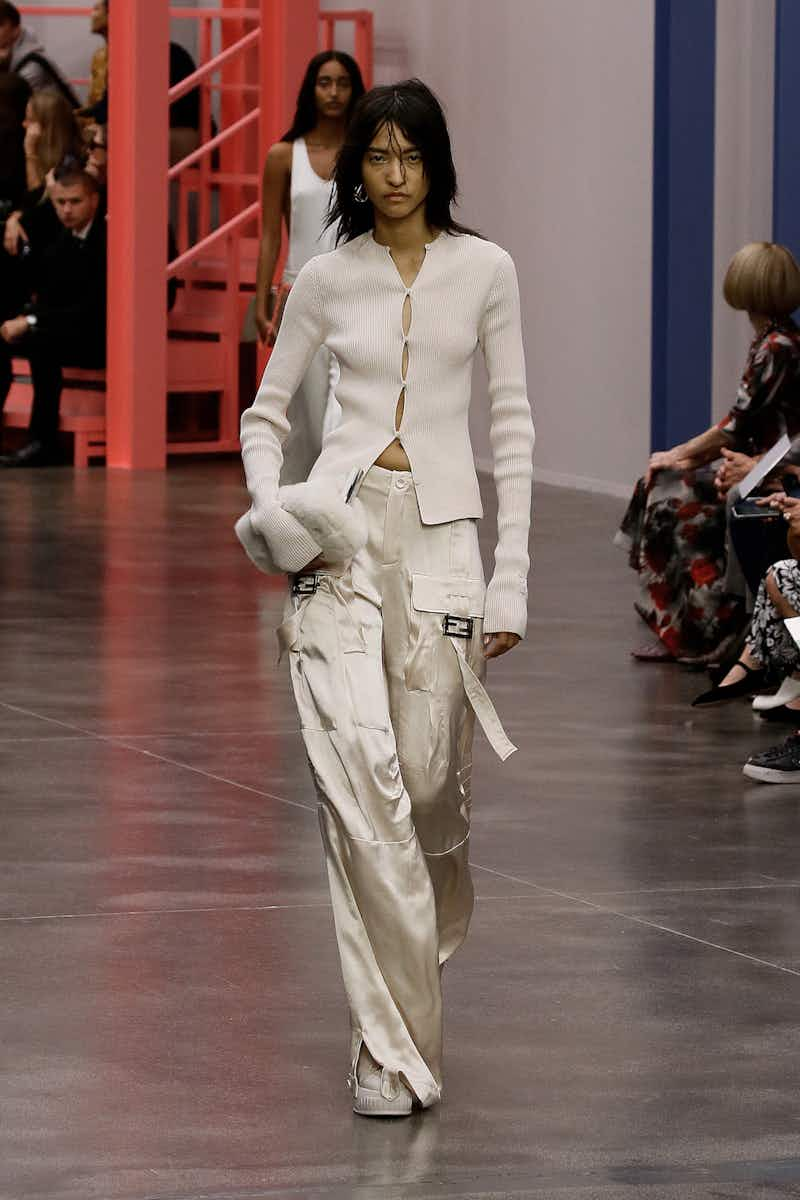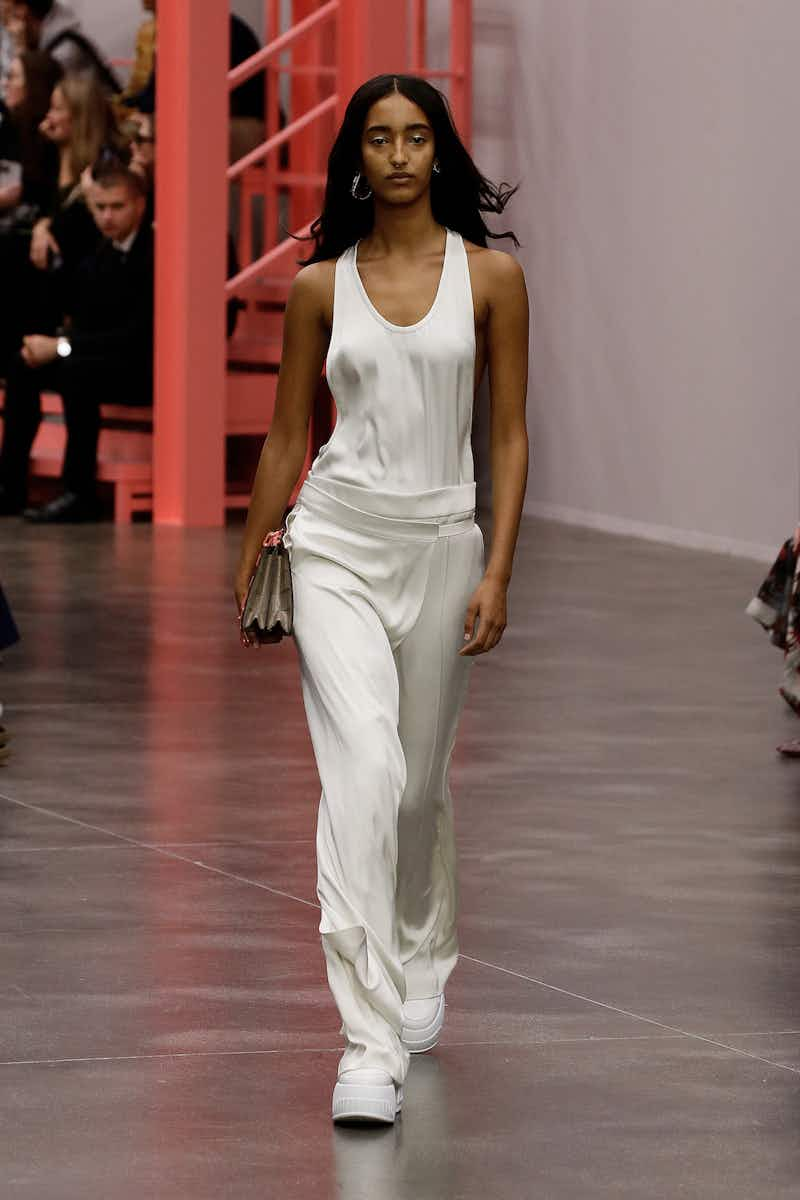 This season, Glenn Martens ripped up the Diesel rulebook once again, this time quite literally, by tearing jackets and skirts until cracked and frayed to appear unfinished or overworn, giving off an air of disaffected cool. Since taking over Diesel as creative director last year, Martens' rise has been nothing short of stratospheric. And his vision is ultra-modern, and not just sartorially: of the 5,000 guests present at the show today, 3,000 were from the public and 1,600 were students; a shiny glimpse into the future of fashion shows, perhaps?

Martens launched high-voltage skimpy denim, skin-tight leather, scaly graphics and retro-futurist silhouettes into outer space with an interstellar show soundtrack, throwing in a few alien-like models covered in iridescent body paint for good measure. The designer has already created new house codes – bleached and battered leather, shredded denim, future-infused metallics, super-chunky metal logos and oversized belts as micro-minis – which continue to dominate this season as Martens' latest offering shows no signs of slowing down. Buckle up, we say. SW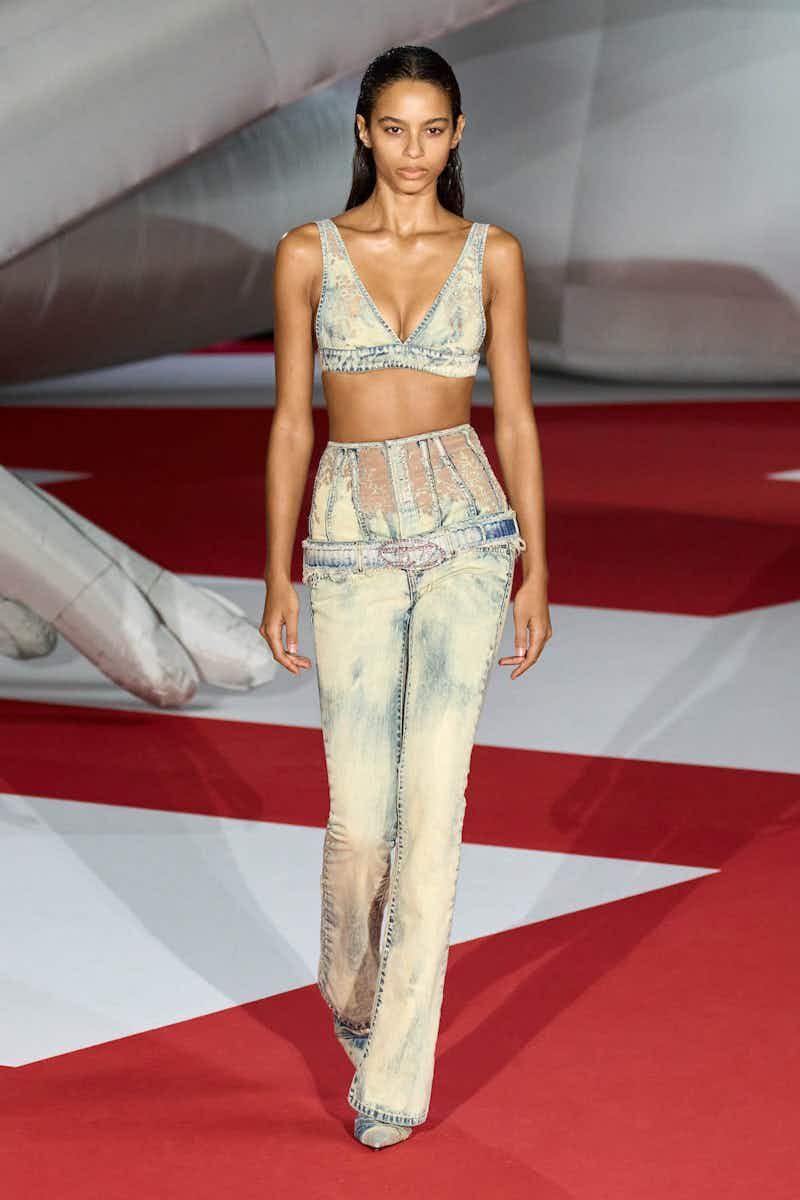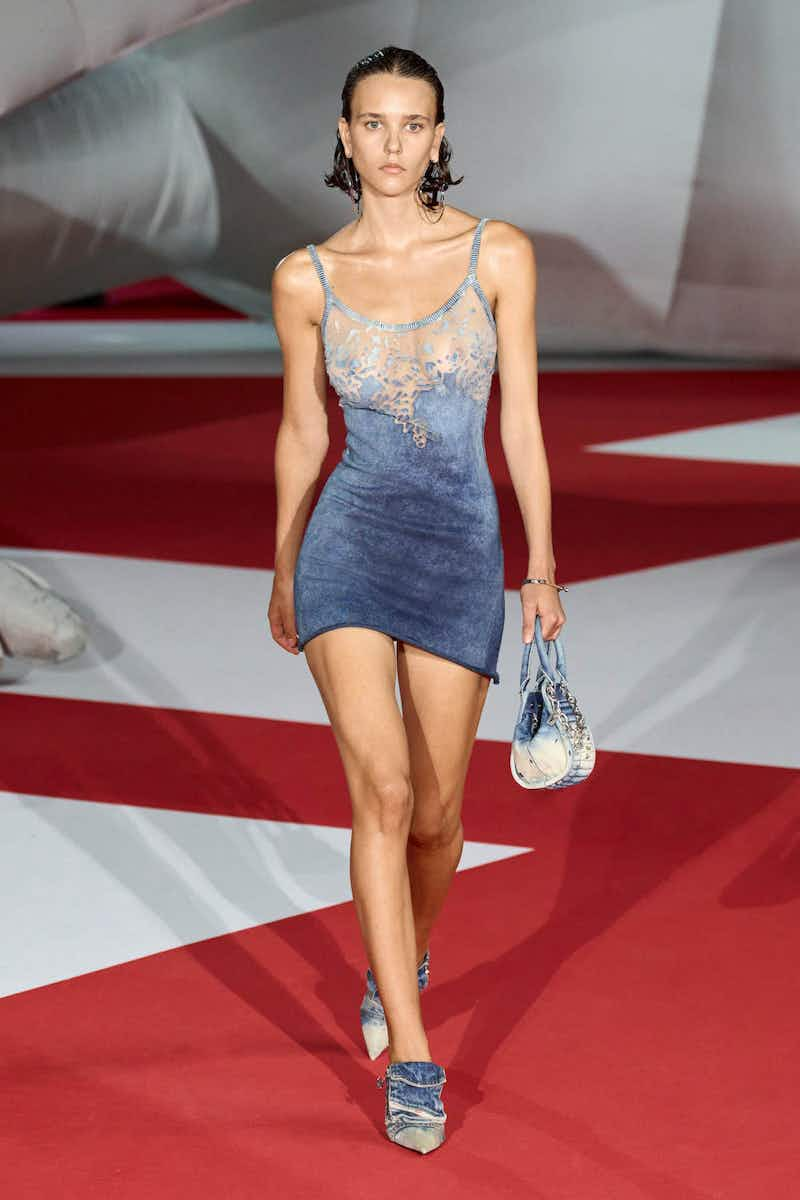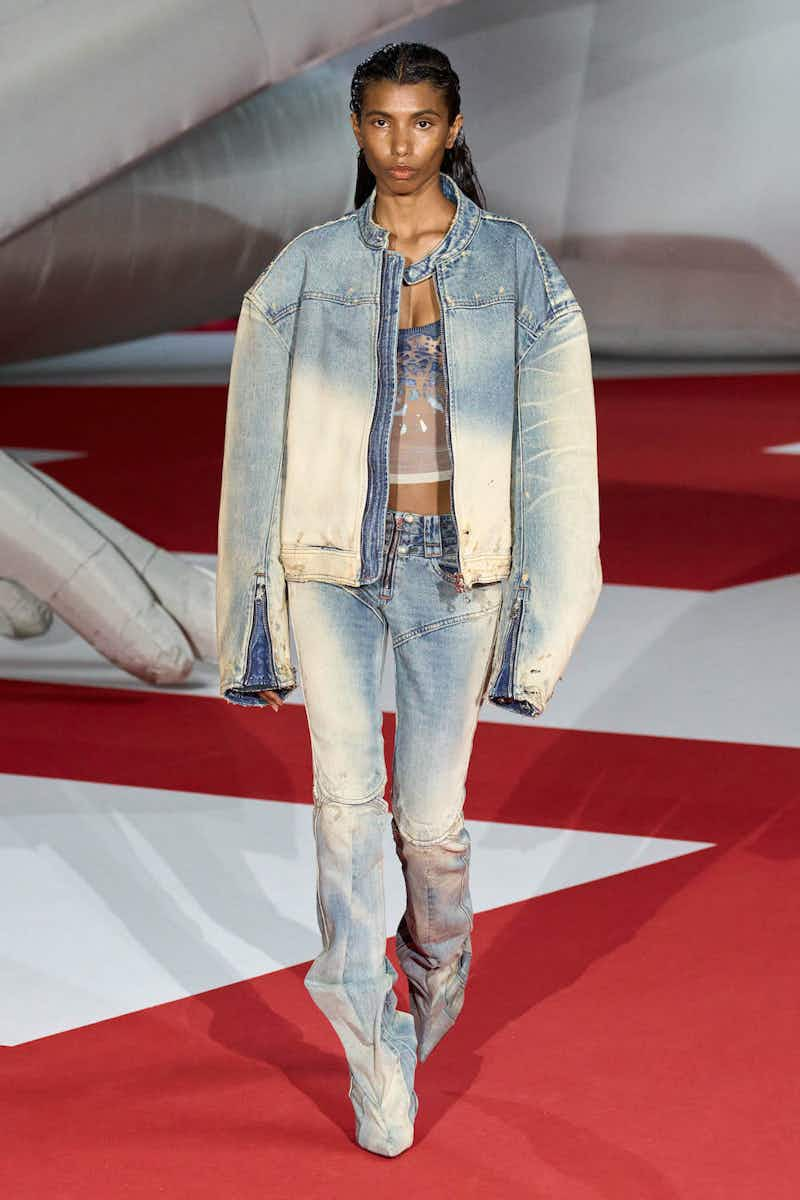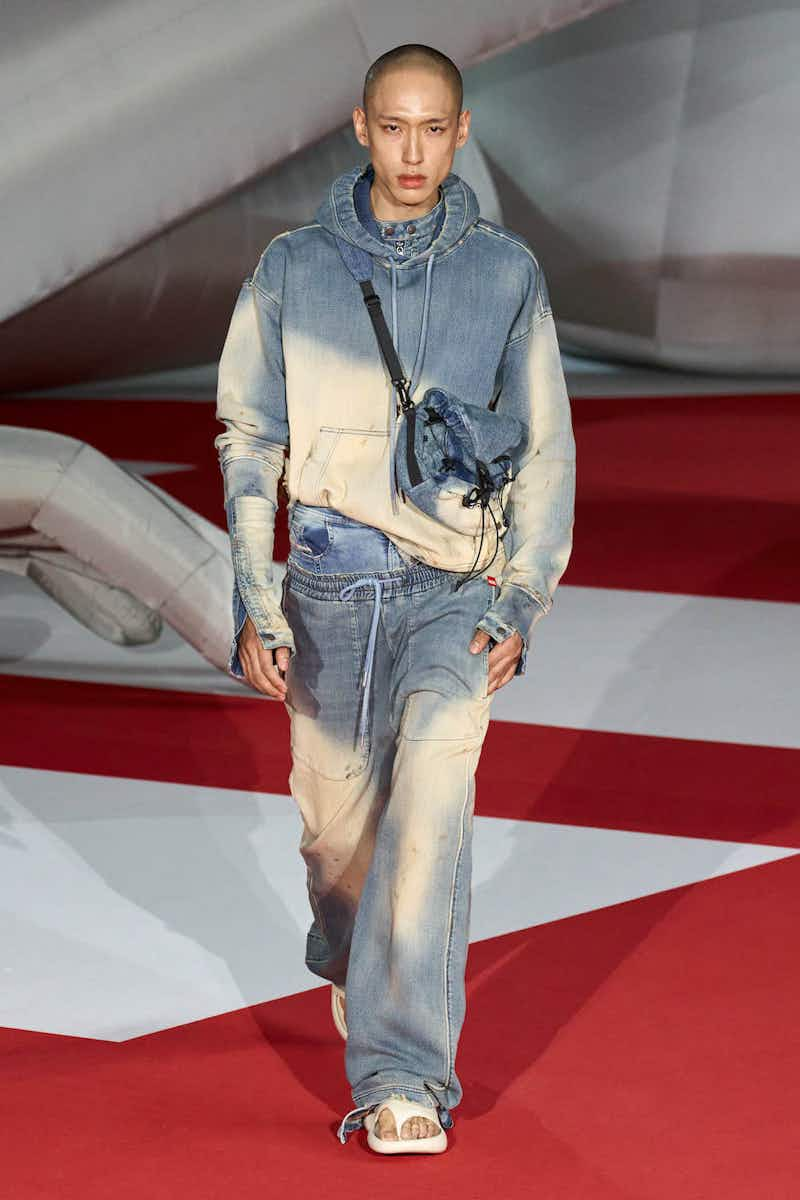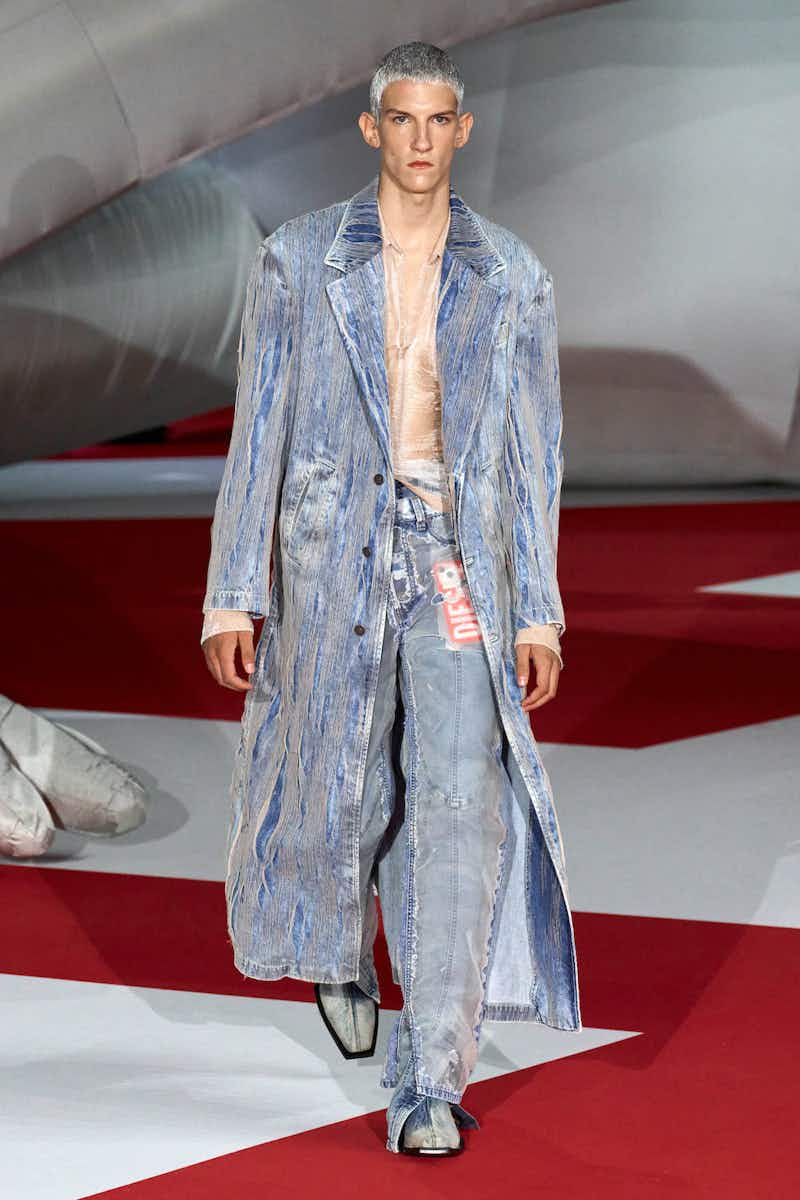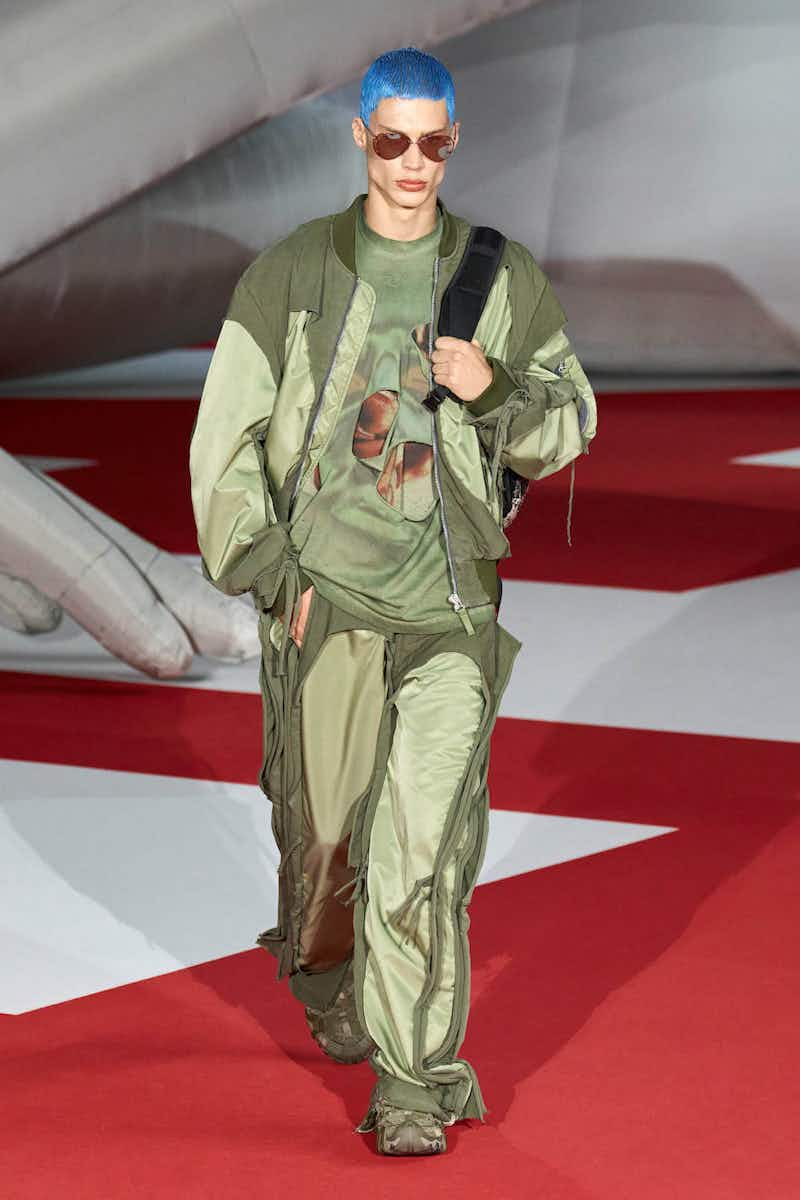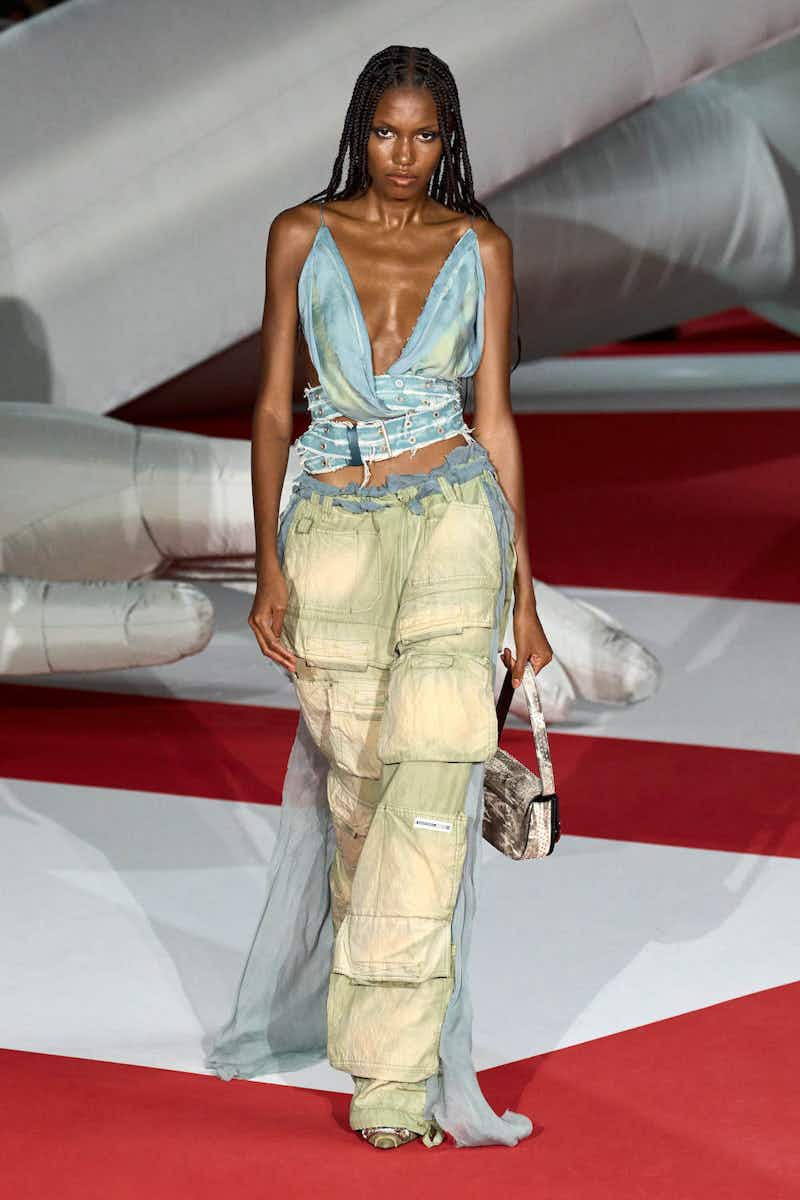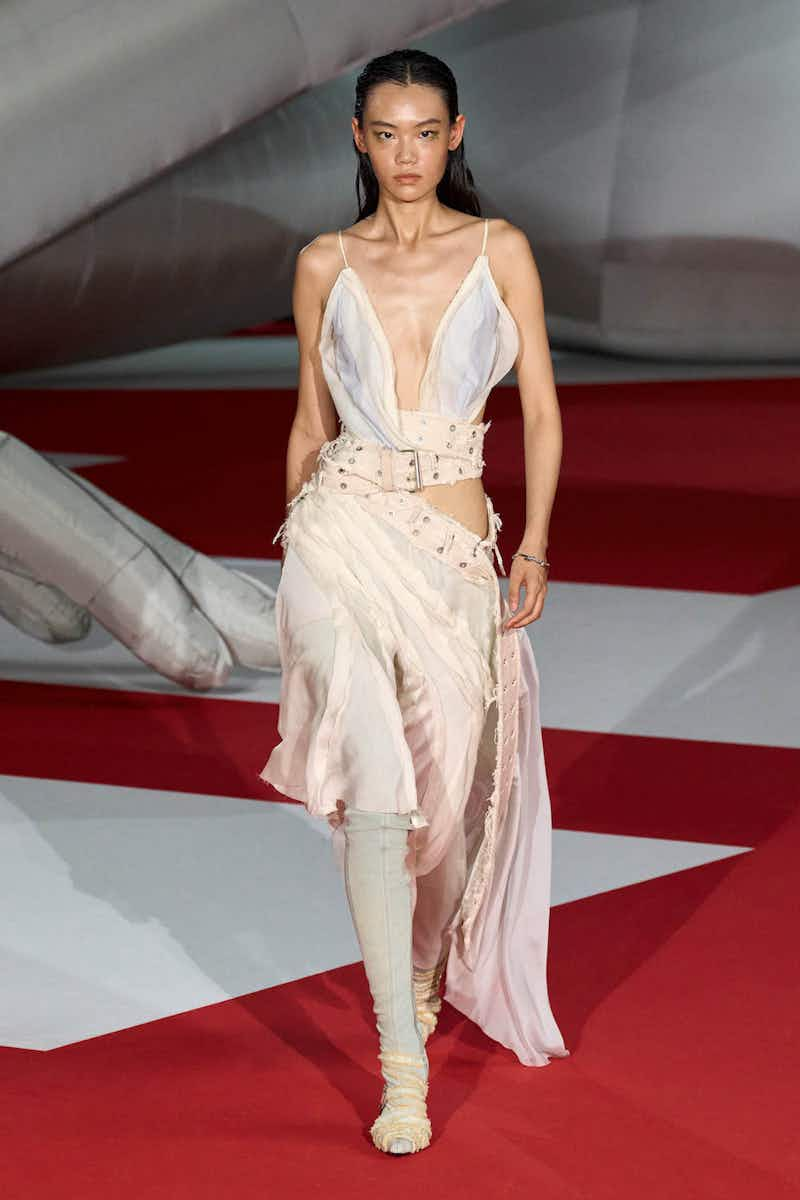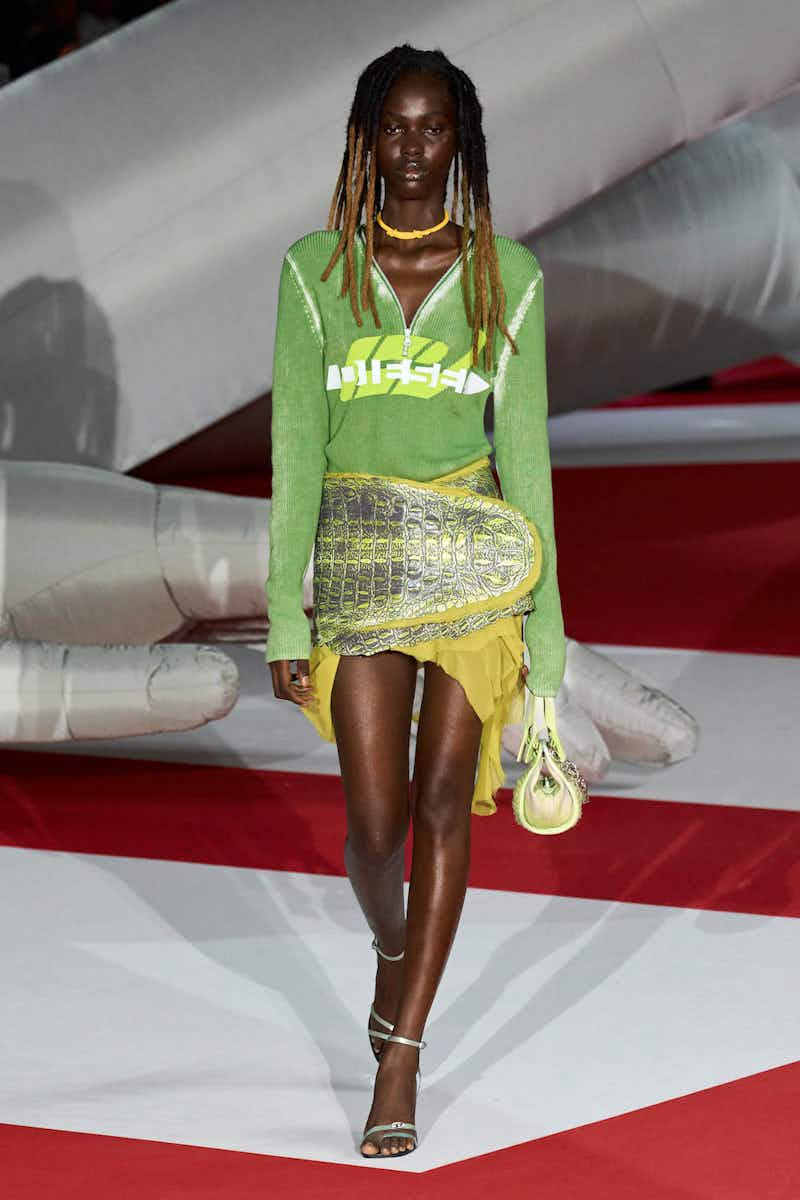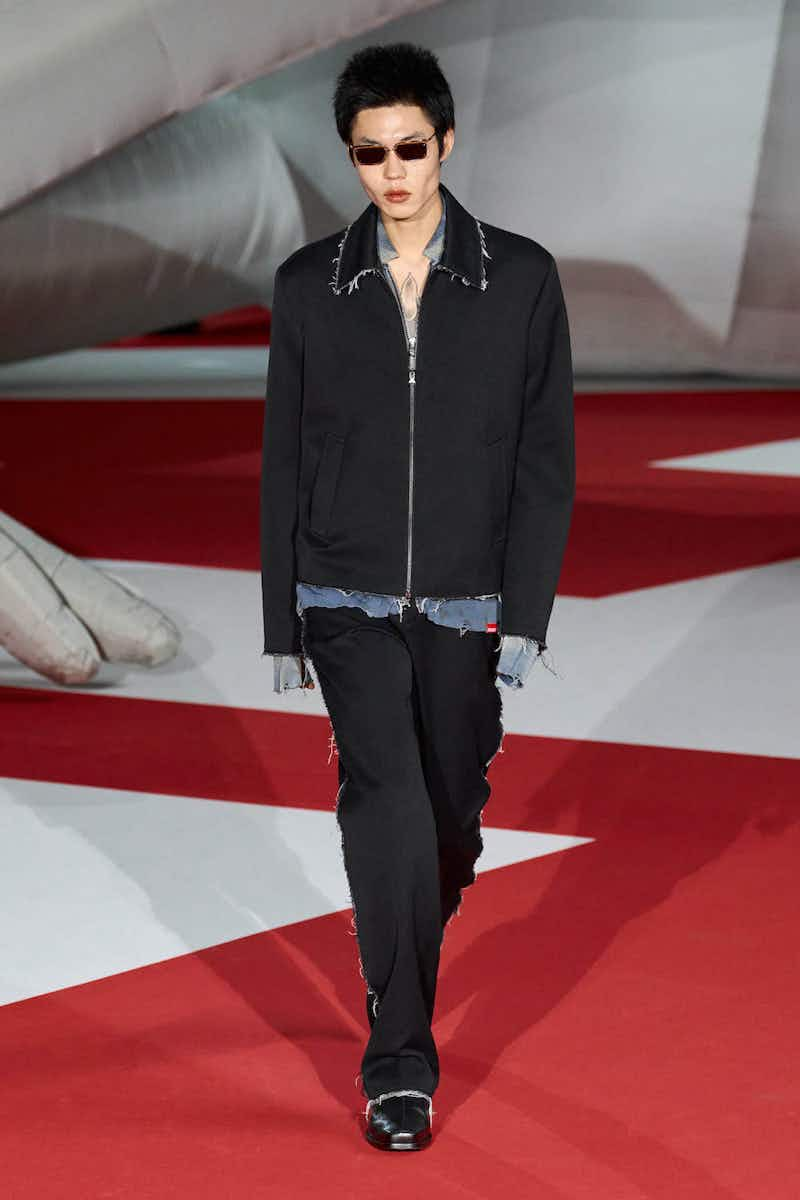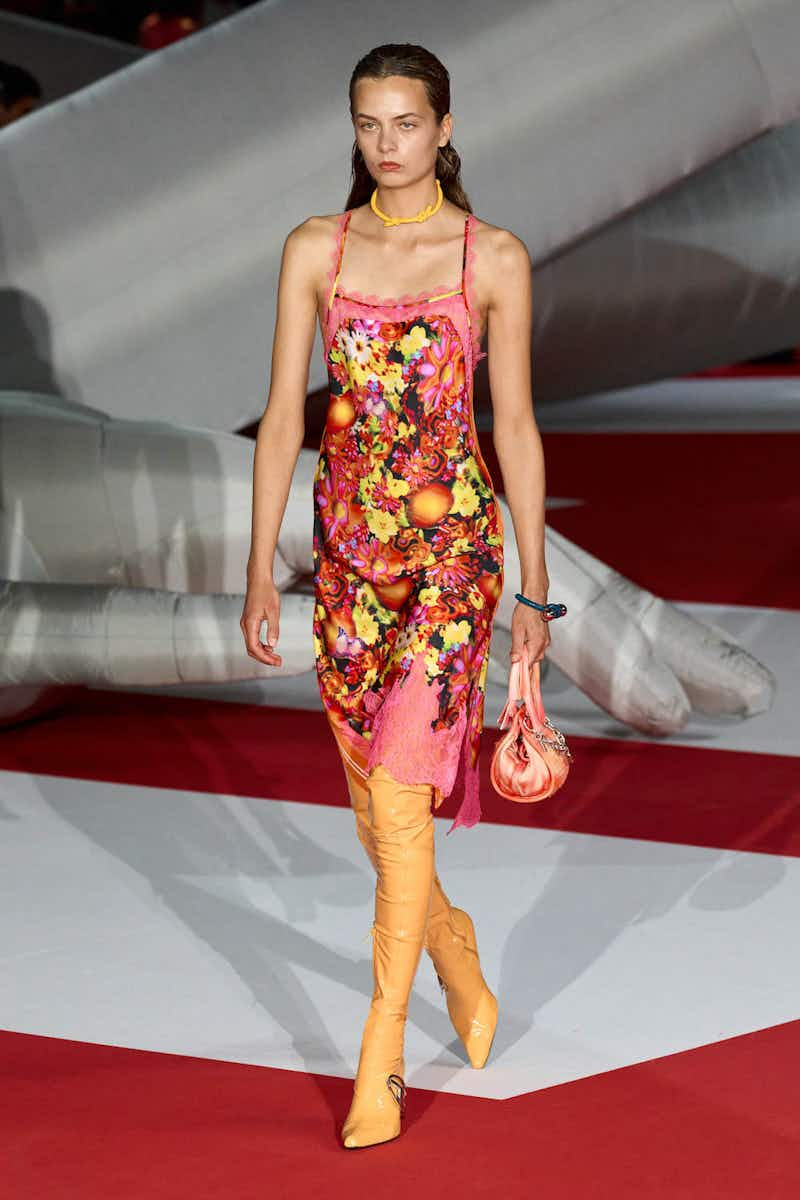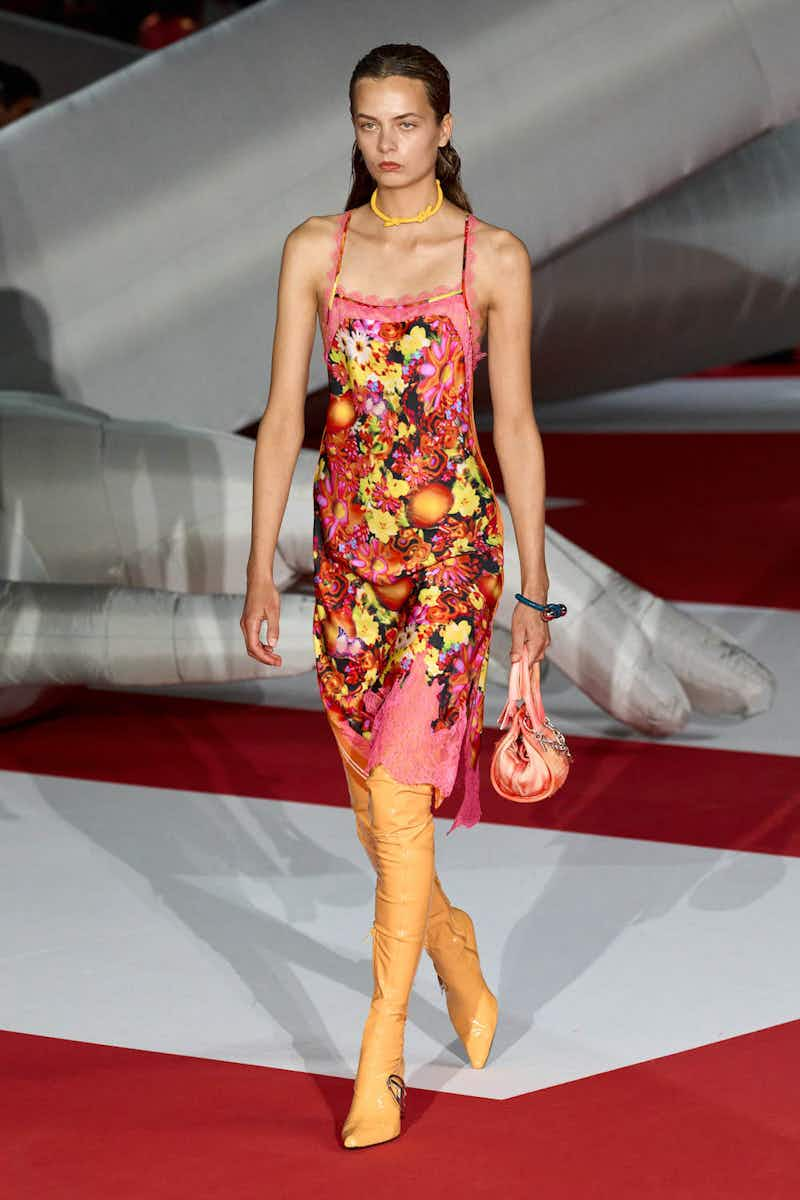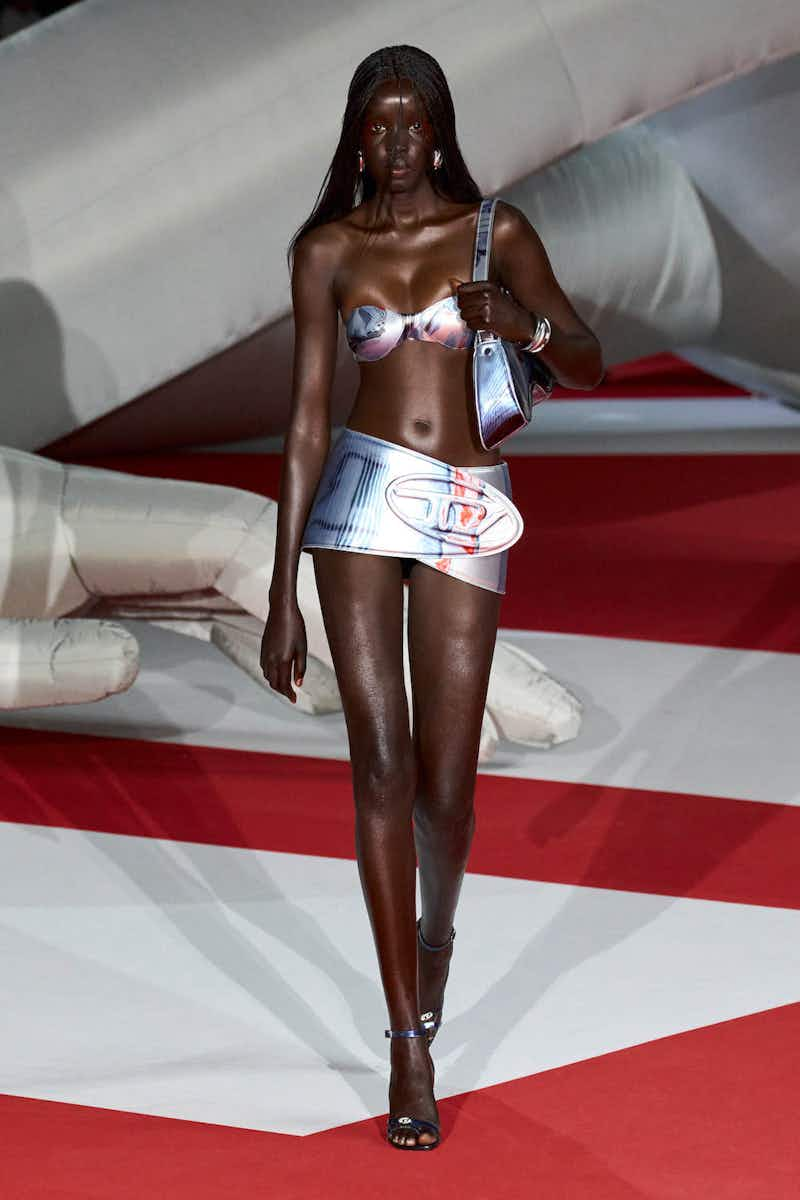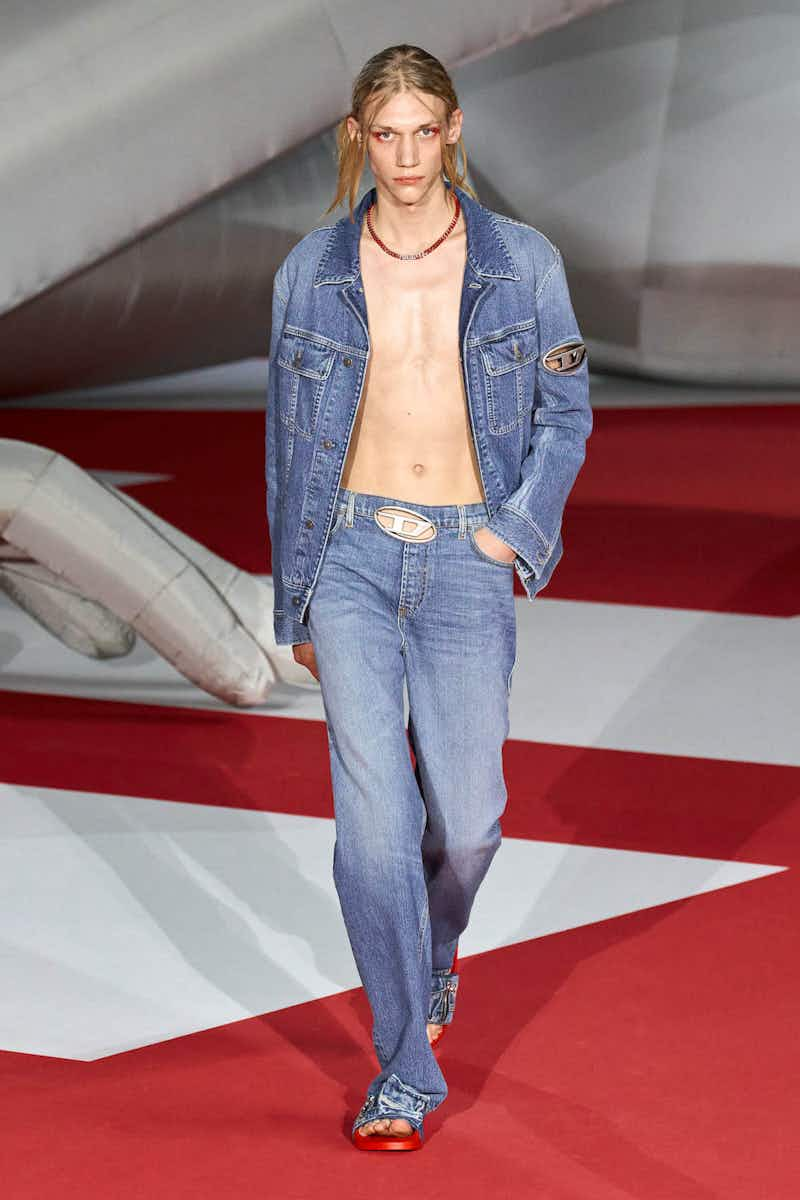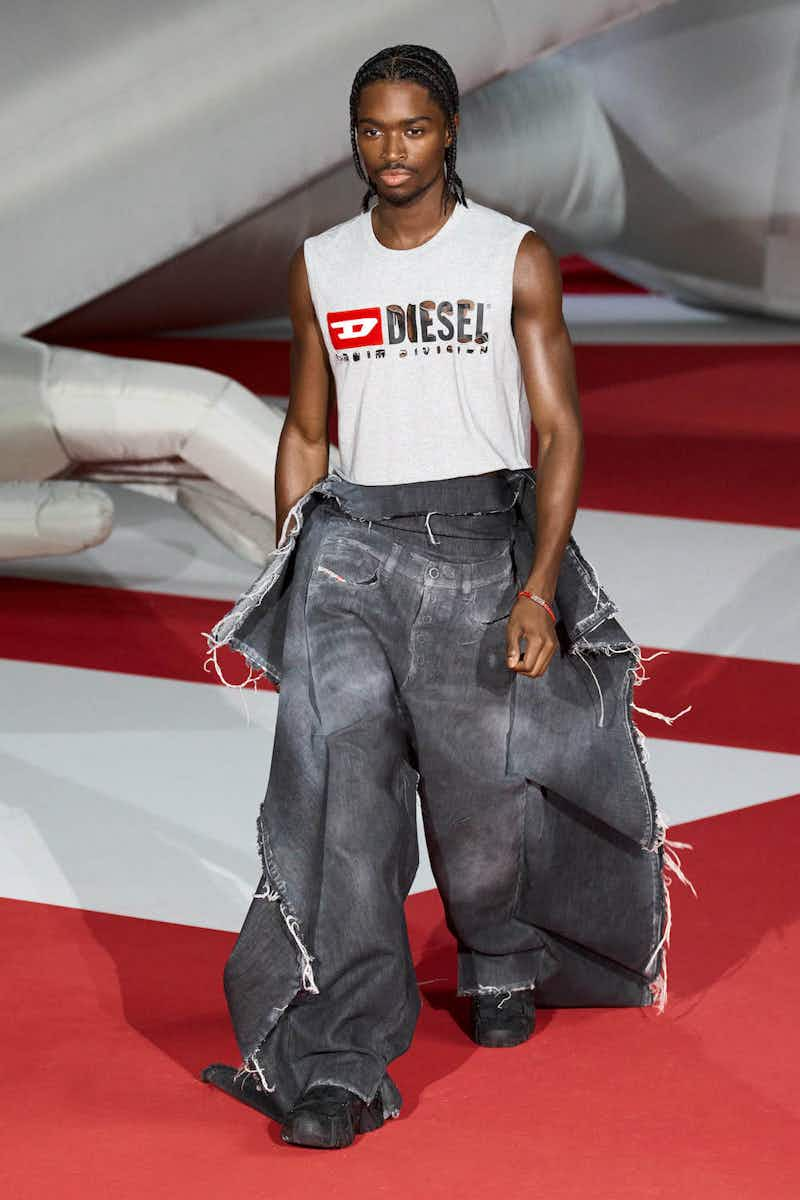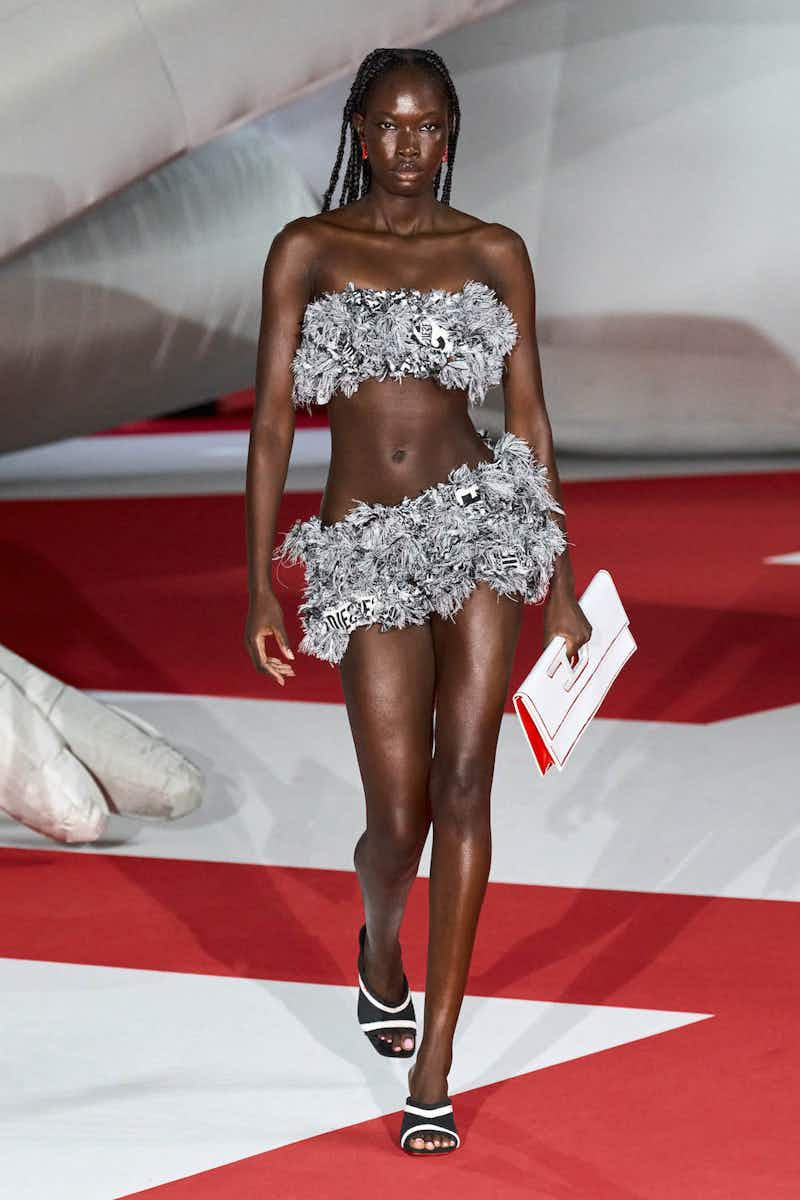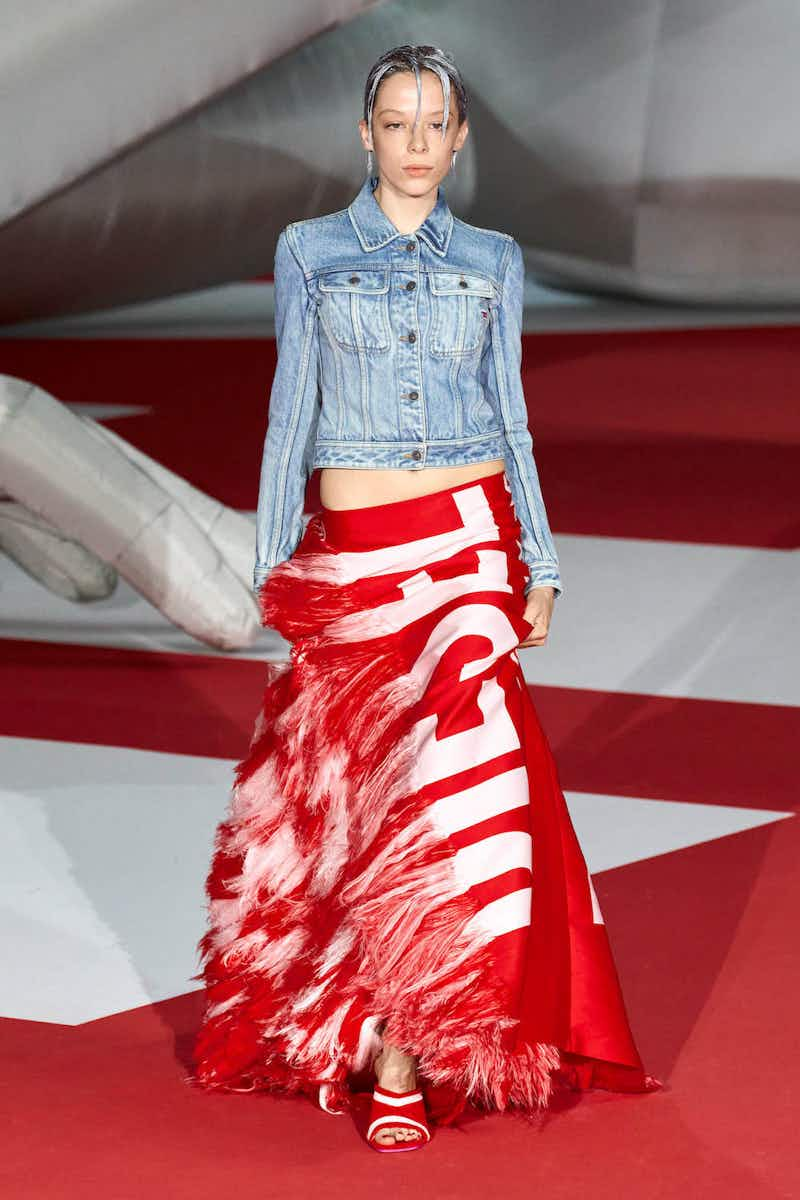 More like this