Mugler mania: Casey Cadwallader on the dystopian reality of AW21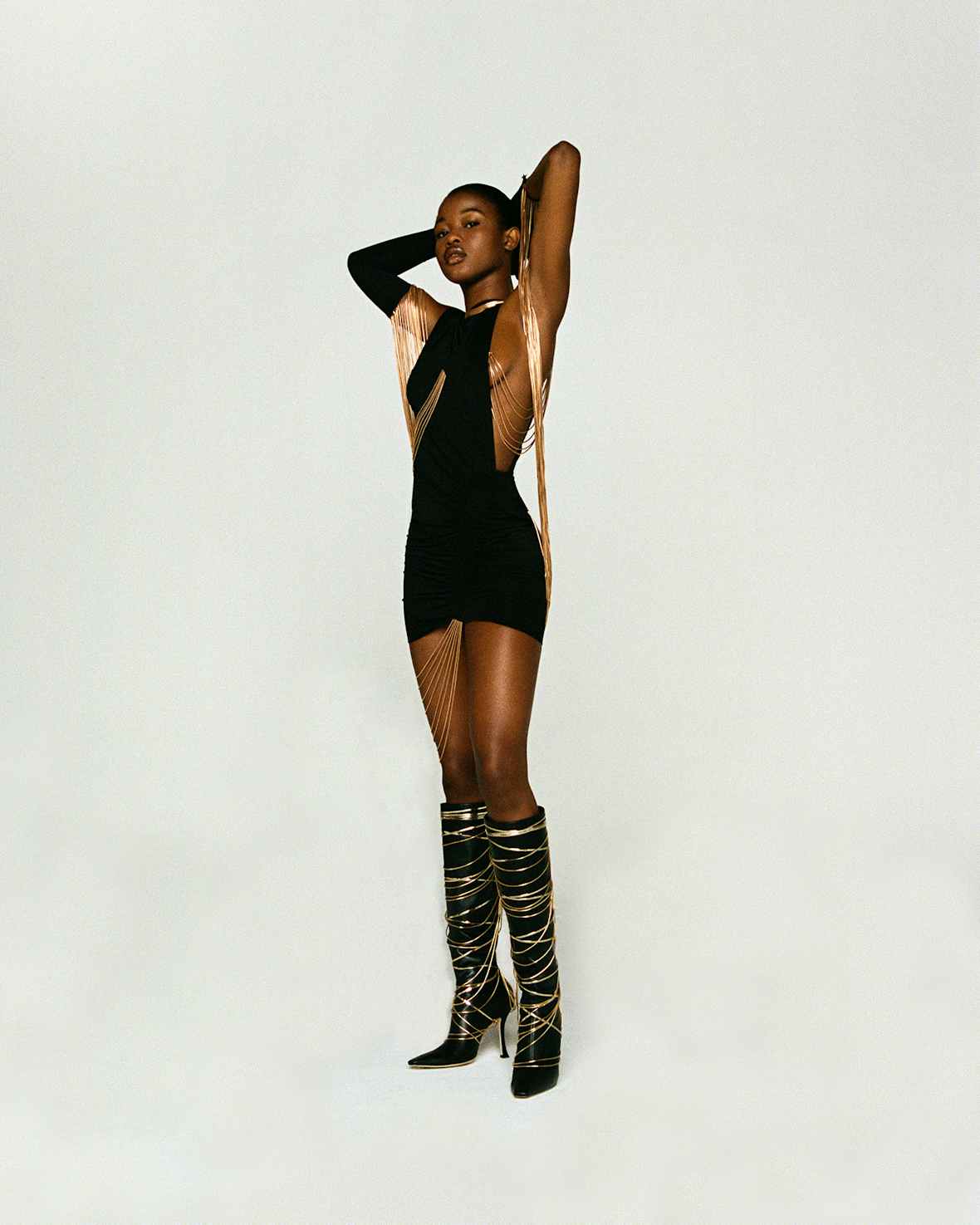 THE FACE speaks to the creative director about his democratic approach to fashion, his pursuit of fashion films and making clothes for the women he sees every day.

A month ago, designers jumped through rings of fire to present their collections, finally, in real life, after 24 months of digital fashion films and lookbooks to promote collections.
But not Mugler. Having presented the house's two previous collections via tech-savvy films – albeit through no real choice of his own, given the you know what – creative director Casey Cadwallader once again assumed the position of fashion filmmaker, opting out of the traditional runway setting for its AW21 show and following a see now, buy now format, placing Mugler one season behind fellow houses.
Slick, sexy and ultra, Mugler's film sees a cast of the Parisian house's established community – Bella Hadid, Jill Kortleve, Sora Choi, Dominique Jackson, Lourdes Leon and Amber Valletta – swish, strut and show-off in close-ups that explore every inch of Cadwallader's seductive designs. Models are stalked by a drone-like camera, zooming in and out of body parts, revealing flesh and emphasising limbs. This season, it's ​"a no-holds-barred celebration of the female form". That means sex, sex and… sex.
In the middle of the film, non-binary model, poet and activist Kai-Isaiah Jamal emerges in a moment of duality, which sees the multi-hyphenate (and arguably one of the coolest people in London right now) transition from high-femme to hyper-masculine. ​"Working with Kai is so special," Cadwallader says. ​"We thought of this idea of having them do one look that's very sexy, then one that is more boyish. Those two looks would [usually] be separate in a show. But with film, we could switch Kai back and forth to different versions of themselves."

Speaking to Cadwallader, you get the impression he's on a mission to democratise the current fashion system. There's something unnaturally normal about the designer sitting at the helm of a historical Parisian house that's known for fantastic, dream-like designs. When he assumed the position of creative director in 2018, the US designer had a vision to reach out to as many women as he possibly could through the brand, using his knack for understanding the body and how garments can work with it, not against it.
But throughout the 1980s and ​'90s, Mugler wasn't exactly seen as an accessible brand. Svelte figures wearing garments designed for, er, svelte figures, dystopian themes and the fantasy land curated by Thierry Mugler made the house's collections feel more like untouchable art installations, worn only by the hyper-rich and hyper-famous.
"It's funny because Mugler definitely had that side," Cadwallader says. ​"But it also had a huge ready-to-wear business with denim, lycra, knitwear and all those things. Even though it was projected as this fantasy world, there was a really big reality to Mugler in the ​'80s and ​'90s. I think we all remember the late ​'90s, early ​'00s, when things got so super stellar, but there was a lot of backbone to the clothes before that."
The designer, then, is pushing an agenda of sheer wearability. Now, with his continuation of the fashion film format, he's gearing up to go above and beyond the front row.
"Things have really changed in the past 20 years," he says over Zoom. ​"It used to be that only fashion editors would see a fashion show and the public wouldn't see it ​'til six months later. Now, we're in a world where the front row all have lenses that are broadcasting this to everybody." And by introducing the see now, buy now format again, Cadwallader is making Mugler all the more accessible for his growing legion of fans.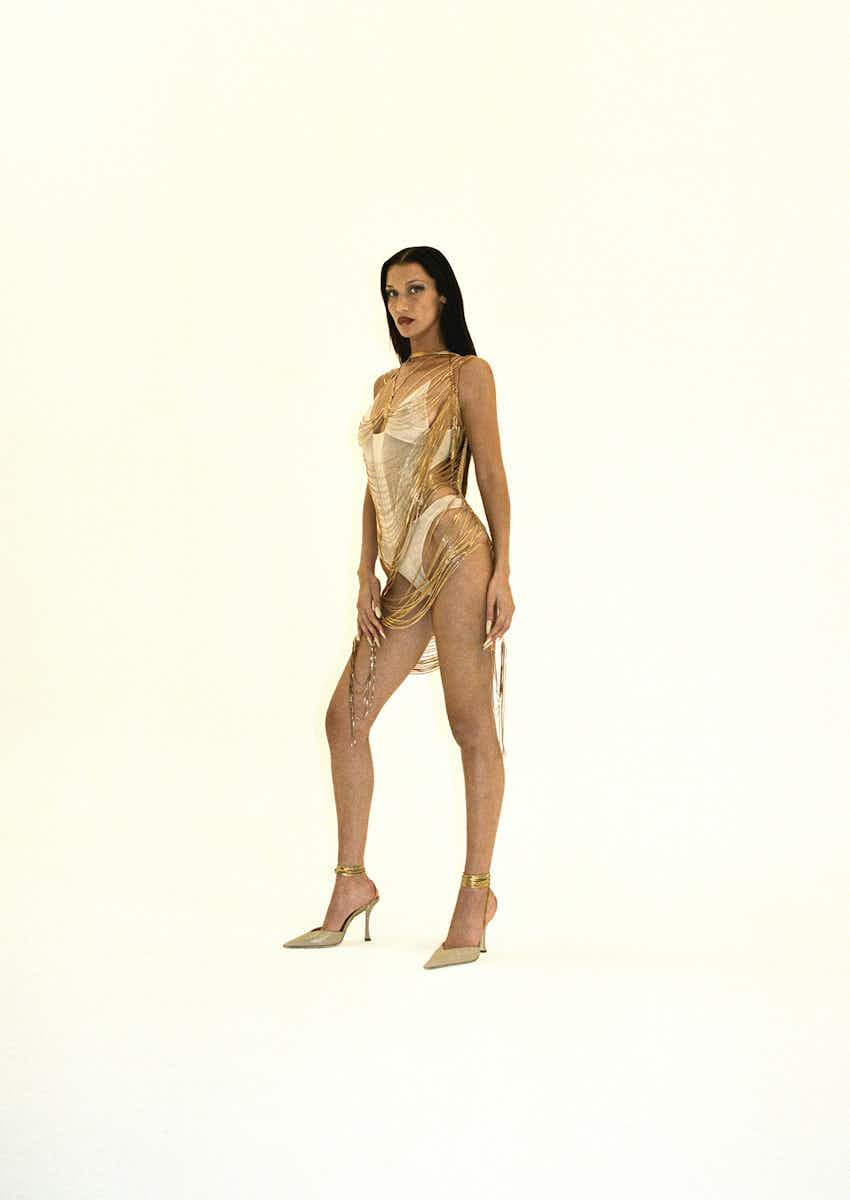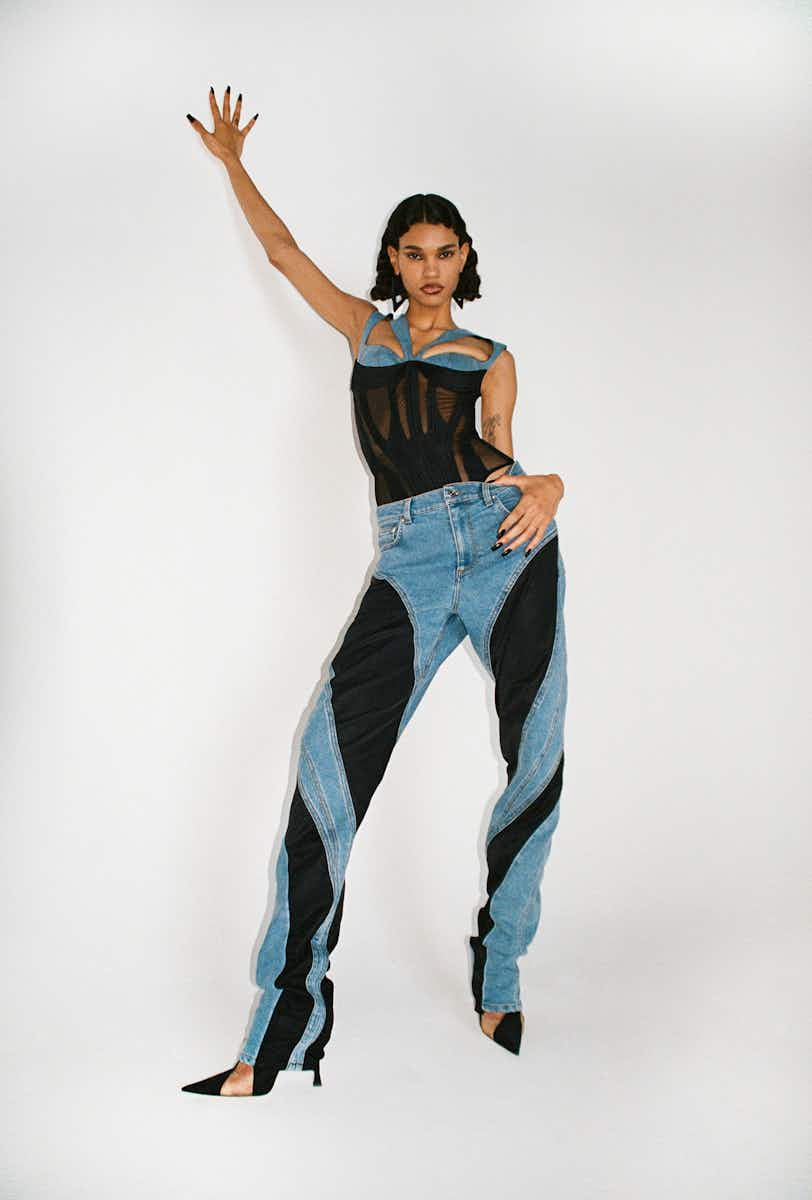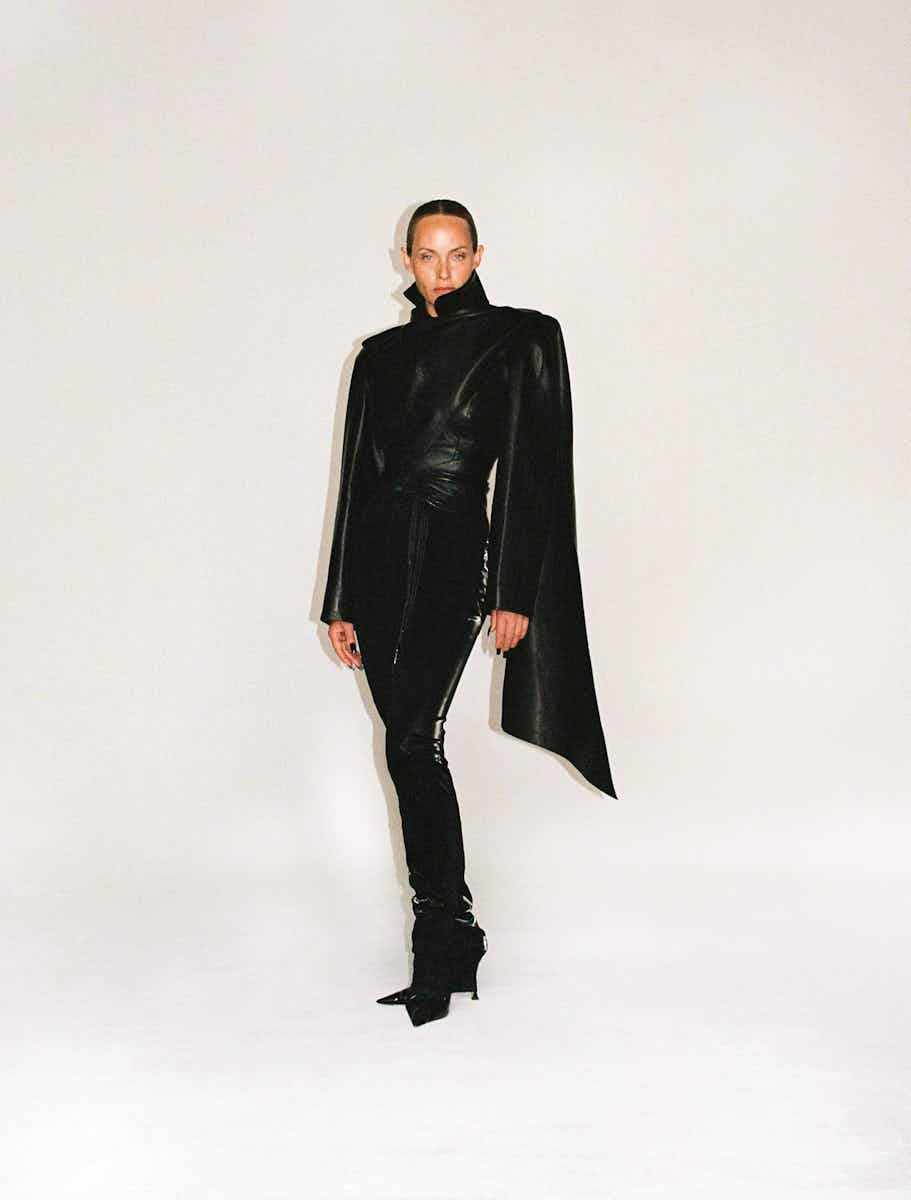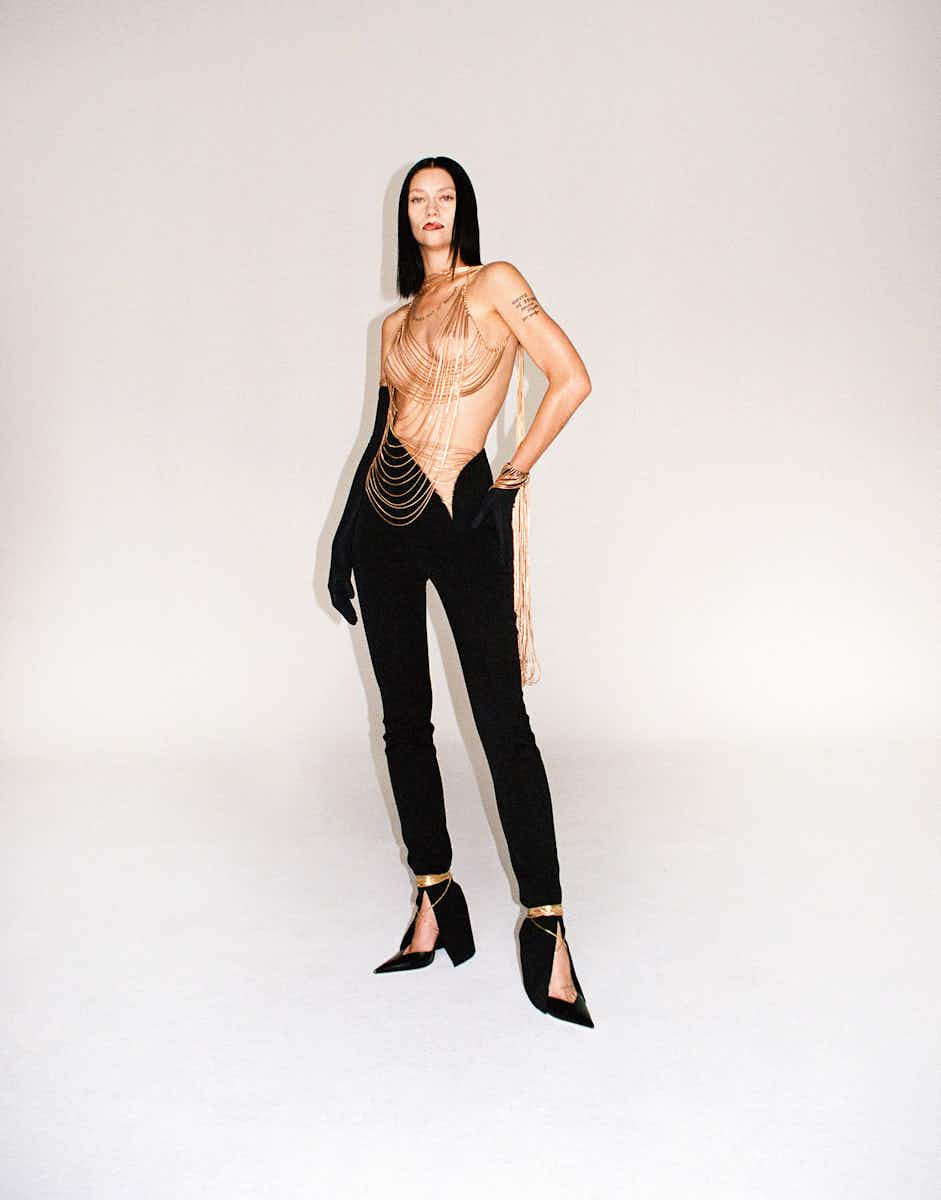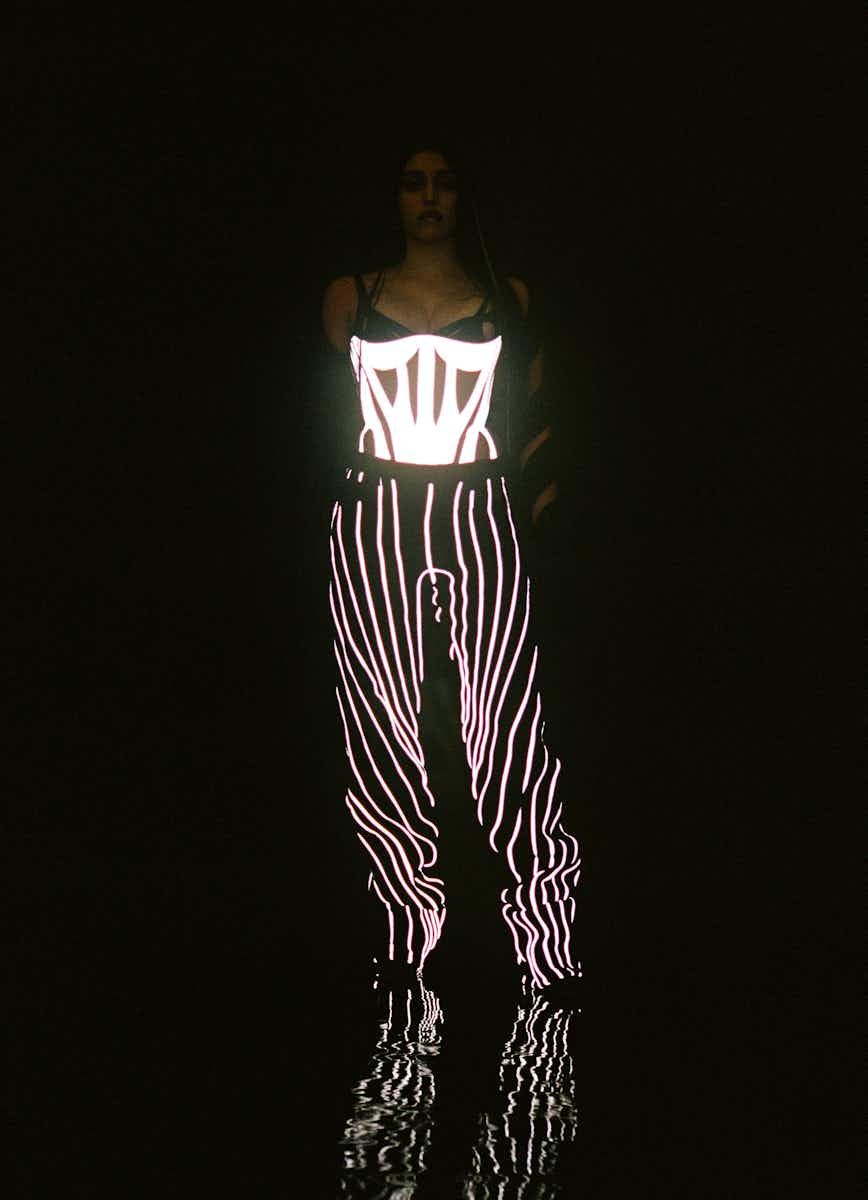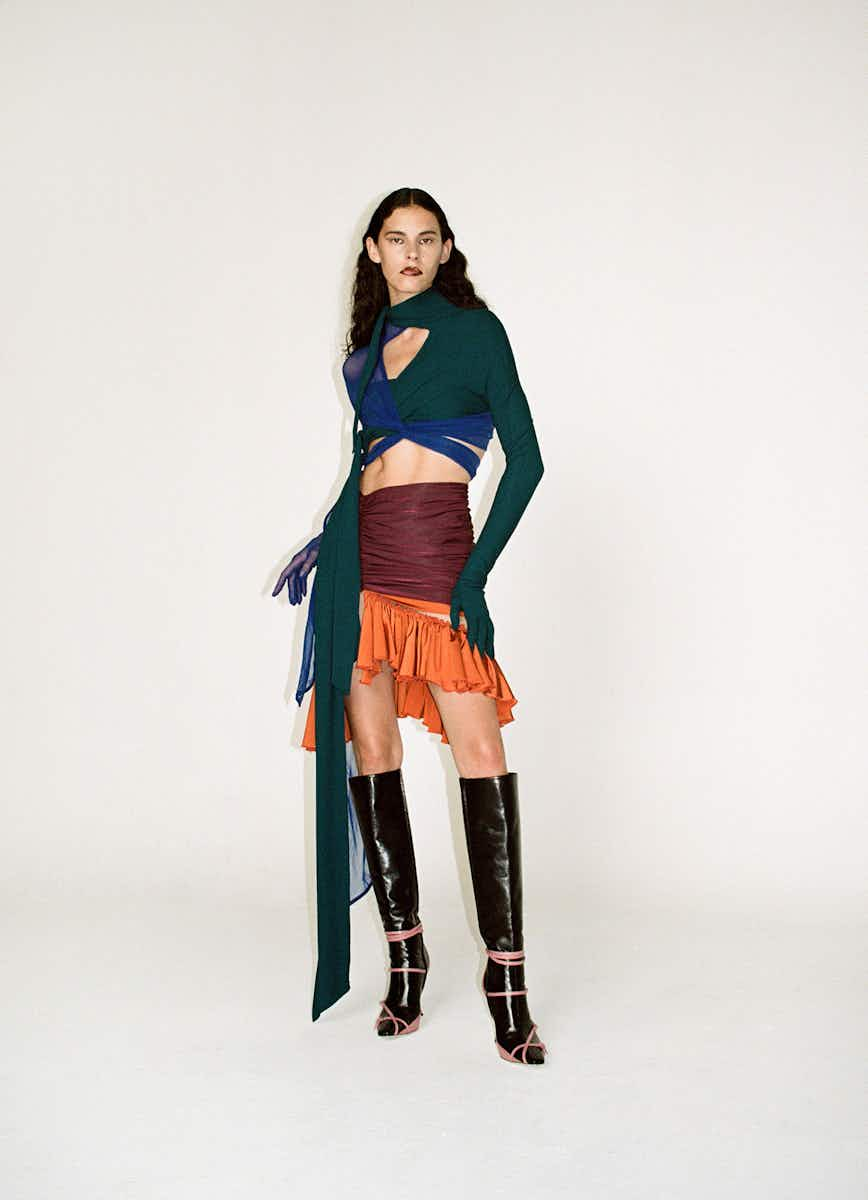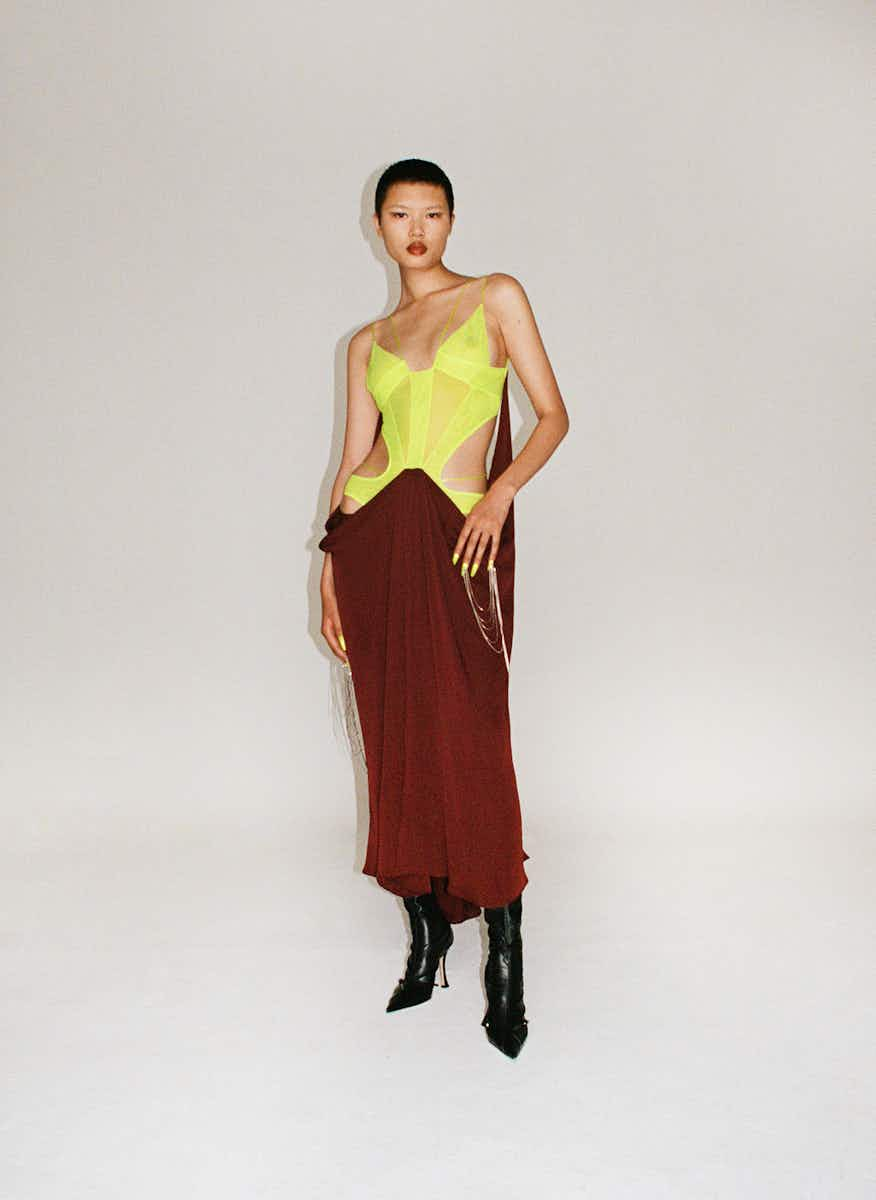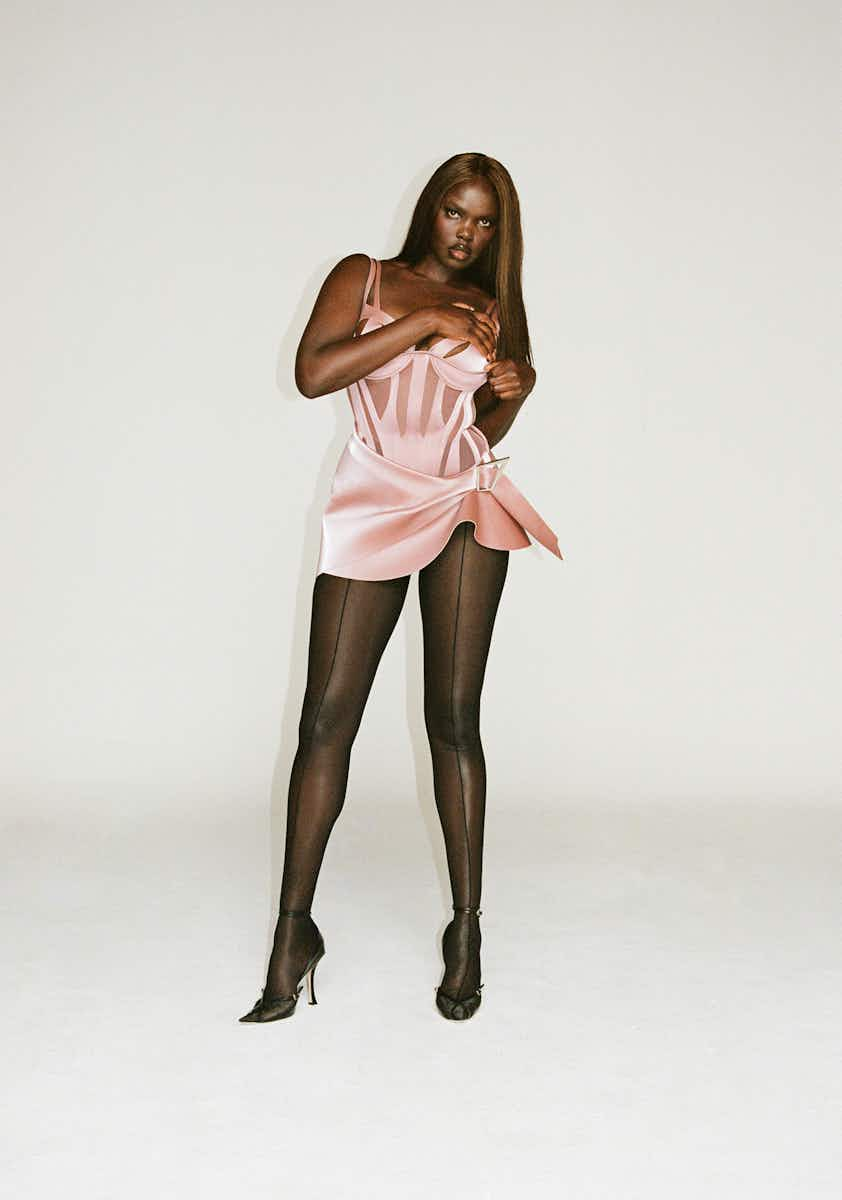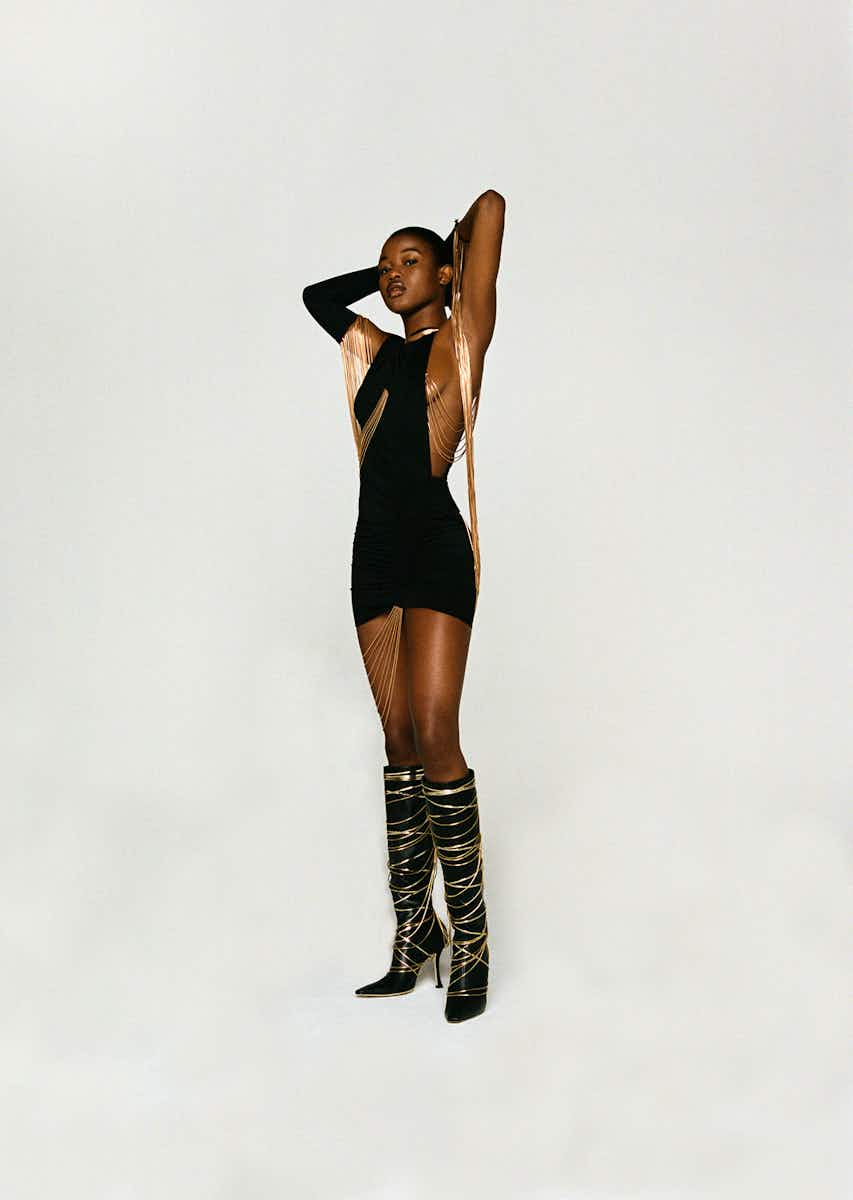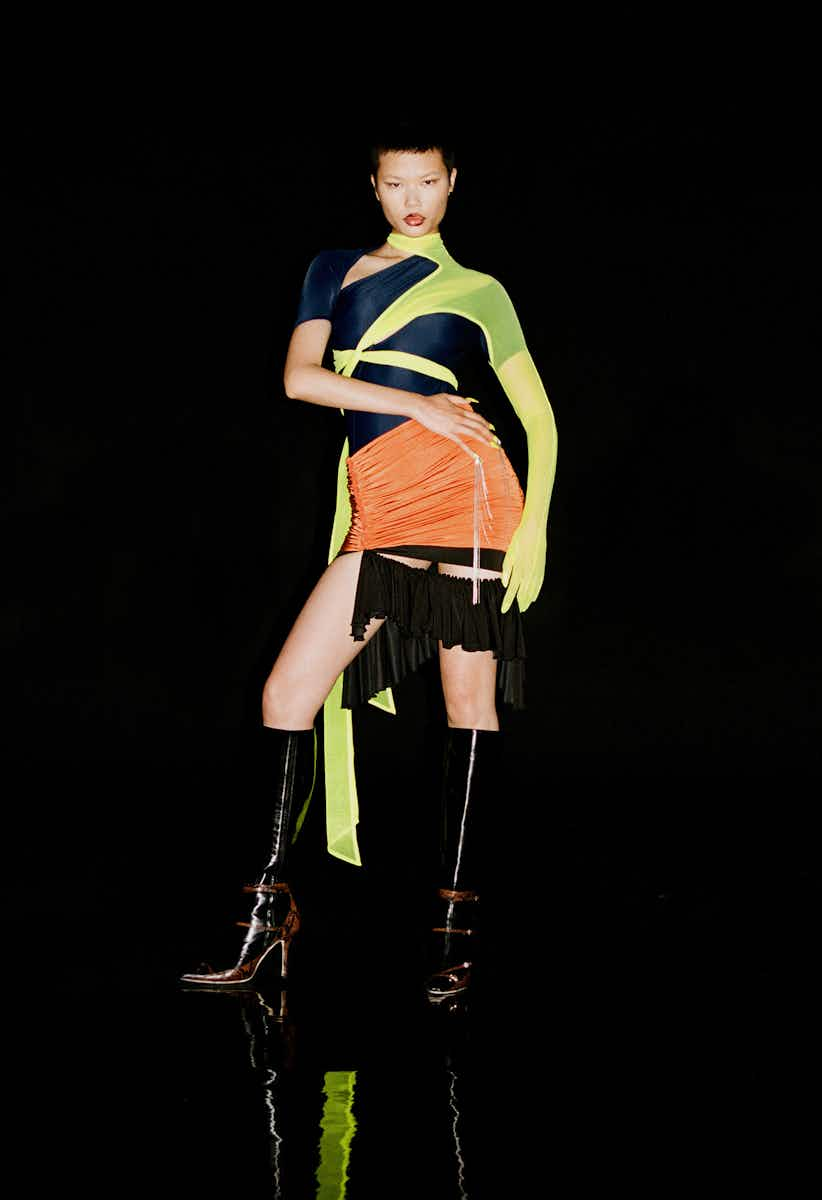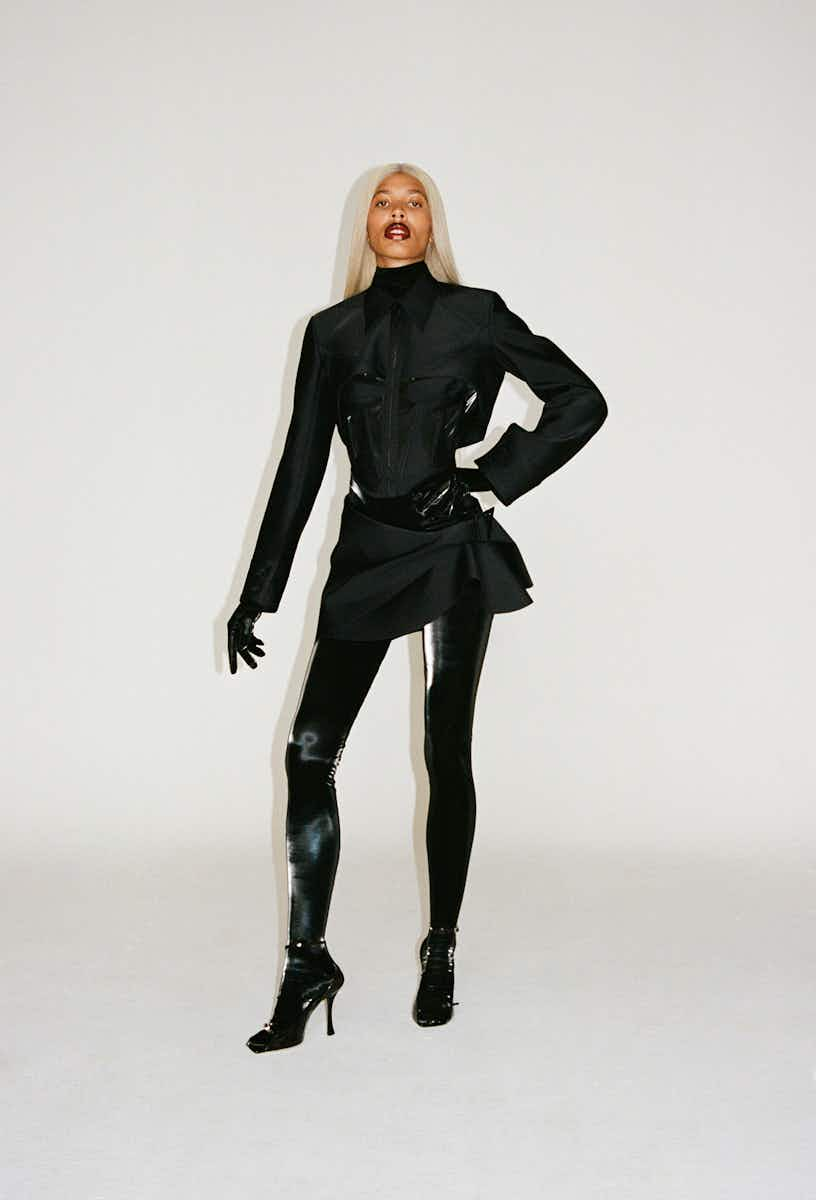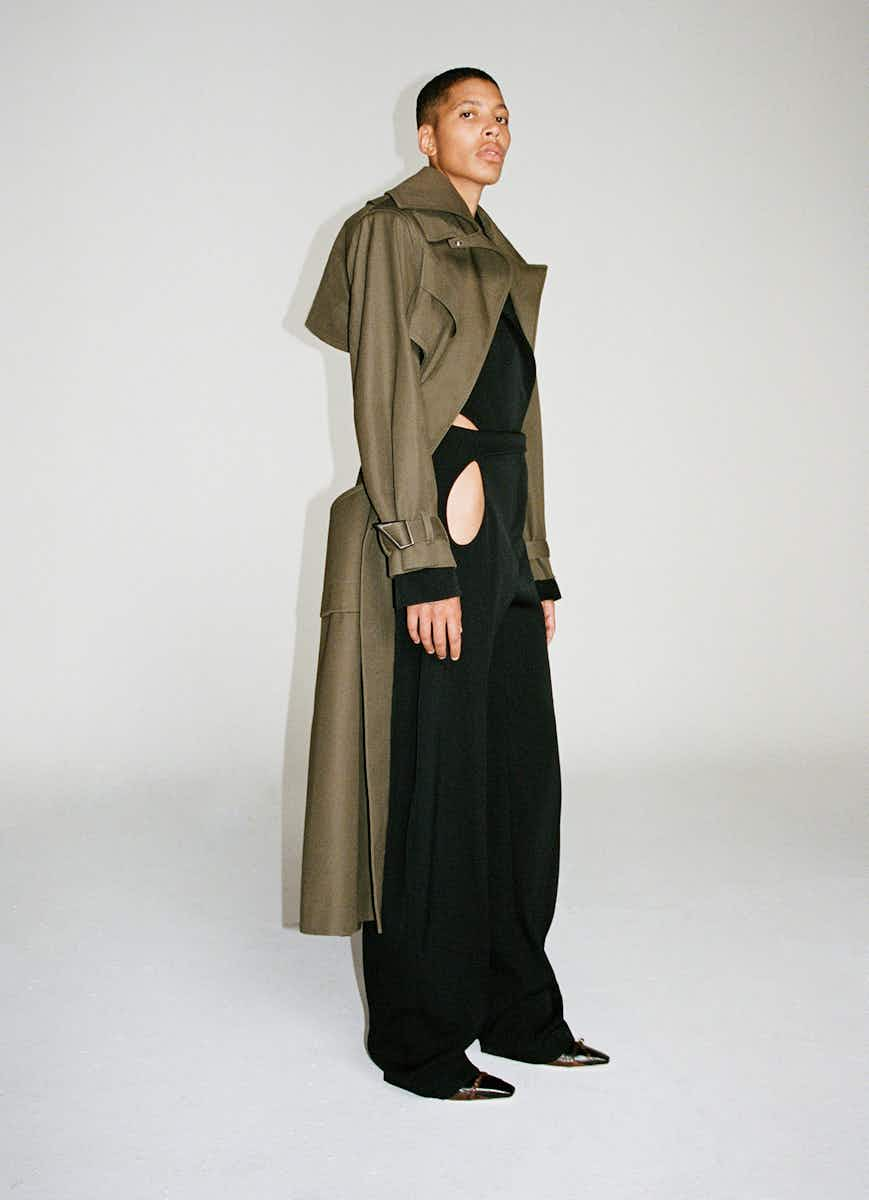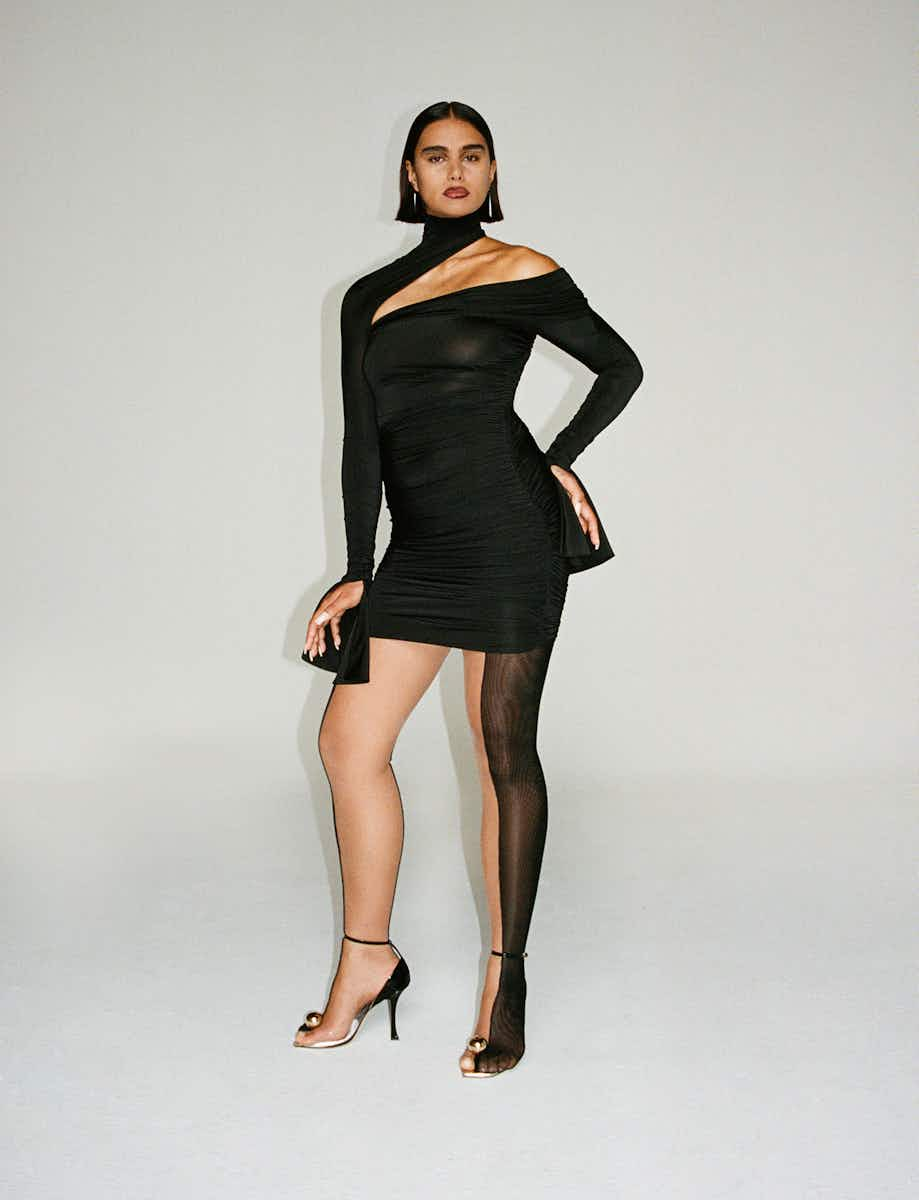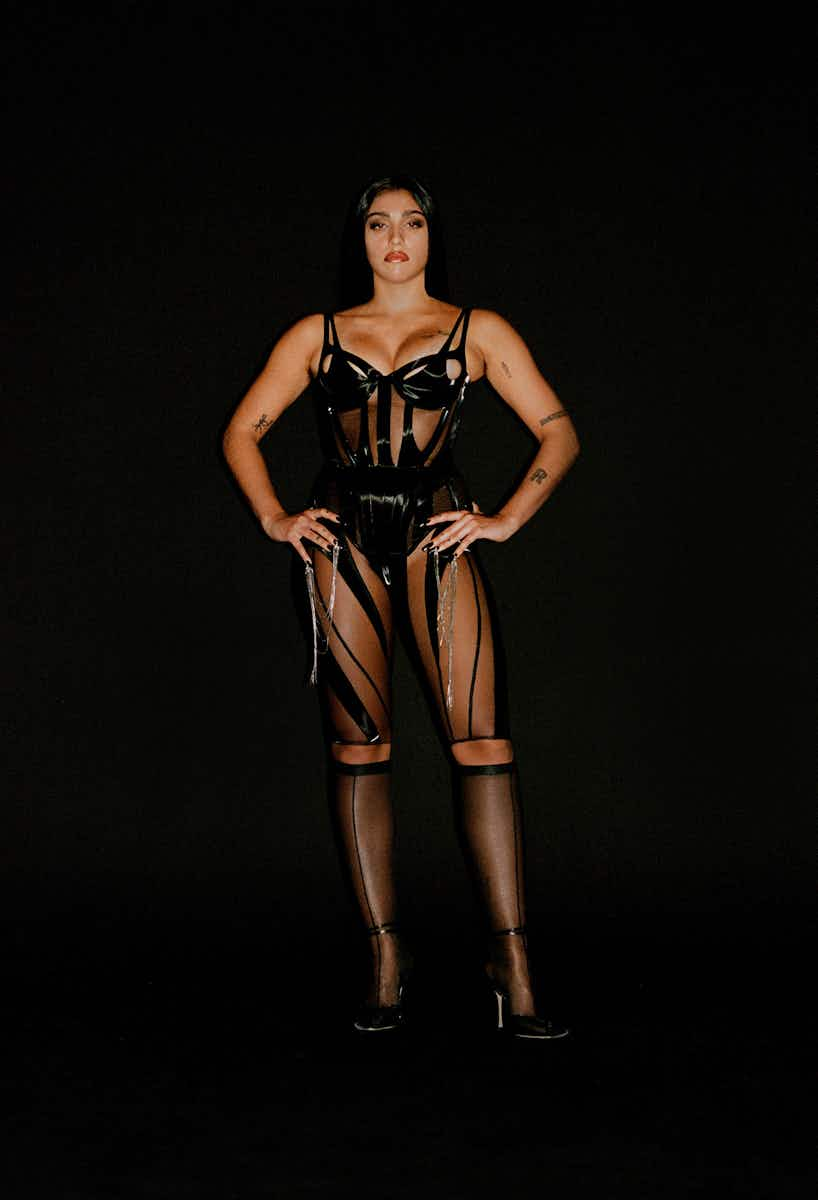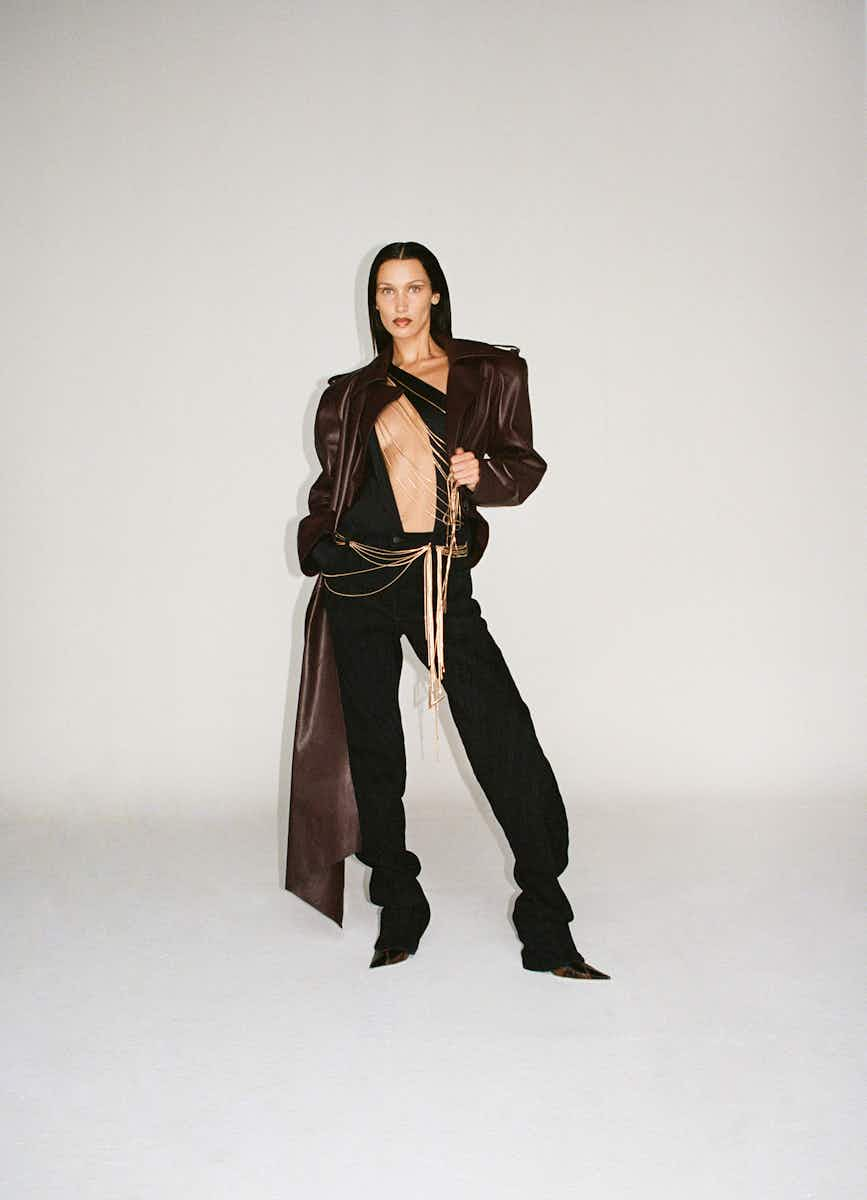 This season, a ​"second skin" formed the basis of a collection built on obsessive construction. Pieces are sculptured, sometimes raised off the body like on an ultrasonic boned corset. High-waisted zip leggings use Mugler's signature style of illusion, splicing panels of bonded, recycled Lycra to contour the bottom half. Bodysuits sit on the skin like liquid velvet and miniskirts are high-octane, short, buckled and layered under sculptured wool tailoring.
Cadwallader knows the Mugler customer. He's around them all the time. ​"In the past two years, things have picked up quite a bit and we're selling a lot more clothes than we did when I first started," he says, optimistically. Perhaps it's the star power of the house's famous fans, whether of the Cadwallader incarnation or archive pieces, Mugler has become a favourite of Kim Kardashian West, Cardi B, Dua Lipa, Doja Cat and Miley Cyrus.
"I like to see people wear my clothes who are walking by me on the street," Cadwallader says. ​"But then there's this part of Mugler that is so much about fantasy. Where I swoon, like when I panic, is when I see, like, Beyoncé [wearing Mugler]. That's always been me my whole life. It used to be Madonna or Janet Jackson, now it's new people."
More rooted in reality, the house's spiral jeans have become a mainstay, reinterpreted each season. For AW21, they become looser, cut to a motorcycle trouser style and hoisted high up the waist. The fit points to a newfound freedom and it's contagious throughout the rest of the collection. Finally, the dark, underground dancefloors that Cadwallader designs for have reopened and with them comes skimpy, gold chainmail tops, glow in the dark patterns on a bodice and trousers, a mini ra-ra dress in pink and flashes of neon on cut-out bodysuits.
Kai Isaiah Jamal's role-reversal in the film was a particularly significant moment for Cadwallader's Mugler, signalling that his designs are for transformation in a contemporary setting. A Mugler classic needn't be an unattainable couture dress. Instead, it's a pair of exquisitely tailored jeans by day and a neon bodysuit by night. ​"I think that's so much of what Mugler has always been, to give you this range where you can decide you want to be like this at one moment and like that at another," he says. ​"And to really transform yourself."


More like this