Anything but a cliché: Poly Styrene's radical sartorial statements
As a new documentary about the X-Ray Spex frontwoman's life and legacy hits our screens, her daughter Celeste Bell sheds light on her inimitable stylings – and their socio-political undertones.

The very mention of pioneering punk rock band X‑Ray Spex is enough to conjure up an image of its effervescent founder and frontwoman, Poly Styrene. The uniqueness of Styrene transcended into her electrifying voice and inciting lyrics, which focussed with prescient insight on issues like consumerism, the environment and gender politics back in the 1970s. As well, her impish, train-tracked grin and eye-catching ensembles, piecing together neoprene shift dresses, garish granny cardigans, DayGlo plastic jewellery, and military helmets.
This week marks the release of Poly Styrene: I Am A Cliché, a compelling documentary narrated and co-directed by the late singer's daughter Celeste Bell, alongside Paul Sng. A poignant celebration of the singer's life and legacy, it serves as a captivating lesson in Styrene's stylistic subversion. For her, fashion was a means of expanding upon her creative vision, while making a tough-as-nails, feminist statement that still rings true.
Styrene was born Marianne Elliott-Said, the daughter of a Scottish-Irish mother and a Somali father. As a mixed-race child in a divided Britain, she was forced to wrestle with concepts of identity and belonging from a very early age – a subject that recurs throughout her lyrics and poetry. "[My mum] was a Londoner, born and bred," Bell reflects in the film's voiceover, ​"but she was also brown so her Britishness was always questioned [and] in the end, she started to question it herself".
But from alienation sprung liberation. After years of trying to fit in, Styrene was compelled to splatter her own mark in the world. In 1976, after having watched Sex Pistols perform, the then-18-year-old placed an ad in Melody Maker calling on ​"YOUNG PUNX WHO WANT TO STICK IT TOGETHER". Within a year, she had made musical history as the first woman of colour to front a successful punk rock band, in an industry dominated by white men.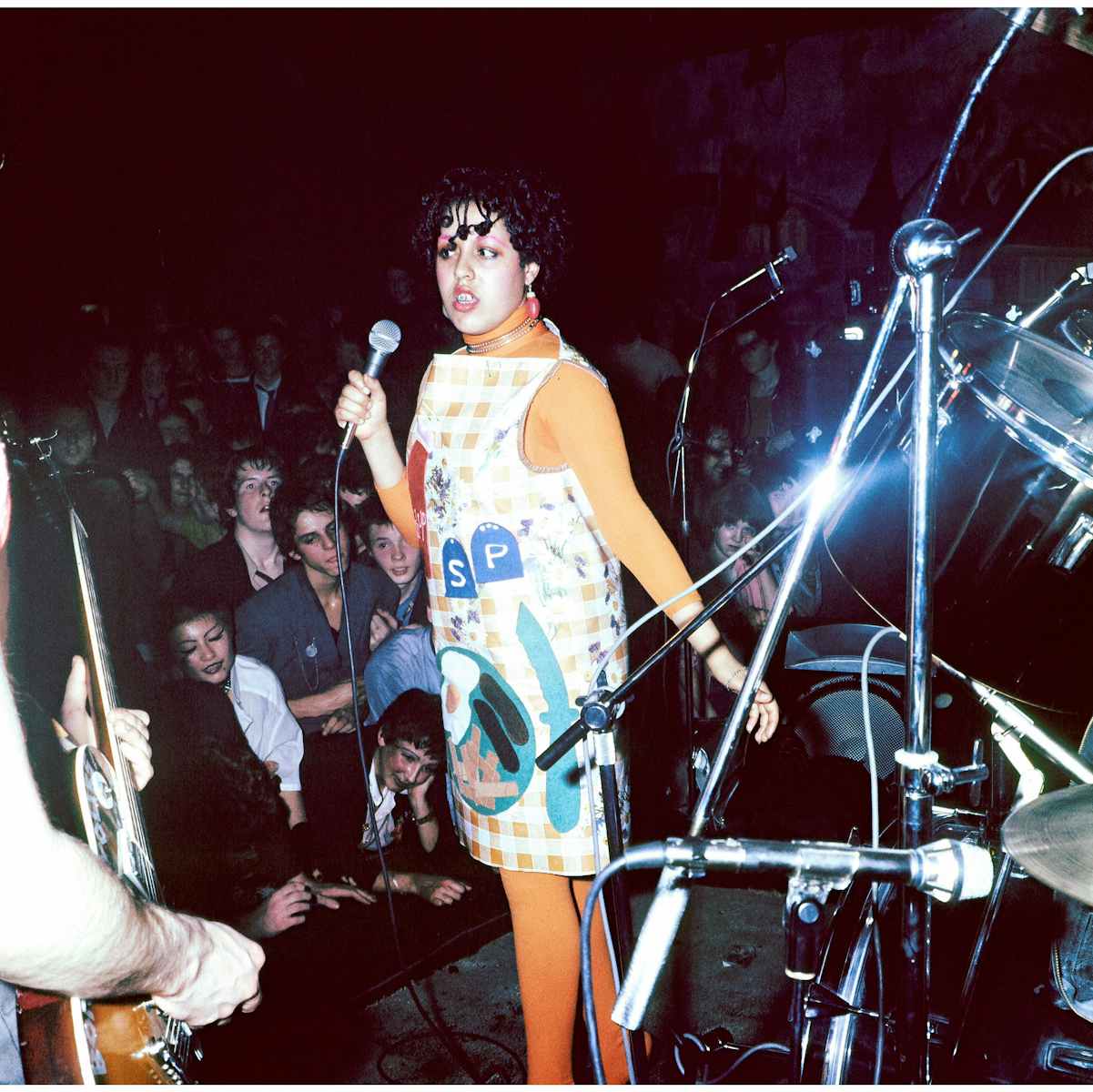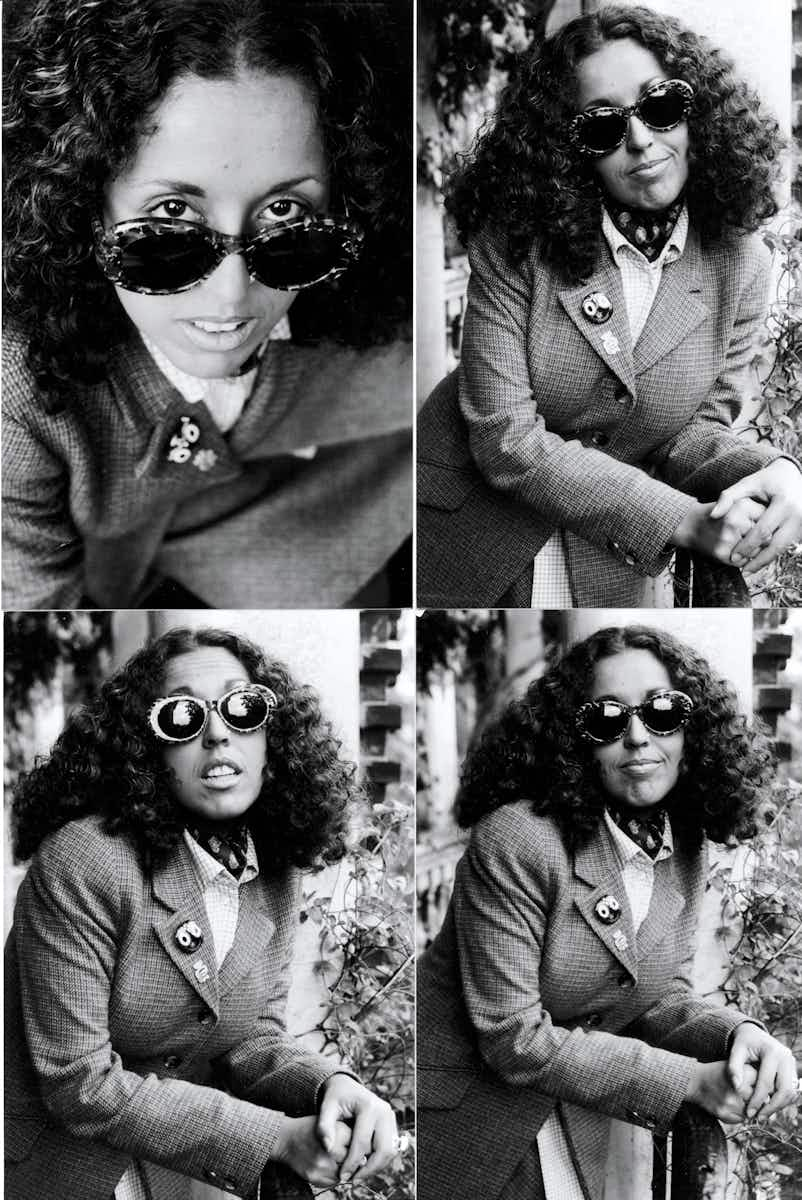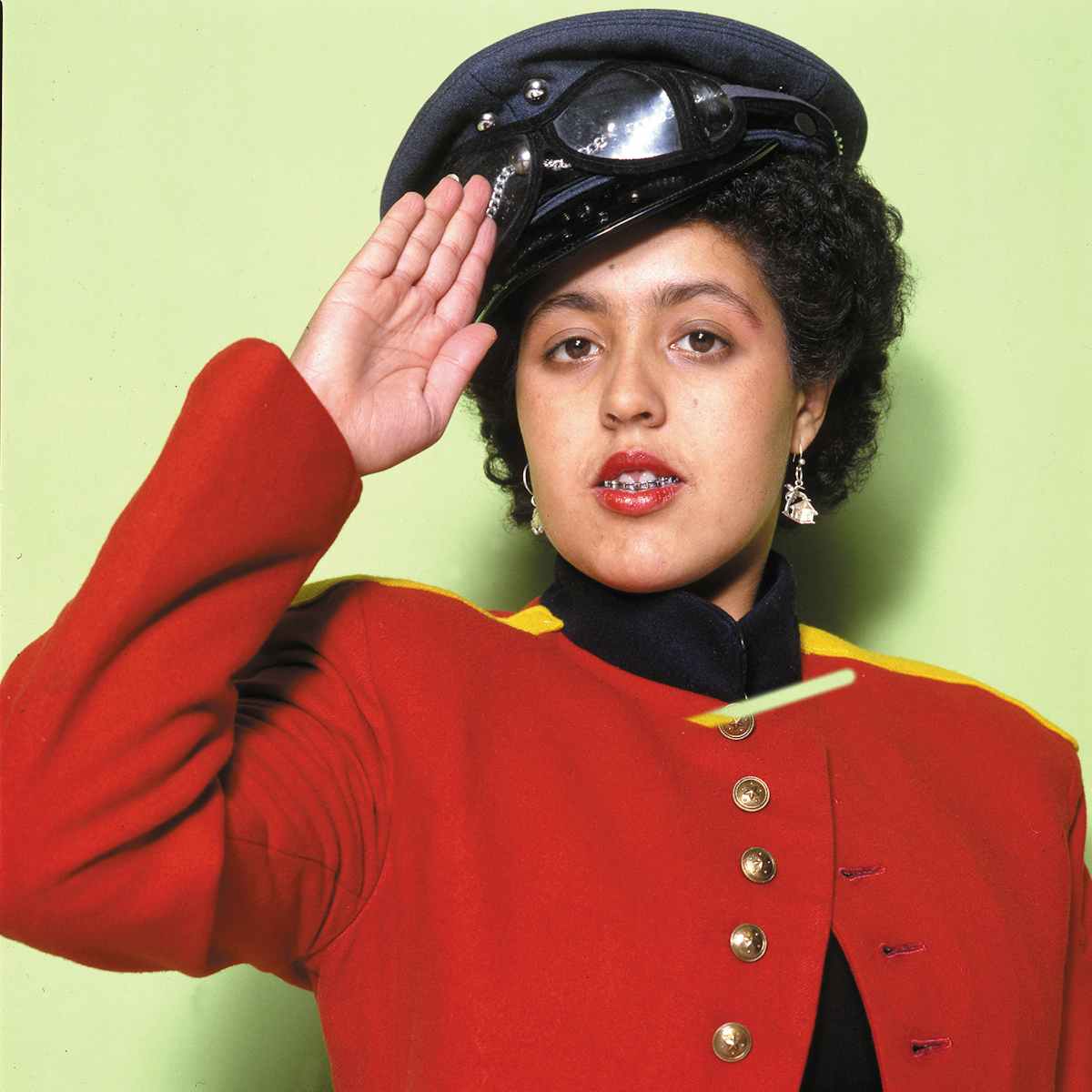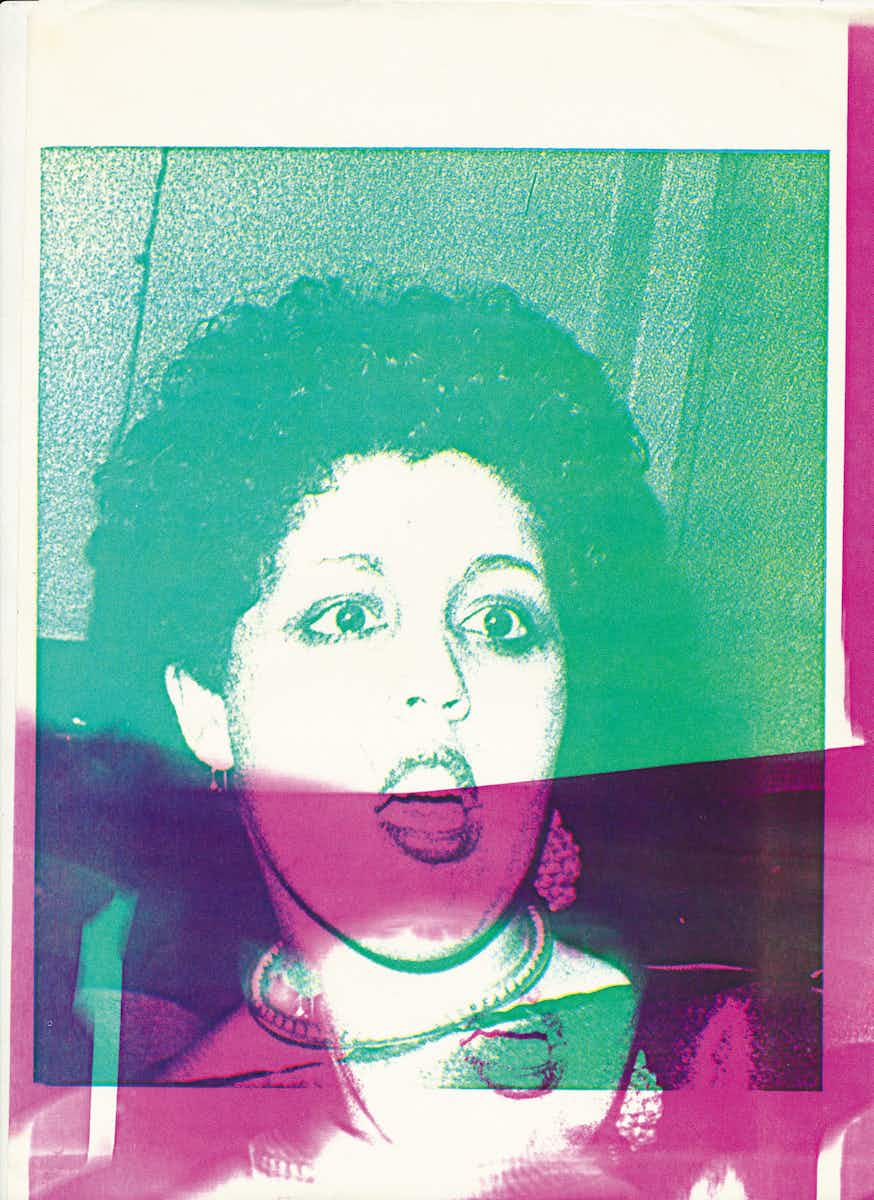 From the start, clothes were an essential part of the Poly Styrene persona. At a time when her punk counterparts were decked in leather, studs, ripped denim and bondage gear, and most chart-topping female pop stars leant towards Joni Mitchell's wide-leg flares, Styrene's look was determinedly individual. ​"It was an extension of what she was doing artistically," Bell tells THE FACE ahead of the film's release. ​"Poly Styrene was a character she'd created, and she needed a look to go with that."
Styrene's clothes, much like her name – which she chose while flicking through the Yellow Pages – took cues from the synthetic: metallic skirt suits, pastel-hued acrylic jumpers, and neon tights abounded. "[Polystyrene is] plastic, disposable [and] that's what pop stars are meant to mean, so, therefore, I thought I might as well send it up," reveals the young Styrene in the film's archive footage, her eyebrows dyed red, her braided hair topped by a colourfully plumed velvet beret.
"Synthetic materials were quite new in the ​'70s," expands Bell. ​"Having a nylon suit was all the rage! My mum thought they were tacky – she was a hippie at heart – but, at the same time, they were perfect for Poly Styrene." Styrene's other influences ranged from ​'60s futurism ("she loved the film Barbarella") to glam rock and a penchant for all things military. ​"She had a very strong vision of how she wanted to look," her daughter says, ​"and because she didn't have much money, she achieved it by making the clothes herself, or buying them second hand in junk shops and army surplus stores."

As well as packing an esoteric visual punch, Styrene's clothes, which kept the singer's body largely concealed, doubled as a feminist call to arms. As Bell notes, ​"She was definitely making a statement against the sexualisation of female artists. I remember her saying, ​'Men are allowed to have music be the main focus and their image is secondary, whereas with women it's the other way round.' This is often still the case; she was always ahead of her time."
Styrene's attempt to keep the world's prying eyes on her art proved depressingly hard. In one particularly heart-wrenching interview clip featured in the film, a TV host introduces Styrene with the comment, ​"With those braces on her teeth, Poly Styrene is hardly Linda Ronstadt," while the camera homes in on the young singer's embarrassed and uncomfortable expression.
"She was trying to say, ​'Yes, I'm a beautiful woman, but I've decided not to show everyone everything because that's not what I'm about: I'm about my music,'" Bell laments. ​"But they read it as, ​'Isn't she different because she's not pretty?' It's easy to make yourself ​'pretty', but my mum was doing something so much more complex and creative than just trying to look attractive."
While Styrene fought tooth and nail against industry standards, they were nevertheless thrust upon her – from her record label's non-consensual slimming down of her silhouette on the front of X‑Ray Spex's debut album, Germfree Adolescents, to a magazine cover dubbing her the ​"sex symbol of ​'78". That same year, Styrene would shave her head – something she'd always threatened to do if she ever felt objectified, but which, Bell notes, was also a clear cry for help. In 1979, her energy and self-esteem depleted, and struggling with as-yet-undiagnosed bipolar, Styrene left X‑Ray Spex while still at the height of her fame.
Guided by Bell, the documentary follows Styrene's journey beyond this point with moving candour, spanning her motherhood, her spiritual awakening as a Hare Krishna, her ongoing mental health difficulties and her continued musical career.
By the time Styrene released her final solo album Generation Indigo in March 2011, just a month before she lost her battle with breast cancer, she had finally reached a place of peace, having paid a heavy price for the many boundaries she'd busted in her youth. Her music and her striking sartorial individualism paved the way for countless other artists to come. In a voiceover, both Neneh Cherry and OG Riot grrrl Kathleen Hanna of Bikini Kill cite Styrene as the catalyst for their musical careers, and FKA twigs once cited Germfree Adolescents as her favourite album of all time.
Styrene's radical punch hits just as hard today as it did back then, all DayGlo'd and brace-faced.

Poly Styrene: I Am A Cliché is out 5th March

More like this