From drug godfather to Euphoria: Demetrius Flenory Jr's wild ride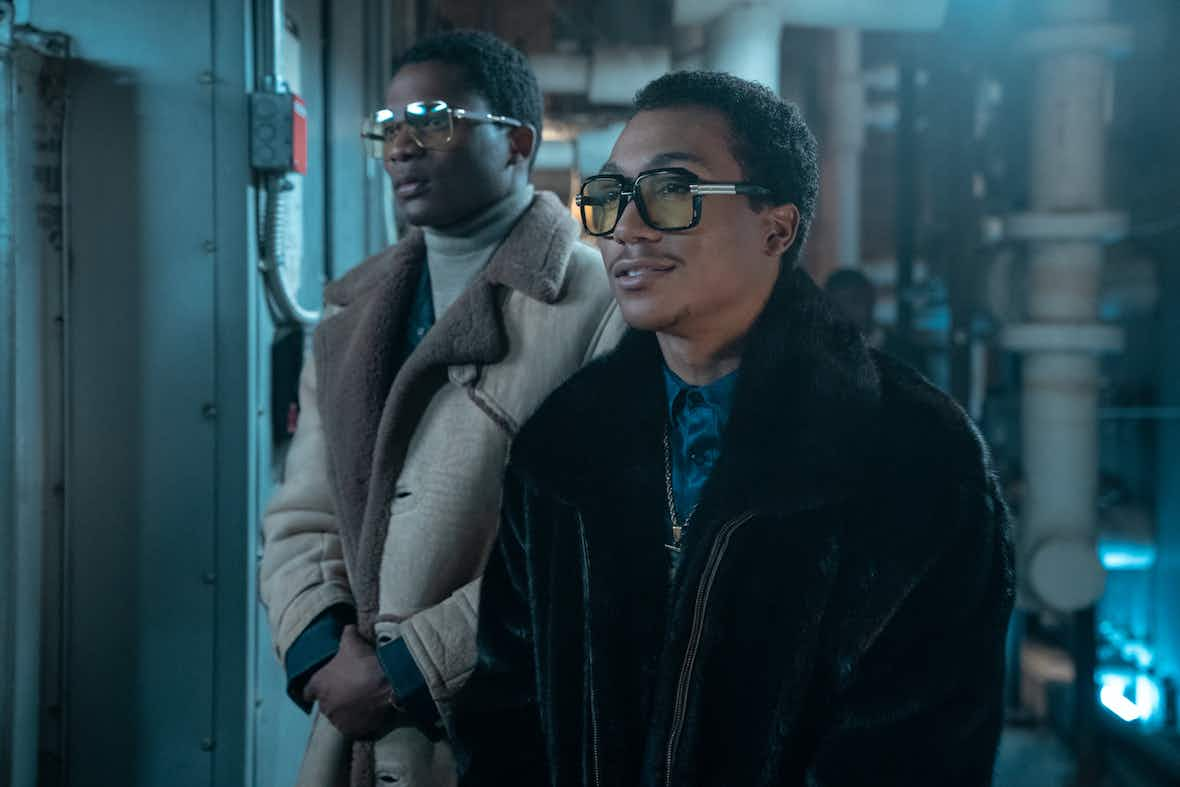 The actor is making his debut playing his dad, the imprisoned founder of cocaine traffickers Black Mafia Family. Next up: playing Maddy's boyfriend in Euphoria… possibly. Where did it all go right?
For newbie actor Demetrius ​"Lil Meech" Flenory Jr, what's the biggest pressure? Playing your real-life dad, founder of a drug empire (and occasional hip-hop label) who's currently in prison, serving a 30-year sentence for cocaine trafficking? Or joining the cast of series two of Euphoria, purportedly as the boyfriend of Maddy (FACE cover star Alexa Demie)?
Right now, he isn't saying. This month the son of Demetrius ​"Big Meech" Flenory makes his acting debut in BMF, a 50 Cent-produced TV series about his old man's titular crime organisation, Black Mafia Family. Meanwhile, he wrapped shooting ​"one or two months ago" on Euphoria​'s Covid-delayed second series.
"I enjoyed working on Euphoria," the 21-year-old says over Zoom from his ​"condo on the beach" in Miami. ​"It's a whole different feeling. People get to see a whole different Meech, because it's not the same Meech from BMF."
As to whether it's true that he's playing Maddy's boo, he laughs. ​"I don't know!" Flenory Jr says, squirming.
What he does know is that the experience was ​"amazing. Euphoria is number one in the urban community. I got to work with Zendaya, Hunter Schafer, a bunch of new actors who've [still] been doing it longer than me. It was amazing getting to learn from them. ​'Cause I want people to know that I can't just play my dad. I can play other people. My range is wide."
Big Meech (now 53) and his brother Terry ​"Southwest T" Flenory (49) began their careers as teenagers, hustling on street corners in 1980s Detroit. As Terry declaims to his big brother early in the eight-episode show: ​"Our name is 50 Boyz and we sell 50 dollar bags of crack, all day, all night." Cut to scenes in BMF of the exultant brothers cooking up crack in an apartment to King of Rock by Run DMC, then swaggering into clubs, blinged to the hilt as Big Fun (The Classic Magic Juan Mix Remake) by Inner City blasts out.
That ambition and braggadocio propelled the brothers to build a drug dealing empire that stretched across the US (one over which they eventually fell out). In the early 2000s, Big Meech founded BMF Entertainment, a money laundering exercise that encompassed a record label and music promotions agency. According to The Detroit News, the BMF organisation generated $270 million in profits from 500 employees operating in 11 US cities. When the brothers were arrested in 2005, the Drug Enforcement Administration seized $21 million in assets.
From the off in BMF – which also stars Eminem in a cameo as real-life FBI informant White Boy Rick and Snoop Dogg as a pastor – we see the large-living siblings aiming sky-high. In the words of their mantra, repeated in unison: ​"STO: see it, touch it, obtain it."
"That was a saying that my dad and his brother had back then," explains Flenory Jr, who was five when his dad went to jail, ​"whenever they wanted to reach a goal." That accuracy, he adds, was crucial to telling this story.
"This is all my dad wanted: for people to know the real story. People only know what they hear. They only go on the internet and hear opinions of others. They don't know the facts. My dad always wanted people to know how he became who he was, the choices he made, where he started from.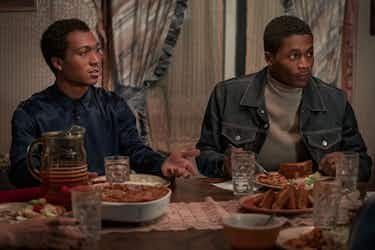 "He grew up in poverty. You see how Detroit was in the 1980s?" he asks. And certainly, as powerfully depicted in BMF, Southwest Detroit was a war-zone back then. ​"It was like Iraq, the number one murder capital in the world. My dad literally told me that [aged] 14, 15, 16 years old, he was walking to school with holes in his shoes, walking over dead bodies, in drug-infested communities. Down every street there was crack cocaine, everywhere.
"So he wanted people to know how he actually started and, dealing with all that, [why he] did what he had to do," Flenory Jr continues, speaking intensely and at length. ​"He had obstacles between him and his parents because they didn't understand that he was just trying to take care of the family. They were so poor that they were working two or three jobs and still couldn't afford to pay their bills.
"My dad was literally trying to save their family, trying to not be homeless out on the street. But he was still fighting with his mom and dad because they felt like he was going to kill himself, harm himself, harm them. So he was facing a lot of young challenges at such a young age. I had to put myself in his shoes and show people exactly what he went through."

How would he describe their relationship as he was growing up?
"I had the best dad in the world. He was bringing me everywhere I could possibly be, except the club," he replies, referring to the time before his dad's arrest. As he puts it, his dad was ​"taken away from me" when he was five going on six. ​"One day, my mom brought me to Detroit to go visit him and I see him behind the glass. That's when I knew he wasn't coming home no more. That's the only time I ever seen my dad get emotional.
"I was able to use stuff like that in my acting. I was drawing from real emotion. But we always had a great relationship. Even now, he calls me every day."

Flenory Jr is brilliant in BMF. It's some achievement, given that it's his first acting role, ever – and that's before we get to the fact that he's playing his dad. Add in his notoriety and a son's filial duty to do right by him, whatever the internet (and the criminal justice system) says, that's next-level pressure. No wonder he had to think hard about taking on the role.
"Hell, yeah. Harder than you can ever imagine. Just because, number one, I didn't grow up how my dad grew up. My dad made sure that, even when he went to jail, I was in private school, I lived in suburbs and I had a good life. I was in pre-law classes in school."
And then, he had to learn how to act. Before Curtis ​"50 Cent" Jackson – who's carved out a big second career in TV – came calling, ​"I had no career plans. I'd graduated high school and I was in college, UNLV [University of Nevada, Las Vegas], for business major. But I was barely in college, just trying to figure out what to do with my life. My dad told me that 50 Cent was doing the BMF story and he was doing a first casting in Atlanta. That's the first time I ever met 50."
As he puts it, ​"life changed right there", but that was only the beginning of his journey. ​"50 Cent had to come to me and take me from Miami and put me in acting classes in Los Angeles for almost two years before the show was casting, just so I could know how to act and play the role of my dad.
"So that whole time was an intense acting class, five days a week, sometimes two times a day, learning the foundation of acting."
Eventually, once on set, that legwork meant he was comfortable in front of the cameras. His goal: ​"To make my family proud. At the end of the day, my dad wants his story to be told a certain way. And if I can't do it, someone else is gonna do it. So I had to knuckle down."
How has he reconciled the criminal and extreme things his dad did?
"I wasn't there," Flenory Jr states, which is his answer and he's sticking to it. ​"I don't know what he did. I can't speak on something he did in 1980 when I wasn't born. I have no clue. All I know is, if me or you [had made] the same footsteps in 1980s Detroit, when it was a drug-infested community with no opportunities available for any regular person – any African-American, especially, living in the hood – and all we have in front of us is what we have, what are we supposed to do? That's how I look at it."
As well as wanting ​"to honour" his dad, he wants to correct the wrong impression he thinks people have about Black Mafia Family.
"BMF is brotherhood, it's loyalty, its family, it's soul. My dad wanted everybody, not just him, to look good and to be successful and enjoy the fruits of their labour," he says, a ​"BMF" tattoo proudly prominent on his neck. BMF isn't just about what you're gonna see [elsewhere] on TV, about drug-dealing. It's about between the lines. It's about family."

As Flenory Jr talks, his French bulldog Lizzie is lying behind him, snoozing on the couch. ​"Her shit's over there, too," he frowns. Over his other shoulder, a massage chair in which he watches TV. ​"And that's the shit right there," he jokes. He's clearly relaxed and laid back, trying not to let the industry excitement surrounding his newborn acting skills make his head spin.
"Man, I try not to think about it too much," he grins. ​"I still got a long way to go. I'm just happy I'm getting started."
Over the summer, he's been hanging out with his mum and her side of the family, enjoying some time off back in Miami after completing the California shoot on Euphoria, the gritty HBO drama that first terrified parents and thrilled teenagers back in 2019.
I ask: why has that show struck such a generational chord?
"I just feel like maybe a lot of the youth have a connection to it, because we can all relate to it," he answers. ​"Euphoria touches on a lot of different subjects and it's all real world things. I think it's needed for the culture, that's why so many people love it. I love it. I watched the whole first season and I can't wait for the next. It's the truth, it's real, it's what's happening out there."
Truth, or a version of it, is also what he sees powering BMF. His father hasn't yet seen the finished show, but from what he knows of it, ​"he's more than pleased. He couldn't be more happy."
Viewers, he concludes, ​"are gonna learn how my dad made real-life, man choices at such a young age, to become who he is now. He was a product of his environment and he made the best out of his opportunity."
Terry ​"Southwest T" Flenory was released from prison in California in May last year, on compassionate and health grounds during the first wave of the Covid pandemic. But his older brother was denied similar clemency, with prosecutors flagging his disciplinary record while in jail.
Demetrius ​"Lil Meech" Flenory Jr says his dad doesn't have a parole date, ​"but he'll be home soon."
You think so?
"For sure. I know so."
As to whether BMF will help his dad's case, his son is convinced it will.
"It'll show people another side, how good of a person he is, how many good opportunities he provided for people out there in the real world, to this day, while he's incarcerated."
Was that one of his motivations in making the show, to help his dad get out a little bit quicker?
"For sure. What son doesn't want their father to get out of jail?"
BMF is on Starzplay now.


More like this