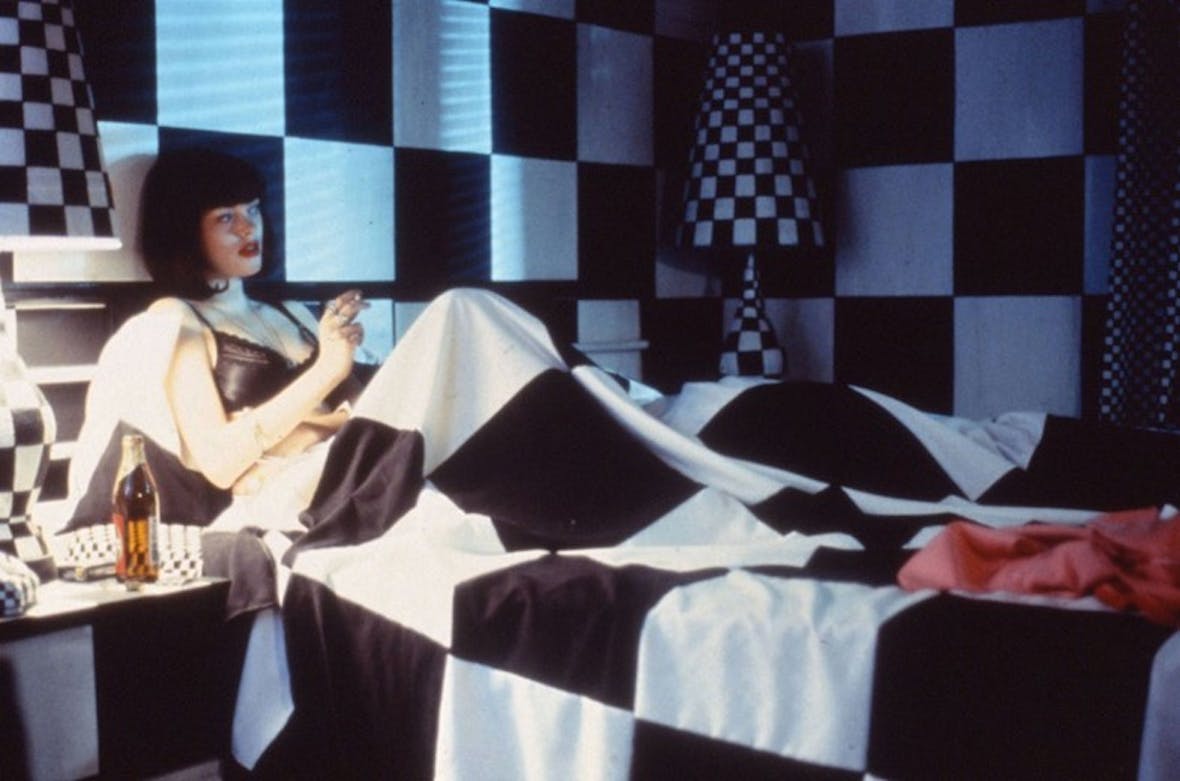 How the art direc­tor of ​

'

The Doom Gen­er­a­tion' cre­at­ed its look
Noth­ing looks exact­ly like The Doom Gen­er­a­tion, a ​"het­ero­sex­u­al" road movie by Gregg Ara­ki made on a Par­ty City bud­get. It was rife with face­tious dia­logue (e.g. ​"Look, you fuck­ing chunky pump­kin­head") and low-rent cos­tumes (Amy Blue's trans­par­ent coat inspired Patrick Bateman's mur­der get­up in Amer­i­can Psy­cho). To offer a sense of what takes place dur­ing the 83-minute run­time of this Gen X Bon­nie and Clyde, the first three plot key­words on IMDb are pubic hair, fel­la­tio, and three­some. That just about sums it up.
As lovers, Amy Blue and Jor­dan White hit the road, they recruit anoth­er com­pan­ion in Xavier Red, and explore their sex­u­al­i­ty across the beds of the most visu­al­ly stim­u­lat­ing motel rooms and bath­tubs. But the over-the-top sets are what made the apoc­a­lyp­tic film mem­o­rable. An exam­ple: it opens with a club sequence and pans across a mas­sive sign with the words ​"Wel­come to Hell" cut out, back­lit by danc­ing flames. Then there is the black and white check­ered motel room that has been all but exhaust­ed on Tumblr.
Style over sub­stance was the cus­tom in New Queer Cin­e­ma, and Doom Gen­er­a­tion art direc­tor Michael Krantz helped to con­ceive it. In the ​'90s, eccen­tric pro­duc­tion design – hous­es the colour of Nec­co wafers (Edward Scis­sorhands), graf­fi­ti-tagged apart­ments (SLC Punk, St. Elmo's Fire) or pool par­ties with actu­al ice­bergs (Less Than Zero) – was some­how the norm. Back then, we had tin foil and ply­wood. Now, we have CGI. Ara­ki tasked pro­duc­tion design­er Thérèse DePrez and Krantz with arts-and-craft­ing his obses­sive vision for the sec­ond install­ment in his Teenage Apoc­a­lypse tril­o­gy. (The oth­er two films are Nowhere and Total­ly F***ed Up.)
Krantz, now 51, came to the movie not too long after enter­ing the busi­ness via a stint doing con­struc­tion. Togeth­er with DePrez and a few assis­tants, they worked tire­less­ly with a pet­ty cash bud­get to cre­ate The Doom Gen­er­a­tion​'s unfor­get­table designs, includ­ing the Lin­coln Con­ti­nen­tal the three­some drove, the dinosaur dri­ve-thru and the dooms­day mes­sag­ing that appeared on bill­boards and in cor­ner shops.
Here, Krantz breaks down what went into five key scenes of this vision­ary cin­e­mat­ic diorama.









Behind the scenes pho­tos by cin­e­matog­ra­ph­er Jim Fealy

The black-and-white check­ered motel room
"The check­ered room was not some­thing that was script­ed or real­ly dis­cussed before­hand. I think Gregg came up with it. He just shot it from the hip and I remem­ber being in the stu­dio and we had built and primed the set. I remem­ber Thérèse say­ing he wants to make it check­ered. And then Gregg say­ing, ​'Yeah, every­thing check­ered.' Like every­thing. We found what­ev­er we could that already had a check­ered pat­tern on it but there wasn't a whole lot of things. There were tow­els or match­es or an ash­tray. I think we paint­ed an ash­tray. But then we just went about map­ping out the grid on the walls the old-fash­ioned way. We did it with tape and with snap lines and pen­cil and then we just went through the process of paint­ing it by hand. I remem­ber a lamp in par­tic­u­lar. That was kind of clas­sic, a late mid-cen­tu­ry style lamp with a shade and it had a skin­ny neck and a bowl at the bot­tom – some­thing you might find in any motel from the ​'60s or 70s. There was so much to do and it took for­ev­er. The checker­board took two or three or four of us a few weeks to do that. It was so incred­i­bly labour intensive."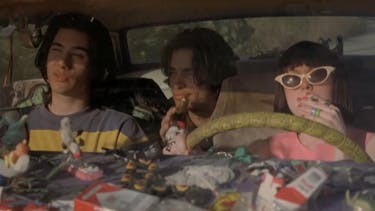 The Lin­coln Continental
"A big prop for the movie was their car. So we looked in the paper and we found it: a 1968 or ​'69 Lin­coln Con­ti­nen­tal. It was 19 ft. 8 inch­es long. It was gigan­tic. I don't remem­ber the orig­i­nal col­or. Maybe it was tan or some­thing. We brought it back to the shop and we start­ed sys­tem­at­i­cal­ly rip­ping every­thing out and doing our crap­py reuphol­stery job and pulling T-shirts down over the buck­et seats. We gave it a real­ly crude paint job where we actu­al­ly rolled on paint for the exte­ri­or. Nor­mal­ly when you're doing a show where a vehi­cle plays such a big role, you have more than one car because you don't want to chance some­thing hap­pen­ing to it. We didn't have that luxury."
The carnoburg­er drive-thru
"It was the dri­ve-thru burg­er. It had a big dinosaur head that you'd speak into for your order, which we sculpt­ed out of foam. I think [pro­duc­tion design­er] Thérèse [DePrez] may have done that piece her­self. We got some block foam and she carved it, made the teeth and then we prob­a­bly had some­body paint it. We did this in an arts and crafts stu­dio. We made every­thing our­selves. But I remem­ber dri­ving that day. We didn't have a stunt dri­ver. I did a lot of the dri­ving myself. I remem­ber dri­ving for a scene when they go to Carnoburg­er and Amy was in the driver's seat and she yells some­thing out the front of the car and she's sit­ting on my lap; I'm bent over to the side and just step on the gas as hard as I can and make a right hand turn but I'm below the dash­board. I can­not see where I'm going. She needs to be lean­ing out of the car and she couldn't reach the ped­al. I mean, we broke every rule con­ceiv­able. It was a non-union job so we didn't have to real­ly play by a lot of the safe­ty rules. We should have, cer­tain­ly, but we didn't. We just did what we had to do."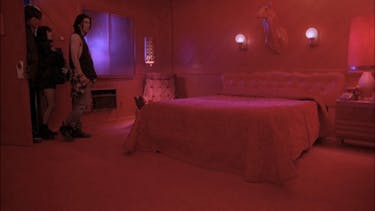 The red room
"The red room was actu­al­ly paint­ed. We did a cou­ple of lay­ers of reg­u­lar house paint and it wasn't red enough. So we end­ed up buy­ing big, 10 gal­lon buck­ets of bulls­eye red enam­el sign writer paints like what you would use to hand­paint a sign because it's Marl­boro Red. I remem­ber Thérèse say­ing she want­ed them to be the colour of my cig­a­rette pack, because I smoked Marl­boros back then. I want­ed it to be that colour. It took a long time to find that exact depth of chro­ma. So we brought in some­body with a spray gun to help get some of that stuff on the walls quick­ly. It sprayed every­where around the stu­dio and every­thing had a sort of red tint to it after that."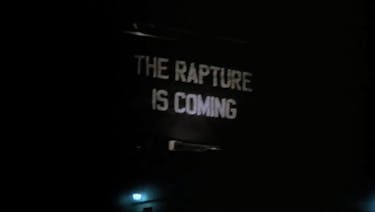 The apoc­a­lyp­tic signage
"We made so much sig­nage and a lot of it was hand paint­ed. We also made a bill­board that we just stuck onto an exist­ing bill­board that was low enough for us to climb onto with­out get­ting per­mis­sion. It was on San Fer­nan­do Boule­vard. I don't remem­ber exact­ly what it said. I think it was ​'The Rap­ture is Coming'."

The Doom Gen­er­a­tion plays August 4th at the BFI as part of their Nineties: Young Cin­e­ma Rebels season.
---